The Best Time to Visit Java, Indonesia for Weather, Safety, & Tourism
The best times to visit Java for ideal weather are
July 2nd to October 7th
based on average temperature and humidity from NOAA (the National Oceanic and Atmospheric Administration). Read below for more weather and travel details.
Java Travel Guide
Temperature.
Perceived Temperature
Rain and snow
Humidity and wind
The busiest and least popular months
Overall travel experience by time of year
Other Java Travel Info
Weather in java.
Average temperatures in Java vary barely at all. Considering humidity, temperatures feel hot all year with a fair chance of precipitation about half of the year. The area is less temperate than some — in the 11th percentile for pleasant weather — compared to tourist destinations worldwide. Weeks with ideal weather are listed above . If you're looking for the very warmest time to visit Java, the hottest months are October, September, and then May. See average monthly temperatures below. The warmest time of year is generally mid October where highs are regularly around 94.4°F (34.7°C) with temperatures rarely dropping below 76.3°F (24.6°C) at night.
Java Temperatures (Fahrenheit)
Java temperatures (celsius), "feels-like" temperatures.
The way we experience weather isn't all about temperature. Higher temperatures affect us much more at higher humidity, and colder temperatures feel piercing with high winds. Our perceived temperatures factor in humidity and wind chill to better represent how hot or cold the day feels to a person.
Java Perceived Temperature (F)
Java perceived temperature (c), average java temperatures by month.
Daily highs (averaged for the month) usually give the best indication of the weather. A significantly lower mean and low generally just means it gets colder at night.
Show Fahrenheit
Show celsius, precipitation (rain or snow).
If dry weather is what you're after, the months with the lowest chance of significant precipitation in Java are August, July, and then September. Note that we define "significant precipitation" as .1 inches or more in this section. The lowest chance of rain or snow occurs around early to mid August. For example, on the week of August 6th there are no days of precipitation on average. By contrast, it's most likely to rain or snow in mid December with an average of 4 days of significant precipitation the week of December 17th.
Chance of Precipitation
The graph below shows the % chance of rainy and snowy days in Java.
Snow on the Ground
The graph below shows the average snow on the ground in Java (in).
Average Rain and Snow by Month
Show inches, show centimeters, humidity and wind.
Java has some very humid months, with other comfortably humid months. The least humid month is September (58% relative humidity), and the most humid month is February (78.1%).
Wind in Java is usually calm . The windiest month is August, followed by January and July. August's average wind speed of around 5.8 knots (6.7 MPH or 10.8 KPH) is considered "a light breeze." Maximum sustained winds (the highest speed for the day lasting more than a few moments) are at their highest in late January where average top sustained speeds reach 13.7 knots, which is considered a moderate breeze.
Relative Humidity (%)
The graph below shows the average % humidity by month in Java.
The graph below shows wind speed (max and average) in knots.
Average Wind Speeds
Show wind speeds.
All wind speeds are in knots. 1 knot = 1.15 MPH or 1.85 KPH.
Show Relative Humidity by Month
Is it safe to travel to java.
Our best data indicates this area is somewhat safe, but with extra warnings in a few regions. As of Oct 07, 2019 there are travel warnings and regional advisories for Indonesia; exercise a high degree of caution and avoid some areas. Check this page for any recent changes or regions to avoid: Travel Advice and Advisories . This advisory was last updated on Sep 20, 2019.
The Busiest and Least Crowded Months
The busiest month for tourism in Java, Indonesia is November, followed by January and May. Prices for hotels and flights will be most expensive during these months, though you can save if you purchase well in advance. Tourists are unlikely to visit Java in July. Those willing to visit at these times will likely find it the least expensive month.
Estimated Tourism by Month
Most popular months to visit, overall java travel experience by season, fall (march through may).
Humidity and temperatures combine to make this season feel warm. Highs range from 91.2°F (32.9°C) and 87.4°F (30.8°C) with similar temperatures in the later months. Rain is somewhat common with 6 to 10 days of significant precipitation per month. Fall is fairly slow for tourism, which makes it a good time for those looking for deals.
Winter (June through August)
The middle-year months have very comfortable weather with high temperatures that are quite warm. These months see the least precipitation with 2 to 4 days of precipitation per month. June – August is the slowest season for tourism in Java, so lodging and other accommodations may cost less than usual.
Spring (September through November)
Spring daily highs range from 94.4°F (34.7°C) and 89.8°F (32.1°C), which will feel very nice given the humidity and wind. It rains or snows a significant amount: 3 to 10 days per month. Tourism is the busiest during these months due to the weather, so hotels may be higher priced.
Summer (December through February)
Weather is perfect this time of year in Java to be enjoyable for warm weather travelers. The average high during this season is between 88.9°F (31.6°C) and 86.3°F (30.2°C). On average, it rains or snows a great amount: 11 to 14 times per month. These times of year are the second busiest with tourists.
Best Times to Travel › Indonesia › Java, Indonesia
Similar Destinations
Getasan, Indonesia
Ungaran, Indonesia
Salatiga, Indonesia
Magelang, Indonesia
Semarang, Indonesia
Mertoyudan, Indonesia
Mungkid, Indonesia
Muntilan, Indonesia
Pakem, Indonesia
Borobudur, Indonesia
Popular Destinations
Milan, Italy
Jimbaran, Indonesia
Orlando, FL, US

Java Travel Guide: Best Things to do (8-day Route)
Java in Indonesia is a beautiful island filled with locations still undiscovered by tourism. Java is over 20 times larger than Bali . It is fairly easy to get around Java. In this 8-day Central and East Java route guide, you will visit the most impressive waterfalls, temples, the rainbow and blue village, tea plantations, Mount Bromo, and the Ijen Crater.
Central and East Java Travel Guide
Java is just a 1-hour flight from Bali and can easily be combined with a route through Bali . The Javanese locals are one of the friendliest in Indonesia. All are super interested in where you are from and always want to take a selfie with you.

Java has one of the most beautiful waterfalls in Indonesia and the largest Hindu complex of Indonesia is located in Yogyakarta . Every chapter of this 8-day Central and East Java route includes a link with more information about that specific subject.

Day 1 – 3: Exploring Yogyakarta
The creative capital Yogyakarta in central Java is the start of your Java travel route. This relatively small city is popular amongst Indonesian and international students.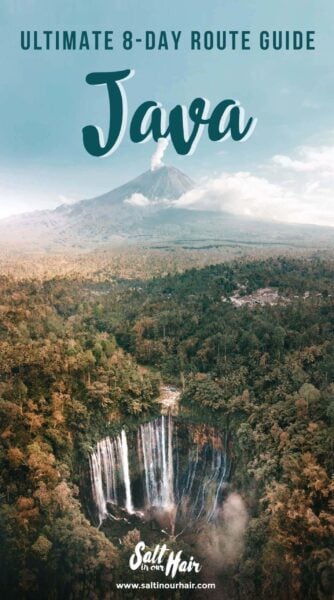 Prambanan and Borobudur are the highlights of Yogyakarta, but there is so much more to do in this area. Yogyakarta has an international airport and is easy to reach from Singapore or Bali .
Read: Things to do in Yogyakarta
Where to Stay in Yogyakarta
The guesthouses and hotels in Yogyakarta are available in all kinds of price ranges.
Hotels in Yogyakarta 😴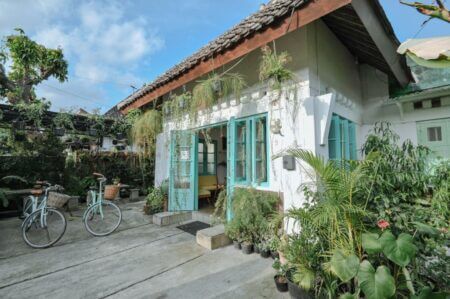 Hostels go anywhere from 5 USD – 30 USD per night. On the other hand, guesthouses and hotels in Yogyakarta will start from 12 USD a night, including breakfast.

Day 4: Train Yogyakarta to Malang
In the morning, head to Tugu Station in Yogyakarta. Hop on the train at 7:45 AM towards Malang. The Malioboro Express train takes 8 hours and is definitely one of the more comfortable train rides in Asia. Take the rest of the day to rest or explore the rainbow village Jodipan .
Read about: Malioboro train from Yogyakarta to Malang

Day 5 – 6: Malang , Rainbow Village and Waterfalls
Malang is in the higher part of East Java and has a much more comfortable climate than in Yogyakarta. Spend two days exploring Malang, the colorful villages of Java , and the most beautiful waterfall in Indonesia . Malang absolutely has to be in this Java travel guide.
Read: Things to do in Malang
Where to Stay in Malang
Malang offers hotels and guesthouses in any kind of price category. Base yourself in the center to be close to the main sites.
Hotels in Malang 😴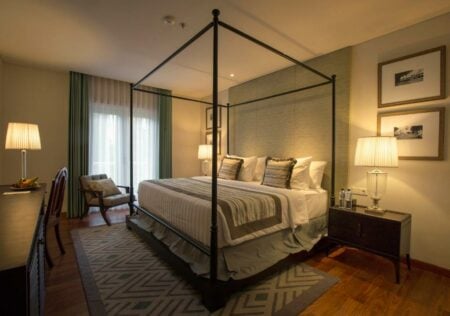 Staying anywhere near the main train station is a great idea, as you'll be located just a few minutes walk from the colored village.

Travel to Bromo (Day 6)
On your last day, make your way to Bromo to experience the sunrise the next morning. Don't forget to stop at Coban Pelangi on the way to Bromo.
Where to Stay Near Bromo
Plan to spend the night at a guesthouse or hotel. The village is entirely focused on accommodating visitors, so you should always be able to find a place.
Hotels in Bromo 😴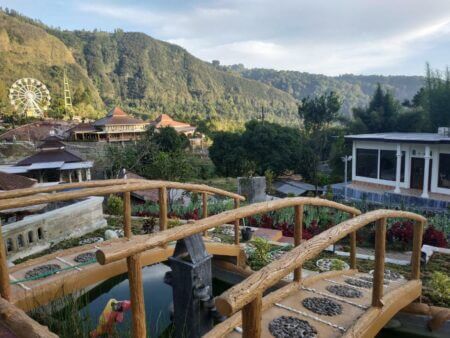 Tip: Please note that you may not have hot water at a homestay.

Day 7: Sunrise on Bromo
Every route around Java has to include watching the sunrise on Mount. Bromo. Get out early and drive with a jeep up to one of the many viewpoints, explore the sea of sand, and take a look inside the Bromo Crater.
On the same day, travel to a town near the Ijen Crater. We recommend visiting Bromo and Ijen via a 2-day tour .
Read about: Visiting Bromo

Day 8: Ijen Crater walk
The Ijen crater is a mine for Sulfur miners who walk up and down (1.5 hours each way) the crater 3 times a day with 50 KG of Sulfur on their shoulders. Watching the 'blue fire' and sunrise is a popular activity. To see the blue fire, you have to start hiking up at 2 AM. This is definitely the hardest hike of this Java travel guide.
Read: Sunrise Ijen tour

After this experience, have breakfast at the base camp and catch the ferry to Bali. From Java to Bali, the ferry only takes 30 minutes. It runs every hour, 24/7, and costs around 8000 IDR.
Book your ferry tickets to Bali in advance
Where to Stay Near Ijen
You have a few options to get to Ijen. The easiest way is to find a guesthouse or homestay near Ijen. The best location would be in Banyuwangi.
Hotels in Banyuwangi 😴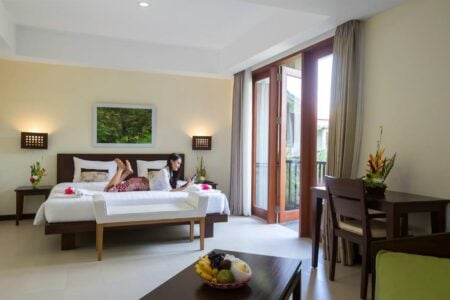 Another option is to stay in a larger city called Bondowoso. The only downside is that you have to drive for another two hours to get to the starting point of Ijen.
Here are all your hotel options in Bondowoso.

How to Travel Around Java?
Java is just a 1-hour flight from Bali. It has various international airports with flights arriving from other major destinations throughout Asia.
The best way to get around is by train and private driver. Contact our great driver Azhar on Whatsapp (+6281336042045) . Make sure to tell him you came via 'Salt in our Hair' so you'll get the best price.
Must read: 3-week Indonesia Route

Best Time to Visit
Java is best to visit between April and November. Don't get fooled by an average of 28 degrees. When visiting Bromo and Ijen, it will be 0-10 degrees, so you will need a few layers.
Keep in mind that in the dry season (May – September), the rice fields might be changed to tobacco, and waterfalls will be less active.
Food in Java
The tastes in Java are just fantastic. Expect to have a large selection of delicious Indonesian food, and in the bigger cities, there are restaurants available with Western-style food.
Tip: Nasi Pecel was our absolute number one dish. :)

Costs of Traveling in Java
Java is one of the cheaper areas in Indonesia to travel, particularly in comparison to more touristy places like Bali. As such, you can find incredible street food and charming guesthouses for a fraction of the price!
Travel on a budget in Java, from $270 − $340 USD weekly per person, mid-range $630 − $1160 USD, and high-end from $1200 − $1670 USD. However, costs depend on factors like accommodation, transportation, and activities. We did not include flights. Check flight prices here
Hotels: $35 − $100 USD Check available hotels
Hostels: $10 − $20 USD Check available hostels
Transport: $5 − $10 USD Book public transport
Car Rental: $30 − $60 USD Book a rental car
Food: $15 − $20 USD
Activities: $5 − $50 USD See tickets & tours
Sim: $1 − $3 USD Get an eSIM or SIM here
Travel Insurance: $2 − $6 USD Get Travel Insurance

Sim Card in Java
Telkomsel and XL Axiata are the providers with the best reach throughout the whole island. Some providers don't work outside the city where you bought your sim card or don't work at Bromo or Ijen. XL worked everywhere for us, had a good connection, and paid 30,000 IDR (2 USD) for 6 GB of data.
See all your sim options here
When you purchase something through our links we earn a small fee. However, you still pay the same. Win-win!
Find Hotels via Booking.com
Find a Rental Car via Sunny Cars
Find Cheap Flights via Skyscanner
Get a Travel Insurance via Heymondo
Book Tours & Attractions via Viator
Book a Bus/Train/Transfer via 12Go

Bromo and Ijen Tour: The Perfect 3-Day Route

The 6 Best Waterfalls in Bali (A 2-Day Route)

The Train from Yogyakarta to Malang (Malioboro)
Looking for more travel information? Plan a chat with us for personalised travel advice or get an answer from the Salt in our Hair Travel Community on Facebook.
Hannah and Nick!
I had another question specifically about east Java! So I would fly from Bali to East Java and then from there head to Malang where I was planning on going to the Rainbow village along with Tumpek Sewu waterfall. I want to do the Mt. Bromo sunset tour as well. I was wondering what is the best airport to fly into East Java from the Denpasar airport in Bali? (I plan on only going to east Java not all of Java) Also one more question, what order would you recommend I do my tour in, in order to make it efficient as possible? Do you guys recommend anyone in particular I should message for a good driver as well in order to make these tours possible for me?
Thank you so much :)
Hi Ariahna! Surabaya airport is the closest one to Malang. Maybe just follow the itinerary shown in the guide, just skipping Yogyakarta? We don't have any specific driver recommendations for you as we took the train to Malang, hired a guide from the car park below the waterfall and then used one of the Mount Bromo tour companies which included transportation. The links to those tours are within the guide :) Have an amazing time in beautiful East Java!
Thank you for your response! I was planning on using the route you both have created in order to help me. Another question is that I do see an airport directly in Malang, is it better to just fly into that airport or should I fly into the Surabaya airport?
Hi Ariahna, no definitely fly into the Malang airport if that's an option for you! We didn't realise there was one there as we took the train :)
Your email address will not be published. Required fields are marked *
Notify me when new comments are added.
Getty Images/iStockphoto
The heart of the nation, Java is a complex island of great antiquity: this, after all, is where ancient Java Man stood upright and walked abroad. As such the island, home today to 140 million people and the most populated island on earth, is defined primarily by people.
Your next trip starts here
Go from dreaming to planning with trip planning options made to help you craft your ideal itinerary.
Attractions
Must-see attractions for your itinerary.
Prambanan Temple
Central Java
Comprising the remains of some 244 temples, World Heritage–listed Prambanan is Indonesia's largest Hindu site and one of Southeast Asia's major…
Borobudur Temple
Dating from the 8th and 9th centuries, and built from two million blocks of stone, Borobudur is the world's largest Buddhist temple and one of Indonesia's…
The Ijen plateau's most extraordinary sight is the magnificent turquoise sulphur lake of Kawah Ijen. A night hike to the crater in which the lake boils…
Beside the southern alun-alun (main square), Yogya's enormous kraton (palace) is the cultural and political heart of this fascinating city. Effectively a…
Candi Sukuh
In a magnificent position 900m above the Solo plain with fine views of Gunung Lawu, Candi Sukuh is one of Java's most enigmatic and striking temples. It's…
Museum Nasional
Merdeka Square & Central Jakarta
The National Museum is the best of its kind in Indonesia and an essential visit. The enormous collection begins around an open courtyard of the 1862…
Merdeka Square
It is here that Jakartans come to take a breather from the traffic. The figurative centre of Jakarta, Merdeka Square (merdeka means independence) is…
Ujung Kulon National Park
On the remote southwestern tip of Java, this Unesco World Heritage–listed national park has remained an outpost of prime rainforest and untouched…
Latest stories from Java
Filter by interest:
All Interests
Adventure Travel
Art & Culture
Beaches, Coasts & Islands
Food & Drink
Festivals & Events
Feb 13, 2014 • 3 min read
From the all-night shadow-puppet performances to the bold and socially aware graffiti covering many a wall, Yogyakarta, the cultural and spiritual capital…
Purchase our award-winning guidebooks
Get to the heart of Java with one of our in-depth, award-winning guidebooks, covering maps, itineraries, and expert guidance.
Java and beyond
Java, Indonesia
Book your individual trip , stress-free with local travel experts
roughguides.com
Travel guide
Local Experts
Itineraries
Travel Advice
Accommodation
Java is Indonesia's heartland. The archipelago's most densely-populated island is unlike any other. Home to some of the country's biggest cities, plus 30 active volcanoes that rise magnificently amid the rice fields, the interior houses Java's remaining forests, now limited to its 12 national parks. They protect some of the Earth's rarest creatures. Jakarta , the nation's bustling capital, is here – a world of glittering skyscrapers, pricey shopping malls and bumper-to-bumper traffic – plus Surabaya, Indonesia's second-largest city. Then, on the north coast, is Semarang with its intriguing mix of descendants of traders from afar.
The best travel tips for visiting Java
Best things to do in java, where to stay in java, best restaurants and bars, how to get here, how many days do you need, tips for getting around, best time to visit java, tailor-made travel itineraries for indonesia, created by local experts.
6 days  / from 830 USD
Bali's Beaches and Temples
Experience Bali's brilliant beaches and temples with this stunning trip. Marvel at ancient temples like Tanah Lot and Pura Besakih, soak in stunning sunsets, stroll bare-footed along the best beaches in Bali and haggle at local markets – experience all of this, and much more, with this unique trip!
10 days  / from 1600 USD
Rest and Relaxation in Bali and Lombok
This unique trip will take you to some of Bali and Lombok's most traditional places. Look forward to driving through tropical landscapes and spending time in villages nestled in scenic spots of traditional luxury with infinity pools and stunning vistas over the ocean.
10 days  / from 1580 USD
Royal Bali - Culture & Beaches
Enjoy a luxurious stay in Bali, with hand-picked 5 Star Hotels. This trip includes privately guided tours as well as leisure time, ideal for families with kids. Highlights include sea temple Tanah Lot, Jatiluwih rice terraces and Uluwatu temple with its famous Kecak dance.
14 days  / from 4025 USD
The Best of Bali
This trip will take you from the modern-day Bali to the traditional one. Bali has many adventures to offer, tour the countryside with a Vespa or glide through the hidden canyons. You will also be able to enjoy visits to enchanting villages, where you can take in the local way of life.
10 days  / from 1783 USD
Java and Lombok - culture and beaches
Start your trip in Yogyakarta (also called Jogja) with its rich cultural past such as the Borobudur temple. From there continue to hike Mount Bromo and explore more of East Java in Malang and Surabaya. End your trip on the dreamy beaches of Kuta/Lombok, dubbed 'the next Bali'.
12 days  / from 1250 USD
Singapore & Bali - A Unique Exploration
Combine Southeast Asia's smallest country Singapore with its largest country: Indonesia. Spend a few days exploring the metropolis before flying to the magical island of Bali. Temples, volcanoes and ceremonies are part of your itinerary, as are the gorgeous beaches of Nusa Lembongan.
14 days  / from 2600 USD
Culture, volcanoes and dragons - Bali, Flores & Komodo
Combine several islands on one trip - start in Bali's cultural capital Ubud before heading to the rice fields in Sidemen. A short flight to Flores allows you to explore volcanoes and local villages before hopping on a cruise around Komodo and other islands close to Labuan Bajo. Dragons included!
10 days  / from 1320 USD
Love trip to Bali
Celebrate your love union on this magical island. Included are couples massages at relaxing spas, a blessing ceremony by a Balinese priest, an authentic cooking class and of course - a beautiful white sandy beach on Nusa Lembongan to relax towards the end of your trip.
7 days  / from 1750 USD
Bali Yoga Retreat
Discover a new you with this rejuvenating Bali-based yoga retreat. Enjoy personalised yoga and meditation classes, together with revitalising Ayurvedic treatments, all in idyllic surroundings. The cuisine is a treat for all the senses; you will also have the chance to explore the temples of Bali.
14 days  / from 1691 USD
Unknown Java and Bali - an overland adventure
A fast-paced itinerary packing plenty of highlights: discover the temples of Prambanan and Borobudur and sunrises at Mount Bromo and Mount Ijen before heading to Bali: a beautiful underwater world and the landscapes of Ubud and Sidemen await.
7 days  / from 1300 USD
Java Discovery
Experience the magic of Java, the third-largest of the Indonesian Islands, with this stunning trip! Discover stunning ancient temple complexes, ride a bicycle through idyllic rural villages, climb to Mount Ijen's crater at sunrise and laze around on palm-fringed tropical beaches!
10 days  / from 2768 USD
Nature in Borneo and Relaxation in Riau
Experience the best of both worlds with this unique trip to Indonesia. Embark on a cruise up the Rungan River, where you will discover incredible wildlife and traditional villages, before continuing on to the Telunas Resort, a deserted island paradise that will be your home for a few days.
14 days  / from 3800 USD
Indonesia Island Hop
From your base on Bali's renowned beaches you'll island hop your way round glorious Hindu temples and heritage sites. See komodo dragons, partake in a traditional Balinese ceremony, meet with a Hindu High Priest and visit local villages: this trip to Indonesia ticks all the tropical getaway boxes.
13 days  / from 1550 USD
Exploring Bali's Culture & Gili's beaches
Dive deep into Balinese culture from Ubud and Sidemen. Visits include rice field walks, the Gates of Heaven, water temples like Tirta Empul and Tirta Gangga as well as a traditional cooking class. Your trip ends with the beaches of Gili Air and Jimbaran.
At the heart of Java is Yogyakarta , where painters, gamelan musicians, batik artists and dancers study and perform. Its rich courtly culture, refined manners, elevated language and proud traditions make it the traditional wellspring of Javanese culture. Outside its realm are Borobudur and Prambanan and countless smaller temples, remnants of glorious past kingdoms.
Trekking, climbing, birdwatching and wildlife-spotting at Gunung Bromo, Ujung Kulon and Gunung Merapi attract adventurers and naturalists. Two parks – Kepulauan Seribu and Karimunjawa – are marine preserves, luring water-lovers to their shores; Alas Purwo has some of the best surfing this side of Hawaii .
Around half of Java's inhabitants still live in rural areas, with many still making a living as farmers or fishermen. For 1,000 years, from the time of the great Hindu-Buddhist empires up to the early 1800s, Java's population of 3.5 million remained relatively stable. Wet-rice cultivation was the basis of civilisation, and as long as the population was small, farmers produced vast surpluses. Then in the 19th century, a forced-labour cultivation system instigated by the Dutch to increase food supplies resulted in a spiralling birth rate. By 1900, the population had soared to 28 million and today stands at around 140 million.
© Fehmiu Roffytavare / Shutterstock
Covered by forest, studded by volcanos, fringed by beautiful beaches and clear water, there is no shortage of things to do in Java. Attracting climbers, trekkers and birdwatchers, plus divers and those searching for cool, clean mountain air, Java is an island where you can stay in a traditional village one day and be sucked into the great cultural cities of Yogyakarta and Solo the next. Here's what to do in Java:
#1 Explore the great Fatahillah Square in Kota, Jakarta
Kota is the heart of the old 17th-century Dutch settlement at Batavia, originally a walled town modelled on Amsterdam . Most of Old Batavia was demolished at the beginning of the 19th century, but the town square area survived and has been restored and renamed Taman Fatahillah (Fatahillah Square). Adjacent colonial buildings have been converted into museums, and the whole neighbourhood has been considerably gentrified in recent years.
The main square of Jakarta bustles at weekends with street entertainers, old-fashioned bicycle rentals, artists and food vendors. The best thing to do here is to visit the museums that line the square: Museum Sejarah Jakarta (Jakarta History Museum), which houses memorabilia from the colonial period; the Museum Wayang (Puppet Museum), home to many puppets and masks including rare buffalo hide shadow puppets; and the Museum Seni Rupa (Fine Arts Museum), which features paintings and sculptures by modern Indonesian artists.
Fatahillah Square in Jakarta © Shutterstock
#2 Take in all of Jakarta from the Monas
Any visit to Jakarta should begins at the top of the Monas (National Monument). A 137-metre-tall marble obelisk is set in the centre of Lapangan Merdeka (Freedom Square). There is an observation deck at the top surmounted by a 14-metre bronze flame sheathed in 33kg of gold symbolising the spirit of freedom.
It was commissioned by Sukarno and completed in 1961 – a combination Olympic Flame-Washington Monument with the phallic overtones of an ancient Hindu-Javanese lingga. The museum in the basement contains 12 dioramas depicting historical scenes from a nationalistic viewpoint. A high-speed elevator rises to the observation deck, where on a clear day there is a fabulous 360-degree view of Jakarta.
Monas, Jakarta, Indonesia © Shutterstock
#3 Do nothing at Anyer and Carita beaches in West Java
Java's sandy and secluded west coast beaches to the west of Jakarta are sublime. There are numerous pretty bays and low-key developments mainly aimed at weekend trippers from nearby cities. At Anyer, several large resorts grace the coastline surrounding Dutch-built Anyer Lighthouse. Continuing 6km (3.5 miles) south is Karang Bolong, a huge rock forming a natural archway to the sea.
Its pleasant beach is a popular weekend swimming spot for Jakartans. Another 10km (6 miles) south is Carita, with sandy beaches situated in a lovely cove. Here there is beachside accommodation, a marina and sailing, jet-skiing, diving and snorkelling. In addition to sun, sea, sand and solitude, this palm-fringed coast has stunning sunset views of Anak Krakatau (Child of Krakatau).
Anyer Beach, West Java - Indonesia © Shutterstock
#4 Get a boat to Anak Krakatau volcano in West Java
The original Krakatau volcano achieved lasting infamy in 1883, when it erupted with cataclysmic force, ripping out a huge chunk of the earth's crust to form a monstrous 40-sq km (16-sq mile) submarine caldera. The sea rushed in, and tidal waves up to 30 metres (100ft) high swept the coast, claiming many lives. Today, all that remains of the mighty volcano are Sertung, Panjang and Rakata at its crater rim. In the decades that followed, undersea eruptions continued and a new peak emerged from the sea in 1927: Anak Krakatau.
An active volcano, Anak Krakatau erupted in 2018. Its caldera partially collapsed, triggering a tsunami. Boats go from Carita for day trips out to the volcano. When conditions allow, it is still possible to land on Anak Krakatau, but since the 2018 eruption, most tours stick to nearby Rakata Island, a surviving fragment of the original.
Krakatau, Indonesia © Shutterstock
#5 Look for the Javan rhino in Ujung Kulon National Park
Located south of Carita on the southwest tip of Java, the 420-sq km (260-sq mile) Ujung Kulon National Park is the last refuge for the highly endangered and seldom-sighted Javan rhino. The park also has other interesting animals, including leopards, macaques, leaf monkeys, mousedeer, crocodiles and banteng (wild oxen). Much of the area is dense lowland rainforest, open woodlands, and wetlands – excellent for birdwatching – with beaches in the north and south.
Peucang island, north of the mainland portion of the park, has basic bungalows and a restaurant, where deer, monkeys and monitor lizards are a common sight. About 10 minutes by boat from Peucang is Cidaon, the grazing ground for banteng and Javan peacocks. The highlight of the park experience is a canoe ride starting from Handeuleum island up the Cigenter River, where scientists monitor the Javan rhino activity.
Rhinoceros in their habitat in Indonesia © Shutterstock
#6 See the Sultan's Palace in Yogyakarta
Sprawling Yogyakarta (Yogya or Jogja) is situated at the very core of an ancient region known as Mataram, site of the first great Central Javanese kingdoms. Today, it is Jogja's cultural attractions that travellers come to see – ancient temples, palaces, batik, gamelan, dances and wayang puppet performances. Growing in popularity are nature-related activities.
Don't miss the Keraton (Sultan's Palace), a two-centuries-old palace complex that stands at the heart of the city. The 'Golden Pavilion' or Bangsal Kencana (central throne hall) is its most striking feature – a pendopo or open pavilion consisting of an ornate sloping roof supported at the centre by four massive wooden columns.
Yogyakarta Palace or Keraton Yogyakarta Hadiningrat, a palace complex in the city of Yogyakarta © Shutterstock
#7 Witness the world's largest Buddhist monument at Borobudur
You could easily spend half a day at the Borobudur Unesco World Heritage Site. Allow yourself a minimum of two hours to tour the candi (temple). This huge mandala, the world's largest Buddhist monument, was built sometime during the relatively short Sailendra dynasty between AD 778 and AD 856 – 300 years before Angkor Wat and 200 years before Notre-Dame.
Yet, within little more than a century of its completion, Borobudur and the other structures in Central Java were mysteriously abandoned as the focus of Javanese royal power shifted to the east.
Borobudur, Yogyakarta, Indonesia © Shutterstock
#8 And do'nt forget about Prambanan
If you are visiting Borobudur, make sure to put Prambanan on you to-do list as well. Visiting Prambanan in Java is a truly mesmerizing experience. As one of the largest Hindu temples in Southeast Asia, it is a testament to the impressive architecture and intricate artwork of the region.
The towering spires and intricate carvings of the temple complex are a sight to behold, and exploring the various shrines and courtyards is a great way to immerse oneself in the rich history and culture of the area.
Additionally, the temple's location amidst lush greenery and serene ponds creates a peaceful atmosphere that is perfect for meditation or simply relaxing and taking in the beauty of the surroundings. Whether you're a history buff, architecture enthusiast, or simply looking for a unique and awe-inspiring destination to visit, Prambanan is an absolute must-see.
Prambanan, Yogyakarta, Indonesia © Shutterstock
#9 Wander Surabaya's historic neighbourhoods
East Java's provincial capital, Surabaya , is known as the 'City of Heroes' because of the momentous first battle of the Indonesian revolution which took place here in November 1945. The most interesting areas of the city are the old Arab, Chinese and colonial neighbourhoods in the north. The richly atmospheric Arab quarter, generally known simply as Ampel, is centred on the mosque and tomb of Sunan Ampel, one of the legendary saints said to have spread Islam in Java. The mosque compound is approached via a narrow, covered bazaar with a decidedly Middle Eastern ambiance.
Further south, amidst crumbling colonial-era shop-houses, the vast Pasar Pabean market is a warren of stalls and alleys. From late afternoon until early morning the western part of the market turns into an emporium for freshly caught fish. Beyond the market, the original Chinese quarter begins, home to old temples such as Hong Tik Hian and Surabaya's oldest Chinese shrine, the 18th-century Hok An Kiong. The temple's central deity is the goddess Ma Co, the protector of waterlogged sailors.
Aerial Al Akbar Mosque Surabaya, is a Located in Surabaya © Shutterstock
#10 See Java's more traditional side at Sumenep, on Madura island
Accessible via the longest in Southeast Asia, Madura is overwhelmingly rural and deeply traditional island. The far east, centred on the sleepy former royal town of Sumenep, is particularly attractive. Sumenep is home to a small palace museum, some interesting royal tombs, and a strikingly attractive mosque, Masjid Agung.
There are some fine beaches and unspoilt countryside nearby. Madura is also famed for its traditional bull racing ( karapan sapi ). According to the Madurese, the races began long ago when plough team was pitted against plough team over the length of a rice field. Today's racing bulls are never used for ploughing, but are specially bred; they represent a considerable source of local and regional pride.
#11 Relax and unwind at the mountain resort of Tretes
Tretes is a delightful mountain resort offering fresh air, cool nights and superb scenery. Walk or ride on horseback in the morning to one of three valley waterfalls in the vicinity. Though busy at weekends, it is peaceful mid-week, and makes a good base for exploring the beautiful local countryside, which has rice-terrace scenery every bit as extensive, and often more impressive, than that of Bali.
More active souls will want to hike up Gunung Arjuna (3,339 metres) through lush montane casuarina forests, or across the Lalijiwa plateau along a well-worn path to neighbouring Gunung Welirang, where villagers collect sulphur from hissing fumaroles. The area is also studded with ancient monuments, beginning with Candi Jawi, just by the main road 7km (4 miles) below Tretes. This slender Hindu-Buddhist shrine was completed around 1300, and is one of several funerary temples dedicated to King Kertanegara of the Singasari dynasty.
There are so many high-quality and cool places to stay in Java that if you've somehow managed to book a flea-ridden bed in a basic room, you're doing it wrong. Jakarta and Yogyakarta have a wealth of places to stay, from cheapo hostels to gated resorts with more stars than the Milky Way. In rural areas, homestays and guesthouses are great ways to meet locals, whilst along the coast, beachside huts and mega-resorts give visitors plenty of choice, too.
Packed with a great choice of accomodation, Jakarta is likely to be most travellers first point of arrival. Rooms here are cheap, there's a good selection of higher-end resorts and luxury stays. There are some really cheap hostels as well.
Central Java
With Yogyakarta and Solo being such cultural and historical hot spots, there are loads of great heritage hotels in both cities. Ambarawa and the Karimunjawa Islands both have some amazing, blissed-out escapes and out in the sticks, you'll likely to find real, authentic guesthouses and homestays.
You've come for the beaches, right? Fortunately, there are plenty of sand-side stays: bungalows, huts, homestays and guesthouses. This region also has a surprising amount of chic boltholes that cost very little.
There is plenty of choice in West Java, from international chain hotels to cheap hostels and more boutique accommodation as well. If you're heading out into the countryside, look for hidden resorts and thatched bungalows.
Browse the best places to stay in Java .
From street food vendors to swish fine dining, Java has some incredible places to eat that run. The staple for the majority of Indonesians is rice. Coconut milk and hot chilli peppers are popular cooking ingredients island-wide. Dishes range from very spicy meat, fish and vegetables, such as the Padang food found everywhere in restaurants called rumah makan Padang, to those that are quite sweet. Almost all come with steamed white rice ( nasi puti ). The most popular dishes among visitors are nasi goreng (fried rice), mie goring (fried noodles), sate or satay (grilled meat or chicken on skewers) and gado-gado (cold, steamed vegetables served with a peanut sauce). Nasi campur is a good choice for travellers because it is a complete meal, including rice, a vegetable and a piece of meat, usually chicken.
Chinese restaurants are found in almost every town and offer less spicy food and vegetarian dishes. In the main tourist centres, resorts and big cities like Jakarta, restaurants will cater for visitors and serve a wide variety of cuisines, including Western. All cities have American fast-food outlets such as KFC (Kentucky Fried Chicken), and larger ones have McDonald's and Pizza Hut.
© Bule Sky Studio/Shutterstock
It is easy to get to Java, especially as Jakarta has the island's biggest airport. There are domestic ferries serving the island as well, but only cruise ships travel here internationally.
The vast majority of long-haul international flights arrive either at the huge and recently upgraded sukarno-hatta international airport (also spelled Soekarno- Hatta), 20km (13 miles) west of Jakarta on Java. The city is well-served with long-haul flights and is a major domestic hub. There are more limited international connections to Bandung , Yogyakarta (Jogja), Surakarta (Solo) and Surabaya, all of which also have regular connections from Jakarta.
The cost of internal flights in Indonesia has increased considerably in recent years, while short-haul regional links remain highly competitive. It may be cheaper to use Kuala Lumpur or Singapore as your long-haul destination, and then to book a flight with a regional budget airline such as AirAsia directly to your final destination, rather than heading to Jakarta or Bali and travelling onwards from there.
Scheduled international passenger ferries to Indonesia are a thing of the past, thanks to cheap air travel. The old links between Malaysia and Indonesia have mostly been discontinued. The archipelago is regularly visited by cruise ships, however. Cruise operators often offer fly-cruise arrangements that allow you to fly to Bali and other ports, then catch a ship on the way home, or vice versa.
PELNI, the state-owned shipping company, serves several ports on Java. The busy vehicle links between major islands are mainly operated by ASDP. In bad weather, especially during the rainy season (Oct–Apr), the seas can be quite rough, particularly between Sumatra and Java, and all ferry runs may be cancelled. Enquire at the local ticketing office if the weather looks ominous.
Whilst some of Java's highlights can be visited in a week, to really do the island justice you will need two weeks here. Jakarta alone will keep you busy for three or four days and that's before you even set off for the cultural cousins of Yogyakarta or Solo. Throw in the great monuments of Borobudur and Prambanan, boat trips to Anak Krakatau, hikes up Mount Bromo and a trip to Thousand Islands (Pulau Serib) to just relax and you've already got a fortnight right there. The best advice would be to pick one or two areas of the island and stick to the best things to do there.
Looking for inspiration for your trip? Talk to our Indonesia travel experts .
© Boyloso/ Shutterstock
There are plenty of good ways to get around in Java with planes doing the heavy lifting across large distances. Buses are great for intercity travel but can get caught up in traffic jams in larger cities like Jakarta. Trains are good too but you will need to book ahead.
Intercity buses in Java are generally comfortable modern coaches with air-conditioning, and increasingly often with Wi-Fi. Smaller, less comfortable buses provide links to smaller towns and rural areas. These days, many Indonesians prefer to book intercity transport on 'travel'; these are typically air-con minibuses or large cars, which run door-to-door. They are slightly more expensive than long-distance buses, but much more convenient (though in big cities they can spend a long time picking up passengers from scattered locations). Most hotels or travel agents should be able to make a booking for you.
Java's train network, running from east to west, offers services to all its major cities. In the east, it connects with ferries to Bali, and in the west, with ferries to Sumatra. More comfortable than buses, Java's rail network is affordable and efficient. Most lines are single-track, so it's not uncommon for trains to sell out weeks in advance. Book ahead online.
By car and driver
Car rental in Java is uncommon but the hire of a car and driver can be arranged through most hotels or guesthouses. Negotiate better rates if you are booking a vehicle for a week or longer, but note that you are responsible for the driver's food and lodging, and for the petrol.
Java has a tropical climate with two distinct seasons: the wet season (October to March) and the dry season (April to September). The best time to visit Java is June when the weather is excellent and the holiday crowds that arrive in July and August are yet to fill the hotels. Due to flooding and landslide risks, hiking and climbing should only be undertaken during the dry season.
There are several great festivals on Java, including Independence Day (17 August) and Labuhan in Jogja (25 August), where there is a procession to Parangkusumo beach to give offerings to Nyi Roro Kidul, Queen of the Southern Sea, to thank her for successful harvests and to ask blessings for the coming season. In East Java, the Madura Bull Races take place from September to November. In Pamekasan in October, the Sapi Sono Festival names the most 'beautiful' buffalo in the region.
Find out more about the best time to visit Indonesia .
Discover more places in Indonesia
The Rough Guides to Indonesia and related travel guides
In-depth, easy-to-use travel guides filled with expert advice.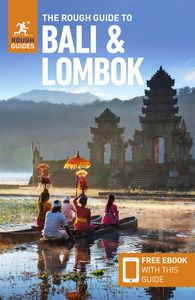 Find even more inspiration here
Planning your own trip? Prepare for your trip
Use Rough Guides' trusted partners for great rates
written by Rough Guides Editors
updated 26.04.2021
Plan your tailor-made trip with a local expert
Book securely with money-back guarantee
Travel stress-free with local assistance and 24/7 support
Matt Mickiewicz
Trip Provider took us far off the beaten tourist path in Bali, and arranged a unique and very special experience far away from the tourist crowds that we w...
Ready to travel and discover Indonesia?
Get support from our local experts for stress-free planning & worry-free travels.
Where to stay
Travel advice
2 min summary
Best time to visit
Best time to visit Java
This densely populated island contains many towering volcanoes, ancient temples and peaceful pockets beyond its megacities, which organised tours hop between. From cycling to hiking, cultural exploration and island hopping to Bali and beyond, read on to discover the things to do and the best time to visit Java, too.
Java holidays Holidays
Travel Guide
Best Time To Go

Things to do in Java
Things to do in java…, things not to do in java….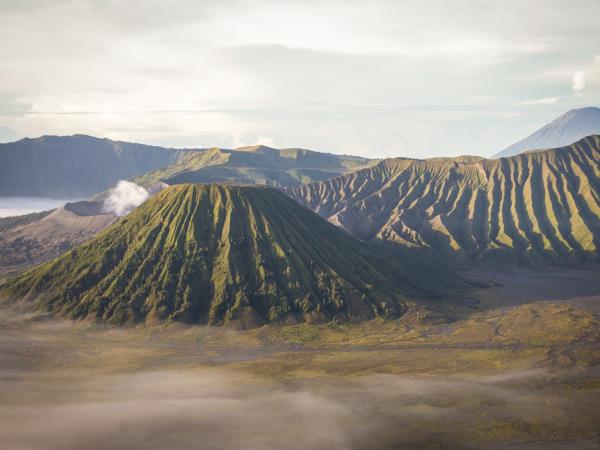 Java and Bali holiday in Indonesia
An adventurous tailor-made journey through Java, Indonesia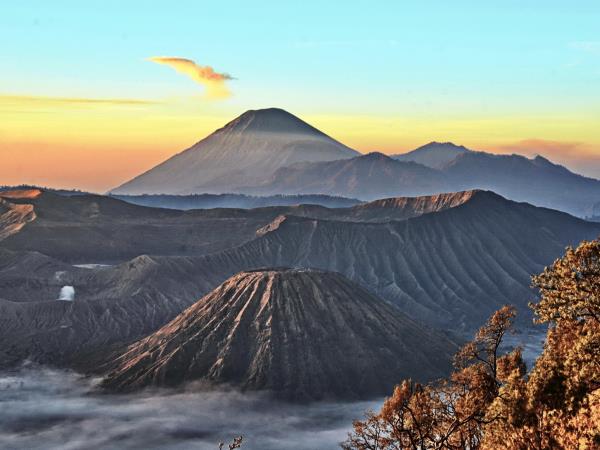 Java 12 day tour
Ancient Temples, Towering Volcanoes and Vibrant Street Life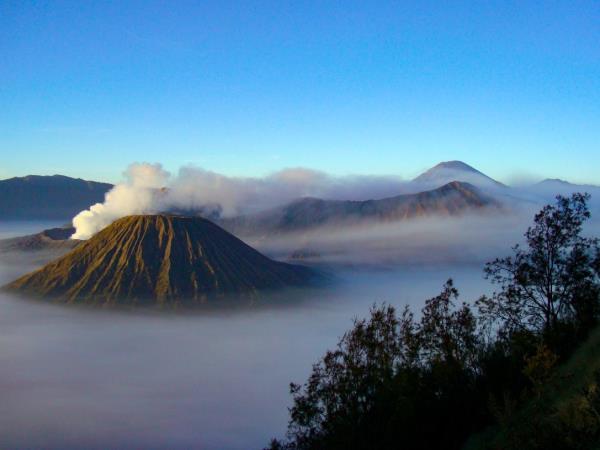 Java and Lombok 11 day tour
Explore culture, natural wonders & beaches of Java & Lombok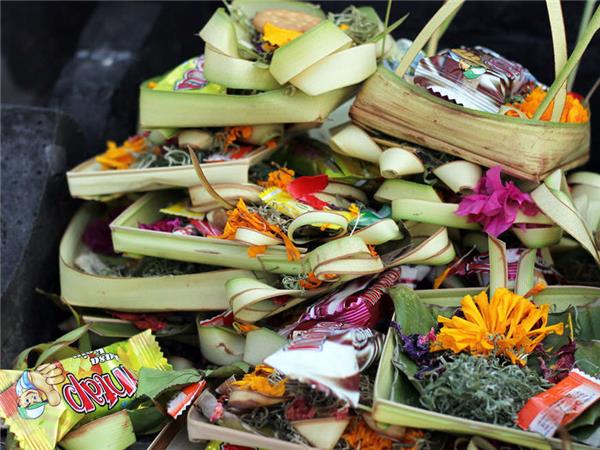 Bali and Java holiday in Indonesia
Discover the best of Java and Bali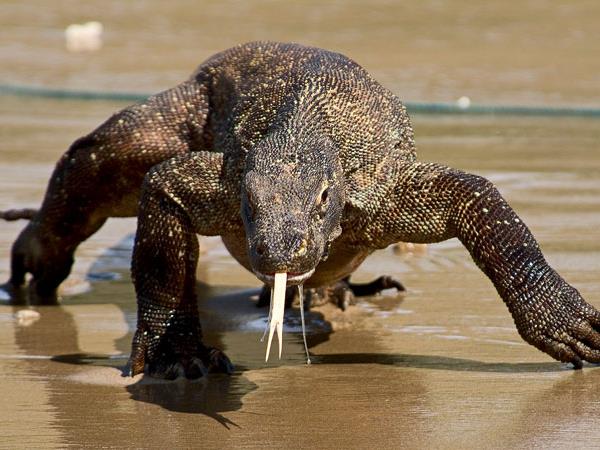 Indonesia small group tour, temples and dragons
Spot mythical Komodo dragons and meet indigenous people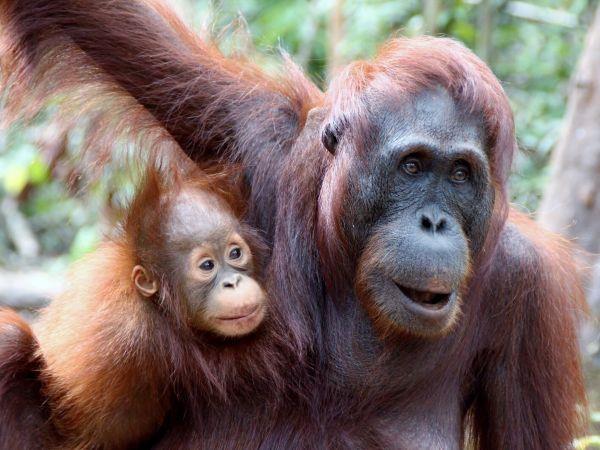 Indonesia tour, volcanos, Orangutans & beach
Orangutans spotting in the jungles of Kalimantan, Indonesia.

Java travel advice
Why see java, packing tips, food highlights, how long to spend, more java articles.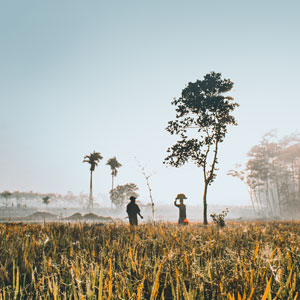 More relevant guides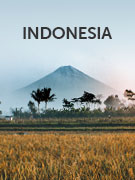 Indonesia guide
Our Indonesia travel guide aims to point responsible travellers in the right direction when it comes to what we rate & what we don't as well as all the information you need on food, shopping & people to assist in your quest to discover Indonesia like a local.
Our purpose
Trip for a Trip
Founder's story
What we do not sell
Your holiday
Claim your free gift
Loyalty discount
Financial protection
Impact report
Newsletter sign up
Terms and conditions
Privacy policy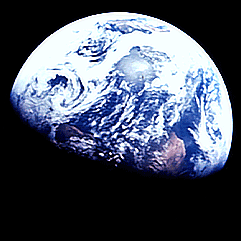 When to go to Indonesia
When is the best time to visit Indonesia?
With the westernmost point a full 3200 miles from the eastern most tip, so it should come as no surprise that summarising the weather in Indonesia is not straightforward. The tables below split the 'country' (made up of 17,508 islands) into two regions - the western & central islands and the eastern islands (that sit to the east of the Wallace Line), however we encourage you to read the more detailed summaries below as there can be significant variations in conditions between the islands within each group.
For the western and central Indonesian islands (such as Bali, Java, the Gilis, Lombok and Komodo), the best time to visit Indonesia is during dry season which spans from May to September and this is the most popular time to visit the country. The wet season is between October & April , with rainfall occurring in short, heavy bursts.
However, the eastern islands such as Sulawesi , West Papua, Raja Ampat and the Moluccas Islands drum to a different beat and mostly peak between March and May and again in October.
Temperatures remain fairly constant year round with averages of 28°C throughout the region.
Indonesia weather & when to go
Pick a month below, west and central islands, eastern islands, weather overview.
Weather in Indonesia can be split into two seasons - wet and dry - with warm tropical temperatures averaging 28°C during the day, throughout the year. In most regions, the dry season spans from May to September, with the rains falling between October and April.
There are some regional exceptions. On Sumatra it rains from October to January in the north, and November to February in the south. Sulawesi , with its unusual shape, also experiences slightly different weather patterns and rainfall can be expected in the northern regions of the island during June and July.
Generally speaking, the best time of year to visit Indonesia is between May and September when the days are dry and sunny. However, during wet season temperatures remain high and rainfall comes in the form of intense tropical downpours that tend to last for a couple of hours and needn't spoil your trip.
In some regions the difference between the two seasons is not extreme: Bali and Kalimantan , for example, are relatively unaffected by the season change, but the contrast typically grows as you travel further east into the Nusa Tenggara region (to the islands of Lombok, Flores and beyond) where there is a greater chance of flooding during the wet season and droughts in the dry.
It really depends on your travel plans: muddy back roads can be a problem during wet season if you intend to explore more off the beaten track locations and rough seas can render some islands inaccessible to smaller boats. The best months for diving off the coast of Bali , Lombok or the Komodo National Park are April to September , with rough seas particularly in January & February. If you plan to climb one of Indonesia's many volcanoes, such as Mt Bromo or Mt Rinjani, then dry season is recommended. Expect the temperature to cool as you climb, and pack some warmer layers.
Bali 's dry season spans from April to September, with days characterised by blue skies and sunshine. The months of May, June and September are arguably the best time to visit, when the weather conditions are idyllic but visitor numbers are not at their highest, meaning the popular beach resorts of Jimbaran, Sanur and Seminyak are not too crowded.
Bali's wet season falls between October and March, but we're talking brief tropical rainfall rather than days of monsoonal downpours. Temperatures in Bali are fairly consistent year round, ranging from 26°C - 29°C, although the central regions around Ubud and the mountains, such as Mt Batur, experience cooler temperatures and higher rainfall than the coastal regions.
The best time of year to visit the island of Java is during dry season which spans from May to September, when days are hot, dry and sunny. These months are also an ideal time to travel if you are planning on climbing the mountains of Bromo or Ijen.
Rainy season in Java runs from November to March, although East Java experiences less rainfall than the western regions. Days are characterised by regular, intense rain showers that tend to last for a couple of hours.
Temperatures are consistently warm year round, with average daily temperatures hovering around 28-30°C, although temperatures are cooler in the higher mountainous regions such as Mt Bromo, especially at night.
Nusa Tenggara
Lombok, flores, komodo national park, sumba.
The islands of Nusa Tenggara, including Lombok & the Gilis , Flores & Sumba , typically experience dry season between April and September with plenty of sunshine and blue skies. These months are an ideal time to travel if you are planning to climb Mt Rinjani or dive off the coast of Lombok, the Gili islands and in the Komodo National Park. Wet season falls between October and March, with November, December and January seeing the most rainfall.
Like the neighbouring island of Bali, the average temperature is fairly consistent year round across the Nusa Tenggara islands, ranging from 27-29°C.
Sumatra is a fairly large island, split by the equator and weather conditions vary slightly across the island. Medan and North Sumatra experiences a more tropical climate with the possibility of rain showers year round, especially in the jungle-clad areas such as Bukit Lawang. The heaviest rainfall in the north is typically between October and January. Palembang and South Sumatra experiences a more definite split between wet and dry season, with drier weather typically occurring between April and October and rainfall from November to March. Average temperatures hover around 27-28°C throughout the year, although highs of 33-34°C are not uncommon during the drier, summer months.
Kalimantan is a large island and weather conditions vary slightly across the island, with the southern regions being the driest and the rainforest-covered interior predictably the wettest.
The island experiences a light rainy season from March to May, with heavier rains falling between November and January. However, overall the rains on Kalimantan tend to be lower than neighbouring parts of Indonesia, such as the island of Java. Dry season spans from June until September, with August and September being the driest months of the year. Orang-utans can be spotted in the Tanjung Puting National Park throughout the year, although during rainy season they tend to be more elusive, preferring to shelter.
The temperature ranges from a warm 23°C at night to a hot 33°C during the day, with the hottest months typically May and August.
Sulawesi , with its peculiar shape, experiences different weather conditions depending on where you are on the island. In Toraja and the southern part of the island monsoon rains fall between November & April; whilst the city of Manado and the northern regions experience rainfall year round, with the driest months between July & October. Temperature-wise it can get very stuffy on the coast, with highs of 34°C, dropping to a positively brisk 24°C in the hills of central Sulawesi.
The Moluccas
Weather conditions across the central Molucca islands of Ambon and Seram differ from the rest of Indonesia. Between the months of June and September these islands experience rainfall and are best visited between the months of October and May. Weather patterns across the southern Molucca islands of Kei, Aru and Tanimbar, and the northern islands of Ternate, Tidore and Halmahera are similar to the majority of Indonesia. These islands are best visited between the months of May and September.
West Papua & Raja Ampat
West Papua and the islands of Raja Ampat can be visited year-round; there isn't really an off-season. The region experiences reliably consistent daily temperatures. In Raja Ampat daily temperatures average between 30°C and 34°C throughout the year and rarely drop below 10°C at night. The ocean is warm year-round too. In the highlands of Wamena and the Baliem Valley, at an altitude of 2000m+ above sea level, temperatures are cooler and average between 20°C and 25°C throughout the year. A drop below 10°C at night in the Baliem Valley can be expected. Rainy season across the islands of Raja Ampat rather confusingly differs from the rest of Indonesia. Between the months of June and September there is a higher chance of rainfall and strong winds can be expected: not ideal conditions for boat journeys or diving. In the Baliem Valley, at altitude, showers can be expected year-round, with the wettest months of the year being May and June. However, rainfall in the region typically comes in the form of brief, heavy downpours as opposed to all-day monsoonal rain.
We think you may like this journey…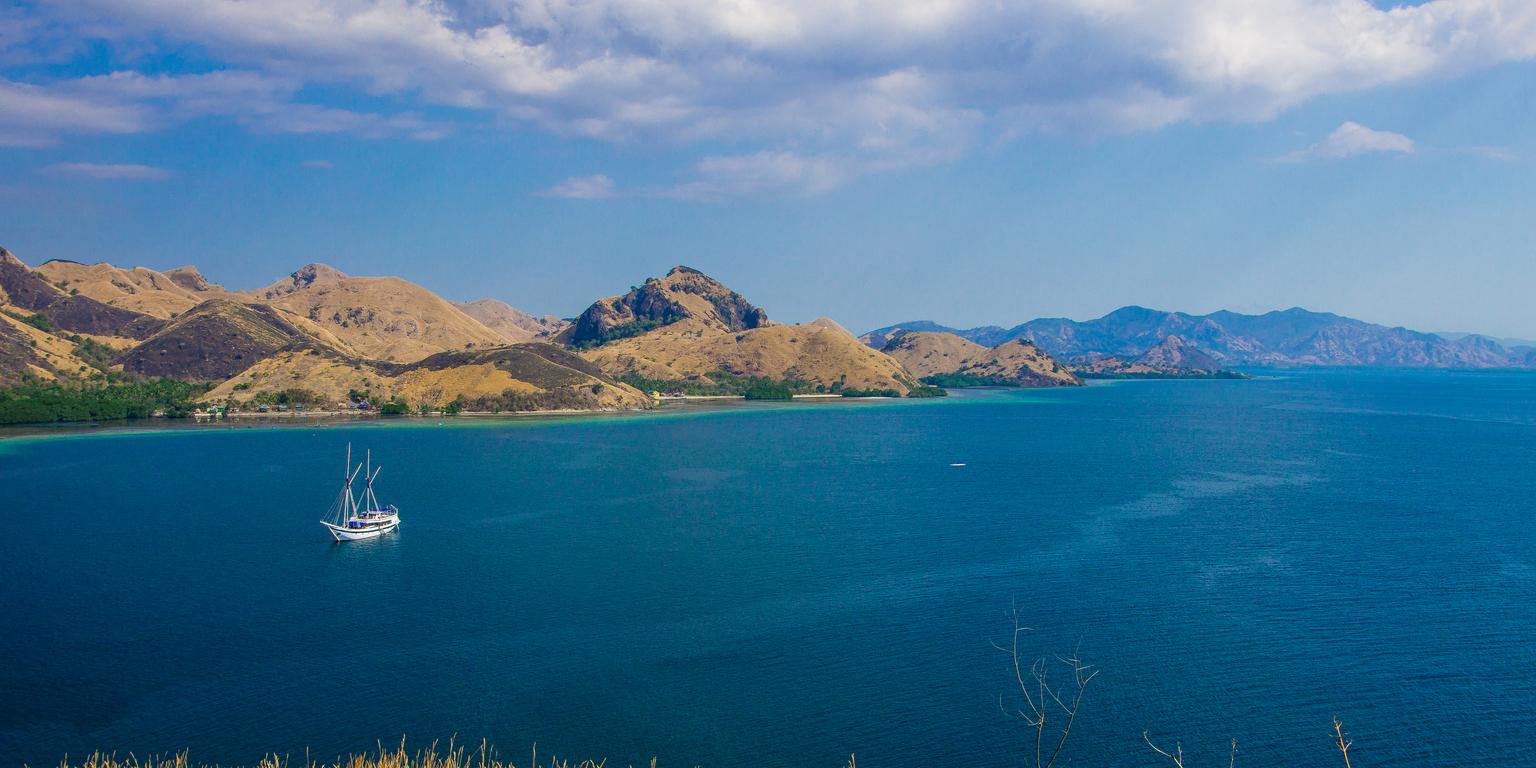 Indonesia Encompassed
From cruising the jungle waterways of Kalimantan's rainforest and spotting orangutans, to soaking in the culture in Java to a few days relaxing on Bali and Komodo island - this is a trip full of beautiful contrasts in Java, Kalimantan, Bali and Komodo.
Looking for inspiration?
Change location
UK / International
Call toll-free tomorrow from 10am EST 617-223-4521 617-223-4155 or

When is the best time to visit Indonesia?
The best time to visit Indonesia is between April and October, when the weather is perfect for island-hopping, snorkeling, and beach relaxation.
Bridging the Equator, Indonesia is hot all year round, with the only change coming between November and March when the country sees widespread rain, particularly in the south.
Although the rain may scupper your plans to relax by the beach, it does bring some pleasant changes. Indonesia's rich collection of temples are often quieter at this time of year, making exploration much more rewarding. The scenery is beautiful, and if you venture into the highlands the temperatures are cooler, which can be a welcome change from the humid conditions on lower ground.

Make an inquiry
Request a brochure
Month-by-month guide for traveling in Indonesia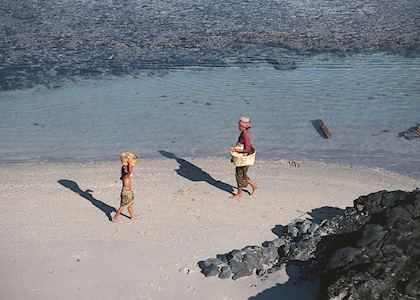 Visiting Indonesia in January
During January the rains are widespread across Indonesia, and although it's difficult to find some sun, you can still be lucky at this time of year. For guaranteed sunshine, it's best to head further north.
Events & Festivals
Chinese New Year (date varies): As with many Southeast Asian countries, Chinese New Year is celebrated in Indonesia as a public holiday, with traditional festivals taking place throughout the country.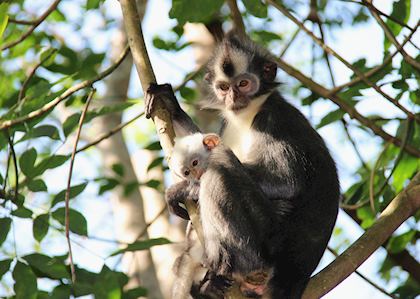 Visiting Indonesia in February
The sun is back out in northern Sumatra , where rainfall is at its lowest. However, the rest of Indonesia remains under rain clouds. Closer to the end of the month, the rains begin to subside and temperatures hover around the high 80°Fs.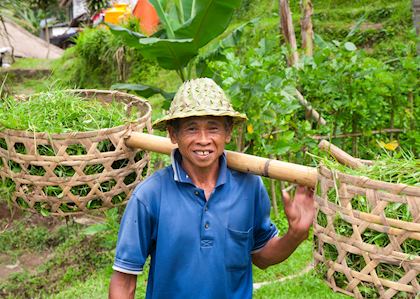 Visiting Indonesia in March
There is mixed weather throughout Indonesia as the sunshine is broken up by the occasional heavy downpour. That being said, you may be able to secure some low season bargains.
Hari Raya Nyepi/Balinese Day of Silence (March): A Hindu celebration to mark the Saka New Year, it is a public holiday across the country as people fast and spend the day in silence and meditation.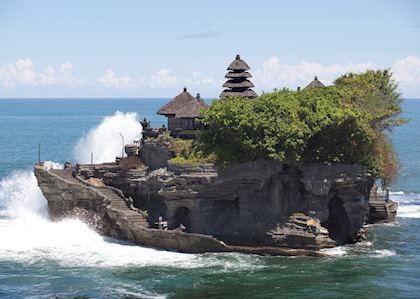 Visiting Indonesia in April
The sun returns to most of Indonesia, with Sumatra still seeing a little rain in the afternoons. Indonesia begins to get busy toward the end of the month so it's best to arrive early to avoid the crowds.
Ramadan (exact dates vary): While the month of Ramadan may impact your daily routine as shops and restaurants close during the day, this is an exciting time to visit if you are fascinated by different cultures and religions.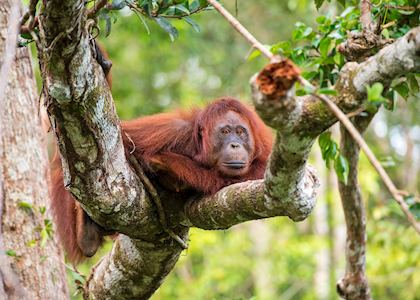 Visiting Indonesia in May
Bali and Lombok receive some of their best weather for the year and beach goers flock to the area, making the most of the glorious sunshine and clear blue skies. The country continues to see hot and dry weather throughout, although the occasional shower is to be expected in some areas. This is a good time to spot orangutans as they come out to play in the forests, and you may be able to take advantage of shoulder season hotel promotions.
Idul Fitri/Lebaran (May): A major two-day national holiday celebrated at the end of Ramadan as the breaking of the fast, also known as Eid al-Fitr in other Muslim countries. Families get together and enjoy a feast.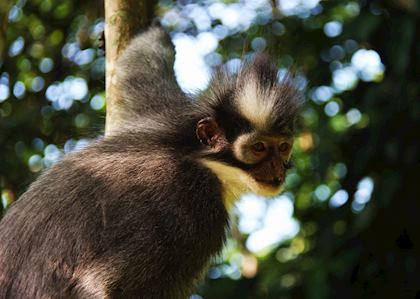 Visiting Indonesia in June
The beginning of June is quite possibly the best time to travel to Indonesia. If you go early enough you will miss the European school vacations, and you are almost guaranteed sunny weather throughout. Wildlife is also at its peak, making treks through the forests extremely rewarding.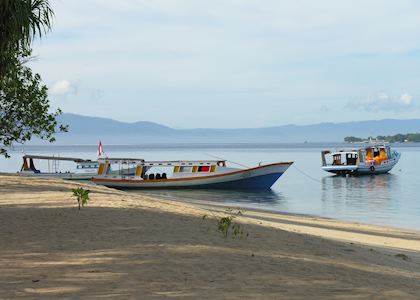 Visiting Indonesia in July
This is peak season and the whole of Indonesia experiences hot, dry weather. With the school vacations in full swing and the sun nearly always shining, accommodations tend to get booked up far in advance and beach locations can feel a little crowded. Humidity in Kalimantan can make travel uncomfortable.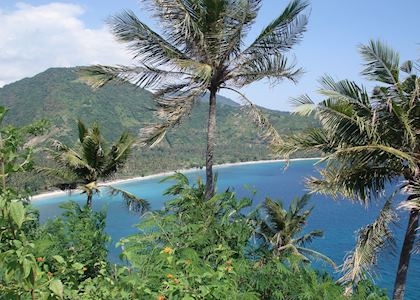 Visiting Indonesia in August
Peak season continues and August will see even more visitors than July; with the weather, wildlife and national parks all key attractions. Book early to avoid disappointment.
Independence Day (August 17): A public holiday to celebrate the anniversary of Indonesia's independence, which was won from the Dutch in 1945. You can enjoy various festivities as the Indonesian flag flies high across the country.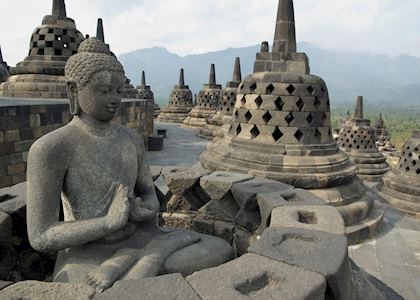 Visiting Indonesia in September
September has the favorable weather conditions of August, but without the crowds and high season prices, making this a fantastic time to visit.
Muharram 1/Islamic New Year (date varies): The Islamic New Year is celebrated throughout Indonesia with parades, festivals and prayer, making this an exciting but busy time to visit.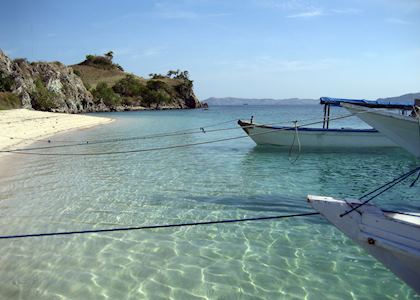 Visiting Indonesia in October
Enjoy the last of the sunshine before the wet season takes hold. Warm and sunny weather still dominates most of the region, although regular showers can be expected in some areas, worsening in intensity as the month draws on. Northern Sumatra , in particular, experiences one of its wettest months, which can affect roads. This can be a great time to grab a shoulder season bargain.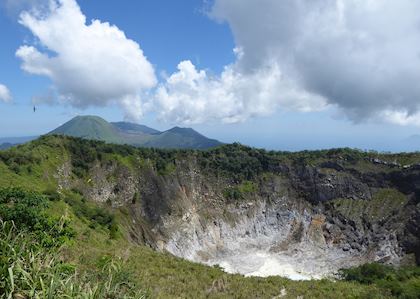 Visiting Indonesia in November
The rains return throughout Indonesia, but you may be lucky and experience the occasional burst of sunshine; particularly in Bali and northern Sulawesi . Temperatures still average around 86°F in most areas, but the rains mean that road conditions can be poor and the humidity can be stifling.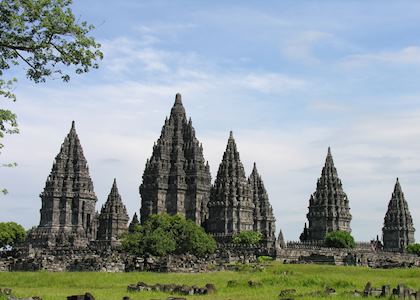 Visiting Indonesia in December
During December you are likely to experience rain and high humidity levels throughout Indonesia. With Christmas prices just around the corner, it may be best visiting early on in the month.
Indonesia Climate Guide
Why travel with audley.
100% tailor-made tours
Fully protected travel
Established for over 25 years
98% of our clients would recommend us Travel advice
Practical tips for traveling to Indonesia, from social protocols to guidance on money matters, with a link to the latest US State Department travel advice.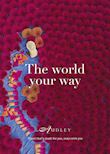 Request our brochure
Covering all seven continents, The world your way shows you how you can see the world with us. It features trip ideas from our specialists alongside hand-picked stays and experiences, and introduces our approach to creating meaningful travel experiences.
Trip ideas and travel guides for exploring Indonesia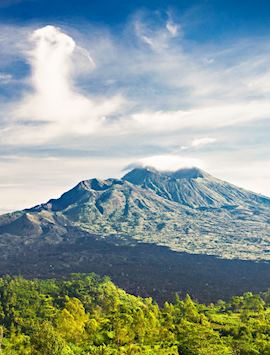 Classic Bali tour
13 days from $4,260pp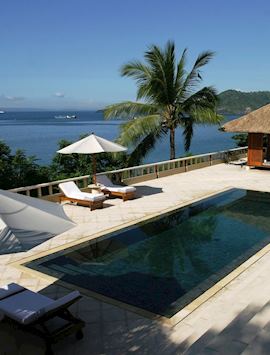 Luxury tour of Indonesia
16 days from $15,760pp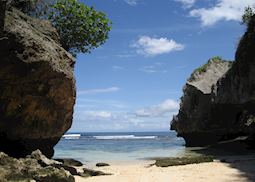 What to do in Bali: our highlights guide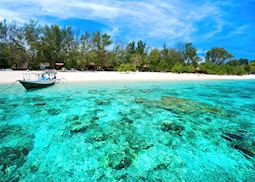 Best beaches in Indonesia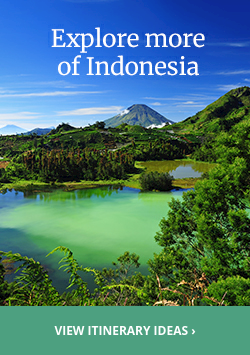 10 must-visit places in Java, Indonesia
With thousands of islands, hundreds of languages and a mind-boggling mix of cities, beaches, volcanoes and rainforests, planning a trip to Indonesia can be mystifying.
If you're a first time visitor, or just have a couple of weeks to spare, Java is the perfect solution. The biggest island in the country, Java is home to Indonesia's busiest cities, its most famous sights, and over half of its friendly population.
Here's just 10 highlights from this gem of South East Asia: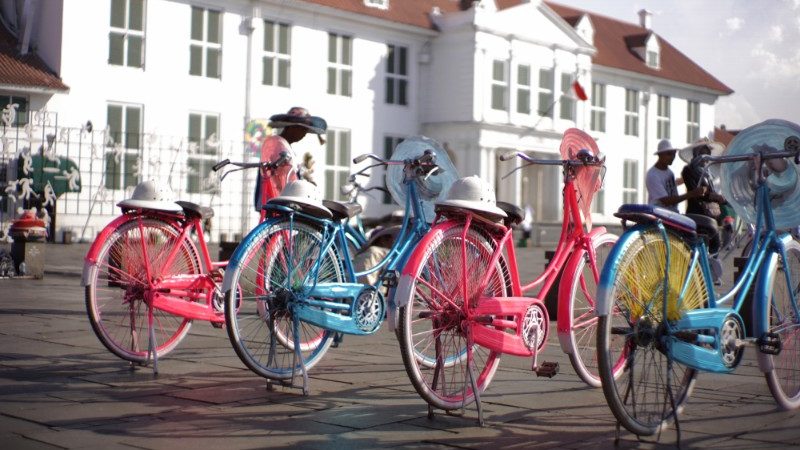 Bikes in Jakarta. Photo by Fajrul Islam.
The sprawling capital of Indonesia, Jakarta is the centre of the action and where you'll discover just how diverse this country really is. Inhale the smells from Malay and Chinese cafes as you wander past 19th-century style Dutch buildings and listen to the call to prayer from a nearby mosque… all while suited executives make business deals in skyscraping offices around you.
2. Yogyakarta
Taman Sari water temple, Yogyakarta. Photo by Pigprox.
If Jakarta is the brain of Java, then Yogyakarta is its heart and soul. The cultural centre of the island (and maybe even the whole of Indonesia), you'll find batik workshops, life-changing street food, the famous Ramayana Ballet and so much more here. Take a quick bike ride through the city and suddenly you're surrounded by rice paddies with brooding volcanoes in the distance.
EXPLORE YOGYAKARTA'S SECRET TREASURES ON THIS 4-DAY INTREPID ADVENTURE
3 & 4. Borobodur & Prambanan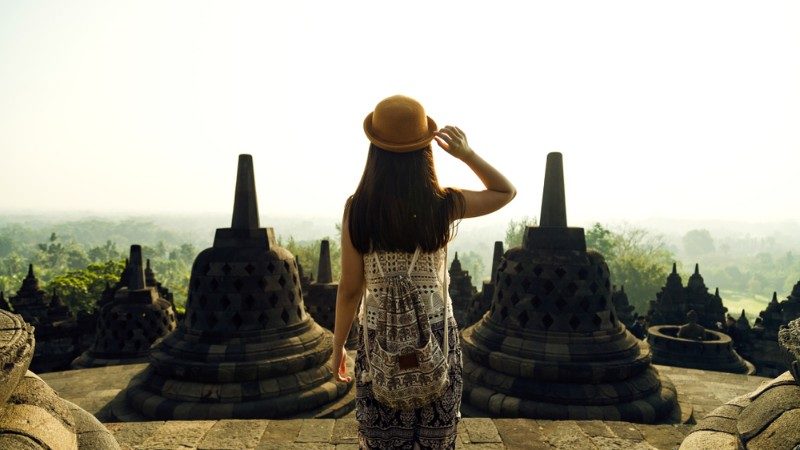 Borobudur Temple. Photo by Michael Tanujaya
Easily day-tripped from Yogya, Borobodur is the world's largest Buddhist temple and not to be missed. If you're not interested in the history – the complex dates from the 9th century – you'll certainly be impressed by the views from the top. Equally impressive is nearby Prambanan, a Hindu temple complex that will take your breath away at sunset (or any other time of day).
RELATED: 15 PHOTOS THAT WILL INSPIRE YOU TO VISIT INDONESIA
5. Pangandaran
Lush canyon in Pangandaran. Photo by Y. Mulyana
Skipped over by most major guide books, Pangandaran is a lush slice of jungle in West Java with two main draws; the paradise-like Green Canyon, and no tourists. Take a boat upriver to swim in dreamy green water as towering, green-covered cliffs keep the rest of the world far, far away.
6. Seloliman Nature Reserve
Penanggungan Mountain. Photo by Aswin Rizky Wardhana.
The Seloliman Nature Reserve is Java's ultimate jungle retreat. Nestled into the slopes of the sacred Penanggungan volcano, here is where you can learn about local farming and wildlife by day and stargaze by night. Organic, home-grown food and open air baths surrounded by nature will put some pep back in your step.
RELATED: WHERE TO TRAVEL IN INDONESIA, ACCORDING TO AN INTREPID LEADER
7. Mount Bromo
Mt Bromo. Photo by Burhan Bunardi.
There's magic in the air at Mount Bromo, arguably the most iconic of Java's many active volcanoes. Hiking through the Tengger Valley to catch a view of Bromo and the sea of peaks that surround it is, hands-down, the most breathtaking Indonesian experience of all. The (very) early morning start is well worth it for the sweeping sunrise views.  
8. Kalibaru
Strolling through Kalibaru. Photo by Inspired By Maps
'Wake up and smell the coffee' is a way of life in Kalibaru; the foothills encircling this little town are top-to-toe coffee plantations. There's not much to do here but see how cocoa and coffee beans are harvested, cool off in the milder climate, and look out over the hills as you sip a cup of joe straight from the source. If you're in need of some rest and relaxation, you'll get plenty of both here.
RELATED: WHY TO CONSIDER SOLO TRAVEL IN BALI (AND WHAT TO EXPECT)
9. Kampung Warna Warni Jodipan
Colourful houses of Kampung Warna Warni. Photo by Kadek Bonit Permadi.
Historical city Malang in the heart of eastern Java is known for its temples, 19th-century Dutch-style architecture, and the technicolour houses of Kampung Warna Warni Jodipan. Your Instagram feed will be full of this village's cheerful rainbow-painted roofs, and when you're done snapping, there's plenty of enticing food and captivating museums to tackle.
SUBSCRIBE TO INTREPID'S NEWSLETTER FOR TRAVEL TIPS, COMPETITIONS, GIVEAWAYS & MORE
10. Sempu Island
Sempu Island. Photo by cahya nugraha.
If a tropical beach with no electricity, no phone signal, and no people is your idea of paradise, you'll want to take a short boat trip from the coast of Java to Sempu Island. Trek to the lagoon in its centre for a sneak peek of what heaven looks like, or camp out on the white sand for the night before catching a boat back in the morning.
Getting around
What's the best way to get around Java? By train, of course. Unlike other parts of Asia (and Indonesia), the train network in Java is extensive, trains are comfortable and (usually) punctual, and tickets are affordable. Grab a snack from the hawkers who hop on and off at every stop, settle in, and watch the scenery whizz by your windows.
Interested in exploring Indonesia ? Check out our range of small group adventures around Java now.
Feature image by Merabet Hichem. 
Edel was born in raised in Dublin, Ireland, where she still lives and works a day job as a writer. So far she has travelled across four continents, visited the highest and lowest points on the earth's surface, and amassed a network of much loved travel buddies around the world. She's always looking for more, so connect with her on Instagram or Twitter.
You might also like
Iceland's folklore: 4 mythical creatures that make the..., top 12 things to do in iceland, 10 must-visit beaches in south australia, 6 of the best hikes in iceland, everything you need to know about the ocean..., argentina or chile which south american country should..., norway vs sweden: which scandinavian country should you..., arctic vs antarctic cruises: how to choose your..., the 10 antarctica questions you want answered, egypt or jordan which country should you travel..., what not to do at uluru.

10-Day Backpacking Central And East Java Itinerary: The Best of Java
When you think of Indonesia, you are probably imagining its abundance of white sand beaches, rice terraces and the mystical temples of Bali , but if you're hungry for an adventure, then you might want to consider Java.
Java is the second largest island in Indonesia and is teeming with rich, unspoiled nature, authentic and lively cities, over 45 ACTIVE volcanoes and the nicest people you will ever meet. Strangely, tourism hasn't spoilt its natural beauty yet. So, if you want to go… go now!
All you need is 10 days in Java to see the best attractions, and we will show you how in our 10-day Java itinerary below. Enjoy!
Java Tourist Map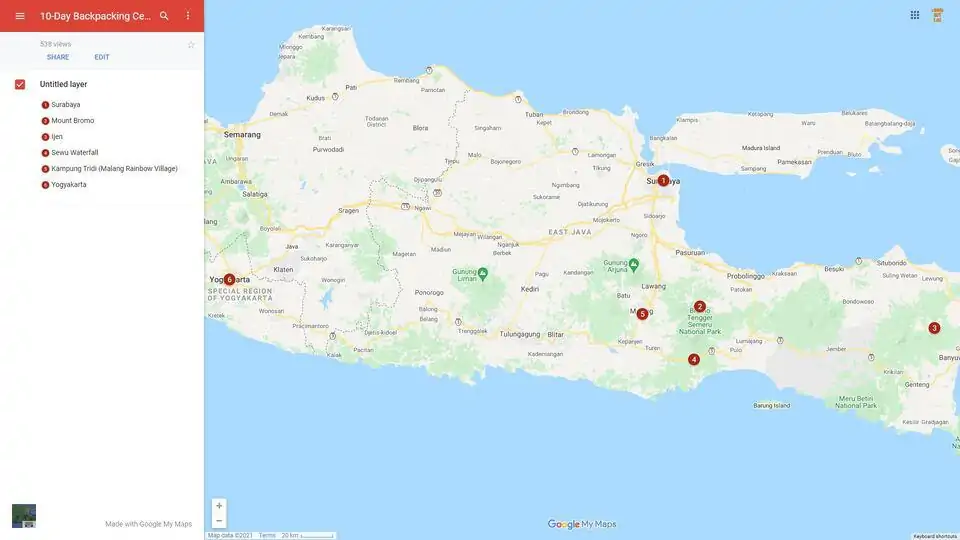 Above is a personalized interactive map that summarizes your Java 10-day itinerary. Click on the map and it will take you to Google Maps where you will find more details about the places to visit in Java.
If you have questions about the Java itinerary map, leave a comment down below!
How To Get To Java, Indonesia
If you are wondering how to get from Bali to Java, it's actually quite simple. You can take a shuttle bus from Depensar to Surabaya, crossing the ocean by ferry. This is no easy journey and takes around 12 hours in total.
Make sure you check out local tour operators who can book your bus for you. We would recommend Perama Tour , while we have not used them personally, they come highly recommended. From what I hear, doing it yourself only puts you at risk of being touted, and hassled at the ferry port.
While it is quite safe traveling around Indonesia, you should still exercise caution and you don't want to ruin your trip before you've even stepped foot in Java!
Another alternative is to fly direct to Java from Bali. This is a much more preferred route; it's only an hour's flight and flights are relatively cheap.
Budget airlines such as Air Asia and Lion Air operate flights around 3 times a day for as little as 55 USD (at the time of writing), and for that price, it's hardly breaking the bank and saving you tons of time.
Regardless of where you are traveling from, our 10-day backpacking Java itinerary starts from the capital city of East Java, Surabaya; a vibrant and colorful city with a lot to offer.
10 Days In Java: The Perfect Central And East Java Itinerary
Day 1: surabaya.
As we only have 10-days to explore this incredible island, we are not going to hang around in Surabaya. If you have more time at the end of your trip, we would recommend staying a few days and enjoying the scenic city-life and taking in its rich culture.
Surabaya is the second-largest city in Java (the first being Jakarta), but it is still not wildly touristy and as such, I wouldn't say there was anything mind-blowingly interesting to do there. However, is is a convenient location to start your Java backpacking journey! One of the best things to do in Surabaya is to visit China Town and eat to your heart's content.
But we're not gonna do that now. First, we are going to head straight to the wilderness to hike the most famous volcano in all of Java, Mount Bromo. The drive from Surabaya to Mount Bromo national park takes about 1.5 hours, so you can explore the city before you leave.
There are many tour companies that can take you on a 3 day (4 night) expedition around the most famous landmarks in the region; Mount Bromo, Volcano Ijen, Tumpak Sewu Waterfall and, if you fancy it, Malang Rainbow Village.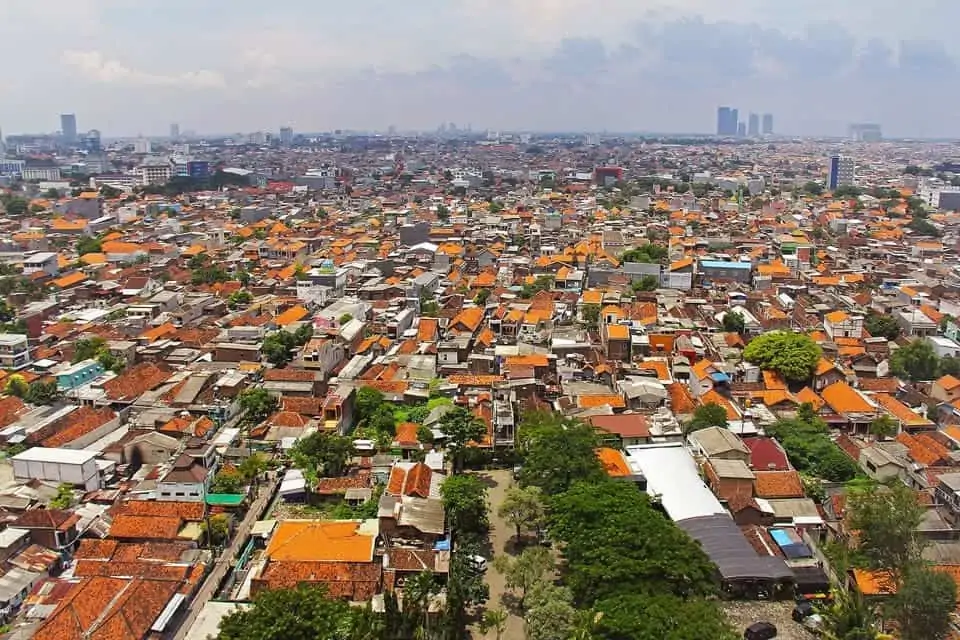 We would recommend Surabaya Bromo Tour who provides you with a driver, an air-conditioned van, accommodation (you can choose to book your own accommodation, but it works out cheaper if you use theirs), breakfast at the hotels, an unlimited supply of water, a guide at Volcano Ijen, gas mask at Volcano Ijen, Tumpak Sewu, and all entrance fees, petrol and toll tickets.
All you need to cover is lunch, dinner, a FWD jeep at Mount Bromo and any other expenses. This tour package costs around 6,250,000 IDR (450 USD), but given that it covers you for three days, it's a price worth paying. You can find lots of tour operators in Surabaya that offer similar packages, but prices tend to be around the same.
Alternatively, you can do what I did, and go to a Facebook group and ask for recommendations of a driver and pay him directly, cutting out the middle-man…but this is rather risky. Of course, you could also rent a car and do this whole itinerary yourself, if you're feeling adventurous enough!
If you are looking to pre-book with a reputable company, check here for more details!
Day 2: Mount Bromo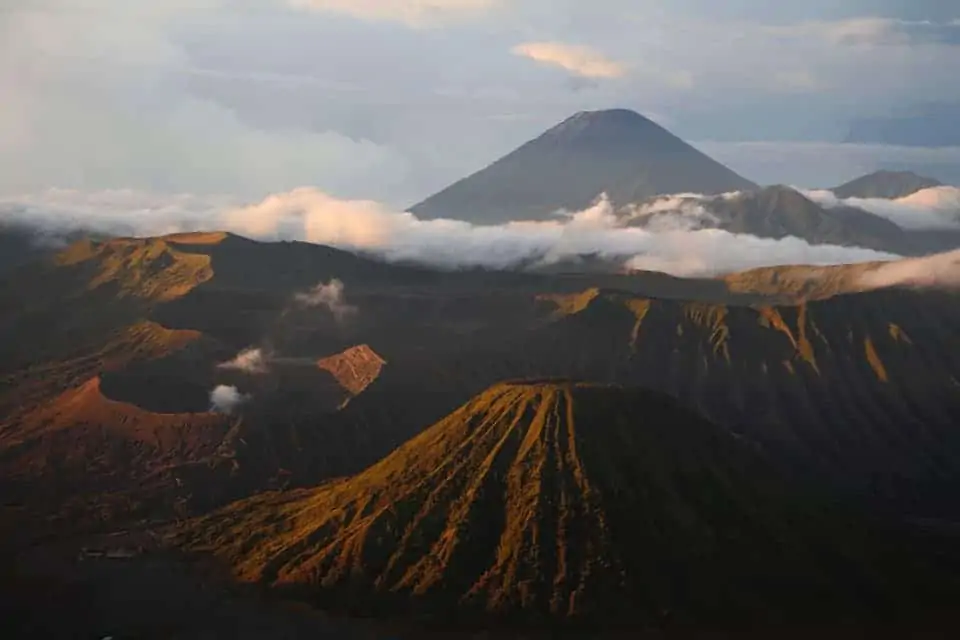 If you want to hike Mount Bromo, you have to catch it at sunrise. Okay, getting up at 3 am is never fun, but I promise you it's worth it.
If you have booked a tour, you will leave your hotel at around 3:30 am by FWD jeep to the Lookout point. The drive to the Lookout point is about an hour from the hotel, so you will get there just in time for sunrise.
From the lookout point, you will be amazed as you watch the sun rise from the East, lighting up Mount Bromo and in the far distance, the very active Volcano Semeru. This iconic view is postcard beautiful no matter what time of year you visit.
Be warned though, at 2000m above sea level, it can be a bit chilly at the Lookout so make sure you wear warm clothing.
Once the sun has risen, you're ready to hike the volcano. Don't worry, although Mount Bromo is still an active volcano, it is safe to hike to the crater. The FWD jeep is a lot of fun and takes you across a sandy desert to the base of the volcano.
Here you can stop to get a picturesque view of the volcano before you hike it, or just enjoy the ride. From the base of the Volcano, you have two options; hike on foot, or rent a horse.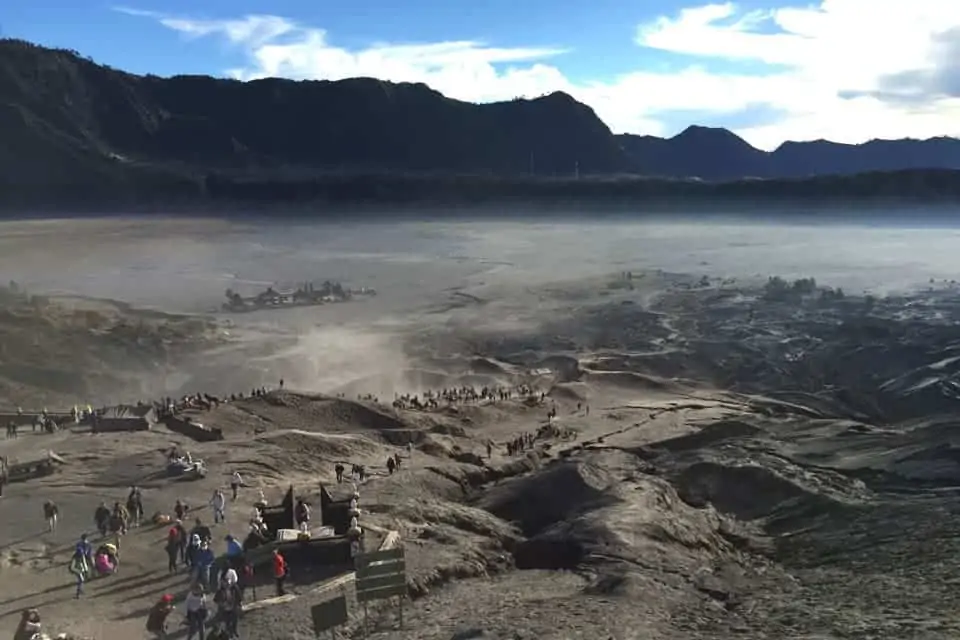 It's the dead of night, and you're in the car driving some 2 hours from a luxurious hotel to a dirty, muddy car park. At this point, you're probably feeling quite tired and wondering if it's all going to be worth it. The short answer is, YES!
I reached the car park to the Volcano Ijen hike at around 1:00 am and was met by my guide, a local man who spoke very good English…but didn't like to speak. I was hiking with a Korean family and the four of us set off together in the total darkness.
Our guide gave us a torch and a gas mask at the beginning of the hike, but even with our torchlight, it was still quite hard to see.
The hike itself is not too strenuous, at least not by my standards. If you are someone who does no exercise at all, you might find it quite challenging. For the moderate-level hiker, it will be okay. It is only a 2km hike, and it flattens out every so often, so there are plenty of chances to take a break.
If you're really worried about the hike, you can hire someone to push you in a little cart (yes, seriously) but this is very expensive. If you hire a cart, it comes with three men to push you all the way to the crater's edge…three men because they take it in turns to push you.
I don't know how much this costs, because I felt like I still had working legs and thought this was almost as pointless as the horse at Mount Bromo, but if you're old or disabled or have a phobia of hiking you might want to consider this.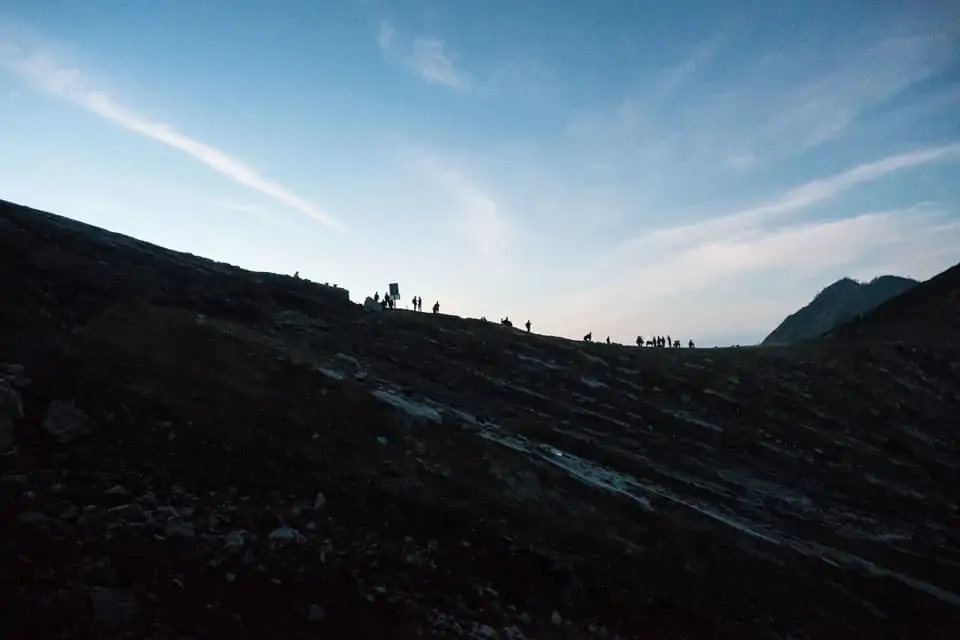 After a good night's sleep, you're ready to take on the next part of your adventure; Tumpak Sewu. Anyone that has fallen in love with the waterfalls in Bali such as the Nungnung waterfall and Tukad Cepung will surely enjoy Tumpak Sewu. It is arguably the most impressive waterfall in Java, spanning a total of 120 meters high.
To get there, you will need to venture yet another hike. Do not underestimate this hike, the ground is slippery from the moisture of the vegetation around you and it can be quite steep in places.
You must also walk through a waterfall and cross a rickety bridge, so make sure you wear waterproof and durable shoes. Saying that, my guide did the whole thing barefoot and chain-smoking cigarettes…I think I want to marry him.
The hike takes around 30-40 minutes and ends at the lustrous green base of the waterfall. Here you can witness the waterfall in all its glory and bask in its cool spray.
There are lots of cool photo spots, so you'll probably find you want to stay there for some time to get the best shot.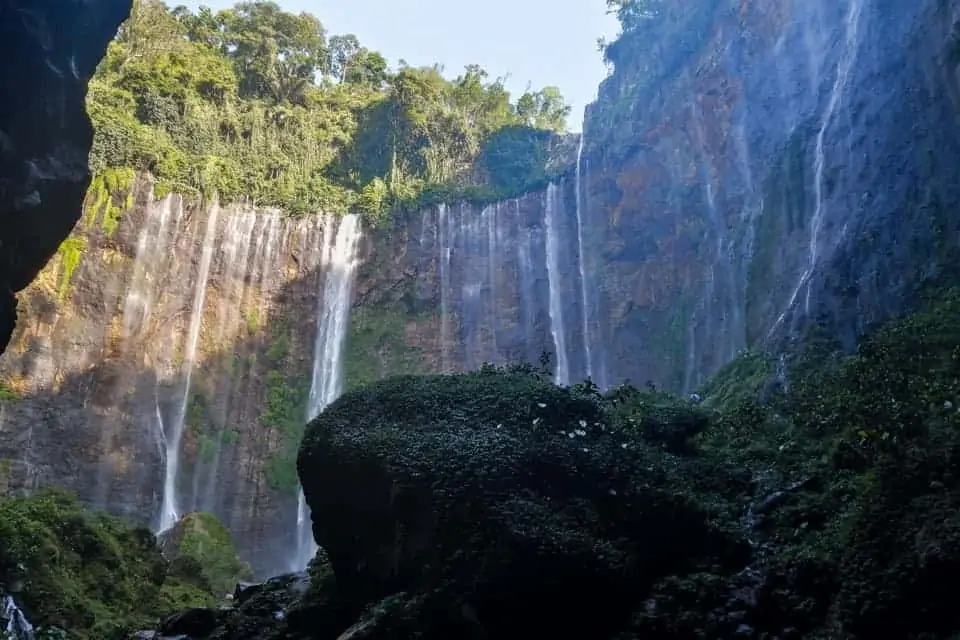 A newly-opened hostel in Yogyakarta, Wonderloft Hostel Jogja is a hidden gem. For an incredibly low price, the hostel offers comfortable dormitory beds (some capsule-styled) and a friendly and cozy atmosphere. The staff makes this hostel feel like a home! Don't miss it when you are visiting Java!
Best Hotel In Yogyakarta –  The Phoenix Hotel Yogyakarta
The Phoenix Hotel Yogyakarta is one of the few 5-star hotels in Yogyakarta. However, unlike most 5-star hotels where spend your child's college tuition, the Phoenix Hotel is very affordable. I typically don't recommend 5-star hotels because they are just excessive after a certain point but if it's cheap, why not? The old and charming architecture along with the beautiful settings of the hotel will surely make you fall in love. If not, then why don't you head over to the spa? It is game over at that point.
Day 9-10: Surabaya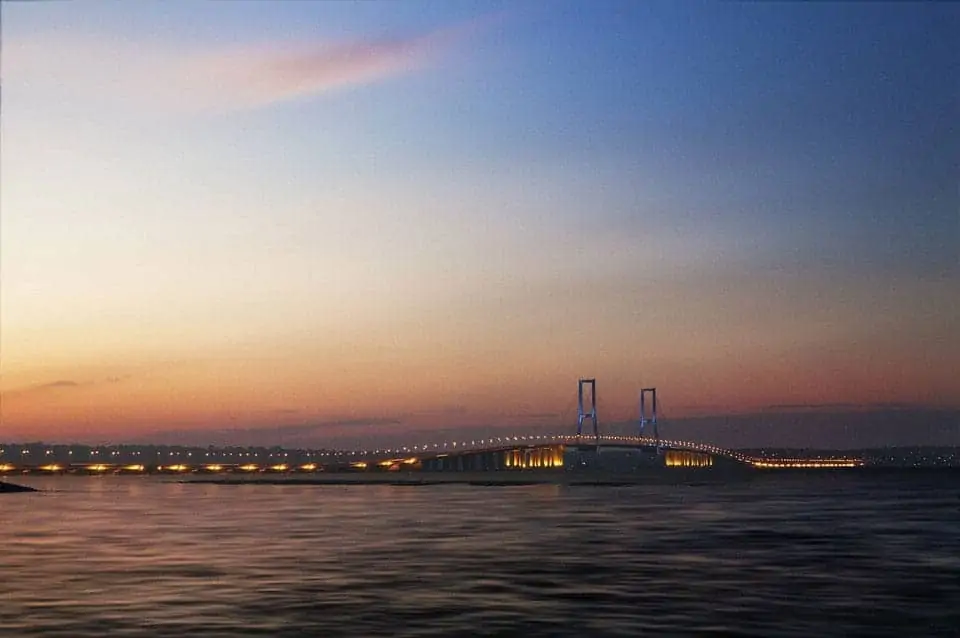 From Yogyakarta to Surabaya, the train ride takes around 4.5 hours, so we would recommend leaving late morning and taking the day to travel.
The train is pretty comfortable and is well air-conditioned. It was also reasonably priced at 200,000 IDR (14 USD) for this luxury. From the train, you can see the incredible countryside views of Central and East Java, which never gets tiresome.
You will arrive in Surabaya at around mid-afternoon, and here you can explore China Town for some of that good grub that I mentioned before.
On day ten, your final day in Java, you are probably planning on flying to your next destination. Depending on what time your flight is, read on for some of our top places to check out before leaving Surabaya.
If you are not flying from Surabaya, then you might like to do one of these activities at the start of your Java trip.
Things To Do In Surabaya, East Java
1. Surabaya Submarine Monument, Also Known As Monumen Kapal Selam (Monkasel)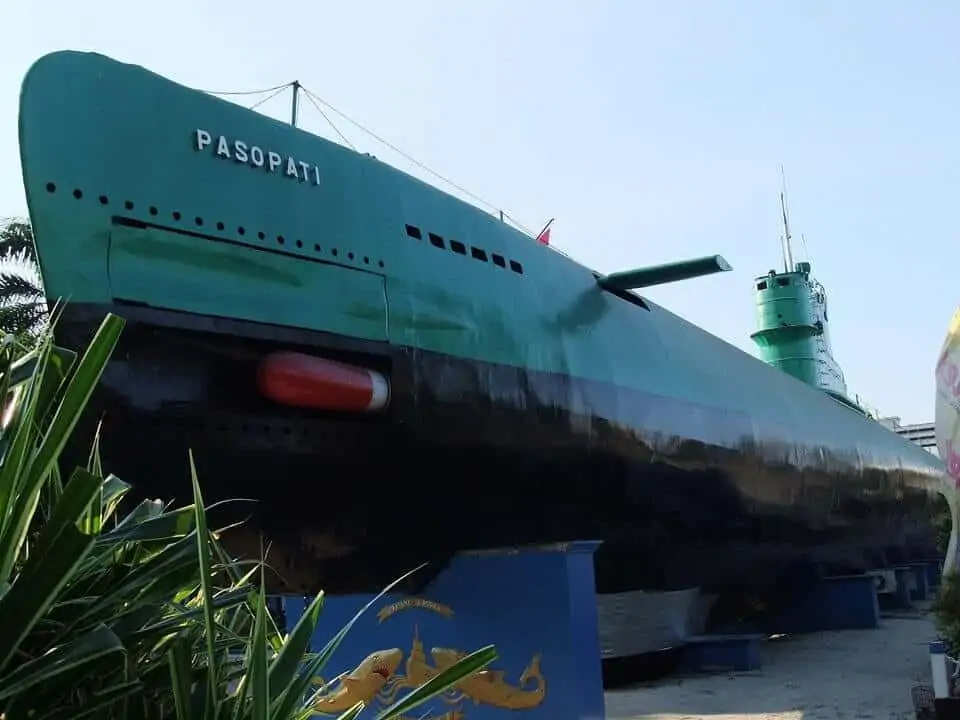 This historic monument is fashioned from an old Russian submarine. It is the largest submarine monument in Asia and was built by Navy Veterans.
The submarine retired in 1962 and was used as a destroyer vessel, designed to protect the occupants from enemy ships. It's kinda cool to look at and does not take too long to see. The entrance fee costs 8,000 IDR (60 cents)
2. House of Sampoerna
The House of Sampoerna is a cigarette factory turned tobacco museum. The architecture alone gives you a real feel for the Dutch colonial-era, and it is now a well-maintained historical site. The museum is interesting enough and provides a good education to Surabaya's manufacturing culture, and it's free!
Where To Stay In Surabaya, East Java
Best Hostel In Surabaya –  Livinn Hostels Gubeng Station Surabaya
Livinn Hostels Gubeng Station Surabaya is the epitome of a hostel. Shared dormitory-style rooms, friendly vibes, and an owner that really cares about the guests. Though this place might not seem like the poshest place to stay at, I highly recommend it for travelers solo backpacking Java! You will meet many like-minded backpackers here!
Best Hotel In Surabaya – Hotel Majapahit Surabaya
Hotel Majapahit Surabaya is a luxurious 5-star hotel with an affordable price in Surabaya. Everything from the decor to the professional staff and the incredible amenities ooze comfort and charm. Don't miss this gem in Surabaya!
Packing List For 10 Days Java Backpacking Trip
For your 10-day Java itinerary, you will go from some of the most magnificent waterfalls in Indonesia to some of the most impressive volcanoes in the world. You will venture into the jungles of Java.
The weather will go from humidly hot to fairly cold, especially when hiking in the early mornings. That is why you will need a comprehensive packing list for Java!
Besides the essentials of every trip such as clothing and toiletries, here are the items you should bring:
Sunscreen – This is a no-brainer. Sunscreen is especially important at high-altitude, such as when you are hiking volcanoes in Java.
Insect Repellent with Picaridin – Insect repellent is a must for any trip to Indonesia, and Java is no exception.
Filtration Water Bottle – A filtration water bottle has become a travel essential. The ability to drink from any water source is amazing. Don't worry about getting sick from drinking dirty water anymore!
Proper Rain Jacket ( Him / Her ) – We traveled during the rainy season and a rain jacket is a necessity. Even outside of the rainy season, Java is known to receive quite a bit of rain.
Travel Medicine Kit – A travel medicine kit is another travel essential. Containing various medicines for many kinds of illnesses, you can get the proper first-aid you need just in case something happens! Obviously, it doesn't replace travel insurance .
Hiking Boots ( Him / Her ) -The hikes on this Java itinerary are quite hikes, especially Mount Bromo ad Ijen Volcano. I would recommend having proper hiking boots! You don't want an accident up those mountains!
Water Shoes – Water shoes are imperative for your hike at Tumpak Sewu. The waterfalls and mud you will have to hike through will damage your nice shoes. Proper water shoes are secure and offer comfort when hiking in water.
Warm Clothing – When you are hiking Bromo and Ijen Volcanoes, the altitude is over 2,000m above sea level. Hence, it tends to get quite chilly and windy. Pack some warm clothing to protect yourself against the cold!
Best Time To Visit Java, Indonesia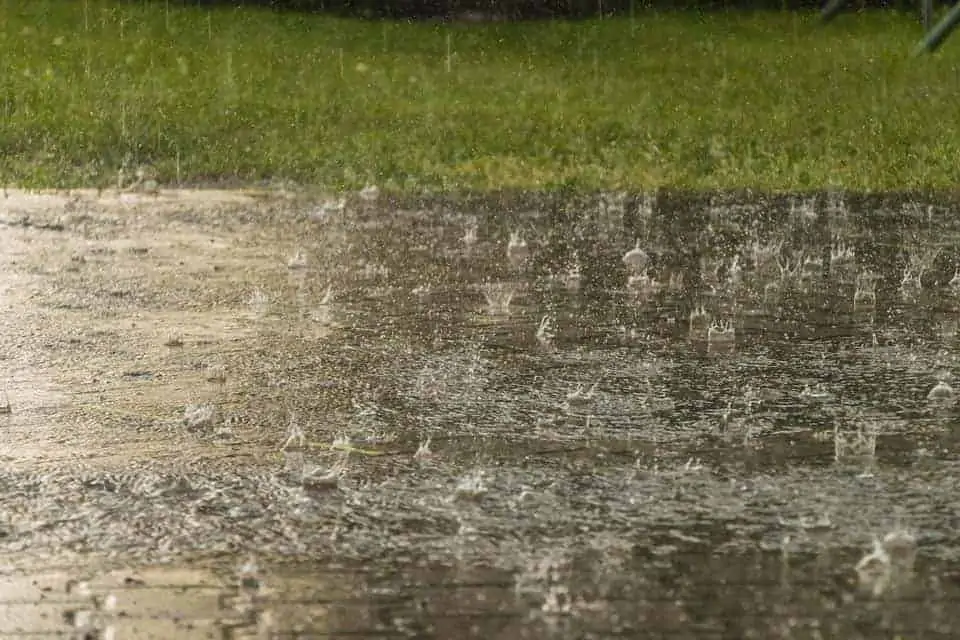 Java's geographic location on the earth meant that it has distinct dry and wet seasons. Obviously, the best time to visit Java, Indonesia, is during the dry season, which spans from May to September.
If you can only visit during the wet months, don't be bumped out. It just means unpredictable heavy rainfalls can happen daily, but they only last for a few hours.
Temperature-wise, Java is a very warm island in general. The temperature is consistently around the low-thirties for most places.
Java Itinerary FAQs
How many days to spend in java.
It is recommended that you spend at least 10 days in Java to see its attractions. The places to visit in Java are quite spread out, and the island is fairly big. Anything less than 10 days would not be enough to cover the island.
Is Java Worth Visiting?
The island of Java is totally worth visiting! It is home to some of the most lush jungles and fascinating volcanoes in Indonesia. Travelers can also marvel at epic UNESCO World Heritage Sites such as Borobudur Temple and Mount Bromo!
Like this post? Don't forget to save it on Pinterest!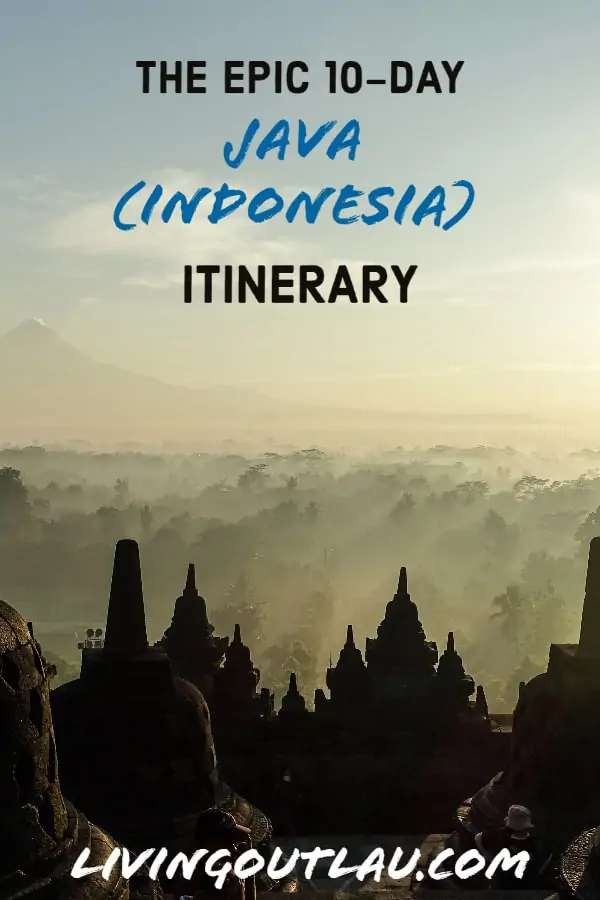 So that's it! 10 days in Java. I hope that you found the advice in this guide helpful and instructive. Any questions? Leave them in the comments!
Disclaimer: Some of the links above are affiliate links. That means if you book or make a purchase through the links, we will earn a small commission at  no extra cost to you ! The money will help run this site! Thank you !
World Traveler, Travel Blogger, Photographer
LivingOutLau
Sean is the founder of the travel blog, LivingOutLau. He has been to over 30 countries in over 5 years of travel. Every day, he is traveling and sharing his discoveries of the world through exceptional travel guides on his blog!
Leave a Comment Cancel reply
What are you looking for?
26 best things to do in java [indonesia] in 2023.
Java is one of the Indonesian islands that's gaining popularity for it's amazing volcanoes, fantastic temples and breathtaking landscapes. Java has it all, and it's the perfect place for backpackers on a budget. Java is so cheap. You can sleep, eat and see tourist sites like a queen/king for $20 a day, sometimes less! 
Btw, Javanese are some of the friendliest people in the world, and we had such a fantastic time exploring thanks to them. 
So if you're wondering what to do in Java, then look no further as I take you through an epic list of all the best things to do in Java, Indonesia. 
Travellerspoint
When is the best time to visit Java 
The best time to visit Java is during the dry season which runs from June to October. August is peak tourist time, but Java really isn't overly touristy, so you'll still not find lots of crowds at the main sights. We visited in August and the weather was perfect. 
How long do you need in Java
In order to see all the best sights that Java has to offer, then I suggest you dedicate at least 10 days to your trip. 2 weeks is a great amount, but any less than 10 days and you'll struggle to do all the best thing to do in Java. 
READ: Check out my 10 day Java Itinerary for help planning your perfect Java trip!
How to get to Java 
Getting to Java is super easy thanks to the many airports around and the fact the capital of Indonesia is on this island. International airports include Jakarta and Yogyakarta, so depending on whether you just want to do "east Java" (I suggest you do it all!), or you want to do it all, or just the west, then you can fly into Jakarta, or Yogyakarta.
We use Skyscanner to book all our flights and if you're flying from Bali, you can get flights to Yogyakarta and Jakarta for less than $35. 
Top things to do in Java
Okay, now for the part you came for, a list of all the best things to do in Java. 
1. Be amazed at Tumpak Sewu Waterfall
Tumpak Sewu Waterfall is often regarded as not only the most beautiful waterfall in Java, but in all of Indonesia, and seriously, it's true. In a world of Instagram, we often worry whether picture perfect places will live up to their expectations in reality. This one does. This waterfall is famous for its sight of the volcano in the background, which only happens when the clouds are gone. 
But it's an awesome place to fly a travel drone and you can even walk down to underneath the waterfall to feel its full force! It's about a 30 minute walk with a guide but it's not expensive. 
There are actually two viewing points, both cost 20,000 entrance and you can buy snacks and food there. When flying a drone be careful about signal loss as drones have lost their lives here. 
It's an epic waterfall that's well worth a visit, but it's 2 hours from Malang city, so you'll need to either rent a driver, use Grab or rent a moped and drive yourself. We did the last and the drive was fairly straight and comfortable. 
2. Check out the Rainbow Village 
The Rainbow village is located in the heart of Malang city in East Java and was the result of a university project to help bring more tourism to the rundown area and slums of Malang. 
They decided to paint the area in colorful rainbow colours that can be seen from above and afar and it worked! It's one of the awesome places to visit in Java and actually is only 3,000 entrance. 
This is another fantastic place to fly a drone, trust me, those colours look even more amazing from above. 
3. Visit Tea Fields in Bandung 
If you've never been to Sri Lanka and seen tea fields there, then I suggest you head into the highlands of Bandung with its cool climate and check out the really beautiful tea fields here. It's surrounded by them and you can literally take your pick of the areas, park up and walk amongst them on the trails. 
This was a really beautiful place in Java and one of my favourite things to do in Java! 
If you do want to visit, again they're situated north of Bandung city, so you'll either need to hire a private driver, take a private tour, use Grab or rent a moped for the day. 
We rented a moped from Vectoran moped rental and it was a great moped for a great price. 
4. Shop in the bustling capital of Jakarta 
If you LOVE to shop, then you're going to love Jakarta. I'm not a big fan of cities, especially over populated ones, but despite that, I didn't mind Java as it's got some really cool areas that are super modern. 
We headed into one of the many awesome shopping malls (Which are like mini countries on their own- so big!) and there is shopping galore, and some amazing places to eat! 
So if you're in Jakarta for a stopover, or it's your first or final destination on a Java itinerary, then I suggest you shop. 
5.Take a Mount Bromo Sunrise Tour 
Ah, Mount Bromo! This is one of my favourite things to do in Java, if not the world (yes that's a big claim!). The sunrise at Mount Bromo is the most beautiful sunrise I've seen to date, and I've seen some pretty epic ones. 
It just looked like a painting, it was so perfect. Anyway, when you visit Malang, Surabaya, then a morning sunrise tour to Mount Bromo is one of the most popular things to do. It's an early start at around 1am, but it's worth it. 
Not only will you get to experience the most epic views in the world, but you'll get to climb up the active volcano and peer into the crater. I'd say that's a pretty unique experience. 
You can check out my whole guide on going on a Mount Bromo tour right here. 
6. Visit the amazing Ijen Crater 
Bradley and I didn't go to Ijen Crater, simply because we ran out of time. But we really really wanted too. It looks bloody amazing.
It's known as the Blue crater, due to the "blue fire" it produces. It's a hike upwards, and the sulphur that leaks out is toxic so you actually have to wear a mask. The views looks amazing and I've heard nothing but fantastic things about the location. 
So if you go to Java, make sure you put this on your epic list of things to do, and don't run out of time! 
A lot of tours combine a Mount Bromo and Ijen Crater tour over a 2-3 day tour. 
7. Peer into the crater of Volcano Tangkuban Perahu
This epic volcano is located just north of Bandung, and it's one of the most popular things to do in Java. Actually, Brad and I drove the whole way out there and didn't realise it had erupted a couple of days before so was closed off to the public. 
It wasn't a tragic eruption, it just was pushing out poisonous gases. But we gotta talk to the control room guys who monitor the volcano and they gave us a little history lesson before we all took random pictures together! 
But this is a unique volcano in that you can drive the whole way up to the mouth of the crater, basically you won't need to hike to view this one. 
8. Eat your heart out at the floating market in Lembang 
This is another one of the really cool things to do in Bandung. Basically it's a replica of the famous floating market in Bangkok, Thailand, but I think I preferred it. Possibly because it was FAR LESS touristy, it was cheaper and it was super cute.
There are so many super cool food options, so don't make the mistake Brad and I did by eating before we went. 
9. Visit flower gardens 
Java loves its flower gardens and there are quite a few situated around the island. My favourites were in Bandung and Yogyakarta. 
They're all very well maintained and typically come with extra activities such as unique photo spots, zip lining opportunities and other such things. You'll come across a lot of flower gardens, so you pay as well visit one! 
10. Go camping somewhere unique 
When we were travelling around Java we came across some really cool camping sights, which made us regret not camping a few nights. Now, I don't mean camping in a tent, I actually mean glamping. 
You can stay on pirate boats, log cabins, hobbit houses, you name it! In Bandung and Yogyakarta they're all located deep in the forest where the temperature is cooler and the views are epic. So if you're looking for something unique, then put this on your list of things to do in Java. 
11. Visit the beautiful Borobudur temple 
Borobudur temple is actually probably one of the most famous Java attractions, thanks to Instagram. It's located in Yogyakarta, which is probably the most backpacker known place in Java. 
Borobudur temple is both unique and beautiful and a lot of people visit for a sunrise or sunset tour. The sunrise tour looks amazing, and Brad and I fully intended on visiting for sunrise, but I felt sick. So we visited around 10 am.
Honestly it wasn't overly busy, it was just super warm. 
So I do suggest going early in the morning or after 3 when the sun is starting to go down. 
It's one of the more expensive things to do in Java, but it's worth it. And you can combine it with another temple in the area for a reduced price (I'll be talking about that temple next). 
12. Explore the most beautiful temple in all of Asia: Prambanan temple 
I've seen A LOT of temples since I started travelling, and it really takes a lot to impress me anymore. 
Not that they aren't all beautiful, they are, it just becomes a little same same, it's the same with churches. But anyway, this temple was magnificent and I think it's the most beautiful temple in all of Asia, yes the whole continent. 
The structure, the detail, the architecture, the atmosphere, just everything about it I loved. It wasn't heaving with tourists either which was nice, and you can drive around the other temple via segway which is fun. 
I suggest you visit around 3 as that's when we visited and the temperature was perfect and it wasn't busy. 
13. Discover lesser known temples: Kidal and Ratu Boko 
If you want to visit temples in Java that are pretty much undiscovered and less touristy, then I can suggest Kidal which is located just outside Malang (near the Sekumpul waterfall), and Ratu Boko, which is close to Pranamaban temple (they actually run a shuttle service there). 
14. Check out unique underground temples 
This was one of the things to do in Java that Brad and I missed out on, due to our own terrible timing issues. Basically, they're located in Yogyakarta city centre, and we had only allowed a day for sightseeing both the big temples there and the city centre sights...BAD IDEA. 
They close at 3, and you'll need a full day just to see the amazing sights in the city centre. So don't make the same mistake as we did and head when they open, otherwise it gets super busy. 
15. Get awesome photos at Becci Peak 
Yogyakarta is full of "picture spots", which are basically placed at locations with stunning views. They start to get a bit boring and samey after a while, but I really enjoyed Becci Peak (maybe because it was our first one).
It's got undeniably beautiful views and you can zip line for less than $1 is also pretty cool! 
I felt like a bit of a celebrity here too as everyone wanted my picture- haha! 
16. Visit the beautiful Sukorame Rice Field
This is one of the great things to do in Java, but you have to go in the wet season, otherwise there is no epic green rice fields. We were so excited about this spot, because it looked amazing in photos and it seemed like a great droning opportunity.
Well, we went in the dry season and it's closed down and doesn't look half as cool!
So yes, visit this place, but only in the wet season! 
17. Seek out hobbit houses 
All throughout Java there is an increasing amount of Hobbit houses and they're all located in picturesque settings, usually in the forests. They make for great photos, and some of them you can actually sleep in.
We didn't sleep in any, but we really enjoyed seeing the hobbit houses. My favourites were in Bandung and Yogyakarta. 
One of the more unique things to do in Java, that kind of transports you to New Zealand for a brief moment.
18. Drone your heart out 
Java, and Indonesia in general is a drone lovers dream. There are very few drone restrictions (other than the basic rules, such as don't drone above people head to a certain height and no religious monuments).
There are so many epic drone locations, and if you haven't got a drone, you might want to invest in one for this trip. 
We use a Mavic Pro (We call him Baby Mavic) and he is EPIC. Yes, he is expensive, but when it comes to getting a drone, you either get a high quality one or don't bother at all- trust me. 
My favourite drone spots include:
Mount Bromo and it's crater 
Tea fields in Bandung 
Rainbow Village, Malang 
Sekumpul waterfall, Malang
19. Hike up Mount Merapi 
This isn't for the faint hearted and Brad and I didn't do it personally. However, if you're a fan of hiking, then this will be a welcome challenge for you. Only specific companies will do this adventure with you, so you'll have to head to a tour shop in Yogyakarta city for information.
But even if you don't hike up an active volcano itself, you can visit the volcanic museum located at the bottom to hear the tragic stories of eruption and see lava and volcanic material from the volcano.
One of the pretty cool places to visit in Java. 
20. Eat delicious Indonesian food 
Java is a region thriving in delicious and authentic Indonesian food. When you visit somewhere that's westernised, like Bali (not that I don't love Bali too), but you lose some of the authentic Indonesian food.
So whilst in Java, eat like the locals do. Ps, it's some of the cheapest food in the world. My favourites include Mei Goreng, Ayam Goreng, and Chicken satay. 
21. Drive into the mountains of Yogyakarta
One of my favourite things to do in Java was to rent a moped in Yogyakarta and just head to the mountains. It's a colder climate and because you're higher up, you honestly have some of the most beautiful views ever.
It was always so pretty and as long as you're careful when heading downhill it's safe. 
If you don't feel confident on a moped, that doesn't mean you need to miss out. Hire a driver for the day. It's not overly expensive and you'll have the added benefit of aircon! :P 
22. Eat at Roaster and Bear
You'll probably wondering why the hell I've included a restaurant on a list of things to do in Java. Well, as a rule, I wouldn't normally, but the food here was the best I've had in Indonesia as a whole, and probably one of my favourite restaurants in the world. Big claim I know. 
It's located in Yogyakarta, and it serves amazing food at a stupidly low price. It's probably considered to be a mid-range restaurants in Java, but compared to Europe prices, it's crazy cheap. 
The quality of food and flavour was amazing, and the coffee is the best in Java (which isn't that great on a whole)- but this was awesome. 
23. Visit the iconic Malioboro street
This is probably the most iconic street, not only in Yogyakarta, but in Java too. It's the most "backpacker" place in all of Java and it's got a really cool vibe. It's a great place to meet other travellers, buy gifts and eat food.
Once a month they turn it into a chinatown style place with lots of great food.  Probably one of the most famous Java attractions. 
24. Visit Hutan Pinus Asri
This was my favourite mountainous area of Yogyakarta, and picture spot. It's not like the other picture spots, you walk out to little planks to get pictures in random little places/settings with an amazing view.
In the wet season, the view would be even more epic, but we loved the pictures here, and it's currently the cover image of our website (as of 2019!). 
25. Taman Gumuk Pasir
Located on the coast of Yogyakarta, not many people venture this far out, but it's definitely one of the top things to do in Java. This is a heart shaped flower on the sand.
It's actually another cool droning spot and you can see it's full effect from above. But not only that, this is a great place to visit for the sand dunes, and you can try sand boarding ,or head in a jeep and drive around the dunes. Pretty epic! 
26. Surf at Red island 
This is a spot we didn't go to, but it's something I feel should be included on the list of things to do in Java, because it's so epic. It's located in the deep south east of Java and not a lot of people venture here.
Well if you love to surf, you'll want to visit, the surf is supposed to be great, and it's also got awesome beaches and places to relax. If I return to Java, I'll be heading here. 
Getting around Java
Getting and java is easy and cheap. There are a few options available to you. 
Trains: the easiest and cheapest way to get around Java is to make use of the excellent train network available to  you! You can get trains from one end of the island to the other. You can also get overnight trains for longer journeys. We loved the trains in Java and used them for the full duration of our trip. 
Fly : Internal flights within Java are not that expensive and if you're short on time, then I suggest you make sure of the flights. You can fly between Jakarta and Yogyakarta, and Yogyakarta and Malang. We use Skyscanner to check all the best prices on flights. 
Where to stay in Java
Java is packed with great places to stay. Whether you want to stay in hostels, luxury hotels or even cute airbnbs, you'll have no problem finding great accommodation, at a great price. Below I've listed where we stayed in each location in Java. 
Jakarta: POP! Hotel Pasar Baru Jakarta
Bandung: Pasar Baru Square Hotel  
Malang: Whiz Prime 
Other useful posts for planning your trip to Indonesia
Here are some other useful guides we've written that you might find useful for your trip to Indonesia. 
Things to do in Yogyakarta
Things to do in Bandung
Things to do in Malang
So there we go! My guide to the best things to do in Java. I hope you've enjoyed this post and found it useful. If you've got any other great Java attractions to add to the list, then please drop a comment below. 
Happy travels
Leave a comment
Let us know what you think.
5 million people can't be wrong
Best time to visit Indonesia
Weather in indonesia.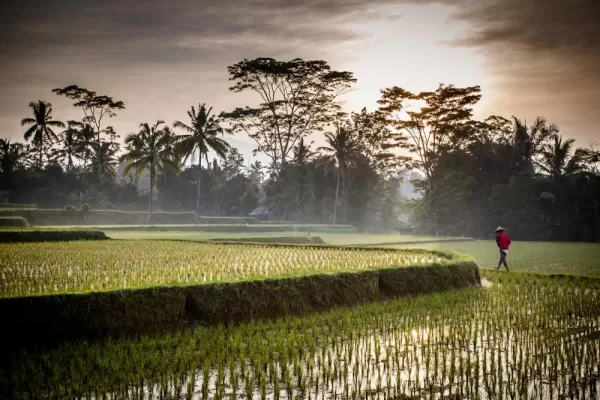 July-August (High Season)
May-june & september (shoulder season), october-april (low season).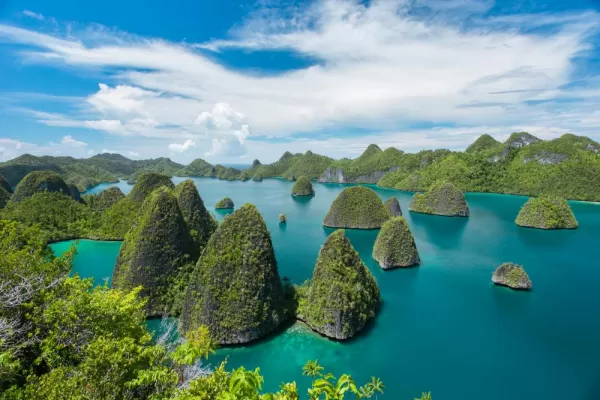 Best Time to Go to Bali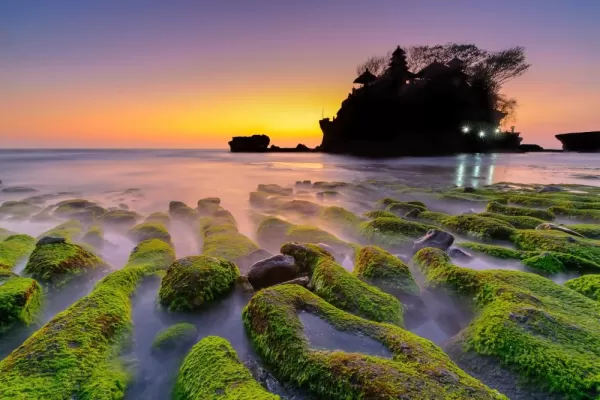 Best Time to Travel to Java
Want to go, top indonesia travel destinations.
Indonesia Trips by Departure Date
2023 Indonesia trips (10)
2024 Indonesia trips (45)
2025 Indonesia trips (16)
April 2024 (11)
May 2024 (16)
June 2024 (16)
July 2024 (13)
August 2024 (15)
September 2024 (12)
October 2024 (12)
November 2024 (11)
December 2024 (12)
Top Experiences in Indonesia
Indonesia Cruises (43)
Indonesia Beaches (16)
Indonesia Cultural (13)
Indonesia Land Tours (6)
Indonesia Wildlife & Safari Exploration (6)
Indonesia Most Popular (3)
Indonesia Trips by Duration
8 day trips (5)
10 day trips (6)
12 day trips (8)
13 day trips (6)
14 day trips (6)
15 day trips (3)
Indonesia Trips by Activity
Indonesia snorkeling (42)
Indonesia small ship cruises (38)
Indonesia village visits (36)
Indonesia wildlife viewing (30)
Indonesia stand up paddle boarding (12)
Indonesia kayaking (12)
Indonesia hiking (8)
Indonesia local market visits (8)
Indonesia spa relaxation (4)
Indonesia scuba diving (3)
Why Travel With Adventure Life
Recognized by.
Home » Travel Guides » Indonesia » 25 Best Things to Do in Java (Indonesia)
25 Best Things to Do in Java (Indonesia)
Java is the administrative center of Indonesia , but other than that it is not particularly famous. Most visitors to Indonesia, especially those on a first time trip, head to Bali or move on to the island of Lombok, with very few taking the time to tour around Java for any length of time.
This is a shame however, as Java has a huge amount to recommend it, and you can visit some of the top highlights in Indonesia in the form of stunning temples or active volcanoes. Other options here include trekking through jungle to secluded caves and waterfalls, or you can get out on the water and explore the islands off the coast. In short, Java offers you a whole host of attractions, so whatever kind of holiday you are looking for you will doubtless find something to suit you here.
Let's explore the best things to do in Java :
1. Travel to the city of Surabaya
Surabaya has the claim to fame of being the second largest city in Indonesia, although strangely it is not often visited by tourists.
It is also a historically significant part of the country and one of the best reasons to come here is to walk through the old part of the city and take in all the traditional buildings, many of which date from the Dutch colonial period.
There are a clutch of museums where you can learn more about Surabaya's history and as this is one of the main travel hubs in Indonesia it is easy to plan a stop-off here from another part of the country.
2. Admire Borobudur Temple
Borobudur Temple is one of the most famous attractions in Indonesia and consists of a large Buddhist temple complex in Central Java.
It is easy to visit Borobudur from the neighboring city of Yogyakarta on a day trip, and the temple is an impressive relic of a different time, having been built in the 9th century.
It is also a UNESCO World Heritage Site and has an amazing 72 sculpted figures of Buddha.
Borobudur is also the largest Buddhist temple in the world, and you can climb all over the structure, including up to the central platform which affords you amazing views over the rest of the complex.
It is particularly beautiful at sunrise and sunset so try to time your visit to make the most of the natural light show here.
3. Have a beach holiday in Anyer
The pretty seaside town of Anyer is located in Banten and is known for its gorgeous beach that faces the towering Mount Krakatau.
Anyer Beach is the quintessential seaside experience in Indonesia, and as well as turquoise seas you can also expect a wealth of water sports options like jet skiing and parasailing.
You can stroll along the beach until you get to the old lighthouse of Cikoneng and you can even go diving here.
Due to the high mineral content in the water from the volcanic lands that surround the city, underwater life thrives here, so any budding marine biologists won't be disappointed.
4. Go shopping in Bandung
The city of Bandung is known on the domestic market as one of the top shopping destinations in Indonesia, although many tourists never make the trip here.
Bandung is conveniently close to Jakarta which means that it is easy to visit, and you will find a huge array of factory outlets selling the latest fashions.
Bandung is also particularly well known for its denim products so if you want a new pair of jeans then there are styles here to suit all kinds of tastes and budgets.
5. Marvel at Candi Prambanan
Candi Prambanan is often thought of as similar to neighboring Borobudur although there are marked differences between these two temple complexes.
Though both date from the 9th century, Candi Prambanan is a Hindu Temple and Borobudur is Buddhist.
Along with Borobudur Candi Prambanan is a designated UNESCO World Heritage Site and you can walk around the pretty compounds here and explore the winding alleyways and shrines dotted all over the complex.
6. Enjoy the beach at Batu Karas
When people think of beaches they tend to think of Bali as having the monopoly on the best sands and waves.
Bali does indeed have some of the best beaches in Indonesia, but Java is also no slouch, and Batu Karas is one of the best of its kind.
If you make the trip here you will be rewarded with miles of rolling golden sand that is often deserted.
Unlike many other beaches in Indonesia, Batu Karas has some good surfing and you can also swim here, or just sunbathe if you are looking for a relaxing beach holiday.
7. Visit the waterfalls of Baturaden
Located in Purwokerto in Java, the waterfalls of Baturaden look more like something that you would find in the Amazon.
The trek out to the waterfalls is slightly long and arduous, but you will be rewarded along the hike with gorgeous vistas across the lush scenery which ends in the culmination of the mighty falls that drop through the forest canopy into limpid pools below.
There is a selection of different cataracts here but one of the prettiest and best known is Curug Belot, so make sure to make the trip out here if you are in the area.
8. Climb Mount Ijen
Indonesia is known for its majestic mountains, but one of the most impressive is the graceful Mount Ijen which is not as famous as others but well worth a visit.
The big draw here is that the largest acidic crater lake in the world sits at the top of the mountain and if you come here under the cover of darkness you will be able to observe blue flames erupting out of the lake.
The reason for this is that the sulfuric acid rises to the surface and ignites, and this is turn glows blue thanks to the light of the moon, resulting in one of the prettiest natural phenomena in Indonesia.
9. Shop for Batik in Yogyakarta
Yogyakarta is known for its beautiful batik which is made by dripping wax onto a piece of fabric and then applying a range of dyes to make a pattern.
You can buy batik all over the city, or you can also go on a factory tour to learn how this textile technique was pioneered in Indonesia.
If you want to get hands-on then you can even take a batik making class and fashion your own piece of fabric which you can keep as a souvenir of your trip to Yogyakarta.
10. Climb Mount Bromo
One of the highlights of a trip to Java is the chance to visit Mount Bromo.
The mountain is also one of Indonesia many active volcanoes and it is named after the Hindu god named Brahma and considered sacred.
The volcano is mostly dormant, although it does sometimes still erupt, but when it is lightly smoking you can still climb to the summit and watch the stunning sunset over the lip of the crater.
The views stretch out over the gorgeous Tengger Massif below, which is a mountain chain that includes Mount Bromo, and this is also one of the less strenuous volcano treks in Indonesia.
You can take a car much of the way to the summit, and most people start around 3 am or 4 am to catch the sunrise here.
11. Go for a walk in Bogor
Bogor is a city that sits outside of Jakarta and it often gets ignored by those passing through the capital city.
This is a shame however as Bogor is like a smaller and simpler version of Jakarta filled with a wealth of historic artifacts.
One of these is the large botanical garden which would have started life in the 1800s under the former Dutch governor, and you can easily spend an afternoon admiring the flora and fauna here.
12. Enjoy the seaside at Pangandaran
Pangandaran sits between Jakarta and Yogyakarta as is a city nestled close to the sea, which is perfect if you want some sun and sand.
There is a long strip of beach here and, as you would expect, the fresh seafood is one of the big draws in the area.
If you come here in the evening then you can dine at one of the seaside stalls that sells barbecued fresh fish simply cooked over hot coals and there is also a wider national park here if you want to eschew the beach and go trekking instead.
13. Visit Sewu Temple
Sewu Temple is often rather usurped in Java by both Borobudur and Candi Prambanan, although it is only 10 minutes away from the latter on foot.
The temple is not as well preserved as others in the area which means that it crumbles gracefully in front of you, and this is actually one of its great charms.
It is also covered in alleys and hidden corners to explore and there are some 200 temples here.
Make sure to check out the ornate carvings that will allow you to imagine the complex as it would have been in its glory days.
14. Visit Timang Beach
Located in the Gunung Kidul area is Timang Beach which sits around an hour away from the city of Yogyakarta.
The beach is the perfect place to go if you want to get out of the city and enjoy a day at the seaside, and you will find a huge number of little stalls lining the beach that serve local snacks like fresh coconuts and noodles.
This is one of the best loved beaches in the area and gets busy at the weekends, and one of the reasons for this is the seafood restaurants nearby where you can get fresh crab, shrimp, and even lobster.
15. Hike up the Dieng Plateau
A great attraction in Java is the Dieng Plateau which sits at an altitude of 2,100 meters.
The main reason why many people come to the Dieng Plateau is to go on a pilgrimage to the Buddhist temples that are dotted along the way.
As you hike up the plateau you will get to walk by limpid pools filed with spring water as well as some billowing hot springs.
The views from the top of the plateau are truly breathtaking and you should try and time a visit to coincide with the sunset when the light is at its best.
16. Take a trip to Malang
Malang is known across Java for its serene and laid back atmosphere and in some ways it harks back to another time in Indonesia.
The city is also located between the sweeping Mount Semeru and Mount Bromo and as a result you can take in the spectacular views as you soak up the scenery.
Malang is also famous as it is covered in little temples and shrines and the best thing to do on a visit here is to take a motorized trishaw around town and see which areas take your fancy.
Much of the area around Malang is made up of jade hued paddy fields, so if you want to get out into nature then make sure to stop off here and explore.
17. Visit Mount Merapi
One of the most famous and feared volcanoes in Indonesia is Mount Merapi and if you don't like trekking it is still worth coming here as this is one of the easier mountain hikes in Java.
The volcano is still active and erupted in spectacular fashion in 2010 so you can only trek here when it is deemed safe by the authorities to do so.
The best way to visit Mount Merapi is as part of a tour from neighboring Yogyakarta and there are a number of tours that you can take that will explain the history of the mountain and its status as a sacred spot in Indonesia.
18. Spelunk in Goa Jomblang
Another great day trip from Yogyakarta is a visit to Goa Jomblang in the Gunung Kidul area.
This famous cave is located about an hour outside the city and you will travel some 60 meters down the side of the cliff into the cavern.
This then leads to a cave system which is encircled by forests and the main cave to visit here is called Grubug Cave.
There is a hole in the top of the rock formation that lets the sunlight stream in and this is a fantastic experience for anyone who likes spelunking.
19. Stop off in Solo
The city of Solo is not an obvious choice for a stop-off at first glance, but it is a great option for anyone looking for a more authentic slice of Indonesia.
Some of the highlights here include the traditional touches like the central market which has been running since the Dutch colonial period, and you can also travel to Borobudur and Candi Prambanadan from Solo.
Another popular day trip takes you from the center of the city to neighboring Mount Lawu, so if you do decide to come here, you certainly won't be strapped for things to do and see.
20. Visit Kalibiru National Park
Some visitors to Kalibiru National Park may recognize the scenery, as it has been made famous on Instagram in recent years thanks to its picturesque views.
One of the biggest draws in the park is its viewpoints which allow you to see for miles and you can climb up into the trees and enjoy the sights from rustic wooden viewing platforms.
Many people try to come here in the morning or evenings when the light is at its most beautiful and there are also a range of other activities available in the park such as zip lining
21. Go diving at the Karimunjawa Islands
If you want some of the best waters in Java then consider taking a trip to the Karimunjawa Archipelago.
Here you will find 27 different tropical islands off the coast of Semarang, many of which are uninhabited.
As you would expect, beautiful beaches abound here and this is a great spot if you want to try snorkeling or diving thanks to the high visibility.
One of the best ways to visit the islands is to rent a boat and island hop around, and if you are looking for a beachside paradise in Java then don't leave Karimunjawa off the itinerary.
22. Eat your way around Bandung
Many people don't realize that Bandung has a great food scene, so if you happen to be in the area then make sure to take full advantage of it.
Some of the local specialties include keradok which is similar to the famous Indonesian salad called gado-gado.
Keradok is made from a mix of bean sprouts, beans, cabbage, and cucumber which is then covered in a spicy peanut sauce and topped with basil.
Also don't miss the gepuk which is a spicy curry made with fried beef, and for dessert make your way to Amanda Brownies which is famous in Bandung for its steamed sweet chocolate cakes.
23. Take a trip to the city of Semarang
Many visitors to Java tend to head to the big hitters like Jakarta and Yogyakarta, and very few ever make it to Semarang in Central Java.
Many people pass through Semarang on their way to the Karimunjawa Islands, although it is a shame to miss the city completely and you will find a range of interesting museums here as well as some interesting temples and other buildings.
Many of these date from the Dutch colonials, and you can also book tickets for a cultural show at Taman Budaya Raden Saleh to learn more about the history of the area.
24. Enjoy the colors at the Rainbow Village
Technically part of Semarang but also a small village in its own right is Kampung Pelangi which means Rainbow Village in Indonesian.
This is a fairly new attraction which popped up in recent years when the locals, wanting to draw more tourists to the area, had the idea of painting the village in a variety of bright hues.
No part of the village is untouched and it looks like something out of a fairytale, but the villagers' plans have obviously worked and people now flock here to take pictures of this colorful spectacle.
25. Go surfing at Pelabuhan Ratu
Pelabuhan Ratu in West Java attracts visitors from Bogor, Bandung, and Jakarta, and you will find rolling waves here that surprisingly lend themselves well to surfing.
Due to the pounding surf, swimming is not recommended, but there is a long central beach that looks out over the Indian Ocean.
As you follow the coastline however you will find different bays and inlets and some of the best places to find waves include Sunset Beach, Karang Sari Beach, and Cimaja Beach.
25 Best Things to Do in Java (Indonesia):
Travel to the city of Surabaya
Admire Borobudur Temple
Have a beach holiday in Anyer
Go shopping in Bandung
Marvel at Candi Prambanan
Enjoy the beach at Batu Karas
Visit the waterfalls of Baturaden
Climb Mount Ijen
Shop for Batik in Yogyakarta
Climb Mount Bromo
Go for a walk in Bogor
Enjoy the seaside at Pangandaran
Visit Sewu Temple
Visit Timang Beach
Hike up the Dieng Plateau
Take a trip to Malang
Visit Mount Merapi
Spelunk in Goa Jomblang
Stop off in Solo
Visit Kalibiru National Park
Go diving at the Karimunjawa Islands
Eat your way around Bandung
Take a trip to the city of Semarang
Enjoy the colors at the Rainbow Village
Go surfing at Pelabuhan Ratu
Our local experts can design your trip based on your preferences
Warning - You are using an outdated browser. Please upgrade your browser to properly view this website.

Best time to visit Java
Toa peh kong festival.
Manado, Sulawesi
A large procession including horses, decorated floats and children in Chinese costumes begins at a Confucian temple if the gods grant permission through a ritual.
A mock battle at a date determined by the annual migration of nyale sea worms. 'Warriors' on horseback try to unseat their opponents, and any blood spilled is believed to fertilise the soil and benefit the next harvest.
Laruntuka's Easter celebrations draw devotees by the hundreds from nearby islands. On Good Friday, the ceremony begins with a procession through town led by shrouded bearers of Christ's coffin and the bathing of a Virgin Mary statue in a tradition dating back to Portuguese ancestors.
Raja Ampat Marine Festival
Promotes the beauty of culture, adventure and nature, held in Waisai in May. Activities include underwater orientation and photo competitions, parades, dragon-boat races and beach sports.
Thousands of Buddhists from throughout Asia join a procession from Mendut temple to Borobudur to meditate in honour of the Day of Enlightenment, the biggest day on the Buddhist calendar.
Sanur Village Festival
An annual celebration drawing hundreds of locals and tourists to its many events. A four-day feast of contests includes water sports and an international kite flying competition, music, dance and food, food, food. A great opportunity to mingle with the local people, hear some great music and to eat some really good food. www.gotosanur.com
Read more from the travel guide to Indonesia
Plan your trip
Useful phrases
Indonesia home

Explore Java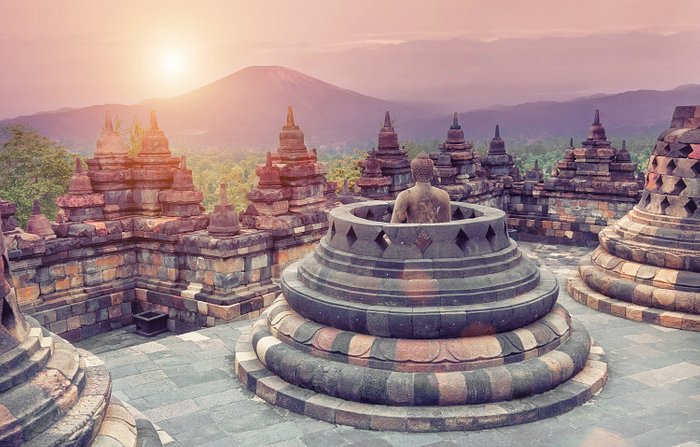 Java Tourism: Best of Java
Essential java.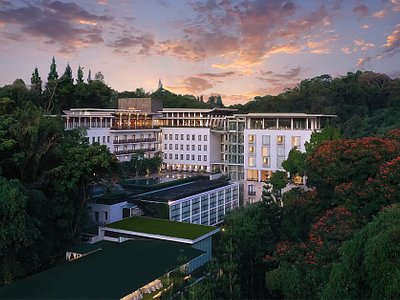 Trending in the forums

Java Is Great For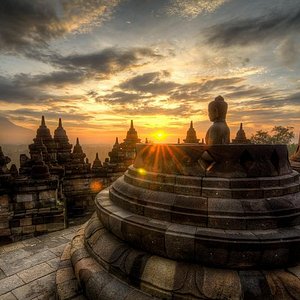 Eat & drink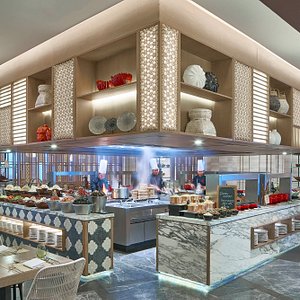 Historical Tours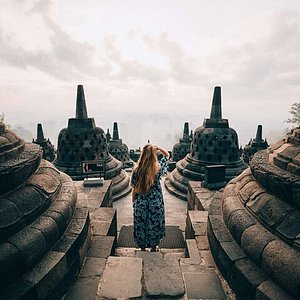 Cultural Tours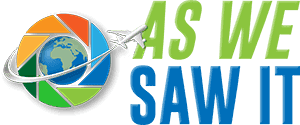 When Is the Best Time to Visit Indonesia?
If you are considering a trip to Indonesia, you are in for a treat. With over 17,000 islands, this archipelago nation is full of idyllic natural landscapes, rich cultural heritage, and friendly locals who are always happy to welcome visitors. We thoroughly enjoyed living there.
The problem is that figuring out the best time to visit Indonesia can be a bit tricky. It depends on several factors, such as the weather, peak tourist seasons, and the type of activities you want to engage in. In this article, we will give you an overview of these factors so you can figure out when to visit that fits your preferences.
Weather in Indonesia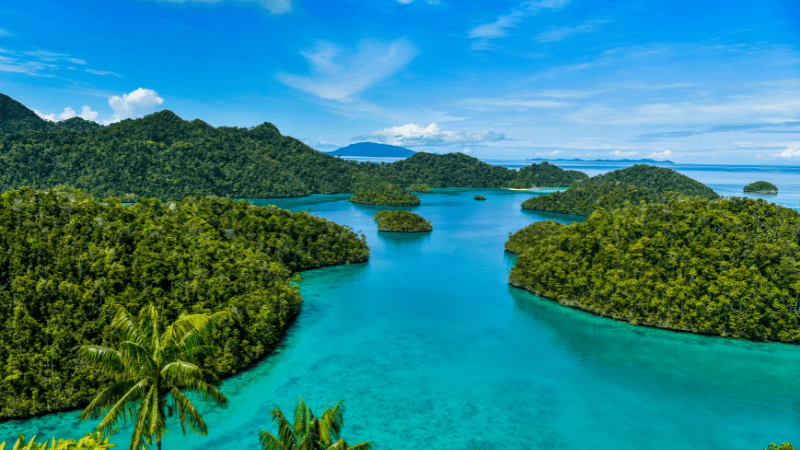 Being a tropical country, Indonesia experiences two distinct seasons, a dry season and a wet season. The islands are generally warm and humid throughout the year, with average temperatures ranging from 26°C (79°F) to 31°C (88°F).
Indonesia's dry season typically starts in May and lasts until September. During this time, rainfall is low, and the weather remains warm, with temperatures averaging between 28°C to 30°C (low to mid-80s). The dry and sunny weather is perfect for outdoor activities, making this the peak tourism season.
The wet season typically occurs between October and April, with the heaviest rainfall in December and January.
Despite the frequent downpours, temperatures can still average around 30°C, making it an ideal time to go to the beach. However, humidity levels are high, and there are almost no tourists, so you can have some beaches entirely to yourself.
Tourist Seasons in Indonesia
Indonesia has high, low, and shoulder tourist seasons.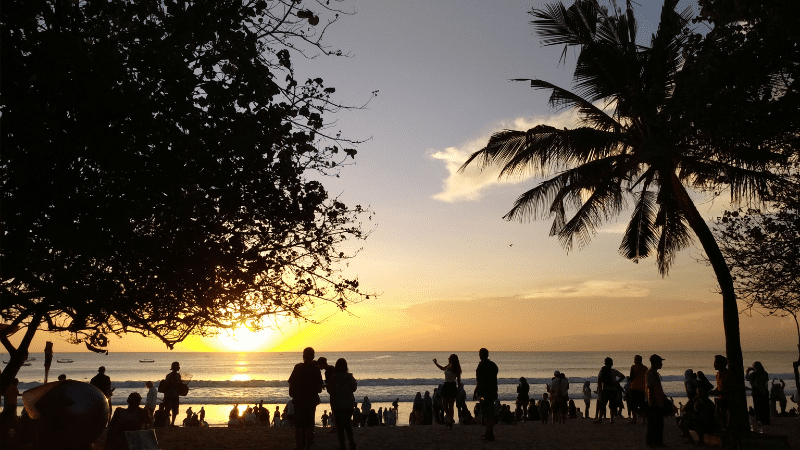 High Season
The dry season is the peak tourist season in Indonesia. It's a great time to explore the country, but expect to see many tourists, especially on the beaches. Prices for hotels and tours can be high, and availability may be limited, so it's best to make reservations as early as possible.
The low tourist season falls during the wet season, from November to March. Hotel rates are cheaper during this time, and there are fewer tourists, but rain can disrupt outdoor activities. However, it's still an ideal time to visit indoor attractions like temples and museums.
Shoulder Season
If you're a budget-minded traveler, the best time to visit Indonesia is during the shoulder season. The months of April/May and September/November offer weather that is still good for exploring, but there are fewer tourists, and prices are generally more reasonable.
Best time to visit Indonesia by destination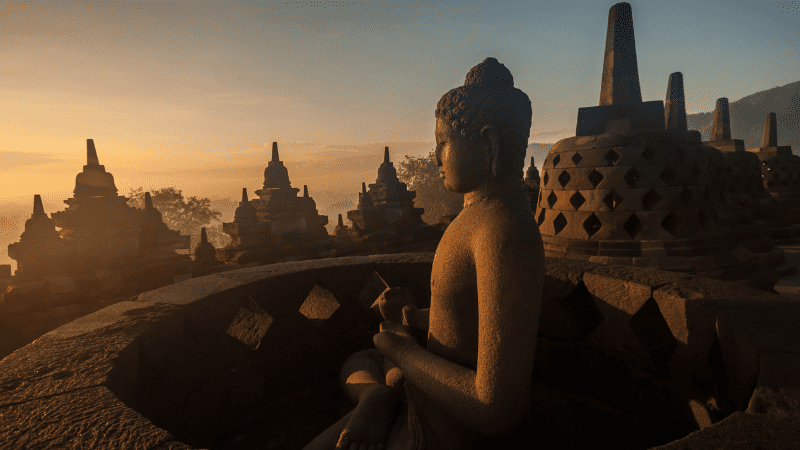 When to travel to Java
Famous for its majestic volcanoes, lovely temples, and breathtaking natural landscapes, Java is one of Indonesia's top tourist destinations. Many would come here to trek and explore temples. Thus, the best time to visit Java is during the dry season, ideally from May to September, when the weather is dry and sunny.
Since most activities in Java are outdoors, the island remains quiet during the rainy season, from November to March. But if you end up on the island during this time, stay in East Java, which experiences less rainfall.
Temperatures in Java are consistently warm all year round, with average temperatures ranging from 28°C to 30°C but can get colder at night and in higher elevations, such as Mount Bromo. Bring a jacket to warm you up during your trek.
When to travel to Sulawesi
Home to Lore Lindu National Park, Sulawesi is famous for its lush rainforests. It sits in the center of the Indonesian archipelago and is a popular diving destination, thanks to its beautiful coral reefs.
Due to the island's unique shape, Sulawesi has different weather conditions. The southern part of the island experiences monsoon season between November and April, while the northern regions receive rain all year round, with the driest months between July and October.
May through October is Sulawesi's peak tourist season, but it can get very crowded during this time. Thus, the best time to visit Sulawesi is during the shoulder months of April and November. These months are not too hot or wet, and you can enjoy warm temperatures without the hordes of tourists.
The months of May through October are ideal for scuba diving in Northern Sulawesi, with July and August being the busiest.
When to travel to Bali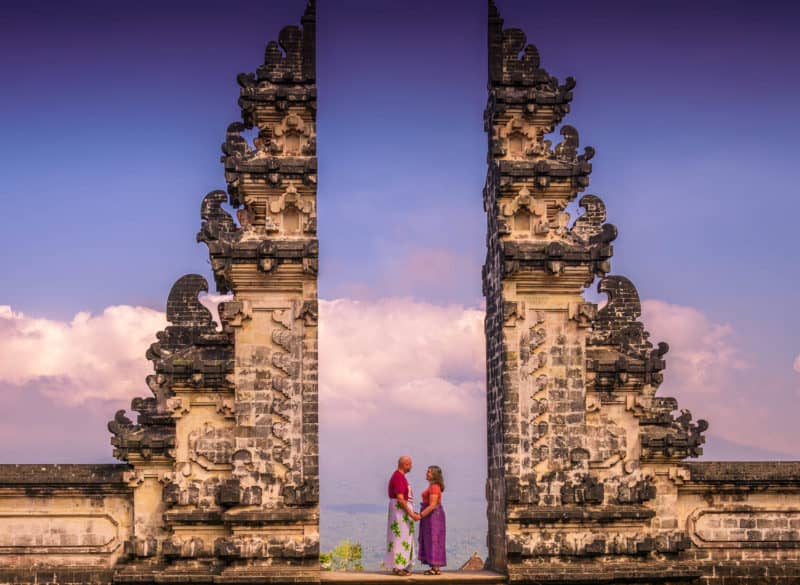 As Indonesia's most popular island, Bali needs no introduction. It's famous for its beautiful beaches, a haven for avid surfers and those who simply want to relax.
The best time to visit Bali is during the dry season, particularly May, June, and September when you can spend most of your time outdoors, enjoying the beach , hiking through lush rice terraces, and visiting temples . However, expect visitor numbers to be at their highest during this time, so the beaches and attractions can get very crowded.
Bali's wet season runs from October to March. However, the island only experiences brief tropical rainfall and rare monsoonal downpours are rare. If you're traveling on a budget, plan to visit Bali during the wet season since hotels are incredibly cheaper. Just be prepared for the occasional downpour.
When to travel to West Papua and Raja Ampat
You can visit the islands of West Papua and Raja Ampat at any time of the year. In fact, there is no off-season in these islands since they experience reliably consistent daily temperatures, averaging between 30°C and 34°C and rarely going down to 10°C at night.
The rainy season across the islands can differ from the rest of Indonesia. There is a higher chance of rainfall and strong winds between June and September, which may not be ideal for exploring the islands since boat journeys can be rough.
The months of October through May in West Papua and Raja Ampat offer the best diving conditions due to lower rainfall, more stable sea conditions, and better underwater visibility.
When to travel to Kalimantan (Borneo)
Kalimantan, an Indonesian island off the coast of Borneo, is well-known for the orangutans who have made their home in its dense forests. The island's size means that its climate varies somewhat from one part to another. The interior is the wettest, while the south is the driest.
The best time to visit Kalimantan is in the dry season, August to September is the driest period. Expect light rain when you visit Kalimantan from March to May. Avoid November to January, when the rainfall is at the heaviest.
Avoid visiting Kalimantan during the wet season if you want to see the orangutans. During this time, they become more elusive as they seek shelter from the wet weather.
When to travel to Sumatra
Like most places in Indonesia, the best time to visit Sumatra is during the dry season. Avoid October to January since the island receives the heaviest rainfall this time.
Due to its size, Sumatra's weather can vary from one part of the island to another. South Sumatra's dry weather falls between April and October, and its rainy season is between November and March.
On the other hand, North Sumatra has a more tropical climate, so rain occurs year-round, especially in Bukit Lawang, a jungle-clad area.
When to travel to Flores, Komodo National Park, and Sumba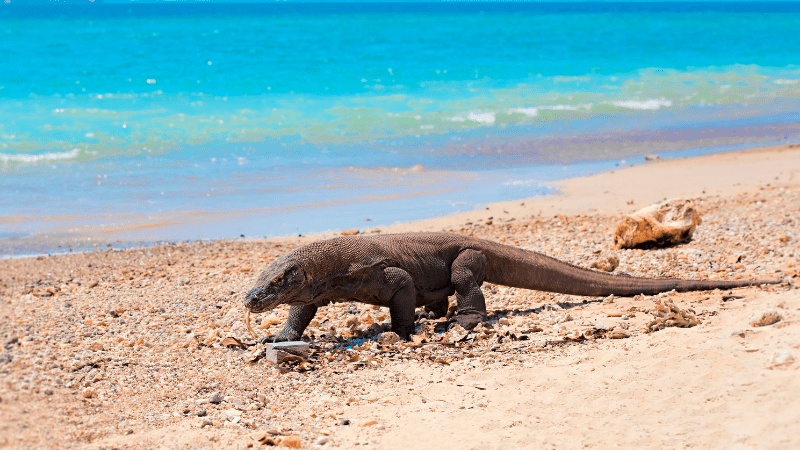 Flores, Komodo National Park , and Sumba are the best islands to visit on an island-hopping trip to Indonesia. While they are most famous for the presence of Komodo dragons, they are also some of the best spots for snorkeling and diving in Indonesia.
These islands experience a dry season and receive lots of sunshine and blue skies from April to September. The dry season is the best time to explore these islands since the water is calmer. However, the best time to dive is from May to October, when the water is clear and calm.
When to travel to the Moluccas Islands
The Moluccas are a chain of islands in Indonesia's northeast; they're known by their nickname, "Spice Islands," because of the abundance of fragrant plants found there.
The climate on the Moluccas is distinct from the rest of the country. The Moluccas get rain between the months of June and September.
The best time to visit the Moluccas Islands is from May to September, when the weather is mild and there is less chance of rain.
Final thoughts about when to visit Indonesia
No matter what time of year you travel to Indonesia, you will be met with friendly locals and treated to breathtaking scenery.
With careful planning and preparation, you can make the most out of your trip to Indonesia and create unforgettable memories that will last a lifetime. So what are you waiting for? Book your trip to Indonesia and start exploring this beautiful country today!
ⓘ TIP: If you enjoy festivals, visit Indonesia during the full moon in May or June. This is when Buddhist monks and pilgrims gather for Waisak, a day set aside to remember the birth, enlightenment, and death of Gautama Buddha.
Share this story with others
Written by Linda
Linda is multilingual and has been to over 50 countries. Her insatiable love of travel, cuisine, and foreign languages inspired her to create As We Saw It, where she documents her trips, shares practical itineraries, and offers insider tips. She's passionate about helping fellow travelers save time, money, and hassle, and loves to discover new places to explore.
You may also like...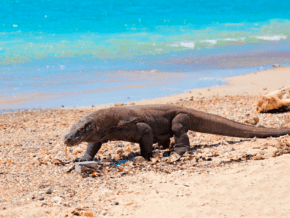 17 Best Reasons to Visit Indonesia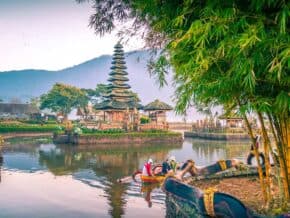 10 Day Bali Itinerary for Temple Lovers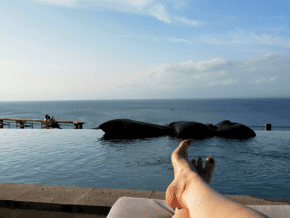 6 Luxury Travel Experiences in Bali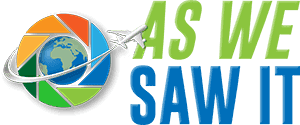 Botswana Our pride, Your destination.
Morocco Much Mor
Cambodia Cambodia
Malaysia Malaysia
Nepal Lifetime Experiences!
Philippines
Singapore Singapore
Sri Lanka Wonder of Asia
Taiwan See our Taiwan destination page for more.
Curacao Travel photos and articles
Dominica Exhilarating adventures, breathtaking landscapes and fairy-tale coral reefs
Jamaica Heartbeat of the World
Sint Maarten/ St Martin The Friendly Island
Belize Belize
Panama Panama
Andorra Andorra
Austria Austria
Belgium Where Benelux begins
Croatia Croatia
Czechia Czech Republic
France France
Germany Germany
Greece Greece
Hungary Hungary
Ireland Ireland
Italy Italy
Montenegro Montenegro
Netherlands Netherlands
Slovakia Slovakia
Spain Spain
Switzerland Switzerland
U.K. United Kingdom
Vatican City Vatican City
Israel + Palestine Land of Creation
Saudi Arabia Hello World
Türkiye You Will Want to Stay Forever
United Arab Emirates Discover all that's possible
Mexico Mexico
United States United States of America
Australia There's NOTHING like Australia.
New Zealand New Zealand travel inspiration, articles, and tips for curious travelers
Argentina Argentina travel inspiration – destinations, things to do, and tips for the curious traveler.
Brazil Brasil – sensational!
Colombia Colombia is magical realism
Ecuador All you need is Ecuador
Peru Land of the Incas
1-day itineraries
weekend getaways
1- to 2-week itineraries
food and drink
things to do
travel planning
know before you go
cruise ports
cruise tips
Viking Grand European Tour Daily journal entries from our Grand European Tour, a river cruise from Budapest to Amsterdam, with activities, experiences and tips.
photo gallery Travel photos by As We Saw It
photo essays Photo Essays
photography tips Photo Tips
2 min summary
Best time to visit
Best time to visit Java
This densely populated island contains many towering volcanoes, ancient temples and peaceful pockets beyond its megacities, which organised tours hop between. From cycling to hiking, cultural exploration and island hopping to Bali and beyond, read on to discover the things to do and the best time to visit Java, too.
Java vacations Vacations
Travel Guide
Best Time To Go

Things to do in Java
Things to do in java…, things not to do in java….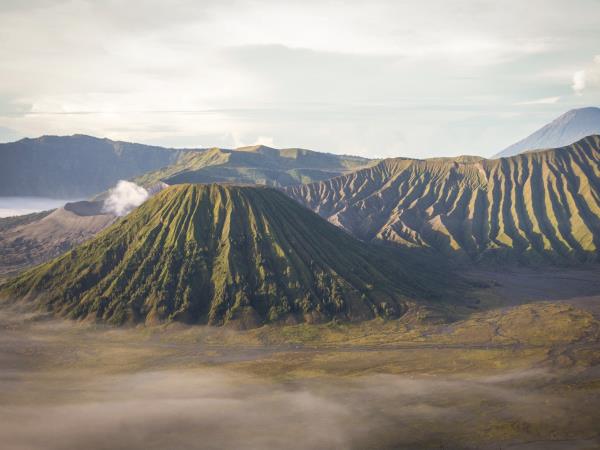 Java and Bali vacation in Indonesia
An adventurous tailor-made journey through Java, Indonesia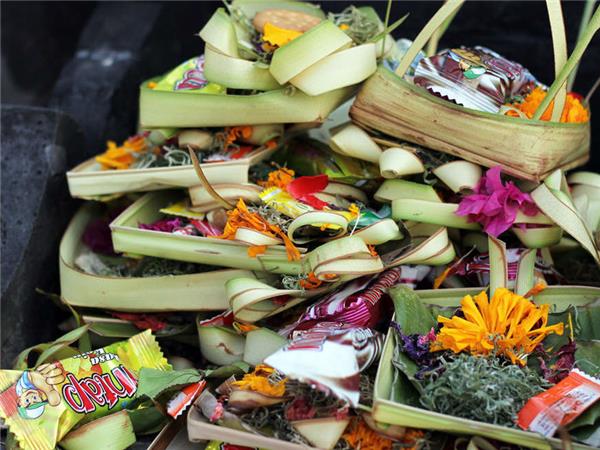 Bali and Java vacation in Indonesia
Discover the best of Java and Bali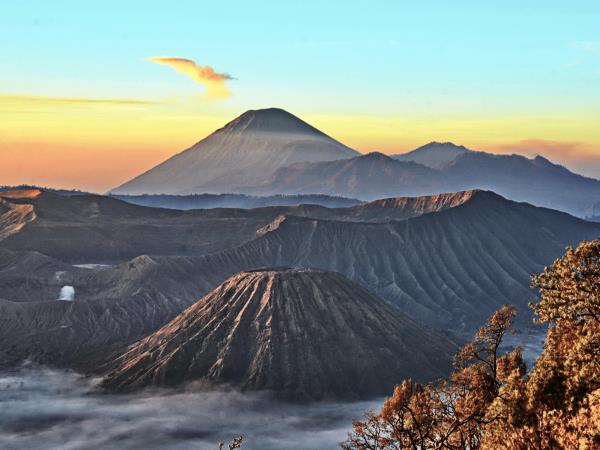 Java 12 day tour
Ancient Temples, Towering Volcanoes and Vibrant Street Life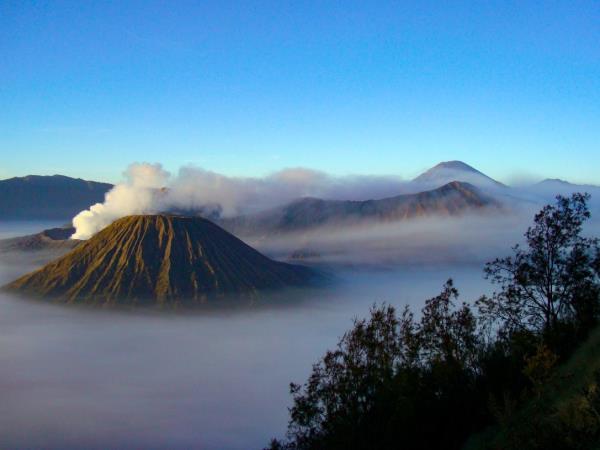 Java and Lombok 11 day tour
Explore culture, natural wonders & beaches of Java & Lombok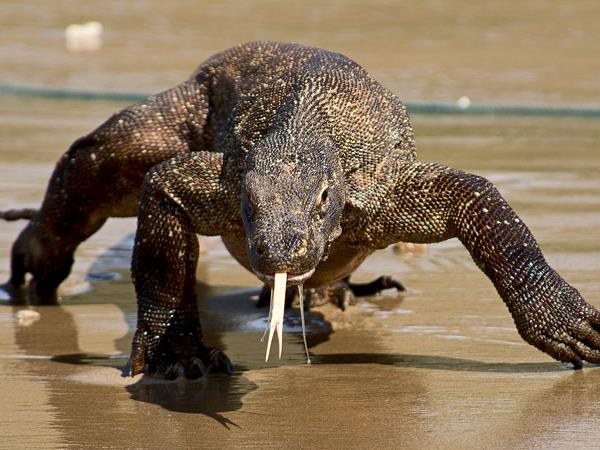 Indonesia small group tour, temples and dragons
Spot mythical Komodo dragons and meet indigenous people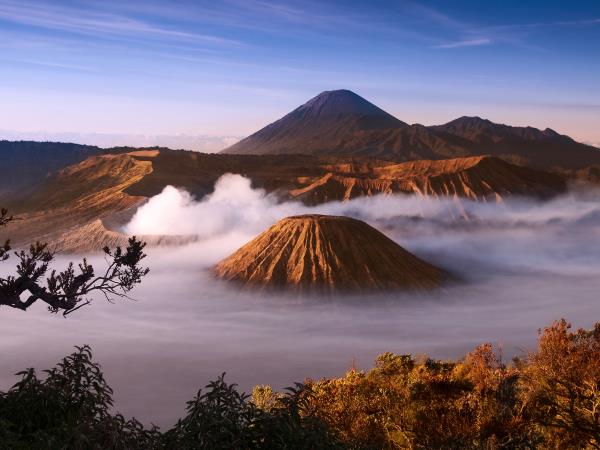 Java 13 day tour
Cultural and historical adventure vacation in Java

Java travel advice
Why see java, packing tips, food highlights, how long to spend, more java articles.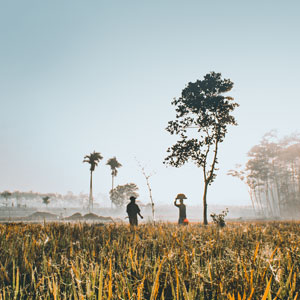 More relevant guides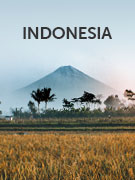 Indonesia guide
Our Indonesia travel guide aims to point responsible travelers in the right direction when it comes to what we rate & what we don't as well as all the information you need on food, shopping & people to assist in your quest to discover Indonesia like a local.
Our purpose
Trip for a Trip
Founder's story
What we do not sell
Your vacation
Claim your free gift
Loyalty discount
Financial protection
Impact report
Newsletter sign up
Terms and conditions
Privacy policy