Christmas travel: The best and worst times to drive to avoid traffic this holiday season
With the holiday season in full swing, people may be worried whether they'll get stuck in bad traffic this year during Christmas and New Year's Day.
Unfortunately, the answer is yes, as holiday travel is rebounding since the pandemic. Across the country, people can expect drives up to 25% longer than usual .
All modes of transportation will see an increase in travelers this holiday season, with about 112.7 million people estimated to travel farther than 50 miles this year between Dec. 23 and Jan. 2 – 3.6 million more than last year, according to AAA. Of those, about 102 million will be driving. 
Drivers should expect delays when driving through major metropolitan areas, according to Bob Pishue, a transportation analyst at INRIX.
"In summary, the best times to travel are before the afternoon commute sets in at about 2 p.m.," he told USA TODAY in an email. "We expect the busiest days to be Dec. 23, 27, and 28, along with Jan. 2."
Learn more: Best travel insurance
For those who are driving for their holiday plans, here's what to know:
USA TODAY analysis:  Here are the 10 airports with the most flight cancellations around the holidays
Holiday packing: How to maximize space in your suitcase for travel
When is the worst time to leave for holiday travel?
The afternoon to early evening, aka peak commuting hours, are going to have the worst traffic as travelers mesh with work commuters on the road, according to INRIX.
Generally, try to avoid driving between 3 p.m. and 7 p.m.
On Dec. 23, the worst traffic tie will be between 4 and 7 p.m.
On the day after Christmas, the worst traffic will be between 2 and 6 p.m.
For the day after New Year's Day, bad traffic is predicted to be between 4 and 7 p.m.
When is the best time to leave for holiday travel?
The days around Christmas and New Year's predicted to have the least traffic are Christmas Day, New Year's Eve and New Year's Day.
If traveling on those days isn't feasible, try to head out early or in the evening following the after-work commute, Pishue advised.
Generally, the best times to travel are before 2 p.m. and after 8 p.m.
On Christmas Eve, though, INRIX recommended that people travel before 11 a.m. and after 7 p.m. The day after Christmas, people should be on the road before noon and then after 7 p.m. For the day after New Year's Day, travel before 3 p.m. and after 8 p.m. 
How will weather impact holiday traffic?
Poor weather may cause further delays, so keep an eye on the forecast and plan accordingly, Pishue said.
"Many remember the I-95 backup in Virginia , which left some drivers delayed on the freeway overnight, caused by a massive snow and ice storm," he said. "While we can't predict these, or when mountain passes and other roads close due to weather, it is important that travelers get the latest information on road closures and delays before taking their trip."
Worst travel times in major US cities
Drivers going through big cities such as Los Angeles and New York City should prepare for twice the usual traffic delays.
Worst corridor: I-75 North, GA-17 to I-675.
Worst day: Monday, Jan. 2.
Worst time: 5:15-6:15 p.m.
Peak travel time increase: 65%.
Worst corridor: I-290 West, Mannheim Road to Paulina Street.
Worst day: Tuesday, Dec. 27.
Worst time: 4:45.-6:45 p.m.
Peak travel time increase: 75%.
Los Angeles
Worst corridor: I-5 South, Colorado Street to Florence Avenue.
Worst time: 5:30-7:30 p.m.
Peak travel time increase: 95%.
Worst corridor: I-278 West, I-495 to 6th Avenue.
Worst time: 3:45-5:45 p.m.
Peak travel time increase: 112%.
Worst corridor: I-95 South, MD-212 to Central Avenue.
Worst time: 9:30-11:30 a.m.
Peak travel time increase: 68%.
Advertisement
Planning Holiday Travel? How Wind, Cold and Snow Could Disrupt Your Trip.
A storm could make for treacherous conditions for parts of the country. ''It could be one of the coldest Christmases in a while,'' one meteorologist said.
Where Saturday Morning's Predicted Low Temperatures Are Colder Than Normal
Degrees warmer or colder than average low temperature for Dec. 24
By Livia Albeck-Ripka and Judson Jones
Published Dec. 18, 2022 Updated Dec. 24, 2022
In parts of Montana and the Dakotas, temperatures have already plunged into the minus 20s, leaving some residents unable to start their cars.
In Washington State, on a major interstate highway pummeled by snow, cars and trucks have spun out of control, forcing the highway to close.
And in Seattle, the ghastly weather has also forced the cancellation or delay of hundreds of flights at the city's major airport, leaving holiday plans upended.
With less than five days to go until Christmas, forecasters are warning of a rapidly intensifying "bomb cyclone" storm that will tear across vast swaths of the country this week, likely disrupting major roadways and air travel. A frigid blast of Arctic air will also sweep south across the country, sending temperatures plunging far below their late-December averages, with parts of every state expected to experience below-freezing temperatures on Christmas Eve, forecasters say.
"The tandem of bitterly cold temperatures and an intensifying storm system over the Rockies and Central Plains by midweek will mean treacherous travel for many locations along and east of the Rockies," the Weather Service said, adding that anyone in those regions should closely monitor the forecast. In some places, forecasters said, the weather conditions may even prove life-threatening.
The powerful storm is expected to develop and move across parts of the Midwest, Central Appalachians, eastern Great Lakes, Mid-Atlantic and Northeast this week, bringing a mix of strong winds, rain and snow, including blizzard conditions, that could make travel dangerous leading up to the holiday weekend.
In Rugby, N.D., a city of about 2,000 people 150 miles north of Bismarck, residents were already struggling to start their cars as temperatures hit minus 22 on Tuesday afternoon. Such blistering cold is well below the average for this time of year, according to forecasters.
"The second you step outside, it's pretty much a slap in the face," said Vita Thomas, who runs a bar in Rugby. She said that while North Dakotans were used to cold temperatures, it was a shock to have to endure it in the lead-up to Christmas. "It's like walking into a glass door as hard as you possibly could," she said of the cold.
In the Northern Plains and Upper Midwest, temperatures could dip into the negative teens by Christmas Eve and the following days, according to the service. It said subzero temperatures could reach as far south as the Central Plains, while temperatures in the single digits were expected in the stretch from the Northeast to the Ohio Valley and up to the Great Lakes.
"Combined with wind gusts up to 60 m.p.h., widespread wind chill values could drop to around minus 40 degrees throughout the central and north-central United States," forecasters with the prediction center said Tuesday. "This level of cold can be life threatening and lead to frostbite on exposed skin in as little as 10 minutes."
Below-freezing temperatures are forecast even for parts of southern Texas, the Gulf Coast and Florida over the weekend and into next week, the service said. Low temperatures along parts of the Gulf Coast could drop into the teens and low 20s.
The arctic air will dip so far south that it won't feel like the tropics in Florida this Christmas, with lows falling into the 30s and 40s over the weekend.
"For some folks, it could be one of the coldest Christmases in a while," said Zackary Taylor, a senior meteorologist with the Weather Prediction Center.
"The cold air spilling southward is certainly some of the coldest air we've seen so far this winter and there is the potential there for some record low temperatures," he said, adding that temperatures across much of the eastern two-thirds of the country were expected to drop as much as 30 degrees below normal for this time of year.
Nearly 40 locations across the United States are forecast to plummet to record-breaking daily cold temperatures on Thursday and Friday.
The cold air mass is expected to begin its surge southward by the middle of the week, sweeping from the Northern Rocky Mountains toward the eastern part of the country.
Every state in the country, if you count the summits in Hawaii, is expected to get below-freezing temperatures on Christmas Eve, said Alex Lamers, the warning coordination meteorologist with the Weather Prediction Center.
When the cold mass begins to move through, it is going to arrive really fast. "The temperature "could drop several dozen degrees in a matter of a few hours, like 30 degrees or so," Mr. Lamers said.
Along the leading edge of the cold air mass, a winter storm will rapidly intensify across the Midwest and into the Great Lakes.
"Snow is likely to add to the preholiday travel headaches from the central Plains to the Midwest and Great Lakes as a major winter storm begins to develop," the prediction center forecasters wrote Tuesday.
It will produce not only heavy snow in the Midwest and Great Lakes but also relentless winds leading to blizzard conditions in places like Chicago and Milwaukee.
It's a stronger-than-normal storm system for the Great Lakes, Mr. Lamers said.
Blizzard conditions will most likely be contained to the Central and Northern Plains, Midwest and Great Lakes.
Blizzards like this one can have a serious impact on travel, and even just getting around outside can be treacherous because of the strong winds.
United Airlines, which has a hub in Chicago, said that it had already issued waivers to passengers traveling to or from any affected airports Wednesday through Friday. Delays may add up in areas of the country that aren't just experiencing blizzard conditions. "Very strong winds are expected to impact nearly the entire eastern half of the U.S. as this large system becomes fully mature by Thursday night," the prediction center forecasters said.
It isn't just air travel that could be an issue; the weather will also have a significant impact on ground-level travel.
"You don't want to get yourself in a situation where you're stuck and having to deal with the kind of cold that we're talking about," Mr. Lamers said.
While the bitter cold will have a broader impact, "the snow and wind is going to be pretty significant where it does occur," said Marc Chenard, a meteorologist with the Weather Prediction Center.
Clearing the roads of snow under such conditions could prove challenging. "It's going to be so cold, it's not going to melt," he said.
How much snow falls, and where, will depend on where the center of the storm develops and intensifies.
The forecasters are predicting Tuesday that the greatest chances for over eight inches of snow will be across the states that surround Lake Michigan.
Something else forecasters are watching for is a flash freeze. With the speed of the cold air moving in, if any area receives rain ahead of it, there is the potential for that moisture to freeze before it evaporates.
If the forecast holds, cities on the East Coast, including New York and Washington, are unlikely to have a white Christmas, as the storm will probably pass on Thursday and Friday as a "rain event" before temperatures plummet. New York is forecast to reach a high near 30 degrees on Christmas Day.
Livia Albeck-Ripka is a reporter for The Times based in California. She was previously a reporter in the Australia bureau. More about Livia Albeck-Ripka
Judson Jones is a meteorologist and reporter for The Times, covering the most extreme storms across the globe. More about Judson Jones
Explore Our Weather Coverage
Latest News
A storm battered northwestern France before lashing Britain with heavy rains and strong winds . The storm, given the name Ciarán, pummeled the French Atlantic coast with record-breaking winds and left at least one person dead.
Heavy rains linked to Tropical Storm Pilar killed at least one person in El Salvador , an official there said, as parts of Central America faced heavy flooding.
Hurricane Preparation: When a hurricane is poised to make landfall, you may not have much time before you leave. Here's what you can do to get ready .
Extreme Weather Maps: Track the possibility of extreme weather in the places that are important to you .
Heat Safety: Heat waves are becoming increasingly common across the world. Here is how to keep yourself and your loved ones cool, hydrated and healthy .
Is It Safe to Go Outside?:  Heat, flooding and wildfire smoke have made for treacherous conditions. Use this guide to determine when you should stay home .
Flood Safety: Fast rising water can be deadly . Here's what to do if you're caught off guard, and how to prepare for a future flooding event.
Climate Change: What's causing global warming? How can we fix it? Our F.A.Q. tackles your climate questions big and small .
Holiday travel forecast: What to know before hitting the roads or the skies
Airlines are predicting packed planes this holiday season.
Americans are gearing up to hit the roads and the skies for the holidays -- and airlines are bracing for a packed travel season.
Here's what you need to know before hitting the road or heading to the airport:
Best, worst days to drive
Nearly 102 million Americans -- 90.4% of travelers -- will drive to their holiday destinations, according to AAA.
The worst days to be on the road are Dec. 23, Dec. 27, Dec. 28 and Jan. 2, according to transportation analytics company INRIX.
But if those are your planned travel days, the best times for motorists are 2 p.m. or earlier and after 8 p.m. The best times on Jan. 2 are before 3 p.m. or after 8 p.m., INRIX said.
The best days to drive are Christmas Day, New Year's Eve and New Year's Day, according to INRIX.
Most expensive and least expensive days to fly
Based on average ticket prices, the most expensive day to leave town for Christmas is Thursday, Dec. 22, followed by Saturday, Dec. 17, and Friday, Dec. 23, according to Expedia.
The cheapest day to fly before Christmas is Dec. 19.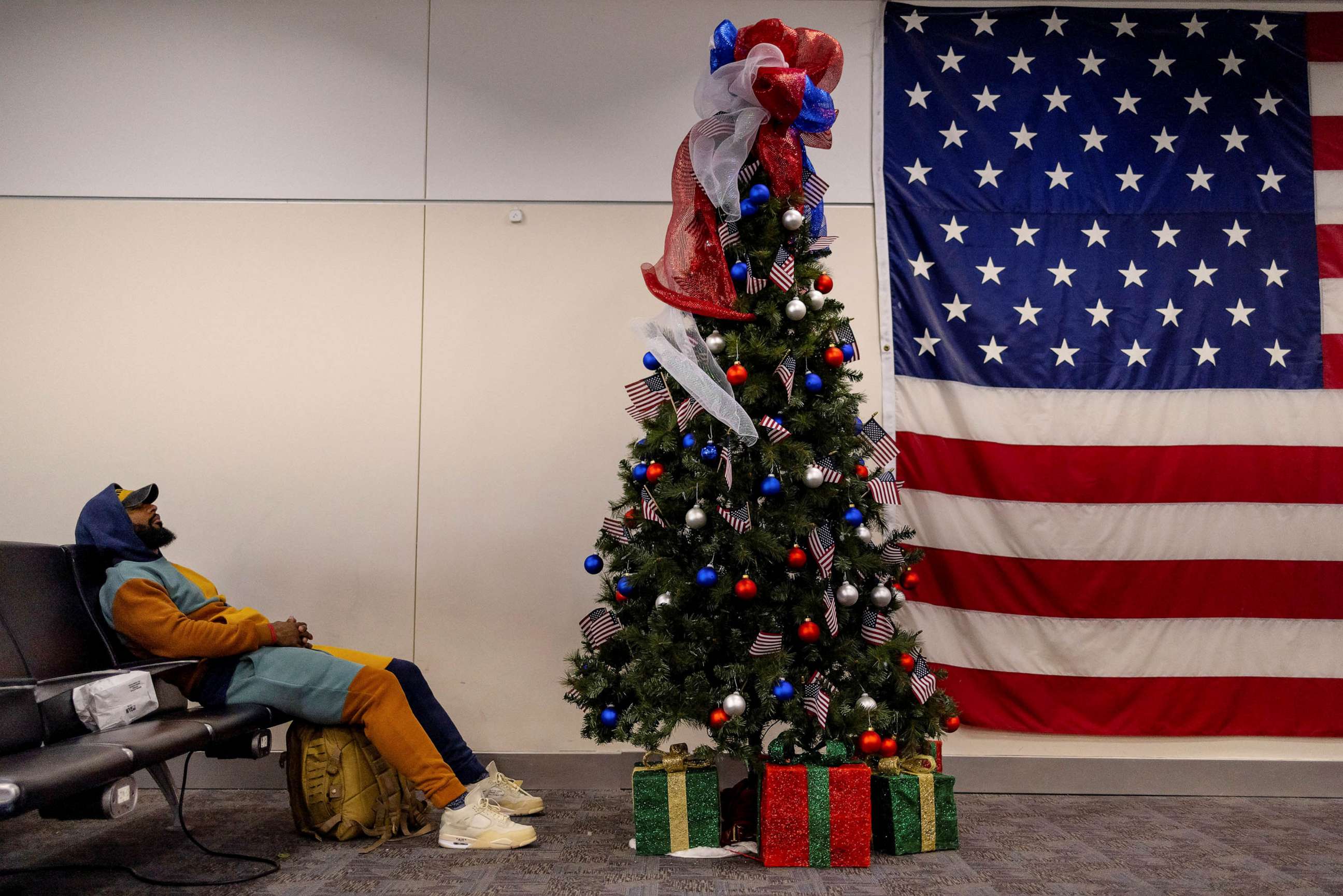 When planning your return trip, avoid flying back on Mon. Dec. 26. Instead, book for Dec. 27 or Dec. 28, according to Expedia.
Looking for the ultimate budget-friendly day? Book a flight for New Year's Eve, according to Expedia, when ticket prices are more than $200 cheaper than average for the holiday period (Dec. 17 to Jan. 1).
Jan. 2 will be United's busiest day
United is planning for more than 8.3 million travelers over the holidays -- about 1.9 million more than last year.
But thanks to remote work, United said the holiday travel period is getting longer and demand is less concentrated on peak days.
Jan. 2 will likely be United's busiest day, when more than 480,000 travelers are expected. The airline said it anticipates setting a new post-pandemic travel record.
Chicago O'Hare will be United's busiest hub, followed by Denver, Newark and Houston, according to the airline.
Dec. 22, Dec. 23 and Dec. 27 peak days for Delta
Delta said it expects about 9 million customers from Dec. 16 to Jan. 3 -- just shy of its 2019 numbers, when the airline had about 9.3 million customers.
Delta's largest hub, Atlanta, will have more than 800 daily flights on average.
Delta forecasts its peak travel days to be Thursday, Dec. 22, Friday, Dec. 23, and Tuesday, Dec. 27.
Dec. 22 is American's biggest day
American Airlines predicts to see more than 10 million passengers from Dec. 16 to Jan. 2.
American said its busiest day is Dec. 22 with 5,520 departures, followed by Dec. 15 with 5,514 departures.
Top Stories

Netanyahu to ABC's Muir: 'No cease-fire' without release of hostages

'Nobody's hands are clean': Obama, Democrats break with Biden on support for Israel

Indiana woman allegedly crashes 'on purpose' into what she thought was Jewish school

Trump fraud trial: Trump distances himself from financial statements

Capitol police find gun with 'giggle switch' after armed men crash into barricade
ABC News Live
24/7 coverage of breaking news and live events

113 million Americans expected to travel this holiday season as blizzard wreaks havoc
Not only will we see an increase in the number of people driving and flying this year, but the FOX Forecast Center is tracking a Christmas week blizzard that is having a major impact on holiday travelers.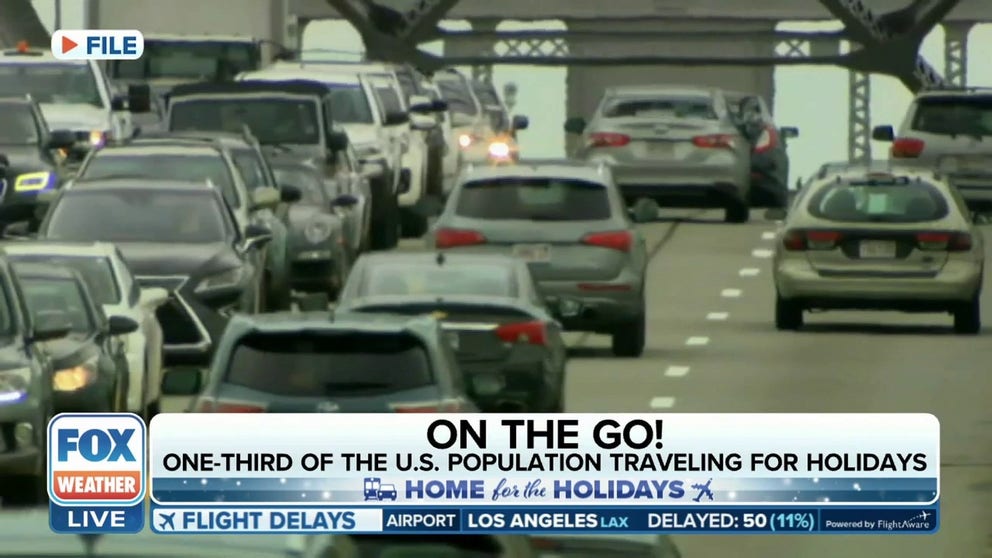 One-third of US population to travel for the holidays
About 112 million Americans will travel between now and New Year's Day, and that equals about one-third of the population making the decision to go somewhere. AAA spokesperson Robert Sinclair joined FOX Weather on Sunday morning to break down the holiday travel details.
The holidays are upon us as we're in the final stretch of 2022. So, if you're one of the nearly 113 million Americans who will travel more than 50 miles to gather with friends and family this year, you're going to want to plan ahead. This year, the weather is having a significant impact on your travel. 
CHRISTMAS WEEK BLIZZARD COULD BECOME BOMB CYCLONE, SNARL HOLIDAY TRAVELERS IN LIFE-THREATENING CONDITIONS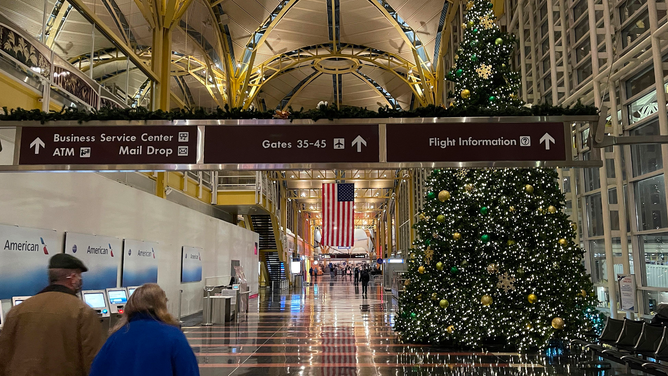 FILE - People walk near a Christmas tree inside the Washington Reagan National Airport (DCA) on December 18, 2020 in Arlington, Virginia.
(DANIEL SLIM/AFP / Getty Images)
AAA expects an increase of about 3.6 million people traveling this year versus in 2021, and that number is closing in on pre-pandemic levels.
In fact, 2022 is expected to be the third-busiest year for holiday travel since AAA began keeping track in 2000.
HOW TO WATCH FOX WEATHER
Planes, Trains and Automobiles
Despite the roller coaster gas prices that we saw in 2022, the number of people who will drive to their holiday destinations is expected to rise about 2 million over 2021 levels, according to AAA. 
"About 2% (more) compared to last year," said AAA spokesperson Robert Sinclair. "We're not yet back to the total number of travelers that pre-pandemic records in 2019 when 119 million traveled. But we're getting back there."
Those traveling by car are on par with the number in 2018 but shy of 2019, when 108 million Americans drove out of town over the holidays.
TRAVELING THIS WINTER? HERE'S WHAT TO KEEP IN YOUR CAR IN CASE YOU GET STUCK
There are some interesting modes of transportation that will see a significant jump over last year.
"What's most striking is the number in the other category that are traveling by train, bus and cruise," Sinclair said. "That's up 23% compared to last year, with the bulk of that increase happening in cruising. Cruising has come back in a big way. People like the one-price aspect. You pay upfront to get your drinks and your meals included. You know exactly what you're going to pay."
AAA said air travel is expected to increase about 14% over 2021, with nearly 7.2 million Americans expected to catch a flight out of town over the holidays.
Demand for air travel has skyrocketed, and people should be aware that airports and flights will be packed. AAA expects the number of people catching a flight will come close to matching pre-pandemic levels in 2019 when 7.3 million Americans traveled by air.
HERE'S WHAT CAUSES TURBULENCE AND WHY YOU SHOULDN'T BE AFRAID OF IT
Christmas week blizzard having nightmare effect on travel
Christmas week blizzard starting to bring whiteout conditions to northern Plains
Snow is starting to fall across the Plains ahead of the front. The heaviest snow has been and will continue to be across Minnesota where up to 10" will fall through Thursday morning.  
A dangerous blizzard will soon become a bomb cyclone as it wallops the Midwest and Great Lakes. Damaging winds will also spread toward the East Coast and contribute to a travel nightmare for millions ahead of the Christmas holiday weekend.
The winter storm is also ushering in bitterly cold, life-threatening temperatures that will spawn a widespread flash freeze in the Midwest, East and South as heavy rain is followed by temperatures rapidly falling below freezing all the way to Florida, which could see its coldest Christmas in more than 30 years .
CHRISTMAS WEEK BLIZZARD TO BECOME 'PARALYZING' BOMB CYCLONE, SNARL TRAVELERS IN LIFE-THREATENING CONDITIONS
"It could be very, very difficult indeed," Sinclair said. "We're anticipating hundreds of thousands of breakdowns during the year-end holiday travel period. You throw in a bad snowstorm into that, and it really wreaks havoc."
WHAT TO DO IF YOUR FLIGHT IS CANCELED
Sinclair said about half of all bad weather-related crashes occur during one season – winter. It's upwards of about 2,000 fatalities and more than 500,000 injuries because of snow and ice.
"Drivers really need to slow it down," he said. "Just take it easy, and really, the best advice is if you can stay home during such inclement weather, do so."
Weather News
Transportation
Winter Weather
Mountain View, CA
Mountain View
Around the Globe
Hurricane tracker, severe weather, radar & maps, news & features, winter center, news / winter weather, pre-christmas storm threatens major travel delays across us.
By Alex Sosnowski , AccuWeather senior meteorologist
Published Dec 16, 2022 7:58 AM PST | Updated Dec 20, 2022 8:23 AM PST
AccuWeather forecasters warn that a major winter storm will bring snow and blizzard conditions to the U.S. in the days leading up to Christmas.
Confidence continued to grow among AccuWeather 's expert team of meteorologists on Monday that a significant storm would evolve later this week, threatening to bring a wide swath of snow, rain and fierce winds from the Plains to the Atlantic Seaboard.
The intensifying storm will coincide with a surge of frigid air that will send temperatures to bone-chilling levels through the holiday weekend and could be one of the most intense and prolonged periods of Arctic air in decades during Christmastime. The plummeting temperatures with the storm could also lead to concerns of a rapid freeze-up.
The storm's timing could not be worse given the increased number of travelers leading up to Christmas as well as the pressure retailers and shipping companies face to keep shelves stocked and items on track for delivery.
Snow during at least part of the storm is likely to extend from parts of the southern Plains to the Midwest, Northeast and perhaps even the interior Southeast states during the period from Thursday, Dec. 22 to Saturday, Dec. 24. The first stage of the storm can cause snow to break out as early as Wednesday across the interior West, with Denver expected to pick up several inches of accumulation Wednesday night.
AccuWeather's team of long-range meteorologists, led by Senior Meteorologist Paul Pastelok, not only looks at computer models but also examines existing global weather patterns, known as teleconnections. The team has been keeping a close eye on the potential for this storm and the geographical area at risk since the start of December.
"At this time, there is every indication to believe that a major storm will unfold and track from somewhere over the South Central states to the Northeast," Pastelok said.
The track is key to which areas end up with the heaviest snow, but confidence is also growing that even a small or moderate amount of snow when combined with plunging temperatures and strong winds will lead to a quick freeze-up and slippery travel from parts of the south-central Plains to the Midwest and Northeast states.
This means that cities such as St. Louis and Nashville , and perhaps as far south as Dallas and Atlanta could be looking at some snow, as well as the more traditional wintry trouble spots farther north such as Chicago , Detroit and Pittsburgh .
"This is the type of setup that can lead to ground blizzards in parts of the Central states," AccuWeather Senior Long-Range Meteorologist Joe Lundberg said when he considered the potential storm's intensity, the arrival of Arctic air and the wide open terrain in the region.
"This storm will likely become intense, feeding on the extremely sharp variation between the surging arctic air arriving from the Central states and relatively warm air across the southeastern U.S.," AccuWeather Chief Meteorologist Jon Porter said. "Major East Coast storms over the decades have occurred in this type of setup, bringing the risk for heavy snow and rain, gusty winds, coastal flooding, severe thunderstorms and even tornadoes on the southern side of the storm."
AccuWeather's Chief On-Air Meteorologist Bernie Rayno has summarized the major impacts of the coming storm and cold this week.
One such key component will be the complex structure of the storm. For example, one storm center may track toward the Great Lakes and a second storm center may form over the Appalachians or right along the Atlantic coast late this week. This could allow for hazardous winter weather to develop over an especially large area, making impacts around the Christmas holiday even worse.
GET THE FREE ACCUWEATHER APP
     Have the app? Unlock AccuWeather Alerts™ with Premium+
The secondary storm formation could be a determining factor in the primary form of precipitation expected in the major metro areas of  Washington, D.C. ,  Baltimore ,  Philadelphia ,  New York City  and  Boston . At this time, at least some snow or a wintry mix are still on the table for these locations for part of the storm.
"The exact track of the storm will dictate which areas receive heavy snow versus heavy rain and the most significant impacts, but people and businesses in the eastern U.S., especially those traveling, should be extra alert and frequently check AccuWeather forecasts this week to stay updated on expected impacts," Porter added.
Even locations on the warmer east side of the storm may not be entirely out of the woods when it comes to wintry weather. With Arctic, frigid air quickly spilling in, temperatures may drop sharply as the storm is ongoing, potentially changing any rain over to snow. Just when and where this occurs depends on the storm's exact intensity.
For those who find themselves with some added flexibility in terms of available time for travel or shopping, forecasters say it could be advantageous to adjust certain plans before the storm's peak impacts late this week and into the Christmas weekend. The storm's enormous scope and intensity have the potential to leave people stranded on the highways and at the airports. Even if an airport is not in the storm's primary target zone, delays at other travel hubs could cause a cascading effect in case aircraft and crews become displaced.
While the storm may initially delay the arrival of very cold air along the Eastern Seaboard, the frigid air is likely to plunge southeastward in the storm system's wake. Those who will be away from home around Christmas may want to take precautions to avoid having their pipes freeze and potential water damage even in portions of the interstate 20 and 10 corridors of the South Central and Southeastern states, experts say.
AccuWeather's team of more than 100 meteorologists will continue to fine-tune the forecast for this emerging storm system in the days ahead.
In other news:
Want next-level safety, ad-free? Unlock advanced, hyperlocal severe weather alerts when you  subscribe to Premium+  on the  AccuWeather app .   AccuWeather Alerts ™  are prompted by our expert meteorologists who monitor and analyze dangerous weather risks 24/7 to keep you and your family safer.
Top Stories
Blind dog rescued from frigid pond in New York park
Turkey prices have dropped by a lot as Thanksgiving nears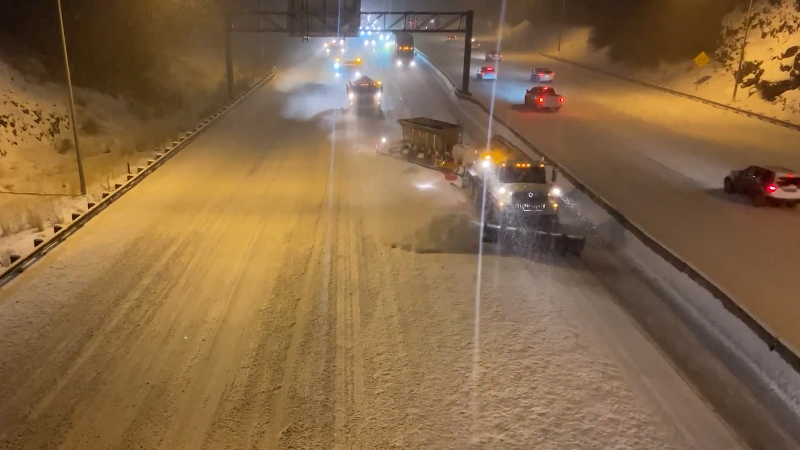 Winter, snow removal prep underway across the country
Accuweather early, accuweather prime.
Winter Weather
Mix of snow, ice in the Northeast to threaten slick travel
10 hours ago
Weather whiplash: Second snowfall of season to target Denver
11 hours ago
Weather News
Choking New Delhi smog shutters schools, shrouds Cricket World Cup
15 hours ago
Weather Forecasts
Late-week pattern to bring soaking rain to South Central states
Collision that formed the moon also created alien blobs inside Earth
Featured Stories
Mystery of African elephants dropping dead unraveled
13 hours ago
Diver's discovery of ancient coins hints at hidden shipwreck
Archaeologists find centuries-old skeleton with prosthetic hand
The significant health benefits of walking backward
Rare African mask at center of fierce multimillion-dollar legal battle
12 hours ago
We have updated our Privacy Policy and Cookie Policy .
Get AccuWeather alerts as they happen with our browser notifications.
Notifications Enabled
Thanks! We'll keep you informed.
Christmas travel: The roads to avoid as millions of drivers embark on festive getaway
The usual high levels of traffic are expected, plus those forced to use cars because of disruption on the railways.
Monday 12 December 2022 00:59, UK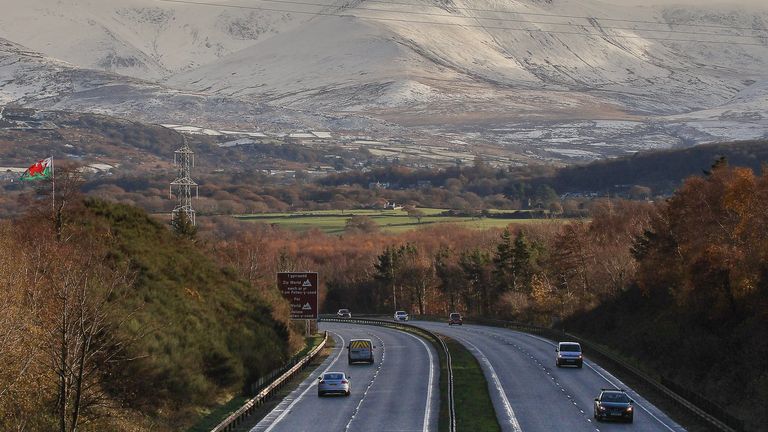 It's that time of year again - millions of drivers will take to the roads to join family or friends for Christmas, or just to get away for a festive break.
The busiest days for travel will be 23 December and Christmas Eve, with the AA estimating that each of those days will see nearly 17 million cars on the roads.
A survey of more than 12,000 motorists indicated that 51% plan to make a car journey on 23 December, and 50% plan to make one the following day.
Business-related travel is expected to drop off after 16 December until the new year, while 17 December is expected to be the busiest day for high streets, retail outlets and shopping centres.
The busiest roads are likely to be:
• M25 • M5 between Bristol and Weston-super-Mare • M6 around Birmingham • M1 from Luton northwards • M60 and M62 in northwest England • M4 which runs between west London and southwest Wales • M27 in Hampshire.
AA president Edmund King said: "Our expert patrols will be working throughout the holidays to help fix cars that suffer problems, while providing assistance to drivers should they be involved in a crash.
More on Travel
Network Rail failing to stop 'unacceptable' overcrowding at Euston train station, says rail regulator
Cross-channel rail competitor Evolyn buys 12 trains ahead of 2025 launch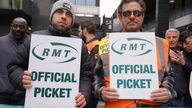 Train strikes: Full list of October 2023 dates and rail lines affected as Tube action called off
Related Topics:
"Many breakdowns are preventable, so checking your vehicle before you set off is very important."
Read more: Christmas rail strikes to go ahead as union rejects offer from operators Strikes every day before Christmas - which sectors are affected and why
Disruption to rail services due to industrial action and engineering work will also increase traffic volumes, as many people are forced to resort to car travel.
Transport Secretary Mark Harper has criticised unions representing railway workers, who will stage two 48-hour strikes this week in the latest episode of their dispute over pay and conditions.
Writing for The Daily Telegraph, Mr Harper said: "This year, many families may have no choice but to alter their plans and have a virtual Christmas again.
"This isn't due to a new public health pandemic, but because of rail strikes, planned by the RMT union to cause misery during the festive period."
He said the "dire" situation was not "inevitable", calling on the RMT union to call off the strikes.
Please use Chrome browser for a more accessible video player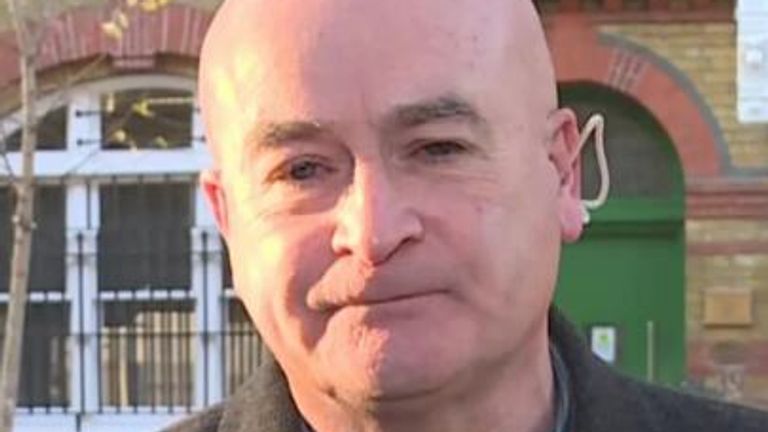 RMT general secretary Mick Lynch has written to Prime Minister Rishi Sunak, saying that a meeting between them is now the best chance for progress.
But Mr Harper said that the government had "played its part" in attempting to bring the dispute to a close.
He wrote: "I want this dispute to end as soon as possible. We have agreed to continue our efforts to reach a deal whilst remaining fair to the taxpayer.
"In the first few weeks of this new government being in office, we have demonstrated that we are willing to be reasonable - to discuss matters with union leaders face to face and to try and facilitate a resolution to this dispute by enabling a new and improved pay offer to be made by the employers."
Related Topics
The Worst Time to Drive This Christmas
I t may be the "most wonderful time of the year," but that's hardly true for drivers. Traffic, accidents, and poor driving conditions await those hapless highway-drivers among us this week. Fortunately, the Information Age is bearing better tidings every year. This holiday season, it's coming in the form of more accurate traffic reports.
More than 100 million Americans will travel between December 23 and January 3, according to the AAA, the first time the number has crossed that threshold. If that sounds bad, this is worse: More than 90% of those revelers will be behind the wheel, up 1.4% over last year. Then factor in rain forecasted across the Midwest and Northeast midweek followed by a Friday Christmas, and all bets are off in terms of estimating accurate travel times.
But Waze is willing to hazard a guess. A crowdsourced traffic app backed by Google's high-powered analytics, Waze tracks its users as they go to and fro, letting them flag traffic impediments for their fellow drivers. It's a great tool for seeing why you're stuck in bumper-to-bumper traffic. And when you try to go around the snarl, Waze's GPS functionality can also help make sure you don't get lost.
According to Waze, which has drawn this insight from its 2014 road congestion reports, the best time to travel during the holidays is on Christmas Day itself, Dec. 25. Surprisingly, last year the roads had below average-traffic on Christmas, though last-minute travelers likely had higher levels of anxiety wondering if Santa knew where they'd be on the big day.
And being early doesn't help much, says Waze. This year, the worst day to travel will be Wednesday, Dec. 23. So if you were thinking of cutting out of work early, reconsider. Between 3 p.m. and 6 p.m., you're not going to make much of any progress, so just work late that night and get on the office 'nice' list (or work from home). And you can't even beat the rush: Cars start crawling along the highway as early as 11 a.m. that morning.
Waiting a day won't help either. Christmas Eve will be a dreadful time to be in your one-horse open sleigh, starting at noon and extending all the way through Thursday evening.
The return trip also offers surprises, none of which are particularly delightful. Waze cites Sunday, Dec. 27 as the worst day to escape the family. On that day, the company estimates it will send 87% more traffic jam alerts, flag 14% more accidents, identify 23% more road hazards, and display 33% more police notifications.
Instead, Monday before noontime is the best time to head back. That means if you're working that day, shower up, get dressed, and aim to get to the office on time. Not only will you beat the crowd, but you'll be at the workshop ready to make next year's toys for all the little boys and girls.
The Struggle to Save Lives Inside Gaza's Hospitals
Volodymyr Zelensky's Struggle to Keep Ukraine in the Fight
Sheikh Hasina and the Future of Democracy in Bangladesh
The War Is Making Americans Question Their Relationships
Is Using the Snooze Button Bad for You?
Zooey Zephyr: The Love Story of My Chosen Family
The Best Inventions of 2023
Want Weekly Recs on What to Watch, Read, and More? Sign Up for Worth Your Time
Contact us at [email protected] .
Skip to main content
Keyboard shortcuts for audio player
A severe arctic storm could threaten holiday travel across the U.S.
Emily Olson
David Schaper
Ivy Winfrey
An airline passenger walks between ride share vehicles after arriving at Chicago's Midway Airport just days before a major winter storm Tuesday, Dec. 20, in Chicago. Charles Rex Arbogast/AP hide caption
An airline passenger walks between ride share vehicles after arriving at Chicago's Midway Airport just days before a major winter storm Tuesday, Dec. 20, in Chicago.
Millions of Americans may want to reconsider their holiday travel plans, as bitter cold, biting wind and heavy snow are expected across the U.S. this week, imposing treacherous conditions just days before Christmas.
A bulletin from the National Weather Service (NWS) says a "strong arctic high pressure system," was sweeping down from Canada on Tuesday and appears poised to march towards the Great Plains, the Midwest and onto the Southeast on Wednesday, Thursday and Friday, bringing life-threatening blizzard conditions and cold weather systems across 17 states.
The first day of winter arrives this week, marked by the solstice
Heavy snowfall and limited visibility caused Vancouver International Airport to temporarily shut down Tuesday, stranding scores of passengers. That could be a sign of things to come for holiday travelers in the U.S., as the frigid weather system moves across the country this week.
A man clears a driveway after a snow storm passed through northern Minnesota last week. Forecasters say another big storm is expected to hit the region this week. Holden Law/AP hide caption
A man clears a driveway after a snow storm passed through northern Minnesota last week. Forecasters say another big storm is expected to hit the region this week.
At least 250 flights into and out of the Seattle-Tacoma airport were cancelled Tuesday as heavy snow fell there, according to the tracking site Flight Aware. The Cascade Mountains in Washington state were seeing the heaviest snowfall on Tuesday, but nearby lowlands in Idaho, Montana and Wyoming could see a foot of snow, according to the NWS. The region could see another blast of snow and ice on Thursday.
The incoming arctic front will then cross over the northern Rockies, Great Basin and Northern Plains regions, sending temperatures plummeting as low as minus 30 degrees, with winds gusting at up to 60 mph.
Snow is likely to move into parts of Nebraska, Kansas, the Dakotas, Minnesota, Iowa and Wisconsin on Wednesday. By Thursday, blizzard conditions could hit the Upper Midwest and Great Lakes regions, including Chicago, potentially causing significant flight delays and cancellation at O'Hare International Airport, one of the nation's biggest airline hubs. The major travel hub cities of Denver, Salt Lake City and Minneapolis are expected to be impacted, too.
For the eastern U.S., heavy rain on Tuesday and Wednesday could result in snow or sleet in the Appalachian states on Thursday.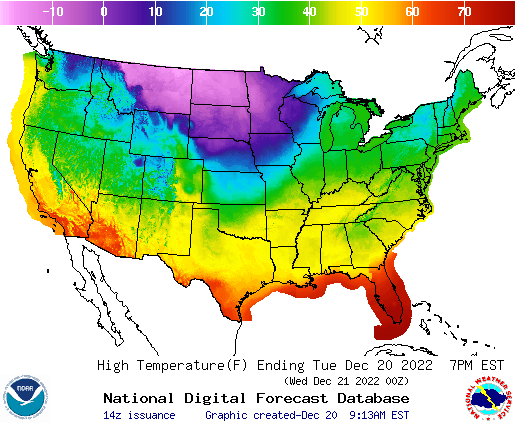 The National Weather Service temperature map for Tuesday. NWS hide caption
By Friday, temperatures could hit the season's lowest in what is only the first week of winter. Even northern Florida cities like Jacksonville and Tallahassee could see a chill as low as 20 F on Christmas Eve.
Most major airlines, including United, American, Delta, JetBlue and Southwest, are offering to waive change fees and fare differences for those wanting to change flights so they can travel before or after the storm, within small rebooking windows.
"That allows travelers who have tickets now and throughout the holiday week to take a look and reconsider," says Kathleen Bangs, spokesperson of the tracking site FlightAware.com. "Reconsider what day you want to go on, maybe reconsider the route if you have a connecting city, and reconsider possibly just changing that ticket to later on in the week or even banking that ticket for later use."
Her advice to all travelers this time of year:
" You really need to have a backup plan" Bangs says. "And that could mean anything from a secondary ticket on a different airline that leaves later in the day or perhaps the next morning. It means a reroute through another city where perhaps you get within a couple hundred miles of your destination and then you rent a car or you take a train."
Bangs says that in this weather there's a chance any flight could be canceled at any time, and it may be difficult to get a hold of a representative from an airline.
AAA says of the 113 million Americans traveling this holiday season, more than 90% of them will be driving. And with forecasts calling for blowing and drifting snow, as well as whiteout conditions in some parts, they should proceed with extreme caution, forecasters say.
"Low visibility will create even more dangerous travel conditions on top of snow covered roadways," the NWS says. "Additionally, the strong winds could lead to potential power outages from the Midwest to the Northeast."
"It is imperative that travelers check the latest forecast before venturing out."
Buffalo Bills fans braved chilly temperatures to sit in snow-covered seats during an NFL game in Orchard Park, N.Y., on Saturday. Adrian Kraus/AP hide caption
Buffalo Bills fans braved chilly temperatures to sit in snow-covered seats during an NFL game in Orchard Park, N.Y., on Saturday.
An outage that left 180,000 without power across New England over the weekend was resolved by Monday, but the Associated Press reported that attempts to bring extra utility workers into the state ahead of this week's storm were stymied by slick roads.
Heavy snow has left thousands without power in New England and New York
Police across New England also said they responded to hundreds of crashes and stranded vehicles, according to local media reports.
Frostbite is another risk for those trying to brave the cold, the NWS says. Subzero temperatures in some parts of the U.S. this week could lead to frostbite on exposed skin in as little as 10 minutes.
Those venturing outside should dress in layers, cover their skin and change into dry clothing as soon as possible. But, experts say, the best prevention by far is simply to stay indoors.
travel conditions
holiday travel
winter weather