3 day Canoe Trip in Algonquin Park
Submitted by Elias Wasson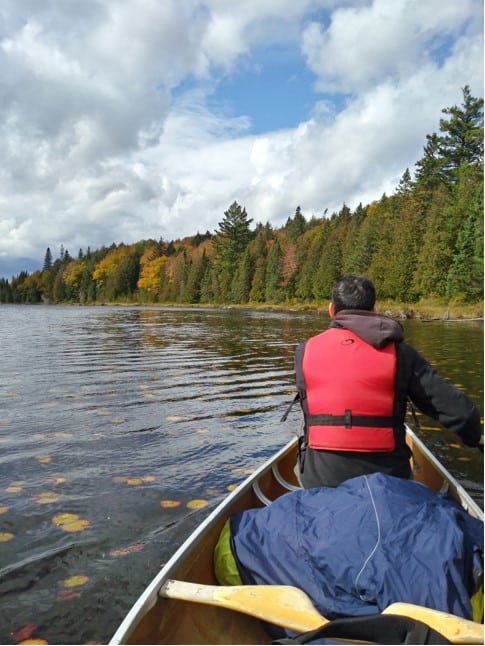 After picking up our permits at the Canoe Lake permit office and getting our canoe we started our trip at the Smoke Lake Access point directly across the road. Our first day we were treated to sunny skies and warm temps as we happily paddled our way across Smoke Lake. The fall colors at this time were at their peak which made it all the more enjoyable. Smoke Lake is a big and deep lake, and the wind can cause issues often, making for dangerous lake crossings as we would learn on our journey back. The entire crossing from the access point to the Ragged Lake portage took close to 2 hours with fair weather, which in itself eats up a decent chunk of the day. In total it was roughly 5 kms from the canoe launch to the first portage. This didn't bother us in the slightest as it gave us time to collect ourselves after the busy day driving up and served as a good warm up for the many miles to come.
With the first lake in the books it was time to begin our first portage. The first portage of any back country trip for me is always the most challenging even if its a short one. at 240 metres in length, the Smoke Lake to Ragged Lake portage is an uphill one, you gain elevation in general in this area of the park south of Highway 60 so that is something to keep in mind if your not used to portaging. Once on Ragged Lake it was time for my Brother and I to find our first nights campsite. Ragged Lake is a popular lake, so you will likely not have first pick of sites which was the case when we arrived. In fact, the weekend we were there, there was only 1 site left unreserved on Ragged which we were fortunate enough to get. It is always best to book ahead however I don't generally book ahead in October as usually it is not necessary and it saves the reservation fee ( booking the day of at the permit office, there is no extra fee. ) Lucky for us, we found a site which would give us a straight shot to the next portage the following morning without backtracking. Once at camp we immediately dove right into the camp chores while we were still in productive mode. With the tent set up and the firewood chopped it was time for supper and a well deserved cold beer to finish the night off, a perfect night in the backcountry.
Day 1 Totals
Distance – 8kms
Total Portages – 1 ( 240 meters )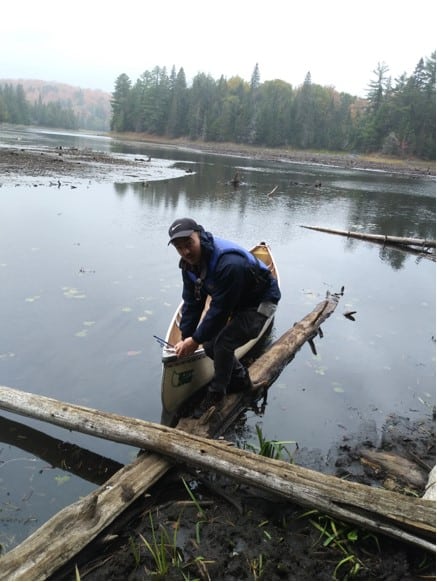 Our second day began with the usual tasks of breaking down camp and making a quick breakfast of oatmeal and bread with peanut butter. After quickly reviewing the maps and confirming how much distance we would have to cover for the day we set off towards the Big Porcupine Lake portage. During the approach to portage in the southern part of the lake there are large swaths of what appear to be flooded dead forests. On an overcast day it can appear rather dismal and erie, no possible spots on either side of the bay to land a canoe as you are surrounded by the boggy mess. When we finally landed at our first portage for the day the water levels did not allow us to paddle all the way to the portage marker which added distance. You may notice this in the Late summer / Fall when water levels are low. This only added to an already challenging portage menacingly titled "the Devils Staircase." It does live up to its nickname ( slightly ) as you do gain considerable elevation and the hike up the staircase with pack and canoe can be exhausting.
Once over the Devils Staircase you enter into Big Porcupine Lake. By this point in our day it had started raining slightly which had motivated us to quicken our pace. We took a portage which knocks off an extra few kms of paddling, partly due to the fact that being under the canopy of the forest seemed better then getting rained on in the canoe. Im not sure if their is much time saved by taking this portage but it really depends on your mood if you want to take it or paddle the long way around. Either way brings you to the southern portion of Big Porcupine. It can be a bit challenging finding the portage at times, following the map can sometimes prove to be difficult as the landscape can be disorienting. The many bays and inlets in these lakes can also be easy to mistake so a good lay of the map is essential. We arrived at the 200 meter portage to Lake Bonnechere, once we had completed it the sun had decided to make an appearance. Lake Bonnechere is without a doubt my favorite Lake on this particular route, as we glided through the water, the tall ancient white pine forests on shore dwarfed us, mesmerizing us as we quietly rounded each bend and turn in the lake with amazement. During our travel north on this lake we came across the ominously titled "Devils Razor" a long protruding rock formation that requires you to lift the canoe over to avoid damaging it.   The upper section on Lake Bonnechere seemed to have perfectly picturesque campsites that tempted us to call it an early day, but with the amount of distance still to cover we had no choice but to continue. From here on out there would be no campsites until we reached Lake Delano which can take 2 to 3 hours. With sunset fast approaching we made a quick shore lunch of noodles and soup and completed the 40 meter portage ( the shortest of the trip ) into Cradle Lake.
We began setting a blistering pace as we needed to cover 6 lakes and 6 portages within a few hours or we would be making an emergency camp on the portage trail. From Cradle Lake to Delano you pass through a chain of small Shallow Lakes, many of them do not have suitable drinking water as they are shallow and muddy, so fill up on Cradle Lake before beginning this chain of lakes. We had finally reached the last portage of the day, a 900 meter trek into Delano Lake, the sun had set by this point in the day and we were growing concerned that we wouldn't be able to see once in the darkness of the forest. There was no time to hesitate, we hastily shouldered the canoe and gear and began the portage. The portage into Delano Lake from South Canisbay is not flat by any means, and on the final stretch there is a steep decent into Delano Lake that must be taken with extreme caution.
We arrived on Delano Lake at around 8pm, the sun had long since set but we were relieved to have finally arrived. There is only 1 camp site on Delano Lake, and we had our sights set firmly on finding it. This proved to be more difficult then we had thought, the map indicated the site being on the far eastern tip of the small lake but after scanning the shore several times with the canoe, we could not see any sign of the campsite marking. This became rather discouraging after half an hour of paddling around in the dark, our bodies aching and weary from the days grueling travel. At last we pulled our canoe up to the only suitable spot for a camp site and to our delight it turned out to be the official campsite we had been searching for. What are the odds! We hastily set up camp and gathered firewood for the night for what would be our last night in the back country. With the moon in full view and the loons calling, we enjoyed our supper by the campfire under the stars and reflected on the day.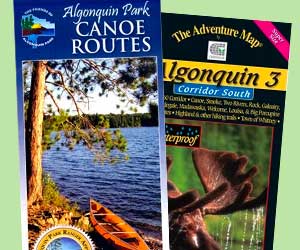 Distance – 17 kms
Total portages – 10 = 4.4kms
Our last day was met with bittersweet emotions, the sun was out and were were excited to begin the day of paddling, but it would most likely be the last day in the back country for the year as we would   not have another opportunity for the rest of the season to get out again on the water, winter was fast approaching and it was strange to think that in a little more then a   months time Algonquin would likely get its first snowfall.   We set out from camp at around 11am and was quickly met by our first portage out of Lake Delano, a 350 meter portage into Hilliard Lake. Our pace was slightly relaxed that day, we had roughly 13 kms to cover back to the boat launch with minimal portaging. We crossed into Cache Lake over a 760 meter portage. This lake is cottage developed and was the first front country Lake that we had encountered since leaving Smoke lake, we saw a few motor boats and several cottages. The winds had picked up considerably by this point and once out on the water we benefited from a strong tail wind which helped quicken our pace, this would be short lived though as we had to turn in almost the opposite direction and go directly against the wind to make our way back to Smoke Lake. From Cache lake we turned our sights west towards Tanamakoon Lake through a narrow channel. We had noticed that there were bouys clearly marking out a path for motor boats as there was a camp located on Lake Tanamakoon. A few motor boats passed us along the way and kindly slowed down so as to not create a wake.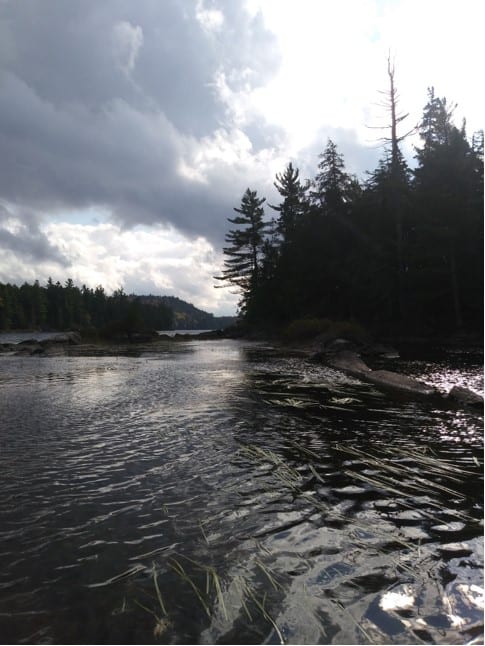 Lower Pecos River Trip Log

Three-day youth trip on the Saint Croix River
Leave a reply cancel reply.
Save my name, email, and website in this browser for the next time I comment.
Notify me of follow-up comments by email.
Notify me of new posts by email.

• Disclaimer and Use Policy
https://tigaprediksi.com/
https://armynavysuperstores.com/
https://dutawarta.com/
https://woaynews.com/
https://pupwb.org/
https://haraznews.com/
https://toysmatrix.com/wp-includes/slot-gacor/
https://girimenangnews.com/
https://geprekbensuindonesia.com/
https://everythinginclick.com/wp-content/uploads/slot-bonus/
https://caraslot.com/wp-includes/slot-bonus/
https://www.casablancahire.com/blogs/wp-includes/slot-bonus/
https://www.genesiscalbeautystudio.com/wp-includes/slot-bonus /
https://www.hookdonthehudson.com/
https://bimbelruangprestasi.com/wp-includes/slot-bonus/
https://thenews100.com/
https://expertautokool.ee/wp-includes/slot-bonus/
https://www.padslakecounty.org/wp-content/uploads/rekomendasi-situs-slot-gacor-gampang-menang/

Compare items
Algonquin Park Canoe Trips

What sets a canoeing expedition apart is that it purifies you more rapidly and inescapably than any other travel... Pierre E. Trudeau
Select from a range of guided algonquin canoe trip options from our 3 day algonquin classic journey to our 14 day "crossing algonquin" expedition..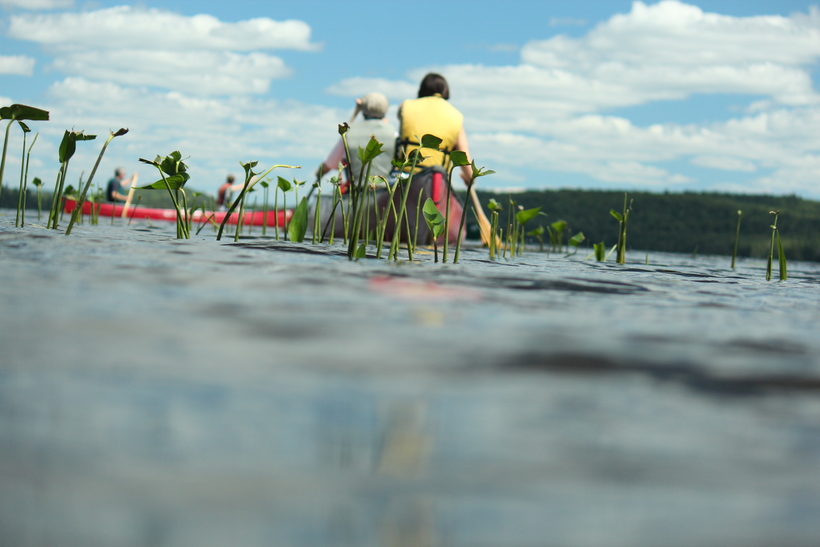 3-Day Algonquin "Classic" Canoe Trip
The classic Algonquin Park 3-day guided canoe trip moves through the northwest corner of Algonquin Park and is ideal for those looking for wildlife, stunning lakes and tasty meals cooked over an open fire.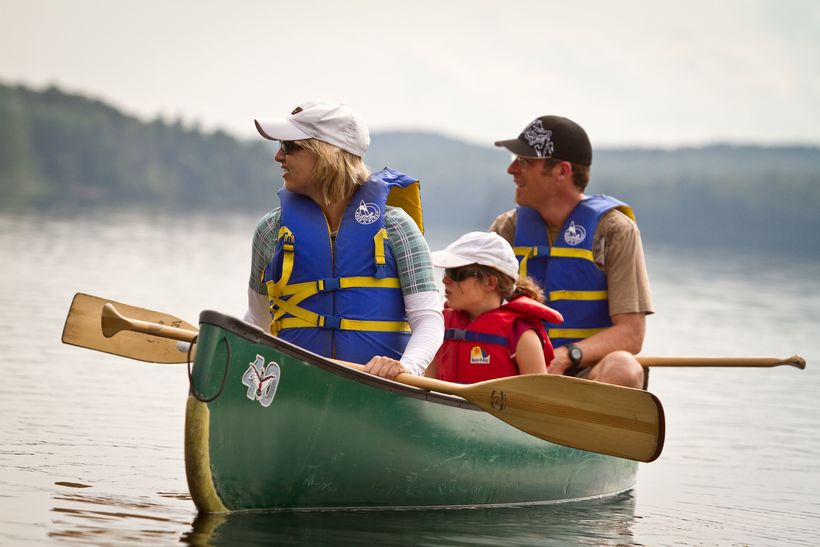 3-Day Algonquin Family Canoe Trip
The 3-day Family Canoe Trip moves through the northwest corner of Algonquin Park and is ideal for families looking for adventure. A relaxed pace is suitable for families of all abilities and experience levels!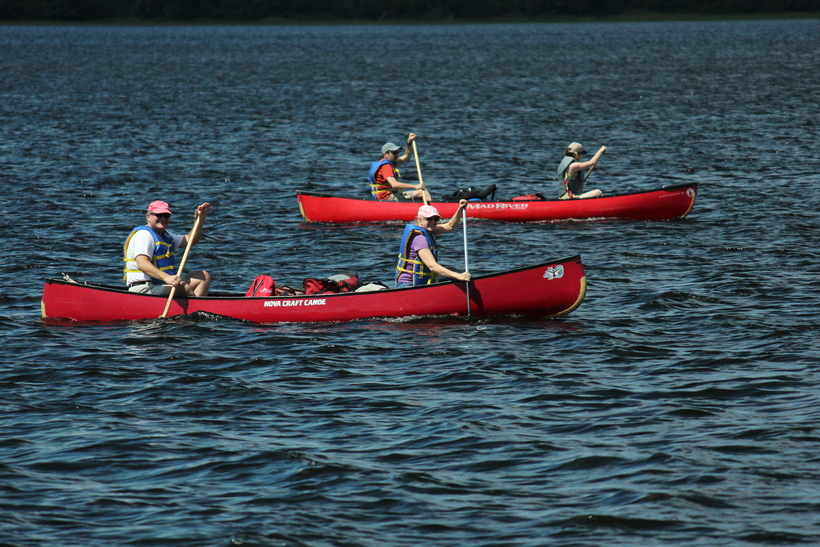 5-Day "One-Way" Algonquin Canoe Trip
The northwest corner of Algonquin Park is famous for its rolling hills, great trout fishing and beautiful lakes. Our longer, 5-day canoe trip travels one-way, from west to east, travelling deep into the Park's remote, lakeside paradise.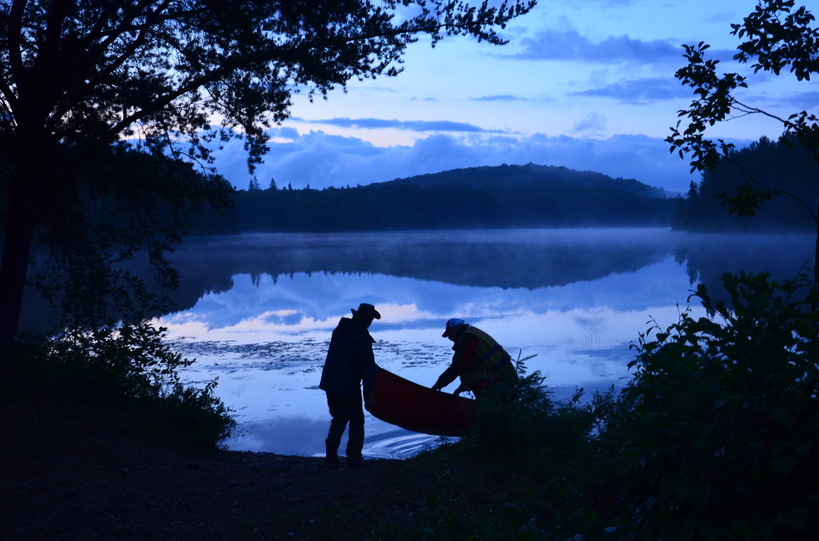 8-Day Algonquin "Best of the Northwest" Canoe Trip
Get deep into Algonquin's interior on this immersive 8-day canoe trip and discover the beauty of the Algonquin Park's Northwest section. Through a mix of large lakes and meandering rivers, this week-long excursion showcases all of the Park's natural beauty.
Other Algonquin Canoe Trip Classics
14-Day "Crossing Algonquin" Canoe Trip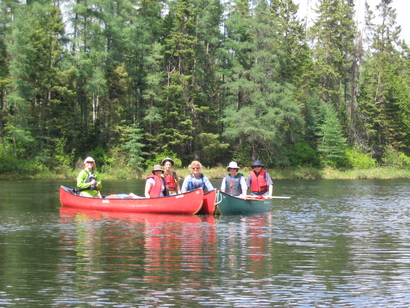 Private Algonquin Park Canoe Trips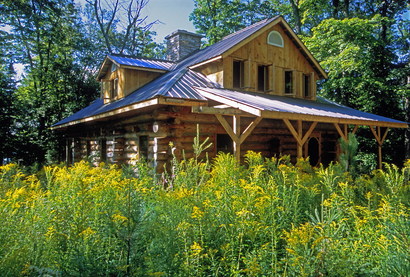 Algonquin Canoe & Lodge Adventure
Guided algonquin canoe trips.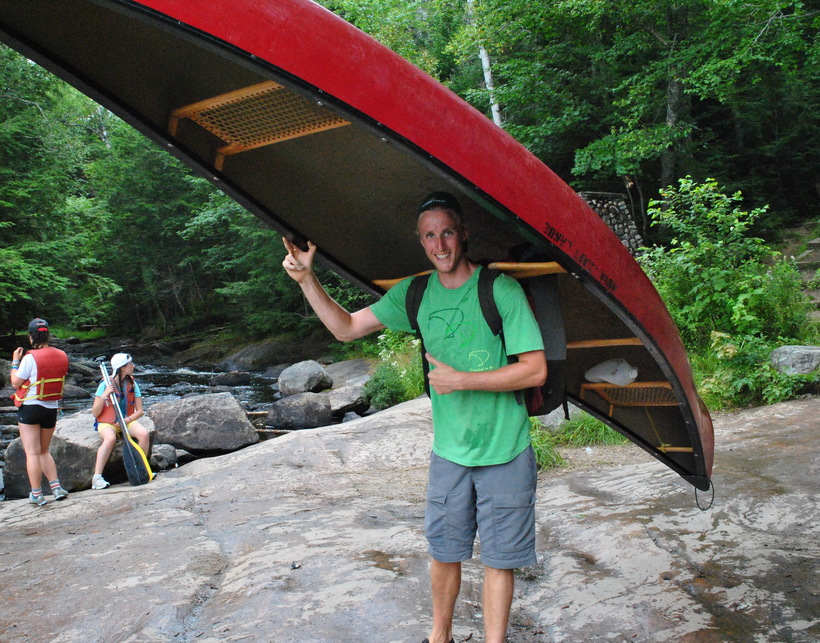 3 DAY ALGONQUIN PARK CANOE TRIP
These Algonquin Park canoe trips are perfect for people on a tight schedule or a tight budget, but who still want an introduction into wilderness camping. We provide all food, permits, a knowledgeable guide, and all equipment (except personal items like sleeping bags, flashlights – a packing check list is provided). We can even provide transportation, so a Toronto canoe trip is an option.
DAY 1 – ARRIVE IN ALGONQUIN PROVINCIAL PARK
Pickup at Finch Subway Station in Toronto (optional – you can drive yourself to Algonquin Park). We meet at 1pm at the Permit Office at Rock Lake in Algonquin Provincial Park. Before we start your guide will instruct everyone on the necessary skills and techniques for canoeing. With your "Expedition weight" kevlar canoes we will paddle into one of the interior lakes of Algonquin Park (Pen Lake). While kevlar canoes are much more fragile than other canoes, requiring you to be careful around rocks, you will appreciate their relative lightness on portages and their speed in the water. This differentiates Call Of The Wild from other canoe tripping companies. Our canoes are much more expensive and fragile, but much lighter and faster than the more durable whitewater canoes they use.
At the end of this three day canoe trip you won't be an expert but you will know how to pack and steer a canoe. After a three hour paddle (including a 300m portage) you will arrive at your wilderness camp. Since this is a true interior wilderness camp you will have to bring everything with you in the canoes, including the tents.
Once you establish camp, with the help of your experienced guide, you are free to explore the lake we are on. There are several large rapids that were once used as log chutes that are quite interesting. Also, in this area it is quite common to see moose grazing by the edge of the lake – we have seen over a half dozen moose in a two day period here!
Dinner will consist of fresh food, prepared on site, and enjoyed by the side of a blazing campfire! Afterwards, you can sit and watch the Milky Way rise slowly above your heads. The sky is so clear in Algonquin National Park that you can even count satellites passing by. And if you're really lucky you may even hear wolves howling in the distance. This is real Canadian camping!
DAY 2 – EXPLORING ALGONQUIN PARK BY CANOE
Today is a day of exploration. You can spend it exploring the lake you are on, by canoe, looking for moose, or perhaps do another portage and canoe up a meandering river. If you decide to try another lake one option is to do a short portage past an old dam used for logging, and then canoe the slow moving waters of the South Madawaska River. Since you will have to get out of our canoes to pull them over several beaver dams be sure to bring shoes or sandals for the water! Depending on where you establish your base camp, another option would be to canoe half way down the lake and then do a couple of portages, ending with a 1.7 km hike to Welcome Lake. This is one of the prettiest lakes in Algonquin Park, with a nice sandy beach. Perfect for picnic destination on a sunny day.
DAY 3 – CANOEING TO TORONTO
Depending on weather and wave conditions you will stop at a cliff face where we will show you some ancient pictographs painted, whilst standing in a canoe, by the Natives centuries ago.
You will get back to our starting point on Rock Lake at about 11 am. If you chose the optional transportation then you will be dropped off at Finch subway station in Toronto at about 4 pm.
Start Booking Now
Algonquin Park Day Trip
Spend a day exploring Algonquin Park by canoe! This self-guided day trip is a great choice, if you don't have time for a longer excursion or don't feel quite ready to head into the woods overnight.
Ragged Falls Canoe or Kayak Trip
Enjoy an easy lake and river paddle to the base of scenic Ragged Falls, leaving right from our Oxtongue Lake dock.
Old Railway Bike Trail
No other trail offers the same, easy-riding experience as Algonquin Park's Old Railway Bike Trail. Pedal for up to 34 kilometres past scenic views and watch for wildlife and birds.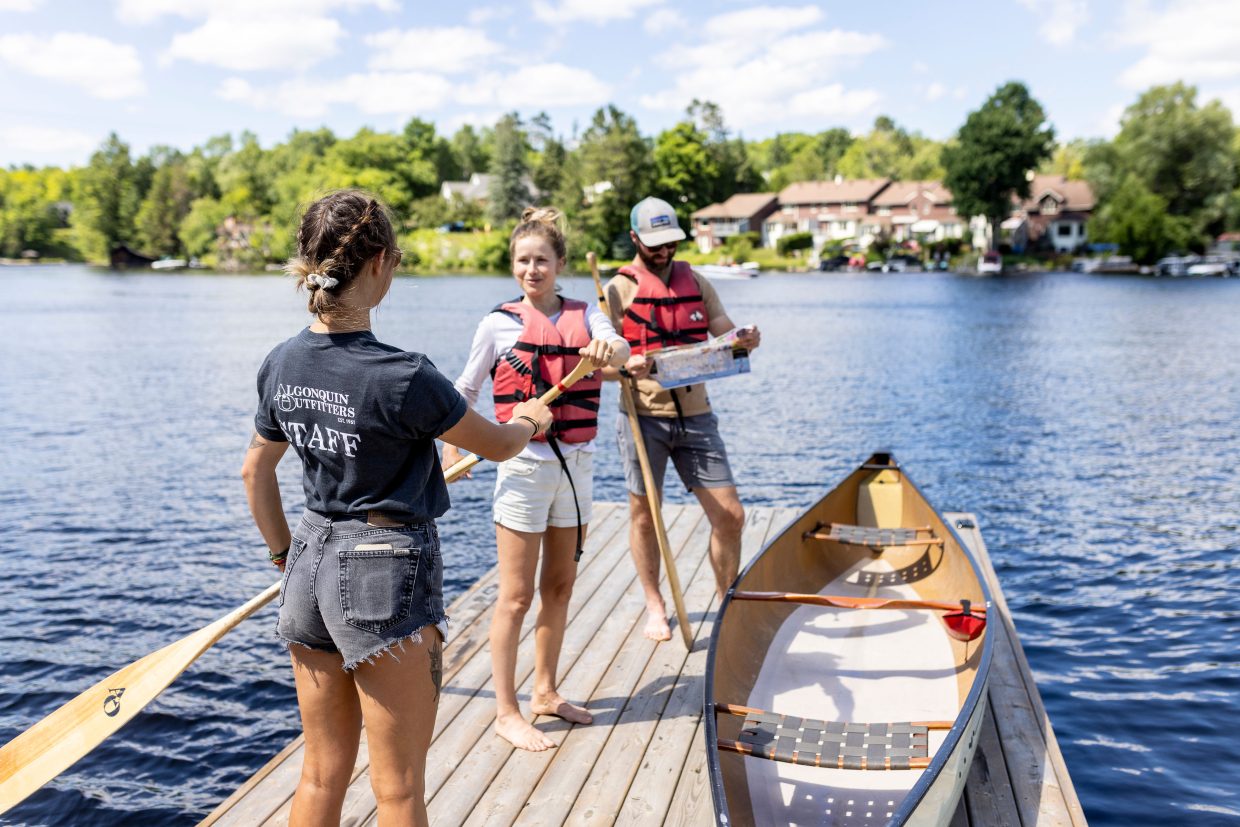 Muskoka River
Explore the Muskoka River by canoe, kayak or paddleboard in beautiful historic Huntsville, Ontario.
Hailstorm Creek
Experience some of the best wildlife viewing Algonquin Park has to offer, within a protected nature reserve in the North Arm of Lake Opeongo.
Guided Half-Day Costello Creek
This is a great introduction to paddling and nature appreciation! Scenic Costello Creek is easily accessed right from our Lake Opeongo store.
Guided Hailstorm Creek Adventure
Explore the Hailstorm Creek Nature Reserve with the assistance of a skilled canoe guide. You will travel through an area with some of the best scenery and wildlife viewing Algonquin Park has to offer!
Guided Canoe Lake Trip
You can learn about Canadian artist Tom Thomson, the Group of Seven and historic Mowat village on this scenic four-hour excursion!
Guided Algonquin Park Canoe Trip
Algonquin Park guided day trips typically include canoes, paddles, safety equipment, life jackets, an Algonquin Park map for the group, picnic lunch, transportation of canoes to/from the park, and the services of an experienced guide.
Skip the Reservations
Enjoy a self-guided paddle whenever you like   –   with no reservations required.
Our Oxtongue Lake, Lake Opeongo, Canoe Lake, and Huntsville stores are always stocked with canoes, kayaks and stand-up paddleboards (SUP) you can launch straight from our docks.
* Rental packages start at $40 for a two-person canoe or single kayak and include paddles, bailer kit, and lifejackets (PFDs).
General Park Information
Recreational Activities
Visitor Centre, Museum and Exhibits
Natural and Cultural History
Park Lodges and Outfitters
Commercial Services
Events Calendar
Park Management
Participate
Become A Member
eNews Bulletins
Store Locations
Find a Retailer
Become a Retailer
Live Algonquin Park Webcam
Canoe Routes Map Online
Video Gallery
Algonquin Park Archives Online
Submit your Algonquin Park Images
Wild Bird Cam - Live Stream
Accomplishments
Memberships
Educational Programs
Board of Directors
Contact The Friends
Canoeing (Day Trips)
Dog Sledding
Hunting and Trapping
Interpretive Walking Trails
Snowmobiling
Wildlife Watching
Travel Trade Industry
Contact Algonquin Park
Current Weather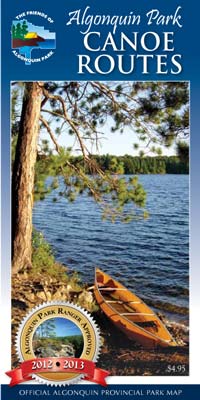 The best resource for planning your canoeing day trip is the Canoe Routes Map-Brochure of Algonquin Provincial Park . This map shows starting locations, routes, portages (and their distance), plus natural and cultural history site of importance.
Related Information
Backcountry Canoeing
Whitewater Canoeing
Make A Reservation
Reserve your developed or backcountry campsite for your next visit.
Support Your Park!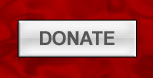 Share your passion for Algonquin Park by becoming a member or donor.
No Live Baitfish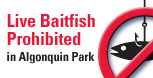 Special regulations for Algonquin's special fishery.

3-Day Algonquin Park Canoe Trip
2 nights accommodation (tents)
Professional guide
National Park fees
Meals as per itinerary (B=breakfast, L=lunch, D=dinner)
Traveler pickup is offered.
Passenger Pickup-Up exit at Finch Subway Station, Toronto, at 8:30am
Ottawa, Ottawa, Ontario Algonquin Park
Toronto, Toronto, Ontario Algonquin Park
Returns to original departure point
Not wheelchair accessible
Children must be accompanied by an adult
Minimum age is 8 years old
Operates in all weather conditions, please dress appropriately
Vegetarian option is available, please advise at time of booking if required; Please use "Special Requirements" field upon checkout to advise this information
Travelers should have a strong physical fitness level
This experience requires a minimum number of travelers. If it's canceled because the minimum isn't met, you'll be offered a different date/experience or a full refund
This tour/activity will have a maximum of 8 travelers
If you cancel at least 7 days in advance of the scheduled departure, there is no cancellation fee.
If you cancel between 3 and 6 day(s) in advance of the scheduled departure, there is a 50 percent cancellation fee.
If you cancel within 2 days of the scheduled departure, there is a 100 percent cancellation fee.
Similar experiences
3-Day Algonquin Park Canoe Trip provided by Call Of The Wild
Product overview: 3-day algonquin park canoe trip.
TRUEMAN TRAVELS
Travel | food | camping, 3-day canoe trip itinerary: long weekend in algonquin backcountry.
A portage trip in Algonquin Backcountry is essentially a Canadian rite of passage. Travelers visiting Ontario, Canada, will want to find time to visit Algonquin Park in some capacity, but for the adventurous, backcountry canoeing is a bucket list experience. In August 2022 my partner Ramin, my brother Jack, and myself ventured out in a canoe for a 3-day, 2-night trip through the vast lakes and forests of the Algonquin backcountry.
Day 1: Kawawaymog (Round) Lake To North Tea Lake
The journey began from the outfitters at Kawawaymog Lake, just off the highway near Trout Creek, Ontario. There are lots of parking spots available here for leaving your vehicle overnight or for the duration of the portage trip.
Upon arrival, we simply launched our canoe and began paddling across the lake. However, if you are renting a canoe, this is where you'll pick it up and pay for it. The journey across Kawawaymog Lake was peaceful for us and on the other side, you paddle down a small winding river to the first portage.
The first portage was short, only 135 meters. Then back in the water for a brief paddle before our second portage, which was 255 meters. This brought us to North Tea Lake. Leave yourself plenty of time to reach your campsite, especially if you're camping on the far side of North Tea Lake because it's a massive body of water.
Total Portage Distance: 390 meters
Approximate Time To Campsite (West Side of the Lake) : 4 hours
*** Plan significantly more time if you are camping on the East side of North Tea Lake
Day 2: North Tea Lake To Manitou Lake
Start your second day very early in order to have sufficient time to make it to Manitou Lake before nightfall. We ended up camping on the East side of North Tea Lake the second night, but we did venture over to Manitou Lake as a day trip. There is a waterfall between North Tea Lake and Manitou Lake that is a major attraction where people go swimming and hang out so be sure to wear your bathing suit if you want to enjoy that as a break between lakes.
Paddling across North Tea Lake alone takes at least two hours so plan accordingly. The portage distance by the rapids between North Tea Lake and Manitou is 550 meters. Again, Manitou Lake is vast so book a campsite accordingly. If you have limited experience portaging, book a campground close to the beginning of Manitou Lake so you don't have to cross the entire thing.
Total Portage Distance: 550 meters
Approximate Time To Campsite on Manitou Lake : 4-6 hours
Day 3: Manitou Lake To Kawawaymog (Round) Lake
The third and final day of this itinerary requires you to go all the way back across North Tea Lake and Kawawaymog Lake to your starting point. However, from Manitou Lake, you'll take a shorter portage route on the way back, just west of where you entered Manitou Lake. This portage is 410 meters.
Be sure to start the morning extremely early. You'll want to be up for sunrise in order to leave enough time to cross all the lakes and get back to your car with enough daylight to spare. Plan your time based on how long it took you to reach your Manitou campsite. If you are struggling on Day 2 to reach Manitou, you can do what we did and simply visit Manitou but camp on North Tea Lake so that Day 3 is less strenuous since you're already part way back to the starting point.
Total Portage Distance: 410 meters
Approximate Time To Parking Lot at Kawawaymog Lake : 6-8 hours
Safety Tips
A backcountry canoe trip is a fun experience, but it's important to be smart and stay safe. Always leave yourself plenty of time to reach campsites in daylight so you're not left paddling after dark. Have life jackets for everyone on board your canoe and bring flashlights, a first aid kit, and have a way of contacting emergency services should you need help.
Bring enough food for the duration of the trip since you won't find anything you can purchase or forage en route. To lighten your load, bring a water bottle with a filter system so you can drink filtered lake water, rather than carrying all the water you'll need for the duration of the trip. Follow Algonquin Park's fire safety regulations at the campsites.
Recent Posts
7 Best Vancouver Restaurants To Try (On Your First Visit)
How I Spent 24 Hours In El Paso, Texas (Hidden Gem of The World)
Stopover In Buenos Aires: How To Spend 24 Hours In The Paris Of South America
3-Day Algonquin Park Canoe Trip - Ottawa - With Reviews & Ratings
Ottawa Tours
3-Day Algonquin Park Canoe Trip
3-Day Algonquin Park Canoe Trip - Ottawa
Tour Information
Key Details
Mobile Voucher Accepted
Hotel pickup Available
Duration: 3 Days
Language: English
Departure Time : 01:00 PM
Return Details : • Minimum age is 8 years old • Not recommended for participants with back problems • Not recommended for participants with heart complaints or other serious medical conditions • Not recomme.. read more
Cancellation Policy : This activity is non-refundable Tours booked using discount coupon codes will be non refundable.
National Park fees
Professional guide
Meals as per itinerary (B=breakfast, L=lunch, D=dinner)
2 nights accommodation (tents)
Additional Info
Travelers should have a high level of physical fitness
Children must be accompanied by an adult
Minimum age is 8 years old
Operates in all weather conditions, please dress appropriately
Vegetarian option is available, please advise at time of booking if required; Please use "Special Requirements" field upon checkout to advise this information
Sightseeing Tours
Culture & Theme Based Tours
Food & Nightlife Tours
Classes & Workshops Tours
Tickets & Passes
Transfers & Transportation
Luxury & Special Occasions Tours
Day Trips & Excursions
Multi-day Tours
Private & Custom Tours
Walking & Biking Tours
What to do in Ottawa
Best time of year to visit Ottawa
How to reach Ottawa
Restaurants in Ottawa
City Map of Ottawa
Ottawa Itineraries
Ottawa Hotels
Itinerary Planner
Traveler Reviews
The tour itself was great, a few days to just be. Our group was small, just 3 guests and Robin, the owner who was our guide. Everyone was nice and helpful, and on more of the quiet side, so we had some friendly conversation, but mostly just soaked in sounds of the water and nature. The whole experience wasn't strenuous, we had time and energy to swim a little, read and just be and enjoy. The amount of canoeing was light, maybe 2-3 hours the first day as we were searching for a campsite. Robin was bit disgruntled, that he couldn't take us to the best campsite, as that was already taken, but ours was completely fine in an island pine grove with a prepared campfire place, flat places to set our tents - between two other campsites (people there were nice and quiet, didn't bother us at all outside of a friendly visit from a small pup😊). So if this was the "worst" I am happy to say it was still better than a lot of wild camping sites I have experienced. We set up camp, and for nearly each meal had a nice fire going. Each meal was freshly prepared, tasty and Call of the wild made sure that my complex dietary restrictions were met without excluding me to a special diet - I want to stress here, that this is exceptional, and thoughtful, and thank you Robin & team! Second day we did a bit more light canoeing, maybe 4-5 hours worth (we voted for a longer paddle, could have choosen a shorter trip), with a 1 km portage to a nother lake (same 1 km back), a packed lunch, a nice swim. The last day we had a morning fire for breakfast, packed up camp and paddled maybe 1,5 hours back to our starting point. We didn't see moose or bears, but met a couple of loons, red squirrels, a lot of chipmunks and some huge frogs. If we had any questions about the park or animals, vegetation, Robin was very knowledgeable.
A superb trip to Crouch and Shirley lakes in late July, with a mixed experience group of paddlers across two families. The scenery was beyond our expectations and we encountered few people in our bit of wilderness - but sadly also no moose :-( which would have been the cherry on the cake. Rick was an excellent guide, raconteur and magician in the camp kitchen. The portage at 1000 meters was longer than perhaps typical for "newbie" trips but was flat and wide and worked well and I appreciated the fact I'd searched out a provider with lightweight Kevlar boats ! I appreciated the "proper" experience and the whole party covered the portage in two trips with just the right amount of challenge... At the time of year we still encountered a fair few mozzies and despite taking what we thought were adequate precautions left with some reminders beyond the photos and memories Definitely an experience to repeat though.
We had an absolutely amazing time! Rick was the perfect guide and he was very invested in ensuring that we had a great experience. Algonquin was beautiful during the peak of the fall colors. Rick was a great teacher, cook and knows the Algonquin inside out. He taught us how to portage, canoeing and camping 101, took us on hikes and explained the different trees in Algonquin. It was great hearing about Rick's adventures over the years at Algonquin over a camp fire and s'mores! Call of Wild provided good quality equipment as well. I highly recommend Calm of the Wild and Rick for your Algonquin Canoe Adventures!
While not for the faint hearted, this was an amazing experience, Canadian style. Having never canoed or camped before, we didn't know exactly what to expect, but our guide, Robin, was very laid back and led our group of mixed skill levels through the basics of canoe operation, in slightly challenging (for beginners) conditions, portaging and the basics of camping safely alongside while potentially sharing the environment with wild animals. All in all a great experience, fantastic scenery and environment.
Canoeing in the Alqonquin was just wonderful. Our guide Rick was a fantastic wildlife expert, canoeing instructor, cook, and also a charming and interesting person to talk to.
We did the 3 day canoe tour with Robin followed by two nights at the ecolodge inc. horse riding. The whole experience was fantastic - Robin and Trevor are so friendly and experienced, the organisation was slick, the food was incredible. I'd highly recommend call of the wild to anyone who wants to get off the beaten track and see the deeper wild of Canada that cars just can't get you to. Really good value and a trip we will never forget!!
Try Out The New Interactive CANOE ROUTE PLANNER
Stay in the Loop
Subscribe for exclusive content, giveaways, new products and more!

Backpacking
Backcountry Cooking
Wilderness Medicine
Destinations
TRIP REPORTS
Canoeing , Ontario
Canoeing algonquin: 7 excellent algonquin canoe routes.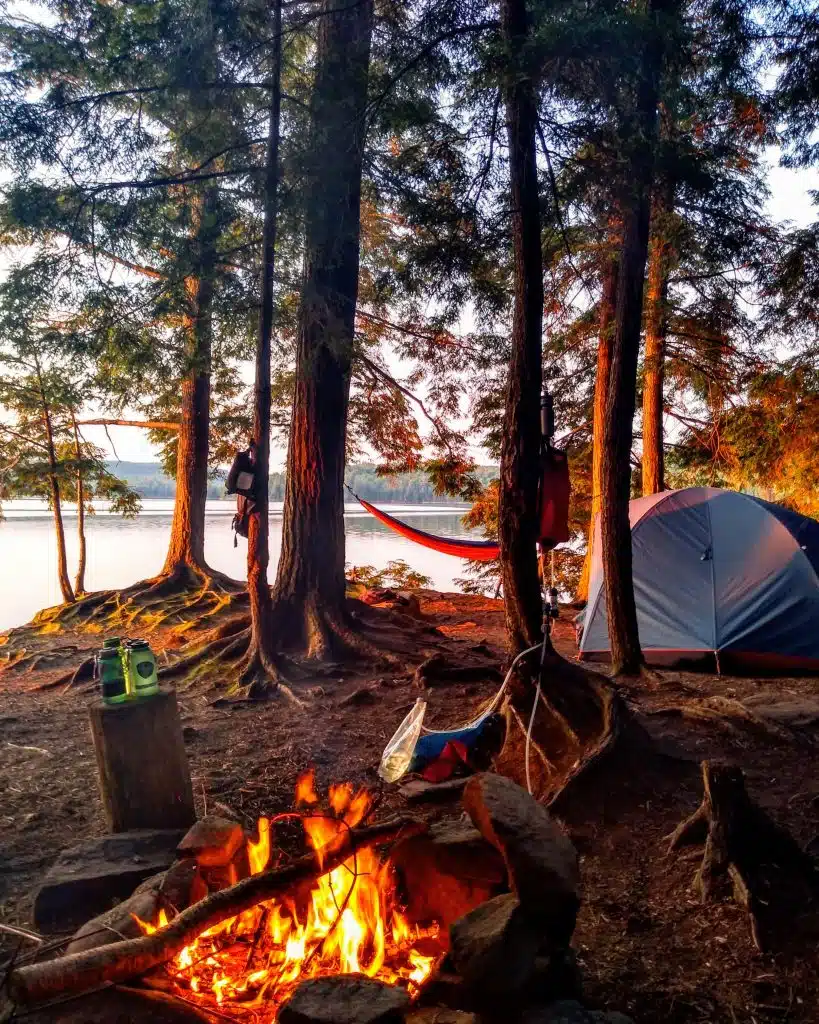 Canoe camping is synonymous with Algonquin Provincial Park. Spanning more than 7000 square kilometers and featuring 2000 kilometers worth of canoe paths, there are a seemingly infinite number of options for canoeing Algonquin.
So, while no single article could begin to cover the extensive number of possibilities for Algonquin canoe trips, I'll highlight a handful of excellent routes to give you inspiration and assist with your trip planning.
I've chosen seven of the best Algonquin canoe routes, each beginning from a different access point. I hope this post helps you choose your next route!
Note : All of the Algonquin canoe trip routes listed below have an accompanying trip report, which details the day-by-day route, portages, campsites, logistics, and more. You can find the full list of Algonquin trip reports here.
7 Algonquin Park Canoe Routes
Few activities are as iconically Canadian as a good old weekend of Algonquin Park canoe camping.
For each of the canoe trips below, I've included the access point, distance and possibly trip duration, however, this can be adjusted as you see fit. I've also detailed the destination lake, although I haven't listed every lake passed through on the route. Read the accompanying trip report if you would like the lake / portage / campsite specifics.
Without further ado, here are the best Algonquin canoe routes!
Canoe Lake to Burnt Island Lake
Access Point: Canoe Lake
Duration: 3 days
Distance: 24 km
Difficulty: Beginner
Burnt Island Lake is known as one of the most beautiful lakes in Algonquin, and its close proximity to Canoe Lake Access Point makes it an easy weekend trip.
Beginning at Canoe Lake, just off of Highway 60 and the location of The Portage Store, there are just two portages (both relatively short) to bring you to Burnt Island Lake. The total paddling distance is about 12 km each way.
Although 3 days would give you more time to explore and enjoy the beauty of the park, this would also be a great 2-day canoe trip in Algonquin.
Read the full trip report here.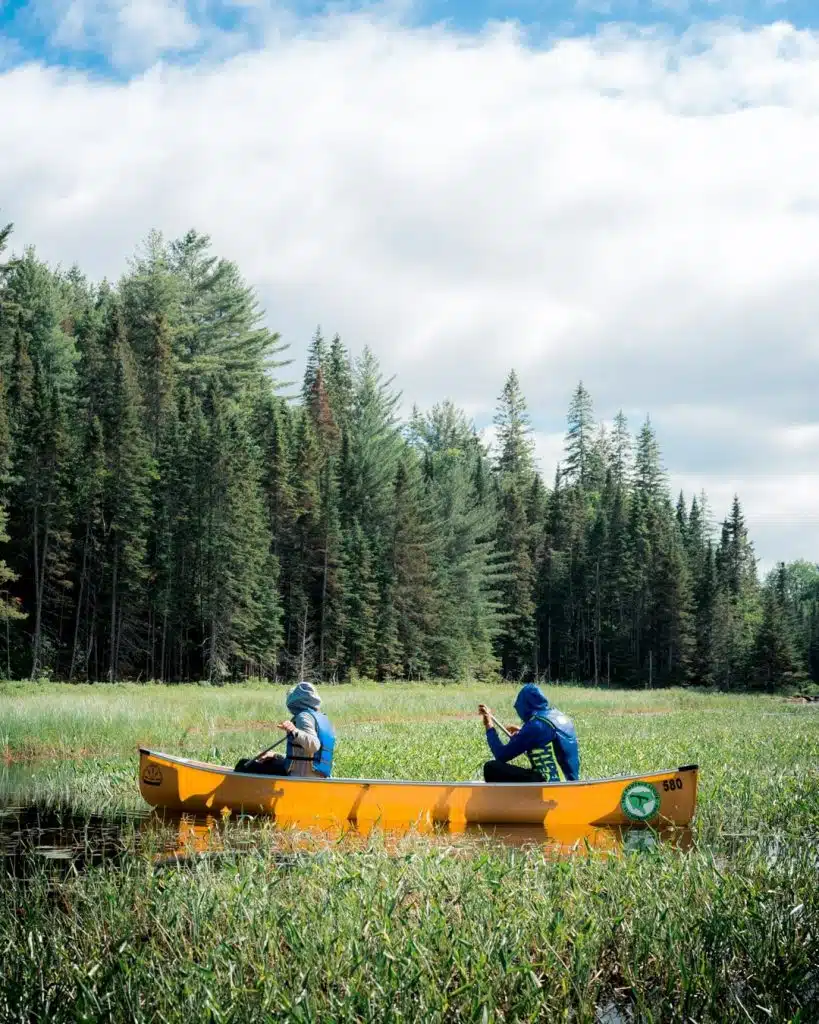 This post may contain affiliate links. If you make a purchase through one of these links, I may receive a small commission at no extra cost to you. Your support is much appreciated! You can learn more by reading my full disclosure .
Read More : Guided Canoe Trips in Algonquin: The Perfect Introduction to Canoe Camping!
Tim River to Longbow Lake (32 km)
Access Point: Tim River
Duration: 2-3 days
Distance: 32 km
Tim River is known as one of the best Algonquin canoe routes for moose spotting. It's not uncommon to see 5 or more moose on a single trip! And in case you were wondering, Tim River has no moving water on it.
This route begins at Tim River Access Point, located on the west side of the park. From there, you paddle east toward Longbow Lake, making just two portages and paddling about 16 km each way.
While this route would be reasonable for novice canoeists, I'd suggest doing the trip in 3 days and staying at a site before Longbow Lake, especially if starting the trip on a Friday after a long drive from the city. Tim River is known to be filled with beaver dams that require liftovers – this can get tedious and will slow you down.
All in all, this is a great option for canoeing Algonquin if seeing wildlife is a priority of yours and you don't mind the occasional beaver dam.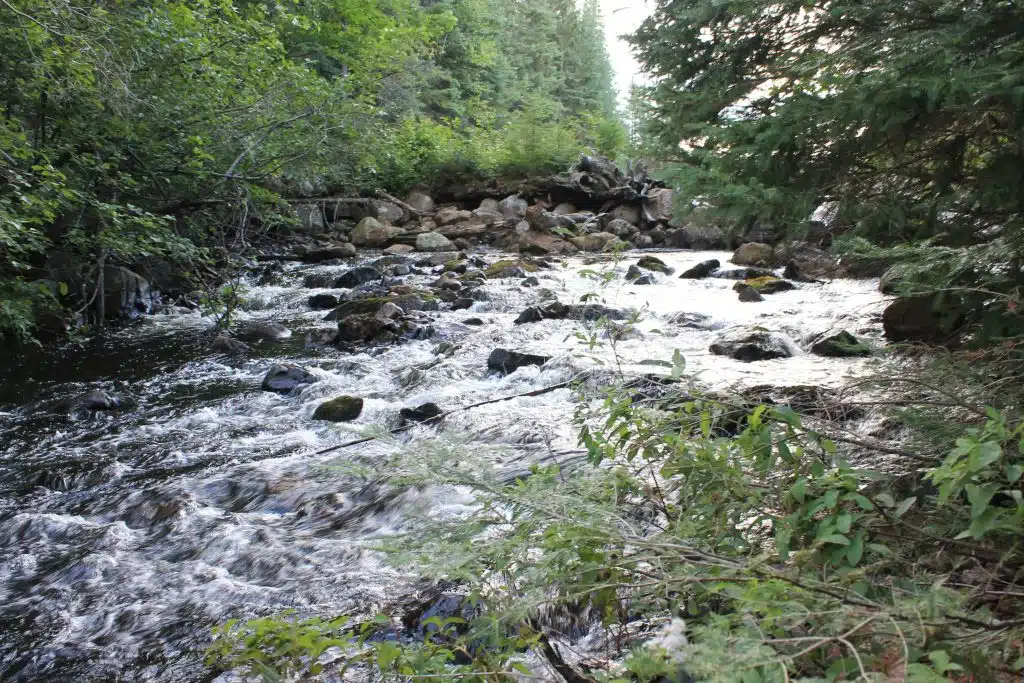 Barron Canyon
Access Point: Achray Campground
Duration: 3-4 days
Barron Canyon is one of the most popular Algonquin Park canoe routes that aren't in the Highway 60 corridor. This canoe route begins at Achray Campground, located in the northeast of the park (somewhat near the town of Petawawa).
If you're coming from the GTA, this access point is much further than those other Algonquin canoe routes and you should factor this into your planning.
Barron Canyon is a gorgeous canyon, and this route takes you right through it. As you make your way to the take-out at Squirrel Rapids, you'll have quite a few portages, the longest of which is about 550 m.
Although a further drive for most people, if you want to canoe Algonquin in an area less travelled than Highway 60, this is a great location!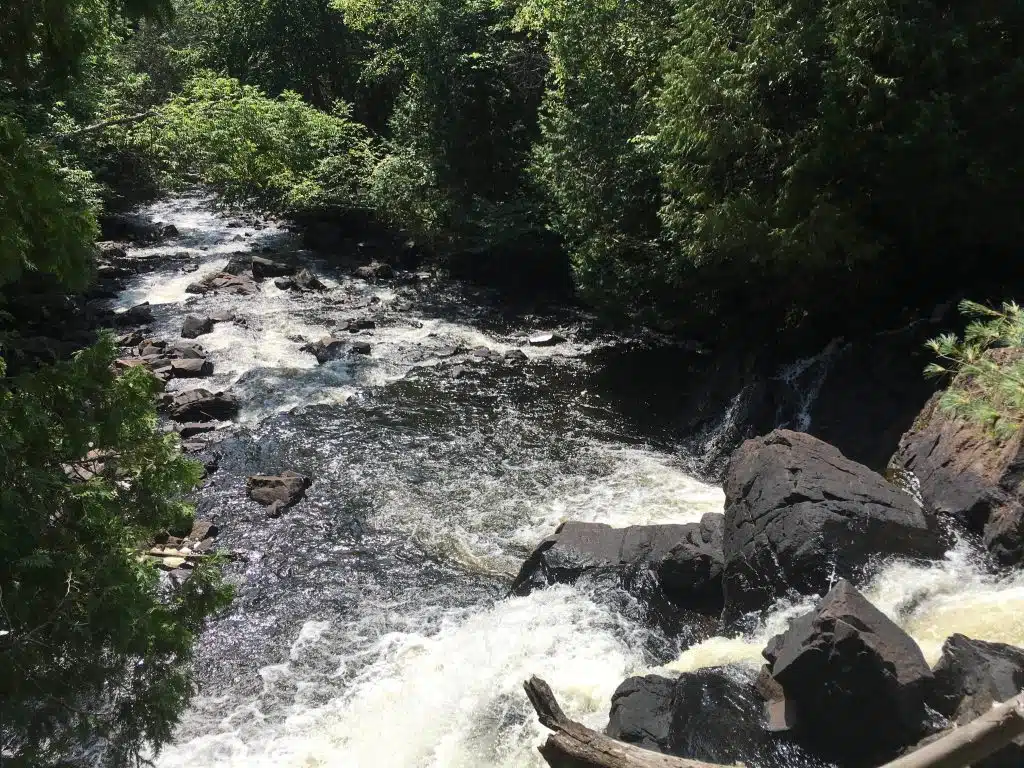 Wendigo Lake to Radiant Lake
Access Point: Wendigo Lake
Duration: 4-5 days
Distance: 37 km
This canoe route begins at Wendigo Lake Access Point, in the north of the park. From there, it moves south through Allan and North Depot lakes before weaving through small, unnamed creeks until Clamshell Lake. The route out culminated after two more portages when you are brought to the wonderfully named Radiant Lake.
Depending on how much paddling and portaging you care to do in a day, this can be a 4 to 5-day route. Due to the number of portages, I wouldn't recommend taking fewer than four days.
Tip : One of the campsites on Clamshell Lake has a rope swing into the water!
Rock Lake to Clydegale Lake
Access Point: Rock Lake
Distance: 30 km
This is one of the few Algonquin canoe routes that starts south of Highway 60. Beginning at Rock Lake Access Point, this route travels south toward Clydegale Lake via Penn Lake.
The route includes just two portages, neither of which are longer than 400 m. That paired with small, narrow lakes and beautiful campsites make this a good option for a beginner Algonquin canoe trip, especially if you do it over three days.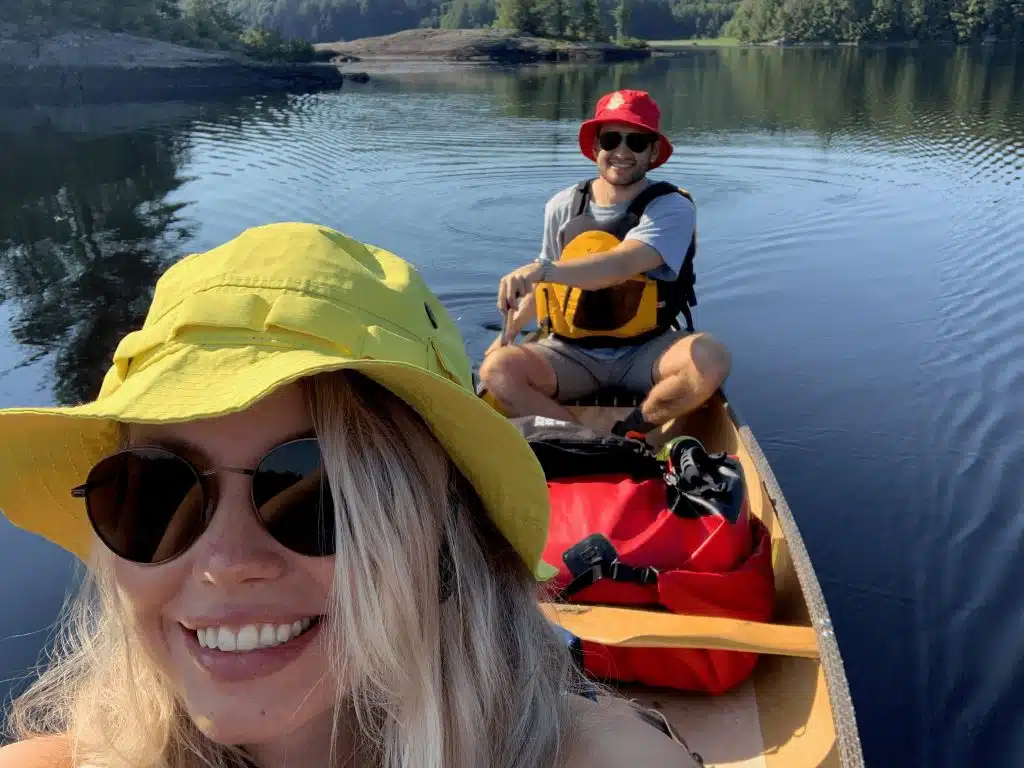 Source Lake Loop
Access Point: Source Lake
Duration: 5 days
Difficulty: Intermediate
This is the perfect Algonquin Park canoe trip if you don't mind a lot of portaging.
Beginning from Source Lake Access Point, located off of Highway 60, the route goes south toward Tanamakoon Lake before swinging north again toward Canisbay Lake.
From there, a series of long portages bring you to Owl Lake, via Linda Lake (three portages in total, between the lengths 930 m and 2,600 m). Finally, the route goes south again, returning to your starting point on Source Lake.
As I said, lots of portaging! In total, this route has about 9 km of portaging so if you're thinking about choosing a route like this, ensure you pack light.
But if you're willing to do the work, this is Algonquin Park canoe camping at its finest – great campsites, tons of different lakes and a lot of portaging. (It's no wonder many people call canoe trips "portage trips"!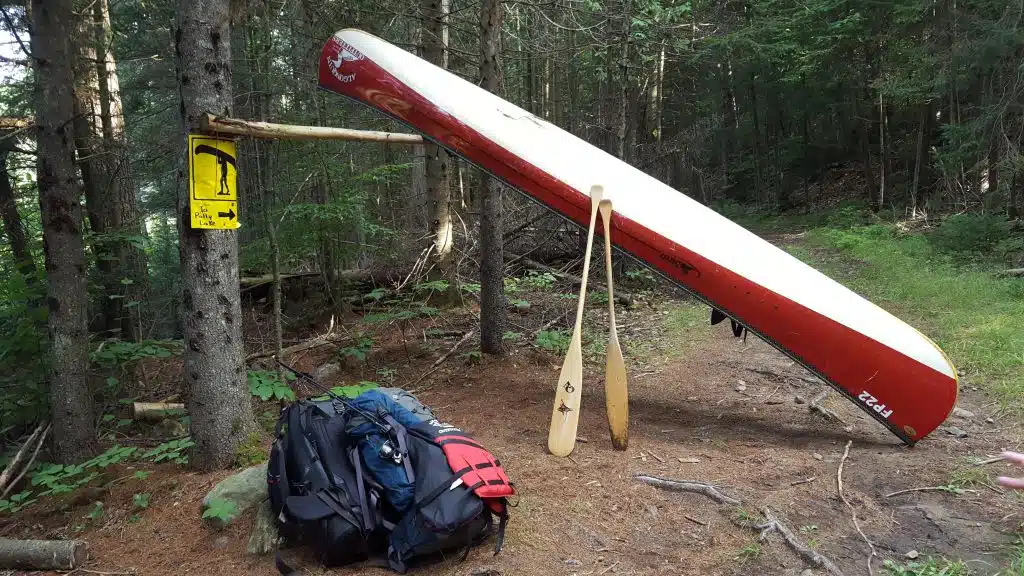 Read More : Algonquin Park Canoe Rentals: How to Choose Your Next Outfitter
Petawawa River: Lake Travers to McManus Lake
Access Point: Lake Travers
Duration: 4 days
Distance: 49 km
I believe this is one of the best Algonquin canoe routes, especially if you're a whitewater fanatic like me. The Petawawa River flows east through the northern section of the park; first, it flows with little current through a series of lakes, but after Lake Travers it really gets flowing.
From here, there are a dozen fun Class I and Class II rapids to paddle – and there is only one definite portage (a 1.4 km portage around a chute). If you've done a little bit of whitewater paddling and want to test your skills, this is a great river because all of the major rapids have portage trails, allowing you to easily scout the rapid or skip it if it's beyond your skill level.
In addition to great water, there are great campsites in this part of the park. The route naturally ends at McManus Lake, after which point you can't paddle any further (the river leaves the park and crosses into government property).
As this is one of the few Algonquin Park canoe routes that has whitewater paddling, so ensure you have the necessary skills to paddle a route like this.
Lake Opeongo to Canoe Lake (58 km)
Access Point: Lake Opeongo
Distance: 58 km
This route connects two of the most popular lakes in Algonquin via Happy Isle and Burnt Island lakes and is suitable for a trip of five days or so.
Starting in Lake Opeongo, it follows the northwest arm of the large lake toward Happy Isle Lake, before tracing southwest toward Burnt Island Lake. It ends at Canoe Lake, where you can pick up an ice cream come from my beloved Portage Store.
As far as Algonquin canoe trips go, I'd rate this one as intermediate due to the number of long portages: there are three portages longer than 900 m, including one that is 2.8 km. Also, never underestimate the power of the wind on Lake Opeongo – white caps are common and can be dangerous for novice paddlers.
If you canoe Algonquin regularly and are looking for a bit of a challenge, I think you'll enjoy this route!
Canoe Routes in Algonquin – Final Thoughts
I hope you've found this post useful and have a better idea of which Algonquin canoe routes you'll choose for your next adventures. If you have any questions, please reach out or head over to the full archive of detailed Algonquin canoe trip reports .
Mikaela | Voyageur Tripper
Mikaela has been canoeing, hiking and camping for over ten years. She previously worked as a canoeing guide in Canada, and spent a season guiding hiking and kayaking tours in the high Arctic. Mikaela is a Wilderness First Responder and Whitewater Rescue Technician.
MY FAVOURITE GEAR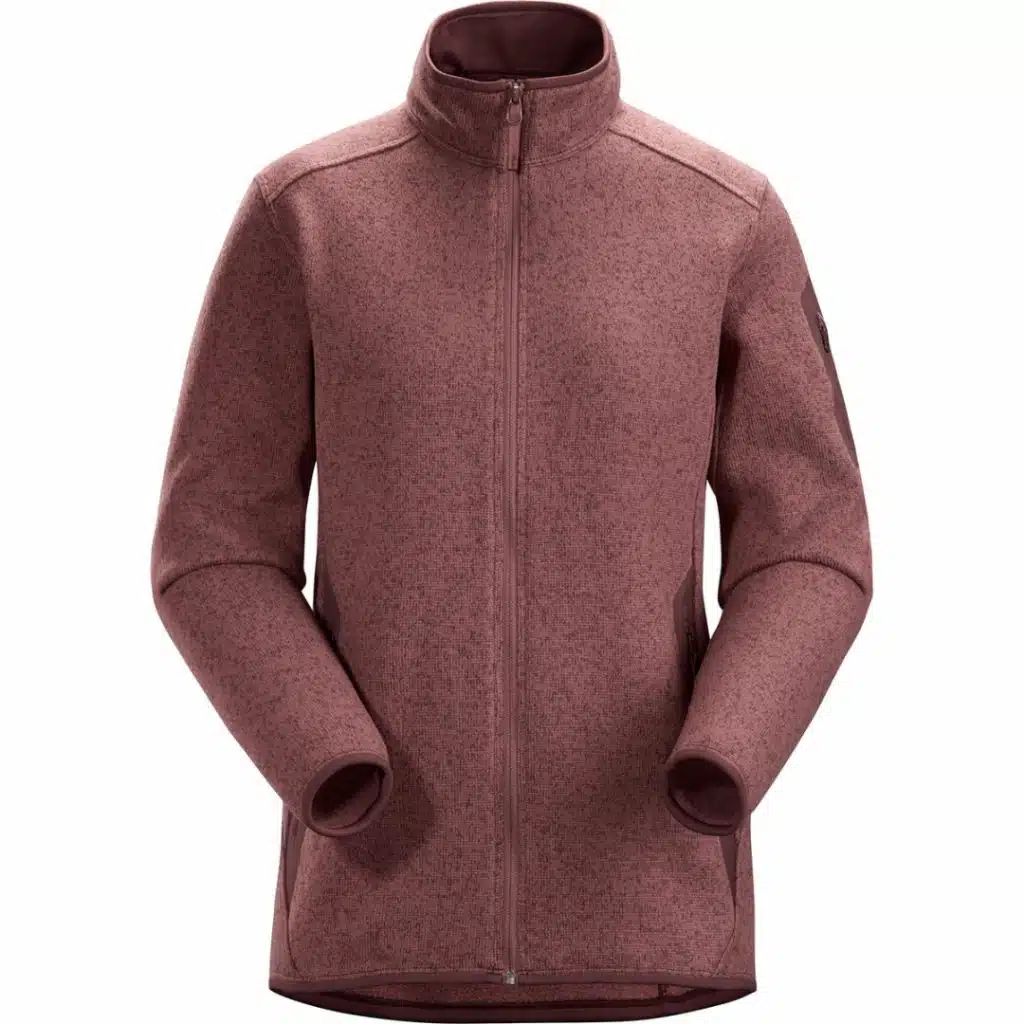 Fleece Sweater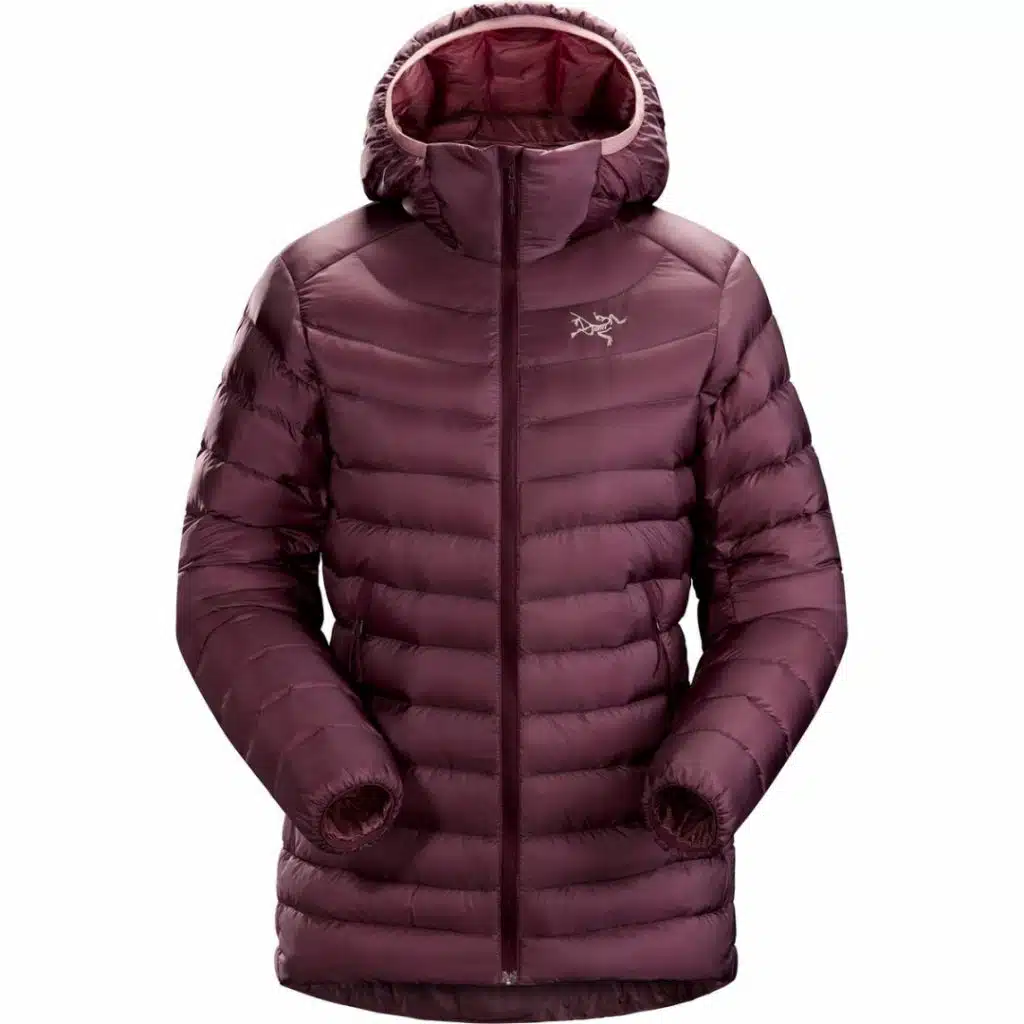 Down Jacket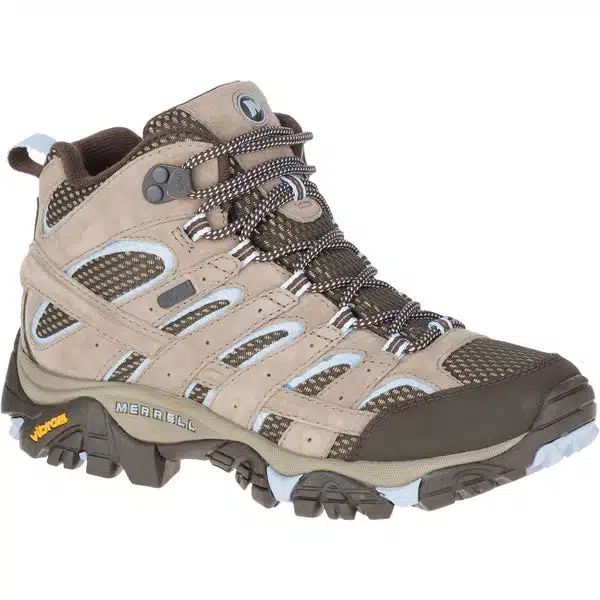 Hiking Boots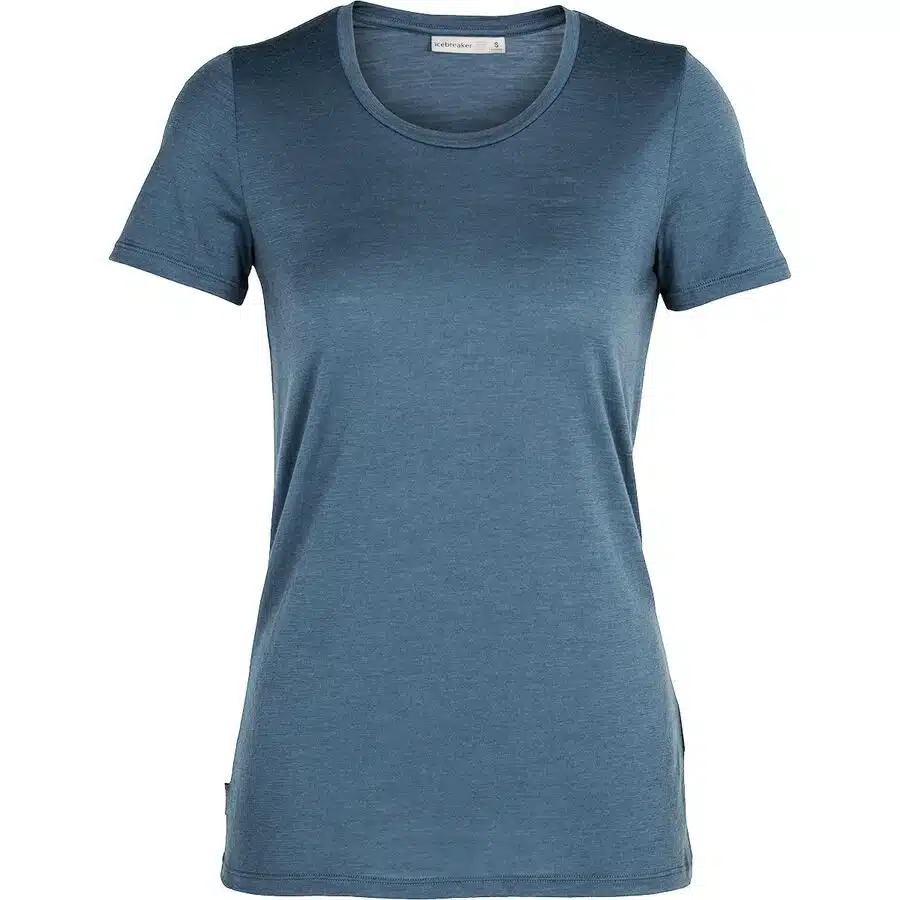 Hiking Shirt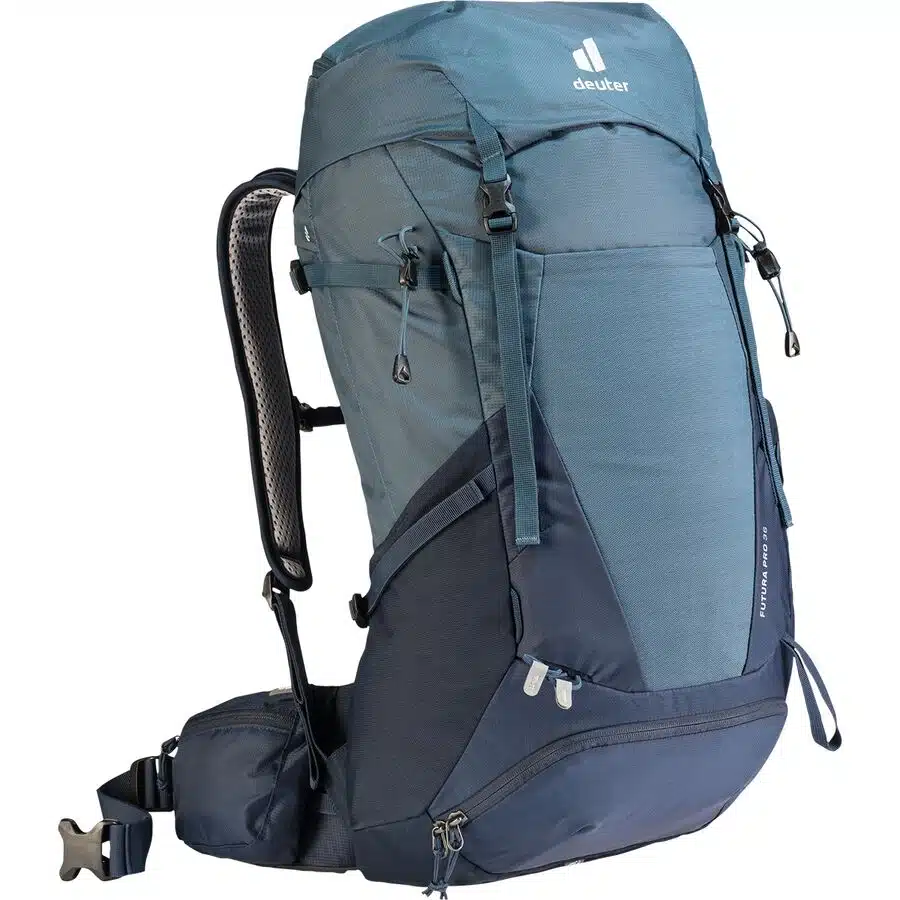 Hiking Pants
7 thoughts on " Canoeing Algonquin: 7 Excellent Algonquin Canoe Routes "
Stay in touch.
Join our community of outdoor adventurers - you'll find trip inspiration, gear discussions, route recommendations, new friends and more!
Like these lakes and sites need even more traffic and peoples garbage. Thanks for spoiling these gems.
Thank you for the comment but I disagree. I don't believe in keeping places a secret in order to protect them. I believe in educating others on how to use the land in respectful ways, by leaving no trace and regonizing those whose land we recreate on.
Thank you. Interesting read and a good blog.
Great article, im glad you shared these gems. I am looking to do my first canoe camping trip and found this post. I have only ever camped at regular camp grounds before, so this is an exciting adventure. I certainly will leave no trace behind! Thanks again for the info
You're very welcome, Mike! Have a great time and thanks for leaving no trace 🙂
I'm so glad to have come across voyageur tripper it's due time
Glad you found me!
Leave a Reply Cancel reply
Your email address will not be published. Required fields are marked *
Save my name, email, and website in this browser for the next time I comment.