Best Travel Insurance 2023
Cheapest Travel Insurance
Trip Cancellation Insurance
Seniors' Travel Insurance
Annual Travel Insurance
Cruise Insurance
COVID-19 Travel Insurance
Emergency Medical Insurance
Medical Evacuation Insurance
Pregnancy Travel Insurance
Pre-existing Conditions Insurance
Mexico Travel Insurance
Italy Travel Insurance
France Travel Insurance
Spain Travel Insurance
Canada Travel Insurance
Costa Rica Travel Insurance
Disney Travel Insurance
Schengen Travel Insurance
Is travel insurance worth it?
Average cost of travel insurance
Is airline flight insurance worth it?
Places to travel without a passport
All travel insurance guides
Best Pet Insurance 2023
Cheap Pet Insurance
Dog Insurance
Cat Insurance
Pet Dental Insurance
Pet Insurance That Pays Vets Directly
Pet Insurance For Pre-Existing Conditions
Pet Insurance with No Waiting Period
Paw Protect Review
Spot Review
Embrace Review
Healthy Paws Review
Pets Best Review
Lemonade Review
Pumpkin Review
Fetch Insurance Review
Figo Review
CarePlus by Chewy Review
Average cost of pet insurance
What does pet insurance cover?
Is pet insurance worth it?
How much do cat vaccinations cost?
How much do dog vaccinations cost?
All pet insurance guides
Best Business Insurance 2023
General Liability Insurance
Workers' Compensation Insurance
Professional Liability Insurance
Cyber Liability Insurance
Personal Property Insurance
Inland Marine Insurance
Contractor Insurance
Home-Based Business Insurance
Sole Proprietor Insurance
Handyman Insurance
Photographer Insurance
Esthetician Insurance
Salon Insurance
Personal Trainer Insurance
Best Credit Cards
Balance Transfer
0% Interest
No Credit History
No Annual Fee
American Express
Capital One
Amex Platinum review
Amex Gold review
Amex Gold vs. Platinum
Amex Platinum vs. Chase Sapphire Reserve
How to get Amex pre-approval
Amex travel insurance explained
Chase Sapphire travel insurance guide
All credit card guides & reviews
What is a Savings Account?
How to Open a Savings Account
Types of Savings Accounts
Checking vs Savings Accounts
Savings Interest Calculator
Emergency Fund Calculator
Average Savings by Age
How Much Should I Have in Savings?
How to Make Money
How to Save Money
All Insurance Guides
Travel Insurance for a Trip to Germany
On This Page
Germany travel information & requirements
Do i need travel insurance to visit germany, reasons you should get travel insurance for germany, our top picks for travel insurance for germany, what does travel insurance for a trip to germany cover, what isn't covered by travel insurance, how much does travel insurance for germany cost, tips for getting the best travel insurance for your germany trip, germany travel insurance faqs, related topics, travel insurance for germany: tourist information & tips.
KEY TAKEAWAYS
Your U.S. health insurance won't typically work in Germany , so it's a good idea to have travel health insurance.
Our top picks for travel insurance for Germany come from Seven Corners, John Hancock Ins Agency, Travel Insured, Trawick International, and IMG . (skip ahead to see these plans)
In addition to medical emergencies, comprehensive travel insurance will also usually cover trip delays, cancellations, and interruptions, as well as medical evacuation and lost or stolen baggage.
Since Germany belongs to the Schengen Area , you'll need a Schengen visa if you plan to stay for more than 90 days. This requires a minimum amount of coverage for medical and repatriation expenses.
Even if you don't need a visa, you should purchase travel insurance to protect your investment. Coverage can cost as low as $1 per day.
To find the best travel insurance for your trip to Germany, we recommend using an online comparison tool to compare multiple quotes and coverage options all in one place.
Whether you're headed to Munich, Berlin, or another German city, it's important to buy travel insurance before you go.
German travel insurance covers some of your expenses if you have to cancel your trip or leave Germany earlier than planned due to a covered event. If you plan to stay in Germany for more than 90 days, you'll also need to provide proof of travel insurance with your visa application.
We created this guide to help you make sense of the travel insurance requirements for Germany and other Schengen countries, including:
What type of insurance you need
How much this type of insurance costs
How to get the best coverage
The table below shows key information you should know before traveling to Germany:
Do I need a visa or passport to visit Germany?
You must have a passport with at least two blank pages to visit Germany. You don't need a visa unless you plan to stay for more than 90 days. In that case, you'll need a Schengen visa.
Are there COVID-19 restrictions for U.S. travelers?
According to the German Missions in the United States , Germany has lifted all travel restrictions related to COVID-19. This includes vaccination and testing requirements. Recent reports from the CDC have shown that COVID cases are on the rise, you should therefore consider having a COVID travel insurance policy in place, just in case you fall ill during your vacation.
Is Germany a Schengen country?
Yes. It's one of 27 countries in the Schengen Zone , a border-free area that allows people to move around without having to go through border checks while crossing from one country to another.
Is it safe to travel to Germany?
The U.S. Department of State has issued a Level 2 advisory due to heightened safety and security risks.
Travel insurance for Germany isn't mandatory for stays lasting 90 days or less.
If you plan to stay for more than 90 days, you'll need a Schengen visa. When you apply for this type of visa, you must prove that you have travel insurance with €30,000 minimum coverage for medical expenses. Your travel insurance must also cover the cost of repatriation if you have to end your trip early.
Even if you don't need it to get a visa, you should consider buying travel insurance while visiting Germany as U.S. health insurance won't cover you while abroad.
Here are some of the reasons you should get travel insurance for visiting Germany:
Safety on Autobahn highways
Germany is famous for its ultra-high-speed highways known as the Autobahn. While traveling on the Autobahn can be thrilling to visitors, it also poses safety risks for those unaccustomed to traveling at high speeds and driving in a foreign country where rules may be slightly different . In light of this, travel insurance with medical assistance and rental car coverage is an easy way to help you mitigate risks that could arise from accidents or damage to you or the vehicle while driving in Germany.
Hazards in the Bavarian Alps
The Bavarian Alps in Germany offer stunning landscapes for hikers, climbers, skiers, and more, making them one of the most popular areas to visit in Germany. However, the Alps areas are prone to natural hazards like avalanches and flash floods, as well as safety risks due to the adventure and sports activities typically enjoyed in this region. Travel insurance for medical emergencies, medical evacuation, and adventure sports coverage is key to staying fully covered while enjoying all the Alps have to offer. Not all plans cover adventure activities, so it's important to compare plans before buying.
Weather disruptions to travel plans
Germany is located in Central-Northern Europe where the weather can be harsher than other countries like Spain or Portugal. Depending on when and where you visit Germany, you may experience unexpected rain or snowfall. It's important to remember that weather is one of the main factors that can alter travel itineraries and lead to cancellations or delays. Opting for a travel insurance plan that covers delays, cancellations, interruptions, and more can help you minimize the inconvenience and financial risk associated with weather-related trip disruptions.
Public transportation
One thing people love when visiting Germany is how easy it is to get around. Whether you plan to stay in one city, move around the country, or visit neighboring countries, German public transportation is convenient and quite reliable. That said, there can be occasional interruptions due to maintenance, accidents, and strikes. Apart from this, if you aren't familiar with using public transport it could cause disruptions in your travel itinerary. It's important to be prepared for using public transport in Germany and to be covered for all possible scenarios. Travel insurance can cover expenses related to missed connections, delays, interruptions, and finding alternative transportation arrangements if needed.
Terrorism concerns
Like other major European countries, Germany has faced rising security concerns due to terrorist activities in recent years. One well-known event was the attack on Christmas Markets in 2016. While these events are rare, it's important to take them into account and prepare for them when traveling. Most travel insurance policies can cover you in case of evacuations, emergency medical assistance, cancelations, or interruptions due to terrorist activities. Therefore, it makes sense to buy a comprehensive travel insurance plan and stay covered while you travel.
Theft at popular cultural events
Germany is home to world-famous cultural events like Oktoberfest and Christmas markets. These events are usually quite crowded and attract tourists from all over the world. As a result, they are often the target of choice for thieves and pickpockets . Travel insurance can reimburse you for personal items that are lost, stolen, or damaged while traveling. While it may not replace the sentimental value of your belongings, having the cost covered can mean the difference between ruining your trip or allowing you to pick up the pieces and enjoy the rest of your travels.
Trawick International
Why we like it.
The Safe Travels Voyager plan from Trawick International is one of the most highly rated plans on our list. This plan's high coverage limits make it an attractive option for anyone traveling to Germany. The plans primary medical coverage comes in at $250,000 and its medical evacuation coverage tops a hefty $1 million - covering nearly all medical evacuation possibilities
The Safe Travels Voyager plan also offers both trip cancellation and trip interruption covering 100% and 150% of the costs respectively. This plan provides coverage for both domestic and international acts of terrorism and optional coverage to cancel your trip for any reason.
Travel delay coverage comes in at $3,000 and it also offers $2,500 per person and $300 per item, on any baggage delays and loss.
Pro & Cons
Excellent medical coverage limits
Up to $2,500 baggage coverage included
Covers quarantine accommodation expenses
Baggage delay coverage only kicks in after 8 hours
CFAR only covers 75% of the insured trip cost
Seven Corners
Seven Corners' Trip Protection Choice coverage is one of the most robust plans available for its relatively low cost. Comprehensive primary medical coverage comes in at $500,000, covering you for nearly all unforeseen medical emergencies. Complimenting this is Trip Protection Choice's $1 million in medevac and repatriation coverage, some of the highest levels of medevac coverage on the market.
Along with medical coverage, this plan also offers non-medical evacuation coverage, trip cancellation, interruption, and delay coverage. This complements further clauses such as accidental death & dismemberment coverage, and baggage damage.
Offers coverage for pre-existing conditions
Money-back guarantee
Cancellation & Interruption coverage standard
Covers action sports & equipment
Cancel for any reason not included standard
Must meet waiver for pre-existing conditions to be covered
Travel Insured International
The Worldwide Trip Protector plan from Travel Insured International is another pan on our list that is perfect for those traveling with a pre-existing condition. Pre-existing conditions are automatically covered with this plan if the coverage is purchased within 21 days of the trip deposit.
This plan is also renowned for its 100% coverage of the insured trip cost due to cancellation and 150% of the insured trip cost due to interruption. The Worldwide Trip Protector plan will pay out $1,500 for trip delays and $500 for baggage delays - simply after only 3 hours' worth of delays.
Medical coverage from the Worldwide Trip Protector plan is also an attractive perk. This includes $100,000 worth of medical coverage and 1 million worth of evacuation coverage.
Travel delay coverage kicks in after just six hours
Generous $150,000 non-medical evacuation coverage
24/7 emergency travel assistance included
CFAR and IFAR coverage not included
Baggage delay coverage only kicks in after 12 hours
No rental car coverage
John Hancock Insurance Agency, Inc.
John Hancock's Gold plan is a fantastic insurance plan for those with pre-existing conditions looking to travel to Germany. Automatically included in the coverage, this plan allows elder travelers to be free from the stresses of pre-existing conditions that may hinder them with other providers. Alongside this perk, the Gold plan also offers both trip cancellation and trip interruption coverage worth up to 100% and 150% of the trip cost.
John Hancock's Gold plan provides top-of-the-range coverage when it comes to all things medical. This plan offers medical emergency coverage worth up to $250,000 and $1 million in coverage for emergency medical evacuation and repatriation of remains - some of the highest across the market.
Travel delay coverage kicks in after just three hours
Generous coverage for emergency evacuation and repatriation of remains
Optional CFAR upgrade available
Baggage insurance comes with generous limits of up to $2,500
Terror attack coverage included
Baggage delay coverage requires a 12-hour waiting period
IMG's iTravelInsured Travel LX Basic plan is a great selection of coverage for those vacating in Germany. Its medical coverage worth $500,000 is a figure that covers you for most medical emergencies and being a primary coverage, you will not end up out of pocket while receiving your care. Medical evacuation coverage is a fantastic $1,000,000 per person and there is also an added bonus of $50,000 worth of non-medical evacuation coverage included.
Those partaking in sports and leisurely activities throughout their German vacation will be pleased to know that IMG's iTravelInsured Travel LX Basic plan provides a wide range of sports-related coverage. This includes sports equipment delay coverage worth $2,000 and $10,000 worth of search and rescue coverage.
10-day money back guarantee
Generous limits for trip delays, emergency evacuation, and more
Coronavirus-related medical expenses covered
Rental car coverage included
Recently developed pre-existing conditions may not be covered
CFAR and IFAR coverage only available as an add-on with premium plans
German travel insurance typically includes the following types of coverage:
Trip cancellation insurance
If you have to cancel your trip before you leave the United States, trip cancellation insurance reimburses you for certain prepaid expenses, up to your total trip cost. Cancel for any reason (CFAR) insurance is a great addition to any insurance plan. With CFAR insurance you are able to foresee any cancelation and not lose out financially.   
Trip delay insurance
Trip delay insurance comes in handy if you're delayed while traveling via airline, passenger railway, or another common carrier. If there's a delay outside your control, your insurance may cover the cost of meals, overnight accommodation, and other related expenses. 
For example, if you have to stay in Berlin an extra night because your train to Hamburg is delayed, your policy might cover the cost of staying in a Berlin hotel for one additional night.
Trip interruption insurance
Sometimes your trip begins as scheduled and then comes to an abrupt halt due to an emergency. For example, if you find out that a family member is hospitalized at home, you may have to return to the United States earlier than scheduled. Trip interruption insurance reimburses some of your expenses in this scenario.
Travel medical coverage
As noted above, your U.S. health insurance won't cover any medical expenses incurred during a trip to a foreign country.  Travel medical insurance is arguably one of the most important forms of coverage, as medical bills can often run into the thousands. Travel health insurance fills the gap, ensuring that you have a way to pay for X-rays, blood tests, physical exams, and other medical services. 
Medical evacuation insurance
During your vacation, you may need medical care that the closest hospital can't provide. Medical evacuation (medevac) insurance covers the cost of transporting you to the nearest adequate medical facility, even if that facility is elsewhere in Europe.
Baggage insurance
As a tourist, you may have to deal with lost, stolen, or damaged luggage at some point in your travels. German travel insurance reimburses you for these losses. 
Travel insurance covers many things, but it typically doesn't apply in the following situations:
Pre-existing medical conditions: Travel health insurance doesn't cover pre-existing health conditions, or medical problems that you developed before you booked your vacation. You should therefore consider a travel insurance policy for pre-existing conditions if you are aware of your condition and still wish to travel.
Incidents involving alcohol or drugs: Your insurance won't cover any accidents that occur due to drug or alcohol use. For example, if you drive a vehicle while under the influence, your insurance company won't cover any of your expenses if you get into an accident.
Reasonably foreseeable events : Something is foreseeable if you can reasonably expect that it might happen. German travel insurance doesn't cover any expenses arising from these events. For example, your insurance provider won't cover your expenses if the forecast is calling for a bad storm and you choose to travel anyway.
Risky activities: Although you can purchase extra coverage for risky activities, a standard insurance policy won't cover you if you're injured while skydiving, skiing, mountain climbing, or engaging in other adventure activities.
Travel insurance for Germany can cost less than $1 per day for the most basic type of plan. Alongside cheap travel insurance , a more comprehensive policy will typically cost around $8 to $10 per day. To give you an idea of how much travel insurance for your trip to Germany will cost, we got quotes from three popular providers.
We applied this information to the quotes:
Age: 35 years old
Destination: Germany
Trip Length: 7 days
Trip cost: $2,000
This table displays three quotes for basic travel insurance plans where plans don't reimburse the full trip costs:
If you want your policy to include trip cancellation and trip interruption coverage, you will need to purchase a more comprehensive plan. For the following table, we have quotes for plans that reimburse you if your trip to Germany is canceled or interrupted.
Please note that these are taken from a hypothetical quote. Actual plan costs may vary and will depend on your own unique circumstances.
Keep in mind that many factors affect the cost of travel insurance:
Trip length: If you plan to visit Europe for a few days, you'll pay a lot less for insurance than someone who plans to stay for a month.
Age: Health insurance typically gets more expensive as you get older. This is because older people are more likely to develop serious health conditions. As a result, older people pay more for their coverage.
Trip cost:   The longer you plan to be a tourist in Europe, the more you'll pay for insurance. This is because the insurance company will have to reimburse you a larger amount of money if your trip is canceled or interrupted.
Coverage limits:   If you choose an insurance plan with high coverage limits, you'll pay more than you would for a no-frills plan.
Even if you don't need a visa, getting German travel insurance has many benefits. To find the best travel insurance at the best price, follow these tips:
Shop around: Compare costs before you commit to a specific health insurance or general travel insurance provider. You may be able to get the same coverage for a fraction of the price that other companies are charging.
Use common carriers: Remember, trip delay insurance only works if you're delayed while traveling via a public airline, passenger railway, or another common carrier.
Opt for a comprehensive package: Look for one that includes health insurance, trip cancellation insurance, trip delay insurance, and coverage for lost, stolen, and damaged baggage. If you plan to rent a vehicle, consider adding rental insurance.
Review your itinerary:   If you plan to participate in any risky activities, such as skiing or ziplining, you may need to purchase additional coverage.
Determine how much flexibility you need: If there's a good chance your plans will change once you get to Germany, you may want to pay more for higher coverage limits.
You need travel insurance if you plan to stay in Germany for more than 90 days. Otherwise, this type of insurance is optional.
How much is travel insurance for Germany?
Based on the seven quotes we received, German travel insurance costs an average of $282.55 for a 7-day trip.
What should I look for in a Germany trip insurance policy?
Look for comprehensive insurance that covers a wide variety of scenarios, including cancellations, delays, lost or stolen baggage, medical emergencies, and medical evacuation.
Is German health care free for Americans?
No. Americans aren't eligible for the free health care provided to German citizens
Leigh Morgan is a personal finance writer with 15 years of freelance experience. She specializes in topics like zero-based budgeting and emergency fund development. Before writing, she managed a real estate portfolio of rental properties worth $34 million.
In the last 5 years, she's authored over 300 articles for credit unions, digital banks, and financial professionals. Morgan is also the author of "77 Tips for Preventing Elder Financial Abuse," a book focused on helping caregivers protect the elderly from financial scams.
Explore related articles by topic
All Travel Insurance Articles
Travel Insurance 101 - The Basics
Health & Medical
Insurance by Destination
Trip Planning & Ideas
Emergency medical evacuation insurance, also known as medevac insurance, can save you hundreds of thousands of dollars in case of an emergency while traveling.   For this reason, we consider medevac insurance as one of our most basic coverages to look for when buying travel insurance . In this guide, we'll cover: What it covers How much it costs What to look for when you go to buy How to use it if you need it Not all evacuation coverage is made equal, and many factors can influence whether the plan you purchase will cover you or not.  To help you make the best decision when buying medevac insurance, we have reviewed plans from some of America's best providers and highlighted our top picks. So without further delay, here is our selection of the best medical evacuation insurance.
Travel Insurance for Seniors
Senior citizens in particular stand to benefit the most from travel insurance given their advanced age. This is because they are likelier to become ill or injured when traveling away from home, just as they are more likely to have pre-existing medical conditions that could flare up. Being medically prepared while you sun yourself on a beach in Mexico is there for far more important for those of a certain age. With this in mind, there are a few things to consider. To start, you will want to ensure your plans have adequate coverage for trip cancellations and interruptions, as well as high limits for emergency medical expenses, emergency evacuation, and repatriation of remains. In this guide, we'll cover: What types of coverage to look for when buying How to compare plans for seniors How much it costs If you or someone you love is a senior citizen looking for travel insurance , stay tuned as we break down our picks for the best seniors' travel insurance plans and providers for this year. Without further ado, here are our top choices for travel insurance for seniors.
Cruise insurance is a niche type of comprehensive travel insurance that offers benefits and features tailored to cruise vacations. Cruise insurance plans come with perks that financially protect your trip before, during, and after you depart. For example: Before: trip delay or cancellation coverage , protection for lost or delayed baggage, etc During: emergency medical care, emergency medical evacuation assistance from the vessel, cancelled excursions, etc. After: flight changes or cancellations, rental car damage, etc. Below, we have listed our top picks for the best cruise travel insurance for 2023.
It seemed like COVID was starting to become a thing of the past until the new variant Eris , known technically as EG.5, started to appear in greater numbers this Summer. According to Yale Medicine, the new COVID variant Eris is " more transmissible or severe than previous Omicron sub-variants. " Data from the CDC shows the Eris variant accounted for more than 20.6% of new COVID cases in the U.S. by the end of August 2023. Similarly, a risk Evaluation from August 9, 2023, published by the CDC stated: "Based on its genetic features, immune escape characteristics, and growth rate estimates, EG.5 may spread globally and contribute to a surge in case incidence." With this in mind, it's important to ensure you and your trip are covered for COVID in case future travel is affected. We compared some of the top policies for travel insurance with COVID coverage on the market today to identify plans with the most robust coverage and benefits.  Here are our recommendations for the best COVID-19 travel coverage for 2023:
You may be surprised to learn that not all cheap travel insurance plans are bad. Many basic travel insurance plans offer sufficient limits for most types of trips. While it's important to note that when you opt for a cheap travel insurance plan you will likely have to compromise on fewer coverage types and lower policy limits, it's easy to find affordable travel insurance policies that include sufficient of coverage for: Tavel medical care & emergencies Emergency medical evacuation Trip interruptions & delays Trip cancellations That said, some travel insurance providers are known for being more affordable than others. The plans listed below come from a few providers who consistently appear among the cheapest travel insurance companies.
Cancel for Any Reason Travel Insurance
Cancel for Any Reason (CFAR) travel insurance lets you cancel your trip and get part of your money back for any reason at all. CFAR coverage adds typically adds 40% to 60% to the cost of your travel insurance policy, but there are still numerous reasons to consider investing in the coverage. For example, you could use CFAR insurance if: You have an unplanned event you can't miss You're worried about COVID-19 You have a falling out with your travel companions The weather conditions aren't ideal for your trip You just don't feel like traveling Since it's so expensive expensive, it's important to compare providers and policies to evaluate which is the best trip cancellation insurance for you. So, without further delay, here are our top picks for the best Cancel for Any Reason insurance.
An annual travel insurance plan, or multi-trip insurance plan, is a type of travel insurance policy that provides coverage for every trip you take over a period of up to 365 days. While single-trip insurance is a great option for seldom travelers, multi-trip travel insurance might make more sense if you travel regularly. Annual travel insurance policies can be ideal for: early retirees long-term travelers students abroad business travelers families who regularly bounce between countries and destinations Annual travel insurance is not only convenient, but it can also be more cost-effective than buying a separate plan each time you travel. That said, not all travel insurance companies offer annual plans, and even then, some plans are different than others. So, let's get into it. You can find our top picks for the best annual travel insurance below.
Travel health insurance is the cornerstone of most travel insurance plans—and for good reason.   It can pay out claims if you become sick or injured during a trip, and limits tend to be high for this type of coverage.  Health insurance for travel specializes in paying for nearly any type of medical care required for you to recover, such as: Hospitalization Medication Surgery X-rays Many comprehensive travel insurance plans have travel medical coverage included. However, you can also purchase medical only travel insurance as a standalone policy. To help you find the best medical travel insurance for your trip, we compared travel insurance companies that offer this standalone coverage for a wide variety of trips. So, without further delay, here are our top picks for the best travel medical insurance.
Is Travel Insurance Worth It?
The average cost of travel insurance typically works out to 5% to 6% of the total cost for most trips, and this coverage is also totally optional. This means you can cover your trip with travel insurance if you want to, but that you can also save the money and take your chances if you prefer. With this in mind, you may be wondering if and when travel insurance is worth it, or if you should pay for some types of protection while skipping over others. This guide will explain the ins and outs of the different types of travel coverage you can buy today, which ones are worth it, and how much you could actually save by purchasing a travel insurance plan.
Is Flight Insurance Worth It?
While you can purchase flight insurance through your airline, that doesn't mean you should. The fact is, a comprehensive travel insurance policy could serve you better in several ways, and it may not cost much more than airlines charge. If you've been wondering if you should buy travel insurance through your airline when booking airfare or how their coverage compares to third-party travel insurance policies, you are in the right spot. In this guide, we run through some important cost examples and look at the strengths and weaknesses of flight insurance policies offered by some of the major airlines in the US. By the end, you'll know what's in it for them, and what you should look for to ensure you get the maximum coverage for the best price.
Traveling while pregnant may not be problematic on its own, but that doesn't mean complications or general discomfort won't pose a problem during a trip. Pregnant women and those who may become pregnant before travel should consider buying a pregnancy travel insurance plan as a general precaution.  In this guide, we will cover the most important things to consider for pregnancy travel. To help you travel with peace of mind, we've also broken down what to look for while shopping and choosing the best travel insurance policy for pregnant people.
If you have an important anniversary coming up and you're seeking an over-the-top way to celebrate in style, there are plenty of destinations to consider for an epic getaway. In this guide, we'll take a look at these anniversary trip ideas: Romantic trips Adventurous trips Cultural trips Relaxing trips Budget-friendly trips By researching the best getaway options for couples, you can find something that's both ultra-romantic and filled with activities both you and your partner enjoy.
Travel Insurance for Pre-Existing Conditions
If you are planning on getting travel insurance, pre-existing conditions may not be covered under your plan. Many people get travel insurance for the medical protection that policies provide which can often include coverage for emergency medical and dental expenses, emergency medical evacuation and repatriation of remains. If you have a pre-existing condition, travel insurance can still be an option for you, but it's important to take special care to buy insurance that won't deny coverage based on your condition.  In this guide we will explain: How to safely buy travel insurance with pre-existing conditions to ensure you get coverage What counts as a pre-existing medical condition How to get a pre-existing condition travel insurance waiver Our top recommendations for the best travel insurance for pre-existing conditions Read on for this, and more!
Places to Travel Without a Passport
Planning a vacation somewhere new can be a lot of fun, but you'll run into some roadblocks if you're a U.S. citizen without a valid passport. Fortunately, there are many places you can visit without a passport, including tropical islands, frozen tundra, and plenty of places that are renowned for their natural beauty. Regardless of where you travel, we always recommend looking at the specific requirements for your destination and to consider booking travel insurance .
When planning your trip to Spain, you can look forward to immersing yourself in a wealth of culture and history. Whether you want to relax on its Mediterranean beaches, indulge in the delightful culinary experiences or take part in its vibrant nightlife, Spain has something for everyone to enjoy. Although you may not expect any complications during your trip, Spain can present unique challenges to visitors, so it's essential to be prepared for unexpected situations like: travel delays or cancellations illnesses or injuries the need for emergency medical care lost or stolen luggage Read on to learn everything you need to know about the best travel insurance for trips to Spain and the coverages you need the most.
With its incredible historic sites, delicious food, cultural treasures and beautiful scenery, Italy is one of the most popular tourist destinations in Europe. That said, it's smart to make sure your trip to Italy is covered with a comprehensive travel insurance plan. With the right kind of coverage, you can ensure your financially protected in situations like the following: Your trip is delayed or cancelled You get sick or injured in Italy and need medical care You need medical evacuation to a hospital or back to your home country Your luggage is lost or stolen in transit Read on to find out how much Italy travel insurance will cost and everything you'll want to have included in your policy.
A Disney World trip can cost up to $5,000 or more, depending on a few different variables. It's no secret that between flights, resorts, park entrance fees, and food, even a short stay can be very expensive. For many people, planning a trip to Disney World on a budget can be the result of months of saving. So, before deciding on going to Disney World, it's important to consider the costs and to protect your vacation the same as you would with a trip abroad. This includes opting for travel insurance. If you've found yourself wondering, "How much is a trip to Disney World?" The truth is, the answer can vary greatly based on your preferences and how many people are going.  According to Mouse Hacking , the average cost of a Disney vacation in 2024 is a little less than $7,000 for a family of four.  Here are a few questions to ask yourself to figure out how much a trip to Disney World costs:  How much are tickets to Disney World per person? For a 4-day entry pass, it comes roughly to $99 per day. How much is a Disney World resort? A 5-night stay for a family of 4 can come around to $5,000 average price. How much are flights to Disney World? An average of $150-$500 depending on when and from where you fly in the U.S.
Costa Rica is a popular travel destination for families, adventure travelers and nature lovers alike, and it's easy to see why. This country in Central America boasts coastlines on both the Caribbean Sea and the Pacific Ocean, and it is home to volcanoes, jungles and rainforests, rivers, mountains, and incredible landscapes from shore to shore. Families visit Costa Rica to do adventure activities like climbing, white water rafting, and zip lining, and to see the beautiful creatures this area of the world is known for. For example, Costa Rica boasts giant sea turtles, rare birds, sloths, and enormous crocodiles, just to name a few animal inhabitants that call the country home. All this being said, there's a lot that could go wrong during a trip to Costa Rica — especially for travelers who plan to go off the beaten path to explore the nation's vast wilderness areas and jungles. Here's everything you need to know about Costa Rica travel requirements, as well as what to look to choose the best travel insurance policy .
Travel insurance is usually optional, but if you plan to stay in the Schengen Zone for more than 90 days, you are required to apply for a Schengen travel visa (per travel.state.gov ). One of the requirements is that you purchase a policy that covers medical expenses and the costs associated with returning to the United States if you develop a health problem during your trip or happen to pass away unexpectedly. Whether you're off for an extended study period, doing an epic backpacking trip through Europe, or heading overseas to France for work, it's paramount to understand the importance of a Schengen travel insurance plan.  This type of insurance can protect you in the event of an unforeseen event, such as a natural disaster, a medical emergency, or a terrorist attack, but it's also a requirement for getting a Schengen travel visa.  We put together this guide to help you understand the Schengen visa requirements and determine what kind of coverage you need before you travel. Dig in and discover the best travel insurance providers for your trip to the Schengen Zone.
Travel Insurance for a Trip to Mexico
Whether you're looking to relax at a resort, spend a unique Christmas in Mexico , or go on the adventure of a lifetime, Mexico is an ideal travel destination. Its luxury resorts, lush rainforests, soaring mountains and tranquil beaches ensure that every traveler has something to do.  Once you book your trip, consider purchasing Mexico travel insurance to protect your wallet. The right policy can help you avoid losing thousands of dollars if you have to cancel your trip or end it early for some reason. We created this guide to help you understand the ins and outs of this type of insurance coverage.
According to the Mexican Government , more than 66 million travelers settled on Mexico as their holiday destination in 2022, which represents an increase of more than 10 million visitors compared to 2021. While the destinations that attract visitors across Mexico are incredibly diverse, the most popular ports of entry in Mexico were Cancun and Mexico City last year. Considering Mexico offers something for everyone — from its beaches to its mountains, bustling urban areas, quaint farm communities, and incredible cultural opportunities — the number of visitors spending time in the country each year is not surprising at all. That said, there are different times of the year that are more popular than others, and Christmas in Mexico is definitely one of them. If you're considering a Mexican Christmas this year, you will want to consider all the best destinations on our list and what they have to offer in terms of Mexican Christmas traditions and celebrations. You'll also want to look closely at top tourist spots throughout the country to make sure you're getting a Mexican Christmas with the kind of landscapes, cultural celebrations, and weather you want.
Travel Insurance for a Trip to Canada
Whether you're planning to visit Niagara Falls, hike through Banff National Park, or show off your French accent outside of France in Montreal, Canada is an ideal travel destination. You don't even need a visa for trips lasting less than 180 days , so it's also relatively easy to plan a Canadian vacation. That said, it's important to plan for emergencies. Travel insurance for visitors to Canada reimburses some of your expenses if you have to cancel your trip for a covered reason. It may also cover losses associated with delays, rental car damage, rental car theft, or problems with your baggage.  To help you plan a hassle-free trip, we researched the requirements for traveling from the United States to Canada. Find out why we recommend comprehensive travel insurance for your trip.
Travel Insurance for a Trip to France
Whether you're in the mood for art museums or world-class beaches, France has something for everyone. If you have a trip coming up, it's important to purchase travel insurance beforehand, as there's always a chance that you'll have an emergency while you're overseas.  We created this guide to help you learn more about the best travel insurance for France, such as: How much travel insurance costs for France What travel insurance includes Do you need travel insurance for France?
Whether you're headed to Munich, Berlin, or another German city, it's important to buy travel insurance before you go. German travel insurance covers some of your expenses if you have to cancel your trip or leave Germany earlier than planned due to a covered event. If you plan to stay in Germany for more than 90 days, you'll also need to provide proof of travel insurance with your visa application. We created this guide to help you make sense of the travel insurance requirements for Germany and other Schengen countries, including: What type of insurance you need How much this type of insurance costs How to get the best coverage
Travel Insurance for a Trip to the UK
Whether you're going to the UK on business or you're in search of the perfect plate of bangers and mash, finding the best travel insurance gives you extra peace of mind. With comprehensive UK travel insurance, you don't have to worry about losing all the money you've spent if you have a medical emergency or have to cancel your trip due to severe weather. To make it easier to understand your options, we put together this guide to travel insurance for UK trips. You will learn: Why you need travel insurance What this type of insurance covers How much it typically costs
Travel Insurance
How Much is Travel Insurance?
LA Times Compare is committed to helping you compare products and services in a safe and helpful manner. It's our goal to help you make sound financial decisions and choose financial products with confidence. Although we don't feature all of the products and services available on the market, we are confident in our ability to sound advice and guidance.
We work to ensure that the information and advice we offer on our website is objective, unbiased, verifiable, easy to understand for all audiences, and free of charge to our users.
We are able to offer this and our services thanks to partners that compensate us. This may affect which products we write about as well as where and how product offers appear on our website – such as the order in which they appear. This does not affect our ability to offer unbiased reviews and information about these products and all partner offers are clearly marked. Given our collaboration with top providers, it's important to note that our partners are not involved in deciding the order in which brands and products appear. We leave this to our editorial team who reviews and rates each product independently.
At the LA Times Compare our mission is to help our readers reach their financial goals by making smarter choices. As such we follow stringent editorial guidelines to ensure we offer accurate, fact-checked and unbiased information to all readers. Learn how we are compensated by our partners.
Germany-based travel company gives tips for Chiefs fans heading to Frankfurt
KANSAS CITY, Mo. (KCTV) - Chiefs Kingdom is gearing up to shift to a European schedule for the next week.
The Kansas City Chiefs face the Miami Dolphins Sunday, Nov. 5, at Deutsche Bank Park in Frankfurt, Germany . Kickoff is at 8:30 a.m. CT, Frankfurt leaders say they are ready to welcome the NFL game, along with thousands of Chiefs and Miami Dolphins fans.
While NFL fans have been planning the trip for months, there are some key details that may have been overlooked, according to a Berlin-based travel company called Omio .
For anyone flying into Frankfurt's largest airport , Omio says the quickest way to reach a hotel in Frankfurt's city center is by using public transportation . The city offers subways, trams, commuter trains, and buses to help travelers reach key destinations.
ALSO READ: Kansas City Chiefs 'ChampionShip' experience in Frankfurt now open to the public
To simplify the trip, Omio says to look for one ticket system. Travelers will use it to ride the U-Bahn, bus, tram, and S-bahn systems. A single ticket costs €2.40. There is also a cheaper €1.50 ticket for short journeys under 2km, according to the travel company.
On Sunday, Omio suggests using public transportation again to reach Deutsche Bank Park. The closest train station to the stadium is Frankfurt (Main) Stadion. The stadium is a 12 minute walk from the train station.
The NFL and the Chiefs have all kinds of events planned to keep fans entertained, but don't forget to explore the city.
Frankfurt has a number of museums including Museumsufer Frankfurt . The location includes nearly 40 museums gathered in one place. Schirn Kunsthalle is an exhibition house for modern and contemporary art in Europe, according to Omio.
ALSO READ: Local bars & restaurants to open early next Sunday for Chiefs international game
Fans who want to experience a little more lively fun before a Sunday tailgate are invited to head to Robert Johnson . Omio says it is the most popular club in the city.
While most fans heading to Germany for the game have been planning trips for months, there is technically still time to get to Frankfurt to be part of the weekend fun. According to Omio, there is a flight that leaves Kansas City around 2 p.m. CT Friday, Nov. 3rd. The journey includes a two-hour layover in Denver and travelers will touchdown in Frankfurt at 9 a.m. Saturday morning.
Omio says travelers will likely have to shell out $1,000-$2,000 per person for the roundtrip flight.
Copyright 2023 KCTV. All rights reserved.
UPDATE: KCPD releases new information on teen shot, 15-year-old killed in KCMO
'It's impossible': Restaurant owner says he had to close after getting $40,000 energy bill
Court documents provide new details on arrest of Chiefs WR Justyn Ross
Friday night football: High school playoffs continue
Jackson County Prosecutor: Independence man charged in double homicide
Latest news.
Price Chopper Gameday Show
FIRST WARN FORECAST: Warming trend through middle of the week
Candlelight vigil held in Leawood for kidnapped Hamas hostages
Candlelight vigil for hostages
Urban League of Greater Kansas City releases 2023 "State of Black Kansas City"
Advertisement
Supported by
Flooding in Tuscany Leaves Six Dead
Storm Ciaran swept into Italy with torrential rains overnight, continuing its deadly push across Western Europe.
By Gaia Pianigiani
Reporting from Rome
At least six people have died in Tuscany, Italy, amid widespread flooding, local officials said on Friday, after Storm Ciaran swept into the country with torrential rains overnight on a path of destruction across Western Europe.
Ciaran left a trail of damage and a number of deaths after it made landfall in northwestern France with record-breaking winds late on Wednesday and moved north . Casualties were reported in France, Germany, the Netherlands, Belgium and Spain on Thursday, along with flooding and damage.
On Friday, the president of the Tuscany region, Eugenio Giani, said that nearly eight inches of rain had fallen there in only three hours, the equivalent to what the area typically receives in "the entire month of November." In a post on social media, he wrote that the government had declared a state of emergency in Tuscany.
Most of the victims died from floodwaters entering their homes or cars, according to the local authorities, who said on Friday that at least two people were missing.
The worst-hit area was northwest of Florence, where the Bisenzio River and smaller creeks overflowed. Floodwaters washed away cars and inundated three hospitals, along with homes and some public buildings. Schools in parts of Tuscany were closed on Friday, and train lines and highways experienced disruptions.
Firefighters on inflatable boats helped evacuate residents in parts of Tuscany on Friday, as winds with gusts of more than 70 miles per hour continued to hit the coast and forecasters predicted more rain.
Matteo Biffoni, the mayor of Prato, posted pictures on Facebook of rising water, overturned cars and flooded health buildings in the city, which is north of Florence. The scenes were a "shock" and "a blow to the stomach," he wrote in a post on Friday .
"But even after an evening and night of devastation," he added, "we are pulling up our sleeves to clean and bring our city back to normality."
Italy has been hit hard by torrential rains and floods in recent years. In May, widespread flooding in the northern region of Emilia-Romagna caused 15 deaths and left thousands of people homeless.
A landslide caused by heavy rains killed 11 residents last year on the southern Italian island of Ischia.
Although it is difficult to attribute individual weather events directly to climate change, scientists say that a warming planet worsens extreme rainfall in many storms .
Gaia Pianigiani is a reporter based in Italy for The New York Times.  More about Gaia Pianigiani
Explore Our Weather Coverage
Latest News
A storm battered northwestern France before lashing Britain with heavy rains and strong winds . The storm, given the name Ciarán, pummeled the French Atlantic coast with record-breaking winds and left at least one person dead.
Heavy rains linked to Tropical Storm Pilar killed at least one person in El Salvador , an official there said, as parts of Central America faced heavy flooding.
Hurricane Preparation: When a hurricane is poised to make landfall, you may not have much time before you leave. Here's what you can do to get ready .
Extreme Weather Maps: Track the possibility of extreme weather in the places that are important to you .
Heat Safety: Heat waves are becoming increasingly common across the world. Here is how to keep yourself and your loved ones cool, hydrated and healthy .
Is It Safe to Go Outside?:  Heat, flooding and wildfire smoke have made for treacherous conditions. Use this guide to determine when you should stay home .
Flood Safety: Fast rising water can be deadly . Here's what to do if you're caught off guard, and how to prepare for a future flooding event.
Climate Change: What's causing global warming? How can we fix it? Our F.A.Q. tackles your climate questions big and small .
Miami Dolphins | Dolphins quiet at NFL trade deadline as team…
Share this:.
Click to share on Facebook (Opens in new window)
Click to share on X (Opens in new window)
Daily e-Edition
Evening e-Edition
Miami Dolphins
Florida Panthers
Miami Marlins
Inter Miami
UM Hurricanes
High School Sports
SUBSCRIBER ONLY
Miami dolphins | dolphins quiet at nfl trade deadline as team prepares for chiefs in germany.
FRANKFURT, Germany — There won't be an NFL player that unexpectedly learns he has been traded to the Miami Dolphins and suddenly has to catch an international flight to meet the team in Germany.
The Dolphins were quiet at Tuesday's 4 p.m. NFL trade deadline as they traveled to Frankfurt from Monday evening to Tuesday morning for a week of practice ahead of Sunday's showdown of the AFC's top two teams between them and the Kansas City Chiefs.
General manager Chris Grier, always known to look for and inquire about trade opportunities, in staying put, exhibited a confidence in the status quo of his roster as one built to contend this season without the need to jeopardize future draft capital for midseason help.
One move that was made in the offseason can essentially count as a trade-deadline acquisition, though. The Dolphins pulled off a trade with the Los Angeles Rams before the start of 2023 free agency for six-time Pro Bowl, three-time All-Pro cornerback Jalen Ramsey. After he tore the meniscus in his left knee at the start of training camp, Ramsey debuted for the Dolphins in Sunday's win over the New England Patriots after a three-month recovery.
Meanwhile, the Dolphins made their way to Frankfurt on deadline day. Coach Mike McDaniel said Sunday he wanted to arrive overseas early so players can get their Tuesday off day to explore the city before getting to work in preparation for the Chiefs.
"You have a player day off, why don't you use that to see the sights as opposed to getting there late?" McDaniel said. "I was kind of nervous about people trying to cram in sightseeing. I think it provides an opportunity to go as a team, spend time together, spend the player day off together, and further cement some memories for us to hold on to as we progress on this journey with this team."
The Dolphins made social media posts displaying the arduous packing process involved in getting an entire football team across the Atlantic Ocean. Players were shown boarding the team plane, including outside linebacker Jaelan Phillips with his must-have essential of a charger adapter, as well as once they arrived at Frankfurt's airport .
Miami was active just last season at the deadline, acquiring outside linebacker Bradley Chubb from the Denver Broncos and running back Jeff Wilson Jr. from the San Francisco 49ers.
Although the Dolphins have shipped their top draft picks in recent years to other teams in deals for Chubb and wide receiver Tyreek Hill , they appear primed to make a draft choice in the first round for the first time since 2021, when wide receiver Jaylen Waddle and Phillips were picked.
With McDaniel yet to have a first-round draft selection since becoming Dolphins coach, Grier has previously said he would like to give him the opportunity to have such a pick in the 2024 draft.
Elsewhere at the deadline, the San Francisco 49ers made the biggest move by picking up Washington Commanders edge rusher Chase Young. The Buffalo Bills traded for Green Bay Packers cornerback Rasul Douglas, the Detroit Lions acquired Cleveland Browns wide receiver Donovan Peoples-Jones, the Minnesota Vikings brought in Arizona Cardinals quarterback Joshua Dobbs while trading away guard Ezra Cleveland to the Jacksonville Jaguars, and Washington also sent defensive end Montez Sweat to the Chicago Bears.
The Dolphins did pull off a trade earlier in the season, acquiring wide receiver Chase Claypool from the Bears for a late-round pick swap.
More in Miami Dolphins
Miami Dolphins | Dolphins' Howard, Williams active against Chiefs in Germany; Waddle exits but returns
Miami Dolphins | Live updates: Kansas City Chiefs 21, Miami Dolphins 14 (3rd Q)
Miami Dolphins | Dolphins' Terron Armstead activated, expected to start vs. Kansas City
Miami Dolphins | Time for Dolphins to prove they can hang with the big boys in international showdown with Chiefs
Privacy settings
Here you will find an overview of the types of cookies used on the website. You can set your consent for each category individually.
Essential Cookies For the use of the website with all functions (e.g. user settings, watch lists, etc.)
Statistics Statistics Cookies collect information anonymously. This information helps us to understand how our visitors use our website.
Marketing In order to provide you with the best possible offer in cooperation with our partners, we use marketing tools. For example, in order to use our chatbot, you must activate this setting.
External contents Required for viewing external media and third-party content. The provider may set cookies for its part. The respective data protection regulations of the provider apply.
Inspiring Germany
Cities & Culture
Nature & Outdoor Activities
Royal Palaces & Castles
Experience & Enjoy
Current highlights
Sustainable travel
Barrier-free travel
Easy language
Federal states
Information on Germany: a brief overview of the essentials
You will find everything you ever wanted to know about Germany in our summary of key facts and figures.
Geographic/demographic
How many federal states does Germany have?
The Federal Republic of Germany has been a parliamentary democracy since 1949. Since reunification in 1990, Germany has the following 16 federal states.
What are the names of the 16 federal states?
Baden-Württemberg
Brandenburg
Mecklenburg-Western Pomerania
Lower Saxony
North Rhine-Westphalia
Rhineland-Palatinate
Saxony-Anhalt
Schleswig-Holstein
The head of state is the Federal President; the head of government is the Federal Chancellor.
How big is Germany?
Germany covers an area of 357,022 square metres. As the crow flies, the longest stretch from north to south is 876 kilometres and from west to east is 640 kilometres.
Germany's biggest city is also its capital: Berlin, with a population of 3.4 million. There are two other cities with more than a million residents: Hamburg (1.8 million) and Munich (1.3 million); Cologne falls slightly short of this milestone. Frankfurt am Main (662,000) is an international financial hub.
Germany boasts a variety of rural landscapes. The North Sea and Baltic Sea coasts stretch out in the north, while the Alps soar in the south. There is a medley of rural landscapes between these points: agricultural plains; winding rivers and huge lakes; sprawling forests; urban hubs and gently rolling uplands. Germany's tallest mountain is the Zugspitze at 2,963 metres. The longest river is the Rhine, which carves its way through 865 kilometres of German soil. Germany also has 16 national parks, 104 nature parks and 18 biosphere reserves, including 16 UNESCO biosphere reserves.
How many people live in Germany?
With 83 million people, Germany is the most populous state lying entirely in Europe. In relation to the land area, this is a population density of 230 people per square kilometre.
The official language is German. There are many dialects and vernaculars that reveal where a person comes from. Standard German is understood throughout the country.
A large proportion of the population also speaks English, so language barriers shouldn't pose a problem for many international visitors.
Touristic/Cultural
Life in Germany is influenced by a variety of cultures. It is modern and open-minded. There is always an excuse to socialise, with numerous traditional events – such as Carnival, wine festivals, Oktoberfest and music festivals ranging from classical to rock – and good food paired with wines from the country's 13 wine-growing regions.
Germany is home to great poets and famous musicians. Names such as Goethe and Günter Grass, Bach and Beethoven are a testament to the country's long history of world-class culture. Nowadays, Germany is a vibrant mosaic of ancient cultures and modern art: the nation boasts 300 theatres, 130 professional orchestras and 630 art museums with internationally renowned collections. Literature and film are two industries where German artists channel their creativity year after year.
Science and important educational facilities and research institutes are also a core part of Germany today. The 370 or so higher education institutions have even established an excellent reputation among international students.
What is the weather like in Germany?
Germany generally has a temperate climate with moderate rainfall and predominately westerly winds. Major temperature fluctuations are rare. Rain falls throughout the year. Mild winters (2 °C to –6 °C) and warm summers (18 °C to 20 °C) are the norm.
When entering Germany, does my passport need to be valid beyond my period of stay?
When entering Germany, your passport must be valid for at least four months beyond your period of stay. Unless you are a citizen of an EU member state, in which case a valid identity card is all that is required.
Who needs a visa for Germany?
Citizens of EU member states do not require a visa. As a basic rule, citizens of all other nations will require a visa. The exception being a few countries for which the European Union has waived the visa requirement. Citizens of these nations do not need a visa for stays in Germany of up to three months within a period of six months.
Goods from EU countries are duty free as long as you carry the goods with you, and they are intended for personal consumption.
Goods imported to Germany from non-EU countries are duty free up to a value of EUR 175. There are, however, certain restrictions on goods such as tobacco, alcohol and perfume.
Which vaccinations are compulsory for entry into Germany?
There are no compulsory vaccinations for entry into Germany.
From spring to autumn, however, there is an increased risk of catching Lyme disease and tick-borne encephalitis (TBE), both of which are transmitted through tick bites. Ticks mainly live low to the ground in areas of dense vegetation. So the best protection against them is clothing that covers as much of the body as possible. If bitten, you should see a doctor as a precaution.
The main at-risk areas are Baden-Württemberg and Bavaria, as well as certain regions of Hesse, Rhineland-Palatinate and Thuringia. We recommend a TBE vaccine for anyone who spends a lot of time in the countryside.
What does SOS mean?

Where is Germany located?
What countries border Germany?
Germany Weather
What is the current weather in Germany?
Germany Facts and Culture
What is Germany famous for?
Cultural Attributes : Germans have a reputation for being industrial, thrifty, and methodical. They are characterized by a strong sense of regional pride,... More
Family : The father is generally the head of the family. Both parents often work, more so in the east than in... More
Personal Apperance : Clothing styles are similar to those in the United States, but with a distinctively European flavor. Traditional regional costumes are... More
Recreation : Germany is a world leader in tennis, track and field, cycling, and Formula One auto racing. Germany has many excellent... More
Diet : While regional dishes vary among Germans, potatoes, noodles, dumplings, sauces, cakes, and pastries are common. Every region has its own... More
Food and Recipes : The continental style of eating is used. Hands are kept above the table with wrists resting on the edge. Potatoes... More
Visiting : Punctuality is appreciated, if guests are invited for dinner at 8 p.m., they will arrive at 8 p.m., but it... More
Dating : Boys and girls socialize with each other on a casual rather than a formal basis. Young people usually marry in... More
Germany Facts
What is the capital of Germany?
Germany Demographics
What is the population of Germany?
Germany Government
What type of government does Germany have?
Executive Branch: Chief of State: President Frank-Walter STEINMEIER (since 19 March 2017) Head of Government: Chancellor Angela MERKEL (since 22 November 2005) Cabinet: Cabinet... More
Suffrage: 18 years of age; universal; age 16 for some state and municipal elections More
Citizenship: Citizenship by Birth: no Citizenship by Descent Only: at least one parent must be a German citizen or a resident alien... More
National Holiday: German Unity Day, 3 October (1990) More
Constitution: History: previous 1919 (Weimar Constitution); latest drafted 10-23 August 1948, approved 12 May 1949, promulgated 23 May 1949, entered into... More
Independence: 18 January 1871 (establishment of the German Empire); divided into four zones of occupation (UK, US, USSR, and France) in... More
Germany Video
Germany Geography
What environmental issues does Germany have?
Overview: Unified Germany comprises 16 states (Länder in the plural; singular: Land), of which three (Berlin, Bremen, and Hamburg) are city-states.... More
Climate: Germany is in the Temperate Zone and enjoys frequent weather changes, sometimes daily. The country has four distinct seasons... More
Border Countries: Austria 784 km, Belgium 167 km, Czech Republic 815 km, Denmark 68 km, France 451 km, Luxembourg 138 km, Netherlands... More
Environment - Current Issues: Emissions from coal-burning utilities and industries contribute to air pollution; acid rain, resulting from sulfur dioxide emissions, is damaging forests;... More
Environment - International Agreements: Party To: Air Pollution, Air Pollution-Nitrogen Oxides, Air Pollution-Persistent Organic Pollutants, Air Pollution-Sulfur 85, Air Pollution-Sulfur 94, Air Pollution-Volatile Organic... More
Terrain: Lowlands in the north, uplands in the center, Bavarian Alps in the south More
Germany Economy
How big is the Germany economy?
Economic Overview: The German economy - the fifth largest economy in the world in PPP terms and Europe's largest - is a... More
Industries: Among the world's largest and most technologically advanced producers of iron, steel, coal, cement, chemicals, machinery, vehicles, machine tools, electronics,... More
Currency Name and Code: Euro (EUR) More
Germany News and Current Events
What current events are happening in Germany? Source: Google News
Germany Travel Information
What makes Germany a unique country to travel to?
Country Description
Criminal penalties, medical facilities and health information, safety and security, traffic safety and road conditions.
Internet Citation
Terms of Use
Renew Membership
Manage Membership
Teacher Resources
Get Your Widget
Product Pricing
Other Products
United States Edition
Sample Country
Germany Tourism
Germany Hotels
Germany Bed and Breakfast
Germany Vacation Rentals
Flights to Germany
Germany Restaurants
Things to Do in Germany
Germany Travel Forum
Germany Photos
Germany Travel Guide
All Germany Hotels
Germany Hotel Deals
Last Minute Hotels in Germany
Things to Do
Restaurants
Vacation Rentals
Travel Stories
Rental Cars
Add a Place
Travel Forum
Travelers' Choice
Help Center
Need travel information. - Germany Forum
Need travel information.
United States Forums
Europe Forums
Canada Forums
Asia Forums
Central America Forums
Africa Forums
Caribbean Forums
Mexico Forums
South Pacific Forums
South America Forums
Middle East Forums
Honeymoons and Romance
Business Travel
Train Travel
Traveling With Disabilities
Tripadvisor Support
Solo Travel
Bargain Travel
Timeshares / Vacation Rentals
Europe forums
Germany forum
We are a senior citizen couple travelling to germany next month. We arrive at terminal2 and will be staying 3 days in hotel Meridian, near station. Please help with following:
1. Reaching hotel by train/ metro.
2. Going to Wertheim village next day for visit.
3. Going to Erlangen( our main purpose) by bus/ train conveniently. We hear taxi to erlangen can cost 400+euros
Thanks for the help in advance
12 replies to this topic
would be helpfull to know where you arrive
The site below will provide you with itinerary information on all public transportation for your routes:
https://reiseauskunft.bahn.de/bin/query.exe/en
Frankfurt (Main)
We arrive in frankfurt terminal 2 on Oct.10 at 1830hrs
Easiest option is to book the express bus from Frankfurt, check their site
As mention before use Bahn.com to find your connection, since it's to late for any cheap fare you could simply book a flex ticket when you arrive at Frankfurt and don't want to do it online beforehand
Thankyou for your help.
Anyway, to get to Erlangen from Nürnberg, you just take the S-Bahn, or maybe there also is an RE train. To look up all public transport connections everywhere in Germany , you can use www.bahn.com, and there are two settings. The default setting includes the faster IC/EC and ICE trains, but they are pricey, and for shorter distances you should stick to local trains, there is an option on the website where you can select the modes of travel, so that's where you'd deselect ICE and IC/EC. By the way, they are easy to recognise, as they are both white with normally red, now rainbow-coloured stripes, so you wouldn't take one of those by mistake.
To get to your hotel, just use the same website, and enter the street address of your hotel as the destination.
Oh, to get to Nürnberg from Munich, take one of the fast RE trains that take two hours. You can get a Bayern Ticket, validity starts at 9:00 a.m. on weeksays, and there's an RE that leaves at 9:04 or thereabouts. The Bayern Ticket is a day ticket, valid in the entire state of Bavaria , so it would also take you from Nürnberg to Erlangen, and then back to Munich in the evening, and you could also use the subway/tram/bus in any city.
Lived in Erlangen some years during time at university
https://www.vgn.de/en/
Choose either
S1 S-Bahn from Bamberg over Erlangen to Nürnberg
RE 19 Regional Train
Re 20 Regional Train
Bamberg Erlangen Nürnberg
Erlangen Nürnberg
duration 15 to 30 minutes
and there are several Buses going but with much longer time
1. We arrive at Terminal2 of frankfurt main airport. We have to get to hotel Meridian which is very near the frankfurt hbf station. Do we go to regional or ong distance train st?
2. To go to Erlangen can we go by bus directly OR take train via Nurnberg. Will that be long distance train or regional.
Pleade assist. Thankyou.
Renting a car (instead of taking trains) 11:56 am
where to stay outside of frankfurt but not far from airport 11:52 am
Budget hotel with parking on the outskirts? 11:15 am
Neuschwanstein 10:57 am
Searching for a food item - Bananenschnitten 10:54 am
Accommodation help for Laboe in November 9:15 am
Is Ruedesheim am Rhein open 26 to 28 December 2023? 8:37 am
Staying close to Cologne 6:02 am
Dinner and breakfast recommendations 5:40 am
New Düsseldorf City Tax 4:54 am
first time in Berlin 3:12 am
One Christmas Market open already today
World War II must see places yesterday
Public transport yesterday
Best Places to Travel in Germany 8 replies
Getting from Zurich to Munich by train - please help 3 replies
Christmas market dates 2012 11 replies
Rhine River day cruise help 28 replies
What are the "do not miss"sights of southern Germany 4 replies
Don't rent a car from SIXT.....that's all I am saying! 510 replies
Trip to Germany and gifts 7 replies
Closest Train Station to US army Base in Grafenwoehr 3 replies
Need help with planning from Berlin to Munich 9 replies
Frankfurt Trains 7 replies
Germany Hotels and Places to Stay
Can tourists use the 49-Euro-Ticket?
DB changed the schedule - do I need a new ticket?
Is cash still king in Germany?
Can I travel the Romantic Road by public transportation?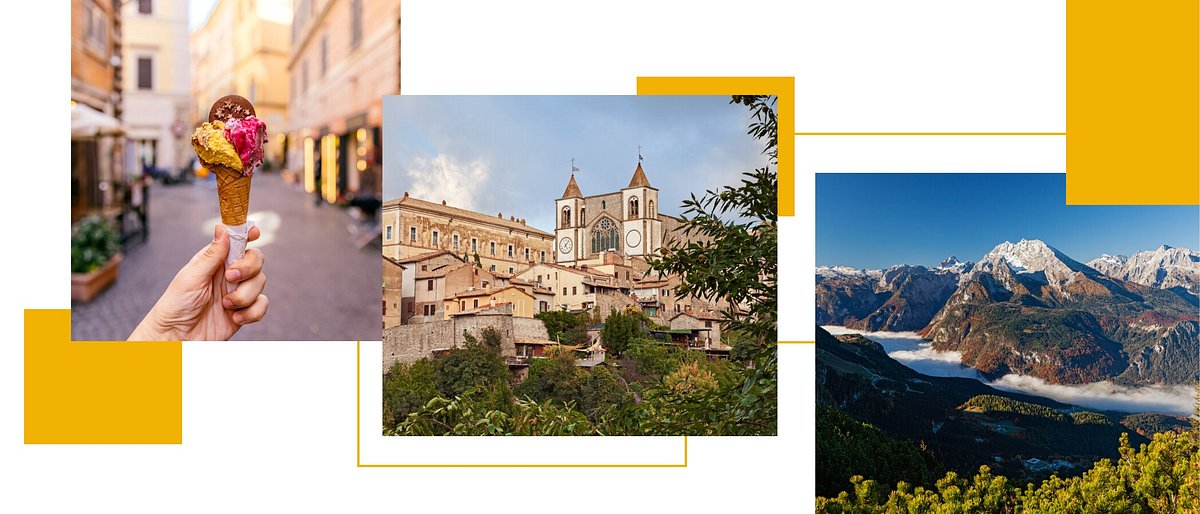 Destination Germany
Would you like to travel to Germany as a tourist? Here you'll find all the important information you need for an unforgettable stay.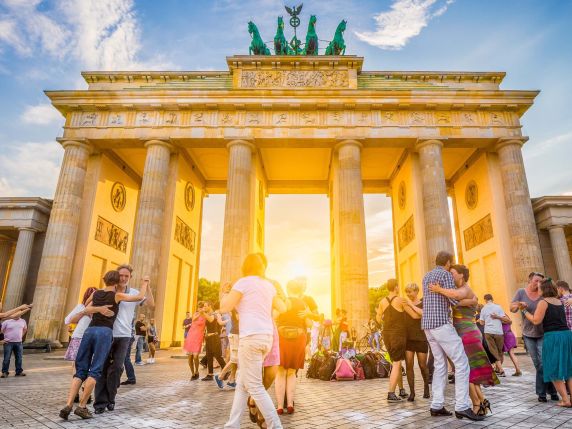 Whether you love nature or history, mountains or the sea, Germany has something to offer for everyone. From majestic castles set amid picturesque landscapes to the lively streets of Berlin, there are countless hidden treasures to discover in the country. Here you will find valuable information about popular destinations, cultural highlights, local traditions and delicious dishes along with practical travel tips. Get ready for a journey through Germany to explore fascinating cities, breathtaking mountain landscapes and intriguing UNESCO World Heritage Sites.
Topics on this page
Entry requirements, how can i get about in the country, travelling on a budget, what do i need to know before the trip, food and drink, the most attractive towns and cities, outdoor excursions, history and technology, history up close, unesco world heritage, the great outdoors, where can i stay the night, germany from a distinctive perspective, germany from a digital perspective.
We have sent you a confirmation email. Please confirm your email address so that we can send you our newsletter in the future.
An error has occurred. Please try again later.
To get you in the mood, we've put together a summary of some of Germany's magical spots, magnificent natural attractions and a few ideas as to what you might like to do on your trip to Germany: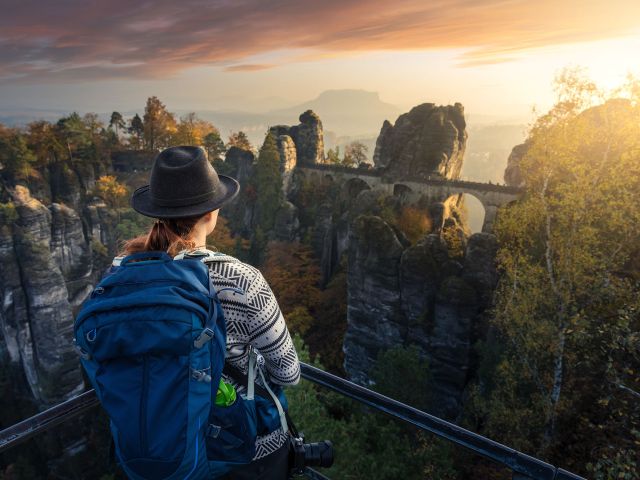 What are the requirements for tourists entering Germany?
Tourists from EU countries in the Schengen area and from many other countries can enter without any further formalities. All other travellers need a tourist visa for a 90-day stay: the type C Schengen visa. Check this list issued by the German Foreign Ministry Auswärtiges Amt to find out if you need a visa:
https://www.auswaertiges-amt.de/en/visa-service/-/231148
You can obtain a visa from the German embassy or consulate in your country. It will also provide you with details of any requirements that apply.
How can I travel in Germany?
Germany is well-known for its motorways . They criss-cross the country in all directions. With the exception of a few islands, you can get to virtually every point of interest in Germany by car. Travelling by train in Germany is very convenient, too: the local and long-distance public transport network has trains and buses that serve virtually the entire country. The major cities and their surrounding areas in particular offer excellent transportation links. One convenient option for travel between larger towns and cities is that of the long-distance buses. There is also domestic air traffic – though given that Germany is not overly extensive in size, more ecofriendly forms of travel are available.
Here you will find tips for travelling in Germany:

Bonus tip: how can I travel in Germany on a limited budget?
Travelling costs money, and even though there are a lot of countries that are more expensive than Germany, it is certainly not one of the cheapest holiday destinations. The longer you want to spend exploring Germany, the more this applies, of course: travel, accommodation, food and drink are necessary expenses. One option is to earn the cost of your trip in Germany itself while you are there.
Find out all about work and travel in Germany: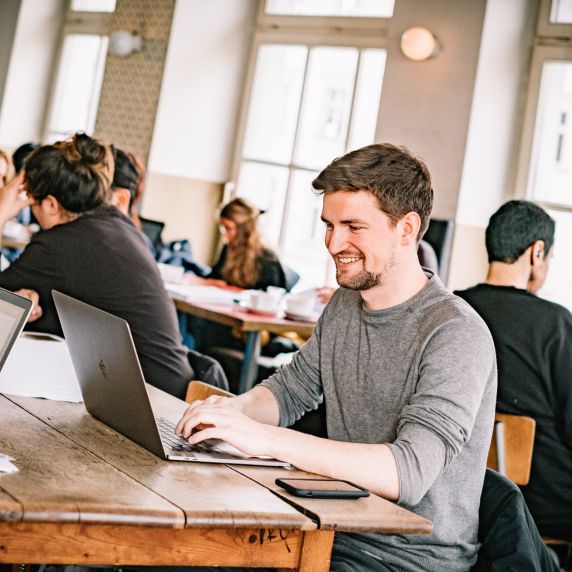 What are the most important things I need to know when travelling to Germany?
Germany is made up of 16 federal states , but this won't affect you in terms of tourist travel. There are no noticeable borders between the states and the same laws apply everywhere throughout the country. Germany has a nationwide system of healthcare consisting of general practitioners and hospitals. In order to keep costs low in the event of illness or accident, tourists are advised to take out travel health insurance for the duration of their visit to Germany. All common means of payment are accepted in Germany, though paying with cash is still widespread, especially in the case of small amounts. Food in Germany is international: Italian, Turkish and Asian cuisine is to be found practically everywhere. German cuisine with all its specialities is an option too, of course.

What can I eat and drink when I visit Germany?
The restaurant landscape in Germany is practically unlimited and highly diverse. In big cities in particular it is possible to find almost every type of international cuisine, often in gourmet quality, too. Virtually every town in Germany has a pizzeria, a kebab restaurant or a Chinese restaurant serving good food that is reasonably priced. But tourists will want to try the country's own typical dishes and drinks, too. Some dishes require a little tolerance, unlike perhaps the most common German drinks such as beer and wine. When it comes to beer and wine, it's always a good idea to try regional specialities.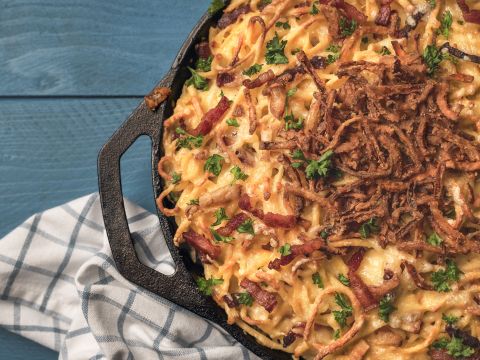 What places should I visit in Germany?
There are hundreds of worthwhile destinations in Germany. Here you will find the most popular places for tourists from abroad to visit in Germany:
Everything you need to know about the most attractive German towns and cities
But this is only a small selection of course. You might be asking yourself: where do I start my trip to Germany? What are the most frequently visited towns and cities in Germany ? Maybe you'd like to get to know the big German cities ? Hamburg, the port city on the North Sea, Berlin, the German capital, Leipzig, the cultural centre in the east, or Cologne, the city with the famous cathedral? Frankfurt, the city of banks and museums? Or Munich, home to the Oktoberfest, situated on the edge of the Alps? Each of these cities has a long and fascinating history, even dating back to Roman times in some cases.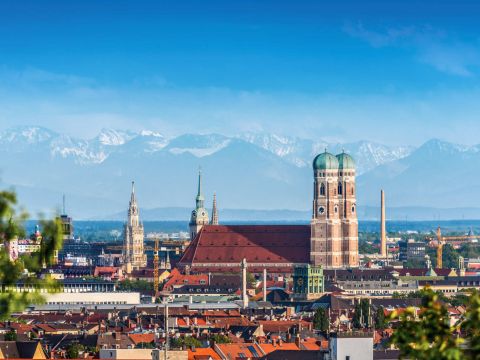 Our bonus tip: "Berlin for free"
You don't necessarily have to spend a lot of money if you want to visit Germany. Here we have compiled a special set of tips for those who'd like to get to know Berlin (almost) for free: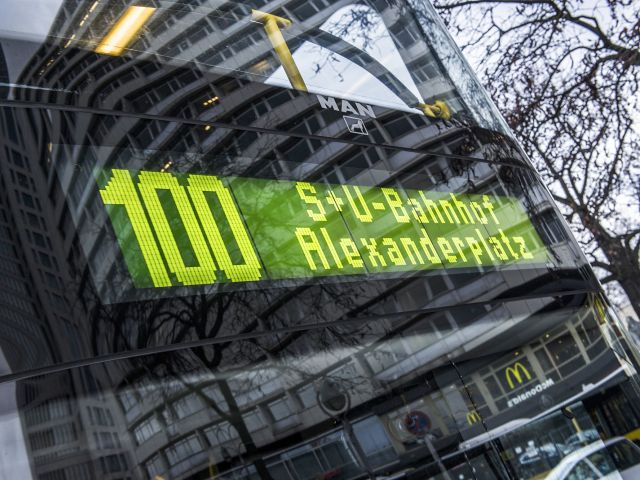 Everything you need to know for a trip to the countryside in Germany
Germany has a rich variety of landscapes: the islands in the North Sea and Baltic Sea , extensive plains in the north rising to the lower mountain ranges, and then Germany's highest point in the far south – the Zugspitze in the picturesque Alps. In all these regions you will find unique and stunning landscapes, romantic river valleys, majestic mountains such as the Brocken in the Harz Mountains or the Feldberg in the legendary Black Forest – and there are even enchanted primeval forests, too.

The different landscapes provide habitats for numerous different animal species. If you are interested in wild animals, this is the right place for you: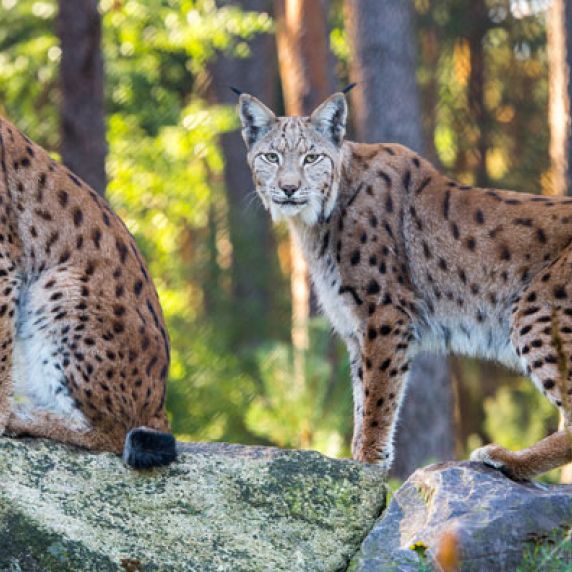 Everything you need to know about cultural and historical highlights on your trip to Germany
No one can visit the land of Goethe, Bach and Beethoven without at least encountering in some form the mark left by these and other great artists – or indeed hearing their works. Germany is the country with the most symphony orchestras and opera houses. The Berlin Philharmonic is considered one of the best orchestras in the world, and more than a third of the world's opera performances take place in Germany. In Berlin alone there are three opera houses, the Semperoper in Dresden is world-famous, too, and then of course there is the Festspielhaus in Bayreuth, where only works by Richard Wagner are performed. Popular music has an equally important role to play: with festivals such as "Rock am Ring" at the Nürburgring motor racing track and concerts ranging from local bands to international superstars, there is something on offer to suit every taste.
Great art treasures in impressive museums
In Germany, cultural education is seen as a responsibility of the public sector, which is why many museums receive funding from the state. This is another reason why the country has countless museums that many millions of people visit every year. Berlin has an entire museum island – a must-see on any visit to the capital. The Alte Pinakothek in Munich, the Städel Museum in Frankfurt, Museum Ludwig and the Wallraff-Richartz Museum in Cologne, the Staatsgalerie in Stuttgart and the Gemäldegalerie Alte Meister in Dresden – the list of outstanding exhibition venues is virtually endless. The advantage from your point of view when travelling to Germany: it's usually not far to go to the nearest major museum.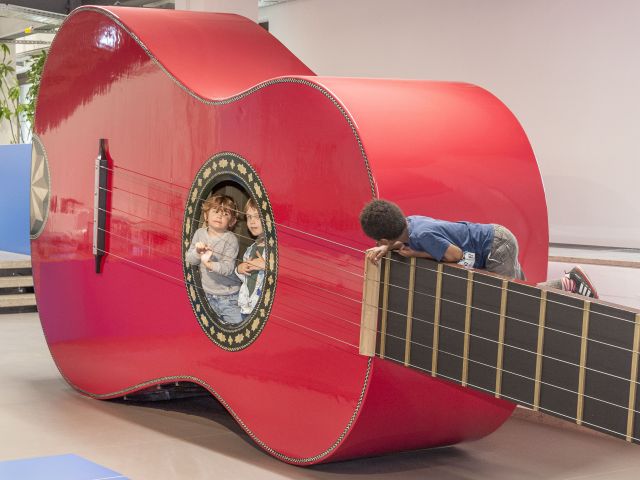 Spectacular presentations of history and technology
Museums are not only dedicated to the fine arts, of course. The largest technology museum of its kind in the world is in Munich: the Deutsches Museum. 1.5 million people visit it every year. Another spectacular place to see is the Sinsheim Museum of Technology, where a real Concorde is on display – still the fastest passenger aircraft ever. Anyone visiting Frankfurt am Main who is interested in natural history should be sure not to miss the Senckenberg Museum.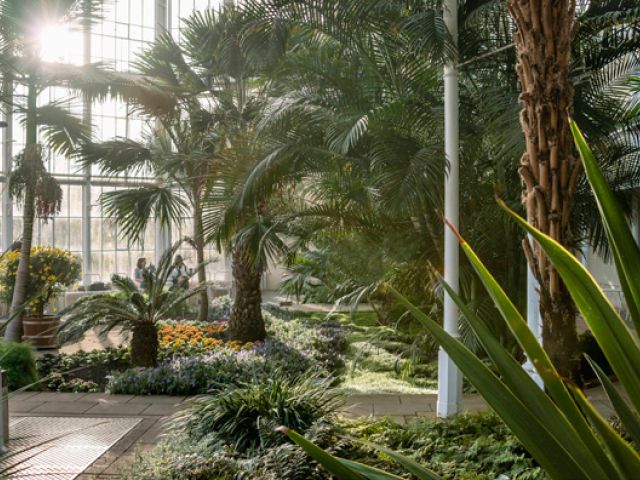 German history is featured in numerous museums, with both its dark and bright sides. The largest German-language cultural history museum is the Germanisches Nationalmuseum in Nuremberg. Meanwhile, the Buchenwald memorial on the site of a former concentration camp near the Goethe and Schiller city of Weimar is dedicated to the crimes perpetrated under National Socialism.

Where can I immerse myself in German history up close?
Finding out about history in a museum is fascinating, but here are some tips for you if you want to really immerse yourself in the past. Open-air museums bring bygone times back to life, ancient walls give you history at first hand and historical festivals offer a glimpse of what life must have felt like in past eras.

Unique destinations in Germany: UNESCO World Heritage Sites
The United Nations awards a distinctive seal of quality to particularly outstanding natural or cultural monuments. They are declared by UNESCO to be World Heritage Sites . Here you can find out which of these places you should definitely not miss in Germany: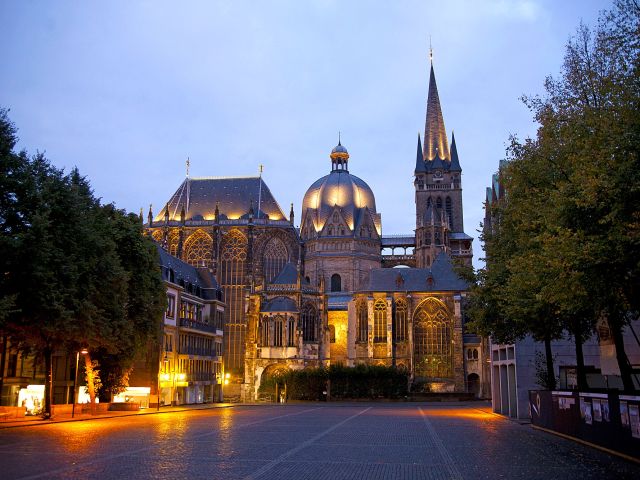 Dieses YouTube-Video kann in einem neuen Tab abgespielt werden
Third party content.
We use YouTube to embed content that may collect data about your activity. Please review the details and accept the service to see this content.
Piwik is not available or is blocked. Please check your adblocker settings.
Are you a nature-lover wanting to get a feel for the great outdoors in Germany?
It is possible to explore cities and landscapes on foot. Those wishing to cover lengthier distances in the countryside may prefer to travel by bicycle. Germany offers numerous opportunities for this, too: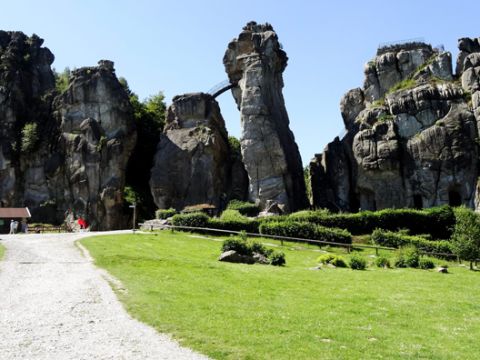 Where can I stay on my trip to Germany?
Germany has hotels in all price categories, ranging from exclusive luxury hotels to budget hostels. You will find accommodation in all price categories via the usual channels on the internet, too. One particular feature in Germany is the concept of the youth hostel: nowadays these can be used by people of all ages, including families. The accommodation they provide is usually quite basic, but inexpensive. Since Germans like to camp, Germany has lots of campsites as well. Motorhome travellers take note: you are allowed to stay for a single night anywhere where it is not expressly forbidden. But one night is the maximum.

Are you looking for what is typical of Germany or what is not so typical?
If it's winter and you want to experience something typically German: go to a Christmas market! If you like whimsical things, such as cuckoo clocks: set off on the German Clock Road. Here you will find some distinctive ways to explore Germany – not always off the beaten track, but highly recommended: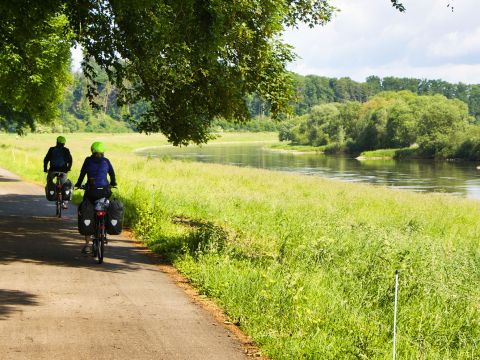 Bonus tip: I want to visit Germany without travelling!
Want to visit Germany but without travelling? We can help you with that. We've put together some great destinations for you to explore digitally. You might like to start with a virtual tour of some of the most impressive spots: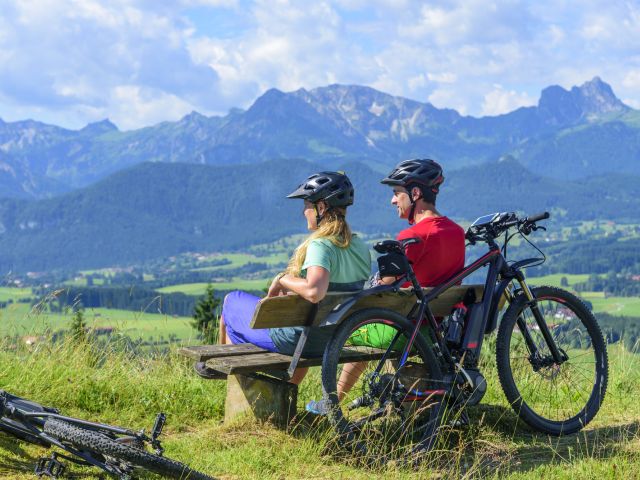 Frankfurt's New Old Town is a spectacular sight, shown here in 360-degree video: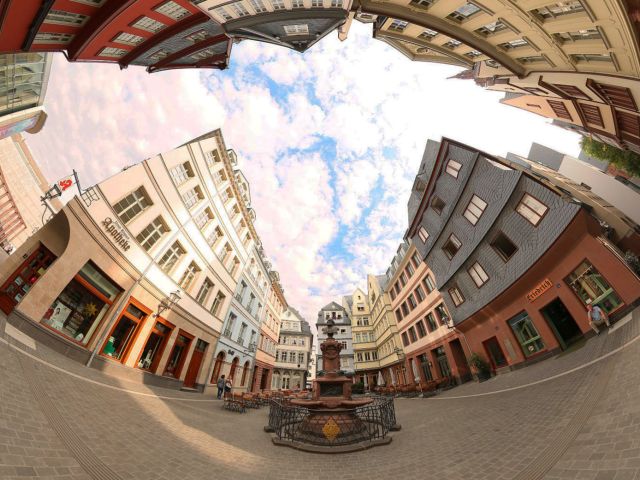 But there are lots of other ways to explore Germany on the internet without setting foot in the country. Try our tips for a virtual visit to Germany:

Caution November 4, 2023
Worldwide caution, update november 4, 2023, information for u.s. citizens in the middle east.
Travel Advisories |
Contact Us |
MyTravelGov |
Find U.S. Embassies & Consulates
Travel.state.gov, congressional liaison, special issuance agency, u.s. passports, international travel, intercountry adoption, international parental child abduction, records and authentications, popular links, travel advisories, mytravelgov, stay connected, legal resources, legal information, info for u.s. law enforcement, replace or certify documents.
Share this page:
Germany Travel Advisory
Travel advisory july 26, 2023, germany - level 2: exercise increased caution.
Reissued with obsolete COVID-19 page links removed.
Exercise increased caution in Germany due to terrorism .
Country Summary: Terrorist groups continue plotting possible attacks in Germany. Terrorists may attack with little or no warning, targeting tourist locations, transportation hubs, markets/shopping malls, local government facilities, hotels, clubs, restaurants, places of worship, parks, major sporting and cultural events, educational institutions, airports, and other public areas.
Read the country information page for additional information on travel to Germany.
If you decide to travel to Germany:
Be aware of your surroundings when traveling to tourist locations and crowded public venues.
Follow the instructions of local authorities.
Monitor local media for breaking events and adjust your plans based on new information.
Enroll in the Smart Traveler Enrollment Program ( STEP ) to receive Alerts and make it easier to locate you in an emergency.
Follow the Department of State on  Facebook  and  Twitter .
Review the Country Security Report for Germany.
Visit the CDC page for the latest Travel Health Information related to your travel.
Prepare a contingency plan for emergency situations. Review the Traveler's Checklist .
Travel Advisory Levels
Assistance for u.s. citizens, germany map, search for travel advisories, external link.
You are about to leave travel.state.gov for an external website that is not maintained by the U.S. Department of State.
Links to external websites are provided as a convenience and should not be construed as an endorsement by the U.S. Department of State of the views or products contained therein. If you wish to remain on travel.state.gov, click the "cancel" message.
You are about to visit:
Cookies on GOV.UK
We use some essential cookies to make this website work.
We'd like to set additional cookies to understand how you use GOV.UK, remember your settings and improve government services.
We also use cookies set by other sites to help us deliver content from their services.
You have accepted additional cookies. You can change your cookie settings at any time.
You have rejected additional cookies. You can change your cookie settings at any time.

Passports, travel and living abroad
Travel abroad
Foreign travel advice
Warnings and insurance
The Foreign, Commonwealth & Development Office ( FCDO ) provides advice about risks of travel to help British nationals make informed decisions. Find out more about FCDO travel advice .
Before you travel
No travel can be guaranteed safe. Read all the advice in this guide as well as support for British nationals abroad which includes:
advice on preparing for travel abroad and reducing risks
information for women, LGBT and disabled travellers
Follow and contact FCDO travel on Twitter , Facebook and Instagram . You can also sign up to get email notifications when this advice is updated.
Travel insurance
If you choose to travel, research your destinations and get appropriate travel insurance . Insurance should cover your itinerary, planned activities and expenses in an emergency.
Related content
Is this page useful.
Yes this page is useful
No this page is not useful
Help us improve GOV.UK
Don't include personal or financial information like your National Insurance number or credit card details.
To help us improve GOV.UK, we'd like to know more about your visit today. We'll send you a link to a feedback form. It will take only 2 minutes to fill in. Don't worry we won't send you spam or share your email address with anyone.
The Only Germany Travel Guide You'll Ever Need
Last Updated: June 10, 2023
*FYI - this post may contain affiliate links, which means we earn a commission at no extra cost to you if you purchase from them. Also, as an Amazon Associate I earn from qualifying purchases. Check out our Privacy Policy and Disclosure. for more info.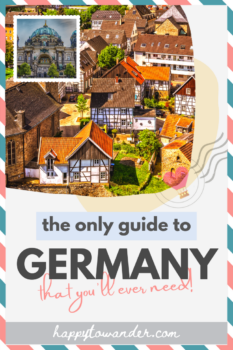 While most commonly associated with beers, bratwursts and tight leather pants, Germany is a country full of delightful finds that extend far beyond the stereotypes.
From dreamy castles and fairytale towns to awe-inspiring nature and sprawling cities, Deutschland has a little something for every kind of traveler… although I'll admit the leather pants are also great.
I first visited Germany on a 6 week backpacking trip across Europe, and as I sipped my comically large beer under the toasty Berlin sun, I felt a strange sense of calm and belonging.
Spurred by this hunch, I moved to Munich. One study abroad, and 5 years later, I'm still here, with so much giddy enthusiasm for this country that I've become a thoroughly insufferable dinner guest.
But my social life's loss is your gain, my friend… because today, I've decided to channel all my Deutschland fangirl tendencies into this concise Germany travel guide filled with all my top tips, itineraries, and recommendations.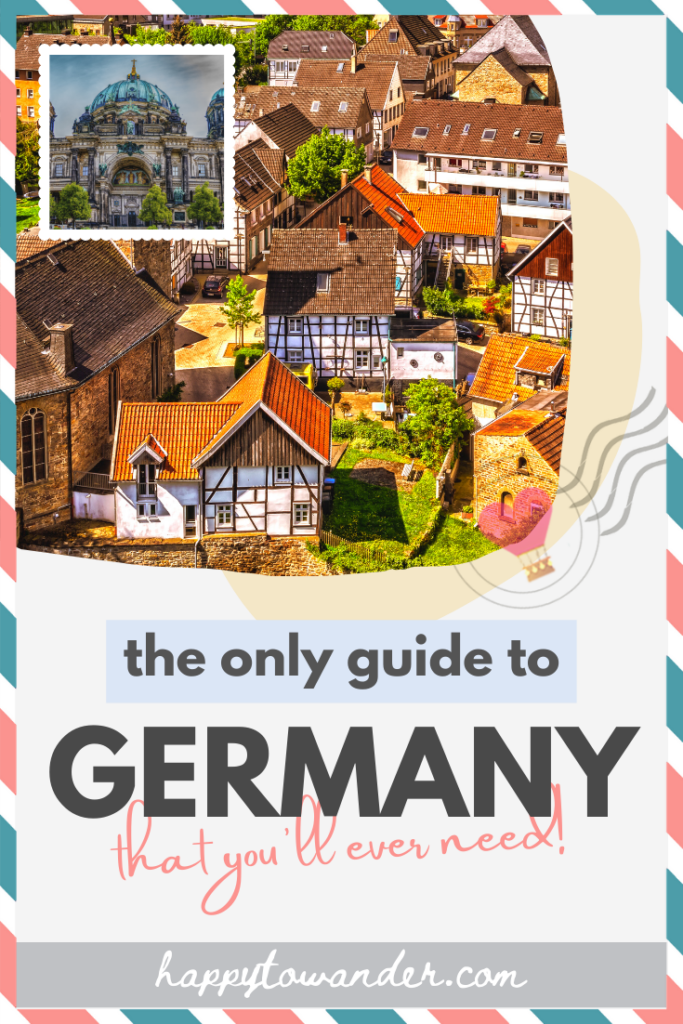 Save this Germany travel guide for later!
I promise it'll come in handy!
I hope you find it helpful, and of course, feel free to ask any more questions in the comments section or on Instagram here.
Traveling to Germany Basics
Currency: Euro
Language: German, although accents and dialects vary wildly! In larger cities and tourist hotspots, most Germans also speak excellent English.
Getting Around: Trains, buses and flights are plentiful and affordable in Germany – my best tip is to use Omio to compare options easily. Having a car is ideal for visiting smaller towns, more remote locations and numerous destinations in a short amount of time, but is otherwise not needed for big cities.
Germany Highlights (By the Season)
Winter: Christmas markets, skiing & alpine sports, Karneval and Fasching season (Carnival), Starkbier (Strong beer) season
Spring: Cherry blossoms in Bonn , Frühlingsfest (Springfest) in Munich
Summer: Hiking, Beer Garden season, summer festivals/celebrations
Fall: Oktoberfest and other Volksfests, the world's biggest pumpkin festival in Ludwigsburg, the Wurstmarkt (world's largest wine festival)
My Favourite Places in Germany
Let's get my mega-biased opinion out of the way first – Munich is the city I now call home, and I couldn't recommend it more… especially if you're obsessed with beer like I am. This is the birthplace of Oktoberfest after all!
There are lots of fun things to do in Munich , like hopping around the city's sprawling museum district (many only cost 1 euro on Sundays!), eating up the best Bavarian food that Munich has to offer or soaking in the wealth of historical sites scatered around the city.
It's also an ideal base for many epic day trips. Going from Munich to Neuschwanstein Castle (AKA the real life Sleeping Beauty castle) takes only 2.5 hours. Or, if you want to visit glorious Salzburg from Munich (AKA the birthplace of Mozart and setting of Sound of Music), that's only 1 hour by train.
Why visit Munich when you travel Germany:
Amazing beer & beer festivals
The English Garden – one of the largest city parks in the world
Beautiful palaces and museums
Easy base for amazing day trips to the Alps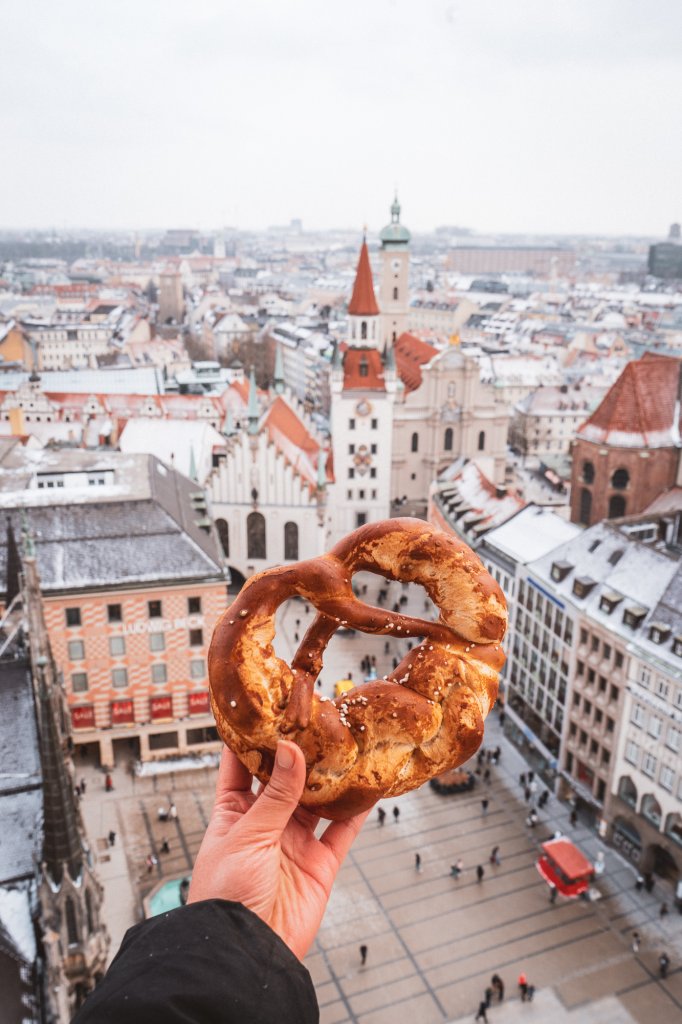 Berchtesgaden National Park
If it's natural beauty you're after, Germany's Berchtesgaden National Park (near the border to Austria) is a must-visit.
Everything here is breathtaking – from the shimmering turquoise lakes and snow-flecked mountains to the adorable Berchtesgaden town center.
And, if you're up for it, this is the ideal place to enjoy a typically Bavarian wellness weekend.
Why visit Berchtesgaden National Park when you travel Germany:
Stunning hikes and scenery
The glorious boat ride on Königssee to see the equally stunning Obersee
Historic sights like Hitler's Eagle's Nest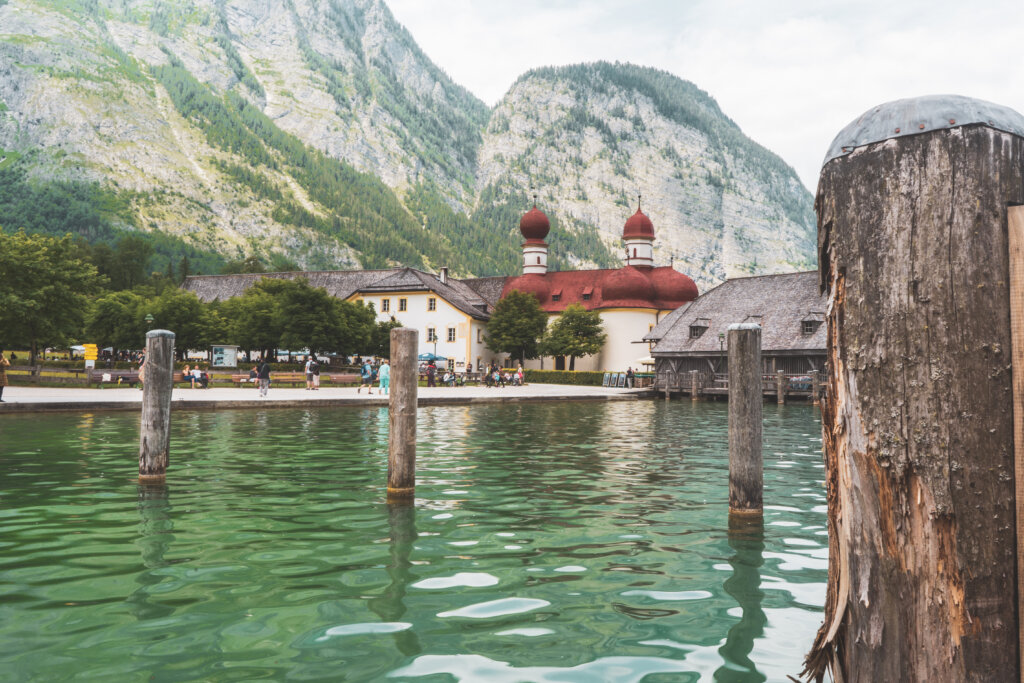 Hands down one of my favourite places to visit time and time again is Berlin.
This endlessly fascinating city is home to incredible museums, delicious food, and a unique culture that makes it distinct from the rest of the country, despite its status as capital!
Whether you're a history nerd, an avid partyer, or a famished foodie, Berlin has plenty to offer.
Why visit Berlin when you travel Germany:
Fascinating history
World-class museums and attractions
A thriving nightlife and food scene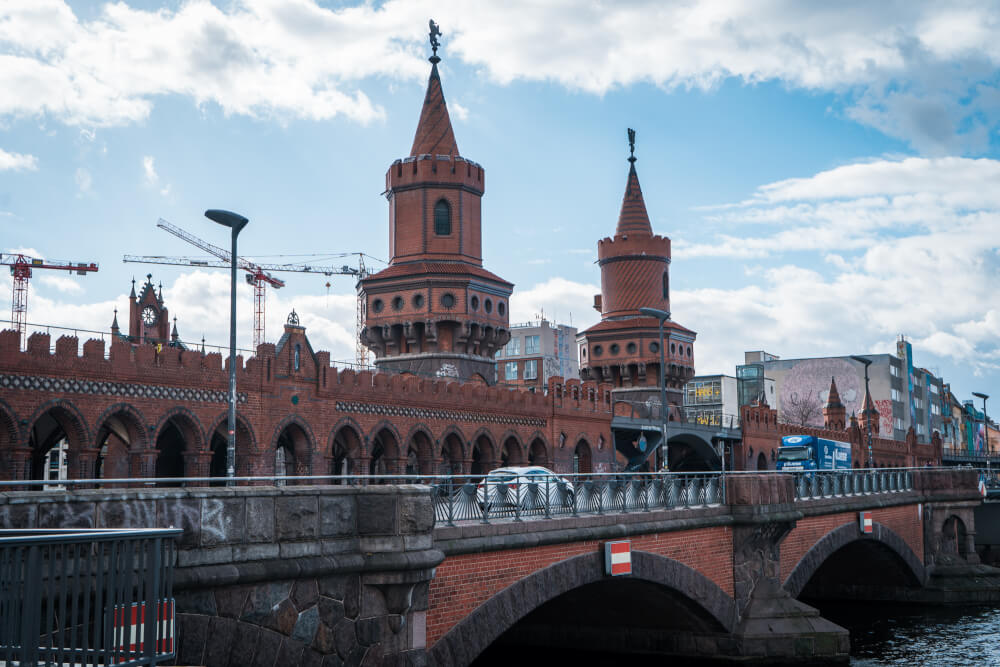 Franconia is a glorious region in northern Bavaria that is divided into Lower, Middle, and Upper Franconia.
To me, it's one of the most underrated regions in Germany for international visitors, with an abundance of fairytale half-timbered houses, amazing beer, and unique natural landscapes.
Here are some places in Franconia that are absolutely worth visiting:
Franconian Switzerland
Würzburg (still haven't been yet!)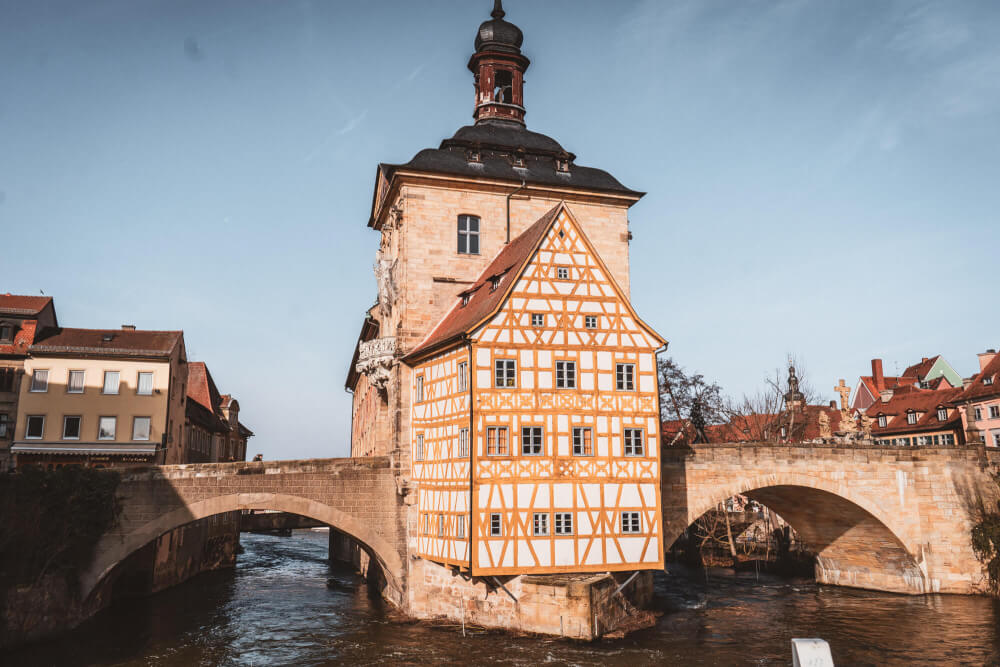 Perhaps the most idyllic entry of this list is Monschau, a sleepy but gorgeous village found near the border to Belgium.
I was lucky enough to come here for Christmas markets a few years ago, and I loved it so much, I skipped the train I'd pre-booked just so I could spend a few more hours there.
Picturesque half-timbered houses clustered around a roaring central river… oh, and a castle on a hill. Because of course they have one.
Why visit Monschau when you travel Germany:
Super friendly locals
Picture-perfect scenes at every turn
Christina might cry if you don't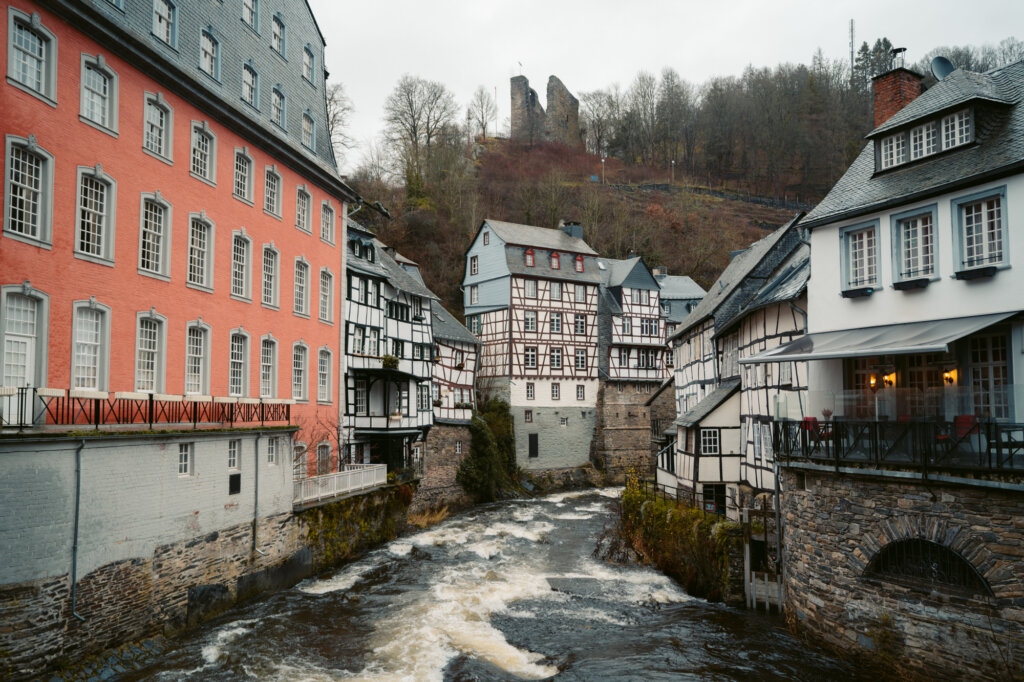 Hamburg is an amazing city I've had the chance to visit a few times now. It's a lifestyle city that reminds me a lot of my hometown, Vancouver.
Home to a mix of classic and modern architecture (including the coolest opera house in the world!), as well as Germany's #1 attraction – the adorable Miniatur Wonderland, Hamburg has a lot to offer tourists, but perhaps the best way to enjoy it is with a nice beer and sunset along the Elbe.
Why visit Hamburg when you travel Germany :
Amazing architecture like the Elbphilharmonie
Fresh and tasty seafood (and a booming foodie scene!)
A fun, vibrant vibe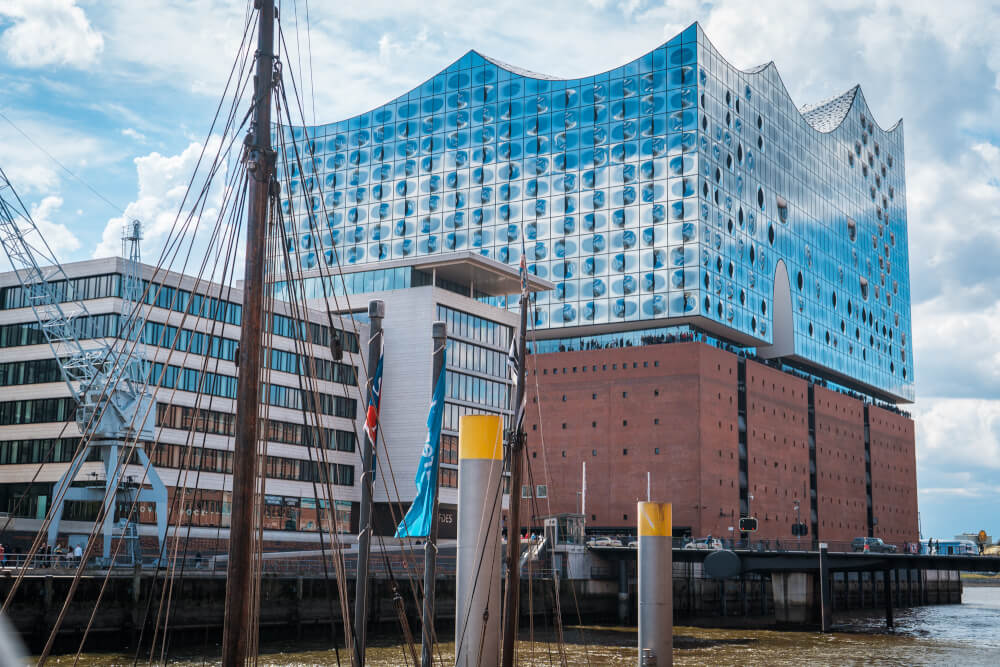 Dresden is one of the most beautiful cities in Germany, and its beauty is all the more astounding when we consider that much of the city was destroyed completely in WWII.
After decades of reconstruction however, Dresden once again shines with its former glory, establishing itself as one of the most important cultural hotspots in Germany.
… and all only a stone's throw from Saxon Switzerland, one of the most beautiful natural wonders in the country!
Why visit Dresden when you travel Germany :
Stunning architecture and sights
World-class museums and cuklture scene
Its jawdropping Christmas market (the oldest one in the country!)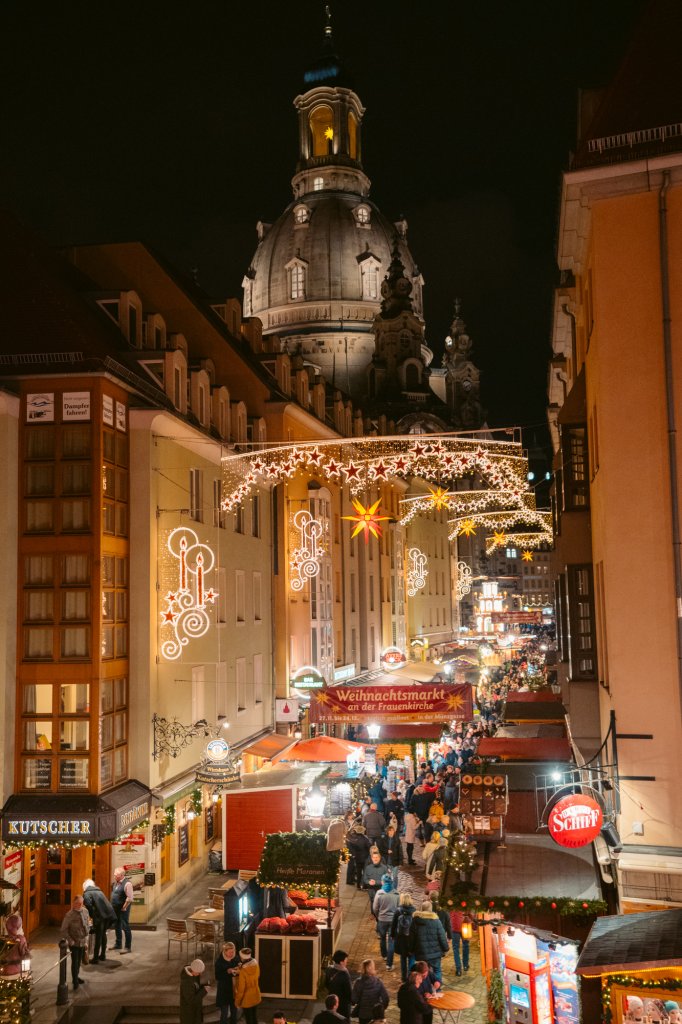 Stuttgart (and its Surrounding Area)
Stuttgart is the biggest city (and capital) of the German state Baden-Württemburg.
It's perhaps best known as the 'cradle of the automobile industry', which explains why it's home to not just one, but two car-centric museums: one belonging to Mercedes-Benz, and one to Porsche.
Besides cars though, the area around Stuttgart offers up some of the cutest small towns you can find in Germany, all easily reachable by public transport, meaning you get the best of all worlds during a visit here.
Why visit Stuttgart and the surrounding area when you travel Germany:
Fairytale towns like Esslingen, Ludwigsburg, and Tübingen
Stuttgart's Stadtbibliothek, one of the most unique and beautiful libraries in the world
Lots of fun events like Stuttgart's Christmas Market and the Cannstatter Volksfest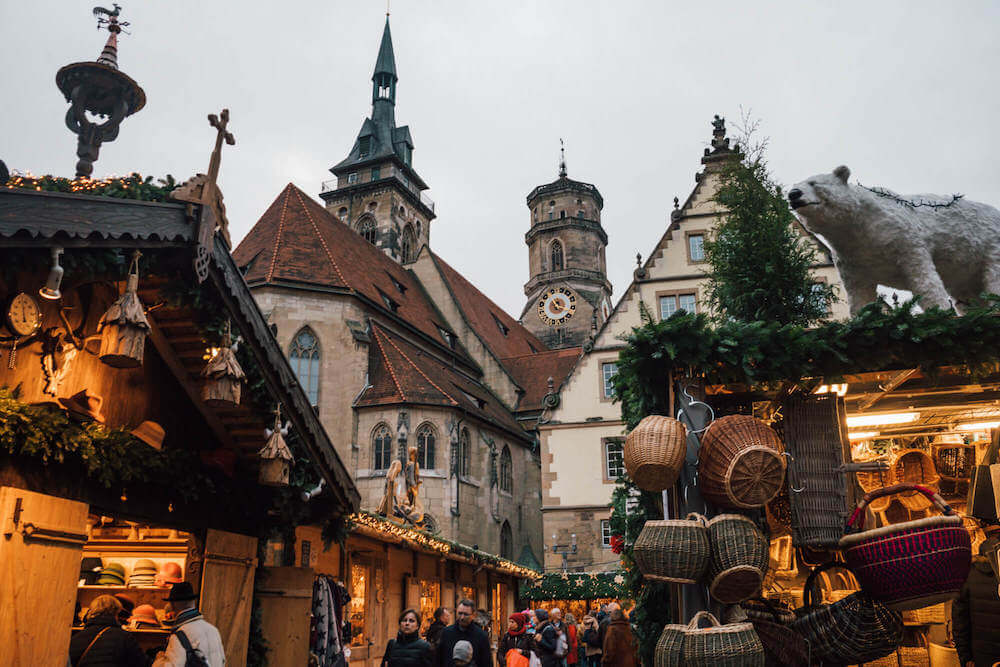 Thuringia is a state often overlooked by international tourists, but if you're looking for a truly charming German escape, its capital Erfurt makes an excellent choice.
This beautiful city is famed for its unique Krämerbrücke, which is a gorgeous medieval bridge lined with residential buildings.
But that's not all – there's also an impressive cathedral, an imposing fortress, and surprises waiting on every corner… quite literally, because Erfurt is the HQ of the German children's channel KiKA, and there's plenty of fun statues of famous characters scattered around town.
Why visit Erfurt when you travel Germany:
Krämerbrücke, the longest inhabited bridge in Europe
Quirky and fun children's channel sculptures all over the city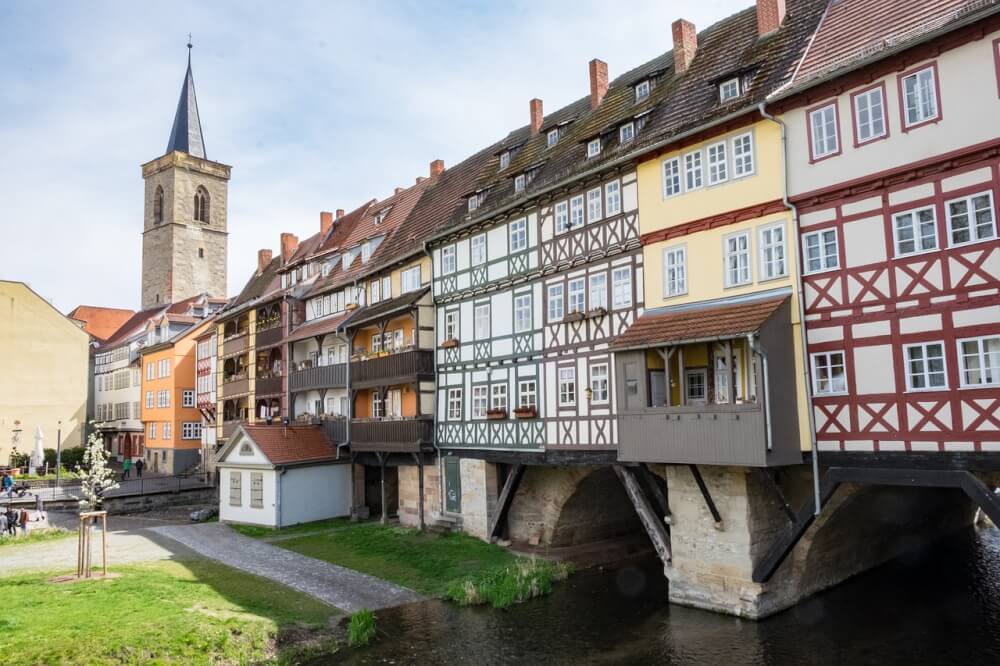 Cologne, to me, is a city synonymous with fun and celebration. While at first glance, it might not rank among the "prettiest" places to visit in Germany (much of it was destroyed in the war), it still boasts several impressive landmarks and sights, like the epic Cologne Cathedral.
Where Cologne really shines though is during special events – the Christmas markets here are some of the best I've been to in my entire life, and the Karneval celebrations… well, those are truly epic!
Why visit Cologne when you travel Germany:
Bucket list events like the Cologne Christmas Market and Kölner Karneval
The iconic Kölner Dom (Cologne Cathedral), one of the most famous churches in the world
Fun-loving locals who are among the friendliest I've ever encountered in Germany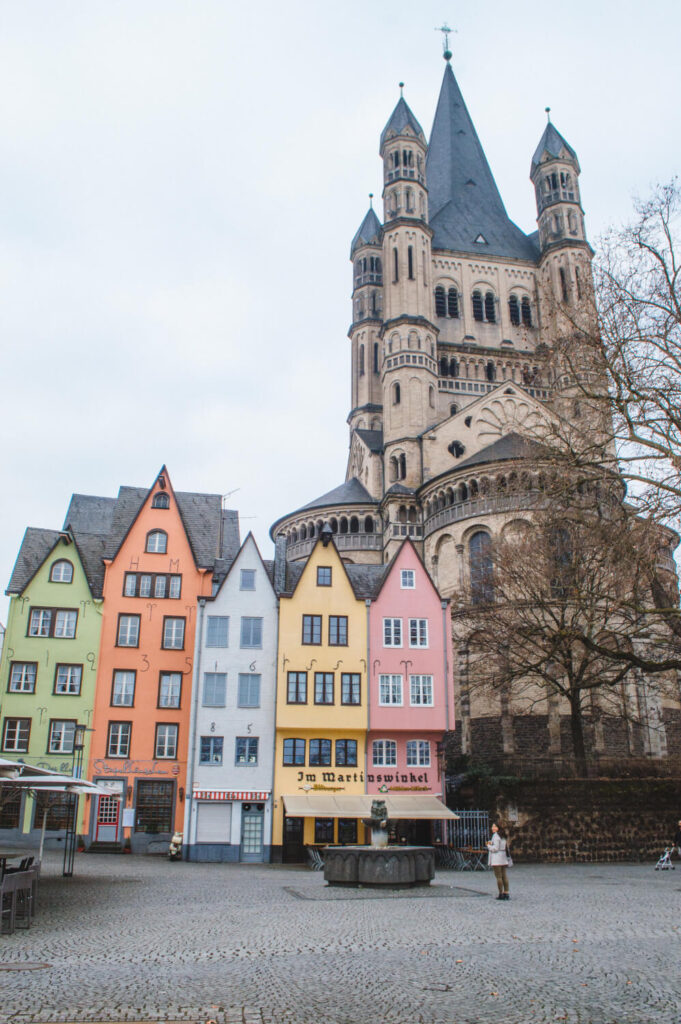 Last but not least, we have Hannover, a city which (in my opinion) is one of the most underrated cities in Germany where tourism is concerned.
Locally, people often joke that Hannover is one of the most boring cities in Germany, but I don't think that's true at all. One quick look and you'll find a stunning palace within the city, an architecturally impressive Town Hall (with a unique elevator offering epic views), and a cool laidback vibe that many compare to what Berlin was like decades ago.
Here are some awesome things to do in Hannover.
Why visit Hannover when you travel Germany:
Its gorgeous New Town Hall
The stunning Herrenhausen Palace and its gardens
A fun, laidback city vibe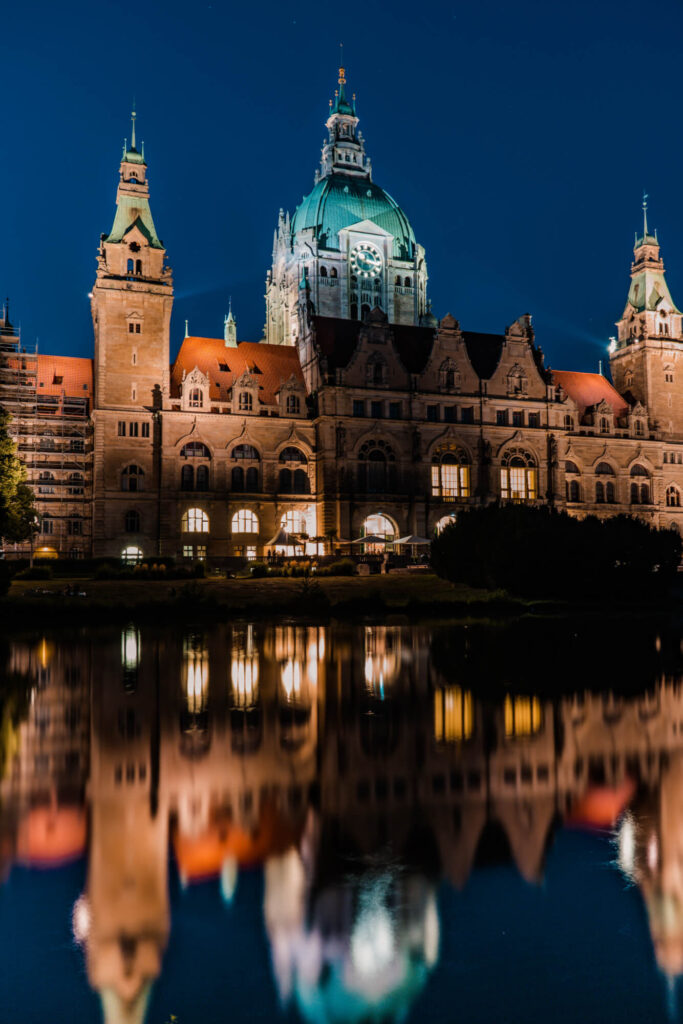 Bucket List Experiences in Germany
Germany is full of incredible bucket list experiences. Here are a few of my favourites:
Christmas Markets
German Christmas markets are the stuff of bucket list dreams.
If you adore Christmas, a German Xmas market trip needs to make it on your bucket list, because nobody captures Christmas coziness and joy quite like the Germans do.
The best part (besides the droolworthy assortment of German Christmas Market foods ) is that you'll find Christmas markets in just about every city, town, and even the smallest of villages, each with their own unique take on traditions.
Trust me, you could never get bored of visiting these.
Here are some full guides to the Christmas markets I've visited in Germany:
Munich's Christmas Markets
Berlin's Christmas Markets
Cologne's Christmas Markets
Esslingen Christmas Market
Ludwigsburg Christmas Market
Karlsruhe Christmas Market
Düsseldorf Christmas Market
Nuremberg Christmas Market
Essen Christmas Market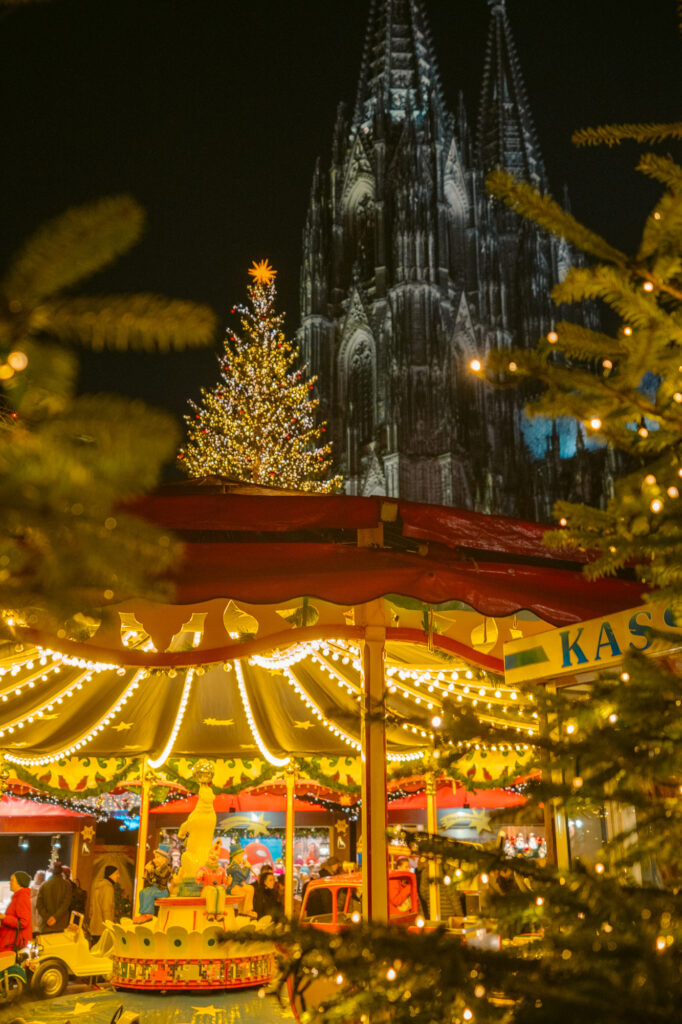 Oktoberfest
Trust me – Oktoberfest , AKA the world's largest beer festival, is reason enough to make a trip to Germany.
Typically celebrated annually in Munich, this is one of the most incredible events in the world, with millions of people attending, millions of beer served, and a guaranteed recipe for making memories to last a lifetime.
… If you can remember anything after 5L of beer that is.
Read my full Oktoberfest guide for more details.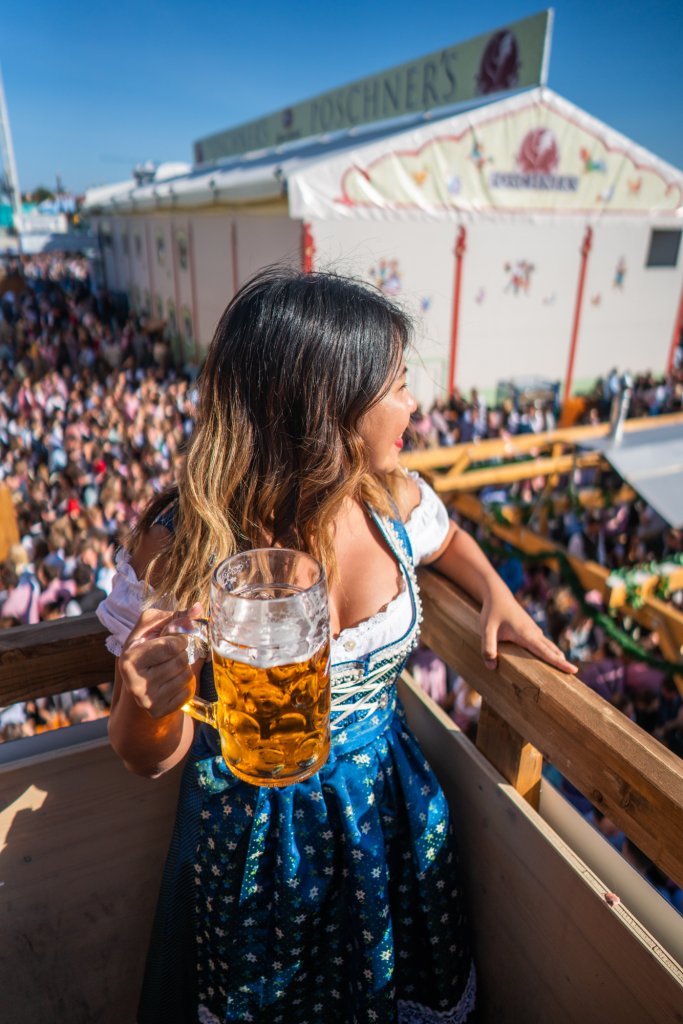 Visiting Fairytale Castles
If you love castles, I recommend avoiding Germany……. because you might just combust from sheer fangirl joy.
Seriously, Germany is every castle lover's kryptonite, with elegant palaces and fairytale castles in the thousands. If you're a Disney gal like me who grew up dreaming of happily ever afters, pack a ballgown and head to Germany ASAP.
I promise you won't be disappointed.
Here are some castles that you must visit in Germany:
Neuschwanstein Castle
Nuremberg Castle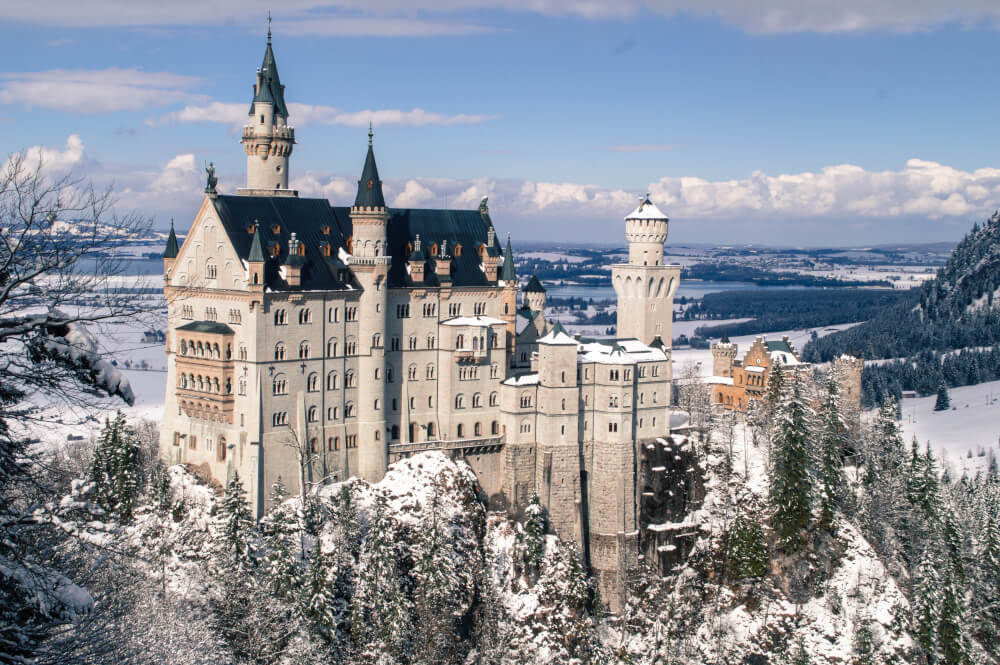 The Cherry Blossoms in Bonn
The cherry blossoms in Bonn (also the birthplace of Beethoven and gummy bear legend, Haribo) are absolutely spectacular, and 100% worth visiting in Spring time. In fact, I'd even say they're one of the best things to see in Europe at Spring time.
Yes, you, too, can come frolic in these tunnels of pink! Here is my guide on where to find cherry blossoms in Bonn.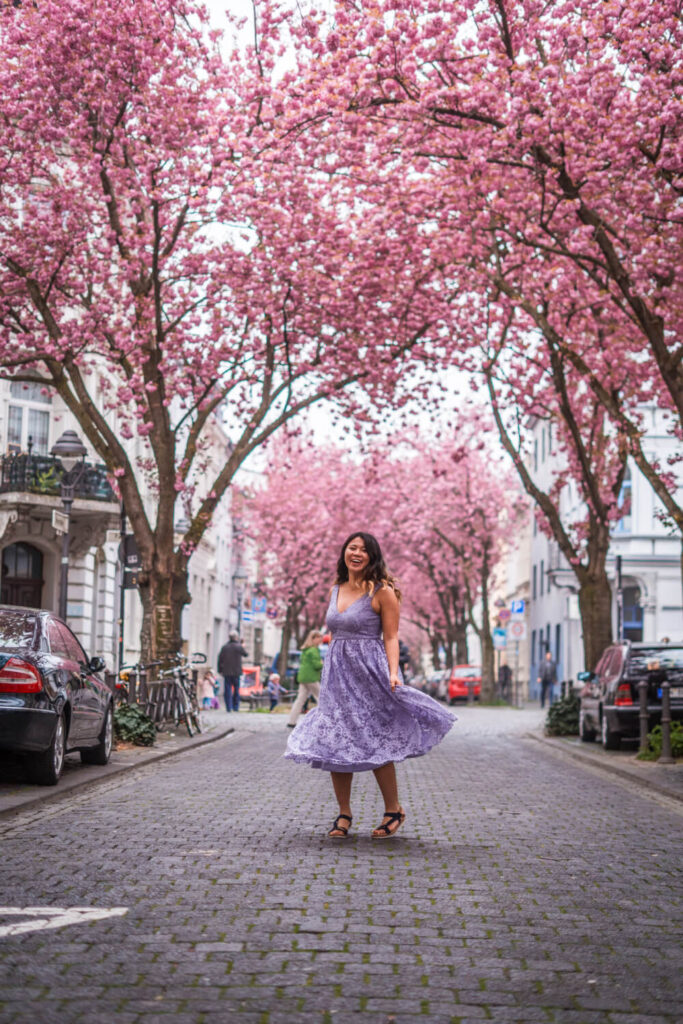 Karneval, Fasching, Etc.
Carnival Season is one of the best times to visit Germany if you're looking for a party.
The grandest celebrations take place just before Lent, and are celebrated throughout the country, although the festivites in North-Rhine Westphalia are probably the best known.
My top recommendation? Go celebrate in Cologne, where the Kölner Karneval draws millions of visitors every year.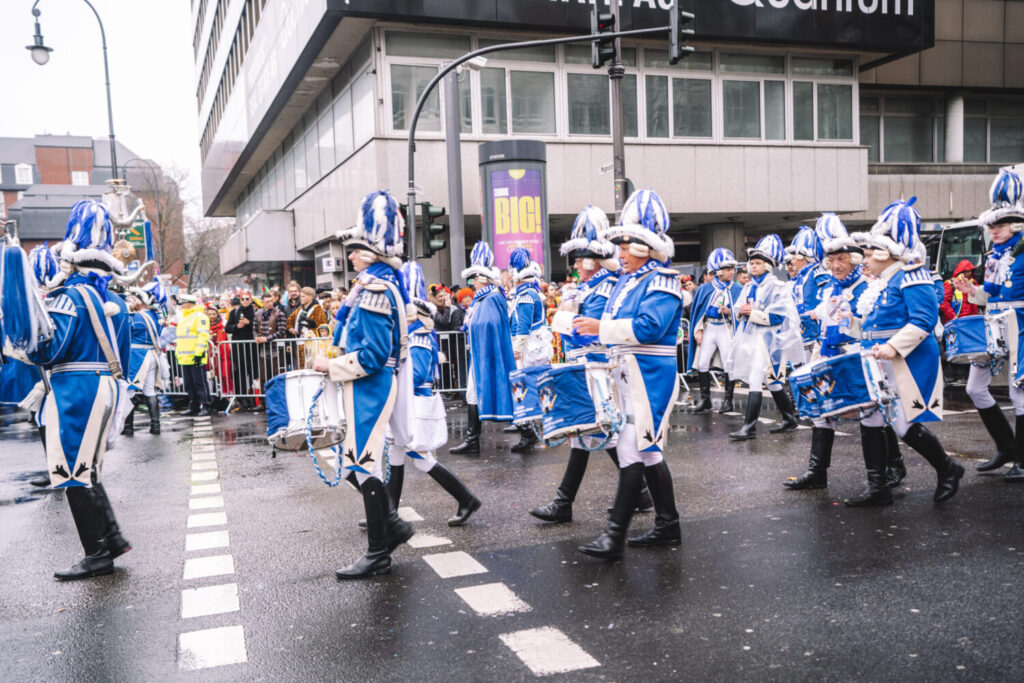 My Recommended Germany Itineraries
Germany is a huge country with a massive diversity in sights… so how can you organize your time efficiently and make the most of your trip? Here are some German trip itinerary ideas…
Germany itinerary ideas for a taste of everything:
Southern Germany Classic: Munich, the Allgäu (for Castles!), Garmisch Partenkirchen, Berchtesgaden National Park, Stuttgart & Area, Black Forest
Eastern Germany Classic: Berlin, Dresden, Saxon Switzerland
Western Germany Classic: Aachen, Monschau, Eifel National Park
Northern Germany Classic: Hamburg, Bremen , Lübeck, Kiel, Sylt
The Rhine River Classic: Mainz, Koblenz, Burg Eltz, Cochem, Bonn, Cologne, Düsseldorf
The Harz Mountains Experience: Harz Mountains, Goslar, Wernigerode, Quedlinburg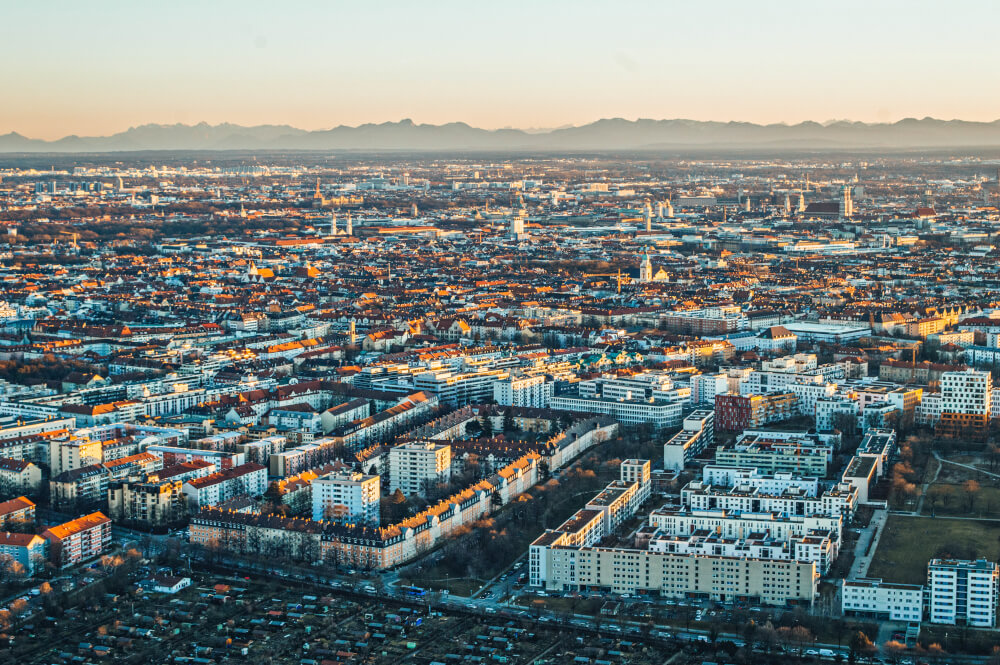 Germany itinerary ideas for city breakers and culture hunters:
The Big City Tour: Berlin and Munich (a 4 hour express train connects them)
The BaWu Special: Stuttgart, Ludwigsburg, Tübingen, Esslingen, Heidelberg
The Bavaria Special: Munich, Nuremberg, Bamberg, Würzburg, Bayreuth
The Saxony Special: Leipzig, Görlitz, Dresden
The Rhine City Hop: Bonn, Cologne, Düsseldorf
The Romantic Villages Hop: Würzburg, Dinkelsbühl, Nördlingen, Rothenburg ob der Tauber, Füssen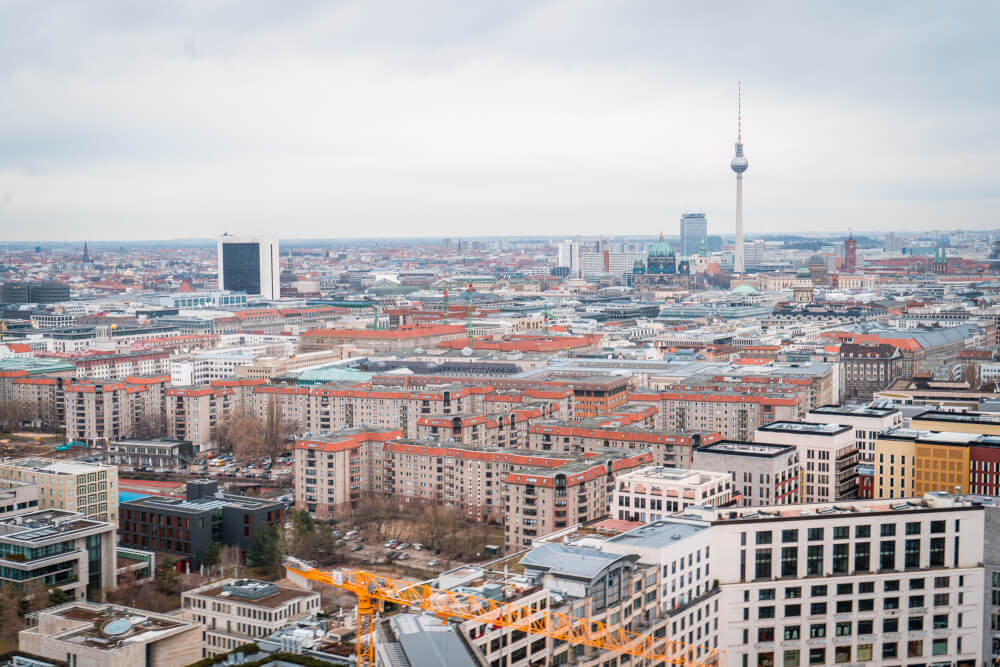 Germany itinerary ideas for nature lovers:
Southern Germany Nature Itinerary: Berchtesgaden National Park, Garmisch-Partenkirchen, the Black Forest and Lake Constance (Bodensee)
Bavaria's Best Nature Itinerary: Berchtesgaden National Park, Garmisch-Partenkirchen, Munich's Lake Region, Franconian Switzerland, Danube Gorge
Eastern Germany Nature Itinerary: Dresden and Saxon Switzerland National Park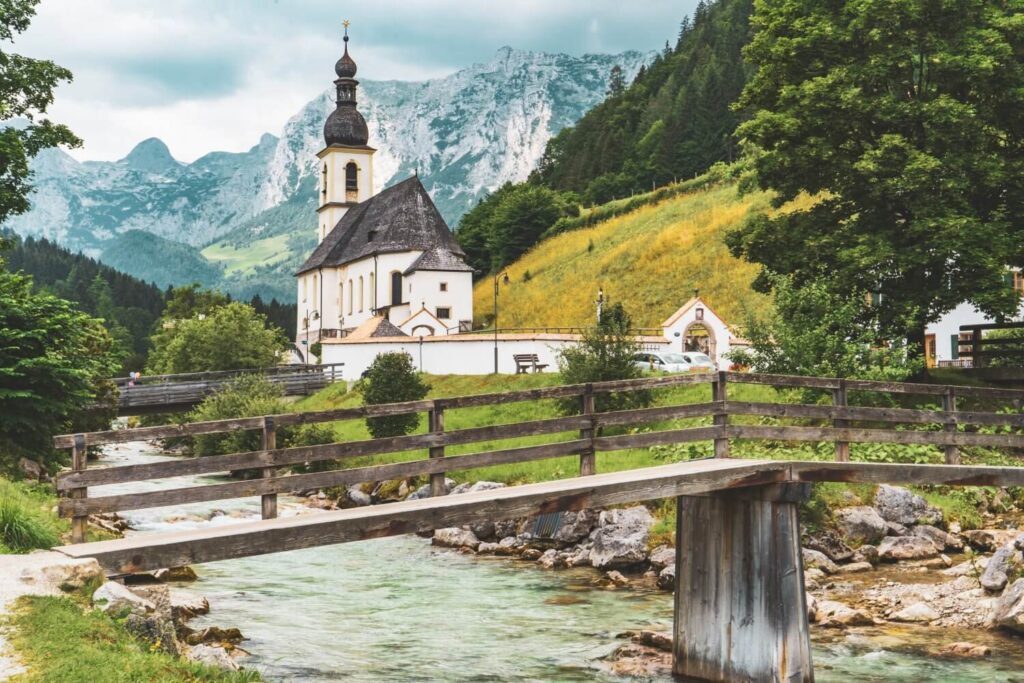 My Top Germany Travel Tips
If you're overwhelmed by transport options, Omio is a great resource for comparing trains, buses and flights in Germany at the same time.
If travelling by train, look into group discount tickets like the Bayern Ticket which give you unlimited train travel for one day on regional trains. It can save you a TON of money.
If you are traveling to multiple countries nearby (i.e. Switzerland), a Eurail pass might save you money.
Accommodation:
Booking.com is a great place to search up hotels, and filtering by Free Cancellation allows you to book without paying upfront
Airbnb can be a very affordable alternative for longer stays/bigger groups
Attractions and Tickets:
GetYourGuide is a great site for finding tours and attraction tickets
City passes like the Munich City Pass , Berlin Pass , and the Cologne Card can save you a LOT of money if you plan to visit many tourist attractions in a short time
If you're trying to find specific info about a place, try using Google Translate to search in German because German versions of sites always have more info
If you're past the planning stage and heading to Germany soon, make sure you read this before you go:
Hilarious must-knows before you visit Germany
More Germany Travel Reads
Feeling inspired to visit Germany after reading all that?
As you can (probably) tell, I've written extensively about Germany.
So, here are some more articles that might pique your interest:
Unique Things to do in Germany (That You Can't Do Anywhere Else)
The Best Christmas Markets in Germany
Hilarious Must-Knows Before You Visit Germany
My Go-To Travel Favourites:
🧳 Eagle Creek: My favourite packing cubes
💳 Wise: For FREE travel friendly credit cards
🍯 Honey: For finding coupons automatically
🏨 Booking.com: For searching hotels
📷 Sony A7IV: My (amazing) camera
✈️ Google Flights : For finding flight deals
🌎 WorldNomads: For travel insurance
🎉 GetYourGuide: For booking activities
Leave a Comment Cancel reply
By using this form you agree with the storage and handling of your data by this website. *
It looks like you have JavaScript disabled. That's OK! All the content on the site is still viewable, but keep in mind most of the interactive features won't work.
Current information for travelers
The Ordinance on Coronavirus Entry Regulations (Coronavirus-Einreiseverordnung – CoronaEinreiseV) regulates a uniform, nation-wide obligation to test, quarantine and furnish proof, as well as a ban on carriage from areas of variants of concern. The goal of the Ordinance on Coronavirus Entry Regulations is to reduce the risk of infection with the SARS-CoV-2 coronavirus, since travel movements and border traffic can introduce infections and lead to new hot spots of infection.
The Ordinance on Coronavirus Entry Regulations ( CoronaEinreiseV ) expires on 7 April 2023. After that date, entry into Germany will again be possible without coronavirus-related entry restrictions while observing the general entry requirements under the law of residence and relating to the border police (information from the Federal Ministry of the Interior " Lifting of COVID-19-related restrictions ").
CoronaEinreiseV - Overview and download of all versions of the regulation (German)
We're Not In Kansas Anymore!
travel inspiration!
Travel Germany: Ultimate guide on traveling to Germany for the first time (2023)
Wonderful Amazing Deutschland! Germany happens to be my #1 favorite place on planet earth! and so my favorite thing to do is to travel Germany!
What's so great about Germany? and why should you travel to Germany?
German Food : German food is the very best food!
German's: While very different from Americans, once you get used to the nuances of the German people you'll grow to love them.
Castles: Germany is home to endless castles and if you love them, you'll never run short on castles to visit in Germany! There are over 20,000 of them! Get ready to visit Germany's opulent palaces, atmospheric ruins, and fantastically restored fortresses!
Natural Beauty: Germany is some to some of the world's most striking natural beauty. From the towering peaks of the Bavarian Alps, to the dense forests of Germany's Black Forest , to stunning Alpine lakes, caves, interesting rock formations, and everything in between!
If you have never been to Germany you are in for a treat. On this page is a whole lot of travel Germany inspiration! Plus maps and travel tips to help you plan Epic trips to Germany.
How do I prepare for a trip to Germany? Read this comprehensive guide and you'll be ready to explore wonderful Deutschland!
about Germany
official name: Bundesrepublik Deutschland (Deutschland!)
time zone: Germany is usually anywhere from 6-9 hours ahead of the US, depending on where you are located. They have one time zone and participate in Daylight Savings Time. They move the clock forward 1 hour on the last Sunday of March, and back on the last Sunday in October. Save yourself a lot of trouble with calculations and just ask Google "what time is it in Germany."
established: 1871 (After the fall of Rome, the country today known as Germany, was split into 300 different countries. Hence, all of the many castles!) Today the country is comprised of 16 states. After World War II Germany was split into two countries, East and West Germany, from 1945 to 1990.
population: 83.2 million (2021) It's the European Unions most populous country!
size: 138,000 square miles (1/2 the size of Texas)
3 biggest cities: Berlin (3.65 million) Hamburg (1.8 million) Munich (1.5 million)
Official language : German (Deutsch) of which there are many different dialects. (want to learn a little German before you head over? How to learn a language for travel the easy way )
in case of Emergency: dial 112 for police and medical assistance German Flag:
Travel Germany Attractions Map
Follow this link to be redirected to an interactive Google Map of Germany's best attractions .
Germany points of interest by state
Find the best Germany attractions by state to add to your travel itinerary.
*Disclosure: This post may contain affiliate links, for more information see my terms and conditions page.
These are some of the most popular attraction in each state:
Konigssee/Obersee
Neuschwanstein Castle
Rothenburg ob der Tauber , Germany's best Medieval town
Zugspitze (Germany's highest mountain)
Triberg Germany in the Black Forest (waterfalls, cuckoo clocks, and Black Forest Cake!)
Lake Constance
Hohenzollern Castle
Ulm Cathedral (the worlds tallest)
Trier (Roman City)
Medieval Burg Eltz Castle
The best of the Rhine River
the Moselle River Valley
The Saxon Switzerland National Park
Dresden with it's Baroque architecture
Bremen (UNESCO World Heritage)
Bamberg (UNESCO World Heritage and smoked beer!)
the famous Cologne Cathedral (UNESCO)
Aachen Cathedral (UNESCO)
Berlin, Germany's largest city
Dachau Concentration Camp
Must see additions for your Germany Travel Itinerary
Authentic Medieval Castles in Europe (Germany has some of the best!)
Must-see Rhine River Castles
The most beautiful Medieval Towns in Germany
Famous Landmarks in Germany
Hiking and Biking: Check out the Komoot website to plan out your trail activities. (Germany's answer to All Trails!)
Booking tours and experiences
My favorite place to book is through Get Your Guide .
Free Germany Itineraries
2 Week Germany Itinerary including: France, Austria, Switzerland
2 Week Austria trip including: Southern Germany and Slovenia
10 Day Germany road trip including: Rhine and Moselle Rivers, Roman Trier, Black Forest, Neuschwanstein , Rothenburg
3 day Rothenburg ob der Tauber Itinerary
(struggling to plan your own Germany itinerary? 6 Simple steps for planning your dream trip )
Travel Germany Basics
Getting into germany (legalities).
Do I need I need a Visa to travel to Germany from the US?
US citizens do not need a visa to travel to Germany from the United States. You are permitted to stay in Germany up to 90 days without a visa. For more information check the US Department of State . Non US citizens can check with Germany Visa.org .
ETIAS
The European Travel Information and Authorization System (ETIAS) is an electronic travel authorization for visitors to the European Union or Schengen area who are visa-exempt. (non-Schengen countries requiring ETIAS: Bulgaria, Cyprus, and Romania with the exception of Ireland, which is part of the Common Travel Area.) This is NOT a visa, rather an authorization to enter. They expect the ETIAS system to be in effect in 2024. For more details check the Travel Europe website or their FAQ page .
Passport validity
In order to enter Germany, you must have two valid pages on your passport and the passport must be valid for "three months beyond planned date of departure from the Schengen area including transit (strictly enforced)." – US Department of State.
Germany travel restrictions and safety concerns
Is traveling in Germany safe?
Germany is one of the safest countries in the world. No matter the the country or the situation, COVID or other pandemic, social or political instability, crime against tourists, the US Department of State is your best resource for keeping yourself safe and informed.
enroll in Smart Step Services
Consider enroll in the Smart Traveler Enrollment Program (STEP) travel advisory program to receive security updates on the country you will be traveling to and make it easier to locate you in an emergency.
top 10 major German airports (listed in order by size):
Frankfurt am Main Airport Frankfurt am Main (FRA)
Airport Berlin Brandenburg Berlin (BER)
Munich Airport Munich (MUC)
Düsseldorf Airport Dusseldorf (DUS)
Berlin-Tegel Airport Berlin (TXL)
Hamburg Airport Hamburg (HAM)
Stuttgart Airport Stuttgart (STR)
Cologne Bonn Airport Cologne (CGN)
Hannover Airport Hannover (HAJ)
Nuremberg Airport Nuremberg (NUE)
(source: World Data Info )
surrounding countries
There are 9 countries that border Germany, making it easy to add them into your Germany travel itinerary. All 9 are Schengen countries, meaning you are free to move between them without showing a passport or stopping at border control.
Switzerland
Netherlands
Czech Republic
staying connected
You'll want to stay connected while in Germany. Be sure to read my Germany travel tips article for information on the best ways to use your phone to stay connected.
what to buy in Germany
Popular options include cuckoo clocks, beer steins, nutcrackers…get a complete list in my Ultimate Guide to German Souvenirs !
what to eat in Germany
German is know for it's beer, pretzels, wurst , and schnitzel but that's just the beginning! Find out all about the best German foods that you simply must try !
One of my favorite German "snacks."
where to stay in Germany
Accommodations in Germany run the gamut from luxury accommodations to hostels. You can find them all on Booking.com ! For vacation rentals my favorite place to book is VRBO .
(if you use these links to book your stay it helps me fund this website. Danke!)
Getting around Germany
I like to drive when traveling in Germany. It's a joy to drive in Germany except for the infamous autobahn! There are SOME parts of the autobahn without a speed limit but good luck trying to get up speed with all of the construction and traffic! To avoid frustration, I try to avoid the autobahn!
Can I drive in Germany with a US Driver's License?
You can drive in Germany for up to six months on a US Driver's License, per the US Embassy in Germany . (see the website on possible extensions)
Rules of the Road:
Growing up as a military dependent, I like this Germany drivers test manual from the US Military.
International Driving Permit
You MAY need an International Driving Permit. These "permits" have no legal value. An IDP is simply a translation of your license onto a form so that your information and be quickly and easy located by authorities who may not speak English.
These are not required in Germany. However, if you happen to have contact with a German policeman whose English is not the best it may come in handy. Also, most rental car companies say they require one but I have yet to be asked for one. I travel with one anyway, just to be safe. You can get one at your local AAA office for around $25.
Train travel is easy and efficient in Germany. The Deutsche Bahn (DB) is the National Railway of Germany. Check their website for transit schedules (including bus schedules) maps, info on rail passes, and to check schedules. I also like Rome2Rio for planning public transit.
ICE trains are the fastest and most expensive. IC and EC trails are slower but less expensive.
Buses are slower but cheaper! Check the DB or Rome2Rio websites.
The official currency of Germany is the Euro. The Euro is divided into Cents. You can check current exchange rates at Google Finance .
How much money do I need to travel to Germany?
You can get by on as little as $40 per day for meals and accommodations (Hostels and cheap eats.) I expect to spend around $75 per day for accommodations, and round $25 for food for a total of about $100 per day for meals and accommodations. (more for big cities)
tips on affording a trip to Germany
Be sure to check out my ultimate guide on how to travel to Germany on a Budget . It has great tips on how to save on everything from transportation, accommodations, flights, food and drink, discount cards, inexpensive ways to stay connected while your there, free things to do in Germany, the least expensive time to travel there and more.
MORE Germany travel basics
I have an article that goes into traveling to Germany in even greater depth: Germany travel tips: Ultimate Guide for traveling in Germany for the first time . Things included in the article you wont find here:
the best time to visit
details on getting cash
wattage and how to use your electronics in Germany
when is the best time to visit Germany?
festivals and events
a few of the most common German travel phrases
safety tips
and a whole lot more!
Lonely Planet Germany Video
Keep Reading
(Click here for the full list of Germany articles)
The Latest Germany Blog articles:
Germany blog articles to inspire your next adventure:
Germany Travel Restrictions
Traveler's COVID-19 vaccination status
Traveling from the United States to Germany
Open for vaccinated visitors
COVID-19 testing
Not required
Not required for vaccinated visitors
Restaurants
Not required in public spaces.
Germany entry details and exceptions
Ready to travel, find flights to germany, find stays in germany, explore more countries on travel restrictions map, destinations you can travel to now, dominican republic, netherlands, philippines, puerto rico, switzerland, united arab emirates, united kingdom, know when to go.
Sign up for email alerts as countries begin to open - choose the destinations you're interested in so you're in the know.
Can I travel to Germany from the United States?
Most visitors from the United States, regardless of vaccination status, can enter Germany.
Can I travel to Germany if I am vaccinated?
Fully vaccinated visitors from the United States can enter Germany without restrictions.
Can I travel to Germany without being vaccinated?
Unvaccinated visitors from the United States can enter Germany without restrictions.
Do I need a COVID test to enter Germany?
Visitors from the United States are not required to present a negative COVID-19 PCR test or antigen result upon entering Germany.
Can I travel to Germany without quarantine?
Travelers from the United States are not required to quarantine.
Do I need to wear a mask in Germany?
Mask usage in Germany is not required in public spaces.
Are the restaurants and bars open in Germany?
Restaurants in Germany are open. Bars in Germany are .
Skip to main content
Skip to "About this site"
Language selection
Search travel.gc.ca.
Help us to improve our website. Take our survey !
COVID-19: travel health notice for all travellers
Germany travel advice
Latest updates: Health - Travel health notice for mpox added
Last updated: October 30, 2023 12:27 ET
On this page
Safety and security, entry and exit requirements, laws and culture, natural disasters and climate, germany - exercise a high degree of caution.
Exercise a high degree of caution in Germany due to the threat of terrorism.
Back to top
Petty crime
Petty crime, such as pickpocketing and bag snatching, occurs.
Organized groups of pickpockets often use distraction techniques and are particularly active in:
major cities
transportation hubs
public transportation
Christmas markets
tourist attractions
There is a significant increase in stolen passports on trains, particularly during the summer and winter holiday season.
Ensure that your belongings, including your passport and other travel documents, are secure at all times.
Violent crime
Violent crime is uncommon, but does occur.
Crimes committed by far-right extremists against individuals belonging to ethnic, religious or political minorities occur.
While tourists are not specifically targeted, you could find yourself in the wrong place at the wrong time.
Always be vigilant and aware of your surroundings.
Cybercrime occurs. Perpetrators may compromise public Wi-Fi networks to steal credit card or personal information.
Avoid using unsecured public Wi-Fi networks
Avoid making purchases on unencrypted websites
Be cautious when posting information on social media
Be particularly vigilant when contacting or meeting individuals known over the internet
Overseas fraud
There is a threat of terrorism in Europe. Terrorists have carried out attacks in several European cities. Terrorist attacks could occur at any time.
Targets could include:
government buildings, including schools
places of worship
airports and other transportation hubs and networks
public areas such as tourist attractions, restaurants, bars, coffee shops, shopping centres, Christmas markets, hotels and other sites frequented by foreigners
The Government of Germany maintains a public alert system on terrorism. Alert level changes are communicated through local media.
Always be aware of your surroundings when in public places
Be particularly vigilant if attending sporting events and during religious holidays and other public celebrations, as terrorists have used such occasions to mount attacks
More information about public security - Germany's Federal Ministry of the Interior, Building and Community
Demonstrations
Demonstrations take place regularly. Even peaceful demonstrations can turn violent at any time. They can also lead to disruptions to traffic and public transportation.
Avoid areas where demonstrations and large gatherings are taking place
Follow the instructions of local authorities
Monitor local media for information on ongoing demonstrations
Mass gatherings (large-scale events)
Strikes occur regularly, particularly in key sectors including aviation and ground transport. These strikes can sometimes complicate travel and disrupt services.
Consult local media to be aware of strikes that may affect your stay or travel plans
In the event of a transport strike, plan extra time to get to your destination
Mountain activities
If you intend to go hiking, mountaineering or skiing:
never do so alone and always hire an experienced guide from a reputable company
buy travel insurance that includes helicopter rescue and medical evacuation
ensure that your physical condition is good enough to meet the challenges of your activity
ensure that you are properly equipped and well informed about weather and other conditions that may pose a hazard
inform a family member or friend of your itinerary, including when you expect to be back
obtain detailed information on trekking routes or ski slopes before setting out and do not venture off marked trails or slopes
Road safety
Roads conditions and road safety are excellent throughout the country.
Pedestrians should exercise caution when crossing dedicated bicycle paths, as bicycles have right of way.
We do not make assessments on the compliance of foreign domestic airlines with international safety standards.
Information about foreign domestic airlines
Every country or territory decides who can enter or exit through its borders. The Government of Canada cannot intervene on your behalf if you do not meet your destination's entry or exit requirements.
We have obtained the information on this page from the German authorities. It can, however, change at any time.
Verify this information with the Foreign Representatives in Canada .
Canadian citizens do not need a visa for travel to countries within the Schengen area. However, visa-free travel only applies to stays of up to 90 days in any 180-day period. Stays are cumulative and include visits to any Schengen area country.
If you plan to stay in the Schengen area for a longer period of time, you will need a visa. You must contact the high commission or embassy of the country or countries you are travelling to and obtain the appropriate visa(s) prior to travel.
Useful links
Foreign Representatives in Canada
Temporary border controls
The German government has reintroduced internal border controls at certain border crossings. You may be required to pass through immigration controls when entering Germany, even if arriving from another Schengen area country.
Entry requirements vary depending on the type of passport you use for travel.
Before you travel, check with your transportation company about passport requirements. Its rules on passport validity may be more stringent than the country's entry rules.
Regular Canadian passport
Your passport must be valid for at least 3 months beyond the date you expect to leave the Schengen area.
Passport for official travel
Different entry rules may apply.
Official travel
Passport with "X" gender identifier
While the Government of Canada issues passports with an "X" gender identifier, it cannot guarantee your entry or transit through other countries. You might face entry restrictions in countries that do not recognize the "X" gender identifier. Before you leave, check with the closest foreign representative for your destination.
Other travel documents
Different entry rules may apply when travelling with a temporary passport or an emergency travel document. Before you leave, check with the closest foreign representative for your destination.
Foreign Representatives in Canada
Canadian passports
Tourist visa: not required for stays up to 90 days in any 180-day period Business visa: not required for stays up to 90 days Student visa: required
Extension of stay
As a tourist, you can't stay in Germany longer than 90 days. If you wish to stay beyond this 90-day limit, you must apply for a residence permit and provide a valid reason.
If you unexpectedly have to stay beyond the 90-day limit, contact the Foreigners' Registration Office (Ausländerbehörde) in the district you are staying in to regularize your extended stay.
Registration
If you intend to reside in Germany for more than 3 months, you must register at the local Residents' Registration Office (Einwohnermeldeamt), usually within 7 days of your entry into the country.
If you don't, you may be fined.
Other entry requirements
Customs officials may ask you to show them a return or onward ticket and proof of sufficient funds to cover your stay.
Yellow fever
Learn about potential entry requirements related to yellow fever (vaccines section).
Children and travel
Learn more about travelling with children .
Relevant Travel Health Notices
Global Measles Notice - 31 August, 2023
COVID-19 and International Travel - 31 August, 2023
Mpox (monkeypox): Advice for travellers - 30 October, 2023
This section contains information on possible health risks and restrictions regularly found or ongoing in the destination. Follow this advice to lower your risk of becoming ill while travelling. Not all risks are listed below.
Consult a health care professional or visit a travel health clinic preferably 6 weeks before you travel to get personalized health advice and recommendations.
Routine vaccines
Be sure that your routine vaccinations , as per your province or territory , are up-to-date before travelling, regardless of your destination.
Some of these vaccinations include measles-mumps-rubella (MMR), diphtheria, tetanus, pertussis, polio, varicella (chickenpox), influenza and others.
Pre-travel vaccines and medications
You may be at risk for preventable diseases while travelling in this destination. Talk to a travel health professional about which medications or vaccines may be right for you, based on your destination and itinerary.
Yellow fever is a disease caused by a flavivirus from the bite of an infected mosquito.
Travellers get vaccinated either because it is required to enter a country or because it is recommended for their protection.
There is no risk of yellow fever in this country.
Country Entry Requirement*
Proof of vaccination is not required to enter this country.
Recommendation
Vaccination is not recommended.
* It is important to note that country entry requirements may not reflect your risk of yellow fever at your destination. It is recommended that you contact the nearest diplomatic or consular office of the destination(s) you will be visiting to verify any additional entry requirements.
About Yellow Fever
Yellow Fever Vaccination Centres in Canada
Tick-borne encephalitis is present in some areas of this country.
It is a viral disease that affects the central nervous system (brain and spinal cord).
It is spread to humans by the bite of infected ticks or when you consume unpasteurized milk products.
Vaccination should be considered for those who may be exposed to ticks during outdoor activities.
A vaccine against TBE does exist but is only available in countries where the disease is present.
Learn more on what you can do to prevent tick-borne encephalitis (TBE)
Measles is a highly contagious viral disease. It can spread quickly from person to person by direct contact and through droplets in the air.
Anyone who is not protected against measles is at risk of being infected with it when travelling internationally.
Regardless of where you are going, talk to a health care professional before travelling to make sure you are fully protected against measles.
Hepatitis B is a risk in every destination. It is a viral liver disease that is easily transmitted from one person to another through exposure to blood and body fluids containing the hepatitis B virus. Travellers who may be exposed to blood or other bodily fluids (e.g., through sexual contact, medical treatment, sharing needles, tattooing, acupuncture or occupational exposure) are at higher risk of getting hepatitis B.
Hepatitis B vaccination is recommended for all travellers. Prevent hepatitis B infection by practicing safe sex, only using new and sterile drug equipment, and only getting tattoos and piercings in settings that follow public health regulations and standards.
Coronavirus disease (COVID-19) is an infectious viral disease. It can spread from person to person by direct contact and through droplets in the air.
It is recommended that all eligible travellers complete a COVID-19 vaccine series along with any additional recommended doses in Canada before travelling. Evidence shows that vaccines are very effective at preventing severe illness, hospitalization and death from COVID-19. While vaccination provides better protection against serious illness, you may still be at risk of infection from the virus that causes COVID-19. Anyone who has not completed a vaccine series is at increased risk of being infected with the virus that causes COVID-19 and is at greater risk for severe disease when travelling internationally.
Before travelling, verify your destination's COVID-19 vaccination entry/exit requirements. Regardless of where you are going, talk to a health care professional before travelling to make sure you are adequately protected against COVID-19.
Seasonal influenza occurs worldwide. The flu season usually runs from November to April in the northern hemisphere, between April and October in the southern hemisphere and year round in the tropics. Influenza (flu) is caused by a virus spread from person to person when they cough or sneeze or by touching objects and surfaces that have been contaminated with the virus. Get the flu shot.
In this destination, rabies may be present in some wildlife species, including bats. Rabies is a deadly disease that spreads to humans primarily through bites or scratches from an infected animal.
If you are bitten or scratched by an animal while travelling, immediately wash the wound with soap and clean water and see a health care professional.
Before travel, discuss rabies vaccination with a health care professional. It may be recommended for travellers who will be working directly with wildlife.
Safe food and water precautions
Many illnesses can be caused by eating food or drinking beverages contaminated by bacteria, parasites, toxins, or viruses, or by swimming or bathing in contaminated water.
Learn more about food and water precautions to take to avoid getting sick by visiting our eat and drink safely abroad page. Remember: Boil it, cook it, peel it, or leave it!
Avoid getting water into your eyes, mouth or nose when swimming or participating in activities in freshwater (streams, canals, lakes), particularly after flooding or heavy rain. Water may look clean but could still be polluted or contaminated.
Avoid inhaling or swallowing water while bathing, showering, or swimming in pools or hot tubs.
Insect bite prevention
Many diseases are spread by the bites of infected insects such as mosquitoes, ticks, fleas or flies. When travelling to areas where infected insects may be present:
Use insect repellent (bug spray) on exposed skin
Cover up with light-coloured, loose clothes made of tightly woven materials such as nylon or polyester
Minimize exposure to insects
Use mosquito netting when sleeping outdoors or in buildings that are not fully enclosed
To learn more about how you can reduce your risk of infection and disease caused by bites, both at home and abroad, visit our insect bite prevention page.
Find out what types of insects are present where you're travelling, when they're most active, and the symptoms of the diseases they spread.
Animal precautions
Some infections, such as rabies and influenza, can be shared between humans and animals. Certain types of activities may increase your chance of contact with animals, such as travelling in rural or forested areas, camping, hiking, and visiting wet markets (places where live animals are slaughtered and sold) or caves.
Travellers are cautioned to avoid contact with animals, including dogs, livestock (pigs, cows), monkeys, snakes, rodents, birds, and bats, and to avoid eating undercooked wild game.
Closely supervise children, as they are more likely to come in contact with animals.
Person-to-person infections
Stay home if you're sick and practise proper cough and sneeze etiquette , which includes coughing or sneezing into a tissue or the bend of your arm, not your hand. Reduce your risk of colds, the flu and other illnesses by:
washing your hands often
avoiding or limiting the amount of time spent in closed spaces, crowded places, or at large-scale events (concerts, sporting events, rallies)
avoiding close physical contact with people who may be showing symptoms of illness
Sexually transmitted infections (STIs) , HIV , and mpox are spread through blood and bodily fluids; use condoms, practise safe sex, and limit your number of sexual partners. Check with your local public health authority pre-travel to determine your eligibility for mpox vaccine.
Medical services and facilities
Health care is excellent. Service is available throughout the country.
Private healthcare is expensive. Care providers usually require upfront payment. If you need a detailed breakdown of expenses for a Canadian insurance claim, make sure you clearly request it, as German hospitals don't usually provide one.
Make sure you get travel insurance that includes coverage for medical evacuation and hospital stays.
Travel health and safety
Keep in Mind...
The decision to travel is the sole responsibility of the traveller. The traveller is also responsible for his or her own personal safety.
Be prepared. Do not expect medical services to be the same as in Canada. Pack a travel health kit , especially if you will be travelling away from major city centres.
You must abide by local laws.
Learn about what you should do and how we can help if you are arrested or detained abroad .
Transfer to a Canadian prison
Canada and Germany are signatories to the Convention on the Transfer of Sentenced Persons. This enables a Canadian imprisoned in Germany to request a transfer to a Canadian prison to complete a sentence. The transfer requires the agreement of both Canadian and Germany authorities.
This process can take a long time, and there is no guarantee that the transfer will be approved by either or both sides.
Identification
Local police may ask to see your identification at any time.
Carry adequate identification at all times, such as your passport or residence permit
Keep a photocopy of your passport in a safe place, in case it is lost or stolen
Penalties for possession, use or trafficking of illegal drugs are severe. Convicted offenders can expect jail sentences or heavy fines.
Useful link
Drugs, alcohol and travel
Illegal activities
There are strict laws regarding the diffusion of propaganda material and the use of symbols from the Nazi party or other organizations linked to fascism and the Third Reich.
Illegal activities may include:
diffusing or sharing propaganda, including online
producing, importing or exporting memorabilia
publicly wearing, using or display symbols and greetings related to these organizations
Convicted offenders can expect jail sentences or fines.
Dual citizenship
Dual citizenship is legally recognized in Germany.
If you are a Canadian citizen, but also a citizen of Germany, our ability to offer you consular services may be limited while you're there. You may also be subject to different entry/exit requirements .
Travellers with dual citizenship
International Child Abduction
The Hague Convention on the Civil Aspects of International Child Abduction is an international treaty. It can help parents with the return of children who have been removed to or retained in certain countries in violation of custody rights. The convention applies between Canada and Germany.
If your child was wrongfully taken to, or is being held in Germany, and if the applicable conditions are met, you may apply for the return of your child to the German court.
If you are in this situation:
act as quickly as you can
contact the Central Authority for your province or territory of residence for information on starting an application under The Hague Convention
consult a lawyer in Canada and in Germany to explore all the legal options for the return of your child
report the situation to the nearest Canadian government office abroad or to the Vulnerable Children's Consular Unit at Global Affairs Canada by calling the Emergency Watch and Response Centre
If your child was removed from a country other than Canada, consult a lawyer to determine if The Hague Convention applies.
Be aware that Canadian consular officials cannot interfere in private legal matters or in another country's judicial affairs.
List of Canadian Central Authorities for the Hague Convention
International Child Abduction: A Guidebook for Left-Behind Parents
Travelling with children
The Hague Convention - Hague Conference on Private International Law
Canadian embassies and consulates by destination
Emergency Watch and Response Centre
You must be at least 18 years old to drive a vehicle in Germany.
You can use your valid Canadian driver's licence for up to 6 months. After 6 months, you must exchange your Canadian licence for a German one. Allow up to 6 weeks for German authorities to exchange your licence.
You must always carry written permission from the registered owner of the vehicle if the vehicle doesn't belong to you.
Winter tires are mandatory during icy conditions.
Speed limits
Speed limits vary considerably in Germany. On the highway network (autobahn), limits are generally much higher than the ones in Canada. On certain sections, there are no speed limits.
Drive carefully
Be mindful of speed regulations
Low-emission zones
Certain cities have put in place low-emission zones (Umweltzone) to reduce air pollution.
Access to these zones is restricted. You may need to obtain a permit to prove that your vehicle responds to environmental standards.
Personal light electric vehicles
Drivers of light electric vehicles, such as electric scooters and e-skateboards, must follow the rules of the road. Insurance is mandatory.
To drive such vehicles, your blood alcohol limit must not exceed 0.05%. New drivers and individuals under 21 years of age must not have any alcohol in their system. Convicted offenders can face heavy fines and have their licence confiscated on the spot. Authorities may ask for the fine to be paid right away.
You cannot drive on pedestrian walkways and in pedestrian zones.
More about driving in Germany - European Commission
Low-emission zones in Germany - German Environment Agency
Personal Light Electric Vehicles - Federal Ministry of Transport and Digital Infrastructure
The currency of Germany is the euro (EUR).
If you are carrying €10,000 or more, or the equivalent in other currencies, you must make a declaration to customs when you enter or leave the European Union. It includes sums in:
banknotes and coins
bearer negotiable instruments such as cheques, travellers' cheques, promissory notes and money orders
bonds, shares
gold coins with a gold content of at least 90 %
gold bars, nuggets or clumps with a gold content of at least 99.5 %
any other convertible asset
This does not apply if you are travelling within the European Union or in transit to a non-EU country.
EU cash controls - European Commission
Flooding and landslides
Heavy rains, particularly in spring and summer, can cause severe flooding and landslides. Roads may become impassable and infrastructure damaged.
Exercise caution, particularly in areas around major rivers
Stay informed of the latest regional weather forecasts
Download the Nina warning app to receive important alerts from German authorities
Follow the advice of local authorities, including evacuation orders
Emergency preparation - Federal Office for Civil Protection and Disaster Assistance (in German)
Nina warning app - Federal Office for Civil Protection and Disaster Assistance (in German)
Forest fires may occur, particularly during summer months.
The air quality in areas near active fires may deteriorate due to heavy smoke.
In case of a major fire:
stay away from affected areas, particularly if you suffer from respiratory ailments
monitor local media for up-to-date information on the situation
follow the advice of local authorities
There is a risk of avalanches in mountainous regions, especially following heavy snowfalls. Some have resulted in deaths.
Be particularly careful in the alpine areas of Bavaria.
Avalanche forecasting and warnings - European Avalanche Warning Services (EAWS)
Local services
In case of emergency, dial:
police: 110
medical assistance: 112
firefighters: 112
Consular assistance
For emergency consular assistance, call the embassy of Canada to Germany, in Berlin, and follow the instructions. At any time, you may also contact the Emergency Watch and Response Centre in Ottawa.
The decision to travel is your choice and you are responsible for your personal safety abroad. We take the safety and security of Canadians abroad very seriously and provide credible and timely information in our Travel Advice to enable you to make well-informed decisions regarding your travel abroad.
The content on this page is provided for information only. While we make every effort to give you correct information, it is provided on an "as is" basis without warranty of any kind, expressed or implied. The Government of Canada does not assume responsibility and will not be liable for any damages in connection to the information provided.
If you need consular assistance while abroad, we will make every effort to help you. However, there may be constraints that will limit the ability of the Government of Canada to provide services.
Learn more about consular services .
Risk Levels
take normal security precautions.
Take similar precautions to those you would take in Canada.
Exercise a high degree of caution
There are certain safety and security concerns or the situation could change quickly. Be very cautious at all times, monitor local media and follow the instructions of local authorities.
IMPORTANT: The two levels below are official Government of Canada Travel Advisories and are issued when the safety and security of Canadians travelling or living in the country or region may be at risk.
Avoid non-essential travel
Your safety and security could be at risk. You should think about your need to travel to this country, territory or region based on family or business requirements, knowledge of or familiarity with the region, and other factors. If you are already there, think about whether you really need to be there. If you do not need to be there, you should think about leaving.
Avoid all travel
You should not travel to this country, territory or region. Your personal safety and security are at great risk. If you are already there, you should think about leaving if it is safe to do so.
What are you looking for?
Entry to germany for fully vaccinated persons.
This article contains information on entry to Germany for persons who are fully vaccinated with approved vaccines.
Persons who are fully vaccinated against the coronavirus SARS‑CoV‑2 with vaccines approved by the European Medicines Agency (EMA) (or equivalents of these vaccines used in third countries) can enter Germany from the United States. This includes persons who wish to enter Germany for the purpose of visits or tourism. Fully vaccinated persons as defined above can apply for visas at the Embassy of the Federal Republic of Germany if required.
However, this does not apply to entry to Germany from countries that are classified as areas of variant of concern. Transportation to Germany from these areas continues to be prohibited.
Only persons who have been vaccinated with vaccines listed on the website of the Paul-Ehrlich-Institut (PEI) can enter Germany (see details below). This currently applies solely to vaccines approved by the European Medicines Agency (EMA) or equivalents of these vaccines used in third countries. The plan is to extend this to other vaccines with a comparable level of protection as soon as the necessary tests have been completed.
Proof of vaccination
To enter Germany, all travellers must present proof of vaccination that meets the requirements listed under 1., 2. and 3. below in full.
1. It must be a digital EU COVID certificate or comparable proof of vaccination in digital or physical (paper) form in German, English, French, Italian or Spanish. Photographs of physical proof cannot be accepted as digital proof. Proof in digital form should have been issued digitally by the authorised issuer and transmitted digitally to the entitled holder.
2. Proof of vaccination must contain the following Information:
the personal data of the vaccinated person (at least their family name, first name and date of birth or the number of a valid passport or other official photo ID, which is to be presented upon inspection),
date of vaccination, number of vaccinations,
name of vaccine,
name of disease vaccinated against, and
identifiers that indicate the person or institution responsible for administering the vaccination or issuing the certificate, for example an official symbol or the name of the issuer.
3. Furthermore, the vaccine itself must meet certain requirements. These requirements – which are mandatory – are published on the website of the Paul-Ehrlich-Institut and concern:
the vaccines used,
the number of individual vaccinations required for full protection,
any booster shots required to maintain full protection,
the time that must be waited following vaccination before the individual is considered fully protected, and
the maximum time allowed between individual vaccinations or booster shots.
Before all planned travel, you should therefore check whether your proof of vaccination meets the above requirements – in particular, whether the vaccination that you have received meets the criteria published on the website of the Paul-Ehrlich-Institut in full.
Children under the age of 12 who are not yet vaccinated can enter the country with proof of a negative test result (PCR test or antigen test) when accompanied by at least one fully vaccinated parent. Children under the age of six do not require proof of a negative test result.
For more information, please consult the website of the Federal Ministry of the Interior .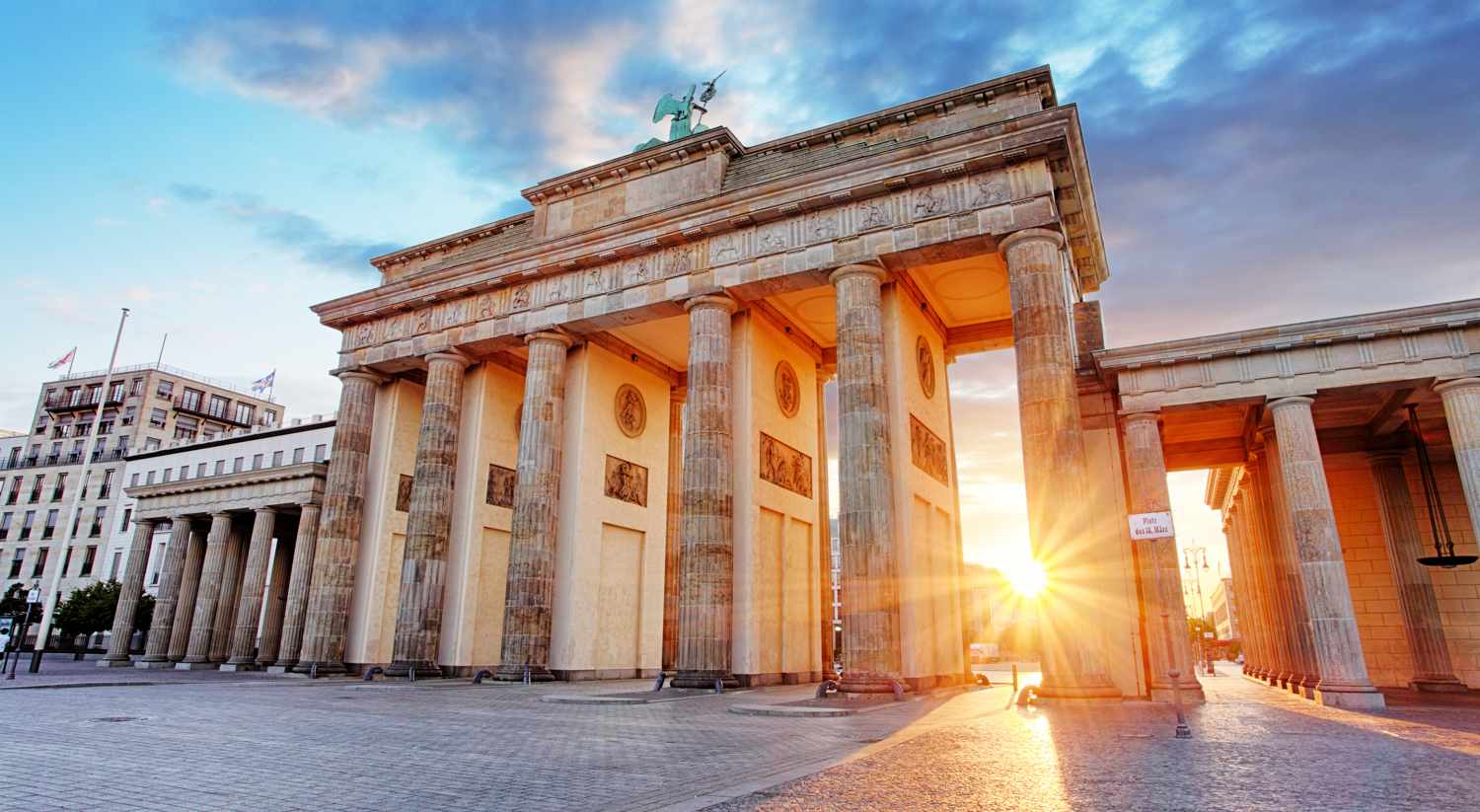 Introducing Germany
About germany.
Images of Germany
History, language & culture
Weather & geography
Doing business & staying in touch
Plan your trip
Travel to Germany
Where to stay
While you're there
Things to see & do
Shopping & nightlife
Food & drink
Getting around
Before you go
Passport & visa
Public Holidays
Money & duty free
Book your flights
BER Berlin Brandenburg Airport
Bodensee Airport Friedrichshafen
City Airport Bremen
Cologne Bonn Airport
Dresden International Airport
Düsseldorf Airport
Frankfurt Airport
Hamburg Airport
Hanover Airport
Leipzig/Halle Airport
Munich Airport
Münster Osnabrück International Airport
Nuremberg Airport
Paderborn/Lippstadt Airport
Rostock-Laage Airport
Stuttgart Airport
Sylt (Westerland) Airport
Zweibrücken Airport
Ski Resorts
Germany travel guide
Misunderstood by many, Germany is one of the most varied and charming countries on the continent. Anyone expecting a homogenous nation conforming to old Teutonic stereotypes is in for a shock.
As a destination, it offers a clutch of truly lovely cities, culture served up in hefty portions and rural scenery so pretty you'll wonder why it isn't on every tourist hit list.
The country occupies a prime position at the heart of Europe – both literally and figuratively. It is home to the biggest economy on the continent, has more inhabitants than anywhere else in the EU and shares land borders with no less than nine other nations.
It's no surprise, then, that today's Germany is more diverse and cosmopolitan than old stereotypes suggest; mixing time-honoured traditions with multicultural modernism and self-confidence.
It's the nation's urban highlights that immediately draw the attention. Berlin is the definition of dynamism, having forged a good-time reputation for groundbreaking creativity while still keeping sight of its past.
Elsewhere, the likes of Cologne, Munich and Hamburg provide the capital with able support. Not only are they rich in history, whether in the forms of classical music, fine art or medieval architecture, but they also put pay to the notion that Germans don't do gastronomy. These days, you can dine and drink extremely well in Deutschland.
Then there's the beautiful German countryside. From the sky-scraping peaks of the Bavarian Alps and pale cliffs of the Jasmund National Park to the castles of the Rhine and moors of the Mecklenburg Lake District, it's nirvana for hikers, cyclists, boaters, motorists and skiers alike.
Travelling around this country is a piece of Black Forest gâteau. Costs are manageable, overcrowding is rare and, despite its size, it could not be easier to get from A to B thanks to an incredibly efficient public transport network. Which proves some of those old German stereotypes do hold true.
357,022 sq km (137,846 sq miles).
82,293,457 (2018).
236 per sq km.
Federal Republic.
President Frank-Walter Steinmeier since 2017.
Chancellor Olaf Scholz since December 2021.
Travel Advice
The Foreign, Commonwealth & Development Office ( FCDO ) provides advice about risks of travel to help British nationals make informed decisions. Find out more about FCDO travel advice .
Before you travel
No travel can be guaranteed safe. Read all the advice in this guide as well as support for British nationals abroad which includes:
advice on preparing for travel abroad and reducing risks
information for women, LGBT and disabled travellers
Follow and contact FCDO travel on Twitter , Facebook and Instagram . You can also sign up to get email notifications when this advice is updated.
Travel insurance
If you choose to travel, research your destinations and get appropriate travel insurance . Insurance should cover your itinerary, planned activities and expenses in an emergency.
This advice reflects the UK government's understanding of current rules for people travelling on a full 'British citizen' passport from the UK, for the most common types of travel.
The authorities in Germany set and enforce entry rules. If you're not sure how these requirements apply to you, contact Germany's embassy or consulate in the UK .
COVID-19 rules
Countries may restrict travel or bring in rules at short notice. Check with your travel company or airline for changes.
If you test positive for COVID-19, you may need to stay where you are until you test negative. You may also need to seek treatment there.
Visit TravelHealthPro (from the UK's National Travel Health Network and Centre) for general COVID-19 advice for travellers .
Passport validity requirements
If you plan to visit an EU country (except Ireland), or Switzerland, Norway, Iceland, Liechtenstein, Andorra, Monaco, San Marino or Vatican City, you must follow the Schengen area passport requirements .
Your passport must be:
issued less than 10 years before the date you enter the country (check the 'date of issue')
valid for at least 3 months after the day you plan to leave (check the 'expiry date')
You must check your passport meets these requirements before you travel. If your passport was issued before 1 October 2018, extra months may have been added to its expiry date.
Contact the German Embassy in the UK if you think that your passport does not meet both these requirements. Renew your passport if you need to .
If you hold a valid residence permit, passport validity requirements are less strict. In this case, your passport only needs to be valid for the duration of your stay (check the 'expiry date'). Before applying to extend a German residence permit , you will need to renew an expired passport and present your new passport to the local Foreigners Authority (Ausländerbehörde).
Passport stamping
At German border control, you may need to:
show a return or onward ticket
show you have enough money for your stay
Check your passport is stamped if you enter or exit the Schengen area through Germany as a visitor. Border guards will use passport stamps to check you're complying with the 90-day visa-free limit for short stays in the Schengen area. If relevant entry or exit stamps are not in your passport, border guards will presume that you have overstayed your visa-free limit.
You can show evidence of when and where you entered or exited the Schengen area, and ask the border guards to add this date and location in your passport. Examples of acceptable evidence include boarding passes and tickets.
If you live in Germany, read our Living in Germany guide for passport stamping information.
Visa requirements
You can travel to countries in the Schengen area for up to 90 days in any 180-day period without a visa. This applies if you travel:
as a tourist
to visit family or friends
to attend business meetings, cultural or sports events
for short-term studies or training
If you are travelling to Germany and other Schengen countries without a visa, make sure your whole visit is within the 90-day limit. Visits to Schengen countries within the previous 180 days before you travel count towards your 90 days.
To stay longer (for example, to work, study or for business), you must meet the German government's entry requirements. Check which type of visa or work permit you need with the German Embassy in the UK .
If you are travelling to Germany for work , read the guidance on visas and permits. The German Embassy has detailed information on employment regulations.
If you stay in Germany with a residence permit or long-stay visa, this does not count towards your 90-day visa-free limit.
Proof of residence
If you live in Germany, read our Living in Germany guide for information on carrying proof of residence while travelling.
Vaccination requirements (other than COVID-19)
At least 8 weeks before your trip, check what vaccinations and vaccination certificates you may need in TravelHealthPro's Germany guide .
Customs rules
There are strict rules about goods you can take into and out of Germany . You must declare anything that may be prohibited or subject to tax or duty.
Taking food and drink into the EU
You cannot take meat, milk or products containing them into EU countries. There are some exceptions for medical reasons, for example certain amounts of powdered infant milk, infant food, or pet food needed for medical reasons. Check the rules about taking food and drink into the EU on the European Commission website.
Taking money into Germany
British nationals have been arrested for having counterfeit currency. Only change money in banks or legitimate currency exchange offices.
You must declare any amount above 10,000 euros in cash or other payment types. You can find more information on the German Federal Foreign Office website.
On Saturday 4 November, Hamburg Airport has been closed as police deal with an ongoing situation. If you are in the vicinity, you should follow the advice of police and airport authorities. If your travel plans have been affected, please liaise with your travel operator.
There is a high threat of terrorist attack globally affecting UK interests and British nationals, including from groups and individuals who view the UK and British nationals as targets. You should remain vigilant at all times.
UK Counter Terrorism Policing has information and advice on staying safe abroad and what to do in the event of a terrorist attack. Find out how to reduce your risk from terrorism while abroad.
Terrorism in Germany
Terrorists are very likely to try and carry out attacks in Germany.
Attacks could be indiscriminate, including in public places frequented by foreign nationals such as:
restaurants
shopping centres
places of worship and religious sites, including synagogues
Recent terrorism attacks in Germany include:
in 2020, one person was killed and another seriously injured in a knife attack in Dresden city centre
in 2020, 8 people were killed and 5 injured in 2 mass shootings in shisha bars in Hanau
in 2019, 2 people were shot and killed close to a synagogue in the eastern German city of Halle
Protecting your belongings
Crime levels are similar to the UK. Take sensible precautions to avoid mugging, bag snatching and pickpocketing. Be particularly vigilant at airports, railway stations and crowded public gatherings. Do not leave valuables unattended.
Passport theft
If your passport has been lost or stolen, get a police report from the nearest police station.
Laws and cultural differences
Personal id.
You don't have to carry your passport with you in Germany. However, if you're asked to show your passport and don't have it with you, police may escort you to where your passport is being kept so that you can show it to them.
Outdoor activities and adventure tourism
Skiing and avalanches are a risk in some areas. Always check the local snow and weather conditions when you arrive. Read more information about avalanche risk from the European Avalanche Warning Service .
Transport risks
Road travel.
If you are planning to drive in Germany, see information on driving abroad and read the RAC Germany guide .
Licences and permits
You need either a 1968 international driving permit (IDP) or a valid UK driving licence to drive in Germany. The 1949 IDP is not accepted anymore. You cannot buy an IDP outside the UK, so get one before you travel. You can buy an IDP in person from some UK post offices – find your nearest post office branch that offers this service. If you're driving a vehicle that doesn't belong to you, you may also need written permission from the registered owner. The minimum age for driving a car in Germany is 18.
Driving a British car abroad
You may need a UK sticker to drive your car outside the UK. These have replaced GB stickers. Check the guidance on displaying number plates if you are driving outside the UK.
The German Federal Transport Ministry has more information on the validity of non-German driving licences.
If you live in Germany, check the Living in Germany guide for information on requirements for residents.
Driving regulations
Some inner city areas have an environmental zone ('Umweltzone'). Only vehicles that meet specific exhaust emission standards can enter. See the German Environment Agency and Federal Ministry for the Environment, Nature Conservation, Nuclear Safety and Consumer Protection for more information. It is illegal to take part in motor vehicle races or rallies on German roads.
Before you travel, check that:
your destination can provide the healthcare you may need
you have appropriate travel insurance for local treatment or unexpected medical evacuation
This is particularly important if you have a health condition or are pregnant.
Emergency medical number
Dial 112 and ask for an ambulance.
Contact your insurance or medical assistance company promptly if you're referred to a medical facility for treatment.
For more information, read guidance on healthcare when travelling in Europe .
Vaccinations and health risks
At least 8 weeks before your trip check:
the latest information on health risks and what vaccinations you need in TravelHealthPro's Germany guide
where to get vaccines and whether you have to pay on the NHS travel vaccinations page
Altitude sickness is a risk in parts of Germany, including mountainous regions. More information about altitude sickness is available from TravelHealthPro .
The legal status and regulation of some medicines prescribed or bought in the UK can be different in other countries.
TravelHealthPro explains best practice when travelling with medicines .
The NHS has information on whether you can take your medicine abroad .
Healthcare facilities in Germany
View FCDO's list of English-speaking doctors in Germany .
Health insurance cards
Apply for a free UK Global Health Insurance Card (GHIC) or European Health Insurance Card (EHIC) before leaving the UK. If you already have an EHIC, it will still be valid as long as it remains in date.
The GHIC or EHIC entitles you to state-provided medical treatment necessary during your trip. Any treatment provided is on the same terms as German nationals. If you do not have your EHIC with you or you've lost it, contact the NHS Overseas Healthcare Team .
It's important to take out appropriate travel insurance for your needs. A GHIC or EHIC is not an alternative to travel insurance and you should have both before you travel. An EHIC or GHIC does not cover all health-related costs, for example, medical repatriation, ongoing medical treatment and non-urgent treatment. Read more about what your travel insurance should cover .
EHIC and GHIC cover state healthcare only, not private treatment. You will be responsible for the cost of any treatment from a private doctor or private clinic.
Travel and mental health
Read FCDO guidance on travel and mental health . There is also mental health guidance on TravelHealthPro .
The Foreign, Commonwealth & Development Office (FCDO) cannot provide tailored advice for individual trips. Read this travel advice and carry out your own research before deciding whether to travel.
Emergency services in Germany
Ambulance: 112
Police: 110
Contact your travel provider and insurer
Contact your travel provider and your insurer if you're involved in a serious incident or emergency abroad. They will tell you if they can help and what you need to do.
Refunds and changes to travel
For refunds or changes to travel, contact your travel provider. You may also be able to make a claim through insurance. However, insurers usually require you to talk to your travel provider first.
Find out more about changing or cancelling travel plans , including:
where to get advice if you are in a dispute with a provider
how to access previous versions of travel advice to support a claim
Support from FCDO
FCDO has guidance on staying safe and what to do if you need help or support abroad, including:
finding English-speaking lawyers , funeral directors and translators and interpreters in Germany
dealing with a death in Germany
being arrested in Germany
getting help if you're a victim of crime
what to do if you're in hospital
if you're affected by a crisis , such as a terrorist attack
Contacting FCDO
Follow and contact FCDO travel on Twitter , Facebook and Instagram . You can also sign up to get email notifications when this travel advice is updated.
Help abroad in an emergency
If you are abroad and you need emergency help from the UK government, contact the nearest British embassy, consulate or high commission .
You can also contact FCDO online .
FCDO in London
You can call FCDO in London if you need urgent help because something has happened to a friend or relative abroad.
Telephone: 020 7008 5000 (24 hours)
Find out about call charges
Risk information for British companies
The Overseas Business Risk service offers information and advice for British companies operating overseas on how to manage political, economic, and business security-related risks.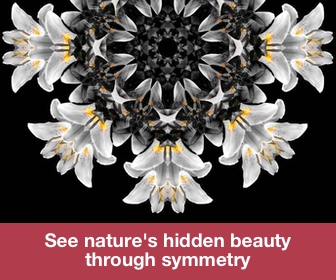 Related Articles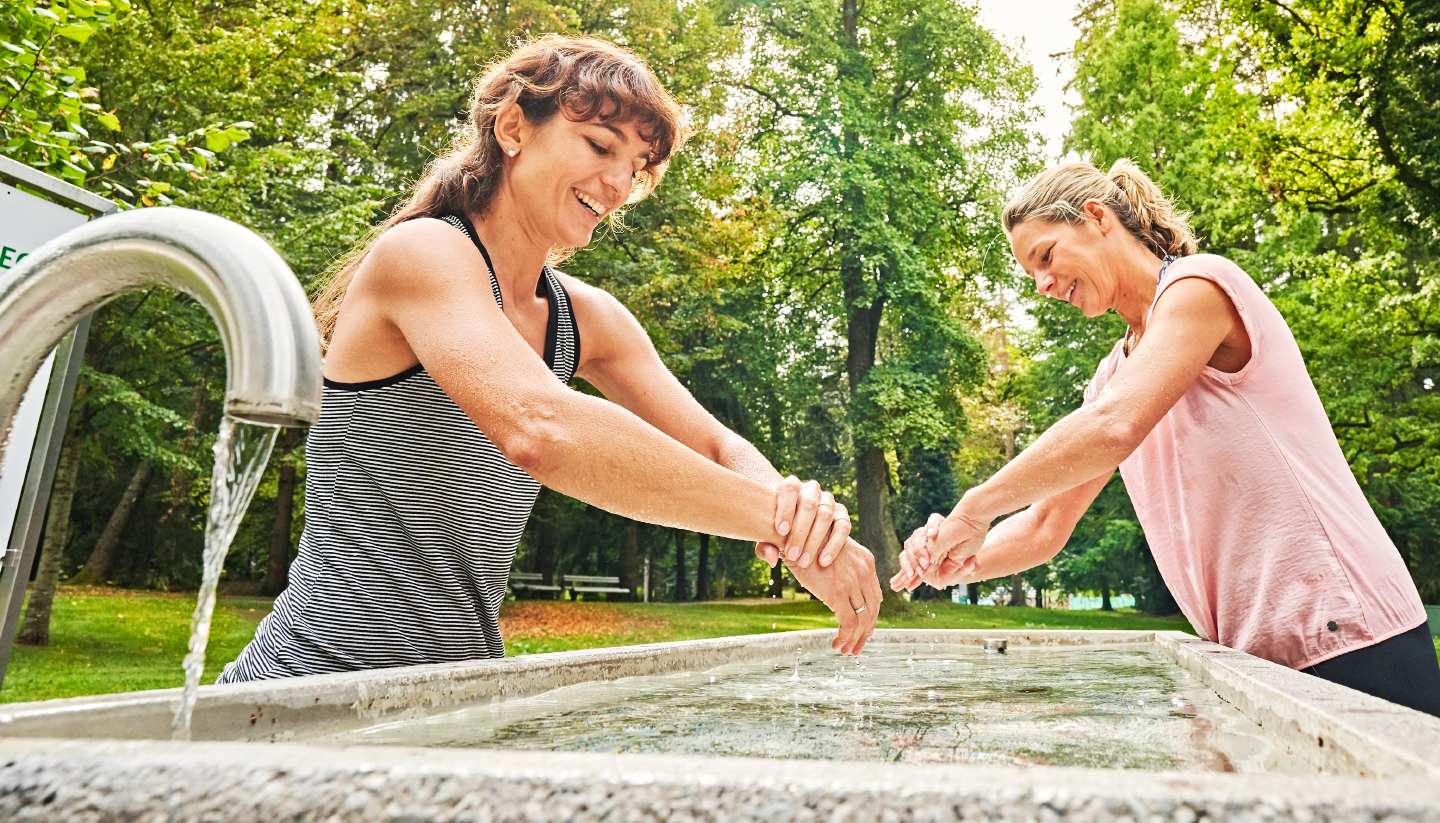 Bathe thyself: Searching for the 'Kneipp Cure' in Germany
Once upon a time, Europeans flocked to Germany in search of the 'Kneipp Cure' or Kneippism, so find out what it is and why it is popular again
Book a Hotel
© Columbus Travel Media Ltd. All rights reserved 2023
FlightRadar24
Turn your windows device into an air traffic radar and see airplane traffic around the world in real-time. discover why millions are already using flightradar24. flightradar24 is, or has been the number one travel app in more than 50 countries including germany, france, united kingdom, japan, and australia. we are frequently featured in the media and recent media mentions include bild (germany), le monde (france), and cnn (us). coverage we are constantly working to expand flightradar24's global coverage. below is a breakdown of our coverage as of august 2012. for the most up-to-date coverage, please visit http://www.flightradar24.com * europe roughly 95% of the continent covered * north america complete coverage in the us and canada (but with 5 minute delay) thanks to faa data. additional real-time data in large parts of the two countries. minor coverage in mexico * rest of the world we have coverage in parts of russia, australia, new zealand, argentina, brazil, chile, china, colombia, costa rica, greenland, hong kong, india, indonesia, japan, kazakhstan, malaysia, maldives, mauritius, mexico, middle east, philippines, singapore, south africa, taiwan, thailand and many other countries please note that coverage will vary. important information please note that flightradar24 only can track aircraft equipped with an ads-b transponder. the exception is in the us and canada where we get radar data from the faa and can track almost all planes, but with a five-minute delay. visit http://www.flightradar24.com for more information about ads-b and flightradar24's coverage., 10/23/2012 3:40:36 am.