74th Victory Tour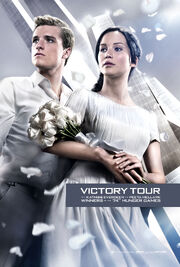 Victory Tour poster
The 74th Victory Tour featured the 74th Hunger Games ' two victors , Katniss Everdeen and Peeta Mellark . It began in District 11 , cycled through all of the other districts , and ended in District 12 , Katniss and Peeta's home district.
1 Participants
2.1 District 11
2.2 District 10–4
2.3 District 3
2.4 District 2
2.5 District 1
2.6 Capitol
2.7 District 12
3 References
Participants [ ]
The 74th Hunger Games victors Katniss Everdeen and Peeta Mellark were featured on the tour . They were accompanied by their mentor , Haymitch Abernathy ; their escort , Effie Trinket ; their stylists , Cinna and Portia , and their prep team , Katniss' consisting of Flavius , Octavia , and Venia .
The Tour [ ]
District 11 [ ].
District 11 was the first stop in the nation-wide victory tour. Katniss noted on her way in how high the watchtowers were, how great the security was, how scarce the people were, and how shabby the houses looked (even compared to those in the Seam ).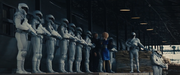 The Victory Tour arriving in District 11.
After leaving the train , the team and victors were forced into an armored truck. Once they arrived at the Town Square, they realized that only a very small portion of the town was present; most of the rest were completing the harvest. A small platform was erected at the bottom of the stage for the dead tributes' families.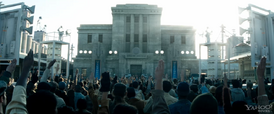 District 11
Peeta says some words about Rue and Thresh and then adds that Katniss and himself would be giving each of the families one month of their tribute winnings for the duration of their lives. Katniss then says a few words. She actually went before Peeta but felt guilty about leaving Rue and Thresh out of her speech after Rue's sister gives her a reproachful look. Katniss then gives a sentimental speech that seemed a bit rebellious. After Katniss' speech, an old man dressed in overalls whistles the four-note Mockingjay tune that Rue would sing to symbolize the end of the working day. Everyone in the crowd uses the District 12 respect sign and then points them in the direction of Katniss, a District 12 ritual to show admiration and respect. Katniss is then hurried inside and claims she left her bouquet of flowers outside. She then walks onto the veranda to find two Peacekeepers forcing the old man who whistled the tune on to his knees and then shooting a bullet into his head in front of the crowd. [1] Two bullets ring out moments afterwards, and Katniss suspects that either one of Rue's sisters or Thresh's grandmother has been made an example of what would happen if anyone else did something rebellious. Katniss then proceeds to the train feeling horrified and angry at herself. [2]
District 10–4 [ ]
Districts 10 through 4 were part of the same routine Katniss and Peeta did in District 11 with the exemption that the Victory Speech was the one provided by the Capitol and no personal remarks were made. Districts 8 , 4 and 3 cheered Katniss' name in vengeance and fury rather than a celebration. [2] In District 6 , Katniss read her speech saying that the tributes from that district fought like real warriors and in Catching Fire , whilst making her speech, two citizens are shown making the Three Finger Salute towards Katniss before being dragged away. Katniss wore a green dress in District 5 , which Annie Cresta , a District 4 victor, later wore to her wedding . [3]
Katniss at District 3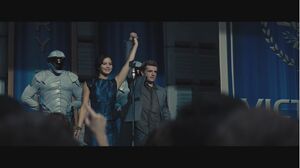 District 3 [ ]
District 3, on the Victory Tour, is shown in Catching Fire . The families of the tributes were seen. For the District 3 male , only one woman was on stage, who is presumed to be his mother. For the District 3 female , four family members attended. [4] District 3 was mentioned to be one of the districts that cheered for Katniss as a sign of rebellion . [2]
District 2 [ ]
District 2 was hard for Katniss as Clove and Cato , District 2's tributes for that year, could have made it home together if it wasn't for Katniss and Peeta. [2] The two avoided eye contact with their families. In District 2, Katniss wore a deep blue velvet dress with diamonds . [5]
District 1 [ ]
District 1 was, once again "in its own kind of awful" as Katniss personally killed Glimmer and Marvel , District 1's tributes. [2]
Capitol [ ]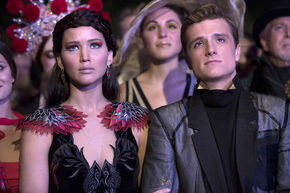 Katniss and Peeta at President Snow's mansion.
The Capitol appearance kicks off with the victor interviews . During this interview, Peeta, to the delight of the people of the Capitol, publicly proposed to Katniss. Katniss had suggested this, but Peeta was quite upset as he wanted it to be real. President Coriolanus Snow made a surprise appearance to congratulate Peeta and Katniss on their engagement. During the appearance, Snow hinted to Katniss that she failed to convince him. The Victory Dinner was held in the president's mansion . The roof had been transformed to look like the night sky, just like it looked in District 12. Katniss tried to eat some of each of the never ending line of exquisite dishes, but failed after ten tables. Flavius handed Peeta a small bottle of clear liquid, which would make him vomit in order to empty his stomach and eat more food, but this disgusts the two victors and Peeta refuses.
Katniss discovered that her Mockingjay pin had become a fashion accessory in the Capitol, and a variety of items had been crafted into its likeness. Portia, Peeta's stylist, introduced the victors to Plutarch Heavensbee , who then showed Katniss his Mockingjay hologram watch and said his Gamemaker 's meeting starts at midnight, giving Katniss a clue about the upcoming games, although she doesn't realize at the time. Heavensbee later tells her that he wanted to gain her trust. [6]
District 12 [ ]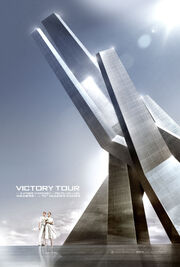 The celebrations in the winning tribute's district always happen on the last day of the Harvest Festival. Since the Capitol threw the event, the entire district had full stomachs that night, something that rarely happens. Katniss went to Mayor Undersee 's house to prepare herself for the dinner. While in his office, she heard of the uprising that was occurring in District 8 on his television. [6]
References [ ]
↑ Catching Fire , Chapter 4
↑ 2.0 2.1 2.2 2.3 2.4 Catching Fire , Chapter 5
↑ Mockingjay , Chapter 16
↑ The Hunger Games: Catching Fire
↑ Catching Fire , Chapter 15
↑ 6.0 6.1 Catching Fire , Chapter 6
1 Lucy Gray Baird
2 Coriolanus Snow
Hunger Games: Catching Fire Victory Tour posters revealed
Katniss and Peeta visit the Districts
The Hunger Games: Catching Fire has revealed a neat little bit of tie-in marketing by unveiling a pair of Victory Tour posters (via Facebook and Hitfix ). Rather than directly promoting the film, Lionsgate have opted to share an in-film promo of the celebratory circuit that Katniss (Jennifer Lawrence) and Peeta (Josh Hutcherson) will be making through the Districts of Panem. As the pair were victorious at the 74th annual Hunger Games, part of their responsibility as winners involves the Victory Tour, which takes in all of the 12 Districts, as a reminder of the importance of the yearly battle-to-the-death ritual. Having upstaged President Snow with their joint win of the Games, Katniss and Peeta have to watch their backs on tour, which explains the stony resilience on their photogenic faces. Check out the posters in full below:
Sign up to the GamesRadar+ Newsletter
Weekly digests, tales from the communities you love, and more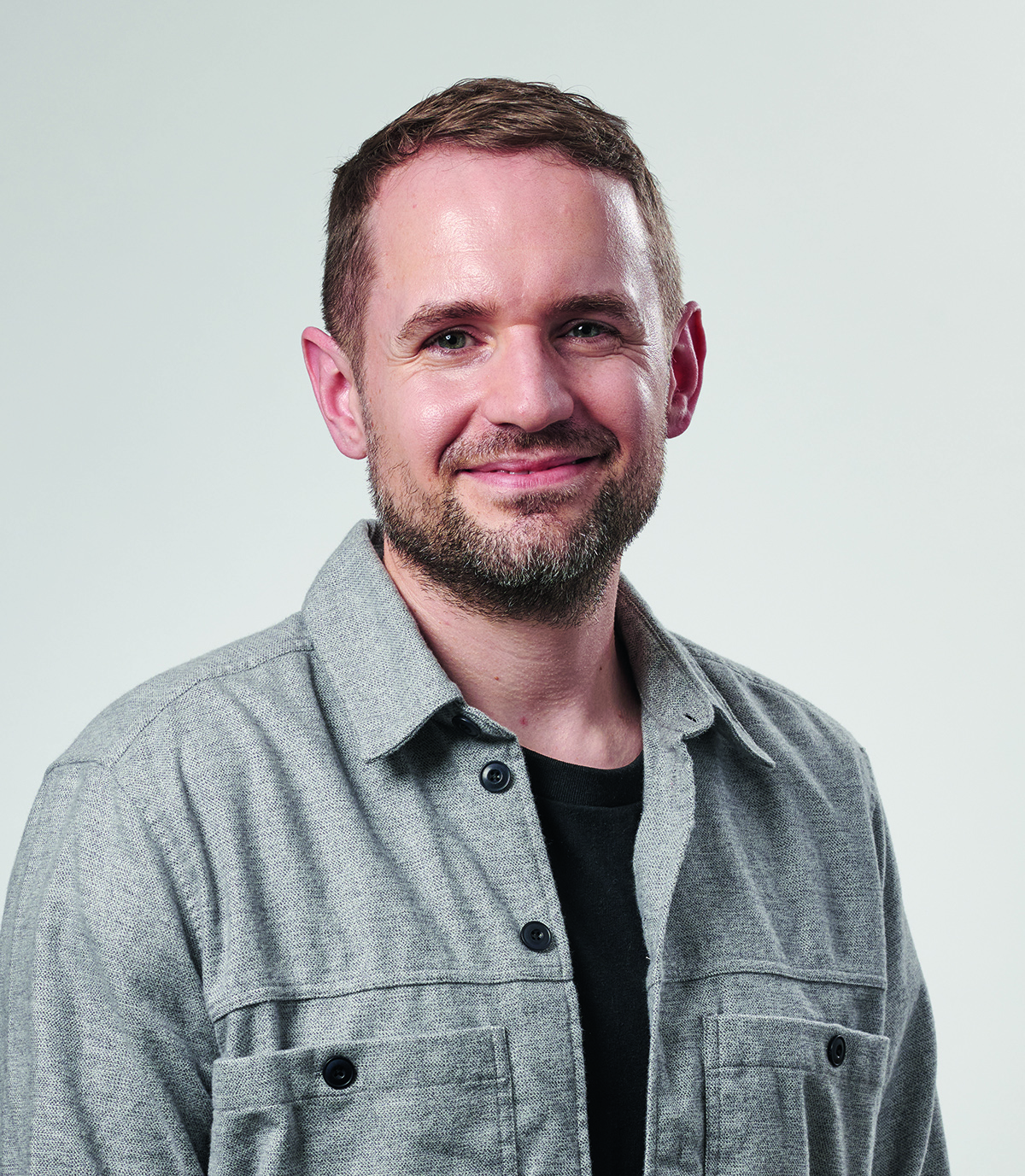 I'm the Deputy Editor at Total Film magazine, looking after the long-form features there, and generally obsessing over all things Nolan, Kubrick and Pixar. Over the past decade I've worked in various roles for TF online and in print, including at GamesRadar+, and you can often hear me nattering on the Inside Total Film podcast. Bucket-list-ticking career highlights have included reporting from the set of Tenet and Avengers: Infinity War, as well as covering Comic-Con, TIFF and the Sundance Film Festival.
Nintendo announces live-action Zelda movie
Zack Snyder's Rebel Moon sets theatrical release date ahead of Netflix debut
This roguelike deck builder mixes up genre greats for a Slay The Spire-like RPG with real-time combat
Most Popular
By George Marston 7 November 2023
By Dustin Bailey 7 November 2023
By Lauren Milici 7 November 2023
By Anne-Marie Ostler 7 November 2023
By Megan Garside 7 November 2023
By Hope Bellingham 7 November 2023
By Will Salmon 7 November 2023
By Hirun Cryer 7 November 2023
New Posters for THE HUNGER GAMES: CATCHING FIRE Touts Jennifer Lawrence and Josh Hutcherson's Victory Tour
The Hunger Games: Catching Fire Movie Posters. New posters for The Hunger Games: Catching Fire featuring Jennifer Lawrence and Josh Hutcherson.
Lionsgate's marketing campaign for the upcoming sequel The Hunger Games: Catching Fire is about to kick into another gear, so prepare accordingly, folks.  Today, the studio has unveiled a couple of new posters for the film.  These aren't just any posters, though, as they appear to play along with the premise of the books/film by advertising the Victory Tour that Katniss ( Jennifer Lawrence ) and Peeta ( Josh Hutcherson ) embark on as part of their commitment to the Capitol following their triumph at the Hunger Games.  It's actually a pretty neat marketing angle, and I'm eager to see where things go from here.
Hit the jump to take a look at the posters.  Directed by Francis Lawrence , the film also stars Sam Claflin ,   Woody Harrelson ,  Liam Hemsworth ,  Philip Seymour Hoffman,   Elizabeth Banks ,  Donald Sutherland, Jena Malone ,  Jeffrey Wright , and  Amanda Plummer .    The Hunger Games: Catching Fire opens in traditional theaters and IMAX on November 22nd.
Here's the official synopsis for  The Hunger Games: Catching Fire :
THE HUNGER GAMES: CATCHING FIRE begins as Katniss Everdeen has returned home safe after winning the 74th Annual Hunger Games along with fellow tribute Peeta Mellark. Winning means that they must turn around and leave their family and close friends, embarking on a "Victor's Tour" of the districts. Along the way Katniss senses that a rebellion is simmering, but the Capitol is still very much in control as President Snow prepares the 75th Annual Hunger Games (The Quarter Quell) – a competition that could change Panem forever.
The Definitive Voice of Entertainment News
Subscribe for full access to The Hollywood Reporter
site categories
Inside the 'hunger games: catching fire' premiere: the victory tour lands in l.a..
After a week of events around the world, stars Jennifer Lawrence, Liam Hemsworth and Josh Hutcherson return to Los Angeles for the premiere at L.A. Live on Monday night.
By Rebecca Ford
Rebecca Ford
Share this article on Facebook
Share this article on Twitter
Share this article on Flipboard
Share this article on Email
Show additional share options
Share this article on Linkedin
Share this article on Pinit
Share this article on Reddit
Share this article on Tumblr
Share this article on Whatsapp
Share this article on Print
Share this article on Comment
Jennifer Lawrence Hunger Games Catching Fire Premiere
After a whirlwind world tour, the stars of The Hunger Games: Catching Fire returned to the U.S. for the Los Angeles premiere on Monday night.
Much like the Victory Tour that takes Katniss ( Jennifer Lawrence ) and Peeta ( Josh Hutcherson ) through the 12 districts after their win in the deadly Hunger Games rockets them to celebrity status, the stars of Lionsgate's sequel have spent the past week traveling the world, with premiere stops in London, Berlin, Madrid, Rome and Paris.
PHOTOS: 'The Hunger Games: Catching Fire' Cast Shines at Glittery L.A. Premiere
The entire cast, including Lawrence, Hutcherson, Liam Hemsworth , Elizabeth Banks , Sam Claflin , Jena Malone , Jeffrey Wright , Willow Shields , Stanley Tucci , Donald Sutherland , Lenny Kravitz , Woody Harrelson and Philip Seymour Hoffman , and director Francis Lawrence , were back in L.A. on Monday night, walking the long red carpet at downtown's Nokia Theatre at L.A. Live.
PHOTOS: 'The Hunger Games: Catching Fire' World Premiere Lights Up the Red Carpet
Francis Lawrence told THR that of all the stops on the world tour, Rome was the craziest.
"We were at the Rome Film Festival, and there were probably 10,000 people," he said on the red carpet. "It was insane. I've never seen anything like it."
Francis Lawrence, who has already begun shooting the next installment in the franchise, Mockingjay: Part I , said the cast will head back to resume shooting right after Thanksgiving, on Dec. 1.
The director had plenty of praise for his film's star, Jennifer Lawrence. "She's a giant goofball, but she's an amazing actress," he said. "I've never seen somebody who is so intuitive. She just understands people, and emotion and behavior, and she's a great read of people. I think she's able to use that in an astonishing way."
PHOTOS: 'Hunger Games: Catching Fire': Meet the Key Characters
The screams from the crowd who lined the red carpet — some of whom had been waiting downtown since the night before — were deafening when Lawrence finally arrived, showing off her new short haircut and wearing a dark gray Dior Haute Couture gown that featured a bodysuit under a textured sheer gray overlay. She signed plenty of autographs, bringing some fans to tears.
The attendance list for the Catching Fire premiere read like a who's who of Young Hollywood. Guests included Jaden and Willow Smith , who walked the carpet hand in hand, Sarah Hyland , Joe Jonas , Ashlee Simpson , Kylie Jenner , Bella Thorne , Lyndsy Fonseca , Chord Overstreet , Kiernan Shipka and Liam's brother Luke Hemsworth .
In the theater, Lionsgate CEO Jon Feltheimer took the stage to greet the enthusiastic crowd.
"I should say, 'Welcome, welcome, welcome,'" he said, giving a tip of the hat to Effie Trinket's (Banks) infamous greeting.
STORY: Hunger Games: Catching Fire': 5 Most Anticipated Scenes
"It's great to see so many friends here tonight. As a matter of fact, I didn't know I had so many friends until I started getting phone calls last week from people looking for tickets for tonight," continued Feltheimer, getting a laugh from the crowd.
"After a long week of premieres in London, Paris, Berlin, Madrid and Rome, we're back here in the Capitol," he said, before thanking the fans for their enthusiastic support.
Feltheimer then welcomed Francis Lawrence to the stage, who went on to call the cast onto the stage. Banks, who had worn a long, bright orange Atelier Versace gown on the red carpet, had changed into a shorter dress for the screening and afterparty. When Claflin took the stage, he did a quick jump and heel-click in the air, followed by a small stumble.
The crowd at the screening was a boisterous one, especially from the back half of the theater where most of the die-hard fans were sitting. They squealed, squirmed and shrieked at various points during the film, letting loose especially loud cries when Katniss would kiss one of her love interests.
VIDEO: Jennifer Lawrence Comforts Crying Fan in Wheelchair at 'Catching Fire' Premiere
After the screening, the stars and other moviegoers walked across the street to the afterparty held in a large tent in the upper parking lot. At the tent's entrance, several well-built drummers greeted the crowd as they walked the short red carpet into the party.
Inside was a setup that would have made the most fashionable citizens of the Capitol jealous. White roses (a nod to President Snow) were everywhere, in large vases on the tables and floating in giant columns of water. Models dressed in Capitol Couture roamed the party, taking photos with attendees. Around the outer section of the tent were dinner buffets featuring roasted vegetables, mashed potatoes, mushroom ravioli, green beans and braised beef. Underneath the many spotlights lighting the room were dessert buffets as lavish as in the film, stacked with cake pops, macaroons and banana cream pie.
The only thing missing from the afterparty were a few of the stars — Jennifer Lawrence, Hemsworth and Hutcherson did not attend because they would be flying to New York early the next morning for their final stop on the Victory Tour, a New York media day and then a screening on Wednesday. Additionally, Lawrence was feeling a bit sick, likely due to her taxing promotional schedule.
But plenty of attendees gathered around Claflin, who plays the handsome Finnick in the film, to ask for photos, while Banks and Harrelson — wearing jeans and a baseball hat with his suit coat — stayed until nearly midnight.
The Hunger Games: Catching Fire opens in the U.S. on Nov. 22.
Email: [email protected] Twitter: @Beccamford
Related Stories
'hunger games: catching fire': 5 most anticipated scenes, miley foam finger on amazon with inset - h 2013, 'hunger games: catching fire' cast heats up london at world premiere, 'the hunger games: catching fire' world premiere lights up the red carpet, the hunger games: catching fire: film review, gotham central cover art - p 2013, box office: 'hunger games: catching fire' claims victory in brazil, 'the hunger games: catching fire' cast shines at glittery l.a. premiere, thr newsletters.
Sign up for THR news straight to your inbox every day
More from The Hollywood Reporter
Jeremy renner says he's explored various treatments during snowplow accident recovery, arnold schwarzenegger honored by holocaust museum la: "we have to speak up and confront" antisemitism, inside the hollywood reporter japan's glitzy tokyo film festival party, taylor swift breaks her own record with '1989 (taylor's version)', barbra streisand didn't want to write about past relationships in new memoir, rock and roll hall of fame inducts missy elliott, sheryl crow and more, with performances from olivia rodrigo, elton john.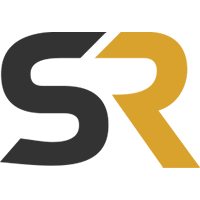 Katniss & Peeta's Relationship Timeline In The Hunger Games Explained
Posted: October 28, 2023 | Last updated: October 28, 2023
Peeta and Katniss's love story in The Hunger Games is complicated and filled with twists and turns. Their relationship goes through numerous plot complications and the characters endure a lot of trauma before reaching their happy ending.
Peeta and Katniss meet in the first Hunger Games movie when Peeta shows an act of kindness by throwing her a loaf of bread.
In Mockingjay Part 1, Peeta is brainwashed by the Capital and becomes a villain, attempting to kill Katniss. In Mockingjay Part 2, they finally reach their happy ending and start a family, despite the lasting trauma they've experienced.
While Peeta and Katniss's relationship in The Hunger Games movies might be the most important love story in the series, it is a complicated one that includes a lot of twists and turns. The Hunger Games' characters live in a dystopian future where the titular annual event takes place and sees 24 children fight to the death for the entertainment of television viewers. This propaganda is used to support a fascist regime that keeps the 12 districts of Panem divided. The districts range from the extreme wealth of the Capital to the abject poverty of District 12, which both the franchise heroine Katniss and her love interest Peeta hail from.
While the plot of The Hunger Games movies involves a lot of political scheming, high-stakes rebellions, and eventually even full-blown revolutionary warfare, the series also includes a central love triangle between the sensitive Peeta, the tough Katniss, and Gale. Peeta and Katniss are selected to present their district in the Hunger Games together, but this doesn't result in an instant romance between the pair. Instead, their love story goes through numerous tortuous plot complications and twists before they can finally be together. Even then, Peeta and Katniss have to endure a lot of trauma both together and apart before their happy ending.
The Hunger Games - Peeta and Katniss Meet
In The Hunger Games , Peeta and Katniss first meet when he takes pity on her and throws her a loaf of bread from his bakery. The pair don't learn each other's names, but Katniss never forgets this act of kindness. When Katniss is selected for The Hunger Games , Peeta is chosen as the male tribute from her district. He admits during a televised interview that he always had a crush on her and wanted to win her over, but this fails to endear him to Katniss. She assumes he is trying to weaken her standing among viewers and attacks him, only to be convinced that Peeta's strategy has improved their shared popularity.
Related: The Hunger Games Books In Order: How To Read By Publication Date & Chronologically
Of course, Peeta never cared about their public standing and authentically meant what he said about Katniss. When the eponymous games begin, the rest of the tributes kill each other while Peeta and Katniss work together to avoid death. When only the two of them are left alive, Peeta trusts Katniss with his life when the pair threatens to kill themselves to end the game. Instead, the organizers intervene and Peeta and Katniss are named the shared winners of the games by default. However, the complicated story of The Hunger Games franchise doesn't end with this optimistic moment.
Catching Fire - Peeta and Katniss's Victory Tour
Peeta and Katniss won, but they now must attend a Victory Tour through Panem as part of the propaganda work of the Games. During this tour, Katniss realizes that Peeta wasn't acting when he professed his love for her during the games, but she reaffirms that she was. Despite telling Peeta that she doesn't want to be with him, Katniss does warm to him as he helps her with her frequent PTSD flashbacks. Meanwhile, Katniss begins to see the start of a revolution fomenting throughout the districts and suspects this might be connected to herself and Peeta's rebellious display during the games.
However, before Katniss can contend with this possibility, she and Peeta are hit with a shocking revelation. The next Hunger Games will see past participants kill each other, a ploy that would allow Panem's leaders to control Peeta and Katniss's influence over the masses. While Haymitch won the 50th Hunger Games , this 75th Hunger Games promises to be even more brutal than ever. Worse still, it would pit Peeta and Katniss against each other in a fight to the death. However, Peeta and Katniss manage to get out of the games alive. Unfortunately, their troubles are just beginning.
Mockingjay Part 1 - Peeta Is Brainwashed
In Mockingjay Part 1 , Katniss discovers that District 12 has been reduced to dust by the Capital. The revolution she anticipated is happening, but it is being violently crushed by Panem's authorities who are using the games to distract the masses from this killing spree. Although the loss of her home is devastating, Katniss does learn that there is hope. The Capital are quashing the revolution because they know that the rebels are becoming increasingly popular with the masses thanks to Katniss and Peeta. However, the Capital has kidnapped Peeta and is busy brainwashing him.
Thus, in Mockingjay Part 1 , Peeta becomes a villain as he turns on Katniss, attempting to kill her when they are reunited. Peeta forgets all that he knows about Katniss and Katniss realizes all too late that she did love him after all. This doesn't help Peeta regain his memory, but Katniss commits to re-establishing the connection that the pair shared. She deprograms her brainwashed love interest after he is saved from the Capital. This proves a long, arduous process, but it is one that allows Katniss to realize the depth of her love for Peeta.
Mockingjay Part 2 - Peeta and Katniss's Happy Ending
In Mockingjay Part 2 , Katniss must work with a band of rebels to take down the evil President Snow. However, in the process, the rebels become corrupted and end up using tactics that cause the death of Katniss's sister Prim. Since Katniss volunteered for the Hunger Games to save her sister from death in the first place, she is horrified to realize how far her cause has strayed from its original objective. Disillusioned, Katniss kills both President Snow and the leader of the rebels, Coin, by shooting Coin and allowing a mob to tear Snow limb from limb.
Overwhelmed by grief and seeing no reason to continue, Katniss then attempts to take her own life. She is stopped by Peeta, who has shaken off his programming and finally remembered the depth of his love for her. The pair end up returning to what is left of their destroyed home district and begin to rebuild, eventually marrying and starting a family. Although this is a happy ending for them, the Hunger Games series makes no secret of their trauma. The pair is deeply affected by the events, and, in its closing scenes, the final Hunger Games movie sees Katniss wonder how she and Peeta will explain the games to their children.
More for You
Donald Trump's Attorney Pushes for a Mistrial
Aldi issues Christmas warning to shoppers affecting more than 1,000 of its stores
Opinion: The latest political cartoons
Ex-Prime Minister of Israel shuts down MSNBC host on history of Gaza: 'They got everything they wanted'
I'm a former Google recruiter. The smartest job candidates always did these 5 things to stand out.
First, Ukrainian Marines Secured A Bridgehead Across The Dnipro River. Now, They're Shuttling Armored Vehicles Across.
Nuclear Bomb Maps Show Impact of Russia, China, U.S. Weapons
Will Mike Johnson try to cut Social Security or Medicare? Where the new speaker stands
Kentucky governor's race: Live results
Democrats fail to shield Rashida Tlaib from House censure vote over her anti-Israel remarks
There are reasons to be leery of House speaker's porn-monitoring software, experts say
Ukraine appears to be gunning for a top Russian battlefield commander who has had an unusual run as a military leader
Simon Case said he'd 'never seen a group of people less well equipped to run a country', Covid inquiry hears
Social Security Tax Cut: New Proposal Could Save Seniors Big Money by 2025
Why you should put $15,000 into a CD right away
Rand Paul: It is about time this happens
Daily horoscope today: November 8, 2023 astrological predictions for your star sign
The US Army needs tanks to win a war in the Pacific, but it knows the Abrams isn't the right tank for the job
This Road Trip Passes the Highest Peak in the U.S., the Lowest Point in the Country, Ghost Towns, and National Parks
The 10 Healthiest Types of Alcohol to Drink, According to a Registered Dietitian