Awards Season
Big Stories
Pop Culture
Video Games
Celebrities
"Top Gun: Maverick" Review: Tom Cruise Feels the Need for Speed in Adrenaline-Fueled Sequel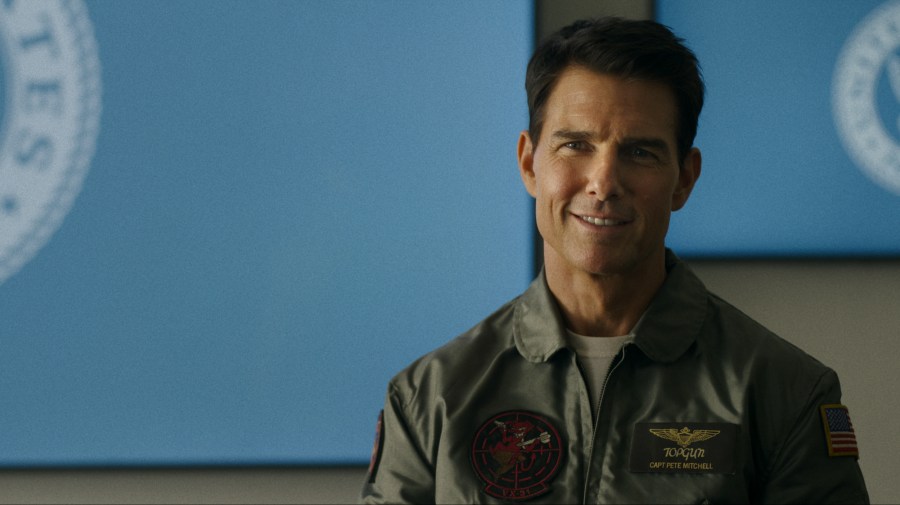 Rating: 8/10
There are many reasons to like Top Gun . The 1986 Tony Scott movie stars Tom Cruise as Maverick, an arrogant yet talented elite Navy pilot with an addiction to speed, adrenaline and irreverence. He's all charisma and swagger. Top Gun is an action movie packed with aerobatic stunt sequences. It has a killer soundtrack. There's a fair amount of melodrama and character growth. Maverick engages in a non-HR-sanctioned — yet somehow sexy — romantic relationship with one of his instructors (Kelly McGillis). And you can simply dig it for its homoerotic content : there's a bunch of muscled dudes continuously parading themselves in various degrees of undress in front of one other and relishing it.
Top Gun: Maverick , the sequel that's been more than 30 years in the making and had its release delayed by the pandemic several times, opens exclusively in cinemas on May 27. And it's one of the few titles I've seen in the last year to really justify the extra bother and risk factor of watching it on the big screen.
This cinematic spectacle starts by paying homage to the original movie from its very beginning — with the notes of the " Top Gun Anthem " setting the mood — and it never stops. If you liked Top Gun , you'll enjoy Top Gun: Maverick thoroughly. All the ingredients of the original movie are there.
After more than 30 years, Maverick is still a captain. "You can't get a promotion. You won't retire and, despite your best efforts, you refuse to die. You should be at least a two-star admiral by now. Yet here you are," a frustrated Rear Admiral (Ed Harris) tells Maverick before tasking him with the impossible mission — pun very much intended — of teaching a select group of 12 Top Gun graduates. They're the best of the best. They'll have to fly and destroy a uranium-enrichment plant in enemy territory. Getting the pilots out of there alive becomes Maverick's goal.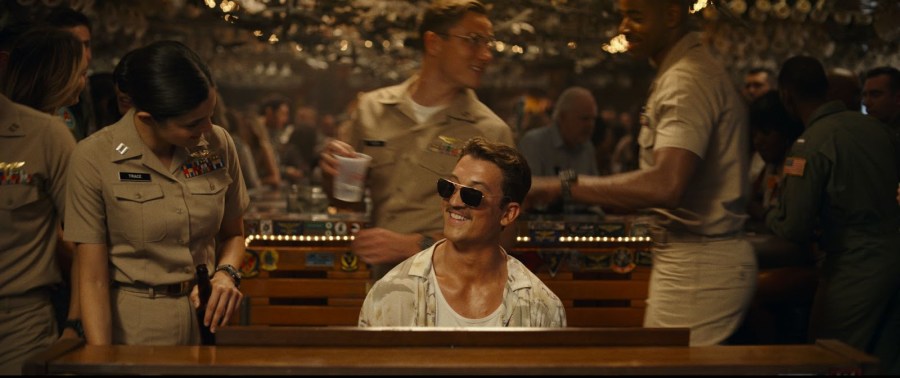 Jon Hamm is playing an even less sympathetic and personable boss than he did in Mad Men . He stays on top of Maverick. After all, Maverick's reputation precedes him — and that's not a compliment. The movie manages to cast a diverse array of actors — Danny Ramirez, Jay Ellis, Lewis Pullman, Greg Tarzan Davis — to play the young group of trainee pilots. There's even a woman — Monica Barbaro — among them. A mustachioed Miles Teller is Rooster, one of the pilots and the son of Maverick's late partner, Goose (Anthony Edwards). The actors were selected from hundreds of performers to make sure they'd be able to endure the filming conditions inside of actual F-18 jets.
And that's what justifies buying that theater ticket. Director Joseph Kosinski ( Oblivion ) and his frequent collaborator, cinematographer Claudio Miranda, spent 15 months designing a system to fit six IMAX-quality cameras inside the cockpit of the fighter planes to film the actors while they were actually in the air. (Real Navy pilots took care of the flying, but the actors were also in the cockpit.)
The performers were trained by Cruise on how to optimally frame themselves and operate the cameras while airborne. They also endured a three-month training period led by Cruise to get them acclimatized to aerobatics and flying at a higher g-force level than normal. They started in single-engine airplanes and would later on graduate to the F-18s. "These kids got the hell beat out of them with the g-forces," Top Gun: Maverick producer Jerry Bruckheimer explains in the film's press materials. "One g-force is your body weight, they were doing seven times their body weight, like an elephant sitting on your chest."
Cruise has been open about his desire to do a sequel only if the technology allowed them to show the true experience of a pilot . His insistence and commitment to cinema paid off. Maverick 's aviation and dogfighting sequences kept me engaged and tense. It's evident that they aren't the product of excessive CGI but the result of real stunts. Even the faces of the actors get distorted while flying in such conditions and that's difficult to fake if shooting on a soundstage.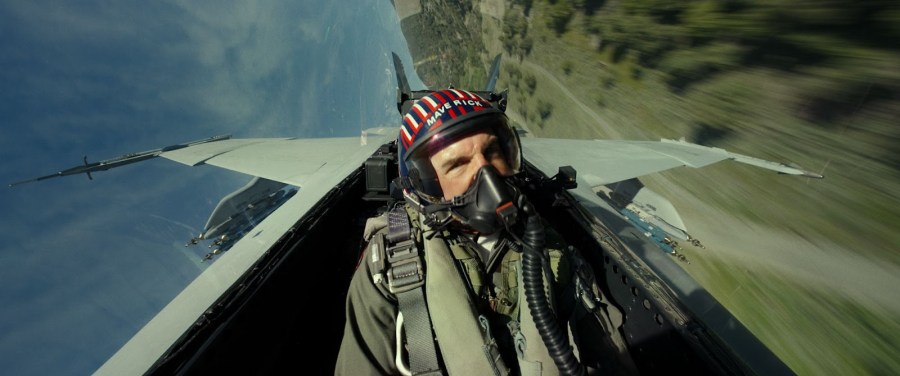 Top Gun: Maverick is not all flying and technological prowess though. There's romance — Maverick rekindles his relationship with bar owner and sailing enthusiast Penny (Jennifer Connelly); a shirtless game of football takes place on the beach; a tragic event ups the dramatic ante; Rooster sings and plays the iconic "Great Balls of Fire" like his dad did; and, even though this isn't a comedy, I found myself laughing at some very well-written and strategically placed jokes.
Co-screenwriter and frequent Tom Cruise collaborator Christopher McQuarrie almost manages to make Maverick work as a standalone movie. But while this film isn't just another entry in the catalog of fan-service reboots, the movie does work better when it recreates moments of the original film or pays tribute to Scott's directing style ( Top Gun: Maverick is dedicated to the memory of the late director). At times you wonder whether McQuarrie got the assignment to cram in as many callbacks to the original movie as possible — and as many shirtless moments for Cruise as well.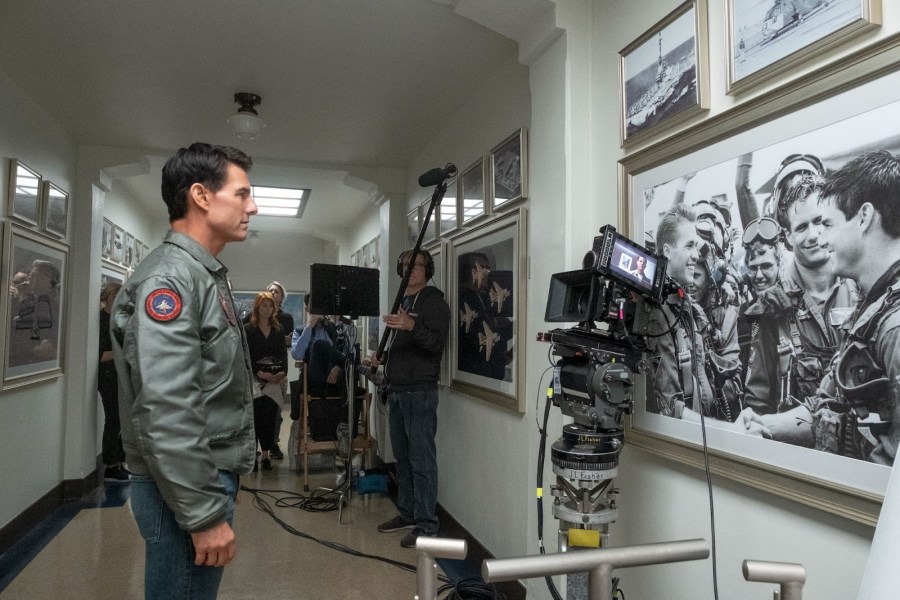 Even if Top Gun: Maverick has been crafted from more of a 2022 sensibility than the previous film, there's still an awful lot of testosterone here. And that makes it hard for me to be truly charmed by this film and its predecessor.
Maverick manages to look almost the same as he did in the 1980s, donning the uniform of white t-shirt, jeans, bomber jacket and aviator sunglasses; I was a bit taken aback the first time I saw him using his cell phone. He's too cool to bother wearing a helmet when he takes the Kawasaki motorbike for a spin, yet he's succumbed to the smartphone addiction like the rest of us. Then I realized he was texting Ice (Val Kilmer) and it all made sense again. The two of them keep the chemistry going even via text message.
Now, if only they could have included "Take My Breath Away" in this new movie somehow — maybe in the brief and very non-revealing sort-of sex scene between Maverick and Penny (filmmakers really were more daring in the '80s) — this would have been the perfect sequel.
MORE FROM ASK.COM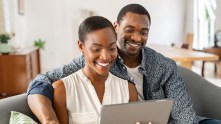 Matador Original Series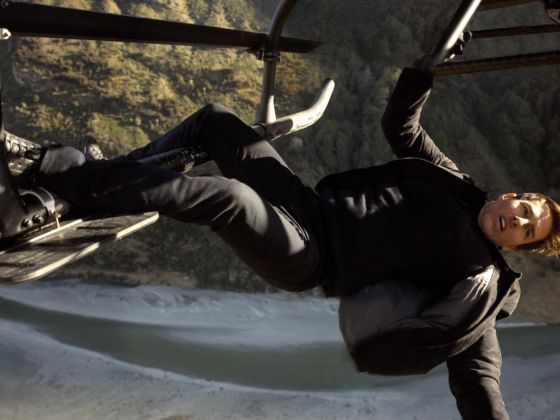 Tom Cruise, Elon Musk, and NASA To Shoot a Movie in Space
N ASA will be collaborating with Tom Cruise to produce a new action movie in space, NASA Administrator Jim Bridenstine announced in a tweet on Tuesday.
NASA is excited to work with @TomCruise on a film aboard the @Space_Station ! We need popular media to inspire a new generation of engineers and scientists to make @NASA 's ambitious plans a reality. pic.twitter.com/CaPwfXtfUv — Jim Bridenstine (@JimBridenstine) May 5, 2020
The movie will not be a part of the Mission: Impossible franchise and so far there is no studio involved with the project. In February, Cruise's latest movie, Mission: Impossible 7 , had to be put on hold due to COVID-19, as the production was taking place in Italy — one of the countries most affected by the virus.
According to Bridenstine, the new production in space aims to serve as an inspiration to a new generation of engineers and scientists, who in turn can help the space agency achieve its long-term goals. Elon Musk tweeted in response, "Should be a lot of fun!"

More like this
Trending now, saudi arabia's ancient city, alula offers otherworldly star-studded dark sky experiences, discover matador, adventure travel, train travel, national parks, beaches and islands, ski and snow.
International edition
Australia edition
Europe edition
'Tom Cruise was an intense kid': How Francis Ford Coppola made The Outsiders
'I was famous for casting unknown actors. I had Nicolas Cage, Robert Downey Jr and Matt Dillon in a circle watching each other try for parts'
Francis Ford Coppola , director After my 1982 film One from the Heart failed commercially, my production company American Zoetrope was bankrupt – it was a low period for me. But then I received a letter written by Jo Ellen Misakian, a junior school librarian from Fresno, California. It read: "We are all so impressed with the book, The Outsiders by SE Hinton , that a petition has been circulated asking that it be made into a movie. We have chosen you to send it to." It contained about 15 pages of children's signatures written in different-coloured pens. It was very moving.
I read Susan Hinton's book, written when she was in her late teens, and was touched by the level of regard these poor "Greaser" kids had for each other, even though they didn't have the advantages of their "Social" rivals. I've always believed that kids have many more feelings than we give them credit for, and I wanted to make the story. When I was about 17, I had been a drama counsellor at a summer camp, and the idea of being with half a dozen kids in the country and making a movie seemed like being a camp counsellor again. I'd forget my troubles and have some laughs.
If my company was famous for anything, it was casting new, unknown actors. I believed in the concept of open casting calls – but I tried to do them in a way that was appropriate for the film we were making. For The Outsiders, I had all the candidates – which included Nicolas Cage, Mickey Rourke, Robert Downey Jr, Patrick Swayze, Dennis Quaid, Matt Dillon, Rob Lowe and Emilio Estevez – sitting on benches in a circle watching each other trying for the different parts. No one knows more about acting than other actors. Tom Cruise, who ended up in a small role, was an intense kid who would do anything to make his part better.
Often I err on the side of being too collaborative. I re-edited The Outsiders because Warner Brothers felt it was long, and that was a mistake. My father had also written a soaring, romantic score for it. I wondered if it was the right choice, but I couldn't say that to him. By the time I recut the movie in 2005 he had passed away, and I balanced the schmaltzy music with more of what the Greasers would have listened to: early Elvis Presley and stuff like that.
There are parallels between the rivalry of the Socs and the Greasers, and the inequality in American today. Most of the bads of contemporary civilisation are not caused by nature. Civilisation invents fictions that people will kill for, which is absurd. Why is there such inequality when we're all one family?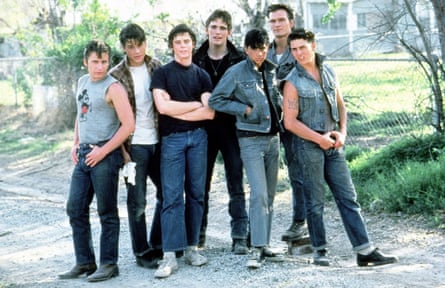 C Thomas Howell , who played Ponyboy Curtis I had established myself in my teens as a junior rodeo competitor. Pressure for me was riding a bull, not meeting someone called Francis Ford Coppola, or auditioning against the other guys. I only auditioned for one character, Ponyboy Curtis, and read with hundreds of actors in four or five cities. The only time I ever felt any pressure was when Norman Mailer's son came in to read for it weeks after I felt I had already owned the role. But I think actually that was more about relieving me for half a day.
There was an envy that was intentionally dialled in to the Soc and Greaser actors. We played football and basketball against each other – they had matching jumpsuits, while we'd show up in whatever we brought from home. The Socs stayed on floor 18 or 19 of the hotel, while the Greasers were on four or five. It was like a fraternity house in there; some pretty crazy stuff took place. Once I got home at three in the morning after an 18-hour shift; I couldn't wait to get into my room and go to sleep. And I went in there, two of the Socs had turned everything in my room upside down.
We rehearsed and shot the whole film on videotape first, which allowed us to get to know each other and created a trust. I was very green at 15. I had been in ET, but I had never played a lead. Francis was a master communicator, and taught me about film-making. He was patient enough to not just bully his way around and tell you what to do. And he'd cook you pasta for lunch.
One lesson I learned was to never, as an actor, cut a scene. During the scene at the drive-in cinema , at one point Matt Dillon fell off his chair, and I turned to the camera and started laughing, thinking they'd cut. But he told me I shouldn't stop, but that I should adapt to what was happening: it creates something very natural, more real and connected than anything that could be written. Later, in the church scene, a dolly grip's foot fell through the floor – it was a real abandoned building – so I just said: "I think there's a monster outside." And Francis ended up cutting to a shot of a raccoon outside. The film is peppered with real moments like that.
I still get letters about The Outsiders because it's required reading in a lot of schools. People tell me it's their comfort film, or they have a Stay Gold tattoo, or they used the Robert Frost poem for their wedding vows. I get asked all the time what the poem means. I had no idea when I was 15 that it represents the circle of life. Even the two boys don't understand what it means – they're just sharing a moment – until one of them dies. The fans are crying and upset that [Ralph Macchio's character] Johnny is dead, and then they contact me and they realise Ponyboy is now 54 – and they cry even harder.
How we made
Francis Ford Coppola
Most viewed
Steals & Deals: Up to 85% off mini Dutch oven, portable phone charger, more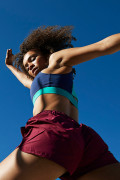 Watch Full Episodes
Read With Jenna
Inspirational
Relationships
TODAY Table
Newsletters
Start TODAY
Shop TODAY Awards
Citi Music Series
Listen All Day
Follow today
More Brands
Rob Lowe and Tom Cruise slept in a stranger's basement while making 'The Outsiders'
Imagine having two of Hollywood's hottest up-and-coming stars living under your roof. For a select few people in Oklahoma, it happened.
While appearing on Monday's episode of "The Kelly Clarkson Show" to promote his new podcast, "Literally! With Rob Lowe," the actor recalled how he and Tom Cruise spent a night in a stranger's house while they shot the 1983 film "The Outsiders."
"What happened was, when we were doing 'The Outsiders,' we're 18 and 19 years old. It's Francis Ford Coppola, the director, who directed 'The Godfather' and 'Apocalypse Now' ... and in his effort to make us more authentic as greasers, as sort of tough Tulsa, sort of wrong side of the tracks guys, (he) found a bunch of different actual greasers who were now grown-up adults and made us go spend the night and live with them," Lowe said.
"They came to us at rehearsal and like, 'OK, so, we're gonna divide you up. Rob, Tom, you guys are gonna go stay with Bill and Sandy whoever.' And we just went to their little house and had dinner."
Lowe, 56, said he and Cruise, 58, were at a loss while trying to process the fact they were getting some shut-eye under a total stranger's roof, while he was almost certain Coppola didn't have to deal with such unusual conditions.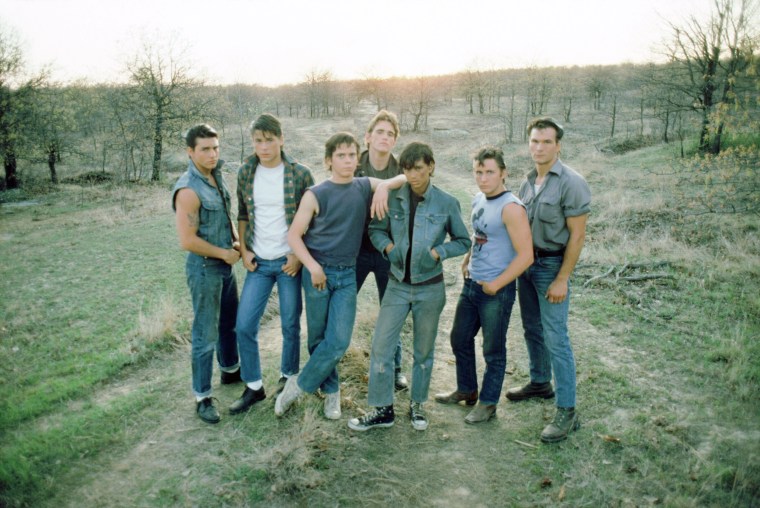 "Tom and I ended up in the basement in two cots and we're like, 'We don't know these people,'" he said.
"I mean, who vetted them? Really? Do you think Francis Ford Coppola spent a lot of time vetting these people? I can tell you, he didn't. He was with an espresso and watching some fancy Fellini movie and went, 'Yeah, yeah that sounds great' and went back to his espresso."
It's not the only "Outsiders" story Lowe has about rooming with Cruise, either. In an April interview with the "Armchair Expert" podcast, he recalled the time Cruise went "ballistic" when he discovered he and Lowe would have to share a hotel room after they flew to New York City to audition for the film.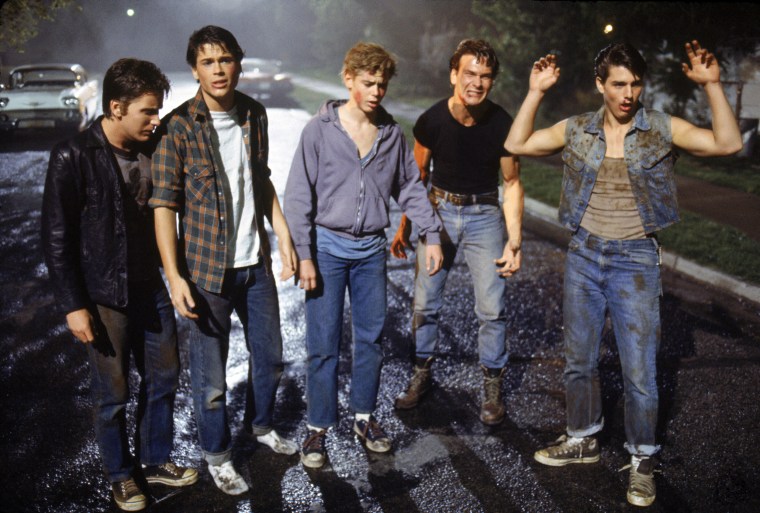 "To me, what's great about the story is, there's certain people who have always been who they are, and that element of them has powered them to where they are today and the rest is history," he said. "And the notion that an 18-year-old actor with a walk-on part in 'Endless Love' and, like, a seventh lead in 'Taps' could have that kind of like wherewithal."
"I remember going, 'Wow, this guy is the real deal,'" Lowe added. "I mean it made me laugh, it was gnarly. But in the end of it, you can't argue with the results. He's had his eye on the ball since day one."
Drew Weisholtz is a reporter for TODAY Digital, focusing on pop culture, nostalgia and trending stories. He has seen every episode of "Saved by the Bell" at least 50 times, longs to perfect the crane kick from "The Karate Kid" and performs stand-up comedy, while also cheering on the New York Yankees and New York Giants. A graduate of Rutgers University, he is the married father of two kids who believe he is ridiculous.
Rob Lowe reveals why Tom Cruise was so intense to work and compete with
"never met anybody more ambitious," rob says of his then-unknown co-star in 1983's the outsiders.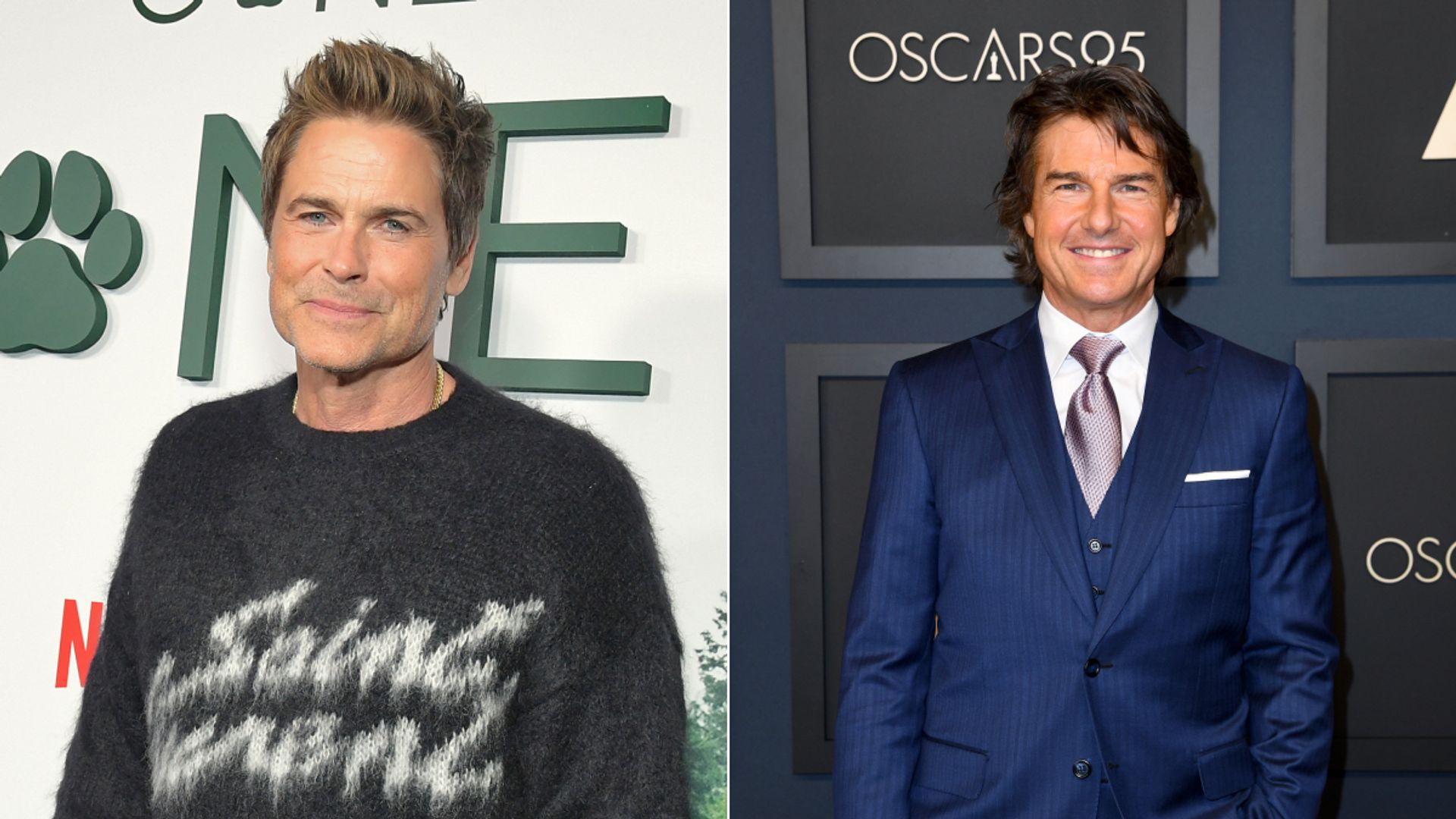 Rob Lowe left nothing off the table in a new interview for iHeartPodcast "Table for Two with Bruce Bozzi," especially while discussing his experience on  The Outsiders .
Based on S.E. Hinton's YA novel of the same name and directed by Francis Ford Coppola, the 1983 crime drama was Rob's debut, pairing him opposite other future screen icons like Matt Dillon, Diane Lane, Patrick Swayze, C. Thomas Howell, and  Tom Cruise .
His experience with the latter was the most intense, as the 59-year-old entered a discussion about competing with his co-star and their cycle of "one-upping" each other.
"[Tom was] ambitious, never met anybody more ambitious, and I am ambitious," Rob said. "There was a lot of one-upping going on…Tom's part of Steve Randle was not a huge part, but Tom being Tom, he was ambitious."
MORE: Rob Lowe's son John makes emotional confession about dad's support amid sobriety journey
MORE:  How Katie Holmes and Tom Cruise's daughter Suri reacted to her mom's "Dawson's Creek" role
Host Bruce asked about the infamous rumor that the future Oscar-nominee had removed a cap from his front tooth for the part, and Rob confirmed that it was indeed true .
The 9-1-1 actor also added: "Francis also thought that we should all be gymnasts, for some reason. So we all had to learn to do backflips.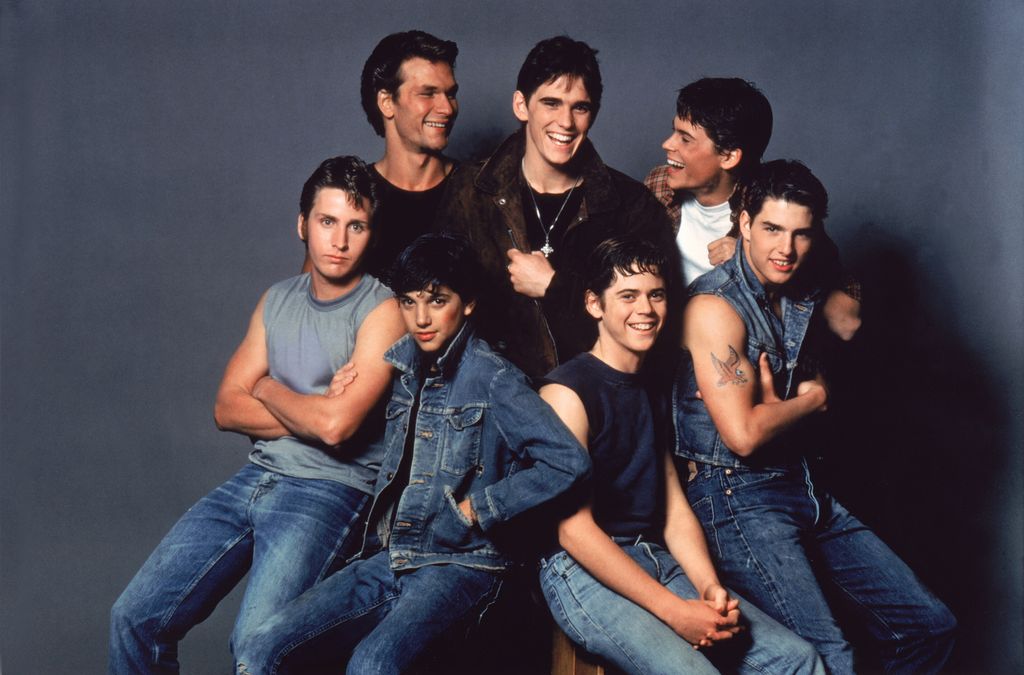 "Tom took it so seriously. If you see The Outsiders , the movie is playing and the movie just stops dead and Tom does a backflip off of a car."
With its cast full of future Hollywood heavyweights, the film emerged as a success after release, becoming a critical darling and a minor box office hit.
MORE: Rob Lowe gushes over wife Sheryl Berkoff in sentimental anniversary post - a look back at their marriage
MORE:  Tom Cruise's London move was influenced by his daughter with ex Nicole Kidman
It has since become a classic, and is considered the first of the so-called Brat Pack films of the 1980s , an umbrella term which featured the same few young stars frequently appearing in teen coming-of-age movies of the time.
Rob was one of those considered part of the unofficial cinematic club, alongside Outsiders co-star Emilio Estevez, plus Anthony Michael Hall, Andrew McCarthy, Demi Moore, and Molly Ringwald.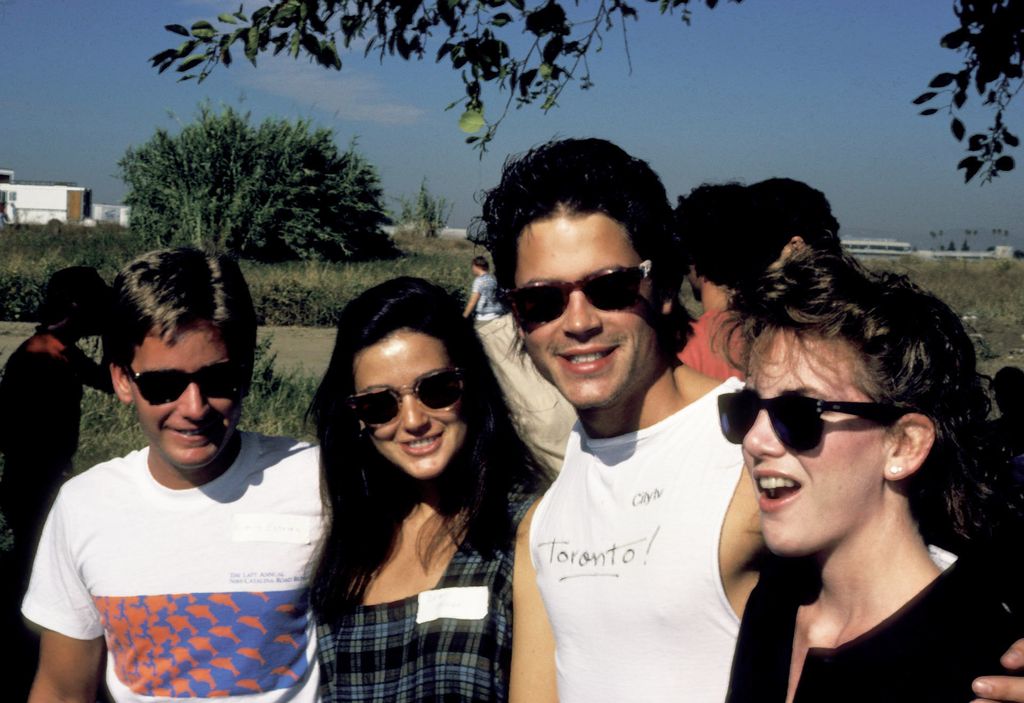 While the term itself has received mixed reception from its stars, having deemed it a means to "pigeonhole" them , the movies of that era have largely become classics of the genre, including Sixteen Candles, The Breakfast Club, St. Elmo's Fire,  and  Pretty in Pink , to name a few.
Read more HELLO! US stories here
Like this story? Sign up to our newsletter to get other stories like this delivered straight to your inbox.
More TV and Film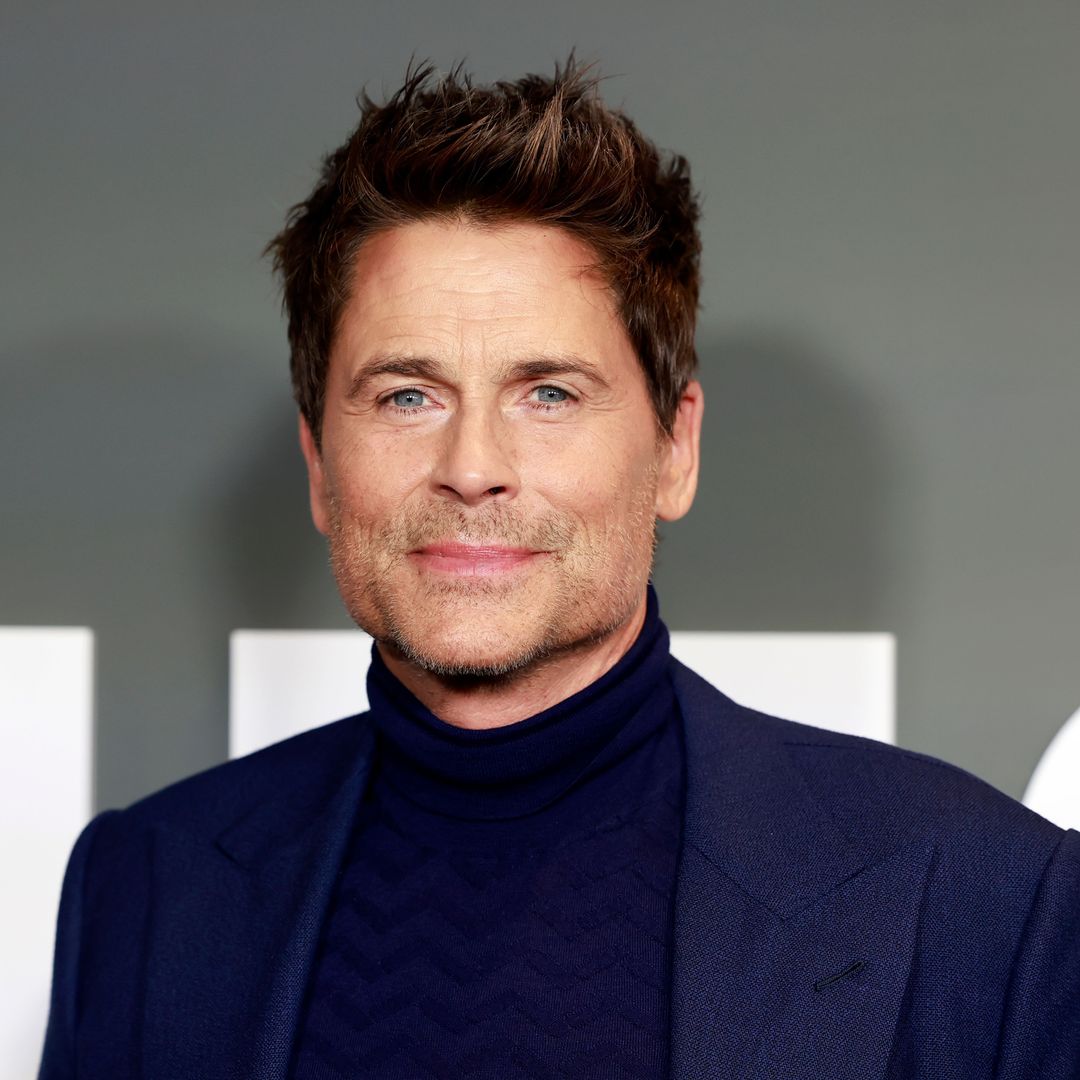 Rob Lowe makes shocking remarks on decision to leave iconic, career-defining show
Julia Roberts almost co-starred in this billion-dollar action franchise – here's what happened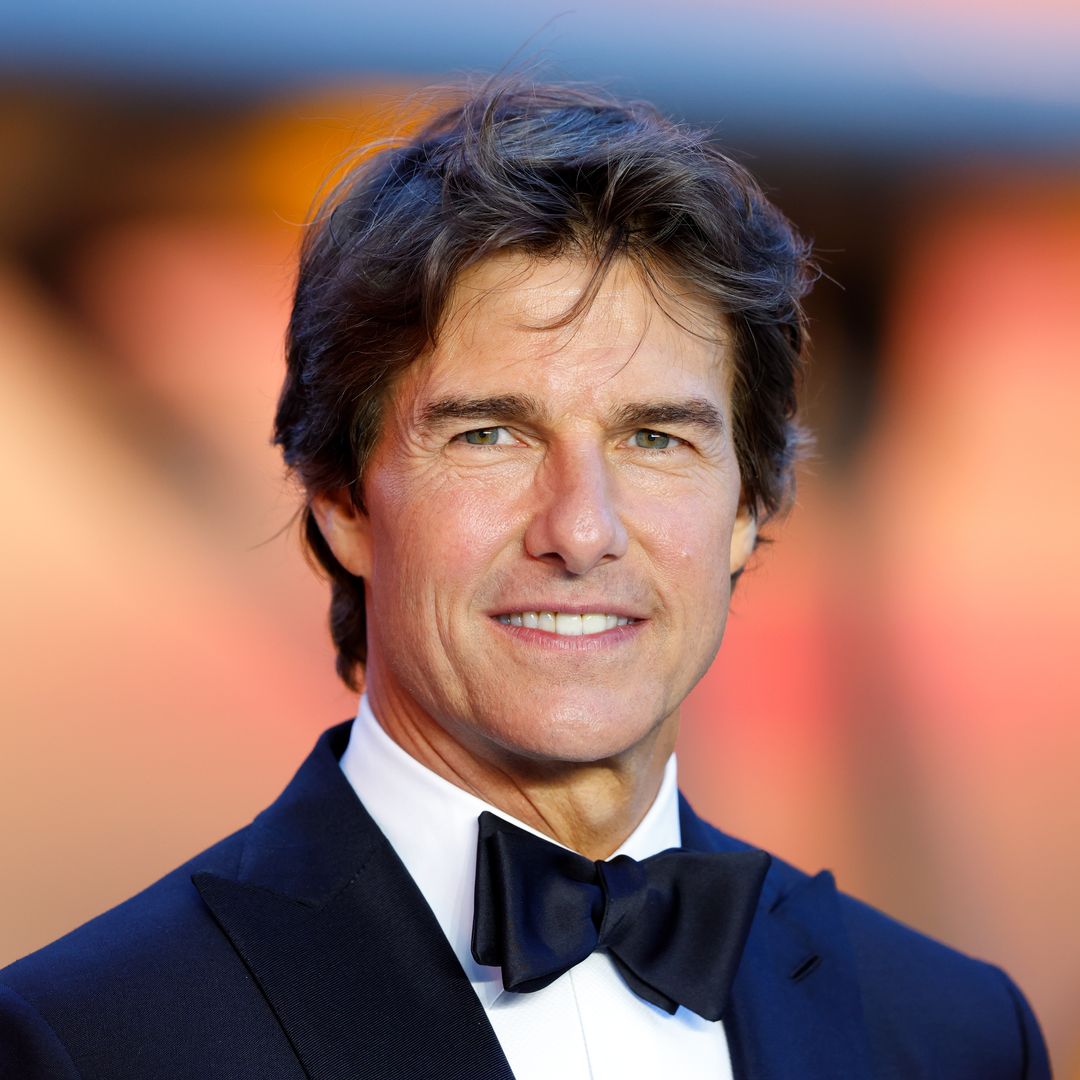 Tom Cruise opens up about 'weirdest' account of relationship with Mission Impossible co-stars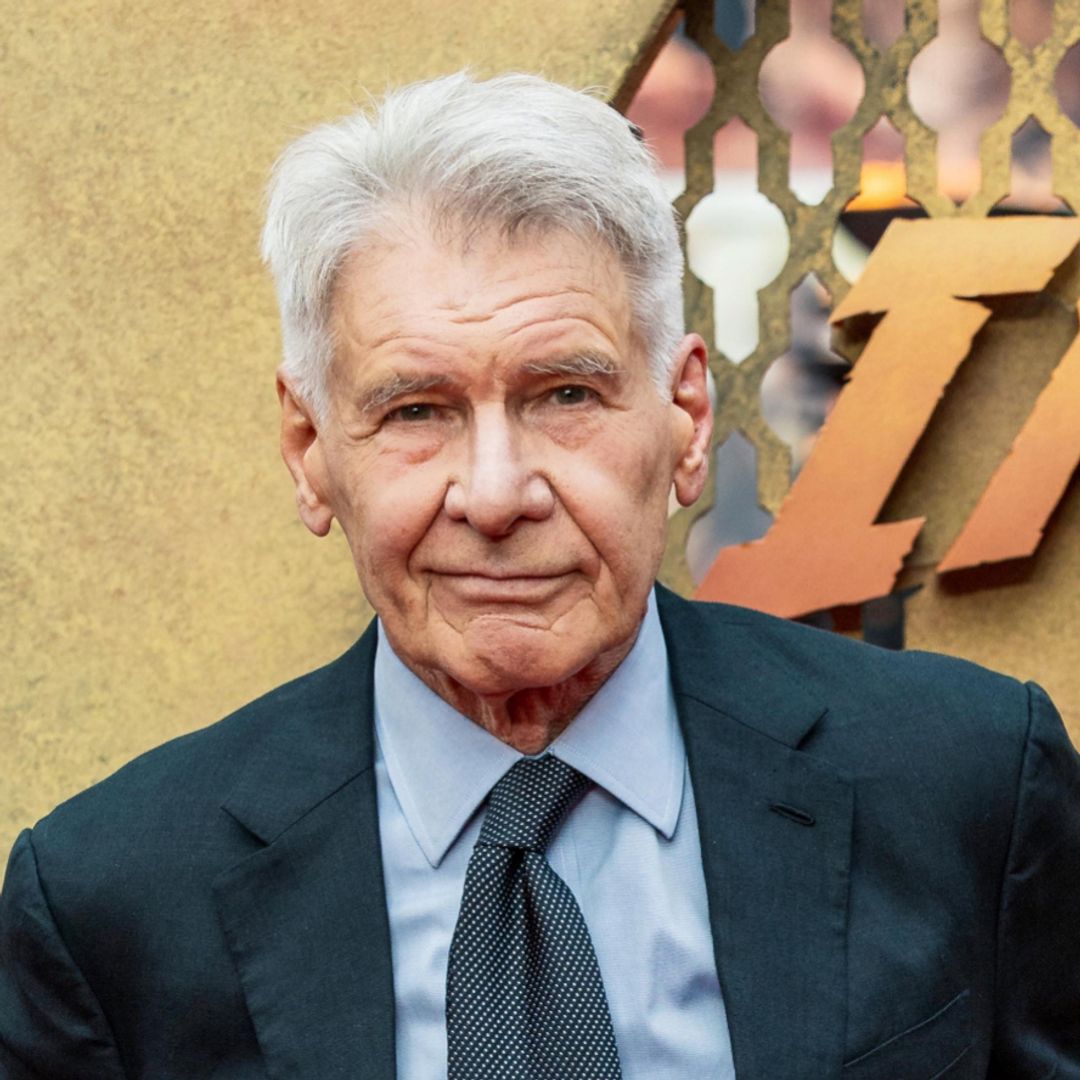 Tom Cruise praises Harrison Ford in rare emotional post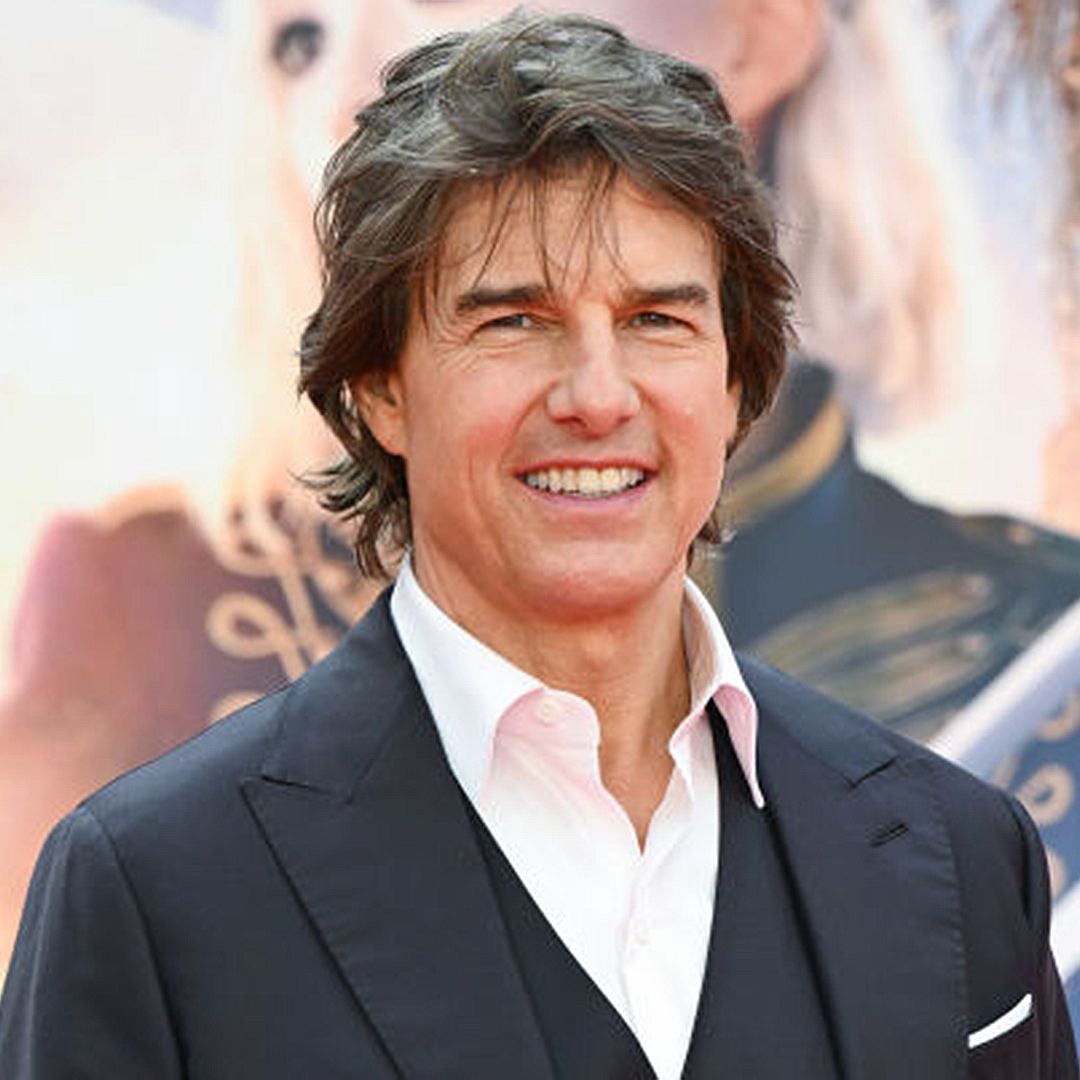 Tom Cruise reveals details of his major career first at glitzy Mission Impossible 7 premiere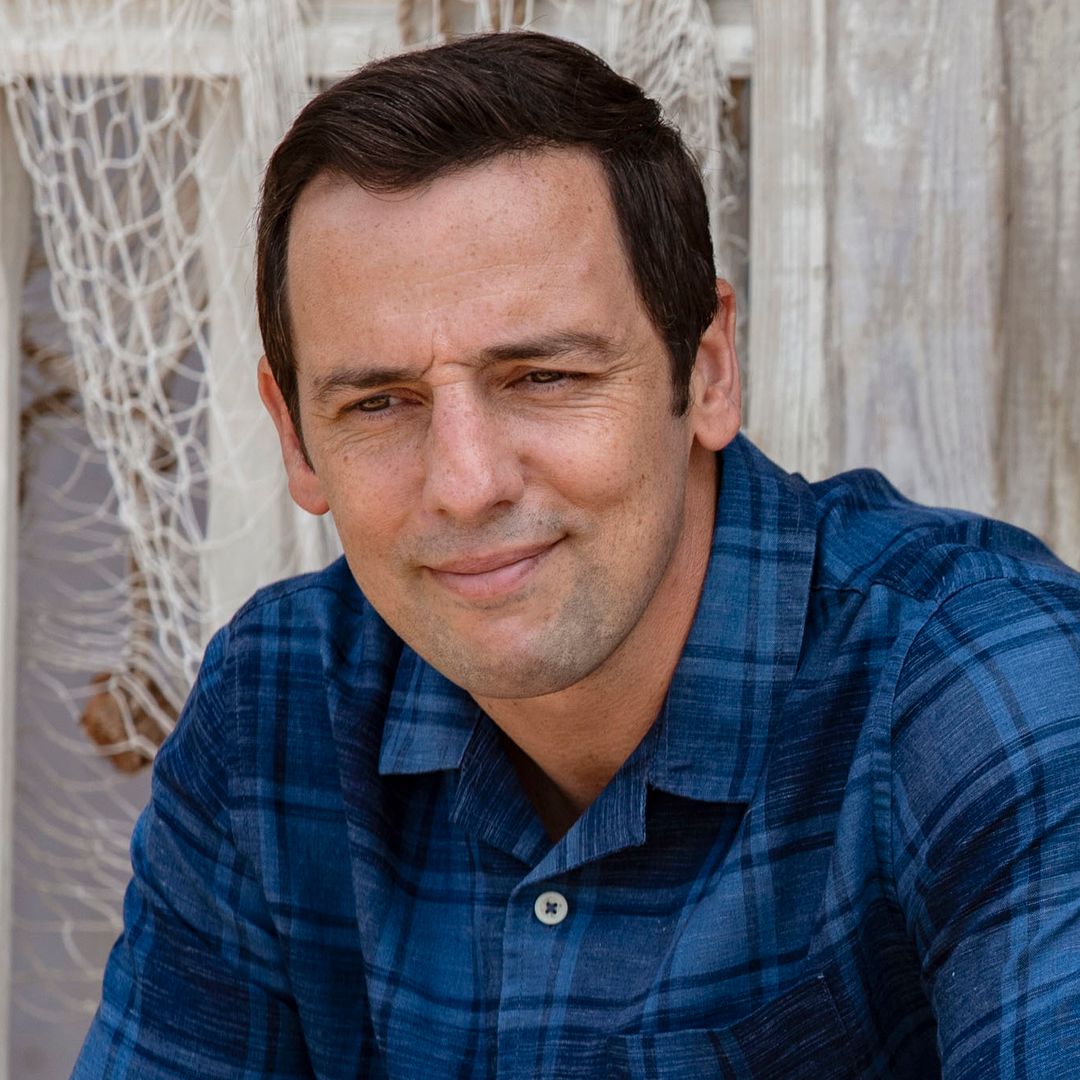 Ralf Little announces 'long overdue' news about show - and fans are delighted
Hunger Games: The Ballad of Songbirds & Snakes star Tom Blyth – everything you need to know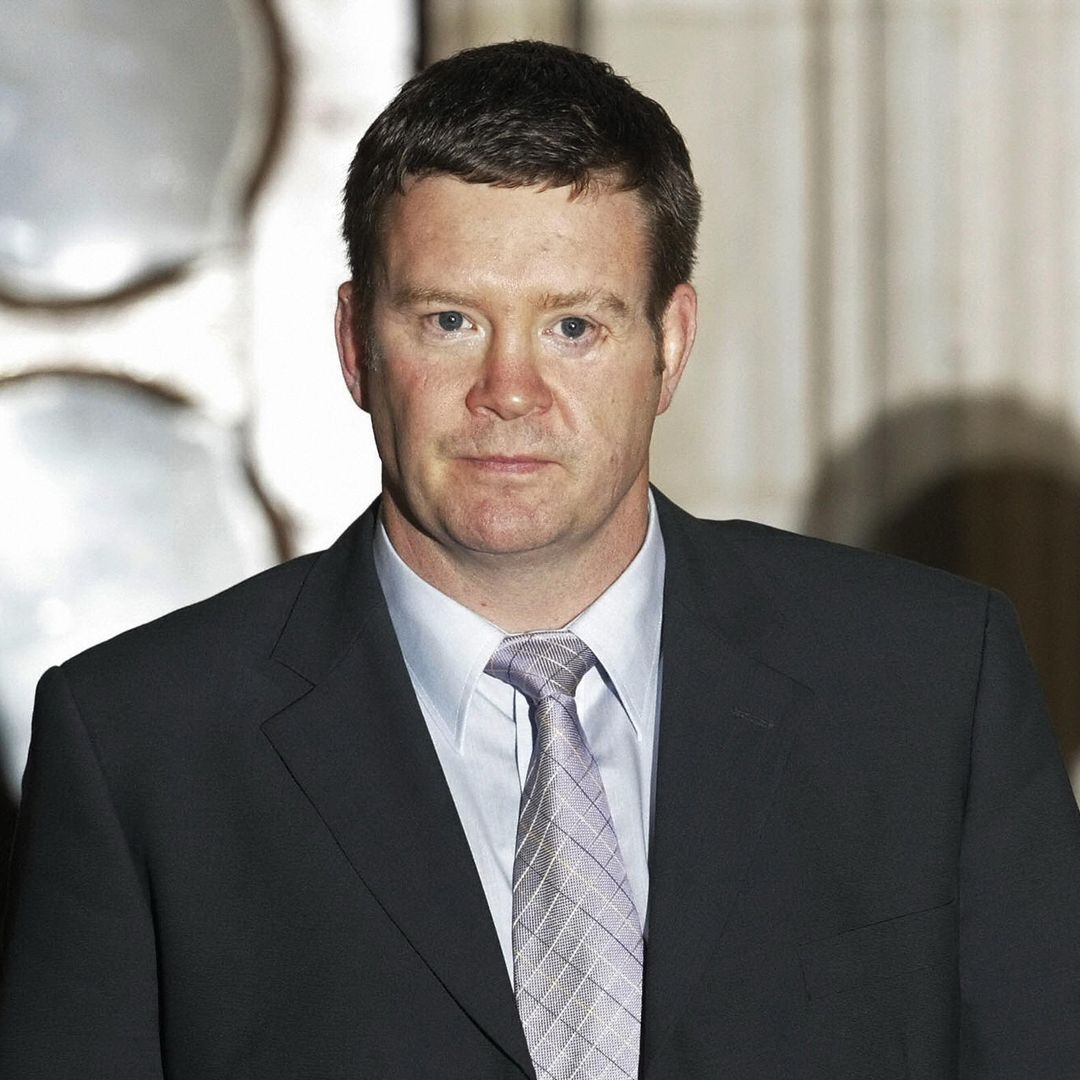 Where is the sole survivor of Princess Diana's car crash Trevor Rees-Jones now - and what does he remember?
Tom Cruise Recalls Stunt That Had Chocolate Cake Making Him Sick on The Outsiders Set
Tom Cruise recalls the one stunt that made him vomit while shooting scenes for Francis Ford Coppola's The Outsiders.
Over a long and illustrious career, Tom Cruise has pulled off some of the most daring stunts in Hollywood history. And the actor has pulled them off like a pro, without getting into too many accidents thanks to intense preparation and training. In an interview with Graham Norton, Cruise recalled one particular eating stunt he had to perform while filming 1983's The Outsiders which had him throwing up afterward.
"I was working with [director Francis Ford] Coppola, and I was like, 'You know what, I'm going to eat chocolate cake in the scene.'... I had to do it in the scene, it's part of the character, I'm going to eat chocolate cake. We ended up shooting this scene for three days, and we did like 100 takes of me eating chocolate cake, and I had to keep eating it. It's like the first couple of takes, I was like, 'Oh, this is so good, I have to eat it. It was so moist.' And then it was like, 'Oh my gosh, did we get it?' Three days of Francis [Ford Coppola] saying: 'Let's do it again.' I was in sugar shock, I was vomiting."
It might be that first reckless approach to doing his own physically arduous tasks on camera, and the vomiting that followed as a result, helped Cruise understand the importance of proper preparation before pulling off a stunt.
For the rest of his action-packed career, whether flying an actual fighter plane, holding his breath underwater for eight minutes, or scaling the tallest building in the world, Cruise always made sure he had undergone proper training first.
But all the training in the world does not guarantee safety, and the actor has suffered his share of mishaps while filming stunts, enough to make any other actor think twice before performing their own stunts again. But Tom Cruise is built differently. In a recent interview, he admitted he sometimes has to be told to stop smiling while filming a dangerous scene.
"I am a very physical actor and I love doing them. I study and train and take a lot of time figuring it all out. I have broken a lot of bones! The first time of any stunt is nerve-wracking, but it's also exhilarating. I have been told a few times during shooting a stunt to stop smiling!"
Tom Cruise's relationship to stunts might not make sense to regular folks, but that is what makes him an action star. The actor will next be seen back in action mode as Ethan Hunt in the Mission: Impossible 7 & 8 movies, which are rumored to be Cruise's final appearance in the franchise. But that doesn't mean the actor is giving up on doing dangerous stunts, since he will then start work on his next action movie which will be filmed in actual space.
Directed by Christopher McQuarrie, Mission: Impossible 7 stars Tom Cruise, Simon Pegg, Rebecca Ferguson, Vanessa Kirby, Henry Czerny, Esai Morales, Hayley Atwell, Pom Klementieff, and Shea Whigham. The film arrives in theaters on May 27, 2022.
What's Hot
Rob lowe says tom cruise 'went ballistic' during 'the outsiders': 'it was gnarly'.

Senior Reporter, HuffPost
Tom Cruise apparently displayed diva-like behavior before he was famous ― and it may be why he's where he is today.
At least according to Rob Lowe .
On Monday, the former "Parks and Recreation" star told Dax Shepard on his podcast "Armchair Expert" that when he and Cruise were virtual unknowns in Hollywood and were auditioning for roles in Francis Ford Coppola's 1983 movie "The Outsiders" a teenaged Cruise acted like he was already a major movie star in the lobby of New York's Plaza Hotel.
"We check-in and Tom finds out that we're sharing a room and just goes balliiiiiiiiistic," Lowe said.
Lowe explained that in the moment, he remembers, "going, 'Wow, this guy is the real deal'. I mean it made me laugh, it was gnarly."
But in retrospect, the 56-year-old "9-1-1: Lone Star" star doesn't necessarily see Cruise's actions as a bad thing.
"To me, what's great about the story is, there's certain people who have always been who they are, and that element of them has powered them to where they are today and the rest is history," Lowe said.
He continued:
"And the notion that an 18-year-old actor with a walk-on part in 'Endless Love' and like a seventh lead in 'Taps' could have that kind of like wherewithal."
"But at the end of it, you can't argue with the results," Lowe concluded. "He's had his eye on the ball since day one."
The coming-of-age drama, set in the 1960s, was a springboard for a bunch of future stars, including Matt Dillon, Diane Lane, Emilio Estevez, Ralph Macchio, C. Thomas Howell and Patrick Swayze — who Lowe also shared a few incredible stories about (which you can hear in the podcast above).
Lowe also offered another fun anecdote about Cruise's persistent drive, which he said recently led him to get into a YouTube "rabbit hole" where he watched videos of Cruise doing his own stunts in the "Mission Impossible" movies.
"It took me back to being in the Tulsa gymnasium where we had to learn backflips," Lowe said.
He explained that during the filming of "The Outsiders" in Oklahoma, Coppola "had a lot of ideas that I don't know what was going on." One of these included all the young actors learning how to backflip, which Lowe described as "really scary" and "hard as fuck to learn." But because Cruise was "relentlessly competitive," he was the only one who learned how to do it.
"[His backflip] is in the movie 'The Outsiders' for no reason," Lowe said. "He runs out of the house and does a backflip for no reason, just to do it."

Elyse Wanshel
Do you have info to share with HuffPost reporters? Here's how.
Popular in the Community
From our partner, more in entertainment.
Rob Lowe says Tom Cruise went "ballistic" during 'The Outsiders' audition
"He ended up being the only one who could do a backflip. It is in the movie for no reason," Lowe added
Rob Lowe has recalled his experience sharing a room with Tom Cruise during the audition for  The Outsiders , in which the  Mission: Impossible actor went "ballistic".
On the podcast  Armchair Expert with Dax Shepard , Lowe told the story regarding a second stage of auditions for Francis Ford Coppola's 1983 coming-of-age film.
READ MORE: Get your motor running with this high-octane playlist inspired by Mission: Impossible – Fallout
"All of the LA people survived the LA auditions, and then the hand-picked people had to go to New York to face the New York version," Lowe explained.
"[It was the] first time I ever stayed at The Plaza Hotel, and we check-in and Tom finds out that we're sharing a room and just goes ballistic."
He continued, praising the actor who was 18 at the time. "I remember going, 'Wow, this guy is the real deal.' I mean it made me laugh, it was gnarly. But in the end of it, you can't argue with the results. He's had his eye on the ball since day one."
The Outsiders was adapted from the 1967 novel of the same name by S. E. Hinton, taking inspiration from Jo Ellen Misakian, a librarian at Lone Star Elementary School in California, and her students.
Referring specifically to Cruise, the actor said: "The notion that an 18-year-old actor with a walk-on part in Endless Love and like a 7th lede in Taps could have that kind of like wherewithal…
"He ended up being the only one who could do a backflip. It is in the movie for no reason. Just to do it."
Elsewhere, Dougray Scott said last month that Tom Cruise prevented him from playing Wolverine .
You May Like
Jordan adetunji builds a whole new world on 'rock 'n' rave', luh tyler wants to raise the bar for florida's rap scene, paapa essiedu just wants to tell proper stories: "being the lead isn't the be all and end all", 'the marvels' review: a quirky cosmic caper that lacks punch, 'call of duty: modern warfare 3' review: sublime multiplayer saves a dull shooter.
Rob Lowe Says Tom Cruise Went 'Ballistic' Over Sharing a Room With Him While Auditioning for 'The Outsiders'
Rob Lowe is opening up about working with a young Tom Cruise.
Lowe and Cruise starred in Francis Ford Coppola's beloved 1983 film, The Outsiders , alongside other major '80s stars like the late Patick Swayze, Ralph Macchio, Matt Dillon, Emilio Estevez and C. Thomas Howell. On Monday, Lowe was a guest on Dax Shepard's podcast, Armchair Expert With Dax Shepard , and recalled his early experience with Cruise.
"All of the L.A. people survived the L.A. auditions, and then the handpicked people had to go to New York to face the New York version; so it was me and Tom Cruise and Emilio and C. Thomas Howell," Lowe recalls.
Lowe said the group was staying at The Plaza Hotel in New York City, and noted that Cruise was definitely not enthused when he learned that they were going to be roommates.
"First time I ever stayed at The Plaza Hotel. We check in and Tom finds out that we're sharing a room, and just goes ballistic ," Lowe says.
Still, Lowe had no hard feelings toward Cruise.
"To me, what's great about the story is, there's certain people who have always been who they are, and that element of them has powered them to where they are today and the rest is history," he explains. "And the notion that an 18-year-old actor with a walk-on part in Endless Love , and like, a seventh lead in Taps , could have that kind of, like, wherewithal? I remember going, 'Wow, this guy is the real deal.'"
"I mean, it made me laugh, it was gnarly," he continues. "But at the end, you can't argue with the results, he's had his eye on the ball since day one."
Lowe also recounted Cruise's focus that carried on into filming. The actor said that Coppola asked the Outsiders cast to learn how to do backflips at a gymnasium in Tulsa, but Cruise was the only one who was able to do it.
"It's hard as f**k to learn, and Tom was relentlessly competitive," Lowe says. "He ended up being the only one who could do a backflip. It is in the movie The Outsiders for no reason. He runs out of the house and does a backflip for no reason, just to do it."
Interestingly enough, Lowe isn't 57-year-old Cruise's only colleague that has talked about sharing a room with him. In November 2018, director Doug Liman revealed what it was like sharing a house with Cruise and a writer while filming 2017's American Made in order to help cut down on the costs of the movie.
"We were roommates from hell," Liman, who also directed Cruise in 2014's Edge of Tomorrow , admitted during an appearance on Late Night With Seth Meyers . "To be honest, I'm a little messy. Tom Cruise is kind of a neat freak, some might say OCD, when it comes to the dishes, and believes they should be scrubbed before they go in the dishwasher, which I don't."
"We had trouble hiring a maid, so we actually had a chore chart in the house," he continued. "When it was my turn to do the dishes, I would hide them in the pantry bar sink -- but Tom doesn't miss a thing."
Meanwhile, Cruise's Top Gun co-star, Val Kilmer, also recently commented on Cruise's incredible focus in his new book, I'm Your Huckleberry . In an excerpt published by The Daily Beast , Kilmer recalled how Cruise didn't party with him and some of their co-stars while filming.
"We were the party boys," Kilmer said about himself and his group while filming the 1986 classic. "Every night we'd hit the San Diego nightlife."
"Tom refrained from our revelry, with good reason," he continued. "From day one, he was laser-focused on a singular goal: to become the greatest action hero in the history of film. He was up nights learning lines; he spent every waking hour perfecting his stunts. His dedication was admirable. Of course, even more admirable is the fact that he achieved his goal."
Clearly, Cruise's work ethic hasn't slowed down. In January, ET interviewed Glen Powell, who's starring in the highly anticipated Top Gun sequel, Top Gun: Maverick , and he talked about Cruise putting a regiment together for him and his co-stars to learn how to fly aircraft.
"Tom Cruise, obviously, as you probably know, takes things very seriously," Powell shared. "In terms of the flying in this movie, it's all practical flying. We're actually [in] F-18s this entire time, so if we didn't do the Tom Cruise School of Flying, we would've been passing out and puking the entire time."
"We had to do reports that I thought were not going to Tom Cruise," he continued. "I thought it was like, 'Hey, you're gonna send me a report.' But [I thought] it was to production. And then I found out Tom is reading every report. I didn't take it seriously [and] Tom was like, 'So I read that thing. Is that really true?' ... So, Tom reads it all."
Watch the video below for more:
Updates on Celebrity News, TV, Fashion and More!
RELATED CONTENT:
Val Kilmer on Why Tom Cruise Didn't Party With the 'Top Gun' Cast
Katie Holmes Recalls 'Intense' Time Raising Daughter Suri Following Split From Tom Cruise
Kate Hudson Says Tom Cruise Once Crashed Her Party by Scaling a Fence