Quick Links

Summernats opens with the annual city cruise down Northbourne Avenue
They came from near and far, and rumbled the national capital in a way that broke the record books.
Participants in the annual Summernats city cruise this year numbered 500 vehicles, far and away the largest turnout seen since 2005, when the public event had to be disbanded because of unruly behaviour by drivers and onlookers.
Holdens and Fords dominated the street parade right down through the model years, with a smattering of US-built Chevrolets, Lincolns and Camaros thrown in for good measure.
A lone Volkswagen Beetle and a couple of Toyotas were rolled out, their owners bravely mixing it with the locally made product.
Thousands of Canberrans, some bringing fold-up chairs and eskies containing their beverage of choice, lined Northbourne Avenue for the cruise, which limited all participants to a modest 40km/h.
Police led the pack with a VF Holden SS V8 pilot car - ironically one of the very last to roll out of the Elizabeth factory before production was ended in 2017, and Roads ACT generated a "green light corridor" for the cruise but the sheer volume of street-registered modified cars meant the parade rolled on and on for around half an hour.
Such was the volume of cars this year that they had to be fed out of the Exhibition Park mustering area from two separate gates.
The cruise rolled down Northbourne Ave, made a U-turn at London Circuit and headed back, this year - for the first time - having to contend with the vagaries of light rail, which operates under a separately modulated traffic light system to the vehicle traffic.
Photos of Summernats 2022 city cruise in Canberra city
Summernats campers told to pack up and leave if COVID symptoms develop
Ratty interloper joins a polished many as Summernats kicks into gear
Five things to do in Canberra this weekend
Police reported no incidents from the cruise, and the four tow trucks which tailed the pack were not needed.
Gates opened at 11am on Thursday to the public, with attendance this year capped at 20,000 per day in accordance with the COVID safety plan organisers developed with ACT Health. Masks are required to be worn at all indoor venues.
The forecast rain on Thursday failed to eventuate until very late in the day, when a storm cell rolled over Exhibition Park as the last of the wildcard entries were in action on the burnout pad.
Meanwhile, in the main judging pavilion, the elite cars - those that will not be driven but will stay as static displays throughout the event and judged on the quality of elements such as engineering, paint and design - remained anonymous under their dark shrouds, waiting for the so-called Great Uncover on Friday evening.
Thursday's spectator numbers appeared to be down on previous years, although entry numbers are up. Flemington Road will be closed to through traffic for the duration of the event, as are the main gates.
Entrants were still arriving on Thursday, keeping the scrutineering bays busy.
SUMMERNATS DAY TWO
Friday Highlights
9am: Judging restarts
9am: Show'n'shine in main arena
9am: Horsepower Heroes
10am Lawnmower racing
4pm: Grass driving events
6pm: Braddon Fringe Festival
7.30: Great Uncover of elite cars
Our journalists work hard to provide local, up-to-date news to the community. This is how you can continue to access our trusted content:
Bookmark canberratimes.com.au
Download our app
Make sure you are signed up for our breaking and regular headlines newsletters
Follow us on Twitter
Follow us on Instagram
Peter Brewer
Telling the truth and holding agencies accountable must matter to us all. It's also important to tell the story well, and factually. Contact me at [email protected]
Advertisement
Get the latest Canberra news in your inbox
Sign up for our newsletter to stay up to date.
We care about the protection of your data. Read our Privacy Policy .
Street Machine Summernats 2023 survival guide
Everything you need to know if you're heading to street machine summernats 35, 5-8 january, share this:.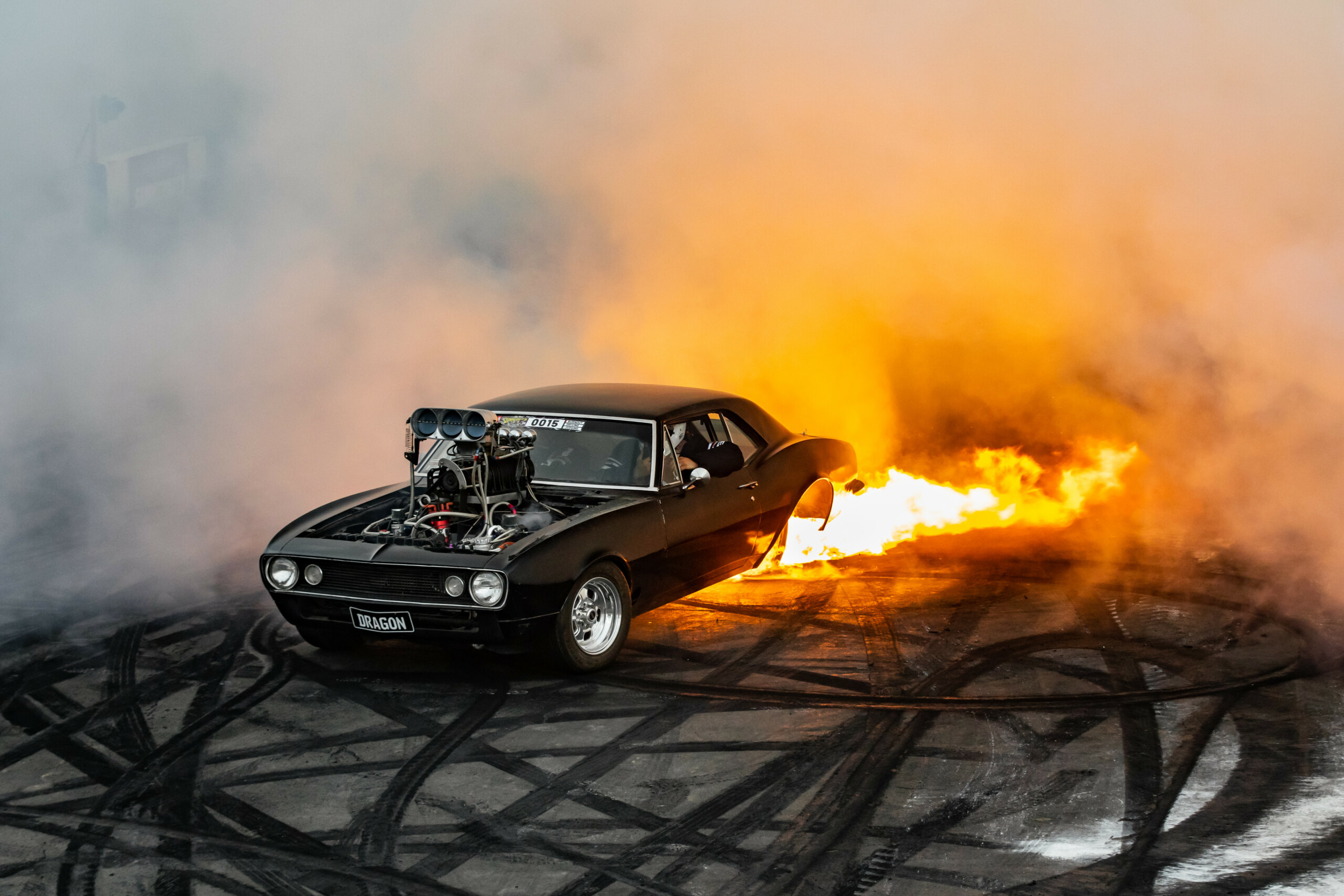 It's that time of year again! We're limbering up for what's promising to be the most spectacular instalment yet of Australia's biggest horsepower party, Street Machine Summernat s 35, which rolls into Canberra 5-8 January 2023.
Over 2700 car entries and all Platinum spectator passes sold out months ago, so it's very likely that we'll see record crowds pouring through the gates over all four days to smash some slushies and watch tyres get sent to tread cemetery.
Speaking of which, with that many cars on hand, you can guarantee Skid Row will be pumping hard all weekend, while the burnout pad will again host the best of the best for both the Burnout Masters and Burnout Championship titles , as combatants vie for over $40K in prize money across both classes.
Records are looking to get broken indoors as well, with Summernats staff hinting there could be over 30 brand-new builds being unveiled in the Top 60 Elite Hall during the Meguiar's Great Uncover , which has now moved to Thursday night to really kick the weekend off in a big way.
We suspect the other reason the unveilings have been moved forward is because Friday night will be all about the killer line-up on the music stage. Aussie rock legends Shannon Noll, Diesel, Daryl Braithwaite and Jon Stevens will rock the main stage all night long, kicking off at 6pm.
Our friends at MPW will be in the dyno hall all weekend running tuning workshops and the Haltech Horsepower Heroes dyno competition , while outside, the fan-favourite lawn mower racing will be kickin' up grass from Friday, as well as a special celebrity mower race on Saturday. The Canna Main Arena will also play host to Fashions on the Field, the body art comp, and of course the mullet competition.
The Drift Cadet crew will be back once again doing demos and ride-alongs all weekend in their sliding machines, while Tuff Street will showcase Australia's gnarliest machines right next to Skid Row.
The Fringe Festival held in the streets of Braddon is also back and even bigger this year. Held on Friday and Saturday nights from 6pm, it's where you can see all manner of wild Summernats entrants cruising the streets.
Combine all that with the Saturday-afternoon Supercruise and Brooke Evers, The Stafford Brothers and Bliss N Eso performing on Saturday night, and this is shaping up to be the best Street Machine Summernats yet!
Highlights:
The action on Skid Row kicks off from 1pm on Thursday, where any entrant can blaze tyres at full noise without getting kicked out!
Meguiar's Great Uncover
If you thought last year was a big one for unveilings, it ain't got nothin' on what 'Nats 35 has in store.
There's going to be over 30 cars being shown for the very first time, and it's also been moved to Thursday night to give the punters an extra day to gawk at the immaculate machines.
Fringe Festival
The Summernats Fringe Festival returns to Braddon this year, where organisers shut down a large portion of Canberra's CBD from 6pm until late to allow Summernats entrants to cruise the streets and hit the bars and restaurants. It'll make for an awesome atmosphere, and will be running both Friday and Saturday nights.
Music acts!
It's an Aussie rock fest Friday night on the main stage , with Shannon Noll Diesel, Daryl Braithwaite and Jon Stevens kicking arse from 6pm.
Grand Champion award
The road to Summernats Grand Champion gets serious on Sunday morning, with the motorkhana and go-to-whoa events on the pad from 11am, before the Grand Champ is crowned at 12:30.
More awards!
Silverware also gets handed out for Tuff Street, PPG Supreme and the Haltech Horsepower Heroes.
Burnout Masters
The Burnout Masters return to the pad on Saturday for the final eliminations before Sunday's Top 10 shootout. They'll light up the crowd from 4pm.
Mowers & Mullets
Saturday is a massive day on the main stage, with body art and mullet competitions , the celebrity mower race, and the traditional twilight Supercruise.
Don't be a goose!
As you may know, Summernats 34 got pretty wild on the cruise route on the Saturday afternoon. The 'Nats team let it roll on a bit more than usual on that occasion because we'd all been locked up for two years.
However, ACT Police and WorkSafe have made it very clear that we all need to keep our cool on the cruise route like we normally do.
The 'Nats team work hard to keep punters away from your pride and joy, so do your bit to help keep everyone safe and enjoying the event. If you muck up on the cruise route, you may be removed from the show and could be that person who gets the event closed down. For a day, or forever.
So rip a skid at Skid Row. Do burnouts on the burnout pad. Cruise on the cruise route. It's that simple.
Street Machine merch!
Our merchandise stand will be back in the Rare Spare Pavilion this year, with our brand-new LITRE8 T-shirt on offer. We'll also have books, stickers, hats, tank tops and a whole lot more, so make sure you come say g'day and grab some SM swag.
Thursday 05 Jan
The first day of Summernats used to just be about sign-in, getting through scrutineering and jumping on the beers, but it's now morphed into one of the most important days of the whole weekend.
Cruising kicks off at 9am, with Skid Row opening gates at 1pm.
For the burnout warriors, Thursday afternoon plays host once again to the Last Chance Wildcard Shootout for the Burnout Masters, with 33 drivers hanging it all out for a final opportunity to secure a spot in Saturday's eliminations.
For the first time ever, the Meguiar's Great Uncover has been moved forward to Thursday night, so the Elite Hall is going to be packed to the brim as the covers are pulled off a record 31 never-before-seen builds. The Top 60 finalists show will also be in the mix from 7pm.
It's all going to make for a huge first day!
07:00-20:00: Entrant camping check-in & scrutineering 09:00-21:00: Cruise route open 11:00-22:00: Public gates open 12:00-13:00: City Cruise 13:00-20:00: Skid Row 16:00-18:00: Last Chance Wildcard Shootout 19:00-21:00: Top 60 Finalists Show 19:30-20:30: Meguiar's Great Uncover
Friday 06 Jan
The second day of 'Nats 35 sees the dyno hall kick into gear for both the Haltech Horsepower Heroes comp and MPW tuning masterclasses, while the Drift Cadets get sliding from 9am for demo sessions and passenger rides.
The Tuff Street showcase gets underway, and while the Masters take a break, the Burnout Championship eliminations hit the pad from 1pm.
The Fringe Festival in Braddon will see local streets bustling with Summernats entrants from 6pm 'til late, while on the Canna Main Stage, a mega-concert featuring Aussie rock legends Shannon Noll, Diesel, Daryl Braithwaite and Jon Stevens gets underway from 6pm.
09:00-20:00: Public gates open 09:00-21:00: Cruise route open 09:00-20:00: Haltech Horsepower Heroes 10:00-15:00: Tuff Street Showcase 11:00-20:00: Skid Row 13:00-18:00: Burnout Championship eliminations 18:00-23:00: Braddon Fringe Festival 18:00-23:00: Concert: Shannon Noll, Diesel, Daryl Braithwaite, Jon Stevens
Saturday 07 Jan
Saturday is historically the biggest day of any Summernats, and this year will be no exception. It's a massive day on the Canna Main Stage, with Fashions on the Field, body art and mullet contests all day.
There'll also be the celebrity mower race, as well as silverware handed out for the Elite judging and Tuff Street.
The burnout action ramps up as well, with two sessions for Burnout Championship eliminations, before the Burnout Masters hit the pad for their knockout round at 4pm.
The traditional Supercruise around the main arena will lead into music acts DJ Brooke Evers, The Stafford Brothers and Bliss N Eso, with the night topped off with a fireworks spectacular. And remember, kids, there's still one more day to go!
09:00-10:00: Motorkhana 09:00-16:00: Street Finalists display 10:00-15:00: Tuff Street final judging 11:00-20:00: Skid Row 11:00-13:00: Burnout Championship eliminations 13:00-13:30: Celebrity Lawn Mower Race 13:30-14:00: Fashions On The Field 14:00-14:30: Body Art Nationals 14:30-15:00: Mullet Competition 14:00-16:00: Burnout Championship eliminations 15:30-16:00: Elite awards 16:00-18:00: Burnout Masters qualifying 18:00-23:00: Fringe Festival Braddon 19:00-20:00: Supercruise 20:00-22:45: Concert: Brooke Evers, The Stafford Brothers, Bliss N Eso 22:45-23:00: Fireworks
Sunday 08 Jan
Sunday is the last day of the Summernats, and it's a day of silverware all across the EPIC precinct as champions are crowned.
Earlybirds can head to the burnout pad to watch Australia's mintest machines duke it out in the motorkhana and go-to-whoa for Australia's ultimate show car prize, Street Machine Summernats Grand Champion.
The PPG Supreme display is also a highlight of Sunday morning, with their awards handed out later in the day.
The MPW dyno cell hosts the finals for the Haltech Horsepower Heroes, and after lunch the Burnout Championship finals get underway.
From 3pm, 10 of Australia's best burnout combatants will face off for ultimate bragging rights and a huge cash prize in the Burnout Masters final face-off, and then Summernats 35 comes to a close as everyone packs up and reminisces about what'll doubtless be a Summernats for the ages.
09:00-17:00: Public gates open 09:00-10:00: Go-to-Whoa 09:00-14:00: Skid Row 09:00-16:00: Cruise route open 09:30-11:30: PPG Supreme display 10:00-13:00: Haltech Horsepower Heroes finals 11:00-12:00: Grand Champion driving events 12:00-12:30: Magnificent Seven presented 12:30-12:45: Grand Champion presentation 13:00-15:00: Burnout Championship finals 15:00-16:00: Burnout Masters finals 17:00: Summernats close
Summernats 36 Meguiar's Great Uncover preview
The MeguIar's Great Uncover at Street Machine Summernats 36 is set to break records
Old cars, old camera! Film photography at Street Machine Summernats 35
Going back to the future at Street Machine Summernats
Vale: Kerry Digney
We say goodbye to Kerry Digney, the voice of Summernats, Powercruise, Drag Challlenge and much more