ABOUT CONTACT US
Destinations
Itineraries
US National Parks
20 Amazing Things to Do in Santorini, Greece
Julie Last updated: July 9, 2023 Greece 34 Comments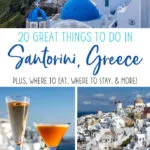 Santorini is a windswept, volcanic island in the Cyclades. Magical sunsets in Oia, photogenic blue dome churches, and a myriad of colorful beaches attract thousands of visitors every year, making this one of Greece's most popular destinations. If you are planning a trip to this wonderful island, here are the best things to do in Santorini.
Table of Contents
Interesting Facts about Santorini
Santorini is the southernmost island in the Cyclades. Its official name is Thira ( Thera in classical Greek).
This island is the site of one of the largest volcano eruptions in recorded history. About 3,600 years ago the volcano erupted, causing an enormous tsunami which hit the island of Crete, leading to the eventual downfall of the Minoan civilization. Now, Santorini is a waterfilled crescent, the remains of this ancient volcano. The towns of Oia, Fira, and Imerovigli are all perched along the rim of the caldera.
There are more churches than houses on the island, although most of these are very small and private.
Wine is a major industry here. The hot, dry climate is perfect for growing grapes, and if you like to visit wineries and go wine tasting, you'll love Santorini. By the way, the vines are grown in coils on the ground, rather than on a trellis like you typically see in many other vineyards around the world. This is done because it's very windy on Santorini.
And yes, expect windy conditions. While we were here, there were wind gusts strong enough to knock people over, literally. January, February, July and August tend to be the windiest months on Santorini.
Best Things to Do in Santorini
1. watch the sunset in oia.
Most likely, you have already seen the iconic sunset photos of Oia. Maybe that's how Santorini made it onto your "must-see" list. It worked for us!
Oia (pronounced ee-uh), is one of the best places in Santorini to watch the sunset. The blue dome churches set amongst cascading whitewashed buildings is the perfect setting to watch the sun go down. This is Santorini's most crowded spot at sunset, so expect big crowds of people here.
PRO TRAVEL TIP: If you are renting a car, plan to get here several hours before sunset just to ensure that you get a parking spot. Parking is extremely limited and by late afternoon, giant tour buses make the situation even worse.
You can wander the streets and look for the perfect spot on your own, but I have two suggestions for you.
The most popular spot to watch the sunset is near Oia Castle. The crowds here are insane. But what you get is view of the windmills and the whitewashed buildings cascading down the cliffs of the island.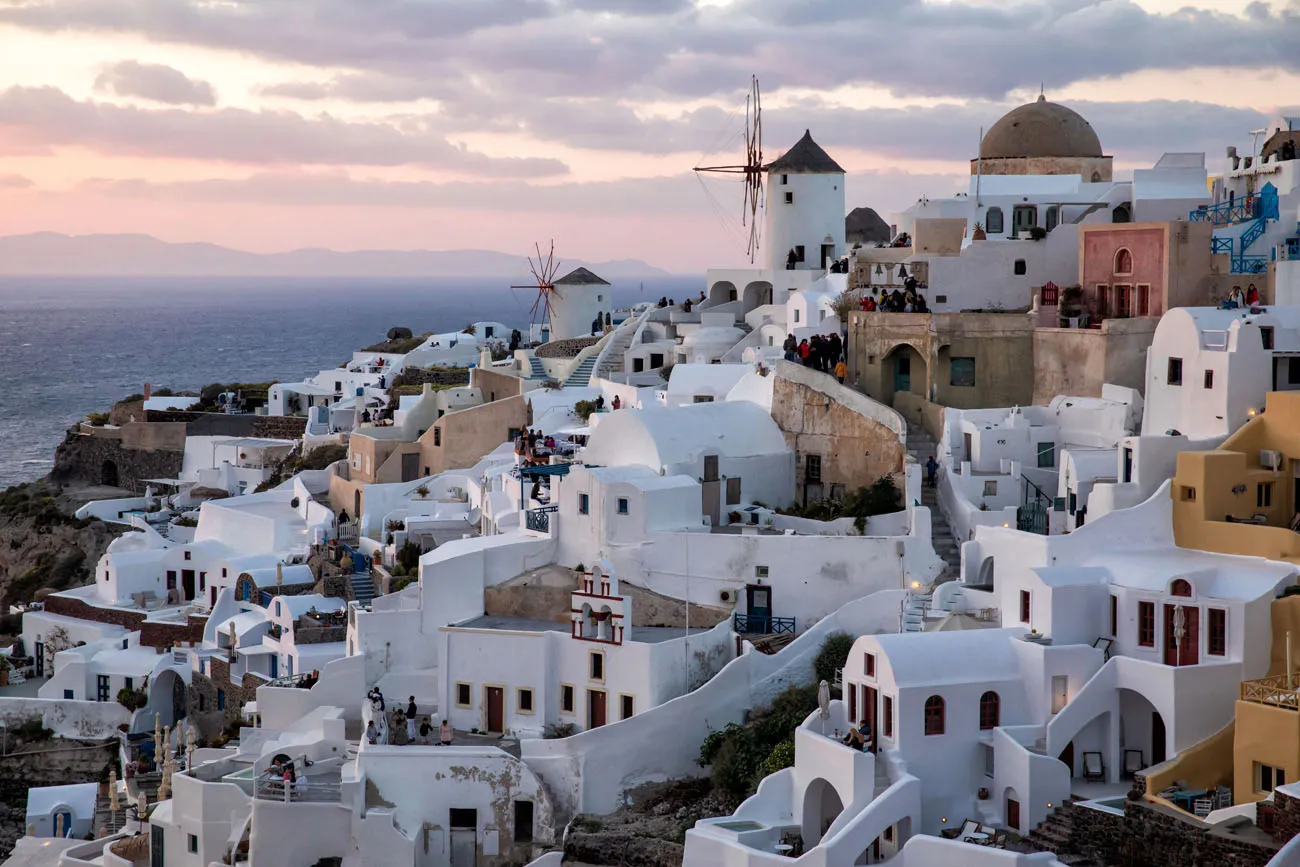 Sunset near Oia Castle | Best Things to do in Santorini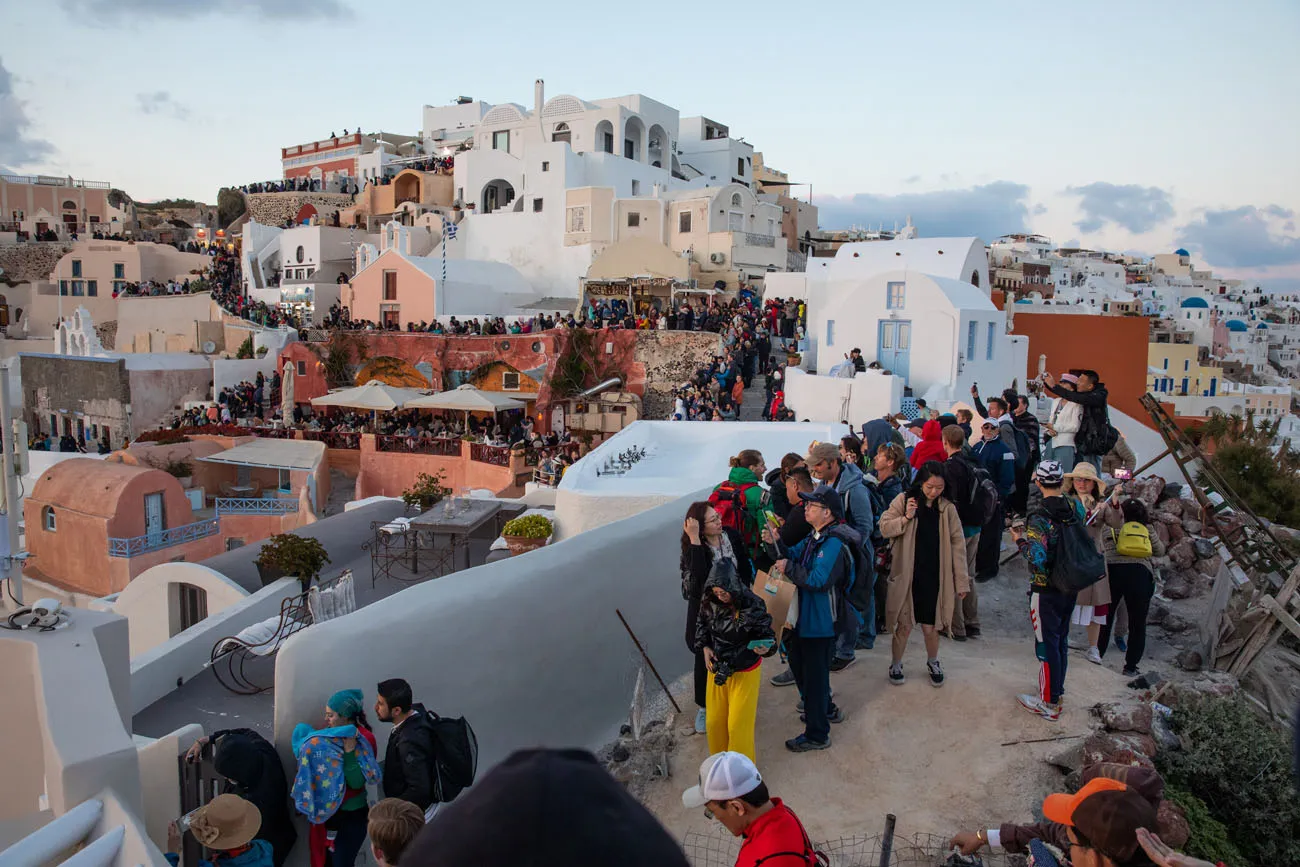 Oia Castle was not our favorite sunset point. It was very crowded and you don't get the iconic blue domes.
My favorite spot was right next to the three blue domes of Oia. This is a fantastic view, because not only do you get the blue domes, but you can also get the bells of a church in your photo. As an added bonus, I shared this amazing spot with just a handful of people.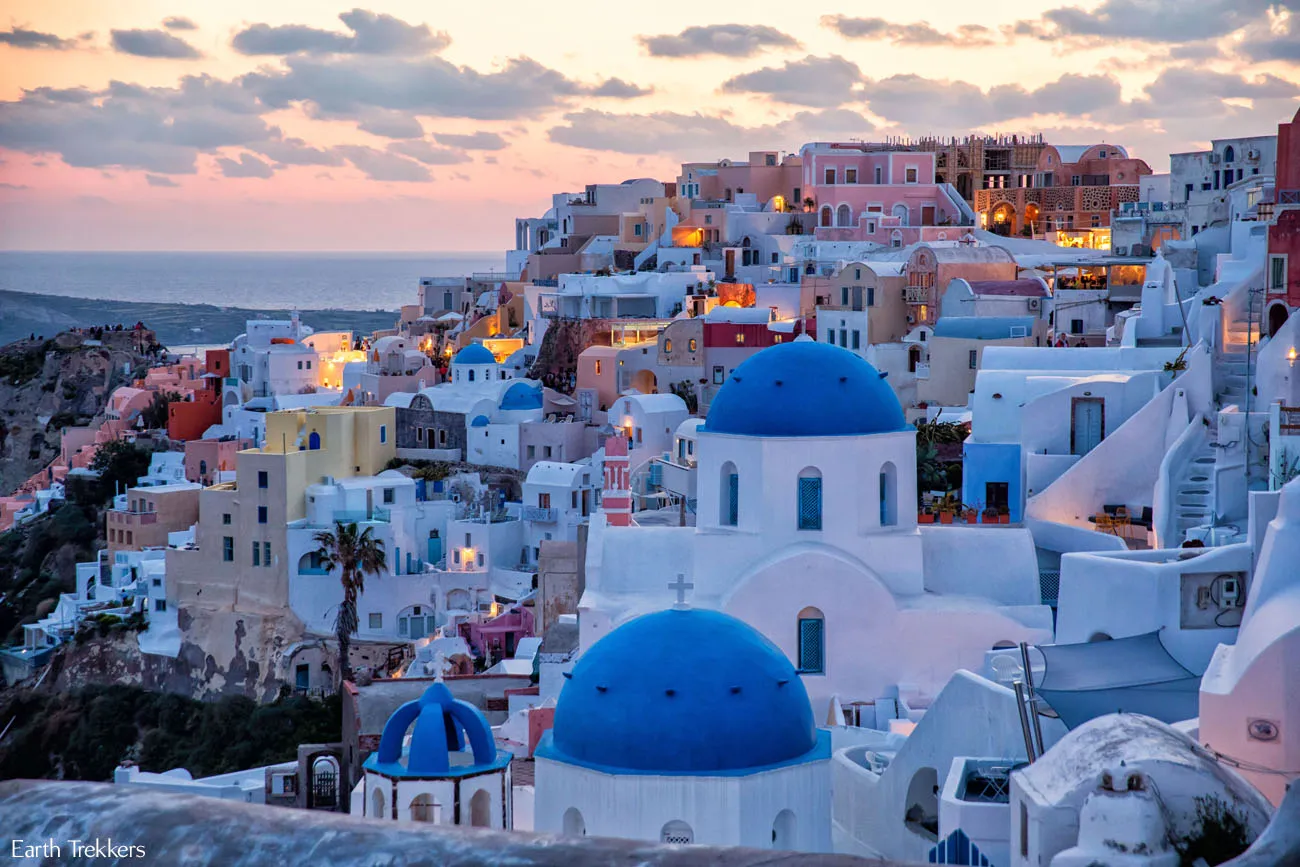 Sunset at the Blue Domes of Oia | Best Things to do in Santorini
Read more about these two viewpoints, with directions on to find these exact spots, in our article Two Amazing Spots to Watch the Sunset in Oia.
2. Sunset in Imerovigli
Imerovigli is less popular that Oia but it's still a fantastic spot to watch the sunset. It's also a lot quieter, another reason why it's so nice.
You can enjoy the view while wandering the narrow walkways, from your terrace or hot tub or plunge pool (if you reserved a hotel here), or from one of several restaurants.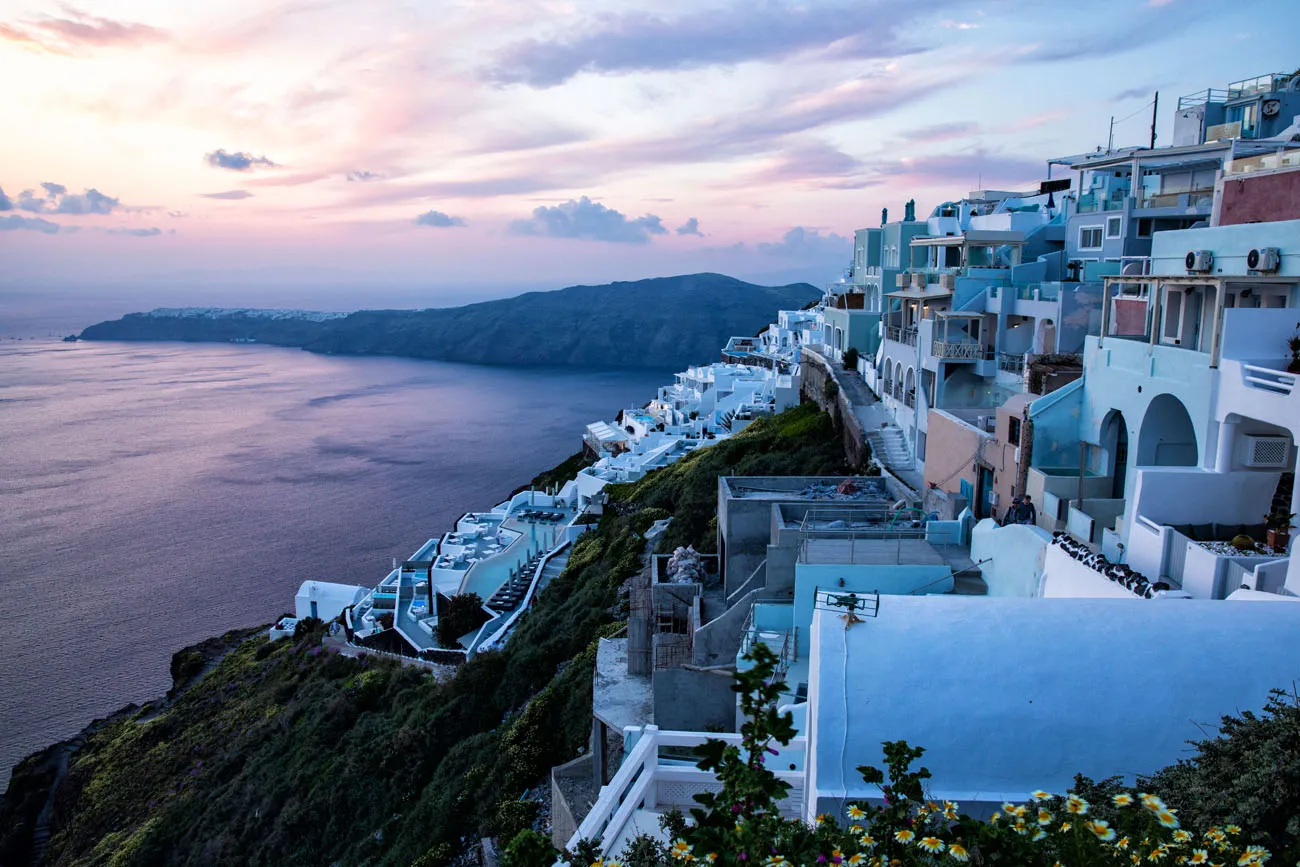 Sunset in Imerovigli | Best Things to do in Santorini
Our favorite restaurant with a view in Santorini is La Maison. Not only is it a gourmet experience but the views are stunning.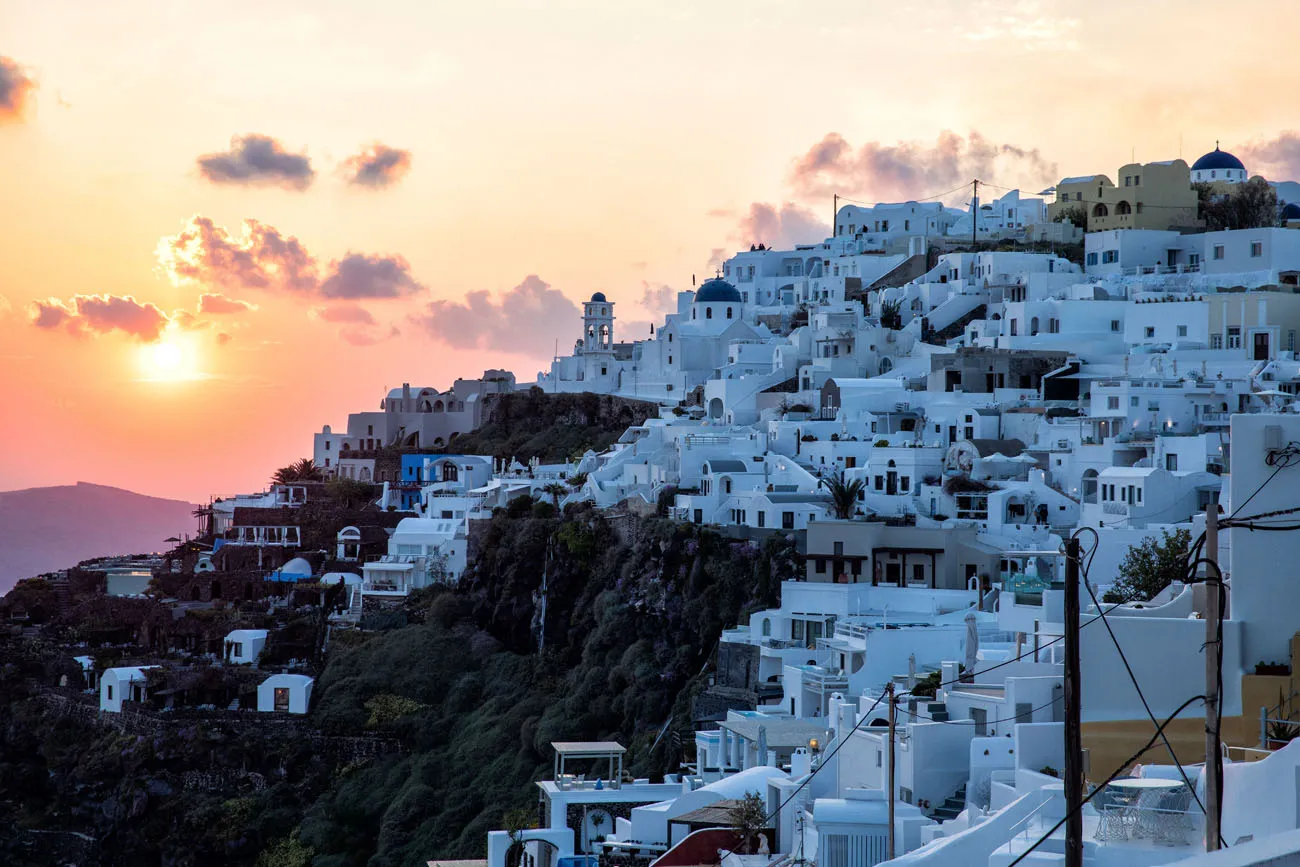 Sunset view from La Maison | Best Things to do in Santorini
3. Take a Boat Tour
Sunset cruise.
Another great experience in Santorini is to take a sunset cruise. From the catamaran, enjoy the view of the white towns on the rim of the caldera and watch as the sun sets. Most cruises offer dinner, drinks, and a chance to go snorkeling or swimming.
Boat Tour of the Volcano
Get out on the water and sail to the volcano. You can swim in the Aegean Sea or the hot springs, peer into the crater of an active volcano, explore the city of Thirassia, and visit the Red and White Sand Beaches. Some of these cruises will end with a sunset view of Oia.
We did not do this, simply because tours were not yet being offered during our visit. However, I think a half to full day boat tour would be one of Santorini's top experiences.
PRO TRAVEL TIP: Want to avoid the cruise ship crowds? Find out when the cruise ships will be in port by clicking here . You can get the cruise ship schedule not only for Santorini but also Athens and the other Greek Islands.
4. Walk out to Skaros Rock
Skaros Rock is a large promontory of rock that juts out from the island just below Imerovigli. This was once the location of an ancient castle and fortresses. Now, it's a popular photography and hiking spot. Explore the trails on the rock, enjoy the views back to Imerovigli, and see the ruins of the old fortresses.
To get here, walk down the zig-zag walking path from Imerovigli to Agios Ioannis Church and continue on the trail to Skaros Rock.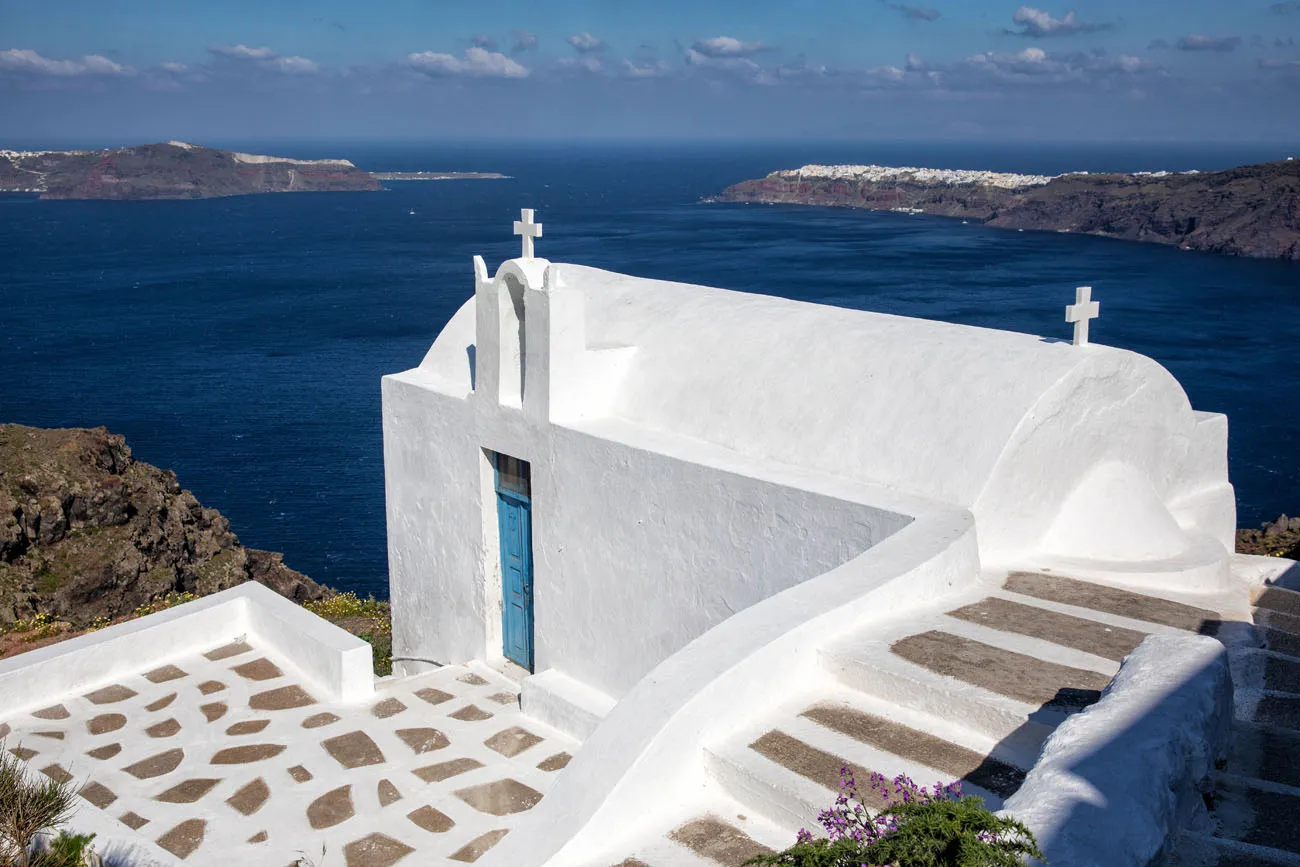 Agios Ioannis Church | Best Things to do in Santorini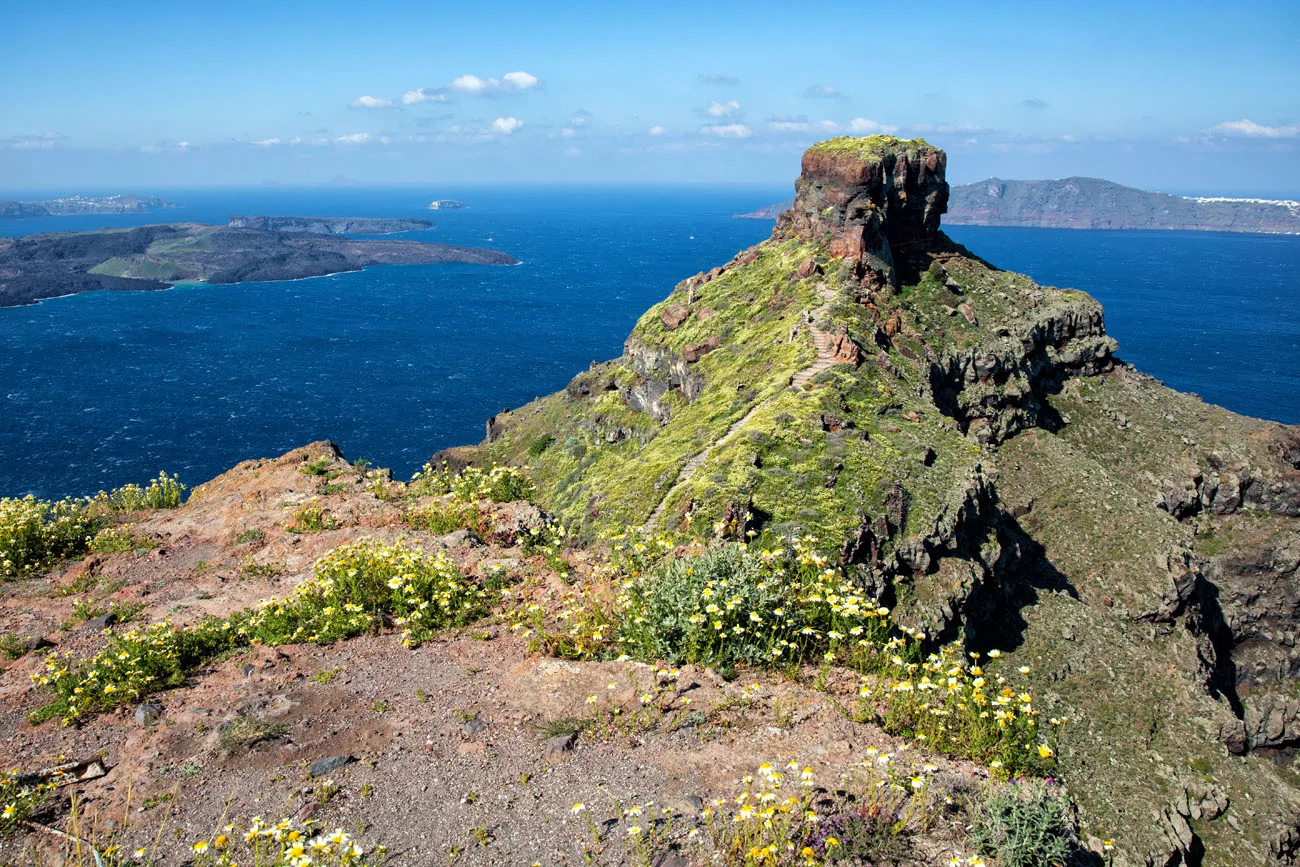 Skaros Rock | Best Things to do in Santorini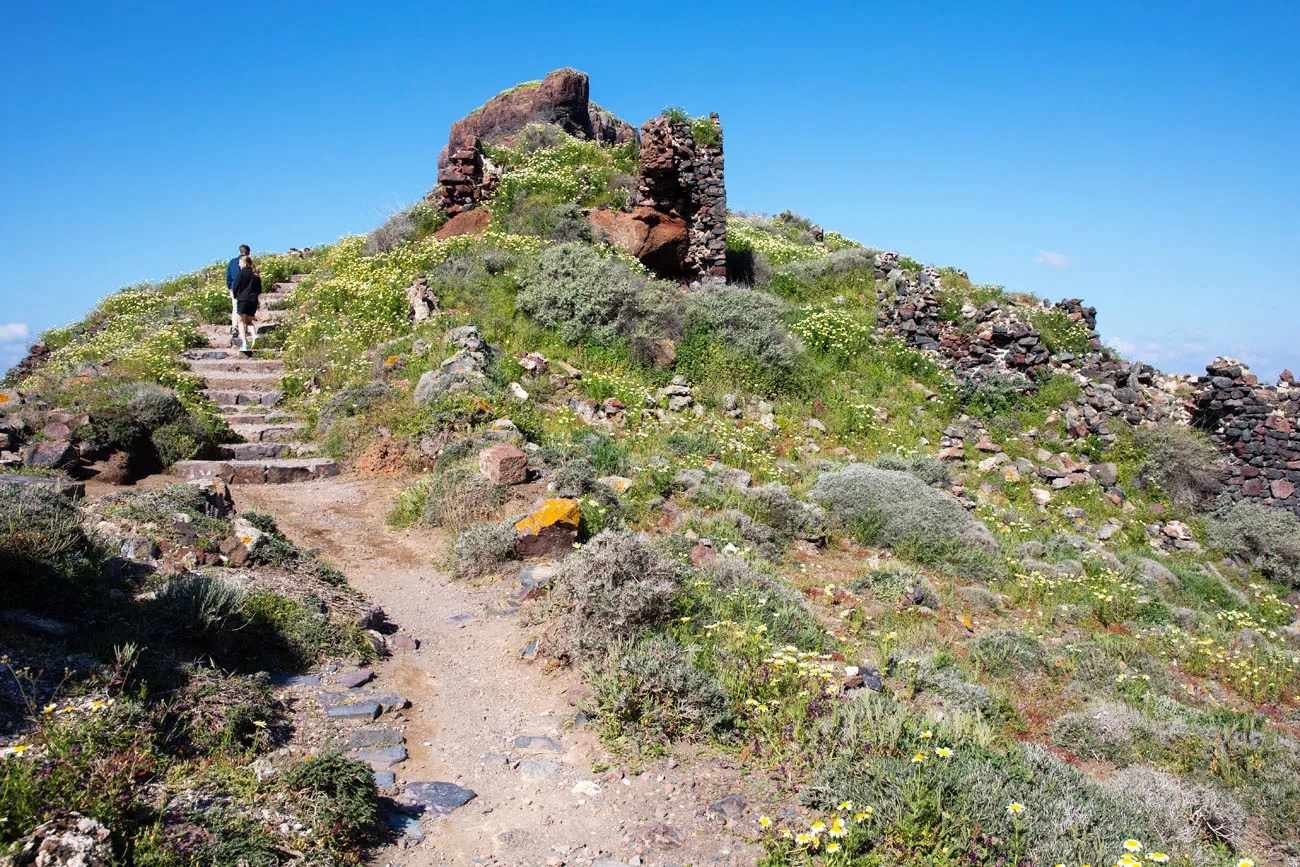 Looking back up at Imerovigli
5. Go Wine Tasting
Wine is a major industry on Santorini. Assyritiko is the main grape grown on Santorini and will be found in many wines made here. You can visit the wineries on your own or take a tour. Santo Wines is the most popular winery to visit but Venetsanos Winery also makes a nice pick.
This sunset wine tour includes a visit to three wineries. This full day tour of Santorini includes a visit to Profitis Ilias and Perissa Black Sand Beach, a wine tasting, and sunset views of Oia. Or, take a private tour of the three wineries in Santorini.
6. Walk from Fira to Oia
Walking along the edge of the caldera from Oia to Imerovigli to Fira was one of our favorite experiences in Santorini. The best parts are the views over Oia and the caldera and exploring the walking paths from Imerovigli to Fira.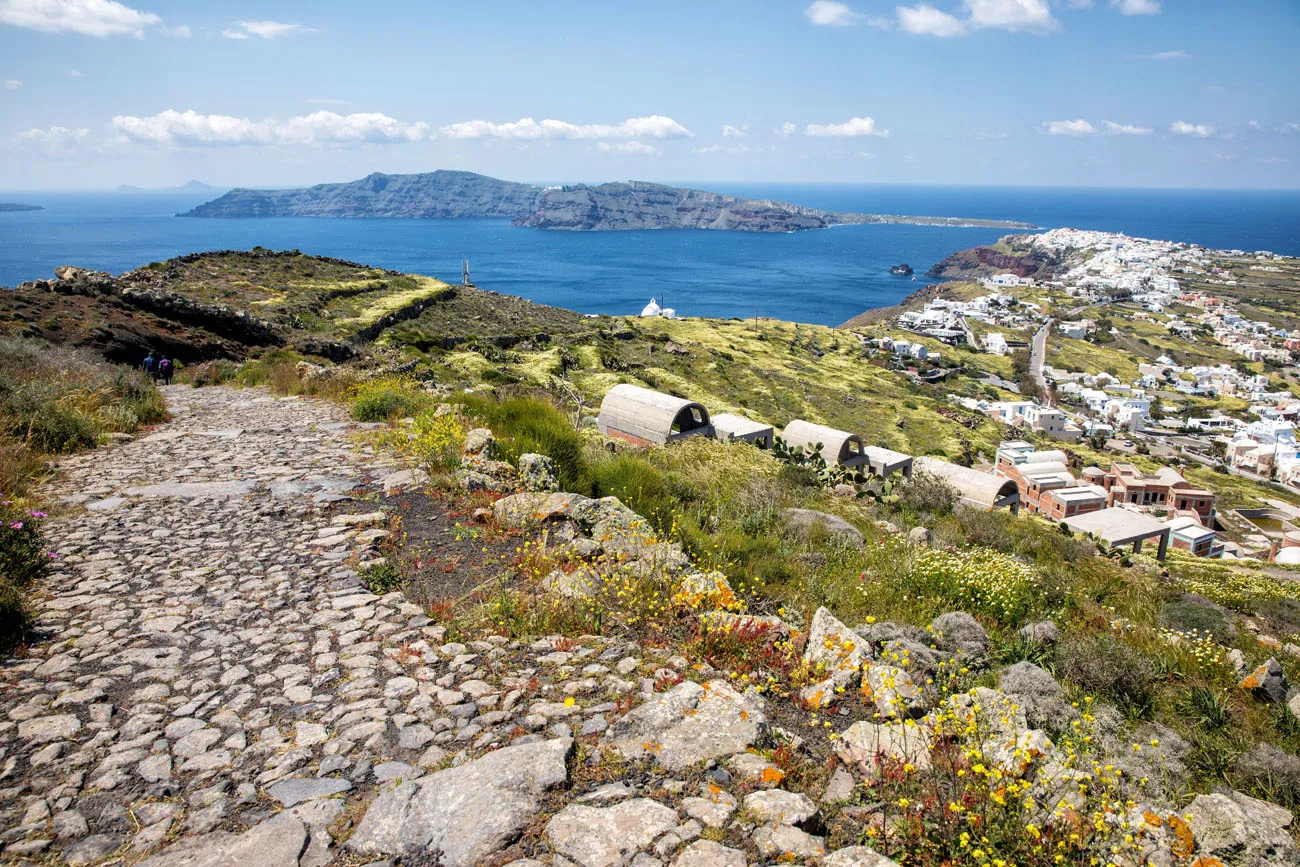 Looking out over Oia | Best Things to do in Santorini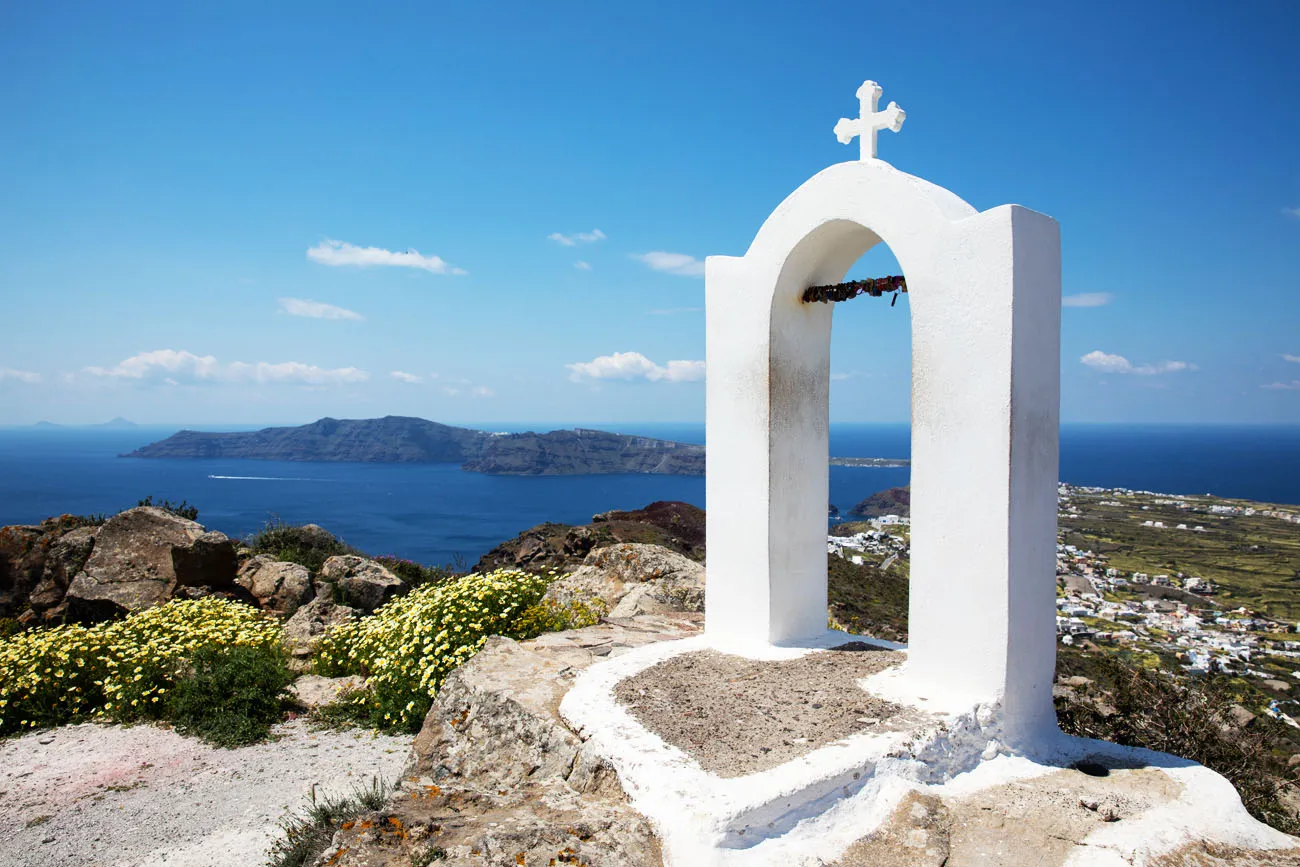 View of Firostefani and Fira | Best Things to do in Santorini
This walk is 6 miles and can take 3 to 5 hours, depending on how fast you walk and how often you stop. It's more of a hike than a walk, since you will be on dirt trails and hiking up and down hillsides for part of the route, but most of the way is paved.
You can go either direction. We walked from Oia to Fira. However, in my opinion, it would be a better experience to walk from Fira to Oia. Doing it this way would make it an overall downhill walk (although you will have to hike up some hills), you get to see the amazing views of Oia in front of you (rather than having to turn around to see them), and you can end in Oia. Spend the rest of the day exploring the village, watch the sunset, and then return to your hotel.
LEARN MORE: How to Hike from Fira to Oia
7. Explore Oia
Yes, Oia is famous as a sunset destination. But it's just as wonderful during the daytime. Explore the narrow walkways, go shopping, hop from café to café, and be prepared to fill your camera's memory card with tons of photos. This is one of Santorini's most photogenic spots.
Oia | Best Things to do in Santorini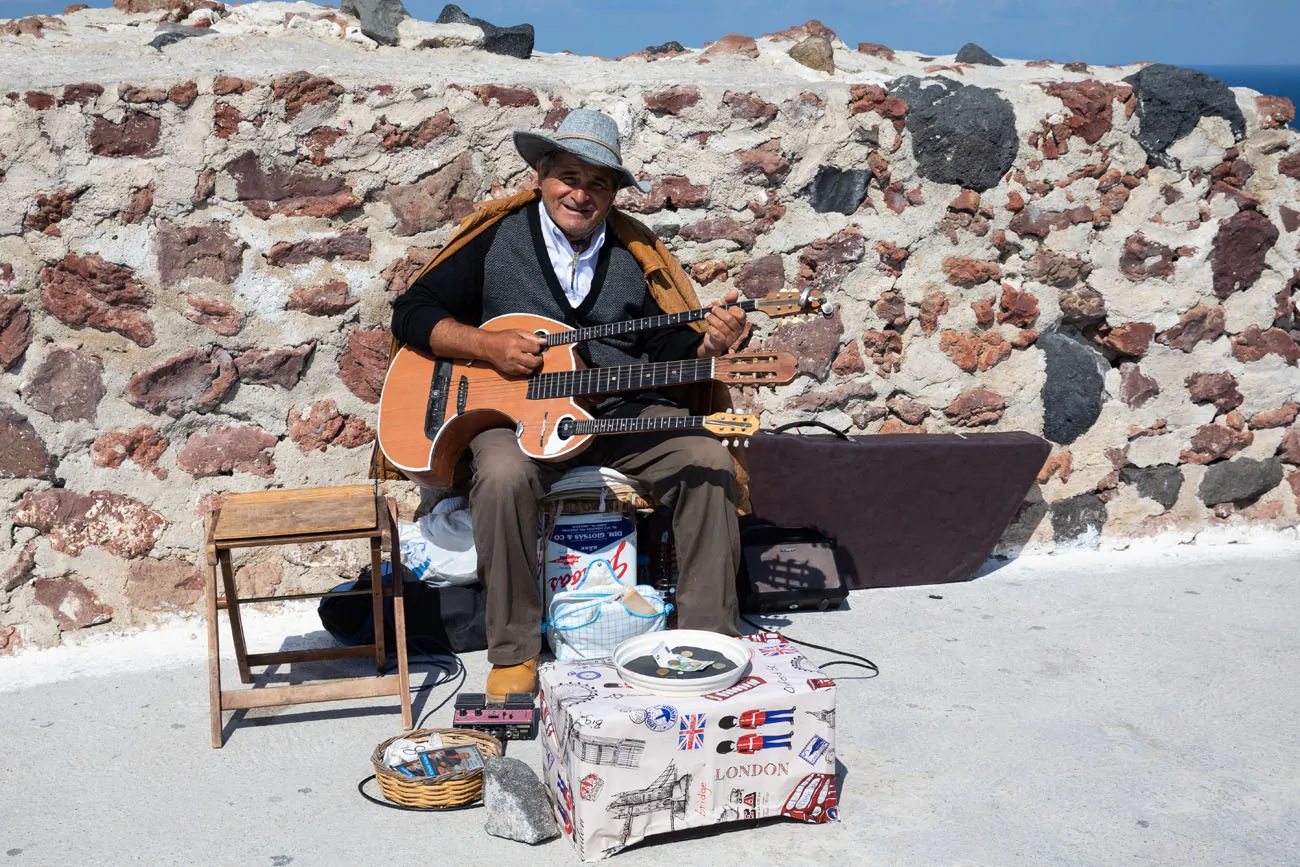 View from Oia | Best Things to do in Santorini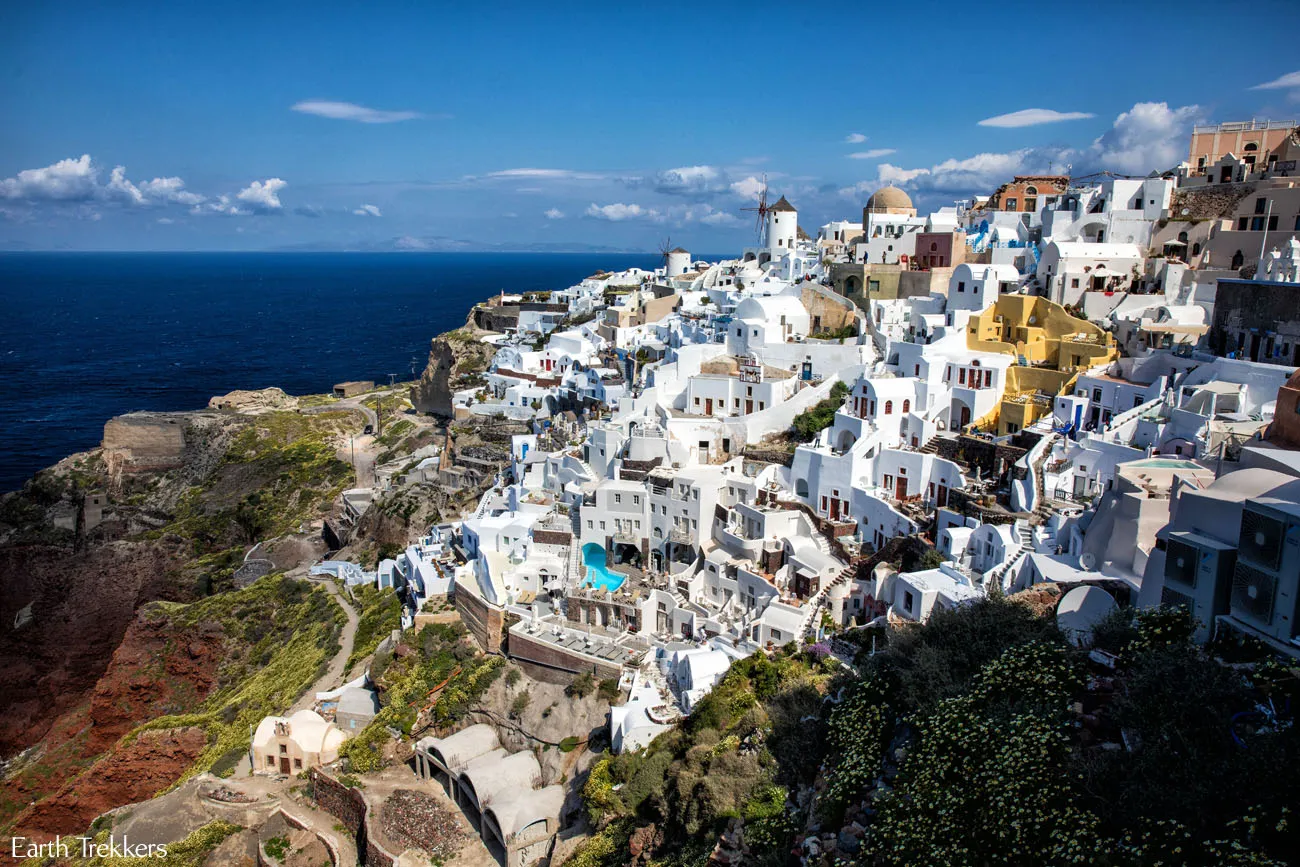 The view from Oia Castle | Best Things to do in Santorini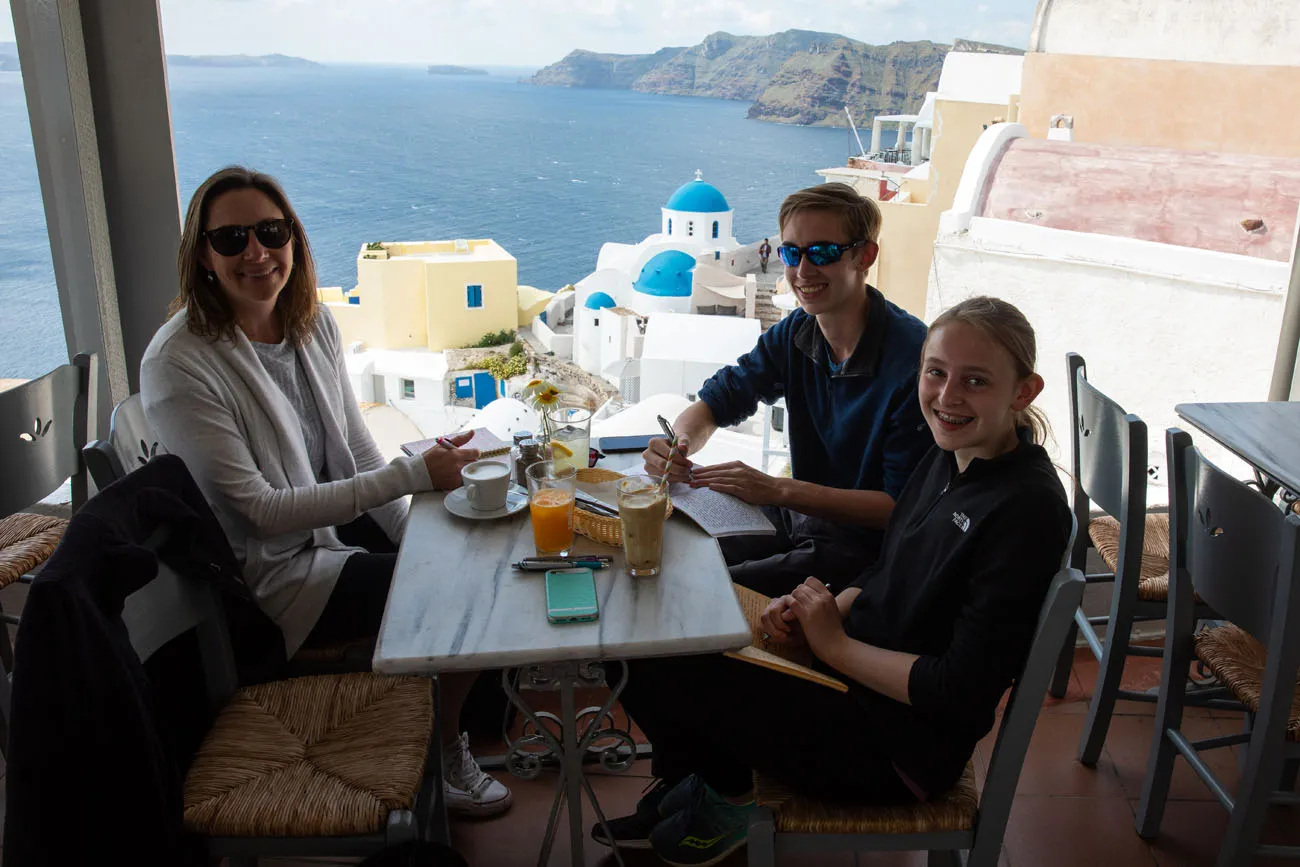 Dining at Lotza | Best Things to do in Santorini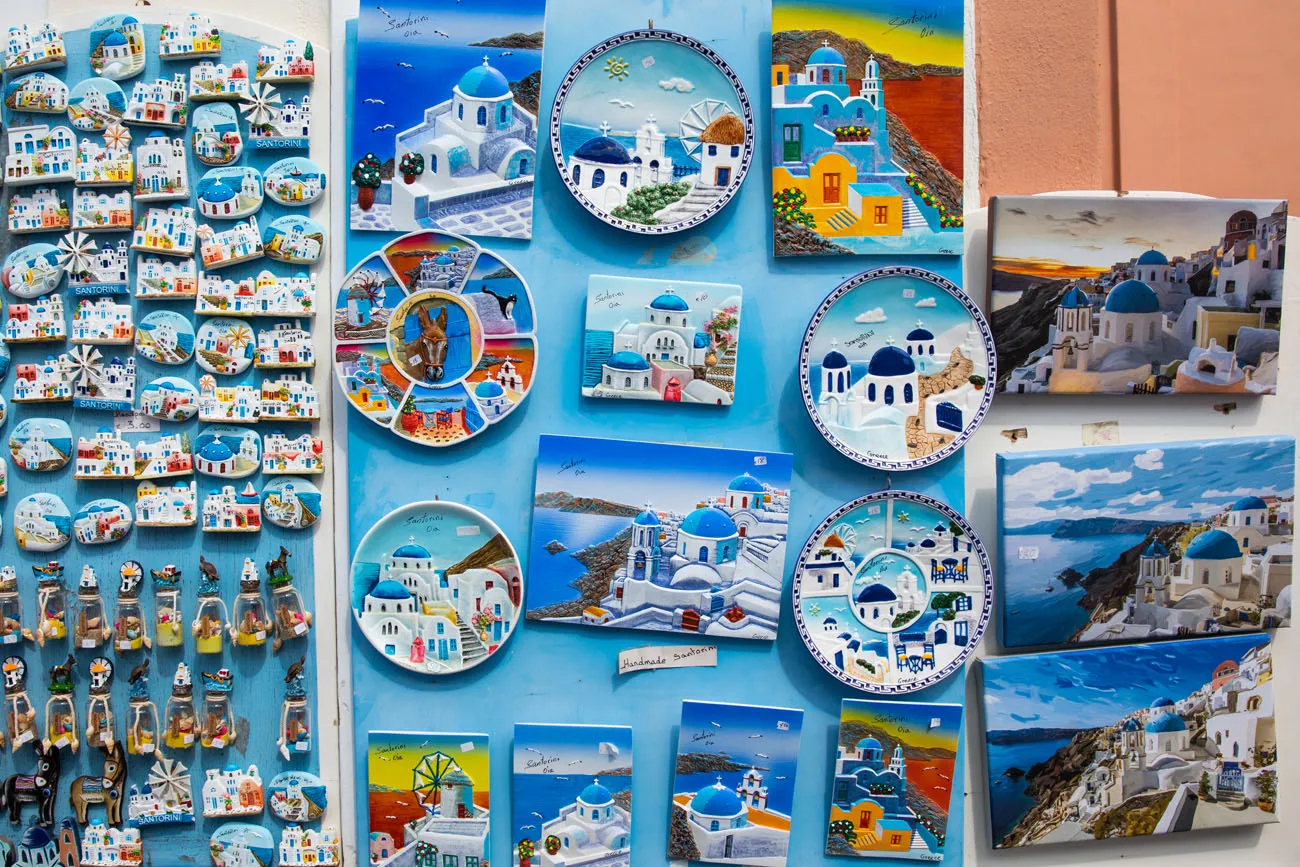 8. Visit Ammoudi Bay
Ammoudi Bay sits just down the cliff from Oia. You can walk down on switchback paths. Once here, go to the beach, dine at a seafood restaurant, or even go cliff jumping.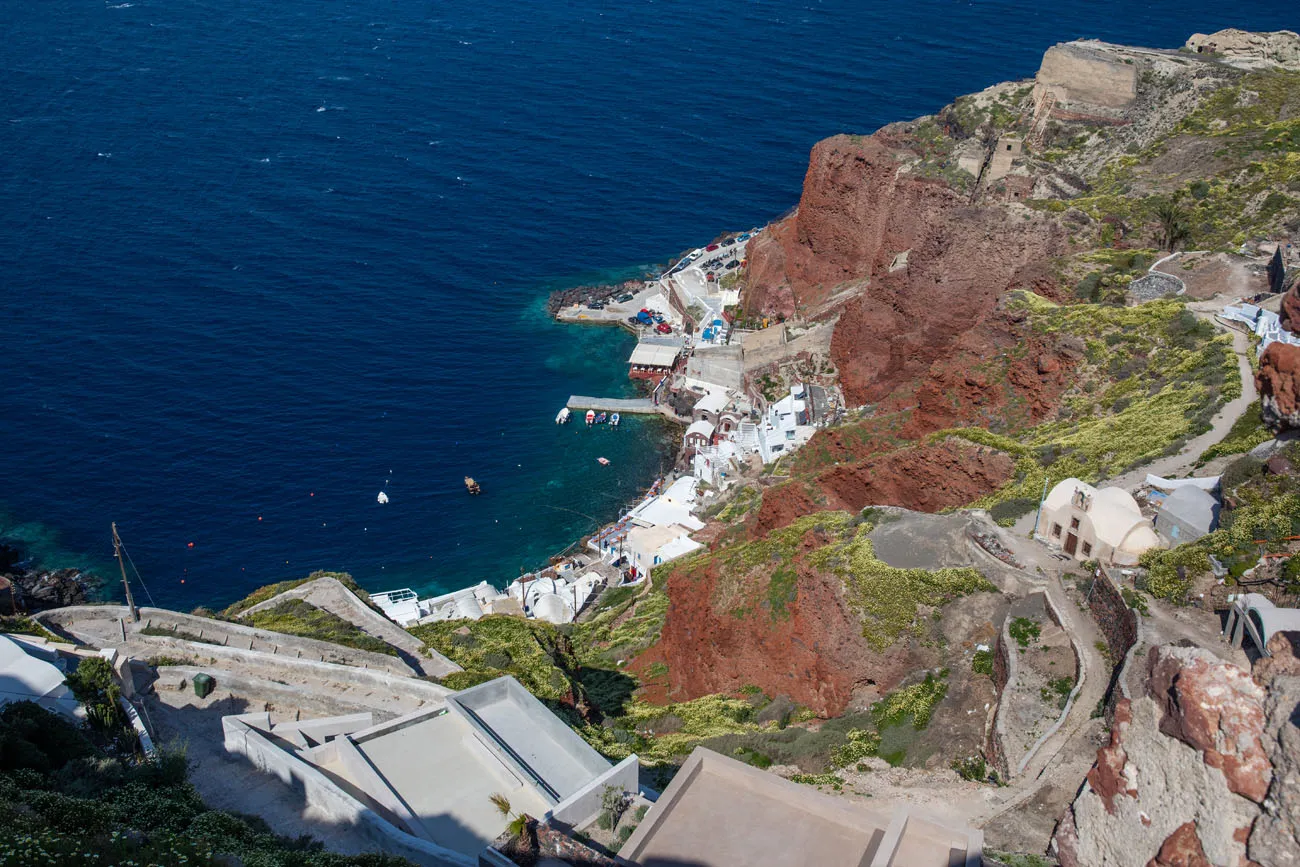 Ammoudi Bay | Best Things to do in Santorini
9. Photograph Agios Theodori Church
This is one of Santorini's most popular blue dome churches. It is located in Firostefani and you can make a detour here while walking from Fira to Oia.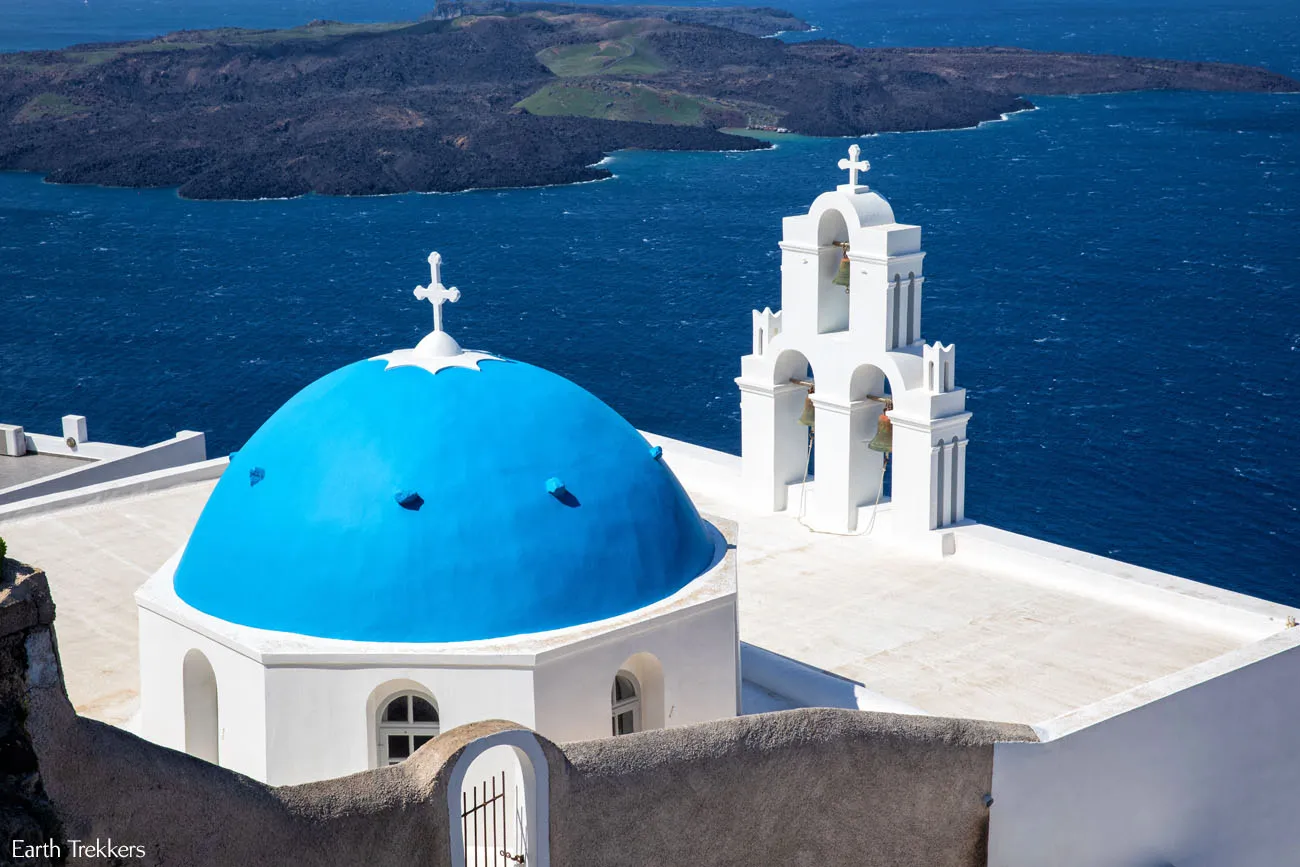 Agios Theodori Church | Best Things to do in Santorini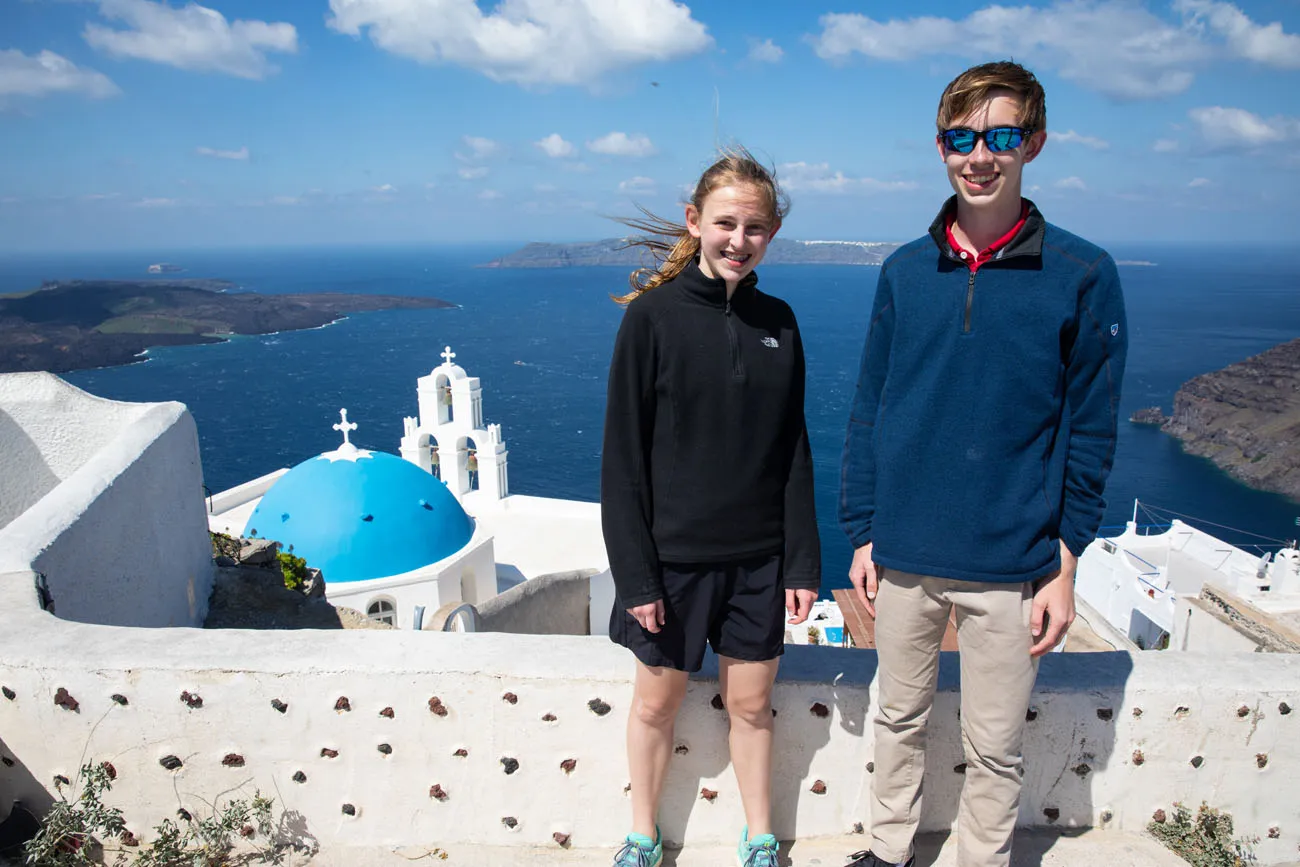 10. Explore Imerovigli
Aah…quiet, picturesque Imerovigli. We really liked it here. This small village is very beautiful and filled with some of the best hotels and restaurants in Santorini. It doesn't have the shopping and the small cafes like you find in Fira or Oia, but it also doesn't have the large crowds.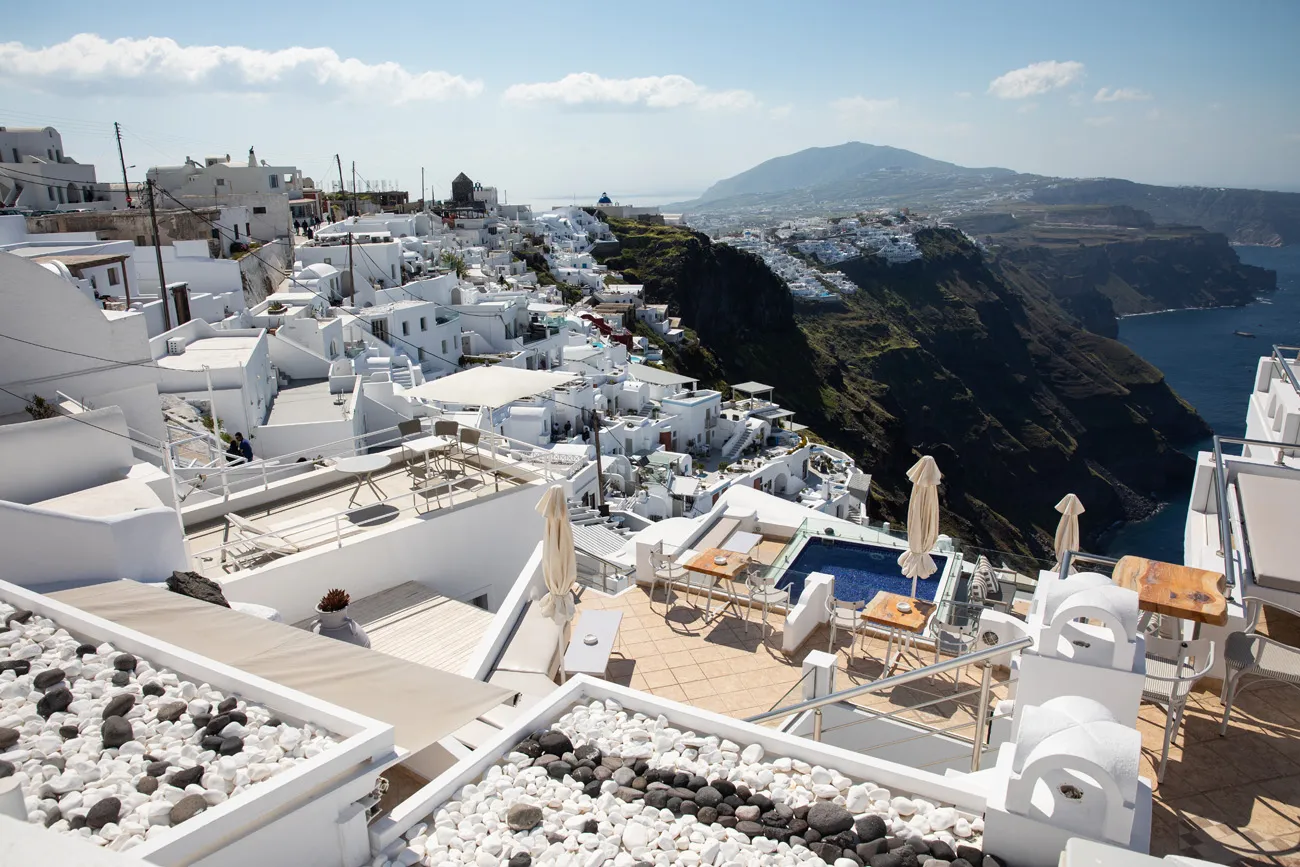 We stayed in Imerovigli at a hotel called Absolute Bliss , and it truly was amazing. Yes, we splurged, and it is was worth it. From our hot tub, we could watch the sunset over the caldera and watch as the lights in Oia twinkled at night. It was private, it was quiet, and it was wonderful. From here, we were within walking distance of quite a few highly rated restaurants. And since Imerovigli is located in the center of the island, it was a very convenient location for exploring the island.
If you plan to walk from Oia to Fira, you'll pass through Imerovigli. I hope you enjoy it as much as we did! 🙂
11. Visit the Red Beach
Volcanic Santorini is home to some very colorful and unique beaches. The first on our list is the Red Beach. This is Santorini's most famous beach. Its unusual red coloring comes from the pulverized volcanic rock. It is located near the Akrotiri archeological site.
However, it is prone to landslides, so it can be dangerous. This might be one beach where you just enjoy the view from a distance and then move on. For more information, read this article.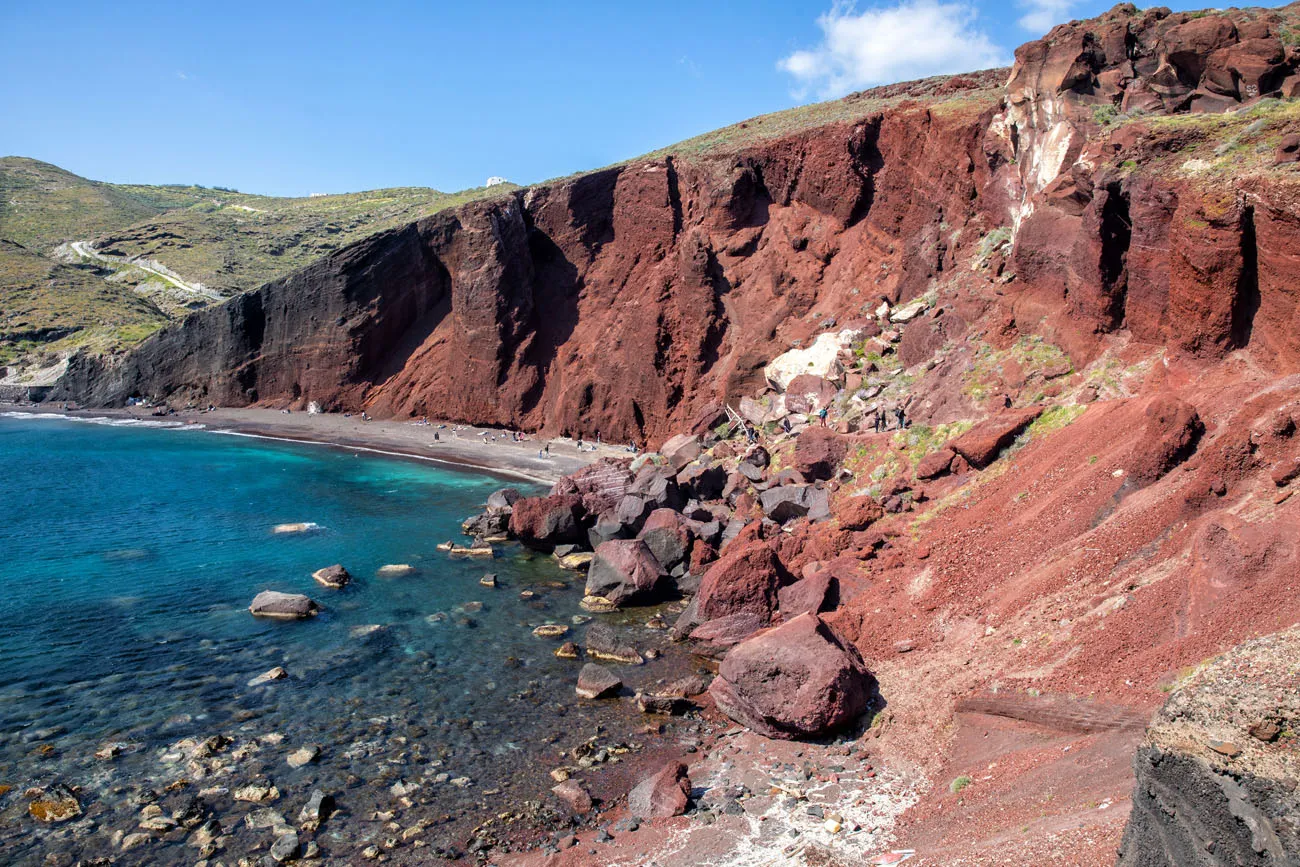 Red Beach | Best Things to do in Santorini
12. Visit the White Beach
Just around the corner from the Red Beach is the White Beach. This beach gets its name from the white cliffs that dominate the area, even though the sand is black. The only way to get here is by boat but you can get a nice view of beach if you don't mind going on a mini-adventure.
To get to the viewpoint, you first have to drive down a very narrow, rough, unnamed dirt road. The road starts near the Aeolos Tavern and leads to Kambia Beach. We didn't drive the entire way because the road got to be too rough for our car to handle. So, we walked down the road, past small houses, barking dogs, and vineyards. Just past one small house, there is an unmarked trail that leads up and over a hill to a viewpoint of the White Beach. It's a very short walk to the viewpoint (2 – 3 minutes). You can go farther for views up the coast to the Red Beach.
On this tour, sail to the White Beach and Red Beach by catamaran. The tour includes an open bar, a Greek meal, and a visit to the hot springs at Nea Kameni volcano.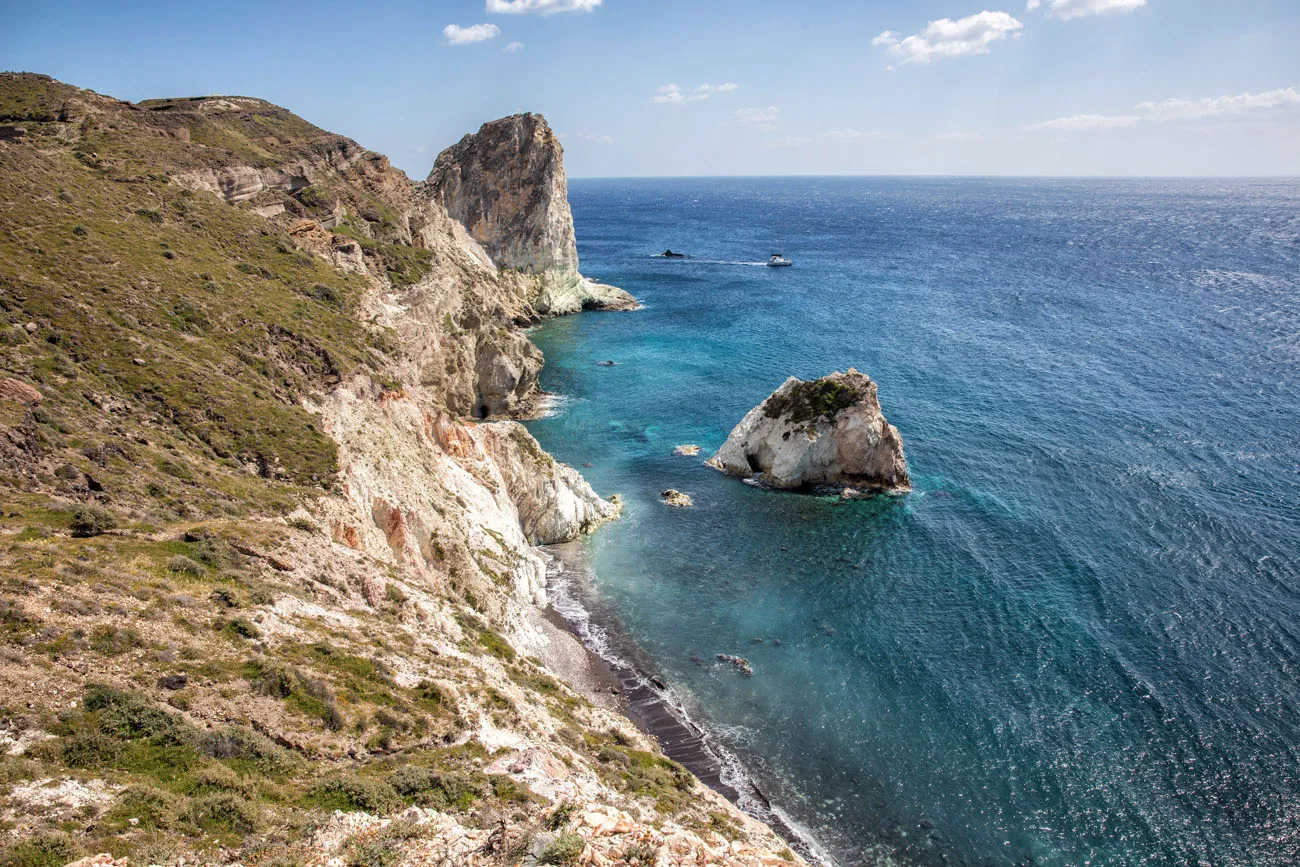 White Beach | Best Things to do in Santorini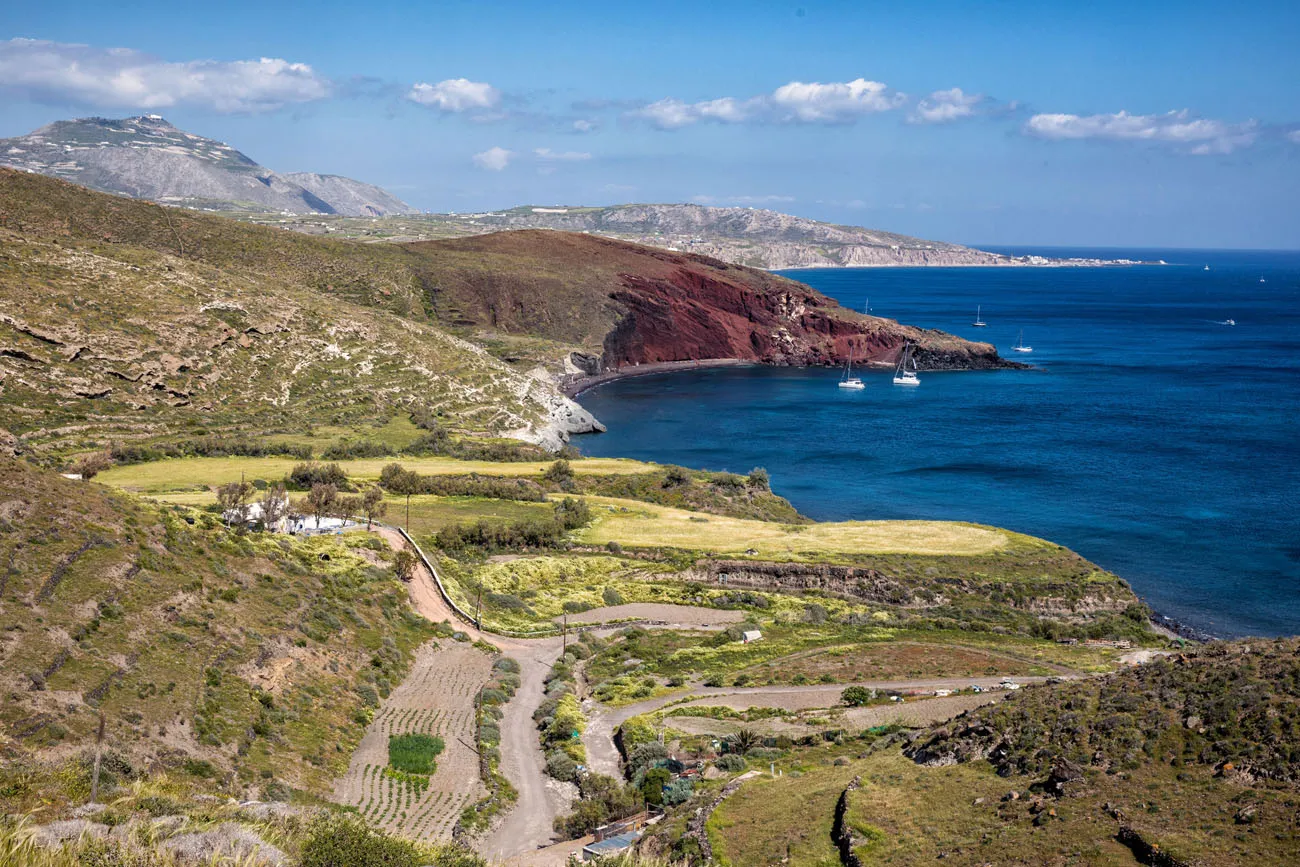 View along the coastline.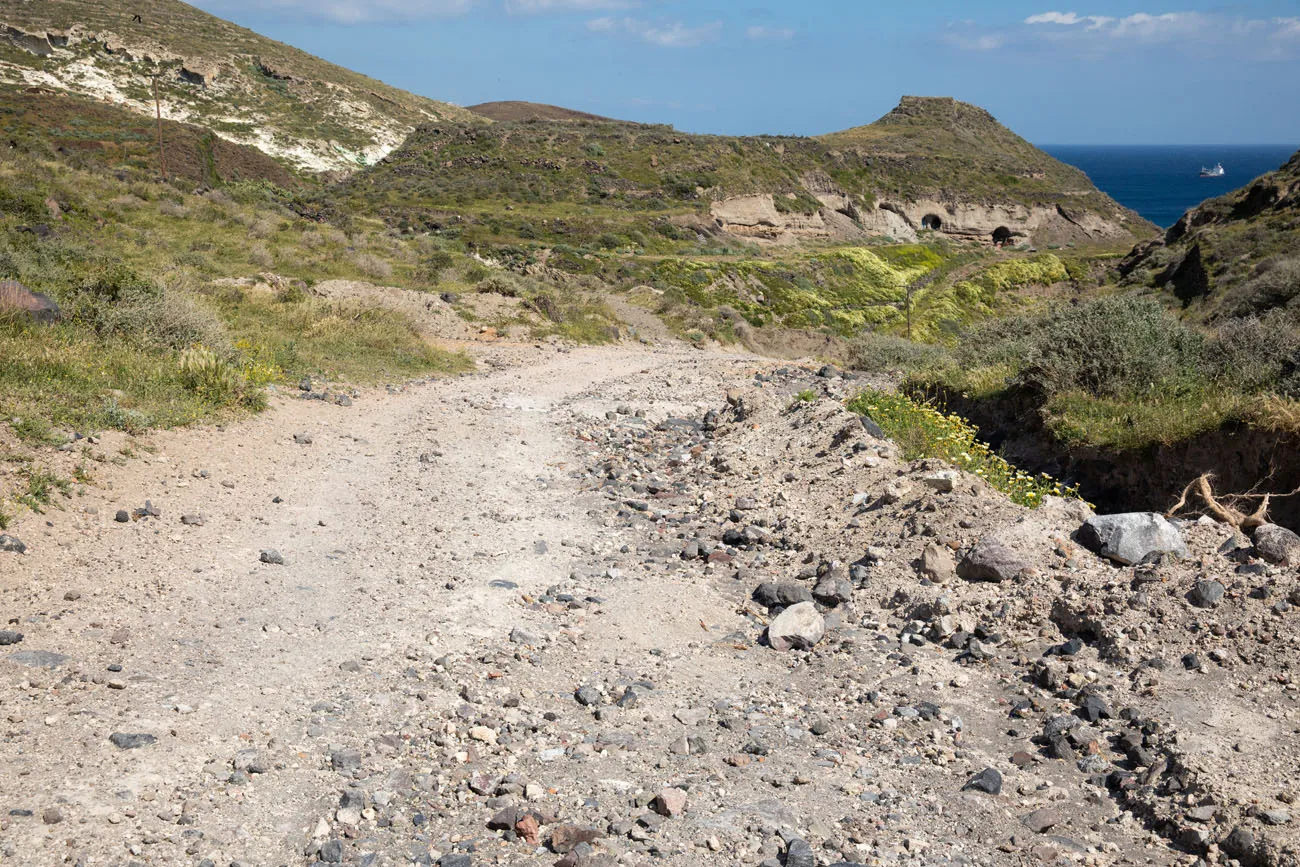 Road to get to the White Beach. It's really much rougher than this in some spots.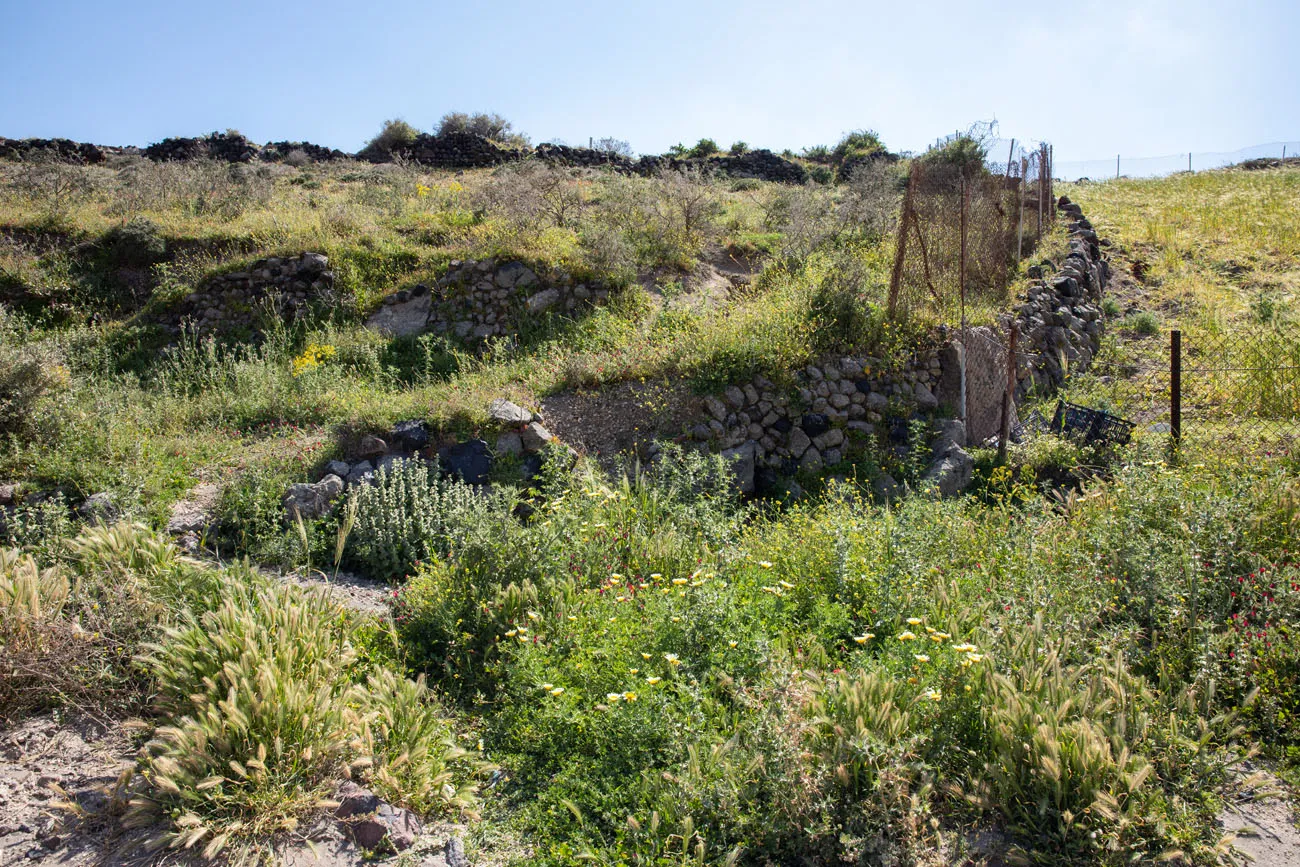 Trail leading the to viewpoint. It's a faint trail and it starts to the left of the fence.
By the way, we also went as far as Kambia Beach. It's just OK but since this is such a challenging spot to get to, I imagine the crowds would be very low in the summer.
13. Visit the Black Sand Beaches
The black sand beaches of Perivolos and Perissa are beautiful. They are lined with small shops, cafes, beach bars, and restaurants, so if you want to spend a day at the beach and have lots of amenities, this is a great place to go.
Perissa Beach | Best Things to do in Santorini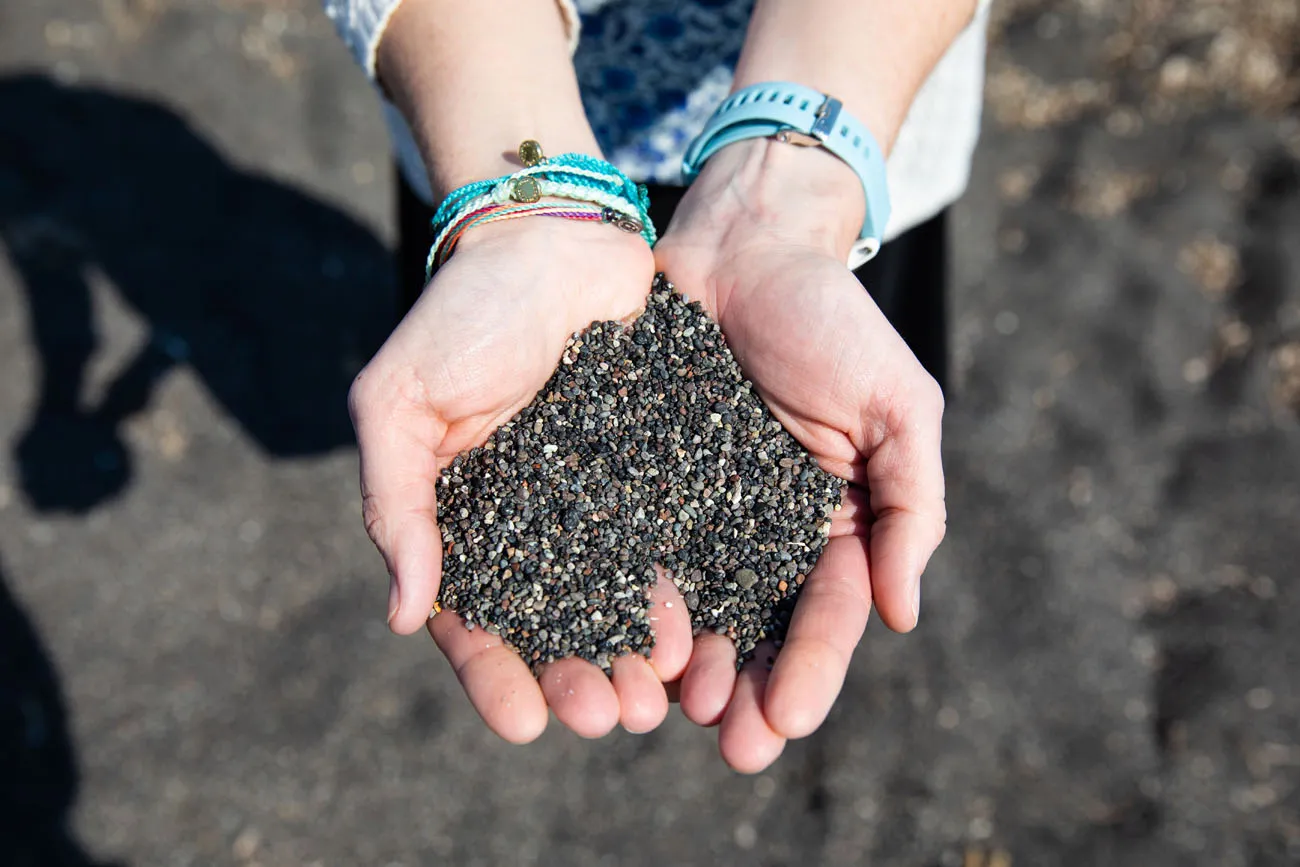 14. Kamari Beach
Kamari Beach is another black sand beach on Santorini. It's very close to Perissa Beach, however, a giant, rocky hill separates the two beaches. Like Perivolos and Perissa, you have lots of dining options to choose from.
Kamari Beach | Best Things to do in Santorini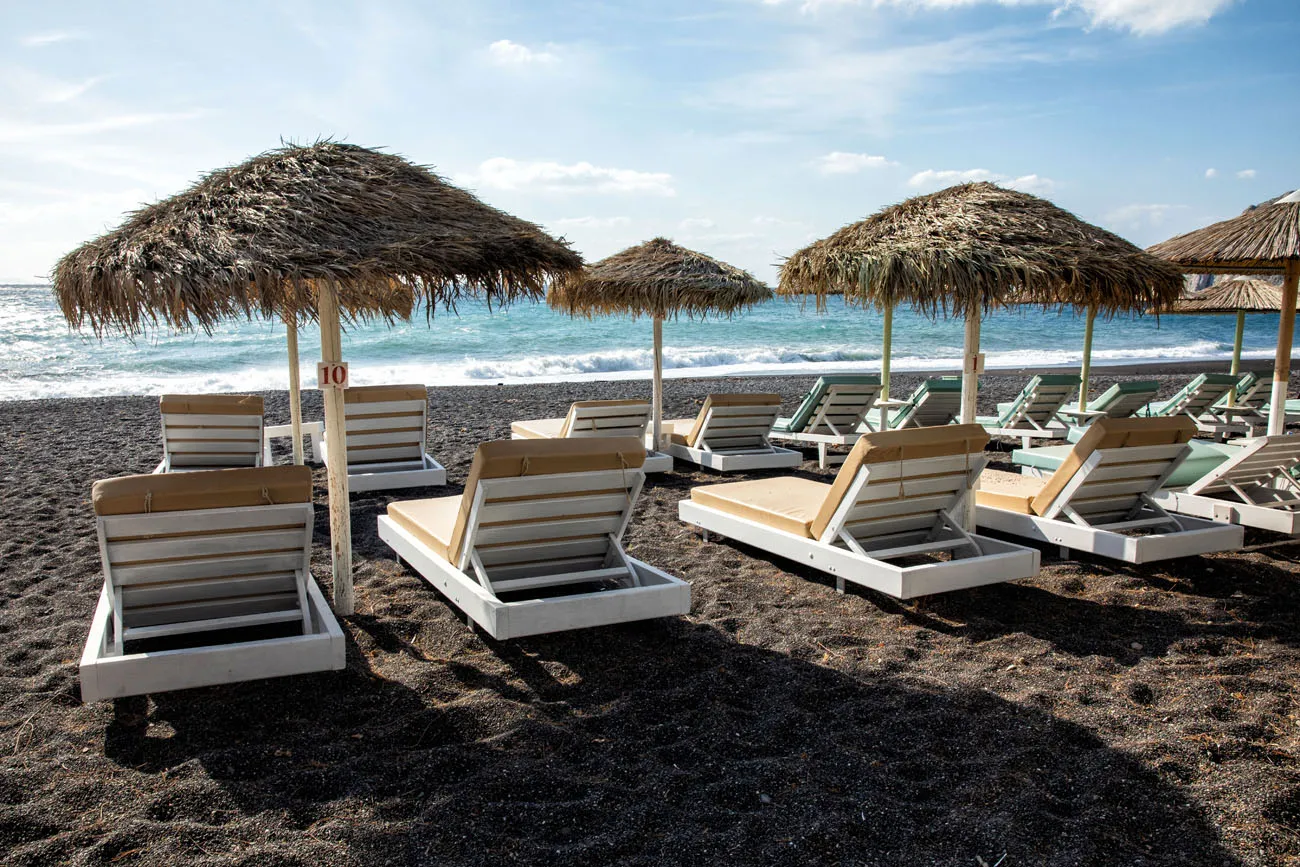 15. Vlychada Beach
Also called the Moon Beach, this looks more like a lunar landscape than a volcanic one. Giant, crazy looking cliffs line the black sand beach.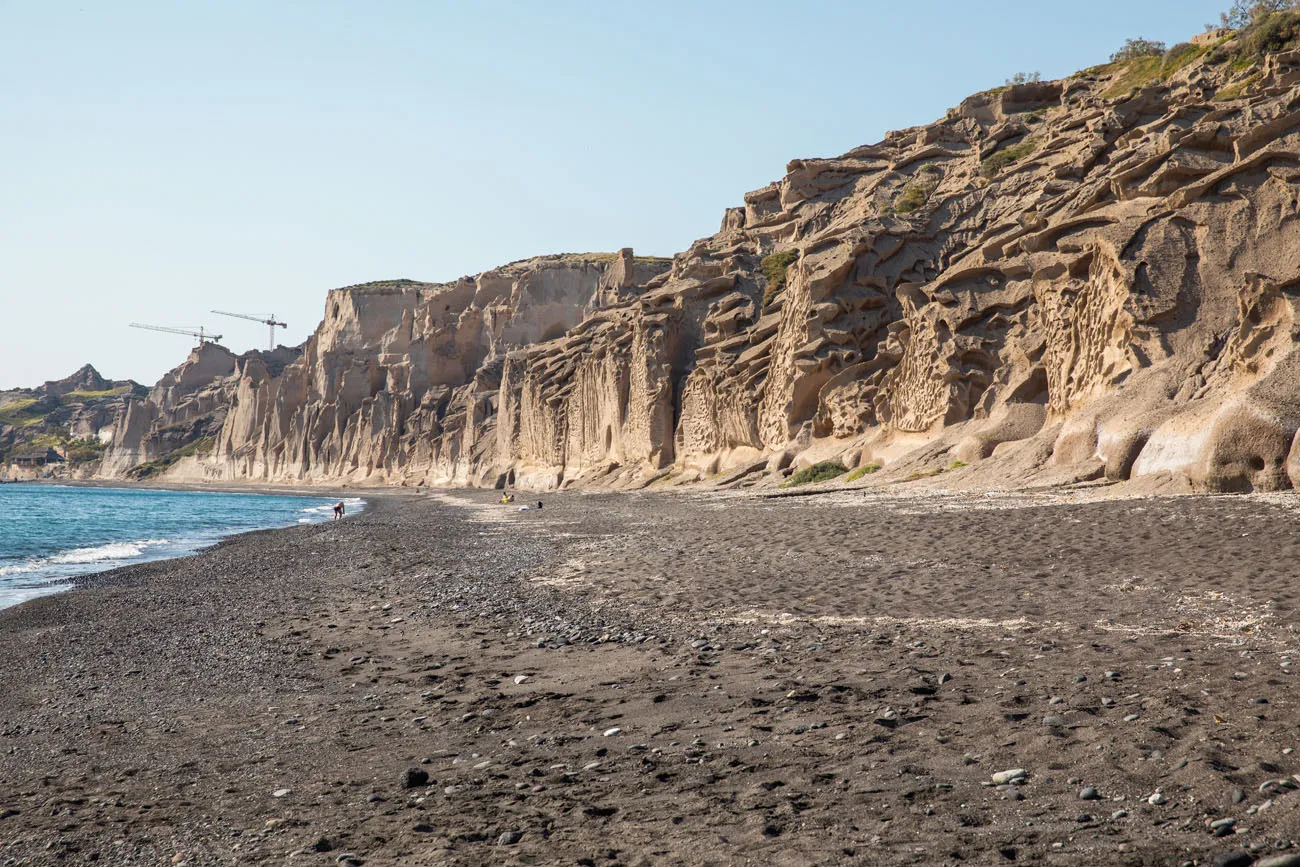 Vlychada Beach | Best Things to do in Santorini
Want to do something unique on Santorini? On this 1.5 hour tour, travel by horseback from Vlychada Beach to Eros Beach.
16. Visit Pyrgos
Pyrgos is a small village located in some of Santorini's best wine country. It's a small town with twisting lanes and small cafes. If you are looking to get away from the larger, more touristy towns along the caldera, this is a nice spot to put on your list.
17. Enjoy the View from Profit Ilias
Profit Ilias is the highest point on Santorini. From here, you get almost 360° views of the island.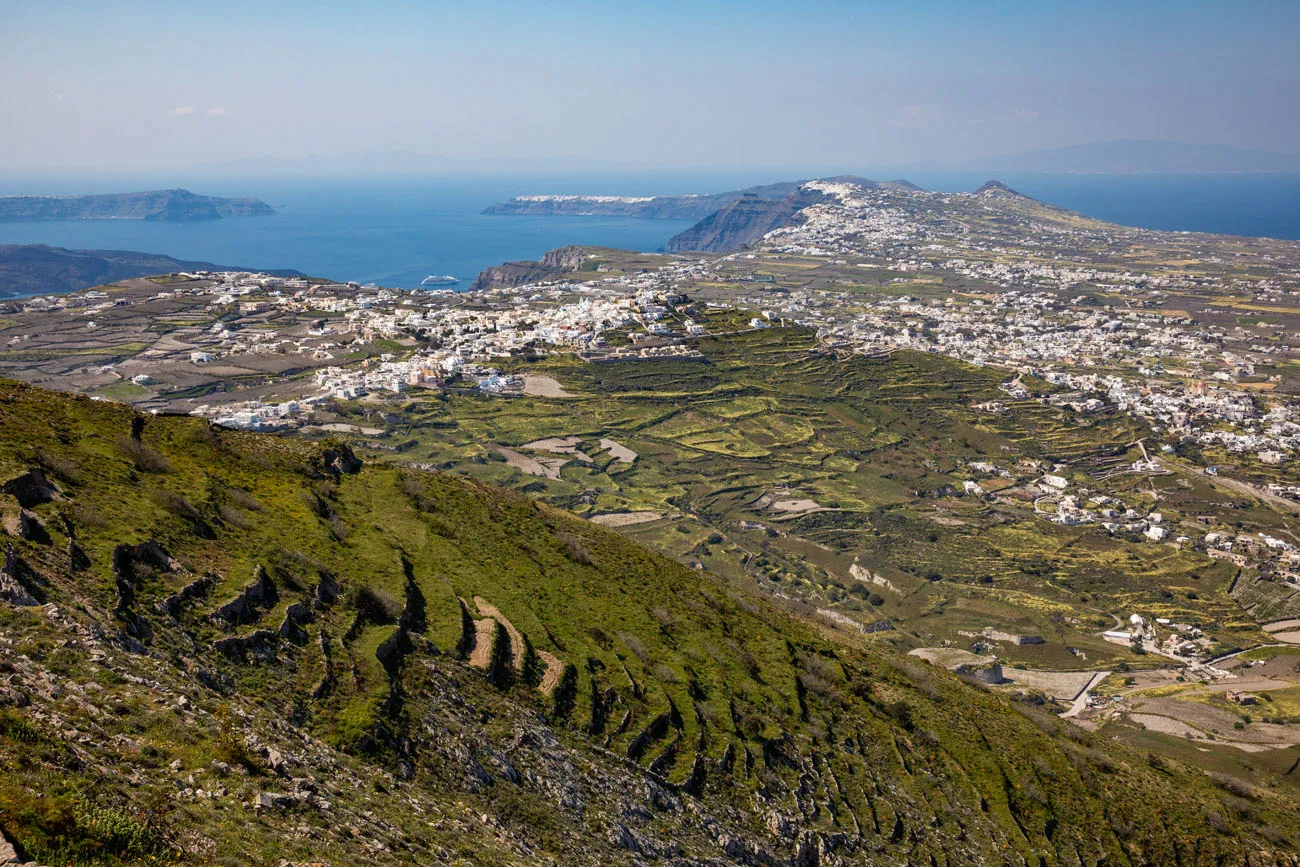 You can get here by car, ATV, tour, or on your own two feet. There is a hiking trail that links Profit Ilias with Kamari, Ancient Thira, and Perissa. If you don't plan on renting a car while on Santorini, this 5 hour private tour includes a visit to Profit Ilias, Akrotiri Excavation Site, Oia, and Perivolos or Perissa Beach.
18. Visit Ancient Thira
Ancient Thira is the remains of an ancient settlement in Santorini. This city was inhabited from the 9th century BC through 726 AD. You can see the remains of this ancient city at this site.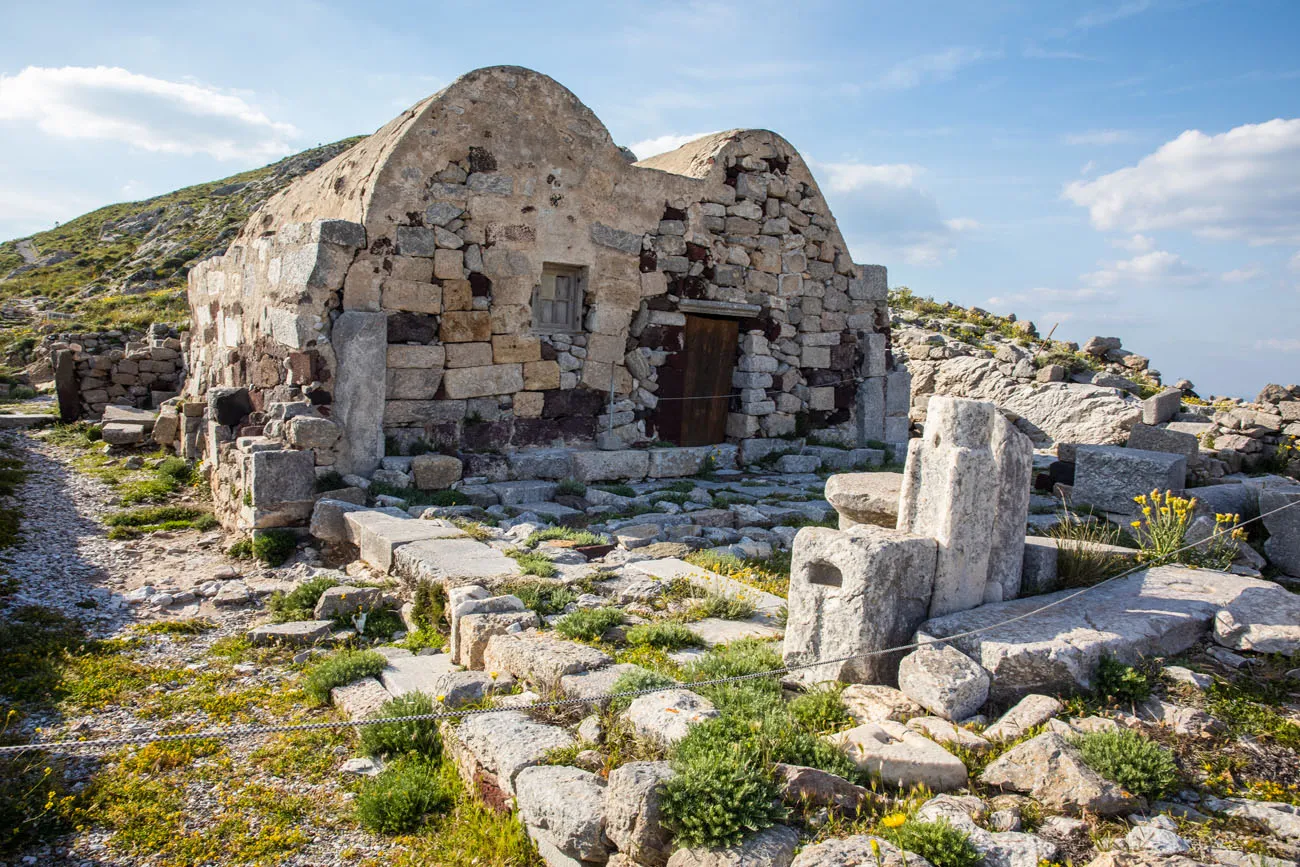 Ancient Thira | Best Things to do in Santorini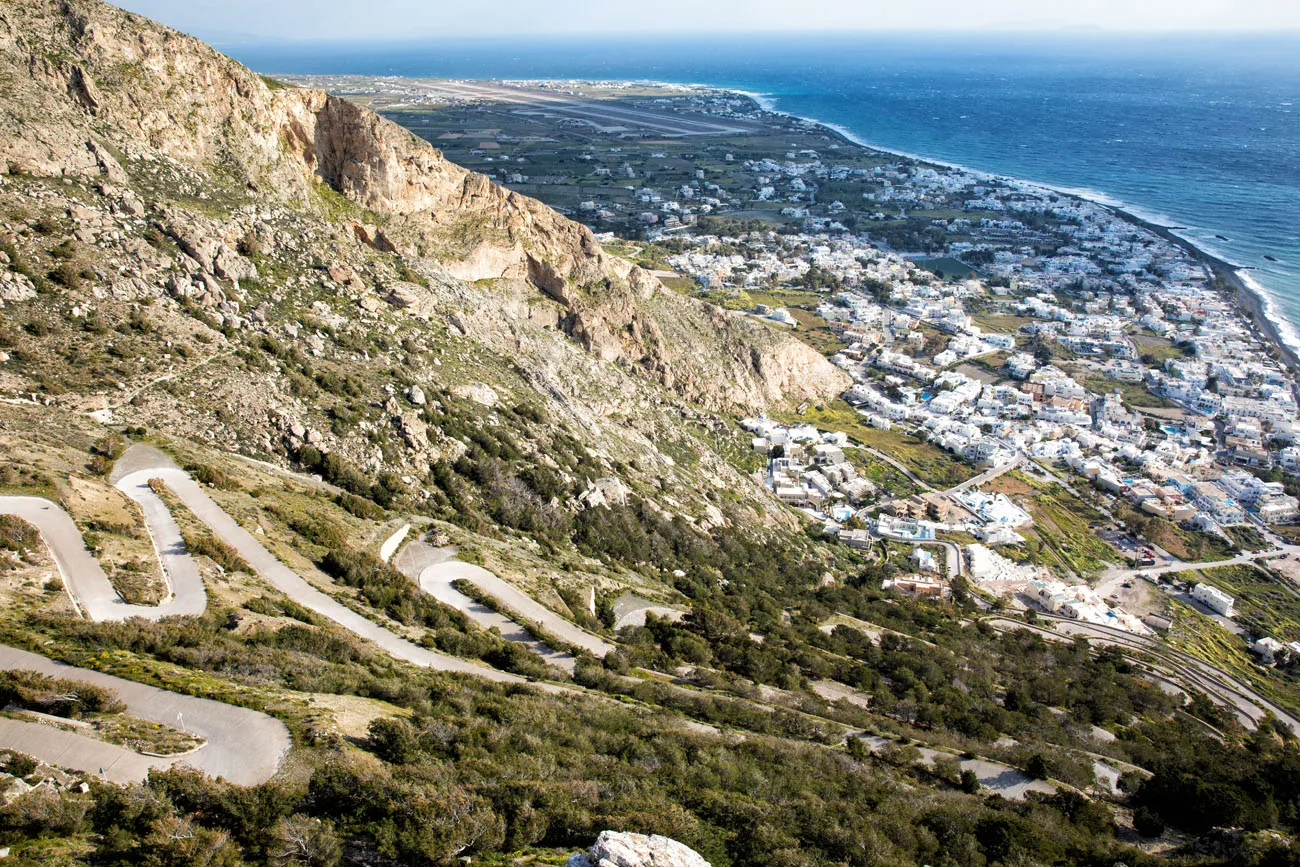 The road to Ancient Thira and the town of Kamari
Ancient Thira is open from 8:30 am to 2:30 pm every day except Mondays. You can drive here, but it is a crazy, narrow road with over 20 hairpin turns. We drove it, but it was first thing in the morning and there was no other traffic on the road. A better option is to take the bus from Kamari. It leaves hourly and saves you a white-knuckle drive.
19. Visit Akrotiri Archeological Site
Akrotiri is an ancient Minoan settlement. Really ancient. In the 16th century BC, the settlement was destroyed in a volcanic eruption and buried in volcanic ash, similar to Pompeii in Italy. It is estimated that humans have inhabited this area since the 5th millennium BC.
We did not visit Akrotiri, although we tried. Hours of operation are listed until 8 pm. However, the staff went home early on the day of our visit, at 4 pm (we arrived at 4:10 pm). It was very disappointing. And this was not the first time in Greece that something we wanted to visit closed unexpectedly early.
Summer hours (from April 15 to October 31) are 8 am to 6:30 pm daily, closed Mondays. It costs €12. Reading reviews on line, some people state that this is too high of a price for what you get. I can't comment on that, unfortunately, but if you are a history buff, this may be worth it. Learn more on the official website.
20. Try Some of Santorini's Best Eats
This was also one of our favorite things to do in Santorini…not only trying to eat at as many restaurants as possible but also sampling some new and wonderful foods.
The volcanic soil and climate on Santorini are perfect growing conditions for tomatoes. The cherry tomatoes are delicious! There is even a tomato museum in Santorini. Other things to try are Brantada, a local Santorian fish dish, fava beans, and melitinia, which are cookies made of cheese and yogurt.
As far as restaurants to try, we have a lot of suggestions.
Metaxi Mas , located on the top of the hill in the town with the same name, is the place to go if you want to try traditional Greek food. Your meal will start with grappa and then you can take your pick from a wide selection of Greek dishes. The food is delicious. Definitely make a reservation in advance, even for lunch, because this is a very popular and highly-rated restaurant in Santorini.
In Oia, Oia Vineyart gets rave reviews. We didn't eat here but I wish we did (I couldn't convince Tyler and Kara to go here for dinner). Regional dishes are made from local ingredients and paired with wines made on Santorini. We had dinner at Pelekanos . The food was terrific and you get a nice view over the village from the rooftop setting. Both Fino Cocktail Bar and Melitini were on our list for Oia but we could only eat so many dinners in one night. For dessert, go to Lolita's for gelato.
You have a lot to choose from in Imerovigli. La Maison was our favorite spot but also the most expensive. But the views, the service, and the food were unbelievable. We ate at Avocado twice for lunch and highly recommend it. The Athenian House serves Greek food with a twist and offers caldera views from their terrace. We ate here on our last night in Santorini. Kapari Wine Bar gets great reviews for their food. We didn't eat here but we did have drink and loved the experience. Other restaurants that made our list are Anogi, Mezzo, and Le Moustache.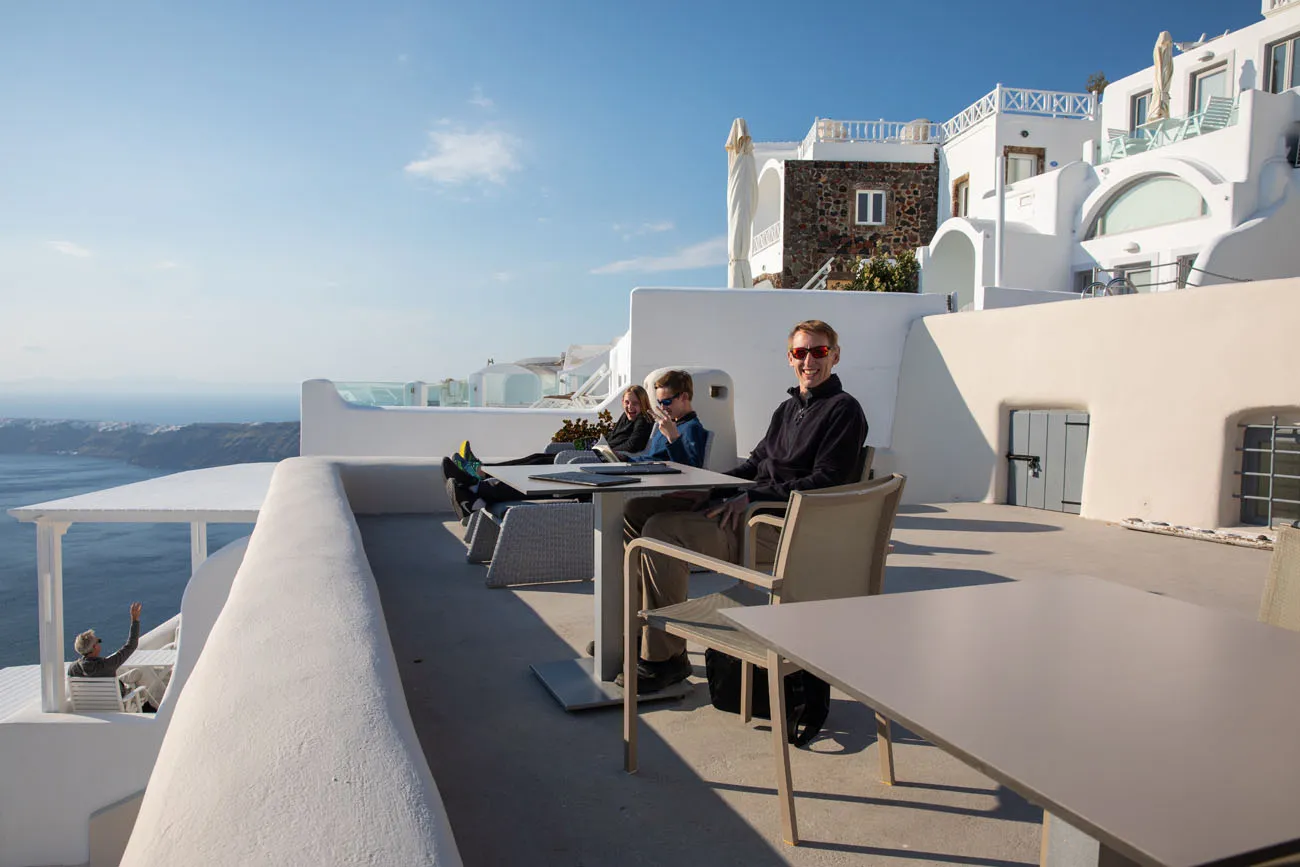 Kapari Wine Bar | Best Things to do in Santorini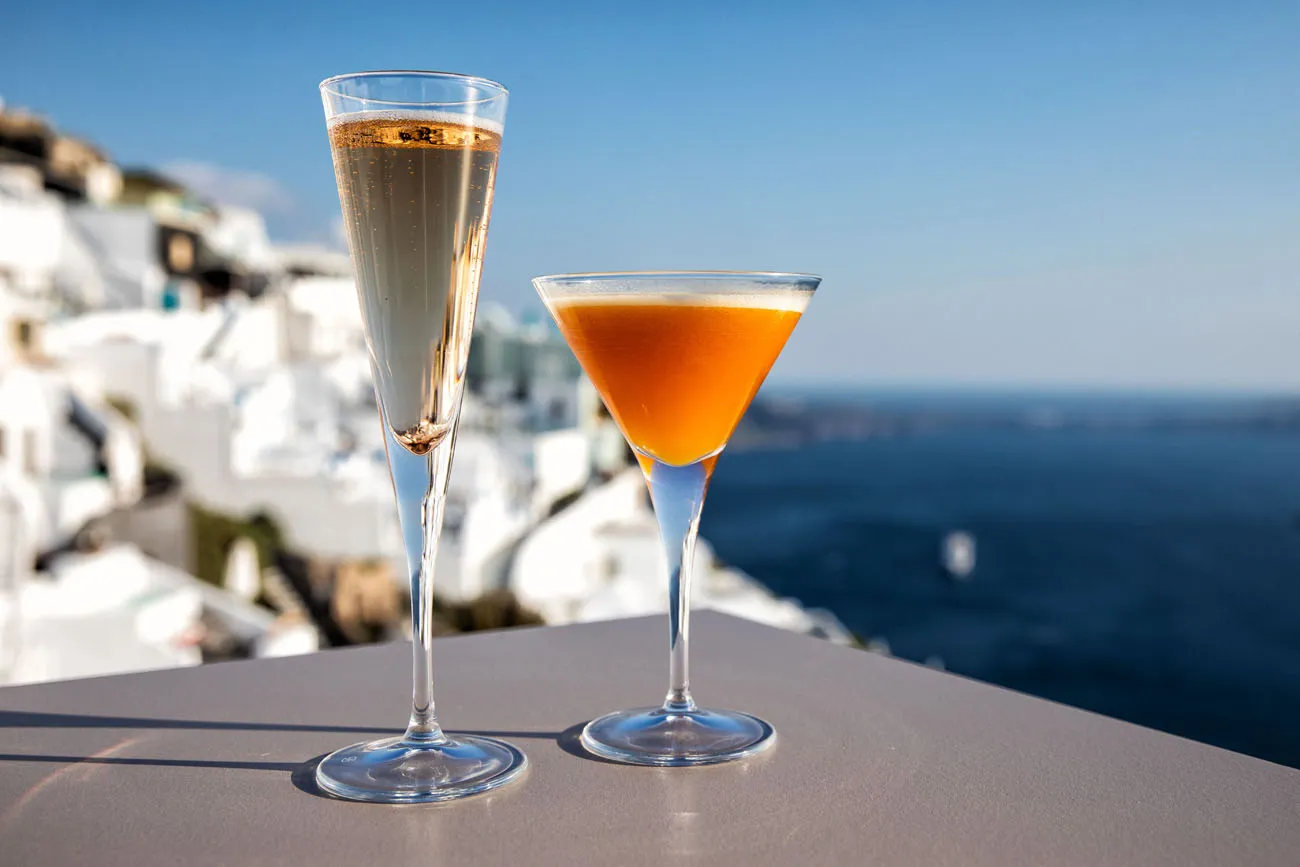 If you have a hankering for Italian, I read that Cacio e Pepe in Fira is the best on the island.
PRO TRAVEL TIP: If you are traveling during peak season, make your reservations in advance. Even in April we needed reservations at several restaurants.
Two More Recommendations
We did several more things on Santorini although they didn't "wow" us, so they didn't make it onto our top 20 list. However, there are two spots that I believe deserve a mention.
Akrotiri Lighthouse. The Akrotiri Lighthouse sits on the southwestern tip of the crescent of the island. On a windy day, the winds are ridiculous here. You need sunglasses, more to protect your eyes from blowing dust than for the sunshine. The views are just so-so, although you do get to see the entire caldera with Oia far off in the distance.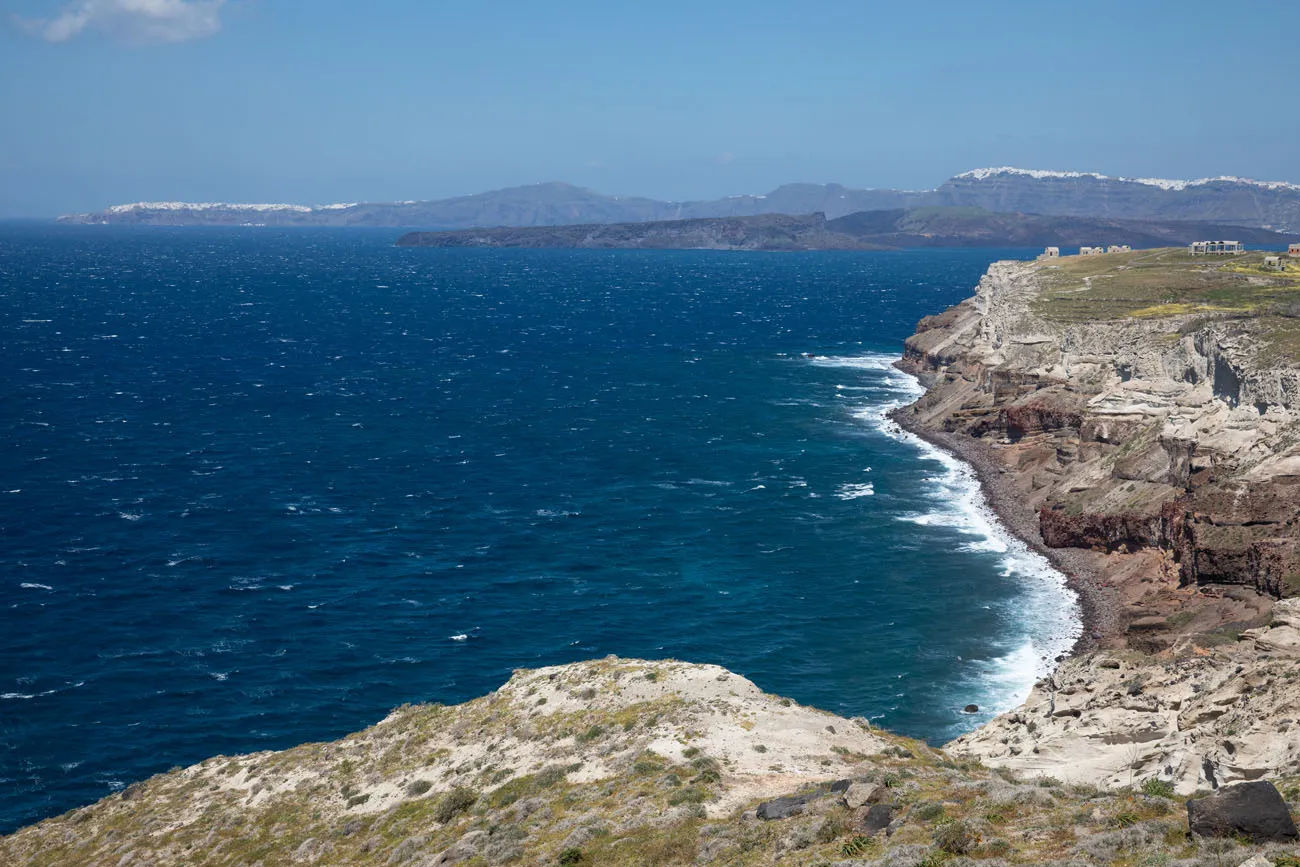 Megalochori. We heard wonderful things about this small town. It is charming but it is also very, very small. There's not a whole lot to do here and it only takes several minutes to wander through the center of town. Unless you have a car and are really into visiting tiny villages, I'd pass on this town.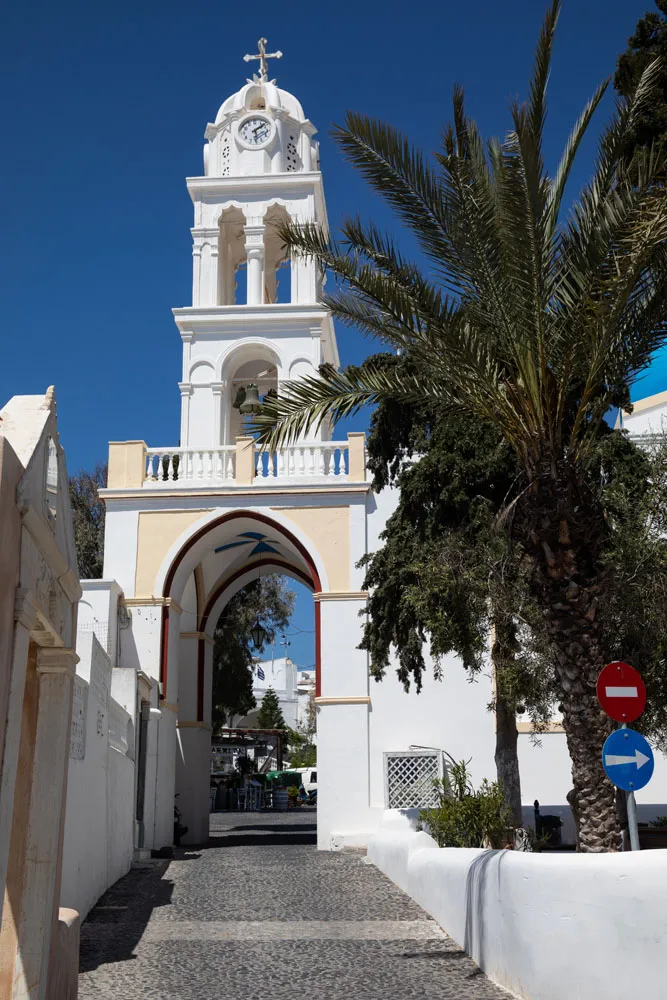 Megalochori | Best Things to do in Santorini
Best of Santorini: On A Map
How to Use This Map: Click the tab in the top left hand corner of the map to view the layers (points of interest, cities, and restaurants). You can click the check marks to hide or show layers. If you click the icons on the map, you can get more information about each point of interest. If you click the star next to the title of the map, this map will be added to your Google Maps account. To view it on your phone or computer, open Google Maps, click the menu button, go to "Your Places," click Maps, and you will see this map on your list.
Santorini Itinerary
Learn how to put all of this together into a 1, 2 or 3 day tour of Santorini in our article:
Sample Santorini Itineraries: 1, 2, or 3 Days in Santorini
About Our Visit
We visited Santorini in mid-April. Typically, April is still considered the off-season, however, it was Easter holiday week, so Santorini was quite crowded. The weather was unusually chilly and windy during our visit. During the day, temperatures were around 14 to 15°C (high 50's) with winds up to 35 mph. It was too cold to get in the water (which explains why the beaches are deserted in our photos).
This time of year, the boat tours to the volcano were not yet operating but there were several catamarans offering sunset cruises. However, restaurants and most hotels are open by mid-April.
But the wind was crazy. Knocking people over, blowing around outdoor furniture, whipping sand and dust into our eyes. After the visit to Akrotiri Lighthouse, we literally had to clean the dirt out of our ears. And it gets even windier in the late summer months, so I have heard. Fortunately, 35 mph winds are not strong enough to cancel ferries and flights, at least not during our visit.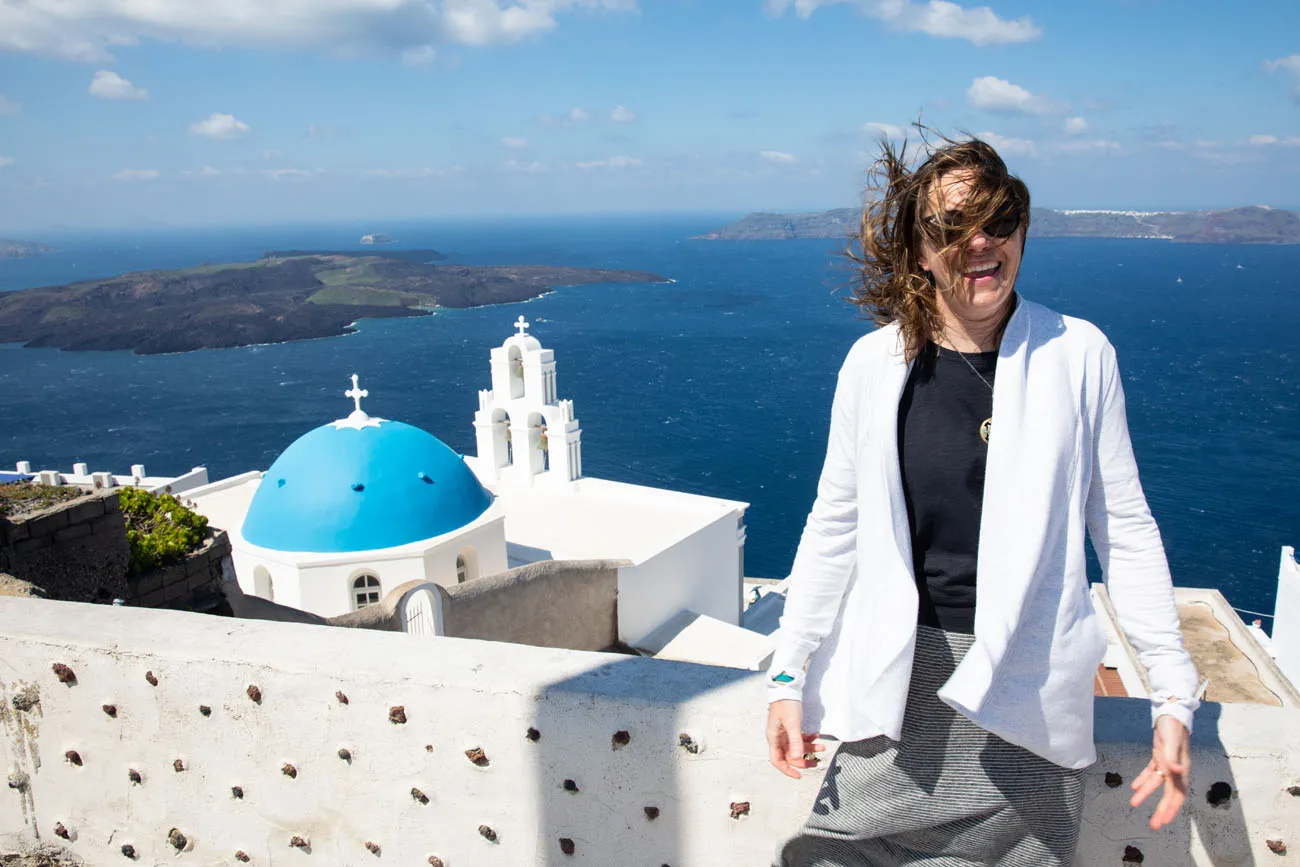 This was me in pretty much every photo in Santorini.
Where We Stayed
We stayed at Absolute Bliss in Imerovigli. This was a big splurge for us, but if we were ever going to pay for a hot tub with a view, Santorini would be the place to do it.
Tim and I stayed in room #12. We had a large room with a private terrace and a hot tub with a view of the caldera. Tyler and Kara stayed in room #17. They had their own pool and even a sauna in their room. During our visit, temperatures struggled to hit 16°C (60°F) and with 25 to 35 mile an hour winds, it was too cold to get in the pool. But we did use the hot tub every night.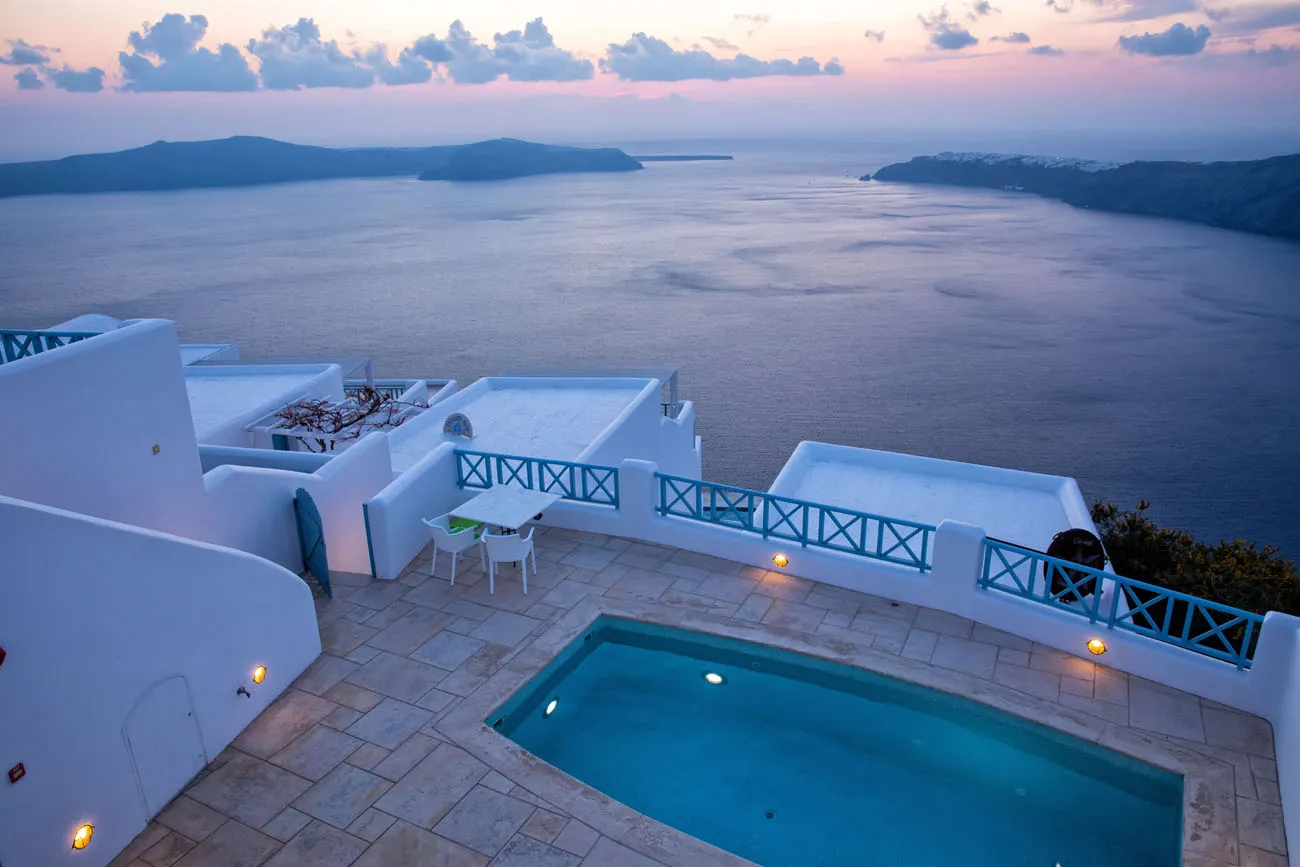 We had a wonderful experience at this hotel. It's quiet, it's private, the views are amazing, the service is 5-star, and we loved it that they brought us breakfast to our room every morning.
For more recommendations on where to stay, read our article about the Best Hotels in Santorini . Learn where to stay for a great view of the caldera and get recommendations whether you are looking for a budget hotel, luxury hotel, or if you are traveling as a family.
Comment below if you have any questions about the best things to do in Santorini or if you would like to share your experience.
More Information for Your Trip to Greece
GREECE ITINERARY: Learn how to visit Athens, Santorini, Naxos and Mykonos in our 10 Day Greece Itinerary.
PLACES TO GO ATHENS: For a full list of things to do, read our article Best Things to Do in Athens. And don't miss our guide to the Best Views of Athens & the Acropolis.
TRAVEL ADVICE: First time in Greece? Here are essential things to know about Greece, from SIM cards to booking the ferries to renting a car.
MYKONOS: Learn about things to do and how to get around Mykonos in our Guide to Mykonos.
NAXOS: Learn how to plan your visit to Naxos in our article Best Things to Do in Naxos. We also have information on hiking to Mount Zas, how to hike to Apano Kastro, and a detailed guide to hiking the Village Trail to Melanes, Myli, and the Kouroi.
TRAVEL INSPIRATION: Here are 15 fairytale destinations to visit around the world. And if you are considering a trip to Europe, check out our article 30 Beautiful Places to Visit in Europe.
Planning a trip to Greece? Read all of our articles in our Greece Travel Guide.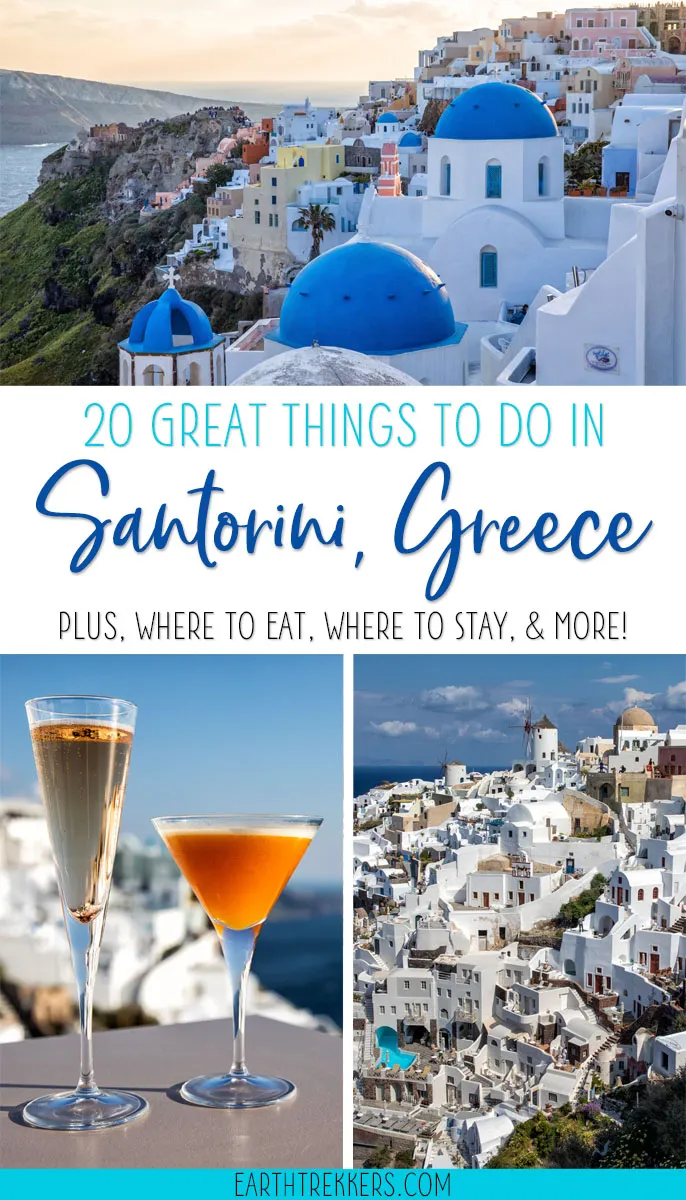 All rights reserved © Earth Trekkers. Republishing this article and/or any of its contents (text, photography, etc.), in whole or in part, is strictly prohibited.
Related Posts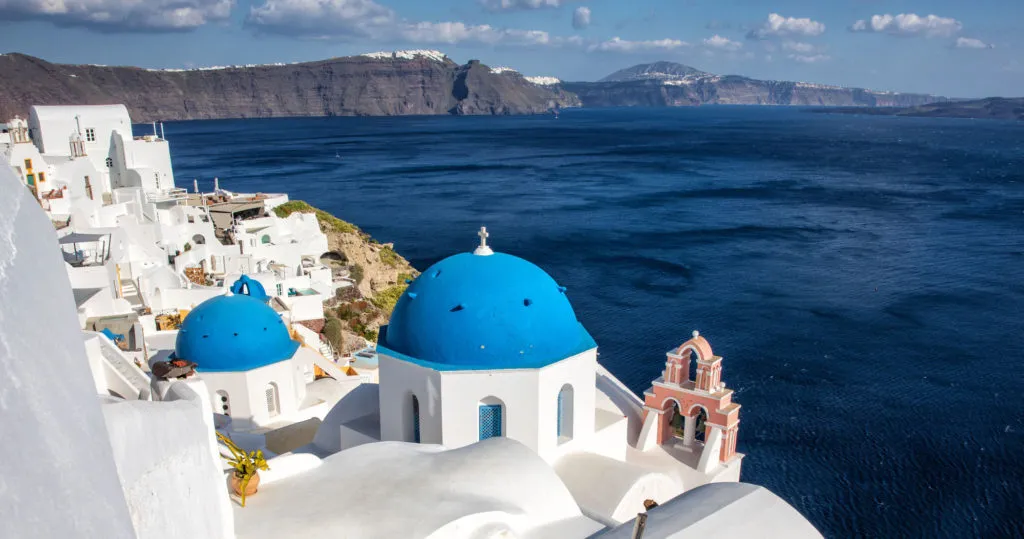 Comments 34
By far the BEST itinerary and breakdown I've seen for Santorini! I'm visiting next month and love the tidbits you've included as well as pictures! Thanks for taking the time to put together and share!
You're welcome! Have a great time on your trip! Cheers, Julie
Thank you so much for all your information. My husband and I are going to Greece this summer and I want to make this the best trip. You have really saved me, so thank you. My question for you is this. I am a huge water drinker and with all the walking around I am wondering if I can bring my water bottle from home, and is there a place I can fill up daily? Like will hotels have a place or will I have to purchase bottles from local shops.
Thanks again!
Hello Steph. You can fill your water bottle up in the hotel and I am sure restaurants that you visit throughout the day can also give you a refill. I don't remember seeing water fountains in Greece like they have in Italy and some other countries in Europe. We have been doing the same thing, to avoid buying plastic water bottles, so if you go out to lunch, ask your waiter for a refill and I don't think it will be a problem. Cheers, Julie
Thank you for sharing your travel accounts which are most helpful. My wife and I will visit Athens late March and will cruise to the Greek islands early April, 2023. I guess the cruise ship will anchor mid waters and we will be tendered to the port, is that Fira? I see you walked from Oia to Fira. We hope to be able to do it in the opposite direction. How easy will that be? Will we have enough time to get back to Fira considering that we arrive at 08.00 am and will depart at 09.30 pm? We will need to allow time to be ferried to Fira and back to the ship so I am guessing the time we will have will be from around 09.30 am until 07.00 pm. Is that sufficient time and is that walk easy enough to do?
Hello Joseph. Yes, you have plenty of time to do the entire hike. It takes 3 to 5 hours to do the hike , depending on how fast you go. The timing is the same for both directions. If you started at 9:30 am, you would reach Oia by early afternoon, could have a late lunch, go shopping, and still have time for something else nearby or near Fira, before traveling back to the ship. April is a beautiful time to visit the Greek islands and I hope you have a wonderful trip! Cheers, Julie
I love your websites. It has become one of my top go-to sites to get info about travels. Keep up the good work. Good luck for your success!!
Great list! I've visited Santorini last summer and I loved it. Reading your post makes me want to go back again!
I loved your article! It provides many information about Santorini. I'm going to visit the island with my husband next month. I was trying to find tickets online and I found out this site http://www.travelferry.com . It is very helpful and you can find many destinations.
Leave A Comment Cancel reply
Your email address will not be published. Required fields are marked *
Save my name and email in this browser for the next time I comment.
Sign me up for the monthly newsletter!

14 Top-Rated Attractions & Places to Visit on Santorini
Written by Jane Foster and Lavanya Sunkara Updated Mar 30, 2022 We may earn a commission from affiliate links ( )
Incredible sunsets, pearly white buildings adorned with bougainvillea, blue-domed churches, and picturesque windmills make Santorini a sought-after destination. This Greek paradise attracts newlyweds and couples from around the globe eager to witness its famed sunsets of Oia, swim in hot springs, savor its cuisine, and indulge in luxurious resorts.
Whether you fly in or take the ferry from the other islands, it's impossible to miss the striking view of the mostly submerged caldera (volcanic crater) visible from quaint settlements atop lava-layered cliffs. The whitewashed settlements of Firá and Oia are the island's most alluring destinations. In between the two towns, small villages cling to the clifftops, offering quieter and more relaxed settings for your vacation.
Santorini has more to offer than incredible vistas and multi-colored beaches. Ths island is also home to ancient arcaeological sites and museums that are worth exploring. Get yourself an ATV or a smart car and set about experiencing the rugged island on undulating roads. Just be prepared to stop at every corner, as the views are never-ending.
For ideas on how to spend your time, see our list of the top tourist attractions in Santorini.
4. Akrotíri Archaeological Site
5. red beach, 6. ancient thira, 7. archeological museum, firá, 8. museum of prehistoric thira, 10. profitis ilias, 11. beach at perissa, 12. ammoudi bay, 13. see a show at open air cinema kamari, 14. take a santorini boat trip, tips and tours: how to make the most of your visit to santorini, map of attractions & things to do on santorini.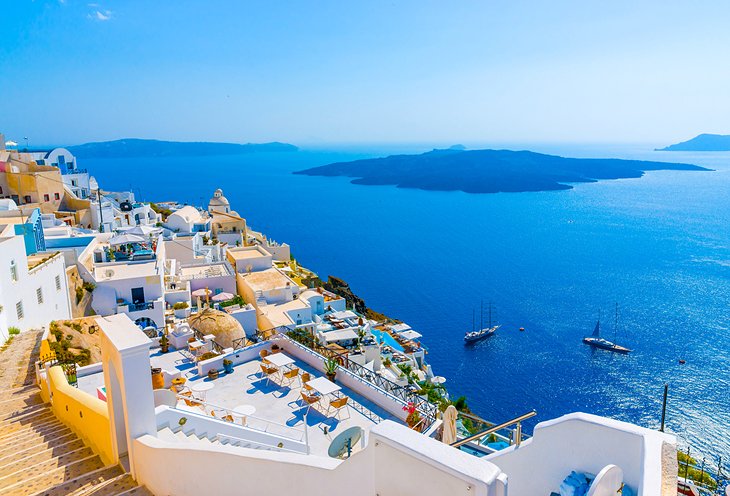 The capital of Santorini, Firá (Thíra) is made up of whitewashed cubic houses and terraces, winding lanes, little squares, and blue-domed churches perched on the cliffs 300 meters above the caldera. From the small port of Skala, Firá can be reached either by walking or riding (mules are for hire) up the steep and winding stepped path (587 steps) or by taking the cable-car. It can also be reached from neighboring towns via the Fira to Oia scenic trail that takes you along the caldera cliff.
Ferries dock at the port of Athiniós, connected to Firá by road, while cruise ships put down anchor in the caldera, and passengers are transported to Skala by tender. Firá lives principally from tourism, and many of its buildings now serve as small hotels, apartments, restaurants, cafés, souvenir shops, and jewelers.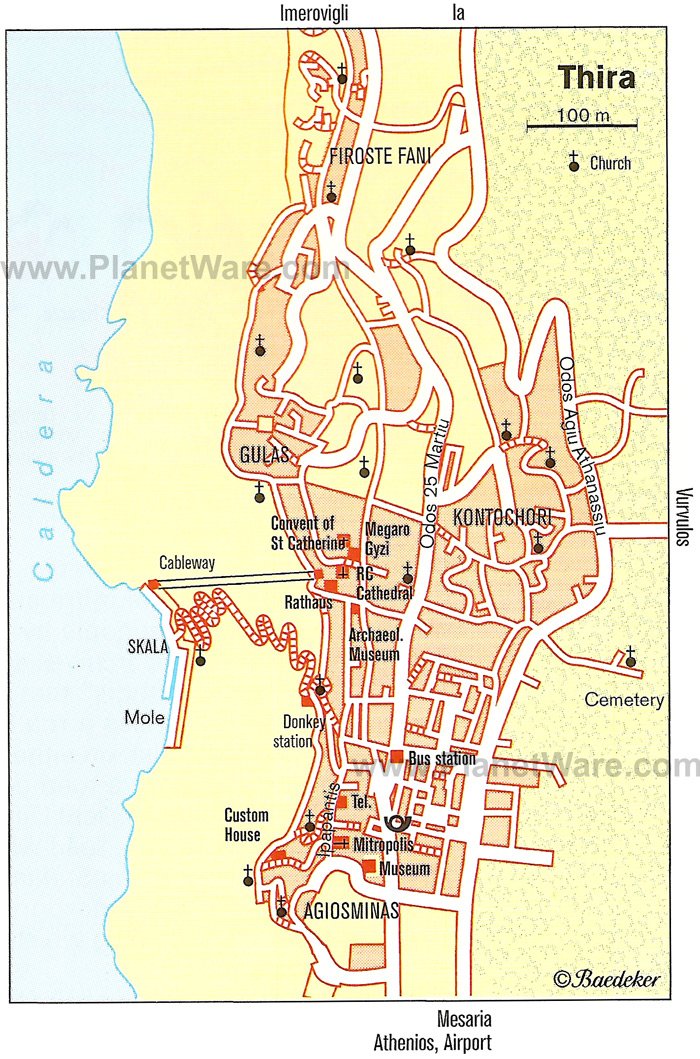 Oia is known for its famed sunsets that attract tourists from around the world. Located on the northern tip of Santorini, 12 kilometers up the coast from Firá, Ía (Oia) is a picture-perfect village of whitewashed houses, several of which have been converted into chic little boutique hotels with infinity pools, overlooking the caldera. Like Firá, it lives from tourism, but caters to a more upmarket clientele.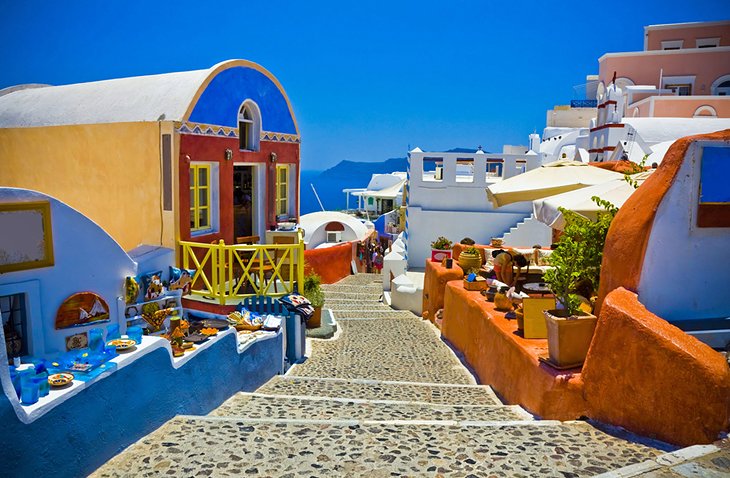 From Ammoúdi Bay, steep paths zigzag up to the town where you'll find a row of waterfront seafood eateries, many with alfresco dining. Oia can be reached by local KTEL bus or by walking the trail along the cliffs high above the caldera (allow three hours from Fira).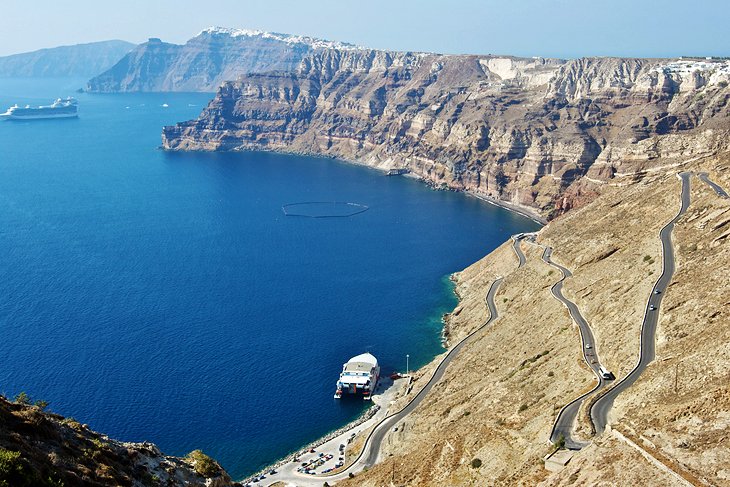 Formed by the massive volcanic explosion that blew the center out of the island some 3,600 years ago, the caldera is the sea-filled volcanic crater that remained. Measuring 12 kilometers by seven kilometers, it is still home to volcanic activity – in its center rise the two Kaiméni islets with hot springs and gas emissions.
Various agencies offer one-day excursions of the caldera by boat, including time to bathe in the hot springs and then have lunch on Thirassia, a tiny island on the west side of the caldera affording amazing views back to Santorini across the water.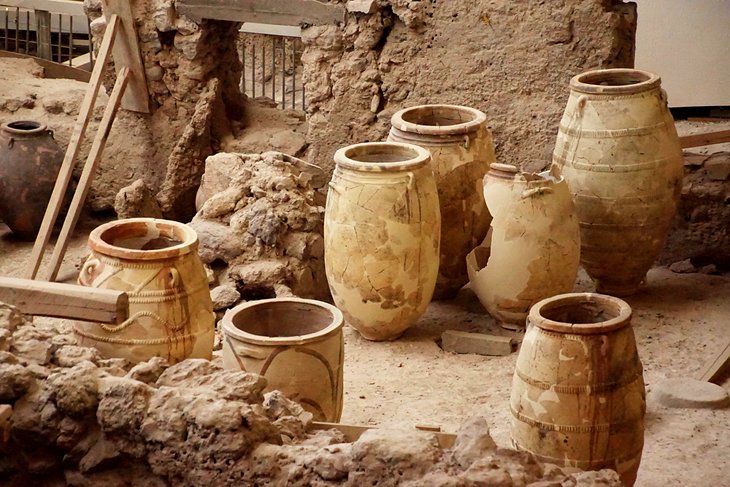 Near the village of modern Akrotíri, 12 kilometers southwest of Firá, the ancient Minoan settlement of Akrotíri was buried below lava following the 16th-century BC volcanic explosion that created the caldera. At the Akrotiri Archaeological Site, visitors can walk on pathways through the debris of the town to see remains of the clay buildings of this once thriving town. It is so well preserved that it's often compared to Pompeii . The site has remnants of multi-level buildings, pottery, and drainage systems, proving that Santorini was a flourishing and prosperous island before the eruption and probably lived from shipping and trading.
Santorini's connections with North Africa can be deduced from the outstanding frescoes (most of which are now in the National Archaeological Museum in Athens) that decorated its houses. The site of the Akrotiri ruins reopened to the public in 2012, following several years of closure.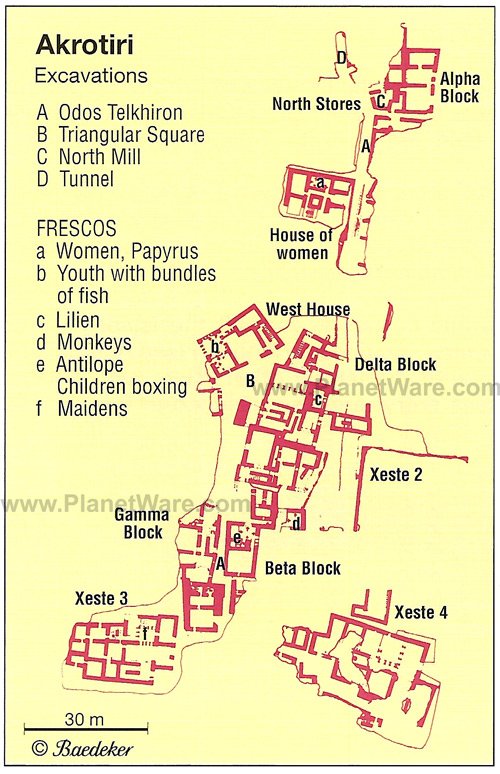 Nearby the Akrotiri site, you will find the famous Red Beach below a spectacular red cliff wall. The beach is accessible along a path from the town of Akrotiri. You can also take a bus from Fira or drive and park nearby before venturing down a rocky path to reach the beach. The beach is also accessible by boat from Akrotiri, Kamari, and Perissa ports.
The small beach gets crowded during the summer, so be sure to get there early to snag a prime spot for great contrasting views of the red rocks against the aquamarine water. Also note that the beach is prone to landslides, and sections have been roped off from visitors.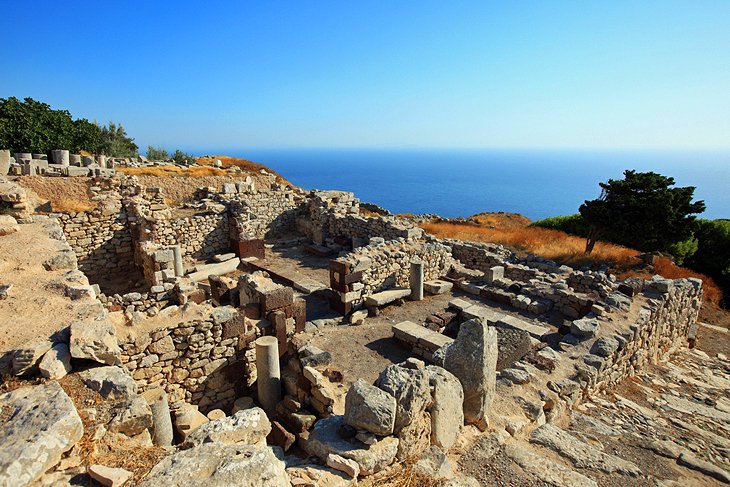 See the ruins of Hellenistic temples and foundations of Roman and early-Byzantine buildings at ancient Thira, located on the southeast coast of Santorini. Ancient Thira dates back to the ninth century BC. Among the ruins, you'll find religious sites, a theater, a gym for military trainees, and old administrative buildings. Finds from the site are also displayed in the archaeology museum of Firá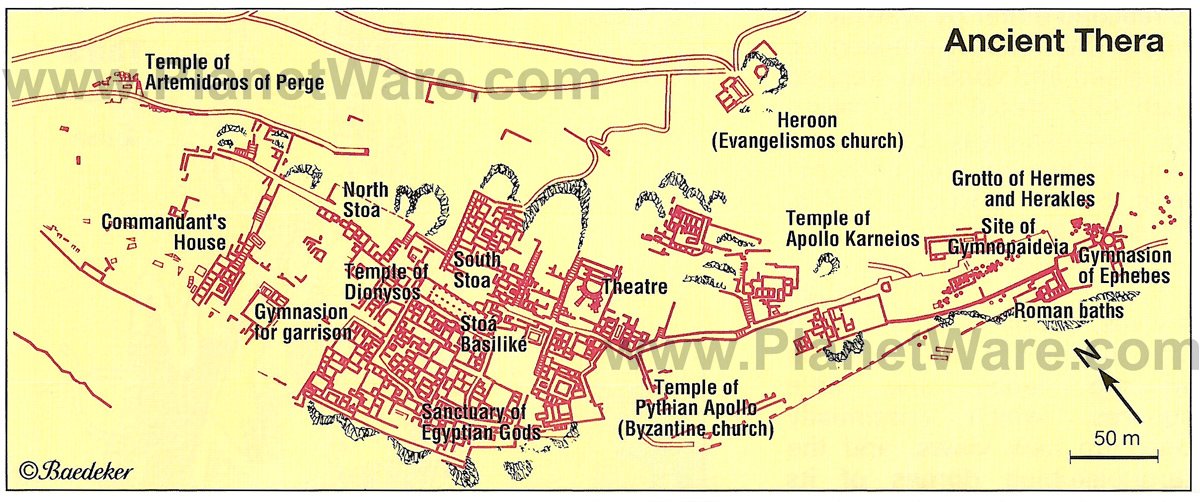 Lying close to the upper station of the cable-car in Firá, the small archaeological museum displays finds from Ancient Thira, ranging from the Dorian, Hellenistic, Roman, and Byzantine periods. Inscriptions dating from the Archaic to the Roman period, clay figurines of animals, and beautiful ceramic pottery are some of the finds exhibited at this museum.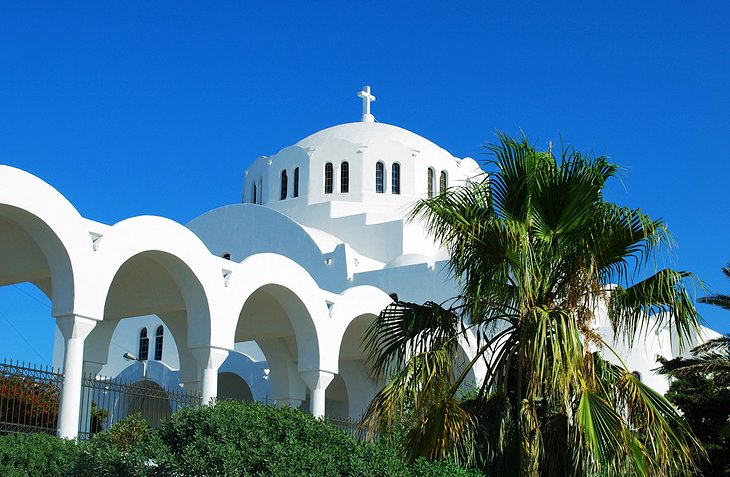 The Museum of Prehistoric Thira displays finds from Akrotiri archaeological site in a modern white building located close to the 1950s Mitrópolis church in Firá. One of the top tourist attractions is the Blue Monkeys wall fresco. Other ancient artworks on display include marble figurines, painted ceramics, tools, and weapons.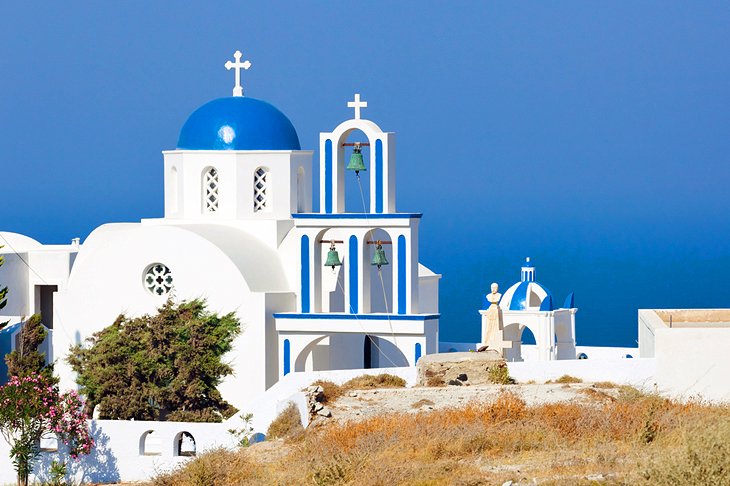 Pyrgos was Santorini's capital before Firá took over in 1800. The tiny village of Pyrgos, located in the middle of Santorini, is made up of whitewashed Cycladic cottages built around the ruins of a medieval hilltop castle. Previously a sleepy, all-but-forgotten town, Pyrgos has, since 2004, started to cater to upmarket tourism with the opening of several small, chic restaurants and boutique hotels.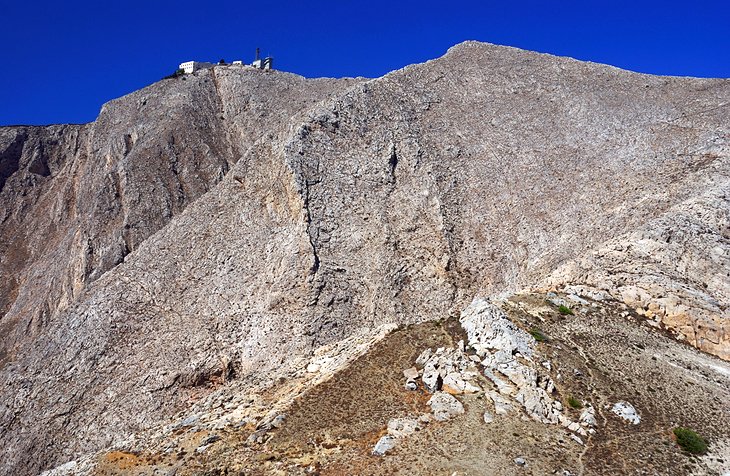 From Pyrgos, a road runs to the summit of Mt. Profítis Ilías (584 meters), Santorini's highest point, affording panoramic views of the island and out across the sea. Here stands the mighty Profitis Ilias Monastery , an 18th-century sanctuary that is open to the public.
Inside, you can see the church, with a richly carved iconostasis. Visit the museum displaying the miter and crozier of Patriarch Gregory V, who was hanged in Constantinople by the Turks in 1821. Also of interest are the library, the monastic archives, and the kitchen. The monastery ran one of the many "secret schools," operated during the Turkish period.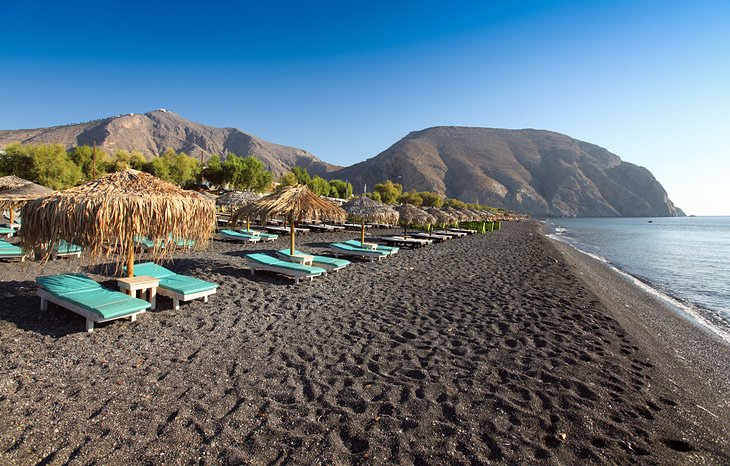 Santorini's best known and most popular beach lies on the southeast coast, between the villages of Perissa and Perivolos. A six-kilometer-long stretch of fine, black volcanic sand, it is backed by tamarisk trees and overlooked by a string of seafood tavernas and cafés. There are sunbeds and umbrellas to rent, plus water sports facilities. It is approximately 12 kilometers from Firá.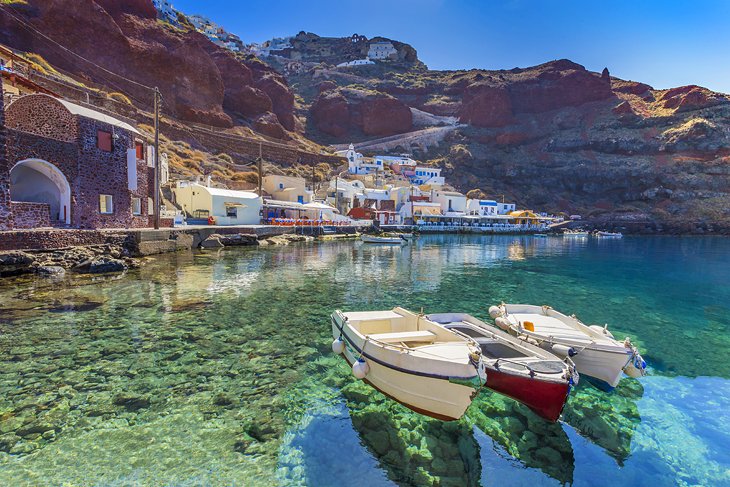 At the base of the cliffs rising to the town of Oia, the port of Ammoudi Bay glistens above sparkling turquoise waters. Descend the 200 or so steps down from Oia, and you are in the picture-perfect setting that is Ammoudi, known for quaint Greek tavernas serving the catch of the day just inches from the waves, and isolated coves ideal for swimming. Another popular activity is cliff diving if that's what gets your adrenaline pumping.
For a less adventurous and still exhilarating experience, hire a sailboat to bring you to the volcano for a swim in the hot springs.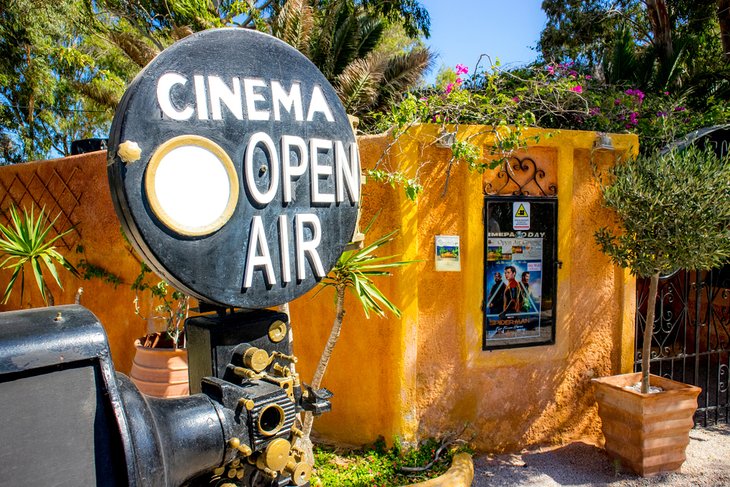 Fancy an al fresco movie screening? Head to the Open Air Cinema Kamari. It was constructed in 1887 with the goal of letting locals and travelers continue the Greek tradition of the outdoor theater by allowing you to check out movies al fresco.
Grab a snack from the on-site concession and watch a film under the light of a starry velvet sky in a garden setting. Besides movies, this venue just outside the town limits also hosts concerts, art exhibitions, and traditional theater performances. It is a unique Santorini experience.
Official Site: https://santorinicinema.com/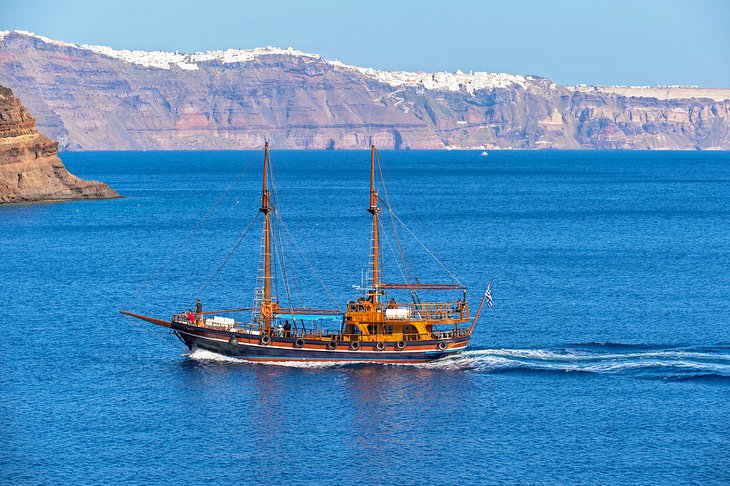 A great way to get a feel for Santorini, and another of its top tourist attractions, is to explore the island on a day-long boat trip. This way, you'll have an opportunity to check out a number of attractions in one go and also take in the gorgeous turquoise and aquamarine waters surrounding this volcanic isle.
A number of companies run boat tours around Santorini, and many follow the same route. One popular cruise takes you first to the still active volcano on Nea Kameni, where you can hike to the crater's summit. You'll then pause for a dip in the Palea Kameni hot springs. Trips then head to Thirassia Island fronting Santorini.
For a more luxe experience, this trip can be booked on a catamaran and on these, you'll also get to make three swimming and snorkeling stops.
An organized tour is a great way to see all the highlights of the island without the hassle of trying to find your way around. Experienced guides share information about the island's history as well as insider tips about its culture and attractions, and these tours include convenient pickup and drop-off at your hotel, saving you time and money. Below are some fun tour options that guarantee the lowest price:
See the Sights: A great way to learn about Santorini's history, explore picturesque villages, and see spectacular sunset views is on the full-day Oia Sunset and Traditional Villages Tour in Santorini . With pickup and drop-off from your hotel, this tour takes you in a comfortable air-conditioned coach to explore the Minoan excavations at Akrotiri, the pretty village of Pyrgos, and sunset views from Oia. If you prefer to tailor your tour to suit your interests, the Private Custom Tour: Santorini in a Day is an excellent choice. You can choose between a five-hour tour or upgrade to an eight-hour tour, with stops at your favorite attractions, from ancient archeological sites and traditional villages to beautiful black-sand beaches. This tour also includes convenient hotel or cruise ship port pickup and drop-off.
More Related Articles on PlanetWare.com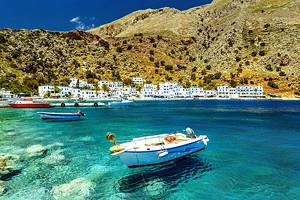 Greek Islands: If you are looking to explore other Greek Islands, check out our comprehensive guide to the Top-Rated Greek Islands to point you in the right direction. Some of the more popular tourist destinations include Corfu Island and Crete . The islands tend to have their own unique character and many people choose to visit more than one on their vacation.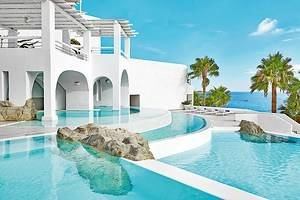 Highlights of Greece: For a guide to top attractions in Greece, be sure to see article on the Top-Rated Tourist Attractions in Greece . This guide offers information on destinations and sites worth visiting. If you are planning a family vacation, here is our list of the Top-Rated Family Resorts in Greece .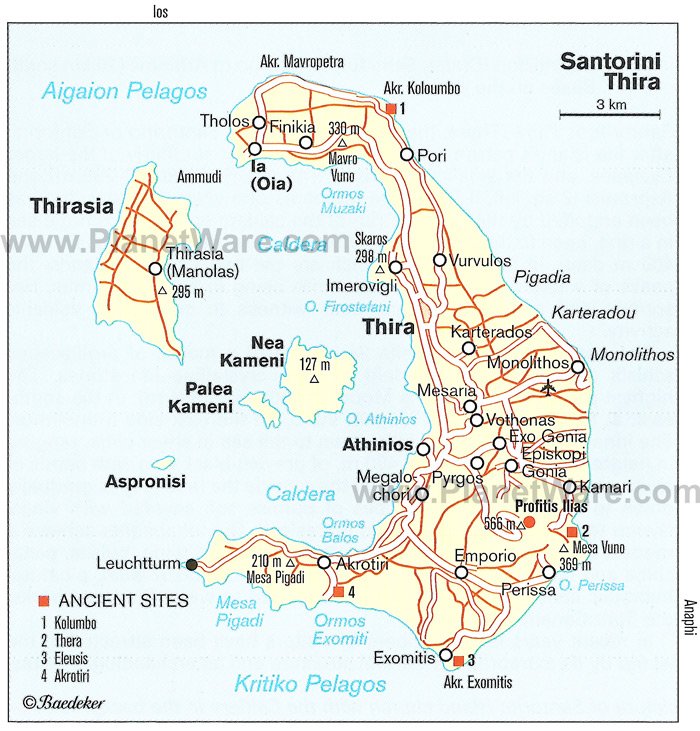 More on Greece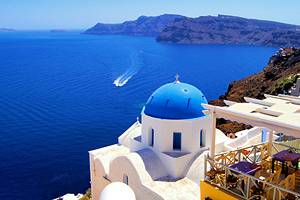 Santorini   Travel Guide
Courtesy of Artie Photography (Artie Ng)/Getty Images
Why Go To Santorini
A massive volcanic eruption around 1650 B.C. forced the center of what was then a single island to implode and succumb to the sea. Some say that this was the original home of the lost city of Atlantis, which long ago disappeared into the ocean's depths. Whatever remains of this mythological metropolis is now guarded by beautiful beaches and stately whitewashed homes. Today, Santorini consists of two inhabited islands and several islets. Most visitors spend their time on Thira (the archipelago's largest island), which is home to Santorini's major towns, including Fira and Oia. Sleepy Thirassia makes for a relaxing daytrip too. And don't count out the quieter islands: Nea Kameni and Palea Kameni are worth exploring.
Your first order of business in Santorini is to hit the colorful beaches – the black and red sands make for a memorable visit. Next up, indulge in the archaeological delights of the impressively preserved Ancient Akrotiri or hike to Ancient Thera to see the ruins of three empires, including the Romans. From there, catch a breathtaking view of the caldera, a brilliant turquoise pool of water that serves as the nucleus for the varied isles of this archipelago. Some would say you only need a day to enjoy these islands' charms (they are a popular port of call for cruise ships ), but to really drink in all Santorini has to offer, you'll need a few days to a week. Then you'll have plenty of time to learn there's more to these comely dots of the Cyclades than meets the eye.
Find Flight and Hotel Deals
Navigate forward to interact with the calendar and select a date. Press the question mark key to get the keyboard shortcuts for changing dates.
Navigate backward to interact with the calendar and select a date. Press the question mark key to get the keyboard shortcuts for changing dates.
# 1 in Best Islands in the World for 2024
# 1 in 25 Best Greek Islands
# 1 in Best Places to Visit in September 2023
See All 8 Rankings
Best of Santorini
Best hotels in santorini.
# 1 in Andronis Boutique Hotel
# 2 in Katikies Hotel
# 3 in Andronis Luxury Suites
Best Things to Do in Santorini
# 1 in Kamari Beach
# 2 in Amoudi Bay
# 3 in Fira to Oia Hike
Popular Tours
Santorini Wine Adventure in 3 Wineries with 12 Tastings and Tapas
(959 reviews)
from $ 163.00
Santorini Classic Catamaran Cruise with Meal Drinks and Transfers
(2566 reviews)
from $ 141.27
Santorini Luxury Caldera Cruise with Full Greek Meal and Drinks
(1372 reviews)
from $ 130.40
Santorini Travel Tips
Best months to visit.
The best time to visit Santorini is from September to October and April to May when the weather is warm and the crowds are scarce. Like all of the Cyclades, Santorini welcomes the most visitors during the summer, so you'll need to make your reservations months in advance if you plan on visiting anytime from June through August. Looking for a bargain? Try winter, when room rates tend to plummet. Keep in mind that this season's average highs only reach the 50s (not good for sunbathing) and the region sees plenty of precipitation. However, all that rain does make for a very flowery (and warm) spring season. Crowds will be at a low in the spring as well, though tourists will begin invading the islands come May.
Weather in Santorini
Data sourced from the National Climatic Data Center
What You Need to Know
Drink up Santorini's rich volcanic soil is ideal for growing grapes, making wine the beverage of choice here. Head to a local taverna to try some of the best.
Don't go to the beach barefoot Santorini's beaches primarily made up of small rocks instead of sand, making them extremely hot after a couple hours in the sun. To avoid burns, make sure to wear sandals or water shoes.
Santorini isn't all cliffs The pictures you see of Santorini situated high on the cliffs are actually on the west coast of the island. The east coast, including Kamari and Perissa, are generally flat.
How to Save Money in Santorini
Vacation in the shoulder seasons  The fall and spring are known for warm weather, but not as many tourists take advantage of it compared to summer. You can find some great deals on hotels if you skirt the summer crowds.
Hungry? Head inland While the thought of munching on fresh Greek fare beachfront or cliffside is no doubt tempting, these restaurants may charge higher prices solely for the location. Definitely take advantage of these scenic restaurants, but balance it out by heading inland, where you'll likely find more budget-friendly menus. 
Stay on the east coast  Hotels along the caldera in towns like the popular Oia tend to attract the most travelers, especially honeymooners. You'll find much more reasonably priced rooms in southeastern towns like Kamari and Perissa.
Culture & Customs
Greek is the official language, though considering the large influx of visitors the island receives (as many as 10,000 cruise ship tourists alone come ashore daily), you're more likely to run into English-speaking Greeks than not, especially in tourist areas. Understanding body language here though is key. Be very aware of your gestures. For example, using the thumb and index finger to signal "OK" is offensive, as is holding up your palm to anyone. If you want to wave goodbye, make sure your palm is facing you. As for indicating nodding your head to indicate 'yes' and shaking your head to indicate 'no.' Greeks do it differently. A slight downward means 'yes' while a slight upward nod means 'no.' These gestures are often subtle and quick, making it hard for foreigners to understand. The best thing to do is avoid trying to communicate with gestures here to avoid getting lost in body language translation.
Greeks are known to be very friendly, especially when meeting new people. When meeting a Greek in a social situation, shaking hands is customary. Two kisses, one exchanged on each cheek, is the norm when with acquaintances. Greeks tend to be very open and become deeply engaged when in conversation. They have also been known to get personal, fast. If you're uncomfortable with the dialogue, such as talking about sensitive subjects such as politics or if you're being asked too personal questions, simply try to change the subject. Lateness is also common here. If you have plans with Greeks, expect them to be at least 15 minutes late.
Shorts and T-shirts are acceptable when walking around the towns or the beaches, some of which are clothing optional. Dress continues to be casual even in restaurants, but Greeks tend to dress up a little more nicely when dining out in the evenings. Other than on the beach, never waltz into a restaurant or public space in your bathing suit or barefoot, even along a beachfront promenade.
Santorini's currency is the euro. Since the euro to U.S. dollar exchange rate fluctuates, be sure to check what the current exchange rate is before you go. Major credit cards are accepted at most restaurants and shops. When eating at a restaurant, a service charge may be included. As such, tipping isn't commonplace. Also, keep in mind the plumbing system in Santorini is not stellar – when at a hotel or restaurant, throw any used toilet paper in the waste basket rather than flushing it down the toilet to avoid any potentially embarrassing flooding situations.
What to Eat
While in Santorini, take full advantage of the fresh Greek fare. The island's climate in combination with its volcanic soil enhance flavors of the fruits and vegetables grown here. As such, Santorini has made a name for itself in the wine community, making a visit to one of the island's wineries a top attraction. In addition to delectable grapes, make sure cherry tomatoes (especially sun-dried), capers and white eggplant are part of one or more of your meals during your time in Santorini. The sweetness and white color of the eggplants here are a direct result of being grown in volcanic soil. Cherry tomatoes are another fruit that can attribute their taste to the unique soil. If you like eggplant, then you'll no doubt enjoy moussaka , a Greek-style lasagna that features layered eggplant, minced meat, fixins and spices topped with béchamel sauce. Other must-try Greek specialties include anything with olives and olive oil, especially a traditional Greek salad, as well as fava, a traditional dip made of fava bean puree.
Greeks are all about their dips. Along with fava and the famous tzatziki sauce (yogurt, cucumber and garlic), another must-try and uber-traditional dip is taramasalata, made from smoked fish roe and mixed with olive oil and lemon juice. Other popular small bites include dolmades and keftedes . Regularly served before meals, dolmades are seasoned rice often mixed with meat or vegetables and wrapped entirely in a grape or vine leaf. Keftedes are fritters commonly mixed with cherry tomatoes (tomatokeftedes) or grated zucchini (kolokithokeftedes). If you're after something heartier, you're in luck: The island, as well as the whole of Greece, have a penchant for grilled meats. Souvlaki, or seasoned skewered meat, often topped with tzatziki, can be found all over. Octopus, which you'll likely find hanging by its tentacles outside seaside tavernas, are also popular. And, of course, you can't leave without grabbing a gyro. Whatever you choose to eat, make room for dessert – baklava , a filo pastry layered with honey and ground nuts and loukoumades , or deep-fried donut holes sprinkled with hot honey and cinnamon, are local favorites.
You can find everything from quick gyros to casual eateries to upscale restaurants throughout Santorini. Head to Restaurant 1800 in Oia for fine dining and expertly presented Mediterranean cuisine. If you can, snag a table on the roof to enjoy sweeping views of the island's cliffs. Selene is another upscale option, conveniently located in Pyrgros, which houses a number of wineries. In Fira, the hundreds-year-old Taverna Nikolas is as traditional as it gets, offering classic Greek dishes at affordable prices. For a little romance, enjoy a candle-lit dinner at the edge of the caldera at Ambrosia .
Santorini is pretty safe. Travelers report feeling comfortable walking around the streets both day and night. Even pickpocketing is few and far between here. In terms of getting around, there are not many sidewalks in Santorini, so be careful when walking the streets as you may need to dodge the occasional wayward, speedy scooter. Use caution when navigating Santorini's beaches as well. Most of if not all of the beaches are composed of small rocks rather than sand, and during the summer, can become too hot for bare feet to touch. Bring with you sandals to wear on the sand or water shoes to avoid burns. Tap water here is not safe to drink.
Getting Around Santorini
The best way to get around Santorini is on foot or by bus. You'll see that it's easy to walk around the tiny seaside towns, but the bus is best to get from one town to another. There are KTEL bus routes from Fira (the capital city) to many different destinations around the main island. KTEL also services the Santorini (Thira) Island National Airport (JTR), but you might find it easier to rely on a cab to get you into town. If you're planning to do a little island hopping, you can catch a ferry from Athinios (about 5 miles south of Fira).
Entry & Exit Requirements
To enter Greece, you must have a passport that will be valid for your stay and for at least six months after. You won't need a visa, however, unless you're planning to stay longer than 90 days. Visit the U.S. State Department's website for more information on entry and exit requirements.
The neighborhood of Oia is what you often see in photos of Santorini. The neighborhood is filled to the brim with white- and pastel-colored buildings cascading down cliffsides. Considering its popularity and bounty of luxurious hotels, staying here will cost you a pretty penny.
Explore More of Santorini
Things To Do
Best hotels.
You might also like
# 1 in  Best Cheap European Honeymoon Destinations
# 7 in  Best Places to Visit in November 2023
# 9 in  Best Honeymoons in Europe for 2024
If you make a purchase from our site, we may earn a commission. This does not affect the quality or independence of our editorial content.
Recommended
18 Fall Family Vacation Ideas
Amanda Norcross September 11, 2023
The 26 Best Zoos in the U.S.
Rachael Hood August 11, 2023
30 Fun Fall Weekend Getaways for 2023
Holly Johnson July 18, 2023
The 32 Best Dog-Friendly Beaches in the U.S.
Gwen Pratesi July 14, 2023
The 21 Top Ecolodges Around the World
Mackenzie Roche|Amanda Norcross June 30, 2023
The 26 Best Fall Festivals in the U.S. for 2023
Katie Hearsum|Timothy J. Forster June 28, 2023
27 Amazon Prime Day Luggage Deals You Can Shop Now
Amanda Norcross June 27, 2023
The 34 Best Couples Vacations
Gwen Pratesi June 26, 2023
Carry-on Luggage Sizes by Airline
Amanda Norcross June 26, 2023
Photos: InterContinental Boston
Jill LeGrow June 26, 2023
Explore Santorini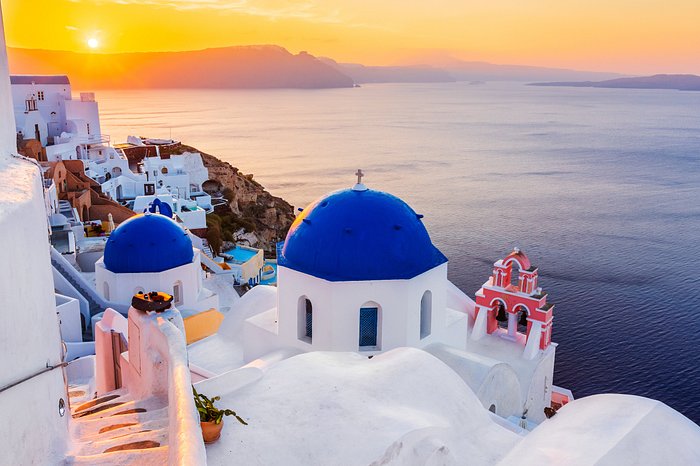 Santorini Tourism: Best of Santorini
Travel advice, essential santorini.
Traveler Spotlight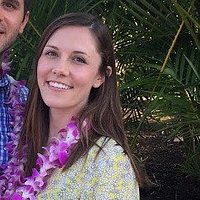 Honeymooners guide to Santorini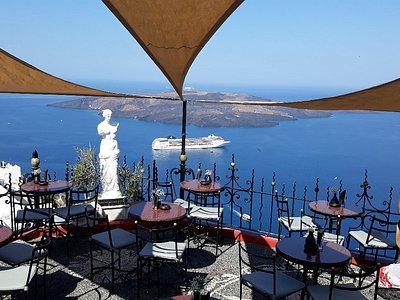 Trending in the forums

Santorini Is Great For
Renowned wineries and vineyards.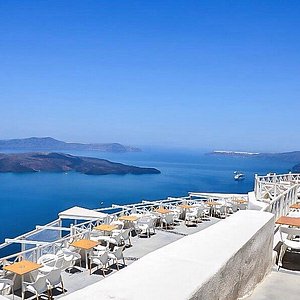 Dreamy sunset cocktails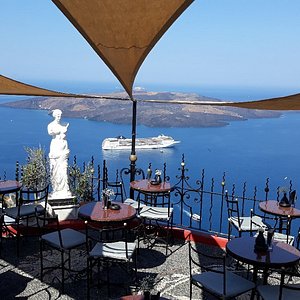 Spectacular water expeditions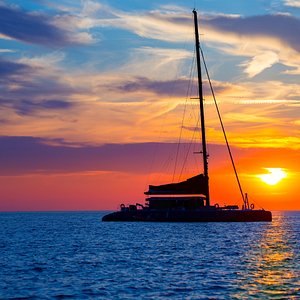 Travelers' pro tips for experiencing Santorini

In the words of those who've been there before ...
What is the best way to get there?
Santorini (Thira) International Airport receives seasonal direct flights in high tourist seasons from various European destinations. Long-haul flights typically connect in Athens. Shuttles and taxis run from the airport to the island's towns and resorts.
Regular ferries leave from Piraeus ferry port near Athens and arrive at Athinios ferry port near Fira. Santorini also has ferry links with Mykonos and other Greek islands.
Do I need a visa?
Greece is part of the Schengen Area with many other European countries. This means tourists from certain countries don't require a visa for trips less than 90 days -- as long as your passport is valid for at least six months after your planned departure date.
Find more information about the Schengen Visa and what countries are exempt here .
When is the best time to visit?
Summer (June to August): Summer is Santorini's high season and brings with it a number of music and cultural festivals. Average highs at this time are in the low 80°F (high 20°Cs) — ideal for swimming, sunbathing, and cruising the neighboring islands.
But to avoid the crowds and benefit from slightly lower prices on tours and accommodation, visiting in May or September/October is a smart choice and temperatures often still reach 77°F (25°C).
Hiring a car is the most convenient way to get around and rentals are available at the airport and major hotels.
KTEL operates buses between the main towns of Fira, Oia, Perissa, and Kamari, but getting to smaller towns and beaches is not possible by public transport.
For more information about timetables and fares, see here .
Taxis are available in Fira and will take you to most places on the island. Rideshare services such as Uber are not available.
Are there local customs I should know?
Echoes Luxury Suites
Aria Suites
Secret View Hotel
Altera Pars Suites
Alleys Boutique & Spa Hotel
Santo Athiri Restaurant
Kaliya Reimagined Food & Drinks
Esperisma Bar-Restaurant
Hiking Trail Fira - Oia
Santorini Volcano
Megalochori - Traditional Village
Hot Springs
Oia's Main Street
Santorini Must-See Highlights: Private Sightseeing Tour
Santorini Day Tour with Sunset in Oia
Santorini Volcano & Hot Springs Tour
Caldera Half Day Tour (Volcano, Hot Springs, Thirassia)
Santorini 5 Hour Custom Private Sightseeing Tour
The Best Towns and Villages to Visit in Santorini, Greece

You know that typical view of the Greek islands? Blue-domed churches and white-washed buildings overlooking the glittering Mediterranean. That's the Santorini streets – or more specifically the astonishingly pretty town of Oia. Discover more idyllic villages with our guide.
View all trips.
The Cyclades island of Santorini is probably known for its hillside villages that look like something from an Escher painting, turquoise waters and jaw-dropping sunset views. But below the surface, there's a unique depth – from its long wine-making tradition to its smouldering active volcano. Here are the best towns in Santorini to explore on your next trip.
Destinations Unlocked:
Looking for an expert's perspective.
CentralAmerica

Gorgeous Guatemala
1. guatemala.

Beachy Belize

Colonial Mexico
Back to map, southamerica.

Adventurous Ecuador

Ancient Peru

Seductive Southern Italy

Edinburgh And The Scottish Highlands By Train
2. scotland.

Complete Portugal By Train
3. portugal.

Soulful South Korea
1. south korea.

Thailand, Cambodia & Vietnam
2. thailand.

Secrets Of Sri Lanka By Train
3. sri lanka.

Epic Morocco

Ultimate Egypt

Immersive Kenya
Natural Feature

With its name meaning "view spot", Imerovigili is known as one of the balconies of the island. Perched on a cliff, it offers unparalleled panoramics of the caldera and volcano. You can explore the remains of Skaros, a 13th century Venetian palace, before enjoying some of the local delicacies. The Skaros Fish Tavern is a great place to catch an epic sunset. Try the tomatokeftedes, made from the island's small cherry tomatoes, and the grilled catch of the day.

Formed of white-washed houses carved into the rugged cliff top and overlooking the vast caldera, it's little wonder that Oia is the most photographed village in Santorini. If you can handle a steep climb back up again, then don't miss Ammoudi, Oia's tiny port which offers incredible views of the red cliffs and harbour. It's also a great place for cliff diving, if you're brave enough. For a unique experience, check out the Atlantis bookstore that's cut into a cave.
Become a Culture Tripper!
Sign up to our newsletter to save up to 800$ on our unique trips..
See privacy policy .
Architectural Landmark

Most of Santorini's shopping can be found in Fira, the capital. It's a brilliant place to stock up on traditional produce, quirky souvenirs and handmade crafts. Take the cable car – or a donkey – to the small port where you'll find numerous restaurants and souvlaki stands. You can learn about the island's culture in one of Fira's museums or, for a different type of culture, sample the Santorini Brewing Company's donkey beers. You'll find the brewery on the road between Fira and Kamari.

Emporio is Santorini's biggest village. If it's whitewashed buildings, blue-domed churches and a tangle of narrow alleyways you're after, you won't be disappointed. Take a walk up Gavrilos Hill where you can see the ruins of eight traditional windmills. For an unusual stay, head to nearby Stunning Windmill House, a renovated mill with a pool. Don't miss Emporio's 15th century fortress, which looks as though it could slide down the hillside at any moment.
Architectural Landmark, Historical Landmark

One for history buffs, Akrotiri was covered in volcanic ash in the late 17th century and is so well preserved it's earned itself the nickname the Pompeii of the Aegean. The village also boasts the Red Beach, which looks like a scenescape from Mars. Don't forget to check out those red rocks from under the water too, as there's great snorkelling off the beach. Close by is Dolphin's Fish Taverna, which offers fresh fish caught from the family's boat that morning.

Boasting several kilometres of black sand, Perissa, at the base of Mesa Vouno mountain, is home to the longest beach on Santorini. Step back in time when you visit the Museum of Minerals and Fossils, which has archaeological finds dating back 1.5 billion years. Looking for an adrenaline buzz? Perissa is the place to go for watersports in Santorini. Try flyboarding on a water-propelled jet pack for an unforgettable experience.

Megalochori

If you're after a quieter, more chilled-out vibe, then look no further than Megalochori. In the centre of the village, there's a tree-lined square, with plenty of restaurants and cafes – enjoy a leisurely coffee and watch the locals playing a traditional game of tavli (backgammon). Megalochori is set in wine country and home to the Gavalas winery, one of the oldest wineries on the island. Try their katsano or voudomato wines.

The former capital of Santori, Pyrgos is a throwback to simpler times. At noon, the locals gather for ouzo and meze in the town square – there's a real community feel to the village. If you can manage the climb, then Pyrgos Kasteli, a former Venetian castle, is worth a visit. In the evening, take a seat in one of the deckchairs in Franco's Bar and enjoy a Bellini and some classical music as you watch the sunset.
This is a rewrite of an article originally by Ethel Dilouambaka.
Keep busy on the island with the best things to see and do in Santorini . Fill up in one of the top restaurants before heading to a cocktail bar to catch the sunset . For places to stay, discover these accommodation options for a local experience and book now on Culture Trip.
Volcanic Iceland Epic Trip
Meet our local insider.
HOW LONG HAVE YOU BEEN A GUIDE?
What do you love about your job, it's the personal contact, the personal experiences. i love meeting people from all over the world... i really like getting to know everyone and feeling like i'm traveling with a group of friends., what destination is on your travel bucket-list, i have so many places on my list, but i would really lobe to go to africa. i consider myself an "adventure girl" and africa feels like the ultimate adventure.
Every CULTURE TRIP Small-group adventure is led by a Local Insider just like Hanna.
See Our Culture Trips

KEEN TO EXPLORE THE WORLD?
Connect with like-minded people on our premium trips curated by local insiders and with care for the world
Since you are here, we would like to share our vision for the future of travel - and the direction Culture Trip is moving in.
Culture Trip launched in 2011 with a simple yet passionate mission: to inspire people to go beyond their boundaries and experience what makes a place, its people and its culture special and meaningful — and this is still in our DNA today. We are proud that, for more than a decade, millions like you have trusted our award-winning recommendations by people who deeply understand what makes certain places and communities so special.
Increasingly we believe the world needs more meaningful, real-life connections between curious travellers keen to explore the world in a more responsible way. That is why we have intensively curated a collection of premium small-group trips as an invitation to meet and connect with new, like-minded people for once-in-a-lifetime experiences in three categories: Culture Trips, Rail Trips and Private Trips. Our Trips are suitable for both solo travelers, couples and friends who want to explore the world together.
Culture Trips are deeply immersive 5 to 16 days itineraries, that combine authentic local experiences, exciting activities and 4-5* accommodation to look forward to at the end of each day. Our Rail Trips are our most planet-friendly itineraries that invite you to take the scenic route, relax whilst getting under the skin of a destination. Our Private Trips are fully tailored itineraries, curated by our Travel Experts specifically for you, your friends or your family.
We know that many of you worry about the environmental impact of travel and are looking for ways of expanding horizons in ways that do minimal harm - and may even bring benefits. We are committed to go as far as possible in curating our trips with care for the planet. That is why all of our trips are flightless in destination, fully carbon offset - and we have ambitious plans to be net zero in the very near future.

See & Do
Top reasons to visit santorini, greece.

Places to Stay
The best hotels in oia for every traveller.

The Best Hotels in Imerovigli, Santorini, for Every Traveller

Where to Book Your Stay in Santorini for a Local Experience

The Best Hotels with Pools to Book in Santorini

The Best Resorts in Santorini, Greece

The Best Holiday Apartments to Book on the Greek Island of Santorini

The Best Hotels in Kamari, Santorini, for Every Traveller

The Must-Do Day Trips in Santorini, Greece

The Best Hiking Trails in Santorini, Greece

Wineries You Need to Visit in Santorini, Greece

The Most Beautiful Beaches in Santorini, Greece
Black Friday Offers on Our Trips
Incredible savings.
Post ID: 1755171
Sponsored? No
View Payload

Touropia Travel Experts
Tours & Top Tens
18 Top Things to Do in Santorini, Greece
Last updated on October 1, 2023 by Fiona Fiorentino and Touropia Editors - Leave a Comment
Breathtaking views from soaring cliffs, whitewashed churches topped with bright blue domes and archeological treasures from a lost civilization are just some of the reasons that the island of Santorini is routinely included in the lists of the best places to visit in the world. Officially named Thira, sunny Santorini is the largest and arguably the loveliest of the Cyclades group of islands located to the southeast of Greece's mainland in the blue Aegean Sea.
Santorini marks the spot of one of the largest volcanic eruptions in written history. The explosion created an archipelago out a single island and left behind the geological feature that attracts visitors to Santorini today: a giant sea-filled caldera.
See also: Where to Stay in Santorini
In addition to enjoying awe-inspiring views of the half-submerged volcanic crater, other things to do in Santorini include exploring Minoan artifacts and ruins buried by the ancient eruption. Famous for its dry white wines, picturesque beaches and vibrant nightlife, Santorini is a popular destination for visitors who just want to relax and unwind too.
In this post, we'll cover:
18. Imerovigli
Imerovigli is a picturesque village situated in the central west part of Santorini. Deriving from viglia, meaning 'viewpoint', it is considered 'the balcony to the Aegean'. There are plenty of luxurious hotels with lounge pools, and boutique dining spots with incredible sea views.
A must-visit site is Skaros, a rock formation that lies in front of Imerovigli. The ruins on Skaros Rock are the only remnants of a 13th-century Venetian castle. Historically it was once an observation post from pirates, yet it was abandoned in the early 1800s due to a large earthquake which caused damage to part of the island. The path to arrive there is one of the best hiking trails in Santorini.
17. Megalochori
Megalochori is located on the southwest part of Santorini, about 9 km from Fira. The central square is the heart of the village. It is the gathering place for locals who play card games or 'tavli' (backgammon). With trees providing shade, there are several traditional cafes and local dishes to try, unwind, and enjoy. Meander around the ultra-charming, peacefully quiet cobbled paths and you will find the Megalochori Bell Tower and neo-classical buildings.
Old cave houses with solid wooden doors and high fences have been used as protection from marauding pirates. Yet interestingly, this town embraced pirates – it became their haven.
An earthquake destroyed much of the town in 1956, but it was restored in 1999. A particular site to visit in this 'great village' is the ancient archaeological site of Akrotiri, as well as the Chapel of Agios Nikolaos.
16. Open Air Cinema Kamari
A modern Greek tradition, this open-air cinema has remained since the 1930s as one of the Greek's most popular types of entertainment, especially on warm, balmy nights. It is located at the entrance to Kamari town, on the main road to Fira. The bus station is just across the cinema entrance. 'A' class films are shown in English with Greek subtitles.
Set within a bed of old eucalyptus trees and fragrant night-blooming purple flowers, the smell of incense permeates the space. The cinema offers a range of local cocktails, beers, wines, and refreshments. There is an intermission halfway through the movie, which is a great opportunity to get refills. You cannot pre-buy tickets so it's best to get there early.
15. Ammoudi Bay
Nestled under Oia, approximately 300 vertical, rocky steps below the village, you will find this beautiful bay. Weaving along the rocky path cut into the caldera edge, the steps showcase the breadth of geological layers and bright red rock for which Santorini is famous for.
A quaint, tiny fishing port, seafood tavernas line the bay with crystal clear waters lapping at the table's edge. It is highly recommended to make a reservation at any restaurant as afternoons and evenings are the busiest. One of Santorini's best swimming spots is hidden behind the bay. Not an official beach, but a rocky cliff, it is the perfect place for diving. For sunset, watch the Caldera cliffs as they are illuminated by pink, gold, and purple pastel light which compliments the tranquil Aegean waters as the day draws to a close.
14. Monastery of Profitis Ilias
The all-encompassing Monastery of Prophet Elias is located near the village of Pyrgos on the summit of the eponymous mountain. It is a 26-minute drive from Fira. You can book your trip by organized bus tours, or for those more adventurous, you can hike to the monastery. It is built at the highest point on the island, so it has tremendous views.
It was built in 1711 in resemblance to a fortress. The religious site has its museum with a collection of ecclesiastical items and Byzantine icons and sculptures. It holds an impressive bell tower and is surrounded by 4 other churches and chapels which are open to the public. Only a few remaining monks live here, producing wine, candles, and other local products.
13. Red Beach
This Greek beach gets its name from the unforgettable volcanic, red-hued sand. The color is a striking deep red, almost burgundy, which is unique to Santorini. The waterfront is surrounded by enormous volcanic rocks, and black and red pebbles, composing a wild scenery that captivates everyone who steps foot.
A 20-minute drive from Fira town, you reach Red Beach from a footpath which starts near the church at the beach parking. The path is prone to rock landslides, and since 2013 parts of the beach have been inaccessible. There is a sign forbidding entry. Nobody pays attention to the sign, yet it should be kept in mind that it will be your responsibility if an accident occurs. At the beach, there are sunbeds and umbrellas you can rent, however, you are welcome to bring your own.
12. Santo Winery
From the Santo Winery terraces, you can indulge your senses and intrigue your palate. Unique to Santorini, its agricultural heritage is rooted in volcanic soil. Assyrtiko is the dominant white grape variety. Open all year round, it is also home to a wedding ceremony venue, with a panoramic island view. Its location overlooks the impressive caldera, the volcano and the vast Aegean Sea – any time of the day stunning views are offered.
It is recommended to have the winery tour before the wine tasting so you have the chance to learn about the wine-making process. Utilizing state-of-the-art machinery, the wines produced are accompanied by delicious snacks. Direct buses are taken from Fira, Perissa, and Akrotiri.
11. Fira to Oia Hiking Trail
Walking from Fira to Oia is one of the best things to do in Santorini. Hike along the rim of a caldera, and pass through the glorious towns of Oia, Imerovigli, Firostefani, and Fira. A 10km stretch, the coastal walking path is a mix of pedestrian streets and dirt hiking trails. Starting early in the morning is the best, as it is not a very shaded pathway.
The path officially starts at Atlantis Hotel. It takes 3 to 5 hours, depending on the speed you walk, as well as how many stops you take. Be sure to bring plenty of water, protection from the sun, a hat for coverage, and comfortable walking shoes. Just follow the signs along the way as the path is well marked. The trail is open year-round.
10. Therasia
The island of Therasia (Thirassia) makes an ideal destination for visitors who want to enjoy the sunny ambiance of Santorini, minus the crowds. The largest of the five small villages, also called Therasia, has only around 150 inhabitants. It's reachable on the caldera side by a long flight of steps up the cliff.
The smaller isle boasts the same picturesque architecture as Santorini, and the population shares the same traditions and customs. Whether enjoyed as a day trip or a weekend getaway, Therasia offers visitors an authentic Greek island experience. You can visit the island by taking a 10-minute water taxi ride from the harbour of Ammoudi or Fira.
9. Ancient Thera
Situated on high cliffs jutting out into the sea between the beaches of Kamari and Perissa, Ancient Thera features ruins that were excavated in the early 1900s. The ancient tombs, monuments and remnants of homes, churches and fortifications represent a broad range of post-Minoan periods.
First settled by the Dorians in the 8th century BC, it also consists of Roman and Byzantine ruins. Standout features include Roman baths, 4th-century Hellenistic structures and a shrine to Apollo marked with 8th-century graffiti.
Thera was the religious and commercial center of the island. Much like everywhere else in Santorini, this place also offers stunning panoramic views of the surrounding islands. There are trails from Kamari, Perissa, and Pyrgos to Mount Vouno, and others, the longest being 5km long.
Once the capital of Santorini, the inland city of Pyrgos sits atop a hill that offers stunning views of the island from every direction. The remains of a Venetian castle perches on the hill's summit.
Within the castle walls is a church believed to have been constructed in the 10th century. Relatively unspoiled by tourism, Pyrgos features some of the finest examples of medieval architecture on the island. The village is surrounded by wineries, many of which offer tours and tastings. The dessert wine known as vinsanto produced here is considered one of Greece's best.
7. Museum of Prehistoric Thera
Located in the capital city of Fira, the Museum of Prehistoric Thera is one of Santorini's most important cultural attractions. Opened in 2000, the museum features treasures unearthed at the Akrotiri dig, including an extensive collection of colorful frescoes. A depiction of women gathering saffron from crocus flowers offers insight into the daily lives of the island's early inhabitants.
While frescoes of swallows are easy to understand, as swallows still roost on the cliffs of the caldera, a depiction of blue monkeys has scholars baffled. Historians have found no evidence that monkeys ever lived on Santorini.
6. Kamari Beach
The largest beach on Santorini and the most popular, Kamari is located along the seashore of the village of the same name. The town and beach get their name from the small arch or "kamara" wedged into the cliffs at the southern end of the beach, the remains of a shrine dedicated to Poseidon.
Notable for its black sand and pebbled shoreline, Kamari is the most developed beach on the island, and the beach is lined with hotels, bars and nightclubs. Next to sunbathing and people watching, snorkeling and scuba diving are popular activities.
5. Akrotiri Excavations
Known as the "Minoan Pompeii", the flourishing town of Akrotiri was at once destroyed and preserved around 1500 BC by a volcanic eruption. The town wasn't discovered until the 1860s when workers collecting dirt for the construction of the Suez Canal stumbled upon the site.
An outpost of Crete, Akrotiri was settled by Minoans as early as 3000 BC and reached its peak after 2000 BC, when it developed trade and agriculture and settled the present town. Some of the structures are three stories high with stone staircases and stores of large ceramic jars and pottery. Recently reopened to the public, Akrotiri offers visitors a unique glimpse of what life in Santorini was like during the Bronze Age.
4. Perissa Beach
Perissa Beach is almost a mirror image of Kamari Beach, which is located on the northern side of the rocky headland separating the two stretches of black sand. With fewer restaurants, bars and clubs, Perissa is slightly less developed than Kamari and a bit less crowded.
The sand is of a finer grain too, which makes it preferable for long strolls on the beach. Water taxis are available that make it easy for travelers to visit both beaches. A dive center located in Perissa village offers snorkeling and scuba diving trips.
3. Nea Kameni
The Santorini volcano's grand eruption occurred nearly 3,700 years ago, blowing the top off the original island. Sea water rushed into the caldera, forming a massive lagoon that's so deep that all but the largest cruise ships can anchor in the harbor.
There are two small volcanic islands at the center of the caldera, Nea Kameni and Palea Kameni (New & Old Kameni). Nea Kameni is a barren island, visited daily by dozens of tourist boats throughout the summer. Visitors climb a gravel path to reach the top of the 130-meter (430-foot) high volcanic crater, where it is possible to complete a full circuit of the rim.
The capital of Santorini, Fira boasts one of the most spectacular locations of all the island's towns and villages. Perched along the edge of the sky-high caldera, the city's white sugar-cube-shaped buildings offer incredible views of the shoreline and the Aegean Sea, especially at sunset when the entire town is bathed in golden light.
The central streets of Fira are filled with all kind of shops, jewelries, restaurants, cafes, bars and nightclubs and get very crowded in the high season. Visitors who arrive by sea can reach Fira by climbing the zigzagging staircase up the face of cliff. Less adventurous travelers can whiz to the top in a cable car.
Famed for its stunning sunsets, Oia can be found in the northern part of the Caldera, overlooking the volcano and the island of Therassia. Labyrinth-like alleys, stunning, panoramic hotels, whitewashed houses: it is famous worldwide for its authentic Cycladic beauty. The myriad of colorful laneways can only be explored on foot.
Oia was once home to a prosperous merchant fleet that traded with countries on Mediterranean Sea during the 1800s and early 1900s. Although part of the city was destroyed by earthquake in 1956, remnants of its seafaring past endure. Elegant sea captain's houses occupy the best part of town and offer the most impressive views of the caldera.
Get lost and wander the streets for sapphire blue domes. You can stumble upon windmills and art galleries. The Maritime Museum is a must-see site. This is the place to spend a day on a boat, to finish the day watching the spellbinding sunset. Or, watch the sunset from the Castle of St Nikolas; Oia comes alive during these twilight hours.
Map of Things to Do in Santorini, Greece
Share this post:
Greece Travel Guide
How to Spend 1 Week Island Hopping in Greece
Where to Stay in Santorini: Best Towns & Hotels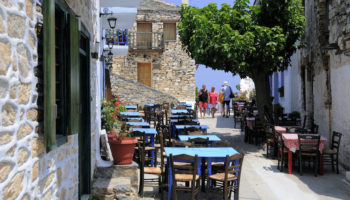 4 Most Beautiful Sporades Islands
18 Top Attractions & Things to Do in Thessaloniki
18 Top Attractions & Things to Do in Corfu, Greece
How to Spend 2 Weeks Island Hopping in Greece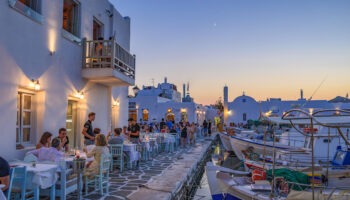 26 Top Tourist Attractions in Greece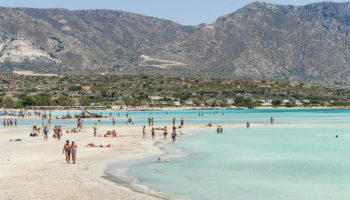 10 Largest Islands in Greece
43 Best Greek Islands
Reader interactions, leave a reply cancel reply.
Your email address will not be published. Required fields are marked *
This site uses Akismet to reduce spam. Learn how your comment data is processed .

Visit Santorini: Top 17 Things To Do and Must-See Attractions
Things to do in santorini: the 17 best places to visit (all highlights).
You're planning to visit Santorini during your next trip to Greece ? You're looking for the best things to do in Santorini?
You're at the right place!
In order to help you plan your stay , I have prepared for you this guide of the 17 best places to visit in Santorini , with all points of interest and must-see attractions.
In addition to this list of things to do and activities, I will also give you itineraries to visit Santorini in 1, 2, 3, 4 or 5 days as well as my selection of the best accommodations depending on your budget.
And as always, this travel guide contains all my best tips to make the most of your stay.
So, what to do in Santorini? Where to stay?
Let's start with the best places to visit on the island!
3. Santorini volcano boat trip
4. catamaran tour in santorini, 5. hiking from fira to oia, 6. santorini's best beaches, 7. the best watersports in santorini, 8. amoudi bay, 9. do a wine tour in santorini, 10. akrotiri, 11. the other best villages to visit in santorini, 12. quad bike tour in santorini, 13. helicopter flight in santorini, 14. ancient thera, 15. thirassia, 16. santorini's open air cinema, 17. what to do in santorini at night, 18. where to go shopping in santorini, 19. discover greek gastronomy,  the other best greek islands to visit around santorini, how many days to visit santorini, 1 day in santorini, 2 days in santorini, 3 days in santorini, 4 or 5 days in santorini, best hotels in oia, best hotels in fira, other best places to stay in santorini island, where to eat in santorini, how to get to santorini , renting a car in santorini, santorini and greece tours, renting a boat in santorini, tourist map of santorini, cyclades (greek islands), visit santorini: the 17 must-see attractions.
Fira , Santorini's capital, is one of the best places to see on the island.
During your trip to Santorini, you certainly want to
Discover the famous white and blue houses
Wander in picturesque narrow alleys
Enjoy chic boutiques and luxury hotels with infinity pools
Admire magnificent views of the caldera.
Well, you're lucky: Fira has all of this!
It's the perfect Cycladic town, a real postcard scenery.
Wander in the city's alleys and discover the breathtaking viewpoints of the sea and the caldera. You will for sure fall in love with the island (even if it's often crowded!).
From Fira, follow the beautiful walking trail to reach the villages of Firostefani (only a 10-minute walk) and Imerovigli (the highest point of the caldera, 30 minutes away from Fira). Plan at least between 1 and 2 hours , as you will stop every 2 meters to enjoy the view and take pictures!
You can also walk to the small port of Fira Skala. It's quite easy to get down the 587 steps, but getting back up can be more difficult, especially under the sun!
If you're too tired to walk, take Santorini's cable car. During this nice ride, you will admire the island from a different angle. A one way ticket costs 6€.
You can also get a ride on a donkey, but I wouldn't recommend it, as the animals are often abused.
If you're a History lover, or if you want to know more about Santorini, you can visit 2 museums in Fira:
The Museum of Prehistoric Thera , exposing vestiges discovered in Akrotiri (I will tell you more about it later) and other archaeological excavations on Santorini.
The archaeological museum  and its collection of remains from all Santorini, including vases from Akrotiri.
Fira is also a great place to enjoy the nightlife in Santorini: you will find the island's best bars, restaurants and night clubs!
Try to visit Fira early in the morning, to avoid most of the crowd. The temperatures will be cooler and your stroll will be more pleasant.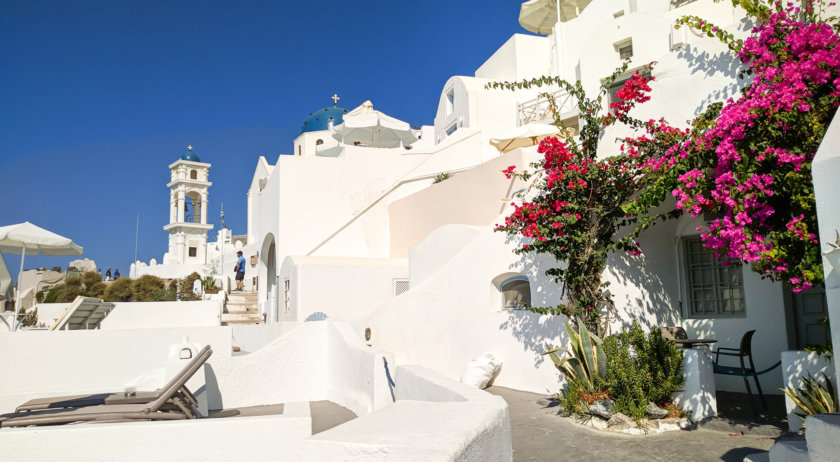 Together with Fira, Oia is the other must-see tourist attraction in Santorini.
As in Fira, you will be amazed by Oia's pretty white houses, churches with a blue dome, and splendid views over the entire caldera!
Oia is also known as the best place to enjoy the sunset in Santorini . At the end of the day, thousands of people are coming to the city for Santorini's most famous show.
When you've found the perfect spot to admire the sunset, sit down and don't leave it!
And if you're looking for a quieter and more romantic atmosphere, you should book a table in one of the many bars and restaurants . Watching the sunset while enjoying a drink is for sure an amazing experience.
Just keep in mind that you'll be asked for a minimum order amount per person. Don't worry: as the drinks are quite expensive, this amount will be easy to reach.
The best place to watch the sunset in Oia is the Byzantine Castle. Be there at least 1 or 2 hours before, so you can get a good spot.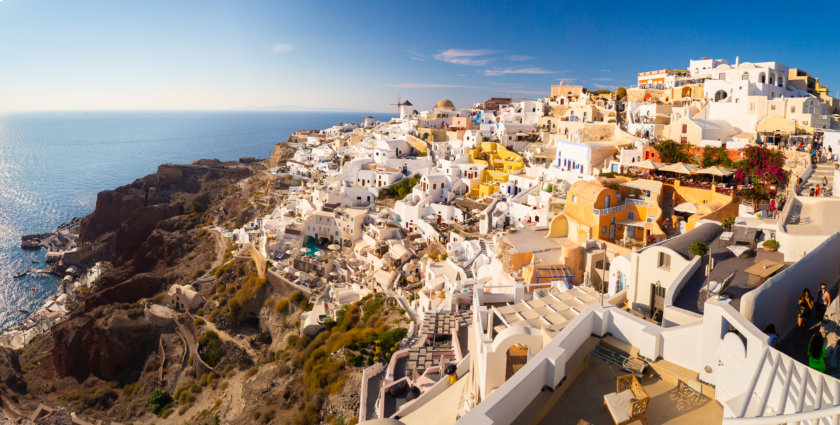 Boat trips are among the best things to do in Santorini.
The most famous tour is a 1-day cruise in the volcanic islands and Palea Kamini hot springs.
During this day, you will explore the island of Nea Kameni and its still active volcano. You can even walk to the summit of the crater!
You will also stop at Palea Kameni hot springs to take a dip.
Then, you will end your day on Thirassia island, located right in front of Santorini.
As these tours are very popular, you should really book yours in advance. It's very easy, you just have to click on the button below to view the cruise details and book it. For only 37€ per person, you will get the bus transfer from and to your hotel, an audio guide, the cruise and the 3 stops at the volcano, the hot springs and Thirassia!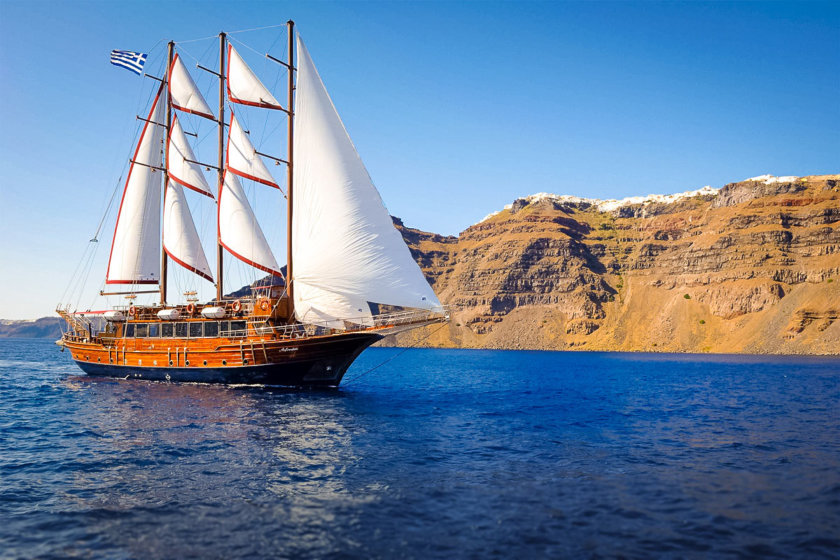 You can also choose a luxury version of this cruise, on a catamaran.
You will sail around Santorini, and enjoy 3 stops for swimming, including one at the hot springs. Snorkeling equipment is even included!
The price includes the minibus transfer from your hotel, the guided tour, the Greek Barbecue and unlimited soft drinks.
At the end of the day, you will also admire the beautiful sunset from the sea.
You're going to Santorini?
You probably know it: the hardest part of planning your trip is to find an hotel offering a good value for money!
The closer you get to your travel dates, the harder it will be to get a good deal. Lots of people will be visiting Santorini on the same dates as you , so you can be sure that the best deals are booked extremely quickly!
Hopefully, there is a pretty simple solution to this problem: do like me and book your hotel as early as possible!
So, my best advice is to take 5 minutes (now) to have a look at the list of travelers' favorite hotels in Santorini.
And if you see a good offer, book it!
Most hotels offer free cancellation, so it's quick, easy, and you will avoid the the inconvenience of finding nothing but mediocre rooms at exorbitant prices.
To check the current best deals for your hotel in Santorini, simply click on the green button below 😎:
Once you've booked your hotel, it will be time to continue reading this guide and find out more about the best things to do in Santorini!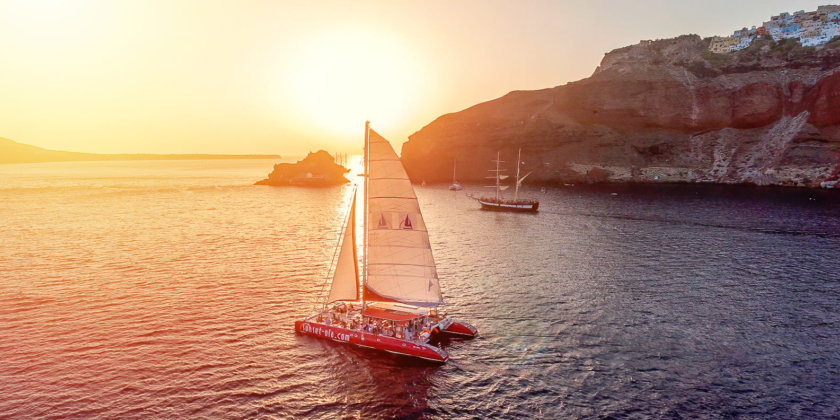 If you want to enjoy magnificent viewpoints of the island and the caldera, you should hike from Fira to Oia.
A 9-km long marked trail on the edge of the caldera connects the 2 cities. You will stop many times to take beautiful pictures, as the view is just breathtaking! It's clearly one of Santorini's best points of interest.
This marked trail isn't really difficult, even if the weather can get really hot on sunny days.  So, it's better to hike in the morning or at the end of the day. You can for example plan your walk to arrive in Oia for the sunset.
From Fira, you will reach Oia in about 2 hours . You should however plan a bit more time, as you will for sure stop a few times on the way to enjoy the panorama and take pictures.
For the hike, it's easier to park your car in Imerovigli than in Fira: there will be more parking spaces. As you will only walk from Imerovigli to Oia, you will do the Fira-Imerovigli part of the trail when visiting Fira.
You should hike from Fira to Oia, and not from Oia to Fira. The most beautiful part is the view over Oia at the end of the trail.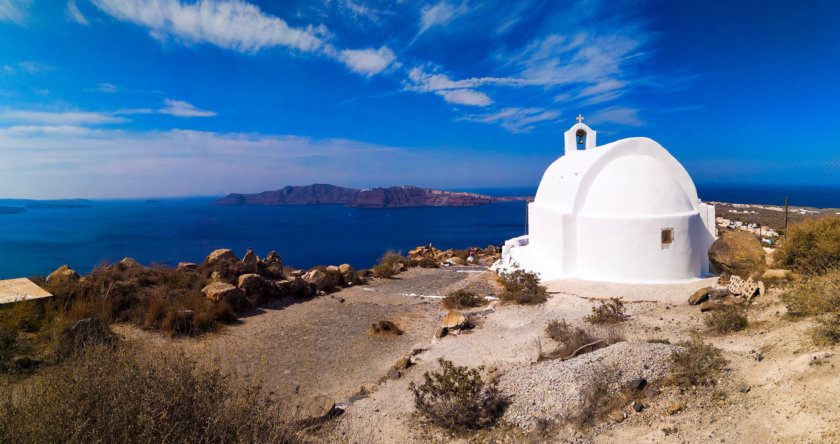 It's impossible to do a definitive guide about Santorini without mentioning the best beaches of the island.
If you want to take a dip in Santorini, the most famous beaches are:
The beaches of Perissa, Perivolos and Agios Georgios: large black sand beaches with snacks and taverns
Kamari Beach, another large black sand beach, where you can rent deckchairs and enjoy many nautical activities.
The Red Beach, named after the volcanic ochre cliffs surrounding it. You can get there in only 5 minutes by a trail.
The White Beach, right next to the Red Beach. You will need take a boat to get there.
Vlihada Beach and its white rocks.
Monilithos Beach, ideal with children with its shallow waters.
Kolumbo Beach, only accessible by foot, and frequented by nudists.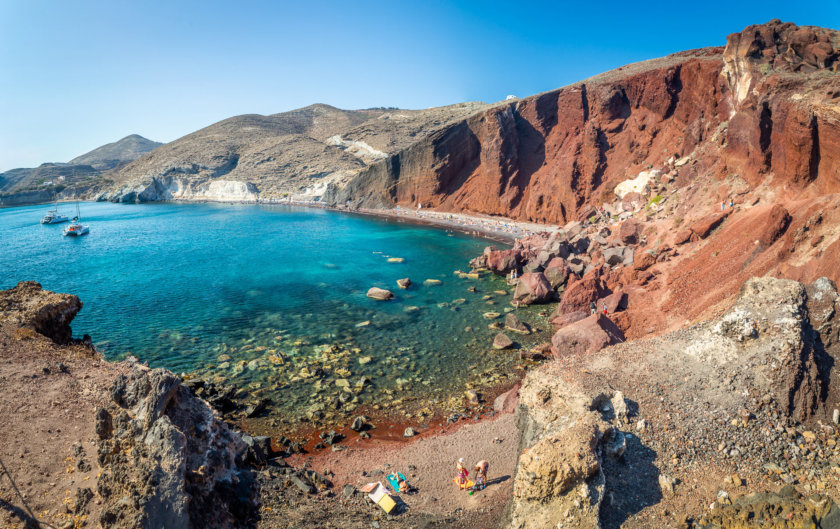 At the main beaches, you can also enjoy a few amazing water sports!
I won't hide it, my favorite water sport in Santorini is for sure the 1h30 jet ski tour with an instructor.
You will also have the choice between several different routes starting from Périvolos. You will be able to discover the beaches and the volcano of Santorini!
It's really an unforgettable experience that needs to be booked in advance by clicking on the button below:
During your trip to Santorini , you can also try other great activities. Simply click on the links to book them in advance (they are extremely popular):
Jet ski rental from the Perissa beach
A first dive with an experienced instructor or a dive on one of the most beautiful spots in Santorini if you're an experienced diver.
A parasailing session , to enjoy a panoramic view of the island!
A kayak tour (small group), to discover the most beautiful landscapes of Santorini from the sea and without the crowds
A windsurfing course
A Stand Up Paddle excursion (always in small groups)
A Flyboard session or of Hoverboard , the 2 trendy activities on the island!
Take a kiteboarding course for beginners or rent a kiteboard if you are more experienced.
Amoudi Bay is a small fishing village located below Oia.
You can get there walking down the 300 steps stairway starting from Oia. You can also drive there, but if you do, don't go to the end of the road, as it's difficult to turn back. Just park your car along the road and finish on foot.
From Amoudi, the view of the ochre cliffs and Oia is really beautiful.
There are also a few nice taverns and restaurants on the seaside. It's perfect if you like fresh fishes!
And, if you want to take a dip in the sea, follow the trail after the restaurants. You will find a nice place to swim and dive into the water.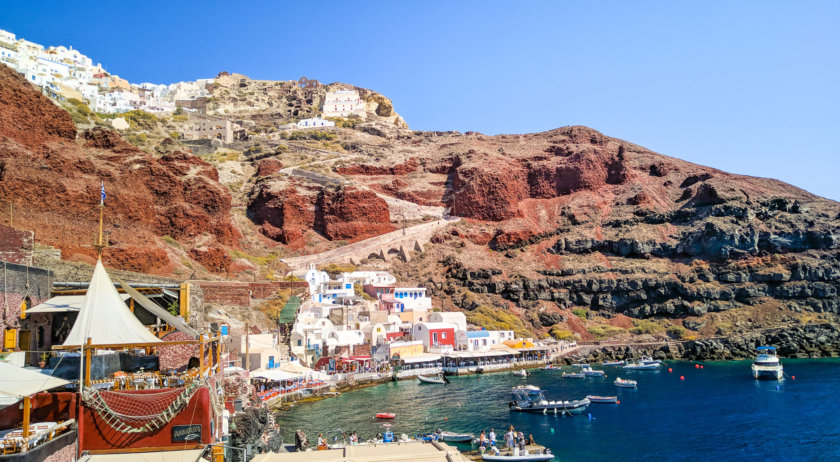 Wine Tours are among the most popular activities in Santorini. The island is renowned for its excellent white wines, known as some of the best in Greece.
You can visit many vineyards (known for being the oldest in the world!) on the island, and taste the best wines.
Here is the program of the best wine tour in Santorini:
This wine tasting tour in Santorini lasts around 5 hours and allows you to visit several wineries . During your day, you will visit 3 vineyards:
Boutari vineyard
 Gavalas traditional winery
The Estate Argyros.
You will also taste a dozen of Santorini's best wines, including the traditional Vinsanto and Nykteri! 
This tour includes the transfer from your hotel, an Oenologist guide, and an access to the vineyards. You will be in a small group of 8 people maximum, making this semi-private visit really enjoyable.
For more information and to book your tour, simply click the button below (it must be booked in advanced).

If you're interested in Santorini's History, the ancient site of Akrotiri is one of the island's best place to visit.
This archaeological site is often compared to Pompeii, in Italy . Akrotiri is an ancient Minoan city destroyed by a volcanic eruption in 1,613 B.C. It was only rediscovered in 1967 during an archaeological excavation. The site is one of the most important in the Aegean Sea.
The archaeological excavations are still on going in this very large site. Many remains are probably still undiscovered!
In Akrotiri, wooden footbridges allow you to walk in the city. There, you will admire the ancient buildings, the streets and many ceramics.
Unlike Pompeii, the city of Akrotiri was uninhabited when the eruption occurred, as no human remains or valuable objects were found on the site. What happened to these people? No one knows yet if they moved elsewhere on the island, or sailed to Crete .
During your trip to Santorini, you will certainly go to Fira and Oia. But don't miss the island's other villages!
Pyrgos is Santorini's highest village. It's a typical Cycladic village, with a traditional architecture and splendid views of the island.
Megalochori, with its picturesque narrow alleys.
Messaria, in the middle of the island and the vineyards.
Emporio, where you will find the Goulas medieval castle at the village's entrance. There are also many small churches.
To visit some of the villages of Santorini and get off the beaten track, you should opt for a quad bike tour with a guide .
The itinerary is really nice since it allows you to go through places where you would not necessarily have ventured by yourself or by car.
You will discover, among others, Emporio and its Venetian castle , the village of Megalochori , and stop at many viewpoints overlooking the caldera. You will also enjoy a tasting session in the oldest wine cellar of Santorini.
The tour lasts 3h30 and is a small group tour with a maximum of 6 people, which makes this quad bike tour in Santorini even more enjoyable!
To book your quad bike tour in Santorini , simply click on the button below:
If you feel like taking advantage of your trip to Santorini to try other activities , you'll find my selection of the best excursions and activities right here: The 17 best excursions in Santorini.
Wanna see Santorini from the most amazing viewpoint?
Let's take some height and go on a helicopter tour in Santorini!
It is the best way to admire the splendid landscapes of the island, the caldera, the volcano and the traditional white houses of Oia and Fira.
And for an even more incredible experience, you can also opt for the sunset tour . From the sky will certainly be the only place on the island where you can admire the sunset without the crowds!
It's really the perfect romantic activity, and a great idea for a surprise gift.
You need to book your helicopter tour of Santorini by clicking on the button below:
The Ancient Thera is another archaeological site in Santorini.
"Thera" is the ancient name of Santorini. In the Middle Ages, the island was then named "Santa Irini" by the Venetians which finally became "Santorini".
Located on Mesa Vouno Hill, Thera was founded in the 9th century B.C. During your visit, you will admire many vestiges from the Hellenic, Roman and Byzantine periods. Take a stroll and discover the remains of the temples, the agora, the theatre and the gymnasium.
You will also enjoy a nice view of the surroundings.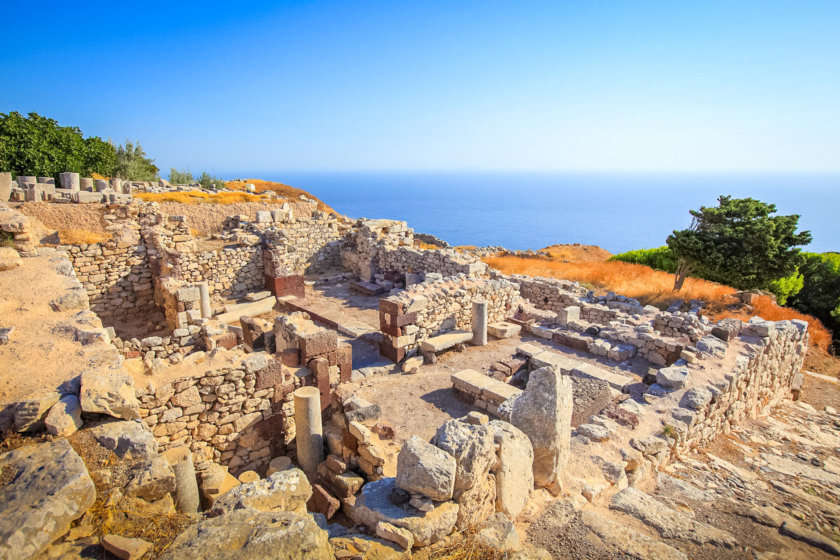 The island of Thirassia is located just in front of Oia.
This crocodile-shaped island was separated from Santorini by a huge volcanic eruption.
If you want to visit Thirassia, you can choose a 1-day boat trip (the one going to Nea Kameni's volcano and hot springs also stops there) or take the boat directly from Amoudi Bay.
The island is way quieter than Santorini. During your visit, you will enjoy the charming village of Manolas and its good taverns, and enjoy a splendid view of Santorini!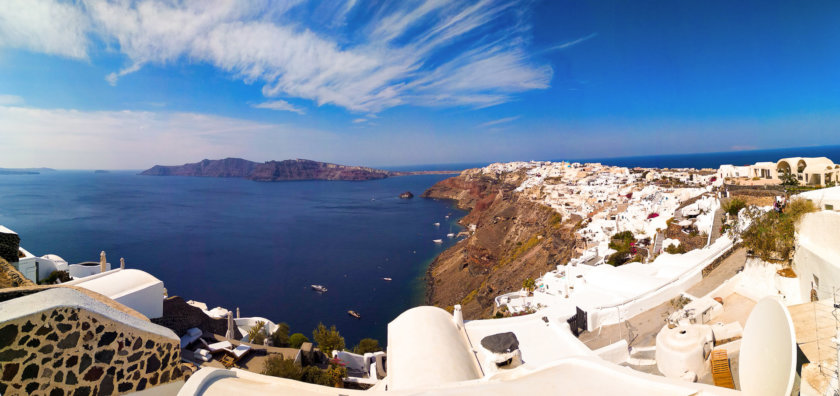 No matter if you're on a family trip or a romantic gateway in Santorini, you should definitely go watch a movie at the open air Cinema.
The Kamari Open Air Cinema , or Cinekamari, is an outdoor movie theatre located in the middle of the forest. It's a really original and nice place to watch a movie.
From May to October, you can see movies in English (subtitled in Greek) every night starting from 21h30. It costs 8€ per person.
There's also a bar on the site.
Don't hesitate to check the official website   for more information.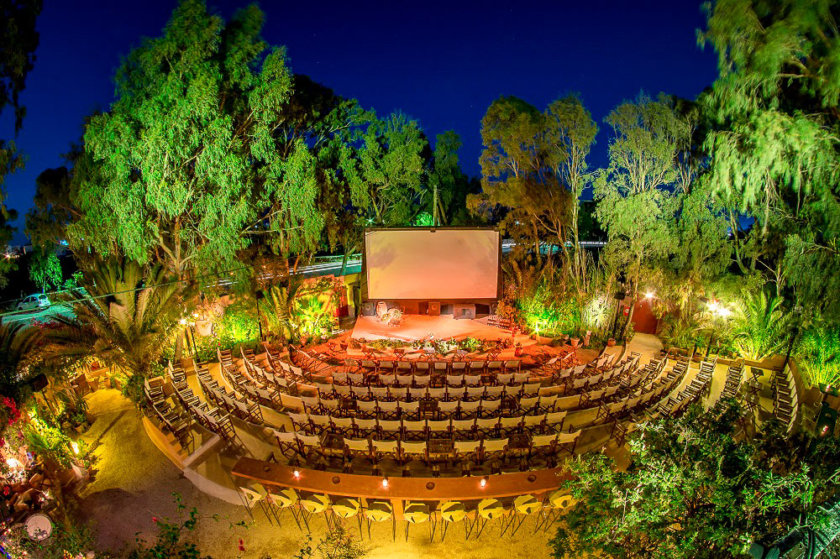 If the cinema is a bit too classical for your taste for an evening in Santorini, you should rather head to the most famous show of the island: The Greek Wedding Show .
This open-air show skillfully mixes theater, comedy, music and typical Greek dances on the theme of a traditional wedding.
You will even be invited to the wedding banquet where you will be served an assortment of Greek mezze accompanied by fine Santorini wines. And you will not deviate from an old tradition of any good Greek wedding: breaking the plates!
The show is really of excellent quality, very entertaining and immersive . You will really feel like you have been invited to a wedding.
The Greek Wedding show takes place every night at 9:30 pm in Fira and lasts 2 hours.
You must book your seats in advance by clicking on the button below:
If you feel like doing a a bit of shopping in Santorini, it's very simple: you will have to go to Oia or Fira .
The 2 most famous villages of Santorini concentrate all types of stores: clothing, luxury, jewelry and souvenirs . You can also find traditional Greek handicrafts and art galleries .
However, do not expect to find good deals because the prices are quite high compared to the rest of Greece.
What are the local specialties you should try?
Among the typical dishes of Santorini, you can try:
Bean puree made from a specific bean of the island, the fava
Tomato fritters made from a local tomato variety
Saganaki, cheese wrapped in filo pastry and fried
Minced meatballs
Moussaka , which is of course one of the most famous dish in Greece
Gyros, the best option for a cheap meal in Santorini!
Fish , which you can try in one of the taverns in Ammoudi or on the east coast of Santorini
If you've seen most of Santorini, you can take the ferry and visit the islands located nearby:
Ios, the closest island to Santorini. There, you can relax all day at the beach and party all night long.
Amorgos , the best place to hike, there are many marked trails.
The Small Cyclades , if you want to enjoy quieter and less touristic islands (at least for the moment!).
Naxos for its beautiful beaches
Mykonos, where you can dance all day and night long with the best DJs in the world!
If you want more details about the other islands around Santorini , you should read my detailed article: The 15 best Cyclades Islands .
You can also visit  this website   to check the ferries rates, schedules and book them.
Ideally, you should spend at least 3 days in Santorini. You can visit Fira and Oia on your 1st day, then explore the rest of the island, go on a tour, or relax at the beach during the next 2 days.
Here are my recommended Santorini itineraries depending on the duration of your stay:
You're spending 1 day in Santorini? Then, you will have time to visit the island's most famous villages!
Here are the best things to do in Santorini for 1 day:
Start your day in Fira. Visit the city, and go to Firostefani and Imerovigli, the 2 villages nearby.
Have a drink on a terrace, and stop in one of the 3 villages for lunch.
After a good meal, it's time to hike from Imerovigli to Oia.
Then, visit the magnificent village of Oia.
If you still have some time (and if you're not too tired!), walk down the stairs to Amoudi Bay.
Enjoy the sunset in Oia, the best place to admire it in Santorini.
If you don't feel like walking too much, you can take a guided bus tour . You need to book it in advance here.
During the day, you will visit the archaeological site of Akrotiri , then stop at the Red Beach and discover the village of Emporio. You will also swim in Perissa, taste wines and admire the sunset in Oia.
This excursion is a great way to discover the best of Santorini in only 1 day!
For more details, you should read my dedicated article: One day in Santorini .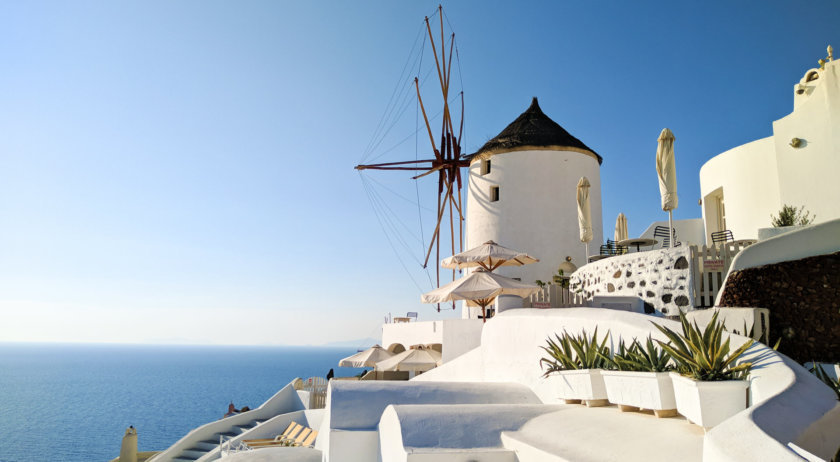 If you have 2 days in Santorini , in addition to the first day described above, you should do a boat-trip to Nea Kameni. You will walk to the top of the volcano and take a dip in the hot springs.
You can book this tour by clicking here . And if you prefer a more luxury version in a catamaran, it's right here!
This cruise is clearly a must-see attraction in Santorini!
To learn more about the best things to do in Santorini in 2 days, you should read my article: 2-day Santorini itinerary .
If you're spending 3 days in Santorini, in addition to the 2 days above, you can visit the island's other villages and the ancient site of Akrotiri.
Then, how about ending your day at one of the many beaches?
If you want more info and tips to visit Santorini in 3 days, you should read my dedicated article: 3 days in Santorini: the perfect itinerary
You've planned 4 or 5 days in Santorini? You're lucky! In addition to all the best places to see on the island, you will have time to take another tour, like Santorini wine tasting tour . You will taste 12 of the island's best wines.
There are also other interesting activities to do in Santorini:
If you're interested in Greek gastronomy , then you have to try  this 1-day tour . It combines a Greek cooking class with the tasting of local wines . Needless to say it's amazing 😍.
And if you're a photography lover , book a tour of the island's most beautiful places with a professional photographer. It's clearly magical!  You must book it in advance right here.
Where to stay in Santorini
You must know that  staying in Santorini,  especially in the villages of the  caldera like Oia and Fira , is  quite expensive.
If you want a  less expensive accommodation , it's better to choose a hotel  outside these 2 cities .
And of course, even more in Santorini than in any other place,  book your hotels as early as possible!
To help you choose, I have made  a selection of the   best hotels in Santorini , depending on where you want to stay and your budget.
Aethrio Hotel:  Located in Oia, only a few steps away from the main square. You can rent double rooms, studio flats or apartments with balcony for most of them. The price starts from 160€ per night, breakfast included. Strong points: the swimming pool, the large rooms, the rooftop to admire the sunset.  It's one of the cheapest places in Oia, and it offers a great value for money!
Caldera Premium Villas:  Located in the centre of Oia. You will love the troglodyte suites with a breathtaking view of the sea and the caldera, starting from 290€ per night, breakfast included. Strong points: the pool, the design of the rooms, and the location.
Theodora Suites Apartment:  Located in the heart of the city. Studio flats with small kitchen, fridge, private terrace and hot tub, starting from 350€, breakfast included. What I loved: the hot tubs, the breathtaking view, the kind staff.
Andronis Boutique Hotel:  5-star hotel located in Oia. You'll enjoy large suites with a view of the caldera, private balcony and private hot tub or pool, starting from 800€ with breakfast included. Strong points: the idyllic scenery and the calm.  It's my recommendation for a one-week romantic stay in Greece!
Katikies Hotel – The Leading Hotels of the World:  This luxurious hotel offers rooms and suites with a great view, bathtub and spa. The price starts from 1000€ with breakfast included. What I loved: the pools, the spas, the splendid views and the food!  It's my recommendation for a luxury stay in Santorini!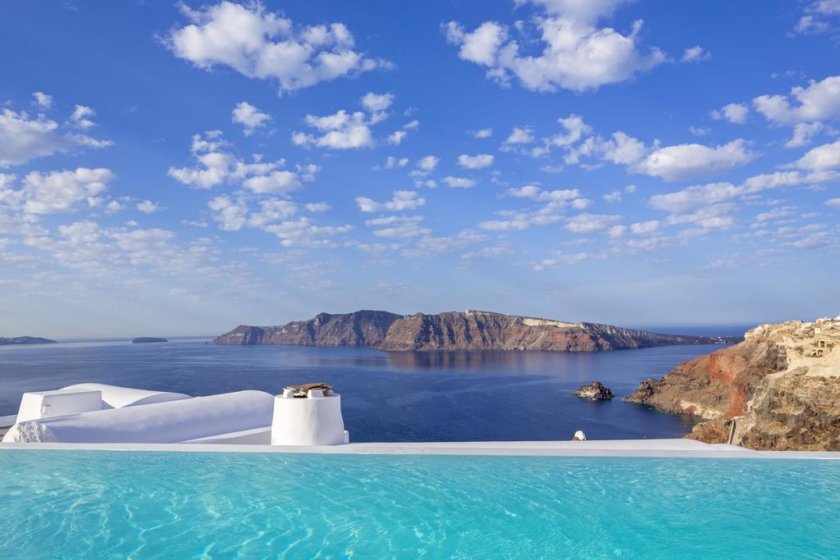 Galatia Villas:  Located 10 minutes away from Fira's city centre. The double rooms are quite basic but nice, and the price starts from only 80€ per night. Strong points: the hot tub on the roof, the kind staff, the great value for money for Santorini.
Lilium Santorini Villa:  Located on the edge of the caldera. These elegant and modern double rooms with sea view are available starting from 315€, breakfast included. What I loved: the pool, the exceptionnal location, the warm and welcoming staff.
Cosmopolitan Suites – Small Luxury Hotels of the World:   Located in the heart of Fira. You will enjoy lovely rooms with private balcony, decorated in the purest Cycladian style, starting from 550€ per night, breakfast included. Strong points: the infinity pool over the cliff, and the luxury hotel services.  This is the perfect place to stay with your lover in Santorini!
Aria Suites:   Located in Fira, this high standard hotel offers only 6 suites and luxury villas, fully equipped (you even get a laptop), starting from 700€ per night. What I loved: the magnificent place, the pool and the staff availability.  This is a great choice for a luxurious and romantic stay in Fira!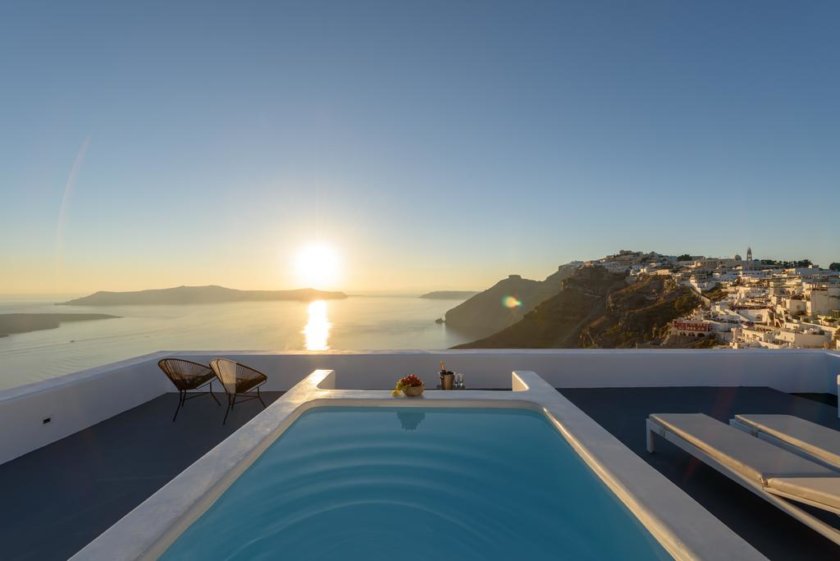 Memories Beach Hotel:   Located just accross Monolithos beach. These comfortable modern rooms starts from 65€ per night, with breakfast included. Strong points: the pool, the calm and the adorable staff.
Rose Suites:  Located in Vourvoulos, only 4 kilometers away from Fira. Those studio flats and apartments are well equiped and decorated, with a small kitchen and a private terrace. The prices are starting from 75€ per night. What I loved: the pool, the calm, the decoration. The fridge is also full with everything you need for breakfast. This is the best choice in Santorini for its exceptional value for money!
Hippocampus Hotel:  Located in Kamari, only 50 meters away from the beach. The rooms, with a view on the swimming pool or the garden, are starting from 85€ per night, breakfast included. Strong points: the pool, the ideal location close to the beach, and the really kind staff.
Meltemi Village Hotel:   Located in Perissa, only 5 minutes away from the Black beach. The rooms and suites with hot tubs are starting from 100€ per night, with the breakfast included. What I loved: the pools, the spa, and the great breakfast.  A great choice for a stay on Santorini's shore!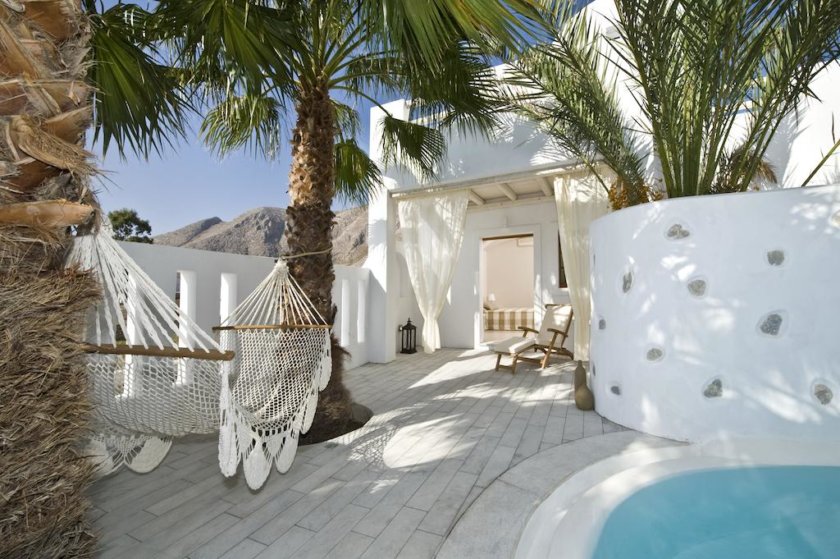 Wondering where to eat in Santorini? What are the best restaurants in Santorini?
If you want to enjoy authentic cuisine (and avoid the many touristy restaurants), I recommend you:
Pitogyros, a tavern located in Oia and serving mainly gyros. Very good, fresh and not greasy, it's approved by Voyage Tips!
Karma: a restaurant located in Oia serving an excellent cuisine at an affordable price for Santorini. I recommend their tomato fritters, fava with caramelized onions and moussaka!
Romantica in Firostefani: a good traditional cuisine, a very pleasant welcome, hearty and tasty dishes, we do not ask for more.
The cave of Nikolas: restaurant located at the waterfront in the old port of Akrotiri. A must if you like fish!
If you want to eat in any restaurant in Santorini, you should better have a reservation!
Most restaurants located on the caldera are far from being better than the ones located a little further away. Don't be mistaken: you are only charged for the view and not for the quality of the food.
If you want to visit Santorini, you have 2 possibilities to get there:
By plane: Santorini has an international airport. Many companies offers direct flights, or connecting flights via Athens . The airport is located only 10 minutes away from Fira and 25 minutes from Oia.
By ferry boat: you can take the ferry from the Port of Piraeus (close to Athens) to Santorini. The journey times varies depending on the boats size and speed. It takes between 5h30 and 8h, and the prices are starting from 40€ per person.
There are also daily ferry connections between Santorini and other Greek Islands. You can get there from Naxos , Paros , Mykonos, Amorgos …
If you want to plan a ferry trip in Greece, and especially in the very touristic island of Santorini, you should book your tickets in advance.
Click the button below to check the schedules, compare prices and book your ferry tickets.
If you haven't rented a car for your trip to Santorini, (personally, I recommend you to rent a car to make the most of your stay – more about it below), you should book a transfer from Santorini airport or port in advance .
It's the easiest way to be taken directly to your accommodation on the island upon arrival. This will save you from waiting for a bus or a cab.
Book your airport or port transfer by clicking here!
If you want to visit Santorini, you should really rent a car. It's the most practical way to discover the island, especially if you're staying a few days. You can also rent a quad bike to reach some remote beaches, but in general, you can get everywhere in Santorini by car.
One of the nice surprises I had during my trip to Santorini is that all the parking spaces are free!
Whenever I'm renting a car abroad, whether I'm in Greece, in Malta or in Spain, I always book my cars on Rentalcars.com . It's my favorite website for the following reasons:
You can compare prices between all the car rental companies in Santorini. Choose the cheapest, or the one with the best customer's reviews!
You can get a "Full Protection Insurance" to be fully refunded in case of accident or theft (They have refunded me more than 1200 euros to date)
Cancel or modify your booking in 1 click!
Last but not least: they offer the "Best Price Guarantee" . If you find the same car cheaper elsewhere, they will refund you the difference! Click the button below to check rental cars prices in Santorini now:
On Voyagetips.com , I give you all my best tips and itineraries to plan your trip to Santorini and Greece by yourself. (Click here to read all my articles about Greece)
However, if you prefer to book a Greece tour with a travel agency , I recommend you to check the 10 best Greece tours by clicking the button below:
If you want to rent a boat for a nice day at sea during your trip to the Greek islands, you should book it with Samboat.
Motorboats, sailboats, yachts, small boats without a license, with or without a skipper: they simply have the most complete offer for boat rental.
So, what are you waiting for to book your boat trip in Greece? 😊
I have made a tourist map of Santorini for you , to help you picture what the island looks like and where the best places to visit are located. You can display the map legend by clicking on the top left button (the one with a little arrow).
Now that you know more about the best things to do in Santorin, what do you plan to visit during your trip?
Greece travel guides
Buy the Lonely Planet Greece guide on Amazon.com or on Amazon.co.uk
Buy the DK Eyewitness Greece guide on Amazon.com or on Amazon.co.uk
You're traveling to Greece ? These articles will help you !
Discover all my articles about Greece : All my articles to help you plan your trip to Greece are listed there.
The 20 Best Things to do in Greece – The Ultimate Bucket list!
The 15 Best Things to do in Peloponnese – All the must-see attractions
Itinerary: 4-5 days in Greece – The perfect itinerary for a short stay in Greece
Itinerary: 1 week in Greece – The best Itinerary to visit Athens + Santorini!
Itinerary: 6, 7 or 8 days in Greece – The definitive guide to visit Athens + Peloponnese in a week
Itinerary: 10 days in Greece – The definitive guide to visit Central Greece in 9-10 days
Itinerary: 2 weeks in Greece – The best Itinerary to visit Athens + Central Greece + Cyclades (Santorini)
Itinerary: 3 weeks in Greece – The best Itinerary to visit Athens + Central Greece + even more Cyclades islands!
Itinerary: 1 month in Greece – The definitive guide to visit Greece in a month!
Road trip in Greece – The best itineraries for 5, 7, 10, 15, 21 and 30 days.
Athens: The 20 Best Things to do and see
Thessaloniki: The 12 best places to visit
The 15 Best Cyclades Islands to visit – With all the must-see attractions
Itinerary: 1 week in Greek islands – How to visit the Cyclades in 6, 7 or 8 days
Itinerary: 10 days in Greek islands – The definitive guide to visit the Cyclades in 10 days!
Itinerary: Greek Island Hopping routes – The best 2 weeks itinerary to visit the Cyclades
Amorgos: The 8 best places to see
Andros: The 7 must-see attractions and activities
Naxos: Top 10 things to do
Paros: The 10 best places to visit
Tinos: The 10 best things to do
Rhodes: Top 12 best places to visit
You're using Pinterest? Here is the picture to pin!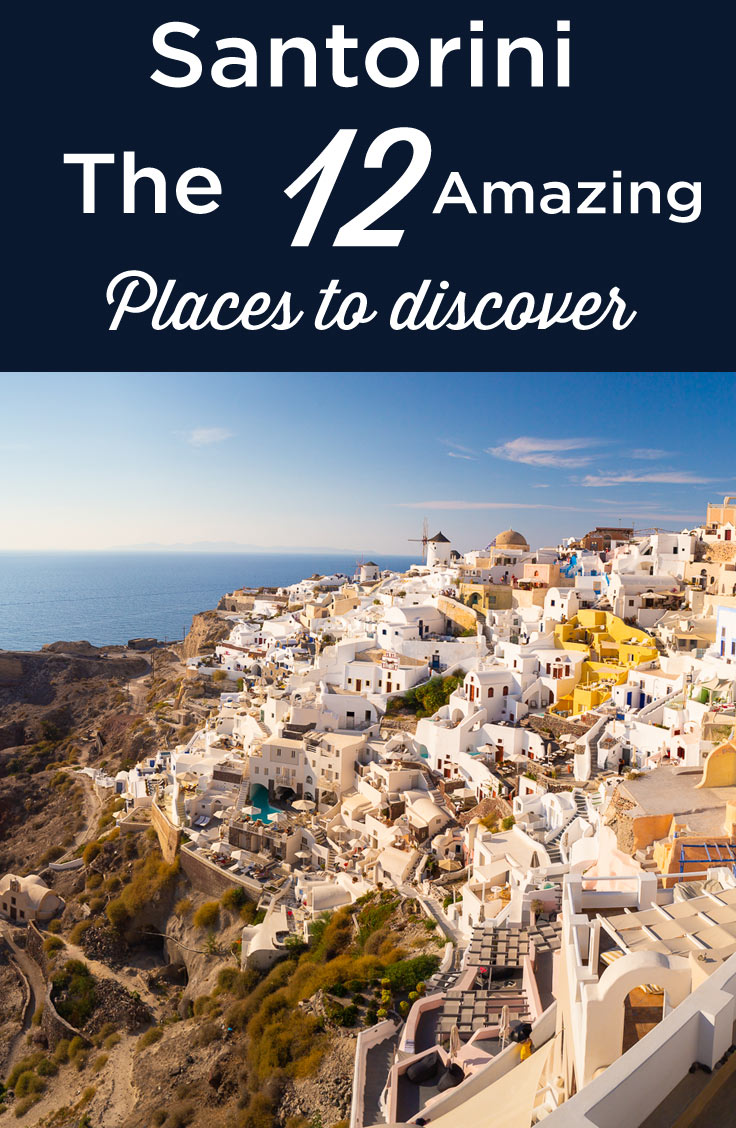 Creator of the Voyage Tips blog, travel and photography lover. I give you all my best tips to plan your next trip.
Related Stories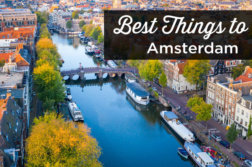 31 Epic Things to Do in Amsterdam (Perfect First Time Visit)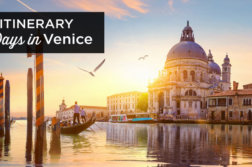 4 days in Venice: the perfect itinerary (for a first time visit)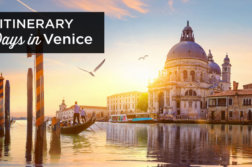 2 days in Venice: the perfect itinerary for a weekend + tips
Leave a reply cancel reply.
Your Name (required)
Your Email (required)
Your Website (optional)
Save my name, email, and website in this browser for the next time I comment.
Middle East
North America
Cheap car rentals: my best advice
Back to Homepage
Meet the Team
Talk to The Broke Backpacker
Czech Republic
Netherlands
Switzerland
Scandinavia
Philippines
South Korea
New Zealand
South Africa
Budget Travel
Work & Travel
The Broke Backpacker Manifesto
Travel Resources
How to Travel on $10/day
Home » Europe » Santorini
13 BEST Places to Visit in Santorini (2023)
When you think of Greece, you probably think of white buildings clinging to the side of a cliff beside blue waters. Basically, you think about visiting Santorini. This island is popular amongst both luxury and budget travelers for its scenery. And it has some of the best and freshest food you'll ever taste too. So, when you travel there, you'll find lots of famous and beautiful places to visit in Santorini.
Although most people have probably seen the cliff towns of Santorini, you might not know what else to do there. This part of Greece has a long and varied history, great food, and lots of beautiful places to see. To help you find all of them, we've created this list, so you can have the trip of a lifetime.
Need a place quick? Here's the best neighbourhood in Santorini:
These are the best places to visit in santorini, faq on the best places to visit in santorini.
Oia is one of the most charming villages on the island of Santorini. Located in the north, it is a picturesque village comprised of stark white buildings with bright cobalt domed roofs, as well as traditional cave houses, hotels, restaurants and cafes.
Climb down the 200 stairs to stunning Ammoudi Bay.
Hop on a boat and sail across the caldera.
Delve deep into history at the Maritime Museum.

Unlock Our GREATEST Travel Secrets!
Sign up for our newsletter and get the best travel tips delivered right to your inbox.
#1 – Firá
The capital of Santorini and the place where most of those cliff house photos are taken.
This is an incredibly beautiful area, but you'll need a good level of fitness to get around.
Why it's so awesome: Firá is everything that the beautiful, picturesque images of Greece claim it is. The houses are small and whitewashed, with winding lanes, terraces, and domed churches clinging to the side of the cliff. Its beauty has made it incredibly popular amongst tourists and cruises, so expect a lot of company when you explore this city.
What to do there: You'll want your camera with you at all times when you explore Santorini, but especially when you're in Firá. Whether it's scenic trails, tiny houses clinging to the edge of the cliff, or the bright blue water, this town is a postcard. Firá is mostly a tourist town now, which is why it's filled with hotels, restaurants, cafes, and jewelers. And these shops make it one of the best places to visit in Santorini if you love to explore and find hidden gems.
#2 – Red Beach – One of the nicer places in Santorini to sightsee!
One of the most unusual beaches you'll ever visit and a Santorini must see!
The beaches on Santorini are unusual because of the volcano, which gave them all unique colors that you won't see anywhere else.
Why it's so awesome: if you visit Santorini and expect to see golden sands with palms, then you'll be disappointed. Santorini is actually a volcanic island, and the beaches were created by its activity, which explains their many and unusual colors. Red Beach is named well. The sand is a dark, rich red that you won't see anywhere else. And it's surrounded by amber cliffs that dip down to the rusty sand and make for an incredible backdrop. A must-visit for anyone backpacking Greece !
What to do there: This beach can be hard to access because there's no direct path. You'll need to wear good shoes and hike in, and it's also not the best beach for sunbathing or swimming. The beach is too small, gets crowded, and the sand is lumpy and uncomfortable. However, this is one of the best places to visit in Santorini for taking stunning and unusual pictures. You'll want to keep your camera close when you visit this Santorini must-see because the contrast of the blue water against the sand is truly spectacular. Unfortunately, you won't be able to enter certain parts of the beach because they've been roped off due to landslides and erosion.
#3 – Oia – A beautiful and scenic place to check out in Santorini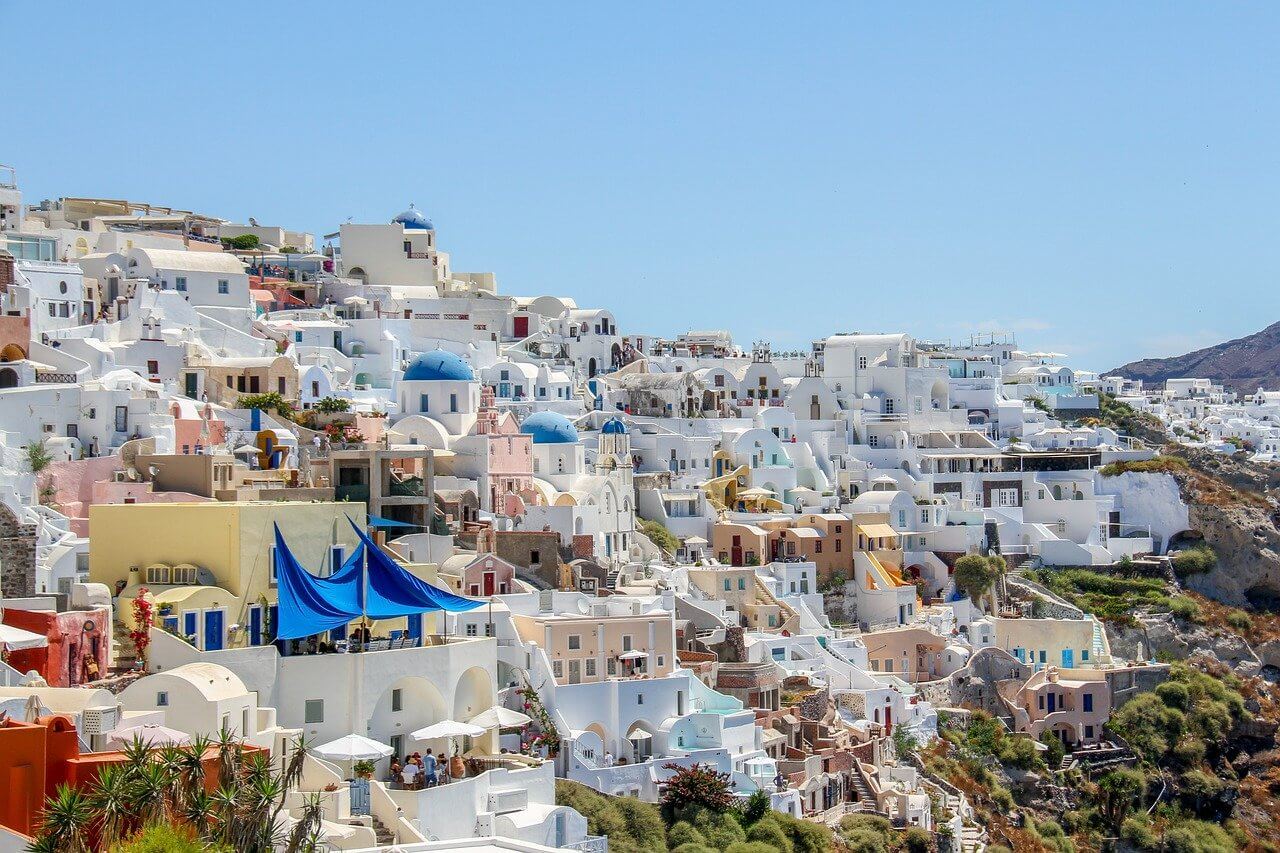 The sunsets in this Santorini must-see are world-famous.
Oia is 12 kilometers up the coast from Firá and is another village that's picture-perfect.
Why it's so awesome: Oia attracts more upmarket tourists most of the time because of the amazing quality of its boutiques and hotels. But it's still an incredible site for anyone who's visiting Santorini. The houses are picture-perfect, small and whitewashed and brightly colored. And many of them have been converted into boutique hotels that have infinity pools so you can soak and look out over the view.
What to do there: If you have the money, this is a great place to stay. It's a little expensive, but the views alone over the water are worth the money. They also have some great waterfront seafood restaurants. So, if you can't afford the hotels, stop in for a meal and enjoy the views that way.
#4 – Akrotíri Archaeological Site – One of Santorini's coolest historical sites!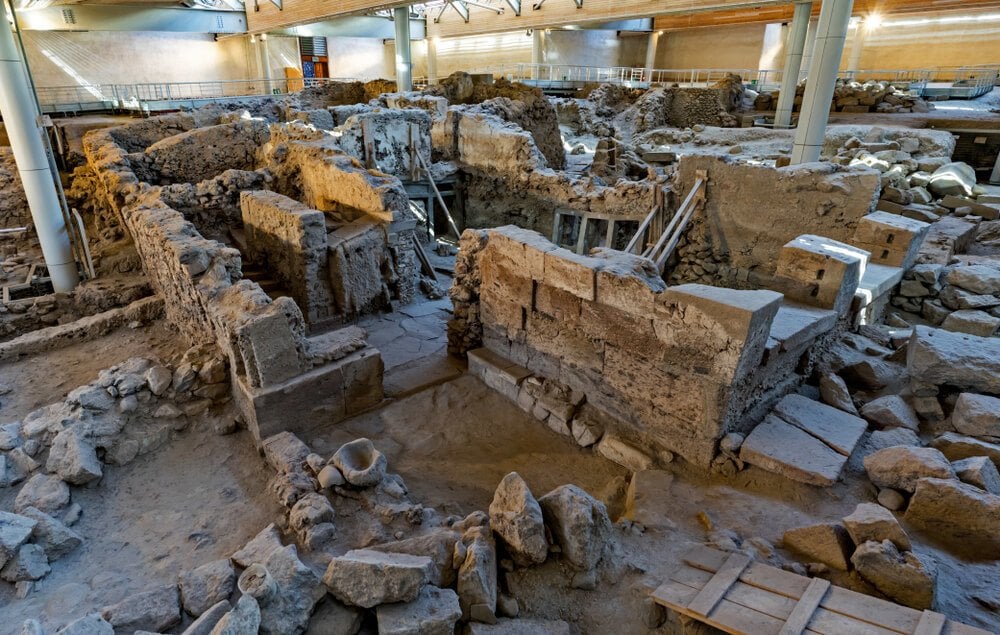 An ancient village that was perfectly preserved under volcanic ash in the 16th century B.C.
The city is incredibly well preserved, comparable to the more famous site at Pompeii.
Why it's so awesome: It isn't often that you get to walk through an ancient village, which makes this a Santorini must-do. Located 12 kilometers south of Firá, this Minoan settlement was suddenly buried after a volcanic eruption in the 16th century B.C. The explosion preserved the city's buildings, pottery, and drainage systems almost perfectly.
What to do there: When you wander the streets of this ancient town, you'll be able to see just how advanced and prosperous it was. There are pathways through the debris that will allow you to check out everything from the multiple levels of the clay buildings to the surprisingly advanced drainage systems. Also, make sure that you check out the frescos that remain at the site, which detail Santorini's connections with North Africa.
#5 – Prophet Elias Monastery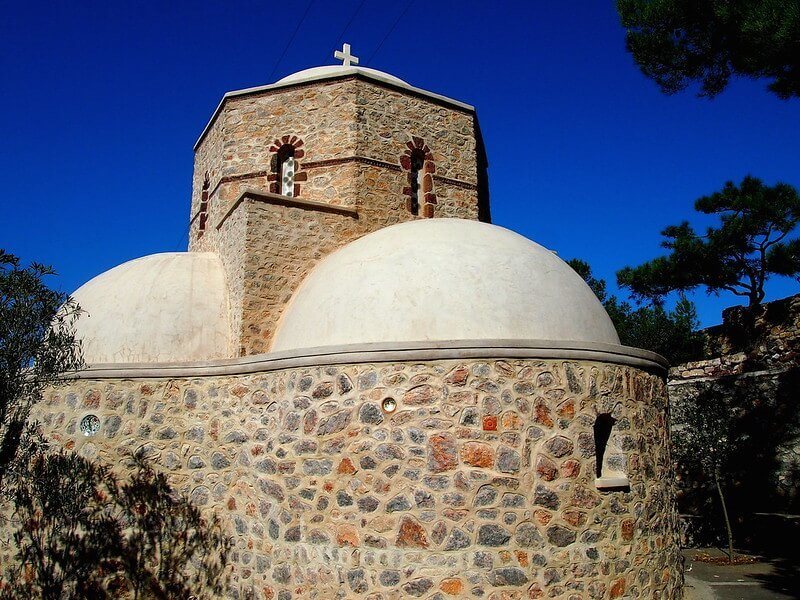 There are lots of churches around Santorini, but this is one of the oldest and has the best views.
You can explore the monastery and then head over to the shop to buy some local products.
Why it's so awesome: This monastery was built at the highest point in Santorini, which is why the views are simply spectacular. It was built in 1711, making it one of the oldest churches around, and has a little shop that sells local products you can take home as souvenirs.
What to do there: Once you get up to the Monastery, check out the views. From the garden, you'll be able to see the entire island, so take lots of pictures to show friends and family back home. Explore the monstery and then spend some time in the shop. You can buy candles, olive oil, wine or honey, all locally made.
#6 – Ammoudi Bay – A nice non-touristy place to visit in Santorini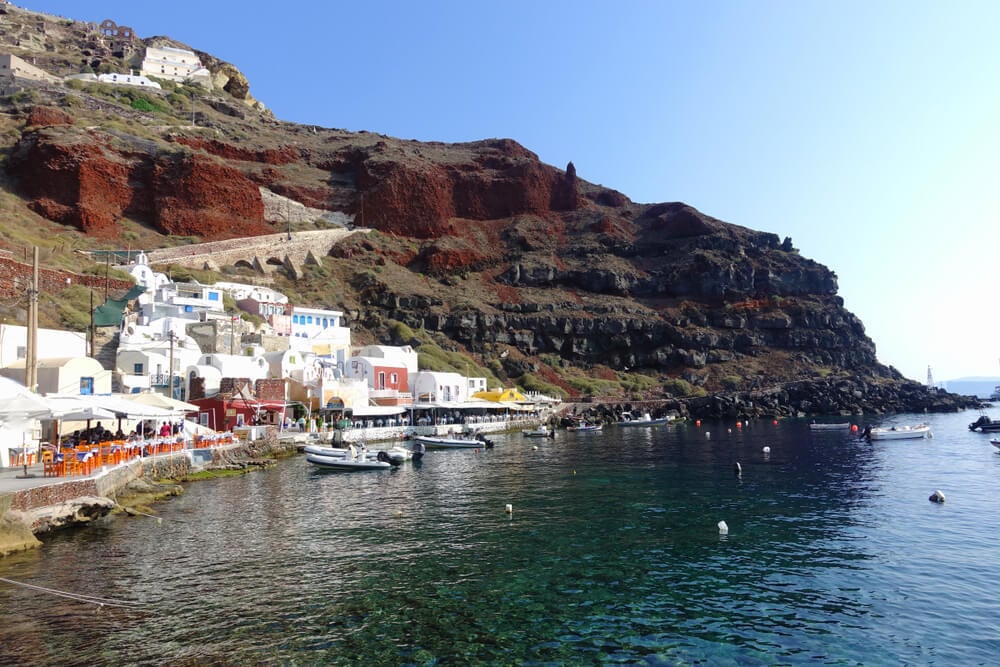 A tiny fishing village located in the lower part of Oia.
The water is perfect for swimming in this area and it also has some of the best seafood taverns in Santorini.
Why it's so awesome: if you want to get out of the heavily touristed areas of Oia, then head down to Ammoudi Bay. It's a tiny fishing village with a dock that leads to the clearest, bluest water you've ever seen, the perfect place to have a swim and relax. The restaurants in this area are also first-rate and some of the best places to eat in Santorini.
What to do there: Get away from the crowds and take a dip in the bay. The craggy coves make for a peaceful and relaxing swim away from the crowds and tourists. Afterwards, wander through the Greek seafood tavernas and see what looks good for a meal. The most popular is Katina's tavern, where you can sit inches from the sea while you're eating your meal.
#7 – Kamari Beach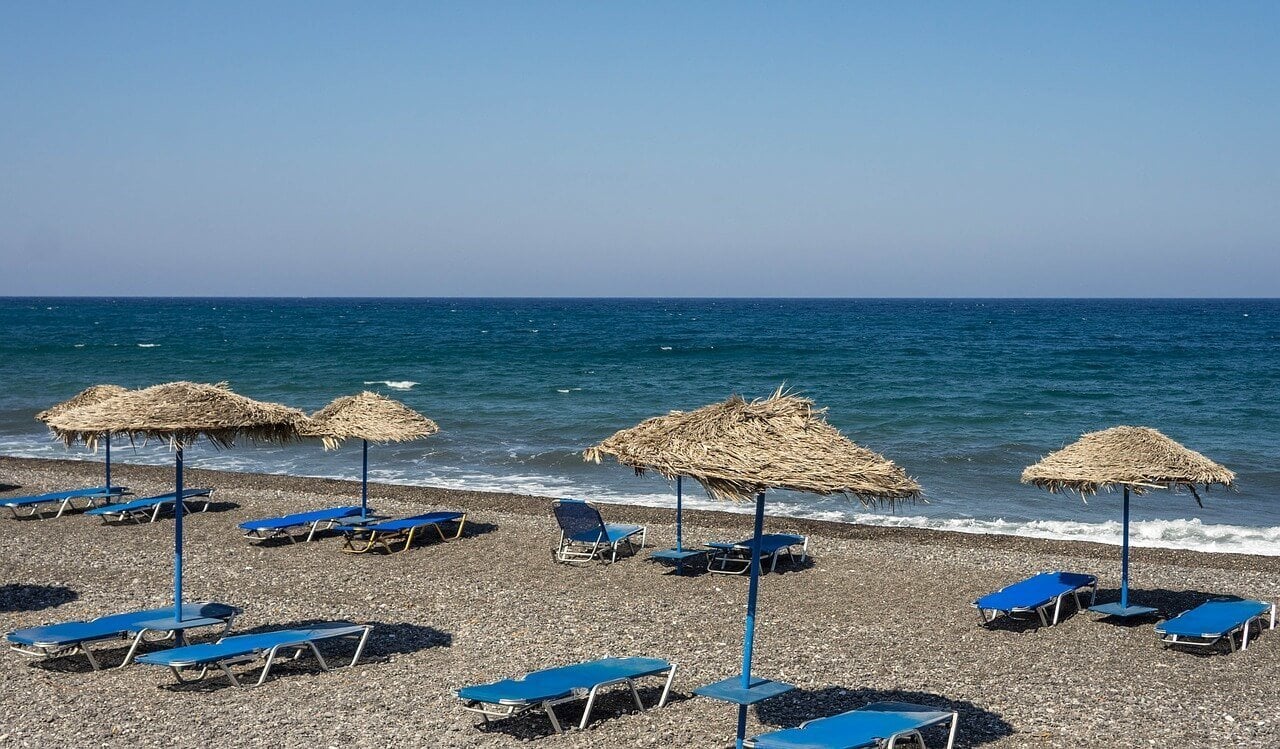 One of the most popular places to visit in Santorini, and for good reason!
This beach is formed from volcanic sand and is actually black.
Why it's so awesome: Kamari beach is one of the largest in Santorini and offers a long stretch of pure black sand. This is one of the most popular points of attractions in Santorini, and the area is crowded with hotels, bars, restaurants, and tiny shops for you to explore.
What to do there: You'll probably need at least a day to enjoy everything that this Santorini must do has to offer. The water is clear and blue, but you may need footwear on the beach because the sand is hot and pebbly. You can also take advantage of the available lounge chairs and umbrellas to enjoy the heat. And once you're done with the beach, wander the surrounding streets, stop for a meal, and explore the shops.
#8 – Ancient Thira – A perfect place to visit in Santorini if you are on a budget!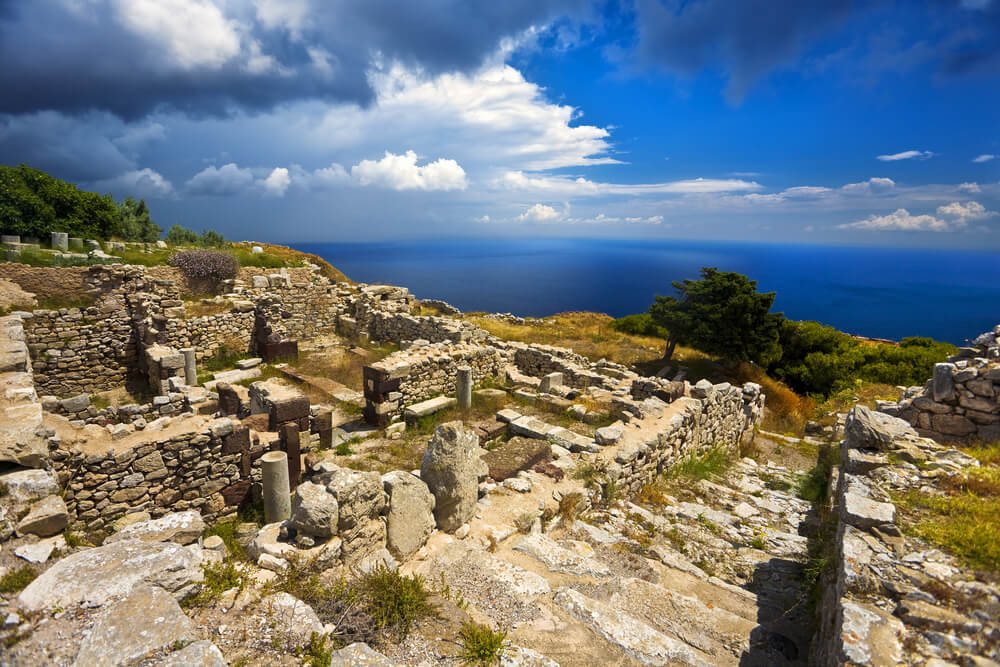 A less touristed archaeological site that offers all the same architectural wonders without the crowds or the high price.
The views from this area are spectacular, so make sure you have your camera with you.
Why it's so awesome: If you want to explore all the historical landmarks in Santorini but are put off by the prices at other sites, then try Thira. It's harder to access because you'll have to walk up the mountain, but the price of admission is lower and the ruins just as good. Thira is on top of Mesa Vouna and contains ruins from the Greek Empire, Roman, and Byzantine eras.
What to do there: Take the scenic route up to Thira if you're reasonably fit. The walk will take you about an hour and it's a long, hot path, so take plenty of water and wear sunscreen and a hat. Once you're there, you'll see the ruins of religious sites, a gym, a theater, and government buildings. And the view from that high up is simply spectacular as well.
#9 – The Caldera – An awesome place to visit in Santorini for half a day!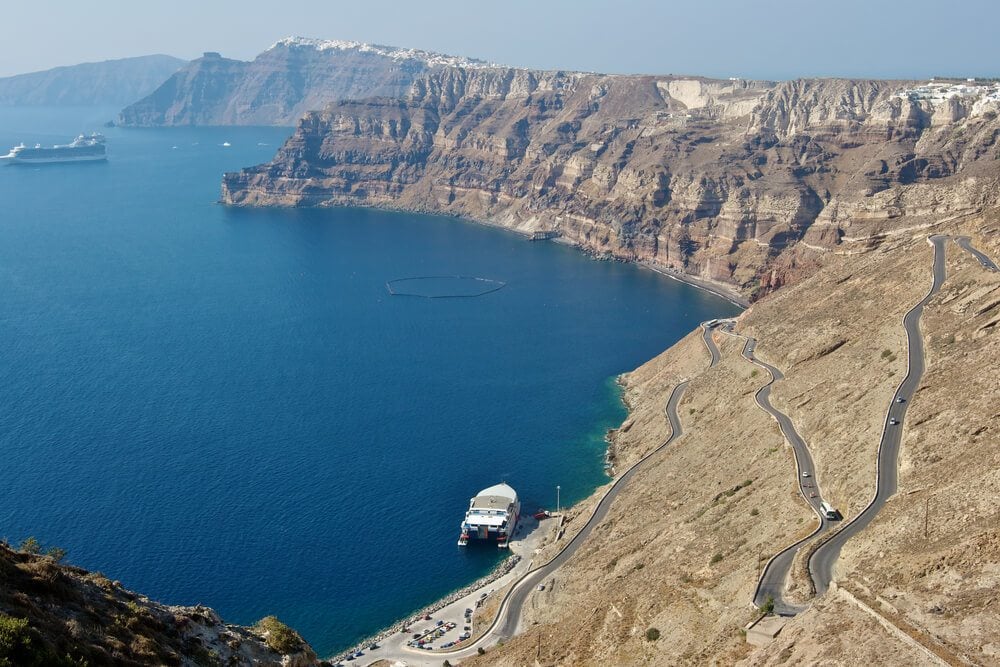 It's easy to forget the volcanic origins when you're visiting Santorini, but this place will remind you.
This is one of the most popular points of interest in Santorini, but it's also hot so make sure you wear sunscreen and a hat when you visit
Why it's so awesome: Santorini was created when a huge volcanic explosion ripped the middle out of the island around 3,600 years ago. What remains of this violent event is a sea-filled volcanic crater that's 12 kilometers by 7 kilometers. And this isn't an inactive volcano either. In the center are two islets called Kaiméni, complete with hot springs and gas emissions to remind you of the island's past.
What to do there: There are lots of tour companies that offer package deals that will allow you to explore the caldera (you get some pretty sweet catamaran cruises in Santorini ). Make sure that you explore the caldera by boat, stop by the hot springs for a soak, and then have lunch on Thirassia. This tiny island is on the west side of the caldera and offers amazing views.
We've tested countless day packs over the years, and now we've found our absolute favourite: the traveller-approved Osprey Daylite Plus .
Want more deetz on why we love it  so damn much?  Then read our comprehensive review for the inside scoop!
#10 – Museum of Prehistoric Thira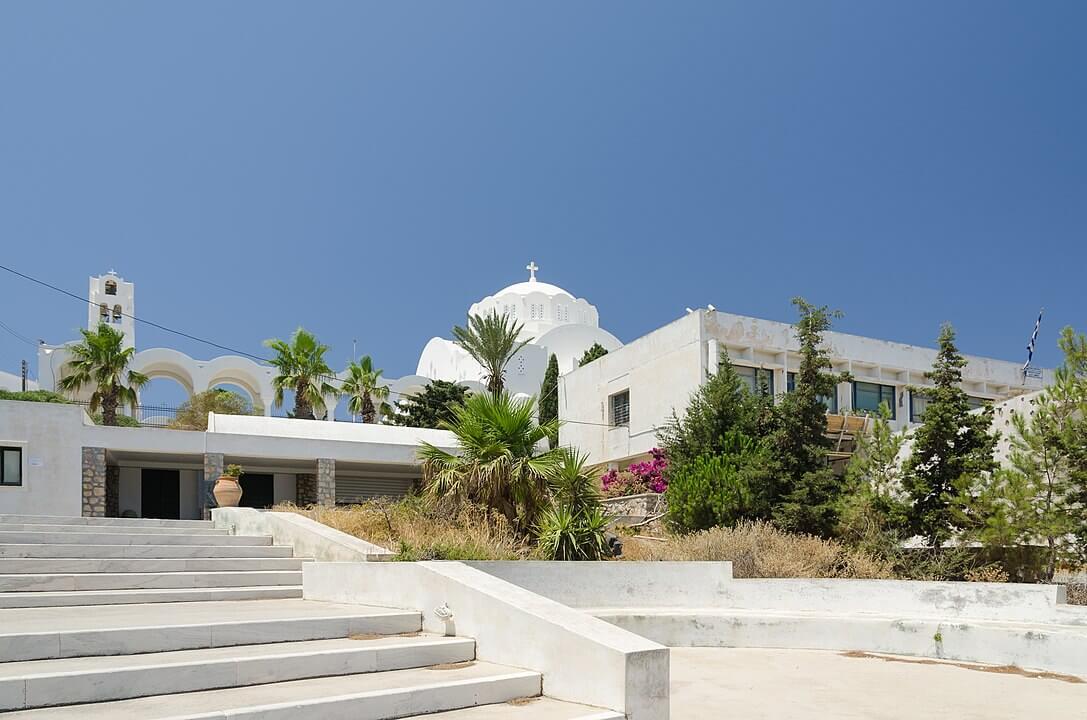 The best place to visit in Santorini if you want to learn even more about its ancient past.
This museum contains exhibits from a wide range of ancient civilizations that influenced Santorini's growth and development.
Why it's so awesome: Santorini has a long and varied history and you can see a small part of it in the archaeological museum in Firá. It's located close to the 1950's Mitrópolis church and contains the Blue Monkeys wall fresco, one of the top attractions in Santorini.
What to do there: It won't take you long to explore this museum because it's fairly small. But it's worth exploring the ancient artifacts on display, which include weapons, tools, painted ceramics, and marble figurines. Make sure that you take special note of the Blue Monkeys wall fresco.
#11 – Santo Wines – Cool place to see in Santorini with friends!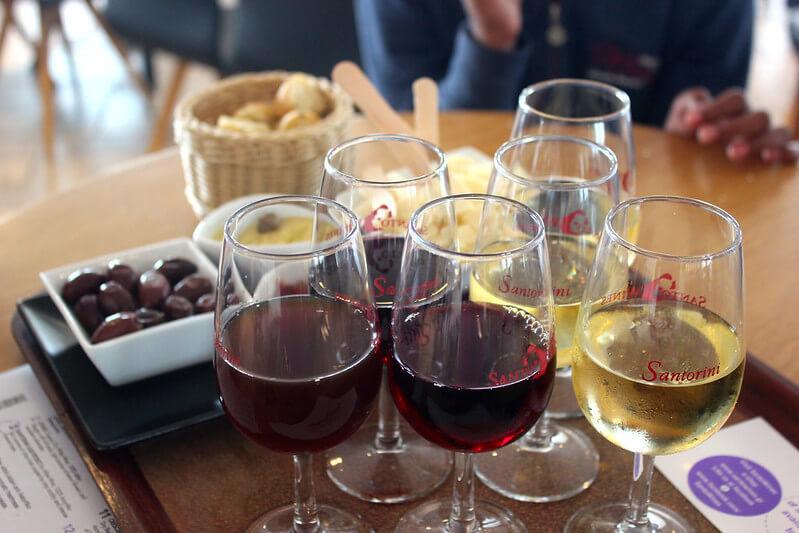 Santorini is one of Europe's best wine destinations, so make sure you try some the famous wine offerings.
The soil in Santorini is filled with volcanic sediment, which creates a unique flavor that you won't find anywhere else.
Why it's so awesome: Santorini is an unexpected wine destination, and yet it's one that the whole of Europe is aware of. The combination of the island's unique soil and growing techniques creates wine that's like nowhere else in the world. There are several wineries on the island, but Santo wines is one of the most popular.
What to do there: Santo Wines is the largest winery on the island and is also one of the most popular landmarks in Santorini. Take one of the tours and grab the chance to try the local wines. And if you're not sure what to try, then some of the best local offerings are a dessert wine called Vinsanto and white wines Nychteri, or Assyrtiko.
#12 – Kamari Open Air Cinema – Awesome place to visit in Santorini with kids!
Watching a movie under the stars is the perfect summertime activity, for adults and for kids.
This cinema is one of the best outdoor cinemas in Europe.
Why it's so awesome: There's nothing quite like gathering under a warm summer sky to watch a movie in the outdoors. The movies that these cinema shows are in English with Greek subtitles and there's a beer and concession stand on-site if you forget to bring food and drinks. But mostly, it's night outside, sharing a movie with friends, family, or the friendly locals.
What to do there: This cinema is open between May and October, and the movie schedule is available two months ahead of time. So, see what's on during your trip if you're in Santorini around the right time. You can't buy tickets ahead of time or online, so show up early on the night to ensure that you don't miss out. Take your family or your friends along with you, prepare some snacks, and have a fun communal night under the stars.
Be sure to check out our favorite itinerary for Santorini before traveling!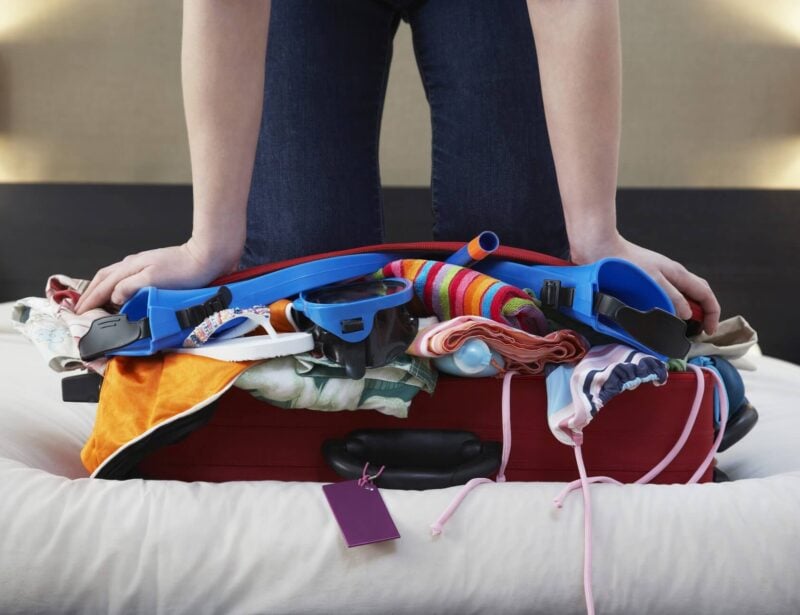 Wanna know how to pack like a pro? Well for a start you need the right gear….
These are packing cubes for the globetrotters and compression sacks for the  real adventurers – these babies are a traveller's best kept secret. They organise yo' packing and minimise volume too so you can pack MORE.
Or, y'know… you can stick to just chucking it all in your backpack…
#13 – Pyrgos – Great place to visit in Santorini for couples!
This small town used to be the capital of Santorini until it was replaced by Fira in the 1800s.
Now it's a bustling, upmarket town that's fast becoming one of the best Santorini vacation ideas.
Why it's so awesome: Oia and the other towns tend to get a bit crowded. But Pyrgos is quieter and less known on the normal tourist trail. This means you'll have a quieter time when you decide to explore this city, which was built on the ruins of an old castle and still holds remnants of that ancient history.
What to do there: Put aside a day to explore. Enjoy the quieter streets and make sure that you head down any narrow pathway that looks interesting. This town is full of labyrinthine streets and hidden passageways, so you never know what you might find. Pyrgos tends to cater for more upmarket tourists, so every street and house is picture-perfect. This combination of features also makes it an amazing honeymoon retreat for newlyweds.
Get insured for your trip to Santorini!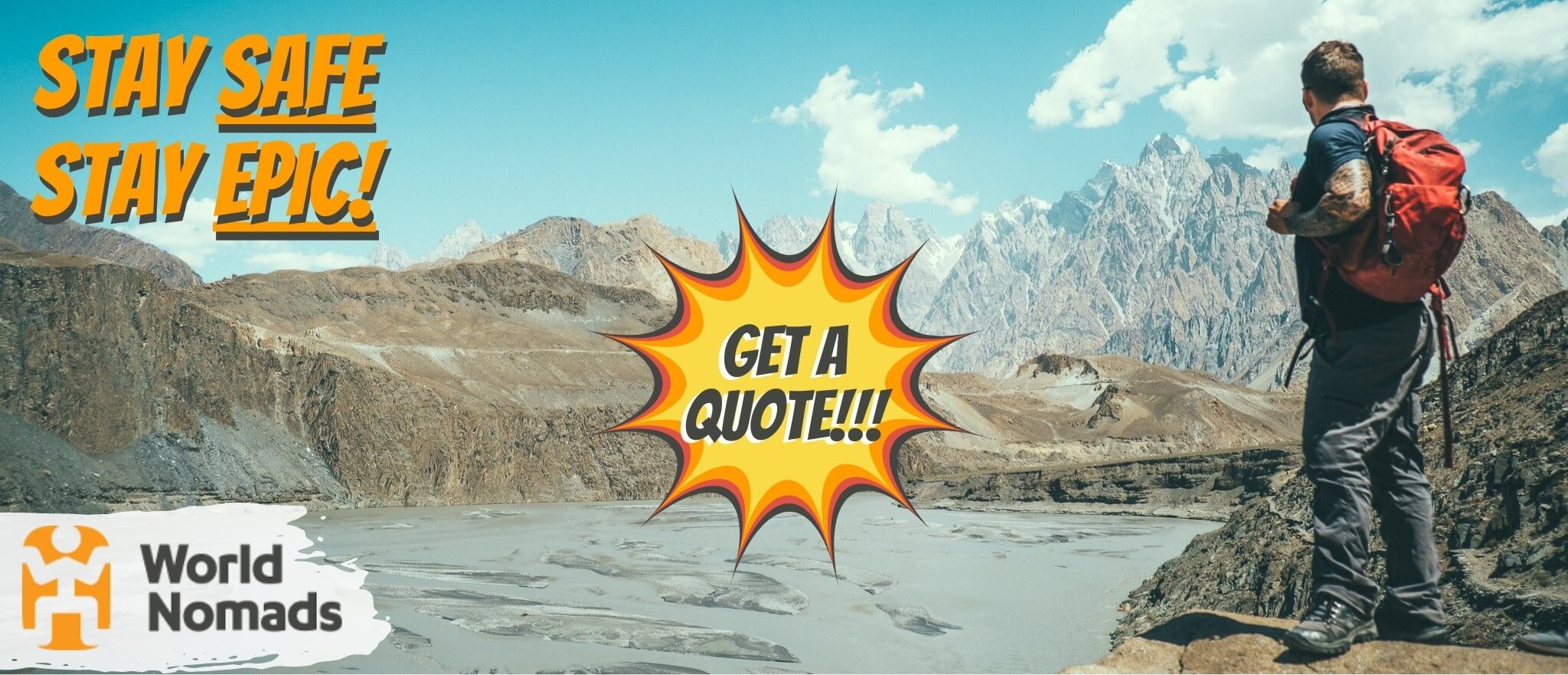 World Nomads ' mission is to support and encourage travellers to explore their boundaries. They offer simple & flexible travel insurance, and safety advice to help you travel confidently.
They've been doing it since 2002 – protecting, connecting, and inspiring independent travellers just like you.
Get a quote below or read our in-depth review!
World Nomads provides travel insurance for travelers in over 100 countries. As an affiliate, we receive a fee when you get a quote from World Nomads using this link. We do not represent World Nomads. This is information only and not a recommendation to buy travel insurance.
Find out what people want to know about the best places to visit in Santorini
What is the most beautiful place to visit in Santorini?
Oia is the most beautiful place in Santorini in my opinion. It's quieter than Fira and has incredible sunset views.
Where does everyone go in Santorini?
The most popular towns in Santorini are Fira, Oia, and Imerovigli.
What is Santorini famous for?
Santorini is famous for being a romantic, honeymoon destination with incredible sunsets overlooking the Aegean ocean.
Is Fira or Oia better?
Oia is the more popular destination but Fira has more activity as it is the capital of the island. The answer depends on whether you want a lively vacation or relaxation.
Final Thoughts on the Coolest Places to Visit in Santorini
Everyone wants to travel to Santorini as it is one of the most romantic places in the world . It has great weather, amazing food, beautiful scenery and the ocean. What's not to love? Visiting this part of the world is the trip of a lifetime, so you don't want to miss out on any of the best sights. And if you keep this list with you and use it as your guide, you'll be sure to see everything that you've ever wanted to see there. And you'll probably have a few unexpected experiences too!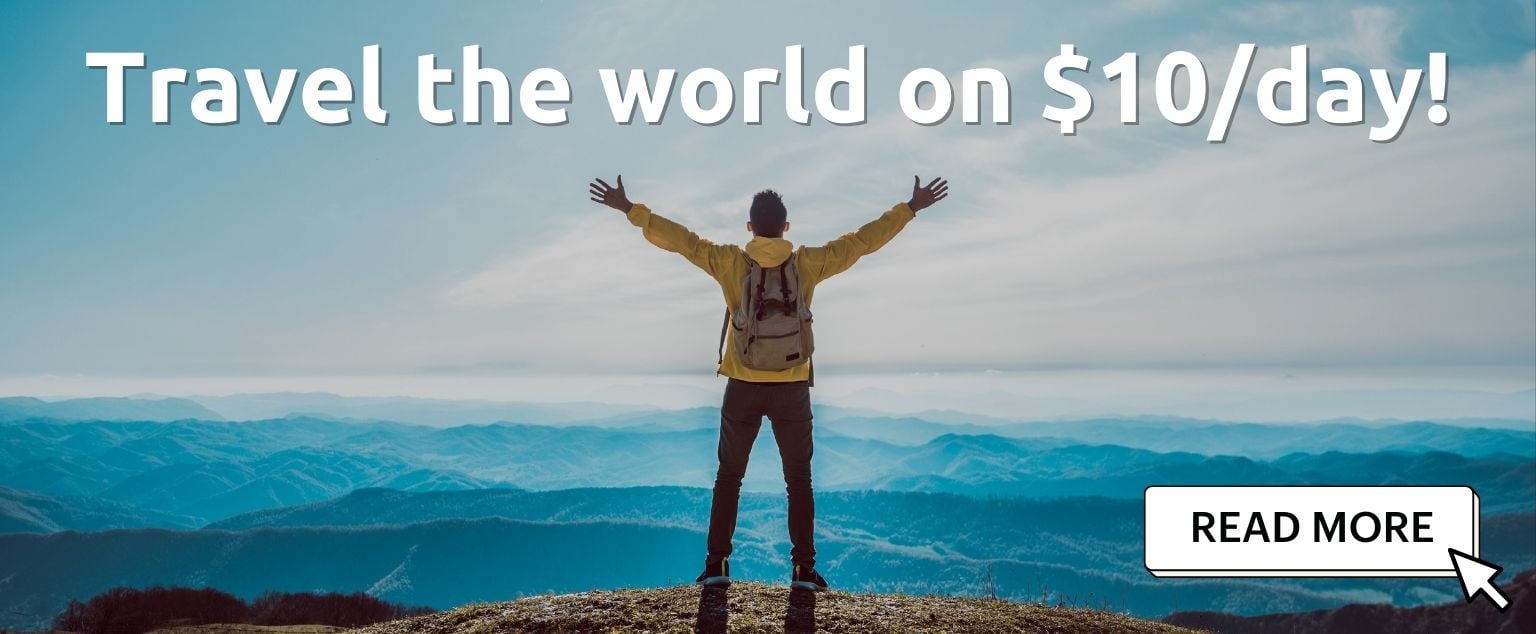 And for transparency's sake, please know that some of the links in our content are affiliate links . That means that if you book your accommodation, buy your gear, or sort your insurance through our link, we earn a small commission (at no extra cost to you). That said, we only link to the gear we trust and never recommend services we don't believe are up to scratch. Again, thank you!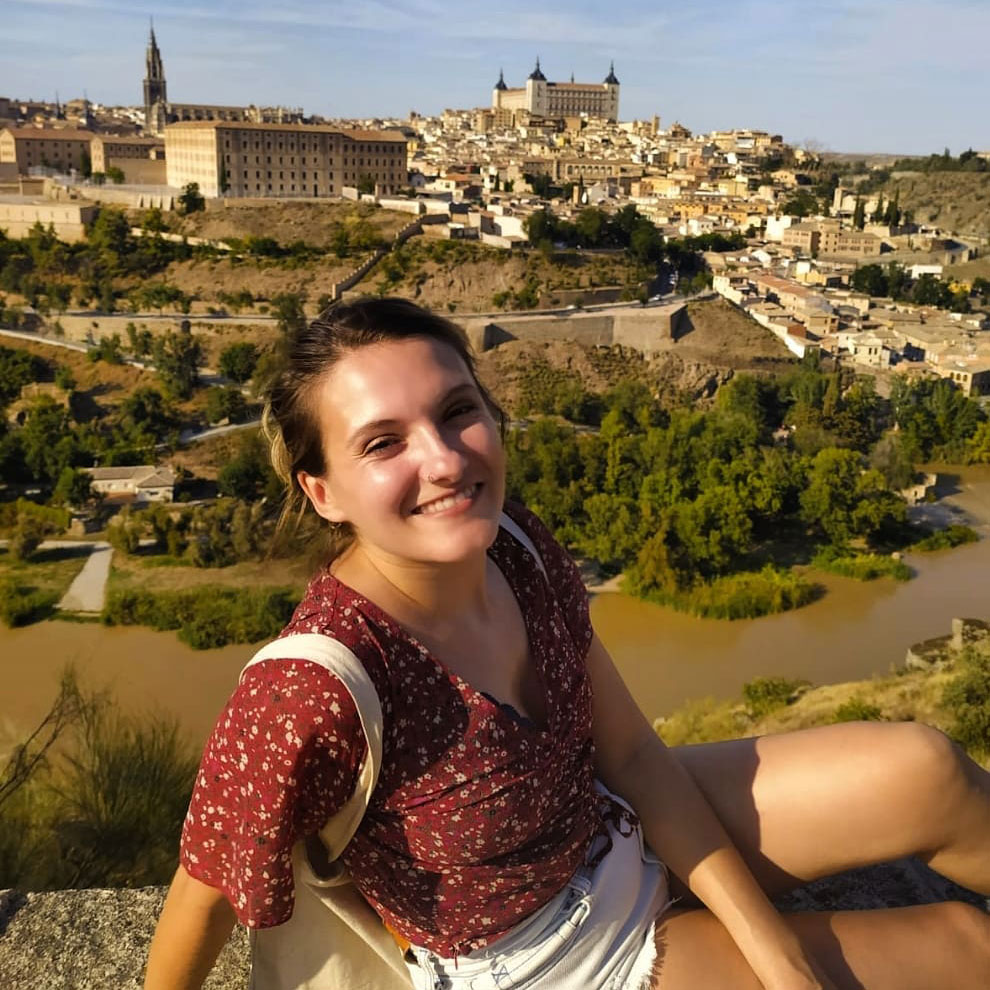 Mathilde Magnier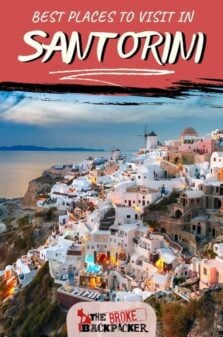 Share or save this post
Leave a Reply Cancel reply
Your email address will not be published. Required fields are marked *
Save my name, email, and website in this browser for the next time I comment.
First time Santorini: top tips to have the best time on this famed Greek isle
Dec 7, 2021 • 5 min read
Santorini is a dazzling star of the Greek Islands, and it's extremely popular with tourists © Andrew Mayovskyy / Shutterstock
Santorini is the supermodel of the Greek islands, a head-turner whose face is instantly recognizable around the world: multicolored cliffs soar out of a sea-drowned volcanic crater, topped by whitewashed buildings.
With its reputation for dazzling panoramas, romantic sunsets and volcanic-sand beaches, it's hardly surprising Santorini features on so many travelers' bucket lists.  If you're planning to join the crowd, here's what you need to know for your first trip to Santorini .
Part of the Cyclades island group, Santorini (officially known as Thira, a name that encompasses the volcanic islets within Santorini's orbit) sits in the Aegean Sea, roughly halfway between Athens and Crete.
The island is shaped like a wonky croissant, and the neighboring islets hint at the fact that Santorini was once circular. It was known as Strongili (the Round One). Thousands of years ago, a huge volcanic eruption caused the center of Strongili to sink, leaving a caldera (or crater) with towering cliffs along the east side, now Santorini's trademark landscape.
Beyond the views, Santorini's vineyards and volcanic beaches
Santorini's commercial development is focused on the caldera-edge clifftops in the island's west, with large clusters of whitewashed buildings nesting at dizzying heights, spilling down cliff-sides and offering gasp-inducing views from land or sea.  Fira , the island's busy capital, sprawls north into villages called Firostefani (about a 15-minute walk from Fira) and Imerovigli (the highest point of the caldera edge, about a 30-minute walk from Fira). A path running through these villages is lined with upmarket hotels, restaurant terraces and endless photo opportunities.
These three conjoined settlements draw most visitors, together with the stunning and quite exclusive village of Oia in Santorini's north. There's a growing number of hotels in the island's south, offering caldera views to the north and northeast. Akrotiri's views come cheaper than Oia's, but it's a fair way from the action of Fira.
Santorini's east coast is lesser known than the celebrated, elevated west coast. Here, the caldera-edge heights have sloped down to sea level, and volcanic-sand beaches and resorts offer a very different drawcard. East coast resorts such as Kamari and Perissa have a more traditional (and more affordable) island-holiday appeal: sunlounger-filled beaches, water sports, bars and taverna-lined promenades. The east coast's beaches are lined with black sand. On the south coast, there's a string of beaches famed for their multi-colored sand. The dramatic Red Beach is a traveler favorite.
The island's interior is dotted with vineyards and traditional villages that let you see beyond the tourist hustle. Make a stop in Pyrgos for great eats and a wander through charming backstreets.
Food, archaeology,  open-air cinema: things to do in Santorini
Sure, Santorini's views will stop you in your tracks and you'll get great glimpses into how A-listers travel, but there's plenty more to explore, from a gorgeous open-air cinema to a cool microbrewery , wine caverns adorned with artworks, and cooking demonstrations and classes  that celebrate Santorini's growing foodie culture.
The obvious prime activity on Santorini is to walk the caldera edge and admire the views. Walks in and around Fira are spectacular, particularly heading north to Firostefani and Imerovigli along the caldera-edge pathway. Keep walking and you'll eventually reach Oia, but be aware that this is no small undertaking and the trail beyond Imerovigli can be rough. It's about 5.6 miles (9km) in all, and a good four-hour walk, one way.
Santorini's lauded wines are its crisp dry whites and the amber-colored, unfortified dessert wine known as Vinsanto. Both are made from the indigenous grape variety, assyrtiko . About a dozen local vineyards host tastings (usually with a small charge) and some offer food, with scenery and local produce combining to great effect. Start your investigations at  SantoWines .
Santorini's intrigue reaches deep into the past, with the fascinating site of Akrotiri displaying a Minoan city destroyed by the volcanic eruption of 1613 BC. In Fira, the impressive Museum of Prehistoric Thera helps piece together the story of ancient Akrotiri.
Nature's handiwork is on display from any waterfront seat come sundown, but prime sunset-viewing on Santorini is in Oia, where thousands of tourists flock to admire (and applaud) nightfall.
Any tour your heart desires can be organized, and there are dozens of agencies ready to help with winery visits, archaeology tours, sunset-watching and more. The most popular option is a cruise, and the classic itinerary takes in the caldera's volcanic islands of Nea Kameni and Palia Kameni, including a stop at the former's crater and the latter's hot springs.
Accommodation with a view in Santorini comes at a price
If you can afford it, first-timers to Santorini should stay on the caldera edge to experience the full "wow" factor. Fira, Firostefani, Imerovigli and Oia have hotels and villas with whitewashed interiors, terraces and infinity pools that have inspired marriage proposals, high-fashion photo shoots and many Instagram posts.
Unfortunately there are not a lot of places to stay in these view-blessed locales for budget-conscious travelers: caldera-view accommodations come at a premium, and they are in hot demand. You'll also need to book well in advance.
There are decent midrange options in Fira and Firostefani (less so in Imerovigli and Oia), away from the front-row panoramas. There's also a great hostel and a budget-friendly campground (with rooms) on the outskirts of Fira.
If you're more interested in a beach break or activities, stay in Perissa or Kamari (and catch the bus into Fira). The advantage of this is some respite from the camera-toting caldera crowds, plus more reasonable prices.
The best times to visit Santorini without the crowds
Peak travel time to Santorini is July and August, when prices soar and hotels, viewpoints and beaches are packed with tourists. The shoulder season months of April, May, early June, late September and October are better times to visit. Things are marginally quieter at the caldera edge, and considerably quieter on the east coast (where accommodation bargains are plentiful).
Don't discount a winter break, when crowds are scarce (and prices low) while the scenery is still breathtaking. Santorini is working on positioning itself as a year-round destination.
Reach Santorini by ferry, catamaran or plane 
Frequent ferries and high-speed catamarans link Santorini with Athens' main port of Piraeus, Crete and various Cycladic islands. Check  OpenSeas  for ferry timetables. Santorini Airport has year-round flight connections with Athens, and summertime European connections. On the island, bus services are decent, if crowded in summer. Lots of companies also offer cars, mopeds and ATV four-wheeler bikes to rent. 
You might also like: Plan your perfect Greek island-hopping adventure Finding the right Greek island The 10 best museums in Athens
This article was first published May 2019 and updated December 2021
Buy Where to go When Europe
With more than 300 suggestions for destinations across Europe and the best time of year to experience them, this book is the ultimate trip planner for every month of the year.
Explore related stories
Sep 25, 2023 • 4 min read
You only need to wander just a bit beyond the touristed beaches to find where locals vacation in Greece. Here are three picks from our own experts.
Sep 12, 2023 • 6 min read
Aug 22, 2023 • 5 min read
Jun 29, 2023 • 6 min read
Jun 26, 2023 • 9 min read
Jun 19, 2023 • 7 min read
Jun 9, 2023 • 8 min read
Jun 2, 2023 • 8 min read
Oct 3, 2022 • 8 min read
Sep 30, 2021 • 5 min read
A Guide to the Best Things to do in Santorini, Greece
By: Author Sophie Nadeau
Posted on Last updated: 10th February 2023
Categories Greece
Last Updated on 10th February 2023 by Sophie Nadeau
Santorini is easily one of the top places to visit Greece, and for good reason. From relaxing meals to whirlwind adventures to the chance to enjoy some of the best views the volcanic island has to offer, here are the very best things to do in Santorini! In Greek, Santorini is written Σαντορίνη.
The domed rooftops, iconic architecture, and glittering waters of Santorini will be easily recognisable to those who have long dreamed of visiting the beautiful Cycladic Island. Located in the middle of the Aegean Sea and best-known for its ancient vineyards and volcanic beaches, the island is best visited over the course of several days.
Where is Santorini?
How long do you need in santorini, what is santorini known for, is santorini the real name of the island or is it thira, best time to visit santorini, enjoy the sunset on santorini, marvel at the architecture of santorini, visit the town of oia, go wine tasting in santorini, sample greek food, soak up the sun, spy the church domes of oia, purchase a book at atlantis books, relax on volcanic beaches, discover the windmills of santorini, explore the capital of fira, take a sunset catamaran tour, explore the island of santorini via quad bike, learn about the archaeology of santorini, how to get around santorini, how to get to santorini, a final note: visiting greece is always a good idea.
Santorini is a Greek island in the Aegean sea. Santorini is an island that's part of the Cyclades, a group of island that's so called because they form a cyclical shape. The island is approximately 300 km away from Athens (the capital city of Greece, an island on the mainland) , 150 km south of Mykonos, and 140 km north of Crete.
Setting aside world-famous sunsets and iconic architecture, there's actually a surprising number of fun activities on Santorini to suit every travel style and budget.
From relaxing on iconic beaches to sampling local cuisine to stepping back into history among centuries old ruins, you'll want to set aside at least two to four days in order to at least scratch the surface. For more inspiration, be sure to check out our guide to 3 days in Santorini .
Of all the Greece travel tips I could give you, it would be that you shouldn't try and see too many Greek islands on one trip! It's far better to concentrate on a few and do them well instead of going too fast and not being able to have enough time to relax!
Santorini is most famous for its beautiful sunsets and long volcanic beaches. This means that the Aegean island is one of the most popular tourist destinations in Europe. If you know anything about Greek mythology, then no doubt you'll have heard of the lost island of Atlantis. Local legend has it that Santorini is lost Atlantis…
Since ancient times, Santorini has been known as Thira (Greek: Θήρα) and this remains the official name of the volcanic island to this day. In Classical Greek, the island is known as Thera.
With this being said, if you use the name 'Santorini,' then everyone will know what you're talking about, and even the Greeks themselves use the word Santorini to refer to the island.
The best time to visit Santorini depends entirely on your personal preferences, though I would recommend not travelling in the off season (the end of October through to the end of February) as almost everything will be closed and so it will be hard to dine out or even find a place to stay.
The best time to travel to Santorini is probably in June or September, i.e. just before or just after the most popular months of the year: July and August. Visit just before or just after the busiest times in Santorini and you'll be rewarded with slightly lower prices, amazing weather, and fewer crowds.
Best things to do in Santorini
One of the most magical things to do in the entirety of Greece is to see sunset in Oia. Eternal Santorini is well known for its breathtaking sunsets. Head to the Caldera in Oia for some of the best views of the island, sea, and sunset beyond.
Just bear in mind the sunset on Santorini can get pretty hectic, especially so during peak season (July and August) when it's hard to even navigate the narrow lanes, let alone find an epic snapshot angle.
Of course, one of the best photo spots to enjoy the golden hour in Santorini is overlooking the blue domes of Oia . Other spots in the world-famous town include at the Santorini windmills, and from the stunning outdoor terrace at the Red Bicycle Restaurant, where you can enjoy traditional Greek food served with a modern twist.
Greek architecture, and specifically that of the Cyclades (a group of islands so-called because they form a circular shape) is unique in its white-painted houses and cobbled lanes. The villages of Santorini are no different and some of the most interesting structures are to be found in the form of cave dwellings.
These homes and houses are constructed in niches in the volcanic rock and always remain the perfect temperature; in the summer they stay cool, while in the winter months the caves are easy to keep warm. Elsewhere on the island, Neo-Classical 19th-century mansion houses built by wealthy captains can be found in nearly every village and town.
Oia (pronounced e-ah) is one of the most picturesque places in all of Greece. Home to oodles of litle lanes and small boutiques, Oia may well be the most famous town of all the Greek islands. First founded before the Venetian rule of the Middle Ages, the former fishing village has been inhabited for centuries.
If you're a fan of anything wine related, then consider a visit to Santorini, and specifically a Santorini winery . After all, the volcanic island is home to some of the oldest vineyards in the world. However, when you first glance towards the countryside, you may not even realise that you're looking at vines. I know I didn't!
This is because the vines are cultivated close to the ground so as to form a natural basket which will protect the grapes as they grow. Santorini is incredibly windy and so if the grapes were to be cultivated along poles, much of the harvest would be lost.
Local wines are of the red, white, and rosé varieties, with some of the most famous being dry yet fruity whites! For more information, check out our guide on how to go wine tasting in Santorini .
Traditional Greek food consists of plenty of cold dishes, sea-inspired living, and cold meat cuts. And the Cyclades Islands are no different. Santorini is well known for its seafood; calamari and cuttlefish are locally fished.
While, if you're like me and don't eat meat or fish, then there are plenty of vine wrapped leaves, olives, and tomato dishes available. For those who are looking for a fine dining experience on Santorini, you simply must visit the Red Bicycle Restaurant.
This fine dining restaurant offers an open-air experience and the taster menu is filled with experimental food based on traditional Greek dishes. For example, the 'cheesecake' course is actually savoury; the base is crushed bruschetta, the 'cheese' part is feta and the ice cream is a savoury tomato!
Sun for days and little rain, if you're searching for some beautiful weather, then you simply must visit Santorini! Home to plenty of beaches and sunny spots where you can enjoy all of the incredible weather, the temperature never drops too low and snow is pretty much unheard of. If you're looking for the best of the weather when you're looking to visit Santorini, then make sure to head to the island in May, September, or October!
If you're truly looking for 'must-see Greece,' then you should most definitely check out the domed church of Oia . Pictured on almost every postcard promoting Greece the world over, the church domes of Oia are best seen during the golden hour. For the sun setting behind your shot, make sure to head to the domes for sunset. If you're looking for an iconic photo with fewer people, then set your alarm and head to the blue domes for sunrise!
As our guide said while we passed through the winding lanes of the famous bookstore, ' Atlantis Books is the most famous bookshop in Greece, if not all of Europe'. Head to Instagram and you can expect to find plenty of snaps of this iconic storefront. While there, you'll discover rows upon rows of books to read, as well as comfortable reading nooks in which to curl up with a good read.
As Santorini was formed by volcanic activity tens of thousands of years ago, so the geographical history of the island can be seen in its many rock and mineral formations all over the island. Much like the lesser-known island of Milos and the beautiful island of Mykonos , where the largest mineral mine in Europe is located, Santorini is covered in plenty of unique and unusual rock formations.
The island is also home to unique black sand beaches where it's possible to swim in crystal clear water and relax under palm shades. Some of the best (and most popular beaches in Santorini) include Perissa and Kamari.
Both of these are black sand beaches and are home to oodles of cafés, bars, and mountains rising up above the waters to either side of the sandy straights.
Thanks to the sheer wind on the Cyclades, many of the islands have taken advantage of the weather and constructed windmills to harness the wind power to grind flour. Santorini is no exception and there are plenty of windmills on the Greek island . If you're feeling particularly adventurous during your time on the island, then you may even want to stay in a windmill!
Many visitors to the Greek island don't know this before visiting, but the capital city of Santorini is actually Fira. Some of the top highlights of Fira include Museum of Prehistoric Thira (which showcases items from the Bronze Age) and the whitewashed Orthodox Metropolitan Cathedral.
Hands down, one of the best ways to enjoy the Sunset on Santorini is by boat. For the ultimate sunset experience that you're likely to remember for the years and decades to come, you might even consider booking this Santorini Catamaran Red Cruise with Meal & Drinks. Well-reviewed, the itinerary of this five-hour excursion includes several beaches, drinks, and food!
Those looking for a convenient and fun way to explore Santorini may well consider doing it by quad bike. Find out more details here.
For fans of history, it's well worth noting that Santorini is home to a plethora of incredible archaeological sites. Some of the sites you can visit back thousands of years and are a chance to delve deep into history and discover how people lived many millennia ago.
Best places to stay in Santorini
There are three main places to stay in Santorini, each at slightly different price points and so you'll want to choose the location you stay at depending on your budget and also what kind of activities you envision doing during your time on the island of Santorini.
Of course, the most famous place to stay in Santorini is in the town of Oia, which lies to the North of the island and is actually not the capital city but remains the most famous town on Santorini. It's worth noting that Oia is the most expensive place to stay since it's the most popular. Check hotel availability in Oia here.
The capital city of Santorini is that of Fira (sometimes also written as Thera) , which can be found in the middle of the island. It's also here where the main port of Santorini is and is likely where your first port of call to the Greek island will be if you're arriving by boat.
Thanks to Fira's central location, it's a great place to base yourself in order to explore the wider island. Since it is much less popular than Santorini, places to stay in Fira tend to be significantly cheaper than those in Oia. Check hotel availability in Fira here.
One of the newer up and coming popular places to stay in Santorini is a little off the beaten path though still remains close to several popular attractions on the island such as the red beach and the archaeological park, and the Santorini lighthouse.
Akrotiri is where visitors will be delighted to discover a plethora of upscale and boutique hotels which are much more exclusive and private than those found in Oia. You see, due to the stepped nature of Oia, you should note that the villas are not nearly as private as you think they are. Sitting in a small private pool in a hotel in Oia, you may still easily be seen by tourists and locals.
Santorini is pretty large and if you want to see the island sites away from the crowds of Oia and the hustle and bustle of Fira, you'll want to arrange some form of transportation to travel around to various attractions on Santorini.
The cheapest way to get around Santorini is by bus, which is actually fairly comfortable on account of the fact that it's air conditioned. What's more is that it only costs a few euros to get between destinations, making this the perfect option for those travelling to Santorini on a budget.
Other options including renting a private driver (check prices and availability here) which will give you more flexibility on timings or alternatively renting a car yourself.
However, you should note that the roads on Santorini can be pretty narrow and steep and so you might want to think twice before renting your own vehicle. Another popular option is to rent a quad bike. See more details here.
Although Santorini is an island, it's probably easier to reach than you might think! After all, as one of the most popular tourist destinations in Greece, there are plenty of ferry routes operating to and from the island on a regular basis.
You will surely not be disappointed should you opt to visit Greece, though there are a number of things to consider while planning your trip, such as the best time of the year to visit and other travel considerations.
Enjoyed reading about the best things to do in Santorini? Pin this article now, read it again later:
Sophie Nadeau loves dogs, books, travel, pizza, and history. A Francophile at heart, she runs solosophie.com when she's not chasing after the next sunset shot or consuming something sweet. She splits her time between Paris and London and travels as much as she can! Subscribe to Sophie's YouTube Channel.
This site uses Akismet to reduce spam. Learn how your comment data is processed .
Saturday 16th of June 2018
Lovely pictures. I am making a Greece itinerary and bucketlist items, so thank you for sharing this post. Greece is every travelers dream
Lynne Nieman
I've been to Santorini and agree that it is a very special place and as dreamy as the photos. Now your post has me longing to return!!
Places to Visit in Santorini
Santorini Places to Visit
Here is the list of best places to visit in santorini:.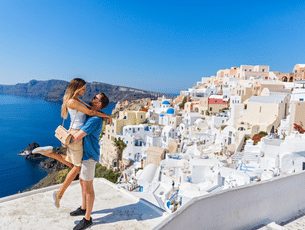 Ammoudi Bay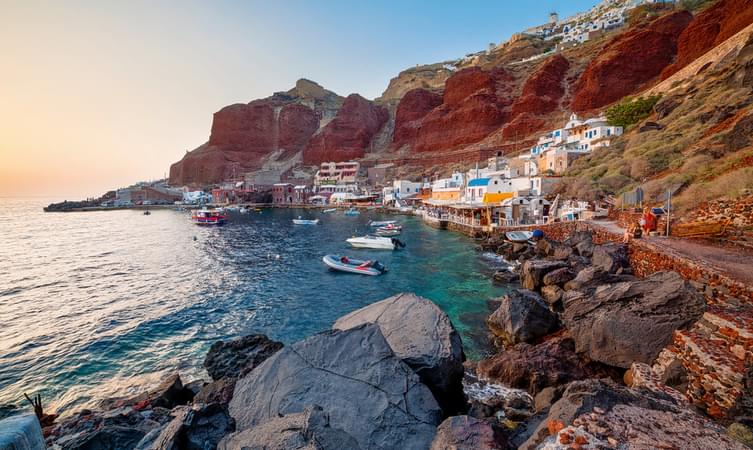 Ammoudi Bay is one of the best places to visit in Santorini, which is a gorgeous bay and a tiny port city situated at the foundation of Oia village. It is a scenic spot with a rocky volcanic coastline and crystalline water, offering an opportunity to indulge in diving. It is also an ideal place to enjoy the picturesque views of the majestic sunset and the fishing boats.
Best of Greece
Panagia Platsani Church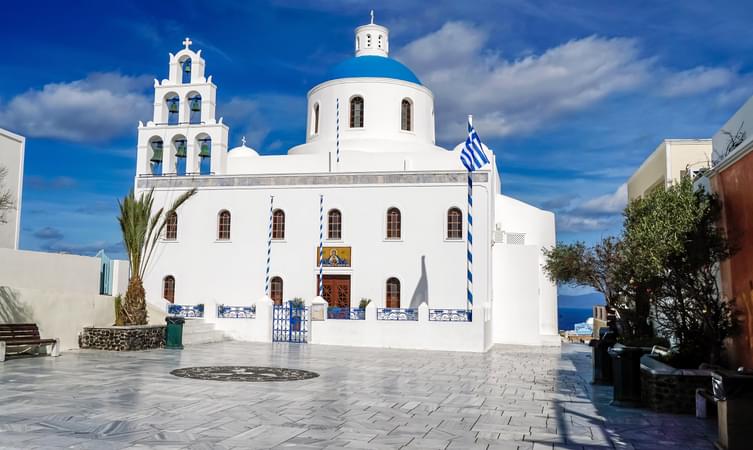 Panagia Platsani Church is a popular and impressive church in Oia village. It features a white building constructed on a square plan and five domes with the largest one painted blue in color. The front side of the church is embellished with arched windows and six bell towers in the shape of a pyramid. You will be astonished to witness the glided mosaic above the front door of the church.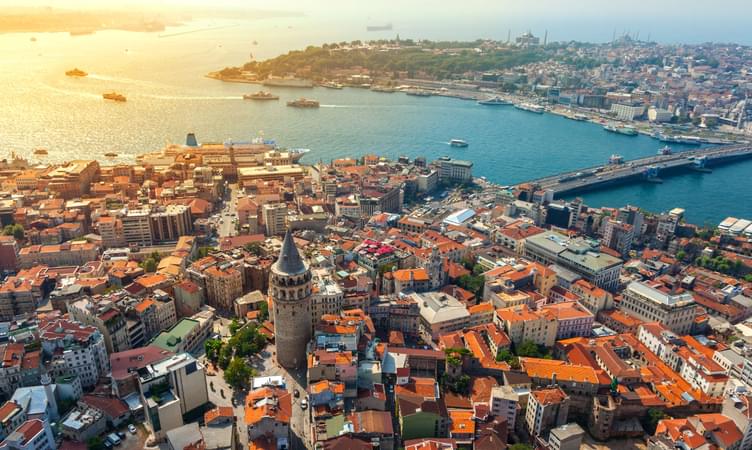 Best of Turkey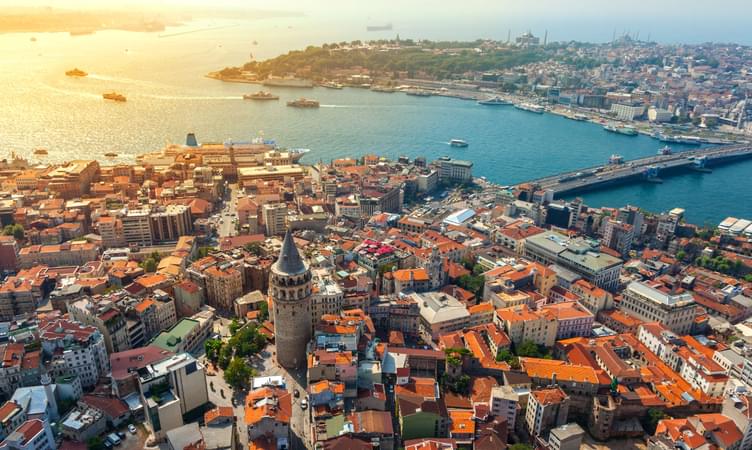 If you are wondering about the things to see in Santorini, you should pay a visit to Fira town. Acclaimed to be the capital of Santorini, this town is well-known for its pristine beauty, mesmerizing landscapes, museums, some bars, and clubs. The Museum of Prehistoric Thira is the highlight of Fira that attracts thousands of visitors to its collection of the Bronze age and Neolithic artifacts that narrates the story of Akrotiri.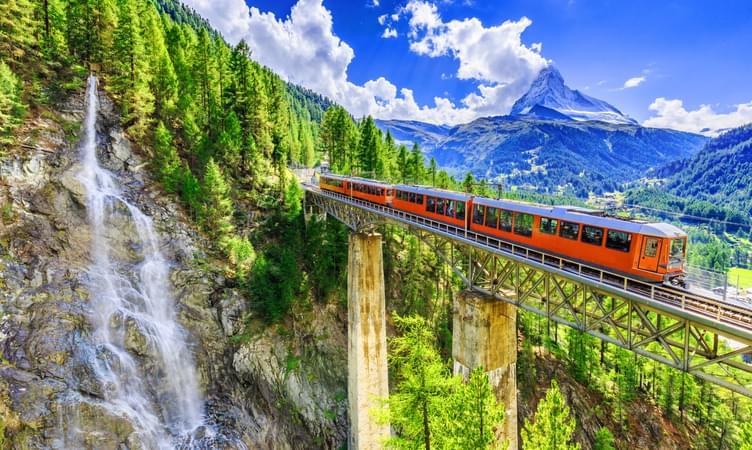 Best of Switzerland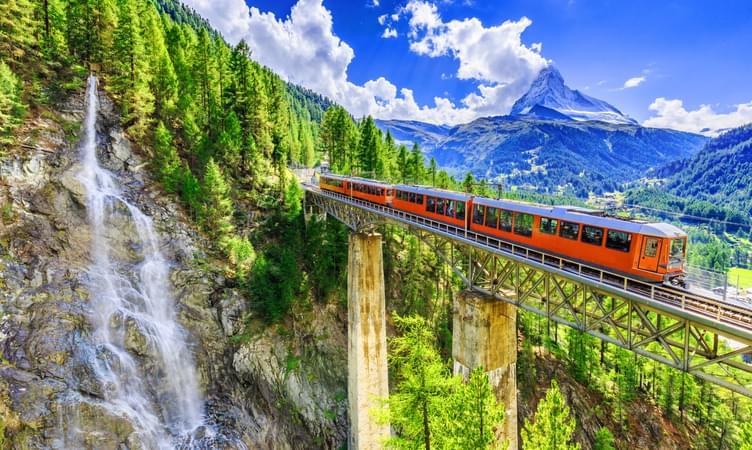 Kamari Open Air Cinema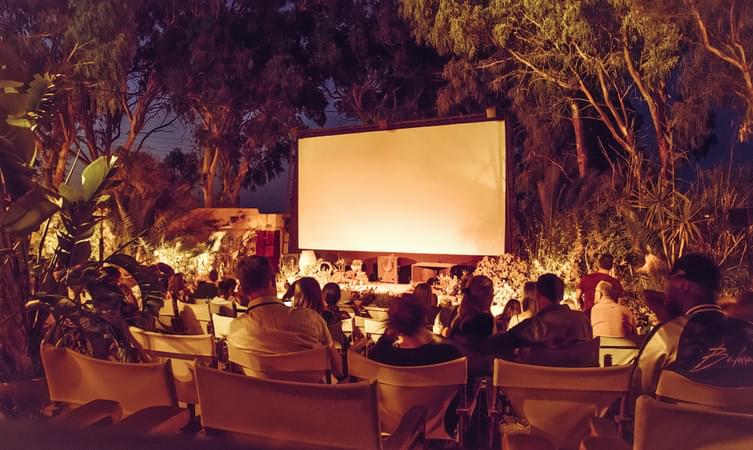 Situated about a few distances away from Fira, Kamari Open Air Cinema is a remarkable open-air theater that allows visitors to watch movies in English and Greek subtitles. It offers a unique experience of watching films under the night sky while enjoying delectable food and drinks at the bar and the concession stand. The visitors can even request a blanket if the night gets chilly.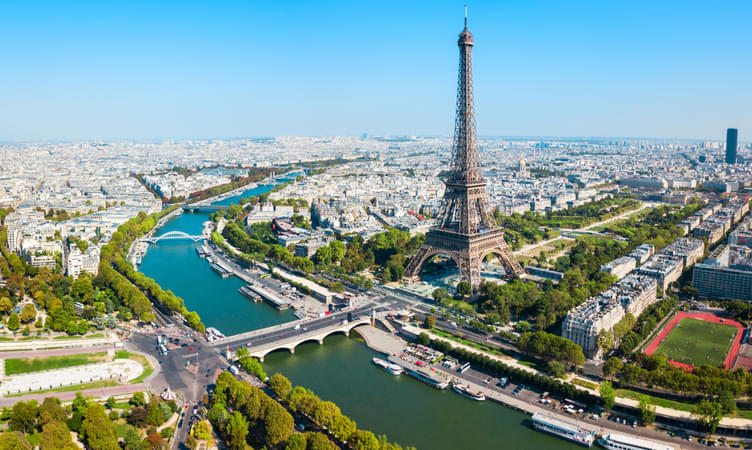 Best of Paris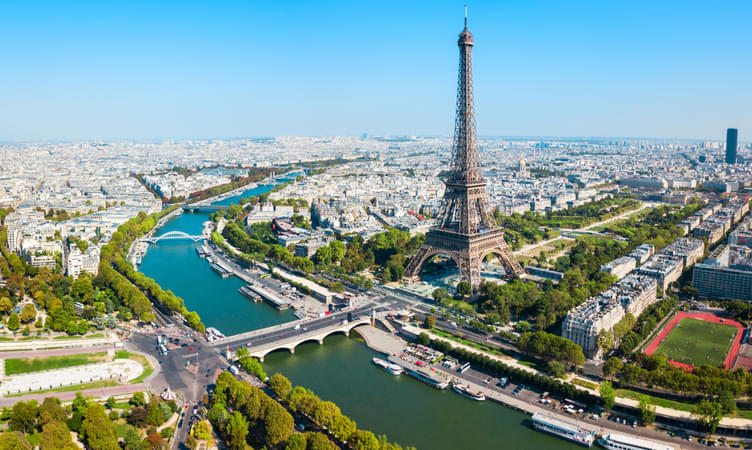 As the name suggests, Red Beach is renowned for its gorgeous sand color located in Akrotiri in Greece. This beach attracts a myriad of visitors to its contrasting color of the glistening blue waters. On visiting the beach, you will discover some amazing volcanic rocks that offer a wild and captivating area of the entire scenery. You can partake in snorkeling or sailing activities or enjoy modern amenities like umbrellas and sunchairs.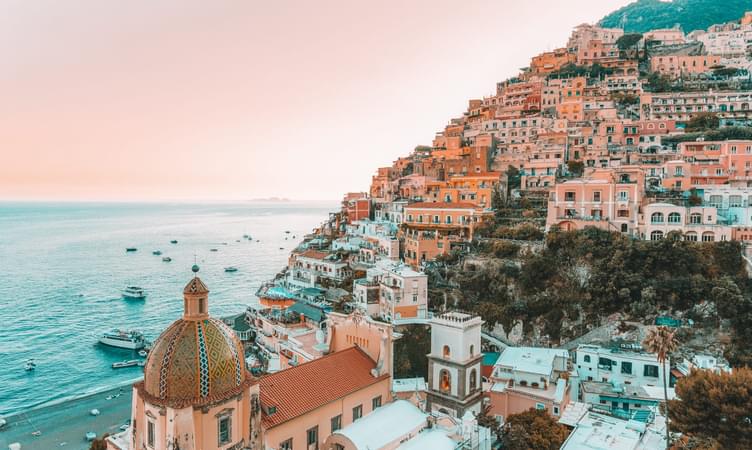 Best of Italy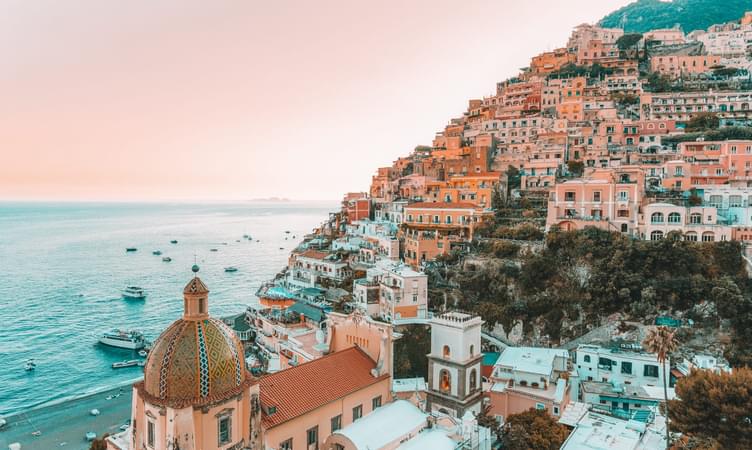 Thirassia is a serene, conventional, and authentic island in Santorini located on the opposite side of Oia village. People are attracted to this island to explore the active volcanic history and enjoy the organic beauty of the island. The virgin beaches and pure Cycladic landscapes are the highlights of Thirassia that offer sweeping views of the large colorful gardens while walking.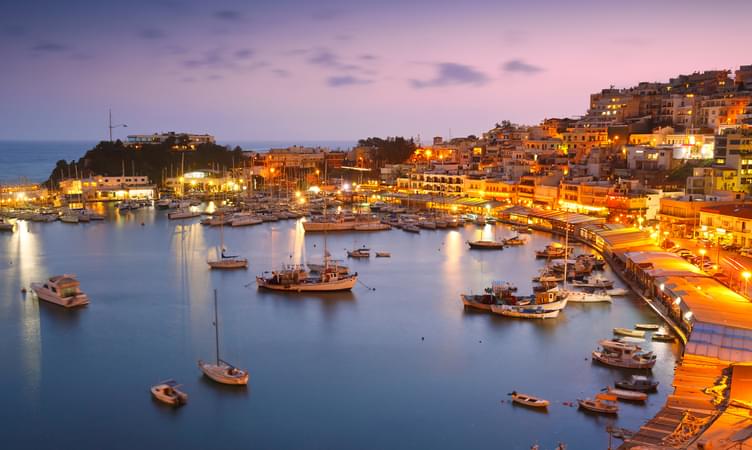 Best of Athens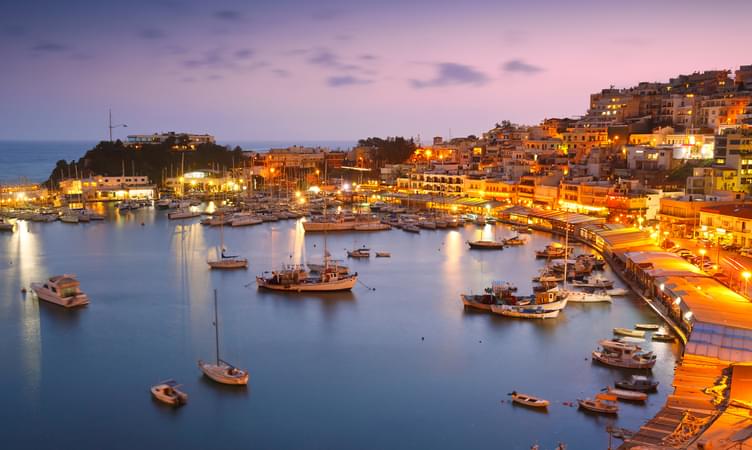 Museum Of Prehistoric Thira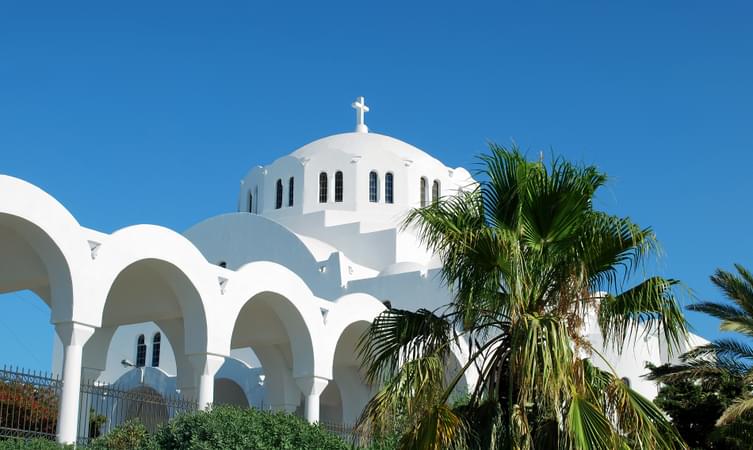 Among the other best places to visit in Santorini, the Museum of Prehistoric Thira is the most famous one as it showcases a giant collection of artifacts that dates back to the Bronze age and Neolithic period. Each of the exhibits in the museum, including the marble statues, jewelry, tools, wall paintings, and objects of daily use, narrates the history and ancient civilization of Santorini.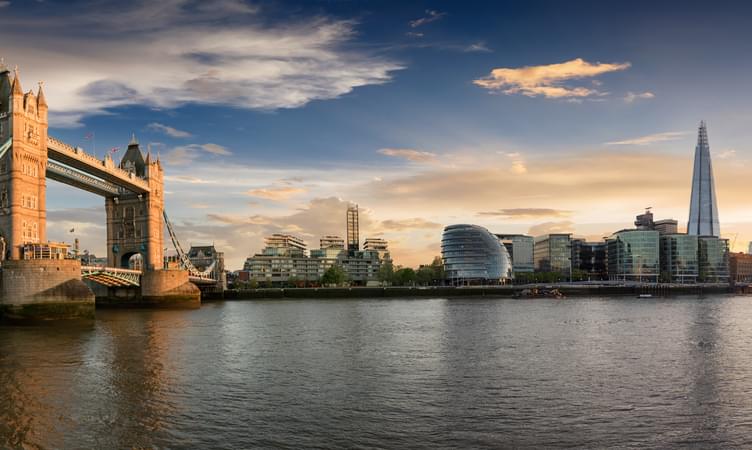 Best of London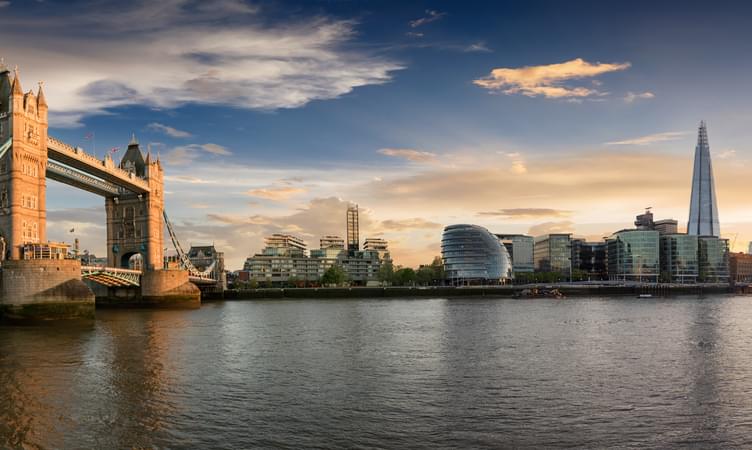 Nea Kameni is a tiny island in the center of the rugged volcanic crater in Santorini. It features a dramatic landscape with dark cliffs made out of lava rock and orange-tinged natural thermal waters. The gorgeous scenery and natural hot springs are some of the highlights that make the place a popular tourist destination from where you can take day cruises from Santorini.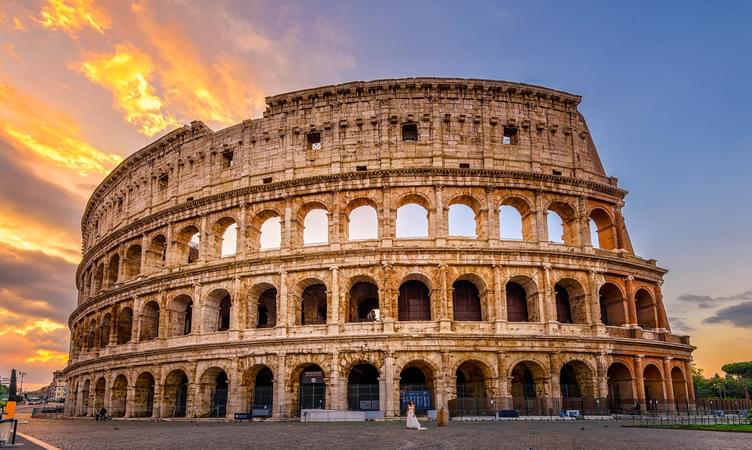 Best of Rome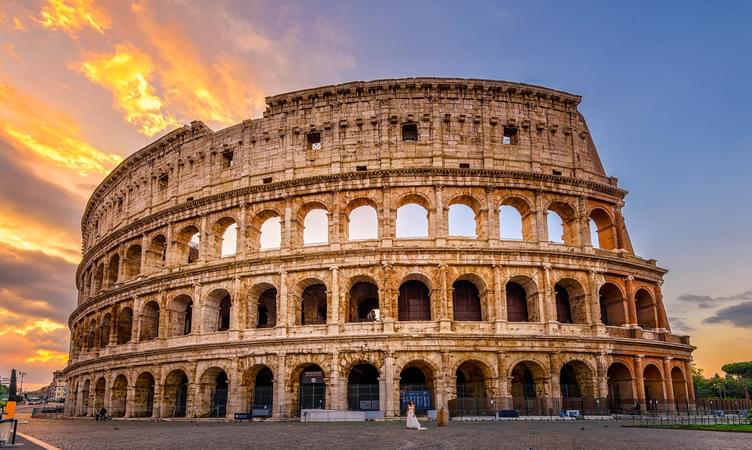 Akrotíri Archaeological Site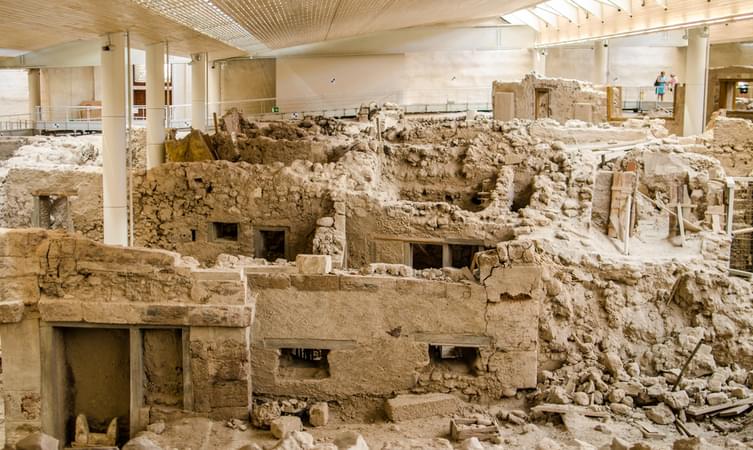 Akrotíri Archaeological Site is the ancient and most significant place in Santorini that provides an insight into the prehistoric settlement residing in Akrotiri town. Nicknamed Santorini Pompeii, this archaeological site is filled with historic buildings, mud houses, massive storage vessels, drinking cups, stone bathtubs, Minoan toilets, and pots. You will be surprised to know that it was buried under volcanic ash because of the earthquake but got evacuated in 1967.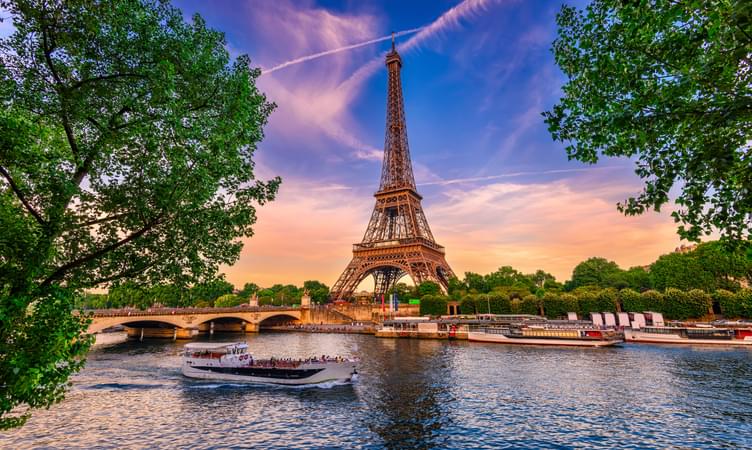 Best of France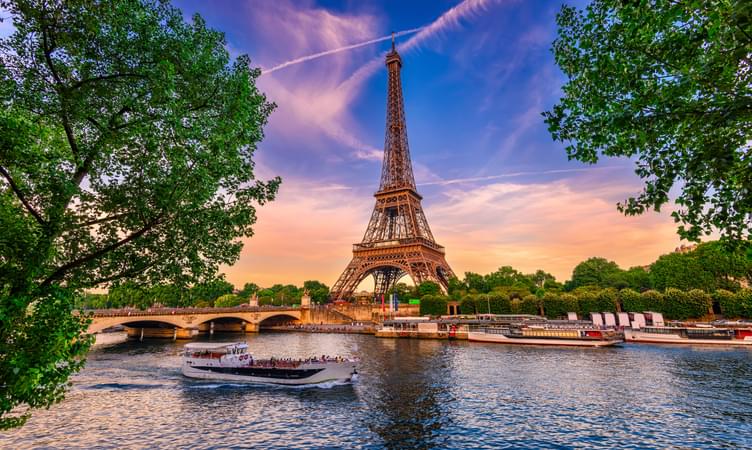 Oia is a gorgeous coastal town situated on a cliff in Santorini hanging over the mesmerizing caldera and the Thirassia island. It is a luxurious romantic getaway to the whitewashed blue domed houses and the dramatic views of the caldera reflecting the pink and purple hues of the magical sunsets. You will also find some cozy cafes, shops, and restaurants that you can explore on foot through bougainvillea-covered labyrinthine alleys.
Perissa Beach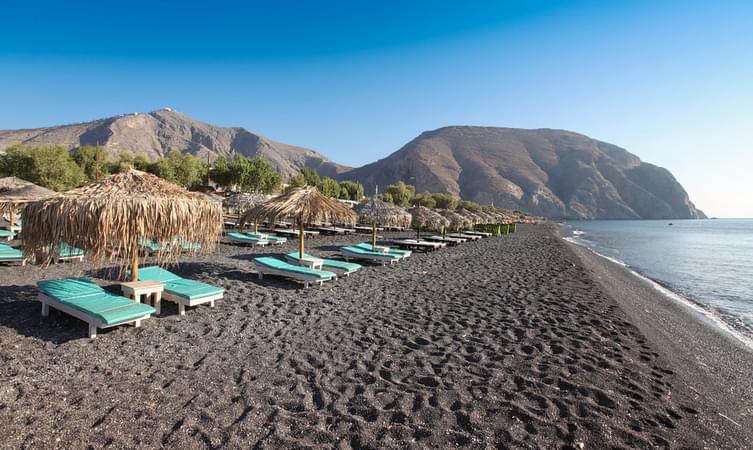 Perissa Beach is the most famous black sand beach situated on the foothills of the Mesa Vuono Mountain in Santorini. There are plenty of modern amenities on the beach for relaxation with an opportunity to indulge in a variety of water sports activities, like banana boating, canoeing, parasailing, waterskiing, and windsurfing. The beach also features a gorgeous water park with three water slides and a separate kid's playground.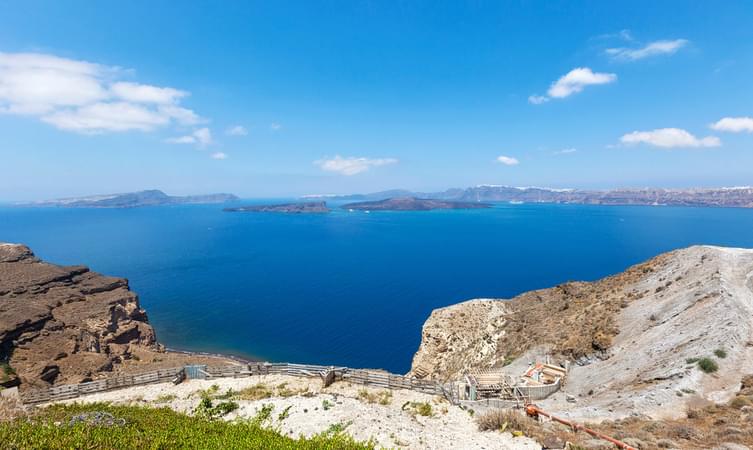 People who are still wondering what to see in Santorini should visit Caldera, which is a half-moon-shaped bay formed after a volcanic eruption during the Minoan civilization. A myriad of visitors visits the caldera to enjoy the sweeping views of the picturesque villages with different hues of the sunset. It also offers remarkable hiking opportunities starting from Fira to Oia through Firostefani and Imerovigli.
Ancient Thira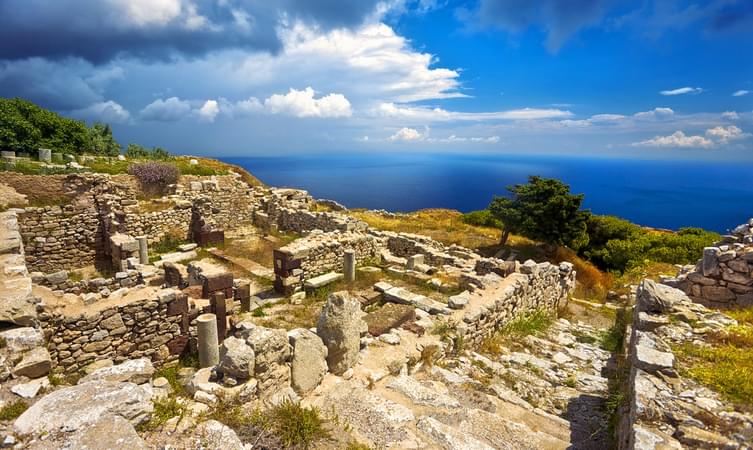 Ancient Thira is the third most significant archaeological site in Santorini that gives visitors an insight into the ancient history and culture of the island. Offering a gorgeous panoramic view of the Aegean Sea, this site is home to numerous ruins of elegant Hellenistic shops, arts and crafts, sculptures, and much more. After its evacuation in 1895, a mountain saddle between the Profitis Ilias and Mesa Vouno was also discovered.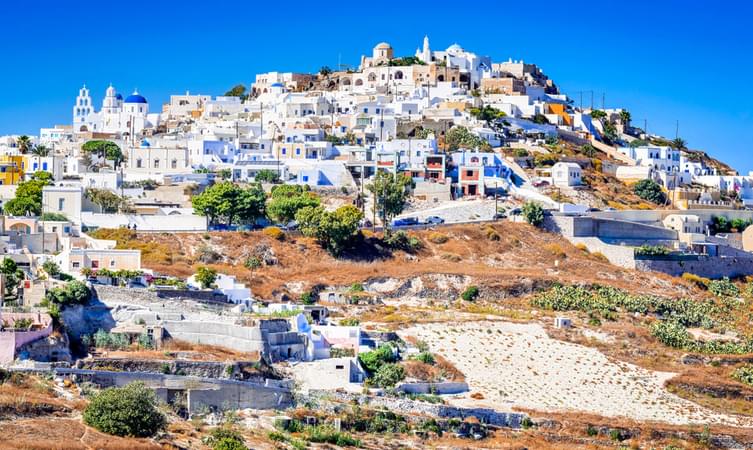 Located in the foothills of Mount Profitis Ilias, Pyrgos is a beautiful village that is decorated with numerous tranquil cafes, souks, piano classes, churches, and bars. Bordered by several vineyards, this place houses the Historic Church of the Presentation of the Virgin Mary and the Kasteli, thereby offering panoramic views of the Aegean sea, the caldera, and a magnificent shoreline.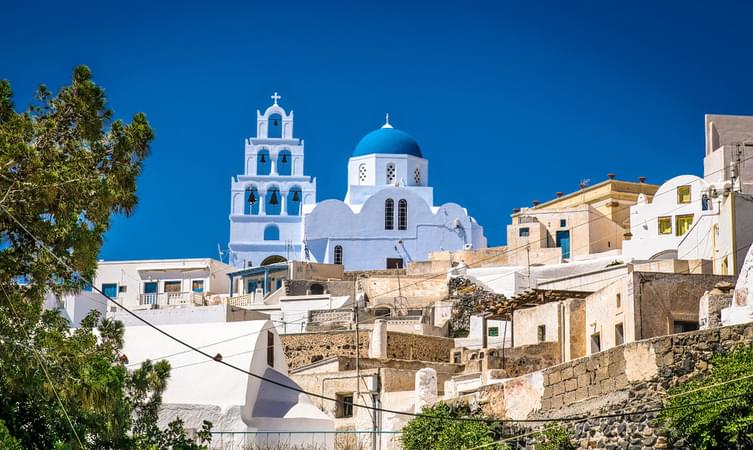 If you are still contemplating what to see in Santorini, Emporio is another worth-visiting village in Santorini that is renowned for its windmills, churches, towers, vibrant doors, Venetian castles, pristine beaches, and bells. When compared to other villages like Oia and Fira, it radiates a medieval aura from its well-preserved characteristic architecture. It is one of a kind castle town that boasts narrow alleys and the windows and doors of fortified buildings.
People Also Ask About Santorini
Which are the best places to visit in santorini, which are the best places to stay in santorini, which are the famous beaches in santorini, which are the best cafes in santorini, which are the best villages to visit in santorini, what is the best time to visit santorini, how can i commute within santorini, can i walk from fira to oia, how many days in santorini is enough, which are the best europe tour packages, which are the best europe honeymoon packages.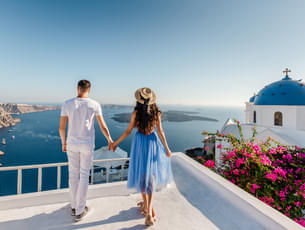 Santorini Travel Guides
Santorini Reviews

Popular Nearby Places Around Santorini
More things to do in santorini, more on santorini tourism, popular related destinations.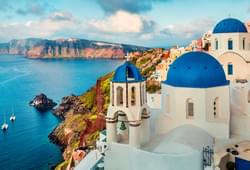 Best Domestic Packages
Best international packages, domestic honeymoon packages, international honeymoon packages, places to visit in india, international places to visit, things to do in india, international things to do, popular on thrillophilia.
We assure the privacy of your contact data.
This data will only be used by our team to contact you and no other purposes.
Your enquiry has been received successfully. Our destination expert will reach out to you soon!
Top Hotel Collections

Best Place To Stay
5 Star Hotels
Plan Your Travel To Santorini
Santorini travel essentials.
Ideal duration: 3-5 days
Best Time: June - September Read More
Planning a Trip? Ask Your Question
Top places within Santorini
Santorini tourism.
Santorini Is one of the most spectacular islands in Greece. It is a part of the Cyclades islands and sits in the Aegean Sea, halfway between Athens and Crete. The crescent-shaped island is famous for its iconic white houses, blue dome churches and windmills. It is the most photographed island in the world. The highlights of Santorini are its hikes, beaches, sunset views, hot springs and clifftop wineries.
The best things to do in Santorini are hiking the caldera, wine tours, luxury sunset cruises of the caldera, swimming in the hot springs, and visiting the charming villages of Pyrgos and Emporio. The beaches of Santorini are made up of volcanic rocks and pebbles, unlike the white sandy beaches of other islands in Greece. However, the red and black sand beaches are still picturesque and peaceful. Santorini is one of the most sought-after places for a romantic honeymoon in Greece, and rightly so. The moon shape of Santorini is because of the severe volcanic eruption in 1650 BC that formed the island. This eruption created a caldera (a large volcanic crater). While most of the caldera is filled with water today, a small semicircle part of it is left above the ground and is one of the most stunning parts of the island. Nea and Palea Kameni are the active volcanos still found in Santorini.
Santorini Travel Packages
Compare quotes from upto 3 travel agents for free
8 Days Greece Tour Package including Santorini Caldera Sunset Cruise
5 night 6 days athens santorini package with sunset catamaran cruise, santorini and athens itinerary: best of two worlds, greece and istanbul package: romantic honeymoon edition, gracious greece sightseeing tour package, italy and greece 9 nights tour package with photoshoot, must know before you travel to santorini.
Transportation : Renting a car or an ATV is a great way to explore the island. Public buses are an option, but they can be infrequent and crowded.
Sunscreen and Hydration : The sun in Santorini can be intense, so pack and apply sunscreen regularly. Also, stay hydrated, especially during the hot summer months.
Island Hopping : If traveling to Santorini from Mykonos or Athens, the ferry is a convenient and easy option. The ferry terminal at Santorini is the 'new port' or 'Thira port.' Don't confuse this with Skala (the old port), which is used for cruise ships.
Santorini's Unique Geography : Be prepared for lots of stairs and hilly terrain, especially in towns like Fira and Oia. Comfortable walking shoes are a must.
Pack Light : Santorini's cobblestone streets and numerous stairs can be challenging with heavy luggage, so pack light and use a backpack or rolling suitcase with good wheels.
Sunset in Oia : The sunset in Oia is famous, so make sure to arrive early to secure a good spot, as it gets crowded. Many restaurants and bars offer great views.
Things To Do In Santorini

Watch Sunset at Oia

Kamari Beach

Santorini Volcano Tour

Hot Springs in Santorini

Cafes in Santorini
Top Hotels In Santorini
₽ 5,867 onwards
₽ 4,972 onwards
₽ 15,911 onwards
₽ 1,491 onwards
₽ 5,370 onwards
More on Santorini Travel
Exchanging money in santorini, language of santorini, history of santorini, best time to visit santorini, top stories about santorini tourism.

Beaches & Islands
Best Beaches in Santorini

Sightseeing
Sunset in Santorini: 15 Postcard-worthy Viewpoints

Food & Drink
19 Cafes in Santorini to Visit for Greek Food & Coffee
Nightlife in Santorini - All you Need to Know

Romantic & Honeymoon
Honeymoon in Santorini - A Detailed Guide

Fira to Oia Hike - A Walk To Remember
Nearby Places

Browse Package Collections
Santorini package collections.
Santorini Honeymoon Packages
Nearby Destinations for Packages
Browse hotel collections, by hotel type.
Villas in Santorini
Best Hotels In Santorini
Resorts In Santorini
Best Luxury Hotels In Santorini
Camping In Santorini
Villas In Oia
Hotels In Santorini For Honeymoon
Bed And Breakfast In Santorini
Villas In Kamari
Best Hotels In Santorini With Infinity Pool
hotels in santorini with Private pool
By Budget Category
Cheap Hotels In Santorini
By Star Category
5 Star Hotels In Santorini
4 Star Hotels In Santorini
3 Star Hotels In Santorini
With Specific Facilities
Hostels In Santorini
Villas In Santorini With Pool
Santorini Photos

+ 48 photos
How To Reach Santorini
Faqs on santorini, what are the top hotels in santorini, how much does a package cost for santorini, what are the things to do in santorini, what are the places near santorini, what is the best way to reach santorini, what is the best time to visit santorini, what is the local food in santorini, have a question on santorini.

Santorini Reviews
Dhawal Pagay
Similar Places

Get Customized Travel Packages
*All prices shown on the website are tentative. Final prices will be shared by our partner agents based on your requirements.
Login for a personalized experience with Holidify!
Create and share itinerary, download PDF Guides and free access to Holidify's full content
Sign in with Facebook
Sign in with Google
We never post anything without your permission.
Share this page
Santorini Greece Travel Guide: Things To Do In Santorini Island
The little island of Santorini Greece is famous for its photogenic old white-and-blue buildings, beautiful high end hotels with infinity pools, and sweeping views of the ocean.
Santorini island is almost synonymous with luxury nowadays, but it's also possible to travel Santorini on a budget, and many of the best things to do in Santorini are free, such as strolling the historic towns, taking pictures, relaxing on the beach, and seeing the sunset.
A trip to the Greek islands wouldn't be complete without seeing Santorini for at least a few days, and it's easier than ever to get there from Athens and other major cities in Europe.
This Santorini travel guide will explain how to get there, where to stay, which transport options and tour packages to use, and some of the best things to do in Santorini Greece. I've also included a handy Santorini island map for your trip planning!
Contents hide Where To Stay In Santorini Best Santorini Tours Where Is Santorini Island? How To Get To Santorini Greece Transport: How To Get Around On Santorini Best Things To Do In Santorini Greece 1. Oia Village 2. Fira Village 3. Imerovigli Village 4. Perissa Beach More Things To Do In Santorini Greece 5. Megalochori 6. Pyrgos 7. Prophet Elias Mountain 8. Akrotiri Lighthouse 9. Akrotiri Museum Best Santorini Beaches Santorini Island Map Best Sunrise / Sunset Spots In Santorini Greece Other Santorini Tips Is Santorini Safe? Santorini On A Budget — Is It Possible? How Long To Stay In Santorini Greece Santorini Greece Itinerary Best Time To Visit Santorini Greece Santorini Hotels More Greece Travel Guides
Where To Stay In Santorini
Absolute Bliss
Athina Suites
Kalya Suites
Hyperion Suites
Best Santorini Tours
First of all, if you only have a short stay in Santorini, such as a few days or less, then a day tour can be a great way to see the island.
We recommend GetYourGuide for Santorini tours! They have high rated private tours or shared tours that go to a bunch of the best sights like Oia, Pyrgos, and Perissa.
You can also hire a private photographer to take pictures of you in a flowing dress, with the Santorini buildings and seascape in the background, like you always see on Instagram.
We've used this company for lots of day tours and activities around the world, and they're great! Highly recommended.
Book Now: Santorini Greece Private Tour / Dress Photoshoot
Where Is Santorini Island?
Santorini is an island located in the Aegean Sea, southeast of mainland Greece. The distance from Athens to Santorini is about 230 kilometers (140 miles) as the plane flies.
Although it's just one of about 30 main islands that make up the Cyclades group of Greek islands, Santorini is easily the most famous island in the group, and it's probably the most famous island in the country of Greece!
Santorini had a volcanic origin, and there are still some natural hot springs and other traces of volcanic activity around the caldera, which can be interesting to see.
Walking around Oia town — one of the best things to do in Santorini Greece!
How To Get To Santorini Greece
Santorini island can be reached by flight or ferry.
Flying to Santorini is the easiest, fastest, and most expensive (but recommended) way to get there. The Santorini airport (JTR) is served by daily nonstop flights from Athens, as well as some international cities like Frankfurt, London, and Rome.
The flight time to Santorini from Athens is 45 minutes, and it costs anywhere from 50 to 100 Euros for a one way ticket with Aegean/Olympic Air or Sky Express.
The best airline to use is Aegean (or its subsidiary Olympic Air) instead of Sky Express if you have a choice, but any of them are fine. Free checked baggage is usually included in the ticket prices.
Shop Now: Santorini flights at Skyscanner
Santorini Travel Guide
Taking the ferry to Santorini from Athens is a bit cheaper than flying, but it's more complicated and quite a bit slower.
You first have to go to the harbor at Piraeus or Rafina, and then hop on the ferry there. Cost is between 50 and 90 Euros depending on what you select. The boat ride to Santorini takes around 5 hours with the fast ferries, or more than 8 hours with the slow ferries.
If you're interested in doing some island hopping in Greece and you want to see more than just Santorini, you can also mix up the itinerary a bit.
For example, you can fly into Santorini for a few days, take the ferry to Mykonos, and then fly from Mykonos back to Athens. That can be a great option!
Transport: How To Get Around On Santorini
The towns in Santorini (such as Oia and Fira) are small enough to be walkable by foot for restaurants and most other things, but if you want to do some exploring outside of town you'll need transport.
The bus can be a great way to get around in Santorini on a budget, and there are stations in all of the important places on the island, with the main hub being Fira. The bus in Santorini is cheap and especially easy to use in the summer months when Greece is busy with tourists. During the low season months, there aren't as many connections so it may not always be ideal.
For short distance trips near town, there's no Uber but you can hire a taxi. We used Welcome Pickups for our airport transfers in Santorini, and had a great experience. They have clean cars and safe drivers who will bring you from the airport to your hotel, and vice versa.
Another good way to get around on Santorini island is by renting a car or ATV (4 wheeler). There are many companies offering car rentals on the island, but we recommend DiscoverCars !
Fira views — one of the best things to do in Santorini Greece
Driving in Santorini is a little stressful, but not too hard, and most of the roads are in good condition. One of the main difficulties is finding parking. It's pretty scarce since Santorini is a small island.
The other challenge is driving in the towns, where there's more traffic and the roads are narrow, with lots of cars parked on both sides. Drive slowly in town and stay alert. Once you get out of town, the roads are smooth sailing for the most part.
Best Things To Do In Santorini Greece
1. oia village.
Oia village (pronounced 'ee-yuh') has some of the most beautiful views and accommodation in Santorini, with historic churches, colorful flowers, and epic ocean views.
This is the place you always see in the famous postcard photos of Santorini Greece. There are a lot of things to see and do in Oia, and it probably has more photo spots than any other area of Santorini.
The main photo spot you can't miss is the iconic view at Oia Castle , where you can see pretty much the whole town of Oia, with its whitewashed windmills and tightly packed buildings.
This is a very popular sunset spot, but we also liked it during the day when it's less crowded.
The iconic view from Oia Castle in Santorini Greece
Another good photo spot in Oia is the view overlooking the iconic three blue domes of Santorini.
You can take some amazing pictures of these churches from either side, although you'll have to wait in line a bit since it's so popular. Remember to give photographers priority since their clients are paying to get special pictures.
When you get done exploring Oia town, walk down to Ammoudi Bay to see the fish tavernas and the Mediterranean Sea up close.
Where To Stay In Oia: Alexander's Suites (Budget) or La Perla Villas (Luxury)
2. Fira Village
Fira is the capital of Santorini Greece, and it's also one of the main tourist areas on the island.
Like Oia, it has stunning views of the caldera, and lots of luxury accommodation and scenic restaurants to go with it. One of the main photo spots in Fira is the view overlooking the iconic three bells of Fira .
However, our favorite spot in town was above the Church of St. John the Theologian . It's a wonderful old building with an equally amazing background.
Fira is the main bus hub of Santorini Greece, so it's very easy to reach from anywhere on the island. You can even walk or hike from Fira to Imerovigli (or vice versa) in less than 30 minutes.
Where To Stay In Fira: Bedspot Hostel (Budget) or Athina Suites (Luxury)
3. Imerovigli Village
The village of Imerovigli is beautiful and underrated. In some ways, it has the best of both worlds in Santorini! It's arguably just as nice as Oia or Fira, but it's also less crowded with tourists.
If you enjoy hiking, you can do the short trek out to Skaros Rock , which has great views of Imerovigli and the ruins of a Venetian Castle built in 1207 by Marco Sanudo, who was then ruler of all the Cyclades islands. Go a bit further to see the Theoskepasti Church .
From Imerovigli, you can even walk or hike to Fira (or vice versa) in less than 30 minutes, so it's easy to visit Fira and access the main bus station there even if you're staying in Imerovigli.
Where To Stay In Imerovigli: Casa Bianca (Budget) or Absolute Bliss (Luxury)
Panagia Theoskepasti Chapel
4. Perissa Beach
Perissa is a laid back area in Santorini with a black sand beach that stretches more than 3 kilometers (2 miles) long, plus it has lots of hotels and restaurants near the beachfront.
Together with the Kamari area, Perissa is known for being one of the most affordable areas of Santorini. This is a great place to eat cheap Greek food and shop for souvenirs. We had some amazingly inexpensive gyros here!
The beach at Perissa was also one of our favorites on the island of Santorini. For sightseeing, you can take some pictures of the Church of the Holy Cross near the bus station.
Early morning at Perissa Beach
If you're interested in hiking in Santorini, you can climb up to the monastery on the side of the mountain near Perissa ( Chapel of Panagia Katefiani ).
It's also possible to reach the ruins of Ancient Thera by this route, although you'll be going all the way to the top of the mountain, so remember to bring a hat and water!
There is accommodation for every budget in the Perissa area. Even though it has some of the cheapest hotels in Santorini island, there are also luxury options as well.
Where To Stay In Perissa: Villa Dima (Budget) or Anastasia Princess (Luxury)
Church of the Holy Cross in Perissa, Santorini
More Things To Do In Santorini Greece
These are some other things to do in Santorini island that may not fit into a short trip of only a few days, but if you stay a week or longer then they'd definitely be worthwhile!
5. Megalochori
The quiet little village of Megalochori is one of the most underrated places to visit in Santorini, with quaint narrow streets, Greek cafes, and some great photo ops, including a white bell tower with 6 bells.
We would have loved to spend more time in Megalochori! It's still a hidden gem, and it doesn't have the crowds or bustle of Oia. There are plenty of hotels and restaurants if you decide to stay longer.
You can get to Megalochori easily from the main bus station in Fira, and it's also possible to drive there. We found plenty of parking space near the town.
Where To Stay In Megalochori: Villa Katerina (Midrange) or Ducato Wine Villas (Luxury)
The village of Pyrgos is the former capital of Santorini Greece, and it's still well worth a visit today. It sits on a foothill of Prophet Elias Mountain, so it's great to visit on your way up to the mountain!
The main thing people come to see in Pyrgos is the medieval castle, but the cafes and restaurants are also worthwhile, and it's fun to walk through the charming narrow streets and shop for Greek souvenirs.
We didn't think Pyrgos was quite as beautiful as Megalochori, but we still really enjoyed it, and it's easy to reach from Fira by bus, car, or ATV.
Where To Stay In Pyrgos: Bluewhite Villa (Midrange) or Aeon Suites (Luxury)
Souvenirs for sale in Pyrgos village
7. Prophet Elias Mountain
The highest peak in Santorini is Mount Prophet Elias, with an elevation of 565 meters (1,900 feet) above sea level. There's a nice 18th century monastery at the top of the mountain that's open to the public, and it's free to enter.
Aside from having wonderful panoramic views of Santorini island from above, this mountain is also a great place to watch the sunrise or sunset without the crowds of Oia. You can see everything up here, including the planes taking off and landing at the airport. It's one of the best things to do in Santorini!
The mountain is accessed by driving your vehicle up a winding road for about 10 minutes past Pyrgos. Parking is limited at the top, so come a little early and remember to bring a jacket, as it can be very windy up there!
Mount Prophet Elias — one of the best things to do in Santorini
8. Akrotiri Lighthouse
This is a 19th century lighthouse on the southwest tip of Santorini island. Even though it's slightly off the beaten path compared to other attractions in Santorini, you can still get there easily with a rental car , and there's plenty of parking.
The Akrotiri Lighthouse was built by a French company in 1892, so it's actually one of the oldest lighthouses in Greece! Normally you can't go inside the building, but the views outside are nice and it's a fun place to watch the boats go by.
It's also an especially popular spot to watch the sunset, but remember to hold onto your hat because it can get very windy here sometimes!
Akrotiri Lighthouse
9. Akrotiri Museum
The Akrotiri Museum covers an archaeological site and ancient city in Santorini that was buried in volcanic ash during the 17th century BC.
There are well preserved houses, pots, and other artworks to see, and you can learn some interesting facts about the old settlement here.
If you love history, this is a great place to visit in Santorini. It's located near the Red Beach, so you can easily combine the two places in one trip!
Book Now: Akrotiri Museum Tickets / Private Tour
Akrotiri Museum
Best Santorini Beaches
Most of the beaches in Santorini are black sand beaches because of the volcanic origin of the island. They're still nice for relaxing and sunbathing, but don't expect any dazzling white beaches like you might see on Kefalonia or other Greek islands. Santorini doesn't have white sand beaches.
One of the most famous and photogenic beaches in Santorini is the red beach, which gets its striking color from volcanic rocks on the seashore. Even if you're not a beach person, this one is well worth a visit to see the unique red color!
If you're looking for beaches with accommodation (restaurants and places to stay by the beachfront), then the Perissa and Kamari areas are your best choices. They have nice black sand beaches with hundreds of choices of hotels and restaurants!
The unique red beach in Santorini Greece
Santorini Island Map
Here's a Santorini island map showing some of the best places to visit.
You can click the icons on this map to get more info and directions for each point of interest, but keep in mind some of the locations may be approximate.
Best Sunrise / Sunset Spots In Santorini Greece
The main place to see the sunset in Santorini is at Oia, where hundreds of tourists gather at the Castle of Oia every evening to watch the sunset. It's hard to move in the crowds, so you'll want to get there very early if you plan to do sunset photography. For a less crowded sunset spot in Oia, you can also go to the iconic three blue domes.
Another great sunset spot in Santorini is Prophet Elias Mountain. We went up there one evening and it was very peaceful. It only takes about 10 minutes to drive to the top of this mountain from the nearby town of Pyrgos. From the top, you can see the entire island of Santorini!
For sunrise, the options in Santorini are a bit more limited, but you can see the sunrise at Perissa or Kamari Beach, the hillside of Ancient Thera , or Prophet Elias Mountain.
Last, but not least, there are lots of different sunset tour packages in Santorini that include free hotel pickup and drop-off. You can do a sunset cruise on a catamaran, go kayaking or horseback riding in the sunset, or see the iconic Oia castle sunset.
Book Now: Santorini Sunset Cruise / Kayaking / Horseback Riding / Oia Castle
Other Santorini Tips
Credit Cards: You can pay by credit card for most hotels, restaurants, and other things in Santorini, but it's still a good idea to carry a bit of cash (in Euros). Some smaller restaurants only take cash, or the card machines may go down.
ATM: There are ATMs within reach of every corner of the island. We usually pulled 200 Euros at a time, and never had any issues. One thing to note is that the ATMs will offer you their own conversion rate (which is a really bad rate), or you can continue in Euros. Make sure you choose Euros without their silly conversion rate. This is a well known scam at ATMs in Greece, but it's easily avoided if you know what you're doing.
Cell Service: Phone reception is strong across all of Santorini island, so you won't have any issues staying in touch.
WiFi: Internet quality in Santorini is better than the other Greek islands, in our experience. Don't always expect WiFi speeds on par with Athens (or other European countries), but it's generally good enough for emails, browsing, and streaming.
Santorini souvenir magnets for sale in Oia town
Language: The local language in Santorini is Greek, of course, but almost everyone speaks and understands enough English for conversation. Lots of American and British tourists visit the Aegian islands, so the locals are accustomed to speaking English with travelers.
Mosquitoes: We never saw any mosquitoes in Santorini, and the island isn't known to be home to the West Nile Virus, so it's not really a significant concern here.
Water: The tap water in Santorini is supposed to be safe to drink, but it doesn't taste good. It's better to drink bottled water, which is cheap and can be found all over. You can use the tap water for cooking or brushing your teeth.
Fira views — Santorini Island Greece
Is Santorini Safe?
Yes, Santorini is a very safe place to visit, even outside of the resort areas. We spent weeks exploring every corner of the island, and never felt unsafe at all.
Greece has one of the lowest homicide rates in the world. Just take normal precautions and you shouldn't have any issues with crime. You don't need to feel worried at all.
We traveled to Santorini as a couple, but based on our experience I would gladly come back as a solo traveler, with no worries in the least.
Santorini On A Budget — Is It Possible?
Believe it or not, Santorini isn't only for the super rich — even though many Americans have that image of it! It's certainly possible to do Santorini on a budget, although you won't be staying in a luxury hotel with an infinity pool or ocean views.
On our first visit to Santorini, we stayed in Perissa near the beach, and used the public bus to cheaply visit other areas like Oia, Fira, and Imerovigli.
We weren't staying in the fanciest areas of Santorini, but we could reach them easily for sightseeing and photos, which was good enough for us. We rented a car for a couple days to get to some of the more remote places that are harder to reach by bus.
We got wonderful meals in Perissa for as low as 3 Euros per person, and our hotel ( Studios Apartments Kapetanios ) was 65 Euros per day. That's still not exactly super cheap, but it's not bad at all either.
Keep in mind, this was one of the popular summer months (September), and it was a year that happened to be unusually busy for tourism in Greece (2022). So you could conceivably do everything even cheaper than we did.
Overall, I'd say it's certainly possible to travel Santorini on a budget if you plan it right!
How Long To Stay In Santorini Greece
Santorini is one of those places where you feel like you could stay forever. Relaxing in a pool, soaking up sun, being by the ocean, and eating Greek food never gets old.
As far as sightseeing goes, you can see the highlights of Santorini Greece — namely Oia, Fira, Imerovigli, and Perissa — in 3 or 4 days. If you want to travel at a more relaxed pace and also visit extra places like Pyrgos and Megalochori, then a week or more is good.
We spent almost two weeks in Santorini, and while that's probably more than most people will need, it gave us plenty of time to relax by the pool and see almost everything on the island at a very relaxed pace.
The photogenic Greek monastery in Perissa
Santorini Greece Itinerary
Here's what a sample 3-day itinerary for Santorini island could look like, assuming you want to spend the time mainly for sightseeing:
Day 1: Oia . Stroll the streets of Oia town and soak up the views of the historic whitewashed buildings and Santorini windmills. Pay a visit to the Castle of Oia for an iconic view of the town, and then walk down to Ammoudi Bay to see the fish tavernas. Have a nice meal at one of the many scenic restaurants overlooking Santorini, and then finish the day with sunset watching at Oia Castle.
Day 2: Fira & Imerovigli . Walk around Fira town and see the iconic three bells of Fira , and the Church of St. John the Theologian . Next, hike or take the bus to Imerovigli town and see the photogenic churches, flowers, and ocean views. Hike out to Skaros Rock and Theoskepasti Church .
Day 3: Perissa . Visit the Perissa area, relax at the black sand beach, shop for souvenirs, and enjoy some cheap and amazing food at one of the many Greek restaurants. See the Church of the Holy Cross and take some pictures. If you're interested in hiking, climb up to the monastery on the side of the mountain ( Chapel of Panagia Katefiani ). End the day by driving up Prophet Elias mountain for sunset.
I hope this gives you some ideas for your own trip to Santorini! Of course, you could easily spend longer exploring these places.
If you have 4 or 5 days in Santorini, then spend a full day each on Fira and Imerovigli rather than doing both places in the same day.
You could also spend a full day seeing Pyrgos and Megalochori, plus far-flung sights like the Akrotiri Museum and Akrotiri Lighthouse .
Best Time To Visit Santorini Greece
The best time to visit Santorini island depends on what you're looking for.
The nicest weather in Santorini is generally from late April to early November. All of these months are mostly warm and sunny, with less rain than winter. The shoulder months in spring and autumn can be ideal if you're wanting nice weather without the crowds.
The hottest months in Greece are July and August, with high temperatures of about 85 °F (29 °C) and lows around 73 °F (23 °C). This can be great for swimming in a pool or lounging at the beach, although these two months can also be more crowded with tourists.
Winter in Santorini is fairly mild. It's wetter and cooler, but it's never actually too cold to visit. High temperatures are around 60 °F (15 °C), and lows are around 50 °F (10 °C). Perfect jacuzzi weather! The winter season is also quieter and cheaper, so you can often get a good deal on hotels and things.
Regardless of when you decide to visit Santorini, you're sure to have a memorable trip!
Santorini Hotels
More greece travel guides.
Thanks for looking! I hope you enjoyed this travel guide for Santorini island in Greece.
We have more travel guides for the Greek islands coming soon, so don't forget to check back later!
Happy travels!
You may also like
Samet nangshe viewpoint: best sunrise spot in thailand, tiger's nest monastery bhutan hike (paro taktsang), seram island & ora beach travel guide (maluku, indonesia), antelope canyon tours: which is best (upper, lower, x), palau scenic flight over the rock islands + pictures, rock islands palau boat tour: milky way, long beach & more, leave a comment cancel reply.
Save my name, email, and website in this browser for the next time I comment.
Things To Do
Entertainment
Food Travel
Travel Tips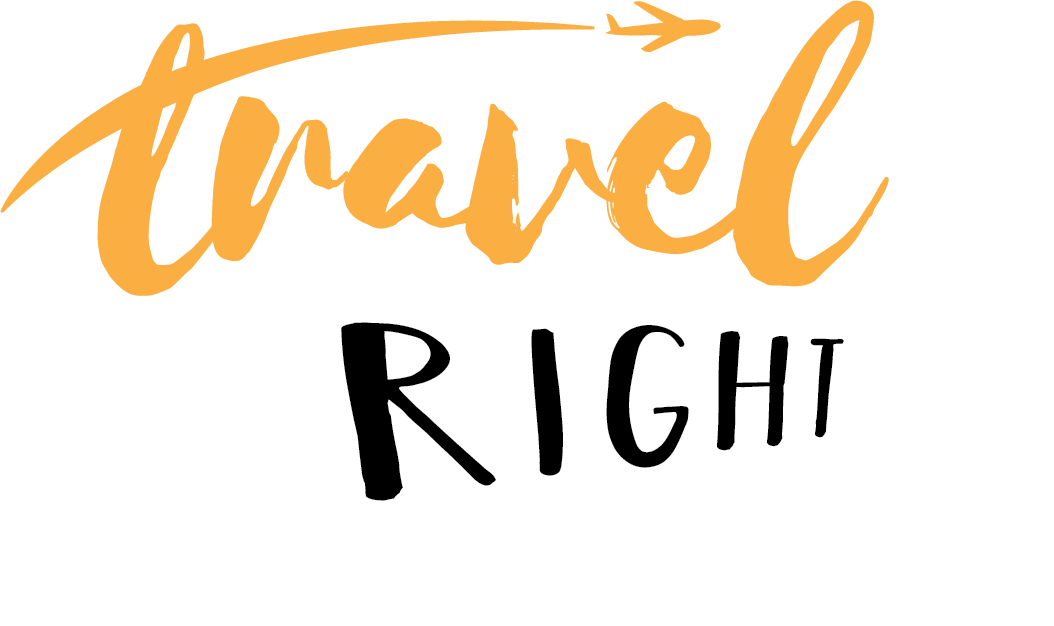 The Best Places To Visit In Santorini, Greece
Introduction.
Welcome to the breathtaking island of Santorini, Greece – a destination that combines stunning natural beauty, rich history, and a vibrant culture. Tucked away in the southern Aegean Sea, Santorini is a gem that attracts millions of visitors every year. With its iconic white-washed buildings, picturesque villages, and stunning sunsets, it's no wonder why this island has become a dream destination for travelers from around the world.
Santorini is part of a volcanic archipelago and is known for its unique geography, featuring dramatic cliffs overlooking the deep blue waters of the Aegean Sea. The island itself is the result of a volcanic eruption that occurred over 3,000 years ago, leaving behind a caldera – a submerged crater – and a landscape that is nothing short of spectacular.
While Santorini is famous for its beautiful sunsets, there is so much more to explore and discover on this enchanting island. From the charming village of Oia to the bustling capital of Fira, Santorini offers a multitude of experiences for every type of traveler.
Whether you're seeking relaxation on the beach, adventure in archaeological sites, or indulging in the local cuisine and wines, Santorini has it all. Join us as we take a journey through the best places to visit in Santorini and uncover the hidden gems that make this destination truly remarkable.
Oia Village
Nestled on the northern tip of Santorini, Oia Village is a postcard-perfect destination that will leave you in awe. Known for its iconic blue-domed churches, narrow cobblestone streets, and breathtaking views of the caldera, Oia is one of the most picturesque villages on the island.
Wandering through the charming streets of Oia, you'll encounter a plethora of boutique shops, art galleries, and traditional tavernas. Explore the quaint alleys, admire the stunning architecture, and lose yourself in the magical atmosphere that permeates every corner of this village.
One of the highlights of Oia is the world-famous sunset view. As evening approaches, people gather on the cliffs, eagerly awaiting the moment when the sun paints the sky with hues of gold, orange, and pink. This unforgettable experience is best enjoyed from the imposing Byzantine castle ruins in Oia.
In addition to its captivating beauty, Oia also offers a range of activities. Consider embarking on a boat excursion to explore the nearby volcanic islands, or indulge in a relaxing spa treatment with a view of the caldera. For those seeking adventure, hiking from Oia to Fira is a popular option, offering panoramic views along the way.
Don't miss the opportunity to sample the delicious local cuisine in Oia. From fresh seafood to traditional Greek dishes, the village is home to numerous exceptional restaurants. Be sure to try traditional Santorinian specialties, such as fava (split pea puree), tomatokeftedes (tomato fritters), and Vinsanto wine.
Oia Village is a must-visit destination in Santorini, enchanting visitors with its timeless beauty, stunning views, and charming atmosphere. Whether you're strolling through the picturesque streets or witnessing the mesmerizing sunset, Oia will leave an indelible mark on your heart and create memories to last a lifetime.
Situated on the western coast of Santorini, Fira Town is the vibrant capital of the island. This bustling hub is known for its lively atmosphere, stunning views, and a wide array of shops, restaurants, and entertainment options.
As you explore Fira Town, you'll be greeted by picturesque white-washed buildings, narrow streets, and charming boutiques. Lose yourself in the winding alleys lined with vibrant flowers and discover hidden gems along the way. From trendy fashion boutiques to local artisan stores, Fira offers a unique shopping experience.
One of the highlights of Fira is the stunning caldera view. Perched on the edge of the volcanic cliffs, the town offers panoramic vistas of the Aegean Sea and the nearby volcanic islands. Take a leisurely stroll along the cliffside promenade, enjoying the breathtaking scenery and soaking in the vibrant energy of Fira.
Fira also boasts an array of culinary delights. From traditional Greek tavernas serving moussaka and souvlaki to international cuisine restaurants offering a fusion of flavors, the dining scene in Fira is diverse and exciting. Don't forget to sample the local delicacies, including the famous Santorinian cherry tomatoes and the mouthwatering local wines.
In addition to its vibrant shopping and dining scene, Fira Town is also home to several cultural and historical attractions. Visit the Museum of Prehistoric Thera to delve into the rich history of Santorini and explore the ancient artifacts and ruins. The Orthodox Metropolitan Cathedral is another noteworthy landmark, displaying stunning architecture and religious artwork.
For those looking for a vibrant nightlife, Fira has a variety of bars and clubs where you can dance the night away. Enjoy live music, sip on handcrafted cocktails, and embrace the festive atmosphere that permeates the town after dark.
Fira Town is a captivating destination that combines stunning views, cultural experiences, and a lively atmosphere. Whether you're exploring the charming streets, indulging in delicious cuisine, or simply taking in the mesmerizing caldera view, Fira promises an unforgettable experience that will leave you wanting to return again and again.
Kamari Beach
Located on the eastern coast of Santorini, Kamari Beach is a popular destination known for its sparkling black sand, crystal-clear waters, and vibrant beachfront atmosphere. This picturesque beach offers a unique and contrasting beauty compared to the famous white-washed cliffs of Santorini.
Kamari Beach stretches for over five kilometers, providing ample space for visitors to relax, swim, and soak up the sun. The volcanic black sand not only creates a striking visual contrast but also retains less heat, making it comfortable to walk on even on hot summer days.
The beach is equipped with all the necessary amenities, including sunbeds, umbrellas, and water sports facilities. You can rent a kayak or paddleboard to explore the azure waters of the Aegean Sea, or simply relax on a sunbed and enjoy the gentle sea breeze.
Kamari Beach is lined with numerous beach bars, cafes, and restaurants, offering a wide range of dining options. From traditional Greek tavernas serving fresh seafood to international cuisines, there is something to satisfy every palate. Don't miss the opportunity to indulge in local specialties such as souvlaki, Greek salads, and refreshing tzatziki.
In addition to its natural beauty and beachfront activities, Kamari Beach is also home to cultural attractions. Visit the Ancient Thera site, located on the hillside above the beach, and explore the ruins of an ancient city. The site offers a fascinating glimpse into the island's history and provides panoramic views of the beach and surrounding area.
For those seeking a leisurely stroll or a refreshing hike, a promenade runs along the length of Kamari Beach. Take a relaxing walk along the beachfront, admiring the views and stopping by beachfront cafes for a drink or snack along the way.
Kamari Beach's laid-back ambiance, stunning black sand, and array of amenities make it a perfect destination for beach lovers. Whether you're seeking relaxation, water sports, or cultural exploration, Kamari Beach offers a delightful seaside retreat that will make your Santorini experience truly unforgettable.
Perissa Beach
Located on the southeastern coast of Santorini, Perissa Beach is a captivating destination known for its pristine black sand, crystal-clear waters, and towering cliffs. This stunning beach offers a tranquil and laid-back atmosphere, making it an ideal retreat for those seeking relaxation and natural beauty.
Perissa Beach stretches for approximately seven kilometers, providing ample space for visitors to unwind and soak up the sun. The volcanic black sand, formed from the remnants of ancient volcanic activity, creates a striking contrast against the blue sea, making it a photographer's paradise.
The beach is well-equipped with sunbeds and umbrellas, ensuring a comfortable experience for beachgoers. You can spend your day lounging under the sun, swimming in the refreshing waters, or taking part in various water sports activities such as jet skiing, snorkeling, or scuba diving.
Perissa Beach is renowned for its vibrant beachfront promenade, lined with a wide array of tavernas, beach bars, and shops. Indulge in delicious Greek cuisine at seaside restaurants, offering traditional dishes like grilled octopus, fresh fish, and Greek salads. Sip on a refreshing cocktail or enjoy a cold local beer while taking in the mesmerizing views.
The surrounding cliffs offer a scenic backdrop to Perissa Beach and provide an excellent opportunity for hiking enthusiasts. Tackle the trail leading to the ancient site of Ancient Thera, located on the top of Mesa Vouno mountain, and immerse yourself in fascinating archaeological treasures while enjoying panoramic views of the beach and the Aegean Sea.
For history enthusiasts, a visit to the Museum of Minerals and Fossils in Perissa is a must. The museum showcases a vast collection of minerals and fossils, giving insights into the geological history of the island and its volcanic origins.
Perissa Beach offers a peaceful and serene retreat that captures the essence of Santorini's natural beauty. Whether you're seeking relaxation on the beach, exploring the surrounding cliffs, or indulging in fine dining, Perissa Beach is a destination that will leave you rejuvenated and mesmerized by its enchanting charm.
Akrotiri Archaeological Site
The Akrotiri Archaeological Site is an ancient marvel that offers a captivating glimpse into the history and culture of Santorini. Often referred to as the "Pompeii of the Aegean," this remarkable site showcases the remains of a Minoan Bronze Age civilization that was buried under volcanic ash for centuries.
Located on the southern coast of Santorini, the Akrotiri Archaeological Site dates back to around 4,000 years ago and is considered one of the most significant archaeological discoveries in the Aegean region. Excavations have revealed incredibly well-preserved ruins, including houses, streets, and even frescoes.
As you explore the site, you'll walk through the remnants of an ancient city that once thrived with advanced infrastructure and sophisticated architecture. The multi-story buildings, intricate drainage systems, and preserved household items provide valuable insights into the daily life and culture of the Minoan civilization.
One of the most fascinating aspects of the Akrotiri Archaeological Site is the exceptionally well-preserved frescoes. These intricate paintings depict various aspects of Minoan life, such as religious rituals, everyday activities, and nature scenes. The famous "Saffron Gatherer" fresco is a highlight, showcasing the high level of artistic skill and vivid colors that were prevalent during that era.
A visit to the archaeological site is enhanced by the informative exhibits and displays that provide context and information about the excavations. You can learn about the history of the Minoan civilization, the eruption that buried Akrotiri, and the ongoing preservation efforts to protect and study this remarkable site.
While the majority of the artifacts discovered in Akrotiri are now housed in the Museum of Prehistoric Thera in Fira, visiting the archaeological site provides a unique opportunity to walk through the ancient city and experience its grandeur firsthand.
Akrotiri Archaeological Site offers a fascinating journey through time, allowing visitors to understand and appreciate the advanced civilization that once thrived on the island. Witness the remnants of a vanished culture, marvel at the intricate frescoes, and gain a deeper understanding of the rich history of Santorini at this extraordinary archaeological site.
Caldera Viewpoints
One of the most breathtaking experiences in Santorini is witnessing the awe-inspiring views from the Caldera. Located along the western edge of the island, the Caldera is a submerged volcanic crater that offers panoramic vistas of the deep blue Aegean Sea, steep cliffs, and the neighboring volcanic islands.
There are several viewpoints along the Caldera that provide stunning vistas that will leave you speechless. The village of Oia, famous for its charming white-washed buildings and blue-domed churches, offers some of the most picturesque viewpoints. Wander through the narrow winding streets, emerge onto one of the stone terraces, and be greeted by a magnificent vista of the caldera and the surrounding landscapes.
Fira, the capital of Santorini, also boasts incredible Caldera viewpoints. The cliffside promenade in Fira provides uninterrupted panoramic views, allowing you to marvel at the dramatic cliffs plunging into the azure sea. Whether you choose to indulge in a romantic sunset dinner or simply take a leisurely stroll along the promenade, the Caldera views from Fira will leave a lasting impression.
For a unique perspective, consider visiting the village of Imerovigli, often referred to as the "balcony of Santorini." Perched on the highest point of the Caldera, Imerovigli offers uninterrupted vistas that stretch as far as the eye can see. The combination of the blue sea, the volcanic cliffs, and the whitewashed buildings creates a mesmerizing and picturesque scene.
To truly immerse yourself in the Caldera experience, embark on a boat tour or a sunset cruise. Sail along the coast and witness the dramatic cliffs from a different perspective, as the sun casts its golden glow on the volcanic landscape. The ethereal beauty of the Caldera is heightened as you glide through the azure waters, creating an unforgettable memory.
No matter where you find yourself along the Caldera viewpoints, the scenery is breathtaking at any time of the day. Whether it's the golden hues of sunrise, the vibrant blues of midday, or the magical colors of sunset, the views from the Caldera are truly a feast for the senses.
Be sure to have your camera ready to capture the beauty of the Caldera, but don't forget to take a moment to simply admire the breathtaking views and appreciate the natural wonders that Santorini has to offer.
Located on the southern coast of Santorini, Red Beach is a unique and iconic destination known for its distinctive red cliffs and red-hued sand. This stunning beach offers a dramatic and captivating landscape that attracts visitors from around the world.
As you approach Red Beach, you'll immediately be struck by the vibrant red cliffs that surround the shoreline. These volcanic rock formations create a breathtaking backdrop against the deep blue waters of the Aegean Sea. The contrast between the red cliffs and the turquoise sea is truly mesmerizing.
The beach itself is comprised of fine reddish volcanic sand, making it a fascinating sight to behold. It's important to note that due to the cliffside nature of the beach, parts of it may be inaccessible or closed off for safety reasons. However, even from a distance, you can still marvel at the unique beauty of Red Beach.
While swimming at Red Beach is possible, it is recommended to exercise caution due to the presence of loose rocks and occasional landslides. However, the beach remains a popular spot for sunbathing and enjoying the scenic surroundings. You can relax on the shore, soak up the sun, and listen to the soothing sound of the waves crashing against the cliffs.
For those seeking a more adventurous experience, consider taking a boat tour or a kayak excursion to explore the area surrounding Red Beach. Witnessing the red cliffs from the water provides a different perspective and allows you to fully appreciate their striking beauty.
There are a few beachside tavernas near Red Beach where you can enjoy a refreshing drink or savor delicious Greek cuisine with a view. Imagine sitting at a seaside restaurant, indulging in fresh seafood while admiring the unique natural spectacle of Red Beach.
Red Beach is not only a feast for the eyes but also a reminder of the volcanic origins of Santorini. This geological wonder showcases the raw beauty of nature and offers a truly unforgettable experience for those who visit.
Whether you're seeking a unique photo opportunity, a moment of tranquility, or a chance to explore the wonders of Santorini, Red Beach is a must-visit destination that will leave you in awe of its incredible natural beauty.
Santo Winery
Nestled on the breathtaking cliffs of Santorini, Santo Winery is a haven for wine enthusiasts and connoisseurs. This renowned winery offers an immersive wine experience, stunning views of the caldera, and a chance to taste the distinctive flavors of Santorinian wines.
Santo Winery is located in the village of Pyrgos, situated in the heart of the island. As you enter the winery, you'll be greeted by the scenic vineyards that stretch across the slopes, creating a picturesque setting. The vineyards at Santo Winery benefit from the volcanic soil and unique microclimate, resulting in grapes that produce exceptional wines.
Visitors have the opportunity to take a guided tour of the winery, where knowledgeable guides will take you through the winemaking process. From the vineyards to the fermentation rooms and oak barrels, you'll learn about the intricate steps involved in crafting Santorinian wines.
One of the highlights of Santo Winery is the wine tasting experience that allows you to sample a range of wines produced on-site. From crisp and refreshing Assyrtiko wines to the unique and sweet Vinsanto dessert wine, each sip will transport you to the essence of Santorini's rich viticulture.
While indulging in the sophisticated flavors of the wines, you can also savor a selection of local delicacies that perfectly complement the tasting experience. From cheese and charcuterie platters to traditional Santorinian dishes, the culinary offerings at Santo Winery are designed to enhance the wine tasting experience.
One of the standout features of Santo Winery is its panoramic terrace, offering unparalleled views of the caldera and surrounding landscapes. Relax on the terrace, sip your wine, and be mesmerized by the breathtaking vistas that unfold before your eyes. The combination of the incredible views, the wine, and the warm hospitality creates an unforgettable experience.
Whether you're a wine enthusiast, a lover of stunning scenery, or simply seeking a unique experience in Santorini, Santo Winery is a must-visit destination. Explore the vineyards, learn about the winemaking process, indulge in the flavors of Santorinian wines, and create beautiful memories in this enchanting setting.
Pyrgos Village
Perched on a hilltop in Santorini, Pyrgos Village is a captivating destination that offers a glimpse into the island's rich history and traditional Greek village life. This picturesque village, known for its charming white-washed buildings, narrow alleys, and panoramic views, is a hidden gem waiting to be explored.
As you enter Pyrgos Village, you'll be greeted by the iconic blue-domed churches and the remnants of a Venetian castle, Kastelli, which stands proudly at the village's highest point. Climb to the top of the castle for panoramic views of Santorini's scenic landscapes, including the caldera, vineyards, and neighboring villages.
Wandering through the enchanting streets of Pyrgos, you'll discover traditional houses, boutique shops, and cozy cafes. The village retains its authenticity and tranquility, allowing visitors to immerse themselves in the peaceful atmosphere and experience the timeless charm of a Greek village.
One of the highlights of Pyrgos Village is the labyrinthine streets and alleys that wind their way through the village. Get lost in the maze of narrow paths, stumble upon hidden courtyards, and stumble upon unexpected surprises at every turn. The architectural beauty and the sense of time standing still create a truly captivating experience.
Pyrgos is also known for its vineyards and winemaking. Take the opportunity to visit one of the local wineries and learn about the unique viticulture practices that make Santorinian wines so distinctive. Tasting the wines at a local winery is a must-do in Pyrgos, as you'll have the opportunity to sample the flavors of the island while enjoying the serene beauty of the countryside.
For those seeking panoramic views without the climb, Pyrgos offers several terraces and viewpoints where you can enjoy the stunning vistas. Relax on a terrace, sip on a traditional Greek coffee, and gaze at the sweeping landscapes that stretch out before you.
When it comes to dining, Pyrgos doesn't disappoint. The village is home to a variety of tavernas and restaurants that serve delicious Greek cuisine. Indulge in local specialties such as moussaka, souvlaki, and fresh seafood while enjoying the warm hospitality of the locals.
Pyrgos Village captures the essence of traditional Greek charm and offers a serene and authentic Santorinian experience. Whether you're exploring the labyrinthine streets, savoring the flavors of local cuisine, or simply enjoying the panoramic views, Pyrgos will leave an indelible mark on your heart and provide memories that will last a lifetime.
Ancient Thera
Perched on Mesa Vouno, a mountain located on the southeastern coast of Santorini, Ancient Thera is an archaeological site that offers a fascinating glimpse into the island's past. This ancient city, dating back to the 9th century BC, holds remnants of various civilizations and showcases the rich history of Santorini.
As you ascend the winding path to Ancient Thera, you'll be met with breathtaking views of the Aegean Sea and the surrounding landscapes. The impressive ruins that await you at the mountaintop are a testament to the advanced infrastructure and cultural wealth of the ancient city.
Explore the remains of ancient buildings, including houses, temples, and theaters. The intricate mosaic floors, preserved columns, and stone pathways transport you back in time, allowing you to envision what life was like in this ancient Greek settlement.
Ancient Thera was inhabited by several different civilizations, including the Dorians, Romans, and Byzantines. This diverse history is evidenced by the architectural styles and structures found within the site. From the Sanctuary of Apollo to the Agora and the Roman Baths, each area tells a different story of the city's past.
One of the highlights of the Ancient Thera site is the commanding view it offers over the surrounding area. From the mountaintop, you can gaze down upon the stunning coastline, the deep blue sea, and the neighboring islands. It's a breathtaking sight that truly showcases the beauty of Santorini.
Exploring Ancient Thera can be an enriching experience, whether you choose to explore independently or join a guided tour. Guides can provide valuable historical context and insights into the significance of the different structures, enhancing your understanding and appreciation of this ancient site.
It's important to note that visiting Ancient Thera involves climbing uphill, so comfortable footwear and sun protection are recommended. However, the effort is well worth it for the opportunity to explore this archaeological treasure and witness the remarkable views from above.
Ancient Thera allows visitors to delve into Santorini's ancient past and discover the layers of civilizations that once thrived on the island. The site's historical significance, breathtaking views, and well-preserved ruins make it a must-visit destination for history enthusiasts and curious travelers alike.
Tucked away at the foot of the cliffs below Oia Village, Amoudi Bay is a hidden gem that offers a charming and picturesque escape from the bustling streets above. This small fishing village captivates visitors with its azure waters, quaint harbor, and delectable seafood.
To reach Amoudi Bay, you'll descend a winding staircase from Oia Village, taking in the stunning panoramic views along the way. As you emerge at sea level, you'll be greeted by a small harbor filled with colorful fishing boats and traditional tavernas.
Amoudi Bay is renowned for its fresh seafood, and there's no better place to savor the flavors of the Mediterranean than at one of the seaside tavernas. Indulge in a feast of grilled octopus, calamari, or the catch of the day, while relishing the serene and idyllic atmosphere of the bay.
For those seeking adventure, Amoudi Bay offers the opportunity to take a refreshing swim in its crystal-clear waters. Dive in, cool off, and bask in the beauty of this natural bay surrounded by rugged cliffs.
If you're feeling more adventurous, you can test your cliff jumping skills. Amoudi Bay is known for its diving spots, where thrill-seekers can take a leap from various heights into the inviting waters below.
For stunning views of both Amoudi Bay and the surrounding cliffs, follow the seaside path that leads to a rocky outcrop. There, you can enjoy an uninterrupted vista of the bay and the dramatic backdrop of the volcanic landscape. Don't forget your camera, as this viewpoint offers the perfect spot for capturing unforgettable memories.
A visit to Amoudi Bay is not complete without exploring the nearby Goulas and Agios Nikolaos churches. These iconic blue-domed churches add to the charm of the village and provide a glimpse into the religious traditions of the area.
Amoudi Bay showcases the quieter and more traditional side of Santorini. From spectacular views and delightful seafood to swimming and cliff jumping, this hidden gem offers a tranquil retreat away from the bustling crowds. Immerse yourself in the serene beauty of Amoudi Bay and create lasting memories in this idyllic corner of Santorini.
Imerovigli Village
Situated on the highest point of the caldera cliffs, Imerovigli Village is often referred to as the "balcony of Santorini" due to its elevated position and breathtaking panoramic views. This picturesque village offers tranquility, stunning sunsets, and an enchanting atmosphere that captivates visitors from the moment they arrive.
As you wander through the charming streets of Imerovigli, you'll be greeted by traditional white-washed buildings, blue-domed churches, and narrow winding paths. The village retains its authentic Greek charm and provides a sense of tranquility and relaxation.
Imerovigli is renowned for its exceptional viewpoints that overlook the caldera and the Aegean Sea. The village's elevated position allows for uninterrupted panoramic vistas, making it the perfect spot to witness Santorini's famous sunsets. Find a cozy spot on one of the cliffside terraces, sip on a refreshing cocktail, and watch as the sky transforms into a stunning display of colors.
The main square of Imerovigli is home to the striking Church of Panagia Malteza, an architectural marvel with its iconic blue dome. Step inside to admire the beautiful interior adorned with religious artwork and icons. From the square, you can also explore the charming boutiques and art galleries that offer unique treasures and souvenirs.
A leisurely walk along the cliffside pathway, known as the "Skaros trail," is a must-do in Imerovigli. The trail takes you to the ruins of Skaros Castle, an ancient fortification that provided protection and offered strategic views of the sea. Enjoy the scenic hike and take in the panoramic scenery that stretches as far as the eye can see.
Imerovigli boasts an array of high-end hotels, luxury villas, and boutique accommodations, many of which offer private infinity pools and stunning views. Indulge in the tranquility and privacy of your own sanctuary, enjoy impeccable service, and revel in the serenity that surrounds you.
When it comes to dining, Imerovigli offers a variety of restaurants and tavernas that serve both local and international cuisine. From traditional Greek dishes to innovative culinary delights, there's something to satisfy every palate. Combine your meal with a glass of local wine and revel in the magical ambiance of the village.
Imerovigli Village offers a serene and romantic atmosphere, breathtaking views, and a sense of tranquility that is hard to find elsewhere. Whether you're admiring the panoramic vistas, exploring the charming streets, or simply indulging in the laid-back ambiance, Imerovigli will leave you enchanted and longing to return.
Black Sand Beaches
One of the distinctive features of Santorini is its mesmerizing black sand beaches, formed by the volcanic activity that shaped the island's unique landscape. These beaches offer a striking contrast to the traditional white-washed buildings and vivid blue sea, creating a truly unforgettable experience for visitors.
Perissa Beach, located on the southeastern coast of Santorini, is one of the most popular black sand beaches on the island. This expansive beach stretches for several kilometers and is lined with sunbeds, umbrellas, and beachfront tavernas. Relax on the black sand, bask in the warm sunshine, and take refreshing dips in the crystalline waters of the Aegean Sea.
Next to Perissa Beach, you'll find Perivolos Beach, famous for its long stretch of black sand and vibrant beach bars. It's a trendy spot where you can enjoy a variety of water sports activities, including jet skiing, banana boat rides, and windsurfing. After an adventurous day in the water, unwind at one of the beachfront bars, sip on a cocktail, and enjoy the lively atmosphere.
Kamari Beach, another beloved black sand beach, is located on the eastern coast of Santorini. This family-friendly beach offers a range of amenities and water sports options. Whether you choose to relax on a sunbed, explore the underwater world through snorkeling, or indulge in beachside dining, Kamari Beach has something for everyone.
While the black sand beaches of Santorini are visually stunning, it's important to note that the sand can become hot during peak summer months. It is advisable to bring a pair of sandals or beach shoes to comfortably navigate the sand.
Visiting the black sand beaches also provides an opportunity to explore the surrounding areas. Kamari, Perissa, and Perivolos offer a variety of waterfront tavernas, beach bars, and shops where you can immerse yourself in the local atmosphere. Taste traditional Greek cuisine, shop for souvenirs, or stroll along the waterfront promenades as the sun sets.
Whether you're seeking relaxation, adventure, or the unique beauty of volcanic landscapes, the black sand beaches of Santorini offer a distinct and captivating experience. Lose yourself in the contrasting colors of the island, rejuvenate your senses, and create memories that will last a lifetime.
Santorini is undeniably a destination that captures the hearts and imaginations of travelers from around the world. This enchanting Greek island, with its unique landscapes, rich history, and vibrant culture, offers a truly unforgettable experience.
From the iconic white-washed buildings perched on the cliffs to the stunning black sand beaches and the azure waters of the Aegean Sea, Santorini is a visual feast for the senses. Every corner of this island holds its own charm and beauty, inviting exploration and discovery.
Whether you find yourself wandering through the narrow streets of Oia, taking in the panoramic views from Fira, or indulging in the flavors of local cuisine, Santorini offers a plethora of experiences for every type of traveler.
Immerse yourself in the history of the island by visiting archaeological sites such as Akrotiri or exploring the ancient ruins of Thera. Take in the natural wonders of the volcanic landscape by hiking to panoramic viewpoints or relaxing on the black sand beaches.
The hospitality of the locals, the warm Mediterranean sun, and the vibrant atmosphere create an irresistible allure that keeps visitors coming back for more. Santorini's beauty and charm continue to captivate, offering an escape from the everyday and a chance to embrace a slower pace of life.
Whether you're seeking romance, adventure, relaxation, or cultural immersion, Santorini delivers. It's a destination that leaves an indelible mark on your heart and creates memories to last a lifetime.
So, embark on a journey to Santorini and immerse yourself in the captivating beauty and rich experiences it has to offer. From the magical sunsets to the traditional Greek villages, you'll discover a place that will forever hold a special place in your travel memories.
RELATED ARTICLES MORE FROM AUTHOR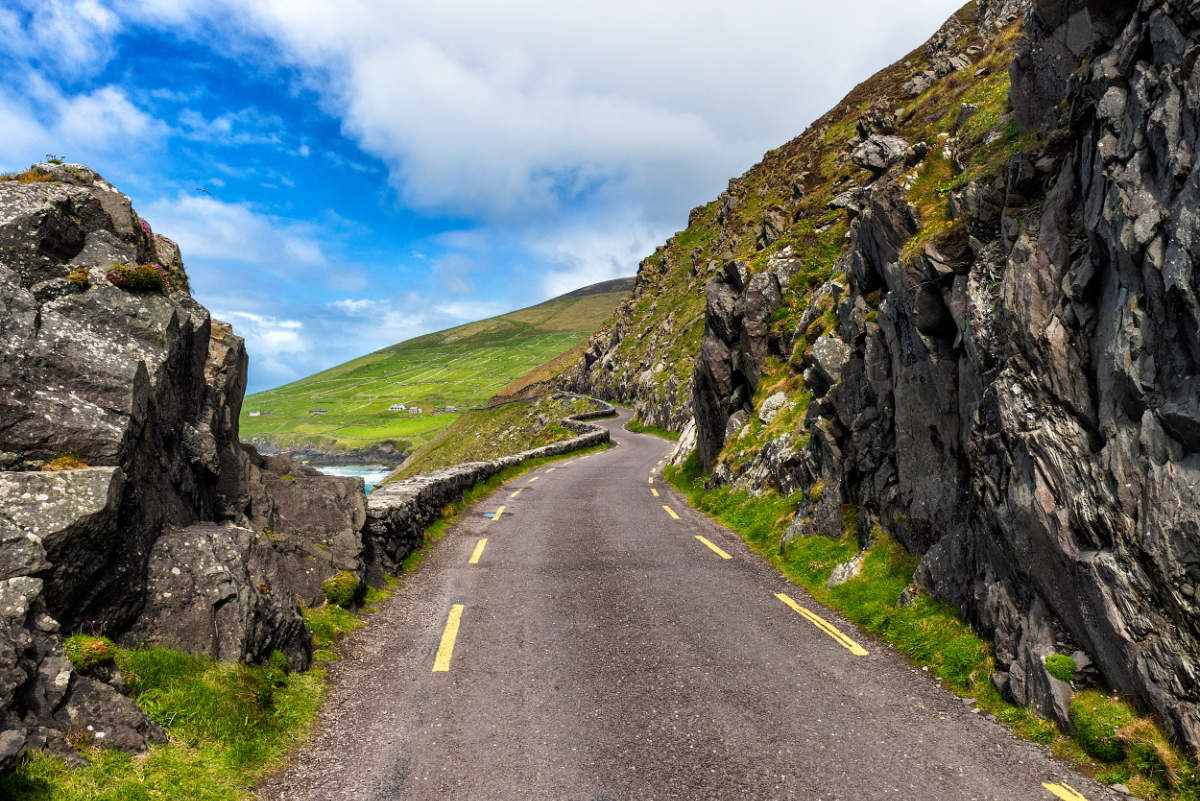 Where To Stay On The Wild Atlantic Way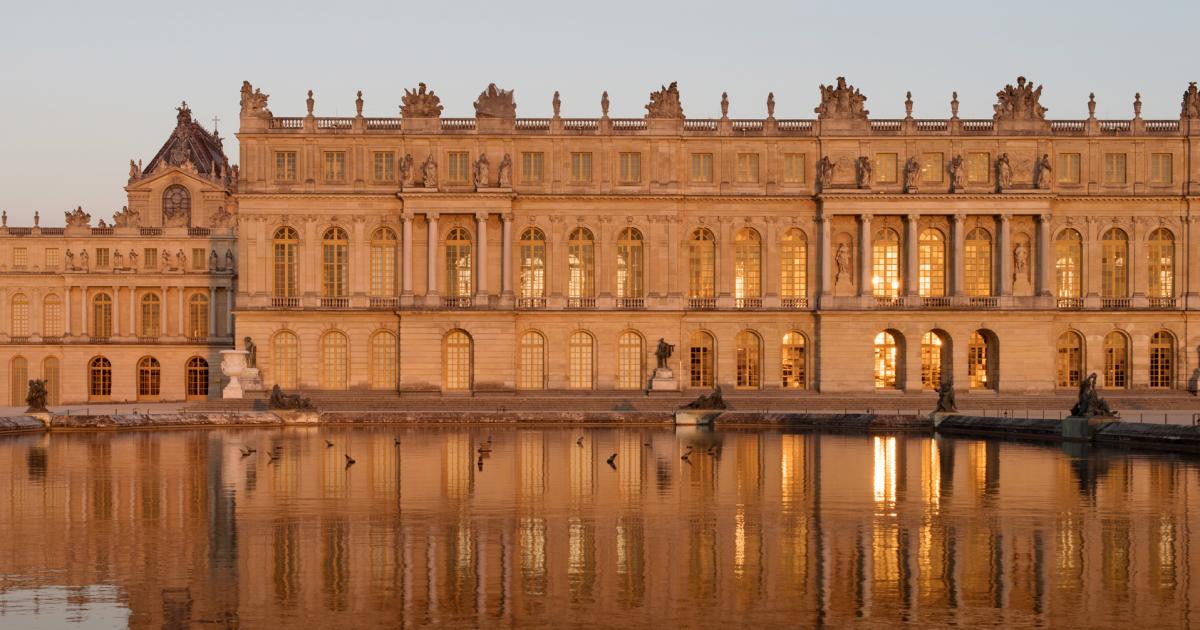 Palace Of Versailles, To Go Or Not To Go On A Monday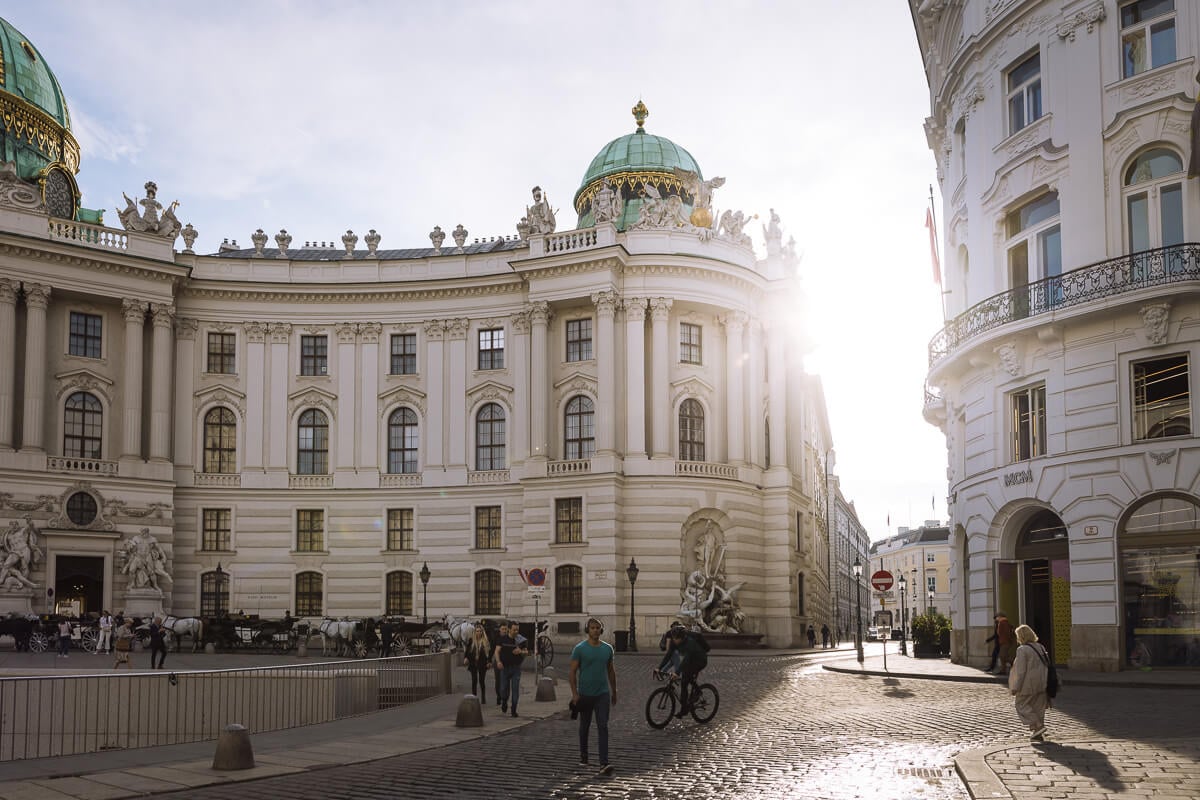 The 24 Best Things To Do In Vienna, Austria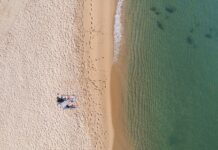 12 BEST Topless Beach In U.S. For You To Be Wild...
The Ultimate Guide: First Time Nude Beach Dos And Don'ts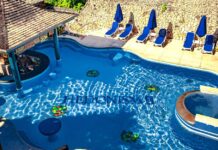 15 BEST Clothing Optional Resorts Around The World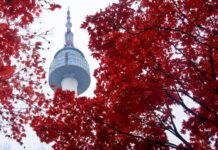 10 Goblin KDrama Filming Locations You Should Visit
More stories.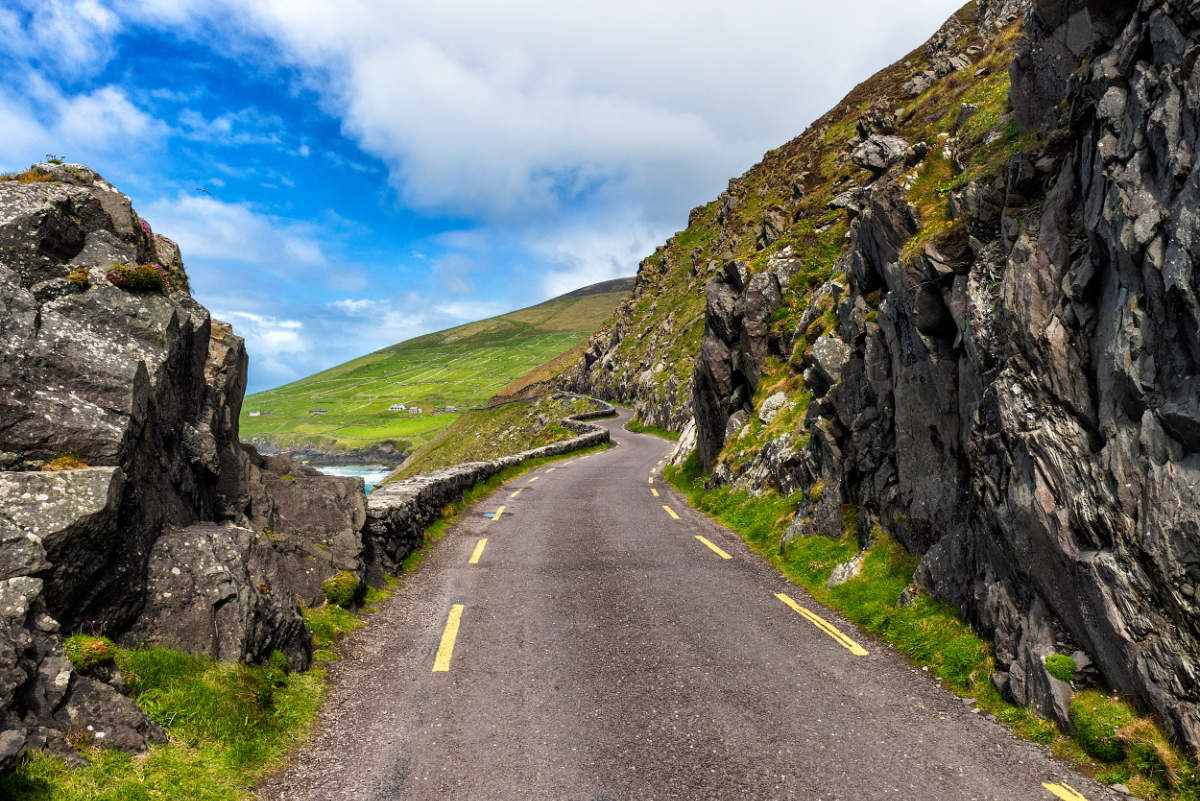 Privacy Policy
Advertising
Affiliate Disclosure
7 Best Places to Visit in Santorini – Land of Stunning Sunsets
Santorini is located in one of the Cyclades islands in the Aegean sea. It offers incredible views, stunning sunsets, and beautiful beaches. Santorini is also known as a honeymoon destination. The best time to visit Santorini is from September to October and from April to May, as the weather will be warm and perfect. Santorini is one of the World's top tourist destinations today. Whether you choose to fly or take the ferries for other islands, you can't afford to miss the stunning views of the volcanic crater. Santorini is also known for its striking beaches and views which makes it stand out from other islands in Greece. Santorini, a dream destination in Greece is every traveller's dream. Have a look at the best places to visit in Santorini .
7 Best Places to Visit in Santorini Greece
Akrotiri Archaeological site
Greece Tour Package Starting @ ₹43,457
Pristine Beaches. Gorgeous Sunsets. Delectable wine. Romantic itineraries
Fira is Santorini's capital and is beautifully made of cubic houses, terraces, blue-domed churches on the above cliffs of Caldera. Caldera is the best place to ease out in hiking. Fira can also be reached by walking or hiring mules for a ride up the steep from the small port of Skala.  However, If you are going to walk, there are roughly 600 steps to climb or opt to choose the cable car. You can also reach out from other neighboring towns via Fira to Oia scenic trail. The trail will take you along the Caldera cliff where you can experience splendid views. You can reach the Skala port through ferries or cruise or by road. Fira is one of the best places to visit in Santorini on your Santorini tour package from India.
It is known for its striking sunsets that attract tourists all over the world. Oia is a breathtaking place which is located on the north end of Santorini. It is a picture-perfect village which is made of whitewashed houses. However, many of them have been converted into small boutique hotels with infinity pools, overlooking the beautiful sceneries of Caldera. From Amoudi Bay, you will find rows of water-front seafood eateries. You can reach Oia by the local bus or by walking along the trail of caldera cliffs. Oia sunset is one of the best places to visit in Santorini .
Caldera was formed by the massive volcanic eruption that blew the centre of the island around 3600 years ago. It is still home to volcanic activity, its centre gives rise to two kaimeni islets with gas emissions and hot springs. One of the best places to visit in Santorini , there are various packages offering one-day excursions to Caldera. You can reach Caldera by boat, have a quick dip in the hot springs, and have a lovely lunch on Thirassia. Thirassia is a small island on the West side of Caldera which offers amazing views to Santorini, across the waters.
4. Red Beach
Near the Akrotiri site, find the popular Red Beach right below the red cliff wall. You can access the beach along the pathway from the Akrotiri town. However, you can take the local bus to reach out to the Red beach. Also, opt to drive and park nearby before you begin to venture into the rocky path to reach the beach. Although, you can access the beach by boat from Akrotiri, Kamari, and Perissa ports. Get awestruck by the stunning beauty of the red beach with your next Santorini Greece packages. During summer, the beach gets crowded, so make sure you make it on time well in advance to get the right spot to see the amazing views of the red rocks. Red beach is also one of the top places to visit in Santorini .
Before Fira took over in 1800, Pyrgos was the capital of Santorini. It is a tiny village located in the middle of Santorini, which is also made of whitewashed houses that were built in the ruins of a medieval hilltop castle. Earlier Pygros was not that popular, however, today it has gained tourism with the opening of several small boutique hotels and restaurants and is one of the best places to visit in Santorini .
6. Akrotiri Archaeological site
Near the town of Akrotiri , ancient Minoan of Akrotiri was buried below lava, before the volcanic explosion that erupted in the 16th century. Tourists can walk on the debris in the town of Akrotiri to see the remains of old clay buildings. The site is preserved very well that, people often compare it to Pompeii. The site has the remains of pottery, and multi-level buildings, which proves that Santorini was once a very flourishing place and hence is one of the best places to visit in Santorini . It was a prosperous island, before the eruption of the volcano that took place. The Akrotiri archaeological site was opened to the public in 2012. Take a break from the sightseeing and learn the history of Santorini with a customized Santorini travel package from India.
7. Amoudi Bay
Rising to the town of Oia, at the base of the cliffs, the port of Amoudi bay sits over the sparkling turquoise waters. If you climb down 200-300 steps down from Oia, you will arrive at the picture-perfect place that Amoudi bay is famous for. It is also known for the quaint giant greek tavernas, isolated caves, and the perfect spot for swimming. It has been too much sightseeing and admiring the beauty, want to experience the adrenaline rush in your body? Yes, if you love adventure then Amoudi Bay is a perfect place known for cliff diving on your Santorini tour packages .
Experience the jump of diving with a beautiful scenic view. It is an experience that you won't forget for a lifetime. If you are not an adventurous person, you can still have a wonderful experience, by hiring a sailboat to bring you closer to the volcano, for a quick swim in the hot springs. It is one of the best places to visit in Santorini .
Greece Honeymoon Starting @ ₹ 52,041
Relaxing Beaches. Breathtaking Sunsets. Private Catamaran Cruises. Best Nightclubs. Romantic Itineraries.
Wouldn't it be exciting and thrilling to discover the above listed best places to visit in Santorini? Book your trip and have a wonderful time on the lovely beaches, picture-perfect villages, and various other sightseeing that Santorini offers. Do check into Pickyourtrail for some amazing Greece travel packages or Greece honeymoon packages . Also, do drop a Whatsapp Inquiry if you have any further queries. It's time that you unwrap the world with Pickyourtrail!
19 Posts Published.
Related itineraries.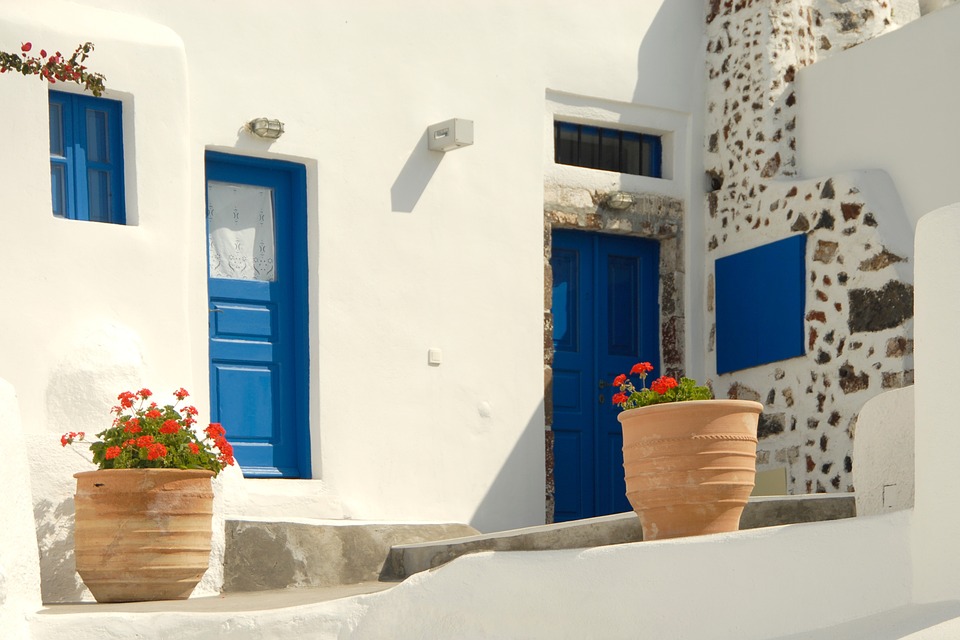 Marvellous 7 Nights Greece Tour Packages From India
Flights excluded
2 star accommodations
4 activities
Shared transfer
₹ 53,487
Starting price/person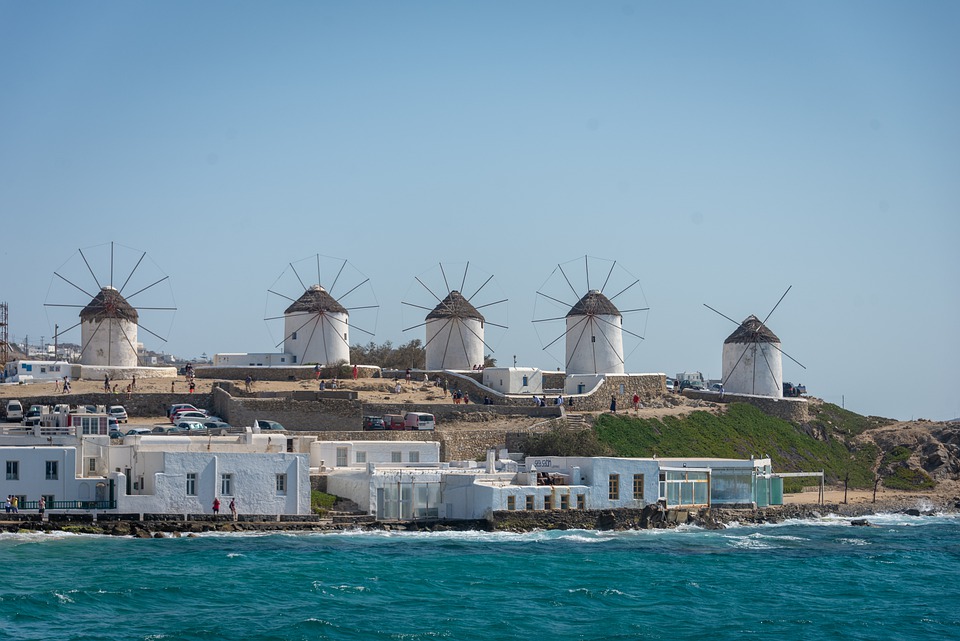 Gorgeous 10 Nights Greece Holiday Package from India
1 star accommodations
6 activities
₹ 73,853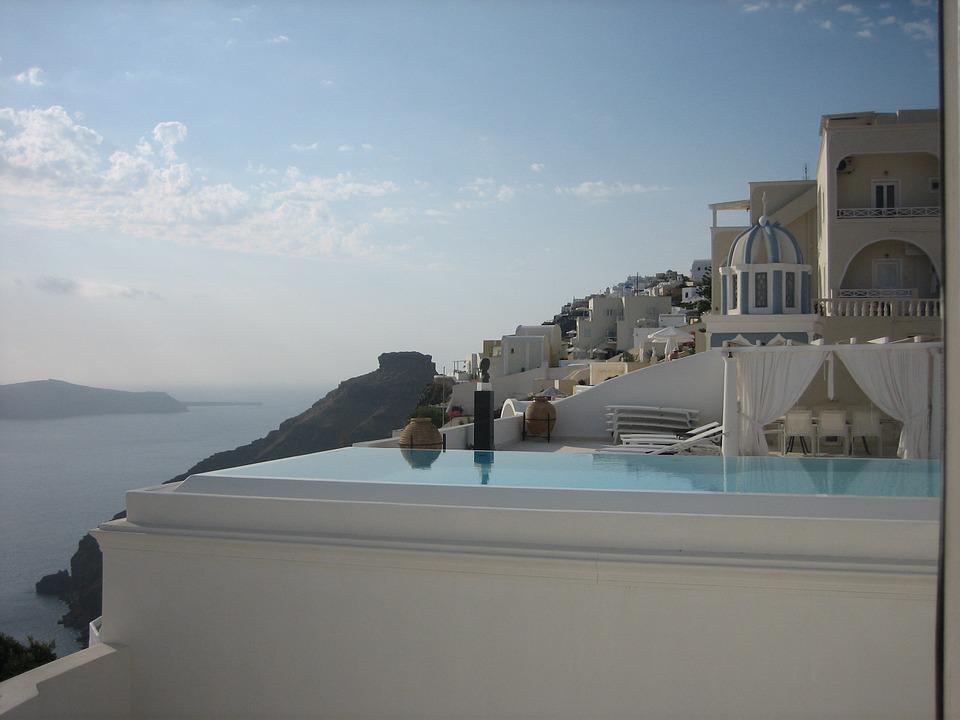 Athens and Santorini Vacation Packages
Flights included
8 activities
₹ 98,467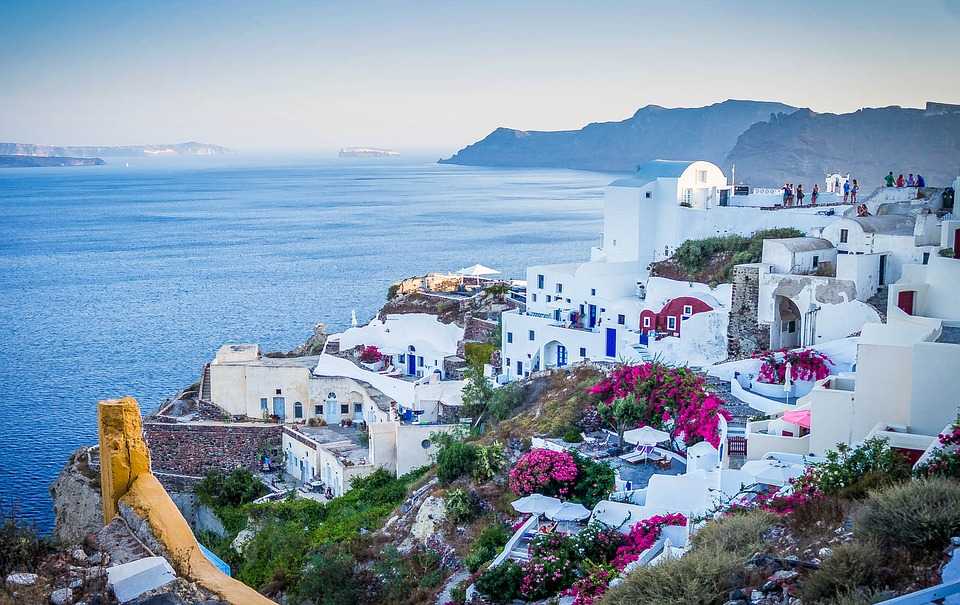 Athens Mykonos Santorini Packages
₹ 95,060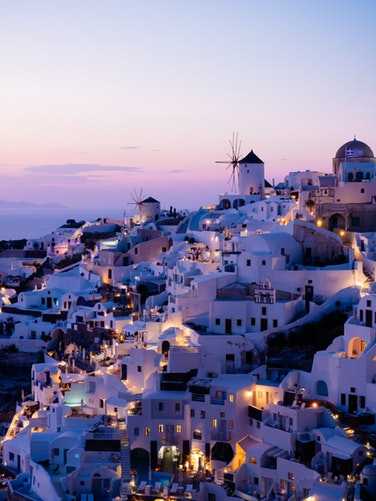 Spectacular 7 Nights India to Greece Packages
₹ 71,985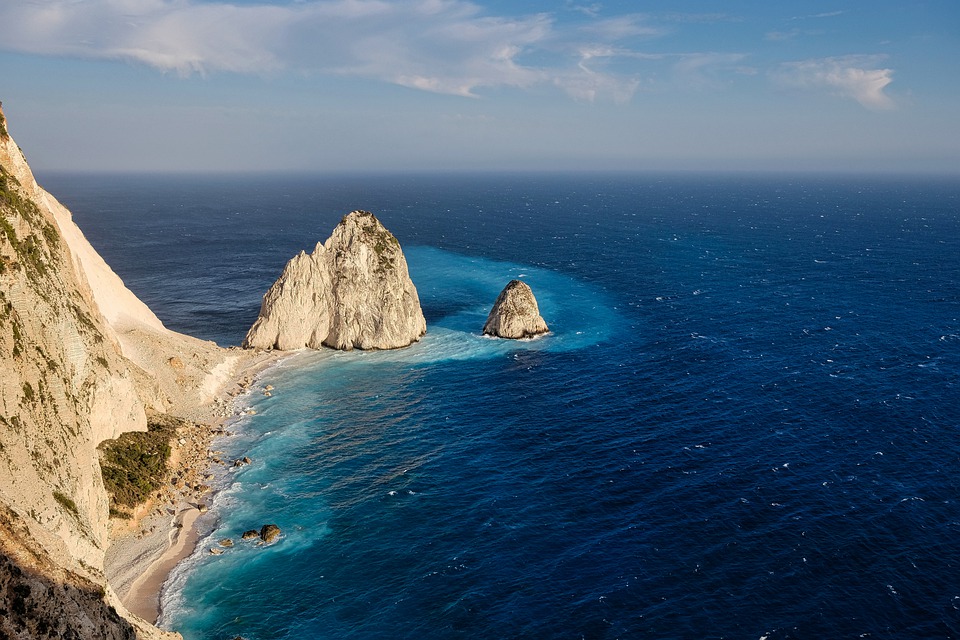 Rejuvenating 6 Nights Greece Packages
₹ 48,617.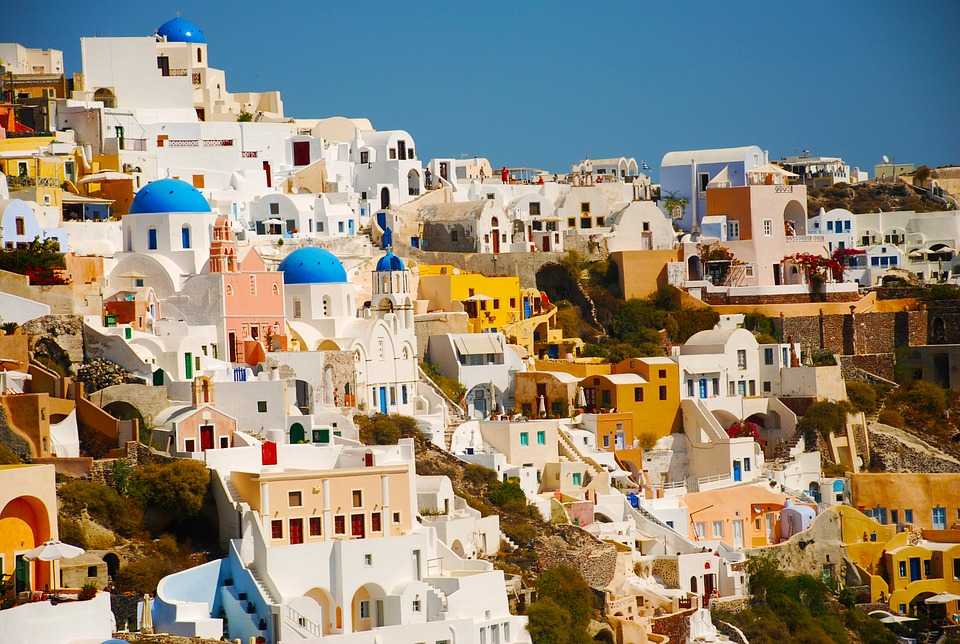 Mykonos Santorini Crete Package
₹ 1,17,557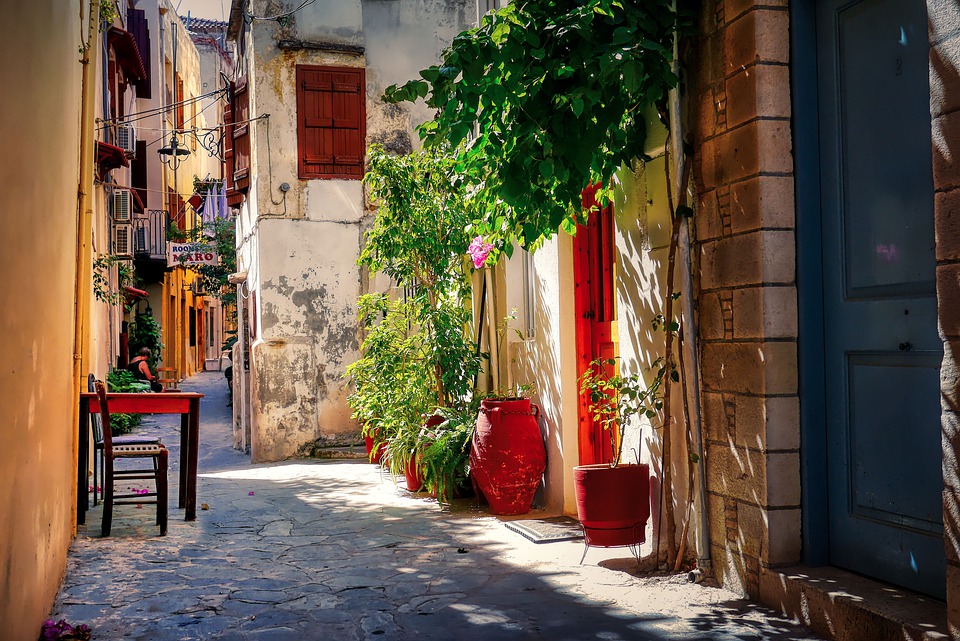 Athens Mykonos Santorini Crete Package
₹ 1,28,651.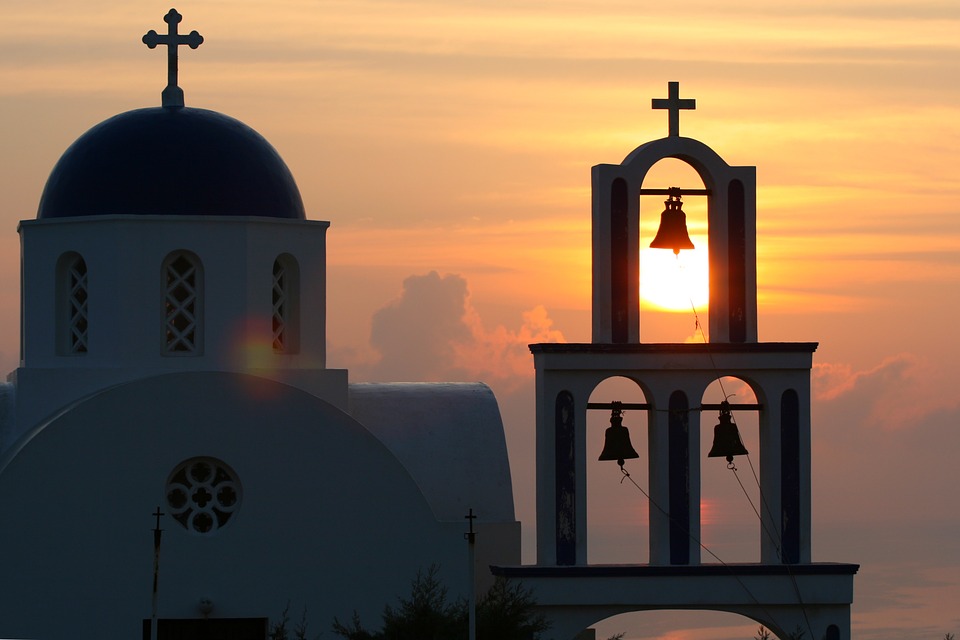 Exciting 7 Nights Greece Packages from India
₹ 54,199.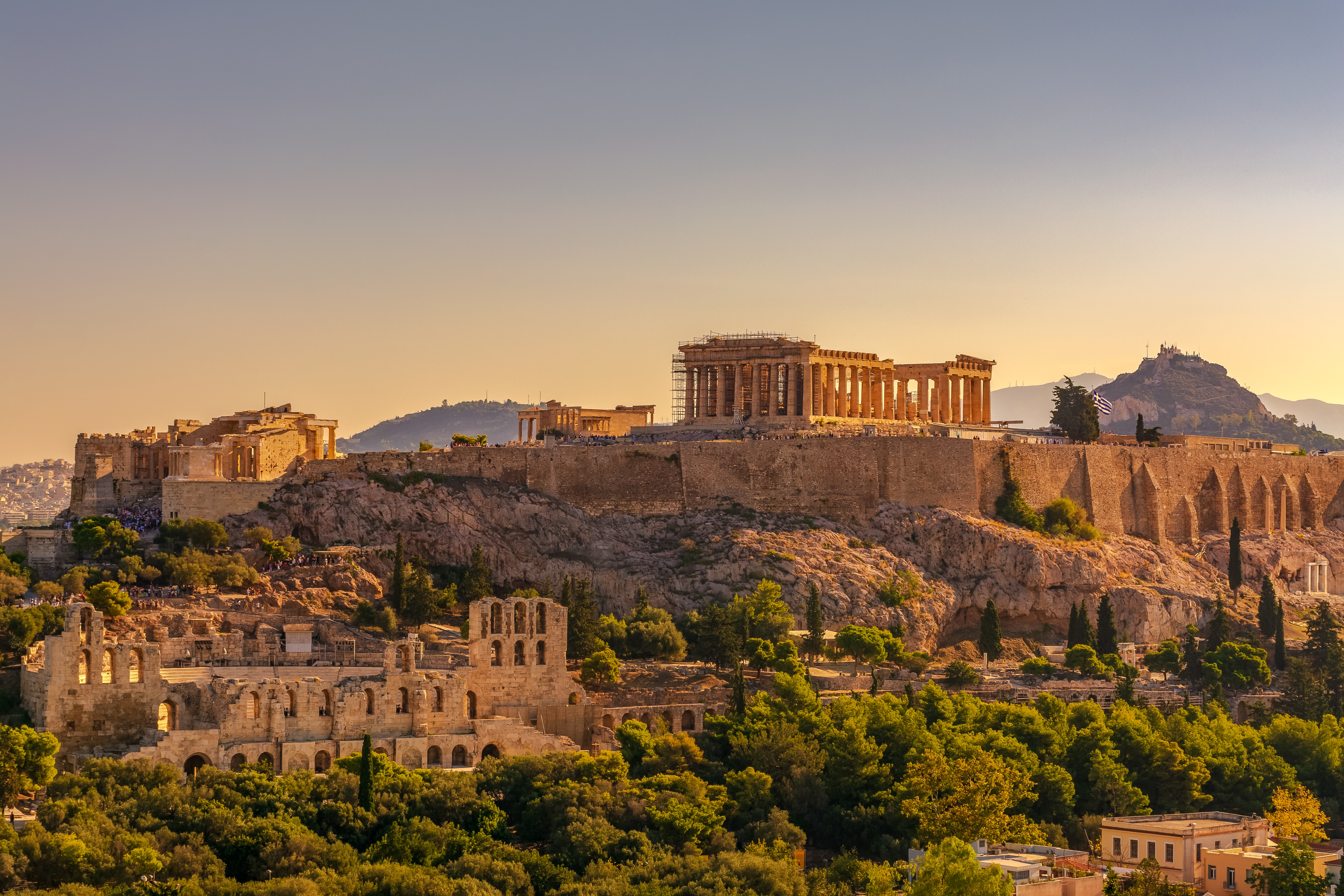 Romantic 9 Night Greece Christmas Packages
3 star accommodations
3 activities
₹ 2,10,340
Related posts, greece visa for indians – a complete guide for your smooth trip, top 10 things to do in rhodes on your greece vacation in 2023, 10 top things to do in milos on your greece vacation in 2023, islands in europe to visit for a honeymoon, shopping in greece: 10 best places to shop in greece, greece in december 2023 – guide to a perfect end to the year vacation, greece visa from dubai for uae residents and citizens, 8 best places to visit in kefalonia on your greece vacation – 2023, greece in august 2023 – all in one guide to greece travel in august, 10 best places to shop in santorini: find treasures, arts & more, 10 best restaurants in naxos, greece: a great culinary experience, 15 historical sites to visit in athens greece: the ancient paradise.
Book a vacation completely online
Our community is growing fast
Sign up for exclusive PYT Club membership and access jaw-dropping deals before the rest of the world!
Signup with Email
Facebook community
Telegram Community
Access exciting travel deals at best prices
New Zealand
South East Asia
United Kingdom
United States
Switzerland
Travelogues
Travel News
Guest Posts
Write for us
Where to Go in Greece
Greece › Best Places to Visit Updated: February 16, 2023 By Santorini Dave
Popular Pages • Greece Travel Guide • Best Greek Islands • Mainland Greece Travel Guide • Peloponnese Travel Guide • Best Things To Do in Athens •  Best Things To Do in Santorini • Where to Stay in Athens • Where to Stay in Santorini • Where to Stay in Mykonos
The view from Fira on the magical island of Santorini , looking north into the caldera and towards the villages of Imerovigli and Oia .
The Best of Greece Greece is my favorite holiday destination in Europe. History, culture, great food, beautiful beaches, charming villages, amazing weather, fun nightlife, and island hopping. All Greek Islands are unique, wonderful, and worth visiting. But my favorites (especially for first timers) are Santorini , Mykonos , Naxos , Paros , and Crete . If you can only go to one island then visit Crete or Santorini (they have the most to see and do). If you can only go to two then visit Santorini and Naxos (very easy to get between) or Santorini and Mykonos (both have international airports making visiting from western Europe easy). Best Greek Island for Couples and Honeymoon : Santorini Best Greek Island for Kids and Families : Naxos Best Greek Islands for Nightlife : Mykonos • Ios • Santorini •  Paros Best Greek Islands for Beaches : Mykonos • Naxos • Paros • Ios • Crete Best Greek Islands for Food : Naxos and Santorini . Best Greek Islands for Hiking : Naxos • Santorini • Crete •  Sifnos Athens deserves two to three full days of sightseeing. But after that, get yourself to an island, Delphi , Meteora , or Peloponnese . There are some great tours in Athens that should not be missed and most of the Best Hotels in Athens are centrally located and close to the main tourist sights. From central Athens, it's an easy 20-minute metro ride to the ferry port . The best day trips and short trips from Athens are Nafplio , Delphi , and the Meteora .
Greece Travel Itinerary
The key to planning a travel itinerary for Greece is to fly in and out of different cities, and be sure there are direct and regular ferries between all your destinations. Once you set those basic plans the rest is easy as there really are no bad itineraries for Greece. Every Greek island is worth visiting. From April to October, there are regular ferries (usually 2 or more per day) along the Heraklio (Crete) to Santorini to Ios to Naxos to Paros to Mykonos to Athens route – which are the best islands for first-time visitors to Greece.
• Greece Itinerary for 7 days : 4 days in Santorini and 3 days in Naxos OR 5 days in Santorini and 2 days in Mykonos OR 6 days in Santorini and 1 day in Athens.
• Greece Itinerary for 10 days : 2 days in Chania (Crete), 1 day in Heraklio (Crete), 4 days in Santorini, 3 days in Naxos/Mykonos OR 5 days in Santorini, 4 days in Naxos/Mykonos, 1 day in Athens.
• Greece Itinerary for 14 days : 3 days in Chania (Crete), 1 day in Heraklio (Crete), 5 days in Santorini, 3 days in Naxos, 2 days in Mykonos OR 5 days in Santorini, 3 days in Naxos, 2 days in Paros, 3 days in Mykonos, 1 day in Athens.
If you're uncertain where the top destinations are located then take a look at my maps of Greece – they should help you get a feel for the lay of the country and islands.
The 30 Best Places To Visit in Greece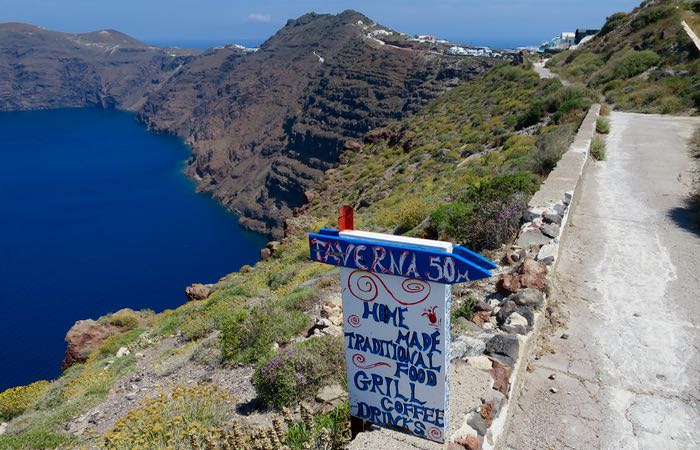 Santorini – My favorite island in Greece. This is the footpath that runs from Fira to Oia along the edge of the caldera and it's nothing short of magical. If you can only visit one island in Greece then it has to be Santorini.
Athens is great fun and a highlight for me, after a day of sightseeing the archeaological ruins, is watching a movie in an open-air cinema in the Plaka beneath the Acropolis. (Movies are in English with Greek subtitles.) Athens deserves 1 or 2 full days of sightseeing. 
The best beach in Greece: Elafonisi in southwestern Crete . It takes a bit of effort to get here (90 minutes by bus from Chania) but it's worth the effort. Crete is loaded with great towns (Chania, Rethymno, and Agios Nikolaos are my favorites), things to do (Samaria Gorge), and historical attractions (Knossos and a top notch museum in Heraklio).
The idyllically beautiful town of Chania , my favorite town in Crete .
Naxos has a half-dozen great beaches but the one near the Chora (main town) is probably the most kid-friendly beach in all of Greece. As you move south from Naxos Town the sand gets even better. Naxos (and neighboring Paros, which you can see in the distance) are also great for windsurfing. Local culture and phenomenal traditonal food is a highlight of Naxos.
Paros is a great mix of Mykonos (trendy, good nightlife) and Naxos (an authentic Greek island with traditional villages).
Antiparos is a gem. Quiet, charming, and filled with fantastic beaches.
Ios is just 50 minutes by ferry from Santorini and has some of the best beaches in the Greek islands. Day trips are easy to do in summer when ferries are running all the time.
Mykonos is known for its party scene (which is super fun) but even here, it's easy to leave the crowds behind, and find a quiet patch of sand. The walk along the coast (from Psarou to Paradise Beach) is a highlight of Mykonos.
Greek Island Hopping : easy, cheap, and awesome fun. You just never forget those ferry trips bouncing from one little island to the next.
The Pelopponese is an underrated jewel. Great beaches, tons of history, never overwhelmed with tourists, and easily accessible from Athens. This is a view of Nafplio (a super charming town), the largest city in the Peloponnese, from Palamidi Castle.
Gerolimenas in the Mani Peninsula of the Peloponnese.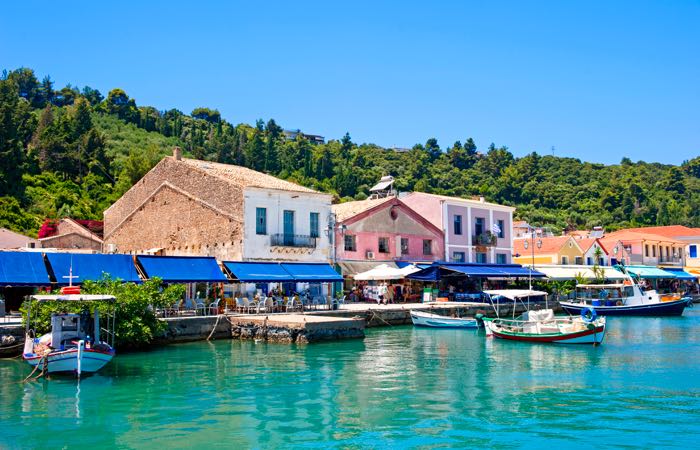 Katakolon in the Peloponnese and close to Olympia.
Monemvasia looks like just a big rock out in the middle of the sea (that's connected to land by a thin causeway). But as you round the corner there is a Byzantine village clinging to the far side of the island – completely hidden from the mainland (and invaders). Yes, it's as amazing as it sounds.
The mountain villages of the Peloponnese are magical. This is the Monastery of Orthokosta in the southwest of the peninsula.
The Corinth Canal about an hour from Athens and divides the Peloponnese from mainland Greece.
Kos – Beautiful island great for biking owing to its flat geography.
The beach coves of Paleokastritsa in Corfu .
Ermopoli on Syros – Traditional city that sees relatively few tourists even though it's smack in the middle of the Cycladic Islands. If you want the "real Greece" feel on a Greek island then this is the place.
Folegandros – Close to Santorini and great for hikes around the countryside.
Traditional stone bridge in Konitsa village in mainland Greece. This is a stunningly beautiful area. If you drive or take the bus from Corfu to Athens try to spend a few nights in the town of Ioannina and explore the rugged beauty of northern Greece .
Famous Navagio beach on Zakynthos island. Since it's somewhat isolated Zakynthos is not a great choice if you're looking to island hop but if one island is all you need then it's almost perfect.
If you want a traditional island with few tourists then Karpathos Island (near Rhodes) is idyllic. This is Olimbos village up in the hills of the island.
No cars or traffic on the island of Hydra . It's a short ferry ride from Athens making it a great day trip.
The Meteora – 4 hours from Athens. This is truly one of the wonders of Greece and is my favorite destination in mainland Greece . Monasteries are perched on the top of mountainous rocks. This an amazing and awe-inspiring sight.
Mandrakia village on Milos island in the Cyclades. It's easy to overlook Milos but it's second to only Santorini for it's stunning geography.
Phospfori tower in Ouranopolis on the Halkidiki in Northern Greece. This is a popular area for Greeks but doesn't see a lot of foreign tourists even though it's incredibly beautiful and loaded with great beaches.
Skiathos is a great choice away from the usual tourist track. Popular with Greeks and filled with beautiful beaches.
The cove beach at St Paul's Bay near Lindos in beautiful  Rhodes . Rhodes is filled with great beaches and interesting history.
Delphi can be done as a day trip from Athens but it's best to stay overnight and visit the temple before the crowds arrive mid-morning.
Which Greek Island by Season and Weather
Where to Go In Greece in July and August (Summer/High Season) Santorini and Mykonos are great if you want lots of activity, nightlife, live DJs, and packed clubs. If you want a quieter island in the peak season Naxos, Folegandros, Milos, Sifnos, Antiparos, and Ikaria are wonderful choices.
Where to Go In Greece in June and September Santorini and Mykonos are a little quieter than their high season peak but still plenty going on. Crete, Naxos, Paros, and Rhodes are at their best. The quiet islands (Sifnos, Ikaria, Antiparos) quickly become very quiet by mid-September which might be fine for some but too slow for others.
Where to Go In Greece in May and October Most islands are slow in these shoulder months but Santorini, Crete, and Rhodes are still wonderful places to visit with lots open. Naxos and Paros are quiet but far from dead. Quiet islands are very slow but still enough open to get by.
Where to Go In Greece in March, April, and November A great time to visit if sightseeing, wine tours, fine food, and walking are your main interests. Weather is nice by northern European standards but usually not warm enough for swimming or suntanning. Santorini and Crete are the best islands to visit during this period but unfortunately, there are no ferries between the two islands during the slow season so you'll need to fly via Athens if you want to visit both.
Where to Go In Greece in December, January, and February (Winter/Low Seasons) Santorini is the best island to visit during the winter. Best to fly directly as the sea can be rough during the winter months. Crete is also a good destination as it's the warmest place in Greece during winter.
Complete Greece Travel Guide When to Visit Greece and the Greek Islands The Best Beaches in Greece Athens Travel Guide Crete Travel Guide Mykonos Travel Guide Naxos Travel Guide Paros Travel Guide Santorini Travel Guide Mainland Greece Travel Guide Peloponnese Travel Guide Halkidiki Travel Guide Italy Travel Guide Itinerary for Italy and Greece Amsterdam – The Very Best Hotels Athens – The Very Best Hotels Barcelona – The Very Best Hotels Dublin – The Very Best Hotels Florence – The Very Best Hotels Istanbul – The Very Best Hotels Lisbon – The Very Best Hotels London – The Very Best Hotels Naples – The Very Best Hotels Paris – The Very Best Hotels Prague – The Very Best Hotels Reykjavik – The Very Best Hotels Rome – The Very Best Hotels Venice – The Very Best Hotels
Get All New Content
Hi Dave. Great site. I never really considered Greece until I saw your articles now I am hooked on visiting. I have a question, I plan to visit at the end of June, I would like to do 2 islands, definitely Santorini for 5 nights. Which other island would you recommend with great beaches I like calm waters as I am not a swimmer and low crowd volume. George Zakhia
Naxos would be perfect for you. Great beaches and St George's Beach near Naxos Town is one of the calmest, shallowest, protected beaches in Greece.
Hello! I am planning a 9 day trip to Greece with my family. My daughters are 18,21,23. I know for sure I want to go to Santorini, but then stuck on Naxos, Paros, and Crete! There is so much information that I am not sure where to go after Santorini. Mykonos is a little too party scene for my husband and I. Also how do you feel about airbnbs? Trying not to save some money here and there. Laurie
With just 9 days I would forget about Crete – too far from the other islands and too big. Santorini and Naxos would make a great trip. Or add Paros too. If you have 9 full days on the islands then doing all 3 is fine. But if the 9 days you mention includes in and out of Athens then stick to just Naxos and Santorini. On the islands, staying at a hotel always tops an Airbnb experience (for me anyways, but I love great hotels and am not a big Airbnb fan).
I'm so happy I came across your blog because it has been extremely helpful. I am visiting Greece the second week of February for my honeymoon. We are planning to do 8 days in Greece. Is it sunny during that time? We are a young couple. Any recommendations would be much appreciated!
You can get pleasant weather in February (sunny and clear) but you definitely won't be swimming or suntanning. Cool rainy weather is also possible. March is much more likely to have nice weather than February, and then April more likely still. May is when the beach season begins in earnest.
Hi Dave, my wife and I are traveling with 3 young kids (6, 4 and 2). We have 18 nights on the islands and I have narrowed our trip to 3-5 islands including:
Milos, Naxos, Ios, Santorini, and Crete
We are open to other suggestions you may have. What would be your itinerary for 18 nights with 3 young kids?
That sounds great. All wonderful islands. I might consider dropping Ios. Not because it isn't kid-friendly but just for the sake of cutting down your island hopping and extending your time in Naxos (the most kid-friendly).
Hi Dave. We have friends and family (20 years old to 75) traveling to Greece in August of 2020. We have a total of 11 nights flying in and out of Athens. Would you mind giving me your thoughts on the following below? Possible itinerary: Fly into Athens and immediately fly to Crete. Stay around Chania for 3 or 4 nights. Ferry to Santorini and stay for 3 or 4 nights. Ferry to Mykonos and stay for 2 or 3 nights. Either ferry or fly back to Athens for 2 nights and fly back home. For group of 12 do you have suggestions where to stay in Chania, Oia, Mykonos Town, and Athens? Thank you very much. Your site and information is unbelievable. Best I have ever read!
That sounds like a great itinerary. Fun, easy to do, and interesting. Most ferries to Santorini leave Heraklion around 9pm in the morning so you'll either have to be up early to catch the 2.5 hour bus from Chania to Heraklion or take the bus the previous day and spend one night in Heraklion. From Mykonos to Athens, ferry is much easier than flying. If you want to take multiple rooms and stay in a hotel I have pages for each of those islands on my site. Or if you'd like to stay together in a house or villa then search for villas in Greece on Booking.com .
Hi Dave. I'm curious as to why you always recommend saving Athens for the end? I'm confused as to whether I want that to be my last memory of my Greece vacation? Can you tell me the pros and cons of seeing Athens for 1 night at the beginning or end?
There is no difference unless there is a ferry strike or rough weather that cancels the ferries. In that case, it's good to have a buffer day or two in Athens so that you don't miss your flight home.
HI, Thanks for your very informative guide. Would like to request your suggestion for us. We are 1st time travelers to greece. Planning to spend 8 nights in greece with my wife, no children. Will be traveling from India in June 1st Week.
Was thinking of: Athens – 2 nights Santorini – 3 nights Mykonos – 3 nights
Is the above itinerary suitable for 1st timers to the Greek islands. I also wanted to know your suggestion on the order of visit and mode of transport.
Thanks, Really appreciate. Atit
That sounds like a great itinerary for a first time trip to the Greek islands. If you wanted to save yourself a long ferry trip I would ferry Athens to Mykonos, then Mykonos to Santorini, then fly Santorini back to Athens. Otherwise the order doesn't matter much.
Hello- I will be taking a 40th birthday trip to Greece next year with friends. We are looking at staying 7-9 days and want a mixture of fun, nightlife, beach, and tour. Which islands would you recommend? Crete, Mykonos, Santorini. We are flying from NYC.
Mykonos and Santorini make great bookends to a trip. Fly into one and out of the other. In between, you could visit one of Paros, Naxos, Ios, or Folegandros. But I wouldn't do more than 3 islands with 7 to 9 days.
Hello! Thank you for all your information. It is fantastic! My husband and I are planning a trip in June. We've decided to visit Athens and Santorini, but are struggling to choose from Milos or Mykonos. What are your thoughts?
Mykonos for nightlife and beach. Milos for exploring and boat trips around the island.
Hi Dave, Do you think Santorini and Milos are too similar and Crete would be more complimentary to Santorini? Are there day trips near Chania that are close by or are most POI 2 -3 hours away? Thank you!
Santorini and Milos do have a similar geologic feel but they are still very different as a tourist experience. In many ways Chania feels more similar to the towns of Fira and Oia than anything on Milos. There's nothing momentous close to Chania – but the town itself is a charmer. Rethymnon is one hour away and worth a visit.
Dave, thanks for your reply above regarding a itinerary for my wife + 3 year old. You mentioned… Fly to Santorini (3 days), ferry to Mykonos (2 or 3 days), then fly back from there. Santorini and Mykonos should both have direct flights from Milan and Venice.
Would you skip going to Athens and not try to go to Naxos? I heard Naxos is great for families.
Yes, with only 5 or 6 days you should go straight to one of the islands. Athens takes at least one full day to tour then you lose a good chunk of another day getting the ferry, so just fly straight to an island. Naxos is great and right in between Mykonos and Santorini … but you don't have much time. I wouldn't do any less than 2 nights on any island but if you can make it work, go for it.
Hello Dave,
Hello Dave…I was wondering if you could give me a quick suggestion. My family and I (wife and 3 year old son) will be heading to a wedding in Lake Como, Italy in July this year. My wife has been dying to go to Greece, so we were thinking of heading there before we get to the wedding. I've been to Corfu, Santorini, and Mykonos, but I was 21 then and I'm now 41 so I don't remember much.
I may be able to swing about 5-6 full days in Greece. Is that a good amount of time, or too short. I don't know if I will be able to swing more. What do you think is the best itinerary for us?
Any help would be greatly appreciated.
Fly to Santorini (3 days), ferry to Mykonos (2 or 3 days), then fly back from there. Santorini and Mykonos should both have direct flights from Milan and Venice.
Read your informative blog and found out that I haven't thought my trip through ! Could you please advise me further?
I have booked my husband and myself a trip to Greece in March. So we were planning to do a day in Athens and then head to Santorini, Mykonos, and Milos. I have now realised that there are no ferries to connect us between the islands.
We arrive in Athens on 10th March and leave Athens for home on 17th March. We have a few days in between but we are not sure on how to proceed.
Please share your expert opinion on what I can see/do in this time frame?
Thanks sooo much. Shankz
Yeah, the combination of Santorini, Mykonos, and Milos does not work well in March as there usually are not ferry connections for those islands in that month. Better is some combination of Paros, Naxos, and Santorini as there is always a daily ferry between them (and to Athens).
A very good afternoon to you.
I have been reading your blog on Greece holidays.
It would be of great help, if you could provide me on the inputs of my shortlisted below itinerary
Arrival Date – 15-March Athens – 2 Nights Shortlisted Hotel – Inn Athens
Mykonos – 3 Nights Arrival Date – 17-March Shortlisted Hotels: Semeli Hotel
Santorini – 3 Nights Arrival Date – 20-March Shortlisted Hotels:- Above Blue Alta Vista
Person – 2 Adult & 1 toddler (Age-20months)
Also, suggest if there are better choices of hotels other than the above.
I am still confused about whether to travel by air or ferry to these above islands. Ryanair prices are very much discounted when compared to Aegean airline & Olympic Air.
Your valuable inputs on hotel & means of travel will be highly appreciated.
The Inn Athens is very centrally located and an easy walk to metro station, the Plaka, and Acropolis. The scene immediately around the hotel is a little scruffy fun safe and otherwise fine. In Mykonos, I'd go with the Semeli for its more convenient location. In Santorini Above Blue and Alta Vista are both great. Above Blue will have better sunset views. For your itinerary I'd ferry to Mykonos, ferry to Santorini, then fly back to Athens.
I have been reading a lot on your posts, thank you very much for all the information and tips thus far.
I would like to have your comments on our trip planned this summer between 21 June – 7 July.
Our itinerary so far is (in specific order): Athens 3 nights Milos 3 nights Santorini 3 nights Naxos 3 nights Mykonos 3 nights
Would you say that is enough time spent on each island? And do you know where I can find ferry ride schedules, closer to the time, in order to ensure we do have tickets on the specific days, as our accommodation and all will be booked in advance?
Also, would you recommend staying in Kamari/Perissa area on Santorini instead of the more expensive areas?
We would really appreciate your reply and advice.
Thank you in advance!!
Itinerary looks great. 3 nights/2 full days are the minimum I recommend for most people. Yes, you will be busy but busy can be fun as long as you know what you're getting. GTP.gr is a good site for seeing ferry schedules. Book ferries 1 to 3 months in advance. I recommend staying along the caldera (Fira, Firostefani, Imerovigli, Oia) not at the beaches.
Hi Dave, thanks so much for providing this wealth of information. It has been incredibly helpful as I plan my first trip to Greece. I will be flying into Athens with a friend & her grade school aged daughters at the end of june. We will have three full days on the mainland & then on the fourth day I will leave for Santorini & they will head home to Ireland. Since they will not be going to the island, they'd like to see more than just the city. We'd like to spend one day in Athens and the other two days in a lovely village. Somewhere by a nice beach would be ideal. We will be taking public transport. Is there anywhere you can recommend or is this trying to do too much in 3 days? Thanks again for your help!
Nafplio is a wonderful town/city in the Peloponnese just a few hours from Athens by bus. It's got a great atmosphere (lots of charming restaurants and shops) and there are several good beaches nearby.
Beginning to make a plan for June, about 15 days for a big anniversary. We are in our 40's like to relax on the beach or pool, walk or hike and explore. We are into great food and drink, but not into nightclubs. I am looking at the following itinerary: Fly into Athens, spend 3 nights (two full days) Naxos, 2 nights Milos, 2 nights Santorini 6 nights, fly directly out of Santorini to London.
Are the transfers between these islands doable? I originally was only going to choose Athens, Santorini, plus one other island, but I am smitten by both Naxos and Milos. It looks like there is enough difference between islands to make it worth the trip, but is it too much moving around? I want to be able both relax and explore each place. Thank you so much for your opinions and advice!
DeAnne Garrehy
Yes, this sounds very doable and transfers between islands should be fine (Naxos to Milos is the one I have the most concern about – it's possible you have to switch ferries somewhere between the two islands). I don't know your particular interests but for most people I would drop one night from Athens and add it to Naxos and maybe even drop Santorini to 5 nights and add that day to Milos.
Trying to decide between Kos and Rhodes for a June holiday. What would you say are the strengths, weaknesses, and characteristics of both. (It could be just my wife and I, but also inviting others, so hard to know what we're looking for yet. At this point need a general comparison of both islands.)
Rhodes and Kos are a bit like Ying and Yang: so different in many ways yet they complement each other perfectly. Rhodes is the mature big sister; Kos the little sister wanting to wear her big sister's shoes. Both are islands geared towards international package tourism and attract large numbers of visitors wanting sun, sand and relaxation. Both share similar cultural traits – they are part of the Dodecanese island chain and are no more than two hours apart from each by fast catamaran or an hour or so longer by one of the regular connecting ferries. Rhodes : the bigger and more diversified island of the two boasting an exquisite Old Town and a string of beach resorts running mainly down the southeast coast with an overlap running from the northern tip of the island back down to the airport on the northwest side. The island's attraction to the score of cruise ships that make Rhodes' harbour an obligatory stop is the well-preserved mediaeval Old Town. Completely enclosed within its own fortifications, the narrow streets are either full of restaurants, cafés and shops and strolling visitors, or almost completely untouched by time with abandoned houses and locked wooden gates with intriguing door handles. Outside the Old Town is the New Town, also a popular destination because of its fashionable clothes and shoe shops and restaurants and also a pretty decent beach scene. Excursion boats to other parts of the island leave from here, while ferries and the island's catamarans arrive and depart from two harbours a little way further south of the New Town. The southeast coast is a contiguous strip of hotels and beachscapes starting with the upper-market hotels of the Faliraki Riviera and petering out at the decidedly quieter and serene scene of the southern coastline centred on Gennadi. In between, the village of Lindos bursts out like a Cycladic theme park marking the half way point down the island's coast. It is long here that you will find Rhodes' best beaches. It northwest coastal scene, on the contrary, is much more muted and less developed mainly because it doesn't have the beaches, but does get most of the winds. Kos : is long and skinny and its shape vaguely reminds one of a whale, seemingly swimming into the embracing Turkish gulf of Gökova. It's taken negative press in the last couple of years – from 'uninvited refugees' to an earthquake earlier this year. The refugees never were a problem and the earthquake shook part of Kos' Old Town and has since been cleaned up. The island has a cosier, more intimate feel and while, like Rhodes, it has a mountain scene, the feel is mainly flat and rolling and for that reason cycling is enormously popular here and quite feasible along the meandering backroads of the north coast. Kos' Old Town is not as extensive or in any way as picturesque as Rhodes': the appeal of Kos lies in its relative compactness, its sunny demeanour and the high quality of its accommodation. Boutique hotels do not feature as prominently as they do in Rhodes, but on the luxury side there are some quite stunning places. Its excellent beach scene is hidden from casual view along a swathe of golden sand running along the cusp of Kefalos Bay in the south. Beaches elsewhere (and by comparison) are generally average. Oddly, one of the most popular beaches is a thermal springs beach made up of pebbles and warmed by hot artesian water. That's just around the corner of the eastern tip of the island basically where the island's road network ends. So the toss-up between the two? They are touristy islands but still lived-in Greek islands. They make a good duo so half your time in one and half in the other with day visits to neighbouring islands such as Halki, Tilos, or Symi (from Rhodes) and Kalymnos, Nisyros, and Pserimos (from Kos) will give a total of 8 Dodecanese islands for the price of two! June and September are good shoulder periods to travel, so good luck. It's win-win all the way.
Leave a Reply Cancel reply
Your email address will not be published. Required fields are marked *

TravelAwaits
Mykonos Vs. Santorini: 6 Key Differences Between These Two Greek Islands
Posted: November 7, 2023 | Last updated: November 8, 2023
Mykonos and Santorini are the most famous and most visited Greek islands. Although both are located in the Cycladic chain of islands in the Aegean Sea — a group that boasts over 20 islands — and they're both beautiful in their own right, there are some key differences to bear in mind when it comes to visiting Mykonos Vs. Santorini.
1. Location And Distance
The islands are popular enough to warrant having an airport that receives year-round domestic flights from the Greek mainland, especially Athens, plus some charter flights in the summer season from several European destinations.
They're also both reachable by ferry from the Athenian port of Piraeus, but Santorini is further, the journey taking between 5 and 8 hours depending on whether you take a slow or fast ferry, while Mykonos is 2.5 to 6 hours away, again, depending on the speed of the ferry.
Pro Tip: It's worth noting that slow ferries are all part of the travel experience in Greece because they have many facilities such as restaurants and shopping onboard, plus you can walk around on deck outside whereas a fast ferry — sometimes a hydrofoil — means merely sitting down in an airline-style seat for the whole journey.
2. The Beaches
If it's a beach holiday you're after, Mykonos has to be your choice. This Greek island probably has the best beaches for both swimming and water sports lovers as well as partygoers. There are many golden sand beaches on the island that suit all preferences.
That said, Mykonos also has a reputation as a party island, so stay away from Paradise Beach — 4 miles south of the capital, Mykonos Town.
Instead, hire a car and head to the beach of Lia — 9 miles east of the capital — or Fokos — 8 miles northeast of the capital. Both are completely non-commercialized and have no sunbeds or facilities, just fantastic golden stretches of sand and crystal-clear sea.
It's worth noting that both Santorini and Mykonos have beautiful beaches with beach bars where you can get a quiet drink and enjoy your beach time with your partner, friends, or family.
Pro Tip : Take your own water, food, and an umbrella as there's no natural shade nor any concessions.
12 Extravagant Mykonos Villa Rentals You Need To Check Out
By contrast, Santorini does not have the white stretches of beaches one usually equates with Greece. As it's a volcanic island, expect to find black and red sand and rocks, such as Red Beach with its red rocks. The beach's small size means it gets very busy in season and is only accessible by walking down from the car park at the top; hence, many people decide to photograph the beach by taking one of the many boat trips from Akrotiri Port.
Pro Tip: If you do choose to frequent the beaches of Santorini — and if you're into snorkeling, you should because there are many fascinating underwater rock formations here — then bring aqua socks or waterproof sandals.
Red Beach is located near the Bronze Age archaeological settlement of Akrotiri , a place worth including in a day trip.
3. The Sites
Greece is covered in ancient sites to visit, the islands being no different. Mykonos has the wonderful UNESCO World Heritage island of Delos , 2 miles and 40 minutes by boat off the coast of Mykonos and one of the most important archaeological sites in the country. Mythology tells us that Delos was the birthplace of Artemis and Apollo, twins who the human Leto gave birth to.
It's reputed that Zeus had an affair with Leto and the twins were the result. Zeus was a god, Leto a human, and gods were forbidden to mix with mortals. Zeus's jealous wife Hera banished Leto from Earth, but Poseidon — God of the Sea — took pity on her and crashed his trident down, thus the island of Delos formed as a safe haven for Leto to give birth in peace. It's an island dedicated to the ancient gods with many artifacts on show outside, plus a small museum.
Pro Tip: It's not possible to stay on Delos, so a morning trip is better to avoid the heat of the day. There's not a lot of shade and water and the canteen in the museum is expensive, so pack a small lunch or ask your hotel in Mykonos to. Take plenty of sunscreen and a hat.
Santorini's claim to fame has to be its volcanic islands, in particular, the bay of Agios Nikolaos on the small black rock island of Nea Kamini is surrounded by therapeutic sulphuric yellow waters and hot springs. The oldest volcano is Paleo Kamini, which also has hot springs.
Pro Tip: Take a boat trip from Santorini to Nea Kamini and a 20-minute walk through lunar-like scenery will bring you to the volcano's steaming crater. Go in the morning or late afternoon because it gets extremely hot.
4. The Romance
Sunsets are always beautiful, but hands down, Santorini is the place to visit if it's romance you're after.
The sunsets over the caldera are famous the world over, and many of the luxury hotels have capitalized on this with their locations offering 180-degree sunset views. This beautiful Greek island the place to come for honeymooners and couples seeking a sophisticated level of tourism with fine dining and winery tours followed by a sunset cruise.
Pro Tip: The best place in Santorini to view the sunset is from the clifftop village of Oia, but it gets busy so it's a good idea to get there early. There are plenty of restaurants and viewing spots on offer if you get there early enough.
Mykonos isn't without its romance. Its golden sandy beaches — whether an organized one with beds and facilities or a remote one — offer plenty of opportunities for relaxing and watching the sunset. Mykonos is better if you're into designer shopping or rubbing shoulders with the "in" crowd as it attracts several famous jet setters.
Pro Tip: Agios Sostis beach, a 19-minute taxi ride from Mykonos Town, is a beautiful underdeveloped spot with a small beach and the blue-domed church of Saint Sostis. Here you'll find Kiki's Taverna, which is delicious in its simplicity with a huge selection of fresh salads and meat from the outside grill. It's a perfect spot to eat and watch the sun set.
5. Scenery And Architecture
Santorini's villages are perched atop the cliff-top, offering spectacular volcano and sea views. Many of the boutique hotels have designed their abodes to fit into the nature of the island in order to blend in well.
Santorini's hidden gems like blue-domed churches and colorful houses, all with curves and arched architecture are a must-see.
Mykonos is more gentle on the eye with its golden beaches, plus Little Venice in Mykonos Town with its striking windmills is a great place to wander any time of the day or night.
Pro Tip: For more dramatic scenery, with black volcanic sands and sunsets, head to Santorini.
For winding alleyways and traditional villages, coupled with sandy beaches, Mykonos is the place to go.
6. The Off-Season Experience
As Santorini is more famous for its views and sunsets, there's never really an off-season to visit. It gets exceedingly busy in the summer months of June, July, and August, but both islands have the best weather from May to October, so head there in the spring or fall to appreciate a quieter time and still see the year-round sights.
Mykonos is busy in the summer and more of a beach/shopping/jet setter island, so whilst there's not a lot to do in the offseason, it's much quieter in the spring and fall, so this would be a time to wander the streets of Mykonos town and get a flavor of the local lifestyle.
Mykonos Vs. Santorini Pro Tips
If you choose to visit both islands, it's suggested to fly into one, take a ferry between the two, and then fly out of the other. Allow for at least five days in Santorini to really appreciate the sites and a volcano visit.
Of course, which island you choose to spend the most time on should depend on your preference of things to do:
Mykonos for shopping, beach clubs, quieter off-season, and if you don't mind a lively nightlife, quieter bars can also be found — along with potentially bumping into the rich and famous.
Santorini for natural beauty, sunsets, and romance, plus archaeological sites — although Mykonos also has the nearby island of Delos.
Due to their popularity, both islands are expensive, but it is possible to find some small, affordable family-run establishments that will welcome you with open arms.
For more Greek vacation advice, consider:
Why Little Venice In Mykonos Is One Of The Most Charming Places On Earth
7 Gorgeous Greek Villages To Add To Your Travel Bucket List
10 Reasons To Put Northern Greece On Your Bucket List
7 Incredible Boutique Hotels In Athens, Greece
6 Amazing Historic Sites To Experience On Kos, Greece
Why The Diapontia Islands Are Greece's Best-Kept Secret
What Is Mykonos Best For?
Mykonos is best for partying and vibrant nightlife. Along the southern shore, plenty of beach clubs offer endless seaside entertainment. However, while the bustling party hub steals most of the limelight, the island's southwest thrives with a burgeoning food culture.
To the east, pristine, unspoiled Mykonos beaches provide peaceful escapes from the constant bustle. Nestled between these attractions, you will find quaint, authentic tavernas with traditional charm, inviting visitors to savor the essence of local food and Greek culture.
Is Santorini Touristy?
The island is undeniably touristy and tends to get quite crowded despite being one of the more pricey islands in the Aegean. However, its breathtaking sunsets are a major romantic draw.
You can explore its rich history, from the intriguing Minoan ruins of Akrotiri to the unique volcanic hot springs, all of which offer an unforgettable natural experience. Santorini is an ideal getaway for those who prefer a mix of historical heritage, natural wonders, and the peaceful beauty of secluded beaches.
Is Santorini Cheaper Than Mykonos?
No, Santorini is slightly more expensive than Mykonos. A trip to Mykonos for two people costs about $2,200 per week. Santorini is about $2,500+. Again, this is for a one-week stay for two.
Apart from being the top picks for visitors to Greece, these islands also rank among the priciest in the entire Greek archipelago. However, there is a slight difference in cost between the two, resulting in Mykonos being the slightly more budget-friendly option.
Should I Spend More Time in Santorini or Mykonos?
While Mykonos has beautiful landscapes, scenic walks, and iconic windmills, Santorini takes the lead with a wider range of attractions and activities and is worth spending more time when visiting. HAving said that, both Santorini and Mykonos are worth at least a week's stay.
Santorini offers a variety of tours, sightseeing outings, and outdoor activities, from visiting archaeological sites to day trips exploring traditional villages across the island. Wine lovers can enjoy winery tours, while nature buffs can go on boat tours around the volcanic attractions.
What Is the Best Time to Visit Mykonos?
The best time of the year to visit Mykonos is between June and September when it's sunny, hot, and the water is perfect for swimming. Water temperature heats throughout the summer months and is warmest in August and early September.
If you are on a budget but want to visit Mykonos (or maybe also visit Santorini in one go), the months of May and October will give you the lowest prices for services, dining, and accommodation. In the off-season, you may pay up to half the price compared to the high season.
This article originally appeared on TravelAwaits
More for You
Trump Lawyer Objecting to Her Own Document Draws Mockery: 'Incompetent'
Who won the third Republican debate? Winners and losers after things got nasty in Miami
SiriusXM Messed With Their Classic Rock Channel. Boomer Listeners Aren't Happy
Pentagon UFO boss steps down after explosive admission
Clarence Thomas' ignorant, ahistorical gun control ruling just got a harsh reality check
2023 CMA Awards complete winners list
White House Delivers Bad News on Ukraine Aid
DeSantis blasts Trump for not having Mexico pay for border wall, while Haley says 45th president 'put us $8 trillion in debt'
Letters to the Editor: Gavin Newsom's poll numbers should come as no surprise
A Scientist Says the Singularity Will Happen by 2031
Vivek Ramaswamy's campaign says he was 'talking quickly' and 'kind of oscillated in his words' after he appeared to call Zelenskyy a Nazi
Under The Cover Of Drones And Helicopters, The Ukrainian Marine Corps Is Advancing—And Expanding Its Dnipro Bridgehead
Pastor's suicide brings grief, warnings of the dangers of outing amid erosion of LGBTQ+ rights
Judge Chutkan Strikes Blow Against Donald Trump
I'm getting $285,000 from my ex-spouse's 401(k). I want to pay my children's credit-card debt and student loans. Will I have to pay tax?
Widow demands answers over husband's Covid files
Risky intercepts show China's fighter pilots are 'willing to challenge' the US as their planes increasingly meet in the air, former aviator says
Video shows Alabama Sen. Tommy Tuberville's fall on stairs, not Gavin Newsom | Fact check
The Electric-Car Era Needs a Lot of Really Big Trees
Maddow Blog | Democrats pounce following report on James Comer's family loan
Santorini to Athens: 7 places to visit when in Greece
From Santorini's stunning sunsets to Athens' ancient history, Greece offers diverse experiences. Mykonos, Crete, Meteora, Delphi, and Rhodes add to its charm
Famous for its iconic blue-domed churches, breathtaking sunsets, and white-washed buildings overlooking the Aegean Sea, Santorini is a top destination for honeymooners
The capital city of Greece is a historical treasure trove. Visit the Acropolis to see the Parthenon and explore ancient ruins, museums, and vibrant neighborhoods like Plaka
Known for its vibrant nightlife, beautiful beaches, and charming old town, Mykonos is a popular destination for partygoers
Crete offers a diverse range of experiences. From the historic Palace of Knossos to stunning beaches and picturesque villages, it has something for everyone
This UNESCO World Heritage site features monasteries perched atop towering rock pillars. The dramatic landscape and religious significance make it a must-visit for history lovers
Center of the ancient world in Greek mythology and is home to the famous Oracle of Delphi. Explore ancient ruins and take in the stunning mountainous surroundings
This island is known for its well-preserved medieval Old Town, which is a UNESCO World Heritage site. It's a blend of history, culture, and beautiful beaches
This is the announcement bar for Poornima to test the Close Button.  It will expire May 31 2024.
Special Offers Sign Up
Cruise Deals
You have been logged out
Your window will update in 5 secs
Mediterranean Cruises and Cruisetours
Experience the cuisine and culture of italian and greek cruises.
Best Cruises for Food Lovers
Food & Wine Magazine
On a Mediterranean cruise with Princess®, explore the homes of Greek gods, Italian artists and multicultural treasures. As you walk down bustling roads and beaches, cultures and history fill the air. Uncover divine legends at the Acropolis, admire religious relics at Dubrovnik's Cathedral or climb the Leaning Tower of Pisa and soak up sweeping views of the emerald landscapes.
Mediterranean Cruise Options
Mediterranean (From Barcelona)
The gateway to greatness
On these Mediterranean cruises, travel from Spain through some of Europe's most famous ports as you make your way to Italy. Begin in Barcelona where archaic artwork is on display throughout the city. Then saunter through the lavender fields of Provence when you cruise to Marseille. Or visit Il Campo dei Miracoli, also known as "The Field of Miracles," a UNESCO World Heritage Site in the heart of Pisa
Mediterranean & Aegean (From Rome)
From one sea to another
Embark on a Mediterranean cruise through the Aegean Sea and stroll through highlights of Italy and Greece while also visiting hidden gems like Montenegro. Sail along the Amalfi Coast and tour ancient ruins, including Pompeii. Then cruise to Mykonos, where windmills and bright white architecture accent the turquoise sea. Continue indulging in dreamy landscapes in Athens where mythology comes to life.
Mediterranean & Adriatic (From Athens)
Culture, cuisine and connections
Marvel at world-renowned landmarks on a Mediterranean cruise through the Adriatic Sea. Arrive into Athens early to explore the original Olympic stadium. Then sail to the black-sand beaches of Santorini before feasting your eyes on the culinary creations of Italy. Fill up on pizzas and pastas in Sicily and Naples before cruising into Barcelona.
Mediterranean Cruisetours
13 - 31 Nights
Highlights of Spain Cruisetour
3 nights Madrid
1 night Valencia
2 nights Barcelona
Escorted by a Tour Director
Then board your Mediterranean cruise
Explore Gibraltar, Provence, Genoa and Florence
Select sightseeing included
Most meals included
13 - 28 Nights
Classic Italy Cruisetour
2 nights Venice
2 nights Florence
2 nights Rome
Then sail to Naples and Sicily, depending on your itinerary
Longer Mediterranean cruisetours may also visit ports in Greece, Turkey, France and beyond
10 - 25 Nights
Best of Greece Cruisetour
1 night Athens
1 night Nafplion (only on 2023 cruisetours)
1 night Delphi
1 night Kalambaka
Mediterranean Cruise Ports of Call
Discover some of the world-renowned destinations that await you on a Mediterranean cruise with Princess.
Rooted in Greek mythology, Athens is alive with stories from civilizations of the past. On a cruise to Europe departing from Athens, arrive early to tour the remains of ancient lores — like the Temple of Olympian Zeus and Acropolis — dine at the city's lively tavernas and admire iconic sculptures bathed in natural light within the Acropolis Museum.
Until it was popularized by the 1992 Olympics, Barcelona was a hidden gem amidst Europe's diverse landscapes. Now it's widely recognized for its architectural masterpieces and spirited customs. On European cruises from Barcelona, leave enough time before you depart to visit Park Güell — a UNESCO World Heritage Site — and feel inspired by the colors and unique artistry that lies in the park and throughout the entire city.
As one of the greenest islands in Greece, Corfu is an emerald treasure amidst the colorful Mediterranean landscape. From Paleokastritsa, hike to the mountaintop for unparalleled views of the Ionian Sea. Or get a taste of Corfu when you team up with a famous chef, and handpick local produce that they'll use to prepare your lunch. Experience it all on a Greek cruise with Princess.
On a Mediterranean cruise to Livorno, travel to Florence or Pisa where artifacts abound. Capture snapshots of the Leaning Tower of Pisa, stop by Michelangelo's David statue at the Accademia and walk up to the "Gates of Paradise" at the Baptistery. Or explore the countryside and meander through the region's rolling hills that bear vineyards and green olive groves.
Nestled within Boka Bay lies a medieval gem. Kotor is enrobed in ancient houses, palaces and churches that speak to its 12th-century origins. On a Greek cruise, dine on Montenegrin cuisine in the home of a local chef, appreciate 14th-century Venetian art at St. Tryphon's Cathedral and taste regional wines along the riviera. Or see another side of the city when you kayak through the tunnels of Lipa Cave.
As the largest port in the Mediterranean, Marseille is the gateway to opportunity. On a Mediterranean cruise, spend the day in Arles, and explore the landscapes that inspired much of Van Gogh's artwork. Stroll through the MuSaMa, a soap museum, and create your own blend alongside a master soap maker. Or roam the city's most popular landmark, Notre-Dame de la Garden, a Catholic basilica that overlooks the city.
Famous for its beaches and spirited lifestyle, Mykonos is the heartbeat of Greece. Embark on a jeep safari past the city's windmills, lighthouses and lakes. Walk past temples and marble-lined sanctuaries in Delos, the birthplace of famous Greek gods. Or soak up a day of relaxation on the beach with the city's Cycladic architecture as your backdrop — all on a Greek cruise with Princess.
Italy's capital city is something of a dream. Grand chapels and stone angels line the roads, whispering secrets of Rome's past. On a cruise to Europe from Rome, arrive early to toss a coin into Trevi Fountain. Legend has it, you'll be guaranteed return to The Eternal City. Then walk in the footsteps of Emperors at the Colosseum, and receive a blessing from the Pope at St. Peter's Square.
Santorini is the epitome of Greece. Wander into the welcoming cafes in Oia, a village teeming with whitewashed buildings and blue-domed roofs. Continue to some of the world's oldest vineyards and taste the bouquet of wines produced on the island, making sure to visit the black-sand beach of Kamari before heading back to your Mediterranean cruise ship.
Why Cruise the Mediterranean
In lands where the culture is as flavorful as the cuisine, the splendor of the Mediterranean speaks for itself.
World-Class Dining
Captivating cuisine
With mouthwatering entrees and confections, the Mediterranean invites you to embark on a gourmet tour through iconic cities. Reawaken your taste buds with Italian classics like pastas, pizzas and gelato. Or fill your plate with gyros, keftethes and baklava on a Greek cruise. From breakfast to dinner and every delectable dessert in between, the best is before you with Princess.
Bold reds and crisp whites
The countryside of Italy and Greece are home to some of the most flavorful wines around the globe. With sun and warm temperatures year-round, vineyards are flourishing with grapes by the harvest season. Sip on Italy's red wines, or sample Greece's white blends. From sweet Lambruscos to earthy Bordeauxs, fill up your glass on a Mediterranean cruise with Princess.
Ancient Ruins
Where history comes to life
From towers and temples to cities and shorelines, the Mediterranean is sprinkled with remains of civilizations past. Step back in time on a tour through ancient ruins on a Mediterranean cruise with Princess. Imagine life as a gladiator at the Colosseum, explore Greek mythology at the Parthenon and discover the archeological excavations of Pompeii — a lost city and UNESCO World Heritage Site.
Art Galleries & Museums
Artistic ingenuity abounds
From the treasures on land to the jewels within museums, the Mediterranean is a true work of art. On an Italian cruise, see portraits from the Renaissance period at the Uffizi Museum in Florence, and admire Michelangelo's masterpieces at the Vatican Museum in Rome. Or walk in the footsteps of celebrated artists that called these regions home — like Picasso and Dali — and allow their work to spark your creativity.
Sun-Kissed Beaches
A vision of natural beauty
Visions of sparkling coasts and crystalline waters welcome you to the Mediterranean. Dip your toes on the black-sand coast of Santorini on a Greek cruise. Head to Salerno to spend the day in Positano relaxing on the white beaches and admiring the pastel houses that decorate the cliffs around you. Or travel to Mykonos with your loved ones and daydream on the city's long stretch of golden sand and stroll in the sunshine.
Mediterranean excursions
Our award-winning Mediterranean cruise shore excursions bring you to iconic beaches, landmarks and ancient artifacts. See the yacht-lined shores of Kotor while riding on a tuk tuk, an electric rickshaw. Savor the flavors of "Koum Kouat" liqueur, created from Corfu's exclusive citrus plant. Or stroll along the streets of Dubrovnik's Old town, one of the most well-preserved medieval cities in the world.
Local connections
From chefs and beverage makers to artists and guides, meet the many personalities that call the Mediterranean home with our Local Connections program. On a Mediterranean cruise, voyage to an olive tree farm just outside of Provence, and join your hosts for a unique olive oil tasting. Or explore the Archaeological Museum of Naples with a local artist, and accompany them for lunch to dive even deeper in Italy's art scene.
More ashore
Enjoy even more opportunities to experience the colors, cultures and flavors of the Mediterranean with More Ashore late-night departures and overnight stays. Witness the beautiful sunset in Mykonos on a Greek cruise. Sit front-row for a flamenco dance, and savor a paella dinner during an evening in Barcelona. Or stroll the illuminated streets of Genoa with gelato in hand after a traditional Italian dinner.
Mediterranean Cruise Onboard Experience
Curated comfort, world-class entertainment and international flavors await you.
Accomodations
Your home away from home
Your stateroom is where you rest and recharge between adventures. That's why every room is equipped with the expertly designed Princess Luxury Bed, 100% Jacquard-woven cotton linens and our SLEEP program created by a board-certified sleep expert. From interior cabins to full suites, unwind in any of our staterooms, and enjoy peace of mind with the option of connected rooms for families of four or more traveling together.
Flavors that inspire
From the zest of Provencal ratatouille to the sweetness of Greek Halva, the Mediterranean is bursting with flavor. On board most Princess ships, indulge in a pasta dinner at Sabatini's℠, or savor local seafood at Crown Grill. While ashore, treat yourself to gelato in Italy or churros in Spain. From ship to shore, appease your appetite with one-of-a-kind dining experiences on every Mediterranean cruise itinerary.
Entertainment
Find your joy
Embark on adventures by day, and indulge in entertainment by night. Watch Movies Under the Stars® at our 300-square-foot outdoor theater. Attend original productions from Broadway legend Stephen Schwartz, composer of Wicked . Or learn traditional moves, like Flamenco or Irish stepdance, and listen to popular music from the destinations on your itinerary. On a European cruise with Princess, the choice is yours.
Celebrations and Romance
Love blooms on the Love Boat
It's difficult to imagine something more romantic than sailing through the alluring cities and charming countryside of Europe. While on board your European cruise, we cater to your sentimental side with private dining on your balcony — like breakfast for two or a sunset dinner — honeymoon packages, flowers and chocolates delivered to your room and couples-only massages in the Sanctuary.
Youth & Teen Center
Step outside the classroom
Our European cruises were crafted with every guest in mind — even the younger ones. From 6-month old babies to 17-year old teens, kids can unwind and relax or play and explore. In partnership with Discovery™, kids can learn even more with special insights about Italy, Greece and everywhere in between. With engaging activities on board and ashore, kids can see history books come to life before their eyes.
Vegas hits the seas
Experience the thrill of cards, dice, roulette and blackjack at the casino onboard our European cruises. Learn from experts — like our staff or perhaps other guests nearby — and put your skills to the test. More casual players can pull up a seat at the slot machines for the same adrenaline at their own speed. For an afternoon full of games, join fellow travelers for Bingo, or compete in scheduled group tournaments.
Ships sailing Mediterranean cruises
Our Princess fleet includes ships that range from small to large vessels. From a balcony stateroom, marvel at breathtaking shorelines passing by before enjoying international cuisine in one of our many eateries during your Mediterranean cruise.
Star Princess®
Sun Princess®
Sky Princess®
Enchanted Princess®
Majestic Princess®
Caribbean Princess®
Emerald Princess®
Island Princess®
European Cruise Articles
Read about storied attractions, charming history, diverse cultures and preparation advice for cruising Europe.
Explore Europe
Learn all about our exciting options to visit Europe from cruises to in-depth cruisetour vacations. 
The top ten things to do in Norway
Planning a holiday to Norway? Discover the best museums, restaurants, cafés, attractions and experiences in the Scandinavian country.
Must-do summertime activities in Scandinavia
Discover the best summer holiday activities in Scandinavia, including wild swimming in Stockholm and rooftop drinking in Oslo.
Five reasons to cruise from Southampton
Looking for a cruise vacation from Southampton? Set sail to Canada, the Mediterranean, Scandinavia, Florida and around the British Isles with Princess Cruises.
How to see Stockholm from a unique perspective
Ice bars, rooftop tours, meatballs and more – use our handy city guide to get a fresh view of Sweden's brilliant capital.
Six places to see the Northern Lights in Norway
Hoping to see the Northern Lights in Norway? Discover the best places to try to catch a glimpse of Mother Nature's exceptional light show
Travel, Airfare, & Hotels: Let Princess Get You There
Princess EZair® Flights
Stress-free airfare
Remove the hassle from air travel and give yourself the gift of flexibility, time and a thicker wallet with Princess EZair flights. We negotiate lower rates with the airlines, allow you to modify your flight up to 45 days prior with no penalty and protect you if your flight is late or canceled.
EZair flight quotes are available on our cruise search result details pages.
Airplane to Ship Transfer
We get you where you need to go
Let Princess pick you up from the airport and take you directly to your ship or hotel when you arrive, even if you didn't book your airfare through us. A uniformed Princess representative meets you at the airport after you've retrieved your luggage and transports you directly to your ship or hotel without you having to worry about the logistics of navigating a new city.
Cruise Plus Hotel Packages
Stay longer and relax
Extend your cruise vacation, and simplify your travel plans with a hotel stay at the beginning or end of your cruise. With a Cruise Plus Hotel Package, a Princess representative meets you at the airport and pier, transporting you to and from your hotel. The package includes the cost of your hotel stay, transportation, luggage handling and the services of the representative.
Need help planning?
Princess Cruise Vacation Planners are a dedicated resource to help you every step of the way through the planning process of your cruise vacation. And the best part is, they are absolutely FREE!
Cruise deals & promotions
Find our top sales, deals, partnerships and promotions for our destinations all in one place. We run promotions throughout the year and sometimes run sweepstakes where you could win prizes!
#PrincessCruises Europe Connections
See Europe through our guests' eyes.
You May Also Like
European cruise destinations.
Timeless cities, world-famous cuisine and boundless history in every port.
Scandinavia & Baltic Cruises
Royal palaces, ancient art & celebrated history of Baltic ports.
Shore Excursions
Experience fabled lands and world famous museums with it's locals.
Best restaurants near me in Santorini, Greece
29 restaurants available nearby, 1. rocca nera, 2. varoulko santorini, 3. mavro santorini, 5. esperisma bar-restaurant, 6. ifestioni restaurant, 7. cacio e pepe, 9. lure restaurant, 10. mia's restaurant.
Explore OpenTable
Restaurants nearby
Open near me
Frequently asked questions
What cuisines are available near me in greece.
Here are the most popular cuisines: Greek, Mediterranean, Steak, International, Italian and many more.
How many restaurants are on OpenTable in Greece?
There are 34 restaurants on OpenTable in Greece.
Can I see menu information for restaurants?
Yes, we partner with a third party to bring back menu information for restaurants near you.
Dining Rewards
Private Dining
Reserve for Others
Restaurants Near Me
Delivery Near Me
Restaurants Open Now
OpenTable for iOS
OpenTable for Android
Affiliate Program
OpenTable.jp
OpenTable.de
OpenTable.es
OpenTable.ca
OpenTable.hk
OpenTable.ie
OpenTable.sg
OpenTable.nl
OpenTable.com.mx
OpenTable.co.uk
OpenTable.com.au
OpenTable.ae
OpenTable.co.th
OpenTable.it
OpenTable.com.tw
Restaurant reservation software
Industry insights
Hospitality resources
Marketing resources
Operation resources
How to open a restaurant
For restaurants
For restaurant groups
Privacy Policy
Terms of Use
Cookies and Interest-Based Ads
Do Not Sell or Share My Personal Information
Cookie Preferences
If you think Airbnb, Vrbo are cheaper than hotels, you might want to think again!
When Airbnb and Vrbo first hit the scene, they were terrific. It was so much cheaper than staying at a hotel. Now? Hotels are coming back. But why?
For one, there are all the Airbnb horror stories – from hidden cameras to a host secretly living in a rental's attic. Seriously, it happened. And did you hear about the group of women who rented an old Victorian to celebrate their 50th high school reunion? Instead of a fun time, they got bats. Some of the women were even bitten.
If you love to travel but want to save money, this report is worth paying attention to.
I write about the latest tech gear, security alerts and digital life hacks in my daily emails. Join 600K+ who get the Current each day. It's free!
Rentals vs. hotels: What's cheaper?
Which? , a U.K.-based consumer research group, compared the average price of thousands of hotels with 300,000 Airbnb and Vrbo listings. They also looked at 50 locations over a year to monitor price trends.
Their findings? On average, hotels were less expensive 75% of the time.
Now, a hotel might not be the best choice every time – like when you need a big kitchen or want the whole gang in one place. But at the very least, it's worth checking. It's time to add hotels back to your radar.
Oh, the places you'll go!
So, why the rise in Airbnb and Vrbo prices? Several major U.S. cities are placing more restrictions on Airbnb rentals, making it more difficult for property owners to turn a profit. Jacking up rates helps these owners stay afloat.
It's not just in the U.S. The most significant price difference is in Greece. On the island of Santorini, a one-bedroom rental through a site like Airbnb is roughly $104 more expensive than a hotel room.
The same is true for rentals in other major cities around the globe compared to hotel rooms:
◾ Amsterdam – $83 higher
◾ Singapore and London – $75 higher
◾ Dubai, United Arab Emirates – $70 higher
◾ San Francisco – $44 higher
In France, it's less expensive to book a vacation rental than a hotel in Nice, La Rochelle, Antibes, Avignon and Biarritz. But booking a hotel is still cheaper in Paris and Bordeaux.
Calling all cheapskates
Paying full price makes me sad, so I'm always looking for ways to save when I travel. Follow these tips to get a hotel room at the best price possible.
◾ Go last-minute: If you can, wait until the day you need the hotel room to book it. After 4 p.m., hotels know the odds of selling a room are slim. On average, the same-day rate is at least 10% cheaper.
◾ Just ask: Always ask if there's a free room upgrade or breakfast. If you're staying for more than a few days, slip the check-in person a nice tip for a better room.
◾ Direct is best: Scan a few travel sites to find the cheapest rate, then call the hotel and ask if they can give you the same price. You can also ask, "What's the room that gets requested the most by returning guests?" No noisy rooms or wall views, please.
◾ Don't forget the perks: Join a hotel chain's loyalty program to take advantage of perks and savings and see if they give discounts for other memberships like AAA.
◾ Free stays and upgrades: Use a hotel-affiliated credit card to earn points you can exchange for stays. If you're using a debit card for things like gas and groceries, you're missing out!
PSA: Always check for cameras
It's not paranoia – it's smart. This happens all too often. You check in to a rental or even a hotel room, lay on the bed and see a strange little light blinking. Is it a camera? A CO2 monitor? A recording device? Don't wonder. Find out!
Larger cameras are easy to spot, but anyone can easily hide smaller cameras behind furniture, vents, or decorations. A simple way to spot most types of cameras is to look for the lens reflection.
◾ Turn off the lights and slowly scan the room with a flashlight or laser pointer, looking for bright reflections.
◾ Scan the room from multiple spots so you don't miss a camera pointed only at certain places.
◾ Inspect the vents and any holes or gaps in the walls or ceilings.
You can also get an RF detector . This gadget can pick up wireless cameras you might not see. Unfortunately, RF detectors aren't great for wired or record-only cameras. For those, you'll need to stick with the lens reflection method.
In a rental, a free program like Wireless Network Watcher shows what gadgets are connected to the wireless network. You might be able to spot connected cameras that way. Do this in every rental you stay in, just to double-check what's connected to the network.
Keep your tech-know going
My popular podcast is called " Kim Komando Today. " It's a solid 30 minutes of tech news, tips, and callers with tech questions like you from all over the country. Search for it wherever you get your podcasts. For your convenience, hit the link below for a recent episode.
PODCAST PICK: Bootleg weight loss drugs, spying smart devices & incognito mode tips
Plus, ever wondered about tech giants' biggest flops? I've got a rundown. Cathay from Seattle is having a rough go sorting through her late father's 15 computers – I share some ways to ease her journey. Peek into the data your car collects on you, and the undercover map tracking your moves.
Check out my podcast "Kim Komando Today" on Apple, Google Podcasts, Spotify, or your favorite podcast player.
Listen to the podcast here or wherever you get your podcasts. Just search for my last name, "Komando."
Learn about all the latest technology on the  Kim Komando Show , the nation's largest weekend radio talk show. Kim takes calls and dispenses advice on today's digital lifestyle, from smartphones and tablets to online privacy and data hacks. For her daily tips, free newsletters and more, visit her website. 
Search Please fill out this field.
Manage Your Subscription
Give a Gift Subscription
Sweepstakes
Travel Tips
The Biggest Travel Trends of 2024, According to Expedia Group's President
Can you guess the one major travel trend from 2023 that's sticking around?
Courtesy of Expedia
With the new year just around the corner, travel planning for 2024 is in full swing. Online travel booking behemoth Expedia recently unveiled its 2024 travel trends report , combining a vast trove of first-party data with a global consumer survey of 20,000 travelers. Think of it as a peek into what will define the travel landscape in the year ahead.
"What's happening in culture often shapes consumer behavior, and we've definitely seen that in travel," said Jon Gieselman, president of Expedia Brands, in an interview with Travel + Leisure . There's a wide array of intriguing intel, from how travelers are looking for recommendations (hello, ChatGPT) to the destination "dupes" jet-setters are choosing so they can avoid overcrowded destinations.
Generative AI
While generative AI tools like ChatGPT took the spotlight in 2023, according to Gieselman, only a small fraction of travelers — 6 percent in total — used it to plan their trips. However, in 2024, Expedia predicts more widespread adoption; half of those surveyed are interested in using generative AI to plan their next getaway. 
The technology's ability to simplify the planning and booking process — though often with unintended side effects — is driving its use. Nearly 40 percent of travelers say they would use generative AI to help find the perfect stay.
Destination "Dupes" and "Set-jetting"
AI may (or may not) prove helpful for trip planning, but how will travelers narrow down where to go? The Expedia-commissioned study explored the "dupe" trend that has taken over TikTok by applying it to 2024 travel destinations. "These cities made the list because they all experienced a noticeable uptick in searches on the Expedia app over the past year, so it's clear that they're emerging as great alternatives," Gieselman says. 
In many cases, these "dupes" are affordable alternatives to places that are historically more expensive. At the top of the list was Taipei, Taiwan , with a 2,786 percent increase in flight searches for 2024; Expedia says the city is a dupe for Seoul. Other notable dupes include Pattaya, Thailand (dupe for Bangkok); Paros, Greece (dupe for Santorini); Curacao in the Caribbean (dupe for St. Martin); and Perth, Australia (dupe for Sydney).
There's one 2024 trend that's a sure bet — and a holdover from 2023. "Set-jetting" will continue to be in vogue for the new year. More than half of the travelers surveyed say they've researched or booked a trip to a destination after seeing it in a television show or movie. 
Giselman and company dug closer into specific programming that is influencing this trend. For instance, following the release of Wednesday on Netflix, Expedia saw a 150 percent increase in travel searches for Romania. There was a 200 percent increase in searches to Paris after Emily in Paris debuted its most recent season. 
A longtime favorite, White Lotus, is filming its third season in Thailand and Expedia expects a surge in travel to the Southeast Asian country. After all, the first two seasons of the series drove a 300 percent increase in demand to Hawaii and Sicily.
Sober Travel and More
Once on the ground, Expedia expects travelers to fully embrace "dry tripping," going beyond the traditional Dry January or Sober October to have low- or no-alcohol getaways year-round. The travel industry has responded accordingly, stocking minibars with zero-proof options and offering mocktail-making experiences. 
Giselman says that it's Gen Z travelers who are driving the dry tripping trend. "Sober-curious lifestyles are becoming more commonplace, and many Gen Zers are practicing alcohol-free lifestyles," he notes.
Wynn Las Vegas , a T+L reader favorite in Sin City , offers a "Drinking Well" zero-proof cocktail program developed by a master mixologist featuring reishi mushrooms, ashwagandha, and maca. Meanwhile, The Merrion , a T+L reader favorite hotel in Dublin , distills its own nonalcoholic gin. Expedia says more than 40 percent of travelers are likely to book a detox trip in the next year, with half of respondents saying they would be interested in staying at hotels that offer easily accessible alcohol-free beverage options.
The complete travel trends report, with several other key tenets , comes on the heels of Expedia Group's recent launch of One Key , a single unifying travel rewards program across Expedia , Hotels.com , and Vrbo .
By clicking "Accept All Cookies", you agree to the storing of cookies on your device to enhance site navigation, analyze site usage, and assist in our marketing efforts.