Metallica Tour History
Top Tours · Just Announced · Categories · Festivals · 2024 Tours
Terms of Service · Privacy and Cookie Policy · Contact © Concertful
Metallica is an American Heavy Metal band, founded in 1981 by drummer Lars Ulrich and rhythm guitarist James Hetfield in Los Angeles. Aside from Ulrich, the original lineup for some of the 1982 concerts included James Hetfield (Rhythm Guitar and lead vocals), Dave Mustaine (lead guitar and backing vocals) and Ron McGovney (bass guitar). Cliff Burton replaced McGovney in 1982 and played with the band till his death in 1986, after his death till today new bassist were recruited in the band Jason Newsted (1986–2001), and Robert Trujillo (since 2003). While the lead guitarist role was taken by Kirk Hammett (since 1983) after Dave Mustaine got fired from the band. During the first years, Metallica played in small festivals and as supporting acts on tours for bands such as Venom. Since 1982, Metallica has performed on all populated continents numbering live events every year (with the exception of 2001) in a total of over 1,600 shows. The majority of these were played in the United States, but numerous concerts were also played in Canada, the United Kingdom, and Germany, among other countries. The band also went on seven worldwide tours: Damage Inc. Tour (1986–1987), Damaged Justice Tour (1988–1989), Wherever We May Roam Tour (1991–1992), Nowhere Else to Roam (1993), Madly in Anger with the World Tour (2003–2004), Escape from the Studio '06 , and World Magnetic Tour (2008–2010). During these tours, South Africa, as well as several countries in Central and South America, Asia, and Oceania, were visited.
Metallica has played many shows at major rock festivals such as Woodstock '94, Ozzfest, Monsters of Rock, Lollapalooza, Download Festival, Reading Festival, and Day on the Green. They also held numerous concerts in stadiums, some of which featured crowds of over 100,000 people. One of the highest-attendance music concerts in history was held by Metallica on September 28, 1991, at Tushino Airfield in Moscow, where unofficially 1.6 million people attended. Some of these performances were later released as videos for special box-sets or DVD releases. Some performances have been held in theaters, including two April 1999 shows alongside the San Francisco Symphony that were released as the album S&M.
Metallica's first official tour was Kill 'Em All for One , which started in 1983 to promote their debut album. Their longest so far has been the Wherever We May Roam and World Magnetic Tours, which lasted 14 months and 20 months, respectively, with each having over 170 concerts. The band is among the most lucrative live bands, selling out half of their first 187 concerts held during the 2000s, and gaining an attendance of over 3.5 million people and a gross of over US$227 million.
1 1980s Tours
2 1990s Tours
3 2000s Tours
4 2010s Tours
5 2020s Tours
1980s Tours [ ]
1990s tours [ ], 2000s tours [ ], 2010s tours [ ], 2020s tours [ ].
All items (31)

TOUR ARCHIVE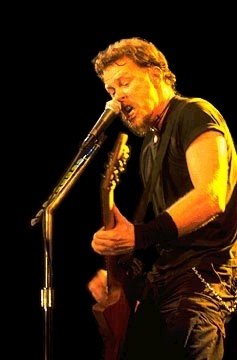 But our most unique and popular feature is the Personal Tour Report where you tell us what shows you've been to and we generate a report with stats on what songs you've seen, in what cities, and more! And of course we have stats for band as a whole ?
TOURS M72 World Tour Worldwired Bridge School Benefit 30th Anniversary Misc. 2015/2016 Shows 2015 European Vacation Misc. 2014/2015 Shows Metallica By Request Misc. 2013/2014 Shows The Full Arsenal Orion Music and More Black Album 20th Anniversary Misc. 2011 Shows World Magnetic 2008 European Vacation The Bridge School Benefit 2007 Sick of the Studio '07 Escape From The Studio '06 The Rolling Stones support Madly In Anger With The World Summer Sanitarium 2003 European Festivals 2003 Misc. 2002/2003 Shows VH1 MyMusic Awards Summer Sanitarium MTV Movie Awards 2000 M2K S&M The Garage Remains the Same Symphonica Poor Retouring Me: Make Ups Garage Barage Poor ReTouring Me The Bridge School Benefit Blitzkrieg '97 Poor Touring Me Lollapalooza Club Member-Only Shows '96 '96 Flatbed Truck Shows Lemmy's 50th Birthday Escape From The Studio '95 Shit Hits The Sheds Nowhere Else to Roam Guns N' Roses/Metallica Wherever We May Roam Monsters of Rock 1990 Summer Shows Damaged Justice Van Halen's Monsters of Rock GDRR Shows Damage, Inc. Misc. 85/86 Shows Ride The Lightning Misc. 84 Shows Twisted Sister and Metallica Hell On Earth 7 Dates of Hell Misc. 83/84 Shows Kill 'Em All For One Pre KEA
YEARS 2024 2023 2022 2021 2020 2019 2018 2017 2016 2015 2014 2013 2012 2011 2010 2009 2008 2007 2006 2005 2004 2003 2002 2000 1999 1998 1997 1996 1995 1994 1993 1992 1991 1990 1989 1988 1987 1986 1985 1984 1983 1982
Personal Tour Report
SPECIAL THANKS to The Metallica Club , and their magazine: So What! , Chapter Inc. , Dan Walpole , John Spiers , MetOnTour , Abhishek Prasad , and the IPOM Staff. Most of our pre-1995 setlists are courtesty of Chapter Inc.

Statistics Stats
You are here:
Metallica Concert Setlists & Tour Dates
M72 World Tour
Metallica at ford field, detroit, mi, usa.
It's a Long Way to the Top (If You Wanna Rock 'n' Roll)
The Ecstasy of Gold
For Whom the Bell Tolls
Ride the Lightning
Dirty Window
If Darkness Had a Son
Welcome Home (Sanitarium)
You Must Burn!
The Call of Ktulu
The Unforgiven
Edit setlist songs
Edit venue & date
Edit set times
Add to festival
Report setlist
Creeping Death
Harvester of Sorrow
Through the Never
Leper Messiah
Too Far Gone?
Fade to Black
Shadows Follow
Nothing Else Matters
Metallica at The Dome at America's Center, St. Louis, MO, USA
King Nothing
No Leaf Clover
Holier Than Thou
The Memory Remains
Metallica at Power Trip 2023
Metallica at State Farm Stadium, Glendale, AZ, USA
Metallica at sofi stadium, inglewood, ca, usa, metallica at at&t stadium, arlington, tx, usa, more from metallica.
Artist Statistics
Add setlist
Most played songs
Master of Puppets ( 1740 )
Creeping Death ( 1619 )
Seek & Destroy ( 1595 )
For Whom the Bell Tolls ( 1589 )
One ( 1582 )
More Metallica statistics
.MAR [unknown] 10 Years 100% Cotton (UK Band) 12oz. Prophets 2manydjs 3 Doors Down 311 5th Down 9mm Parabellum Bullet 9sundays A-Meezing Coverband Aaron Lewis and Sully Erna Accusator Acesso Violento Acid Drinkers Acid Reign Red Liner Act of Defiance Act of Sin AdaKaiN Adam and the Metal Hawks Adamantine Adamantium Ryan Adams Devil's Holy Adversary Adversery After All After Forever Against Aggressor The Agonist Agony Reigns Agora Ahat Jarkko Ahola Akafuka von de Luka Akela Alasin Alborosie AlcoholicA AlcoholicA Alcoholica Alcoholica Aldebert Alice Cooper Band Alive All Sinners All Time Low Alltorment
Showing only 50 most recent
View covered by statistics
Artists covered
[traditional] Anti-Nowhere League The Beatles Black Sabbath Blitzkrieg Blue Öyster Cult Tiny Bradshaw Budgie Buffalo Springfield Cheech & Chong The Clash Creedence Clearwater Revival Deep Purple Diamond Head Dire Straits Fang Garbage Holocaust Judas Priest Kid Rock Killing Joke The Kinks KISS Korn Lynyrd Skynyrd Megadeth Mercyful Fate Misfits Ennio Morricone Alexander Mosolov Motörhead Nazareth Ozzy Osbourne Sergei Prokofiev Queen Ramones Rare Earth Lou Reed & Metallica The Rolling Stones Savage Saxon Bob Seger Slayer Soundgarden The Stooges Sweet Savage Thin Lizzy UFO The Velvet Underground
View artists covered statistics
Gigs seen live by
40,670 people have seen Metallica live.
F-22Raptor Marcieclarke TC810 Merk_Freeks Stonerook34 MetalheadCurt JJsTheory Ronstar64 Genevievil DrewC_2 RedFalcon890 Ryniassance winemedineme TimmyR ahill1186 ZakandSara MKUltra007 xBTPxRunNGun WillyFTW char11x kathy_D amesryan98 AlexLolBye bpadgett31 MistressJ Emilkyek1 Weasekx Ronk475 ndtimmerman Rpollock35 Trident15 FizzyCheese Devilhorns lesliej537 joeljewishbesh Dmravi Jbyrd1507 vexed12 Redneck Kosmotion DylanJ3191 sxared Kaylin_chi_n valenshek Taz1121 Bharinck83 sqrl infiniteaudio frameofbones Tojobo22
Metallica on the web
Music links.
Metallica Lyrics (de)
Official Homepage
Related News
2024 Grammy Nominees On Tour
The Metro: Venue Spotlight
Metallica, Nirvana, Hozier, and Ed Sheeran Keeping It Traditional
Power Trip: A Night by Night Recap of the Year's Hardest Fest
Tour update, marquee memories: frank zummo.
Frank Zummo
Nov 17, 2023
Nov 16, 2023
Nov 15, 2023
Nov 14, 2023
Nov 13, 2023
Nov 12, 2023
FAQ | Help | About
Terms of Service
Ad Choices | Privacy Policy
Feature requests
Songtexte.com
Skip to Main Menu
Skip to Main Content
Notable Equipment
Record Labels
Additional Artists
Things I Like
Discography
Live streams
Moscow concerts Moscow concerts Moscow concerts See all Moscow concerts ( Change location ) Today · Next 7 days · Next 30 days
Most popular artists worldwide
Trending artists worldwide

Get the app
Moscow concerts
Change location
Popular Artists
Deutsch Português
Popular artists
Metallica
On tour: yes
Metallica is not playing near you. View all concerts
Moscow, Russian Federation Change location
2,434,825 fans get concert alerts for this artist.
Join Songkick to track Metallica and get concert alerts when they play near you.
Nearest concert to you
Olympic Stadium
Touring outside your city
Be the first to know when they tour near Moscow, Russian Federation
Join 2,434,825 fans getting concert alerts for this artist
Upcoming concerts (26) See all
Olympiastadion
Ippodromo SNAI La Maura
UTSOLGT: Dagspass ONSDAG - Metallica m.fl. - Tons of Rock
PGE Narodowy
View all upcoming concerts 26
Similar artists with upcoming concerts
Tours most with.
Metallica is an American heavy metal band from California, US. Formed in 1981, Metallica is considered to be one of the founding bands of thrash metal.
The band was formed after the various members answered a newspaper advertisement placed by drummer Lars Ulrich who was looking for people to jam with. Metallica quickly gained a following from its many gigs in the Los Angeles music scene as its new thrash metal sound picked up increasing numbers of followers.
Metallica's first three studio albums, Kill 'Em All, Ride the Lightning, and Master of Puppets, did increasingly well on the US album charts, and eventually, each of these albums would be certified platinum. The band toured frequently in the US and Europe, playing to tens of thousands of fans at a time. Its constant touring resulted in rising popularity throughout the late '80s.
In 1986, tragedy struck when the band's tour bus crashed in Sweden and bassist Cliff Burton was killed. After debating whether to continue making music, the band received the blessing of Burton's family and went on to record its next album …And Justice For All. The release of this album in 1988 saw the band attain its biggest success yet as the album charted at number six in the US and number four in the UK; Metallica also received its first Grammy Award nomination.
The commercial success of the album turned Metallica members into living legends. Each of its subsequent five albums hit the number one spot in the US and has been certified platinum. Tracks such as "Enter Sandman" and "Turn the Page" have become legendary in their own right and have inspired legions of artists.
In 1991, Metallica released its fifth album, self-titled Metallica. Today, this album is recognized as one of the band's first albums to appeal to a larger mainstream audience with less focus on its traditional thrash metal sound. This album wound up selling over 16 million copies in the US alone.
After this album, Metallica continued to release albums that explored new genres and styles. During the next few years, the band would go on to release Binge & Purge, Load, Reload, Garage, S&M, and St. Anger. Then, in 2008, Metallica returned to its earlier sound with the release of Death Magnetic. This album returned to the band's metal trash roots and debuted at number one in the US. The album quickly climbed the charts globally, reaching number one on both the Billboard 200 and the European album charts. In addition, this became the fastest-selling album of the year in Australia.
After this, Metallic continued to release albums in the same vein as its original sound, releasing its tenth studio album Hardwired…to Self-Destruct in 2016. This album was released via the band's own record label, Blackened Recordings. The album's single "Hardwired" went on to debut at number one on the Billboard 200 charts.
Now the band's eleventh studio album 72 Seasons is set to be released in April of 2023. In anticipation of the release of its newest album, the band released the single "Lux Æterna" in November 2022.
Metallica has won an impressive nine Grammy Awards and three MTV VMA awards. Its style is influenced by bands such as AC/DC, Black Sabbath, and Aerosmith, but Metallica itself has gone on to be one of the most influential heavy metal bands of all time, selling more than 120 million records worldwide.
For those who are looking forward to seeing Metallica live at any of its shows, the band delivers an incredible live experience. Fans flock to stadiums, festivals, and concert halls to watch the group perform dozens of songs spanning its extensive discography. Over the years, Metallica has played over 2,000 shows, traveling to every populated continent in the world. What started out as a small movement in California, has spread globally, earning the group an incredible following of metal fans from countries virtually everywhere.
Metallica's adrenaline-filled shows aren't for those who wish to sit back and relax. The band members all deliver their own bold energy to the stage, and the crowd follows suit. Most Metallica shows involve fan interaction, with concert attendees singing, clapping, jumping, and thrashing along to the music. In addition to the incredible power that the band brings to the stage during a show, the audio and visual effects are also second to none. Metallica is known for playing a loud concert, where every beat of the drum, every strum of the bass, and every lyric is felt from head to toe.
Live reviews
A most memorable night as the boys set out to open the new Royal Arena with a bang. And that they did!
From the opening of Hardwired it was clear they were here and they meant business! The most in-your-face opening of a Metallica gig I have ever witnessed. While there were a few noticeable "hiccups" in James' voice it was, to my ears, nothing major. But evidently it prooved to be just that.
James told us he and a few of the others weren't feeling well and about 30 minutes into the show he had a talk with Lars, center-stage, and at this point most of us looked at each-other and thought, "Uh-oh. Something's up. They're gonna cancel..."
James adressed the crowd, saying the band weren't sounding good and that he hated giving us a bad show. He wanted to stop. He asked the crowd outright, if we wanted a make-up show later with Metallica in full force or if they should continue at half mast. The crowd roared a reassuring and supportive "No!" - meaning: It's OK, James. We are here for you. We want you to battle on. We can do this together.
He laughed warmly, thanked the crowd for our support and said, "You asked for it".
They reorganized, changed the set-list and came out again and this time it seemed there was more energy in their performance. They were out to proove that they could do this, illness be damned! And as James asked for the crowds help in singing the lyrics, it didn't feel like all the other times he had done so. This was special. For once, you actually felt as if you were helping James, helping the band, through this ordeal. Together. And it felt mighty good. Sometimes this whole "Metallica-family"-thing gets a bit worn-out and cliché, at least for me. But in that moment I felt it. The kinship. The coming together. And that was a mighty thing. A mighty good thing.
The band soldiered on, ripping into a mighty version of Fade to Black, that hit home a bit more than it used to.
Yes, there was an incident with Kirk during the intro, first missing his cue and then playing false notes, but not one of the critics questioned why. Just prior to Fade Kirk had done a solo thrasing his guitar around. For Fade he was then given another guitar, but the receiver on it cut out leaving him muted. They quickly gave him another guitar, the same he'd used for the solo, which was not tuned to Fade thus producing false notes. He finished the intro and they quickly changed guitars again, this time with a working receiver and in-tune.
It's ok to criticize if the criticism is justified. Factless criticism is just whining.
So they battled on raising the roof with a feroscious rendition of Seek and Destroy and the most pummeling version of Battery I've ever heard. Absolutely blistering.
And closing out with Sandman with the crowd in full roar was just perfect.
It was a truly memorable concert both performance and set-wise. Oh, and they even included Harvester of Sorrow which was a very nice surprise for me.
The stage was beautiful with a built-in screen. And a screen in the ceiling as well. Epic and beautiful.
A memorable night I won't forget as long as I live. As a fan, they did me proud with this one. I just hope James recovers and regains his strenght once again.
Hetfield, rise!
Report as inappropriate

The impatient wait had been going on for months - I booked this show when tickets went on sale back in March or whenever it was, and October had take so long to come around - but finally it was here: Metallica day!
The day started with a trip to the pop-up merch store in London, then onto the O2 for an agonising queue (good thing it's what us Brits do best, apart from moan about it of course) before finally getting in and finding my seat - which, by pure luck, was a superb view. Again, what felt like days, but in reality was only 30-40 mins wait, the lights dimmed, the background music shut off, and the familiar notes of the intro track, "The Ecstasy of Gold", complete with video footage from "The Good, the Bad, and the Ugly", began to ring out, to rapturous roaring and whistling from the 20,000 strong crowd. The hairs on my arms are standing on end just recounting it for this review. And then we were in: full-bore, 100mph, Metallica took to the stage and belted out song after song after song with barely a moment to catch your breath before the next does of thrash metal came your way. "Thrash metal?", I hear you say, "Metallica hasn't been thrash metal since the 80's!". Oh my friend, trust me when I say thrash metal - we had some of the best early work represented tonight, not least with half a dozen track from the new album "Hardwired... To Self Destruct" that included unrelenting riff after riff, from the likes of "Hardwired", "Atlas Rise", "Moth Into Flame", coupled with one of the heaviest tracks they've ever written "Dream No More", plus "Halo on Fire" and "Now That We're Dead". All segmented in-between some of the bands greatest songs; "Seek & Destroy", "Through The Never", "Welcome Home (Sanitarium)", "For Whom The Bell Tolls", "Through The Never", "One", "Sad But True", "Fuel", the obligatory cover, this time from the Misfits' "Die Die My Darling", before ending the show with "Master of Puppets".
Of course, it wasn't the end - back for the encore the intro to "Damage Inc" came on, before they ripped all the way through it, eventually slowing the pace to play the ever-loved "Nothing Else Matters" and finally ending on probably their most well known song "Enter Sandman"
It was a great varied selection of tunes that spans most of their career - the only notable exceptions being there was nothing from "Load", "St Anger" or the previous record "Death Magnetic". But otherwise all the other studio albums were represented. Some guitar and bass doodles from Kirk and Rob, before Rob gave us a wonderful tribute to Cliff by playing "Anesthesia".
If you get the chance to go, then go see this show - it's truly magnificent, from a band with 36 years experience in being the biggest metal band on the planet, and it shows you just why they are. I just wish I had a ticket for tomorrow night too.

We went to a concert in Toronto to see; Volbeat, Avenged Sevenfold, and the show I have been waiting my life to see; Metallica. They all sported the Blue Jays jersey with their names at some point and thanking them for the gifts. The show had a Dj mixing up songs before/between acts from groups like Beastie Boys to Black Sabbath. Volbeat and avenged Sevenfold were great acts my first seeing all. My 16yr old is really into Avenged Sevenfold and was not disapointed. (end of grade 10 present). Volbeat i have heard in passing once and will do my best to spread the word about them.Glad i made it there in time to catch Volbeat if you ever have a chance make sure you catch them! Avenged Sevenfold was everything my 16 year old had told me. Those who missed them may be may be able to catch them soon as they alluded to coming back. They make me glad that metal is carring on to the younger generation these days. "We love Canada, we love you guys you're so nice and you always get us @#$!*&-up!" They were amazed that as Canadians when he made reference to the flag from another country someone was holding up we cheered not booed "cause thats just how nice you all are!"Finally but not least in any way Metallica.First of all their pyrotechniques were amazing boasting two small hot air ballons above them. The stage was set up so everyone had a good view and sported large screens for those further back to follow the rifts as well. At one point they were all on drums together each sporting their own.James Hetfield after noticing a young 8 yr old in the audience made reference to the"...Metallica family, young, 'medium' and old." They played flawlessly and didnt disapoint their fans. My 16 year old was excited to see Metallica and who influenced not only her Mom and friends but the music yet to come out. The screens showed videos like clips from "the unforgiven" to lead up the one of the many big hit songs. The encore was what i was waiting for...the two songs my friends and I have been singing since grade school. What a great venue; no big line up for anything but marchandise. Thanks to all who made the show work:-)

Metallica@RoyalArena03feb2017
Overall it was great. A blast of a concert! What wasn't so great mostly has to do with inexperience among staff of the arena itself, and the fact that it was premiere night on a brand new untried venue. Plus the tech geeks victory over common sense in arena design.
There was trouble with wi-fi connections, which initially meant doors opened 10-20minutes late due to ticket validation.(whiplash experience)
Bar staff initially unaware of validity of drink tickets (VIP-bracelet)
Understaffed bar and merchandise shop in lounge area.
Lounge area cramped. The room could have been 3 times the size to comfortably hold that many people. This was only a problem until early access was given to GA floor, as many went in at that time.
Luggage handling/storage at Royal Arena is a total disaster. There were no oversized lockers. People had to be in possession of an IOS or Android smartphone (not windows compatible) with mobile pay on it, which excludes 10-25% of Danish concertgoers and 100% of foreigners. Redo ASAP! Loose codes and an arena tech was assigned to deal with the issue analogous, but it was too little too late, and will be a reoccurring issue in the future.
Those were - except for luggage - all minor things, and this review has to end on a very positive note with a great shoutout to the crew at CID entertainment for going the full mile to make everyone as comfortable as possible and making everything work on the fly. Thanks guys!
General arena design is also top shelf, and can endure LOUD bands to the extent that no other large scale arena in Denmark can follow. Thumbs up for that!
As for Metallica - James wasn't well. We could hear it; he told us himself too. The crowd wanted it to happen so bad, and it did. I only hope there has been no permanent health damage induced by playing the (almost) full show. Metallica delivers - every single f#$!ing time!

Electrifying as ever with their incredible performance and stage presence, the members of Metallica delivered the goods and more last night with a nice cross section of numbers running the gamut of their colossal catalog! There were occasional pauses to interact and converse with the crowd, but the band segued their way into one song after another the majority of the evening. The night opened up with an intro of the Ecstasy of Gold followed by the title cut off of the band's latest effort Hard Wired to Self Destruct. James Hetfield's vocals were as strong as ever from beginning to end. Kirk Hammett engaged in one brain crushing guitar solo after another, Lars Ulrich brought a great and almost nonstop back beat with his furious drumming and Rob Trujillo provided excellent bass work including a great treatment of the solo the late Cliff Burton was well known for on Anesthesia (Pulling Teeth). During the aforementioned bass solo video footage of Burton performing onstage accented the music perfectly. Other exceptional highlights included Kirk's stellar guitar shredding accompanied frequently by usage of his wah pedal. Cuts such as Welcome Home (Sanitarium), Creeping Death and the encore Enter Sandman in particular contained solos showcasing his seemingly boundless talent! Things heated up literally as well during the songs Fight Fire with Fire and Sandman when pyrotechnics were activated and flames shot up from the stage. At the end Ulrich tossed sticks out into the audience. Hetfield, Trujillo and Hammett threw and shook picks from little jack o' lantern tins out into the crowd, the picks of which boasting the band logo as well as the theatre's location and concert date on them. Great souvenirs in even something so small right there as my husband and I each scooped one up off the floor! A grand night out, the next one of which cannot come soon enough!

2nd September show in Cobenhagen.
Tallica promised us a unique show because this concert was postponed show from February. Many people travel a long way to see them in February including me traveling from Iceland.
The moment when I heard Seek & Destory in the #3rd slot then I knew this was going to be something special.
They performed Thought The Never in slot #4 and that song has not been played for 4 years. The next song was The Day That Never Comes and we did not believe that because in our wildest dreams we hoped to have that on the list, we jumped like there was no day tomorrow.
Dream No More was in the slot #7 and that was the second time Metallica has played that song. It was nice to hear Breadfan in slot #10. We saw many drons flying over the stage in Moth Into Flame, which was amazing!
Fight Fire With Fire was in the encore faster than ever.
Me and my friends walked away from Royal Arena in great mood with a big smile on our faces and with a hoarse throut, like James was in February.
About the unique show as we where promised in February it was only UNIQUE for 2 days because Amsterdam got almost the same setlist. But we got a free T-shirt, that was probably the unique thing for us.
We where hoping for some live debut like Murder One, Spit Out The Bones but it did not happend.
The song ManUnkind was performed tonight in Paris (10th September) and that is unique.
Iceland has been waiting since 2004 for Metallica to come back to Iceland when they held the biggest indore concert in Reykjavík. We do not want to wait another 23 years like we did before 2004.
All the best,
Gauti Sigurpálsson

Over 10 years, I got to see Metallica 7 times and each experience was in a different country. I have to admit the venues look different and incorporate a new way to watch the band but the musical vibe remains intact. They have shaped into an incredibly professional and hard-working live band. We can argue about and discuss their new album materials but one thing is guaranteed with Metallica: you will get only the best from their live performance. If you have not seen them live, just go to one gig. Doesnt matter if you are not a metal fan because the experience they deliver is incredible. I have seen families at their shows and even people who do not understand nor appreciate metal, but they all seemed to be excited from what they were witnessing. The only pity with Metallica is that you will most likely never have the chance to see them in a small venue. They are just too big of a band in demand and only deliver in large outdoor festivals or stadiums.
This summer they had a new style of set list where people could request via voting for songs. The top songs define the set list and this gives a chance for people to vote for what they want to hear. The only unfortunate thing about all this is that people are voting for songs they already play each tour. People should vote to get them to play new songs from their past, which they havent performed over 20 years. I was in Helsinki (their first European gig for 2014) and they had to play "The Frayed Ends of Insanity" and it was ecstatic. \m/

Do you like your rock shows huge, loud & engaging? Do you like stage sets that fill entire arena floors, filled with gigantic set pieces & enough pyro to blow up a small country? Do you like singing along to tightly played, iconic songs for 2-3 hours with thousands of friends? If yes, Metallica are your guys.
Each show starts when The Ecstasy of Gold (theme song from The Good, The Bad & The Ugly) plays over the PA, and crowd anticipation hits a fever pitch with thousands shouting along with the melody. Just thinking about the opening gives me goosebumps. Once Ecstasy hits its crescendo, they hit the stage like a thunderbolt, hammering through their lineup of classic tunes to a screaming, fist pumping, metal-sign-throwing crowd. Grizzled metal fans join together with legions of kids (oftentimes their own kids), shouting out every word of every song, and even singing along with guitar solos & melodies. Their set list varies each night. There are standards that they have to play, and you'll of course hear plenty of their big songs such as Enter Sandman and Master of Puppets. But they mix things up extremely well and no two nights are ever quite the same. It's amazing to me that after 30+ years and thousands of shows, the guys in the band still love mixing things up, still love goofing around on stage, still love engaging with the crowd, and obviously just love playing live & generating crazy crowd energy.
Quite simply, they are the kings of arena metal. Bow to the kings!

May 17, 2017 Nassau Coliseum
This was the first time I have been to a Metallica show. James has the best personality on stage. He gets the entire crowd into the show; into the mood; very laid back style. I like the fact the guys walk around the stage from different angles so that no matter where you sit, you can take excellent photos of them; that I have to give credit for that they do think of the fans in that aspect. The special effects were beautiful and showed in my pictures with my camera. James is very considerate of the fans from all aspects, you have to be in the Metallica Family...and you have to sing along with them...you just have to...the band played all the hit songs from present to past, no complaints. Saved the best song for last...Sandman....The sound system was excellent all around, no complaints. I am in still in shock; this was the best show I have ever seen in my life. They really have fun while playing they keep your interest up...James will not let the fans down..this band wants total audience participation...that is what to me, really stole the show. they do love and appreciate the fans....that is what stuck with me the most for a 1st time live performance is they really care about the fans..that really impressed me...
It was my first time in Turkey. From São Paulo to Istanbul I needed to take a 12-hour flight. 12 hours and 5 days. The necessary time to enjoy the unique atmosphere of the city before finally seeing one of the most amazing concerts I have ever seen! For me the concert had started when I met another crazy fan at the metro stations, going to Istanbul Technical University Stadium. So, after a few minutes, I was there. And I was able to see the power Metallica have to gather so many people from many countries. Lebanon, Kazakistan, Iran. Like me, a Brazilian guy. I admit I have not known the opening band, Pentagram. But the sound those guys had played left me so surprised. What an awesome performance! I had felt the emotion of being part of a rock concert when people started to sing the lyrics. Two hours later, time has come. Metallica by Request. The last European tour concert. The moment to listen the powerful voice of James Hetfield, the aggressive way to perform his guitar riffs, and all the greatest Metallica classical musics in front of me. In front of thousands of fans. Starting the concert playing "Master of Puppets" had been their way to say: Enjoy the best concert of your lives! Long live Metallica! Horns up! \m/

Videos (42)
Photos (166)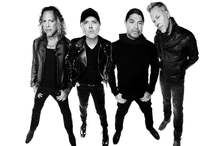 Posters (1255)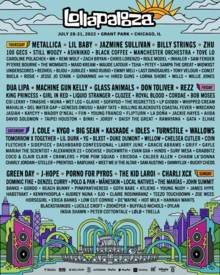 Past concerts
The Dome at America's Center
View all past concerts
Metallica tour dates and tickets 2023-2024 near you
Want to see Metallica in concert? Find information on all of Metallica's upcoming concerts, tour dates and ticket information for 2023-2024.
Metallica is not due to play near your location currently - but they are scheduled to play 26 concerts across 10 countries in 2023-2024. View all concerts.
Next 3 concerts:
Munich, Germany
Milan, Italy
Next concert:
Last concert near you:
Popularity ranking:
Metallica (47)
The Rolling Stones (48)
Concerts played in 2023:
Touring history
Most played:
SF Bay Area (91)
Los Angeles (LA) (80)
New York (NYC) (40)
London (36)
Detroit (33)
Appears most with:
Queensrÿche (88)
The Sword (71)
Machine Head (70)
Lamb of God (63)
Mastodon (60)
Distance travelled:
Similar artists

Most popular charts
Tourbox for artists
API information
Brand guidelines
Community guidelines
Terms of use
Privacy policy
Cookies Settings
Ad & cookies policy
Get your tour dates seen everywhere.
But we really hope you love us.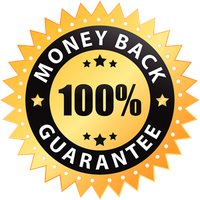 Ask A Friend To Go With You!

Metallica is a popular band, and they are about to give a live performance. If you are a fan of Metallica, then this is your chance; book your Metallica tickets right now before they sell out. If you want to go to the Metallica concert, purchase Metallica concert tickets. For a seat in the front row, purchase Metallica front row tickets. We have got your back for cheap and budget-friendly tickets, so purchase cheap Metallica tickets.
Known as one of the most influential heavy metal bands from America that formed in the early 1980s, Metallica continues to rock the world with their mesmerizing and stage-rocking tours. If you are a fan of heavy metal music, behold the next Metallica Tour that will soon set on stage!
The band consists of four members, retaining James Hetfield and Lars Ulrich, who founded the band. That means you can get the real authentic taste of Metallica at the next Metallica Tour! While other music genres are at the top of their game in today's generation, only loyal hard rock fans can know and feel the thrill of being at a Metallica Tour concert. So if you are one of them, don't miss out on this opportunity to see a Metallica Tour live.
Metallica has ten studio albums, forty-two music videos, forty-three singles, eight live albums, and so much more in their collection. The band won a whopping 103 awards out of a total of 168 nominations, including eight Grammy Awards, five Billboard Music Awards, and nineteen Metal Edge Readers' Choice Awards. One of their most influential and heaviest thrash metal albums was 1986's Master of Puppets.
Metallica Tour Dates
When it comes to Metallica Tours, you can count on the band to be as active as ever! Metallica Tours have been famous around most continents since the 1980s, and there is hardly anyone who has not heard about the band. You could say they are on the top of the list of the most successful heavy metal bands of all time.
If you want to learn more about the forthcoming Metallica Tour Dates, you can check out our website to find all the details regarding Metallica Tour. Also, there is an excellent selection of Metallica Tour tickets for you to choose from anytime a new Metallica Tour announces. Just make sure that you are quick enough to secure your favorite seats, as there is a multitude of fans waiting for the Metallica Tour, and the tickets are sure to sell out soon.
Don't worry about not getting to see the band perform live at the upcoming Metallica Tours, as they are yet again set to perform at several venues. There will surely be a Metallica Tour event near you!
Past Metallica Tours
The heavy metal band had gone on several concert tours; it would be hard to name all of them. However, some of the most successful and noteworthy Metallica Tours include the Damage Inc. Tour (1986-87), Wherever We May Roam Tour (1991-92), Madly in Anger with the World Tour (2003-04), and World Magnetic Tour (2008-10).
Metallica also performed concerts in the past for hundreds of thousands of people. One of the shows with the highest attendance was at Tushino Airfield, Moscow, where about 1.6 million people came to see the band perform live. They also performed in several rock festivals such as Monsters of Rock, Day on the Green, Download Festival, Woodstock '94 Ozzfest, and Download Festival.
You may also like watching the Green Day tour or Taylor Swift tour .
Which City Can I See The Metallica Tour USA?
You may be able to see the Metallica tour in the USA to shows in Buffalo, Holmdel, Atlanta, Jacksonville, Columbus, Birmingham, Bethel, Memphis, Lincoln, or Bangor by buying tickets now.
How Much Are Metallica Tour Tickets?
Metallica tour tickets range in price depending on the event. Such as shows in Tampa, Raleigh, Orlando, Denver, Dallas, Detroit, Wheatland, Tulsa, or Concord may be different in price compared to other tour shows in other cities.
Can I Buy Metallica Tour Tickets?
Yes, you can buy Metallica tour tickets to shows in Albany, Philadelphia, Fresno, Greensboro, Charlotte, Louisville, Ontario, Sacramento, Brooklyn, Camden, or Cincinnati online with the click of a button.
Can You Find Metallica Tour Tickets Near Me?
Yes, you can find Metallica tour tickets to events in Rogers, Houston, Columbia, Albuquerque, Hartford, Saratoga, Ridgefield, Cleveland, Oakland, or Wichita via Premium Seating.
How Can Someone Buy Cheap Metallica Tour Tickets Online?
You can buy cheap Metallica tour tickets online for the following cities Inglewood, Tacoma, Scranton, Phoenix, Pittsburgh, Rosemont, Chicago, Indianapolis, Nashville, Hershey, or Seattle from Premium Seating.
How Can I Get Tickets To The Metallica Tour?
Metallica may be touring in Portland, Anaheim, San Jose, Virginia Beach, Washington DC, St Louis, Miami, Austin, or Newark and you can buy tickets online from us.
How To Buy Metallica Tour Tickets Online?
You can buy Metallica tour tickets online to events in Grand Rapids, Grand Prairie, Baltimore, Green Bay, San Antonio, Salt Lake City, Kansas City, Oklahoma City, or Boston with the click of a button.
Which Tour Stops Will Metallica Be Performing At And Can I Buy Tickets?
Metallica may be stopping in Las Vegas, Minneapolis, West Palm Beach, Sioux Falls, Los Angeles, New York, Atlantic City, or New Orleans on their next tour. Be sure to buy tickets right away.
What's The Best Place To Get Metallica Tour Tickets From?
The best place to get Metallica tour tickets for the San Diego, San Bernardino, Spokane, San Francisco, Ft Lauderdale, Milwaukee, Darien Lake, Chula Vista, or Irvine, shows is online from Premium Seating.

Premium Seating offers a 100% Money-Back Guarantee on every ticket we sell.
We guarantee that your tickets will be authentic, valid for entry, and will arrive on time for your event - or your money back.

We strive to offer the best selection of upper, lower, and floor seating for your upcoming event. Know your getting a great deal on your next order!
Sales 7am - 1AM EST Customer Service: 7am - 9pm EST

PremiumSeating.com is an event ticket resale marketplace supported by a 100% Guarantee . All orders are guaranteed and delivered in time for your event.
Address : 30 N Gould St #4277, Sheridan, WY 82801, USA

Metallica Announces M72 World Tour 2023-2024

PRE-SALES BEGIN 9am LOCAL TIME NOVEMBER 30th
Today marks the announcement of every Metallica show booked through 2023 and 2024: Presented worldwide by Liquid Death and Blackened American Whiskey (in North America only) and promoted by Live Nation, Metallica's M72 world tour will see the band playing two nights in every city it visits—with each No Repeat Weekend featuring two completely different setlists and support lineups. The M72 tour will feature a bold new in-the-round stage design that relocates the famed Metallica Snake Pit to center stage, as well as the I Disappear full-tour pass and the debut of discounted tickets for fans under 16 years of age. Two-day tickets will be on sale Friday, December 2 nd at ticketmaster.com and will include the option of pre-ordering 72 Seasons vinyl and/or CD. Single day tickets will be available beginning January 20th. For further information including fan club presales, enhanced experiences and more, go to metallica.com/m72-info .
A portion of proceeds from every ticket sold will go to the band's All Within My Hands foundation . Founded in 2017, AWMH's efforts to assist and enrich the lives of members of the communities who have supported the band have raised nearly $13 million – providing $5.9 million in grants to career and technical education programs in the US, over $2.5 million to combat food insecurity, and more than $3.2 million to disaster relief efforts worldwide.
Citi is the official card of the M72 Tour. Citi cardmembers will have access to presale tickets in the U.S. beginning Wednesday, November 30 th at 2:00 pm local time until Thursday, December 1 st at 10:00 pm local time through the Citi Entertainment program. For complete presale details visit www.citientertainment.com
M72 WORLD TOUR 2023-2024
Thursday, April 27 2023 – Amsterdam NL – Johan Cruijff Arena
Saturday, April 29 2023 – Amsterdam NL – Johan Cruijff Arena
Wednesday, May 17 2023 – Paris FR – Stade de France*
Friday, May 19 2023 – Paris FR – Stade de France
Friday, May 26 2023 – Hamburg DE – Volksparkstadion
Sunday, May 28 2023 – Hamburg DE – Volksparkstadion
Friday, June 16 2023 – Gothenburg SE – Ullevi Stadium**
Sunday, June 18 2023 – Gothenburg SE – Ullevi Stadium
Friday, August 4 2023 – East Rutherford, NJ – MetLife Stadium
Sunday, August 6 2023 – East Rutherford, NJ – MetLife Stadium
Friday, August 11 2023 – Montreal, QC – Stade Olympique
Sunday, August 13 2023 – Montreal, QC – Stade Olympique
Friday, August 18 2023 – Arlington, TX – AT&T Stadium
Sunday, August 20 2023 – Arlington, TX – AT&T Stadium
Friday, August 25 2023 – Inglewood, CA – SoFi Stadium
Sunday, August 27 2023 – Inglewood, CA – SoFi Stadium
Friday, September 1 2023 – Glendale, AZ – State Farm Stadium
Sunday, September 3, 2023 – Glendale, AZ – State Farm Stadium
Friday, November 3, 2023 – St. Louis, MO – The Dome at America's Center
Sunday, November 5, 2023 – St. Louis, MO – The Dome at America's Center
Friday, November 10, 2023 – Detroit, MI – Ford Field
Sunday, November 12, 2023 – Detroit, MI – Ford Field
Friday, May 24 2024 – Munich DE – Olympiastadion
Sunday, May 26 2024 – Munich DE – Olympiastadion
Friday, June 7 2024 – Helsinki FI – Olympic Stadium
Sunday, June 9 2024 – Helsinki FI – Olympic Stadium
Friday, June 14 2024 – Copenhagen DK – Parken Stadium
Sunday, June 16 2024 – Copenhagen DK – Parken Stadium
Friday, July 5 2024 – Warsaw PL – PGE Narodowy
Sunday, July 7 2024 – Warsaw PL – PGE Narodowy
Friday, July 12 2024 – Madrid ES – Estadio Cívitas Metropolitano
Sunday, July 14 2024 – Madrid ES – Estadio Cívitas Metropolitano
Friday, August 2 2024 – Foxborough, MA – Gillette Stadium
Sunday, August 4 2024 – Foxborough, MA – Gillette Stadium
Friday, August 9 2024 – Chicago, IL – Soldier Field
Sunday, August 11 2024 – Chicago, IL – Soldier Field
Friday, August 16 2024 – Minneapolis, MN – US Bank Stadium
Sunday, August 18 2024 – Minneapolis, MN – US Bank Stadium
Friday, August 23 2024 – Edmonton, AB – Commonwealth Stadium
Sunday, August 25 2024 – Edmonton, AB – Commonwealth Stadium
Friday, August 30 2024 – Seattle, WA – Lumen Field
Sunday, September 1 2024 – Seattle, WA – Lumen Field
Friday, September 20 2024 – Mexico City MX – Foro Sol***
Sunday, September 22 2024 – Mexico City MX – Foro Sol
Friday, September 27 2024 – Mexico City MX – Foro Sol***
Sunday, September 29 2024 – Mexico City MX – Foro Sol
Show 1 Support Europe: Architects & Mammoth WVH**
Show 2 Support Europe: Five Finger Death Punch & Ice Nine Kills
*Five Finger Death Punch/Ice Nine Kills play show 1 in Paris, Architects & Mammoth WVH play show 2 in Paris
**Volbeat replaces Architects on show 1 in Gothenburg
Show 1 Support North America: Pantera & Mammoth WVH***
Show 2 Support North America: Five Finger Death Punch & Ice Nine Kills
***Greta Van Fleet replaces Pantera on show 1 both weekends in Mexico City
Read more about
What happened on the first night of Metallica's M72 World Tour
K! was there for the first night at Amsterdam's vast Johann Cruyff Arena to witness the kicking-off of Metallica's career-spanning, globe-trotting M72 Tour…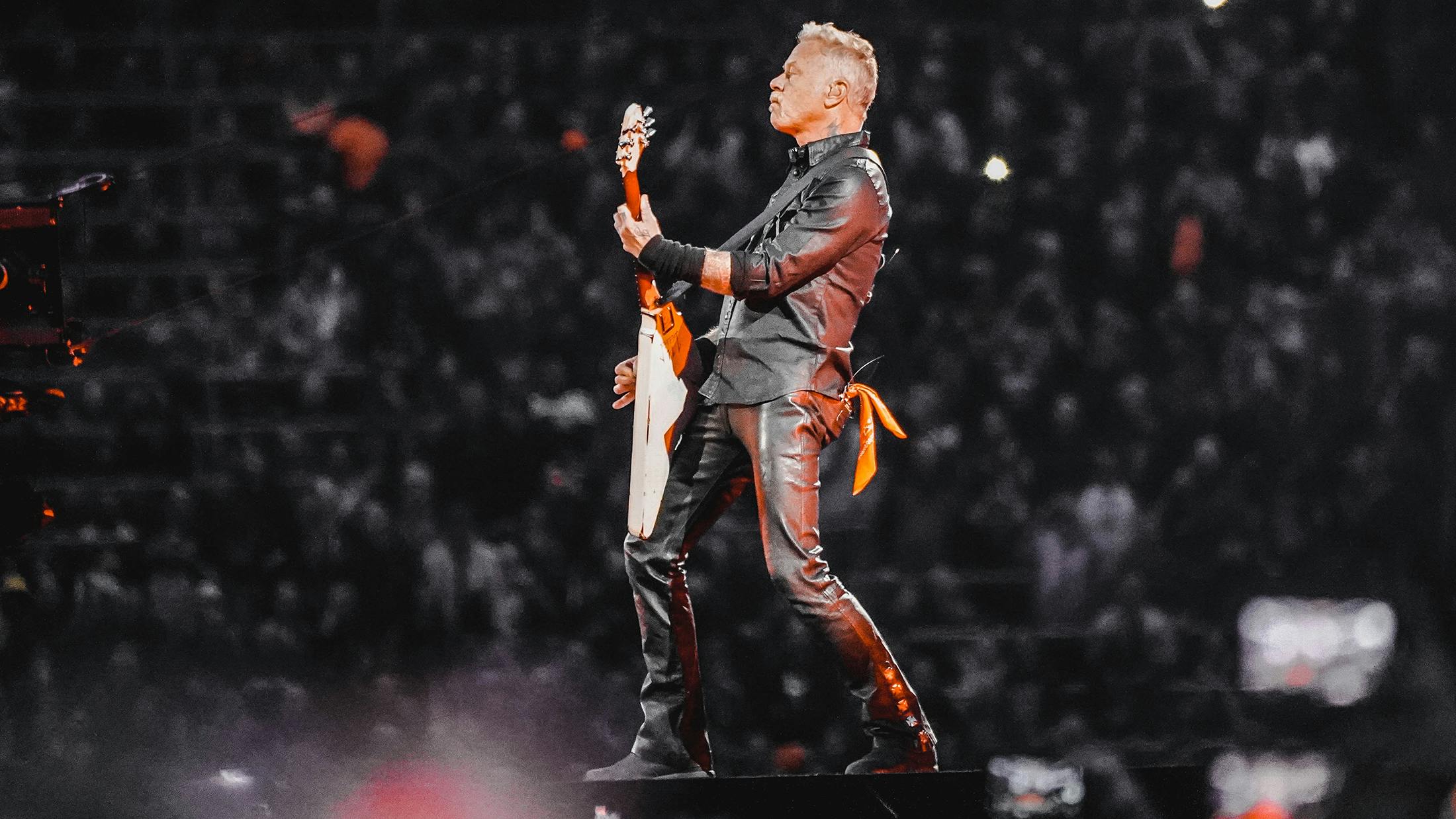 Do you want heavy? 'Cause Metallica gives you heavy, baby. Some truly incredible bands – Iron Maiden , Rammstein , Tool – have delivered some awe-inspiring moments over the past few years, but none felt quite as substantial as tonight's earth-shuddering return of The Four Horsemen.
It's King's Day in Amsterdam, and the city is wreathed in the Dutch Royal Orange, but the legendary Johann Cruyff Arena is besieged by Metallica's black-clad masses from lunchtime. It's the first date on the San Francisco giants' two-year M72 World Tour and a whole host of festivities – pop-up shops, tribute bands – have been keeping an international congregation of the Metallica Family entertained, but shit only gets real as we file inside to be levelled by the wall of sound.
Mammoth WVH are first-up in the early evening glow. Bolstered by an ear-busting PA, the emotion and undeniable virtuosity of songs like Mr. Ed and Another Celebration At The End Of The World have never sounded more emphatic, but they're held back somewhat by Wolfang Van Halen and the band being apparently rooted to one spot on Metallica's sprawling, circular in-the-round stage, meaning there's not quite the 360 energy required of a show of this scale.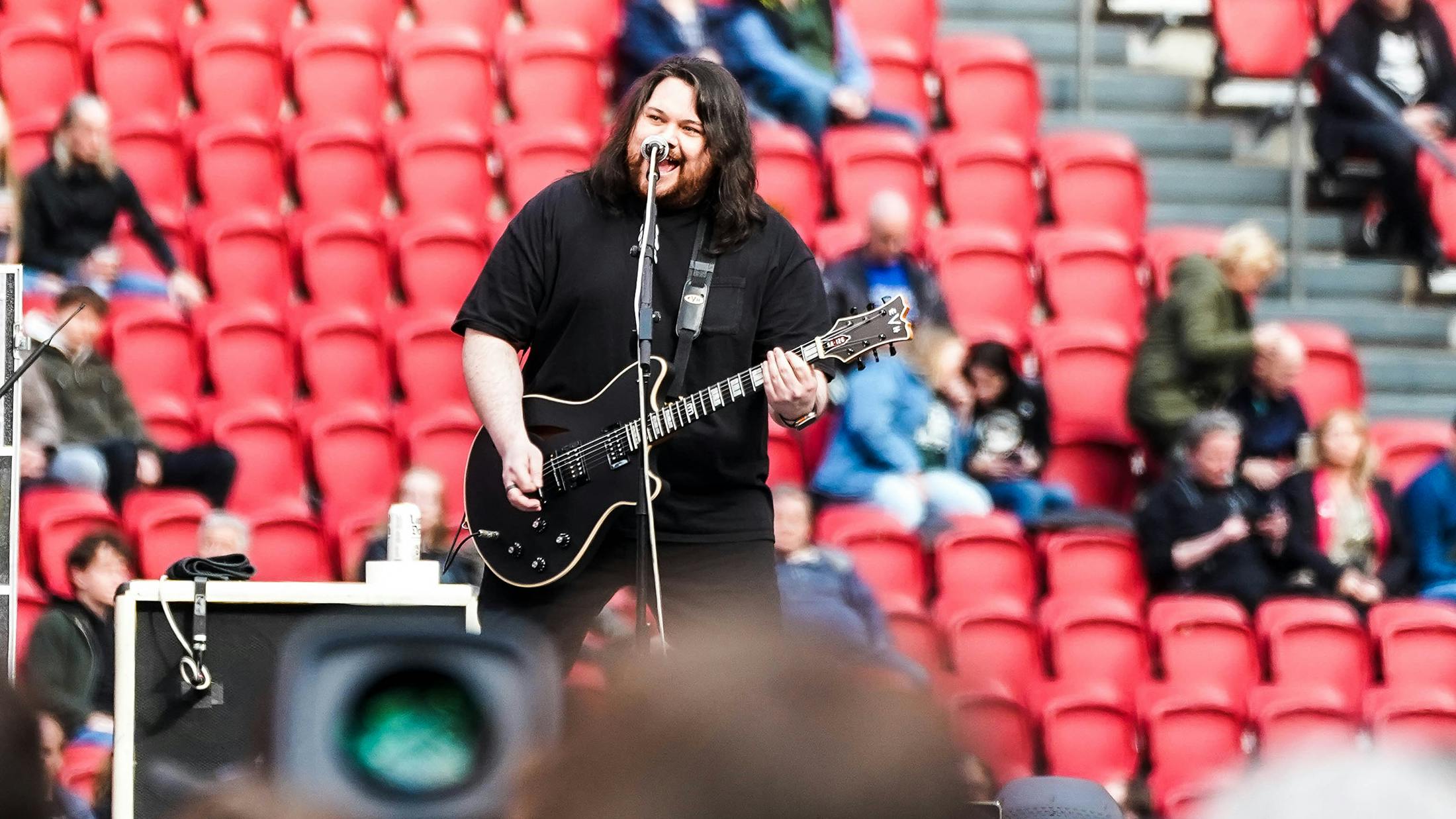 Architects , by comparison, strive to own the space. "These next two years are going to be fucking incredible," gasps Sam Carter mid-set. "We're going to be playing stadiums every night, full of people who love loud, heavy fucking music."
The unfamiliar, partisan crowd still take some winning-over, but between canny tributes to Dutch footballing legend/current Manchester United manager Erik ten Hag and the legendary Cruyff, and dropping no-nonsense bangers like Doomsday and Impermanence, they're not too long getting onside. By the time "the best song we've ever written" Animals brings the hour-long set to a raucous close, the stadium is (momentarily) theirs.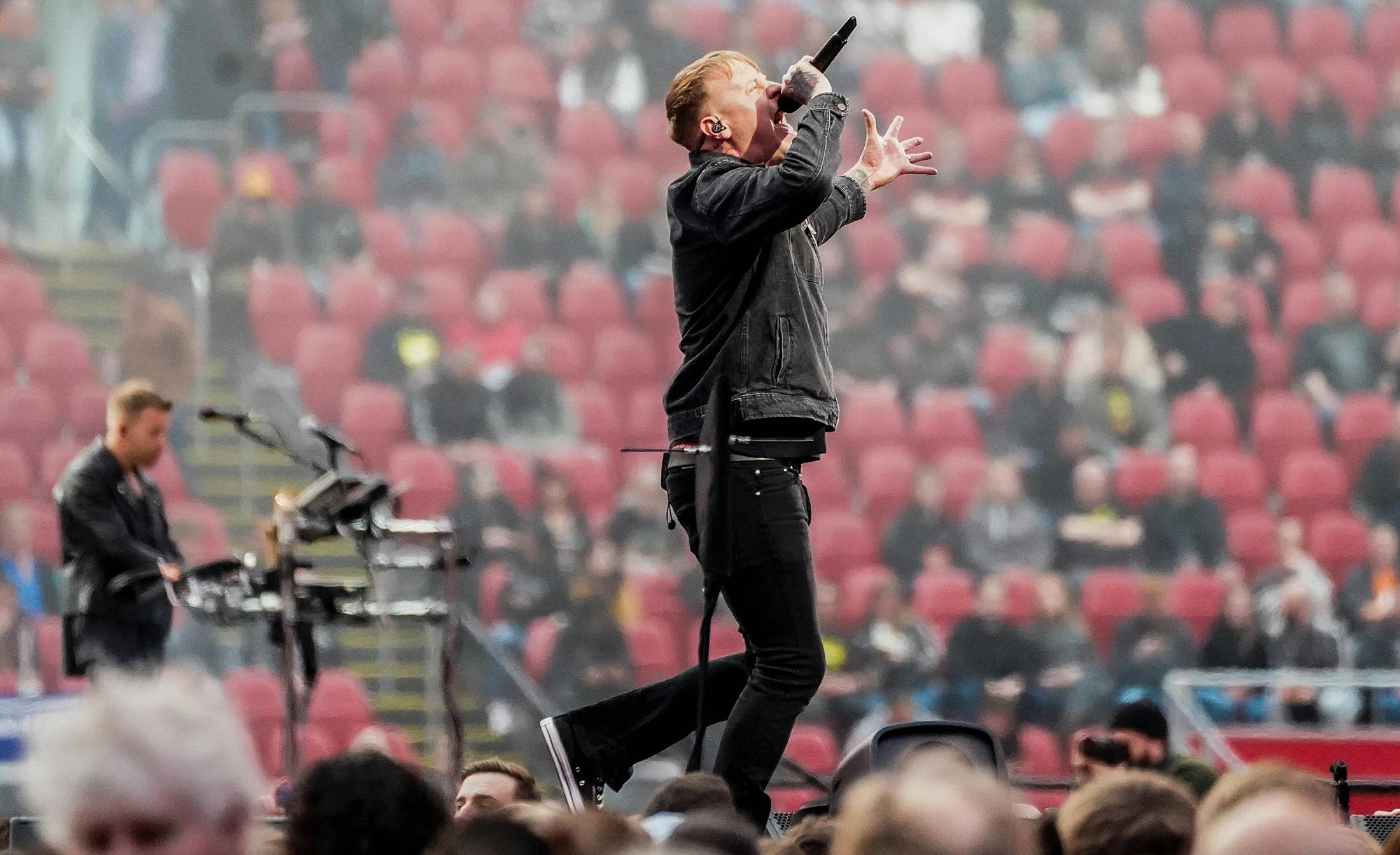 This is very much Metallica's night, though, and they make short work of winning it back. The mystery in this first night of an unheralded two-night, no-repeats world tour stokes anticipation beyond fever pitch. As AC/DC 's It's A Long Way To The Top (If You Wanna Rock 'N' Roll) blares out over the PA and the eight enormous pillars topped with cylindrical video screens burst into life with photos of the band meeting fans, it ratchets up again. Then Ennio Morricone's The Ecstasy Of Gold sends the atmosphere through the greenhouse-like closed roof. Excitement bleeds into a mixture of disbelief and euphoria as the band emerge not toting one of their new singles, but revered eight-and-a-half-minute instrumental Orion to kick off the whole damn tour.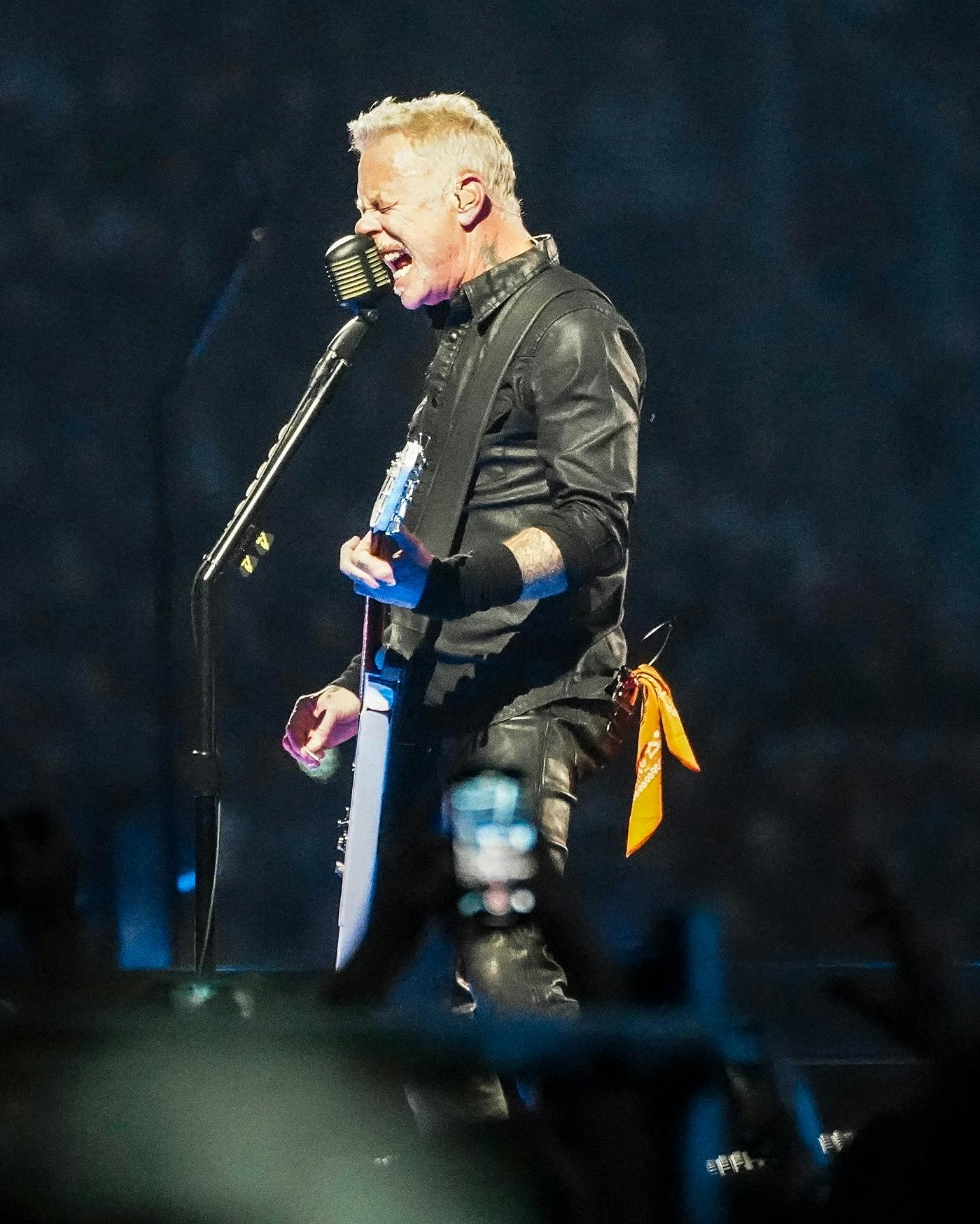 This can't be that good, can it? Really? Yes. For Whom The Bell Tolls and Holier Than Thou drop like bombs as the 50,000-plus in attendance find full voice. King Nothing sees James Hetfield address the audience for the first time, dedicating the Load highlight to the Dutch national holiday. By the time they get to a salvo of new songs – 100mph NWOBHM throwback Lux Æterna, the snarling Screaming Suicide on live debut – the crowd are more than warmed up enough to give them their all. Fade To Black overcomes some inconsistencies in the mix, with Kirk Hammett's lead guitar sporadically going AWOL, by strength of sheer emotion. Then Sleepwalk My Life Away brings the first half to a stomping close.
It's clear, already, that Metallica are operating at a level above where they've been in recent years. Looking lean, mean and clad in damn-near-skintight black shirt and jeans, Hetfield has dropped the 'Metallica Famileh' shtick, reverting back to more bombastic classic banter: "Are you alive? How does it feel to be alive?!" The production, meanwhile, subtly overcomes the aesthetic shortcomings of the in-the-round format with a colossal lightshow and orchestral segues accompanied by tasteful animated video clips on the screens filling gaps between songs. It's a meticulously-planned, well-drilled, perfectly executed stadium metal masterclass.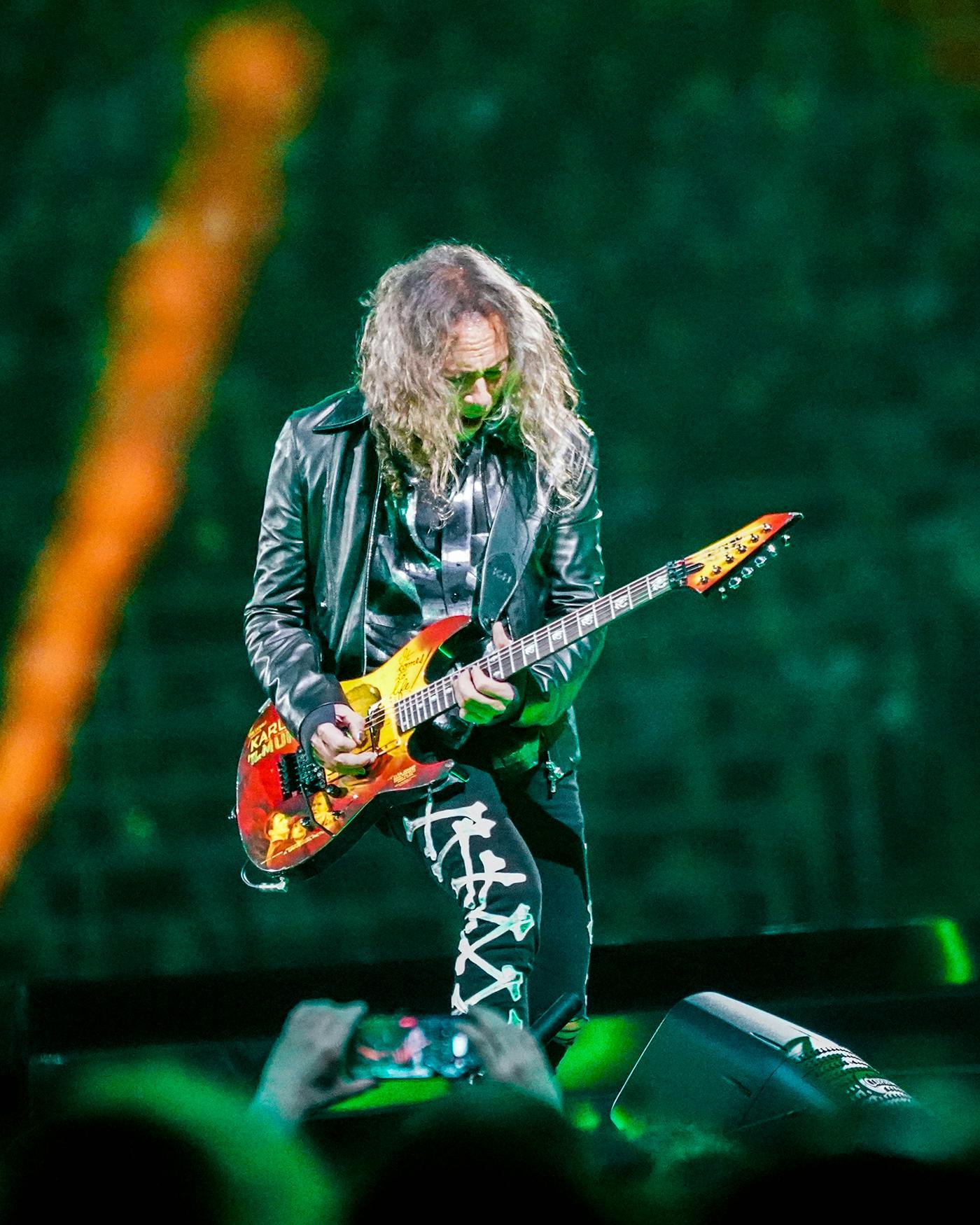 As they tip over into the second half of the set (the second quarter, remember, of this two-night extravaganza) it's natural to expect another box-fresh 72 Seasons song or a catalogue-trawling deep cut. Instead, we get all-time anthem Nothing Else Matters. Sad But True rocks the space to its foundations, Hetfield laughing-off a minor tuning fluff ("This is our first time on this stage; we're only human...") with a sparkle in his eye that says he knows there's no need to apologise here. The Day That Never Comes (the only post-2000 track not on the new album aired tonight) stokes a different kind of nostalgia, with plenty of punters shocked to think it's already 15 years old.
Then all hell breaks loose. Having already confirmed that they'd be playing 16 tracks tonight, and presumably saving any setlist-extending surprises for Saturday, there is no fucking about with an encore. Rather, they slam the pedal to the metal with five all-time thrash classics in a row that detonate the audience into a frenzy of pumped fists and spinning pits.
Ride The Lightning and a rare full run-through of Battery get the chaos underway. Fuel sees the stage erupt in flames: the decision to reserve pyro for that point making its arrival all the more effective. The start of Seek & Destroy is fluffed as the crowd are going so wild the band can't hear drummer Lars Ulrich count them in, but ends with Kirk and bassist Rob Trujillo sprinting round the circular stage together as if caught in some massive, invisible mosh. Mercilessly piling on into closer Master Of Puppets, with its timeless blend of bittersweetness and savagery, it's actually somewhat difficult even for hardened Metallica veterans to comprehend the brakes-off brilliance of what we're seeing.
It's a neck-wrecking, goosebump-lifting classic set from heavy music's greatest band. And there's still a whole other one to look forward to in two nights' time...
READ THIS: Metallica: "In the past every single thing had to be fought over… now the band is a safe space and everyone is very protective of it"
Check out more:
Now read these.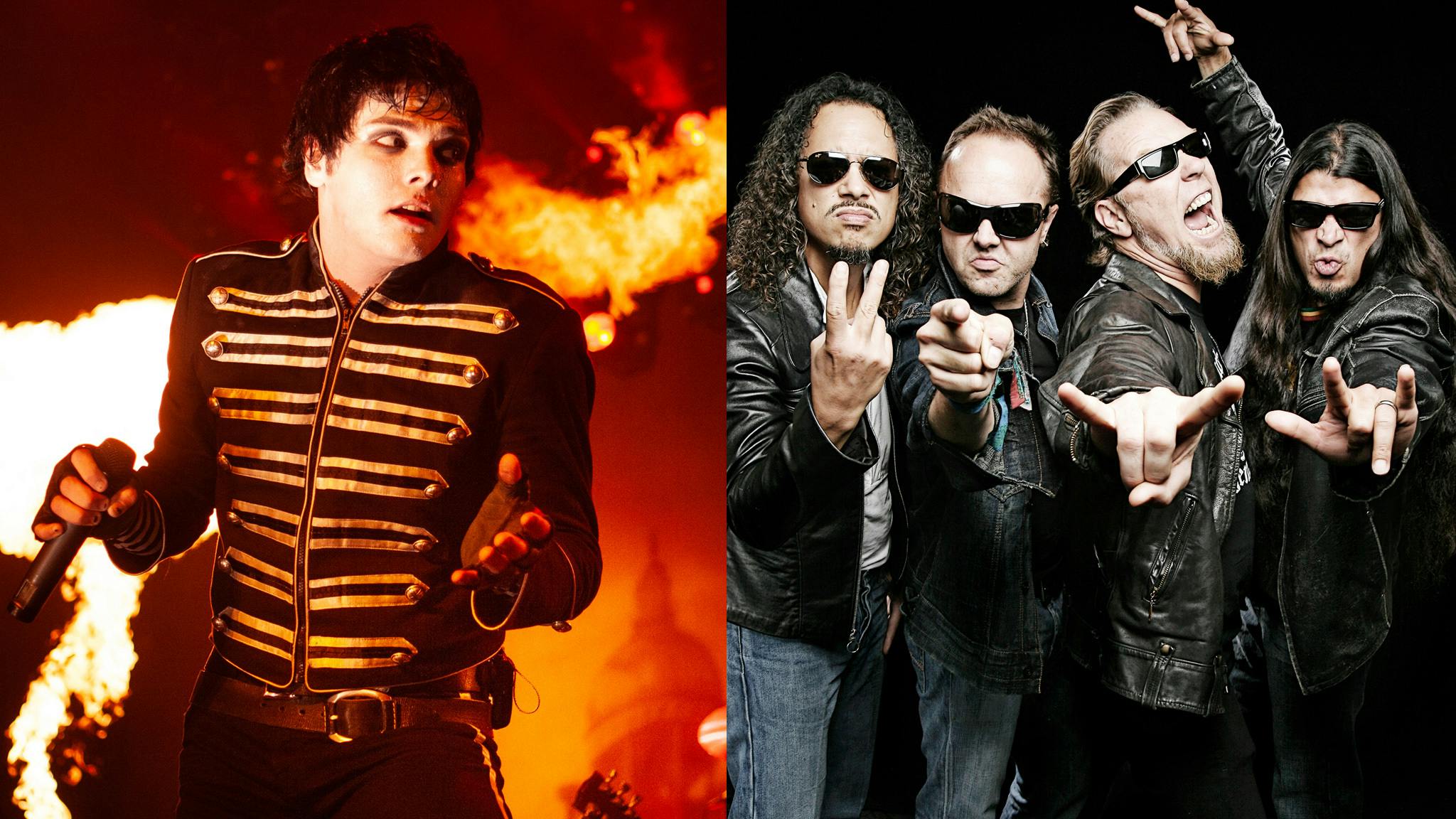 From My Chem to Metallica: Get iconic photos of all your favourite bands from the Ashley Maile print shop
Check out Ashley Maile's incredible, iconic work – featuring everyone from My Chemical Romance to blink-182 to Linkin Park to Pearl Jam to Metallica – at the newly-relaunched website, and see how you can be in with a chance of winning his photo book.
James Hetfield on watching Judas Priest at Power Trip: "We're fans at the end of the day"
After going viral for watching Judas Priest front-row at Power Trip, Metallica's James Hetfield reflects on the experience: "There's fans behind us, looking at us. They're watching us enjoy that. How cool!"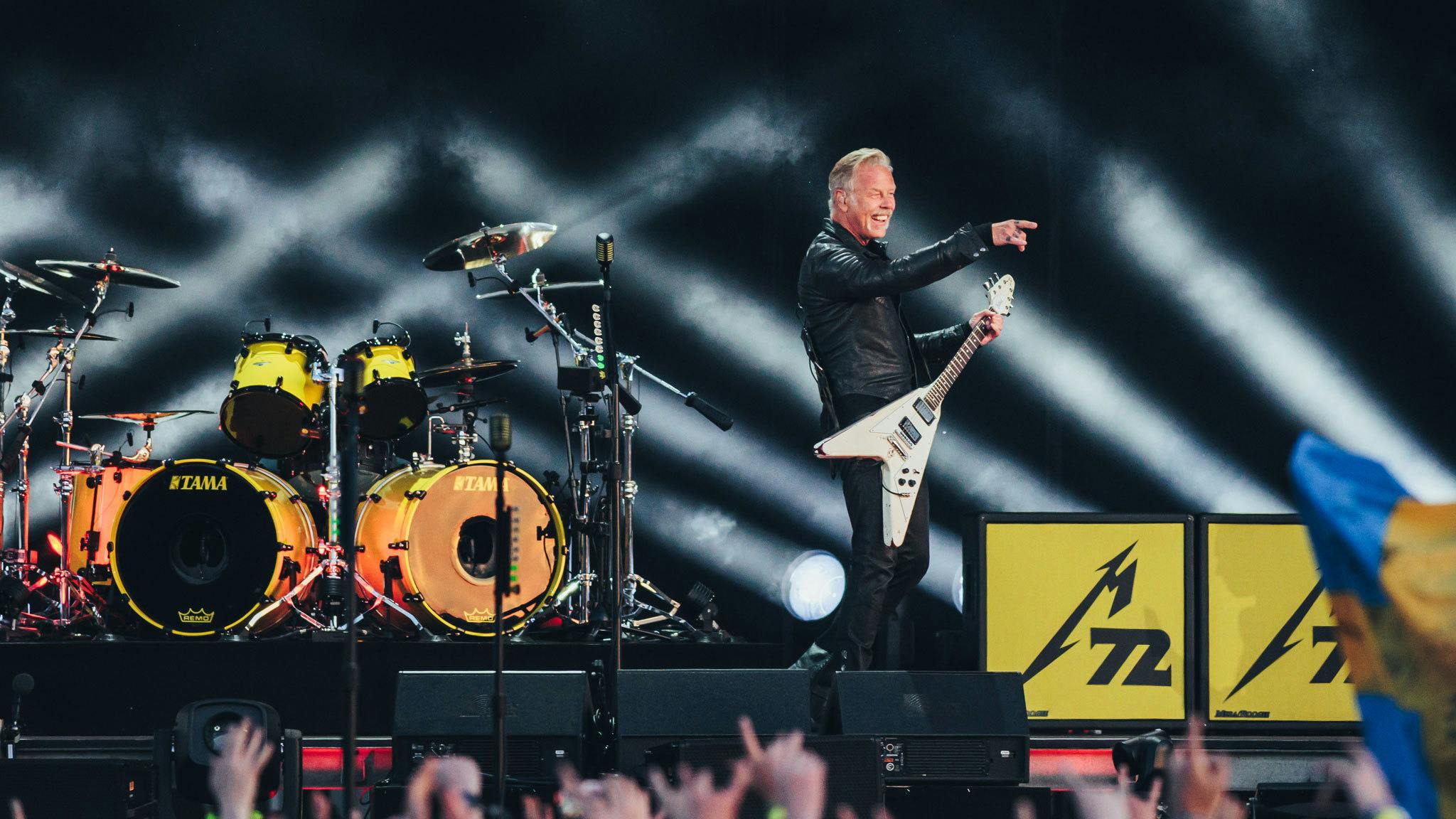 Metallica are reissuing their first five albums on coloured vinyl
The Four Horsemen will be dropping each album between November and March next year.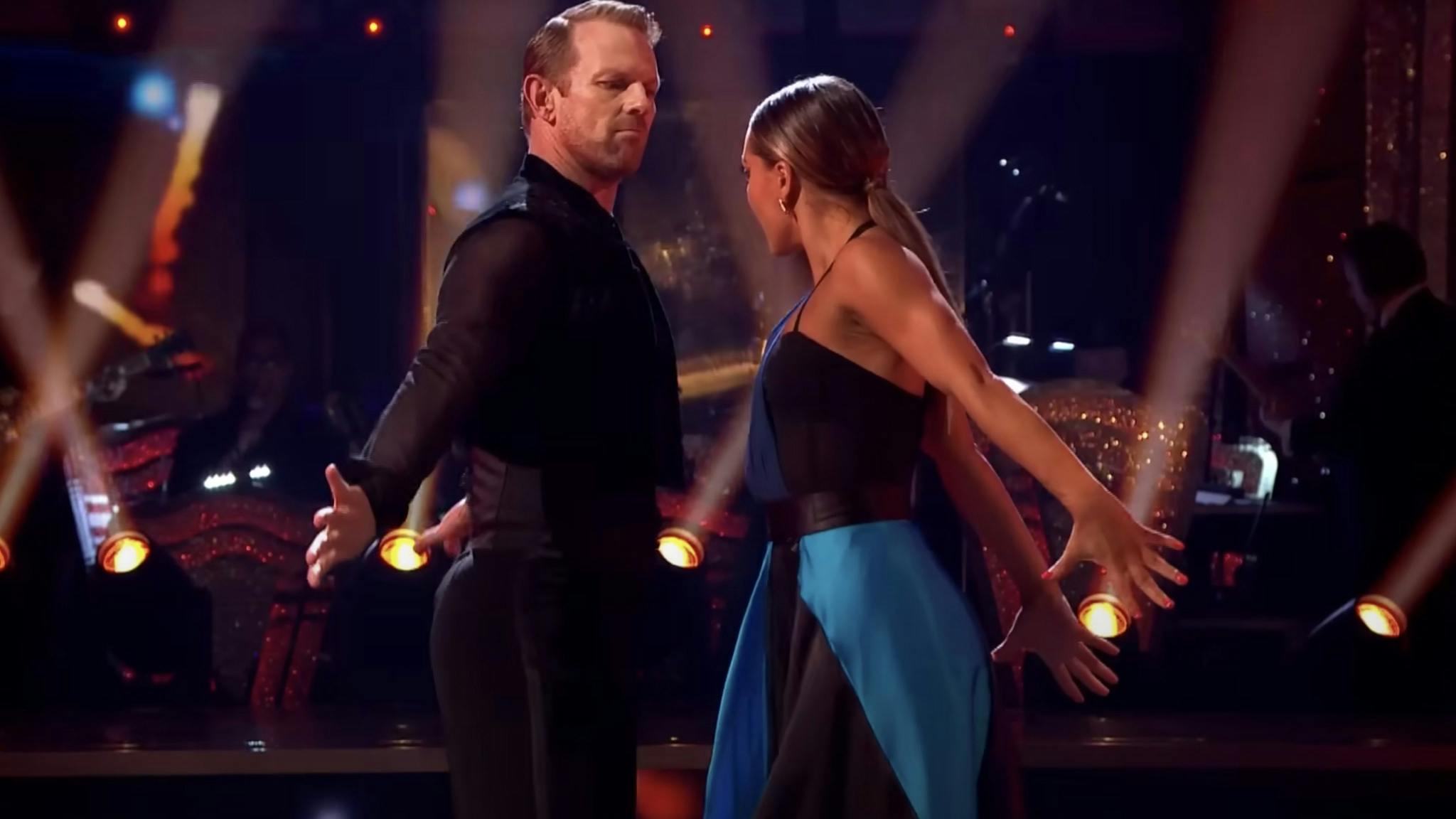 Watch Paralympic gold medalist Jody Cundy dance to AC/DC on Strictly
Decorated swimmer and cyclist Jody Cundy pulled out AC/DC's Thunderstruck in week two of the dancing contest…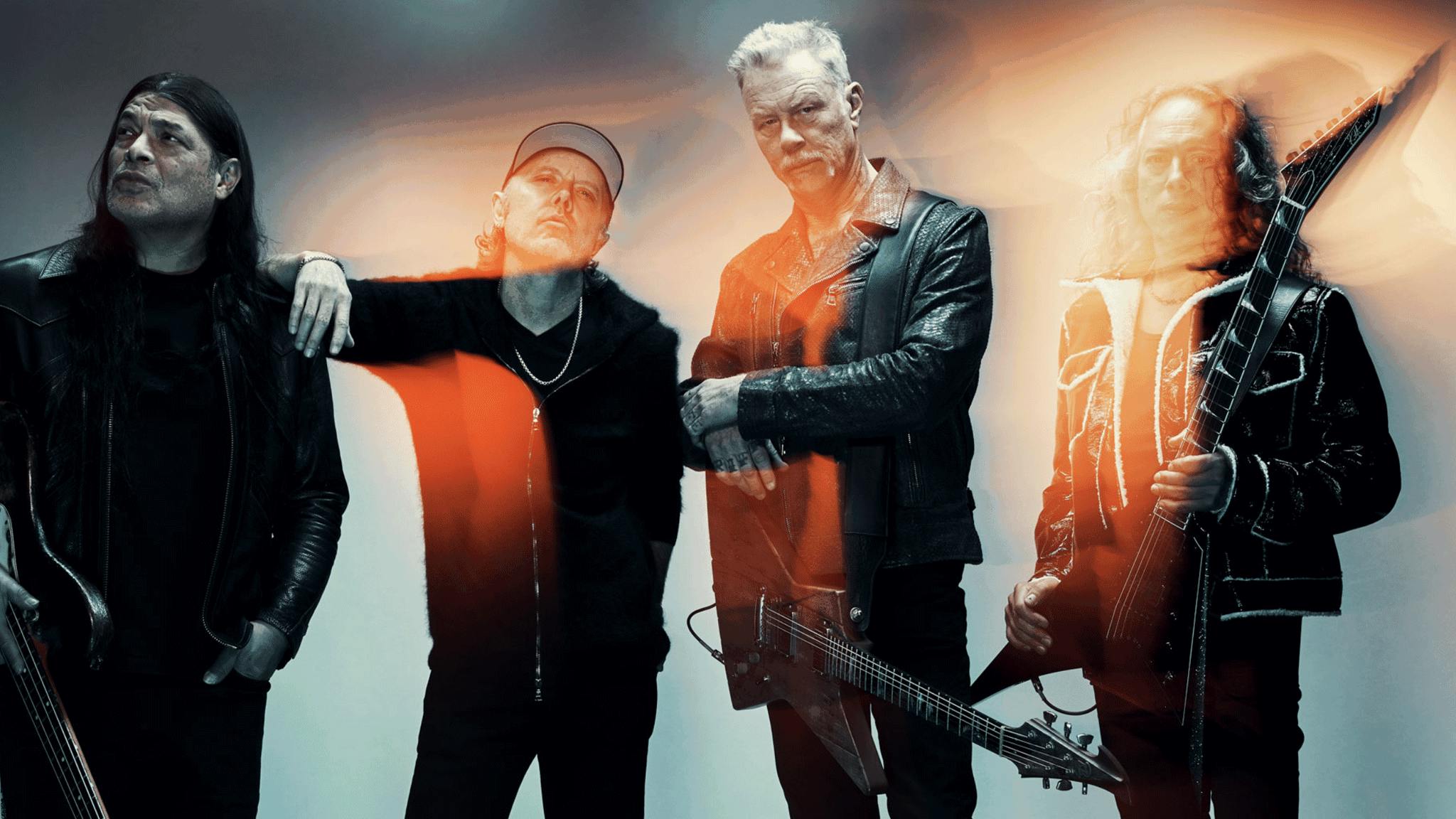 Metallica reschedule show after James Hetfield tests positive for COVID
Get well soon, Papa Het! Metallica have pushed back their M72 date at the State Farm Stadium as "unfortunately COVID has caught up with James".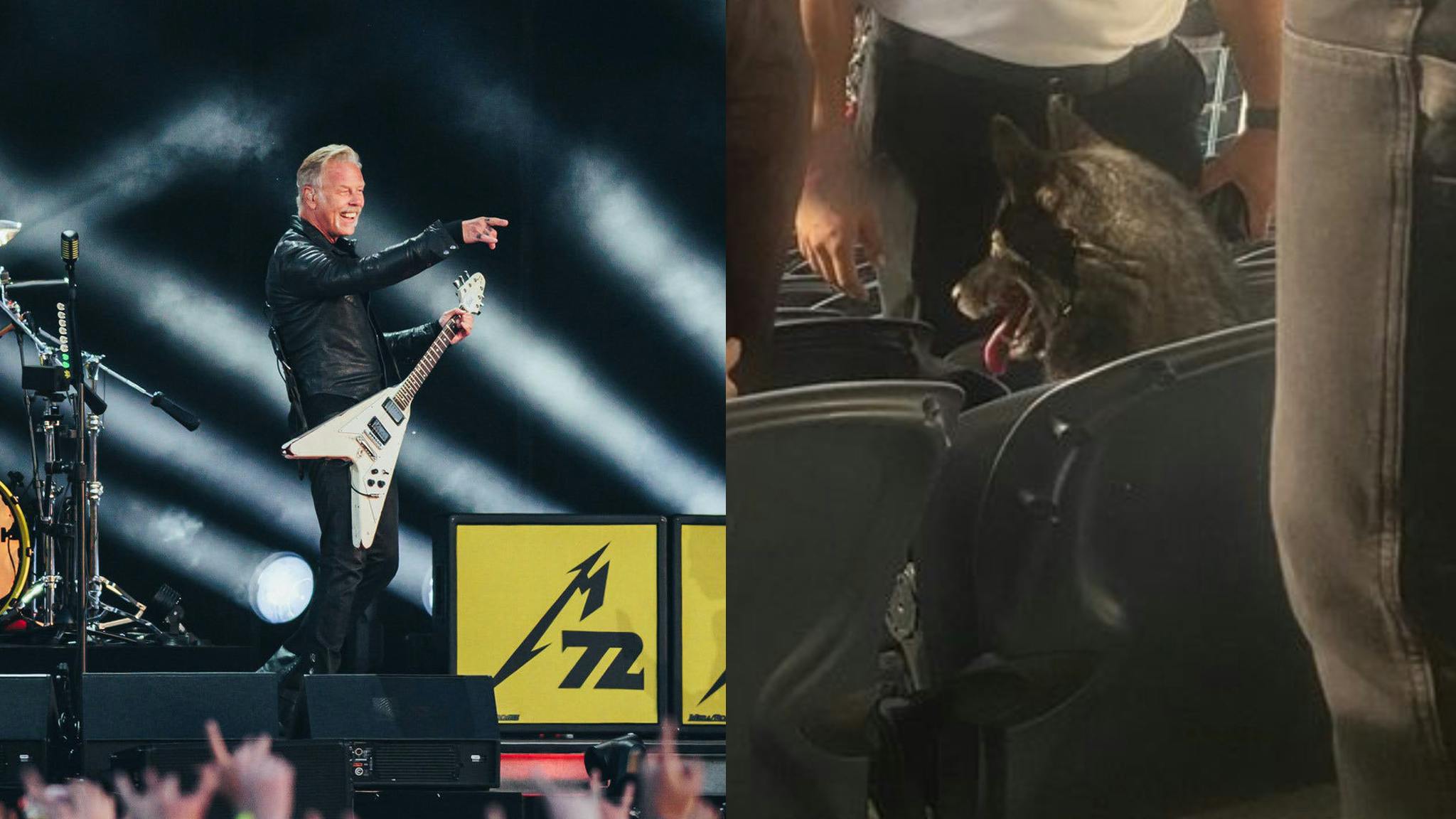 This dog somehow ended up watching Metallica after sneaking out of her home
Metallica have shared an incredibly wholesome post about a dog called Storm, who somehow ended up watching the band's entire M72 show at the SoFi Stadium in Los Angeles last week.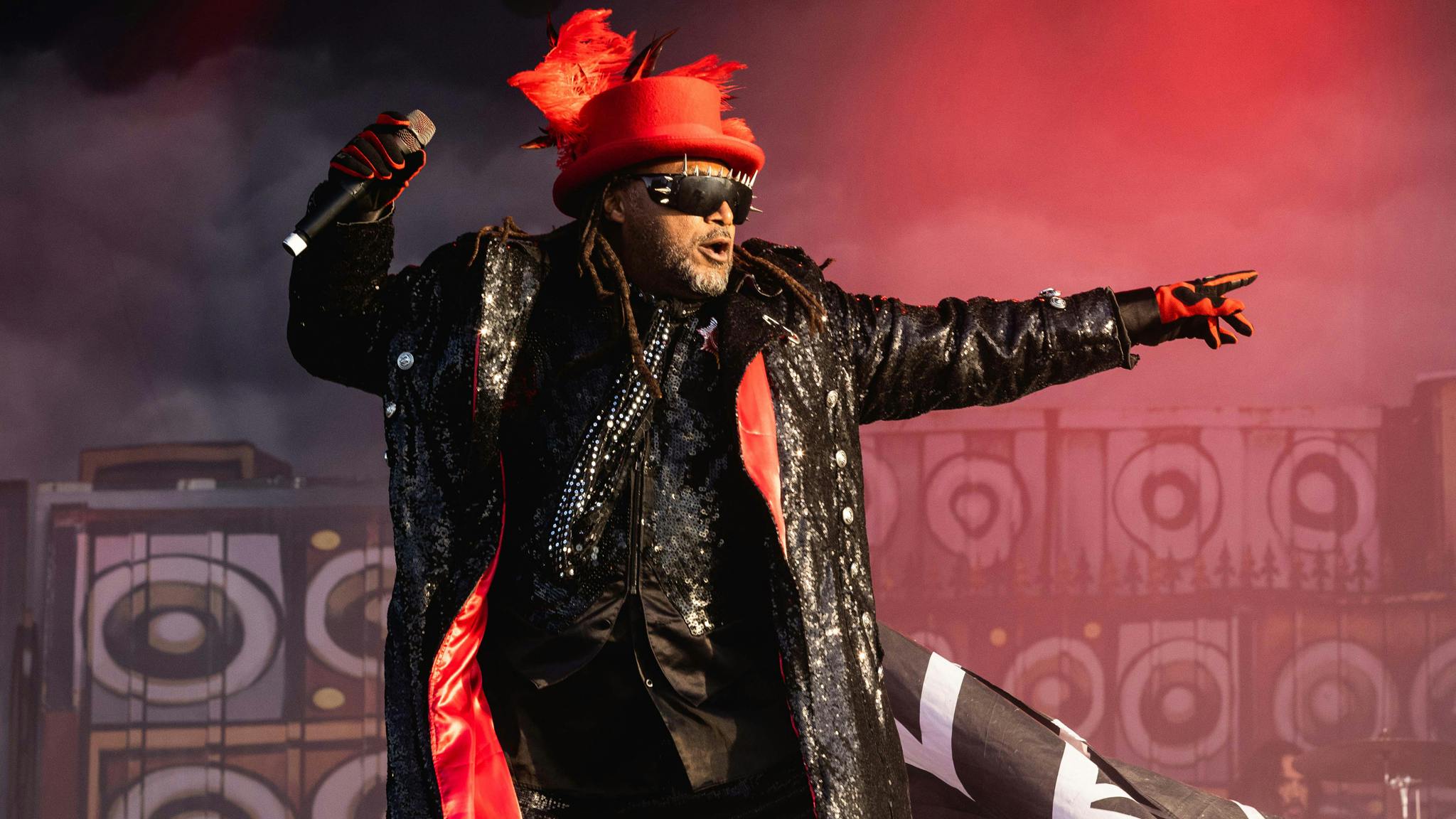 Skindred's chart battle sees the rock and metal scene rally around the band: "It's amazing to see"
Members of Metallica, Rage Against The Machine, Disturbed and more are pushing to see Skindred get their first-ever Number One album this Friday.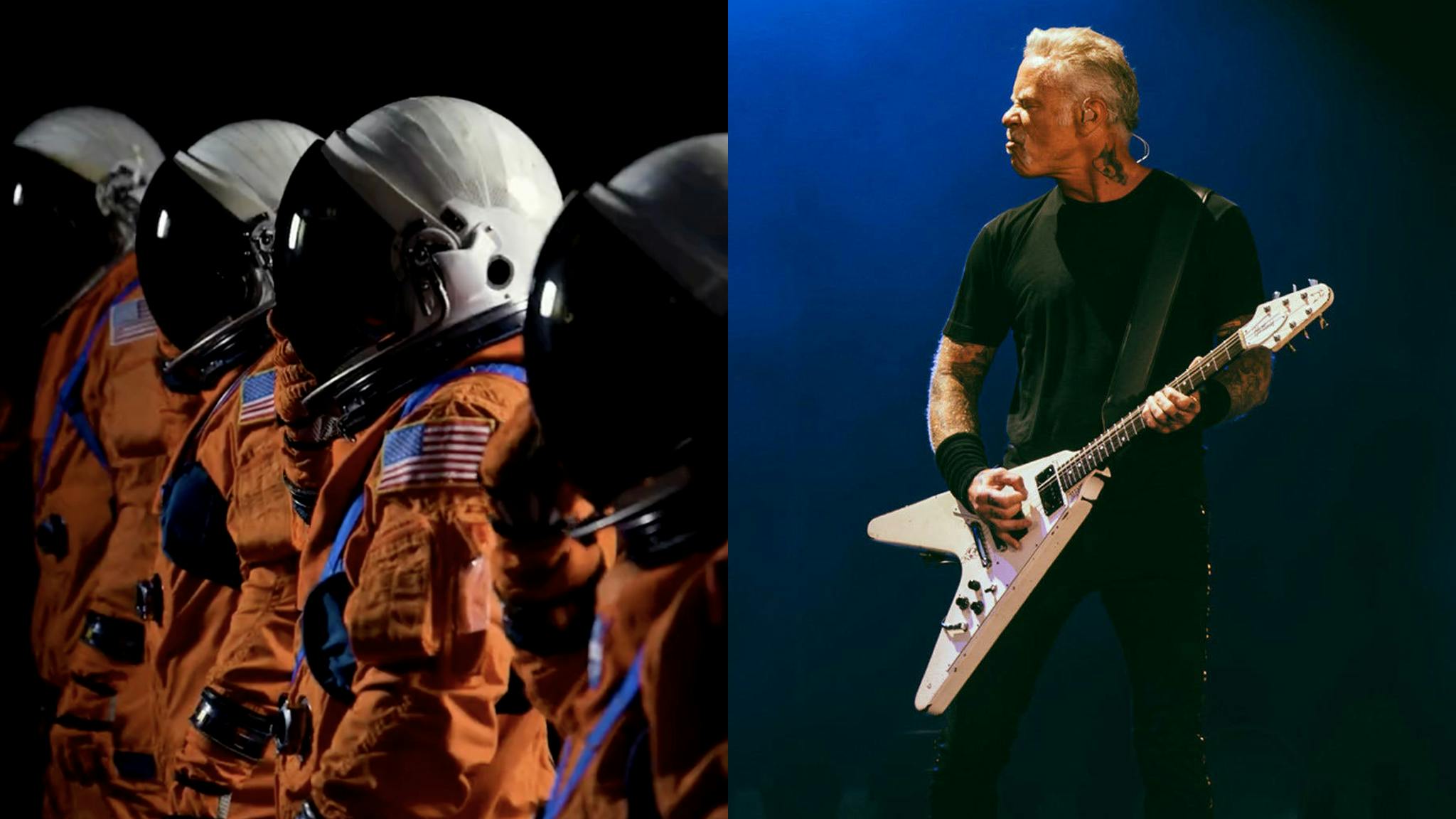 Metallica's Fuel soundtracks the launch of NASA's Artemis missions to the moon
"What do Metallica and NASA's Artemis missions to the moon have in common?" ask the space agency. Find out now…
The best of Kerrang! delivered straight to your inbox three times a week. What are you waiting for?
Metallica Verified
Concerts and tour dates, live photos of metallica.
Metallica merch
Fan Reviews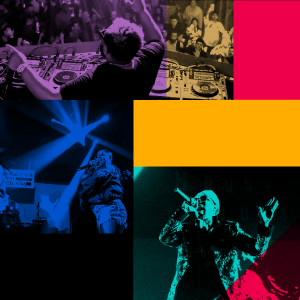 Fans Also Follow
About metallica.
Metallica wraps up its Detroit doubleheader at Ford Field: 5 takeaways
Metallica roared back into Ford Field on Sunday to play the second of two Detroit shows as the band capped the 2023 portion of its M72 World Tour.
Here are some takeaways from a weekend visit that also included a sold-out Friday concert :
The 'No Repeat Weekend' concept was a gamble, and a hit
Fans who attended both Ford Field shows — and there were plenty of those folks — got 32 songs and more than four hours of stadium-shaking entertainment.
The M72 tour premise is simple but unconventional: Two nights, two distinct set lists. And it turned out to be a blast, with Friday and Sunday offering their own variations on Metallica's catalog of blistering, multitextured, turn-on-a-dime work.
While the songs were different, there was a similar structure and flow to the two nights, each of which featured 16 songs and reserved the same slots for new material, deep cuts and one instrumental, along with an epic opening and finale.
Sunday's show kicked off by reaching back to the very start with a performance of the band's frenetic 1983 debut single, "Whiplash." It was promptly followed by two more early standouts — "For Whom the Bell Tolls" and "Ride the Lightning" — on the way to a two-hour-plus affair that ultimately closed with the crowd-pleasing punch of "One" and "Enter Sandman."
"Dirty Window," from the band's much-derided 2003 release "St. Anger" ("your favorite album," James Hetfield cracked from the stage), was a left-field highlight on a night that also included "Welcome Home (Sanitarium)," "The Unforgiven" and "Wherever I May Roam."
All told, between the two shows, Detroit concertgoers got a big helping of "Ride the Lightning": Six of the eight tracks from that game-changing thrash record were in the weekend mix.
The production was top-notch
Metallica shows have long been state-of-the-art, but the M72 World Tour tried a few new things, most notably an in-the-round presentation that placed the band on a giant circular stage at mid-floor.
The lighting was reliably spectacular — including brilliant displays beamed from all four corners of the stadium — and a festive touch came from the giant yellow-and-black beach balls that descended onto the crowd late in the night. Only the pyro was scaled back here, likely because of the unique stage setup.
And the sound, at least on Ford Field's lower level, was first-rate for a stadium rock concert, where audio is often erratic. Metallica's two shows were richly mixed and there were moments the music took on a 360° effect.
The band is still vital
All four Metallica members are either in or fast approaching their 60s, but the group is still firing on all cylinders and seems to be deeply invested in the cause.
"We do not take this for granted," Hetfield told Friday's Detroit crowd. "Metallica has been doing this for 42 years, and we still love every second of it."
Kirk Hammett's spiraling, high-voltage solos, Lars Ulrich's spirited presence at the drum kit, Robert Trujillo's nimbly fingered bass lines, Hetfield's commanding ringleader presence — all added up to a Metallica that's still got it and seems to be having fun along the way. And based on the intense audience participation each night, the multigenerational fan base is right there with the group.
Some Detroit love
Like many modern bass guitarists across genres, Trujillo feels a debt to the Motor City — and to one groundbreaking musician in particular.
"I don't know if I'd be playing bass if it wasn't for Detroit," he said onstage Sunday, explaining: "Motown. James Jamerson."
For each show on this tour, Trujillo and Hammett have crafted a short, custom jam to play live. On Friday, it was a heavy ditty dubbed "Primo." Sunday, following the Jamerson shout-out, it was a 2½-minute number they called "Motown, Yo Town" (don't hold us to spellings here), with Hammett tacking some funky scratches atop Trujillo's bobbing bass.
Sunday's Detroit show was the final night on the 2023 run of the M72 World Tour, which will pick back up with European dates in the spring and return to North America in the summer.
Metallica has a deep attachment to Detroit, no doubt. And given the flexible nature of the set lists on this outing, it made sense to wonder whether a cover of Bob Seger's "Turn the Page" — famously recorded by the band in 1998 — was in order. In the end, no such luck.
For Ford Field, an exclamation mark to a huge 2023
It has been a big year for stadium shows in Detroit: Ford Field alone hosted nine nights of star-powered music, including doubleheaders from Taylor Swift and Morgan Wallen to go with this weekend's Metallica blowout.
Along with dates from Beyoncé, Luke Combs and Ed Sheeran (with surprise guest Eminem), it was the biggest concert year in the history of the Detroit Lions' venue, which was inaugurated by the Rolling Stones in 2002.
2024 isn't shaping up to have quite that sort of stadium-show volume. But two years after the touring industry emerged from the pandemic shutdown, 2023 was a bona fide revival that saw ticket buyers packing the seats — with Metallica providing one loud, satisfying punctuation mark.
Contact Detroit Free Press music writer Brian McCollum: 313-223-4450 or [email protected] .
Metallica's night-two Detroit set list, Nov. 12, 2023
1: "Whiplash"
2: "For Whom the Bell Tolls"
3: "Ride the Lightning"
4: "Dirty Window"
5: "72 Seasons"
6: "If Darkness Had a Son"
6a: "Motown, Yo Town"
7: "Welcome Home (Sanitarium)
8: "You Must Burn!"
9: "The Call of Ktulu"
10: "The Unforgiven"
11: "Wherever I May Roam"
12: "Moth Into Flame"
13: "Fight Fire with Fire"
14: "Whiskey in the Jar"
16: "Enter Sandman"
Grand Rapids/Muskegon
Saginaw/Bay City
All Michigan
Metallica kicks off weekend in Detroit with masterful Night 1 performance at Ford Field
Updated: Nov. 11, 2023, 9:48 p.m. |
Published: Nov. 11, 2023, 8:18 a.m.
Metallica's Lars Ulrich (left) and James Hetfield (right) perform during the band's "M72 World Tour" at Ford Field in Detroit on Friday, Nov. 10, 2023. (Mike Ferdinande) Mike Ferdinande
With an MLive.com subscription, you can gift 10 Subscriber Exclusive articles per month to anyone, including non-subscribers.
Already a subscriber? Sign in
DETROIT – From the moment Metallica entered a raucous Ford Field Friday night, the legendary quartet held the crowd in the palms of their hands as the heavy metal icons ripped through a two-hour set that left fans satisfied, but wanting more.
And lucky for them, they can get it Sunday.
The first night of the band's two-night, mini-residency in Detroit as part of the "M72 World Tour" was a blistering, powerful performance that featured songs from across their near 40-year-old catalog. Entering the stadium at 8:50 p.m., the band was greeted by thunderous cheers as they walked past the adoring fans while AC/DC's "It's a Long Way to the Top" blared through speakers.
Once the band made their way to the stage – which was a massive round platform in the middle of the stadium with more fans in the middle – one last intro played before the Rock and Roll Hall of Famers showed why they're still Gods of rock. As the opening guitar riff in "Creeping Death" kicked off the show, the crowd responded by pumping their fists along with the beat and wouldn't slow down for the entirety of the performance.
Neither did Metallica for that matter. Guitarist and lead singer James Hetfield was all over the stage Friday night, belting out hit after hit with his signature sound and ferocious energy while bassist Robert Trujillo and guitarist Kirk Hammett shredded song after song with no signs of slowing down.
After ripping through "Harvester of Sorrow," "Through the Never" and "Leper Messiah" the band took a brief pause for the first time before drummer Lars Ulrich's kit rose from the stage in a new location, signaling the next phase of the concert. Two other times throughout the night, the band would take a short break so a kit could pop up in another part of the stage, giving fans in that portion of the stadium a more up close look at Ulrich and the rest of the band.
From there the group launched into "Lux Aeterna," the first song of the evening from the band's most recent album, "72 Seasons." That was followed by other new tracks "Too Far Gone" and Shadows Follow" with the classic "Fade to Black" in between.
Another very short break followed before what might be considered the "slower" portion of the night began as "Orion," Nothing Else Matters," "Sad But True" and "The Day That Never Comes," filled out the third portion of the show. Still, the energy and passion of Metallica was felt in each song as Hetfield led the crowd.
Throughout the night Hetfield spoke to the audience whom he said are part of the "Metallica family" and thanked them for supporting the band for so many years.
As Metallica thrashed its way through the final four songs, it was clear that even after 40 years, they still know how to bring the house down with their familiar and of course, very loud hits. "Hardwired" led into an incredible performance of "Fuel" that featured the only pyrotechnics of the night as flames shot toward the sky before fireworks exploded on stage.
Hetfield's growl truly shined in the performance of "Fuel" which was the precursor to "Seek and Destroy" which had the entire stadium singing along and buzzing. The night ended with a sensational version of "Master of Puppets."
After the show, Ulrich took a minute to thank the fans and talk about the band's incredible history in Detroit. Ulrich listed off numerous venues in the area that Metallica has played at, including their first show in Michigan at the Royal Oak Music Theater in 1985. Ulrich went on to say the band has a love affair with Detroit and the fans clearly felt the same way about Metallica.
Before Metallica played, Mammoth WVH and Pantera opened the show with separate sets that got the crowd hyped up before the headliners took the stage.
Friday night's show was the first of two concerts at Ford Field this weekend as the band will hit the stage again Sunday night to perform a completely different set with no repeats of songs played Friday. While nothing is guaranteed, classics like "Enter Sandman," "Ride the Lightning," and "For Whom the Bell Tolls" are likely to appear on the set list Sunday.
Regardless of what songs are played, if Friday night was any indication, Sunday's show will be a can't miss for any Metallica fan and is the band's final scheduled show for 2023.
If you purchase a product or register for an account through a link on our site, we may receive compensation. By using this site, you consent to our User Agreement and agree that your clicks, interactions, and personal information may be collected, recorded, and/or stored by us and social media and other third-party partners in accordance with our Privacy Policy.
Metallica toasts latest chapter in 'long standing love affair with Detroit' at Ford Field
Friday night's two-hour concert unfolded in front of a potentially record breaking concert at the venue..
At the very end of Metallica's two-hour performance at Ford Field on Friday night, which unfolded in front of a crowd that appeared to rival Garth Brooks' record-setting 70,000-plus at the venue in Feb. 2020 — final crowd figures weren't immediately made available — drummer Lars Ulrich took the microphone and talked about the first time Metallica played Metro Detroit.
It was in 1985 — "38 f---ing years ago" is how Lars put it — at the Royal Oak Music Theatre on the band's "Ride the Lightning" Tour. He took a brief survey, asking how many fans in attendance were at that show, and didn't get many cheers. The band members themselves may have been the only ones present on both nights.
He went on to list off all the other times the band has played the area: concerts at Joe Louis Arena, Cobo Arena, the Palace of Auburn Hills, Pine Knob, the Silverdome, Comerica Park, and even Belle Isle, which hosted the band's two-day Orion Festival in 2013. A lot of concerts, a lot of heavy riffs, some different haircuts, but a lot of memories.
"We have a long standing love affair with Detroit," Ulrich said, "and we f---ing love you, Detroit."
And Detroit loves the band back, which is why all these decades later, Metallica is still packing 'em in. And they'll pack 'em in again on Sunday, the second night of the band's Detroit double dip, and the band's final concert on its current leg of its M72 World Tour.
More: Metallica in Detroit: Everything you need to know ahead of the band's two Ford Field shows
They keep coming back because no one does it quite like Metallica. No band has been heavier for longer. No band has exposed itself to more ridicule, a lot of it from its own fans. (Nobody is harder on Metallica than Metallica fans.) No band has spent more time at the top of the metal mountain and stayed up there, weathering storms, battling demons, overcoming addictions, admitting mistakes, being human, being fallible, being wrong, being right, coming out stronger because of it all and living to tell the tale. It's Metallica, it's only Metallica, it was only ever Metallica. And judging by the scene Friday night, it doesn't seem so lonely at the top.
That's because its fans are the "Metallica family," as frontman James Hetfield called the crowd on Friday, and yes, families fight. That's allowed. But they love each other, families, as well as Metallica and their fans. When you get down to it, it's just one big ol' love fest, covered in tattoos, black T-shirts and patch-covered jean jackets and vests.
Friday's love fest was a 16-song, two-hour affair, unfolding in-the-round at the Lions' home, on a giant stage positioned at the center of the stadium, which was essentially a circle walkway with fans surrounding all sides as well as packed into its center. Eight massive towers, each housing huge video screens up top, surrounded the set-up, as stacks of speakers hung above the stage and NFL-worthy cameras zipped along on wires above the band's heads, capturing the action and beaming it onto the video screens. It was a dazzling production, effective but not overbearing.
The setlist pulled from every decade of the band's now-five decade career and from nine different albums, the heaviest samplings — three songs apiece — coming from "Master of Puppets," "The Black Album" and this year's "72 Seasons." (The only two studio albums not touched were 1996's "Load" and 2003's "St. Anger.") It was a healthy sampling of the band's output, unified by its heavy sound, and proof that Metallica, all these years later, has never eased off the gas.
The band's promise on this tour is no repeats between concerts in any given city, and some biggies ("Enter Sandman," "Whiskey in the Jar," "One") were left off the table on Friday. There's no guarantee they'll show up on Sunday, but they're safe bets, if you're the gambling type. (Sunday's openers are Five Finger Death Punch and Ice Nine Kills; Friday's was Wolfgang Van Halen's Mammoth and Texas hard rockers Pantera, who turned in a straightforward and brutally effective performance.)
"Ride the Lightning's" "Creeping Death" opened Friday's festivities, as fans pumped their fists in unison both on the floor and in the stands. "Harvester of Sorrow," "Through the Never" and "Leper Messiah" followed, hard hitters as Hetfield and his bandmates — Ulrich, guitarist Kirk Hammett and bassist Robert Trujillo, who has now been with the band for 20 years — kept in close proximity, never wandering too far from each others' orbit.
Hetfield's banter was loose but nimble, and he entered positive affirmation mode when discussing "Fade to Black," which centers on suicide. He encouraged fans who harbor suicidal thoughts to not keep them to themselves, but to share them with anyone who will listen. "We need you here," he said. "You are not alone!"
Again, family. And Hetfield, 60 — the band members are ages 59 and 60 — was soon lightening back up, shouting out a kid in the crowd with a sign that said he was attending his first concert, as well as the dad who brought him there. "I wish my dad took me to a Metallica concert," Hetfield said.
Hetfield also referenced Cliff Burton, Metallica's original bassist who died in 1986, at the close of "Orion," from "Master of Puppets." ("We miss you Cliff," he said.)
Earlier in the night, a picture of the frontman standing outside the office of Detroit Lions coach and well known Metallica superfan Dan Campbell was posted to social media, with the caption, "wish you were here, Coach!" (The Lions play Sunday in Los Angeles.)
The evening was grouped in several small suites, with the band positioning itself in different spots, as Ulrich's drum set changed positions on the stage. At one point, Trujillo and Hammett presented a new jam they titled "Primo," an instrumental which Trujillo said they came up with while eating pasta the night prior. Later in the show, during "Fuel," flames shot out from the stage and fireworks burst above the stage, both firsts in the show in what was otherwise an understated production.
"Nothing Else Matters" and "Sad But True," rock radio staples to this day, were the biggest pure hits of the night, and they came back-to-back in the final half of the show. The deified "Seek & Destroy" and "Master of Puppets" closed the night, their power still commanding, as though they were carved from stone. There was no proper encore, it wasn't needed.
The theme of the evening was family, but also resilience, proven by the fact that Metallica is still working at a high enough level to stage two Detroit stadium concerts 40 years after the release of its debut album. Maybe they're indestructible because they've never pretended to be indestructible, and their destructibility has just made them more human, and relatable. Yes, Metallica are metal gods. But mostly they're survivors.
Metallica at Ford Field set list, Nov. 10
"Creeping Death"
"Harvester of Sorrow"
"Through the Never"
"Leper Messiah"
"Lux Æterna"
"Too Far Gone"
"Fade to Black"
"Shadows Follow"
"Nothing Else Matters"
"Sad But True"
"The Day That Never Comes"
"Hardwired"
"Seek & Destroy"
"Master of Puppets"
Advertisement
Supported by
Can't Make the Concert? Livestreamers Are Coming to the Rescue.
As fans struggle to buy increasingly hard-to-get tickets (at escalating costs), livestreamers packing cellphones and batteries are offering another way to see the show.
By Nell Gallogly
Live music tentatively returned in 2021 after Covid shutdowns. More artists got back on the road in 2022, yet still hit pandemic-related snags . But 2023 has been a blockbuster for the live-music business: Taylor Swift and Beyoncé circled the globe with headline-grabbing extravaganzas, and they weren't the only story. Bruce Springsteen, Metallica, Drake, Travis Scott, Ed Sheeran, Morgan Wallen, Maluma and Madonna filled arenas and stadiums.
Buying concert tickets, however, has become an increasingly complex and expensive endeavor as costs continue to rise and companies like Ticketmaster and SeatGeek battle bots and scalpers. Fans hoping to attend the year's hottest tours endured a maze of presale registrations, digital waiting rooms and hourslong queues. Those fortunate enough to reach checkout were met with lofty ticket prices — some because of confusing "dynamic pricing" — and additional fees.
But listeners left at home weren't totally left out: iPhones, Instagram and TikTok have opened the door for intermediaries to bridge the gap between the gig and fans who didn't have the money, connections or luck to get through the gate.
While in 2020, many artists turned to professional livestreaming through official channels to beam shows to fans stuck in their homes, the format was largely abandoned as in-person concerts returned. Three years later, a different kind of livestreamer has come to the fore: amateur camerapersons who show up with phones taped to their heads and backup batteries at the ready, eager to help hundreds — or hundreds of thousands — view the concert from home.
The increasing sophistication of phone cameras, the popularity of platforms with live capabilities and the challenging process of securing tickets to big shows have all but codified livestreams as an extension of today's live music experience. "With the rising prices and Ticketmaster fiasco we weren't able to get tickets," said Kelly Epstein, a Taylor Swift fan who has (virtually) attended nearly every weekend of the Eras Tour with her two young daughters. "Livestreams allow us to feel like we are going to the show."
In the days before sharing a concert live was technologically feasible, tape traders lugged equipment to shows where recording was permitted — frequently by jam bands, including the Grateful Dead and Phish, who viewed the recordings circulating among superfans as a harmless noncommercial means of expanding their reach. Tape traders approached their hobby with the seriousness of professional archivists: collecting hundreds of cassettes, often identifiable by carefully handwritten titles and set lists, and safeguarding memories and music for generations.
So who is a livestreamer today? Some spend a few casual minutes with their phones trained on the show, giving at-home viewers a taste that could leave them more frustrated than pleased. But others increasingly treat their role with the seriousness of a live correspondent. Meet Matthew Serafin, a global traveler catering to a rabid fan base while becoming a character himself; Morgan Lee, a spontaneous streamer who rescued an important concert from obscurity; and Tess Bohne, an at-home aggregator dedicated to Swifties.
The road warrior
Matthew Serafin was supposed to be heading home on an international flight, but he was too jazzed up to go to the airport.
The night before, Serafin, 28, from Chicago, had livestreamed the opening of Beyoncé's Renaissance World Tour in Stockholm. Serafin had gone live once before — for a portion of a 2022 Adele concert in Vegas, when less than a dozen people had joined his stream. Expecting the same results in Stockholm in May, he watched in amazement as Lizzo, SZA and tens of thousands of other viewers tuned in.
Beyoncé would grace the stage for a second night in less than 12 hours. "I had to stay," Serafin recalled in an interview. He was lucky enough to grab a ticket to the show on Ticketmaster and booked one of the few remaining hotel rooms in a city experiencing a Beyoncé-related travel boom .
Serafin was hooked. Hooked on Beyoncé ("My queen forever," he said) and hooked on being the conduit between the artist he loved most and the rest of the world. "My Instagram was flooded with messages from people thanking me for sharing the show. People from Sudan, Kenya, Norway, Peru — places that Beyoncé has never and probably will never tour," he said.
Since the Stockholm show, Serafin has attended eight Renaissance World Tour shows, and two of Swift's Eras Tour shows across four countries — livestreaming each performance.
"To me, live music is, like, everything," he said. Growing up, he was among the few openly gay students at his high school in the Chicago area. At Beyoncé and Lady Gaga concerts, he said, he learned to express himself among a queer-positive crowd.
Serafin estimated he'd spent $7,000 to $8,000 on his global livestreaming tour — a sum he could muster thanks to his salary as an associate in the commercial bank at JPMorgan Chase "and a bit of fiscal irresponsibility." Sharing his experience with others was worth the cost: "Every individual on my stream is someone who's touched by getting to experience the show and wasn't able to be there themselves."
And he enjoys the recognition that comes with being a vital streamer. "I just go to work and I am just like a dude in khakis," Serafin said. But at Beyoncé concerts, he's something of a star. "People stop me. People ask for photos. It's crazy."
As his audience has grown on Instagram, so has his ambition to move beyond megastars. Recently, he's begun streaming shows of pop up-and-comers like Muna and Reneé Rapp. "I want to introduce people to folks they may not know," he said.
The one-time savior
Morgan Lee had been standing in the hot desert sun for 12 hours to secure a near-perfect view of Frank Ocean's 2023 headlining performance at Coachella — a performance she was starting to fear wouldn't even happen.
The artist was an hour late, and YouTube had canceled its livestream of the set — the only viewing option for fans unable to afford the festival's $549 tickets (fees not included). When, finally, Ocean stepped onto the stage, Lee, 18 and from North Carolina, pulled out her phone. "I knew people would want to see this," she said.
By the night's end, hundreds of thousands of people had hopped onto Lee's livestream — at its peak, 125,000 people were on simultaneously. Her Instagram account grew from 6,000 to 60,000 followers, her name trended on Twitter and Lee was crowned a hero by fans across the internet.
The viral moment changed her life: In June, she leveraged her newfound social media audience to release a debut music video and, a few weeks later, she was taken off the wait-list at N.Y.U.'s Clive Davis Institute of Recorded Music ("the closest thing one could get to going to pop star school," she said).
Lee, who is now in her first year at N.Y.U., described the event as a happy accident. Still, her prime view of the Coachella stage at the Ocean concert, which helped popularize her stream over others, was more a product of her devotion to the artist she loves than luck. Since she was a young teen, Lee has been concert camping — waiting for hours, or days, to get as close to the stage as possible.
In August, she woke up at 3 a.m. to attend the Renaissance World Tour — her first-ever Beyoncé concert. As with Ocean's set, she was breathlessly close to the star. But, this time, Lee didn't go live. "I don't want to be boxed in as a streamer," she said, "My goal is to be an artist."
Even if she won't livestream again, she's happy she could provide the show to fans at home. "It's not like an accessible show," she said. "Streaming is the next best thing."
The at-home director
Tess Bohne, 32, has spent the past few months helping Swifties, one of the most voracious fan bases in the world, gain nightly access to Eras Tour concerts that she locates, curates and blasts out to her followers .
Unlike Serafin and Lee, Bohne doesn't film the concerts herself. She earned the unofficial title "livestream queen" of the Eras Tour by using multiple devices to scan social media to find the best streams occurring at any given time.
When presale tickets for the tour became available last November, Bohne knew she was among the lucky ones: she snagged two tickets to the second night of the Eras Tour stop in Glendale, Ariz. After watching the show live , Bohne resolved to provide "the Eras Tour for everyone."
The result was a D.I.Y. streaming command center set up in Bohne's bedroom in Salt Lake City, equipped with a computer, two monitors, two iPads and a ring light. For 39 Eras Tour shows (and counting), the 32-year-old has planted herself there, finding the highest quality livestream running and re-streaming it from her iPad to her hundreds of thousands of TikTok followers . In the background, she has anywhere from one to four backups ready if a stream cuts out.
"For me, doing these livestreams has felt like a stick it to the man," she said. "It's a way of saying, you screwed us over but it's not stopping us." As a stay-at-home-parent to three young children, she said streaming has also given her "purpose outside of motherhood."
Watching Bohne's stream is dizzying. Texts and emojis whiz by as fans communicate on the chat function — feeding off each other's energy like at live shows. "It's their way of being at the concert with their friends," Bohne said.
Her stream is an act of love — and labor (she makes her Venmo handle available for tips). The job hasn't been lucrative, but she's making enough to cover her expenses and, at least for now, justify the over 200 hours spent livestreaming the Eras Tour.
How to Make Your Smartphone Better
To comply with recent European regulations, Apple will make a switch to USB-C charging for its iPhones. Here is how to navigate the change .
Photo apps have been using A.I. for years to give you control over the look of your images. Here's how to take advantage of that .
The loss of your smartphone can be disruptive and stressful. Taking a few simple steps ahead of time can make things easier if disaster strikes .
Many default settings make us share superfluous amounts of data with tech companies. Here's how to shut those off .
Need a new phone? Wirecutter can help you weigh the pros and cons of different iPhone models  and pick the best smartphone .
Upgrading your device will leave you with a decision: What to do with your old phone ?
Primary Nav Tour Upcoming Dates Past Dates News News In The Press ...And On Top Of That Band Timeline History Metallica Music Releases Songs & Lyrics Media Videos Photos Fans News So What! Contests Videos Photos Forums Local Chapters Shop New & Featured Collaborations Stocking Stuffers Wolverine Boots Clearance Gift Certificates Media Return to Media Reissues Vinyl Digital Downloads Live Metallica CDs CDs DVDs Books Apparel Return to Apparel Shirts Pants & Shorts Outerwear Headwear Footwear Kids & Babies Accessories Return to Accessories Stickers, Patches & Buttons Puzzles, Games & Figures Wall Art Picks, Sticks & Straps Vinyl Care Jewelry Drinkware Collections Return to Collections 72 Seasons All Within My Hands Fifth Member™ Blackened Whiskey Probity UK Shop Metallica Black Box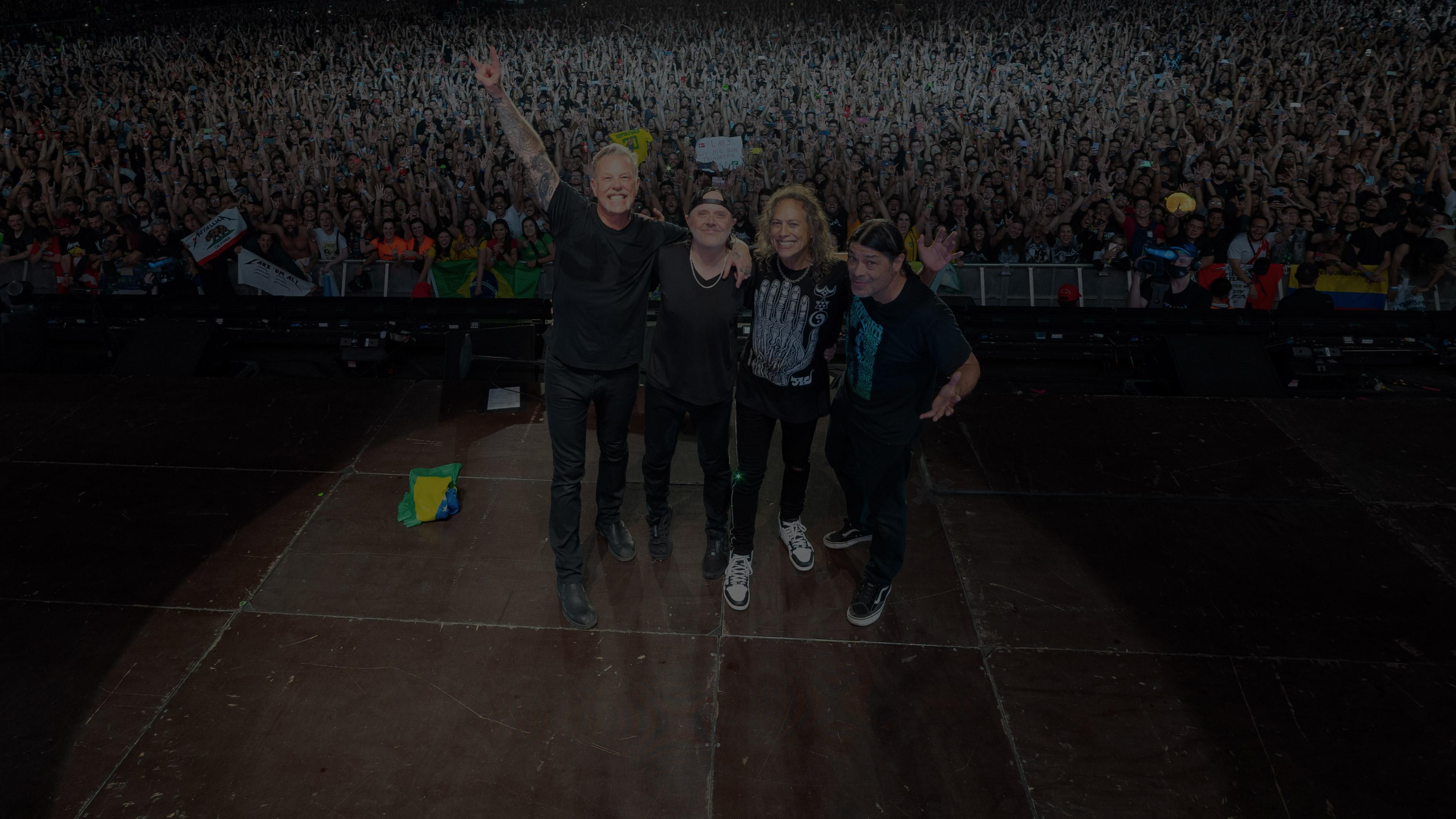 Past Tours Dates
Past tour dates.
Feb 25, 2022
Las Vegas, NV, United States
Allegiant Stadium
Apr 27, 2022
Santiago, Chile
Club Hípico
Apr 30, 2022
Buenos Aires, Argentina
Campo Argentino de Polo
May 05, 2022
Porto Alegre, Brazil
Estacionamento da FIERGS
May 07, 2022
Curitiba, Brazil
Estádio Couto Pereira
May 10, 2022
São Paulo, Brazil
Estádio do Morumbi
May 12, 2022
Belo Horizonte, Brazil
Mineirão
May 24, 2022
San Francisco, CA, United States
Metallica Night with the San Francisco Giants @ Oracle Park
May 27, 2022
Napa, CA, United States
BottleRock Napa Valley @ Napa Valley Expo
May 29, 2022
Boston, MA, United States
Boston Calling @ Harvard Athletic Complex
Jun 15, 2022
Copenhagen, Denmark
Copenhell @ Refshaleøen
Jun 17, 2022
Landgraaf, Netherlands
Pinkpop @ Megaland
Jun 19, 2022
Florence, Italy
Firenze Rocks @ Visarno Arena Firenze
Jun 22, 2022
Prague, Czech Republic
Prague Rocks @ Letiště Praha Letňany
Jun 24, 2022
Hockenheim, Germany
Download Germany @ Hockenheimring
Jun 26, 2022
Clisson, France
Hellfest @ Val de Moine
Jun 29, 2022
Frauenfeld, Switzerland
Frauenfeld Rocks @ Grosse Allmend Frauenfeld
Jul 01, 2022
Werchter, Belgium
Rock Werchter @ Festivalpark
Jul 03, 2022
Bilbao, Spain
Bilbao Bizkaia Rock Day @ Estadio San Mamés
Jul 06, 2022
Madrid, Spain
Mad Cool Festival @ IFEMA