NCL Cruises 2024
2024 NCL Cruises (Norwegian Cruise Line)
See all 2024 NCL cruise itineraries, sailing dates and destinations. A Norwegian Cruise Line holiday is the perfect choice for all the family and kids of all ages. Enjoy a relaxed cruise holiday that gives you complete freedom of dining options and activities.
If you are looking to sail from Southampton there is a fantastic selection of ships to choose from that include the Norwegian Dawn , Norwegian Prima . Book your UK NCL cruise online with us and get additional discount.
Upgrade your cruise to "Free at Sea" and take advantage of premium beverages, speciality dining, and Wi-Fi. For more information, please feel free to call us today and speak to one of our cruising experts who will be more than happy to help.
Searching for cruises ...
Featured Cruise
VIEW LIVE PRICES & BOOK ONLINE
Save £££'s with our exclusive online discount
Cruise & Stay
Prices are subject to change and availability. Prices may vary depending on airport selected. Promotions are only applicable to select cabins grades, please call for details
What drinks are free on an NCL cruise?
The free drinks included with your cruise on NCL are iced tea, regular coffee, filtered water, and some free fountain juices in the buffet. Sodas, specialty coffee, alcoholic drinks, frozen drinks, and bottled water are an extra charge unless you have an NCL drink package that covers these drinks.
What currency is used onboard an NCL cruise ship?
The currency used onboard a Norwegian Cruise Line ship is United States Dollar (USD). However, there is a cashless society onboard. When you check in, you open a shipboard account by registering your credit card, your final bill will be then paid at the end of your holiday before you disembark the ship.
Is there a formal night on an NCL cruise ship?
There are no formal nights on any cruises with Norwegian Cruise Line. Instead of a formal night, NCL have 'dress up or not' nights where there is a suggested dress code. Guests do not have to take part. This relaxed approach continues throughout all elements of Norwegian Cruise Line cruises.
Are NCL cruises good for families with children?
NCL cruises laid-back style is a great fit for families traveling with children. This is especially true of the cruise line's newest ships, which are packed with activities for children and their parents to enjoy. The Breakaway Class, which includes Norwegian Breakaway, Norwegian Escape and Norwegian Getaway, has expansive kids club facilities, family suites and plenty of onboard activities to keep the entire family entertained throughout the course of your cruise.
Does Norwegian Cruise Line sail from Southampton?
There are several ships sailing from Southampton in 2023, 2024 & 2025. Cruising from Southampton with NCL offers a fantastic opportunity to experience a hassle-free holiday with no busy airports or delayed flights to contend with. What's more, all NCL cruises that depart the UK are all available to book online with Cruise118 with an addition discount that saves you even more!.
Our Award Winning Service
Large Cruise Agency of the Year 2023
Best Online Travel Agency 2022
TTG Top 50 Ocean Cruise Agency 2022
TTG Top 50 Ocean Cruise Agency 2019
Best Cruise Online Agent 2021
Best Cruise Online Agent 2019
Best Company Top 100
Request a Callback
Request a call back from our cruise experts.
Have you found your dream cruise, or do you want to talk to us to help you choose the right cruise for you at the best price? Request a call back from our expert cruise concierge and we'll get in touch at a time to suit you.
If you would like to contact our service team, you can select a service call back below.
If you request a call back for now we'll get back to you within 15 minutes, we'll be calling you from 0161 333 4459 so you can recognise our call.
Select Day *
Callback time *
New Terms of Use
New Privacy Policy
Your Privacy Choices
Closed Captioning Policy
Quotes displayed in real-time or delayed by at least 15 minutes. Market data provided by  Factset . Powered and implemented by  FactSet Digital Solutions .  Legal Statement .
This material may not be published, broadcast, rewritten, or redistributed. ©2023 FOX News Network, LLC. All rights reserved. FAQ - New Privacy Policy
Norwegian Cruise Line reveals new routes for 2024 and 2025: 'Ultimate cruise vacation'
6 norwegian cruise line ships will sail itineraries in the greek isles, israel, egypt, northern europe and more.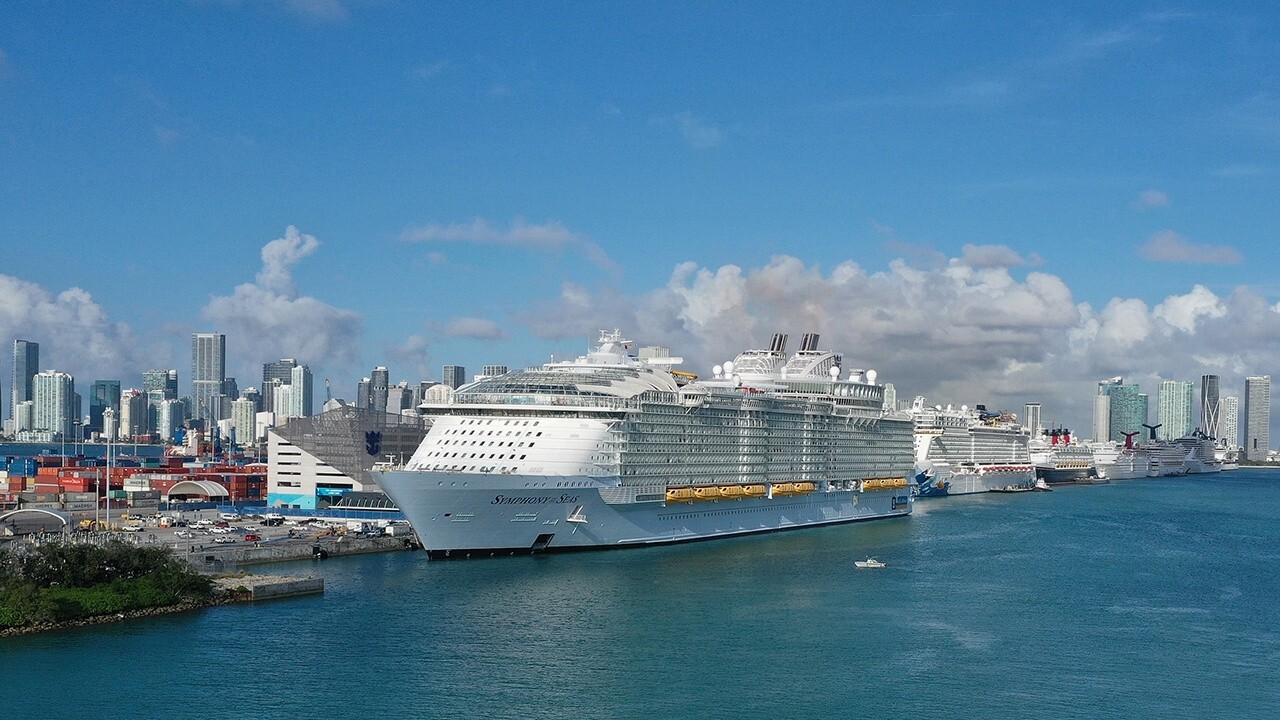 Rough waters ahead for cruise industry
Cruise industries face staffing challenges ahead of record travel season. FOX Business' Ashley Webster with more.
Norwegian Cruise Line has new itineraries for winter 2024/2025 and summer 2025.
The Miami-based cruise line announced it will transport guests to famous travel destinations in the Greek Isles, Israel, Egypt, Northern Europe, the Mediterranean, the Caribbean, Alaska and Panama Canal, according to a press release issued on Wednesday, Dec. 7.
Norwegian's itinerary announcement noted that the company is offering a deal where single cruise guests get to add a second passenger to their stateroom for free. The deal will be available for a limited time.
NORWEGIAN CRUISE LINE ELIMINATING COVID-19 TESTING, MASKING AND VACCINATION REQUIREMENTS
The cruise line is also extending its "guest-favorite" Free At Sea offer, which provides cruisers up to $3,450 in savings, and a choice of up to six sailing perks, including a free and unlimited open bar, free specialty dining, free shore excursions credits, free Wi-Fi access, friend and family discounts and free roundtrip airfare for the second guest.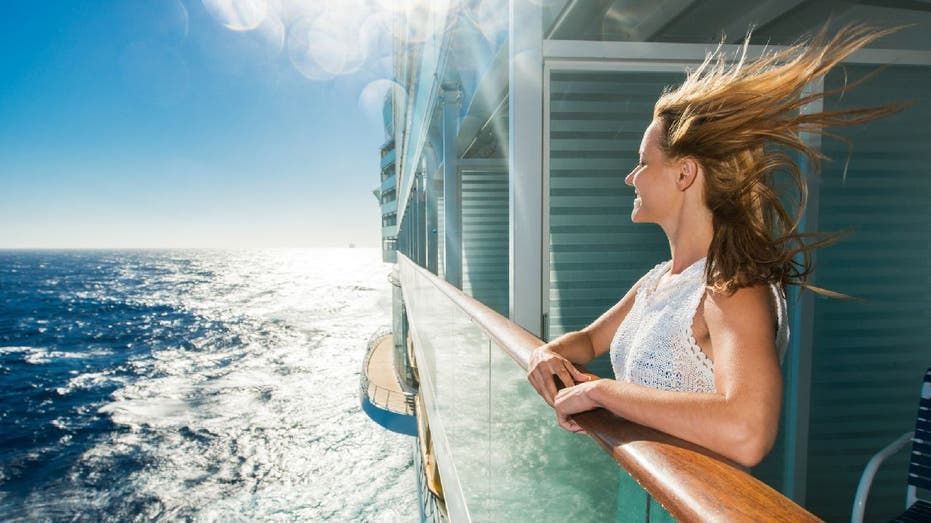 Norwegian Cruise Line has new itineraries for winter 2024/2025 and summer 2025. (iStock / iStock)
"When planning new itineraries, we listen to our guests and provide them with the ultimate cruise vacation," Harry Sommer, president and chief executive officer of Norwegian Cruise Line, said in a statement. 
"Our itineraries are designed to provide longer port hours and less sea days to truly allow our guests the opportunity to dive into the cultures and destinations they are visiting," Sommer continued. "It's a way to reconnect with the world around them, and with our promotion, we make it easy."
Norwegian's press release noted that the cruise line currently has an 18-ship fleet that sails to nearly 400 destinations worldwide.
In 2024 and 2025, Norwegian will set six of its ships on new itineraries in Europe, Africa, Asia, North and South America.
Greek Isles, Israel and Egypt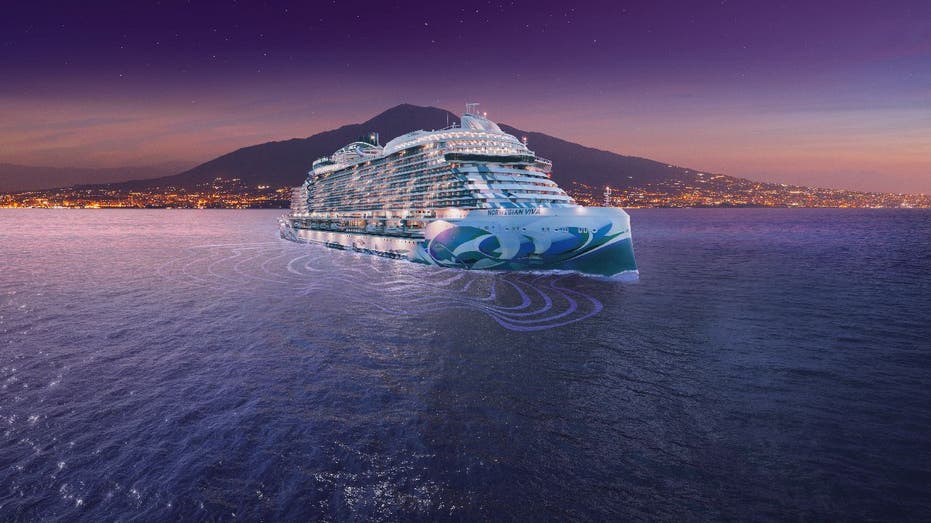 Norwegian Cruise Line's artistic rendering of the Norwegian Viva, debuting in August 2023. It will sail to the Greek Isles, Israel and Egypt in 2025. (Norwegian Cruise Line / Fox News)
The Norwegian Viva, a 965-foot "Prima Class" ship that's set to debut in August 2023, will be making trips to the Greek Isles, Israel and Egypt, according to Norwegian's press release.
Starting in September 2023, the Norwegian Viva will sail select seven-day roundtrips from the Piraeus Port of Athens in Greece to other famous Greek Isles, including Santorini, Mykonos, Rhodes and Iraklion.
ROYAL CARIBBEAN'S 'ICON OF THE SEAS' SHIP SOLD OUT 1ST VOYAGE IN 24 HOURS: REPORT
From May 2025 to November 2025, the ship will make nine- to 11-day voyages to Haifa, Israel, Athens, Greece and Istanbul, Turkey. Other destinations include the Port of Ashdod in Jerusalem, Israel, the Alexandria Port in Egypt and the Port Said in Egypt.
Northern Europe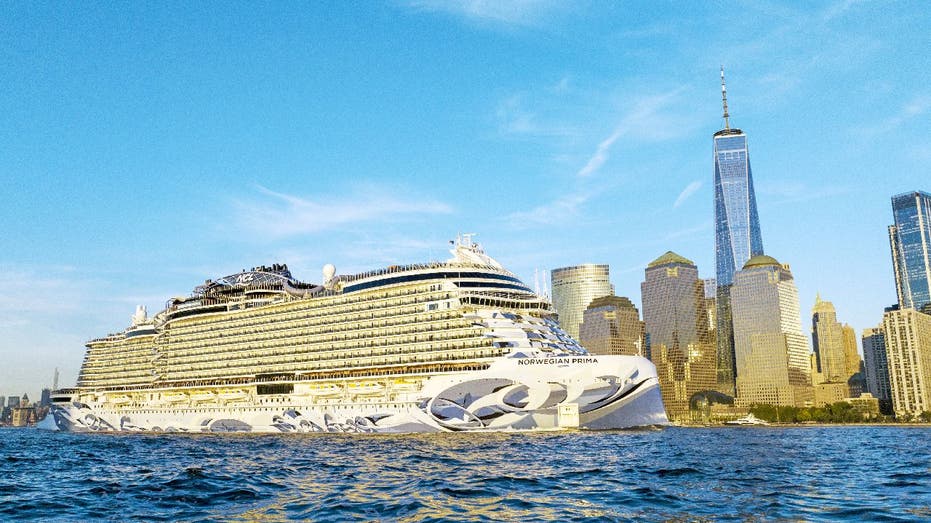 Norwegian Cruise Line's Norwegian Prima ship will sail through Northern Europe in 2025. (Norwegian Cruise Line / Fox News)
The Norwegian Prima, the first "Prima Class" ship in Norwegian's fleet, also measuring 965 feet, will be making trips throughout Northern Europe from May 2025 to September 2025, according to Norwegian's press release.
The ship will sail a series of 10- and 11-day voyages from the Port of Southampton in London, England, to Reykjavik, Iceland, and Geiranger, Norway.
The Norwegian Prima's varied itineraries will also include stops at Alesund, Flåm and Bergen, Norway, in addition to Brussels and Bruges (Port of Zeebrugge), Belgium, Akureyri and Isafjordur, Iceland, and Amsterdam.
Mediterranean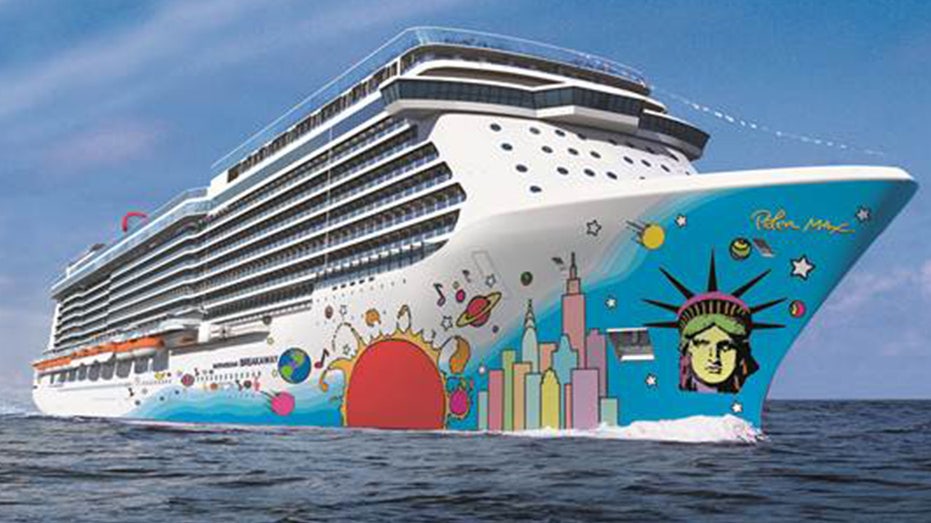 Norwegian Cruise Line's Norwegian Breakaway ship will sail through the Mediterranean in 2025. (Norwegian Cruise Line / Fox News)
The Norwegian Breakaway, a 1,068-foot ship that debuted in 2013 and was refurbished in 2018, will sail Mediterranean waters from April 2025 to October 2025, according to Norwegian's press release.
The ship will alternate between nine- and 10-day routes that journey to Barcelona and Ibiza in Spain, Rome (Port of Civitavecchia), Florence, Pisa (Port di Livorno), Cagliari and Naples, Italy, and Cannes, France. 
US CONSUMERS SPURN CARS, COUCHES AND CRUISES, RESULTS SHOW  
Norwegian's press release states the ship will travel to other "bucket-list destinations" in the Mediterranean.
Norwegian Cruise Line will have three ships sailing new itineraries in the Caribbean, according to the company's press release.
Beginning November 2024 through March 2025, the Norwegian Prima will make roundtrip sailings from New York City to Puerto Plata, Dominican Republic; San Juan, Puerto Rico; Basseterre, St. Kitts; St. Thomas, U.S. Virgin Islands; Tortola, British Virgin Islands and Royal Naval Dockyard, Bermuda. The Norwegian Prima's itineraries will alternate between 10 and 12 days.
The Norwegian Viva will make San Juan, Puerto Rico its home port from December 2024 to April 2025. The ship will offer seven-day roundtrip sailings throughout the Southern Caribbean, including stops in Castries, St. Lucia and Bridgetown, Barbados. 
Select itineraries on the Norwegian Viva will travel to the "ABC Islands" – Aruba (Oranjestad), Bonaire (Kralendijk) and Curaçao (Willemstad). Norwegian says the Norwegian Viva will also make a few stops "on the west side of the Caribbean."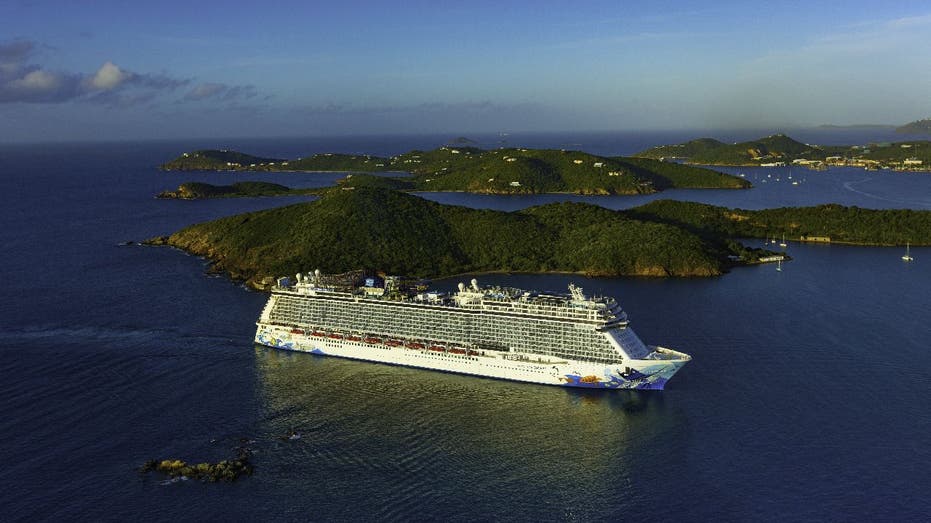 Norwegian Cruise Line's Norwegian Escape ship will sail through the Western and Eastern Caribbean from 2024 to 2025. (Norwegian Cruise Line / Fox News)
The Norwegian Escape, a 1,069-foot ship that was built in 2015, with be making seven- to 14-day Caribbean sailings from Galveston, Texas, starting in December 2024 through March 2025. The ship's seven-day offering will sail the Western Caribbean and visit Costa Maya and Cozumel, Mexico; Roatan, Honduras and Harvest Caye, Norwegian's resort-style destination in Southern Belize. 
GET FOX BUSINESS ON THE GO BY CLICKING HERE
Fourteen-day sailings on the Norwegian Escape will explore the Eastern Caribbean, including St. Thomas, U.S. Virgin Islands; Castries, St. Lucia; George Town, Grand Cayman; Cozumel, Mexico and Great Stirrup Cay, Norwegian's private island in the Bahamas.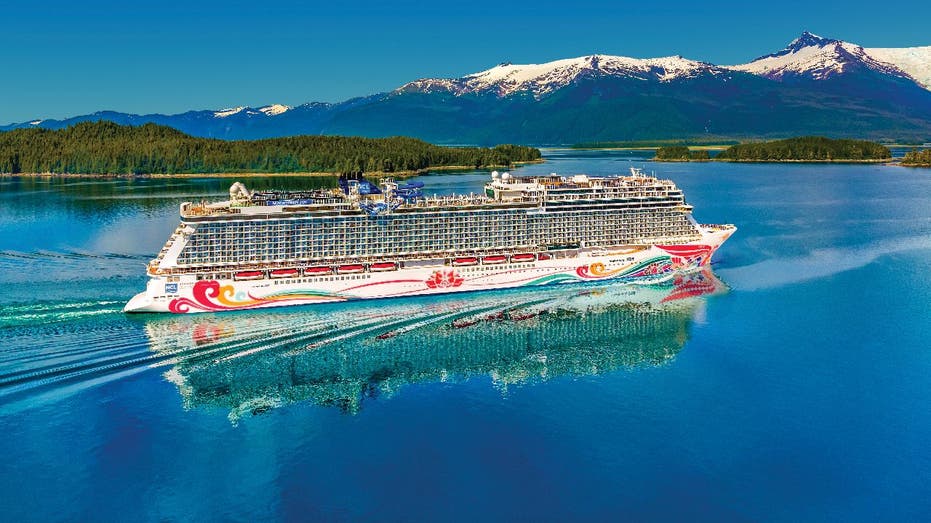 Norwegian Cruise Line's Norwegian Joy ship will sail through Alaska in 2025. (Norwegian Cruise Line / Fox News)
The Norwegian Joy, a 1,094-foot "Breakaway Plus Class" ship that was built in 2017 and refurbished in 2019, will be sailing to Alaska from April 2025 to October 2025, according to Norwegian's press release.
The ship will make nine- and 10-day roundtrip sailings from Seattle, Washington, to Alaska's Glacier Bay National Park and Reserve and Hubbard Glacier in the Wrangell–St. Elias National Park and Preserve.
Select itineraries on the Norwegian Joy will go to Icy Strait Point, an Alaskan tourist attraction in the City of Hoonah, and Ketchikan, an Alaskan city on Revillagigedo Island.
Panama Canal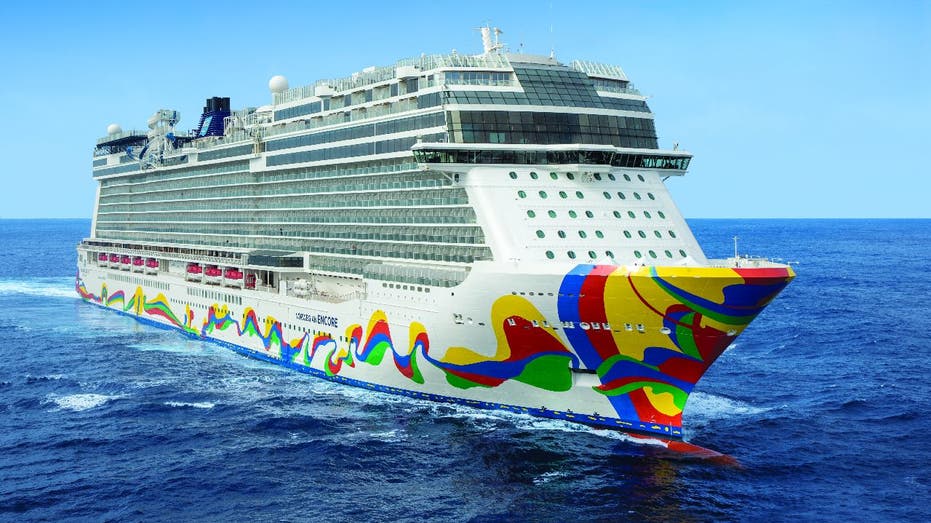 In 2024, Norwegian Cruise Line's Norwegian Encore ship will sail from Washington down the West Coast to the Panama Canal and make stops throughout South America, the Caribbean and Florida. (Norwegian Cruise Line / Fox News)
The Norwegian Encore, also a 1,094-foot "Breakaway Plus Class" ship, but built in 2019, will be sailing through the 40-mile-long Panama Canal starting in October 2024, according to Norwegian's press release.
The ship will have 21-day itineraries that sail from Seattle, Washington, to San Francisco and Los Angeles, California; Cabo San Lucas, Mazatlan, Puerto Vallarta and Acapulco, Mexico; Puerto Quetzal, Guatemala; Panama City, Panama; Cartagena, Colombia; George Town, Grand Cayman and Miami, Florida.
CLICK HERE TO READ MORE ON FOX BUSINESS
Norwegian notes that this "Extraordinary Journey" is a one-way trip that ends in Miami.

London Greenwich
London Portsmouth
London Tilbury
Southampton
Arctic Circle
British Isles
Midnight Sun
Northern Europe
Northern Lights
Norwegian Fjords
Scandinavia
Transatlantic
Western Europe
AIDA Cruises
Azamara Club Cruises
Carnival Cruise Line
Celebrity Cruises
Costa Cruises
Crystal Cruises
Cunard Cruise Line
Disney Cruise Line
Holland America Line
MSC Cruises
Norwegian Cruise Line
Oceania Cruises
P&O Cruises
Princess Cruises
Regent Seven Seas Cruises
Royal Caribbean
Saga Cruises
Silversea Cruises
Viking Ocean Cruises
Ports Of Call
Destinations
Norwegian Fjords Cruise
January 2024
Norwegian Fjords Cruises January 2024
The Norwegian Fjords present a kaleidoscope of stunning vistas and exciting ports of call. From the UNESCO World Heritage-listed Geirangerfjord , with its stunning waterfalls and verdant cliffs, to the charming village of Flåm nestled amidst towering mountains, every destination has its own unique appeal. Journey past vibrant ports such as Bergen , known as the gateway to the fjords, or the historic town of Ålesund with its distinctive Art Nouveau architecture. Cruising through these waterways, you'll find the natural environment unfolds like a perfectly executed symphony, where dramatic cliffs plunge into the tranquil blue water below.
Cruise lines such as AIDA Cruises , Azamara Cruises , Celebrity Cruises , Costa Cruises , Cunard Cruises , Disney Cruises , Holland America , MSC Cruises , Norwegian Cruises , Oceania Cruises , P&O Cruises , Princess Cruises , Regent Cruises , Royal Caribbean , Saga Cruises , Silversea Cruises , and Viking Cruises others offer itineraries that visit Norwegian Fjords in January 2024. Easily find and compare Norwegian Fjords cruises in January 2024 from Amsterdam , Bergen , Copenhagen , Dublin , Hamburg , Kiel , London Greenwich , London Portsmouth , London Tilbury , Oslo , Reykjavik , Rotterdam , Southampton , Stockholm , Tromso , and Warnemunde (Rostock) , as well as other Northern European ports.
Norwegian Fjords Cruise Schedule January 2024
While the Norwegian Fjords are beautiful all year round, the best time to visit depends on what you want to experience. Summer (June to August) offers long, bright days and warm weather, perfect for outdoor activities and wildlife spotting. Winter (December to February) provides a chance to witness the spectacular Northern Lights. Spring (March to May) sees the landscape come alive with blossoming flowers, while autumn (September to November) showcases the fjords in a palette of stunning fall colors.
12-day Northern Europe cruise from London Tilbury
Viking venus, viking ocean cruises.
Date: January 12, 2024
Ports of Call: London Tilbury, Amsterdam, Narvik, Tromso, Tromso, Alta, Alta, Bergen, Bergen; View Itinerary
12-day Norwegian Fjords cruise from Bergen
Date: January 24, 2024
Ports of Call: Bergen, Bergen, Alta, Alta, Tromso, Tromso, Narvik, Amsterdam, London Tilbury; View Itinerary
Privacy Policy
Terms of Use

Sun Sentinel
Royal Caribbean, Norwegian cruise lines change 2024 itineraries as Israel-Hamas war continues
Posted: November 3, 2023 | Last updated: November 6, 2023
Royal Caribbean International and Norwegian Cruise Line have made changes to 2024 itineraries as the Israel-Hamas war in the Middle East continues.
In an emailed statement Friday afternoon, Royal Caribbean International said all calls to Israel on the Celebrity Infinity are canceled through April 2024 while itineraries have been changed for three ships in summer and fall of 2024. Redeployments of two other ships sailing next summer and fall were also announced.
"The safety of our guests and crew is our top priority. Our global security team continues to closely monitor the evolving situation in the region, and due to the continued uncertainty in the area, we're adjusting several itineraries in 2024. Impacted guests will be notified directly," the cruise line's statement said.
The itinerary modifications are for the following ships and dates:
•Odyssey of the Seas: May 5, 2024, Sept. 3, 2024, Oct. 10, 2024 and Oct. 22, 2024.
•Anthem of the Seas: Oct. 23, 2024.
•Voyager of the Seas: June 17, 2024, June 24, 2024 and Aug. 19, 2024.
•Jewel of the Seas: Redeployment from the city of Haifa in Israel to Boston from July to October 2024.
•Grandeur of the Seas: Redeployment from Boston to Tampa from August to November 2024.
•Celebrity Infinity: Calls to Israel canceled through April 2024.
The statement did not provide further details about what the changes are.
The Odyssey of the Seas sailings in May, September and October that have been affected are the line's 12-day, round-trip Holy Land Cruises. All were scheduled to make two stops in Israel, in Ashdod and Haifa, according to CruiseMapper , which tracks ship locations and itineraries.
Anthem of the Seas's trip in October is a 15-day, one-way sailing from Italy to Dubai that was previously scheduled to stop in Ashdod in Israel. The trips on Voyager of the Seas that are affected are the line's 7-day, round-trip Israel Egypt Cruises, according to CruiseMapper.
In a conference call Wednesday to discuss third-quarter earnings, Norwegian Cruise Line Holdings President and CEO Harry Sommer said all calls to Israel were canceled for the rest of 2023 when the Israel-Hamas conflict began to escalate. The line has since canceled all calls in Israel for 2024, Sommer said on the call.
Sommer said the company was seeing more cancelations and lower bookings for the region "as the conflict is ongoing and still front and center in the consumer psyche." Later in the call, he said the company has no plans to "fully cancel or lay out any of our ships because of this disruption."
"One of the main strengths and differentiators in our industry is our ability to reposition our assets, which is what we've done with the heightened tensions in the Middle East," Sommer said.
Israel declared war on Hamas after its Oct. 7 attack, which killed more than 1,400 people. Hamas has been classified a terrorist group by the United States, Canada and the European Union. The Associated Press reported Friday that the Palestinian death toll since the war began last month has reached over 9,200.
Sommer said of the Israel-Hamas war that he is "hopeful that this will be a reasonably short-term event." He said the sailings are a small percentage of their overall offerings and they "continue to be very, very well booked."
"I think when we think about this a little bit longer term, I think it will be a while before people are comfortable going back to Israel … We are more bullish about the ability to return to places like Egypt and other places in the Middle East," Sommer said.
MSC Cruises, the world's third largest cruise brand based in Switzerland, said in a press release last week that it canceled the MSC Orchestra's full winter schedule, which included sailing in the Red Sea from this November to April 2024, because some ports were close to Israel and because of restrictions in bordering countries.
The winter schedule for MSC Sinfonia was also canceled from November 2023 to April 2024. Its itinerary centered around Haifa, the statement said. Itineraries for MSC Virtuosa, MSC Opera, MSC Splendida and MSC Armonia have been modified.
Customers affected by those changes can change the trip to one of a similar length on a different ship or request a full refund, the line's news release said.
Windstar Cruises, a small ship cruise line, offers Holy Lands cruises. Travel Weekly reported Wednesday that the line has suspended the launch of its itineraries in the Red Sea and Persian Gulf until November 2024.
Silversea Cruises, one of five brands owned by Royal Caribbean Group and based in Monaco, also offers trips to Israel in several Mediterranean itineraries, according to the cruise line's website. It is not immediately clear whether Silversea Cruises has changed or will change upcoming itineraries.
The small, luxury brand Oceania Cruises's next available trips with stops in Israel are in 2025, according to their website. The company said in a statement Thursday it "revamped" its 2024 schedule to replace ports of call in Israel, Egypt and Jordan.
©2023 South Florida Sun-Sentinel. Visit sun-sentinel.com. Distributed by Tribune Content Agency, LLC.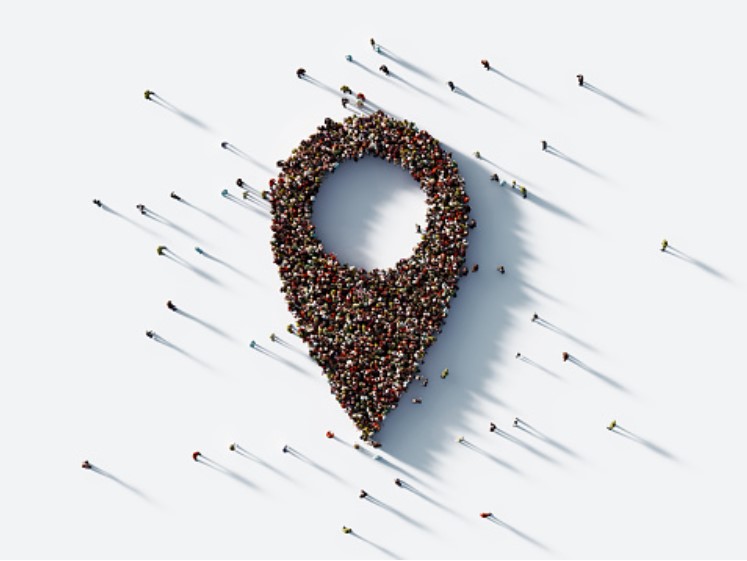 More for You
Judge Chutkan Strikes Blow Against Donald Trump
The stomach bug is still circulating in the US: This common mistake can spread it
SiriusXM Messed With Their Classic Rock Channel. Boomer Listeners Aren't Happy
Letters to the Editor: Gavin Newsom's poll numbers should come as no surprise
California middle-class families hit with $26K cost-of-living penalty: Report
Vivek Ramaswamy's campaign says he was 'talking quickly' and 'kind of oscillated in his words' after he appeared to call Zelenskyy a Nazi
Trump Lawyer Objecting to Her Own Document Draws Mockery: 'Incompetent'
How long does it take alcohol to leave your system? It depends on these factors.
Clarence Thomas' ignorant, ahistorical gun control ruling just got a harsh reality check
Under The Cover Of Drones And Helicopters, The Ukrainian Marine Corps Is Advancing—And Expanding Its Dnipro Bridgehead
The Best Potluck Desserts No One Thinks to Bring
Pastor's suicide brings grief, warnings of the dangers of outing amid erosion of LGBTQ+ rights
My Kids' Doctor Asked to See My Hands—Her Comment Saved My Life
Who won the third Republican debate? Winners and losers after things got nasty in Miami
Peter Thiel says the Trump administration 'couldn't get the most basic pieces of the government to work'
A Scientist Says the Singularity Will Happen by 2031
Jury in Robert De Niro trial reaches verdict, actor's company liable for $1.2M in damages
Pentagon UFO boss steps down after explosive admission
Zelensky Reveals Key Conditions for Ceasefire With Russia
Bo Hines, who lost a close 2022 election in North Carolina, announces another Congress run
Exclusive: Norwegian Cruise Lines unit alters 2024 itineraries to skip Israel - email
U.S. Norwegian Cruise Line Holdings cruise ship Marina arrives at the Havana bay, Cuba March 9, 2017. REUTERS/Alexandre Meneghini/File Photo Acquire Licensing Rights
Oct 31 (Reuters) - A unit of cruise operator Norwegian Cruise Line Holdings (NCLH.N) is making changes to its 2024 itineraries, canceling stops in Israel due to the Israel-Hamas war, according to an email sent to travel agents seen by Reuters.
The cruises will instead make port stops in cities such as Trieste, Italy instead of Israel, according to the email sent by Oceania Cruises, which is owned by Norwegian.
Norwegian did not immediately respond to a request for comment.
Across Israel and the Palestinian territories of Gaza and the West Bank, travel has declined sharply. International air carriers have stopped trips to top destinations such as Jerusalem and Tel Aviv as the conflict continues.
Privately held Geneva, Switzerland-based cruise operator MSC Cruises canceled a full winter schedule that consisted of sailing in the Red Sea from November to April 2024.
MSC said its new itinerary will make several west Mediterranean stops instead, avoiding ports close to Israel. It is also continuing to monitor the situation in the Middle East, it said last week.
Royal Caribbean Cruises (RCL.N) and Carnival Corp (CCL.N) did not immediately respond to a request for comment on whether they had removed Israel from itineraries in 2024.
Norwegian will report third-quarter earnings on Wednesday before the market opens.
The U.S. State Department recommends Americans not travel to Gaza and reconsider travel to Israel and the West Bank.
Private membership travel agency Essentialist said it has canceled 75% of trips to the extended Middle East and northeast Africa region.
"We did have members (who were) going to Egypt re-book to southern Spain for the holidays," said Joan Roca, chief executive of the Spain-based company.
Reporting By Doyinsola Oladipo; editing by David Gaffen, Chizu Nomiyama and Rod Nickel
Our Standards: The Thomson Reuters Trust Principles.
Surgeons in New York announce world's first eye transplant
Pressure grows on US Treasury to salvage trucking giant Yellow
BlackRock plans for ethereum trust fuel speculation about ETF filing
Hollywood actors secure safeguards around AI use on screen
More from Reuters
Australia to investigate Optus outage as customers seek compensation
Australia said on Thursday it would investigate an outage at telco Optus that cut off internet and phone connections to nearly half of its population, causing widespread chaos and leading some small business customers to seek compensation.
US Senate votes to reject 'Buy America' EV charging waiver
US FDA approves Valneva's chikungunya vaccine
Vaccine maker Novavax tops revenue estimates, eyes more cost cuts
With Hollywood strikes over, more companies look like losers than winners
We've detected unusual activity from your computer network
To continue, please click the box below to let us know you're not a robot.
Why did this happen?
Please make sure your browser supports JavaScript and cookies and that you are not blocking them from loading. For more information you can review our Terms of Service and Cookie Policy .
For inquiries related to this message please contact our support team and provide the reference ID below.
Norwegian Fjords Cruises Starting In June 2024
Norwegian fjords, best of norway, norse legends, viking sagas, northern europe, norwegian fjords & lofoten islands, spitsbergen explorer: wildlife capital of the arctic, the svalbard express – northbound voyage from bergen to svalbard, the svalbard express – southbound voyage from svalbard to bergen, the norwegian fjords, norwegian fjords & coastal treasures - westbound, introduction to spitsbergen, europe - iceland, reykjavik to longyearbyen, scottish isles and norwegian fjords voyage - with smithsonian journeys, the spitsbergen adventurer (sundays to fridays), norwegian fjords & coastal treasures - eastbound, spitsbergen highlights, fjords & glaciers of spitsbergen, oslo to copenhagen, tastes of norway & iceland, circumnavigating spitsbergen - in the realm of the polar bear, the svalbard express - full voyage, longyearbyen to tromsø.
No Results found. Try changing your search filters.
Cruises found! Scroll up to view
Northern Europe Cruises
Travel Styles
Country Routes
Cruise Lines Exploring Northern Europe
Scandinavia & Iceland Tours
© 2010-2023. Global Journeys. You're viewing our site in Australian dollars.
About Us | View Your Booking | Terms & Conditions | Site Map
Global Journeys Pty Ltd. Member of the Australian Federation of Travel Agents (AFTA) & ATAS Travel Accredited (No. A11351).

00800 0310 21 21 1-855-577-9489 1-877-288-3037 1-877-288-3037 1-877-474-2969
| NCL Travel Blog">11-Reasons to Cruise to Alaska this Summer | NCL Travel Blog
| Norwegian Cruise Line">14-Day Authentic Alaska - Northbound Cruise Tour | Norwegian Cruise Line
| Deck Plans | Norwegian Cruise Line">14-Day Authentic Alaska - Southbound Cruise Tour | Deck Plans | Norwegian Cruise Line
| Norwegian Cruise Line">20-Day Transpacific from Tokyo (Yokohama) & Alaska | Norwegian Cruise Line
| NCL Travel Blog">11 Reasons to Cruise to Alaska this Summer | NCL Travel Blog
View All Results
Preferences
Latitudes Rewards
1 (current)
* Terms & Conditions Package not available on sailings less than 5 days or charter sailings.