Tourism Authority of Thailand Hua Hin Tourist Office 39/4 Petchakasem Road Prachuap Khirikhan 77110
Hua Hin Tourist Office (TAT office) at Prachuap Khirikhan is one of the 13 newly opened tourist offices recently. Currently there are 35 tourist offices (TAT offices) nationwide responsible for promoting tourism in 76 provinces of Thailand.
The main Hua Hin Tourist Office provides travel brochures, travel information and Hua Hin Maps . The Hua Hin Tourist Office has 3 pernament staff.
In addition to the main Hua Hin Tourist Office there are few smaller Tourist Centers around Hua Hin . They also provide travel brochures, travel information and Hua Hin Maps.
The Tourism Authority of Thailand (TAT) was established on March 18, 1960, the first organization in Thailand to be responsible specifically for the promotion of tourism. TAT supplies information and data on tourist areas to the public, publicizes Thailand so as to encourage Thai and international tourists to travel in Thailand, conducts studies to set development plans for tourist areas, and co-operates with and supports the production and development of personnel in the field of tourism.
TAT Head Office Tourism Authority of Thailand 1600 New Phetburi Road, Makkasan, Rajatevee, Bangkok 10310 Tel: (66) 2250 5500 Fax: (66) 2250 5511 Email : [email protected] Pala-U Waterfall
Hua Hin Train Station
Hua Hin Night Market
Hua Hin is one of the top tourist destinations of Thailand from its great amount of attractions and activities - plus it isn't far from Bangkok . The City has many incredible Beach es, mountains , view points, Temple s, night market s, water parks, and fine diners for you to choose from and enjoy at any time of the year.
Hua Hin features a beautiful, powdery sand Beach , numerous sea side Seafood restaurants , a lively night market , numerous Beach activities , and some great inland activities, not least of which is golfing at some of Thailand 's most renowned courses. Just down the coast at Takiab Bay, visitors can take seaside horseback rides and visit a hilltop Buddhist Temple with a spectacular view . Accommodation along the Beach and on the streets leading away from the sea ranges from simple guesthouses to luxury resorts and includes some of the finest Spa -retreats in the world. Hua Hin is accessible via train, bus, or car and the seaside community of 60,000 residents is a fine example of warm and welcoming Thai hospitality.
Pala-U waterfall , which is located in Kaeng Krachan national park , is also a great butterfly watching spot.
Explore Hua Hin
See & Do
Festival & Event
Spa & Wellness
Recreational & Entertainment
Transportation How To Get There
Get inspiration.
Hua Hin Tourism
Hua Hin Hotels
Hua Hin Bed and Breakfast
Hua Hin Vacation Rentals
Flights to Hua Hin
Hua Hin Restaurants
Things to Do in Hua Hin
Hua Hin Travel Forum
Hua Hin Photos
Hua Hin Map
Traveler Article
All Hua Hin Hotels
Hua Hin Hotel Deals
Last Minute Hotels in Hua Hin
Hua Hin Motels
Hua Hin Campgrounds
Hua Hin Hostels
Hua Hin Family Hotels
Hua Hin Resorts
Romantic Hotels in Hua Hin
Hua Hin Spa Resorts
Hua Hin Business Hotels
Hua Hin Beach Hotels
Hua Hin Luxury Hotels
Hua Hin Green Hotels
5-stars Hotels in Hua Hin
4-stars Hotels in Hua Hin
3-stars Hotels in Hua Hin
Serenata Hotels & Resorts in Hua Hin
InterContinental (IHG) Hotels in Hua Hin
OYO Hotels in Hua Hin
Hyatt Hotels in Hua Hin
Accor Hotels in Hua Hin
RedDoorz Hotels in Hua Hin
Hyatt Regency Hotels in Hua Hin
Hua Hin Hotels with Free Parking
Hua Hin Hotels with Pools
Pet Friendly Hotels in Hua Hin
Hua Hin Affordable Hotels
Boutique Hotels in Hua Hin
Hotels with Shuttle in Hua Hin
Hua Hin Downtown Hotels
Hua Hin Hotels with Hot Tubs
Hotels with Private Beach in Hua Hin
Hua Hin Hotels with a View
Hua Hin Hotels with Swim-up Bar
Hua Hin Hotels with Air Conditioning
Hua Hin Hotels with Gym
Hotels near Cicada Market
Hotels near Hua Hin Beach
Hotels near Hua Hin Railway Station
Hotels near Vana Nava Water Jungle
Hotels near Hutsadin Elephant Foundation
Hotels near Huay Mongkol Temple
Hotels near Black Mountain Water Park
Hotels near Chopsticks Hill (Khao Takiab)
Hotels near Wat Khao Takiap
Hotels near Rajabhakti Park,
Hotels near Elephant Village
Hotels near Khao Takiab Beach
Hotels near Suan Son Pradipat Beach
Things to Do
Restaurants
Vacation Rentals
Travel Stories
Rental Cars
Add a Place
Travel Forum
Travel Guides
Travelers' Choice
Help Center
Hua Hin: Tourist Board Info
Asia
Thailand
Prachuap Khiri Khan Province
Hua Hin
Before You Go
More On Hua Hin
Travel Forums
Photos & Videos
Hua Hin Deals
Hua Hin Beaches
Weather & When to Go
Arriving & Departing
Getting Around
Events & Festivals
Family Travel
Leisure Walk Around Town
Monsoon Valley Vineyard
Sports & Activities
thai boxing
Topics include Dining Scene, Thailand: For Foreign Visitors & more!
Article History (1)
Comments (1)
For visitor information, stop into the Tourist Information Center in the center of town. The office is open every day, with plenty of free maps and calendars of local events.
The Hua Hin tourist police are another good resource. Located on Damnoenkasem Road, these officials are there to help you with anything you need.
Report inappropriate content

Important Links & Useful Numbers – Tourist Information Hua Hin, Thailand
Hua Hin tourist information
We are sure that your stay in Hua hin will be enjoyable and trouble-free, but listed below are some useful contact details for you should things either turn sour, or you need to find some government or municipal office.
Thailand Customs : www.customs.go.th
Thailand Ministry of Foreign Affairs : www.mfa.go.th
Thailand Department of Land Transport : www.dlt.go.th
Thailand Immigration : www.immigration.go.th
Local government and municipality
Hua Hin Tessaban : 032 – 511047
Hua Hin Immigration : 032 – 513574
Prachuab Khirikhan Labour Department : 032 – 601088
Tourist Police Should anything untoward happen to you during your stay – theft, disagreements etc – your best port of call in the first instance will be with The Hua Hin Tourist Police. Whilst they do not have the same authority as the regular police in town, they are always on hand to assist you initially. All the officers speak reasonable English and can guide you through what next to do if you have problems. Should a report be necessary at the local police station, they will accompany you there to help with translation and other matters. Their office is located at the end of Damnoen Kasem Road, right at the main entrance to the beach. Tel 1155.
Hua Hin Police The police station is situated on Damnoen Kasem Road, opposite the CAT offices and Post Office. Tel 032 511027. Emergency numbers are 191 (police), 195 (crime), 199 (fire).
Hua Hin Immigration This office recently relocated to the beach road, near 19 Rai Queen Sirikit Park. Until this relocation, the local office was a subsiduary of Singkhon Immigration in Prachuabkirikhan, but the latter has now closed and the staff have moved to Hua Hin. They can issue visa extensions, process 90 day reporting, issue re-entry permits and take initial long-term visa extension applications. More information on Hua Hin immigration can be found here: Hua Hin immigration
Post Office The main Post Office is on Damnoen Kasem Road, opposite the main police station. Mail back to Europe, Scandanavia and North America normally takes about a week and the postal service is generally reliable. You can set up post restante facilities here. You can also use postal services through some local shopping malls as the main post office often gets very busy.
Overseas telephone The main Communication Authority of Thailand (CAT) office is on Damnoen Kasem Road just past the Post Office. The building is air-conditioned and they can provide the telephone numbers necessary for you to call home cheaply from individual booths.
Tourist Offices The Tourism Authority of Thailand (TAT) was established in 1960 to promote tourism to the country. The first office was in Chiang Mai and there are now 22 local offices throughout the country. TAT also maintains a presence overseas, now having 15 offices worldwide.
Head Office Tourism Authority of Thailand 1600, New Petchaburi Road Makkasan, Ratchathewi Bangkok 10400, THAILAND. Tel: +66 (0)2 2505500 (120 automatic lines). Fax: +66 (0)2 2505511 www.tourismthailand.org Email address: [email protected]
Hua Hin Tourist Information Two tourist centres can be found next to Starbucks on Petchkasem Road and at The Municipal Offices on the south-west corner of Petchkasem and Damnoen Kasem roads. Most of the major hotels will also provide tourist information and details on trips and excursions around Hua Hin.
Hua Hin Immigration Hua Hin has an Immigration Office called Singkhon Immigration Hua Hin Office. It is located at 17/26 Soi 23 Phetchkasem Road Hua Hin Prachuap Khiri Khan 77110, tel. 032 522 656. Open Monday – Friday 08.30 am. – 03.30 pm. and close on public holidays.
It has been moved from soi 102 since March 2009 and before that it was next to the Hua Hin Police Station. As with any other Immigration Office, they are able to offer advice on visas, process extensions and handle "90 day reporting". They offer the following services: 1) Visa extensions (30day VOA, TR tourist, Transit, Non Immigrant O/B) 2) Re-entry permits 3) 90 day notification 4) Proof of residence documents
The current cost of a visa extension of 90 days or less is 1,900 Baht.
If a foreigner staying in the kingdom over 90 days without notifying the Immigration Bureau or notifying the Immigration Bureau later than the set period, a fine of 2,000 Baht will be collected. If a foreigner who did not make the notification of staying over 90 days is arrested, he will be fined 4,000 Baht. For the new visa or visa run, you need to leave the country. The nearest border crossing to Hua Hin is Ranong around 5-6 hours south. Emergency & Useful Numbers If you ever run into trouble during your travels, contact one of the useful numbers listed in the following pages. Keep a print out of the emergency calls with you at all times, just in case.
Emergency Calls Police Emergency 191 Fire Emergency 199 Police Station at Muang District 032 611 148 Highway Police Station 032 611 276 , 032 602 351 Tourist Information Center 032 611 491 , 032 512 120 District Government Department 032 611 153 Tourist Information Center at Muang District 032 602 016
Hospitals Hua Hin Hospital 032 511 743 – www.huahinhospital.go.th San Paulo Hospital 032 532 576-80 – www.sanpaulo.co.th/en/ Kui Buri Hospital 032 688 557 to 8 – www.kuiburihospital.go.th Hua Hin International Polyclinic 032 516 424
Hua Hin Useful Telephone Numbers Hua Hin Airport 032 522 305 Hin Hin Railway Station 032 511 073 Hua Hin Bus Terminal (VIP Air Conditioned Buses) 032 511 654 / 032 511 651 / 032 512 543 Hua Hin Bus Terminal (Non-Air Conditioned Buses) 032 511 230 Tourist Police 032 515 995 / 1155 Police Station 032 511 027 / 032 533 440 Tourist Information Center 032 511 047 / 032 532 433 Hua Hin Post Office 032 511 063
Cha-Am Useful Telephone Numbers Cha-Am Hospital 032 471 808 / 032 471 007 Cha-Am Police Station 032 471 321 TAT Central Region Office: Region 2 032 471 005-6 / Fax. 032 471 502
Pranburi Useful Telephone Numbers Pranburi Hospital 032 621 757 / 032 621 767 Pranburi Police Station 032 622 027 / 032 542 449
Prachuap Kiri Khan Useful Telephone Numbers Hospital 032 611 053 / 032 601 060-4 Railway Station 032 611 175 Bus Terminal (VIP Air Conditioned Buses) 032 611 228
Hua Hin Forum : www.huahinforum.com
Banks and Currency Exchange Hua Hin is no longer a sleepy fishing town. All major Thai banks are represented here including the exchange booths and ATMs located throughout. Therefore, to access your money is not a problem.
It is advisable to inform your bank in the home country that you will be using your card in Thailand. There are cases that the card is blocked while using here. The phone call to the bank will resolve the problem but it is better to take a precaution.
Traveler cheques, a popular means to keep your money, can be exchanged at the bank booths or exchange booth everyday. Most of them open until 08.00 pm. Credit and debit cards can be used with withdrawal fees by your bank.
The matter of keep your money safe is critical. Credit and debit card fraud exist here and you should always be aware of this. Never leave your card out of your sight and keep your wallet in a safe place.
Hua Hin Banks :
Bangkok Bank : Hua Hin Branch, 29 Petchkasem Road, Hua Hin,Prachuabkhirikhan, 77110; Tel. 032 511 717, 032 511 818 Check money transfers Tel. 02 685 7777 or 02 645 5555 Website: www.bangkokbank.com
Bank of Ayudhya : Hua Hin Branch, 77/20-23 Petchkasem Road, Hua Hin, Prachuabkhirikhan, 77110; Tel. 032 511 120, 032 511 665 Website: www.krungsri.com
Kasikorn Bank : Hua Hin Branch, 34/2 Petchkasem Road, Hua Hin, Prachuabkhirikhan, 77110; Tel. 032 530 501-9 Website: www.kasikornbank.com
Krung Thai Bank : Hua Hin Branch, 83/2 Petchkasem Road, Hua Hin, Prachuabkhirikhan, 77110; Tel. 032 511 812, 032 511 307 Website: www.ktb.co.th
Siam Commercial Bank : Hua Hin Branch, 7/33 Petchkasem Road, Hua Hin, Prachuabkhirikhan, 77110; Tel. 032 532 421-4 Website: www.scbeasy.com
Bank Thai : Hua Hin Branch, 62 Petchkasem Road, Hua Hin, Prachuabkhirikhan, 77110; Tel. 032 531 460-2 Website: www.bot.or.th
Thai Military Bank : Hua Hin Branch, 226/2 Petchkasem Road, Hua Hin, Prachuabkhirikhan, 77110; Website: www.tmbbank.com
Contact Hua Hin Property
Consult real estate agents in hua hin .
Account Options
TOP THINGS TO DO
The best things to do in Hua Hin are tailor made for family fun by the seaside. It is true that most Thais envisage Hua Hin as a romantic and elegant gateway holiday destination, a notion started off about 100 years ago when the Royal Family members and the well-to-do would spend their summers here. As a result, Hua Hin now has countless lovely seaside houses, villas and a few attractive vintage summer palaces. These are all popular Hua Hin attractions, but the newer, purpose-built shopping and sightseeing villages mean there is something for all generations.  Hua Hin is usually full of people taking a break from Bangkok at weekends and as it's just a short drive away its popularity has remained. Much of Hua Hin's attraction lies in the town's charming old-world feel
Cicada Market
Hua Hin Beach
Hua Hin Railway Station
Plern Wan Shopping village
Vana Nava Water Park - Hua Hin
Maruekhathaiyawan Palace
Khao Takiab
Hua Hin Night Market
Transportation, getting there.
Buses between Bangkok and Hua Hin are served by Bangkok's Sai Tai Mai terminal, and depart every 20 minutes for the 3 ½ hour journey. Fares for first class bus seats cost around 200 baht. There is also bus service that is scheduled to connect Hua Hin with Bangkok's Suvarnabhumi Airport Buses to and from cities in southern Thailand are generally overnight services, departing Hua Hin around 10 pm and arriving early in the morning; such busses cost between 750-1000 baht depending on destination.
The approximately 200 km drive between Bangkok and Hua Hin can be traveled in 2 to 3 hours. The most direct driving route from Bangkok to Hua Hin is to follow Highway 35 south to Highway No. 4.
There are currently no flights to Hua Hin.
Travel between Bangkok and Hua Hin by taxi costs approximately 2000 baht (prices should be negotiated beforehand), and takes about 2 ½ hours.
Most trains headed south from Bangkok stop at the Hua Hin Railway Station, so there are numerous trains leaving throughout the day that provide service to Hua Hin. Generally speaking, the train ride takes between 4 and 6 hours; considerably longer than the 2 to 3 hour car ride. However, train fare is cheaper than taxi fare, seats costing between 40 and 100 baht depending on the class and speed of the train. The Hua Hin Station Office is located on Damnoenkasem Rd. For more information, call Tel: 032 511 073 or visit www.railway.co.th
Getting Around Hua Hin
Within the town center visitors can get around Hua Hin by foot or on rental bicycles and motorbikes, which allow visitors to explore the area more quickly. By Songtaew
By Songtaew
For getting from Hua Hin town to nearby beaches, songtaews (covered pick-up trucks with benches in the back) act as local busses for trips between Hua Hin and Khao Takiab, Khao Tam, and Suan Son. Songtaew service runs approximately from 06.00 a.m. – 06.00 p.m.
To get more quickly between destinations in and around town, tuk tuks are quite prevalent and can be hired for a single journey or a full day, the fares for both of which should be agreed upon before setting out.
By Rental Car
For more do-it-yourself tours of the area there are several rental car companies, both local and international, that provide rental car services. Be aware that only Commercial First Class Insurance provides full coverage on rental cars (as opposed to limited personal or third party only insurance). Most international car rental agencies will offer this insurance (some only for those with a valid international driver's license) while local companies may or may not. You may wish to request a copy of their insurance policy and ensure that it states "For Commercial Use". Regardless, inspect rental vehicles prior to rental and drive with caution, particularly as traffic in Thailand can be quite confusing, especially the habit of Thai motorcycles drivers to drive on the wrong side of the road.
By Rental Motorbike
For around 150 to 300 baht per day you can hire your own motorbike, which will typically require you to leave your passport as a deposit. Be sure to inspect bikes prior to rental and drive with extreme caution as rental motorbikes are not normally insured and accidents are frequent. Helmets are required by Thai law.
By Local Bus
Local buses from Hua Hin to Pranburi and other destinations within the province are also available for very reasonable prices.
For boat service to nearby Koh Singtoh, local boat charters are available for around 800 baht a day, either at the Hua Hin Pier or at Hat Takiab, where it is possible to get a slightly cheaper rate.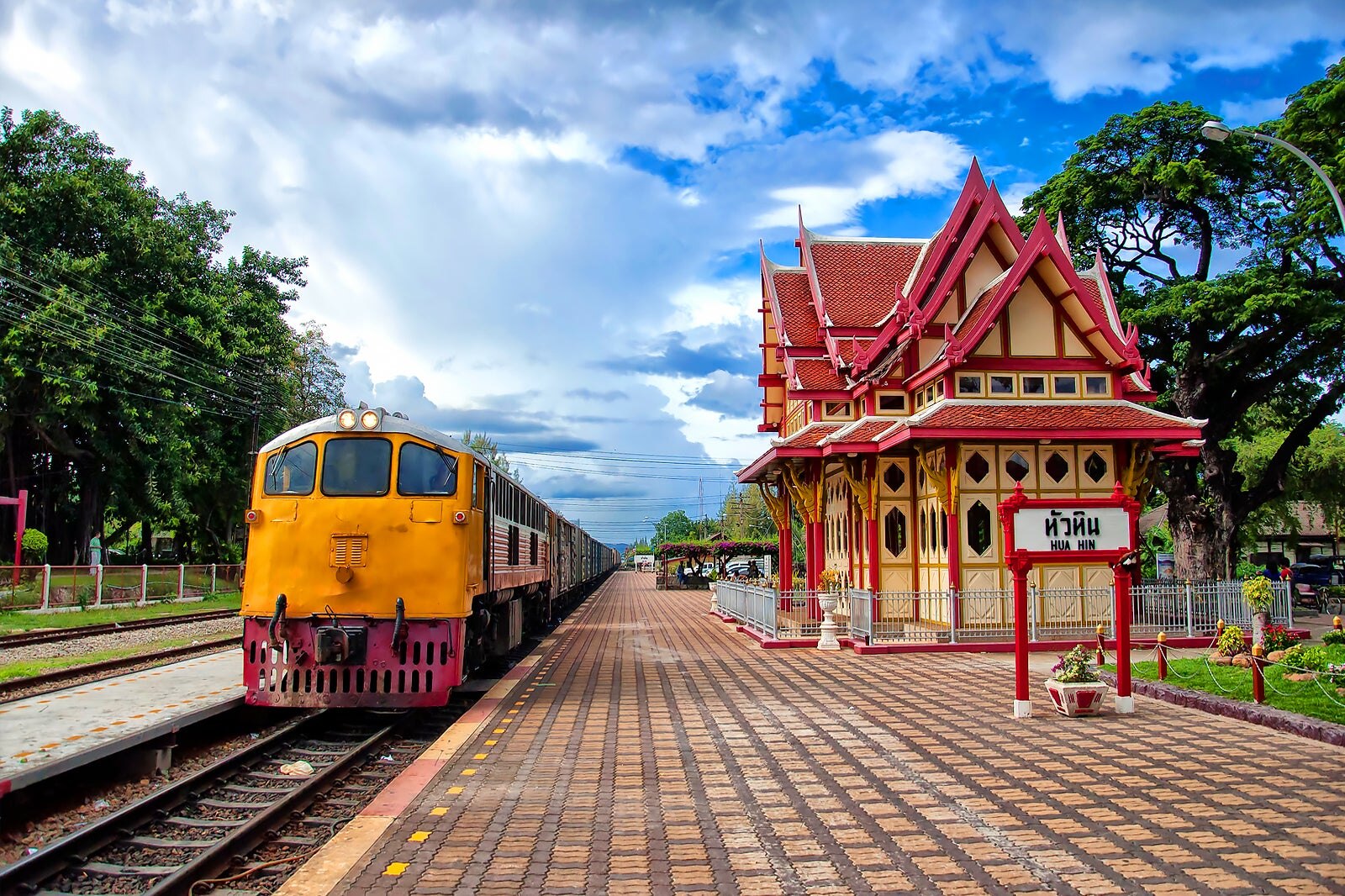 Information about Hua Hin
Hua hin travel guide.
Information about Hua Hin can be found at the tourism office website, the office for Thailand's tourism authority or public tourist information centres found throughout the district. Hua Hin has a tropical savannah climate with hot and humid temperatures all year long. The dry season is from December to April and is the best time to explore. The district is served by rail, sea and road. The main railroad station is Hua Hin Railroad Station in the northern region. Daily ferry service runs between Hua Hin and Pattaya.
Taxi cab and bus services are everywhere. The currency is the Thai baht. To save money, avoid taking the more expensive taxi cabs and tuktuks, eat street food instead of sit-down meals, and be prepared to haggle for your purchases.
Useful information about Hua Hin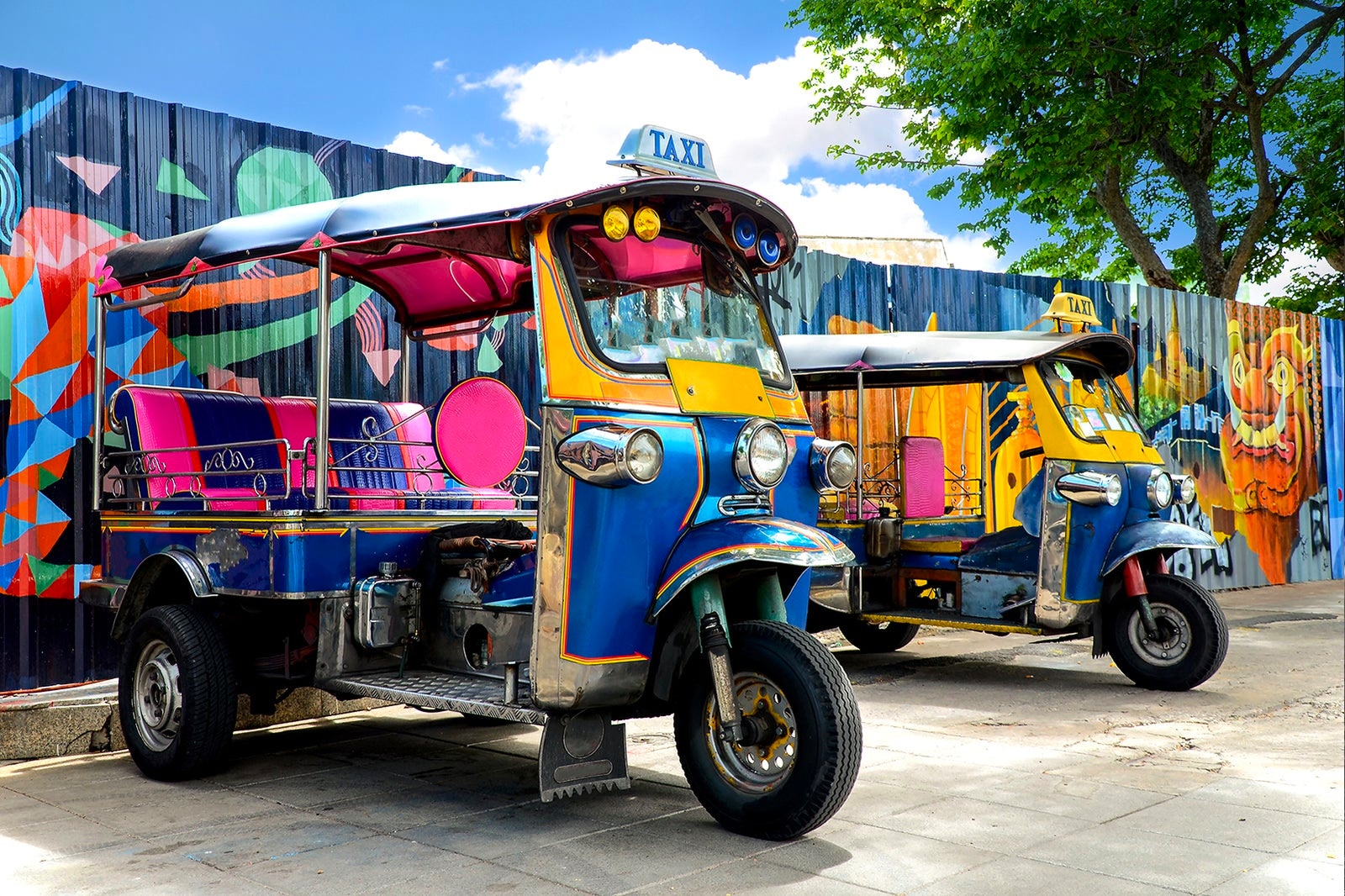 Getting Around Hua Hin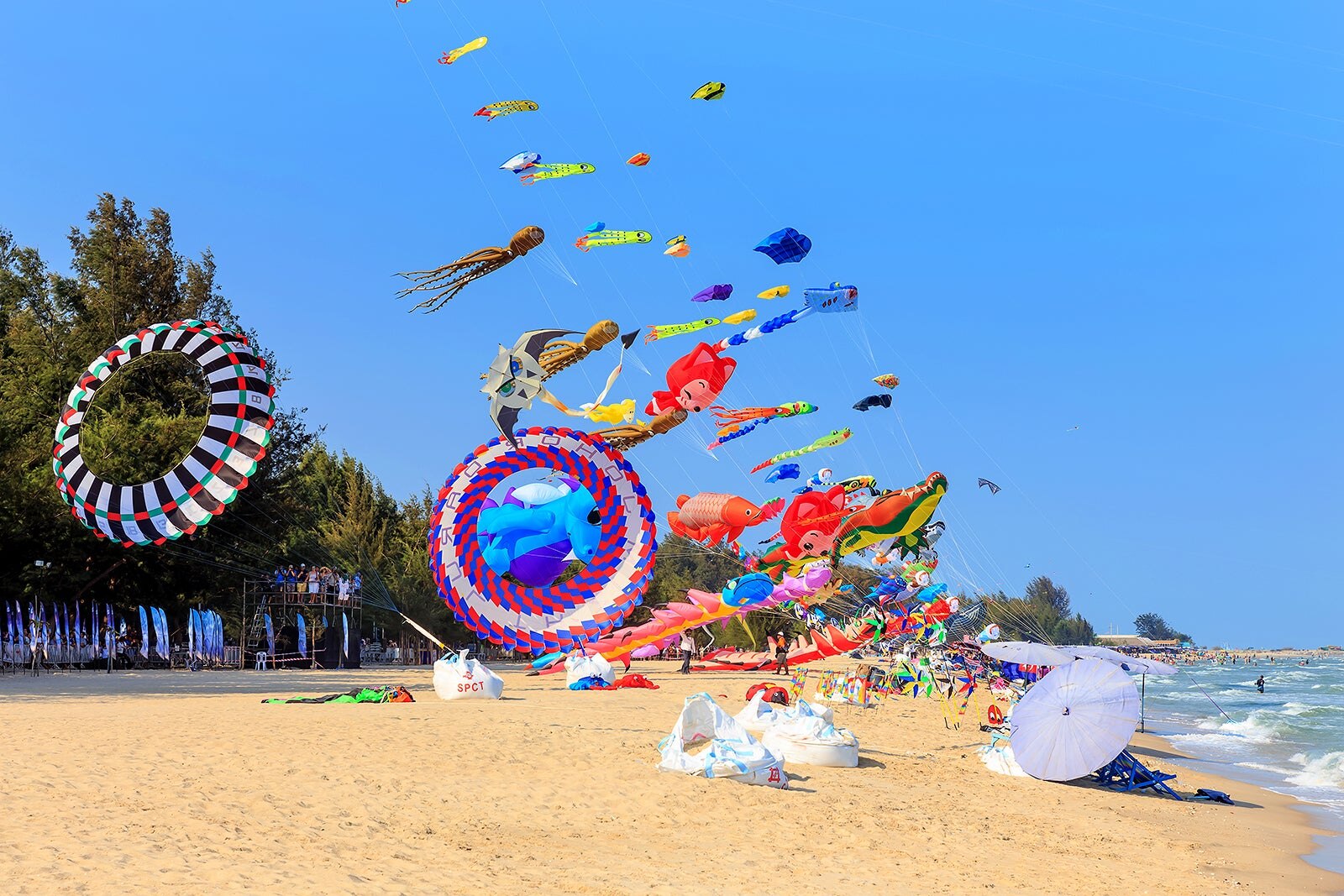 6 Best Festivals in Hua Hin
Browse hua hin by category.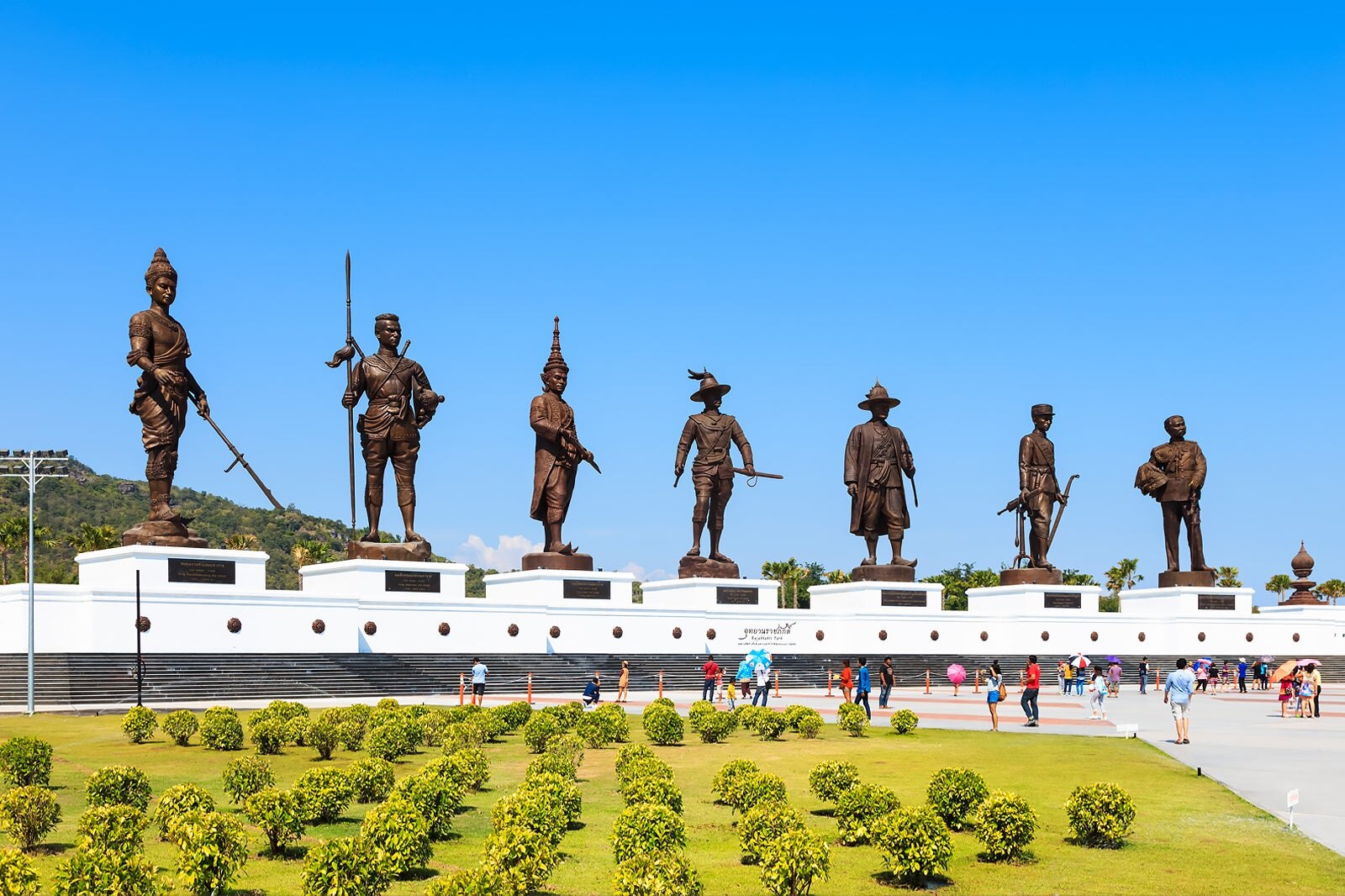 Start planning your trip
Also popular in thailand.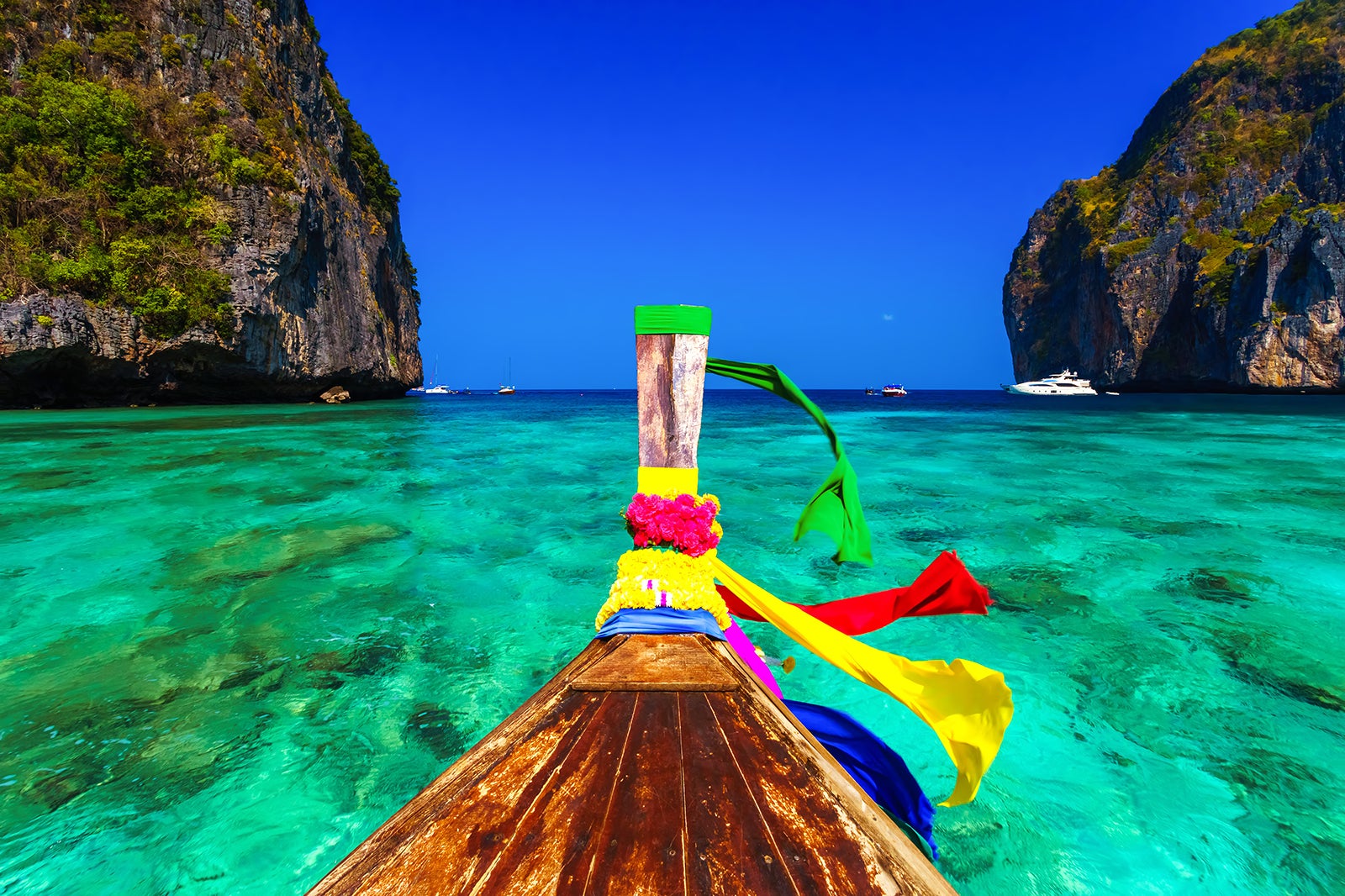 Keep exploring
Kanchanaburi
Ko Pha-ngan
Pattaya (and vicinity)
Phuket Province
Phang Nga Province
Surat Thani Province
Hong Kong SAR
Philippines
South Korea
Australia - New Zealand and the South Pacific
Mexico and central america, middle east, north america, south america, top destinations.
Hotels in Las Vegas
Hotels in New York
Hotels in Chicago
Hotels in Orlando
Hotels in New Orleans
Hotels in San Diego
Hotels in Nashville
Hotels in San Francisco
Hotels in Los Angeles
Hotels in Miami
Hotels in Paris
Hotels in Denver
Hotels in Washington
Hotels in Austin
Hotels in Atlanta
Hotels in San Antonio
Hotels in Boston
Hotels in Atlantic City
Hotels in Key West
Hotels in London
Hotels in Virginia Beach
Hotels in Seattle
Hotels in Anaheim
Hotels in Dallas
Top Countries & Regions
Hotels in Aruba
Hotels in Turks and Caicos
Hotels in Singapore
Hotels in Maldives
Hotels in Bermuda
Hotels in Malta
Hotels in Jersey Shore
Hotels in Maui
Hotels in Puerto Rico Island
Hotels in Kauai
Hotels in Oahu
Hotels in Cape Cod
Support & FAQs
Website feedback.
For Suppliers, Affiliates, and the Media
Affiliate with us
Expedia Partner Solutions
Promote with us
Travel agents
User terms & Privacy
Terms & Conditions
Do not sell my personal information
About our ads
Legal Information
List your property
Hotels near me
Travel Guides
Vacation Rentals
* Some hotels require you to cancel more than 24 hours before check-in. Details on site.
© 2023 Hotels.com is an Expedia Group company. All rights reserved.
Hotels.com and the Hotels.com logo are trademarks or registered trademarks of Hotels.com, LP in the United States and/ or other countries. All other trademarks are the property of their respective owners.
Things to do in Hua Hin
Hua Hin has long been a popular destination in Thailand, thanks to its proximity to the capital and its history of being the Thai royal family's choice for an island destination. Up to this day, it continuously attracts a steady number of tourists who prefer a more laid-back holiday outside Bangkok's bustling streets.
From historical sites to natural beauties, water sports, and relaxing dining venues, discover what this seaside resort can offer as we feature 5 things you can do in Hua Hin, Thailand.
Spend an afternoon in the Hua Hin Hills Vineyard
Cr: Thaizer.com
Although Thailand is a tropical country, there are a few locations in the countryside that are conducive to wine-making, and one of them is the Hua Hin Hills Vineyard.
Situated in the remote area of Hua Hin, the Hua Hin Hills Vineyard, which changed its name to Monsoon Valley Vineyard in 2017, is a 560-acre piece of land that offers incredible wine-tasting and dining experiences.
It was founded in 2001 by Chalerm Yoovidhya, an entrepreneur with the vision to create the Thai wine culture. Today, the grapes in Monsoon Valley are grown in three different locations: Monsoon Valley Vineyard, Tab Kwang Vineyard, and Chiang Mai Vineyard. They welcome visitors who want a tour of the vineyard and experience wine and food first-hand.
Aside from the open-top jeep tour, you can also opt to ride mountain bikes to explore the vineyard. After the tour, visitors can enjoy the wine-tasting and meals that are created for the ultimate vineyard experience.
If you're not interested in touring the vineyard, the meals served in their in-house Sala Bar & Bistro are worth visiting as well. What is better than enjoying a nice afternoon with a glass of wine in one hand and a delicious serving of food in another, right? The bistro also has a stunning view of the vineyard which adds to the relaxing atmosphere while you're here.
Opening Hours: 10:00 AM – 11:00 PM Daily
Location: Villa Market, Hua Hin 2nd Floors, 218, Phet Kasem Rd, Hua Hin, Prachuap Khiri Khan 77110, Thailand
Enjoy the water adventures in Vana Nava Water Jungle
Cr: Vana Nava Hua Hin
For travelers with kids, a water park is the ultimate travel destination! And in Hua Hin, you have the Vana Nava Water Jungle where you can spend the whole day enjoying the different waterslides, pools, and obstacle courses in the park. There are also lots of restaurant and shopping options to choose from so expect it to be a fun day not just for the kids but the whole family as well!
The Vana Nava Hua Hin is Hua Hin's number 1 water park and Asia's first water jungle. It has 19 rides in total, with some being extremely thrilling even for the adrenaline junkies. Even with world-class facilities, their number one priority is safety. When visiting the water park, you will see marshalls supervising the rides to ensure everyone is not just having fun but is safe too.
Some crowd favorites are 'The Abyss' and the Aqualoop. You'd have to try them out to find out why they are the top favorites of water park goers. Half a day is enough to try out all the rides but if you want to go back and repeat some, a whole day is great too. Plus, it's a nice destination to cool off from the heat. Just remember that it can get really crowded during the weekend so if you want to have the waterpark all to yourself, choose to go on a weekday instead.
Location: Huahin Hua Hin, Prachuap Khiri Khan, Thailand 77110
Have some tea at the McFarland House
If you're not the adventurous type and would rather enjoy some downtime by the beach, an afternoon tea in McFarland House might just be your best choice.
Cr: McFarland House
McFarland House at the Hyatt Regency Hua Hin is a beachfront bar that serves mouthwatering modern European cuisine as well as signature cocktails infused with Thai flavors. It's a great venue for a meal any time of the day with its surrounding lush trees and greenery that make for an excellent stop whether you're up for a delicious breakfast or brunch on a weekend.
They also have healthy wellness options for those who monitor closely the food they eat. With 180-degree views of the Gulf of Thailand, it's easy to see why the McFarland House is recognized as one of the best restaurants in Hua Hin. Aside from an excellent serving of delicious food, having an incredible beach view is one of the best features that keep tourists all year long.
Opening Hours: 6:30 AM – 10:30 PM Daily
Location: 91 Hyatt Regency, Nong Kae, Hua Hin District, Prachuap Khiri Khan 77110, Thailand
Hike to the Pa La-U Waterfall
Cr: Thailandtravelhub.com
The Pa La-U Waterfall is located in Kaeng Krachan National Park but is a few kilometers away from the main park. It remains one of the premier natural attractions in the area and is open all year long to visitors.
Getting to the top can be a bit of a climb, especially for older visitors or those with health issues. But for people who have experienced hiking, it can be as easy as a walk in the park. Don't forget to appreciate the surroundings because there are a lot of different plants and animals to see.
There are several rest stops along the way so keep a lookout for small pools with marine wildlife and take a few minute breaks to recharge and continue with the climb.
Once you get to the top, you'll be greeted with an incredible view of your surroundings, including neighboring Burma. Take it all in, you made it!
Location: Huai Sat Yai, Hua Hin District, Prachuap Khiri Khan 77110, Thailand
Tourism Authority of Thailand Singapore Office
c/o Royal Thai Embassy 372 Orchard Road Singapore 238870
+65 6235 7901
[email protected]