11 Things To Know When Travelling to Dubai, UAE
Share this article with your friends!
For most travellers, Dubai, United Arab Emirates, can provide the exotic escape we seek from life. Be it the city's mystical beaches, the mesmerising nightlife or the materialistic indulgences, there's undoubtedly something for everyone in this oasis of the desert. However, just like all oases, one must beware of the mirages. Like sirens, they lure you down the path to temptation, desire, risk, and tragedy. There are a lot of things to know when travelling to Dubai. Read below to learn more about when is the best time to travel to Dubai, what to wear, things you can do, and more importantly, things you can't do in Dubai.
Table of Contents
Is dubai expensive keep reading….
Public Transportation in Dubai. NOL means YES.
What to Wear in Dubai – Dressing Respectfully in a Muslim Country.
Alcohol in dubai – don't booze 'n' cruise., public displays of affection – quell your passion for romance..
Experiencing the Real Dubai.
Words matter in Dubai – Be mindful of your statements.
What, when, and how to eat during ramadan in dubai., in dubai, make sure you're well-hydrated., sun safety in dubai. don't forget the sunscreen..
Desert Safari Safety when your name isn't Indiana Jones.
Shop Wisely and Legally. Be careful of counterfeit items.
We hope you found these 11 things to know when travelling to dubai uae helpful when planning your adventure..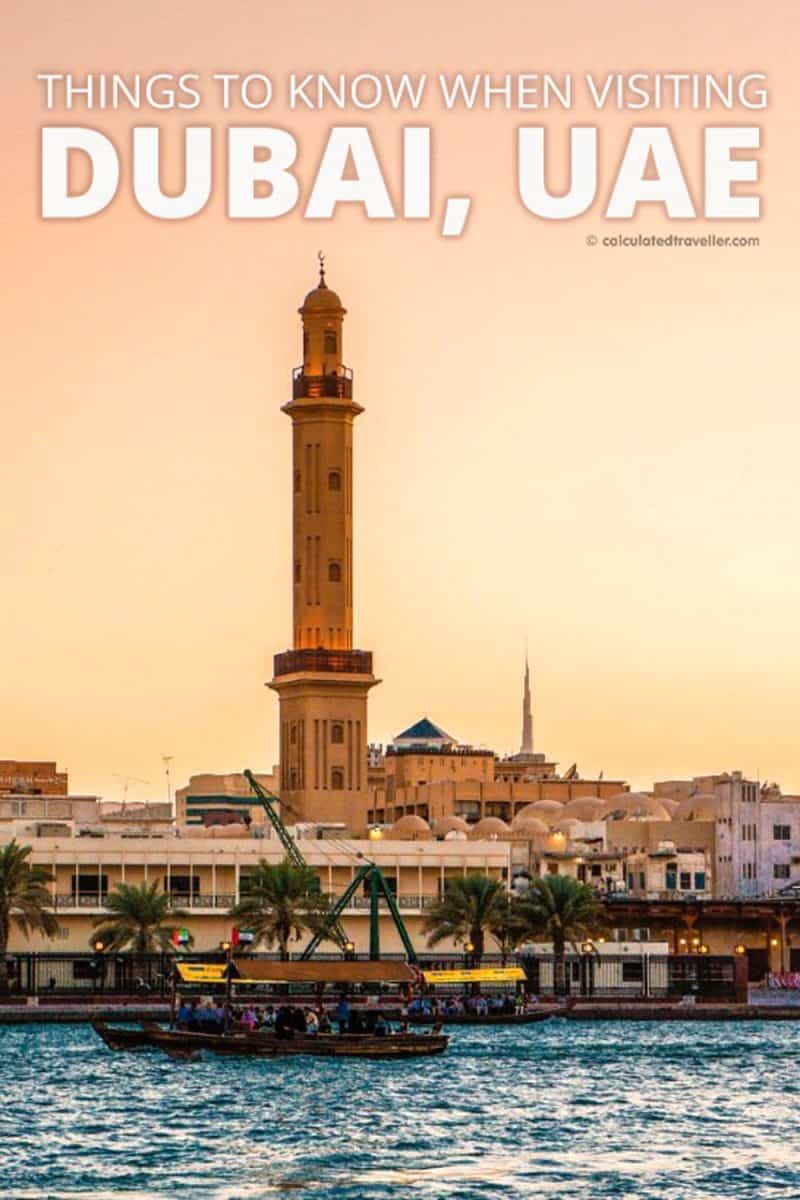 What's the Best Time To Travel to Dubai? Timing is Everything .
The best time to travel to Dubai depends on the types of adventure you wish to take. I, personally, live for winter in Dubai. The best month to visit Dubai is definitely December. It's when the weather isn't too hot or too cold but just right. It's the perfect time of year for you to take to the beach for pure relaxation as the cool breeze runs through your hair eroding away your worries. Most importantly, it's Christmas in Dubai! Streets will be decked out with holiday decor. People will be jolly, and the weather will be forgiving. In my opinion, the winter season is, without a doubt, the best time to travel to Dubai.
Looking for other warm places for December travel ? Here's a great list.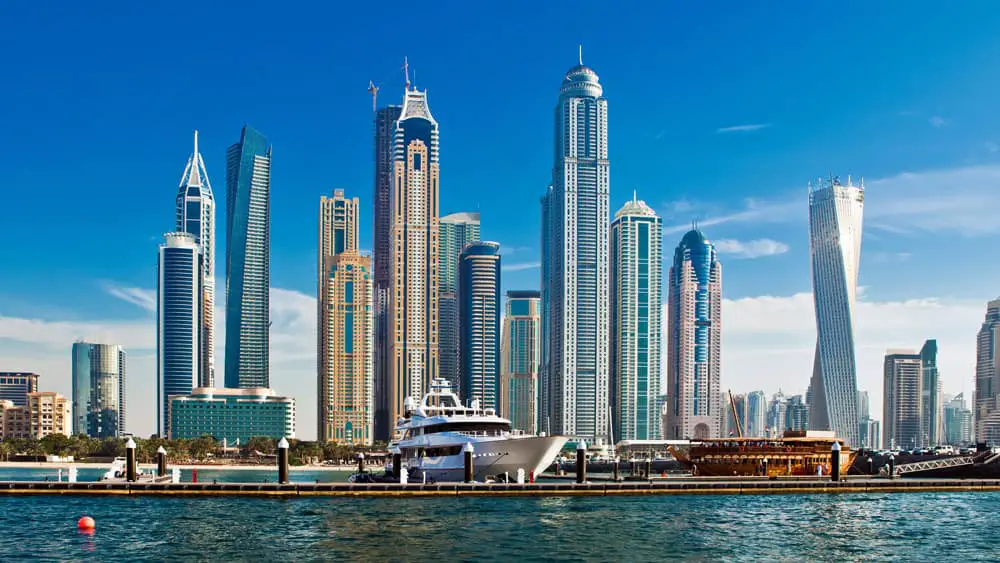 The problem with all this joy is that it comes with a high price tag. Airline prices to Dubai will be higher during the winter months. Hotel rooms will be more expensive, and shopping may leave a more significant dent in your wallet. Generally, items such as jewellery, souvenirs and clothing tend to be more costly during the winter season as that is the time when the tourism industry is at its highest. For you, that might mean it's not the best time to travel to Dubai.
Since the summer months of May are scorching hot, people tend to stay within their homes for as long as possible. This leads to prices being lowered to entice shoppers into the malls. So, if you're looking for a more affordable visit, the best time to travel to Dubai is during the summer when air tickets and hotels are more budget-friendly. Your visit will still be a pleasant experience but, due to the summer heat, a lot of your experience will be indoors in places such as malls, movie theatres, and restaurants. Of course, you can still spend your time in Dubai, exploring the splendid outdoors; you'll have to remember to stay hydrated and pack some sunscreen.
Public Transportation in Dubai. NOL means YES .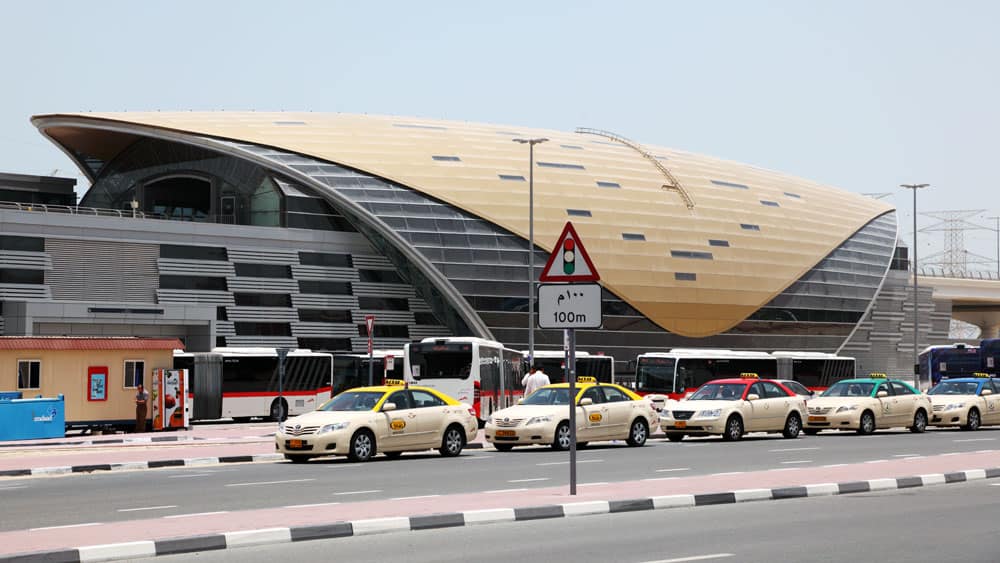 Among things to know when travelling to Dubai, when it comes to the question of how to get around, there are a few options from renting a car, taking a taxi, to utilising Dubai's public transportation.
The most popular mode of transportation that travellers think of are city taxis. And to be fair, taxis offer a pretty comfortable ride. In Dubai, the cars are in pristine condition, the drivers are quiet and friendly, and most importantly, the drivers take safety seriously.
As tempting as a taxi cab may appear to be, it isn't ideal for daily exploration and commutes due to the excessive expense and dent on your travel budget. For this reason, I recommend purchasing an NOL transit card at your nearest petrol station. This rechargeable card will give you access to the city's reliable metro system and extensive bus services. Before you go on a long and relentless tirade about how you detest the thought of utilising public transit in all its forms, allow me to tell you that Dubai ensures that their public transportation system is affordable, safe, and comfortable. Most importantly, the buses and metros are punctual. Those qualities are rare for a public transit system in most cities.
PRO TRAVEL TIP : You must have a NOL card in order to ride public transportation in Dubai. Drivers will not accept cash.
Deciding what to wear in Dubai can be a little challenging to explain especially if visiting Dubai as a woman. Now, Dubai loves to present itself as a diverse and westernised tourist hotspot in the Arab world, a region of the earth that isn't reputed for its enthusiasm towards those very ideals. Although those adjectives can be attributed to Dubai in many respects, it is still a traditional Islamic nation at heart. A lot of tourists in Dubai find themselves summoned to the nearest police station as they have failed to keep this in mind.
When it comes to clothing, deciding what to wear in Dubai might be a little easier because the city is far more lenient than its regional neighbours in the Middle East. Women don't necessarily have to wear the abaya (a long robe or cloak) at all times, and people are allowed to show a little more skin than they could if they were in say, Saudi Arabia. If you're out in public, one good rule of thumb is to cover everything from shoulders to knees. Avoid accentuating cleavage or hips. Bikinis and swimsuits are permitted, if you're in a beach or swimming pool that is. If you're planning on exercising those travel-weary biceps, wear a track shirt and long pants.
PRO TRAVEL TIP : Should you find yourself face-to-face with an individual who sees your attire unsuitable (this rarely happens) , speak calmly and say you're going back to your residence to change. Don't escalate the situation further. Remember, even if what you're wearing may not be illegal, a lot of people may not embody the same mentality as you.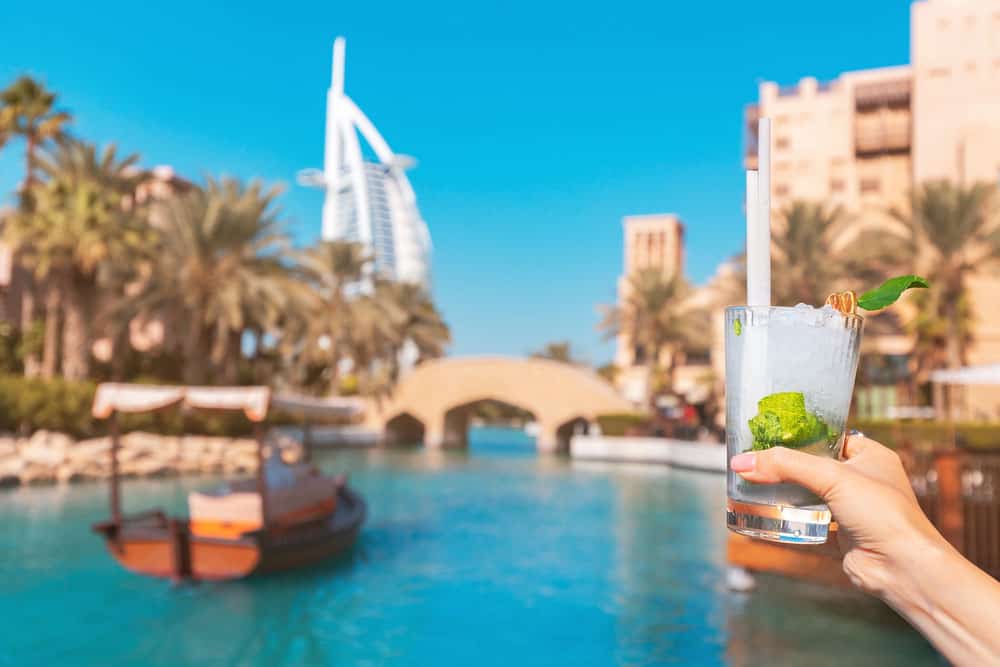 When it comes to the topic of alcohol in Dubai, there are a few things you should know. The excellent news for visitors is that Dubai (unlike most Islamic countries) does permit the consumption of alcohol. In Dubai, the legal drinking age is 21. Only state-controlled stores such as MMI and African + Eastern are allowed to sell alcohol. If you intend on buying a bottle of liquor, then you'll have to bring your passport and fill out a form. All this being said, it is illegal to drink in Dubai if you are a Muslim or don't have a license. But to be honest, if you're grabbing a drink at a bar, you needn't worry about the bartender policing these rules.
PRO TRAVEL TIP : When travelling to Dubai, no matter how brave you may be feeling or how thirsty you are, it is imperative that you do not take your alcohol out in public! This rule includes drinking inside a parked car. Don't drink and drive people!
Being intoxicated while in public will mean a world of trouble for you if caught. Especially if you're seen vomiting or causing fights. You could be fined up to Dh5,000 ($U.S. 1361) and jailed for six months if you're found drunk in public. So drink in moderation, keep a good hold on your senses, and you should be fine.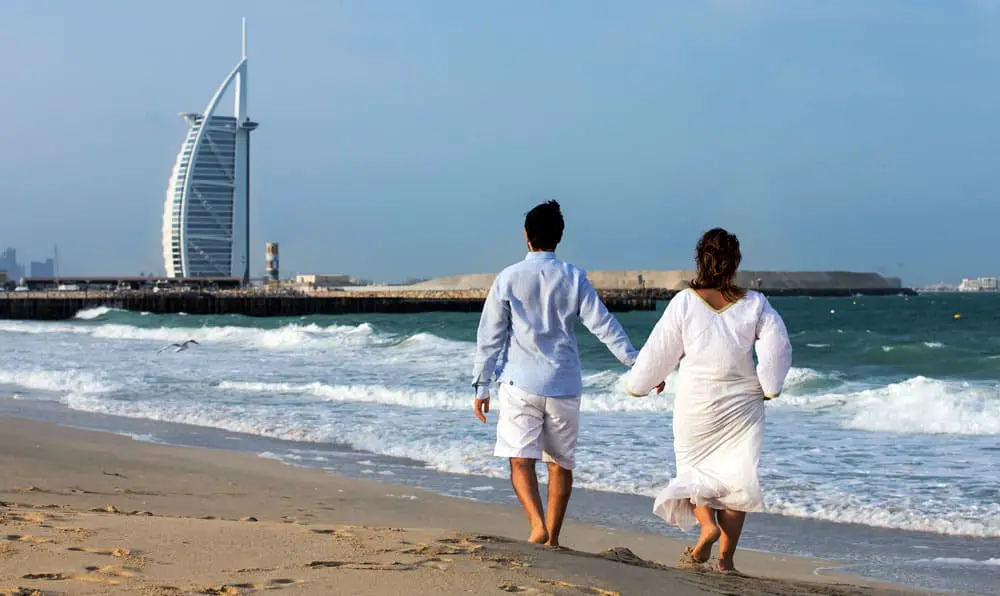 In addition to figuring out what to wear in Dubai, it's best to be careful when it comes to public displays of affection in Dubai. Professing your love in an exotic locale for your one and only in the most dramatic of ways can feel euphoric. But you might want to suppress your inner Dicaprio when travelling to Dubai. The Dubai government has some pretty strict laws concerning public acts of intimacy.
Be mindful of how you conduct yourself with your romantic partner. While couples may occasionally hug in public, kissing is definitely outlawed. Stroking or petting your significant other is also prohibited. Married couples may hold hands but to be honest, no one's going to come after you if you hold the hand of your girlfriend in The Dubai Mall.
As much as I support the cause of LGBTQ rights everywhere, one of the things to know when travelling to Dubai is that the nation of UAE does neither recognise nor respect the rights of LGBTQ individuals. Individuals can face deportation or imprisonment for ten years if the government perceives them to have committed inappropriate acts. In 2017, a Scottish man was faced with a three-year jail sentence after putting his hand on a man in a bar to not "bump and spill drinks".
Experiencing the Real Dubai .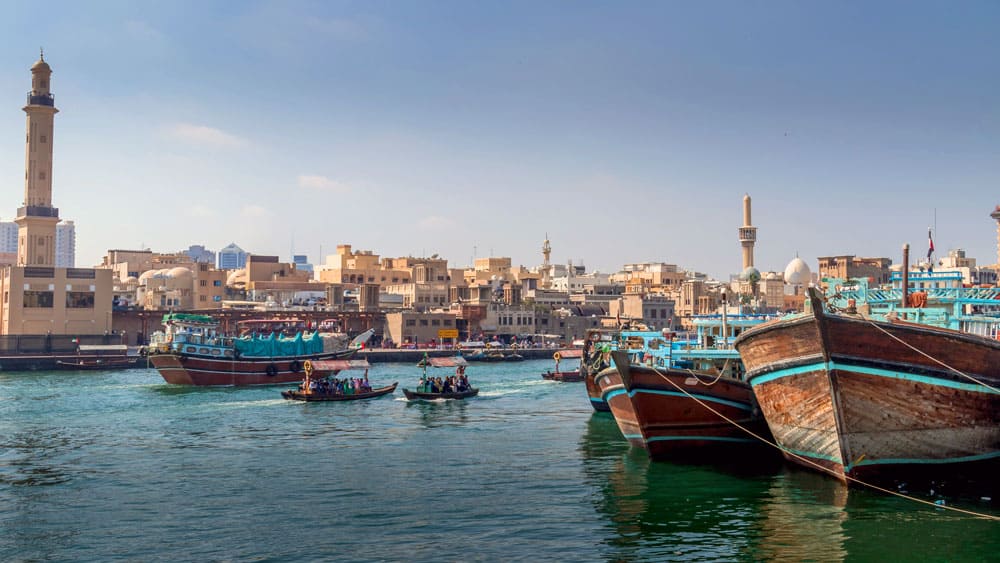 It's easy to think of Dubai as a glistening, skyscraper-studded, newly-inaugurated city with little native culture. As such, tourists often ignore the more traditional experiences Dubai can offer in favour of more opulent ones. But make no mistake, Dubai is most certainly a land of rich and vibrant history. One that is still prevalent in the manner modern Dubai conducts itself.
To experience the real Dubai, I recommend you take a boat ride through Dubai Creek . Before the discovery of oil, pearl diving and fishing were the main occupations of the Emirati people. And so, to immerse yourself in the Emirati spirit, hop onboard one of the traditional wooden Dhow boats instead of the modern water taxi for a lovely tour.
Once the Emirati heritage starts flowing through your veins, take the time to visit the various souks of Dubai. "Souk" is an Arabic word for marketplace. If you ever find yourself longing for the Aladdin experience , I highly recommend taking the time to explore the numerous souks of Dubai. Soak up the atmosphere and be transported to ancient Arabia whilst browsing through the bazaar in search of fragrant spices, sparkling gold, or luxurious cloth.
Among the most important things to know when travelling to Dubai? Be careful about what you say. Despite being reputed for many things, the promise of free speech is not one of them. Just as you have to be careful about what to wear, while you do have access to popular social media sites such as YouTube, Twitter and Google, do think twice about what you post on these platforms while you are visiting Dubai. Speaking ill of the Emirati government is a very serious offence. Criticising Islam or the policies of the government is also severely punishable by imprisonment.
It's not just the government you risk offending. If you find yourself in an online feud with an Emirati resident, it's best to wait till you're out of the country before you unleash the entirety of your internet wrath. Dubai has some pretty strict cyber laws and spares no expense enforcing them. An unfortunate example of this would be the case of British national Laleh Shahravresh, who was arrested for calling her ex-husband's new wife a "horse" in a Facebook comment thereby violating the city's strict cybercrime laws.
Long story short, avoid discussing religion or politics on any public platform while visiting Dubai.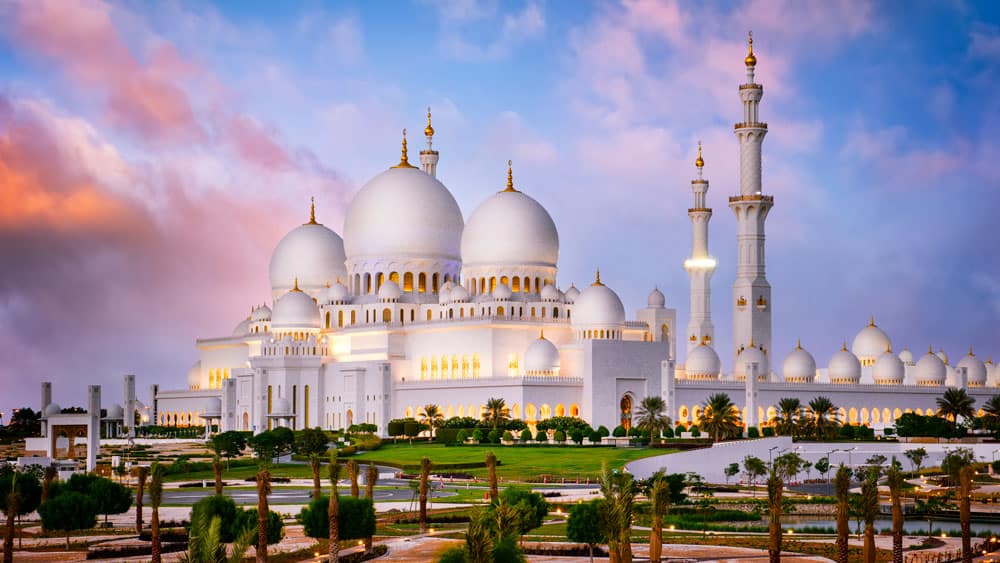 Taking place on the ninth month of the Islamic lunar calendar and the month that the Qu'ran was introduced to the Prophet Mohammed, Ramadan is a time of spiritual and mental enlightenment for many. For some, the holy month is the best time to travel to Dubai as it holds a special place in the hearts of Muslims worldwide. 
Read the article: 6 Travel Tips While Visiting a Mosque
During the holy month, Muslims everywhere fast from sunrise to sunset. If you're in Dubai during this time, you too can associate with the spirit of Ramadan.
As much as I despise being Captain Obvious, do not eat or drink in public from sunrise to sunset during Ramadan. Apart from getting a hefty fine, you'll also risk upsetting nearby locals. Even though there are designated areas where you can eat or drink, I recommend waiting until you get home.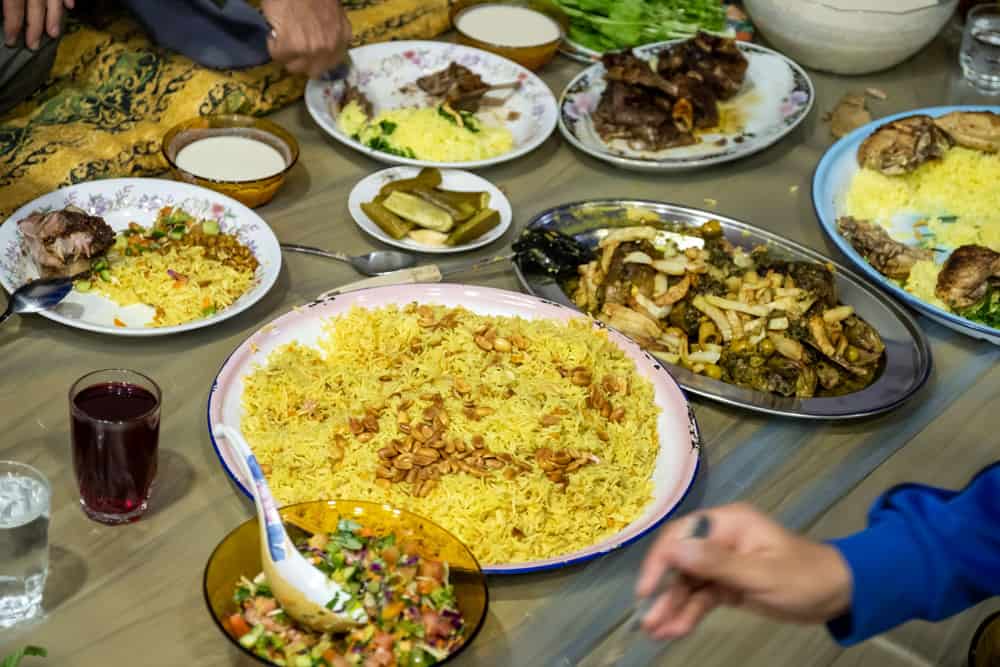 PRO TRAVEL TIP : Chewing gum and eating inside your car is also prohibited during the hours of fasting. If you do get invited to an iftar dinner (breaking of the fast) , by all means, accept the invitation. It's a great honour to be asked, and the food served will be heavenly.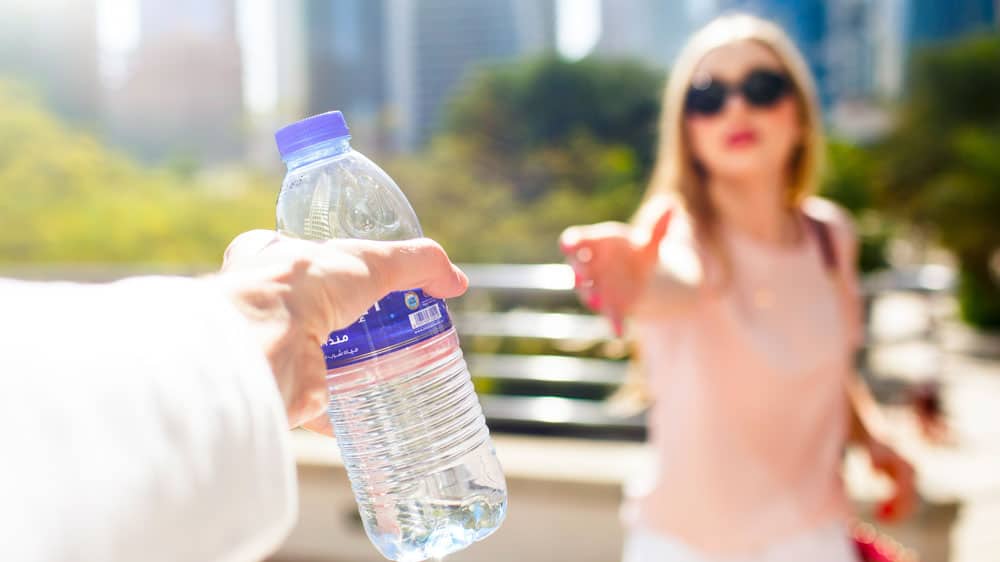 Being in Dubai means drinking lots of water. Tourists often underestimate how much water they'll need, especially in the middle of the desert. I cannot stress this enough – drink, drink and keep drinking water. Lack of adequate water increases your chances of heat stroke and dehydration. For your well-being, make sure to drink at least eight glasses of water every day. Eating plenty of hydrating foods such as watermelon, tomatoes, and radishes will also help in surviving the Arabian heat.
Although I've already told you what to wear in Dubai, one of the most important things to carry is sunscreen. I don't mean to sound like a nagging mum but do put some on. One could say that we are in the midst of a skin-disease epidemic. If you're out in the sweltering heat of Dubai, issues like dark spots and ageing can be disastrous.
PRO TRAVEL TIP : I recommend using sunscreen with an SPF of at least 15. Make that you reapply the sunscreen every two hours.
Desert Safari Safety when your name isn't Indiana Jones .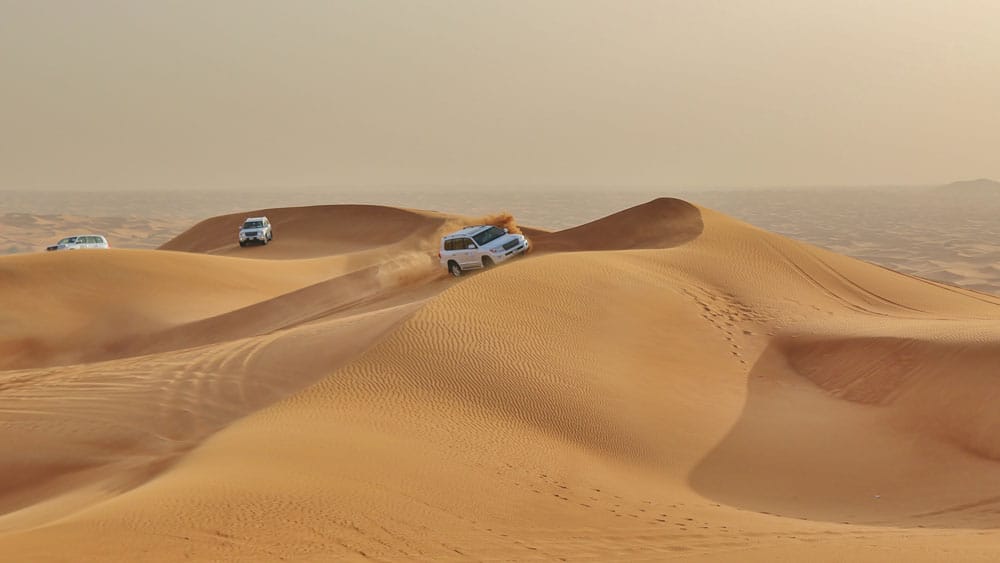 While a desert safari can provide a memorable and enchanting experience, it's essential to take precautions. Although a generally safe activity, there are a few tips you can keep in mind to make sure that you and your travel companions have a good time.
Don't travel in the desert alone : The thought of exploring the desert while driving in your enormous four-wheel rental is enticing and may lead you to venture out into the sand alone. Exploring the desert alone is by far, the most foolish thing you can do. Always make sure that you travel in a group. Being in Dubai, you'll find no shortage of tour groups willing to take you on a desert safari.
Pack a few essential items : Although the tour company you hire will have all the necessary things for your adventure, it's always wise to carry a few essentials of your own. Items such as extra bottles of water, a small first aid kit, some food, and an extra can of petrol might end up saving you.
PRO TRAVEL TIP : It's a good idea to carry a satellite-guided GPS in the desert as there may not be a robust cellular signal where you may be.
Be aware of your health conditions : Dune bashing is the practice of ramming your car against the sand dunes possibly terrifying the occupants inside! Always remember to wear your seat belt (take it from a guy who was almost knocked out for not doing so) . If you're pregnant, then dune bashing is a terrible idea. If you're a parent of little kids, you might want to leave them out of this one as well. End of the day, if you think embarking on this journey could put your life at risk in any way, skip it altogether.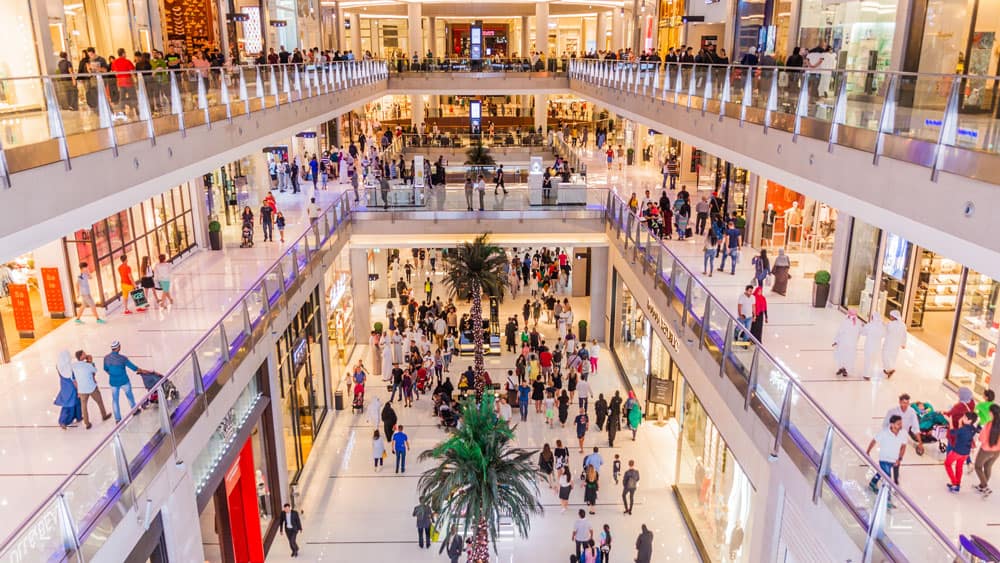 If you need to stock up on a few clothing items after figuring out what to wear in Dubai, remember to be careful where you shop. Counterfeit items continue to hinder the Dubai market and economy till this date. In 2020, Dubai authorities destroyed nearly 48,000 counterfeit products. Some of the most counterfeited brands are Vogue, Apple and Chanel. If you're keen on shopping in Dubai, I recommend buying from vendors situated in malls or at brand-name outlets to ensure you are purchasing legitimate goods. Do not risk buying from street vendors. Play it safe and purchase from a retailer you trust.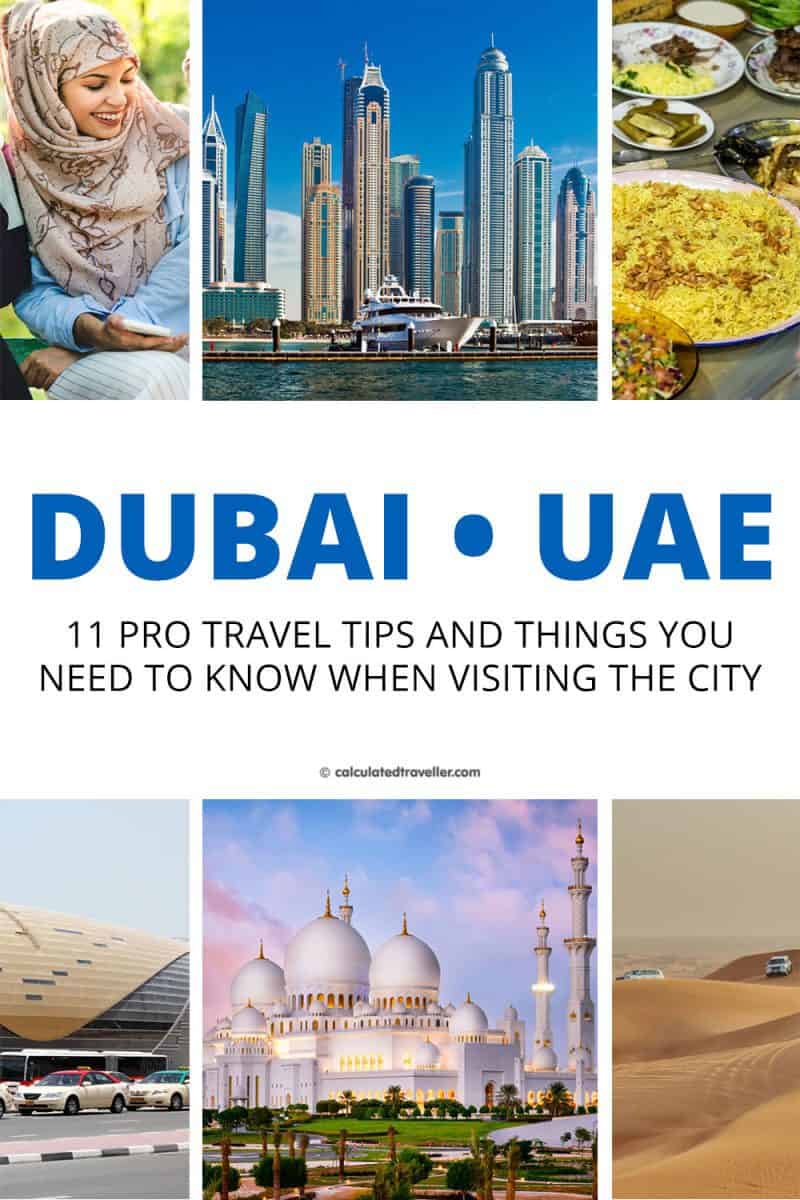 At the end of the day, Dubai is a fabulous place to visit and is one I recommend to everyone I meet. Dubai is a place like no other. You don't have to spend every moment of your journey in excruciating angst or worrying about offending someone or being wronged. Figure out the best time to travel, make sure you know what to wear, and keep these things to know in mind. Join the 3 million of us who have had the privilege of calling this land our home.
Related adventures:
Riad Dar Les Cigognes Marrakesh Morocco
The Birds, Bees, Baskets and Olive Trees of Umm Qais Jordan
Sustainable Jordan at Feynan Ecolodge
Best Cities in Morocco – Travel North Africa
Sidharth Krishna
Sidharth Krishna writes as an intern at Calculated Traveller. An aficionado of travel and nature, Sidharth revels in manifesting his escapades in his articles. Growing up as a precocious child in Dubai, he'd constantly pester his parents to take him sightseeing. Be it arduous road trips or a quick stop at the beach, Sidharth cherishes every moment of whatever journey he'd embark on. If you ask him what his prized possessions are, he'll most certainly mention his camera as seen by his Instagram profile. When not on the road, he spends his time reading, working on his blog and listening to music. As of now, he finds himself in the automotive capital of Canada, Windsor, Ontario as he educates himself on the finesses of the journalistic discipline.
How First-Class Flights Have Changed the Way We Vacation
Get out of bed there's lots to see in niagara falls, canada.
Dubai   Travel Guide
Courtesy of Basith Rahman Rahman / EyeEm/Getty Images/EyeEm
Why Go To Dubai
Dubai and Las Vegas have a lot in common. Both cities share a love for the fantastical, with skylines that shine like beacons against barren desert backdrops. People from all over the world flock to these shimmering oases with the same goal: to play hard. But as a vacation spot, Dubai easily trumps ol' Sin City thanks to its gorgeous cream-colored Persian Gulf shoreline, international culinary scene and larger-than-life attractions . And the city's still growing; plans are underway for something bigger and better. At one point, it was estimated that a quarter of the world's construction cranes could be found here. If that's any sign, even the sky may not be able to limit Dubai's growth.
Dubai is a city of superlatives, home to the world's tallest tower, one of the world's largest shopping malls , and one of the world's largest man-made marinas… but on a smaller scale, this emirate is still tied to its days as a modest port town. Traditional wooden abras (boats) float past motorboats on Dubai Creek, the natural sands of Jumeirah Public Beach fringe the carefully sculpted Palm Islands, and the bustling Gold and Spice Souks (marketplaces) thrive amid the larger-than-life Dubai Mall. Despite constantly looking to the future, this city isn't quick to let go of its past. It's this dynamic that not only put Dubai on the tourist map but will also keep it there.
Find Flight and Hotel Deals
Navigate forward to interact with the calendar and select a date. Press the question mark key to get the keyboard shortcuts for changing dates.
Navigate backward to interact with the calendar and select a date. Press the question mark key to get the keyboard shortcuts for changing dates.
# 10 in Best Places to Visit in January 2024
# 12 in Best Places to Visit in December 2023
# 18 in Best Cities in the World to Visit
See All 4 Rankings
Best of Dubai
Best hotels in dubai.
in Jumeirah Al Qasr - Madinat Jumeirah
in Raffles Dubai
in Jumeirah Mina A'Salam - Madinat Jumeirah
Best Things to Do in Dubai
# 1 in Burj Al Arab
# 2 in Dubai Mall
# 3 in Jumeirah Mosque
Popular Tours
Dubai Marina Yacht Tour with Breakfast or BBQ
(3854 reviews)
from $ 45.00
Dubai Aladdin Tour: Souks, Creek, Old Dubai and Tastings ( Small-Group)
(1800 reviews)
from $ 32.00
Dubai Harbour:Super Yacht Experience with Live station & Drinks
(297 reviews)
from $ 78.90
Dubai Travel Tips
Best months to visit.
The best time to visit Dubai is from November to March. Weather-wise, Dubai really only experiences two seasons: hot and hotter. During the winter months, the city sees blue skies and primo beach weather. However, this is also peak tourist season, so expect plenty of company on Jumeirah Beach . You can escape the crowds if you visit during the summer months, but be prepared for triple-digit temps and high humidity levels
Weather in Dubai
Data sourced from the National Climatic Data Center
What You Need to Know
You'll feel safe here  Dubai is unaffected by the turmoil taking place in other parts of the Middle East. The city's population stems from countries across the globe, and everyone coexists peacefully.
What not to wear  Nearly 60 percent of Dubai's residents are practicing Muslims, which means that you'll find conservative attire to be the norm. Avoid wearing anything too revealing.
Too much sun can be a bad thing  Dubai's visitors often fall in love with the city's warm, sunny climate. However, it can get really hot, and there aren't a lot of shady places in the middle of the desert. Lather on sunscreen, drink plenty of water and wear a hat.
How to Save Money in Dubai
Plan in advance  A trip to Dubai will be expensive. But you'll have a better chance at snagging a lower room rate if you make your hotel reservations two to three months in advance.
Visit in the summer  Most travelers can't take the heat during this season, leaving little competition for desirable room rates.
Stay sober  Alcohol is rarely served outside of restaurants and bars, where prices are about as high as the  Burj Khalifa . You'll save big bucks if you skip the drinks.
Culture & Customs
Dubai stands as one of seven states (or "Emirates") that make up the United Arab Emirates; the other six are Abu Dhabi, Ajman, Fujairah, Ras al-Khaimah, Sharjah and Umm al Quwain. Each emirate is governed by a sheikh, or Arabic ruler. The sheikh of Abu Dhabi acts as president of the Federal Supreme Council (both the UAE's legislative and executive body), while the sheikh of Dubai fills the role of vice president. Although Abu Dhabi serves as the official capital of the UAE, Dubai has long been the emirates' commercial and financial hub.
But Dubai wasn't always the economic powerhouse it is today. Before oil was discovered in the mid-1960s, Dubai's economy relied solely on fishing and a moderately successful pearl industry. But once oil became a point of trade about 10 years after its discovery, the economy soared, and continues to do so. The current UAE vice president of and prime minister and Dubai Sheikh, Mohammed bin Rashid Al Maktoum, is strongly invested in the city's growth and status as a tourist hot spot.
The emirate's role as a commercial heavyweight attracts expats from around world. Dubai's population features citizens of 200 different nationalities, and each has left its own imprint on daily life. However, the dominant religion here is Islam, and Muslim culture greatly impacts Dubai's society. As a result, visitors are encouraged to dress modestly here – that means no exposed chests, thighs or midriffs – and alcohol is not commonly found outside of international hotels and restaurants. Those who visit during Ramadan (the Islamic month of fasting) are encouraged to refrain from eating or drinking in public places.
Despite its size, Dubai has earned a reputation as being one of the safest places in the Middle East. The UAE remains removed from the political and religious conflicts taking place in other parts of the Middle East. Women visiting Dubai should also feel safe to move about freely. However, women are often taken aback by Emiratis' tendency to stare; note that these gazes are most likely out of curiosity, not rudeness.
Although the official language is Arabic, Dubai's trade history and booming tourism market means that almost everyone speaks English. American travelers can also rejoice in the fact that most major credit cards are accepted at stores, hotels and restaurants. For those paying in cash, the official currency here is the Emirati dirham (AED), which is equal to roughly $0.27. Check what the current exchange rate is before you arrive and have cash on hand when visiting Dubai's traditional souks (markets).
What to Eat
Emirati food, the principal cuisine in Dubai, is all about one thing: spice. Put down the salt and pepper; in Dubai, all the flavor you'll ever need is already sprinkled into the dish from a wider variety of seasonings, few of which you may not be familiar (Is za'atar in your spice cabinet? What about cardamom?). There are so many interesting and exotic dishes to sample in Dubai, the best way to navigate its rich culinary landscape is by starting with the basics.
Al machboos is the Emirati's staple dish – think what red beans and rice are to New Orleans – and something you can't skip on your tasting tour of the Emirates. A favorite in the home and at restaurants, al machboos appears to be a simple dish – your choice of meat topped with rice – but packs a big punch flavor-wise, because it's seasoned with cardamom, cloves, cinnamon, dried lemon and yellow raisins. Thanks to Dubai's location along the coast, fish is plentiful and widely used as the choice of meat in hardy dishes. M'hammar will satisfy any seafood lover's craving for the taste of the Arabian Peninsula, prepared with locally caught fish and served with sweet yellow rice, caramelized onions and of course, a host of spices. Believe it or not, camel is widely available throughout Dubai, but is typically served on special occasions and often considered a food eaten among VIPs.
Other traditional fare to look out for are chebab, Emirati pancakes infused with saffron and cardamom and topped with yogurt and date syrup; khameer bread, which is stuffed with sweet or savory fillings, and kunafa, the Middle Eastern take on a cheese Danish. Arabic coffee is an experience in itself, especially for those who often take theirs with only cream and sugar. This coffee features regional lightly roasted beans mixed with saffron and cardamom. The ingredients are ground, boiled then strained and served in small cups. Don't forget to satisfy your sweet tooth here either. Emiratis love their desserts. The most traditional is luqaimat, which is batter deep fried in ghee and served with local date syrup (think doughnut holes with a Middle Eastern twist). Another classic dish is balaleet, which features sweet vermicelli noodles with raisins, saffron, cardamom and other spices. And if you're visiting during Ramadan, try Assidat al-Boubar, a pumpkin pudding made with rosewater that's widely served after the fast is broken.
A huge part of what has shaped Dubai's food landscape is the melting pot of cultures (more than 200 nationalities) that share the city. Aside from Emirati establishments, you'll find restaurants serving everything from classic French fare to dim sum. If you want flash, definitely go to one of the Burj Al Arab 's restaurants. There's also La Petite Maison , a Michelin star-rated French import that sits near the Four Seasons. For beloved (and cheaper) casual eateries, head over to Al Samadi Sweets for Lebanese and Arabic dessert, or kick back and relax at Seven Sands, the oceanfront restaurant at Jumeirah Beach Residence. For more information about where to eat, check out the Dubai tourism board's website.
Getting Around Dubai
The best way to get around Dubai is by taxi or by metro. Although prices are high across the board in Dubai, a taxi here or there won't break the bank. Plus, they provide the freedom to move at your own pace without the hassle of navigating traffic. Dubai's metro system transports passengers to major areas of interest, including Burj Khalifa and the Dubai International Airport (DXB). The airport is about 10 miles from downtown Dubai. You can also rent a car at the airport, but be forewarned: driving here is not for the faint-hearted.
Entry & Exit Requirements
Americans visiting the United Arab Emirates must have an official U.S. passport that is valid for at least six months following your arrival date. Travelers must also possess a return ticket or other proof that they will be leaving the UAE within that 30-day timeframe. For visits exceeding 30 days, travelers must obtain a tourist visa prior to departure. Americans exiting the UAE by land transportation will be subject to departure fee of 35 dirhams (about $9.60), payable only in local currency. For more information, visit the U.S. State Department website .
Once a small fishing town, Dubai has developed significantly since it struck gold in the oil business. Today, the city is dotted with impressive skyscrapers but still features old towns throughout.
Explore More of Dubai
Things To Do
Best hotels.
You might also like
# 1 in  Best Party Cities in the U.S.
If you make a purchase from our site, we may earn a commission. This does not affect the quality or independence of our editorial content.
Recommended
The 26 Best Zoos in the U.S.
Rachael Hood November 16, 2023
44 Cheap Tropical Vacations That Feel Expensive
Holly Johnson|Alissa Grisler November 10, 2023
18 Fall Family Vacation Ideas
Amanda Norcross September 11, 2023
30 Fun Fall Weekend Getaways for 2023
Holly Johnson July 18, 2023
The 32 Best Dog-Friendly Beaches in the U.S.
Gwen Pratesi July 14, 2023
The 21 Top Ecolodges Around the World
Mackenzie Roche|Amanda Norcross June 30, 2023
The 26 Best Fall Festivals in the U.S. for 2023
Katie Hearsum|Timothy J. Forster June 28, 2023
27 Amazon Prime Day Luggage Deals You Can Shop Now
Amanda Norcross June 27, 2023
The 34 Best Couples Vacations
Gwen Pratesi June 26, 2023
Carry-on Luggage Sizes by Airline
Amanda Norcross June 26, 2023
Everything you need to know about traveling to Dubai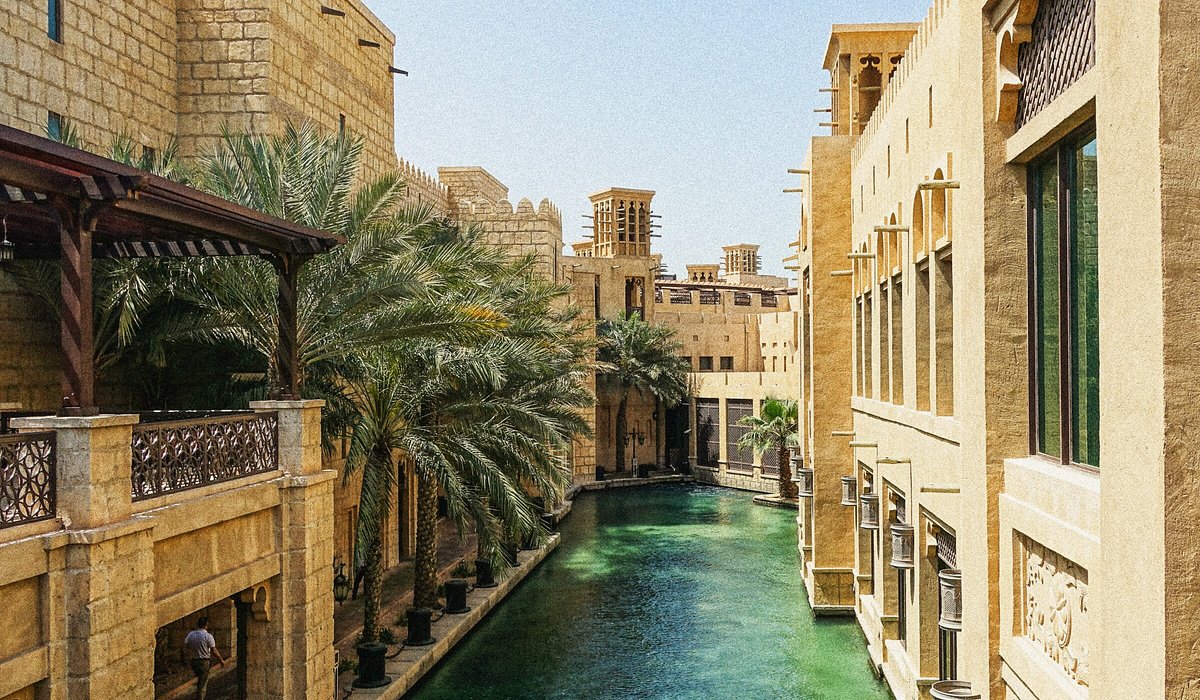 A futuristic desert metropolis oozing with style and excess, Dubai is a sparkling destination for travelers looking to enjoy the high life. Extravagant hotels, world-class shopping and dining, the biggest and tallest attractions - Dubai checks all the boxes for an indulgent holiday.
With so much to see and do in the City of Gold, we've compiled the best attractions Dubai has to offer, whether it's traversing the sprawling dunes of the Arabian desert in a four-wheel drive or spending the afternoon lounging on one of the many private beaches.
Things to do in Dubai
Get your adrenaline pumping at the atlantis aquaventure waterpark.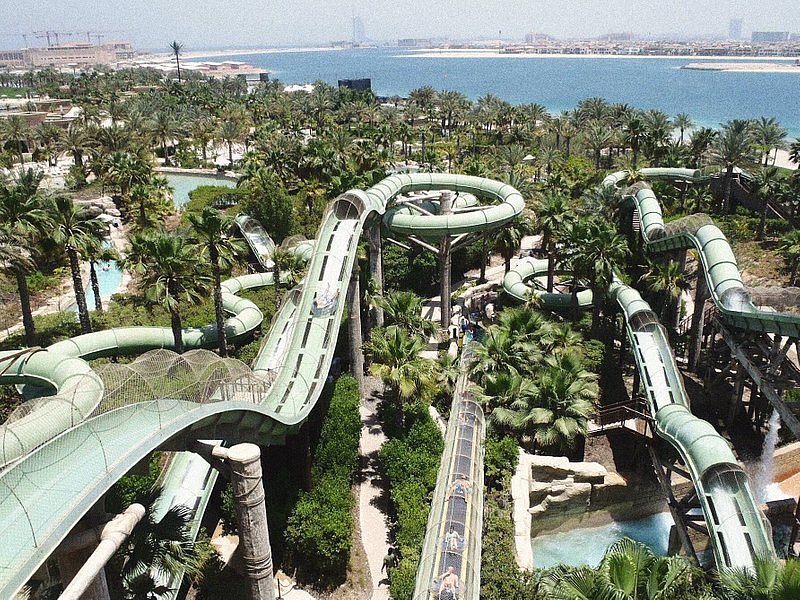 Dubai's biggest water park is home to a number of world-famous rides, including the 'Leap of Faith' , which tests even the bravest of thrill-seekers by putting them through a near-vertical, nine-story drop. For an adrenaline-pumping free-falling experience, the Poseidon's Revenge lets you feel the wind (and water) in your face as you hit speeds of up to 60km/h before being sent tumbling through an upside-down double loop.
Visitors seeking a more laid-back family-friendly experience can head to the Sea Lion Point and Dolphin Bay , located within the Aquaventure Waterpark. Wade into waist-high water and come face-to-face with the whiskered residents of Sea Lion Point, or enjoy an up-close encounter with the playful bottlenose dolphins. These charismatic creatures are bound to leave a smile on your face!
For first time visitors, our ultimate guide to Atlantis should get you started with everything you need to know, from the best places to eat to the steepest discounts you can get on your bookings.
Go dune-bashing in a 4WD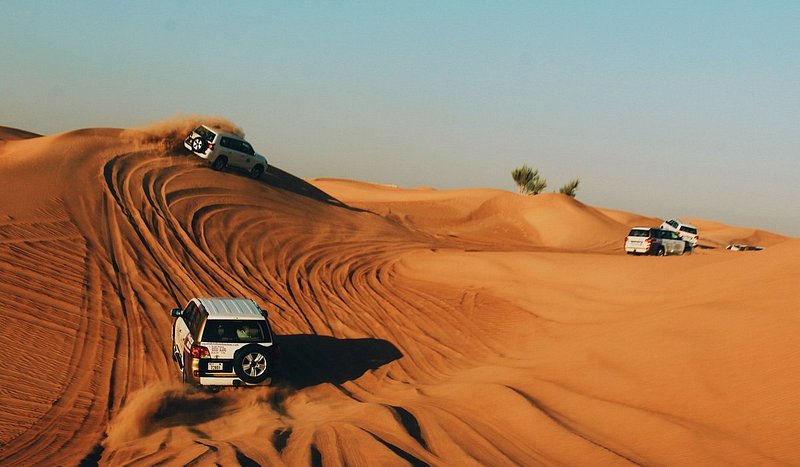 Looking to get away from the bustling city? Head to the Dubai Desert Conservation Reserve - home to over 43 mammals and reptiles, including the iconic Arabian Oryx - for an adventure-filled desert safari excursion.
There's a desert safari experience for everyone, depending on your interests and travel preferences. Culturally inclined travelers can experience the Bedouin culture firsthand through a host of traditional activities (including henna painting and belly dance performances) on an evening desert safari tour. Adventure seekers can transform the sprawling sand dunes into their personal playground on a red-dune desert tour , which features several desert pursuits including ATV-riding and sandboarding.
Dreaming of a different desert safari experience? Check out our guide on the various desert safari experiences in Dubai , which includes everything you need to know to make your first desert safari experience a memorable one.
Ski on powdery white slopes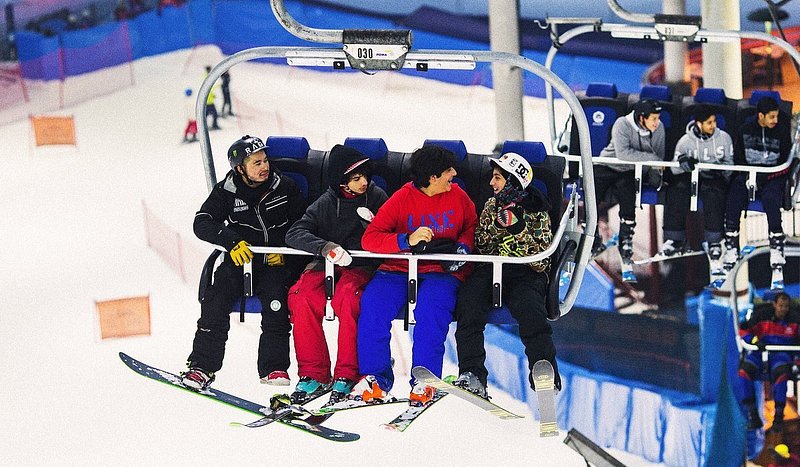 In a city full of contrasts, it comes as no surprise that you can get your skiing fix in the middle of the Arabian desert. Ski Dubai, set within the Mall of the Emirates , covers an expansive 22,500 sqm (242,187 sq ft), and is the perfect entertainment complex for anyone looking to escape the heat.
Skiers and snowboarders of all skill levels can enjoy the slopes, as Ski Dubai features five slopes of varying difficulty, height and gradient. Beginner lessons are available for those snowboarding for the first time. After spending some time on the slopes, be sure to check out the 4,500 sqm snow park, where you can build your very own snowman, or tumble down the slopes in a Zorb ball. Before you leave, be sure to set aside time to check out the penguin parade which takes place every day between 2 p.m. and 4 p.m.
Cool off with these other activities Ski Dubai has to offer with our in-depth guide to skiing in Dubai .
Tee off at an 18-hole championship golf course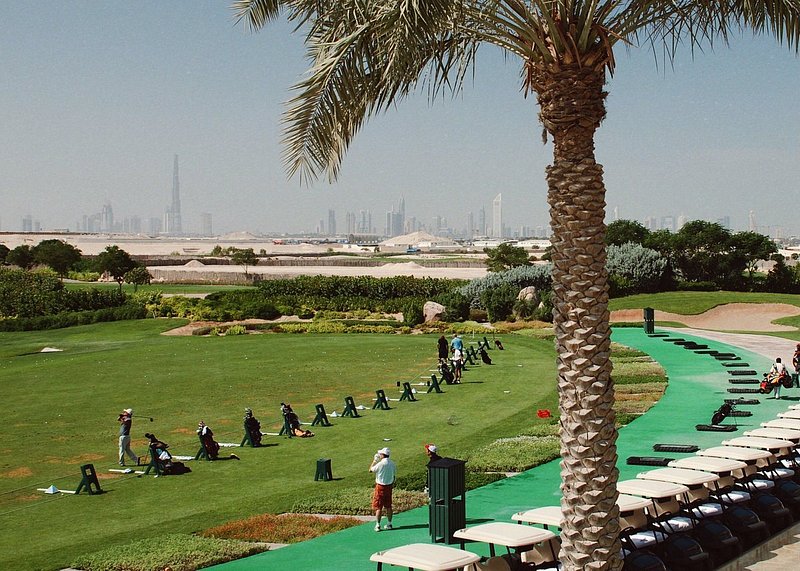 Dubai is home to some of the finest golf courses in the world, including the Jumeirah Golf Estates , which hosts the DP World Tour Championship, and the Emirates Golf Club , which hosts the Dubai Desert Classic every year.
Amateur golfers can improve their skills at Dubai's many coaching academies, while experienced golfers can enjoy some of the best layouts and features designed by leading golf course architects like Karl Litten and Gol Hanse.
Given the subtropical desert climate, the best time to golf in Dubai is between December and February when temperatures are cooler and more pleasant.
Embark on a scenic day trip to Abu Dhabi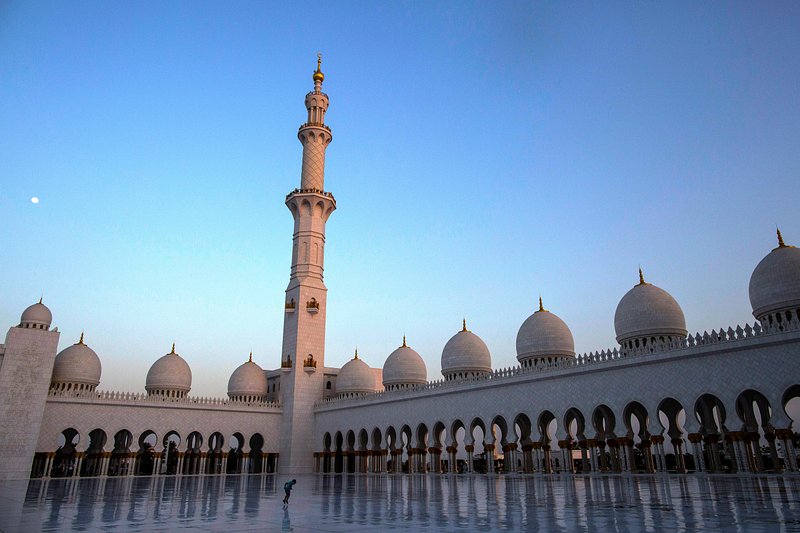 With most of the neighboring emirates located a short distance from Dubai, it's easy to plan a day trip to catch some of the major sights the UAE has to offer.
For architecture aficionados, be sure to visit the Sheikh Zayed Grand Mosque in Abu Dhabi, about 87 miles from Dubai. This iconic landmark incorporates architectural styles from different Muslim civilizations. It features a collection of 82 domes and four minarets with each minaret comprising three different geometric shapes. The interior of the mosque sparkles with chandeliers from Faustig.
Art connoisseurs should also set aside time to wander the galleries of the Louvre Abu Dhabi , which features a well-curated collection of paintings and pieces from around the world. For ease of mind, consider booking a full-day tour of Abu Dhabi city from Dubai , which includes round-trip transportation and a professional English-speaking guide.
Regulations for entering Abu Dhabi from Dubai
Visitors arriving in Abu Dhabi by land via other emirates will be allowed entry to Abu Dhabi upon presenting a negative PCR test, valid for 48 hours. Visitors planning to travel to Abu Dhabi from Dubai must also take a COVID-19 PCR test on arrival, regardless of their vaccination status .
Additionally, entry into public places will also be limited to vaccinated individuals with a negative COVID-19 PCR test result taken within the last 30 days, or unvaccinated individuals who have a negative COVID-19 PCR test result taken in the last seven days. Visitors are required to produce a green status on the Alhosn App for entry into public spaces.
For more information on where to get tested in Dubai before entering Abu Dhabi, refer to this list of approved laboratories .
COVID-19 travel guidelines for international travelers
To speed up your trip planning, we've compiled everything you need to know about Dubai's COVID-19 travel restrictions. Since these regulations are constantly changing, please refer to the official UAE website for the latest updates.
Who can travel to Dubai?
Before making any bookings, travelers should first check if they need a visa . Depending on your nationality, you can get a tourist visa on arrival, or apply for a tourist visa through selected airlines or travel agencies/hotels .
All visitors (regardless of vaccination status) traveling into Dubai from any country of origin (including GCC countries) must produce a negative COVID-19 RT-PCR test certificate issued no more than 72 hours prior to departure. PCR test certificates must be official and printed in English or Arabic, and must display a valid QR code linking back to the original report for verification purposes (SMS and digital certificates are not accepted).
Additionally, RT-PCR test certificates must be issued by an authorized facility in the visitor's country of departure. Certificates which have been presented for travel to another destination cannot be used for entry, even if they are still within the validity period.
Visitors arriving in Dubai from certain countries will also be required to take another COVID-19 PCR test on arrival at Dubai International airport.
Where can I obtain an official RT-PCR test certificate?
The UAE government has compiled a list of designated laboratories where you can get your COVID-19 RT-PCR test, depending on your country of origin. You can use either the recommended laboratories, or any trusted and certified laboratory of your choice.
If you're flying from India, Pakistan, Nigeria or Bangladesh, you must get your certificate from one of the labs listed in the designated laboratories document to be accepted on the flight.
What else do I need to prepare in advance of my trip?
Prior to departure, all travelers must also complete a health declaration form , and download the COVID-19-DXB Smart App from the App Store or Google Play to receive personalized support from designated paramedics in case they are infected.
Is there anything else I should know before visiting Dubai?
What's open.
Starting August 12, hotels can operate at full capacity. Restaurants and cafes can also operate at 80% capacity, with a 1.5m social distance imposed between tables. Entertainment venues (cinemas, recreational facilities, exhibitions and museums) are also allowed to operate at 80% capacity.
Events have also expanded to 60% capacity, and COVID-19 vaccination is not mandatory for entry. However, entertainment activities with free movement (like concerts) are limited to a maximum of 5,000 vaccinated attendees.
What are the current safety measures in place?
Standard safety measures are compulsory, including mask-wearing and maintaining a 2m social distance. Wearing a mask in outdoor spaces is also required, unless you're exercising, eating or drinking.
For the latest information on travel restrictions and requirements, refer to the official UAE website . Frequently asked questions regarding COVID-19 safety measures can also be found on the Visit Dubai website .
All information is current as of September 13, 2021.
More like this:
Dubai's Palm Islands: How to Navigate the Palm Jumeirah
All You Need To Know About Visiting Dubai's Burj Khalifa
7 Tips For Renting a Car in Dubai and Scenic Day Trip Ideas
Your ultimate guide to Dubai
Dubai is the vacation and shopping center of the United Arab Emirates.
You can soak in the views from the world's tallest building, the Burj Khalifa.
It can get very, very hot in the desert city, so be prepared for high temperatures and humidity.
Aside from the diverse restaurants , immersive exhibits , boutique hotels , and sweltering weather , there's much more to know about Dubai than meets the eye.
Once known for being a small fishing village , Dubai is now famed for growing into the ultimate vacation spot with luxurious accommodations, grand souks, and housing the world's tallest building that is currently open to visitors with new safety protocols .
Here's what you need to know about Dubai:
Dubai is dubbed the shopping capital of the Middle East
According to the Travel Channel , Dubai is one of the world's best shopping cities, thanks to the Dubai Mall.
This mammoth of a mall offers over 1,300 retail outlets , more than 200 food and beverage stores, an aquarium, an underwater zoo, an ice rink, and so much more. You can even attend the Dubai Shopping Festival from December to January.
For fine jewelry and other decorative items, you can visit traditional souks in Deira and Bur Dubai, also known as Old Dubai.
Top sites and centers will likely be crowded
According to TripSavvy , the Dubai Mall is one of the most crowded places in Dubai, and the souks received an honorable mention.
Keep in mind that most tourist sites and shopping centers will attract crowds due to the large population and rising tourist numbers. According to Reuters , Dubai is expected to attract over 5.5 million overseas visitors in 2021.
Additionally, according to the World Population Review , as of 2021, Dubai is one of the most populous cities out of the seven emirates of the UAE with over 1.1 million residents. Combined with high temperatures, you may want to consider bringing water with you on a shopping spree to avoid feeling overheated and overwhelmed.
However, if you happen to be visiting Dubai during Ramadan , the ninth month of the Muslim calendar, you won't see these crowds. You also won't be able to eat or drink in public between sunrise and sunset during this fast.
Important: Suspension of flights to/from Tel Aviv
Travel requirements for Dubai
Travel advice for Dubai residents
Find out the process for returning to Dubai, whether you're already overseas or you plan to fly from Dubai and return. 
Tourists travelling to, from, and through Dubai
Follow the process to make sure you have everything you need before you travel to, from, or connect through Dubai.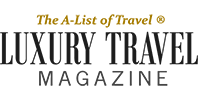 Dubai Travel Guide: Everything You Need to Know Before You Go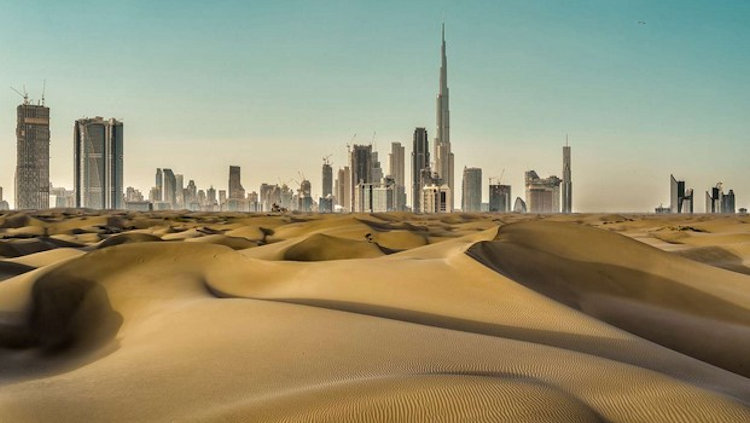 Are you preparing a visit to Dubai this year? The city is a modern marvel nestled in the heart of the United Arab Emirates. With its iconic skyscrapers, yacht rental Dubai marina experience, and unique blend of cultures, Dubai has captured the world's imagination as a must-visit destination. This travel guide is your companion to navigating the wonders of this vibrant city, offering insights into its culture, attractions, practical tips, and everything you need to know before embarking on your Dubai adventure.
Visa Requirements: Navigating Entry to Dubai
Before embarking on your Dubai adventure, it's crucial to understand the visa requirements specific to your nationality. Many visitors are granted visas on arrival or can apply online for seamless access. To ensure a hassle-free entry, reach out to the UAE embassy or consulate in your home country. Stay updated on the latest regulations to make your journey to this dynamic city as smooth as possible.
Best Time to Visit
Dubai's weather dances to the rhythm of its desert climate, offering two distinct seasons. The prime time to experience the city's splendor is during its inviting winter months, which extend from November to April. These months unveil a delightful blend of mild temperatures, making outdoor explorations and adventures exceptionally enjoyable. From strolling the promenades to dune bashing in the desert, this is when Dubai shines the brightest.
Finding Your Oasis in Dubai
Dubai embraces travelers with a wide array of accommodation options tailored to various budgets and preferences. Indulge in the lap of luxury with iconic 5-star hotels offering breathtaking views of the city's skyline. Alternatively, explore more budget-friendly choices that don't compromise on comfort or convenience. Dubai's hospitality scene caters to every traveler, ensuring that your stay is as memorable as the city's iconic landmarks.
Transportation to Explore the City
Navigating Dubai is a breeze, thanks to its efficient public transportation system. The contemporary Dubai Metro is a standout, providing a cost-effective and convenient way to traverse the city's key spots. Buses also form a robust network for comprehensive coverage. And if you're looking for a more personal touch, the ubiquitous taxis are at your service—easily hailed on the street or booked via user-friendly apps.
Currency Chronicles
In Dubai, the official currency is the United Arab Emirates Dirham (AED). While credit cards are widely accepted, having some local currency on hand can be advantageous for interactions with smaller vendors and local markets. This glimpse into the world of dirhams will ensure you're well-prepared to indulge in shopping sprees, dining escapades, and cultural experiences.
Language Tapestry
In the tapestry of languages that color Dubai, Arabic stands as the official language. However, English takes center stage as a universal communicator, especially in tourist hubs and business locales. This linguistic harmony makes your interactions smoother and ensures that your questions find ready answers as you immerse yourself in Dubai's diverse experiences.
Cultural Harmony
Dubai's rich diversity and multicultural essence create a harmonious blend of traditions. As you explore this global hub, remember to respect local customs. Dressing modestly, particularly in religious spaces, pays homage to the city's cultural norms. Equally, refraining from public displays of affection preserves the cultural comfort zones. By embracing these etiquette norms, you seamlessly integrate into Dubai's vibrant fabric.
Savor Dubai's Flavorful Tapestry
Dubai's culinary scene offers an enchanting fusion of flavors that caters to all tastes. From traditional Arabic delicacies like hummus, falafel, and shawarma to an array of international dishes, the city's gastronomic landscape is a journey in itself. Venture further to discover authentic Emirati dishes that tell stories of the region's heritage. While Dubai respects diverse preferences, remember that alcohol is predominantly served in licensed establishments, such as hotels and clubs, for a balanced culinary exploration.
Unveiling Dubai's Icons
Burj khalifa: touching the skies.
Marvel at the world's tallest building, the Burj Khalifa, which stands as a testament to human engineering and creativity. Ascend to its observation decks for breathtaking views of Dubai's sprawling cityscape and beyond, an experience that's nothing short of awe-inspiring.
A Shopper's Haven with Aquatic Wonders
Explore the Dubai Mall, a colossal shopping and entertainment paradise. Amidst its lavish stores and diverse dining options, you'll find the mesmerizing Dubai Aquarium and Underwater Zoo—a magical underwater world that brings you face to face with marine life wonders.
A Majestic Man-Made Island
Set your sights on the iconic Palm Jumeirah, an engineering marvel in the shape of a palm tree. This luxurious island is home to world-class resorts, high-end shopping, and captivating views that showcase Dubai's fusion of nature and innovation.
Waterfront Elegance
Wander along the Dubai Marina's glistening waterfront, surrounded by stunning skyscrapers that grace the skyline. This vibrant area offers a blend of upscale dining, leisure options like yacht rental Dubai marina and urban elegance, all set against the backdrop of the Arabian Gulf.
Luxury Beyond Imagination
The Burj Al Arab, with its distinctive sail-shaped architecture, is a symbol of Dubai's opulence and grandeur. Even if you're not staying here, its luxurious interiors, exquisite dining, and panoramic views will leave an indelible impression.
Dunes and Traditions
Escape the city's bustle and delve into the enchanting desert landscape. Experience the thrill of camel rides and dune bashing, and immerse yourself in traditional performances and authentic Emirati hospitality—a journey that offers a glimpse into Dubai's roots.
Dubai's Retail Wonderland
Dubai's reputation as a shopping paradise is well-deserved. Indulge in retail therapy at the grand Dubai Mall, where fashion, electronics, and luxury goods abound. For a taste of tradition, the Gold Souk dazzles with its glittering displays. Meanwhile, the Mall of the Emirates entices with entertainment options galore. From bustling markets to high-end boutiques, Dubai caters to every shopping desire.
Final Thoughts
As you prepare to explore the enchanting city of Dubai, you're embarking on a journey filled with architectural wonders, cultural discoveries, and unforgettable experiences. From the towering Burj Khalifa to the vibrant markets of the old town, Dubai's blend of tradition and modernity promises a truly remarkable travel experience. Armed with the knowledge from this guide, you're ready to immerse yourself in the rich tapestry of Dubai's attractions, cuisine, and hospitality. So, pack your bags, embrace the excitement, and get ready to create memories that will last a lifetime in this captivating oasis of the desert.
Sign-up for Our Email Newsletter
Find a luxury hotel & book with exclusive perks.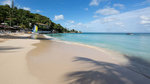 Blue Waters Resort & Spa - Antigua - A hidden gem nestled in a private bay on Antigua's northwestern coast with sunset views
Fiesta Americana Merida - This majestic hotel is located at the crossroads of the capital's main avenues: Paseo Montejo and Colón.
Live Aqua Beach Resort Cancun, Mexico - Adults Only, All Inclusive
The Ranch Italy at Palazzo Fiuggi - The Ranch Malibu brings its award winning wellness program just 50 minutes from Rome.
Rancho Valencia Resort & Spa - Rancho Santa Fe, California - One of the West's most sought-after five star resorts
Hotel Saint James - Paris, France - Relais & Chateaux - The only chateau-hotel in Paris, an architectural jewel tucked away in the 16th.
Home in Italy: The Finest Collection of Luxury Villas Since 1994
Hacienda AltaGracia, Auberge Resorts Collection - Costa Rica
Trump International Hotel Waikiki - Five-star amenities steps from the beach
Luxo Italia - Curated Luxury Travel in Italy
Argentario Golf & Wellness Resort - Porto Ercole, Tuscany, Italy
The Luxury of Simplicity in Japan: Exceptional Resorts in Tochigi's Nikko Area
The Kayon Jungle Resort - Ubud, Bali, Indonesia - a sanctuary of tropical indulgence.
VOYAGES MAGAZINE - Cruising the World in Style
A.M.A Selections - Luxury Villa Rentals throughout Europe
JW Marriott The Rosseau Muskoka Resort & Spa - Lakeside retreat 2-1/2 hours north of Toronto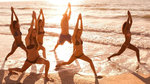 Come Together Wellness - Rest, Restore & Explore on Kauai
Relais Christine - Paris, France - Relais & Chateaux - A secret, tranquil world in the heart of Paris' Left Bank
Red Savannah: Luxury Villas and Tailor-Made Holidays
JUP - Personal Service for Buying and Selling Real Estate in Jupiter, Florida
Dude Ranchers Association - An all-inclusive vacation experience like no other
Porto Zante Villas & Spa - Zakynthos, Greece - The leading villa resort in Europe
Inspire Your Trip
20 Things to Know Before Visiting Dubai
Dubai attracts millions of tourists every year and if you are planning to visit for the first time there are lots of things to be aware of before arriving.
Common questions for first time visits to Dubai include: How should you dress? Can you buy/drink alcohol? What is illegal in Dubai? Should you tip?
Researching the UAE and Dubai and do's and don't's, will really make your stay here special and also trouble free.
Check out our guide with everything you need to know before departing and also top tips for visiting Dubai.
1. Getting to Dubai
Dubai International Airport is one of the busiest in the world with millions of travellers passing through here every year, either to visit the UAE or to catch a connection flight.
Getting to Dubai is very easy, there are direct flights from major cities all around the world with airlines including Emirates, Qantas, Garuda Indonesia, Aer Lingus, Iberia, British Airways, American Airlines and Malaysia Airlines.
To get the best prices use a website like Skyscanner and book as far in advance as possible, wait for special offers, or book last minute.
2. Best Time to Visit Dubai
Dubai is a popular destination all year round and there really is no best month to visit.
October to April is generally the most popular and expensive time of year to visit. To get the best deals on flights and accommodation book well in-advance of your preferred departure date. Flights are usually much cheaper if book at least a few months early.
Christmas and New Year are some of the most expensive times of year to visit with Europeans and Americans seeking winter sun, prices during this period can be sky high. To search flights we recommend Skyscanner to get the best prices.
Generally every month is warm, and even when it occasionally does rain, it typically doesn't last very long. Sometimes the heat can be intense, making it difficult to stay outside for long periods. There are lots of places you can go to escape the heat though like the huge Dubai Mall which has so many shops, cafes and entertainment options like ice skating and cinema.
4. Entry Requirements
Dubai is a country where real research is needed before entering the country. There are very strict laws and entry requirements especially when it comes to what you can bring into the country. Something perfectly legal and innocuous in your home country, for example, medicines or poppy seeds, could land you a big prison sentence if you take it into Dubai.
Some illegal items not to bring into Dubai include:
• Controlled/recreational drugs and narcotic substances • Pirated content • Counterfeit currency • Items used in black magic, witchcraft or sorcery • Publications and artwork that contradict or challenge Islamic teachings and values • Gambling tools and machines
If you take medication, do not forget your prescription and also only take as much as you will use for the duration of your trip. Make sure the medication is also legal in Dubai. If you have any concerns around certain things do a quick Google search before to make sure you stay on the right side of the law.
5. Accommodation
Dubai is a luxury destination, but it can also be done quite cheaply if you don't have a huge budget. To get the best prices on hotels aim to book months in advance. If money isn't an issue, there are lots of luxury hotels in Dubai – some are rated as the best places to stay in the world. Booking.com is one of the best hotel booking websites to compare prices at the cheapest prices.
6. Currency
The United Arab Emirates dirham, known locally as simply the Emirati dirham, is the currency of the United Arab Emirates. With the current exchange rate 1 USD is around 3.67 AED. US dollars and some other currencies are widely accepted in Dubai, although it depends on the place and asking before hand is important. You can withdraw money throughout the city, and also international cards are widely accepted.
7. What to Pack
Some of the most essential things not to forget when visiting Dubai include light clothing, sunscreen with the highest SPF formula, deodorant, sunglasses, hats, a reusable water bottle and a universal adapter and travel charger.
Be sure to buy travel insurance before arriving just so you are covered for any health/safety issues that might occur. Also this might sound obvious, but make sure your passport has at least 6 months validity before arriving.
8. Getting from Dubai Airport & Around
The best way from Dubai airport to city center is by metro. The metro trains are running from Dubai airport to city every 5-10 minutes from 5 am until midnight. The total travel time from Dubai airport to downtown is around 25 minutes. Other options include, taxi or renting a car. The cheapest way to get from Dubai airport is local bus. Metro and taxi are the two easiest ways to navigate the city and visit all the major tourist locations.
9. Tourist Attractions
There are lots of amazing things to do in Dubai from waterparks, beaches, shopping centres, souks, desert adventures and skyscrapers. A visit to the world tallest building the Burj Khalifa is one of the most essential things to do in Dubai. If you have an interest in learning more about the local culture and religion you could book a tour of the Jumeirah Mosque, guided tours take place daily. If you have never been to the Middle East before, a trip to the desert is something you should do before leaving Dubai.
10. Sightseeing Tours
There is the option to explore Dubai independently, or you could book sightseeing trips and excursions with local travel operators or online either before departing or once in Dubai. Sometimes organised tours are the best way to see more places in Dubai as you will get a guide and taken to the best locations in the city. You can view sightseeing tours and attractions in Dubai on GetYourGuide and book before departing to get the cheapest prices.
11. Never Photo People Without Permission
Always ask permission before taking pictures of people. For example, you might see a photo perfect opportunity but always ask for permission, especially if you want to take a photo of a woman. This goes even in the tourist areas. Also think twice before taking any photographs of government buildings, military, etc. You don't want to create any problems for yourself.
12. Show Extra Respect During Ramadan
Ramadan is the muslim holy month which takes place during the ninth month of the 12-month Islamic calendar. During this period Muslims will be following their religious beliefs by fasting between sunrise and sunset. You will need to show a lot of respect during this period which can include not eat, drink or smoking in public.
13. Alcohol
Unlike some countries in the Middle East, alcohol is legal in Dubai and available to buy from an establishment that has a license like hotels, bars and restaurants. You can't though buy it at a supermarket for example. Also don't overdo it, Dubai isn't Ibiza, and getting blind drunk is a very bad idea. You also can't drink in public, or be shown to be too inebriated.
14. Tipping
A common question asked online is 'should I tip in Dubai'. Tipping is common practise with tourists, but it isn't a necessity or expected. Places you can tip include restaurants, taxi drivers, supermarket packers and hotel luggage handlers.
Taking drugs in Dubai is illegal and if caught you can land a huge prison sentence. It really isn't worth it. Lots of foreigners are currently in jail in Dubai for drug offences, some serving long sentences for being caught with things like medicinal cannabis which are legal in other countries.
16. Romance
Be very cautious with public displays of affection in Dubai. What is totally normal in places like Europe, North America and Oceania could land you in jail in Dubai. Steer clear of any overly romantic gestures in public, what might seem fun at the time, could cause a lot of grief and hassle with the police and authorities.
Like most countries in the Middle East, the UAE follows a strict form of Sharia Law, and any relationship other than one of heterosexual marriage can result in punishment or deportation for a non-citizen. If you are travelling with a partner it is not advisable to show any form of public relationship or affection.
Dubai is one of the safest countries to visit in the world and any crimes like theft and assault are very rare. Just be sure to stay on the right side of the laws and you shouldn't have any problems. Its recommended not to talk to local people about politics or the Dubai royal family, and avoid any political demonstrations.
18. Internet
There is high speed free fast internet available throughout Dubai. You might find some websites are blocked, and for your own privacy we recommend using a VPN service when in the country.
19. Dress Appropriately
Dubai is a muslim country and you will need to pack in consideration of the local people and culture. Aim to dress conservatively/modestly, nothing too revealing or flashy, to avoid unwanted eyes. Men shouldn't walk around with their tops off and women need to be extra cautious when using swimwear or extra skimpy outfits which are small, tight or see through.
20. Learn Basic Arabic
Even though in hotels and the main touristy areas most local people speak English, it is really polite to learn at least some basic words and phrases. Even if you just learn hello, please and thank you, this is better than nothing and local people will appreciate it. You could use an online language learning app, or check out our essential Arabic phrases for tourists and get started today.
Dubai is a very unique destination, and one of the best places to see in the Middle East . We didn't want to write this guide to put you off visiting Dubai, far from it, this city is an amazing place to experience as a tourist, you just need to be aware of the local laws and cultural sensitivities to make sure you enjoy a trouble free trip.
Share this:
Click to share on Facebook (Opens in new window)
Click to share on Twitter (Opens in new window)
Click to share on Pinterest (Opens in new window)
Click to share on Tumblr (Opens in new window)
Click to share on Reddit (Opens in new window)
Click to share on Pocket (Opens in new window)
Click to share on WhatsApp (Opens in new window)
Recommended Articles
The 25 Best Luxury Hotels in London
Top Attractions in Blackpool
Tips For Visiting Paris For The First Time
Privacy overview.
Welcome to a sun-soaked metropolis like no other
Plan your dream wedding in an unforgettable destination
Discover the city's insiders, influencers and innovators
Every district in Dubai tells its own unique story
Admire the city's traditional arts, crafts and cultural gems
Get more out of your holiday with these guides
Escape to the hills and explore nature
Answer the call of the wild and experience desert thrills
Uncover the city's rich heritage and vibrant arts scene
Embark on thrilling new adventures for all ages
Taste award-winning world flavours and local cuisine
Visit the latest hotspots, openings and attractions
Find new surprises at modern malls and traditional souks
Marvel at record-breaking venues and iconic landmarks
Unwind at Dubai's luxury spas and wellbeing havens
What do you travel for? Find inspiration with our itineraries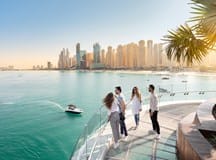 Book a table at these fresh hotspots
Taste a deliciously different side of Dubai
Discover our homegrown culinary heroes
See all the restaurants unveiled in the Dubai selection
Weekends in Dubai are for feasting
Explore Dubai's plant-based concepts that impress
Reserve a table at top restaurants for incredible prices
Browse through our listing of restaurants
Don't miss a beat – live concerts, festivals, activities and more
Get active with 30 minutes of exercise for 30 days
Shop, win and celebrate with incredible deals and prizes
Celebrate Diwali with extravagant experiences, sales and fireworks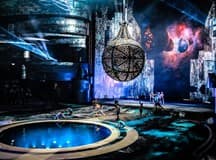 From etiquette to currency, we answer all your questions
Use our tool to find flight tickets to Dubai and plan your trip to the city
From take-off to touchdown, navigating Dubai is a breeze
Your complete guide to enjoying one of the world's safest cities to the fullest
Find out all about Dubai's climate throughout the year with our weather guide
Dubai has an incredible range of stay options for every budget
Unlock huge savings with pre-paid access to top spots
Plan ahead for a hassle-free travel experience
All you need to know about the dirham, from exchange rates to helpful tips
Helpful information for travellers with special needs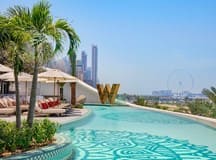 Save big with great offers on Dubai's top sights and activities
Indulge in retail therapy for less with big discounts
Enjoy a trip to Dubai with incredible accommodation offers
Enjoy a musical night out with the divas at the Coca-Cola Arena
See champions steer F50 boats during this international meet at Mina Rashid
Attend the region's coolest lifestyle and street-culture festival
Get tickets for a captivating concert at The Sevens Stadium
Catch the Dubai edition of one of the world's largest electronic music festivals
Sign up for kid-friendly activities or attend a live show with the entire family
Get tickets to the best concerts featuring A-list artists at world-class venues
Join Dubai's community sporting activities and race to the finish line
Related Sites
Add items to your Top Picks by clicking the heart icon as you navigate through the website
This is now in your Top Picks!
Login or create an account to save your favourites and receive personalised recommendations.
Login to like
Sign in or register to like this content
Visit Dubai
Plan your trip
Getting to & around Dubai
Getting to & around Dubai
From touchdown to take-off, getting around Dubai is easy.
Getting to Dubai
Dubai has two world-class airports that provide thousands of international flights each week. Dubai International Airport (DXB) has been the gateway to the emirate since the first airstrip was developed in the 1960s – it is now one of the busiest airports on the planet. The newer Al Maktoum International Airport (DWC) is part of the expansive Dubai South development, which will eventually span 6.7 million square kilometres, including real estate, leisure facilities and retail.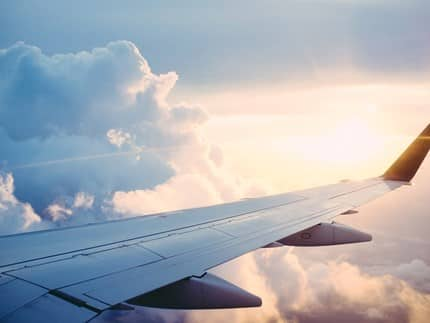 Cruise tourism in Dubai has thrived thanks to the Dubai Cruise Terminal, located at Mina Rashid, and Dubai Harbour at Dubai Marina. The luxurious ports are a great vantage point from which you can explore the emirate, equipped with plenty of facilities including restaurants and minimarts, plus free WiFi, seating and tour company outlets. There's even a complimentary shuttle service to selected shopping destinations and a paid shuttle service to Dubai Mall and Dubai International Airport.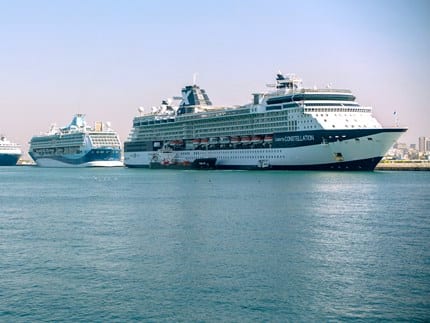 Frequently asked questions
How much does a taxi cost in Dubai?
Where can I take the metro in Dubai?
What is the best way to get around Dubai?
What is the cheapest way to commute in Dubai?
Is transport expensive in Dubai?
Is it easy to get around Dubai without a car?
Is public transport free in Dubai?
Is Dubai a walkable city?
Fly with Emirates
Getting around dubai.
The Dubai Metro has two convenient lines – red and green – that run from Dubai International Airport (DXB) and through the busiest areas of the city. It is the world's largest driverless train system, offering comfortable seating, affordable prices and is fully air-conditioned. Simply buy a Nol card, keep it topped up, or grab a single-use ticket at your starting station.
A range of Dubai taxi services are available from the RTA and you can grab a cab from almost anywhere in the city, or order one by phone or via a ride-hailing app such as Careem or Uber. Airport taxis will start from AED25 ($6.80), with clear signs pointing you towards the official pick-up area in any terminal.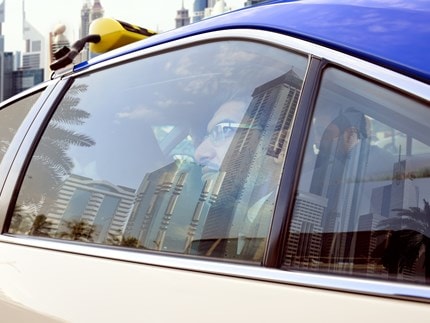 Cycling is a healthy way to get a different perspective on both the city and the desert. There's a growing number of urban bike paths and easy options to get around on two wheels, thanks to bike rental services at tourist hotspots, including Downtown Dubai and Dubai Marina. Nextbike, Byky and Trek Bikes are popular companies to rent from, while Careem BIKE is the first large-scale, bike-sharing initiative in the region. In partnership with the city's Roads and Transport Authority (RTA), Careem BIKE makes it even easier to rent your ride via a dedicated smartphone app.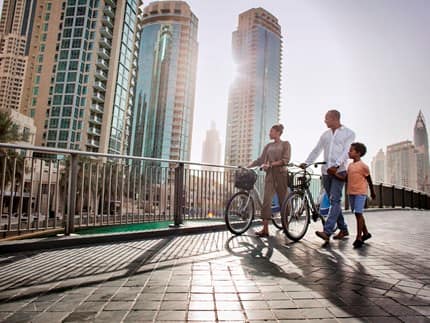 Dubai emerged as a pearl diving community so it's no surprise there are plenty of ways to travel by water. Options range from the affordable AED1 Dubai Creek crossing onboard a wooden abra to luxury yacht rental packages for huge parties and events. The RTA also offers convenient water taxis and the Dubai Ferry so visitors can tour the Dubai coastline and stop off at a number of neighbourhoods , including Jumeirah and Dubai Marina.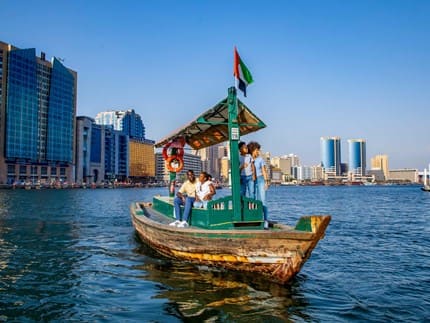 Motorised and e-scooters are becoming increasingly popular in neighbourhoods across Dubai, including the Sheikh Mohammed bin Rashid Boulevard in Downtown Dubai, Jumeirah Lakes Towers, and Dubai Internet City. To unlock a scooter near you, download a licensed operator's smartphone app – Careem, Tier, Skurtt, Arnab or Lime – available on the Apple Store and Google Play store.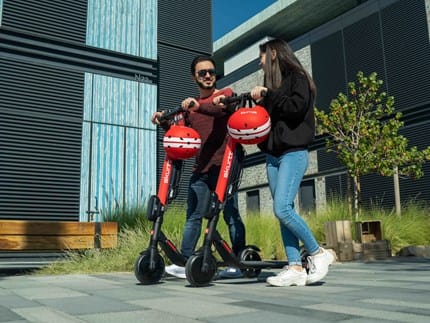 Explore Dubai with affordable public transport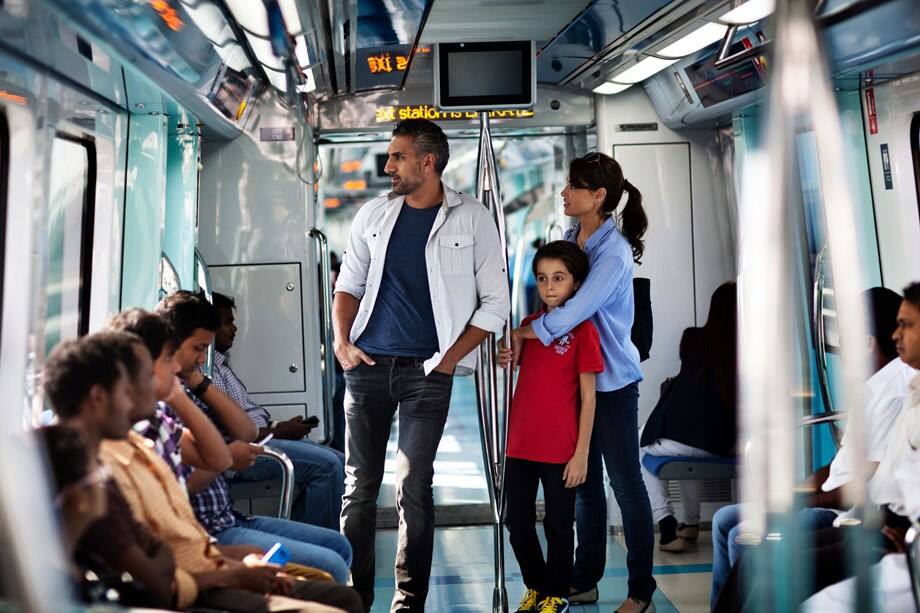 Explore Dubai's neighbourhoods
Discover the city's lively and diverse districts.
Keep exploring
There's so much to see and do
Quick guide for visitors
Access essential information ahead of your trip to Dubai
Travel Tips to Dubai: 21 Things to Remember When You Travel to the Emirates
Top hotel collections.

Near Dubai Mall
Near Burj Al Arab
Near Mall of the Emirates
Near Global Village DUBAI
1. When To Visit?

2. What To Pack?
3. essential documents.

4. Common Financial Hassles
5. track electricity and emergency, 6. accommodation research.

7. Dress Up, but Be Modest

8. Observe and Note Local Etiquette
9. equality is dubai .

10. Capturing Memories
11. the middle east and alcohol.

12. Drugs and Medication
13. eating in public is offensive.

14. Public Transport or Private Taxis - Make Your Choice!

15. Tick the Tip?
16. prohibit the footwear at houses and mosques.

17. How Necessary is Arabic
18. lgbt and dubai.

19. Foodies, Dubai is Your Haven!

20. Turn Away From Political Gatherings
21. desert ventures or ocean sunbaths.

This post was published by Shreyasee Deb
Share this post on social media Facebook Twitter
Places to visit in Dubai
At the Top Burj Khalifa Dubai Fountain The Dubai Mall
View 123 places to visit in Dubai
Read More Dubai Packages
Dubai Travel Packages
Compare quotes from upto 3 travel agents for free
Best Dubai Tour Package - Visit to Burj Khalifa
Majestic dubai tour package with abu dhabi day tour, amazing dubai trip for 6 nights - 1 day abu dhabi tour, family dubai package for 5 nights with yas island tour, fascinating dubai tour package, unforgettable dubai honeymoon tour, related articles.

Travel Tips
Transportation in Dubai - How to Get Around Dubai?

Sightseeing
Dubai on Budget: A Detailed Guide For The Budget Traveller
Safety in Dubai - Is Dubai Safe for Tourists?
Currency in Dubai - Your Guide to the Dubai Currency, the Dirham
Casinos in Dubai - All the Legalities of Gambling & Betting in Dubai
Online Visa For Dubai - Guide To a Smoother Dubai Vacation
What to Wear in Dubai - Best Clothing Advice & Packing Tips
Smoking in Dubai - What's Allowed & What's Not in the Desert Island
Winter in Dubai - Weather, Climate, Places to Visit & More
Weather in Dubai in December - Climate, Things to Do
Weather in Dubai in April - Things to Do, Temperature & More
Dubai Visa For Indians - Documents, Cost, How to Apply
Weather in Dubai in January: A Pleasant Escape from Winter
Rainy Season in Dubai - Guide to Monsoon in Dubai

Dubai Nightlife - 15 Best Ways to Enjoy Dubai at Night

8 Lesser Known Places In Dubai

Fairs & Festivals
Dubai Shopping Festival - Guide to Celebrating DSF The Right Way

Shopping in Dubai - 16 Best Places You Must Visit

Experiences
New Year in Dubai - A Guide To Welcoming 2024 With a Blast

Romantic & Honeymoon
18 Romantic Spots in Dubai for Couples

Food & Drink
20 Street Food Places in Dubai For An Ultimate Food Tour
18 Festivals In Dubai You Must Experience
Celebrating Eid in Dubai 2024

8 Water Parks in Dubai To Cool Off During The Hot Summers

Family Holidays
Dubai With Kids - 16 Activities & Places in Dubai Kids Would Love
12 Places To Try Best Shawarmas in Dubai For The Foodie In You
17 Best Clubs in Dubai For A Perfect Nightlife
Skiing in Dubai - All You Need to Know About Dubai's Iconic Indoor Ski Park
Skydiving in Dubai - A Guide to the Operators, Prices and More

Art & Culture
Languages in Dubai - Which Languages are Spoken in Dubai?
Comments on this post
Browse package collections, dubai package collections.
Dubai Honeymoon Packages
India Dubai Tour Packages
Dubai Turkey Tour Package
Nearby Destinations for Packages
Ras Al Khaimah
Browse Hotel Collections
By hotel type.
Best Hotels in Dubai
Best Villas In Dubai With a Private Pool for Fun Vacation
Resorts in Dubai for a fun-filled Vacation
Hostels In Dubai
All Inclusive Resorts in Dubai
Hotels in Jumeirah Beach Residence (JBR), Dubai
Family Hotels in Dubai
Camping In Dubai
Holiday Homes In Dubai
Villas in Jumeirah
Villas In Al Barsha
By Budget Category
Cheap Hotels In Dubai
Best 5 Star Hotels In Dubai for Ulta Luxurious Stay
Luxury Resorts In Dubai
Lodges In Dubai
Budget Hotels In Bur Dubai
By Star Category
5 Star Hotels In Dubai
3 Star Hotels In Dubai
4-Star hotels in Dubai
4 Star Hotels In Bur Dubai
5 Star Hotels In Bur Dubai
5 Star Hotels In Downtown Dubai
Cheapest 5 Star Hotels in Dubai for Reasonably-Priced Luxury
Best 5-Star Resorts in Dubai
4 Star Hotels In Downtown Dubai
5 Star Hotels In Dubai Marina
5 Star Hotels In Deira
With Specific Facilities
Hotels Near The Dubai Mall
Hotels Near Burj Al Arab
Hotels Near Mall of the Emirates
Hotels Near Ain Dubai
Hotels Near Burj Khalifa
Hotels Near LEGOLAND Dubai
Hotels Near World Trade Centre Dubai
Hotels Near Dubai Parks and Resorts
Dubai Apartment Hotels
Hotels in Bur Dubai
Hotels Near Marina Beach Dubai
Near Landmarks
Hotels Near Dubai Metro
Hotels Near Financial Centre Station
Hotels In Dubai With Waterparks
Beachfront Hotels in Dubai for a Perfect Beachside Vacay
Hotels Near Dubai Miracle Garden
Hotels Near BurJuman Station
Hotels Near Etisalat Station
Hotels Near Dubai Creek
Hotels Near Noor Bank Station
Hotels Near Business Bay Station
Hotels Near Kite Beach
For Special Purposes
Beach Resorts In Dubai
Best Pet Friendly Hotels In Dubai for Amazing Vacations
Hotels in Dubai for Honeymoon
Top Places in Dubai

Recently Published

Get Customized Travel Packages
*All prices shown on the website are tentative. Final prices will be shared by our partner agents based on your requirements.
Log in to your account
Welcome to holidify.
Forget Password?
Share this page
Asia-Pacific
Australia & Oceania
Middle East
North America
Family Travel
Food & Drink
Luxury Travel
Picture This
Sports & Recreation
Travel Tips
IHG Rewards Club
Book your getaway
10 things to know before you arrive in Dubai
Culture in Dubai can be very clear-cut. How should you dress? Should you tip waiters? Can you drink alcohol? Here are 10 tips for safe travel and fun times in Dubai.
1. Visit between October and April
Dubai only has two seasons — hot and hotter. The months between October and April, known as the winter season, bring blue skies and perfect beach weather to the city. It's also the rainy season, but typically rain showers don't last too long so don't let this factor affect your travel dates.
2. Look at flights six months ahead
International airlines generally release their cheapest seats about six months prior to departure dates. This doesn't mean you necessarily need to buy your tickets that far ahead of time, but it's a good idea to start looking and comparing prices. At the latest, you should buy your tickets at least one month in advance.
3. Book your hotel months in advance
Because Dubai is becoming such a popular vacation spot, and because October through April is the prime time for tourists to visit, you want to be sure you have a nice place, like these IHG hotels in Dubai , to stay before your arrival. In order to do so, make your Dubai hotel reservation a good two to three months in advance.
Top 15 things to do in and around Dubai 8. Flyboarding
4. Show respect during Ramadan
If you visit during the holy month of Ramadan , celebrated during the ninth month of the 12-month Islamic calendar, respect the Muslims and their practice of fasting. This means you can't eat, drink or smoke in public in front of them between sunrise and sunset.
5. Dress modestly
As you pack your vacation wardrobe, think conservative over revealing and flashy. Women's clothing is considered indecent if it's too short, tight or transparent, while men should never walk around without a shirt on. Dress modestly to avoid unwanted attention and respect the Muslim culture.
6. Ask permission before taking pictures
Never take a picture of or with a stranger without their permission, unless you're taking a scenic shot in a major touristy area. But never take a picture of a Muslim woman without her permission, and don't take photos of any government buildings, airports, military installations, etc.
7. Should you tip?
Tipping isn't really expected in Dubai, but it's a common practice. Most restaurants will add a tip to your bill. Taxi drivers don't expect to receive a tip, but luggage carriers and supermarket baggers are normally given a small tip for their services.
A new generation of great food in Dubai Food truck heaven
8. Don't just give your taxi driver an address
Taxis are great for getting around the city; there are plenty of them and they're a fairly cheap mode of transportation. But, don't assume your taxi driver knows every street and restaurant in Dubai. They don't always know the city as well as you think they should, so to make sure you end up where you want to be, give them references to big city landmarks, as they should know these.
9. Be careful where you consume alcohol
Alcohol is legal in Dubai; however, you can't drink in public as public drunkenness and drinking and driving are prohibited. Also, you can't buy alcohol for your own use without a permit, and you have to buy it from an establishment that has a license. Purchasing drinks at a bar or restaurant is no problem, just don't try and leave drunk.
10. Stay away from PDA
Public displays of affection are very offensive in the UAE. Many Dubai visitors have been arrested and imprisoned for showing PDA. To be on the safe side, refrain from holding hands or kissing your significant other while in public.
Even with some of the strict laws, you shouldn't hesitate to visit Dubai if you get the chance. It's a unique destination, and one completely worth seeing by yourself, with your significant other or with your entire family.
Most Popular
Recent posts.
Six of the Hottest Miami Happy Hours Under the Sun September 23, 2021
Dream Destination Wedding Locations in the Southeast August 5, 2021
City Lights Series: Best Foodie Cities February 24, 2020
City Lights Series: Best Sports Cities in the U.S. February 24, 2020
City Lights Series: Best Culture Cities in the U.S. February 21, 2020
Previous Post Quiz: What's your ultimate winter destination?
Next post top ski resorts on the east coast, you may also like, six of the hottest miami happy hours under the sun, fujairah: a history lover's guide to forts and mosques, top 15 things to do in and around dubai, search ihg hotels.
© 2020 IHG. All rights reserved. Most hotels are independently owned and operated. AdChoices
Driving in Dubai: Tourist Need-to-Know Guide Before Getting Behind the Wheel
Dubai is a vast sprawling city, and whilst the Metro system connects the main tourist attractions relatively well, it's certainly not all-encompassing of all the major tourist attractions in Dubai. There are likely going to be points on your trip to Dubai where a set of your own wheels will come in handy.
Taxies and rideshare services can, of course, help with those more difficult-to-reach places, but the best way to get around Dubai if you love your freedom is by hiring your own rental car and self-driving.
Dubai Road Rules
Dubai Road Conditions
Dubai Roads Tolls and Charges
Dubai Rental Car Rules
Traffic Accidents in Dubai
Drink Driving in Dubai
Getting Beyond Dubai in your car
Driving in the Dubai Desert
Driving to oman from dubai, driving in dubai: the road rules.
Here are some key things to know about Dubai driving before you consider renting a car in Dubai:
The road networks are extensive, and roads are wide; freeways are often 8 lanes wide, but this is because you are sharing with trucks, buses, and multiple merging lanes. You do need to be a confident driver in Dubai.
With the steering wheel on the left, vehicles in Dubai drive on the right side of the road (like the US and much of Europe).
Speeds are marked in kilometres per hour; your vehicle is likely to only have a speedometer in kms.
Road signs in Dubai are in both Arabic and English and are clear to understand, but having a driving App such as Google Maps or Waze is highly recommended to assist with navigation and getting in the correct lanes! (Get Waze on Google Play | Apple ).
Traffic in Dubai is fast-paced. Speed limits are surprisingly high (and on top of the signed limit, speed cameras will only fine you if you are going more than 20km/hr over the limit!)
Not keen on driving fast? Get out of the overtaking lanes! When driving a multi-lane freeway in a standard sedan vehicle or SUV, avoid driving in the far right lane(s) as these are designated for trucks or slow-moving vehicles with a lower speed limit; the far left lane(s) are FAST. Try and pick a lane right in the middle to allow faster cars to overtake but avoid dodging massive vehicles and merging traffic.
There are many large, multi-lane roundabouts! Sometimes roundabouts are up to 4 lanes wide, which confuses many drivers (sadly, those who've lived here for years don't get them either!); brush up on your skills if you're not familiar.
Driving in Dubai: Road Conditions
Generally speaking, the roads in Dubai are in excellent condition, but that doesn't mean things are always as smooth flowing as they should be. It is, after all, a big city! Here are a few things to consider:
During morning and evening rush hours in Dubai, roads can resemble more of a parking lot. If sitting in a 6-lane traffic jam is not your idea of fun, try setting out after 10:00 AM; most major attractions do not open until this time anyway. Afternoon peak hour is a bit different; it can get super busy all the way from schools finishing around 2:00 PM through until at least 7:00 PM.
Rain – although rare in Dubai – can cause havoc. Road surfaces become like a slippery oil slick, and frankly speaking, most drivers here have had no training in how to drive in these conditions. Most rain showers pass reasonably quickly; however, if it's a larger storm that can very occasionally hit, we recommend you stay off the roads. Flash flooding is not unheard of, but it's more the erratic driving of others you may be concerned about.
Fog is another seasonal challenge. It can occur at any time of year but more predominantly overnight and early morning in the winter months . Slow down, don't use your high beams and keep a consistent speed to help your fellow drivers. And please, don't be one of those drivers who simply puts their hazard lights on!
Driving in Dubai: Tolls, Charges and Fueling Up
Dubai's major roads have an automated toll system called Salik . As you pass under a toll barrier, your rental car will be fitted with a small SALIK sticker that will register the charge, which you should expect the rental company to onward charge to you at the conclusion of your rental.
Speed cameras are everywhere! As we mentioned above, the limits can be a little deceiving due to the 20km/hr buffer, but go over that and expect a stiff penalty, as you'll be charged for going more than 20km/hr over the limit! These fines start from AED 600 (do NOT leave an unpaid fine! If you do, you could run into serious trouble if you come through Dubai again). You will likely have an admin fee to pay your rental company too.
Fuel in Dubai , as you might imagine, is in plentiful supply! Prices were deregulated a few years ago, so they have risen substantially since the glory days; however, fuel is still relatively cheap compared to other parts of the world where fuel is heavily taxed. Expect between AED 2.50 to 3.00 a litre, depending on what type of fuel. The price is set at the start of each month. (NB since 2022, this price has crept up closer to 4 AED per litre, ouch!)
At the pump, you can choose between E-plus, Special-95, Super-98 and diesel. Check if your hire company has specified what fuel to use – especially if you've hired a luxury vehicle . And it should go without saying, only every put diesel in a diesel car!
Fuel stations used to be full service, but this has flipped over the last few years to more becoming self-service , so do be prepared to get out of your car even if it's 45 ° C out!
Driving in Dubai: Rental Car Rules
It is easy to pick up rental cars in Dubai both from the airport and many locations around the city. It's a highly competitive car rental market, as many residents in Dubai rent their vehicles on a long-term monthly basis. Here are a few things to bear in mind renting your car as a tourist in Dubai.
You will also need your passport and your tourist visa to hire a car in Dubai.
To hire a car, you will need a driver's license. This does not need to be an international driver's permit if you are from:
Australia, Austria, Bahrain, Brazil, Canada, China, Croatia, Cyprus, Denmark, Estonia, Finland, France, Germany, Britain, Greece, Hong Kong, Ireland, Italy, Japan, Kuwait, Lithuania, Luxemburg, Malta, Malaysia, Netherland, New Zealand, Norway, Oman, Poland, Portugal, Qatar, Romania, Saudi Arabia, Singapore, Slovakia, Slovenia, South Africa, South Korea, Spain, Sweden, Switzerland, Turkey and the USA. With English translation – South Korea, Slovakia, Japan and Quebec.
For these countries, just present a copy of your driver's license that you've held for at least 12 months. If your driver's license is from any other country, you will need an International Driver's Permit .
Even though the local driving age is 18, you'll find for hire car companies, you need to be at least 21 years old, and in some instances, they'll only hire to those over 25.
Nearly all cars are automatic transmissions but do check this when booking.
You really get what you pay for in terms of vehicle class/size. If you are just a single/couple you might be happy with a small Nissan Sunny, but when you see the traffic conditions, you may well feel a little safer in a larger vehicle! SUVs and 4WD are by far the norm in Dubai and the UAE, though they really aren't that economical to run.
Electric cars do exist in Dubai, but their use is still not prevalent. You can look into ekar for on-demand car hire.
Recommended Car Rentals in Dubai : We always start our search using services such as rentalcars.com or discovercars.com to find rates and companies. Once you start narrowing things down, you might find with airline loyalty programs and the like you can hire cheaper going direct.
What about borrowing a friend's car in Dubai? See this article from the National detailing the latest guidance on this matter – it basically comes down to whether the vehicle insurer will allow an international driver under the policy.
Driving in Dubai: Traffic Accidents in Dubai
Should the worst happen and you are involved in an accident, there are important steps you should be aware of ahead of time.
Renting a car, you will always have an element of insurance included, and you'll be given an emergency contact number by the hire car company you need to contact in the event of an accident. Remember, this basic insurance may only cover 3rd party costs.
Always check if your travel insurance will cover you for things such as automobile accidents, personal injury or damage to personal property if you'll be renting a car in Dubai.
There's no longer a required police attendance for minor collisions. Minor traffic accidents are reported to the police using an app. This is a necessary step for both parties to claim on insurance; there is always a culpable party.
Download the Dubai police App here for Google Play | Apple .
If you cannot find the other party (unfortunately, car park dings and bumps do happen, and it's not always caught on CCTV), then you will have to pay for filing the police report and will be seen "at fault"; this can't be done with the app as you need to enter details for two vehicles, you'll need to find the nearest police station (NB – many of the Malls have police stations in the car park!)
Serious collisions involving injury and hospitalisation are a little different. An ambulance and police should be requested immediately by dialling 999.
Not to scare anyone off driving completely, but it can be standard practice in the case of a serious vehicle collision where you are believed to have caused the accident to be sent to jail until such time as the other party is out of the hospital or the police have determined culpability. This is why it's important to know your Dubai do's and don'ts .
Driving in Dubai: Drink Driving
Driving with any alcohol in your system in Dubai is strictly prohibited. Whilst alcohol is permitted for consumption in Dubai in licensed venues, stick away from the car, even if you've had just one drink.
The traffic police are NOT regularly running random breath tests on the side of the road as you'll find in many other countries, it's about what happens if you are in an accident.
If you are caught with alcohol in your system, even if it's from the night before, you can be fairly certain you'll earn yourself some jail time and face some pretty serious repercussions.
If you do end up having a drink and don't want to leave your car stranded somewhere, look for services that will send a driver to come to you and take you and your vehicle safely home. Try:
Just confirm if this is allowed with your rental car company, rules can be strict on who the driver is.
Driving in the UAE: Getting Beyond Dubai in Your Car
Part of the beauty of renting a car for your trip to Dubai is the freedom to enjoy day trips to the other Emirates .
The road rules are broadly the same wherever you go in the UAE, and there's no problem taking a hire car from one Emirate to another.
Heading to the northern Emirates, you will not even notice the change (though some have a slightly different "buffer" on how far over the speed limit you can drive). The only difference you may see is a change in road surface!
There are just a few notable differences driving into Abu Dhabi emirate. If you are day tripping to Abu Dhabi (including the historic city of Al Ain ), you'll need to note:
The hard border that was put in place during COVID times has been completely abolished. You can learn whether border restrictions are currently in place here .
The marked speed limits work differently! The freeways as you enter jump to 140 km/hr, but anything over this, you will be fined; the "Dubai buffer" of 20 km/hr does not exist! Fines here start from AED 300 for going more than 10km/hr over the limit.
The major freeways leading onto Abu Dhabi island have toll gates in operation during peak driving hours. Unlike the Salik system in Dubai, there's no sticker on your car or audible beep, not any toll booth to pass by and pay cash. The DARB toll gate system uses number plate recognition. If you travel under one of these toll gates at the designated times, it will be charged back to your hire car company.
With an off-road vehicle, it is possible to do your own dune bashing in the Dubai desert IF it is allowed with your rental car policy. Here are some desert driving tips to be aware of:
Never hit the desert dunes without other experienced drivers around you and the correct safety gear in your car. For obvious safety reasons, it's easy to get stuck out in the dunes and even flip your vehicle if you don't know what you're doing.
Some easier parts of the Dubai desert you can hit that will still work in 2WD include the Al Marmoom Desert Conservation Reserve , where you'll find Al Qudra Lakes and the famous Love Lakes .
Yes, you may well encounter camels ! Drive slowly and give them the right of way (though note, even in some of the Northern Emirates, we've encountered camels randomly walking along the roads, nowhere near the desert! Slow down, take some snaps and let them go about their business).
If you're after the bigger thrills and spills, though, this is the one part of your trip where we thoroughly recommend you let the professionals take over . Part of your Dubai desert tour package will include a hotel pick-up in an air-conditioned 4WD and a highly experienced desert dunes driver – please let them do the hard work!
It is possible to drive into parts of Oman from Dubai, fun and exciting addition to your Dubai trip. The Musandam Peninsula exclave is the easiest to reach or head south to the mountains.
You DO need permission or your rental car company to do this as ownership papers are required at the border crossing points, as is insurance for driving in Oman (and in the current climate, PCR test/Vaccine evidence).
Certainly not the simplest of experiences as it sued to be! But still doable. See a detailed guide here on how to drive from Dubai to Oman .
More Frequently Asked Questions About Driving in Dubai
It depends on what country you hold a driver's license from. If you are from one of the permitted countries (we list these above), then your foreign license will be sufficient for hiring a car in Dubai.
We certainly wouldn't recommend driving in Dubai as a tourist unless you are a confident driver. The traffic is fast-paced, and the freeways can be large and convoluted with multiple users, from fast cars to huge trucks. You need to be conscious at all times of the traffic conditions around you and drive in a safe and courteous manner, even if this is not being displayed correctly at all times by your fellow road users!
Yes, if the idea of driving in Dubai has you feeling nervous, then ride-share services are quite accessible. Try Uber or Careem, or Hala Taxi (RTA public taxis) of all different shapes, sizes and luxuriousness can also be booked through the Careem app.
Before you go… More important things you should know when planning a trip to Dubai
Pop into our essential planning information page, it includes everything you need to know about getting around Dubai , a handy guide on what to pack , and top tips for first-timers on the do's and don'ts, laws, and customs to be aware of.
Check out this incredible list of 150+ places you should visit when you're in Dubai .
Pick up a Dubai Pass from iVenture or a Go City Dubai Pass to save up to 50% on top Dubai attractions.
Don't forget to pack your travel insurance !!!
Discover the best areas to stay in Dubai , or bag a bargain on your accommodation here:
Take me back to all the best Dubai travel tips
Please note we are not a travel agency. This site is a travel blog to help newcomers to the UAE and transit passengers self plan their trip, we cannot book your flights, hotels, visas or connections for you. We may make a small commission if you click on any of our recommendation links . Dubai Travel Planner
The Best Water Parks in Dubai – 2023 Ticket Prices Included!
Seeking out the best of dubai in february 2023, you may also like, emirates dubai connect explained for dxb layover passengers, emirates unaccompanied minors: exactly how it works, worst time to visit dubai (it's not when..., what to pack for dubai: ultimate dubai packing..., dubai airport to abu dhabi – transport options..., is there a dubai to abu dhabi metro.
This website uses cookies to improve your experience. We'll assume you're ok with this, but you can opt-out if you wish. Accept Learn More
20 Super strict Dubai Rules Every Visitor Must Be Aware Of!
Reading time: 11 mins read
please share this Share this content
Opens in a new window Twitter
Opens in a new window Facebook
Opens in a new window LinkedIn
Opens in a new window Reddit
Opens in a new window WhatsApp
Amongst the world's media, especially in countries such as the UK, there has been a lot reported on how people are to act in Dubai which has resulted in a lot of confusion. It is important to remember that there are many different cultures living in Dubai with different definitions of what is and what is not acceptable and the Dubai government is trying to maintain harmony among all these communities.
Dubai Rules concerning Alcohol & Licensing
We set out your rights when it comes to alcohol and licensing. It is important to note that the penalties for breaching any of the following licensing laws are a jail term and can be combined with deportation in some cases.
1) If you are a Muslim expatriate, drinking alcohol is strictly forbidden in any circumstance.
2) If you are non-Muslim, you may only consume alcohol if you personally hold an alcohol license. You should keep this license with you at all times. The license is granted by the police licensing authorities in the Emirate in which you live. The alcohol license will allow you to purchase alcohol up to a percentage of your monthly salary.
3) Even if you hold an alcohol license, you should only drink alcohol in your own home or a licensed restaurant or bar. It is against the law to consume alcohol or have alcohol in your system if you are not in your own home or in a licensed venue. Whilst this law is usually only enforced in conjunction with another crime, expatriates should still be careful, considerate, and courteous whilst traveling from venue to venue on an evening out.
4) Alcohol should only be purchased in the Emirate in which the expatriate holds an alcohol license. It is therefore against the law for an expatriate residing in Dubai to purchase alcohol from liquor suppliers in Ras al Khaimah.
5) There are zero tolerance laws for expatriates drink driving in the UAE. This means that you may have NO alcohol in your system whilst driving. Alcohol can take up to 48 hours to leave your system. Take this in to account when driving the day after a night out.
Dubai Rules concerning Traffic Offenses
When it comes to traffic offenses,it is important to note that the penalties for breaching any of the following traffic laws can include black points, fines, and/or imprisonment in some cases.
6) It is a criminal offense to leave the scene of an accident, however minor. The criminal sanctions for leaving the scene of an accident in which a person was injured are more severe (imprisonment and/or a minimum fine of AED 25,000).
7) It is a criminal offense to drive a car with any alcohol in your system, regardless of whether the alcohol was consumed legally or not. According to UAE law, there is zero-tolerance to drink while driving.
8) It is a criminal offense to drive without a valid driver's liability insurance. Take note of when your car insurance expires so that you can renew it in good time.
9) Keep your car insurance papers, car registration documents, and driving license at hand when driving. In the event of an accident, it is a criminal offense if you fail to provide these to the police (although you may be given time to do so following an accident).
10) It is against the law to drive a vehicle in Dubai which is not in good mechanical condition, or does not have safe and functioning steering, brakes, horn, front mirror, wipers, seat belt, and spare tire in a usable condition or headlights. If in breach of these laws, the vehicle may be confiscated by police and/or the driver fined or imprisoned. Please consult the RTA website for full details.
Dubai Rules concerning Drugs
Penalties for breaching any of the following drug laws can include imprisonment and deportation.
11) The consumption of illegal drugs in the UAE is a criminal offense, punishable by possible imprisonment and/or deportation. Drugs that are legal in your home country may not necessarily be legal in the UAE, this could include drugs that you have been prescribed for medical reasons in your home country. Consult the following list of restricted and controlled substances before consuming any drugs within the UAE.
12) The import of illegal drugs into the UAE is a criminal offense. Regarding medications, travelers are advised to read the following guidelines before purchasing medication from your home country and bringing it into the UAE. This includes whilst transiting through Dubai airport. If you have obtained a prescription for medication from your home country, it is recommended to carry a translated and attested copy of the prescription with you.
13) Take particular care when returning from holiday if you may have come in to contact with anyone who has taken an illegal drug and may have passed even the smallest quantity on to you. Possession of illegal drugs, even for example a speck on a shoe, maybe a criminal offense.
14) Some medications are illegal in the UAE if possessed without a prescription from a Doctor. These include some sleeping pills, antidepressants, and pain killers. Check with your doctor whether a prescription is required before taking these types of medicines.
15) We have come across a number of cases in which expatriate women's drinks have been spiked with illegal substances against their knowledge. Such action could result in the woman having committed a criminal offense (by having an illegal substance in her system). Never accept a drink from someone you do not know, and be vigilant in busy bars and nightclubs.
Dubai Rules concerning Public Decency
16) Most malls in Dubai display signs asking shoppers to dress respectfully. So what does this actually mean? In UAE law it does not specify certain acceptable clothing, but in general specifies that clothes should not be sexually provocative, for example, do not wear a bikini in public places.
17) Wearing very short shorts and see-through blouses in public places is also frowned upon, reserve these items of clothing for the pool or private beach club. Wearing a skirt of an appropriate length and t-shirt to the mall is absolutely fine.
18) Another common question is what are the Dubai rules regarding public displays of affection – a married couple are allowed to walk along with hand in hand but are not allowed to indulge in sexual behavior such as kissing, these acts can lead to a jail term followed by deportation.
19) Unmarried couples are not allowed to hold hands in public places. It is also worth noting that unmarried couples are not allowed to live under the same roof and if found to be doing so could be given a jail term of up to one year. Homosexual acts are also illegal in the UAE.
20) Swearing or rude gestures , for example giving someone the finger) should also be avoided – remember this whilst driving and feeling stressed! Any breach of these guidelines could result in imprisonment or a fine.
If unsure about any of the laws in Dubai always try and ask, find out the official answer or err on the side of caution.
Additional Tags : Dubai laws, Dubai population ,what to wear in Dubai ,Dubai facts ,Dubai rules for tourists ,Dubai laws for tourists ,uae sharia law ,Dubai laws for unmarried couples.
Need Online Legal Help in the UAE?Connect with an expert UAE lawyer
You Might Also Like
Immigration Ban (UAE Visa Ban) in UAE? Don't miss out on this ultimate guide.
What's the hype about uae's virtual assets regulatory authority.
Tailgating in Abudhabi? The Radars are watching.
Arabtec's woes are a joy to many!
The essential guide to uae labour law article 120. what,s all the fuss about.
Death of an Indian Expat? Here are the procedures you ought to follow
Group Enquiry? NEW
75 Places to Visit in Dubai
Places to Visit in Dubai
Quick navigation.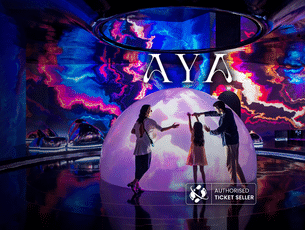 AYA Universe Tickets, Dubai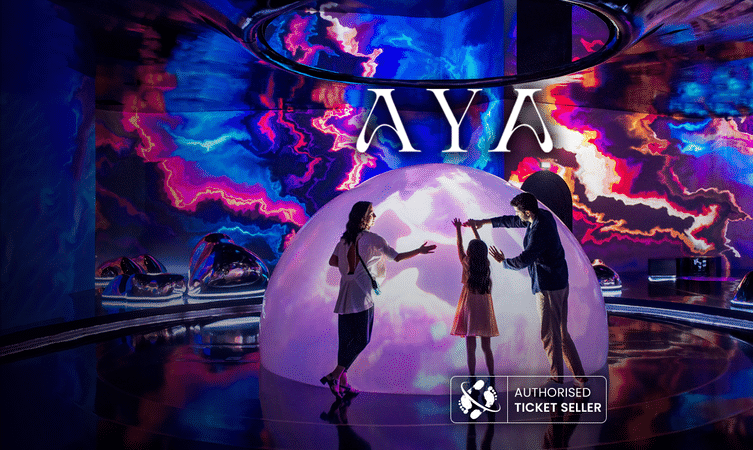 Activity Location: Wafi City Mall - Oud Metha - Dubai - United Arab Emirates
Activity Timings:
Sunday- Thursday: 10:00 AM - 10:00 PM
Friday - Saturday: 10:00 AM - 12:00 AM
Activity Duration: 2 hours (approx)
About the AYA Universe Tickets
Get ready to explore the AYA Universe, a 40,000-square-foot immersive entertainment park, situated in the heart of Dubai. You can wander, play, and enjoy stargazing while strolling through the 12 different zones at AYA. Art and technology meld together to showcase art in a new immersive way. You can stroll through glittering gardens and glide across the endless bridge in zones like Drift, Celestia & Falls. Book tickets for the AYA Universe Dubai and enter a sanctuary built to explore the unknown.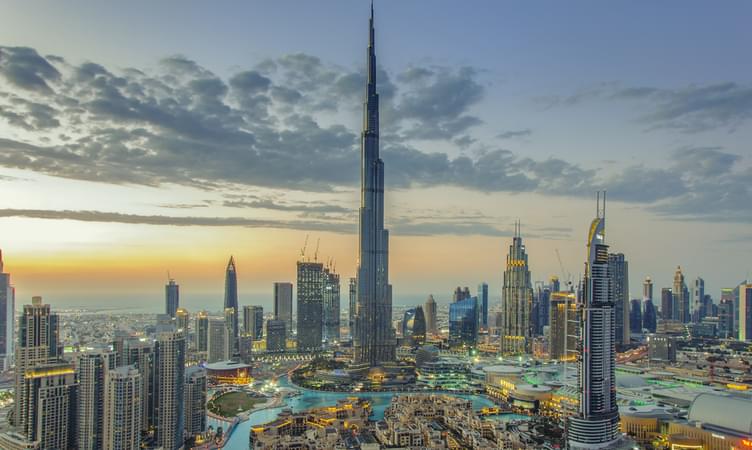 Witness panoramic views of the Dubai Scape from the Observation Deck at the Burj Khalifa, the tallest building in the world
Travel all the way to 124th floor of the Burj Khalifa on the world's fastest glass elevator
Enjoy a meal at the world's highest restaurant, At.mosphere, located on the 122nd floor of the world's highest building
Marvel at the indoor fountain in the Burj Khalifa, which is lit up with 6,000 twinkling lights in the evening 
Unwind at the Burj Khalifa Lounge, which prides itself as the highest lounge in the world 
To add to your experience here, catch unobstructed views of  the Dubai Fountain show from the Observation Deck on the 124th floor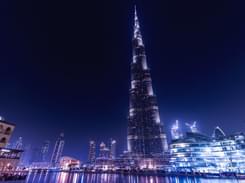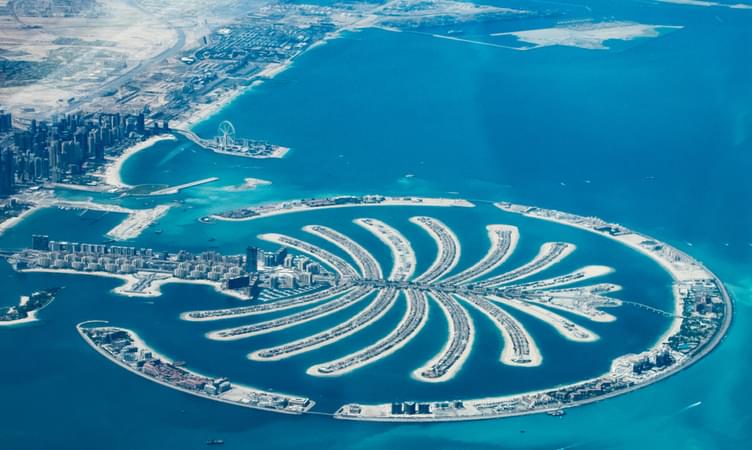 Admire the architecture of the Palm Jumeirah islands which are, quite literally, shaped like a palm tree and are amongst the must visit tourist places in Dubai
At Aquaventure Waterpark, you may unleash your inner child by riding record-breaking waterslides, splashing in pools, or relaxing on the private beach with a cocktail.
Visit The Lost Chambers Aquarium, where you may snorkel or dive through lagoons filled with 65,000 aquatic creatures, including 14 shark and ray species.
Take a boat tour around the Palm Jumeirah coast, catching sight of some of the most iconic buildings here.
Freefall along the Palm in a tandem skydiving session with Skydive Dubai, an experience tailored especially for adventure lovers.
Location:  Dubai - United Arab Emirates Price:  1516 - 1815 AED Suggested Read:  Places to Visit in Palm Jumeirah                                   Restaurants in Palm Jumeirah Planning a Trip to Dubai? Check out our Dubai Tour Packages Now!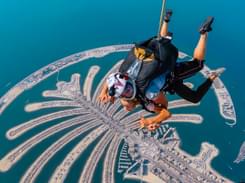 Museum of the Future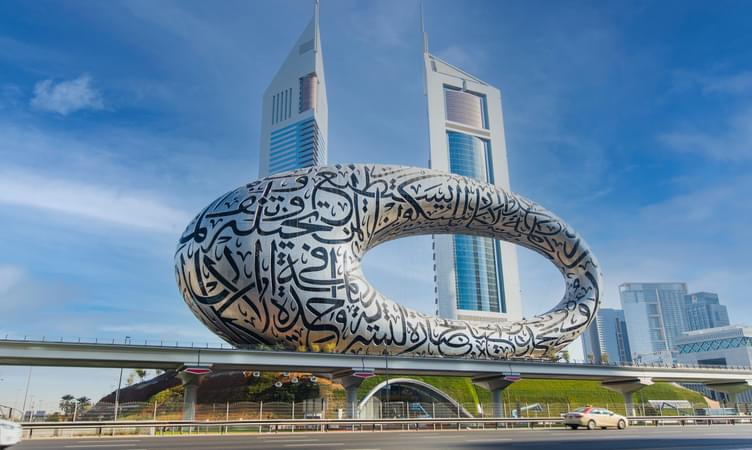 One of the best tourist places in Dubai,  Museum of the Future  is a new age museum dedicated to the exploration of a possible future, showcasing how world will be in 2071
Admire the architectural expertise of Shaun Killa in the exterior walls of the museums, engraved with lines of Arabic poetry 
Visit the Journey to the Future and learn more about how astronauts survive in space 
Explore the Amazonian forests at the Digital Amazon exhibit and discover the rainforests where few humans have gone before 
Learn how you can help to reduce the effects of climate change on the human body in the Vault of Life, the Museum of Future's DNA Library
Attend a series of debates and events with key industry visionaries, where they'll have an open discussion about their future visions.
Location:  Financial District of Dubai, UAE
Timings: 10:00 AM to 6:00 PM 
How to reach: Take a metro to Emirates Towers Metro Station and you can cover the remaining distance by Sheikh Zayed Road to finally reach your destination which is 228 meters away.
Click Here to Book Now: Museum of the Future Tickets, Dubai  Planning a Honeymoon trip to Dubai? Checkout our  D ubai Tours for Couple   Now!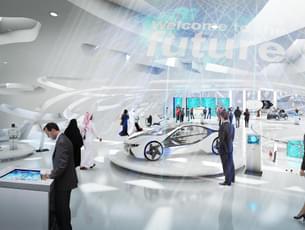 Desert Safari with BBQ Dinner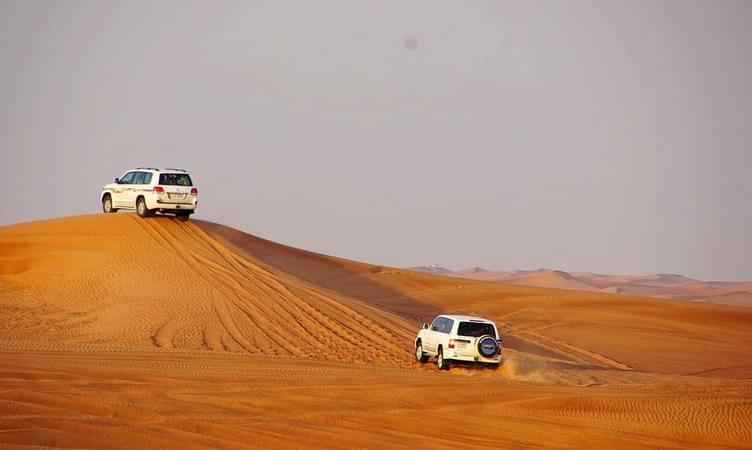 Spend a day on a safari across the undulating desert sand dunes, one of the top cultural experiences that the Dubai deserts have to offer\
Travel through the undulating desert sands during dusk, catching unobstructed views of the setting sun
If you have an inclination for adventure sports, you could also try your hand at sandboarding
Prepare to be enthralled by a traditional belly dancing routine, as you lounge in the Bedouin tents after a long day of safari 
Enjoy a barbecue buffet dinner to end your day, choosing from a plethora of vegetarian and non vegetarian options 
Dubai Aquarium and Underwater Zoo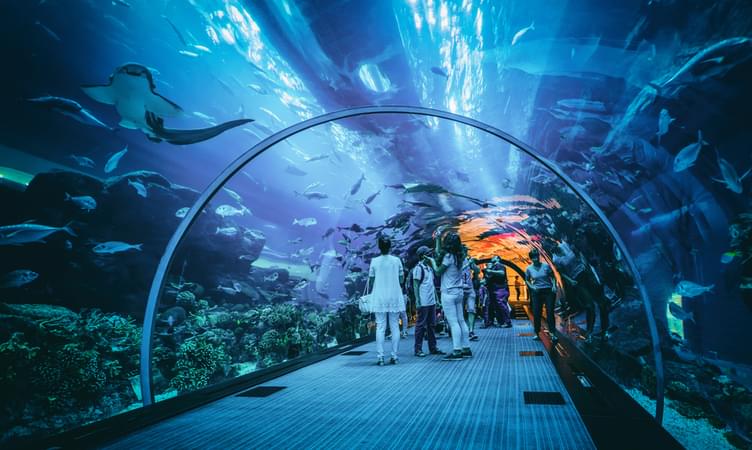 Take a walk through the underwater tunnels at the Dubai Aquarium , the elaborate underwater universe home to thousands of marine species.
Catch a glimpse of the endangered tiger sharks, preserved in the ginormous tanks of the Underwater Zoo 
For an added bit of adventure, attend the Swim with the Sharks session which takes you to the depths of the shark tanks 
Pay a visit to the King Croc exhibit, housing the world's biggest reptile- a gigantic crocodile weighing a whopping 750 kgs
Try your hand at cage snorkeling, a guided diving session that takes you through the aquatic exhibits at the Dubai Zoo and Aquarium
Timings: Sunday to Wednesday- 10 AM to 10 PM                 Thursday to Saturday - 10 AM to 12 AM
- By metro: Take the metro to Burj Khalifa/The Dubai Mall station. Upon arrival at the station, head out to the main road. There is a feeder bus that goes from the station to the mall every 15 mins. Alternatively, the mall is a 15-min walk from the station via the air-conditioned Metro Link Bridge.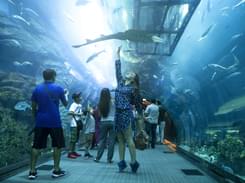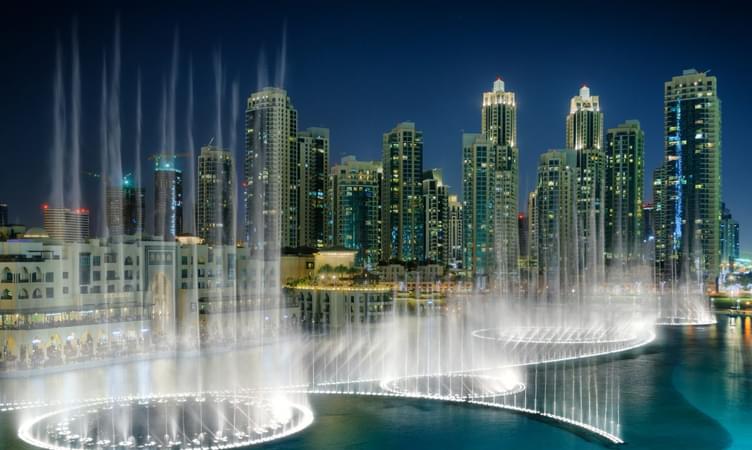 Marvel at the Dubai Fountain , the tallest choreographed fountain shows in the world and one of the best Dubai attraction 
To add to the experience, take an Abra boat ride during the fountain show to catch the marvel from the Marina waters
The Dubai Fountain Boardwalk give you an opportunity to witness this marvelous fountain from just nine meters 
Reserve a table at any of the high-end restaurants by the lake and enjoy a lavish meal as you witness the Dubai Fountain show 
- By Metro: The best way to get from Bur Dubai to Dubai Fountain is to take a metro to Burj Khalifa Station which takes 20 minutes, after that it's a small walk to the Dubai fountain show dock area.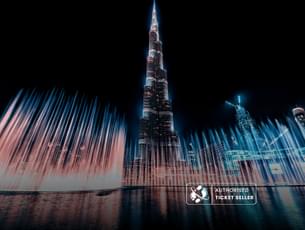 Explore the luxury that unravels within the Dubai Mall , the largest shopping mall in the UAE
Pay a visit to the fantastic Dubai Aquarium and Underwater Zoo, a rare underwater spectacle home to around 140 marine creatures 
Explore the Dubai Mall VR Park, where gamers have the time of their lives navigating through lifelike narratives 
Try your hand at a fantastic array of snow sports at the Dubai Mall Snow Park, the only place in the city to have authentic snow
Marvel at the Human Waterfall, the four storey long waterfall that stretches along one side of the Dubai Mall 
Shop til you drop at the Fashion Avenue, home to the best fashion and cosmetic brands from around the world
Spend some time with your kids at Kidzania, the immersive play and learn universe designed especially for these younger guests 
Catch the newest release at Reel Cinema, the twenty six screen theater nestled within the Dubai Mall 
Sunday to Wednesday: 10:00 AM to 12:00 AM Thursday to Saturday: 10:00 AM to 01:00 AM
Top Experiences To Do in Dubai Mall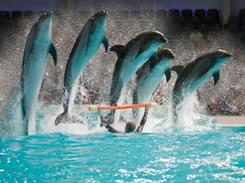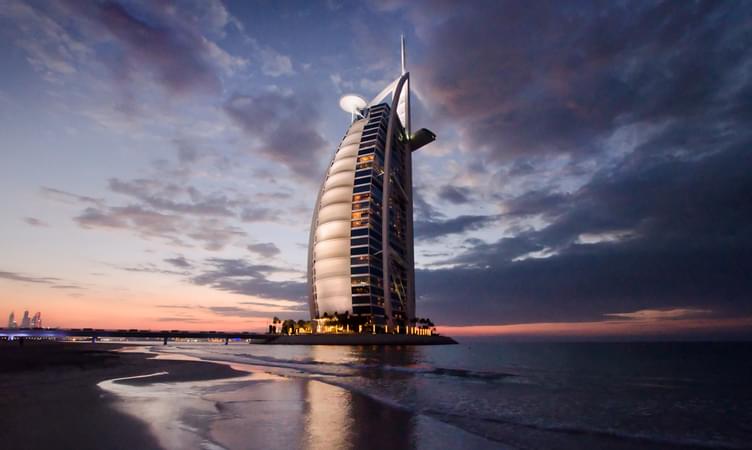 Burj Al Arab  is the most luxurious hotel of Dubai having interiors embellished with 24-carat gold
Admire the architecture of the sail-shaped hotel, best Dubai attraction, as it rests against the bright blue waters of the Gulf
Select from the array of stunning high end restaurants at the building to enjoy a lavish meal 
Lounge on the outdoor terrace pools, which looks out directly to the beautiful Arabian Gulf below 
Enjoy a meal at Al Mahara, the underwater seafood restaurant, admiring marvelous views of the marine life as it unravels around you
Unwind at the Talise Spa at Burj Al Arab, choosing from the range of elaborate therapies and treatments they have to offer
Location : It is located near Jumeirah beach. Click Here to Book :  Flat 25% Off on Dubai City Sightseeing Tour Suggested Read:  Best Restaurants Near Burj Al Arab                                Things to Do Near Burj Khalifa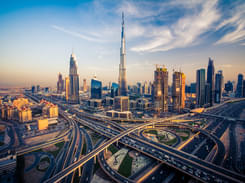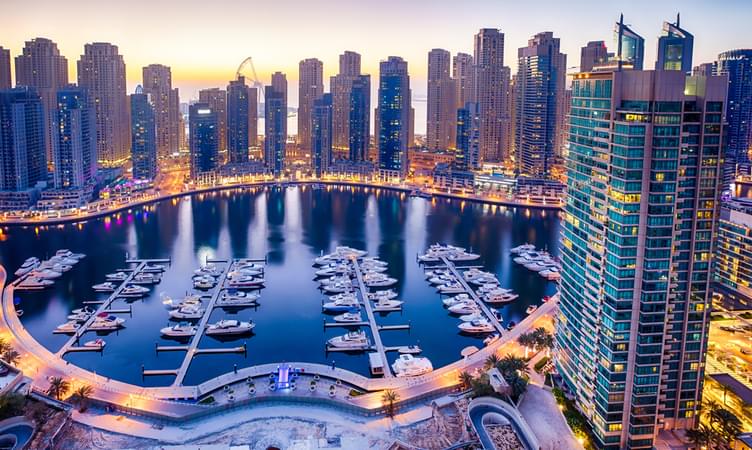 Take a walk along the Dubai Marina , one of the best Dubai attraction and most beautifully landscaped promenades in the city
Choose from one of the many fantastic eateries and cafes that line the Marina, enjoying a lavish meal with views of the water 
Take a dinner cruise on a traditional Dhow Boat, witnessing the illuminated skyline of Dubai as the boat idles along 
Go deep sea fishing in the Dubai Marina, exploring the depths of the Arabian Gulf and it's magnificent marine life 
Rent a yacht from the Dubai Marina club and treat yourself to a luxury tour around the Marina
Take a speedboat tour around Dubai Marina, catching a glimpse of the major landmarks that line the shore here
Timings of Dhow Cruise Dubai Marina:  9:00 PM to 10:30 PM (Everyday) How to reach?
- By Tram: T he nearest tram station is Jumeirah Lakes Towers. Tram station is 901 meters away, 12 min walk. - By Metro: Catch the M1 metro line which lies on the Red Line to reach the nearest metro station, Jumeirah Lakes Towers Tram station and Jumeirah Lakes Towers metro stations are connected through a foot over a bridge across Sheik Zayed Road. - By Bus: The bus lines that stop near the Dhow Cruise Dubai location are Bus-8, Bus-88, and Bus-F55A.
Click Here to Book:   Dhow Dinner Cruise In Dubai Marina Must Checkout & Book -  Dubai Package trip From Bangalore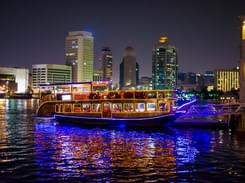 Explore the many themed zones at the IMG Worlds of Adventure , the biggest indoor amusement park in Dubai, home to over 22 rides and thrill attractions
Challenge yourself to an amazing array of hair-raising rollercoaster rides at the Jurassic section of IMG Worlds
Take a picture with the characters from the Marvel and Cartoon Network universe that are brought to life at the park
Explore the themed restaurants at this best place to visit in Dubai, sampling cuisines stemming from different parts of the world 
Purchase a merchandise from the theme stores at the different adventure zones, leaving with a memento that you can carry back home
Location:  E311, Sheikh Mohammed Bin Zayed Road, City of Arabia - Dubai - United Arab Emirates.
Price: 152 - 180 AED Timings: 12:00 PM to 8:00 PM (Saturday to Wednesday) 12:00 PM to 9:00 PM (Thursday & Friday) Don't Miss: - Rides of Marvel Zone-like- Spider-Man Doc Ock's Revenge, Hulk Epsilon Base 3D, Thor Thunder Spin. - Rides of Lost Valley Zone-like- The Velociraptor and the Adventure Fortress. - The attraction of IMGBoulevard zone i.e. The Haunted Hotel. How to reach?
- By metro:- Nearest Metro stations are The Dubai Mall (Approx 25km), Mall of the Emirates (Approx 30 km). Visitors from Dubai can take a taxi from the Metro stations. - From Dubai International Airport:   It is only 9.7 Km which is a 15-20 minutes drive. You can always choose the round trip transfer option available below.
Click Here to Book:  IMG Worlds Of Adventure Tickets Suggested Read:  20 Best Fun Things to Do in Dubai                               Thrilling Rides in IMG Worlds of Adventure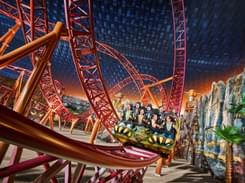 Dubai Dolphinarium
Make a stop at the Dubai Dolphinarium, one of Dubai's best water entertainment parks 
Watch as the fur seals and dolphins come together in a lively performance at the dolphin show
Under the supervision of a professional trainer, you will get the opportunity to play with, feed, and swim with dolphins
Watch how the exotic birds fly around, interact with each other and the audience at the Creek Park show
Test your intelligence at the Mirror Maze, which has a maze made entirely of mirrors through which you can pass
At the very end, stop by the Happy Valley restaurant for a poolside dinner
Location:  Riyadh Street, Inside the Creek Park Gate 1 - Dubai - United Arab Emirates Price: 41 - 52  AED Time Slots for Dolphinarium: 11.00 AM, 2.00 PM, and 6.00 PM(Monday- Saturday) Time slot for Swim with Dolphins: 1:00 PM, 3:00 PM, 4:00 PM(Monday- Saturday) Time Slots for Exotic Bird Show: 12:15 PM, 3:15 PM, 5:15 PM & 7:15 PM(Monday- Saturday) How to reach? - By Metro:- The nearest Metro station to Dubai Dolphinarium is the one at Dubai Healthcare City on the Green Line route. You can get off at the Dubai Healthcare City Metro Station and take a 5-minute taxi ride for the remaining distance. Click Here to Book:   Book Dubai Dolphinarium tickets Also Read: Best Indian Restaurants in Dubai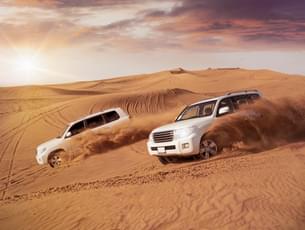 Dubai Frame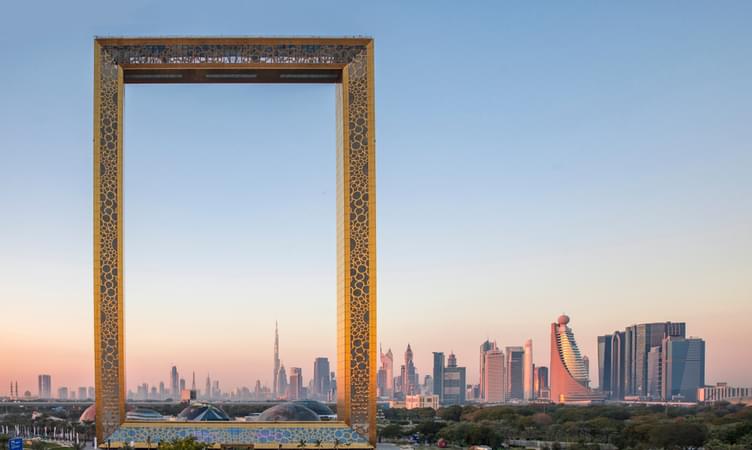 Dubai Frame is an iconic frame-like structure that offers breathtaking views of New and Old Dubai.
View the many tourist places in Dubai like Burj Khalifa, Jumeirah Mosque while walking across the glass ceiling that joins the two sides of the frame
On the first floor of the Frame, lies the Old Dubai Gallery, which features multimedia displays on the city's history
Explore the audio-visual display 'Future Dubai,' which envisions what the city will have to offer in the future
Walk across the top bridge during sunset, treating yourself to the best views
Make a reservation for an early morning breakfast at the very top of the Dubai Frame, with a special experience titled 45 Minutes of Gold
Location: Zabeel Park Price: 48  - 73 AED Timings:  9:00 AM to 9:00 PM(Monday-Sunday)
How to reach? - By Metro: Take the Red Line to Al Jafiliya Metro Station and walk towards Gate 4 AKA Star Gate of Zabeel Park - By Taxi/Cab: Feed-in Zabeel Park Gate One on your GPS to reach the public parking near Zabeel Park. From here, Gate 4 AKA Star Gate is a short walk away.
Click Here to Book:  Dubai Frame Tickets Also Checkout -    Ahmedabad to Dubai Tour Packages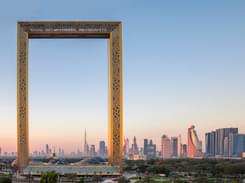 Global Village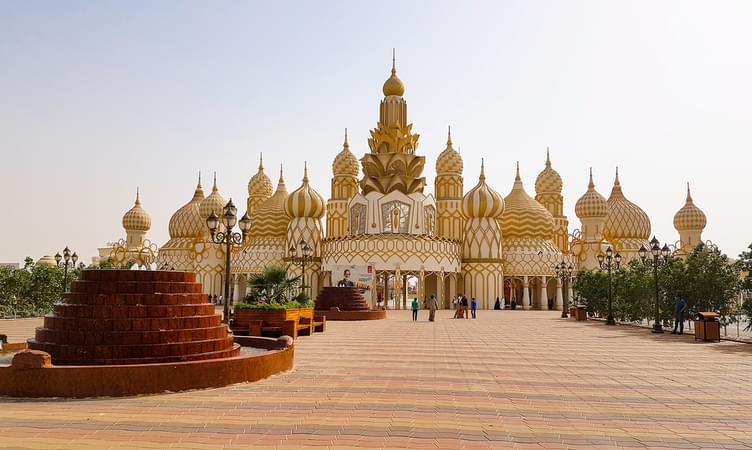 Dubai Global Village is a one-stop destination for entertainment, shopping as well as dining with various countries setting up pavilions offering varied experiences
Visit one of the nearly 26 pavilions representing each participating country to get a taste of as many different cultures as possible
Take a picture with the life sized replicas of the seven wonders of the world at Global Village, one of the best places to visit in Dubai
Choose from a selection of traditional apparel, jewelry, trendy accessories, and more at over 1500 different stores and booths
 Sample food from all over the world at the restaurants strewn across the Global fest
Allow the thrills, games, and attractions of Global Village's very own Carnival to fascinate you 
Location:  Sheikh Mohammed Bin Zayed Road Dubai Price:  13 - 16 AED Timings:  Saturday-Wednesday: 04:00 pm - 12:00 am & Thursday-Friday: 04:00 pm - 01:00 am
Don't Miss: - Stunt Show Survivor - Be sure to try out the Honolo-loop, Jamaica Drum, Vroom UAE, and Miami Surf if you are visiting with kids. How to Reach? - By Metro/Taxi: Take the red line to First Gulf bank and then take a taxi to Global village, reaching in 50 minutes - By Bus: Dubai's Roads and Transport Authority (RTA) has resumed four of its bus routes travelling to and from Global Village. Click Here to Book:  Dubai Global Village Tickets   Recommended Read:  Global Village Rides You May Also Checkout -  Dubai Trip From Chennai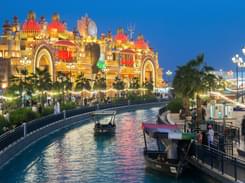 Dubai Miracle Garden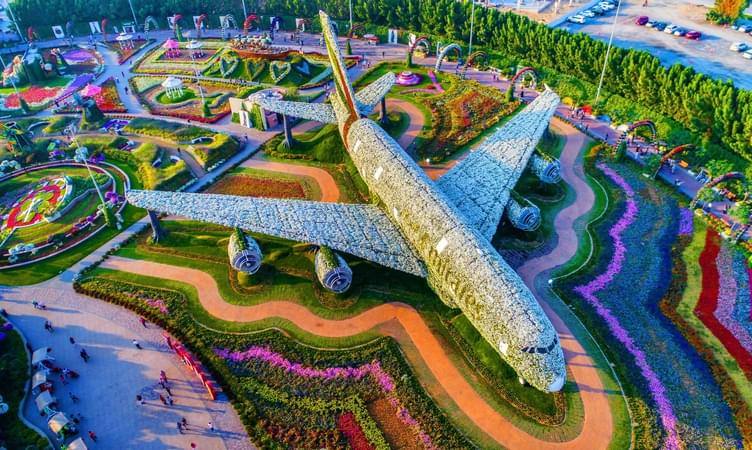 Admire the beautiful display of more than 150 million flowers at Dubai Miracle Gardens
Marvel at the Emirates A380 flight's lifelike exhibit, the world's biggest artwork made entirely of flowers
Examine the craftsmanship of  the Floral Clock, a massive flower-covered clock piece that changes its appearance with the seasons
Pose for a shot at the Sunflower Field, one of the most beautiful Dubai Attraction in the Miracle Gardens
Take a picture in one of the Gardens' fantastic photogenic alleyways, some decorated with umbrellas, some with flowering canopies
Grab a snack at Hill Top's café, a flower-filled corner, enjoying the views of the entire garden as it spreads out below
The Flower Procession, a festive parade featuring costumed dancing, music, and marches, is a must-see
Location: Al Barsha South 3, Barsha, Dubailand Area - Dubai - United Arab Emirates Price:  117 - 185 AED Timings: 9:00 AM to 6:00 PM (Sunday to Friday) 9:00 AM to 9:00 PM (Saturday Only) Don't Miss: - Lake Park: Lake Park captures every aspect of the lake and gives it a flowery makeover - Umbrella Tunnel: One of the most interesting passages made by upside-down umbrellas. - Giant Teddy Bear: Combination - Floral Clock: The Garden offers a beautiful sight of a beautiful 15-meter floral clock. How to Reach? - By Metro: Take the Dubai Metro and stop at the MOE (Mall of the Emirates metro station) - Red Line - By Bus: Take Bus Number 105 and it will directly take you to Dubai Miracle Garden. Click Here to Book:  Trip To Dubai Miracle Garden Suggested Read:   Best Time and Season to Visit Dubai                               Things to Do in Dubai Miracle Garden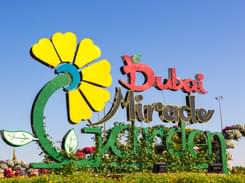 Escape the blazing Dubai heat at Ski Dubai, a massive ski resort situated in the Mall of Emirates 
Take a gondola to the very top of a mountainous slope and choose from a variety of skiing paths snaking across the snowy slopes
Make use of the resident ski experts to improve your skiing and snowboarding abilities
Feel the wind in your hair as you zipline from one side of the park to the other
Try your hand at a plethora of snow sports, including tobogganing, sledding and snow zorbing 
Location:  Sheikh Zayed Road - Dubai - United Arab Emirates Timings:  Sunday - Thursday: 10.00 am - 12.00 pm & Friday - Saturday: 09.00 am - 12.00 am. Price:  178 - 198 AED Don't Miss: - March of The Penguins: 14:00, 16:00, 18:00, and 20:00 daily - Penguin Encounter (40 minutes session)  - The world's first indoor sub-zero Zip Line - Ski Dubai's signature hot chocolate at Avalanche Café How to Reach? - By Car: Mall of the Emirates is strategically located in the heart of 'New Dubai,' at interchange 4 on Sheikh Zayed Road. - By metro: Mall of the Emirates Station can be reached by taking the Red Line running from Rashidiya station to UAE Exchange station.
Click Here to Book:  Ski Dubai Tickets Also Read: Things to Do in Barsha Dubai                       Things to Do in Ski Dubai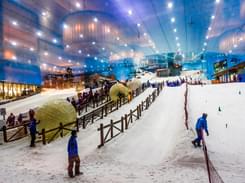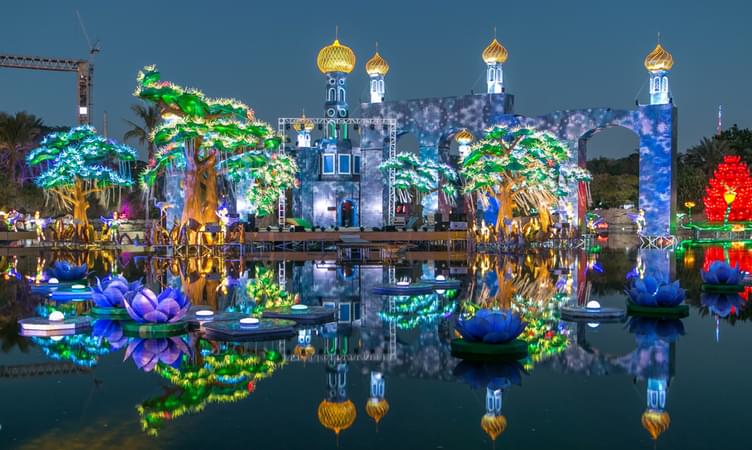 Witness how art and technology come together at Dubai Garden Glow, a special theme park with attractions that glow in the night
Explore the art installations across the park's four zones: Glow Park, Dinosaur Park, Magic Park, and Art Park, some of the best places to see in Dubai 
Visit Dinosaur Park, the largest outdoor dinosaur themed entertainment park, to learn about the evolution of prehistoric species
Admire the art installations made entirely out of recycled materials at Art Park 
Pose with a beautiful collection of 3D art and optical illusions at the Magic Park, which will blow your mind
Admire the craftsmanship that went behind the making of the superior ice sculptures at the Ice Park 
Location: Zabeel Park Price: 48 - 68 AED Timings: 5:00 PM - 10:30 PM( Sunday to Thursday), and 5:00 PM - 11:00 PM(Friday) How to reach? - By metro: take the metro, the closest metro station is the Al Jafiliya Metro Station on the Red Line. - By Bus: Take line named 27 from The Dubai Mall and reach the Al Jafiliya Bus station from there it is just 18 min. walk. Click Here to Book:  Dubai Garden Glow Tickets Also Book -   Dubai Tour Packages From Pune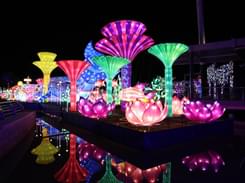 The Lost Chamber Aquarium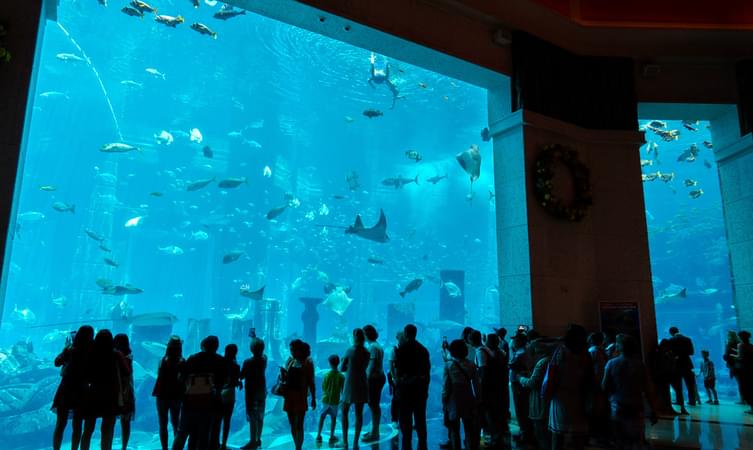 A walk through the glass tunnels to see the sea infront of yours very clearly and in detail will not be a dream but reality at the Lost Chamber's Aquarium in Dubai. The awe-struck moments are created while you have a tour at Atlantis, the Palm.
Here is a life time opportunity to interact with the mighty sharks, stingray, piranhas, sea horses and other marine creatures right before your eyes floating and playing. The design of the aquarium was inspired by the spell binding Lost City of Atlantis, the underwater tunnels at the aquarium gives the visitor an unforgettable experience by showing the shipwrecks and ruins. There are ten beautiful chambers which display the distinguished life culture underwater.
Highlights: More than 20 marine lives exist in this aquarium along with a touch tank. Behind the Scenes will let you know more about Moral Eel and other animals found and rarely described anywhere. Learn about the fish hospital, the water filtering systems and similar things here and know the tips to take care of marine animals. The breathtaking Ambassador Lagoon would show you how the professional divers are navigating under the water. If you dare to do something adventure, then the aquarium offers you that as well for the whole family. Location: Atlantis the Palm, Dubai - Dubai - United Arab Emirates. It is located around 26 kms away from Dubai city.
Timings: The aquarium is open on all days from 10:00 am to 10:00 pm.
Price: AED 120 per person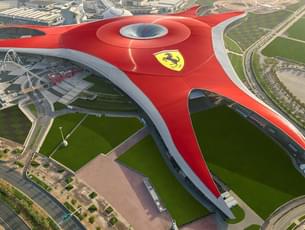 Take a ride on the world's largest and tallest observation wheel- the Ain Dubai- which goes up to a height of 250 meters above the ground
As your capsule reaches the city's highest point, you'll get some of the best views of the city, catching sight of the places to visit in Dubai such as the Burj Al Arab, the Burj Khalifa, and the Palm Jumeirah islands
Go for a  sunset ride for a totally unique experience, treating yourself with front-row tickets to watch the most amazing sunset.
Treat yourself to a gourmet dinner in the sky with the Dine in the Sky experience at Ain Dubai, which combines a ride on the wheel with a specially curated dinner experience 
Location: Bluewaters Island - Dubai - United Arab Emirates Price: 92 - 155 AED Timings: 9:00 am to 6:00 pm Click Here to Book:  Ain Dubai Tickets Must Book -  Dubai Trip From Hyderabad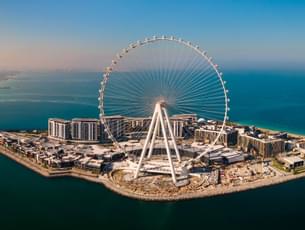 View at the Palm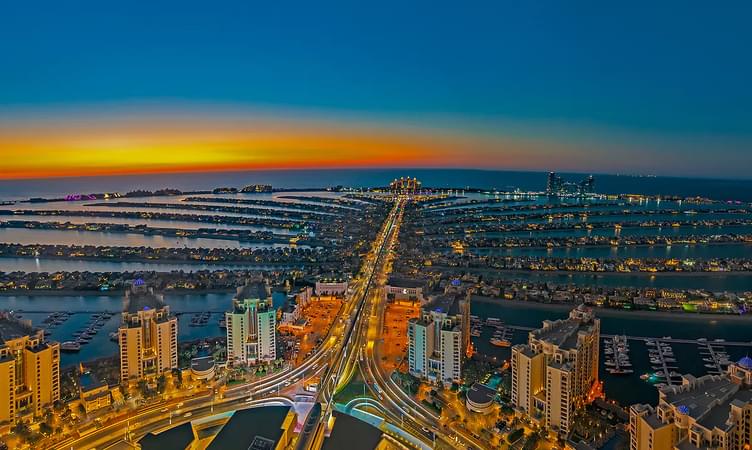 Discover the one-of-a-kind observatory that offers gorgeous 360-degree views of Palm Jumeirah and the skyline of Dubai.
Head towards the Palm Tower on the 52nd floor and enjoy the stunning views of the Arabian Gulf, Dubai Skyline, and Palm Jumeirah.
Hop on and enjoy the longest zip line in Dubai and catch a bird's eye view of the iconic island as you soar across the high skies. 
Glance through the 3D map of Palm Jumeirah on a flat surface and easily zoom in and out of the map by spinning the table.
You can get interesting insights into the architectural history of Palm Island with virtual reality.
Enjoy multiple exhibits of the island like building the reef, mini-satellite projects, and rainbowing at the View at the Palm .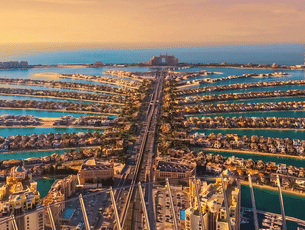 Atlantis Palm Hotel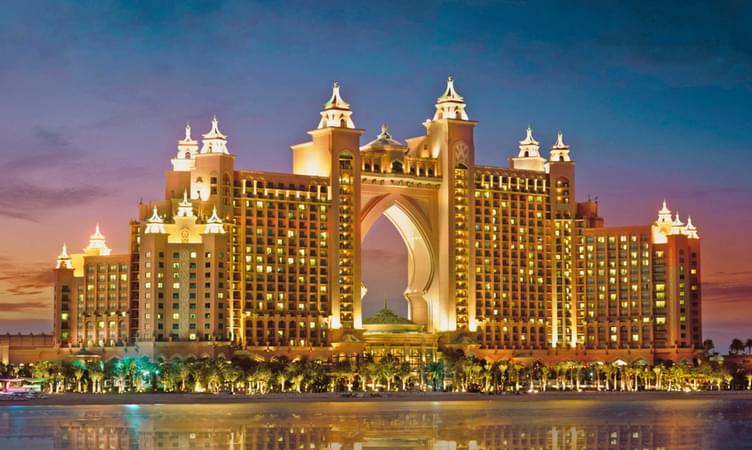 Atlantis Palm Hotel is situated on the iconic Palm island and is a one world renowned resort that offers luxury and entertainment
Let the 10 gourmet restaurants at the hotel redefine the idea of fine dining for you, bringing together the best of global cuisine under one roof 
Explore the best of Dubai's water adventure activities with a visit to the hotel's Aquaventure Waterpark and the Lost Chambers Aquarium 
Get up close and personal with the marine life with the special water experiences offered at Atlantis, such as the dolphin experience or the sea lion experience 
Allow yourself a day of self-care with a trip to the in-house spa, nail salon and underwater yoga center at Atlantis the Palm, often referred to as one of the most famous places to visit in Dubai. 
Attractions : Aqua Venture Water Park Location :  Crescent Rd - Dubai - United Arab Emirates Price:  531 - 592 AED Timings:  Open 24 hours Suggested Read:  15 Best Things to Do in Atlantis Dubai
Also You May Book -  Dubai Group Tour Packages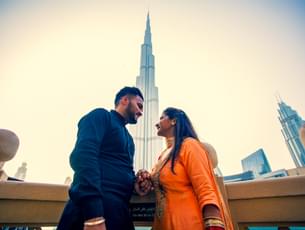 Ferrari World Day Trip from Dubai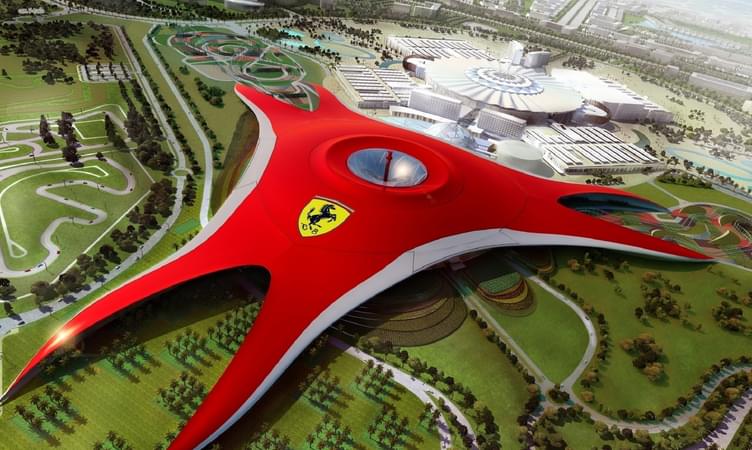 Spend a thrilling day at Ferrari World , the only Ferrari-themed adventure park in the world.
Get a chance to drive your own Ferrari across the park, or have one driven for you by a professional driver 
Take a ride on the Formula Rossa, the fastest rollercoaster in the world
Invite your family or friends to a race at Ferrari World's own go-karting track
With the F1 simulator experience, you can experience what it's like to drive a Formula One race car.
Explore the best of global dining with the restaurants at Ferrari World, such as Il Podio, Mama Rossella or Espresso Rosso
Leave with a memento purchased from any of Ferrari World's very own merchandise stores
Location: Yas Island, 128717, Abu Dhabi, United Arab Emirates Price:  241 - 268 AED Timings: 11:00 AM to 6:00 PM (Sunday - Wednesday) 11:00 AM to 10:00 PM (Thursday - Saturday)
Do Not Miss: - Formula Rossa - Fiorina GT Challenge - Scuderia Challenge - Speed of Magic
How to Reach? - By Metro: From airport terminal 3, which will drop you at Ibn Battuta Mall from here, you need to take bud to drop you at Shahama bus stop from there you can hire a taxi to drive you to the entrance of Ferrari World Abu Dhabi. - By Bus: From terminal 1, take a bus to Ghubaiba Bus Station from there take the next bus to drop you at central bus station at Abu Dhabi. Once reached, you need to head toward Al Wadha Terminal to take a bus for YAS island Ferrari World. - By Taxi: You can also book the Taxi on a private basis from your hotel to the attraction - By Yas Express: You can opt for a complimentary shuttle bus service that runs daily along several routes, providing easy access to Yas Island's main attractions and landmarks Click Here to Book:  Full Day Ferrari World Tour Suggested Read:   40 Best Fun things to do in Dubai with Kids                                 Things to Do in Ferrari World Abu Dhabi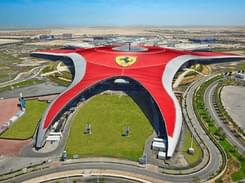 Explore all of the augmented reality based game scenarios at the VR Park , one of the best places to visit in Dubai.
Choose from virtual reality activities such as the John Wick franchise, Hologate, and Beat Saber
Conquer your fear of falling with the Burj Drop, a scenario that imagines one as a window washer right outside the window of the tallest building in the world  
With the Dubai Drone Expedition, you can see what Dubai will look like in 2050
Allow your kids to experience the classic swing ride digitally with Flying Chairs, an experience adapted to the needs of children
Location: The Dubai Mall - Financial Center Rd - Dubai - United Arab Emirates Price: 48   - 73 AED Timings:   12:00 PM to 10:00 PM (Sunday to Thursday ) 12:00 PM to 12:00 AM (Friday & Saturday) Don't Miss: - APE-X:  you get to be a massive weaponized cybernetic Ape, and all you have to do is escape your creator who wants to keep you a lifelong captive. - The Raft:  This one's a four-player experience where teamwork is paramount and there's no way you're escaping the wrath of supernatural creeps without combining forces with your fellow players. - John Wick Chronicles: You will get your very own MP5 ( VR, of course) so feel like a hitman and work as a hitman with this submachine gun in your hand. - PAYDAY: The VR Heist: Based on the first-person shooter video game. - The Walking Dead Vr Outbreak: A zombie apocalypse and you're bound to a wheelchair inside a hospital. How to reach? - By metro: Take the metro to Burj Khalifa/The Dubai Mall station. Upon arrival at the station, head out to the main road. There is a feeder bus that goes from the station to the mall every 15 mins. Alternatively, the mall is a 15-min walk from the station via the air-conditioned Metro Link Bridge. - By car: If you plan to drive to The Dubai Mall from the center of Dubai, take the first interchange and proceed through Financial Centre Road (formerly Doha Street). You will see the approach road to The Dubai Mall on the right-hand side. Click Here to Book Now:  Vr Park Dubai Tickets Popular Read:  Things to Do on Honeymoon in Dubai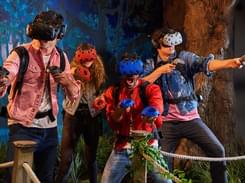 Bollywood Parks Dubai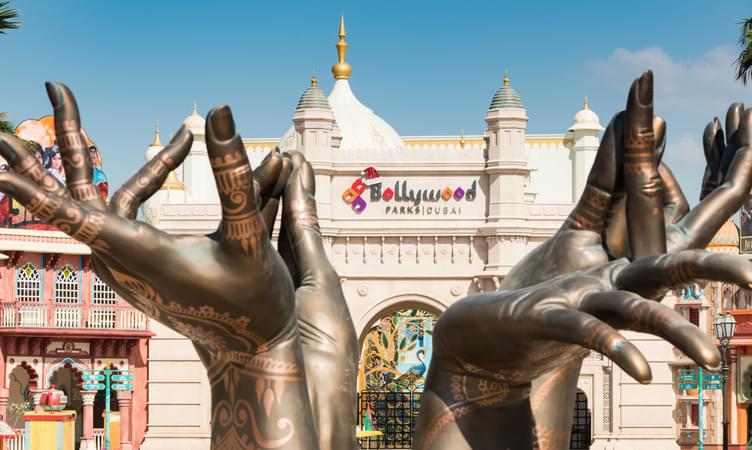 Visit Bollywood Park , the first amusement park in the world dedicated solely to Indian films.
Take a spin on the world's largest swing attraction, the Bollywood Skyflyer.
Catch a live presentation of Indian traditional dances on Bollywood Boulevard's streets
Admire the unusual architecture of the Rajmahal Theater, which was inspired by Agra's Taj Mahal and is home to the world's first Broadway-styled Bollywood musical
Catch a scrumptious meal from all around the nation at the different cafes like Victoria Station, Jumbo Cafe, etc around Bollywood Park.
Mela Junction, Bollywood Park's own carnival, offers amazing rides like Wheel of Stars, Monsoon Masti, Rodeo ki Sawari, etc
Location:  Opposite Palm Jebel Ali, Sheikh Zayed Road, Dubai, United Arab Emirates Price:  146 - 175 AED Timings:  3:00 PM - 11:00 PM (Sunday-Saturday) Don't Miss:
- At Bollywood Boulevard's Crossroads stage, see colorful performances inspired by the movies of 60's, 70's and 80's. - At Mumbai Chowk - Don: The Chase - a 3D immersion tunnel ride co-created by SRK. - At Bollywood Film Studios- Cinemagic Featuring Zindagi Nah Milegi Dobara. - At Rustic Ravine - Bollywood Skyflyer Ride. How to reach? - By Metro: T ake the Dubai Metro Red Line towards Jebel Ali and alight at Ibn Battuta Metro station. From here you can take a taxi to reach Bollywood Park Dubai. - By Taxi: From Downtown Dubai, head south of Sheikh Zayed Road, past Dubai Marina and Jebel Ali, until you see Dubai Parks and Resorts on the left side of the road Click Here to Book:  Bollywood Parks Dubai Trip Also Check:   Amazing Hotels for a Honeymoon in Dubai                       Thrilling Bollywood Park Rides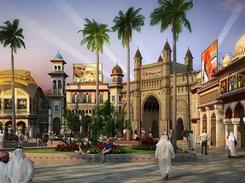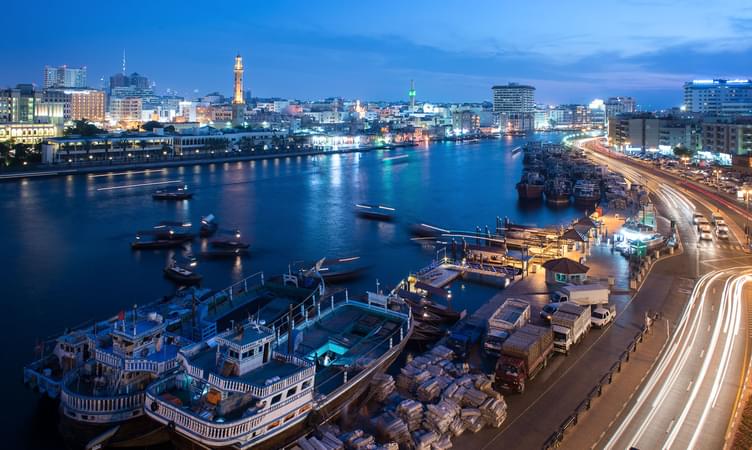 Take a stroll around Dubai Creek  at night, one of the city's most attractive promenades and amongst top Dubai attractions.
Opt for Dhow dinner cruise on the Creek, which blends a traditional Arabian supper with spectacular views of the Dubai cityscape
Enjoy a dinner at one of the restaurants located around the Dubai Creek like The Broadwalk, QD's, Casa De Tapas, etc
Visit the amazing Ras al Khor Bird Sanctuary, which is located at the end of the Dubai Creek promenade
Location: Dubai, United Arab Emirates Price: 51  - 110 AED Click Here to  Book:  Dubai Creek Cruise  or  Chao Phraya River Dinner Cruise
Popular Read:  20 Best Activities to do in Dubai in Summer                           Places to Visit near Dubai Creek
Wild Wadi Water Park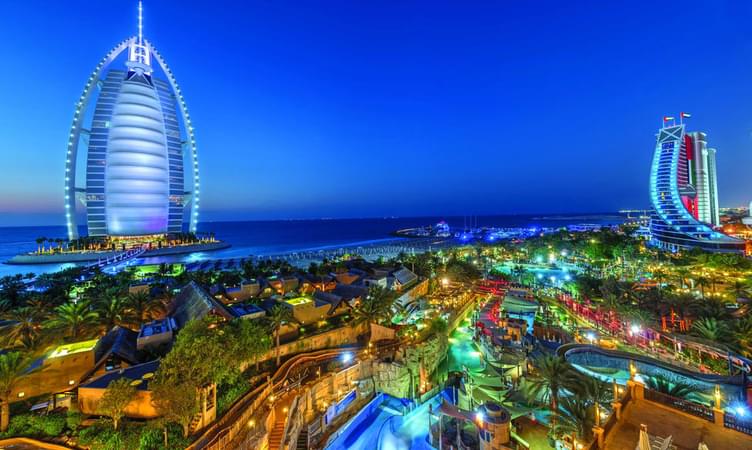 Choose from thirty thrilling rides and attractions at Wild Wadi , all themed around Sinbad and Juha's legendary stories.
Slide down the ultrafast Jumeirah Sceirah, the Middle East's fastest and tallest water slide.
Ride the waves in Breaker's Bay, the Gulf Region's largest wave pool.
At Juha's Dhow and Lagoon excursion, challenge your family to a water cannon war.
After a thrilling day on the water, satisfy your appetite with a delicious lunch or supper at one of Wild Wadi Water Park's wonderful restaurants like Surfer's Burgers, Firecrust Pizza.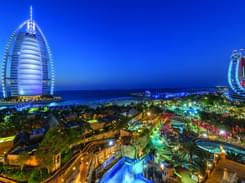 Jumeirah Beach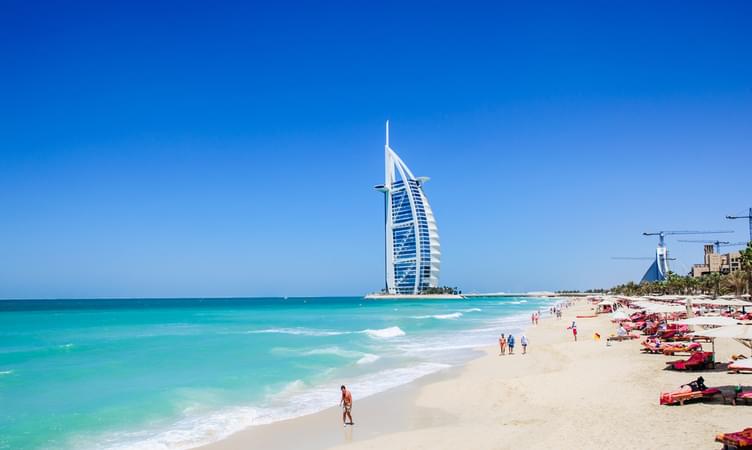 Spend a day on the stunning white sands of Jumeirah Beach , the largest public beach in Dubai 
Opt for a quick dip in the stunning blue waters or spend the day lounging and sunbathing at one of the top Dubai tourist places
Try your hand at the impressive range of watersports that the beach offers, choosing between banana boating, donut boating and others
Enjoy a brunch at any of the beachfront cafes and restaurants that line the Jumeirah coast, such as The Food Square, Bu Deech or Tamurai Sushi and Grill
Choose a shaded spot and enjoy a picnic spread with your friends and family enjoying the stunning ocean views.
Things to keep in mind: Ensure that you are clad in a full swimsuit when swimming in the water and kindly avoid wearing bikinis or clothes of revealing nature. Location:   Jumeirah District, Dubai Price: 90  - 138 AED Timings of Water Sports at J umeirah Beach:    9:00 AM-6:30 PM How to reach? - By Bus: Take bus 8, 84, or N55. Get down at Jumeirah Beach Residence Station 2 bus station. The meeting point is a 7-minute walk from here. - By Tram: Take tram 11 and get down at Jumeirah Beach Residence 2 Tram station. The meeting point is a 3-minute walk from here. - By Waterbus: Take waterbus BM1 and get off at the Marina Promenade Waterbus Station. The meeting point is a 10-minute walk from here. Click Here to Book:  Water Sports At Jumeirah Beach Also Checkout:  Best Romantic Things to Do in Dubai                             Places To Visit In Jumeirah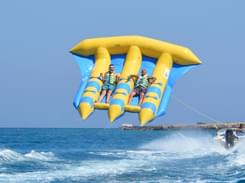 Kidzania Dubai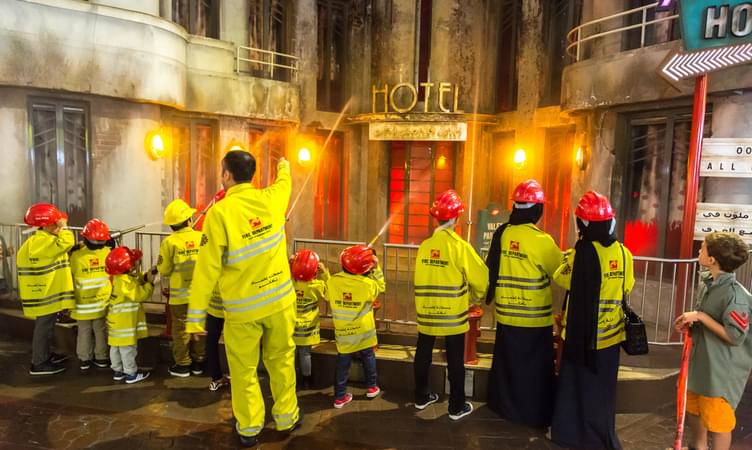 A heaven for the kids, Kidzania Dubai has become one of the top Dubai tourist places with ample role-playing undertakings for children where they can mix learning with fun. Children between the ages four and sixteen can spend hours in this premise practicing what they want to be, learn from experts how to handle money, and other such skills that help in a professional word, the only difference being, it is all imparted fun! Location: The Dubai Mall, Financial Center Road Price: 63  - 98 AED Timings: Saturday to Wednesday: 10:00 AM - 10:00 PM Thursday & Friday: 10:00 AM to 12:00 AM How to reach? - By Metro: Take the metro to Burj Khalifa/The Dubai Mall station. Upon arrival at the station, head out to the main road. There is a feeder bus that goes from the station to the mall every 15 mins. Alternatively, the mall is a 15-min walk from the station via the air-conditioned Metro Link Bridge. - By Car: If you plan to drive to The Dubai Mall from the centre of Dubai, take the first interchange and proceed through Financial Centre Road (formerly Doha Street). You will see the approach road to The Dubai Mall on the right-hand side. Click Here to Book:  Family Day Out In Kidzania Dubai Suggested Read:  Luxury Resorts in Dubai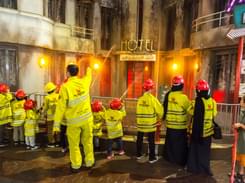 Best of Thailand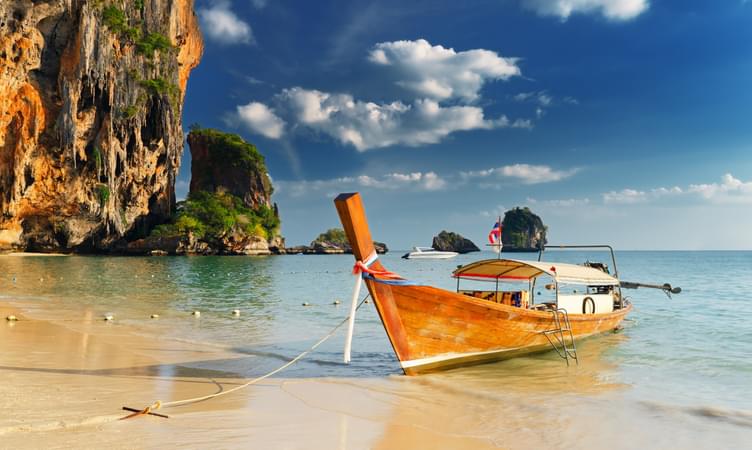 Motiongate is one of the fun places to visit in Dubai which is a theme park inspired by Hollywood. Apart from going on an adrenaline-pumping ride, one can even meet Hollywood characters strolling around the parks waiting to be clicked with visitors. The most thrilling ride in this park is The Green Hornets High-Speed Chase and the Madagascar Mar Pursuit and the Zombieland Blast Of. Shows like Operation Penguin Strike & King Julien's Side Show Stomp and attractions like the Smurf's Village, Kung Fu Panda academy and Panem Aerial Tour keep children and adults on their toes all day. Location: Dubai Parks and Resorts, Sheikh Zayed Road Price: 213 - 266 AED Timings: 02.00 p.m. to 10.00 p.m. (up to 11.00 p.m. on Thursday and Friday) Don't Miss: - The amazing Capitol Bullet Train, dancing spectacle, Step Up Dubai, All In! in Lionsgate zone. - The Green Hornet: High-Speed Chase, and Underworld 4D in Columbia Pictures Zone. - Kung Fu Panda Academy, Madagascar Mad Pursuit in Dreamworks Animation Zone.
How to reach? - By Metro: Take the Dubai Metro Red Line towards Jebel Ali and alight at Ibn Battuta Metro station. From here you can take a taxi to reach MotionGate Dubai. - By Taxi: From Downtown Dubai, head south of Sheikh Zayed Road, past Dubai Marina and Jebel Ali, until you see Dubai Parks and Resorts on the left side of the road. Click Here to Book:  Motiongate Dubai Tickets Popular Read:  35 Best Extreme Adventures in Dubai                           Motiongate Dubai Rides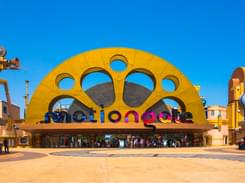 Experience skydiving with a difference at iFly Dubai without actually jumping off a real plane in the midst of a clear sky. Every jumper gets to fly as high as four meters in an AC tunnel which keeps one in the comfort, as well as lets one experience this ecstasy. A trainer is always around to guide one through this process, explain the things you can do when, not in gravity, and also help you realize if you can actually go for the real skydiving. To be completely prepared for this flight, one needs to watch the video played outside this acrylic wind tunnel, and also sign a Waiver Form. Location: Play Nation Area, City Centre Mirdif Price: 199- 236 AED Timings: 10.00 a.m. to 11.00 p.m. (Friday and Saturday), 12.00 p.m. to 11.00 p.m. (Thursday) and 12.00 p.m. to 10.00 p.m. (Sunday to Wednesday) How to reach? By Bus: Catch the RTA Bus F10 that transports to the mall. By Metro: The nearest metro station to the City Centre Mirdif is the Rashidiya Metro Station, catch a taxi from there, it's a few minutes drive. Click Here to Book:  Ifly Dubai Tickets Recommended Read:  Things To Do in Dubai This Weekend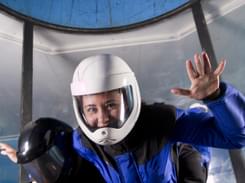 Yas Island Day Trip from Dubai
Yas Island was founded and developmental works on the projects began in 2006. The Yas Island Water Park is a themed water park which comes in best tourist places in Dubai, it can get you all worked up for an entire day. There are more than forty slides, rides, and attractions for you at the water park. The water park is definitely one of the best places to visit in Dubai with family . The park promises you activities and entertainment in the form of adrenaline rushing water rides like nothing else. Jebel drop, Marah fortress, Sebag, Al Raha river, Rush rider, Dawwama, Bubble's barrel, Hamlool's humps, Liwa loop, Yehal, Falcon's Falaj, Tot's playground, Yadi Yas, etc. There are more than forty rides and slides to enjoy at the Yas Island Water Park.  Come here for fun and well deserved time with your friends and family. Location: Abu Dhabi, United Arab Emirates Price: 192  - 241 AED Timings:  10:00 AM - 6:00 PM (Monday to Saturday)
Don't miss: -  Learn to surf the waves like a pro on Bubbles' Barrel - Dawamma, the world's largest six-person water-slide with friends and family How to reach? - By Metro: From airport terminal 3, which will drop you at Ibn Battuta Mall from here, you need to take bud to drop you at Shahama bus stop from there you can hire a taxi to drive you to the entrance of YAS Water World Abu Dhabi. - By Bus: From terminal 1, take a bus to Ghubaiba Bus Station from there take the next bus to drop you at central bus station at Abu Dhabi. Once reached, you need to head toward Al Wadha Terminal to take a bus for YAS island Water World. - By Taxi: You can also book the Taxi on private basis from your hotel to the attraction. - By Yas Express: You can opt for complimentary shuttle bus service from Dubai that runs daily along several routes, providing easy access to Yas Island's main attractions and landmarks. Click Here to Book:  Trip To Yas Island Water Park Also Checkout: 20 Awesome theme parks in Dubai
You Can Also Book:  Kl Tower Mini Zoo Tickets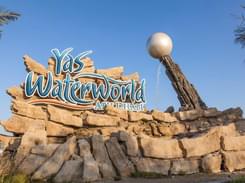 Legoland Waterpark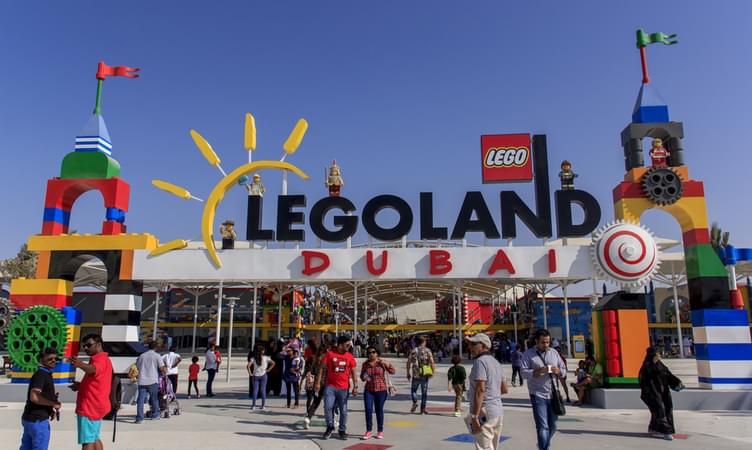 Legoland Waterpark is amongst those Dubai attractions that allow even adults to revisit their childhood days of playing with Legos. This huge theme water park has ample other allurements to keep the entire family entertained with options like Build-A-Boat and Build-A-Raft River using Legos only. It is also one of the most captivating places to visit in Dubai because it is where one can race with side by side slides like Twin Chasers and LEGO Slide racers. Rides like Wave Rider, LEGO Wave Pool, and Red Rush are most loved by people as it allows all members of the family to play together! Location: Dubai Parks and Resorts, Sheikh Zayed Road Price: 146  - 229 AED Timings:   Legoland Theme Park:  The operations hours are:- 11:00 AM - 6:00 PM(Sunday - Wednesday), 11:00 AM - 7:00 PM(Thursday & Saturday), 11:00 AM - 8:00 PM(Friday). Legoland Waterpark:  The operations hours are:- 10:00 AM - 6:00 PM(Thursday- Sunday). Don't Miss:
- In Lego land Theme Park- Kid Power Tower, Dragon Apprentice, Lego Technic Twister, and Lego Studios 4D. - In Legoland Waterpark - Joker Soaker, Build-A-Raft River, and Lego Slide Racers. How To Reach? - By Metro: Take the Dubai Metro Red Line towards Jebel Ali and alight at Ibn Battuta Metro station. From here you can take a taxi to reach LEGOLAND Dubai. - By Taxi: From Downtown Dubai, head south of Sheikh Zayed Road, past Dubai Marina and Jebel Ali, until you see Dubai Parks and Resorts on the left side of the road. Click Here to Book:  Legoland Dubai Tickets Suggested Read: Things to Do at Legoland Dubai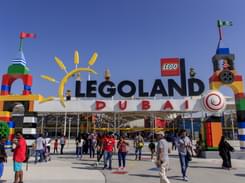 Laguna Water Park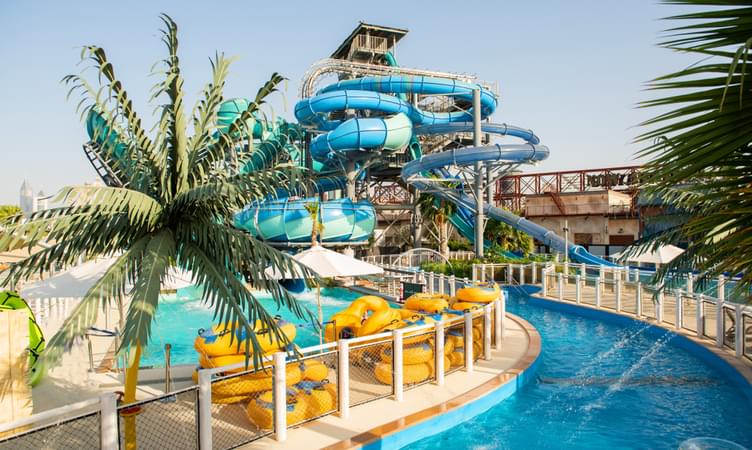 Laguna Water Park is amongst the grandiose Dubai attractions which include a day full of fun with water slides, race slides, raft slides, a water play area, a lazy river, a chance to surf on the artificial waves or take a free fall slide. People who want to relax by the water can rent a cabana and sip on some healthy juices while you watch others in a splash. Unwind at the rooftop café and where you can relish some international and national dishes to recharge you after the day's delight. Location: La Mer Price: 92   - 116 AED Timings:  10:00 am - 6:00 pm (Tuesday - Sunday) Don't Miss: - Test your surfing skills in Laguna Waterpark's famous WaveOz 180. - Dive into the Infinity Pool and float away with the beach in perfect view. - Slide down the Constrictor and the Manta, the most thrilling rides of the Laguna Waterpark Dubai. How to Reach? - By Bus: One can take a bus from the airport and experience a short journey to reach the Business Bay station, two buses are running at regular intervals of time.  If you're traveling by bus 8, 9, 88, C10, or X28, drop off at Century Plaza 1/ Century and walk towards the Laguna waterpark beachfront. - Shuttle Bus: La Mer also offers special free-of-cost shuttle buses if you're staying at hotels located near city center in Dubai. - By Car: By car, it becomes the easiest, all you have to do is point to La Mer on the smartphone GPS and it will drop you exactly at the location. Click Here to Book:  Laguna Water Park Dubai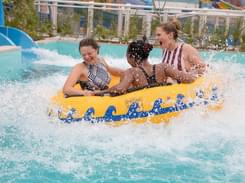 Aquaventure Waterpark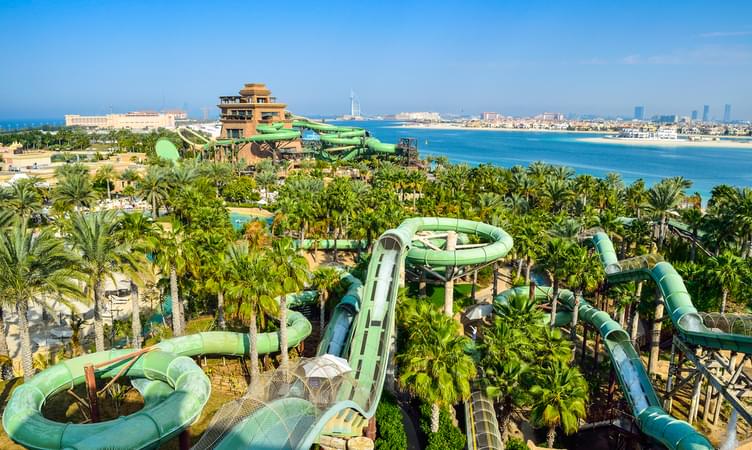 With more than thirty water slides, Aquaventure Waterpark is one of the absolute must-visit Dubai tourist places which is an engrossing place for every member of a family. Apart from this thrill, one can also witness the sight of a Dolphin's show, visit the largest aquarium in the city, go canoeing in the private beach which is not available anywhere else in Dubai with this privacy or try your surfing skills on the man-made waves.
There's an adventure on every corner of this water park, and therefore it is undoubtedly one of the places to see in Dubai, especially if you want to make friends with the Sea Lions or take a scuba dive. Location: Atlantis, The Palm Price: 92  - 138 AED Timings: Atlantis Aquaventure Timings: 10 AM to 6 PM(Monday-Sunday) Lost Chambers Aquarium Timings: 10 AM to 9 PM(Monday-Sunday) Do Not Miss: - Zoomerango water slide: Famous for its deep vertical zooms and thrilling bursts from the mega plummets. - Slitherine: The world's first dual water slide with a frenzy of twists and turns. - Poseidon's Revenge: Experience record-breaking rides that plunge you into tanks with sharks and rays. How to reach? - By Metro: Board the metro headed to Damac Properties Metro Station, find your way to Dubai Marina tram station, board the tram to Palm Jumeriah Tram station, then head towards the Gateway Monorail Station, board the Palm Jumeirah monorail to Atlantis the Palm. - By Bus: Take line 8 bus from Dubai Marina and after that board to Palm Monorail that will drop you to Atlantis The Palm. - By Monorail: The Palm Atlantis Monorail Station is the closest public transport station and is about 1 km away (10-minute walk) Click Here to Book:   Atlantis Aquaventure Water Park And Lost Chambers Also Checkout:  Aquaria Klcc Tickets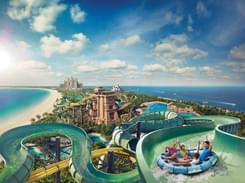 The Green Planet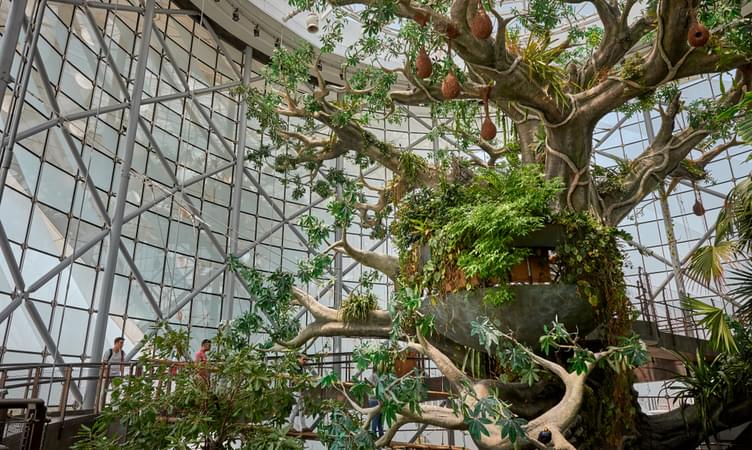 With an aim to bring every nature and animal lovers from around the world in one place, Dubai came up with The Green Planet, one of the major Dubai tourist places. This tropical home forest is home to over 3000 species of flora and fauna which we one witness during their trip to Dubai.
Some major attractions of this place are watching the Piranhas eat, the Australian walkabout, Sloth Encounter, and The Bat Cave. Apart from these personal experiences, one can spot animals like Sloth Bears, Sugar Gliders, Amazon Parrots, Leaf Cutter Ants, Squirrel Monkeys, and Pythons apart from other marine animals. Location: City Walk Price: 70  - 88 AED Timings:  10:00 AM to 6:00 PM How to reach? - By metro: Take a red line metro from the nearest station is the Dubai Mall Station and from there a short ride by taxi. - By Bus: You can take Subway, line 106 bus or Line 81 bus, line 106 bus. - By Taxi: You can book any private or public taxi and head directly to City Walk. Click Here to Book:  Hub Zero With Green Planet Dubai Must Visit  Islands In Dubai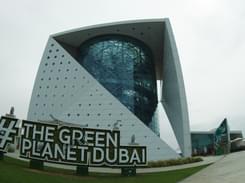 Best of Bangkok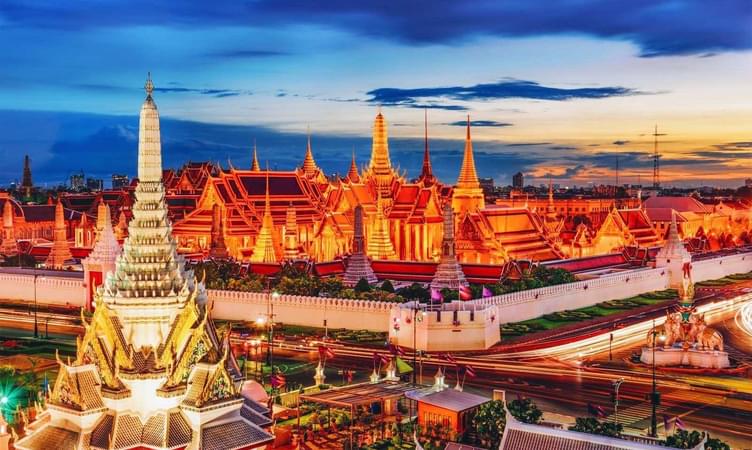 Dreamland Aqua Park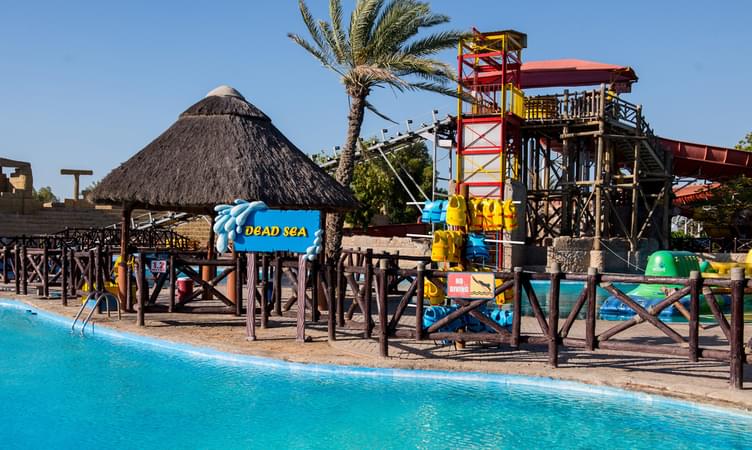 If the heat in Dubai isn't quite your thing, then stay in the waters at Dreamland Aqua Park, a paradise for water lovers! Black Hole is one of their famous slides which takes one through a black tube which sometimes is lit with colorful bulbs until you splash into a pool of water. Other 'must try' enthralling slides here include Kamikaze, Twisting Dragons, Slide Five and Mighty GoGround. You can laze around in the Dead Sea area or, you can relax every muscle of your body at the Jacuzzi. The Pool Game, which puts children through water obstacles, is something that they adore the most, which is why it is amongst the best places to see in Dubai. Location: On the coastline of Umm Al Quwain Price:  175  - 219 AED Timings: 10.00 a.m. to 06.00 p.m.
How to reach? - By Bus: Bus Lines 102, 103 and 104 to Umm Al-Quwain, take a 25-mins taxi to reach the park. - By Cab: If you opt for cab services, it will take 50-60 mins to reach Dreamland Aqua Park from Dubai. The two recommended routes are Muhammad bin Zayed Road (E311) and Emirates Bypass Road (E611). Click Here to Book:  Dreamland Aqua Park Dubai Suggested Read: Dreamland Aqua Park Rides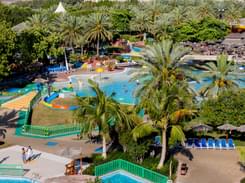 Museum of Illusions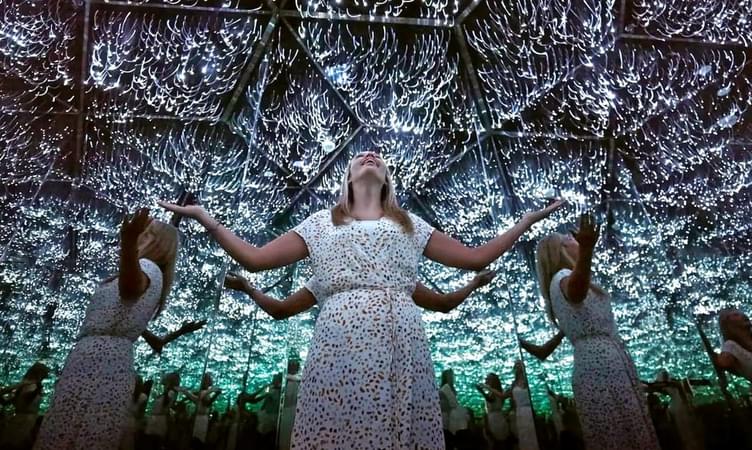 Let your eyes get tricked with the Museum of Illusions as it will take you to a power-packed entertainment journey. You can capture unique pictures with the striking illusions like the Vortex Tunnel, Rotating cylinder, and several others. The Museum even features a room that defies gravity and everything there is upside down. Apart from this, you can take a look at the collection of holograms, painting, and other playful games & puzzles. Everything you see here will be a delight to the eyes and a teaser to the brain. Whether you are here with your friends, family, or partner, this destination is one of the best places to visit in Dubai. Location: Al Seef - Dubai Creek - Dubai - Dubai - United Arab Emirates Price: 69 - 77 AED Timings: 10 am – 10 pm  (Sunday to Thursday) 10 am – 11 pm  (Friday and Saturday) Don't Miss: - You wouldn't want to miss the Vortex tunnel and be amazed by it. - Forget the laws of gravity in the Anti-Gravity Room. - Amuse yourself by Head on the Platter. - Hollow Face Illusion which has the capacity to tease your brain shouldn't be missed. How to reach? - By Metro: Take the Red Line to either Al Fahidi or Burjuman Metro Station, which are very near to the museum. - By Bus: The closest bus stop to the museum is the Heritage Village near the Al Bastakiya, which is five minutes away from the museum. - By Taxi: You can always choose taxis by navigating the location given. Click Here to Book Now:  Museum Of Illusions Tickets Recommended Read:   Historical Sites In Dubai
Great Deals Available On  River Safari Tickets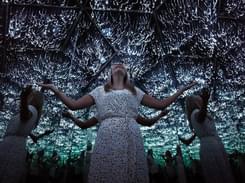 Dubai Opera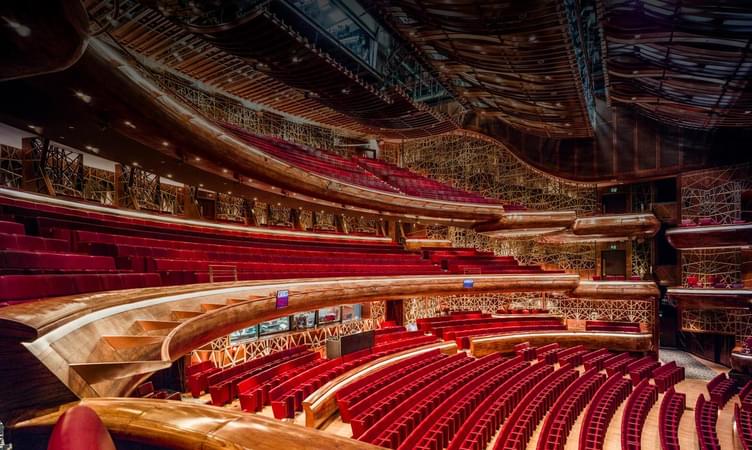 Your Dubai trip will be incomplete without visiting Dubai Opera which is another best place to visit in Dubai. Situated in Downtown Dubai, Dubai Opera is the brilliant focus of culture and expressions in Dubai and the sparkling pearl of The Opera District. Dubai Opera's stage has a staggering cluster of world-class ability. With musical show, artful dance and traditional music shows and preparations at the center, Dubai Opera will likewise organize melodic theater, form appears, jazz, drama, family appears and a full scope of live excitement. Its exceptional 2000-situate multi-arrange theater, make it one of a kind from the others. This is one of the best activities to do in Dubai at night .
Highlights: The Dubai Opera configuration offers the interesting adaptability of a proscenium curve theater, an acoustic show corridor, and 2000 square meter level floor occasion space. Dubai Opera additionally gloats various spaces and scenes, including a shocking housetop eatery and sky cultivate with perspectives of The Dubai Fountain and Burj Khalifa. Location: Sheikh Mohammed Bin Rashid, Near Burj Khalifa, Downtown Dubai - Dubai - United Arab Emirates. Price:  95 - 950 AED Timings:  10:00AM – 9:00PM Click Here to Book Now: Dubai Opera Tickets
Dubai Gold Souk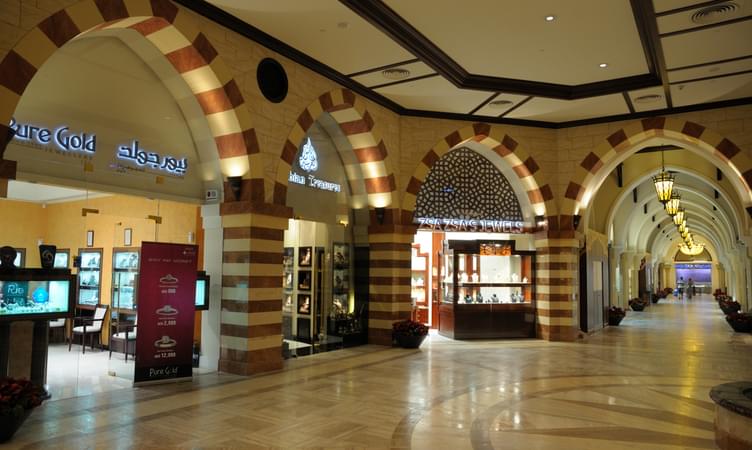 The city of Dubai is known for balancing the cultures of the Middle East as well as the luxury that makes it so popular amongst tourists. You will get to spend time marveling at the sheer beauty of the gold displayed in the stores there such as Damas, ARY, and Alukkas.  The smaller stores around are quite a sight to see and experience. The Old Souk marine station is very close to the Gold Souk and the Dubai fish and vegetable market are nearby attractions too. Location:  Dubai's commercial business district in Deira, in the locality of Al Dhagaya. Timings:  Monday to Sunday 9:30 AM - 9:30 PM except on Friday 4:00 PM - 9:30 PM How to Reach:  The best route is through the Dubai Metro to Al Ghubaiba or through the regular Abra (boat) which will get you here directly.  Also Check:   30 Best Cafes in Dubai
Jumeirah Mosque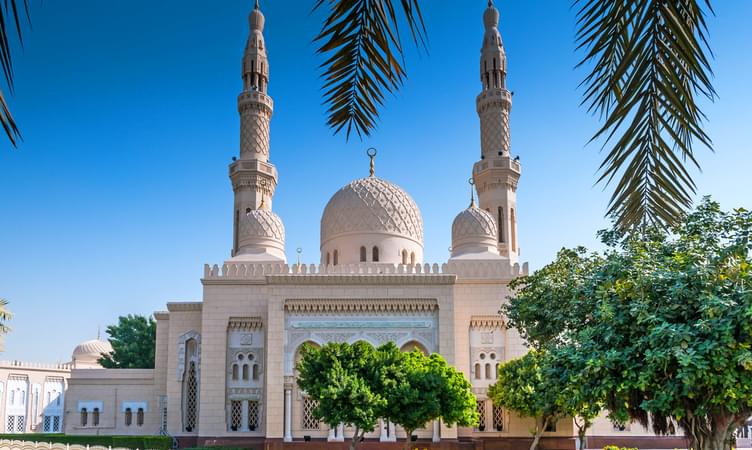 The Jumeirah Mosque is the only mosque in Dubai that has opened its doors to those of non-muslim faith. Visitors can come to the Jumeirah Mosque six days a week and are required to dress modestly. Women need to wear a headscarf while visiting the mosque. If you do not have the adequate attire, you can always borrow it from the mosque itself. 
The Jumeirah Mosque is made completely out of white stone and is a spectacular sight to marvel at both during the day and night. The mosque can accommodate up to 1200 worshippers at any given time. There is a large dome at the center of the mosque which is stunning, and you will marvel at the architecture of the monument. 
The real beauty of the place can be seen at night when the mosque is lit up and you can see intricate artistry all around the monument, highlighted under the lights.
Location:  Jumeirah Beach Road, Jumeirah 1 - Dubai - United Arab Emirates Timings:  10 am daily (except Friday) Suggested Read:  Relaxing Things To Do In Dubai Book Now -   Dubai Family Holiday Packages
Mall of the Emirates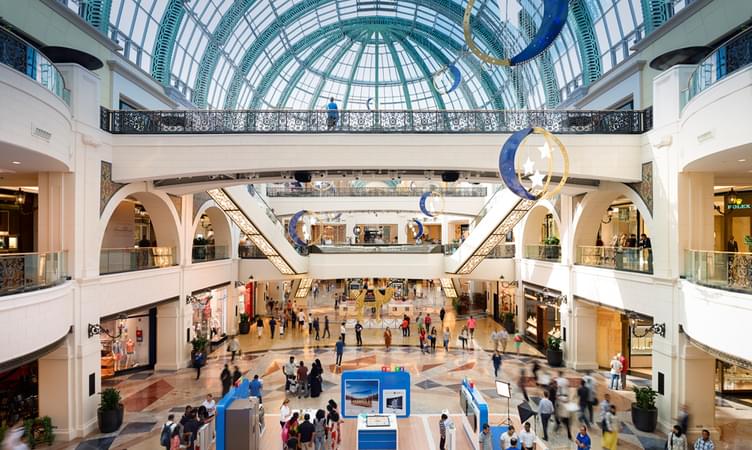 The Mall of the Emirates was founded in the year 2005 and is the second-largest shopping center in Dubai after The Dubai Mall. It is one of the most popular places to visit in Dubai. There are numerous cafes, restaurants, shops that have hundreds of high-end brands, theatres, etc at the Mall of the Emirates but the main attraction is the walk-in chilling freezer which takes you straight to Ski Dubai. There are large windows that separate the beautiful winter landscape from the mall, so you can enjoy the view, watching others ski and snowboard while seated at the mall in your summer-wear. Highlights: 560 high-end brands, as many as fourteen cinemas, 6.5 million square feet of area, Kempinski Hotel, which is a five-star one, Ski Dubai. Location: Mall of The Emirates, E11 Sheikh Zayed Road, Dubai, United Arab Emirates Timings:  10:00AM - 12:00AM Also Checkout: Best Beach Restaurants in Dubai .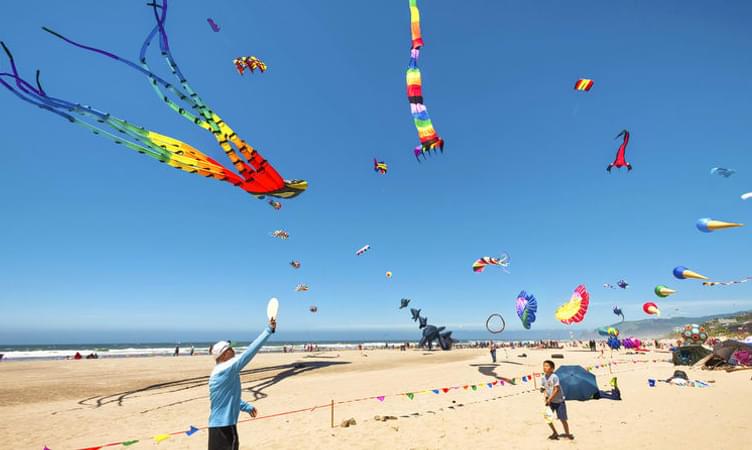 Located across the Al Manara Road junction, the Kite Beach is apt to its name. The beach sees thousands of tourists every year, who visit this beach specifically to enjoy water sports and participate in kitesurfing. That's what the beach gets its name from.  Kite Beach is family-friendly and teems with tourists throughout the year. The sands are soft and clean, and the pristine white texture will relax your soul. You have a great view of the Burj-Al-Arab from the beach too. There are other activities available to enjoy here apart from kite surfing, namely beach volleyball, beach tennis, kayaking, soap football, etc. 
There are a lot of facilities available too, which make your time worthwhile here. There are many food trucks and cafes, wifi, shower, and washroom facilities, changing rooms, etc. On Friday and Saturday, the beachside teems with a seaside market that sells art and craft items, souvenirs to take home, etc. Location:    35 A St - Dubai - United Arab Emirates Best Time to Visit: February to August is the ideal time to visit the beach. Things to Keep in Mind: Swimsuit (fully clad) for women and men while swimming. Also check:  Best Pubs and Bars in Dubai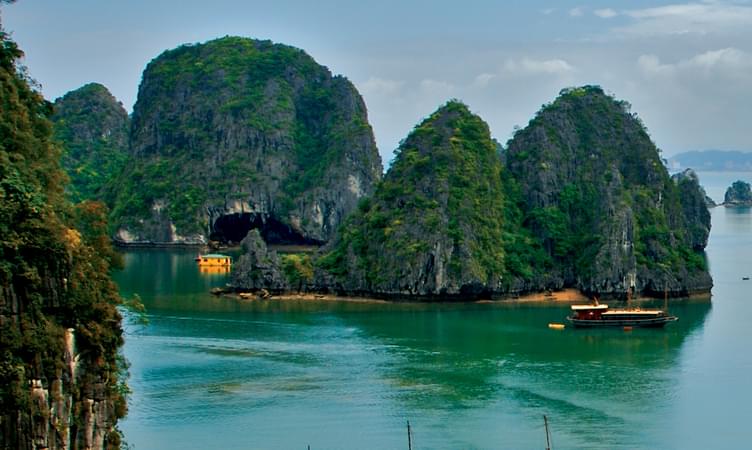 Best of Vietnam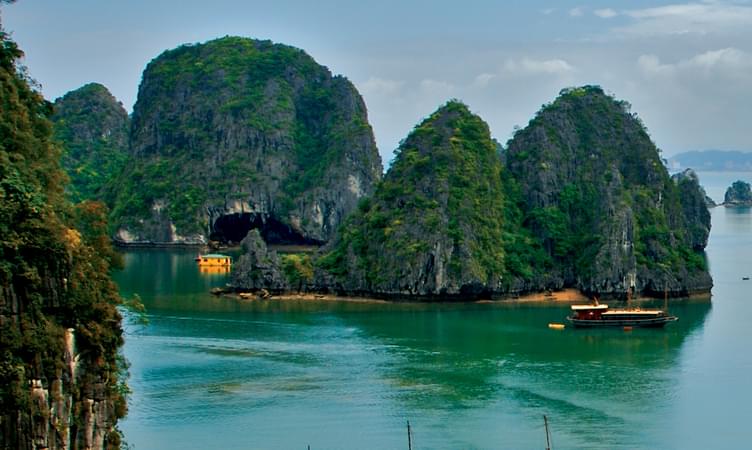 The Aura Skypool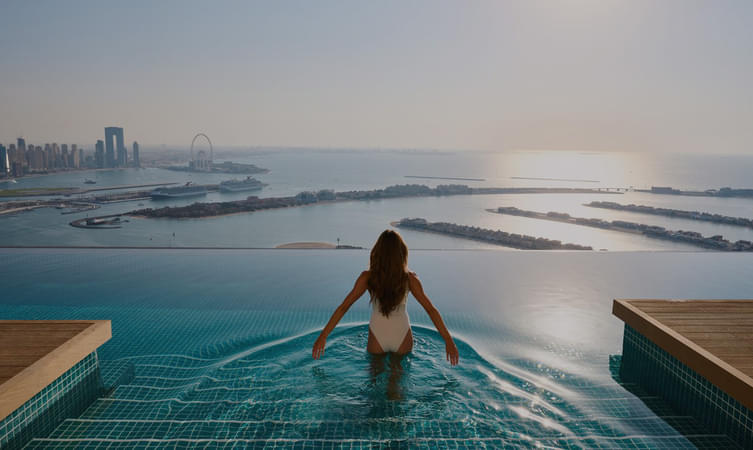 The Aura Skypool is one of the newest entries in the list of gems of Dubai. This one is the highest infinity pool in the world and offers a 350 degree view of Dubai's skyline. In addition to this, the pool is open for all and acts as a perfect place to click some postcard perfect pictures with the Arabian Gulf as a backdrop.
Guru Nanak Darbar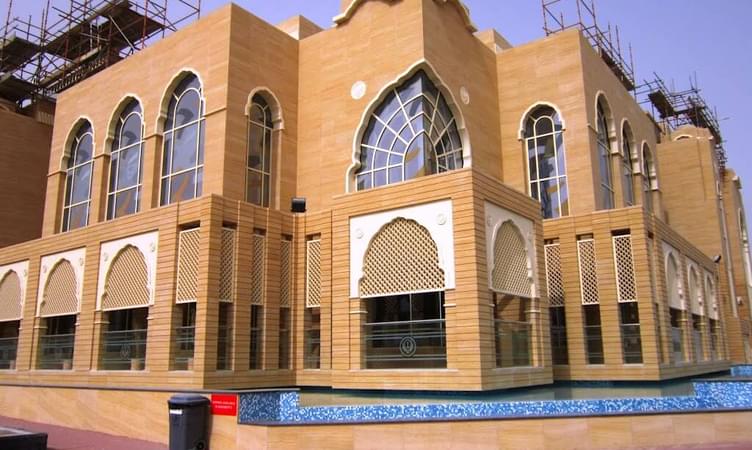 Guru Nanak Darbar is built in the demand from the Sikh community for a dedicated place of worship. The Gurudwara is believed to be the first of its kind in the entire region. It has a dedicated floor for a community feasts for about 5,000 people at a time and a huge hall for devotional songs. The main prayer hall of the new Gurudwara has a 7.2-metre high ceiling and 18-metre diameter dome roof. The function hall can accommodate up to 900 people.  Location: It is located in Jebel Ali which is around 35 km from Dubai center. Taxi is the best mode of transportation to reach the temple. The closest metro station is Ibn Batuta.  Timings: It is opened daily from 4:30 AM to 9 :30 PM Suggested Read:   Things to Do in Abu Dhabi
Dubai Polo & Equestrian Club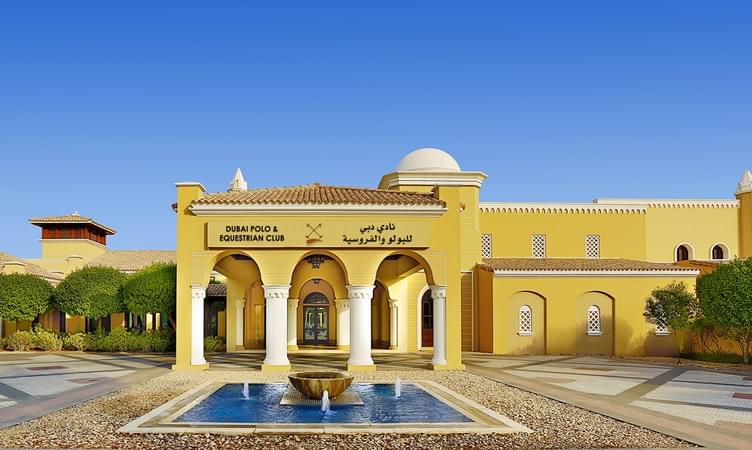 For someone who is visiting Dubai in a leisurely manner and has quite some time in hand, then you can have an amazing time at the Dubai Polo & Equestrian Club. One of the most amazing  Dubai tourist places, the Dubai Polo & Equestrian Club promises you a relaxed vacation and an exciting time in the midst of everything that's nice, such as taking care of your fitness, riding a horse, go on swims, pamper yourself with a spa, enjoy delicious delicacies and cuisines, and enjoy the warm hospitality of the Dubai Polo & Equestrian Club. Don't forget to check out the best spa parlors in Dubai . 
Highlights: Gym, swimming pool, Zumba, yoga, horse riding, spa, etc. Dine world-class cuisines at - Palermo, Epona, Ippos, and the Splash Pool Bar. Location: Al Qudra Road, Opposite to Arabian Ranches, next to Studio City, Dubai, United Arab Emirates Timings:  6:00 AM - 12:00 AM Recommended Read:  Places To Visit in Hatta Suggested Read:   Picnic Spots in Dubai
Bastakia (Old Dubai)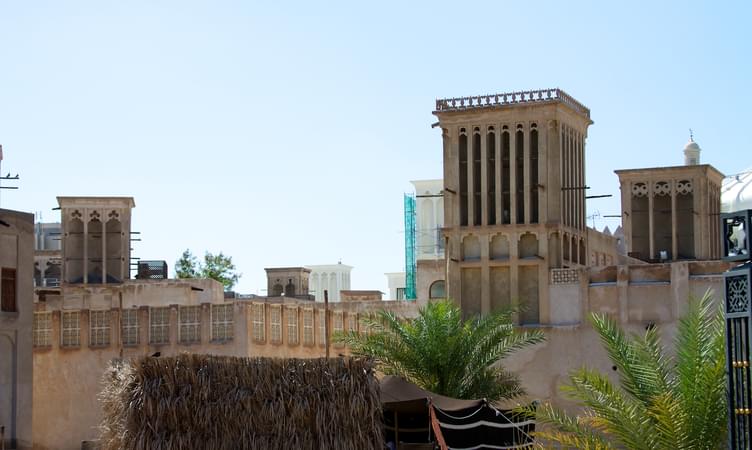 Al Fahidi Historical Neighbourhood, also known as Al Bastakia is an old ruin worthy town that will send culture lovers into a fine tizzy. While here, you can roll down the sandy lanes to the modern white mosque, noting the splendid architectural details of the grand gypsum, coral, and limestone buildings and marvel at the carved wooden doors with brass knockers and the intricate gates that adorn every building here. Take a stroll upstairs for the incredible view of Bastakia rooftops and take a good long look at the wind towers. This traditional form of air-conditioning, constructed to funnel cool air into the house, was an architectural series of buildings in southern Iran.  The vicinity offers some major attractions in Dubai like Ave gallery, XVA gallery, Old city wall, Sheikh Muhammed Centre for cultural understanding and much more.  Location:  Al Hamriya,Bur Dubai - Dubai - United Arab Emirates Suggested Read:  Best Restaurants in Bur Dubai You May Also Checkout -  Dubai Trip From Chennai
Saeed Al Maktoum House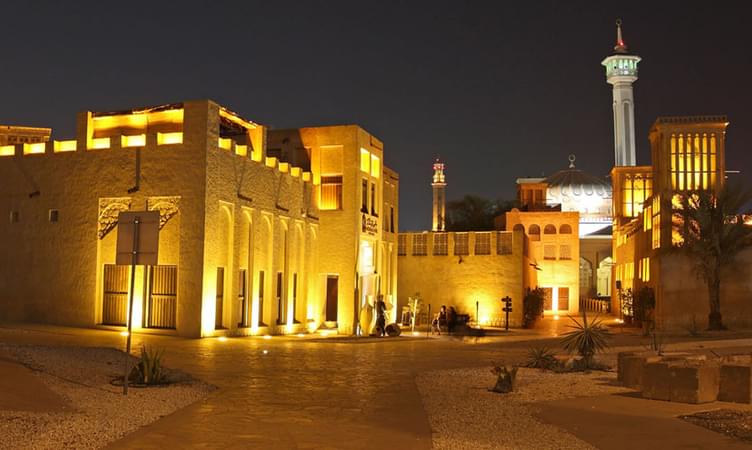 Stationed in the locality of Al Shindagha, this historic building is the former residential house of one of the old-time rulers of the Emirates; Sheikh Saeed bin Maktoum Al Maktoum and has proven to be one of the best places to visit in Dubai due to its historic significance. The building is now converted into a museum and has an array of artifacts from all over the Arab world. You will get to see historic photographs, documents, and furnishings from years dating back to the 1800s and you can get a chance to catch his panoramic landscape of Dubai's skyline. Location:  Al Khaleej Rd | Bur Dubai, Dubai, United Arab Emirates Timings:  Monday to Sunday 8:00 AM - 8:30 PM except on Friday it is 3:00 PM - 8:30PM How to Reach:  You can use public buses and the metro as well to get to this museum. Also Read: Guide To Visit  Infinity Des Lumières
World Island
The World Islands were developed by Dubai's visionary development company called Nakheel. As the name suggests, the World Islands are islands spread across the coast of Dubai that looks like the world map in the ocean. These islands are on for rent or sale, as pleased by the customer. Of course, these cost beyond what you and I can convey, but this is a view we can most definitely enjoy. The only way to travel between the islands is by yachts or by air. The World Islands were completed in 2008 and have been up for rent and sell in the categories of homes, community islands and resorts in Dubai . If you can own one of these islands and make it your home, you can enjoy blissful vacations in your own private island off Dubai's coast. Highlights: 300 private islands that are divided into estate homes, private homes, resorts, and community islands. Location: The World Islands, Dubai, United Arab Emirates Suggested Read:  25 Awesome Beach resorts in Dubai Suggested Read:  Best Restaurants in Dubai Marina Walk
Sky Views Dubai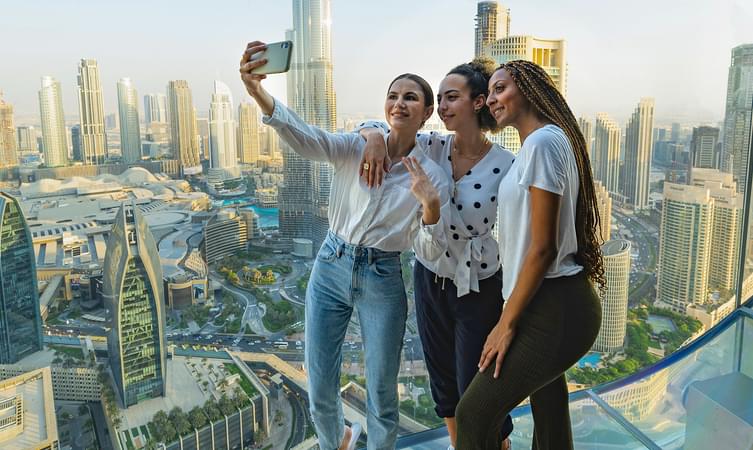 If you consider yourself a braveheart and want to experience the most thrilling thing in Dubai then visit the Sky Views Dubai. Sitting on the 52nd and 53rd floor of Sky View Hotel, this place is a new style observation area which does not limit you. From the glass slide from 53rd floor to 52nd floor to the Edge walk experience between the twin towers, a lot of activities are available here.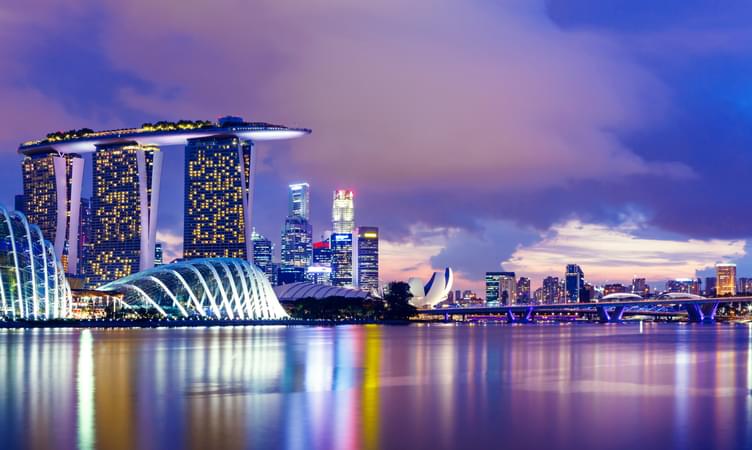 Best of Singapore

Dubai Desert Conservation Reserve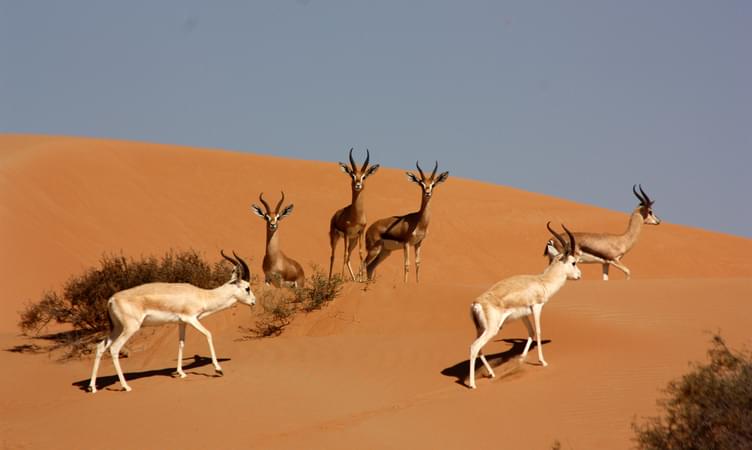 The Dubai Desert Conservation Reserve is an initiative by the Dubai Government that allows you to spend a good amount of time camping at the deserts of Dubai (over 9 in number) and dine in the company of night stars which are primarily organized to experience a Bedouin lifestyle. Over here, you can experience camel safari and falcon shows, several other activities that will get you to the true essence of Dubai. Highlights:  This reserve provides an array of activities such as Falconry, Archery, Horse Riding, Dune Driving, Camping, Hookah.  Location: The office is located on the Airport road and they will take you to the desert where you can participate in a variety of activities. Timings:  7:00 AM - 5:00 PM. Suggested Read:   Camel safari tours in Dubai , the most loved activity by tourists. You Can Also Book:  Bali Bird Park Tickets
Dubai Museum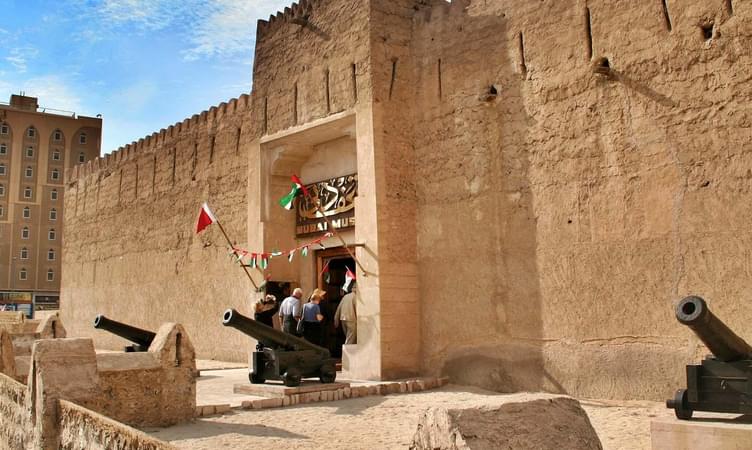 Dubai Spice Souk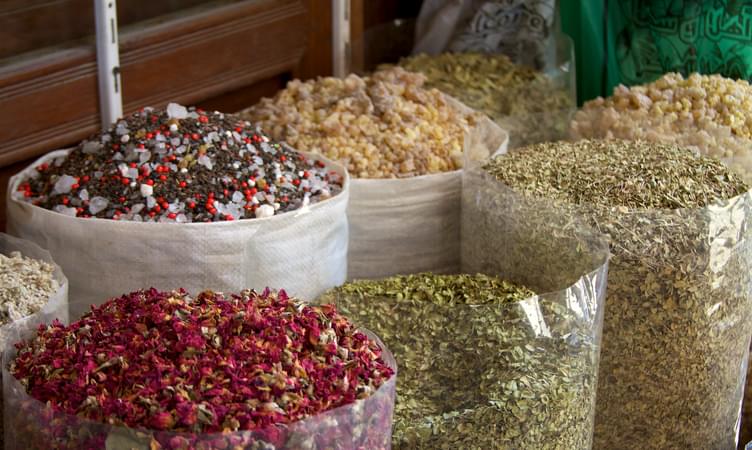 Located in the district of Deira near to the Gold Souk, this is a traditional spice souk in Dubai that offers a variety of fragrant spices to choose from. It's a heavenly place which has a series of aromatic spices that is only available in this part of the Middle East. The colors alone are enough to make you want to stay here for a longer time. It is the biggest spice market in Dubai and has textiles and household items as well. The narrow passageways are a delight for the photographer's eyes and you will get a chance to see the fresh stock of herbs and spices coming in from Iran, India, and Southeast Asia. Location:  26 34 St - Dubai - United Arab Emirates Timings:  7:30AM–9:30PM How to Reach : You can reach the place by public transport (bus) or by the metro.  Also Checkout:   30 Best places for romantic dinner in Dubai Must Book -  Dubai Trip From Hyderabad
Etihad Museum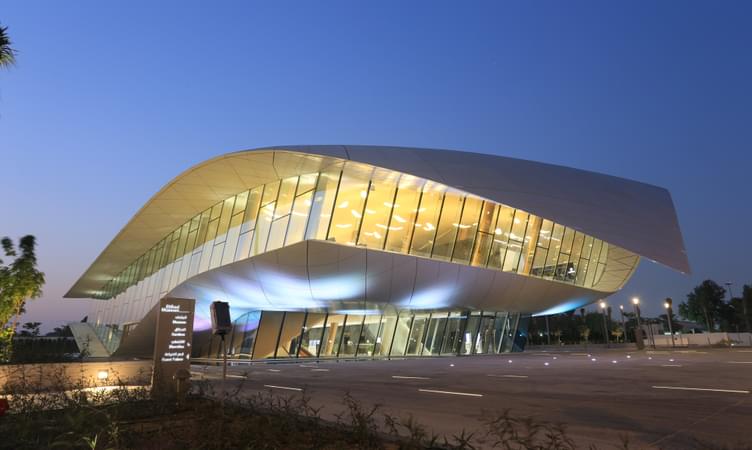 Whether you are a history buff or a traveller simply interested in history, there can be no place better than the Etihad Museum for paying a visit. At Etihad Museum , you get to see some of the historic items that changed the course of history for the United Arab Emirates. The Etihad Museum is clearly one of the best historic places to visit in Dubai. Everything from rare videos and sounds to documentation of the historic meetings, important figures, moments from the period of 1968-1974. Highlights: Historically accurate and extremely well-documented archives, some of the most iconic and personal items, masterpieces that belonged to the Founding Fathers are on display. Location: 1 Jumeirah Street, Dubai, United Arab Emirates Price:  10 - 25 AED Timings:  10:00AM - 8:00PM Also Checkout:  20 Best Villas in Dubai Book & Checkout -  Dubai Tour Packages From Kerala
Dolphin Bay
The Dolphin Bay at Atlantis is one of the most remarkable places to visit in Dubai. If you are one of those adventurous people who love the idea of getting in the water and swimming with dolphins, then visiting Dolphin Bay is the right thing to do for you. You will come across some of the most sophisticated and well-trained dolphins here at Dolphin Bay. It doesn't matter what kind of experience you have as a swimmer, if you are a novice, you can stay in the shallow waters and enjoy being with the dolphins, if you are an expert, you can go for scuba diving with the dolphins in the deep end. Highlights: Complimentary entry to Aquaventure Water Park on the same day, vests and wetsuits are provided. Location: Atlantis, The Palm, Crescent Road, Dubai, United Arab Emirates Price: 838 - 974 AED Timings:  9:30 AM - 6:00 PM Book & Explore -  Dubai Tour Packages From Surat                                Dubai Packages From Chandigarh Must Read:  Places to Visit in Dubai in December  
Bur Dubai Village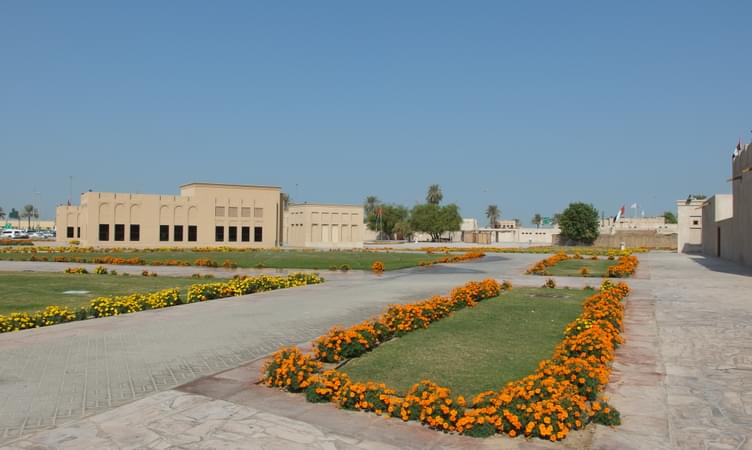 Bur Dubai Village, also known as the Dubai Heritage Village is located near the mouth of Dubai Creek that takes tourist back in time through a series of heritage villages complete with recreated architecture and local artisans. For patrons, the village is a great place to find unique handmade items to take home as souvenirs or gifts.  Highlights: The vicinity offers many places to stroll around like Pottery shopping, visit traditional markets and enjoy live performances of Arabian folklore such as Raza, Ayyala, and Harbeya. Location:  Dubai, United Arab Emirates Timings: It is opened every day from 08:00 to 20: 00, however on Fridays many shops will be closed as the operational hours are 15:00 to 22:00.  How to Reach : You can reach the location through the Ghubaiba bus and train station nearby.  Suggested Read:  Things to Do in Burj Khalifa   Also Checkout -  Dubai Tour Packages From Vadodara
Children's City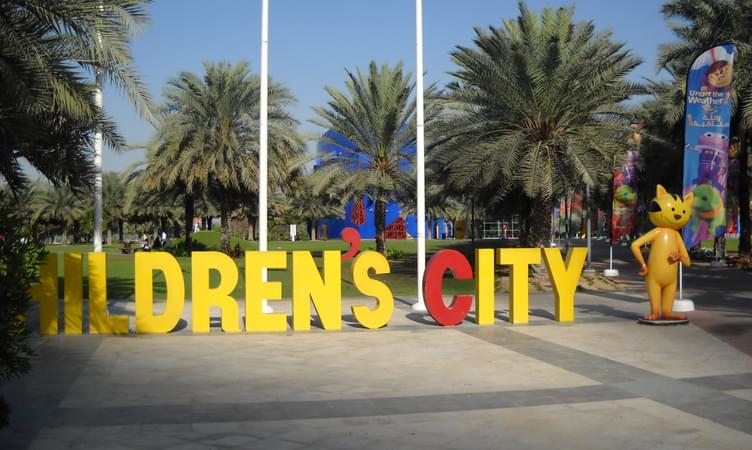 Located in Creekside park along the side of Bur Dubai, this colourful cluster of lego-style buildings in Creek Park is jam-packed with dozens of interactive and inspiring learning stations. The stations are specifically geared for kids between 2 and 15. The place boasts of a wide range of activities. Activities:  There are daily educational workshops, story events, competitions, theatres and it's own Planetarium. There is also a Toddler's Area to engage kids below 6 years of age in interactive learning. Location:  Al Riyadh St | 90 Awolowo Way Ikeja Lagos, Dubai +234,  United Arab Emirates. Price: 10 - 15 AED Timings: 9 AM–7 PM (Sunday-Thursday) 2 PM–8 PM (Friday-Saturday) How to Reach : The best way to get here is by taxi. Recommended Read:  Roller Coaster Rides in Dubai Also Book -  Dubai Tour Packages From Jaipur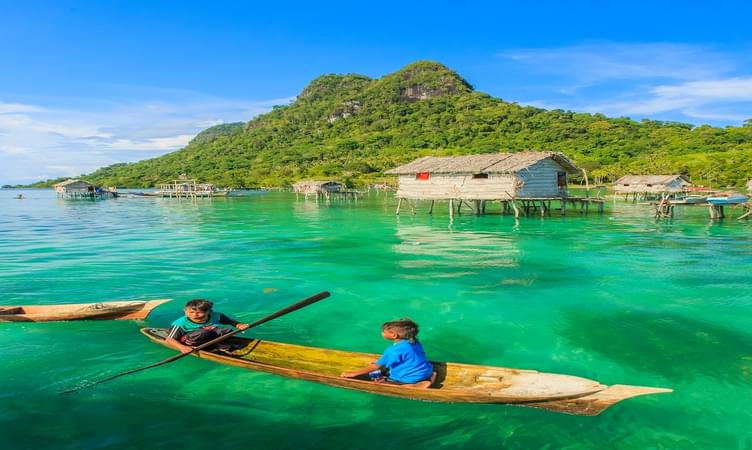 Best of Malaysia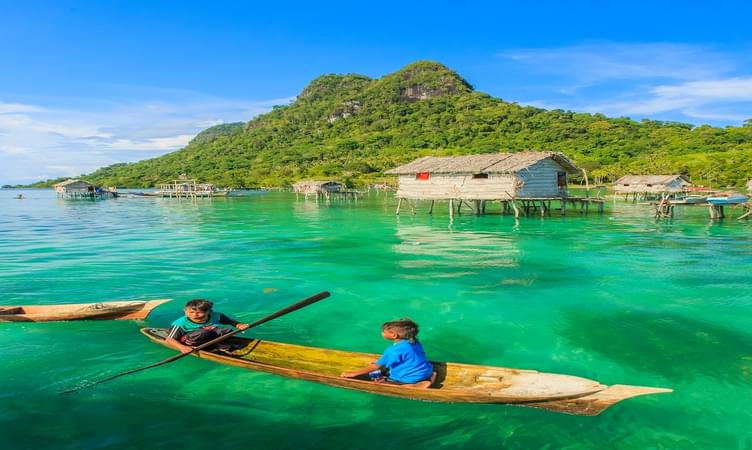 An important spot in the history of Dubai and the people over there, Safa Park has been going through many redevelopments from years. It is a 64-hectare huge park which was an erstwhile accommodation center for illegal migrants from South Asia mostly. The park came into establishment during 1975 after the inhabitants were removed from there.
Deira Clocktower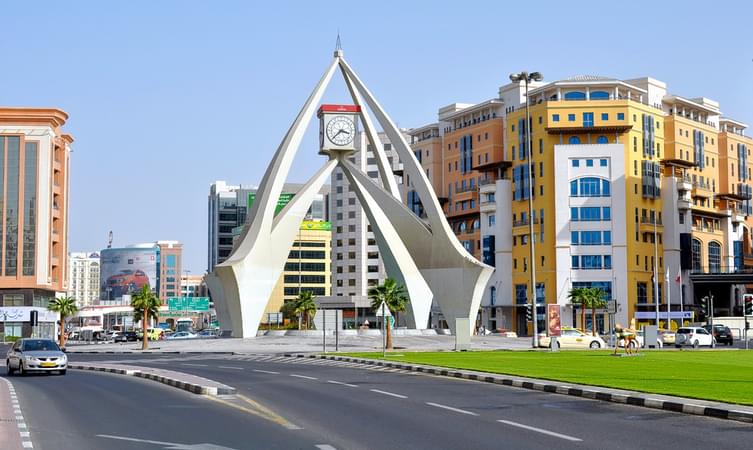 A clear definition of Dubai's Clock Tower has not been published anywhere but it is one of the major landmarks in Dubai. It is believed to be constructed by the people in Dubai lived during 1960s have designed and created the clock.
Deira Clocktower or Dubai Clock tower as people fondly call is a roundabout in Dubai. It is located in eastern Dubai in Deira exactly at the intersection of Umm Hurrair Road and route D 89 road. It is a predominant monument in Deira and the access to the famous Al Maktoum Bridge is provided by this monument.
Highlights: It was designed by an architect Ziki Homsi and it was built by Architecture Design Construction as the people say. It came into existence as a symbol of Dubai's life and one can witness or learn the importance of this tower in the lives of the natives. As the Telegraph newspaper listed out, Dubai Clock Tower is the prime attraction in Dubai and one of the 17 most beautiful clock towers around the world.
Location: Deira, Dubai. From Dubai main city, it is hardly 10 kms to reach Deira Clock Tower.
Alserkal Avenue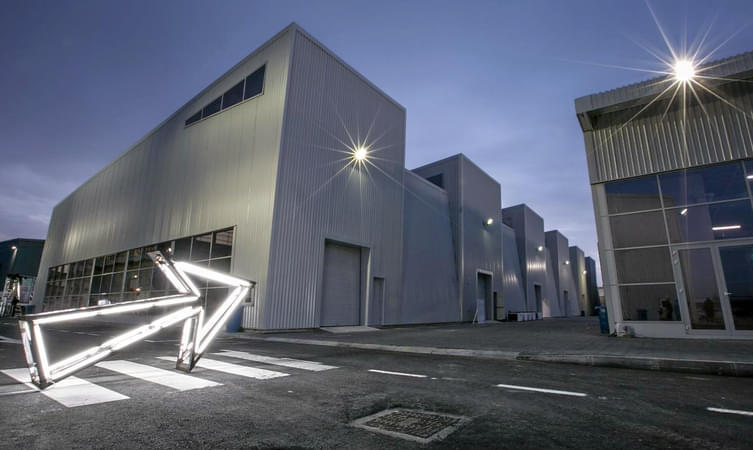 An industrial compound accommodating warehouses in the industrial zone of Al Quoz in Dubai is Alserkal Avenue. Now, it is being celebrated as an arts and culture district with a wide array of galleries, facilities and platforms. It houses residencies for local and international artists as well. The time Alserkal Avenue was just an industrial location has flown away and not it displays itself as a mix of industrial business and creative spaces. There are 60 art houses, design and creative venues which have foundations, private collections and community projects. It was founded in 2007 and from then on it was gathering the region's artists and other people who belong to different sorts of lives to have discussions and dialogues, to share their ideas and enhance their artistic values to a great height. Highlights: The galleries here are made distinct and beautiful by arranging individual programs which represent the emerging or established artists along with some exhibitions, talks, discussions, community events and so on. Location: Street 8, Al Quoz 1, Dubai, United Arab Emirates Timings: The Avenue is open on all days except on Fridays from 10:00 am to 07:00 pm. Price: Entry is free of cost.
Emirates Towers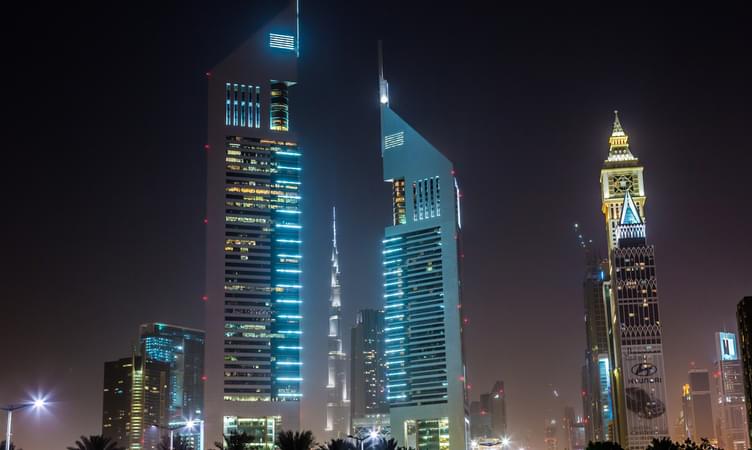 The Emirates Towers is one of the most amazing places to see in Dubai. There are four hundred suites and rooms, and the Jumeirah Towers is the home of about thirteen nightclubs and dining ventures, where you can escape anytime. The Jumeirah Towers are the only towers that provide you unlimited access to the Wild Wadi Water Park. You also have complete access to Jumeirah Tower's private beach at any time of the day. Staying at the Emirates Towers is an experience in itself and therefore, as a traveller, you can always come here and experience the hospitality and wonders of the Emirates Towers. Highlights: Private beach, unlimited access to Wild Wadi Water Park. Emirates Tower's atrium lobby is one of the best places for business in Dubai. The towers also have a string of venues for social and business meets and host some of the most iconic conferences as well. Location: Sheikh Zayed Road, Dubai, United Arab Emirates Suggested Read:  Vegetarian-Friendly Restaurants in Dubai Must Book -  Dubai Honeymoon Packages From India
Ibn Battuta Mall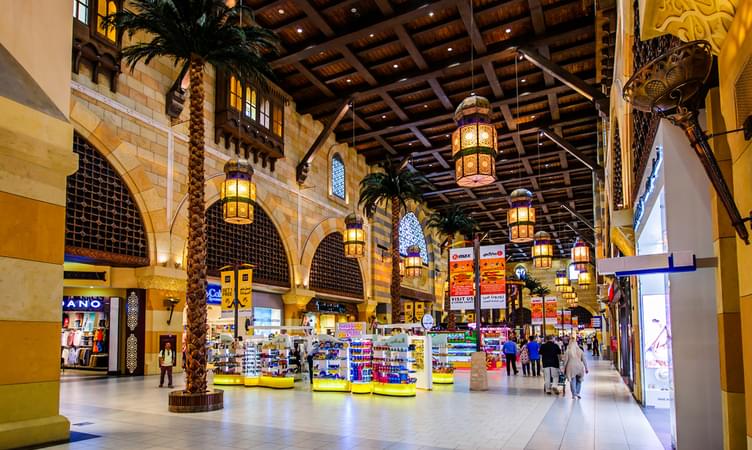 While shopping is fun, Ibn Battuta Mall makes it a beautiful experience too with its spellbinding architecture and plentiful things to buy. Named after a Moroccan traveler, the mall has just one floor but is widespread to cover over 250 shops, a multiplex, some restaurants, a five-star hotel, and even a gym. To honor the man who traveled to places six lands, the mall is also divided into six zones, namely- China Court, India Court, Persia Court, Egypt Court, Tunisia Court, and Andalusia Court.  To visit so many lands in one mall, you have to ensure that Ibn Battuta Mall is on your list of places to see in Dubai. Location: Sheikh Zayed Road Timings: 10:00 AM- 10:00 PM (Saturday-Wednesday) 10:00 AM–12:00 AM (Friday-Saturday) Suggested Read:  Best Beach Clubs in Dubai Book Now & Checkout -  Dubai Honeymoon Packages From Delhi
Dubai Butterfly Garden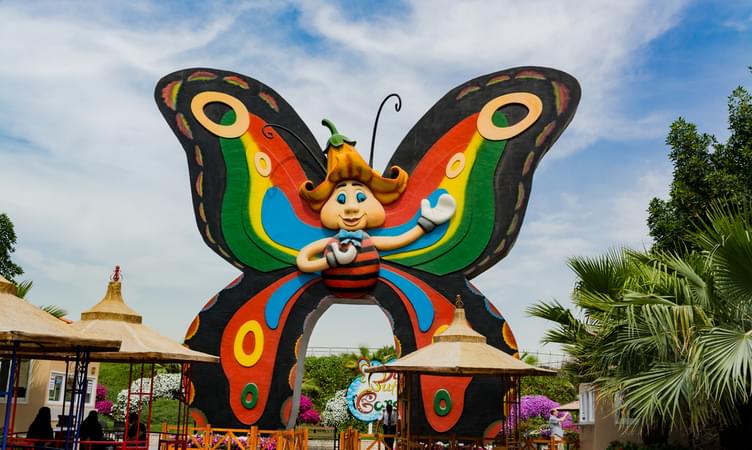 Another one in the array of places to visit when in Dubai is the Dubai Butterfly Garden that exhibits more than 15,000 butterflies and vibrant colored flowers that will melt your heart away with beauty. There are 26 different varieties of butterflies and ten domes where you can spot them sucking nectar from the flowers. This is a place where you can learn about the ecosystem of butterflies and delight your eyes with the stellar displays. If you are traveling to Dubai then this is a must-visit destination and must not miss out on a chance of touring it. Location:  Al Barsha South 3, Dubailand Area, Beside Dubai Miracle Garden - Dubai - United Arab Emirates Price: 55 - 60 AED Timings: 9:00 AM to 6:00 PM (Saturday-Thursday), 9:00 AM–7:0 PM (Friday) Click Here to Book Now: Butterfly Garden Dubai Tickets Also Read: Best Turkish Restaurants in Dubai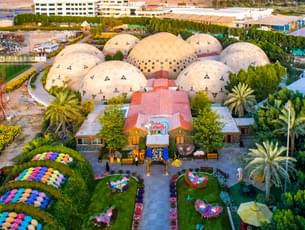 Sunset Beach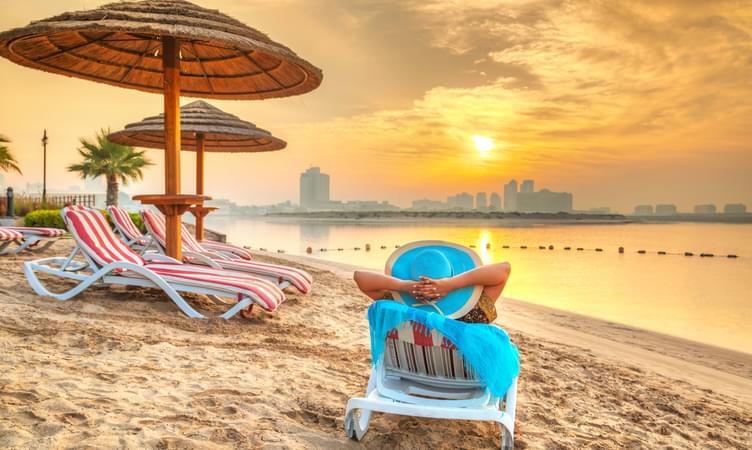 Famed as Umm Suqeim beach, the Sunset beach is arched with the trails of coconut grooves and is a great spot for relaxing. Marking its spot in the best places to visit in Dubai it is settled close to Burj Al Arab and is one of the most serene coasts. Ranging from water adventures like surfing, fishing, and kite surfing to the long trails of sand for sunbathing here, you can witness all of it. Stroll along with your partner, relax watching the sunset, or pump up your adrenaline with adventures at the Sunset beach Location: Sunset Beach, Dubai Recommended Read: Best Places to Visit in Abu Dhabi for Free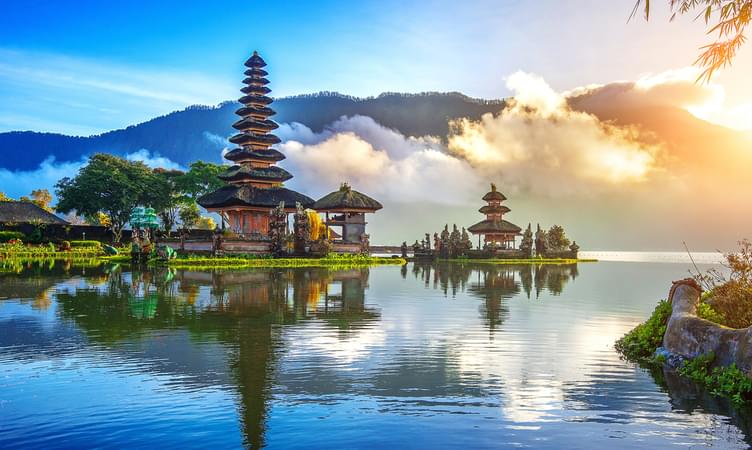 Best of Bali

Dubai Autodrome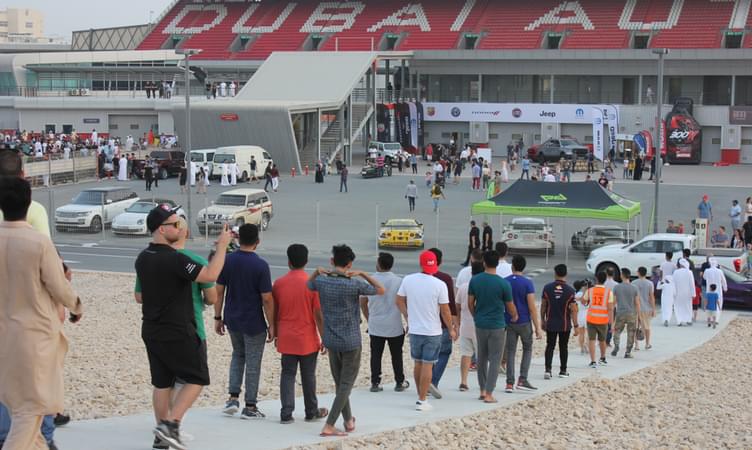 Known to be Dubai's first-fully integrated entertainment and motorsport zone, the Dubai Autodrome is one of the best places to visit in Dubai. It is located in the center of the MotorCity development center and has a 5.39 km long circuit for racing. You can opt for the self-driven cars or can pump up the adrenaline to its notch by driving the cars on your own. There are two options available for karting: indoor & outdoor tracks. Location: Sheikh Mohammed Bin Zayed Rd - Dubai - United Arab Emirates Timings:  9 AM - 5 PM Also Read: Things to Do in Dubai Mall
Cayan Tower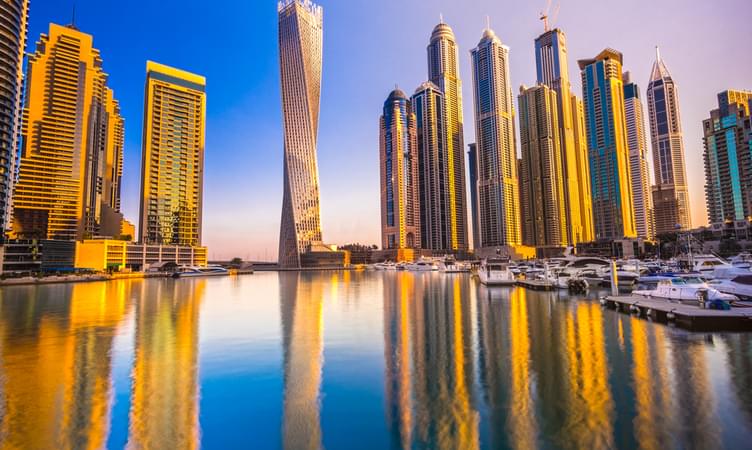 The shape resembling that of a helical, the Cayan Tower is a luxury apartment and every floor has the same architecture plan. The architecture of the building is quite intriguing and the shape is an expression of the relationship between a building's form and the structural framework. As the tower has a twisting shape it is one of the most amusing tourist places in Dubai. It is located in the proximity of Dubai Internet City and from this tower, you can gape at the stellar views of the Dubai Marina and Arabian Gulf.  Location: 1202, Al Barsha Heights, Tecom, Dubai Marina - Dubai - United Arab Emirates Timings: 8:00 am to 6:00 pm on all days except Saturday & Sunday.
Dubai Design District
The list of adjectives falls short to define the beauty of artworks showcased in the Dubai Design District. It marks its spot on the list of amusing tourist attractions in Dubai and is famed for its global and design festivals. The district is dotted with a number of chic-galleries and also displays the artworks of the up-coming artists. Location: Dubai Design District PO Box 333 300 Dubai, United Arab Emirates Timings: 10:00 am to 5:00 pm
Al Mamzar Beach Park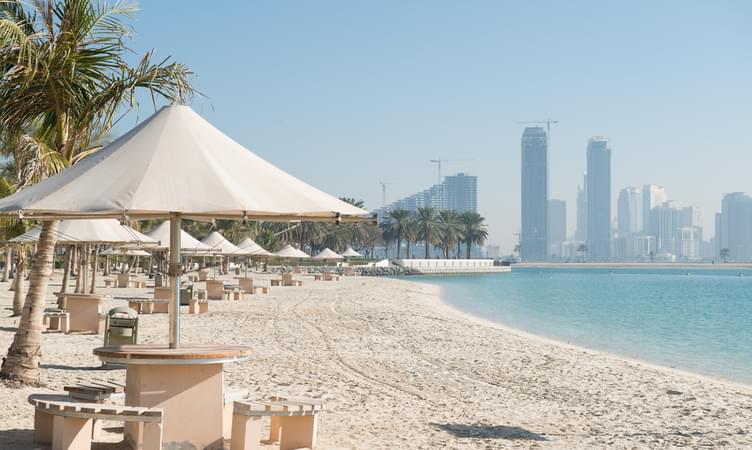 One of the most serene places for visiting in Dubai is Al Mamzar Beach Park that is a hidden jewel for travelers. The park sprawls over 106 hectares and is located close to the Mamzar beach. The entire park is adorned with a number of entertainment zones where the children and adults can spend gala time. The best thing about this park is that it has well-manicured gardens, pool access, and beachfront that is a great spot for relaxing. Location: Al Mamzar Beach St - Dubai - United Arab Emirates Timings: 8:00 am to 10:00 pm Price: None
The Walk at JBR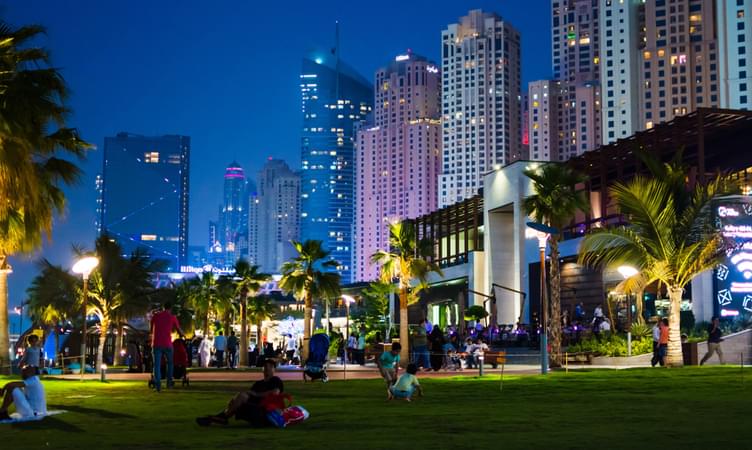 Another one in the array of places to visit in Dubai is the Jumeirah Beach Residence that is a wavefront strip and is famed as the walk JBR. The entire beachside track is dotted with retail shopping spots, international retailers, handicraft shops, and boutiques. Apart from this, here you can even witness the pop-up markets at the streets and shop for antiques, jewelry, and relish local meals at the stalls. Something that you must not miss is strolling at the beach and shopping for amazing trinkets.
Location: The Walk - Dubai - United Arab Emirates
Timings: 24 hours open
Price: None
Azure Beach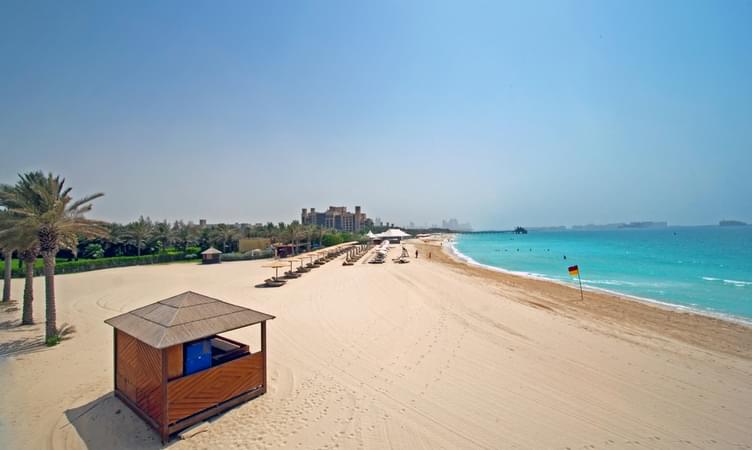 Watch the sun set down along with the sparkling golden sands and relax at the Azure beach. This is one of the most tranquil places for visiting in Dubai that is located in the heart of Dubai. The beach is dotted with a number of stalls, where you can relish the local meals and the entertainment zones where you can party all night. This beach is famed as a social paradise and is a great place to visit with family, friends, and partners! Apart from this, at this beach, you can even opt for a private island bed and gape at the beauties of Dubai. Location: Rixos Premium Dubai - Dubai - United Arab Emirates Timings: 10:00 am to 11:00 pm Price: None
Al Sufouh Beach
Famed as the "Secret Beach" Al Sufouh Beach is one of the most impressive places to visit in Dubai. The beach is tucked away from the buzzing city life and is settled close to Burj Al Arab. The beach is arched with the trails of palms and the environs are quite relaxing that makes it a great spot for spending quality time. The waters of the beach are not very shallow and you can dive deep into the waters and explore the underwater kingdom. Location: Al Sufouh Beach, Dubai Timings: 24 hours open for all Price: None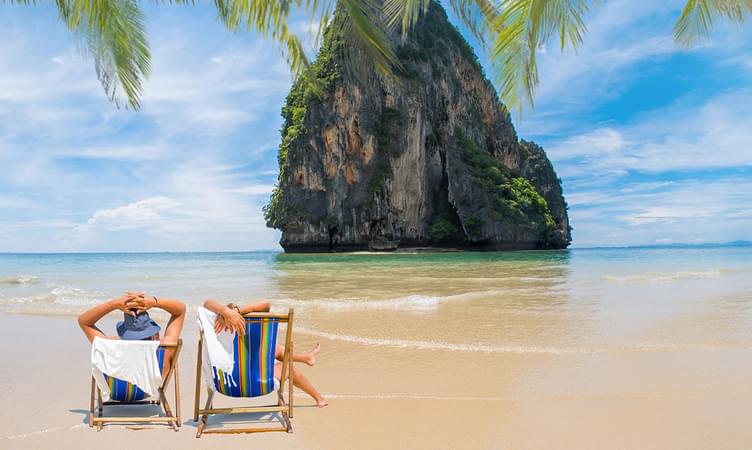 Best of Pattaya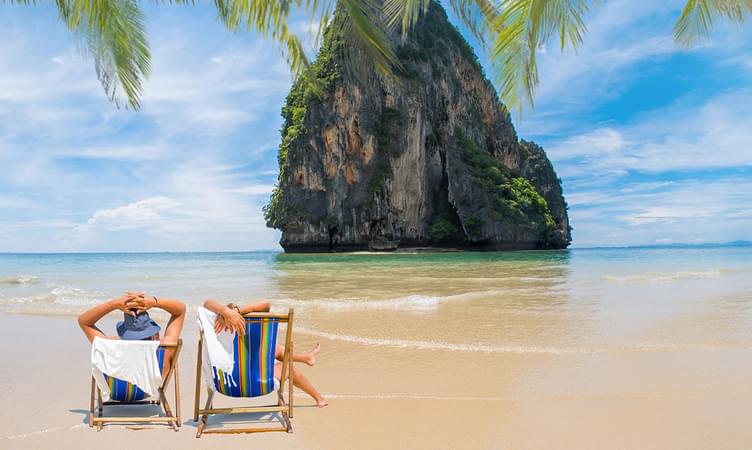 Al Qudra Lake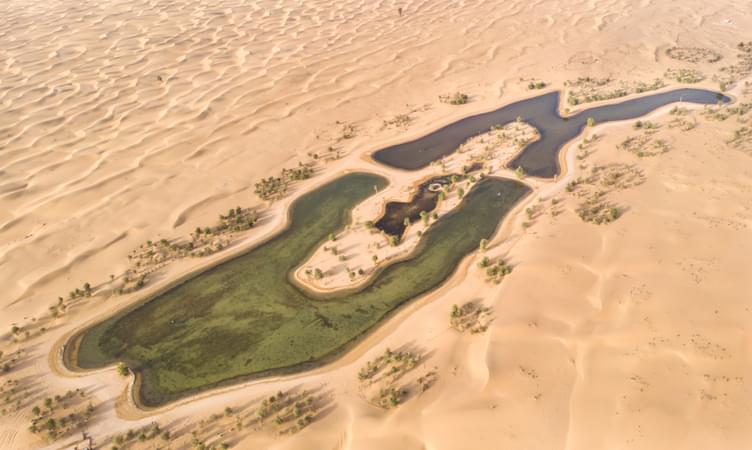 Tucked close to the striking skyline of Dubai the Al Qudra Lake is one of the most interesting places to visit when in Dubai. It is dotted with several other lakes in its proximity and is a great leisure spot. The lake is interwoven with the laid back vibes and stellar vistas of nature. Apart from the soothing water, here you can even spot an array of avian species that include oryx, desert foxes, and more than 200 other bird varieties. Location: Al Qudra Lake, Dubai. Timings: 24 hours open Price: None
Dubai Coffee Museum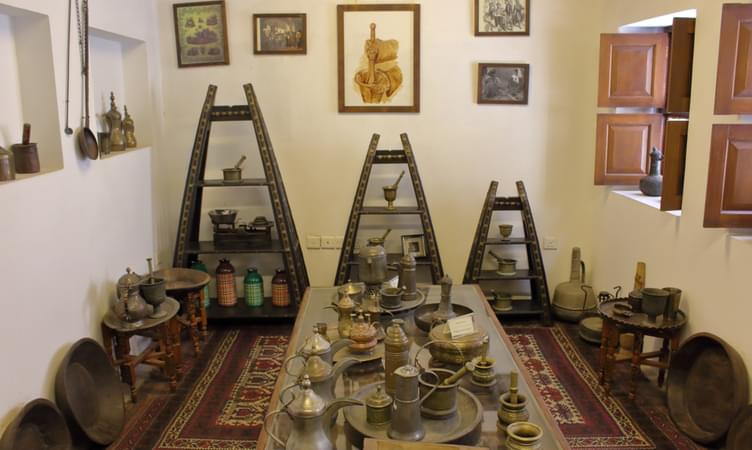 Are you a lover of caffeine? Add the Dubai Coffee Museum in your list of tourist attractions in Dubai as this is a place that brings all cultures together over coffee. In this museum, you can witness the laid back vibes and learn about the coffee culture with the movies. The museum has artifacts that have coffee making equipment and here you can learn about the aromatic brews and their origin. Location: Villa 44, Al Fahidi Historical Neighborhood, Bastakiya - Dubai - United Arab Emirates Timings: 9:00 am to 5:00 pm Saturday to Thursday only. Price: Starting from INR 1000 per person.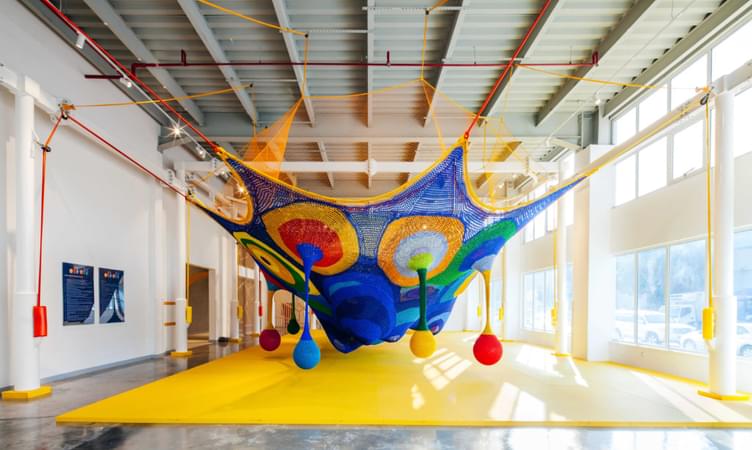 Looking for places to visit when in Dubai? Head to the Oli Oli with your family as it features 8 different galleries that sprawl over two floors. Each one of the galleries is equipped with modern equipment and displays the artworks. The idea of the galleries is inspired by global educators and artists. At this gallery, you can experience 40 different artifacts and learn a lot at the spaces like the creative lab, fort building, and the future park. If you are here with your family, then this place is a paradise for the kids where they can have fun all day! Location:  62 4 A St - Dubai - United Arab Emirates Timings: 9:00 am to 7:00 pm Price:  40 - 43 AED
Al Jaber Gallery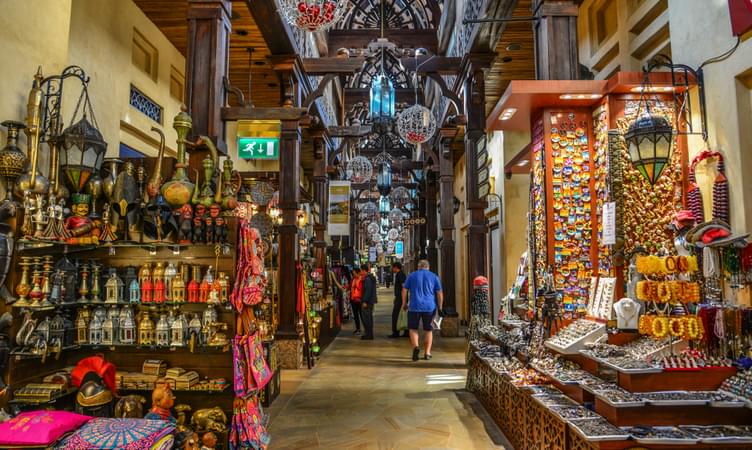 If you are an art lover then one of the most classic tourist places in Dubai is the Al Jaber Gallery that features an exotic collection of antiques, arts, and distinct crafts that will melt your heart away. Apart from this, the collection even owns a collection of carpets that are handcrafted and ranging from the small to full-sized each one of them is available in stock. 
Location: Financial Center Rd - Dubai - United Arab Emirates
Timings: 10:00 am to 12:00 am
Dubai Street Museum
Love street art? Add Dubai Street Museum in your list of places to visit in Dubai as this outdoor gallery showcases the artworks of popular names like Hua Tunan, Ashwaq Abdulla and Inkman. There are amazing murals made with spray paints and the gallery features an elegant painting called the "Prohibited" where there is a girl & boy peeping through a window. Apart from this, it even has a calligraphy quote that denotes, "A positive spirit resides in our soul". Location: Dubai Street Museum, Dubai. Timings: 10:00 am to 5:00 pm on all days. Suggested Read: Zoos in Dubai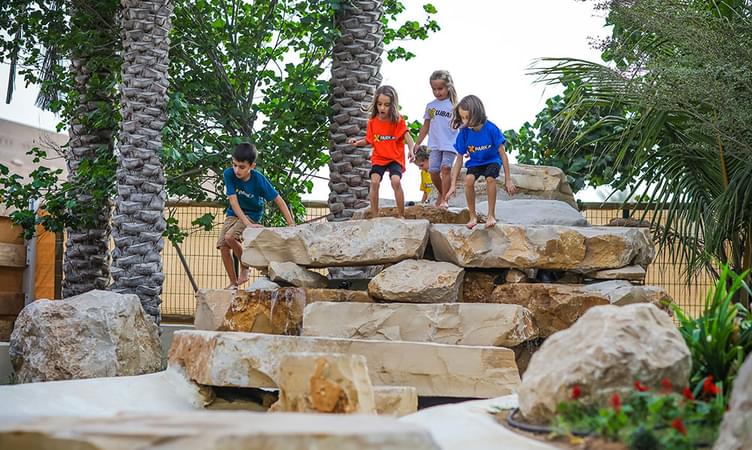 Vacationing with your family? Tour the XPark Jr. that is arched with well-manicured gardens and adorned with beautiful flowers making it the best park of Dubai. The park features a number of swings, slides, and a whole lot more unique adventures. Your kids can play in the mud or can test their skills by climbing the nets. Apart from this, the kids can even witness the petting zoo as that is the best place in the park.  Location: 35A Mizmelah Street, Kite Beach - Dubai - United Arab Emirates Timings: 8:00 am to 6:00 pm Also Read:  Best Indoor Activities in Dubai  
Hatta Heritage Village
Located in the Al Hajar Mountains, on the outskirts of Dubai city, the Hatta Heritage Village shows the traveler the beautiful traditional life in Dubai. You will get to observe the strong attachment of the people who hail from this old town, people whose ancestors were farmers and handicraft men. The other significance also lies in the houses that you will see here, which were built from mountain rocks in the old year. There are over 17 houses, 2 castles and even a fortress here that you can revel in. You can explore the sculptures here as well and enjoy the folklore, the songs and the performances that grace the village every night. Location:  Al Hajar Mountains, Dubai, United Arab Emirates Timings: Can visit the place from Saturday to Thursday How to Book:  Day Tour To Hatta And Kalba Flat 20% Off Click Here to Book Now: Hatta Heritage Village Tour From Dubai with Kayaking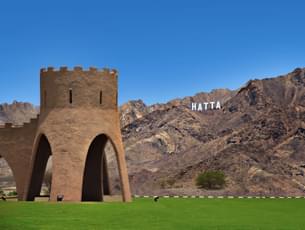 Best of Abu Dhabi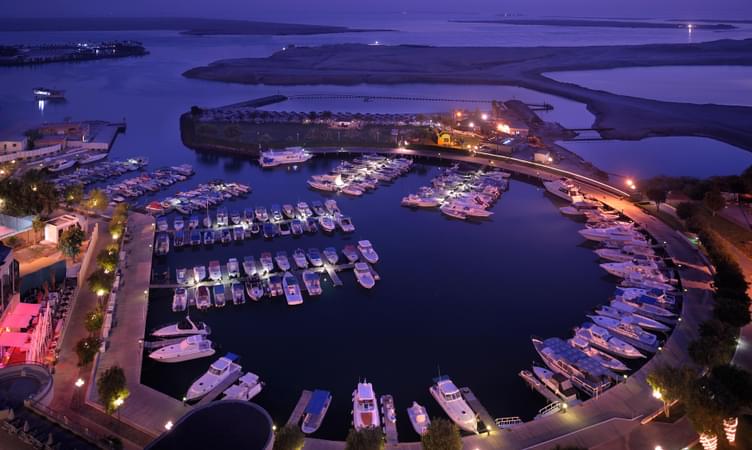 People Also Ask About Dubai
What are the romantic places to visit in dubai, what are the best places to visit in dubai with family, what are the top attractions to visit in uae.
The Dubai Mall
Dubai Aquarium
Desert Safari
What are the best things to do in Dubai?
Skydiving in Dubai
Dhow Cruise Marina
Scuba Diving
Hot Air Ballooning
Helicopter Tour
Flyboarding
Jet Pack Ride
Which are some places to visit in Dubai at night?
Dubai Global Village
The Dubai Fountains
Motiongate Dubai
Is Dubai Aquarium free?
Do i need a visa for dubai, what should i wear in dubai, which is the cheapest month to travel to dubai, how many days are enough to visit dubai, is there any entry fee for dubai mall, which month is best to visit dubai, how much are tickets for burj khalifa, do's and don'ts in dubai.
Make sure that you follow all the laws of Dubai as it is an Islamic country and violating the rules can lead to fines and even imprisonment.
Your dresses must be as per the rules of the malls and attractions as most of them won't allow you if the knees are not covered.
Book taxis for yourself, if you are drunk as the fines for drinking & driving, are too high and it is safe to rather opt for a taxi.
Weekends for Dubai are Friday & Saturday so make sure that you are aware of the opening and closing timings.
You can always drink tap water as it is clean & safe.
Make sure that you do not wear swimwear away from the beach as it is not acceptable apparel.
Do not display affection in public as it is an offense in Emirates.
Refrain from making rude hand gestures as you might land up in trouble.
Don't drink and drive.
Don't do drugs as it can get you imprisonment or fined.
Do not take pictures of government buildings.
Don't eat, drink or smoke in public during Ramadan.
Where can I go for free in Dubai?
What can you do in dubai for cheap, what can you see in dubai in 4 days.
Begin your day with Skydiving at The Palm
Later tour the Dubai Marina and delight your eyes
End the day by witnessing the desert safari
Begin the day with Hot air ballooning
Further tour the Dubai Museum, Al Fahidi, Ras Al Khor Wildlife Sanctuary, and the Spice Souks.
Tour Burj Khalifa that is the tallest building
Add Dubai Mall for shopping
Visit Jumeirah Public Beach
End the day at Dubai Fountain
On the last day visit Miracle Garden & IMG World of Adventure
What should you not miss when visiting Dubai?
Exploring the desert and surfing on the sands of deserts.
Skydiving at Dubai
Witness the adventures at Atlantis Aquaventure Waterpark
Gape the Dubai Fountain.
Can you wear shorts in Dubai?
What do i need to know about visiting dubai, why is dubai so popular, what things are banned in dubai, how much does a dubai trip cost, is dubai worth visiting, which are the top night-clubs in dubai to hangout, which are the best places to shop in dubai, which are the best restaurant in dubai, which are the uae's top adventurous activities you can book via thrillophilia.
Jet Ski Dubai
Quad Biking Dubai
Dune Buggy Dubai
Kayak Mangrove Abu Dhabi
Dune Bashing Dubai
Kayaking in Dubai
Which are the best places to visit in Dubai which you can book via Thrillophilia?
What are the best dubai tour packages that we can book with thrillophilia.
Dubai Packages From Indore
Dubai Tour Packages From Nagpur
Dubai Tour Packages From Amritsar
Dubai Tour Packages From Coimbatore
Dubai Tour Packages From Lucknow
Dubai Tour Packages From Rajkot
Dubai Tour Packages From Goa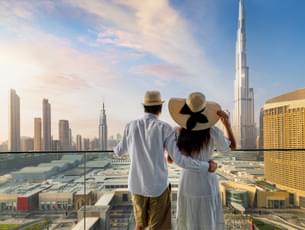 Trending in Dubai
Adventure in dubai.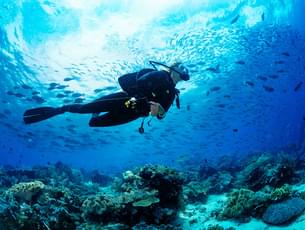 Desert Safari in Dubai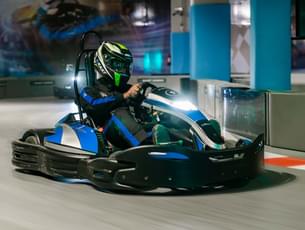 Dubai Top Attractions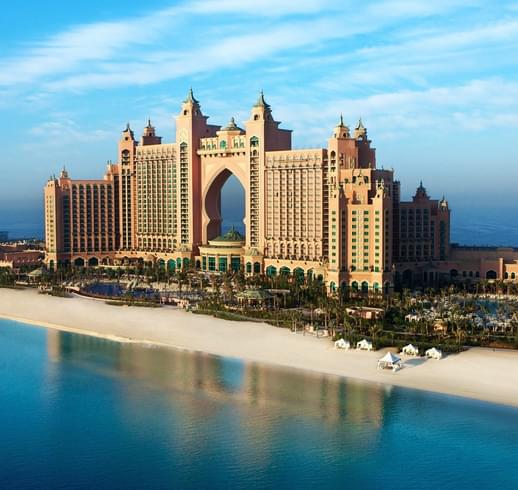 The innovative and unique Museum of the Future in Dubai is an exciting new addition to the Dubai skyline. Listed as one of the most innovative structures in the world, this futuristic museum is poised to become one of the most exciting tourist attractions in the city. It gives visitors valuable insight into the future of human technology and innovation with practical exhibits, amazing installations and unique inventions that are yet to be introduced to the world population. At the Museum of the Future, you can get a glimpse into the human potential – and what the world could look like a few decades down the line. Along with the exhibits, the very structure of the museum is reflective of its innovation – where a portion of the building was made by robots. The exterior is defined by massive steel panels with Arabic inscriptions, which makes the museum as distinctive as other iconic structures in Dubai including the Burj Khalifa and the Dubai Frame. You can explore 7 floors of fantastic installations and exhibits that let you imagine a world several years in the future. It is also a wonderful place for children to familiarize themselves with technology and its unending potential. Museum of the Future encourages visitors to ask imaginative questions such as "What would a world where robots take care of the elderly, look like" and "Can AI help humans get superhuman powers like running faster than usual?" All these aspects of the Museum of the Future will allow you to transport yourself to the future and experience a world that is as yet, inaccessible to most of mankind. It is a one-of-a-kind experience that is impossible to find anywhere else in the world, one which will make your trip to Dubai a truly life-changing experience.Here is the Design and Architecture of the Museum of the Future Dubai:The Museum has been constructed by Killa Designs using the latest technology in design and construction. AI and robotics technology have been used to precision-cut almost 1000 moulds that make up the unique exterior of the museum. The shape of the museum represents the sky and the earth, inspired by Feng-Shui philosophies.One of the most distinctive features of the design is the Arabic calligraphy that is carved into the steel paneling, which are all quotes from the Prime Minister of Dubai talking about the future of the country. There are 7 levels which are connected by an elevated walkway that leads to the Metro Station, and also a bridge that links the museum directly with the Emirates Towers.Experience The Visual World By Booking: Museum of the Future Tickets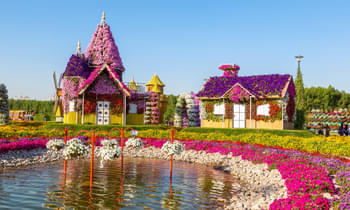 Have you ever been to a floral wonderland where there are stunning floral displays that make you fall in love with them? The Miracle Gardens in Dubai would be a great place to visit in your winter break if not. The arrangement is nothing less than a miniature world of floral wonders spread over an area covering about 72,000 sq. ftAdding to the uniqueness of this floral world is the fact that it is home to nearly 50 million flowers blooming all over to embrace the luxuriousness of this beautiful imagination. Some of the most common ones are marigolds, petunias, and geraniums. This exhibition includes a replica of the stunning Burj Khalifa as well as arcs, tombs, huts, and houses decorated with vibrant flowers.You're welcomed by quirky layouts and heart-shaped passageways. There are many attractions here, including Disney Avenue, Emirates A380, Lost Paradise, Cabanas, Floral Clock, Gazebos, 3D floral designs, and lake parks.Dubai Miracle Garden offers more than sightseeing activities, if that's what you think about it. In fact, there are a lot more things to do here. The passageways are perfect for strolling and relaxing at cabanas, or you can dine at the international food restaurants and kiosks. The choice is yours! Additionally, there's a butterfly garden here, wherein butterfly enthusiasts have a tough time tracking and spotting the 15000 free-flying butterflies.As this beautiful piece of land is located in Dubai that is not ideally not suitable for growing flowers, it requires a great deal of maintenance. The floral beauty you see today is maintained by a team of well-trained and experienced horticulturists. Read on to learn more about Dubai Miracle Garden.Explore the world largest flower garden by booking Miracle Garden Dubai Tickets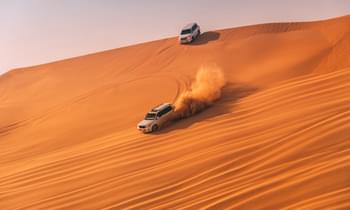 When we talk about desert safari the first place that strikes your mind is Dubai. Dubai has always been a favorite destination when it comes to desert adventure. One such favoured activity is the Desert safari in Dubai . Enjoy riding through the desert while enjoy riding through the desert while soaking in the scenic views.The timings of your tour depend on the packages which you are choosing from. While in Dubai you can find of number of tour operators which provides you with the best desert safari. There are also night safari, evening safari and day safari in Dubai. Highlights: Halt to watch the lovely dusk before reaching your destination where you have the chance to enjoy a camel ride, sand boarding and experiment with henna close by or feet.Location: Dubai Desert, Dubai.Price: The approximate price for this activity starts from AED 200.
More Dubai Attractions
Dubai travel guides.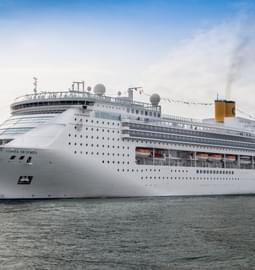 Dubai Reviews

Popular Nearby Places Around Dubai
More things to do in dubai, more on dubai tourism, popular related destinations.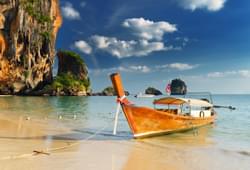 Best Domestic Packages
Best international packages, domestic honeymoon packages, international honeymoon packages, places to visit in india, international places to visit, things to do in india, international things to do, popular on thrillophilia.
We assure the privacy of your contact data.
This data will only be used by our team to contact you and no other purposes.
Your enquiry has been received successfully. Our destination expert will reach out to you soon!
Top tips for female travellers visiting Dubai
Dec 7, 2018 • 7 min read
October 4 2017: Three Surfers go into the waters during sunset with the Burj Al Arab hotel in the background.
Many travellers imagine that visiting Dubai as a woman is much more difficult, complicated and stressful than it actually is. Dubai ranks high on the list of the world's safest cities, despite its location in a region that often makes headlines for being in seemingly eternal conflict. However, with the city's reputation as a blinged-up Disneyland crossed with its Islamic-rooted governance, what is and isn't allowed isn't always clear.
While female visitors certainly aren't expected to don burkinis at the beach, brushing up on local customs and norms before your trip will help you avoid awkward or potentially risky situations, and it will let you in on a few female-centric perks too.
What should I wear in Dubai?
Dubai 's quest to be the biggest and brightest might appear to indicate otherwise, but this city still has strong traditional roots. Emiratis – both men and women – dress in loose-fitting robes, and you'll see many local women opting to cover their hair or faces with a scarf. Visitors don't have to do the same, but covering your thighs and shoulders is recommended, so pack long skirts or baggy trousers. To visit a local mosque, women do need to wear a headscarf, but these are usually provided if you forgot to bring one. A colourful pashmina or scarf draped around the head and hair will do the trick.
Dubai's bars and clubs are a different matter, and you can wear whatever you would to go out back home. However, be aware that many nightlife spots are located in hotels or shopping centres, so bring a cover-up to avoid awkward situations when moving from bar to bar. For example, if you decide to bare midriff, thighs or shoulders and arms, bring a scarf or another cover-up to don when moving on to your next watering hole.
It's fine to wear your bikini on the beach or at the pool, but don't wear it out and about. Not only will you be freezing (thanks to Arctic-like air conditioning in most malls and public spaces), but you'll also offend locals, though they'll most likely be too polite to say anything.
What should I wear if I'm visiting during Ramadan?
During Ramadan, you can still wear a bikini when sunbathing at the hotel pool or beach, but make sure you're covered up as you walk through the hotel itself. When you're out in the city, put on a below-the-knee skirt or loose-fitting trousers and a top that covers your upper arms and isn't low cut.
Will I be harassed?
Women visiting Dubai can feel at ease sightseeing, taking taxis and dining out alone, even late in the evening, and the World Economic Forum ranks the United Arab Emirates as the world's second safest country. That's not to say that you won't get any unexpected attention, but unfortunately, we've yet to come across many cities in the world that are entirely wolf-whistle free. If you are approached with a chat-up line, it's not a problem to completely ignore it or politely but firmly decline it.
Can I drink alcohol in Dubai?
This is a grey area. At the airport, Dubai Duty Free sells oodles of alcohol to anyone over the age of 21, bars and clubs in the city's hotels offer tempting happy hours, and free-flow boozy Friday brunches are legendary. Despite all of that, drinking alcohol in Dubai is technically illegal unless you have a licence, but there's no way for temporary visitors to obtain one. Dubai police don't track down beer-drinking tourists unless they're causing a disturbance. Recently, there have been more calls for clarification on 'the law that forgot about tourists', but so far there's been no resolution, and the current law is still the baseline.
What are ladies' nights?
One of the big perks of being a female traveller in Dubai is the endless array of ladies' nights. Once limited to women getting a free drink or two on a Tuesday evening – a clever marketing ploy in the days when the drinking crowd in Dubai was very male-heavy – ladies' nights have become a Dubai institution and happen every night of the week at venues around town. From free or reduced access at beach clubs to free cocktails at bars and half-price dinners in some of the city's best restaurants, tracking down ladies' nights takes the punch out of what can otherwise be an expensive evening out.
Can I stay in a hotel room with my partner if we aren't married?
Though thousands of unmarried couples cohabit without any issues in Dubai – presumably sharing beds as well as addresses – sex outside marriage is illegal and is punishable by jail and possibly deportation. This law seems to fall into the 'if no one is bothered by it, then it's OK' category. However, should a complaint be made about you cohabiting with a member of the opposite sex – whether you book into a hotel room with your travel partner or want to bring someone home from a nightclub – then you could be in trouble. Hotels request passport details from guests checking in, but this is for security reasons rather than an attempt to find people having premarital sex.
When it comes to contraception, you'll find condoms for sale in supermarkets, pharmacies and petrol stations, but the morning-after pill is illegal. Doctors in the UAE are required by law to report pregnancies in unmarried women. If you think you might be pregnant, consider waiting until you're back home to consult a professional.
Who should I contact in an emergency?
The Dubai Police are extremely responsive and can help you with a whole manner of things from theft to road accidents. Dial 999 for emergencies and 911 for non-emergency situations. However, in cases that involve sex or alcohol, it's better to contact your embassy, which might be able to advise further.  If you are raped, reconsider reporting it to the authorities. While action against the perpetrators would be taken, you could find yourself charged with sex outside of marriage and face prosecution yourself. Instead, get in touch with your embassy, which can help you without involving local authorities.
How can I meet locals in Dubai?
What better way to find out more about life in a city that's grown from a tiny fishing village to a mega-metropolis in less than half a century than by speaking to the locals? The Sheikh Mohammed Centre for Cultural Understanding hosts weekly sessions where you can find out more about local culture and traditions with Emiratis of both sexes, including a no-holds-barred Q&A session where you can ask anything you'd like. Meet the Locals offers meetups where you can have lunch with people from all over the Emirates. Another option is ExpatWoman , a long-running group that has local members, a hugely informative database and an interactive forum. Tinder exists, and it's incredibly popular. Various other dating apps are available for download too.
What do LGBT+ travellers need to know before visiting Dubai?
LGBT+ rights in Dubai are heavily suppressed. Public displays of affection, while frowned upon for straight couples, are a strict no-no for gay couples. You'll see some local men holding hands, as well as nose rubbing between the sexes, but this is all platonic. Cross-dressing in public is illegal, and transgender travellers could face issues when filing official documentation.  Gay travellers sharing a hotel room are unlikely to face any issues, unless you're staying in some of the smaller locally run hotels in the older parts of the city. Instead, book into a higher-end, international-branded hotel. There's no gay scene in Dubai per se, but The Play Room at The Oberoi, Barberry at Tryp by Wyndham and Zinc at the Crowne Plaza might be worth a visit.
Make the most of your travel with  sightseeing tours and activities  from our trusted partners.
Explore related stories
Jan 19, 2021 • 2 min read
Abu Dhabi has launched six self-drive off-roading routes that have been designed for all levels of driving experience.
Jun 22, 2020 • 2 min read
May 25, 2020 • 7 min read
Mar 30, 2020 • 17 min read
Mar 24, 2020 • 9 min read
Jan 23, 2020 • 5 min read
Sep 5, 2019 • 2 min read
Aug 16, 2019 • 7 min read
Jul 19, 2019 • 5 min read
Apr 18, 2019 • 18 min read
Caution November 19, 2023
Worldwide caution, update november 19, 2023, information for u.s. citizens in the middle east.
Travel Advisories |
Contact Us |
MyTravelGov |
Find U.S. Embassies & Consulates
Travel.state.gov, congressional liaison, special issuance agency, u.s. passports, international travel, intercountry adoption, international parental child abduction, records and authentications, popular links, travel advisories, mytravelgov, stay connected, legal resources, legal information, info for u.s. law enforcement, replace or certify documents.
Before You Go
Learn About Your Destination
While Abroad
Emergencies
Share this page:
United Arab Emirates
Travel Advisory July 13, 2023
United arab emirates - level 2: exercise increased caution.
Reissued with obsolete COVID-19 page links removed.
Exercise increased caution in the United Arab Emirates due to the threat of missile or drone attacks and terrorism.
Country Summary: The possibility of attacks affecting U.S. citizens and interests in the Gulf and Arabian Peninsula remains an ongoing, serious concern. Militant groups operating in Yemen have stated an intent to attack neighboring countries, including the UAE, using missiles and drones. Missile and drone attacks in early 2022 targeted populated areas and civilian infrastructure.
Due to risks to civil aviation operating within the Persian Gulf and the Gulf of Oman region, including the United Arab Emirates, the Federal Aviation Administration (FAA) has issued an advisory Notice to Air Missions (NOTAM). For more information U.S. citizens should consult the Federal Aviation Administration's Prohibitions, Restrictions and Notices .
While residents and visitors generally find a safe and secure environment in the UAE, the country continues to face the threat of terrorism. Terrorists may attack with little or no warning, targeting tourist locations, transportation hubs, markets, shopping malls, and local government facilities.
Read the country information page for additional information on travel to the United Arab Emirates.
If you decide to travel to the United Arab Emirates:
Monitor local media for breaking events and be prepared to adjust your plans.
Enroll in the Smart Traveler Enrollment Program (STEP) to receive Alerts and make it easier to locate you in an emergency.
Follow the Department of State on Facebook and Twitter .
Review the Country Security Report for the United Arab Emirates.
Visit the CDC page for the latest Travel Health Information related to your travel.
Prepare a contingency plan for emergency situations. Review the Traveler's Checklist .
Embassy Messages
View Alerts and Messages Archive
Quick Facts
6 months validity after date of arrival. 12-page U.S. emergency passport often not accepted for entry in Dubai.
One page required for entry stamp
Not required for tourist stays under 30 days
Embassies and Consulates
U.s. embassy abu dhabi.
Embassies District, Plot 38, Sector W59-02, Street No. 4. Abu Dhabi, U.A.E. Telephone: +(971) (2) 414-2200 Emergency After-Hours Telephone: +(971) (0) 2-414-2200 Fax: +(971) (2) 414-2241 Email: [email protected]
U.S. Consulate General Dubai Corner of Al Seef Rd. and Sheikh Khalifa bin Zayed Rd Dubai, U.A.E. Telephone: +(971) (4) 309-4000 Emergency Telephone: +(971) (4) 309-4000 Fax: +(971) (4) 311-6213 Email: [email protected] The normal work week in the UAE is Monday through Friday.
Destination Description
Learn about the U.S. relationship to countries around the world.
Entry, Exit and Visa Requirements
COVID-19 Requirements: There are no COVID-related entry requirements for U.S. citizens.
U.S. citizens are subject to all UAE immigration laws.
Passport Validity: A passport valid for at least six months beyond the date of entry is required to enter the UAE. Emergency passports are not accepted for tourists visiting the UAE. There have been multiple reports of U.S. citizens denied entry to the UAE using 12-page U.S. emergency passports. Neither the U.S. Embassy in Abu Dhabi nor the U.S. Consulate General in Dubai can facilitate entry to the UAE. We strongly recommend U.S. citizens arrive in the UAE on a full-validity passport that is valid for more than six months beyond the date of entry.
Personal travel of 30 days or less: A U.S. citizen with a regular passport may obtain a no fee visitor visa upon arrival.
Stays longer than 30 days: Visitors on a 30-day visa may request a visa extension, which is at the discretion of immigration officials. Anyone planning to work or study in the UAE must obtain the appropriate visa.
Medical Exam: A full medical exam is required for work or residence permits. The exam and tests for HIV/AIDS, viral hepatitis B, tuberculosis, leprosy, and pregnancy must be performed after arrival. U.S. citizens have been detained and deported for testing positive for HIV, active tuberculosis, or hepatitis. Medical exams performed outside of the UAE will not be accepted.
Travel on Diplomatic or Official Passports: U.S. citizens traveling to or through the UAE on diplomatic or official passports are required to obtain a visa before travel (transit passengers only require a visa if exiting the airport). This requirement is strictly enforced by UAE officials and those not meeting the requirement will be denied entry. U.S. military travelers should not assume military ID cards will be accepted, but should consult the Foreign Clearance Guide.
Land Exit Departure Fee: All travelers who depart the UAE by land and who are not citizens of a Gulf Cooperation Council (GCC) country must pay a departure fee. The fee is 35 UAE dirhams and is payable only in the local currency.
Please verify this information with the Embassy of the United Arab Emirates before you travel.
Exit Controls: The UAE maintains tight exit controls. All travelers must exit the country with the passport on which they entered. Travelers should visit a UAE immigration office prior to departure to obtain an exit pass if they plan to leave the UAE without the passport on which they entered.
Travelers both departing the UAE and transiting will be barred from exiting the UAE if there are any criminal or civil legal cases against them. Travelers have been arrested at the airport and have had their passports seized due to outstanding financial cases, unsettled legal disputes, and late credit card payments, including for cases that were previously unknown to the traveler. In such cases, some individuals have been arrested and detained for long periods of time. Individuals will be barred from leaving the UAE until legal cases are settled in full. This affects all persons whether they are in the UAE as residents, tourists, or transit passengers with no intention of exiting the airport. UAE residents can verify with UAE authorities whether they have an exit ban due to outstanding cases in Dubai or Abu Dhabi. More information on this process can be found on the UAE Government Portal .
The Government of the UAE requires that all persons residing in the country have a national identification card. U.S. citizens who are working or living in the UAE should visit the Emirates Identity Authority website for more information on card registration procedures and requirements.
Cancellation of Visas: All UAE visas must be formally cancelled through the General Directorate of Residency and Foreigners Affairs (GDRFA) before a new visa can be issued. This includes visas that have already expired or have never been used. Travelers may be denied entry to, or not permitted to depart, the UAE if previous visas have not been properly cancelled. More information on the process is available on the UAE Government portal .
Dual Nationality: The UAE does not recognize dual nationality. The UAE recognizes only the citizenship of the passport on which a person enters the UAE. The embassy may be prohibited from providing certain consular services to those who did not enter the UAE on a U.S. passport.
The UAE has imposed HIV/AIDS travel restrictions on all foreigners seeking residency. Travelers for tourism are not tested or requested to provide information about HIV/AIDS status. Please verify this information with the Embassy of the UAE before you travel. Information about dual nationality and the prevention of international child abduction can be found on the embassy website. For further information about customs regulations, please read the embassy's Customs Information page .
Current restrictions:
Weapons and Law Enforcement Equipment: The transportation of arms or items that may be considered law enforcement or military equipment is strictly prohibited without written approval from the UAE government. Do not transport any arms or items that may be considered law enforcement or military equipment. Such items include, but are not limited to:
Weapon parts and tools
Functional, inert, or decorative ammunition, even one bullet
Empty or spent shell casings
Any other military or police equipment
U.S. citizens, military personnel, and U.S. government/military contractors found to be carrying such items, even in the smallest quantities, will be arrested and face strict criminal penalties, including imprisonment, large monetary fines, forfeiture of the items, and deportation , even though airlines and U.S. authorities allowed shipment on a U.S.-originating flight.
Other prohibited items: Importation of the following items is also prohibited under UAE law: pornographic material, non-Islamic religious pamphlets for missionary activities, e-cigarettes, fireworks, ivory, chemical and organic fertilizers, laser pointers, radar jammers/other unauthorized communication devices, products and medications containing cannabidiol (CBD), endangered animal species, and any objects, sculptures, paintings, books or magazines which do not adhere to the religious and moral values of the UAE. Possession of any of these items can lead to detention and lengthy jail sentences.
Safety and Security
Terrorism: Terrorist groups and those inspired by such organizations are intent on attacking U.S. citizens abroad. Terrorists are increasingly using less sophisticated methods of attack – including knives, firearms, and vehicles – to more effectively target crowds. Frequently, their aim is unprotected or vulnerable targets, such as:
High-profile public events (sporting contests, political rallies, demonstrations, holiday events, celebratory gatherings, etc.)
Hotels, clubs, and restaurants frequented by tourists
Places of worship
Shopping malls and markets
Public transportation systems (including subways, buses, trains, and scheduled commercial flights)
U.S. citizens in the United Arab Emirates should exercise a high level of security awareness. The possibility of terrorist attacks against U.S. citizens and interests in the Gulf and Arabian Peninsula remains a serious concern. The UAE's normalization of relations with Israel in September 2020 has increased the potential for attacks in the UAE, including by Iran-backed entities. Separately, rebel groups operating in Yemen have stated an intent to attack neighboring countries, including the UAE, using missiles and unmanned aerial systems (drones). Yemen-based Houthi rebels claimed responsibility for missile and drone attacks against the UAE on January 17 and January 24, 2022, targeting populated areas and civilian infrastructure. The January 17 attack resulted in multiple impact sites in Abu Dhabi and three fatalities. The Houthi rebels have publicly stated their intent to continue such attacks. In the event of a missile and/or drone strike, follow the guidance found here .
Both historical and current information suggest that the Islamic State of Iraq and Syria (ISIS), al-Qaida, and affiliated organizations continue to plan attacks against Western targets; these attacks may employ a wide variety of tactics, including suicide operations, assassination, kidnapping, hijacking, and bombing.
For more information, see our Terrorism page.
Boating: The UAE and Iran have had a long-standing dispute concerning jurisdiction of Abu Musa, approximately 20 miles from Dubai. Fishing or sailing in these waters may result in seizure of vessels and detention of passengers and crew in Iran. Obtaining consular assistance in Iran for U.S. citizens is difficult and can only be done through the Swiss Embassy in Tehran , which acts as a Protecting Power, providing limited U.S. consular services.
Crime: Violent crimes and crimes against property are rare. U.S. citizens should take the same security precautions in the UAE that one would practice in the United States or any large city abroad.
Harassment and Assault: U.S. citizens, especially women, should take precautions against the possibility of verbal and physical harassment or sexual assault when walking alone, consuming alcohol, or riding in a taxi cab. Taxi passengers should avoid sitting in the front seat of a taxicab and should be sensitive that "small talk" can be misinterpreted as over-friendliness or even a form of propositioning by some taxi drivers. Taxis driven by women for the exclusive use of female passengers are available in some airports and by dispatch. Female travelers can identify these dedicated vehicles by their pink roofs.
Some victims of sexual assault have been prosecuted for violating laws against sexual relations outside of marriage. The law puts a high burden of proof on the victim to demonstrate that sex was not consensual. In cases where the victim has failed to demonstrate so, both parties have been prosecuted, and sometimes sentenced to jail time, followed by deportation.
International Financial Scams: See the Department of State and the FBI pages for information.
Internet romance and financial scams are prevalent in the UAE. Scams are often initiated through Internet postings/profiles or by unsolicited emails and letters. Scammers almost always pose as U.S. citizens who have no one else to turn to for help. Common scams include:
Romance/Online dating
Money transfers
Lucrative sales
Gold purchase
Inheritance notices
Work permits/job offers
Bank overpayments
Victims of Crime: U.S. citizen victims of sexual assault are encouraged to contact the U.S. Embassy for assistance. Report crimes to the local police at 999 and contact the U.S. Embassy at +971 2 414 2200. Remember that local authorities are responsible for investigating and prosecuting crime.
See our webpage on help for U.S. victims of crime overseas .
Help you find appropriate medical care
Assist you in reporting a crime to the police
Contact relatives or friends with your written consent
Provide general information regarding the victim's role during the local investigation and following its conclusion
Provide a list of local attorneys
Provide our information on victim's compensation programs in the U.S.
Provide an emergency loan for repatriation to the United States and/or limited medical support in cases of destitution
Help you find accommodation and arrange flights home
Replace a stolen or lost passport
Domestic Violence: U.S. citizen victims of domestic violence may contact the Embassy or Consulate General for assistance.
Tourism: The tourism industry is generally regulated and rules with regard to best practices and safety inspections are regularly enforced. Hazardous areas/activities are identified with appropriate signage and professional staff is typically on hand in support of organized activities. In the event of an injury, appropriate medical treatment is widely available throughout the country. Outside of a major metropolitan center, it may take more time for first responders and medical professionals to stabilize a patient and provide life-saving assistance. U.S. citizens are encouraged to purchase medical evacuation insurance. See our webpage for more information on insurance providers for overseas coverage .
Local Laws & Special Circumstances
Criminal Penalties: You are subject to local laws. If you violate local laws, even unknowingly, you may be expelled, arrested, or imprisoned. Individuals establishing a business or practicing a profession that requires additional permits or licensing should seek information from the competent local authorities, prior to practicing or operating a business.
As each emirate has its own independent judicial system, legal procedures and penalties vary throughout the country.
Furthermore, some laws are also prosecutable in the United States, regardless of local law. For examples, see our website on crimes against minors abroad and the Department of Justice website.
Arrest Notification: UAE authorities do not routinely notify the U.S. Embassy or consulate of a U.S. citizen's arrest. If you are arrested or detained, ask police or prison officials to notify the U.S. Embassy or consulate immediately. If you are not allowed to do so, ask a friend or family member to contact the U.S. Embassy or consulate. See our webpage for further information.
Alcohol: Alcohol is sold only in very limited areas including certain restaurants and hotels. Public drunkenness and driving under the influence, regardless of one's blood alcohol content level, are considered very serious offenses. Persons arrested on alcohol-related offenses are regularly detained for many days as they await a court hearing. Penalties may include hefty jail sentences, substantial fines and, for Muslims (even those holding U.S. citizenship), lashings. Note: The possession and consumption of alcohol is prohibited in the emirate of Sharjah.
Drugs: UAE law imposes the death sentence for convicted drug traffickers. Possession of even trace amounts of illegal drugs (including in the bloodstream) can result in lengthy prison sentences of up to 15 years. Bail generally is not granted to those accused of drug crimes.
Possession or consumption of marijuana in any form, including detections of trace amounts in the bloodstream, is illegal in the UAE, even if a doctor's medical card is presented. Products containing cannabidiol (CBD) are illegal in the UAE. Possession or importation of CBD products, including those found in prescription and over the counter medications in the United States and other countries, are prosecuted in the same manner as marijuana possession. The UAE's anti-narcotics program also includes poppy seeds on its list of controlled substances. The importation and possession of poppy seeds in any and all forms, including as dried decorative plants, are strictly prohibited.
Persons may be charged and convicted even if the controlled substances were ingested outside of the UAE as long as traces are still present in the bloodstream upon arrival in the UAE. If suspected of being under the influence of drugs or alcohol, individuals may be required to submit to blood and/or urine tests and may be subject to prosecution.
Travelers with questions regarding the items on the list of controlled substances should contact the U.S. Embassy in Abu Dhabi or the U.S. Consulate General in Dubai .
Codes of Behavior and Dress: Public decency and morality laws throughout the UAE are much stricter than in the United States. Penalties for public displays of affection or immodesty may be imposed. Sexual relations outside marriage are illegal in the UAE and convicted individuals have been punished by lengthy jail sentences. Pregnancy outside of marriage can result in arrest and detention. Doctors may ask for proof of marriage during pre-natal visits, and those giving birth in the UAE must present a marriage certificate to receive medical care and register the child's birth. Failure to do so has resulted in the arrests of both unmarried mothers and fathers, as well as deportation.
Individuals may be arrested, fined, and/or deported for committing any of the following acts: making rude gestures, swearing, touching another person without his/her permission, and making derogatory statements about the UAE, the royal families, the local governments or other people. Travelers should keep in mind the cultural differences among the many people who coexist in the UAE and should be cognizant that unwitting actions, including clothing choices, may invite unwanted attention.
Debt and Financial Crime: Crimes of financial fraud, including passing bad checks and non-payment or late payment of bills (including hotel bills, hospital bills, traffic or parking fines, and late payment of credit cards, utility bills, etc.), are regarded seriously in the UAE and often result in imprisonment and/or fines. A personal check written as a guarantee for the payment of a personal or business debt may be submitted to a local bank for collection at any time for the full amount of the check. If the account holder does not have sufficient funds, he/she may be charged with passing a bad check. Bail generally is not available to non-residents of the UAE who are arrested for crimes involving fraud. Debtors can be held in prison until their debts are paid or until an agreement is reached between the parties. Passports may be seized by the UAE government to guarantee that debtors settle their cases. Financial cases may be further complicated by debtors being unable to work in the UAE without passports while still being held responsible for their debts.
Photography: Taking photographs of UAE military facilities, sensitive civilian sites, airports, some beaches, or foreign diplomatic missions – including the U.S. Embassy or Consulate General – may result in arrest, detention, and/or prosecution by local authorities. Travelers should be aware of signs which indicate where photography is prohibited. Note that it is illegal to take photographs of other people without their consent. In addition, engaging in mapping activities, especially mapping that includes the use of GPS equipment, without coordination with UAE authorities, may have the same consequences. (This does not apply to use of publicly available online maps.)
Drone Operation: The flying of drones is prohibited in certain areas and may result in arrest and imprisonment. Individuals should not operate drones without prior approval from local authorities.
Social Media: The UAE has strict laws regarding use of the internet and social media. Individuals have been arrested and criminally convicted for posting information on social media sites (such as Facebook, Twitter, YouTube, etc.) that local authorities determined was disturbing to the order of the UAE. Users of social media should be cautious about online posting of information that might be deemed to insult or challenge the local or national government. Individuals should avoid posting insults or derogatory information about governments, institutions, or individuals.
Charity and fundraising activities are closely regulated by the UAE government, and it is against the law to conduct any private fundraising activity online (including those conducted on popular fundraising websites for personal causes).
The UAE National Media Council implemented new rules in 2018 for conducting business as a social media influencer in the UAE. Influencers must apply for trade and e-media licenses in order to promote brands on social media in the UAE. For more information please review the website of the National Media Council .
Terrorist Organizations List: On November 15, 2014, the UAE government announced a list of 85 groups it considers to be terrorist organizations. Individuals who are associated with groups on the UAE list could be detained at UAE borders, have their assets frozen, and/or be prosecuted for membership in a terrorist organization.
Religious Proselytizing: While individuals are free to worship as they choose, and facilities are available for that purpose, religious proselytizing is not permitted in the UAE. Persons violating this law, even unknowingly, may be imprisoned or deported.
Employment in the UAE: Although it is common for a local sponsor to hold an employee's passport, it is illegal to do so under UAE law. Many contractual or labor disputes can be avoided by clearly establishing all terms and conditions of employment or sponsorship in the labor contract at the beginning of any employment. Should a dispute arise, the UAE Ministry of Labor has established a special department to review and arbitrate labor claims. If an employee leaves his/her job without properly canceling the employment visa, the employer can file charges that can lead to imprisonment, fines, and/or deportation. The U.S. Embassy and Consulate General do not intercede in employment disputes.
U.S. citizens have become involved in commercial or financial disputes that have prompted local firms or courts to take possession of the U.S. citizen's passport, effectively preventing the individual from leaving the UAE. In addition, local firms have been known to file criminal complaints, which may lead not only to travel restrictions but possible criminal penalties, including jail time. A list of local attorneys is available from the U.S. Embassy in Abu Dhabi and the U.S. Consulate General in Dubai.
Document Authentications: U.S. citizens intending to reside and work in the UAE are generally required by the UAE government to present authenticated personal documents for themselves and accompanying family members such as marriage and birth certificates, adoption and custody decrees, certificates of good behavior from police, and educational documents to include diplomas and certificates. The authentication of U.S. documents is done completely in the United States. For information, contact the State Department's Office of Authentications or see the U.S. Embassy website . Determining the exact requirements with one's prospective employer is strongly recommended before arrival in the UAE.
LGBTI Travelers: Consensual same-sex sexual relations are criminalized in the UAE. Penalties may include fines and imprisonment. Under interpretations of sharia, the punishment could include the death penalty. Although the U.S. Embassy and U.S. Consulate General are not aware of any recent arrests or prosecutions for such activities, they remain illegal. Cross-dressing is also a punishable offense and there have been reports that the government took action against cross-dressing individuals. See our LGBTI Travel Information page and section 6 of our Human Rights report for further details.
Travelers with Disabilities: While in the UAE, individuals with disabilities may find accessibility and accommodations somewhat different from what they find in the United States. The law prohibits discrimination against persons with disabilities in employment, education, air travel and other transportation, access to health care, or the provision of other state services, and the law is enforced. The UAE government refers to persons with disabilities as "people of determination." Social acceptance of persons with disabilities in public is as prevalent as in the United States. The most common types of accessibility may include accessible facilities, information, and communication/access to services/ease of movement or access.
The UAE has several modern cities with good services and accessibility of lodging, public transportation, sidewalks, and buildings. Outside of newly constructed areas, accessibility is not comparable to the United States and navigating with a visual impairment or using a wheelchair is difficult due to sidewalks in disrepair or without curb cuts, poor road crossings, and inaccessible buildings and public transport. Public transportation in Dubai is wheelchair accessible. However, the buses that connect Dubai with the other emirates in the UAE are not wheelchair accessible. See the UAE government information on accessible transport and parking facilities. See our Traveling with Disabilities page.
Women Travelers: See our travel tips for Women Travelers .
Students: See our Students Abroad page and FBI travel tips.
COVID-19 Testing: COVID-19 testing is available throughout the UAE at private facilities and official government health centers. Testing is generally paid for by the U.S. citizen. Test results are usually sent via text message or email. Additional information on COVID-19 testing can be found on the SEHA website .
COVID-19 Vaccines: The COVID-19 vaccine is available for U.S. citizens to receive in the UAE. According to the UAE Ministry of Health and Prevention, residents and visitors may receive COVID-19 vaccines at any SEHA vaccination center, but only residents may receive vaccines free of charge. For additional information, please see the Ministry of Health and Prevention website .
Visit the FDA's website to learn more about FDA-approved vaccines in the United States.
Adequate health facilities are available, but health care in rural areas may be below U.S. standards. While most common conditions can be appropriately treated in the UAE, complex medical conditions may be better treated in the United States. Providers may recommend a large number of procedures and tests, some of which may be unnecessary.
Hospitals usually require advance payment or proof of adequate insurance before admitting a patient, except in emergencies.
Travelers should make efforts to obtain complete information on billing, pricing, and proposed medical procedures before agreeing to any medical care.
Patients bear all costs for transfer to or between hospitals.
For emergency services in the UAE, dial 999 .
Ambulance services are widely available.
We do not pay medical bills. Be aware that U.S. Medicare does not apply overseas. Most hospitals and doctors overseas do not accept U.S. health insurance.
Medical Insurance: Make sure your health insurance plan provides coverage overseas. Most care providers overseas only accept cash payments. You may be denied care, even in an emergency, if you are unable to provide a cash deposit up-front. See our webpage for more information on insurance providers for overseas coverage. Visit the U.S. Centers for Disease Control and Prevention for more information on type of insurance you should consider before you travel overseas.
We strongly recommend supplemental insurance to cover medical evacuation.
Medication: Many prescription and over-the-counter medications are prohibited in the UAE, and possession of such substances without the appropriate approval is generally treated the same as possession of illegal narcotics. All tourists and residents of the UAE should seek prior approval, via an online form, before carrying certain types of medications, narcotics, or chemical substances to or through the UAE. The service can be accessed directly on the Ministry of Health and Prevention's website . Travelers can also find updated lists of prohibited medications requiring prior approval on the same website.
Travelers with prescription medication must have their prescriptions issued by licensed doctors and authenticated by the appropriate authorities. In order for a U.S. prescription to be fully authenticated, it must be authenticated by the Secretary of State of the U.S. state in which the prescribing doctor is licensed, then by the U.S. Department of State, and finally by the UAE Embassy in Washington, DC. Additional information on authentication of documents can be found on the State Department's website and on the Embassy and Consulate General website . Always carry your prescription medication in original packaging, along with your doctor's prescription.
Further queries may be directed to the UAE Ministry of Health's Drug Control Department in Abu Dhabi.
Vaccinations: Be up-to-date on all vaccinations recommended by the U.S. Centers for Disease Control and Prevention.
For further health information, go to:
World Health Organization
U.S. Centers for Disease Control and Prevention (CDC)
Air Quality: Visit AirNow Department of State for information on air quality at U.S. Embassies and Consulates.
Air pollution is a significant problem in UAE. Consider the impact seasonal smog and heavy particulate pollution may have on you, and consult your doctor before traveling if necessary.
People at the greatest risk from particle pollution exposure include:
Infants, children, and teens
People over 65 years of age
People with lung disease such as asthma and chronic obstructive pulmonary disease (COPD), which includes chronic bronchitis and emphysema;
People with heart disease or diabetes
People who work or are active outdoors
The U.S. Embassy and Consulate General maintain a list of doctors and hospitals . We do not endorse or recommend any specific medical provider or clinic.
Travel and Transportation
Road Conditions and Safety: Traffic accidents are a leading cause of death in the UAE. Drivers often drive at high speeds. Unsafe driving practices are common, especially on inter-city highways. On highways, unmarked speed bumps and drifting sand create additional hazards. Pedestrians should also use great care on the roads of the UAE – over 25 percent of road fatalities are pedestrians.
The police emergency number and ambulance number is 999 . Response time by emergency services is adequate; however, medical personnel emphasize transport of the injured to the hospital rather than treatment on site.
Traffic Laws: Country-wide traffic laws impose stringent penalties for certain violations, particularly driving under the influence of alcohol. In the UAE, there is zero tolerance for driving after consuming alcohol.
Persons involved in an accident in which another party is injured automatically go to jail until the injured person is released from the hospital. Should a person die in a traffic accident, the driver of the other vehicle is liable for payment of compensation for the death (known as "dhiyya"), usually the equivalent of 55,000 U.S. dollars. Even relatively minor accidents may result in lengthy proceedings, during which both drivers may be prohibited from leaving the country.
In order to drive, UAE residents must obtain a UAE driver's license. Foreign driver's licenses are not recognized for residents of the UAE; however, U.S. citizen visitors who are not UAE residents can drive using a valid driver's license issued by his or her state. An international driver's license may be required in some emirates. The UAE recognizes driver's licenses issued by other Gulf Cooperation Council (GCC) states only if the bearer is driving a vehicle registered to the same GCC state. Under no circumstances should anyone drive without a valid license.
If you are in an accident, UAE law mandates that you remain at the scene until authorities arrive. The use of front seat belts is mandatory in the UAE. Driving is on the right side of the road. Speed limits are posted. Making a right turn on a red light is not permitted unless there is a special lane to do so with a yield sign. Parking is not allowed where the curb is painted black and yellow. Digital cameras are used extensively on Emirati roads for registering traffic violations, including speeding. Fines can be substantial and must be paid prior to departure from the UAE. Individuals with outstanding traffic fines may be detained at airport immigration.
Please see our Road Safety page for more information .
Aviation Safety Oversight: The U.S. Federal Aviation Administration (FAA) has assessed the Government of the United Arab Emirates' Civil Aviation Authority as being in compliance with International Civil Aviation Organization (ICAO) aviation safety standards for oversight of the United Arab Emirates' air carrier operations. Further information may be found on the FAA's safety assessment page.
Maritime Travel: Mariners planning travel to the UAE should also check for U.S. maritime advisories and alerts . Information may also be posted to the U.S. Coast Guard Homeport and the NGA Broadcast Warnings website.
For additional travel information
Enroll in the Smart Traveler Enrollment Program (STEP) to receive security messages and make it easier to locate you in an emergency.
Call us in Washington, D.C. at 1-888-407-4747 (toll-free in the United States and Canada) or 1-202-501-4444 (from all other countries) from 8:00 a.m. to 8:00 p.m., Eastern Standard Time, Monday through Friday (except U.S. federal holidays).
See the State Department's travel website for the Worldwide Caution and Travel Advisories .
Follow us on Twitter and Facebook .
See traveling safely abroad for useful travel tips.
United Arab Emirates was cited in the State Department's 2023 Annual Report to Congress on International Child Abduction for demonstrating a pattern of non-compliance with respect to international parental child abduction. Review information about International Parental Child Abduction in United Arab Emirates . For additional IPCA-related information, please see the International Child Abduction Prevention and Return Act ( ICAPRA ) report.
Travel Advisory Levels
Assistance for u.s. citizens, united arab emirates map, learn about your destination, enroll in step.
Subscribe to get up-to-date safety and security information and help us reach you in an emergency abroad.
Recommended Web Browsers: Microsoft Edge or Google Chrome.
Make two copies of all of your travel documents in case of emergency, and leave one with a trusted friend or relative.
Afghanistan
Antigua and Barbuda
Bonaire, Sint Eustatius, and Saba
Bosnia and Herzegovina
British Virgin Islands
Burkina Faso
Burma (Myanmar)
Cayman Islands
Central African Republic
Cote d Ivoire
Curaçao
Czech Republic
Democratic Republic of the Congo
Dominican Republic
El Salvador
Equatorial Guinea
Eswatini (Swaziland)
Falkland Islands
French Guiana
French Polynesia
French West Indies
Guadeloupe, Martinique, Saint Martin, and Saint Barthélemy (French West Indies)
Guinea-Bissau
Isle of Man
Israel, The West Bank and Gaza
Liechtenstein
Marshall Islands
Netherlands
New Caledonia
New Zealand
North Korea (Democratic People's Republic of Korea)
Papua New Guinea
Philippines
Republic of North Macedonia
Republic of the Congo
Saint Kitts and Nevis
Saint Lucia
Saint Vincent and the Grenadines
Sao Tome and Principe
Saudi Arabia
Sierra Leone
Sint Maarten
Solomon Islands
South Africa
South Korea
South Sudan
Switzerland
The Bahamas
Timor-Leste
Trinidad and Tobago
Turkmenistan
Turks and Caicos Islands
United Kingdom
Vatican City (Holy See)
External Link
You are about to leave travel.state.gov for an external website that is not maintained by the U.S. Department of State.
Links to external websites are provided as a convenience and should not be construed as an endorsement by the U.S. Department of State of the views or products contained therein. If you wish to remain on travel.state.gov, click the "cancel" message.
You are about to visit: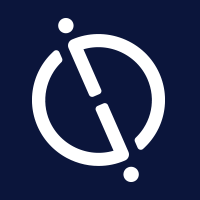 Dubai Airshow: what you need to know
Posted: November 17, 2023 | Last updated: November 18, 2023
As the 18 th edition of the Dubai Airshow comes to an end, Airport Technology has tracked the vast array of events that took place across the five days.
The Middle East's premier aviation expo played host to more than 1,400 exhibitors and showcased a variety of companies from the commercial, general and military aviation industries.
Emirates made orders for 110 aircraft and aircraft interiors, part of the airline's $2bn retrofit programme from 2022.
Demonstrations across the AAM sector presented a collection of highly advanced electric vertical take-off and landing (eVTOL) displays.
The 2023 show introduced the " Advanced Aerial Mobility Pavilion ", which focused on revealing "cutting-edge innovations" across novel flight technologies.
The air show highlighted the strong demand for wide-body aircraft, reflecting the growth in post-pandemic travel .
Emirates paved the way
UAE flag carrier Emirates set the stage and commenced the week with an initial wide-body aircraft order valued at $52bn .
Rounding off the week, Emirates added 15 A350-900s to its portfolio on Thursday, taking its total order of Airbus aircraft across the week to 65.
Emirates announced the construction of a $950m engineering facility, which is set to commence construction by 2024 and was "purpose-built" to support its fleet by 2040.
The centre will span over one million square feet and is stated to be completed by 2027.
Ahmed bin Saeed Al Maktoum, chairman and chief executive of Emirates Group, emphasised the strong investment made by the airline
Al Maktoum said: "With the projected growth of the region's aviation sector, Emirates' new engineering facility will play a key role as a centre of excellence, attracting the involvement of global players across the aviation supply chain. It'll create thousands of skilled technical jobs and add value to Dubai's economy."
As previously noted, Emirates continued its commitment to the French market with a $1.2bn round of aircraft interior contracts.
eVTOLS took to the stage
Archer Aviation debuted its Midnight eVTOL aircraft. This followed the aircraft taking its first uncrewed and tethered test flight in late October 2023.
Archer announced Air Chateau's planned purchase of 100 Midnight eVTOL aircraft on 16 November, with a contract value of up to $500m and aiding in Archer's plans to commence air taxi operations in both Abu Dhabi and Dubai in 2026.
The MoU was signed at the Dubai Air Show and will oversee a pre-delivery payment of $1m by the end of Q4 2023.
Archer founder and CEO Adam Goldstein said: "Their recognition that our Midnight aircraft meets what the customer demands in the UAE market and desire to secure the purchase of up to 100 Midnight aircraft is another exciting validation of our efforts to bring to market an aircraft that will revolutionise how people move in and around cities."
Manufacturers bolster order books
Due to a large influx in wide-body aircraft orders, US-based manufacturing giant Boeing and French manufacturer Airbus have effectively boosted their order books in deals that reflect a surge in traveller demand.
The demand for Airbus wide-body aircraft was similar to Boeing's, with the European manufacturer racking up orders from flag carriers Egypt Air and Ethiopian Airlines Group.
Both flag carriers signed deals with Airbus for the order of 21 A350-900s.
"Dubai Airshow: what you need to know" was originally created and published by Airport Technology , a GlobalData owned brand.
The information on this site has been included in good faith for general informational purposes only. It is not intended to amount to advice on which you should rely, and we give no representation, warranty or guarantee, whether express or implied as to its accuracy or completeness. You must obtain professional or specialist advice before taking, or refraining from, any action on the basis of the content on our site.
More for You
Ex-RNC Chair Calls for Donald Trump to Be Thrown in Jail
Grocery store chain ditches self-checkout after shopper backlash
Avoid Buying These 10 Cars That Will Likely Break Down After 100K Miles
Elon Musk says the risk of advanced AI is so high that the public needs to know why OpenAI fired Sam Altman
Frank and Ernest by Thaves
Black Friday shopping deals have started. Here's what you need to know.
Trump Serves Food to Soldiers and Police, Complains There's None Left for Him
13 Small Habits That Actually Reveal a Lot About Your Personality
Angel Reese and LSU Saga Continues
I'm a Mechanic: The Best $100 You Can Spend on Your Car's Maintenance
A 60-Year-Old Russian Tank Apparently Tried Attacking The Ukrainian Marines' Dnipro Bridgehead. The Tank Didn't Survive.
IDF combat helicopter targeting Hamas fighters at Nova festival massacre shot some partygoers by mistake, says Haaretz
Donald Trump Celebrates 'Gigantic' Legal Victory in Rally Speech
FBI, CDC shredded for 'dropping the ball' on secret Chinese lab found in US: 'Reads like a movie script'
The 43 Best Shows to Stream on Netflix Right Now
I Work at Goodwill: Here Are 9 Insider Secrets You Should Know
Column: F1 hits the jackpot in Las Vegas on its $500 million gamble after many stumbles on the Strip
Watching Ukraine burn through ammo fighting Russia has the US Army rethinking how much it really needs for when war breaks out
Liz Cheney and Republican Senator Exchange Fiery Words Over Jan. 6 Videos
Record-shattering roller coaster simulates falling from cliff with 155 mph speeds
My Account Subscriptions --> My KT Trading Contact Us Privacy Policy Sign Out
Mon, Nov 20, 2023 | Jumada Al-Uola 6, 1445
Dubai 20°C
Expo City Dubai
Emergencies
Ras Al Khaimah
Umm Al Quwain
Life and Living
Visa & Immigration in UAE
Banking in UAE
Schooling in UAE
Housing in UAE
Ramadan 2023
Saudi Arabia
Philippines
Cryptocurrency
Infrastructure
Currency Exchange
ICC World Cup 2023
Horse Racing
Entertainment
Dubai World Cup
Track Notes
Big Numbers
Daily Updates
Arts & Culture
Mental Health
Relationships
Staycations
UAE Attractions
Tech Reviews
Motoring Reviews
Movie Reviews
Book reviews
Restaurant Reviews
Young Times
Supplements
Back To School
India Independence Day
Pakistan Independence Day
Graduate and Postgraduate Degree Programmes
Eid-Al-Adha
It's Summer Time
Leading Universities
Higher Education
Pakistan Resolution Day
Business Management
India Real Estate Show
Future Of Insurance
KT Desert Drive
UniExpo International
New Age Finance & Accounting Summit
Digital Health Forum
Artelligence
Future of Smart Cities
Global Investment Forum
Subscriptions
UAE Holidays
Year of the 50th
Prayer Timings
Cinema Listings
Inspired Living
Latest News
Advertise With Us
Privacy Policy
KT APPDOWNLOAD
Visa and Immigration in UAE
Retirement visa in Dubai: Cost, eligibility; all you need to know
Expat residents who have retired and are above the age of 55 can apply for the 5-year long-term visa.
Supreeta Balasubramanian
Top Stories
Embracing the bright side: A guide on how to cultivate optimism
The power of solitude: Why you should go on a solo trip
How to get your kids to read: Essential tips for parents
How to boost your memory power: Psychological tricks and tips
Published: Tue 14 Nov 2023, 2:29 PM
Last updated: Fri 17 Nov 2023, 3:56 PM
In November 2021, the UAE government introduced amendments to the law, allowing expat residents to stay in the country after retirement.
Residents who have retired and are above the age of 55 can apply for a 5-year long-term visa. They can also sponsor their spouses and children.
Here is all you need to know about the visa:
Who is eligible?
The following criteria must be fulfilled for a resident to be eligible for the retirement visa, according to Visit Dubai:
He/she should have worked for not less than 15 years inside or outside the UAE, or be 55 years old or more at the time of retirement
One of the four following options should be fulfilled:
A minimum yearly income of Dh180,000 or Dh15,000 monthly income
Dh1 million savings in a 3-year fixed deposit
Dh1 million in property
A minimum investment of Dh500,000 each in a 3-year fixed deposit and property (totalling up to a minimum of Dh1 million)
How to apply
The first step is to choose your option. If you are going via the savings option, you will be dealing with the General Directorate of Residency and Foreigners Affairs (GDRFA). For property-based applications, the relevant authority is the Dubai Land Department (DLD).
For the GDRFA, you need to go the website https://smart.gdrfad.gov.ae, select the 'Individuals' login option, and register to start a new application. You can follow the prompts on the screen and submit the online form.
For the DLD, however, the applicant must visit the real estate regulating agency's office in person to proceed with the application.
Documents required
All the four options require the following documents:
1. Passport copy of applicant and dependents – spouse and children
2. Marriage certificate copy – if you are sponsoring your spouse
3. Copy of current visa of applicant and dependents – if you are a UAE resident
4. Copy of Emirates IDs of applicant and dependents – if you are a UAE resident
The additional documents required depend on the option you choose.
For Option 1, the income-based application, you need:
Proof of income: This document must include the name of the beneficiary and date of commencement. It can be a letter from the relevant entity which provides the source of income (such as a pension scheme), or a letter from your previous employer if they are continuing to provide monthly retirement income, or supporting documents to display you have a sustainable income
6-month bank statement: The statement must show a minimum deposit of Dh15,000 monthly or Dh180,000 yearly from your source of income, it must be from a Dubai-based bank, and it must be stamped by the bank as well.
For Option 2, the savings-based application, you need:
Proof of retirement: This is to prove to the authorities that you have been employed in the past and are a qualified retiree. This could be an end-of-service letter from your last employer, which confirms that you are a retiree and specifies the number of years you have worked, or it could be a letter from a social service entity detailing that you are retired.
Proof of savings: This is a stamped bank letter in Arabic from a UAE-based bank. The letter should state that the Dh1 million in savings are in a 3-year fixed deposit in a bank located in UAE, and must be addressed to GDRFA.
For Option 3, the property-based application, you need:
Copy of title deed: The title deed must show that the property is located in Dubai, that it has a minimum value of Dh1 million, and that it is in the name of the applicant (not the spouse).
If the property is owned by a company, the applicant must have 100% ownership of the company. In the case of shared ownership, the applicant's share should be at least Dh1 million.
If unmortgaged, the property must be fully paid, and if mortgaged, the payment to date should be a minimum of Dh1 million. It cannot be an off-plan property.
You can put forward multiple properties with a combined value of Dh1 million, as long as they meet all the criteria.
For Option 4, the property-and-savings-based application, you need:
Copy of title deed: The property must be located in Dubai and title deed issued by DLD. It must have a minimum value of Dh500,000. The other criteria are the same as above.
Proof of savings: This is a stamped bank letter in Arabic from a UAE-based bank detailing the balance amount, which means if property value is Dh500,000, then the statement should show savings of at least Dh500,000 so the total amounts to Dh1 million. The letter should state that the Dh500,000 million in savings are in a 3-year fixed deposit in a bank located in UAE, and must be addressed to GDRFA.
How much does it cost?
If your application is approved by the GDRFA or DLD, a total of Dh3,714.75 per applicant must be paid. The amount covers all the visa-related expenses, including entry permit, visa status adjustment, residency stamping, Emirates ID, medical examination and management fees.
UAE family visit visa: Costs, how to apply for free entry permits, all you need to know
Unified GCC visa approved: How UAE residents, visitors will benefit
Newsletters
More news from Life and Living
life and living
Dubai: Winter camping season begins on Tuesday; how to apply for permits
Here's a guide to reserving a campsite and the rules that campers must follow
life and living 1 month ago -->
The goal is not just to teach them to read but to instil in them a love for reading that will accompany them into adulthood
From ancient memory palaces to modern spaced repetition techniques, the toolkit for memory enhancement is diverse and adaptable
Creative corner wall decor: Transforming neglected spaces
Corner walls, often overlooked, can be transformed into captivating focal points with the right decorating techniques
Dubai-based Pakistani mountaineer set to scale two 8,000-metre Chinese peaks
Kiani's 14-peak quest is a captivating journey that continues to attract the imagination of people worldwide
Abu Dhabi: New book reveals insights into learning, teaching Quran language
The multimedia engaged in the book includes lessons on the Quranic recitation, Hadith, Arabic poetry, and calligraphy
The new status symbol is a full-body MRI
Companies like the celebrity-endorsed Prenuvo claim they can revolutionise preventive health care — experts warn this might not be the right approach
Essential hair care tips for beautiful and healthy locks
From proper washing techniques to effective styling strategies, there are many simple steps we can do to keep our hair healthy
Type your keywords
Advertisement
Rental Cars: Know the Pitfalls
By Elaine Glusac
Elaine Glusac is the Frugal Traveler columnist, focusing on budget-friendly tips and journeys.
From getting a good deal to figuring out insurance requirements, renting a car can be a complicated, pitfall-prone experience. Here are some best practices to follow, from reservations through returns.
Compare prices and convenience of airport vs. nonairport locations
Prices vary widely based on the vehicle model and the location of the agency. Airport rentals, subject to extra taxes and fees, are generally more expensive.
Some cities are now charging similar fees if an agency is within 20 miles of the airport, according to Jonathan Weinberg, the founder of AutoSlash , a car rental platform. "Always check both," he said.
If you're flying and choosing an off-airport rental location at your destination, factor in the cost and convenience of transportation to the agency. Most have more limited hours than airport-based outlets, which could be important if your flight is delayed.
Don't prepay
Many agencies offer discounts for prepayment. But prepaid contracts often incur fees if you cancel.
Most unpaid reservations are flexible, allowing you to cancel anytime with no penalty. Experts advise reserving early and then using the time before your trip to check prices. If they go down, you can cancel and rebook at the lower rate. Many agencies, including Budget and Dollar , offer best rate guarantees, meaning if you find a better rate on their cars elsewhere and they can verify the claim, they will rent you the car for 10 percent below that price.
The website AutoSlash will track your reservation at no cost and alert you to any price drop.
Maximize your memberships
Use memberships at the retailer Costco or the organizations AAA or AARP to get a discount at specific companies. Payoffs vary. If you're strictly joining Costco to rent cars, it may take a few rentals a year to recoup the $60 membership fee.
If you join loyalty programs at Avis, Hertz or other major rental companies, which are usually free, you are entitled to express pickups, which means you can skip the line at the counter and go directly to your vehicle.
Consider alternative companies
Turo and Getaround act like Airbnbs for rental cars: Owners offer their vehicles to rent through company websites or apps. Turo, available in 11,000 cities in the United States, Britain, Canada, France and Australia, requires renters to work out where and when to pick up cars from their renters, though some owners will bring the car to you.
Available in more than a dozen cities in the United States, the app- and internet-based rental company Kyte , which has no brick-and-mortar locations, will drop off and pick up its cars, which are competitively priced, wherever you specify, at no extra charge. The contactless and app-based UFO Drive rents E.V.s in more than 20 cities in the United States and Europe.
At the counter, understand upgrade policies …
At traditional agencies, when the car you've reserved is not available when you arrive, it's a common practice to give you the next-best available car at no extra charge. This may not always be made clear, and agencies have been known to ask if you want to upgrade for a fee. Before accepting, request your original class of car. If it is not available, you are entitled to a free upgrade.
Watch out for "manager's specials," which tend to be bargain leftovers. As agencies transition to electric cars, renters have ended up with surprise E.V.s that they didn't necessarily want, according to Mike Taylor, the managing director of travel, hospitality and retail at the market research company J.D. Power.
… and know your insurance coverage
If you already have auto insurance, in most cases that coverage extends to a rental. Many credit cards also provide coverage against theft and damage as long as you use that card for payment. Check on both before buying additional coverage at the agency.
"Credit card insurance is only collision, not liability," Mr. Weinberg said, noting liability insurance will add roughly $20 a day.
If you do not have insurance and are relying on a credit card's coverage, pay attention to exclusions of certain kinds of car and peer-to-peer rental agencies like Turo.
"You want to avoid duplication of coverage, but you don't want to go in thinking you're fully covered when you're not," said Chuck Nardozza, the managing director of sales at AAA Northeast.
Most personal auto insurance will not apply to driving abroad, with some exceptions for Canada and Mexico.
Before driving off, document the vehicle's condition
Look for damage, including dings and scrapes and upholstery tears. Take photos or a video to establish the vehicle's condition at pickup. If there is damage, ask the company to document it in your paperwork.
Take photos again when you drop off the vehicle. Even if an employee reviews the car and gives you a receipt, you'll have a record of its condition should a deeper review find any damage.
Before returning the car, buy gas
Fuel options include returning the car with a full tank or having the company refill it at what may look like attractive per-gallon rates. However, in the second scenario, you must buy a full tank.
"If you use three-quarters of a tank, you're giving the rental car company a quarter tank of free gas," Mr. Weinberg said.
When you return the vehicle, take a picture of the gauge showing a full tank. Companies have been known to tack on extra gas charges, and photographic proof usually wipes those charges away.
Return the car on time
A rental car day is usually 24 hours from the time you leave the lot. Anything later might incur another full day's charge.
Even if you reserved a car from noon on pickup day to noon on drop-off day, if you arrive early and take the car at 11:30 a.m., you'll be expected to return it by 11:30 a.m. on the due date. "They might give you a little leeway, but that window tends to be short, like 60 minutes or less," Mr. Nardozza said.
Follow New York Times Travel on Instagram and sign up for our weekly Travel Dispatch newsletter to get expert tips on traveling smarter and inspiration for your next vacation. Dreaming up a future getaway or just armchair traveling? Check out our 52 Places to Go in 2023 .
Open Up Your World
Considering a trip, or just some armchair traveling here are some ideas..
52 Places:  Why do we travel? For food, culture, adventure, natural beauty? Our 2023 list has all those elements, and more .
Spain : Does a culture-centric family trip have to be boring for the kids ?
Barbados : Venture beyond the resorts to find rum shops, farmers' markets and surf breaks.
Malaysia :   Be dazzled on the island of Penang  by winding alleys, pastel-painted storefronts and aromatic food.
India:  A writer is guided by the age-old epic story of "Rajula Malushahi," which led him to a series of unexpected places .
Serbia:  Belgrade is quietly developing into one of the best bar destinations in Europe .
Kenya:  Fifty years after her own first safari, a grandmother takes her adult granddaughter on a wildlife adventure .
ABC7 New York 24/7 Eyewitness News Stream Watch Now
THE LOOP | NYC Weather and Traffic Cams Watch Now
Everything you need to know about traveling this Thanksgiving

Sonia Rincon has the latest on Thanksgiving travel.
Thanksgiving is just days away, and millions of Americans are leaving home for the holiday.
Whether by plane, train or automobiles, experts are predicting a record-setting travel week.
The Transportation Security Administration expects about 30 million passengers to fly between the start of the travel weekend (Nov. 17) and Tuesday after Thanksgiving.
AAA, meanwhile, projects this year's travel will see an increase of 2.3% from last year, marking the third-highest Thanksgiving forecast since it began tracking travel in 2000.
As the busiest travel season arrives in full swing, there are a few things to consider.
Here's everything you need to know about Thanksgiving travel this week:
Best, worst days to fly and drive.
AAA projects 4.7 million travelers will fly over Thanksgiving -- a 6.6% increase from last year. This would mark the highest number of people flying for Thanksgiving since 2005.
The busiest and most expensive days to fly before Thanksgiving will be Tuesday, Nov. 21, and Wednesday, Nov. 22, according to AAA.
The best day to go to the airport for Thanksgiving is Monday, Nov. 20, when flights will be 12% cheaper than on Nov. 22, according to Expedia.
When it comes to the road, AAA predicts 55.4 million people will drive 50 miles or farther from home for Thanksgiving -- a 2.3% increase from last year. The busiest day on the roads is expected to be Wednesday, Nov. 22, according to transportation analytics company INRIX.
The best times to travel during the peak Thanksgiving period are on Wednesday morning and Sunday morning, AAA says.
How busy will airline travel be?
After the travel rush caused widespread flight cancellations last year, airlines believe they're ready and have hired on tens of thousands of new employees.
American Airlines has both expanded its schedule for the busy holiday period and enlisted larger planes to handle the high volume of travelers. while United has added more than 550,000 seats to meet the increased demand of the holidays.
Newark Liberty International Airport (EWR) is expected to be among our busiest hubs during this travel period.
Because each airline is different, the DOT has a dashboard where travelers can read what each airline will give you if the delay or cancellation is their fault.
What you can and cannot pack in your carry-on
With food on everyone's mind ahead of the holiday, you might be wondering what you can bring.
Baked goods like pies, cakes and brownies can be carried through a TSA checkpoint. Casseroles, fresh fruits and vegetables and spices are all acceptable as well.
The following foods should go in your checked baggage: cranberry sauce, liquids like wine or champagne, canned fruit or vegetables and preserves/jams/jellies.
Looming storms to look out for
A major storm will cross the country beginning on the west coast will travel into the Northeast Tuesday into Wednesday.
We have an AccuWeather Alert for the New York City and Tri-State area Tuesday into Wednesday, when millions of people are likely to be traveling.
The good news however is that Thanksgiving should be dry in the New York City area, but chilly. Post-Thanksgiving travel the following weekend should be much quieter.
What stores are open, closed on Thanksgiving?
If you're planning to shop before or after you eat this Thanksgiving, some retailers will keep their doors open while others will not.
Big Lots, CVS, Dollar General, Whole Foods, Starbucks and more announced that they'll be open on Turkey Day. However, Best Buy, BJ's Wholesale Club, Target, Walmart will close their doors. Check the full list for what will be open and closed.
Restaurants open on Thanksgiving?
Don't feel like cooking or cleaning up this holiday? From Boston Market to Waffle House, there will be plenty of options this Nov. 23. For a full list, head here .
RELATED Macy's Thanksgiving Day Parade 2023: Start time, balloons, performers and more
* Get Eyewitness News Delivered
* Follow us on YouTube
* More local news
* Send us a news tip
* Download the abc7NY app for breaking news alerts
Submit a tip or story idea to Eyewitness News
Have a breaking news tip or an idea for a story we should cover? Send it to Eyewitness News using the form below. If attaching a video or photo, terms of use apply.
THANKSGIVING
HOLIDAY TRAVEL
Top Stories
Rosalynn Carter, former first lady, dies at 96
Teen slashed on subway platform at Port Authority
After her death, one woman has helped erase millions in medical debt
AccuWeather: Quite chilly
Police searching for 3 who shot man in chest, face, hand in the Bronx
31 premature babies evacuated from Gaza's largest hospital
Adult Survivors Act set to expire this week
Torso found on beach might be body of Emmy-winning filmmaker: police