Awards Season
Big Stories
Pop Culture
Video Games
Celebrities
From Coast to Coast: Mapping Out the Best Cross-Country Travel Routes by Car
Traveling by car offers a sense of freedom and adventure that is hard to replicate with other modes of transportation. Whether you're planning a road trip across the United States or exploring a foreign country, mapping out the best cross-country travel routes is essential for a smooth and enjoyable journey. In this article, we'll explore some of the most scenic and popular travel routes by car, from coast to coast.
The Pacific Coast Highway: A Scenic Drive Along the West Coast
The Pacific Coast Highway, also known as Highway 1, stretches for over 600 miles along the stunning coastline of California. This iconic route offers breathtaking views of rugged cliffs, pristine beaches, and charming coastal towns. Starting in San Diego and ending in San Francisco, the Pacific Coast Highway takes you through notable destinations such as Big Sur, Monterey Bay, and Santa Barbara.
As you drive along this route, make sure to stop at popular attractions like Hearst Castle and Bixby Creek Bridge. Enjoy scenic overlooks that offer panoramic views of the Pacific Ocean or take a detour to explore hidden gems like Julia Pfeiffer Burns State Park or Point Lobos State Natural Reserve. With its mix of natural beauty and cultural landmarks, the Pacific Coast Highway is one travel route that should be on every road trip enthusiast's bucket list.
Route 66: Reliving America's Historic Past
For those seeking a nostalgic journey through America's past, Route 66 is an iconic travel route that cannot be missed. Stretching from Chicago to Santa Monica Pier in Los Angeles, this legendary highway covers over 2,400 miles.
Driving along Route 66 allows you to experience remnants of America's golden age as you pass through small towns with vintage diners, neon signs, and retro motels. Immerse yourself in Americana culture at notable stops like the Cadillac Ranch in Texas or the Grand Canyon in Arizona. Don't forget to try classic roadside eats like hamburgers, milkshakes, and pie at local diners along the way.
While some sections of Route 66 have been replaced by modern highways, there are still stretches that retain the original charm and allure. Embarking on this historic route is like stepping back in time and experiencing a slice of American history firsthand.
The Great Ocean Road: Australia's Coastal Gem
Traveling across continents, we find ourselves on the Great Ocean Road in Australia. This iconic route spans over 150 miles along Victoria's stunning coastline, offering breathtaking views of cliffs, beaches, and lush rainforests.
Starting from Torquay and ending at Allansford near Warrnambool, the Great Ocean Road takes you past famous landmarks such as the Twelve Apostles, Loch Ard Gorge, and Bells Beach. Take your time to explore charming seaside towns like Lorne and Apollo Bay or venture into the Otway Ranges for a hike through ancient rainforests.
The Great Ocean Road offers a perfect blend of natural beauty and cultural experiences. From spotting koalas in eucalyptus trees to surfing at world-class breaks, this travel route showcases Australia's diverse landscapes and laid-back coastal lifestyle.
The Garden Route: South Africa's Scenic Drive
In South Africa, the Garden Route is a must-visit for nature lovers and adventure enthusiasts alike. Stretching from Mossel Bay to Storms River Mouth along the country's southeastern coast, this route spans approximately 190 miles.
Driving along the Garden Route allows you to experience diverse landscapes ranging from pristine beaches to dense forests. Stop at popular destinations like Knysna Heads or Tsitsikamma National Park for hiking trails with breathtaking views. Explore picturesque coastal towns such as Plettenberg Bay or Wilderness known for their beautiful beaches and outdoor activities.
The Garden Route is not only a scenic drive but also a gateway to exciting wildlife encounters. Take a detour to Addo Elephant National Park for a chance to see elephants, lions, and other wildlife in their natural habitat.
Whether you're driving along the Pacific Coast Highway in California, reliving history on Route 66, exploring Australia's Great Ocean Road, or embarking on South Africa's Garden Route, cross-country travel routes by car offer an opportunity to discover new landscapes, cultures, and experiences. From breathtaking coastal views to hidden gems off the beaten path, these travel routes promise adventure and memories that will last a lifetime. So buckle up, hit the road, and get ready for an unforgettable journey from coast to coast.
This text was generated using a large language model, and select text has been reviewed and moderated for purposes such as readability.
MORE FROM ASK.COM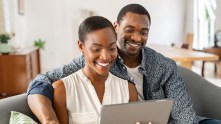 Work with Me
Start a Blog
Yearly Roundups
101 in 1001 Goals
how to start a travel blog
tips for new bloggers
write me a guest post!
Work With Me
A Passion and A Passport
Proving Travel is Possible with a Full-Time 9-5
The Ultimate California Coast Road Trip Itinerary
last Updated: September 12, 2023 big sur california carmel central coast half moon bay highway 1 Los Angeles monterey orange county pismo beach road trip san francisco santa barbara santa cruz santa monica solvang
FYI: Affiliate links may be sprinkled throughout the awesome, free content you see below. I'll receive a small commission when you purchase from my links (at no extra cost to you), which I'll totally blow on adult things like boba tea and avocado toast. As always, thanks for the support.
Planning a California coast road trip?! Taking a drive down the PCH?! You're in the right place! I've got loads of info for you!
A road trip down the California Coast on the Pacific Coast Highway (Highway 1) is an unforgettable way to see so much of what the state has to offer.
From waterfalls and castles (yes, really), to spectacular beaches and theme parks, there's absolutely no shortage of things to do on the California Coast.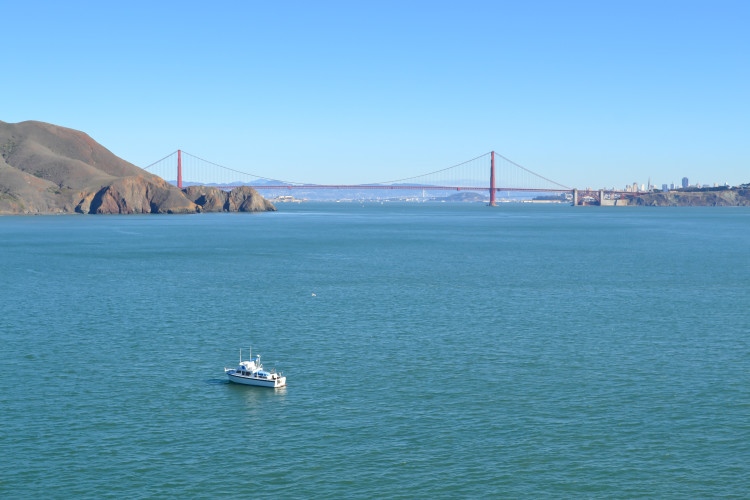 Whether you've got a weekend or a few weeks to travel, you can fill your time with a wide array of California experiences. Let's get this Pacific Coast Highway road trip under way!
Being one of the most scenic drives in the world (and rightfully so), I advise you to take your sweet time to really savor all the charming beauty of this west coast road trip down California.
And before we go into it, if you've got even more time in California and you'd like to visit a few spots off the coast, check out my latest post: 45 (Extremely) Beautiful Places in California (opens in new tab, don't worry!) << lots more itinerary inspiration for your California road trip!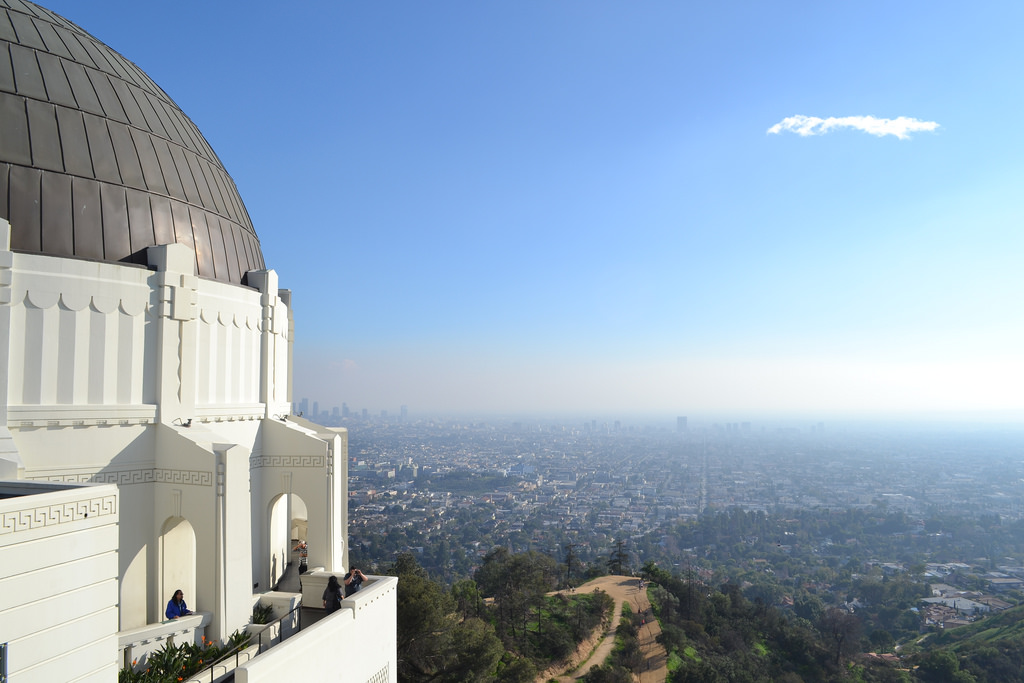 Recommended Route down the California Coast
Stop 1: San Francisco, California
Stop 2: Half Moon Bay
Stop 3: Santa Cruz
Stop 4: Monterey/Carmel-by-the-Sea
Stop 5: Big Sur
Stop 6: San Simeon
Stop 7: San Luis Obispo/Pismo Beach
Stop 8: Solvang
Stop 9: Santa Barbara
Stop 10: Ventura → Channel Islands
Stop 11: Malibu
Stop 12: Los Angeles/Santa Monica
Stop 13: Anaheim
Stop 14: Orange County
Stop 15: San Diego
ALL 75 of my favorite PCH stops RIGHT over here ! There's tons of ideas in this California coast road trip itinerary, but those are my absolute favorites.
Note that the number of stops you'll be able to make highly depends on how much time you have allotted for this California road trip.
Suggested One-Week Itinerary: If you have a week or so for this drive down the California Coast, I recommend a day in SF (depending on whether you've been or not), a day in Carmel/Monterey, a day in Big Sur , stopping at Hearst Castle in San Simeon, dune-bashing (if that's your thing) in Pismo Beach, a day in Santa Barbara, stopping in Malibu en route of LA, checking out the main sights of LA/Santa Monica , then some beach time in Orange County .
Yes , it'll be pretty jam-packed , but highly doable if you plan your drives correctly. You can really spend an infinite amount of time on the California Coast, so it's hard to say exactly how long this road trip will take. It highly depends on your interest, how much time you wanna spend in the cities, and how much driving per day you wanna do.
Note that you can drive directly from San Francisco to LA in roughly 6 hours, but this route (via Highway 101 and Highway 5) will take you inland, meaning you'll miss out on so much of the Central Coast.
If you're planning to drive round trip, I highly recommend that you drive South down the coast via Highway 1 – the Pacific Coast Highway , and then venture back up North via Highway 5 and Highway 101.
You can drive either way (from SF to LA/San Diego -or- LA/San Diego to SF), but I prefer driving South, starting in the SF Bay Area and making my way down to LA/SD. Pssst: the views are better this way as the car will be closer to the water. 😉
Renting a Car: Since this is in fact a road trip , you'll need a vehicle to get you from place to place! Worth mentioning so you don't forget to account for the cost of a rental car when following this California coast road trip itinerary!
I like to search via this site in order to compare rental companies to see who has the best price.
Note that many rental car shops charge extra for returning their cars at different pick up/drop off locations – just something to keep in mind (it may be worth the extra 6 hour drive back to your original starting point to avoid this pesky fee).
Search for the cheapest car rentals over here !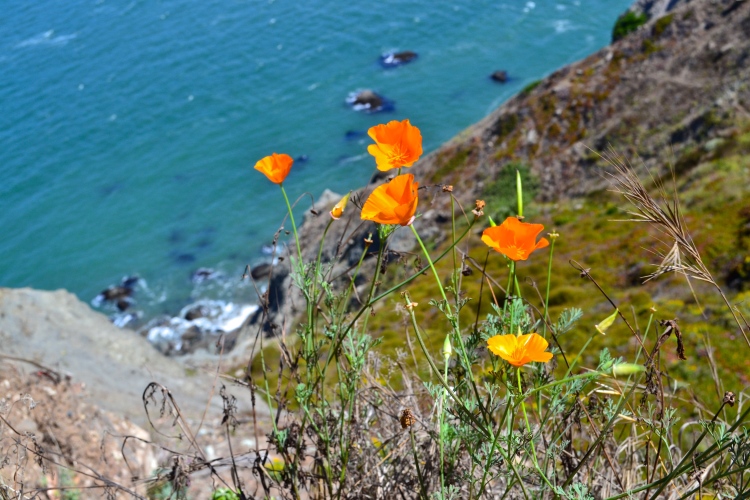 WHERE TO GET THE BEST FLIGHT DEALS TO CALIFORNIA:
First things first, if you're not a resident of San Francisco (or LA), you'll of course need to get yourself there. Since SFO is a major international airport, and a hub for many airlines, you can easily find cheap airfare within the states.
I swear by Skyscanner and Google Flights , and always always always use these two sites when looking for airfare. The option to watch prices and get email notifications are top notch and one of my favorite features of the two.
Always check budget airlines that may not be listed, especially if you are coming from other areas of the US with shorter flight times. A great list of budget airlines can be found here .
If you'll be following this itinerary and heading south (without driving the direct 6+ hours back to San Francisco ), you'll want to book two one-way tickets. 1) HOME → SFO, 2) LAX→ HOME. Make sure to search for one-way flights when booking tickets.
Totally your call, but I suggest flying round trip from the same airport so you can avoid one-way drop off rental car fees.
When to Drive Down the California Coast
Keep in mind that the summer months (June, July, and August) are usually rather foggy in San Francisco and down the California coast. Because of this, some mornings will be pretty damp and misty. For best weather and best chance of sunshine, plan for a road trip in either late September or October.
If summer is your only option, you may get lucky with clear skies, but don't count on it. However, with this in mind, the fog usually clears up by mid-morning/afternoon. Normal summer temps are in the low-60's to mid-70's, so bring a jacket and reconsider that convertible! "May Grey, June Gloom" is a real thing out here.
*All drive times are approximations. Traffic can be heavy at some points along the drive, and you'll likely be getting out of your car occasionally to take photos along the way.
Stumped on what to pack for a California road trip itinerary? Check out this ultimate road trip essentials packing guide (opens in new tab)!
What to Pack for your Pacific coast highway road trip (rotate sideways on Mobile)
Now let's get this California coast road trip planning on it's way!
California Coast Road Trip Itinerary:
1) start in san francisco.
Ahhh, SF, my favorite city; although technically I'm biased because I chose to move to the city by the bay from NYC a few years ago. 😉
A few San Francisco must do's include either walking or driving over the Golden Gate Bridge, wandering around Fisherman's Wharf (and stuffing your face with an ice cream sundae at Ghirardelli's), getting spooked at Alcatraz Island (go on the night tour!), relaxing with some coffee in Union Square, walking down twisty Lombard Street, and riding a cable car.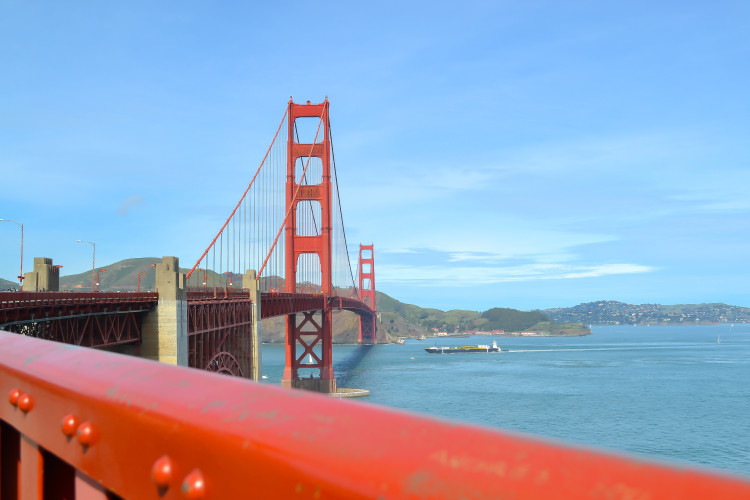 Get some great views at either Twin Peaks or the top of Coit Tower, check out the Painted Ladies, commonly known as the "Full House" houses, and nosh on some sourdough bread, fresh pasta in North Beach, and a burrito in the Mission District.
Other things to do in San Francisco include taking a panoramic night tour of city , cruise around the bay in a catamaran (champagne included!), see the Golden Gate Bridge from above on a seaplane tour , and taking a day trip to Napa Valley (not to be missed on any PCH road trip !)
Visiting San Francisco for the first time? Read THIS and THIS . 🙂 And make sure to check out this perfect 3-day SF itinerary !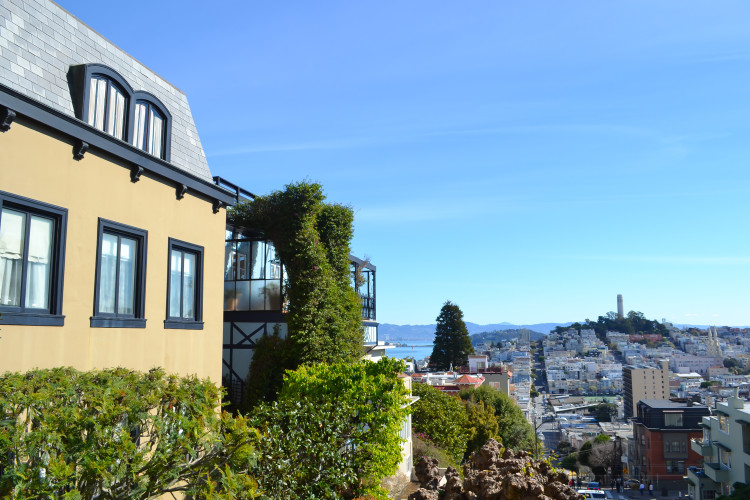 Beware, parking is not the greatest (and garages are expensive), and public transportation is somewhat lacking. I've lived here for 4 years now and still don't love touring the city via car.
I recommend playing tourist and taking a full tour of the city instead of trying to do everything on your own. Or rent bikes , electric bikes (!!!), or even a really fun (and kind of cheesy) goCar if you'd prefer to fly solo. Uber is always a good suggestion, and with my discount code (jessicak148), you can get a few bucks off your first ride!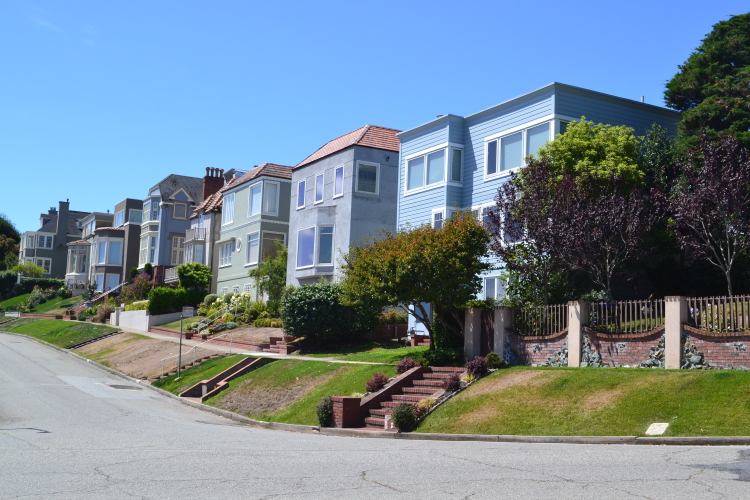 Read More about San Francisco:
A First Time Visitors Guide to San Francisco
The Ultimate San Francisco Food Bucket List
Hiking in San Francisco: A Coastal Walk through Lands' End
25 Spectacular Day Trips from San Francisco
Best Places to Photograph the Golden Gate Bridge
Best Desserts in SF (All my Favorite Spots)
Where to Stay in San Francisco
Intercontinental San Francisco (up-scale luxury and fantastic restaurant)
Hotel Carlton (travel themed and around the block from Mr. Holmes Bakehouse)
2) Half Moon Bay (45 minutes from SF)
Your first official stop on your California coast road trip (unless you wanna make a few stops in Pacifica /Pescadero – I've got a whole road trip guide from San Francisco to Santa Cruz here )! Say goodbye to the city and venture on over to Half Moon Bay, a cozy little seaside village right on the coast.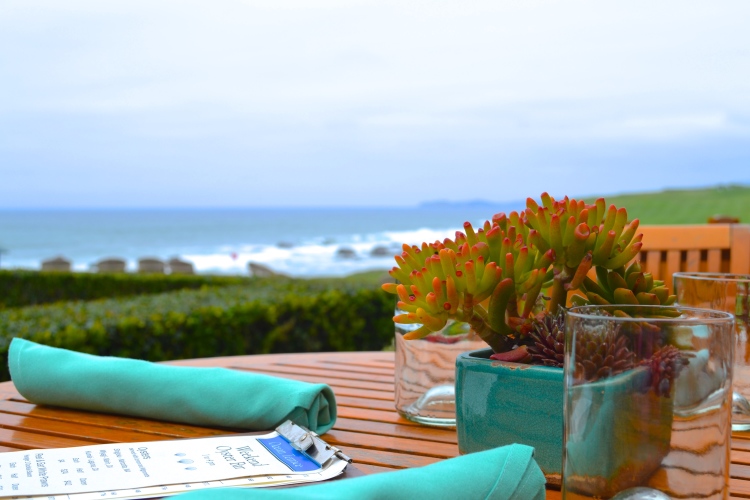 You could easily plan a full day's worth of activities here, but I suggest spending either a morning or afternoon, unless you want to take the plunge and stay at the ever-so-beautiful Ritz Carlton .
A few must do's: go for a stroll on one of the many beaches that dot this area of the coastline (my favorites: Poplar, Mavericks, and Miramar), wander around Half Moon Bay Main Street, walk the coastal trail, and indulge in a lobster roll from Sam's Chowder House.
Read More about Half Moon Bay:
The Weekend Guide to Half Moon Bay
12 Reasons to Love the Ritz Carlton Half Moon Bay
All My Favorite Beaches in Half Moon Bay
3) Santa Cruz (1 hour from Half Moon Bay)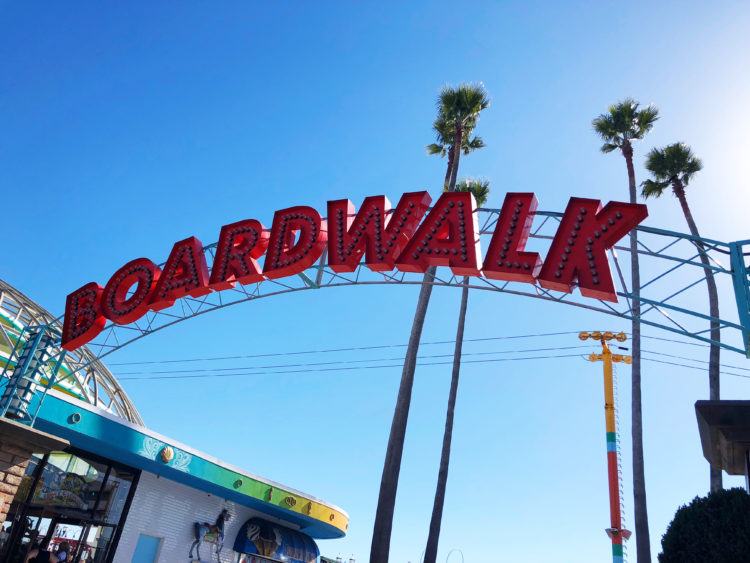 Drive a bit further on Highway 1 and you'll reach Santa Cruz, where I suggest stopping for a few hours . Walk on the Santa Cruz Beach Boardwalk, ride the Giant Dipper and/or the Ferris Wheel right on the beach, and stop for a snack or two (churros and funnel cake are my favorites).
Also, don't miss the Mystery Spot, which I won't give away for obvious reasons, and make sure you try Marianne's before heading out (the absolute BEST ice cream in the area).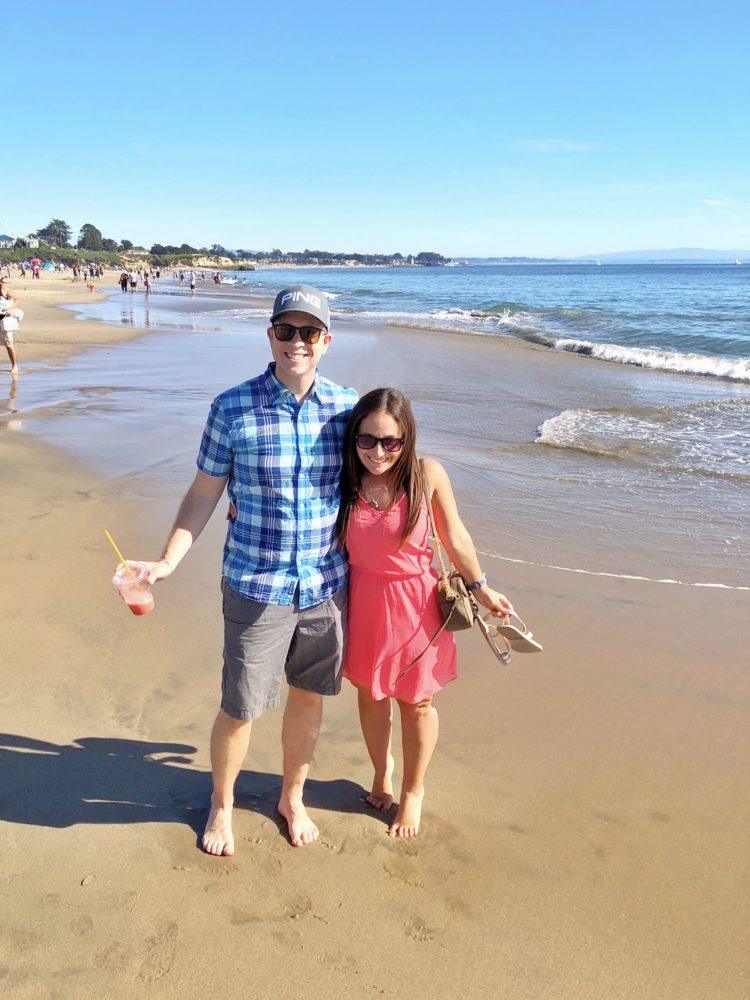 Read More about Santa Cruz:
15+ Things to do in Santa Cruz
4) Monterey/Carmel-by-the-Sea (45 minutes from Santa Cruz)
Next up on our Pacific Coast Highway road trip – Monterey and Carmel! California is just full of sweet little seaside towns, and this area, despite being rather touristy, is definitely one to stop at.
Monterey and Carmel are only a few miles apart, and I highly suggest spending the night in either of these towns (Monterey being the more affordable option) while on your California coast road trip.
A few recommended activities and bites: bundle up on a whale watching tour , indulge in clam chowder at Old Fisherman's wharf, walk around Cannery Row, and spend a few hours at the Monterey Bay Aquarium (included in the San Francisco CityPASS if you've gotten it previously).
Don't miss a walk around the charming little town of Carmel, cruising around the area in a Sea Car , watching the sunset at Carmel Beach Park, and stopping at the viewpoints along the 17 Mile Drive.
On our most recent visit, I couldn't stop raving about the food, with my favorites being the Monterey Crepe Company, Red's Donuts, and The Poke Lab. I really should make an-depth guide to Monterey soon!
Read More about Monterey/Carmel:
Why I Want to Move to Carmel-by-the-Sea, California
Monterey and the 17 Mile Drive
Where to Stay in Monterey:
Hyatt Regency Monterey Hotel and Spa (located on a golf course!)
Holiday Inn Express Monterey-Cannery Row (wonderful location)
The Monterey Tides Hotel (right on the beach!)
5) Big Sur (50 minutes from Monterey)
Next up: Big Sur , famous for a reason and many people's favorite stop on this California coast road trip itinerary. Most people are surprised at how little "civilization" is around here – no traffic lights, strip malls, or banks.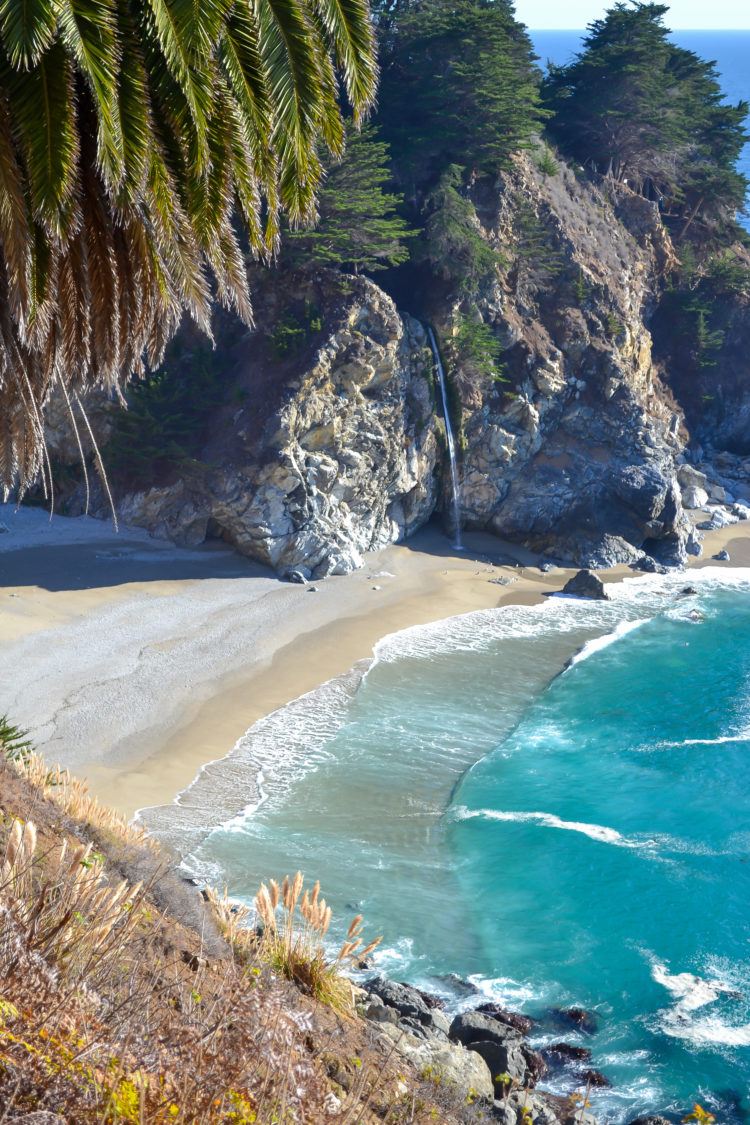 It's more of a state of mind rather than a specific point on a map, encompassing about 90 sunny Californian miles down the coast.
With this being said, plan to drive down the coast and consider setting up camp/hotel in another location, unless you want to fork over some big bucks for a luxury hotel. I recommend everyone spend a bit of time in Big Sur on a California coast road trip (at least half a day)– it's too remarkable to miss!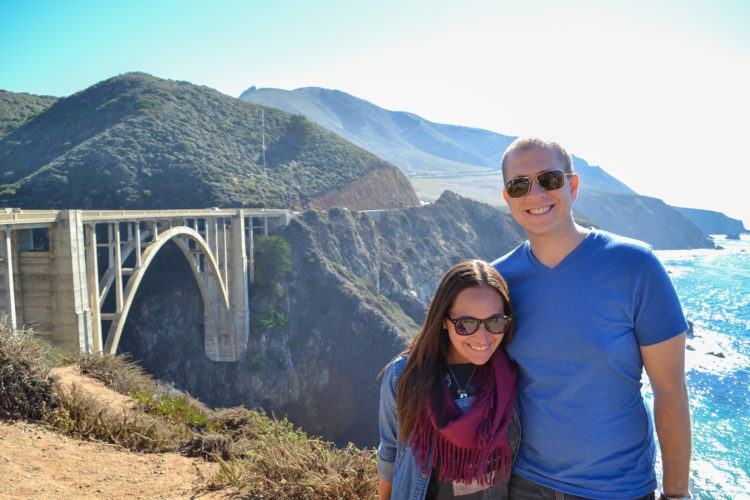 You'll be stopping on the side of the highway so many times you'll lose count – the coast line is just that spectacular! It's known for its winding turns, seaside cliffs, and breathtaking views of the often misty coastline.
A few must-do's here in Big Sur : see McWay Falls at Julia Pfeiffer Burns State Park, wiggle your toes in purple sand at Pfeiffer Beach (yes, parts of it really are purple, I was surprised too…), marvel at the Bixby Creek Bridge, and check out all the views from Point Lobos. OH, and if you're visiting between February and April, definitely find the hidden blooms at Calla Lily Valley !
Read More on Big Sur
A Big Sur Road Trip Itinerary: What to See, Do, Eat, and Enjoy
Where to Stay in Big Sur (Super Duper Beautiful Luxury Spots)
Post Ranch Inn (cliff-top hotel with a gorgeous spa)
Ventana Inn (luxe wilderness resort, with lots of privacy)
Hyatt Carmel Highlands (overlooking Big Sur)
6) San Simeon (2 – 4 hours drive, depending on how many stops you make in Big Sur)
Did you think you'd be stopping at a castle on your California coast road trip? When I first learned about Hearst Castle, I was mesmerized. Being a historic landmark on the coast, tours do fill up in advance, so be sure to book your spot ahead of time .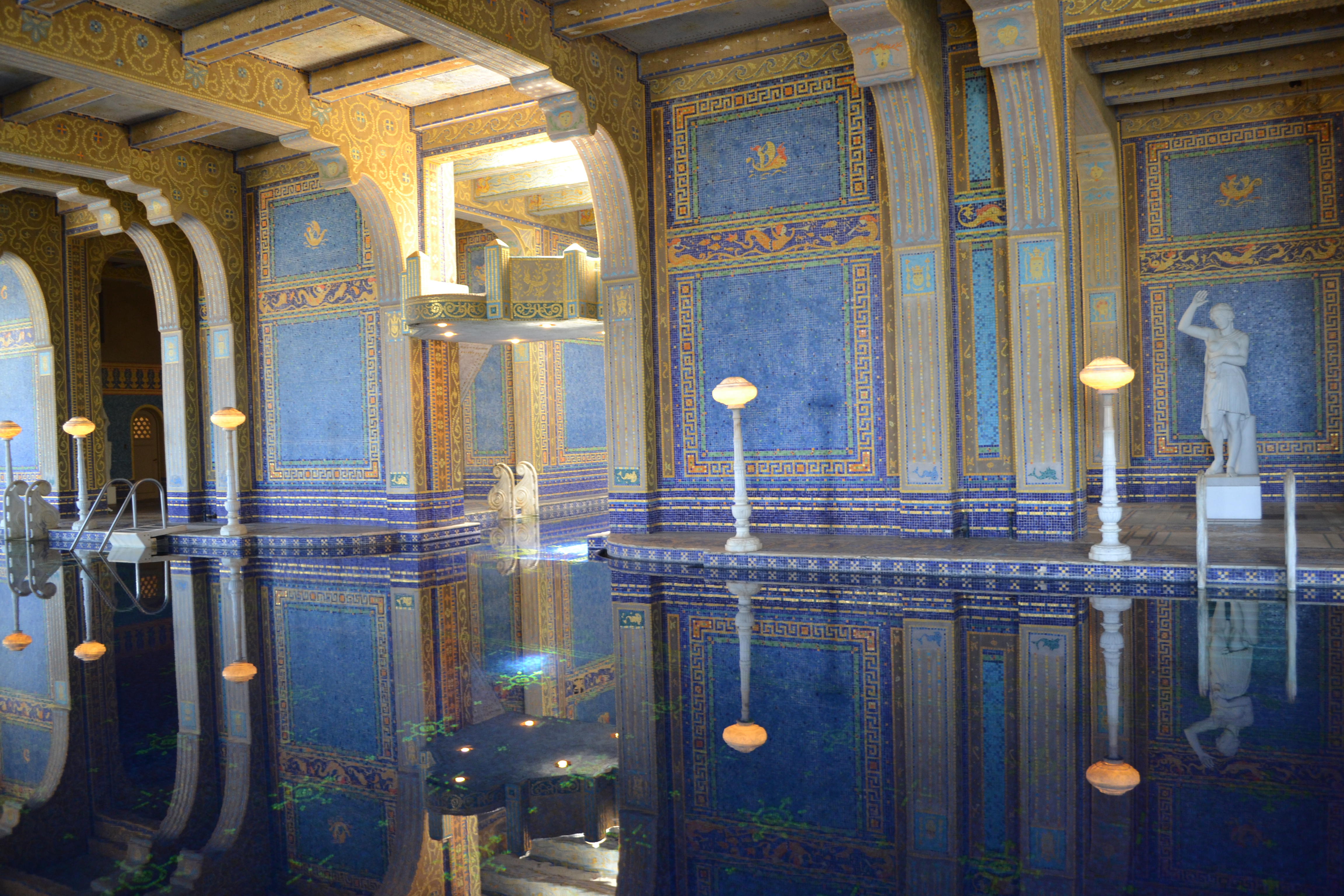 First time visiting? Sign up for the Grand Rooms Tour – and that's exactly what you'll see – plenty of spectacularly ornate rooms, plus lots of time to explore the absolutely stunning grounds.
Non-negotiable on any California Coast road trip, in my opinion. Be sure to look out for the zebra on the side of the highway as you enter/leave. Bizarre, opulent, and oddly satisfying.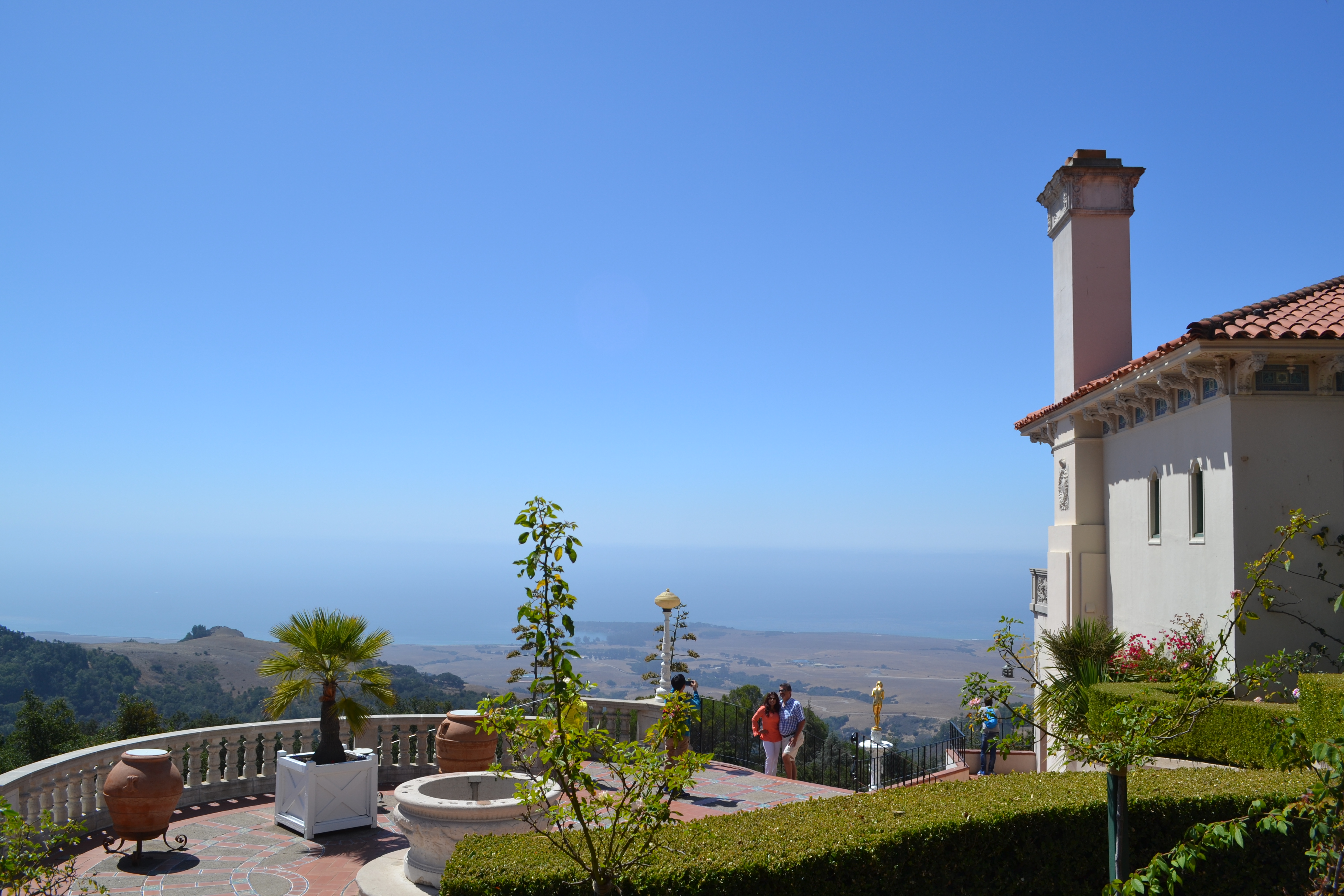 And while you're in the area, make sure to stop at Piedras Blancas Elephant Seal Rookery, a popular spot to observe elephant seals with its own boardwalk and viewing areas.
The best times to visit the rookery are in late January, late April, and late October, but visits are encouraged year round. Have you seen an elephant seal use their large, inflatable noses to make noise? It's pretty wild!
7) San Luis Obispo/Pismo Beach/Morro Bay/Paso Robles (45 minutes from San Simeon)
So there's kinda a lot to do in this little area – so best to pick and choose your favorites (if not, you can easily spend a whole week here!).
In SLO (what locals refer to as San Luis Obispo), sip pink drinks at the Madonna Inn , stuff your face with bbq are Firestone Grill, blow bubbles at the Bubble Gum Wall in downtown, and grab donuts at SLO Donut Company (SloDoCo). All my favorites, and I can't image an afternoon not doing any of these.
Looking to stretch your legs? Opt for the Bluff Trail at Montaña de Oro State Park, a 3.4 mile round trip relatively flat path with (better-than-okay) ocean views.
Thought Napa/Sonoma were the only wine countries in California? Winos – you're in luck. This part of your California coast road trip (in Paso Robles ) features over 100 wineries, and deciding which to visit is the hardest part!
The DAOU Vineyards gets constant praise, and with it's wonderful wine, olive oil, and views, it's hard to beat!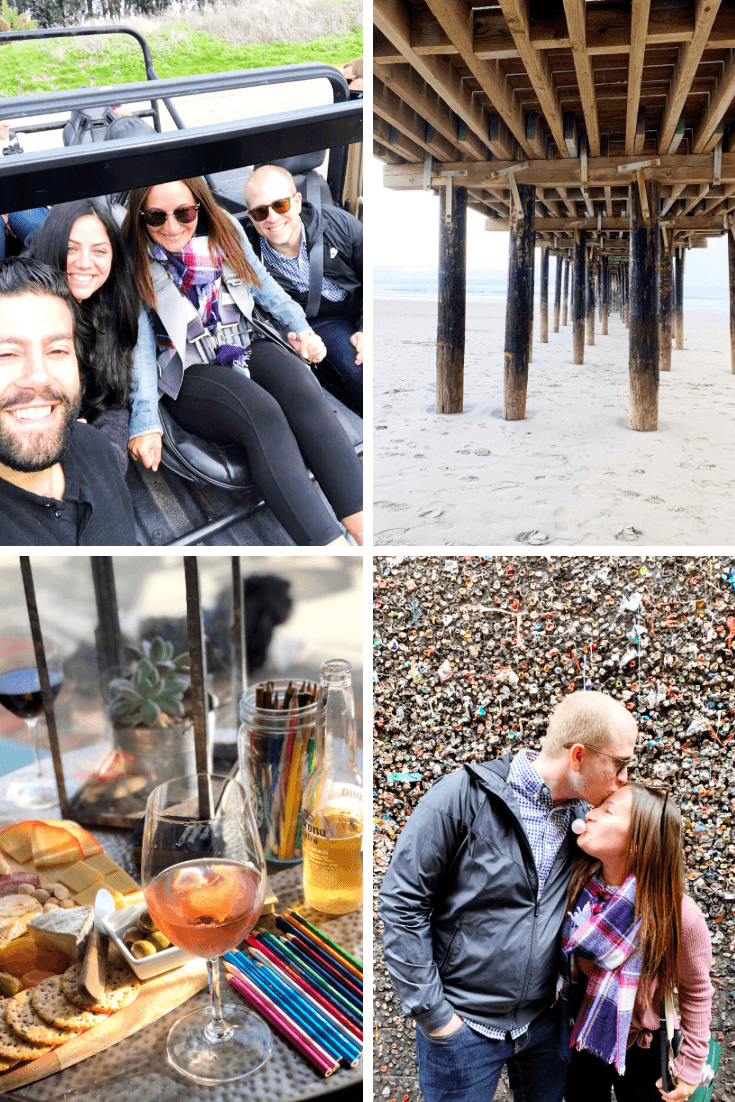 Want someone else to take you around? Probably a good idea if you'll be drinking lots of wine! Hop on a full-day hop-on, hop-off wine tasting tour (yes, they exist!) and you can choose your own itinerary in Paso Robles Wine Country.
Or take the easy way out and let someone else decide for you on this Ultimate Wine Experience in San Luis Obispo (foodie lunch and 3-5 wineries included!).
You need to include a dune buggy ride on Pismo Beach on your Pacific Coast Highway road trip ! One of the most epic things to do in this area! More info on that here . Nowhere else in California can you drive a vehicle on a public beach!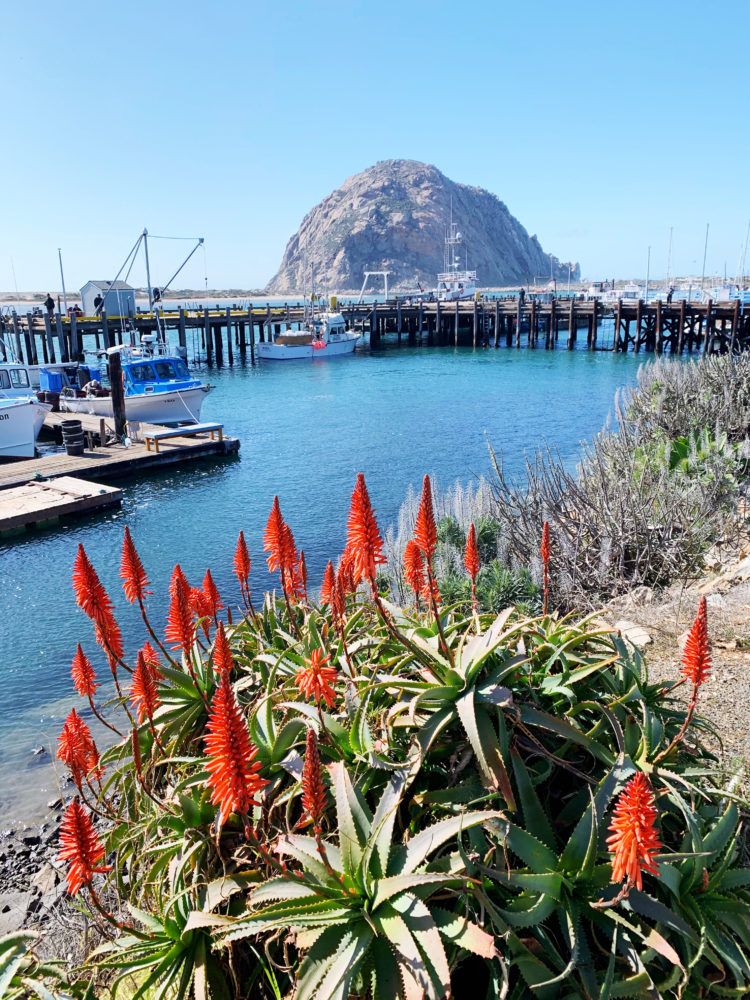 Before getting to SLO, you may as well make a pit stop in Moro Bay. If the weather cooperates (always a gamble over here), you'll be rewarded with views of the giant monolith. Be sure to walk around the nearby beach to find sand dollars, and grab a cinnamon bun from one of the local bakeries.
If you're thinking of stopping here for the night (or have had too much to drink…), consider staying at no other than the wildly famous Madonna Inn . But be sure to save your breakfast appetite for SLO's legendary Big Sky Café. Oh, and there's always beach time as well if the weather cooperates.
8) Solvang (1 hour from San Luis Obispo)
A bit in-land, but well worth the few miles off the highway. This cute little area will feel as if you've been transplanted to a Danish village, with authentic Dutch bakeries and international cuisine. Worth a quick pit stop, for the pastries alone (try the aebleskiver – pancake puffs). 🙂
Stroll the village to spot Danish icons including the Little Mermaid Fountain, a handful of historic windmills, the giant red clog, and Round Tower. There's also two historic churches to check out, Old Mission Santa Ines and Bethania Lutheran.
Looking for something a bit more active? See the unique architecture of the only Danish city in The West via segway tour ! They are so much fun and an easy way to get around!
9) Santa Barbara (45 minutes from Solvang)
An absolute must-stop on any Pacific Coast Highway road trip ! Here in Santa Barbara – dubbed the American Riviera – you'll find widespread beaches and a truly relaxed atmosphere.
Downtown you'll find Mediterranean-style white stucco buildings with red-tile roofs, which accurately reflect the city's Spanish colonial heritage.
And the food! Oh, the food here! Consider joining a historic Santa Barbara Food Tasting Tour to get a true feel for what the locals love here (hint hint: includes Northern Italian dishes, gourmet cheese, local wine and handcrafted chocolates… yum).
Rather take a beer tour? Sign up for the Self-Guided Santa Barbara Lagoon Loop Craft Beer Trail (yes, it's a thing down here).
Don't miss Old Mission Santa Barbara, a historic church known for its beauty, a panoramic view of the city from the Clock Tower observation deck of the Santa Barbara County Courthouse, and the Santa Barbara Public Market.
Save some time for Stearn's Wharf and then beach it up, you deserve it! If you haven't noticed by now, I'm all about that ice cream – satisfy your sweet tooth at McConnell's Fine Ice Creams (worth the wait and then some).
And whatever you do, don't leave Santa Barbara without taking a surf lesson (<– reserve your spot now, as they can fill up pretty quickly during the warmer months).
Where to Stay in Santa Barbara:
Inn by the Harbor (romantic and Mediterranean two blocks from the waterfront)
Recommended Tours in Santa Barbara:
El Paseo Wine and Photo Tour
Santa Barbara Amazing Scavenger Hunt Adventure
Santa Barbara Funk Zone: Food and Photo Tour
10) Ventura for Channel Islands National Park (40 minutes from Santa Barbara)
Usually not very common on a 'traditional' California coast road trip, but I couldn't leave this destination off the list. In Ventura, be sure to check out Mission San Buenaventura, Olivas Adoble, and Oxnard Beach Part.
This vibrant town is the unexpected spot to make your way to Channel Islands National Park, located just off the coast via ferry, plane, or private boat.
Take a break from the crazy urban life and go for a hike on the Channel Islands, literally! The park is comprised of 5 islands and their surrounding mile of ocean, so it's best to decide beforehand where and what to go/do.
Head to Inspiration Point on Anacapa Island for some of the best views of the National Park, and/or you can snorkel/dive/kayak in Landing Cove (Anacapa Island) or at Scorpion Anchorage (Santa Cruz Island). If you're on Santa Cruz Island, be sure to check out Cavern Point, which provides a spectacular view after a short hike. You can even go whale watching around here!
FYI – there is NO transportation available on the islands – you have to either walk, kayak, or cruise around via private boat. Bicycles are not allowed. Plan a day trip here from Ventura to get your nature fix.
Recommended Channel Islands Tours
Channel Islands Full-Day Private Sailing Trip
11) Malibu (50 minutes from Ventura)
Just the name "Malibu" sounds exotic and beachy to me. Here on your California coast road trip you'll find wide stretches of beaches, celebrity homes, and The Getty Villa (which is said to be absolutely stunning).
But Malibu is more than just that, including stunning canyons, horse ranches, waterfront restaurants, acres of land, and lots and lots of hiking trails. You can also take a private surf lesson if you missed out in Santa Barbara!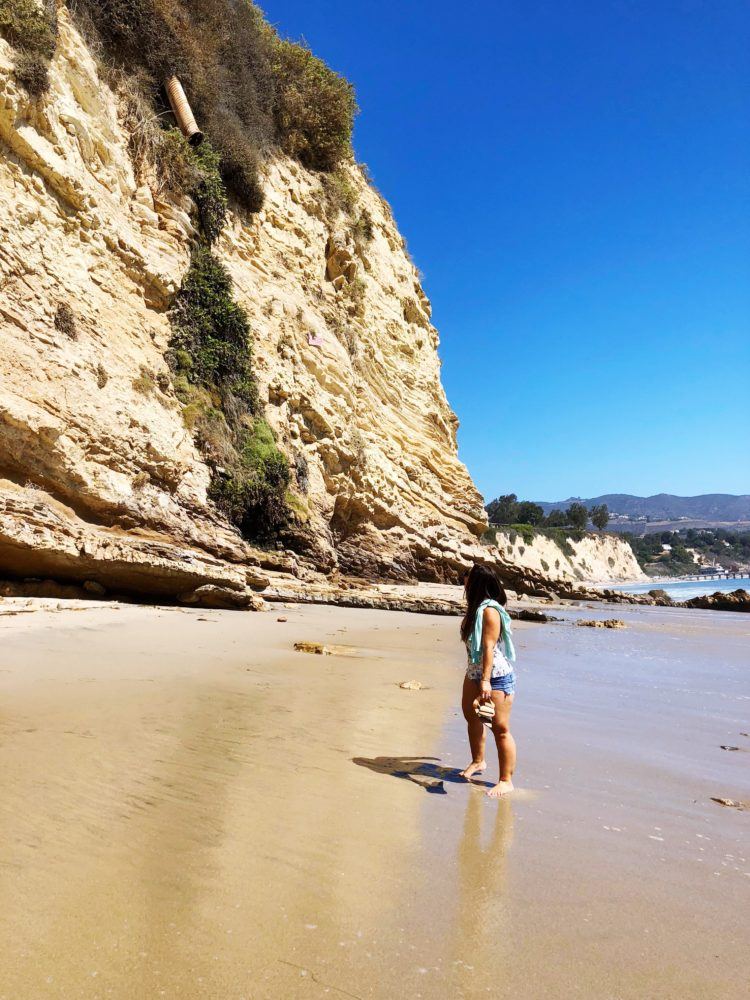 A few spots not to miss: Paradise Cove (the only restaurant you can actually drink on the beach), Geoffrey's Malibu for a wonderful lunch view (get some fresh seafood here!), Point Dume Beach (you'll always see dolphins!), Malibu Pier, a tour of celebrity homes , and wide and sandy Zuma Beach, known for its excellent surf.
Don't leave without some gelato from Grom Gelateria, the absolute best of the best! And if you're a sucker for fantastic views like me, don't miss out on a Malibu scenic airplane tour ! Your pictures will be epic, I promise!
12) Los Angeles/ Santa Monica (50 minutes from Malibu)
I highly suggest you spend at least 2-3 days here as there is just SO much to do . You'll want to divide your time between Downtown LA (DTLA) and Santa Monica/Venice Beach, with possible other stops to make as well.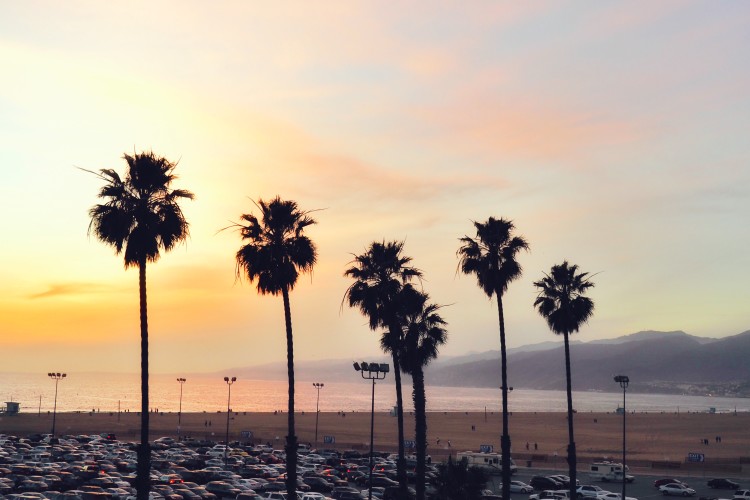 After checking out all the necessary tourist hot spots , you'll have more time to envelope yourself in the "true" feeling of Los Angeles. Promise me you won't miss a Warner Brothers Hollywood Studio Tour !
In DTLA , I highly suggest the Broad Museum (FREE, but usually a long wait time), getting an egg sandwich at Eggslut, The Last Bookstore, macaroons at Bouttega Louie, and culture and snacks in Little Tokyo.
Don't feel like walking? Take a segway tour of DTLA ! Don't feel like figuring out public transportation? A hop-on, hop-off bus of the LA area is always the way to go!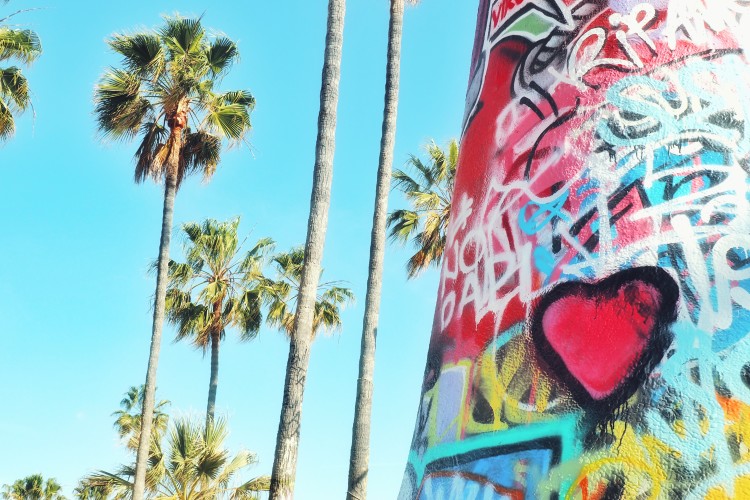 In Santa Monica and Venice , be sure to check out the Santa Monica Boardwalk (ride the ferris wheel and/or the coaster during sunset), Abbot Kinney Boulevard, Venice Canals, and the Venice Beach Boardwalk.
In addition, you can't miss the Urban Lights exhibit at the Los Angeles County Museum of Art (LACMA)! You'll find pretty cool murals all around the area as well if that's your type of thing (it most definitely is mine)!
Hike in the Hollywood Hills , take an airplane tour of Santa Monica and the coastline , go on a tour of some movie stars' homes ,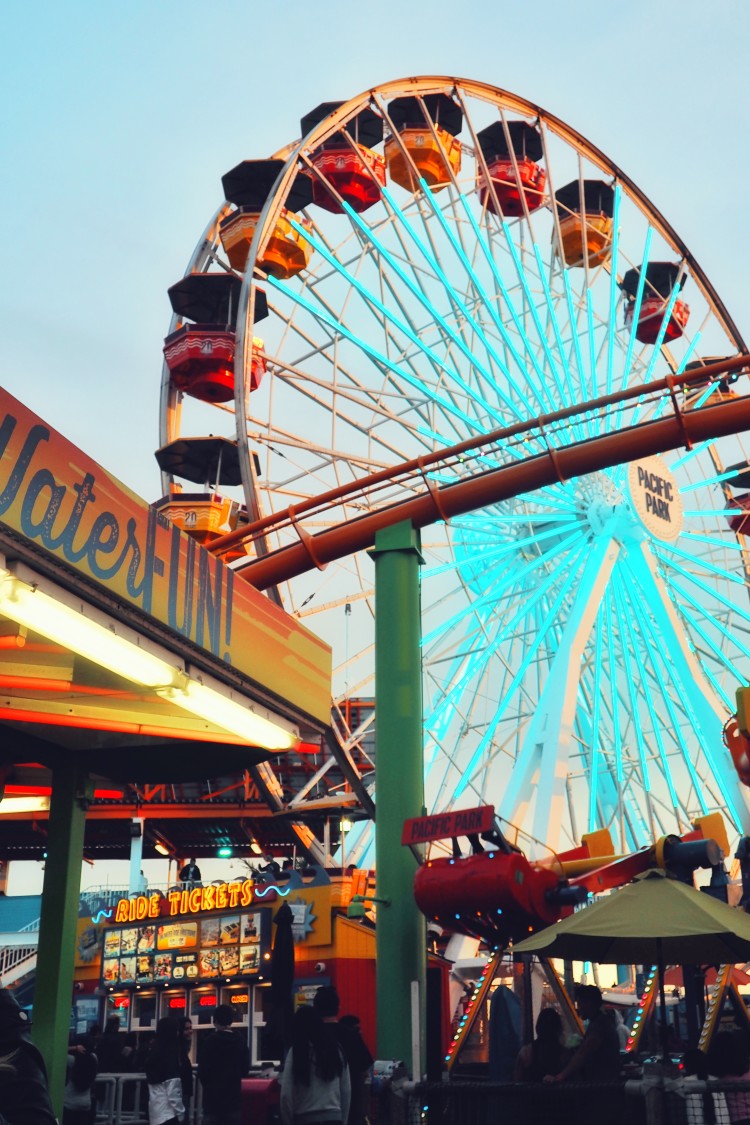 Read More about Los Angeles/Santa Monica:
The Ultimate SoCal Guide: 25 "Very LA" Things to do in Los Angeles, California
The Perfect Way to Spend A Day (or Two) in LA
The Cool Girl's Guide to LA: What to See, Do, Eat, and Enjoy
Where to Stay in Los Angeles/Santa Monica
The Orlando Hotel (middle of West Hollywood and lots of great Mexican nearby!)
HI Hostel (perfect for solo travelers, and around the block from the beach)
13) Anaheim for Disneyland (45 minutes from LA)
Disney lovers will enjoy this spot for sure, but just for the record, Disneyland is not as large and/or "wow!!!!" as Disney World. I had a Disney-fanatic-friend visit Disneyland a few months back and she was not impressed to say the least.
Save this stop if you've never been to the location in Florida, or if you can't stand not to check it out for yourself. Regardless, you'll have a grand ol' time on the rollercoasters and indulging in all things Mickey.
A few parks to check out (click to buy tickets): Universal Studios Hollywood , Disneyland Park , Adventure City, and Disney California Adventure Park.
I highly recommend getting these theme park tickets in advance to by-pass any super-long lines and spend more time in the parks. You'll save yourself lots of time, that's for sure!
Universal Studios Hollywood 1-Day Ticket with Options
Anaheim: Disneyland Resort 1-Day Entrance Ticket
14) Orange County: Huntington Beach/Newport Beach/Laguna Beach (35 minutes from Anaheim)
This stretch of coast is absolutely BEAUTIFUL and should not be missed if your itinerary has you driving down to San Diego (or even as an extra stop from the LA/Ahaheim area).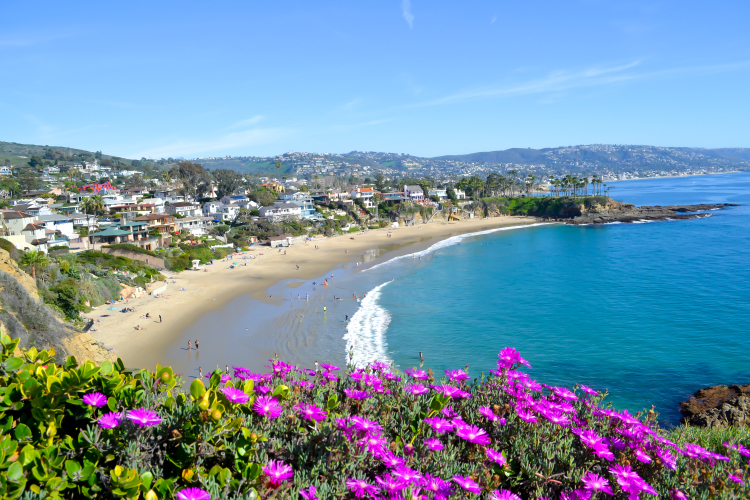 Here you'll find manicured beach towns, a hell of a lot of beautiful people, and even more beautiful stretches of sand with mesmerizing sunsets.
The beaches are plentiful, but my favorites include Huntington Beach , Newport Beach, and Laguna Beach, all within a few miles of each other. We recently spent a bit of time in San Clemente , and fell in love with the town! Don't miss gelato at Gelato Paradiso and the views from Heisler Park and Dana Point.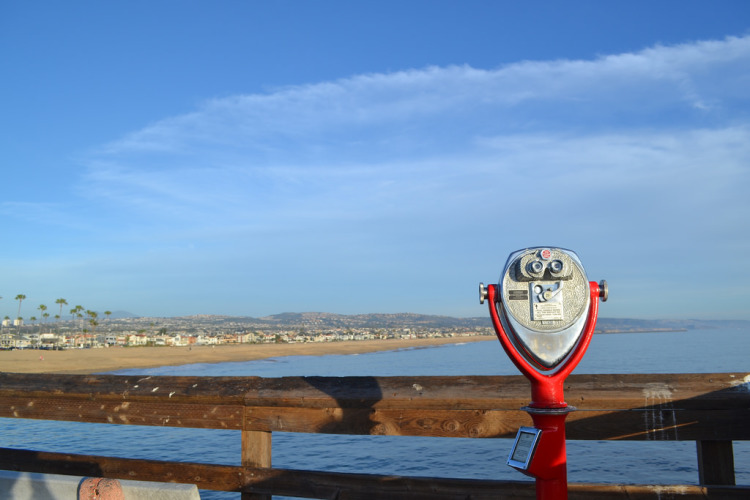 You won't want to skip "The OC" on your California coast road trip – I can promise you that!
Read More about Orange County/Southern California
My Birthday in Sunny Southern California
4 Days in Huntington Beach: Everything You Need to Know
The Complete Guide to San Clemente
Want to extend your PCH road trip?!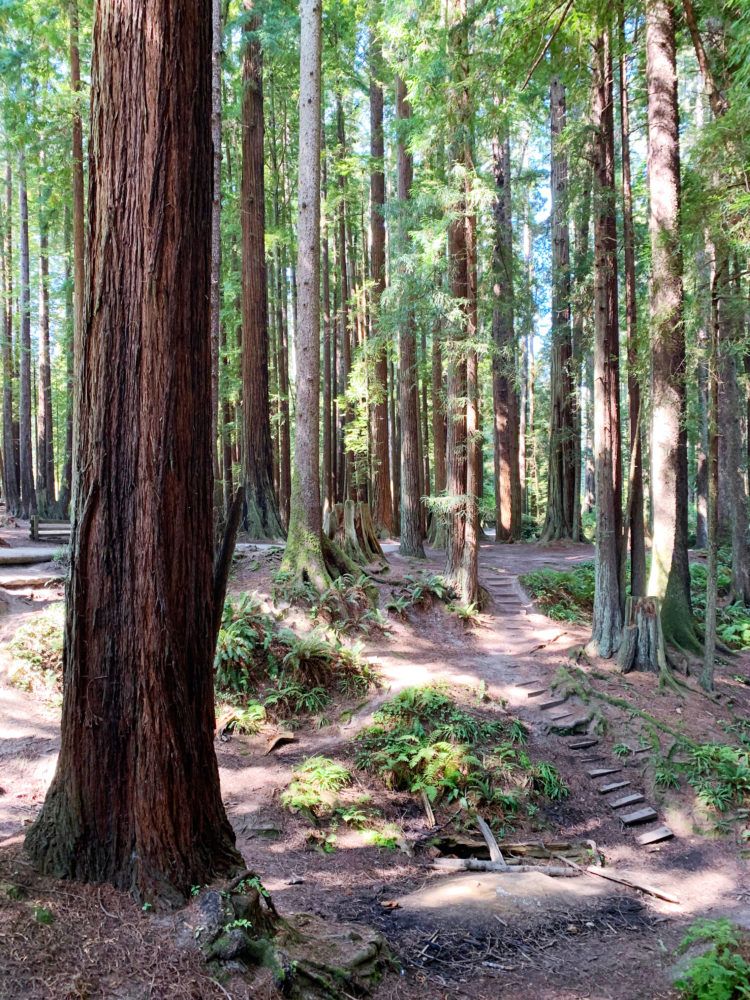 1) GO FURTHER SOUTH! You could choose to venture even further south to San Diego, as there's lots and lots to do! Watch this space for updates and more information on California, including best things to do in San Diego as well!
2) START MORE NORTHERN! Interested in starting this Pacific Coast Highway road trip a bit north of San Francisco? Check out the drive from San Francisco to Mendocino , highly recommended in my opinion if you've got a few more days to explore! A weekend in Mendocino is the perfect way to start your trip! And if you're looking for some redwoods, you'll find lots around here !
3) HEAD ALL THE WAY TO SEATTLE! Yes, it's possible! If you have ample extra time, say another week (or more), check all these stops on a San Francisco to Seattle road trip ! Crater Lake and donuts, anyone?!
Have you ever take a California coast road trip?! Is taking a road trip down the Pacific Coast Highway on your bucket list?!
Leave a Reply Cancel reply
Your email address will not be published. Required fields are marked *
Save my name, email, and website in this browser for the next time I comment.
July 30, 2020 at 5:32 pm
Totally agree! I added Santa Barbara last minute to my road trip and you are so right – you don't want to miss out on this city. The weather was as close to perfect as you can get. It really makes you want to spend as much time outside as possible.
If you are looking for bike rentals I would suggest Cal Coast Adventures as they offer tons of biking options. Beach cruisers to mountain bikes – they really have it all!
Another bucket list item I was able to check off was learning to surf with Santa Barbara Surf School. The instructors were so knowledgeable about ocean life and safety and I stood up on my first wave.
It was an experience I'll never forget. Can't wait to make my way back to Santa Barbara!
October 20, 2020 at 8:22 am
I wanted to thank you for all your great advice and suggestions. My husband and I decided to take a spontaneous 4-day weekend road trip down the PCH. We flew in to San Francisco from Minneapolis and, thanks to your posts, were able to experience some amazing sights. We flew in later in the day, so we stayed in Pacifica for the night. We were right on the beach and saw our first California sunset there! I rolled my eyes at your Taco Bell suggestion (in a another post), but we decided to try it (as my husband is a Mt. Dew lover!). What a fun experience … a Mt. Dew margarita, a Grande Burrito and an awesome ocean view!!
The next day we started our journey down 1 and made it from Half Moon Bay down to Santa Barbara and then back up to San Francisco. We had a fabulous experience, thanks to both beautifully sunny, warm October weather and your insight and suggestions (on this post and several others). We packed in a lot, but it was a trip of a lifetime and made more special with your help!
November 15, 2020 at 7:04 pm
Hi Alison – so glad you had such a special trip! I absolutely LOVE the PCH and California in general so I'm so happy my posts were helpful! Hope you get back to CA sooner than later! And yes – we love that Mountain Dew marg, haha!
December 22, 2020 at 12:11 am
Great itinerary and very nice hotel recommendations. I really enjoyed reading this. On stop #10, Ventura, consider stopping by the Hollywood Beach Salon – Spa – Boutique for some relaxation overlooking the beautiful Channel Islands Harbor!
January 18, 2021 at 1:05 pm
I also want to golf at Pebble
January 19, 2021 at 10:23 am
That would be such an experience! It's on my husband's bucket list for sure!
January 22, 2021 at 7:15 am
Hi, I live in Westminster near Anaheim and am going to visit my daughter in Monterey from 2/5-2/7. This is a short trip. I am thinking take the fastest route there and on the way back make short stops at some of the places you recommended. I will have my 3 kids with me in their 20s and possibly my Australian Shepherd. I was wondering what you recommend? The trip back has to be done in one day. I'm a little nervous about driving to since I tend to get lost lol. Thank you
January 22, 2021 at 1:52 pm
Hi Mary! I recommend stopping in Paso Robles, Morro Bay, and San Luis Obispo. These 3 spots are all so different from each other and aren't too far apart. Morro Bay is on the coast (look out for adorable sea otters), Paso has delicious wines (just make sure they aren't take out only right now), and SLO is a fun town to walk around (don't miss the bubble gum wall!).
Also, I'd opt to take the 101 (and NOT highway 1) driving down from Monterey to Paso since the drive from Monterey through Big Sur to Cambria is literally on the side of a cliff and takes forever.
Have fun!!!
You may also love...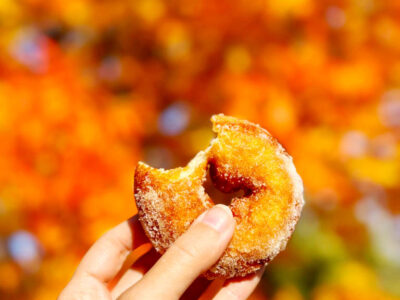 Subscribe To The Newsletter
FOR TRAVEL INSPO   and   FUN
No spam, only fun!
Favorite Destinations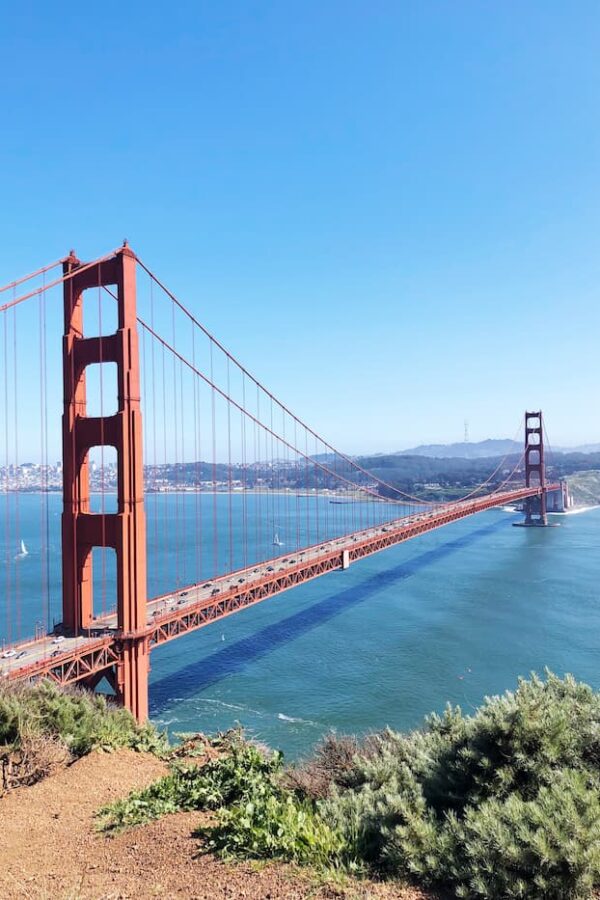 About Jessica
How to Plan a Trip
Fave Travel Companies
Shop My Faves
Destinations
World Travel
San Francisco
Northern California
Southern California
Central Coast
Home > Road Trip Itineraries > West Coast > California Road Trip Itineraries > California Coast Road Trip
California Coast Road Trip Itineraries: Map, Routes and Ideas
California has one of the most spectacular coastlines in the country. It is the perfect place for an unforgettable road trip. Along the coast, there are beautiful cities, such as San Francisco, Los Angeles, and San Diego, and stunning landscapes like those of Big Sur, and fascinating historic settlements. Here are some itineraries and ideas that will make your California coast road trip truly unforgettable.
Pacific Coast Highway and Big Sur: The Road of the American Dream
Visit the most beautiful beaches in california, el camino real – itinerary of the spanish missions in california, whale watching in california: tours and best spots along the coast, best california lighthouses to visit from san diego to crescent city, the best things to do in santa barbara: top 10 attractions and places to visit, big sur road trip: a thousand wonders on california's central coast, hearst castle: the castle on the enchanted coast of california, a guide to monterey and the monterey peninsula, los angeles to san francisco drive: all possible road trip routes, point lobos state natural reserve: a natural wonder on the california coast, visit solvang, a slice of denmark in california, morro bay: the californian city in the shadow of morro rock, visit san luis obispo, a pleasant city on the pacific coast highway, where to stay between los angeles and san francisco: best stops along highway 1, santa cruz: beaches and picturesque views along the california coast, pfeiffer beach: enchanting sunsets in the heart of big sur, best things to do in pacific grove, the "butterfly town" in california, 17-mile drive: pebble beach's scenic road in california, laguna beach: visit the most beautiful beaches in california, best 9 things to do in orange county for a day trip, from los angeles to san diego: drive time, best route and stops, discover the main filming locations of top gun and maverick, redwood parks in california: the tallest trees in the world, star wars in california: visit the locations where the star wars saga was filmed, visit mendocino: jessica fletcher's cabot cove in… california, point reyes national seashore and lighthouse: breathtaking views on the california coast, bowling ball beach: discover the beach in california covered with "bowling balls", how to plan a visit to the historic point arena lighthouse in mendocino, california, pigeon point light station state park, a fascinating lighthouse on the california coast, napa valley and sonoma valley wineries: best places to visit on a wine tour, silicon valley in california: tour of the headquarters of major high-tech companies, best things to do in oakland and how to get to san francisco, best places to visit in san jose, the gateway to silicon valley, san francisco travel guide: tips for planning a vacation, los angeles travel guide: tips for planning a vacation, san diego travel guide, california coast road trip map, destinations all along the california coast.
Central California Coast Road Trip Itineraries
Southern California Coast Road Trip Itineraries
Northern California Coast Road Trip Itineraries
When talking about Redwood National Park it would be more correct to say "parks", because in northern California, a few miles from the Oregon border, the Redwood National and State Parks system includes four national and state parks that make giant redwood forests their undoubted strength. Organizing an on the road trip to this part of California is not for …
Surroundings of San Francisco
Major California Coast Cities
Our guides to the most important cities on the California coast:
EXPLORE CALIFORNIA
Travel Alerts
Buckle up and begin your search for a life-changing adventure. Welcome to the California Road Trip Republic.
Hit the road in california.
Endless sunshine, world-class theme parks, incredible outdoor experiences—the itineraries collected here showcase why California is the ultimate road trip destination.
Highway 1 Classic
Golden Chain Highway
Amazing Desert Oddities
Southern California Taco Tour
Top Surfing Spots
Trips for you.
Here are some itineraries we've selected just for you.
Central Valley Foodie Road Trip
Rock 'n' Roll Road Trip
Undiscovered Wine Regions
San Francisco to Truckee
Movie Locations Tour
Discovering Death Valley
Chasing Waterfalls
Wild North Coast
Rim of the World Scenic Byway
Ebbetts Pass National Scenic Byway
Siskiyou Scenic Byway
California's Heartland
Hidden Beaches
Sierra Adventure
You'll get weekly inspiration, insights, to help you plan your road trip. plus exclusive offers, contests, and more, trips by categories.
Love the beach? Interested in theme parks? Tacos, maybe? Here are some road trips just for you.
Arts & Culture
Outdoor Adventure
Food & Drink
Luxury Experiences
National Parks
Car & rv rentals.
Trusted car & RV rental companies make your trip much easier
Road Trip Collections
Tasty trips.
California's natural bounty and endless variety delivers countless culinary adventures.
Eclectic Adventures
Bold adventurers seek bucket-list experiences. No matter your taste, there's a road trip for you.
Subscribe to our Newsletter
Sign up and get weekly travel inspiration and ideas.
I agree and consent to receive emails from Visit California and its partners with special offers and exclusive content and that I am at least 18 years old
Thank you for signing up
Get ready to Dream Big!
Search Please fill out this field.
Manage Your Subscription
Give a Gift Subscription
Sweepstakes
The Perfect Pacific Coast Highway Road Trip
Where to stay, eat, and sightsee on the drive between San Francisco and Los Angeles.
Laura Itzkowitz is a freelance writer and editor based in Rome. She has been contributing to Travel + Leisure since 2014, when she started as a fact checker before becoming a contributing digital editor in 2015 and going freelance in 2016. She has also held positions as a contributing editor at The Points Guy and the NYC cities editor at DuJour Magazine. In addition to Travel + Leisure , her writing has appeared in Architectural Digest , Surface Magazine , Brooklyn Magazine , T Magazine , The Wall Street Journal , Vogue, GQ, Departures, Afar, Fodor's, Town & Country , Condé Nast Traveler , Robb Report , Hemispheres, and others. When she's not jetsetting around Italy and beyond, she can be found in Rome, enjoying some cacio e pepe or relaxing at home with her husband and two dogs. Originally from the Boston area, Laura moved to New York City in 2011 to pursue a master's degree in creative writing and translation at Columbia University. She also holds a bachelor's degree in French from Smith College. * 10+ years of experience writing and editing * Co-wrote "New York: Hidden Bars & Restaurants," an award-winning guide to New York City's speakeasy scene published by Jonglez Editions in 2015 * Contributed to "Fodor's Brooklyn," published by Penguin Random House in 2015, which won silver in the Lowell Thomas Travel Journalism competition * Contributed an essay to "Epic Hikes of Europe," published by Lonely Planet in 2021 * Updated the 2022 edition of "Fodor's Essential Italy"
When it comes to America's best road trips , it's hard to beat the Pacific Coast Highway . Driving Highway 1 means hours cruising along stunning bluffs overlooking the Pacific, plus designated vista points for sparkling ocean views. And, of course, there are plenty of restaurants (Korean barbecue!), beaches ( Santa Barbara !), and attractions (the Henry Miller Memorial Library!) along the way.
There's arguably something for everyone. For animal lovers, there's the Elephant Seal Rookery at San Piedras Beach in San Simeon, where more than 15,000 elephant seals migrate every year. From the viewing platform, you can watch them all flop around in the sand. That's about the best roadside attraction there is.
For posh eaters, a restaurant atop a cliff in Big Sur offers a $75 prix fixe lunch menu and, perhaps more notably, what could be one of the most beautiful views on the planet. Further south, just outside of Santa Barbara, nosh on fish tacos, poke nachos, and fried cauliflower. In Los Angeles , eat some of the best Korean barbecue in the United States, tasting pitch-perfect Waygu beef (grilled tableside, of course) and savory kimchi pancakes — all at a no-frills restaurant in a strip mall.
For those seeking nightlife, sleek bars along the route serve inventive cocktails made using ingredients like clarified lime and pandan. And in case you're tired of the speakeasy concept, one of L.A.'s hippest offerings has an '80s theme and private karaoke rooms.
I hit the road with the mission of plotting out the best itinerary for a weekend trip from San Francisco to Los Angeles. Here's my play-by-play guide, complete with stops for photos in Big Sur, antiques shopping in Solvang, and craft cocktails at one of L.A.'s coolest bars.
Looking to finally take that perfect Pacific Coast Highway road trip? Read on.
Breakfast at the Ferry Building Marketplace in San Francisco
If you're departing from San Francisco, it's a good idea to kick-start your Pacific Coast Highway road trip with a hearty breakfast. Welcome to the Ferry Building Marketplace on the Embarcadero, an 1898 transit hub that's something of an icon thanks to its handsome white clock tower. Inside, you'll find artisanal bakeries, cheese shops, cafes, and a mushroom shop. Grab a cup of joe from the Oakland-born Blue Bottle Coffee and a pastry at the Acme Bread Company .
Stop for photos at Bixby Bridge in Big Sur
Valerie de Leon/Travel + Leisure
It'll take you about three hours to reach Big Sur from San Francisco, and by then you'll be ready to stretch your legs. As soon as you hit the section of the Pacific Coast Highway connecting Carmel-by-the-Sea to Big Sur, you'll start seeing vista points where you can pull off the road and take photos. Be sure not to miss the one approaching Bixby Bridge. Sure, there will be plenty of other tourists getting out of their cars to take selfies, but with a stunning view like that, how can you blame them? Join in and snap away — you'll want to remember this landscape forever.
Lunch in Big Sur with breathtaking views
After you've taken your fill of photos, it'll be time to fill your stomach. If you feel like splurging, the Post Ranch Inn's restaurant Sierra Mar offers a $75 prix fixe lunch menu and a chance to dine at a restaurant with one of the world's best views . For more casual fare, where you can relax with equally fantastic views of the Pacific, stop at Nepenthe , which serves sandwiches and salads in a rustic lodge dating back to the 1940s.
Visit the Henry Miller Memorial Library in Big Sur
Big Sur has a long and storied literary history, and seeing the natural beauty of the cliffs overlooking the Pacific, it's easy to understand why. Walt Whitman wrote about its charms, and the Beats found endless inspiration in the landscape and bohemian way of life. Henry Miller lived in Big Sur from 1944 to 1962, and his experiences inspired his book "Big Sur and the Oranges of Hieronymous Bosch." The Henry Miller Memorial Library stands on the site of the home of Miller's friend Emil White, who dedicated it to him when Miller died.
Spend a night in Big Sur
If you want to stay overnight in Big Sur, the Post Ranch Inn is an excellent choice. There's also Alila Ventana Big Sur , which landed a spot on the T+L 500 best hotels of 2023 list and boasts villas and glamping tents spread out over 160 acres of redwood forest, a restaurant overlooking the ocean, and a pampering spa. As you sip your morning coffee with views of the Pacific, you might never want to leave.
Stop to see the elephant seals in San Simeon
As you continue south on the Pacific Coast Highway, you won't want to miss the Elephant Seal Rookery at San Piedras Beach in San Simeon. Over 15,000 elephant seals migrate here every year. From the viewing platform, you can watch them sunbathe on the sand.
Get your retail fix in Solvang
Nestled in the Santa Ynez Valley is the charmingly anomalous town of Solvang , settled in the early 20th century by Danish pioneers. Take a quick detour off the Pacific Coast Highway to explore this village full of Danish architecture, antique shops, restaurants, and more. The town square features a bust of Hans Christian Andersen and a replica of Copenhagen's famous Little Mermaid statue. Pop into the family-owned Mortensen's Danish Bakery for strudel, butter cookies, and other treats.
Indulge in Santa Barbara
After a full day of driving, you'll be ready for a good meal and some R&R. The Leta Santa Barbara Goleta , just outside of Santa Barbara, offers both — plus cocktails and SoCal vibes. The easygoing hotel centers on the pool, where bands perform some evenings, and people gather around fire pits with margaritas and beers. Grab a table at the restaurant and order fish tacos, ahi poke nachos, and cauliflower tempura for an eclectic feast. After dinner, unwind with a nightcap at the bar or head up to your room, with its plush bed, coastal furnishings, and turntable.
Breakfast at Renaud's Patisserie in Santa Barbara
In the morning, head over to Renaud's Patisserie , a Santa Barbara institution just a short drive from the Leta. Sample their excellent pastries, or order organic eggs prepared any style for a heartier meal.
Fill up on art at the Getty Center
Before heading into the heart of Los Angeles, stop at the Getty Center to get your culture fix. Oil tycoon and art collector J. Paul Getty originally built the Getty Villa in Malibu to house his collection of European art. His foundation continues to fund the museum and the Getty Center, designed by Richard Meier. Ride the tram up to the top of the hill and spend a few hours exploring the galleries and grounds — they have excellent views thanks to their elevated vantage point.
Explore Los Angeles' most dynamic neighborhood
The ultra-hip The Line LA is not only a great base for exploring L.A.'s hip Koreatown neighborhood, but it's also a destination in and of itself. The revamped midcentury building features a raw but polished aesthetic (think exposed concrete custom furnishings and original art), a great restaurant by Michelin-starred chef Josiah Citrin, a cafe, an outdoor pool, and multiple bars including the '80s-themed Break Room 86 (complete with private karaoke chambers). Be sure to request a room with a view of the Hollywood Hills — the beds face the windows. so you can wake up to a stunning vista.
Feast on Korean barbecue at Park's BBQ
While you could easily stay within the bounds of the Line and dine at Openaire , you'd be remiss not to venture out and see what else the neighborhood has to offer. Beeline to Park's BBQ , a no-frills restaurant in a strip mall, for authentic Korean barbecue that draws locals and celebrities alike. Feast on shrimp or Waygu beef grilled tableside and a smorgasbord of sides, including veggies and savory kimchi pancakes.
By clicking "Accept All Cookies", you agree to the storing of cookies on your device to enhance site navigation, analyze site usage, and assist in our marketing efforts.
Want travel inspiration sent straight to your inbox?
By clicking 'Sign Up,' I acknowledge that I have read and agree to Hachette Book Group's Privacy Policy and Terms of Use
Site Preferences
It's Cyber Week! 25% off + free shipping over $25+ Code: CYBER23
Plan a California Coast Road Trip with a Flexible Itinerary
The ideal way to experience the California coast is to hit the road. Following this legendary road trip will take you through California's bustling cosmopolitan cities, small beach towns, redwood forests, and sandy beaches.
For the most part, you'll cover this stunning 850 miles by following the legendary Pacific Coast Highway (Highway 1) and U.S. 101. You can switch back and forth between the two routes depending on your pace and your interests. Highway 1 is generally more scenic; U.S. 101 is usually faster. A few diversions onto other routes are necessary to cover the entire coast (for example, you'll be driving I-5 between San Diego and Los Angeles).
The day-by-day routes below begin in Southern California, but you can just as easily start in Central or Northern California, or reverse the route (from driving north to driving south) if that works better for you. Combine all three itineraries to make a 16-day tour of the coast. If you're pressed for time, choose just one or two of the itineraries.
Southern California Coast Road Trip in 5 Days
Easygoing San Diego is a great place to start any vacation. Upon arrival, orient yourself by driving to the top of Mt. Soledad Veterans Memorial, a small mountain that has views of the entire city. After that, head down to La Jolla Cove to go kayaking or snorkeling; or just lie on the beach.
In the afternoon, visit Balboa Park, where you'll spend most of your time at the San Diego Zoo. End your day with a craft beer at one of San Diego's many breweries, like the giant Stone Brewing Co., followed by a meal in the Gaslamp Quarter. Try the historic Grant Grill or the nearby Café Chloe.
The fastest way to reach the North County beach towns of Encinitas, Carlsbad, and Oceanside is to take I-5 north out of San Diego. Or, to cruise along the coast, opt for North Coast Highway 101 (also called Camino del Mar, San Elijo Boulevard, and Carlsbad Boulevard as it travels from Torrey Pines State Beach to Oceanside). Make sure to stop for a surf or a swim since the ocean temperatures cool as you head up the coast.
Continue north on I-5 to visit Huntington Beach before turning off towards Long Beach for a paranormal ship walk on The Queen Mary , an ocean liner that is now home to restaurants, a hotel, shops, and a museum. If you are daring enough, book a room for the night in the haunted ship.
Los Angeles
Jump on I-405 to save some time and drive about 30 miles north, exiting toward Venice Beach. Park your vehicle and take a stroll along the Venice Boardwalk to take in the local wildlife that includes bodybuilders, street performers, and alternative-culture types. Without getting back on the highway, take the local roads paralleling the beach 10 minutes north to Santa Monica. Enjoy the amusement park rides of the Santa Monica Pier or just take a break on Santa Monica Beach. For dinner, get a taste of the Caribbean at Santa Monica's casual but popular Cha Cha Chicken or backtrack to Venice for a hearty Italian meal at C&O Trattoria.
Consider heading inland for a day of culture (and pop culture). For aesthetic stimulation, visit the world-famous Getty Center or the Los Angeles County Museum of Art. Less rigorous on the mind is a walk down the star-studded Hollywood Walk of Fame and a stop at the historic TCL Chinese Theatre, where you can find the handprints of your favorite movie stars. End the day in downtown Los Angeles with tacos from B.S. Taqueria followed by a cocktail with city views at The Upstairs Bar, the rooftop space atop the Ace Hotel.
Take the Pacific Coast Highway (Highway 1) out of Santa Monica west as it heads away from sprawling Los Angeles and into Malibu. Stop at Malibu's Surfrider Beach to watch the surfers compete for its famously peeling waves (or catch one yourself). After a morning outdoors, feed your mind with ancient art at The Getty Villa in Malibu. (Admission is free, but you'll need to reserve a ticket in advance.) Finish the day by watching the sun slide into the Pacific from the outdoor deck of Neptune's Net while enjoying fresh seafood.
If you want to spend more time in the Los Angeles area, you can easily fill a couple of days enjoying Disneyland Resort.
Newsletter Signup
Central california coast road trip in 6 days, santa barbara and the central coast.
Wake up early and drive north on the scenic Pacific Coast Highway. Thirty-five miles from Malibu, at Oxnard, merge onto U.S. 101. Head north on U.S. 101 to Ventura and take the exit toward Ventura Harbor, where you can catch a boat out to Channel Islands National Park for a day of hiking, snorkeling, or kayaking on Santa Cruz Island or Anacapa Island. (Make boat reservations in advance.) Return to Ventura and eat dinner at one of its seafood restaurants, such as Lure Fish House or Spencer Makenzie's Fish Company. Or have an Italian meal and cocktail at hip Café Fiore.
Take U.S. 101 north a half hour (28 miles) to Santa Barbara. Get a history fix at the Santa Barbara Mission, which might be the most beautiful of the 21 Spanish missions in California. Then taste some of Santa Barbara's wines on the Urban Wine Trail, comprising six tasting rooms on lower State Street, or head north for a day at palm-lined Refugio State Beach, 20 miles west of Santa Barbara on U.S. 101.
If your schedule is flexible, you might consider another full day in Santa Barbara, another day of wine-tasting in the nearby Santa Maria Valley, or a day on the Gaviota Coast. Whatever you do, stop at Santa Barbara's State Street for a fine meal or cocktail at a restaurant like the local favorite Opal. Or head off State Street for superb Mexican food at La Super-Rica Taqueria.
Drive 1.75 hours (92 miles) north of Santa Barbara on U.S. 101 to San Luis Obispo's Madonna Inn, where you can take in its kitschy decor during a restroom and stretch-the-legs break.
Outdoor enthusiasts will want to head off the highway and go west on Los Osos Valley Road just 20 minutes (12 miles) to Montana de Oro State Park, one of the state's best coastal parks. Picnic at Spooner's Cove or hike to the top of 1,347-foot-high Valencia Peak. Then head back to U.S. 101 North, but be sure to turn onto Highway 1 north to take in sunset over Morro Rock, known as the "Gibraltar of the Pacific."
Another option is to drive an hour north (44 miles) to opulent Hearst Castle. Tours of this "ranch" built for newspaper magnate William Randolph Hearst offer insight into the lifestyle of the rich and infamous. However you spend your day, end it with a meal in one of the Central Coast's unassuming beach towns: Morro Bay, Cayucos or Cambria.
Head north on Highway 1 for what might be the most scenic day of driving on your whole trip. The two-lane highway here winds along the mountains of Big Sur with plentiful views of the ocean. From Cambria to the heart of Big Sur is 75 miles, but the scenery, winding roadway, and frequent road construction can make the drive last well over two hours. Be sure to make multiple stops to take in the scenery at places like Salmon Creek Falls, Sand Dollar Beach, and Julia Pfeiffer Burns State Park. Or opt for a comfy cabin by the river at Glen Oaks Big Sur or a rustic room at the charming Deetjen's Big Sur Inn.
Monterey Bay and Santa Cruz
Continue up Highway 1 for 45 minutes (less than 30 miles) through the northern section of Big Sur to the Monterey Peninsula. Take a walk in Carmel's Point Lobos State Reserve or head to scenic Carmel Beach. Then drive a few miles north into Monterey to spend the afternoon at the Monterey Bay Aquarium.
Dine on fresh seafood at Pacific Grove's Passionfish, The Sandbar & Grill in Monterey, The Poke Lab in Monterey, or Phil's Fish Market up Highway 1 in Moss Landing.
If you want to spend another day in this area, wander the galleries in Carmel-by-the-Sea, golf at Pebble Beach, or head inland to Carmel Valley for wine tasting.
Getting to Santa Cruz is an easy 50-minute drive (44 miles) up Highway 1 from the Monterey Peninsula. The eclectic beach city is an ideal place for recreation whether you are surfing, stand up paddleboarding, or hiking redwood-filled Forest of Nisene Marks State Park or the coastal bluffs of Wilder Ranch State Park. Refuel with a healthy snack at The Picnic Basket before ending the day with thrill rides at the Santa Cruz Beach Boardwalk.
If your adrenaline is still racing from the Boardwalk rides, calm down with a drink at Red Restaurant & Bar or The Crepe Place .
Northern California Coast Road Trip in 5 Days
San francisco.
Wake up early for a drive on Highway 1 from Santa Cruz less than two hours (80 miles) to San Francisco. In the city, spend a few hours in the thought-provoking San Francisco Museum of Modern Art and have a creative snack at the museum's In Situ; their menu features popular items from around the world. As the sun goes down, make sure to head out for dinner, whether it's seafood at the Tadich Grill, modern Thai food at Lers Ros, or pizza at Tony's Pizza Napoletana. If you still have energy, make sure to check out some of San Francisco's vibrant nightlife or a concert at a venue like the Great American Music Hall.
Head out on the San Francisco Bay to take a fascinating tour of the island prison Alcatraz (advanced booking is strongly recommended). Or secure passage on a ferry to Angel Island, which has hiking trails that offer up some of the finest views of the city.
In the afternoon, shop the used clothing stores of Haight-Ashbury or the department stores of Union Square. Or browse the books at City Lights in North Beach.
You'll quickly fall in love with San Francisco; you can easily extend your romance to three or four days if you have the time.
The North Coast
Your journey north begins with a drive on U.S. 101 over San Francisco's iconic Golden Gate Bridge. After five miles turn off U.S. 101 to Highway 1 at Mill Valley. On the slow, over-four-hour drive up the coast (around 160 miles), make time to stop at places like the tiny but unique Sea Ranch Chapel, which is just feet off Highway 1, and take a hike on the stunning cliffside trails in the Point Arena-Stornetta Unit of the California Coastal National Monument.
End the day in the community of Mendocino with a view of the sunset at Mendocino Headlands State Park or a pint at the lively Patterson's Pub or at the one-of-a-kind dive bar Dick's Place.
Drive Highway 1 north of Fort Bragg until the road turns inland to connect with U.S. 101 after about an hour of driving. Opt for the Avenue of the Giants, a 31-mile drive through redwoods by the Eel River. Even though it's only 31 miles, the drive could take a few hours if you decide to get out of your car and ponder the trees.
Get back on U.S. 101 North and head an hour north (60 miles) to Eureka. Stop to wander the city's Old Town and Waterfront. Taste some of the delicious oysters at the Humboldt Bay Provisions.
Continue on U.S. 101 another 10 minutes or so to charming Arcata. Wander through the redwoods of the Arcata Community Forest before sundown. Dine at one of the restaurants surrounding the lively Arcata Plaza. Follow it with a craft beer at Dead Reckoning Tavern.
Start your morning with a tasty crepe from Arcata's Renata's Creperie and Espresso before hitting U.S. 101 North on your final day. About 20 minutes north (15 miles), exit to the scenic coastal city of Trinidad. Have your camera handy for photos of Trinidad Memorial Lighthouse, Trinidad Head and Trinidad State Beach.
Another half hour up U.S. 101 (26 miles), turn onto Newton B. Drury Scenic Drive to explore Prairie Creek Redwoods State Park. If you have the energy, drive out Davison Road to Gold Bluffs Beach, where Roosevelt elk roam the sands, and continue on the dirt drive to hike the one-mile round-trip Fern Canyon Trail, which passes through a steep canyon draped in bright green ferns.
Head back out to U.S. 101 to drive the 45 minutes (38 miles) to Crescent City, where you can get a hotel room and a full night's sleep.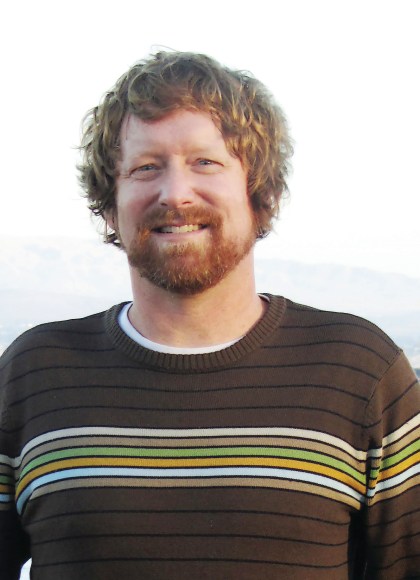 Stuart Thornton
About the author.
Learn more about this author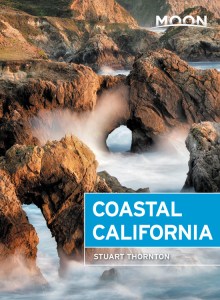 Moon Coastal California
by Stuart Thornton
Also available from:
Barnes & Noble
Books-A-Million
Pin for Later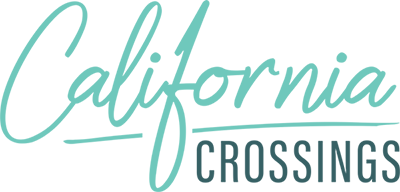 The Essential Pacific Coast Highway Road Trip Itinerary
The Pacific Coast Highway is unarguably California's most famous scenic drive . It's got a dramatic coastline, tons of marine mammals, wine tasting, foodie destinations, hiking and glamping.
So load up the car and pack your camera because this Pacific Coast Highway road trip will take you from San Francisco to Los Angeles along America's most scenic coastal route. Get ideas for a five night itinerary along the Pacific Coast Highway drive with scenic stops, favorite spots and great places to stay.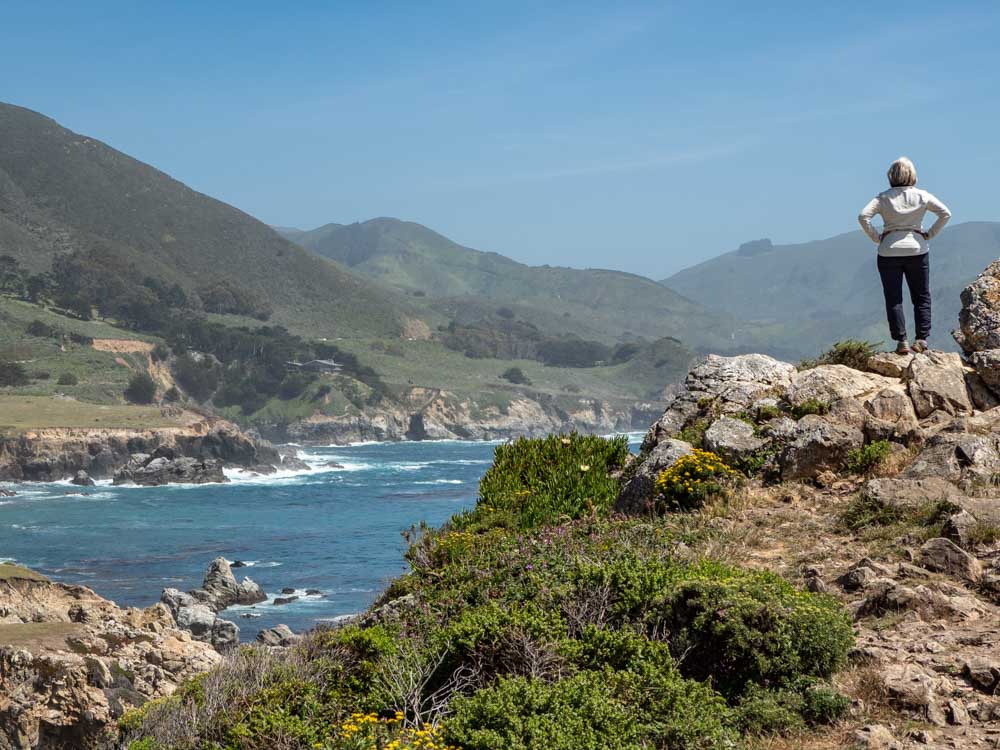 I live in California and have done sections of this itinerary many times, most recently on a chick trip with some dear friends. And I live not far from Monterey and Carmel and visit that section of this drive quite frequently.
On one of our epic chick road trips, we cruised the best bits of the Pacific Coast Highway, driving from San Francisco to Los Angeles, hitting up Monterey Bay, Carmel, Big Sur, Paso Robles the Santa Ynez Valley and Santa Barbara.
There is a lot of information in this itinerary, so read straight through or use the table of contents to skip around.
Designing Your Best Pacific Coast Highway Road Trip Itinerary What and Where is the Pacific Coast Highway? When is the Best Time to Take a California Coast Road Trip Three tips for the Best Pacific Coast Highway Stops Day 1: San Francisco to Santa Cruz Day 2: Santa Cruz to Carmel Day 3: Carmel to Big Sur Day 4: Big Sur to Paso Robles or Cambria Day 5: Paso Robles/Cambria to Santa Ynez Valley Day 6: Santa Ynez Valley to Los Angeles PCH Road Trip Planning Essentials Explore More of California
Designing Your Best Pacific Coast Highway Road Trip Itinerary
Taking Highway 1 from San Francisco to Los Angeles is 479 miles and will require about ten hours if you are in a hurry. But please, don't hurry. The whole purpose of a road trip is to take it slow and the PCH will give you plenty of reasons to stop along the way. I've done sections of this trip many times, most recently with my husband and pup. So, I know first hand that there are many different ways that you can put together this trip.
This particular Pacific Coast Highway road trip itinerary suggests taking five nights/six days to do the drive. By averaging about 100 miles per day, you can evenly space your stops with plenty of time ogle the coastline, eat, hike and go wine tasting.
You can do this drive in either direction, but I recommend doing it from San Francisco to Los Angeles. The southward direction means that you will be on the ocean side of the road with better views and easier access to pull-outs.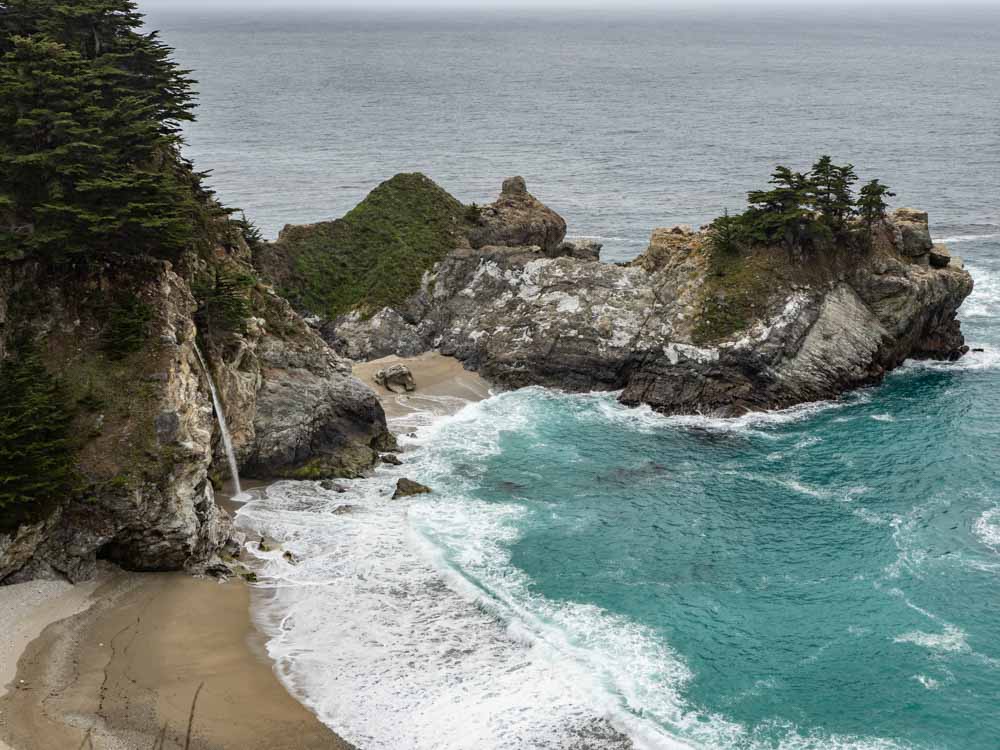 What and Where is the Pacific Coast Highway?
Google "Pacific Coast Highway route" and you'll get quite a variety of conflicting answers as to it's length and location. California has officially designated three sections of coastal Highway 1 which runs from Mendocino (north of SF) south to Dana Point (near San Diego). From Mendocino to Marin it's called the "Coast Highway", from San Francisco to Santa Barbara, it's called the "Cabrillo Highway" and from Santa Barbara to Dana Point, it's called the "Pacific Coast Highway", or "PCH".
However, most people think of the Pacific Coast Highway drive as the scenic section between San Francisco and Los Angeles. So for the purpose of this Pacific Coast Highway road trip itinerary, I'm going to focus on that stretch of road.
Work on Highway 1 started in 1912 but really got rolling in the 1920's. Depression-era public works projects in the 1930's funded the extensive construction of roads and bridges, like the graceful Bixby Bridge in Big Sur, which is one of the most tricky sections of the route. By the 1950's, America's interstate highway system and the PCH were complete, fueling California's mid-century love affair with road tripping.
I encourage you to think about this history during your California coastal road trip. As you drive the road, through the artfully engineered tunnels, bridges and tight stretches of road, you'll feel gratitude for the engineering and vision that has made this stretch of coastline so accessible to travelers.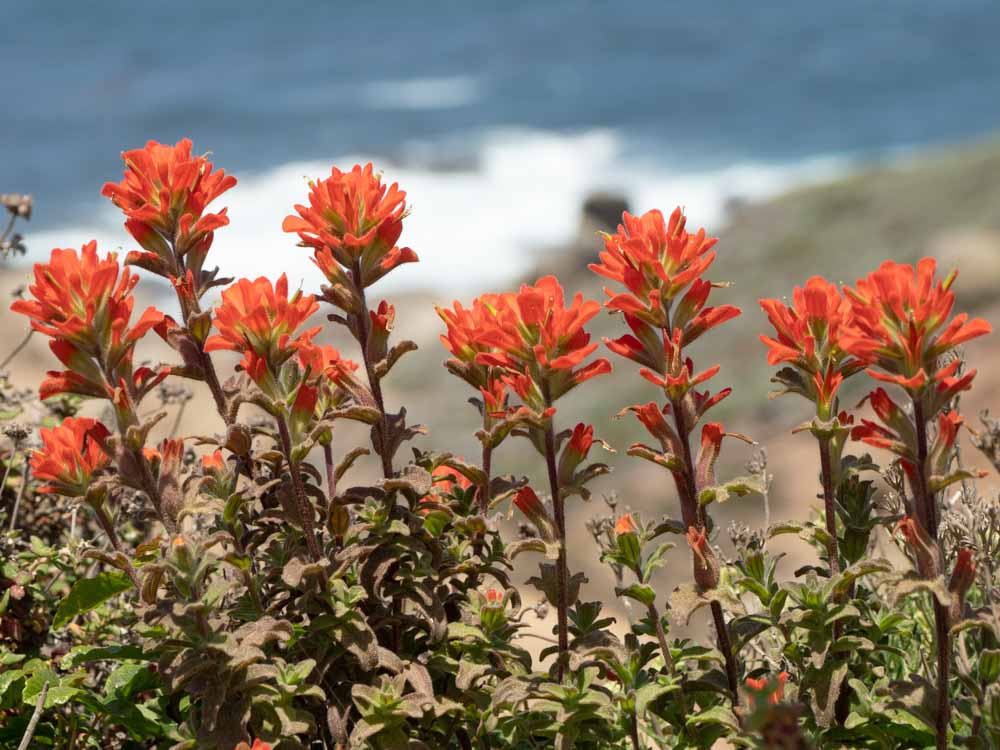 When is the Best Time to Take a California Coast Road Trip?
We have great weather in California and you can do this drive any time of the year. The sweet spot for avoiding both the wet weather and the crowds is to travel in April/May or September/October. California's rainy season is November to March, although even the wettest sections of this drive only sees rain for eight days a month.
As for temperature, the summer fog layer means that coastal parts of the drive will be warmer in September/October and the inland sections of the drive are hottest in August.
All of the locations along this route are popular weekend getaway destinations so if your itinerary includes weekends, you'll want to book those nights in advance, especially in Big Sur where the limited lodging options book up.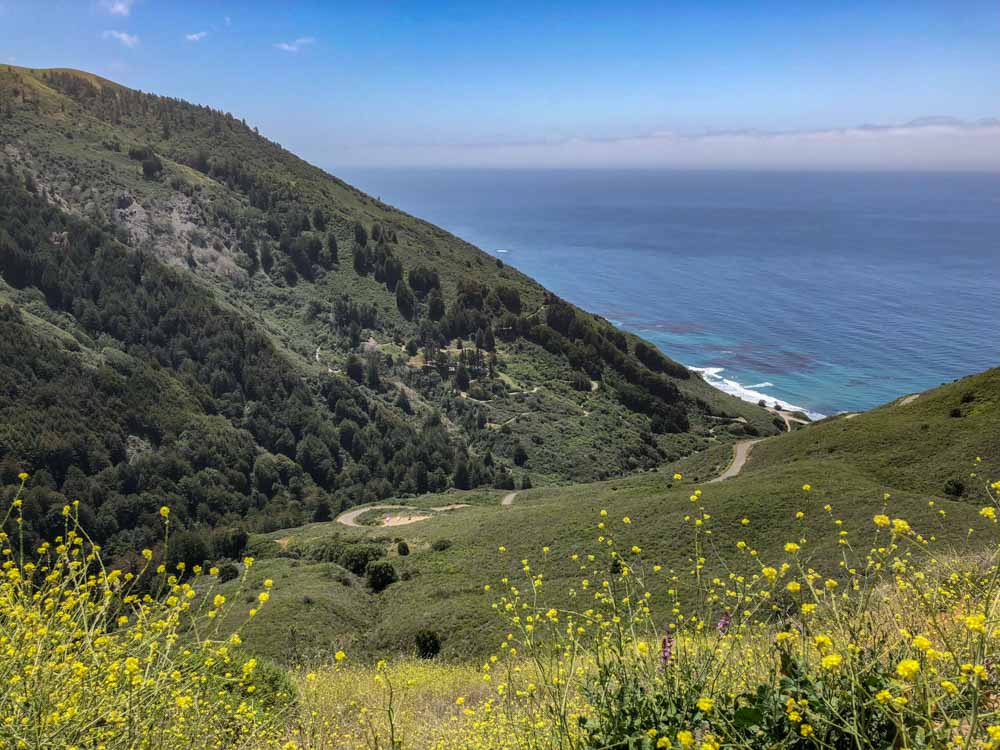 (This article contains affiliate links. This means that if you choose to purchase, I'll make a small commission.)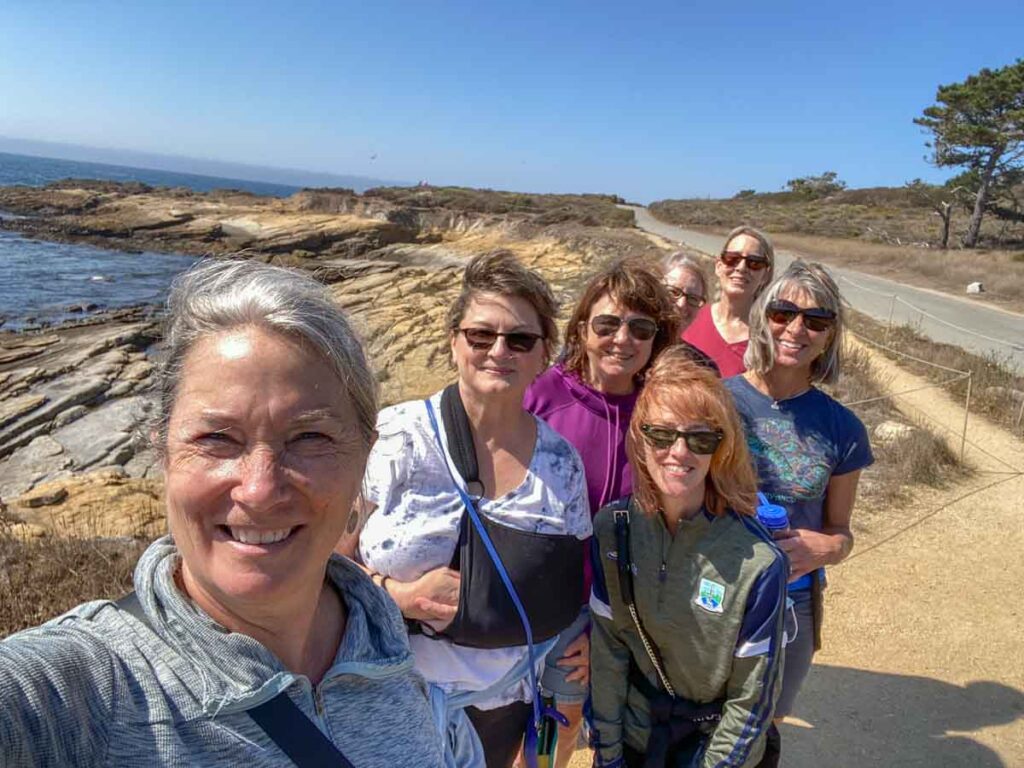 Three tips for the Best Pacific Coast Highway Stops
If you are doing your research, you are going to get a lot of ideas for the best places to stop on the Pacific Coast Highway. Regardless of whether you take my suggestions as a complete itinerary or you cobble together your own, here are three things that you absolutely must do on your San Francisco to Los Angeles road trip:
Brake for Marine Life . There is so much marine mammal activity on this coastline. You can stop at Año Nuevo state park (elephant seals), Elkhorn Slough (sea birds and otters) or take a Monterey Bay whale watch .
Don't Rush Through Big Sur . It's so worth visiting Big Sur , so take the time to hike the coast, stop at viewpoints and explore Big Sur's quirky spots.
Have a Picnic on the Beach– More than Once . Grab some central coast wine, a hunk of delicious cheese and make time to hang out on the beach. Then do this again the next day. And the next.
Read More : If you want to add time to the trip with an extra stay in SF, check out this guide for cool things to do in the city and these suggestions for where to stay .
Day 1: San Francisco to Santa Cruz
Take highway 380 over Skyline drive over to Pacifica and head south on Highway 1. Download the song " Cabrillo " (by my musician husband)–it was specifically written to chronicle the charming drive from San Francisco down to Half Moon Bay.
3 Things to Do Between SF and Santa Cruz
Stop for wildlife . If you are on the road between mid December and March, reserve yourself a spot on a guided walk at Año Nuevo state park . The park is a nesting ground for huge elephant seals. Alternatively, you can seek out the resident sea lions at Bean Hollow State Park. Use the north parking lot for the park and take the coastal trail just a short way south. There are usually sea lions hanging about on the rocks below.
Have a picnic at Half Moon Bay State Beach Park or Natural Bridges State Beach Park . This beautiful beaches both have nice wide sand, perfect for a picnic. The Half Moon Bay State Beach Park is just a few blocks from downtown HMB and right off Highway One. The Natural Bridges State Beach Park just north of Santa Cruz has cool geology and is a mellow place to chill on the beach. It's also awesome at sunset.
Ride the Roller Coaster . The Santa Cruz beach boardwalk is a fun oldey timey theme park. They sell single ride passes so you can do a quick visit and ride the roller coaster or, my favorite, the carousel.
Read More : Get more info with this weekend getaway guide for more fun things to do in Santa Cruz .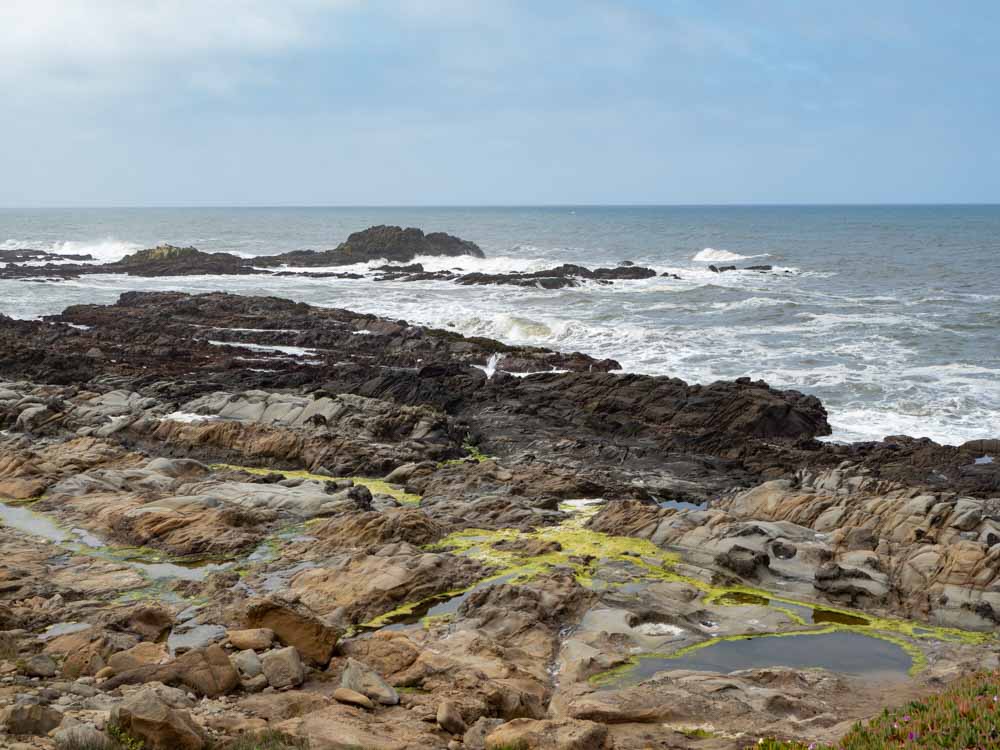 Where to Eat and Drink
Moonside Bakery : Because sometimes you need to fortify yourself with home made baked goods. Moonside is in downtown HMB and they bake up yummy cakes, tarts and cookies.
Half Moon Bay Brewing, Princeton Harbor : In addition to a rotating tap of local brews, this fun spot has an outdoor patio, fire pits and killer nachos.
Hula's Island Grill and Tiki Room : This is a fun place for steaks, seafood, rum drinks and a whole lotta kitsch.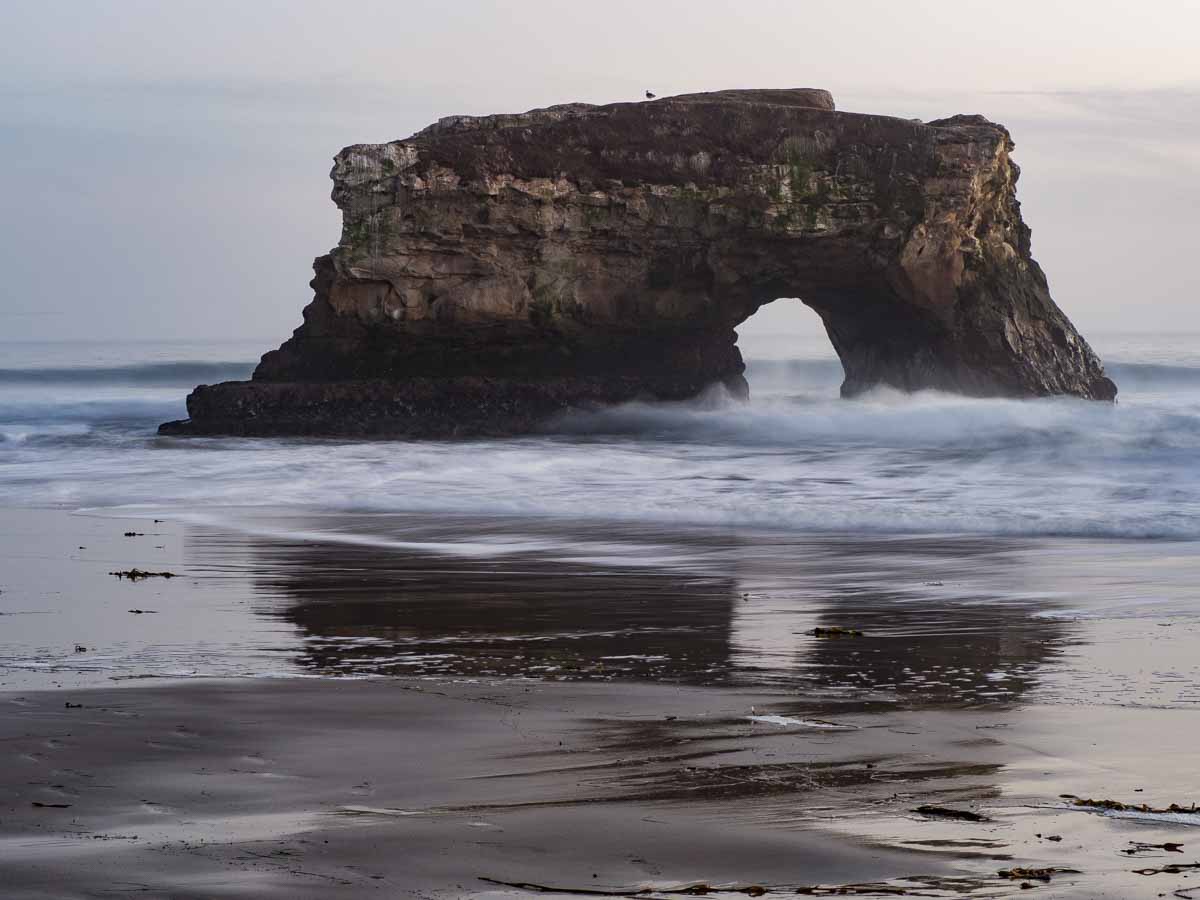 Where to Stay in Santa Cruz
Beachside basic : Beach Street Inn & Suites offers nice but not fancy rooms and suites that are located just across the street from the beach. They have a pool area, picnic area and coffee shop. Check reviews and book at Booking.com .
Cute B&B : The Rio Vista Suites is a sweet little inn with cozy rooms, breakfast, a great outdoor deck and fireplaces. Get reviews and book at Booking.com .
Check out this list of amazing tree house rentals in Santa Cruz .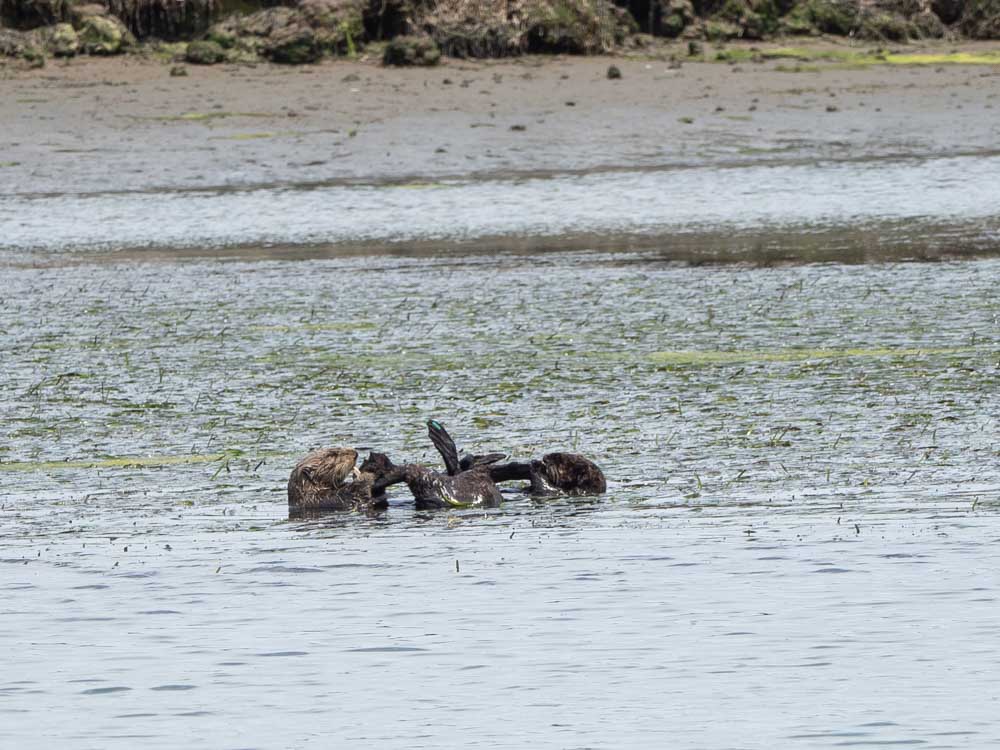 Day 2: Santa Cruz to Carmel
The drive from Santa Cruz to Carmel is only an hour and a half, which gives you plenty of time for stops along the way. When leaving Santa Cruz, you drive inland for a while before hitting the coast again at Moss Landing. The gem on this section of the PCH drive features the wide Monterey Bay. The bay is a national marine sanctuary which houses an astonishing variety of marine diversity including; humpback, Orca and blue whales, sea otters, great white sharks, harbor seals, sea lions and three kinds of dolphins.
3 Things to Do Between Santa Cruz and Carmel
Take an otter safari . This road trip begs for a dose of the adorable and otters will gladly provide it. Reserve a tour with Elkhorn Slough Safaris and they'll take you up the river estuary to see otters, seals, sea lions and sea birds.
Visit the Monterey Bay Aquarium . Visiting this world class aquarium is like a master class in marine biology. My favorite exhibit is the jellyfish with their trippy, dreamy quality. They fill up so get your tickets in advance .
Go gallery hopping in Carmel . Carmel has a very cute downtown well-stocked with boutiques and galleries. Do Carmel in a day using our guide.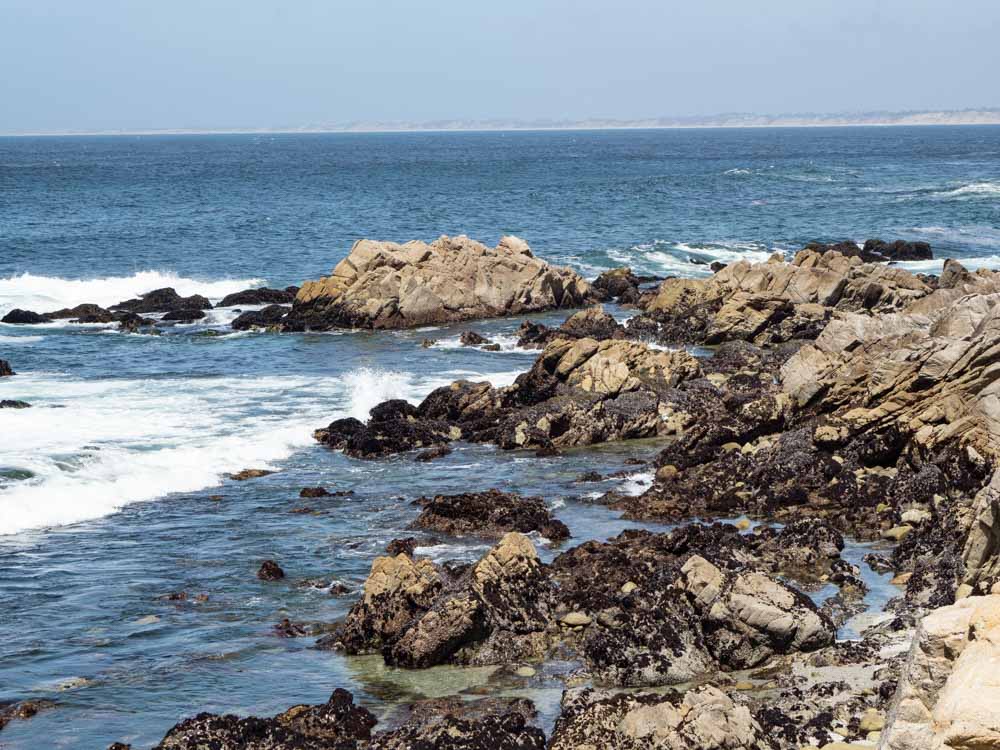 Walnut Ave Cafe, Santa Cruz : This place has huge breakfast scrambles that will fuel you for a full day.
Haute Enchilada Cafe, Moss Landing : Good Mexican food and cute decor, conveniently located near the Elkhorn Safari.
La Balena : Authentic Italian in Carmel with amazing short ribs, risotto, and gnocchi.
Where to Stay in Monterey or Carmel
Carmel is only fifteen minutes south of Monterey so you can stay in either. You'll find more budget accommodations in Monterey or Pacific Grove and better views in Carmel.
Dog-Friendly Budget : Try the Green Lantern Inn, which is budget friendly (and dog friendly too!). It's within walking distance to amazing restaurants, wine tasting rooms and the beach. Check reviews and book with Booking.com .
Luxury Views : Hyatt Carmel Highlands is a 5-star hotel with 6-star views of the ocean. The rooms have kitchenettes, a luxurious bathroom and the dining room and bar have amazing sunset views. Read reviews or book at Booking.com .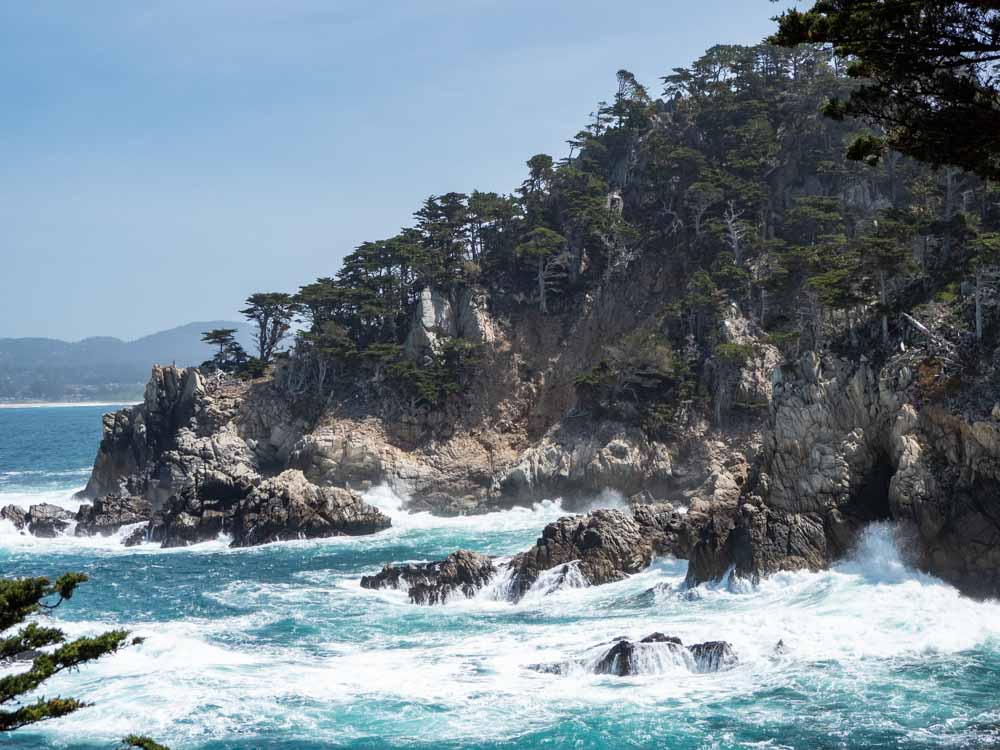 Day 3: Carmel to Big Sur
This stretch of rugged coastline is the reason why people want to do a Pacific Coast Highway road trip. The winding road gives up one jaw dropping surprise after another and it's the main reason to visit Big Sur .
Big Sur isn't very far south of Carmel but I'm recommending that you spend the extra day here so that you can take the time to explore the landscape.
Use our full day trip guide for Big Sur get plan how to get the most of your day. But here are some top highlights:
3 Things to Do in Big Sur
Do the 17 Mile Drive : This popular drive follows the coastal route between Pacific Grove and Carmel. It skirts the famous Pebble Beach golf course and has a lot of spots to pull off and go tide pooling. However, this rich enclave has made the greedy decision to charge $10.25 per vehicle to enter the drive. If this annoys you as much as it did me, you can skip it and spend more time exploring the beaches further south in Big Sur.
Hike in Point Lobos Natural Reserve : The reserve has miles of looping trails with killer cliff-side views and resident sea lions. Go early or late because they have very small parking lots. Alternatively, you can park out on the main road and walk in, thereby avoiding the state park fees.
Stop at Bixby Creek Bridge : This bridge is one of those engineering marvels that helped to connect the PCH drive through Big Sur. The graceful arches belie its humble beginnings as a Depression-era work project.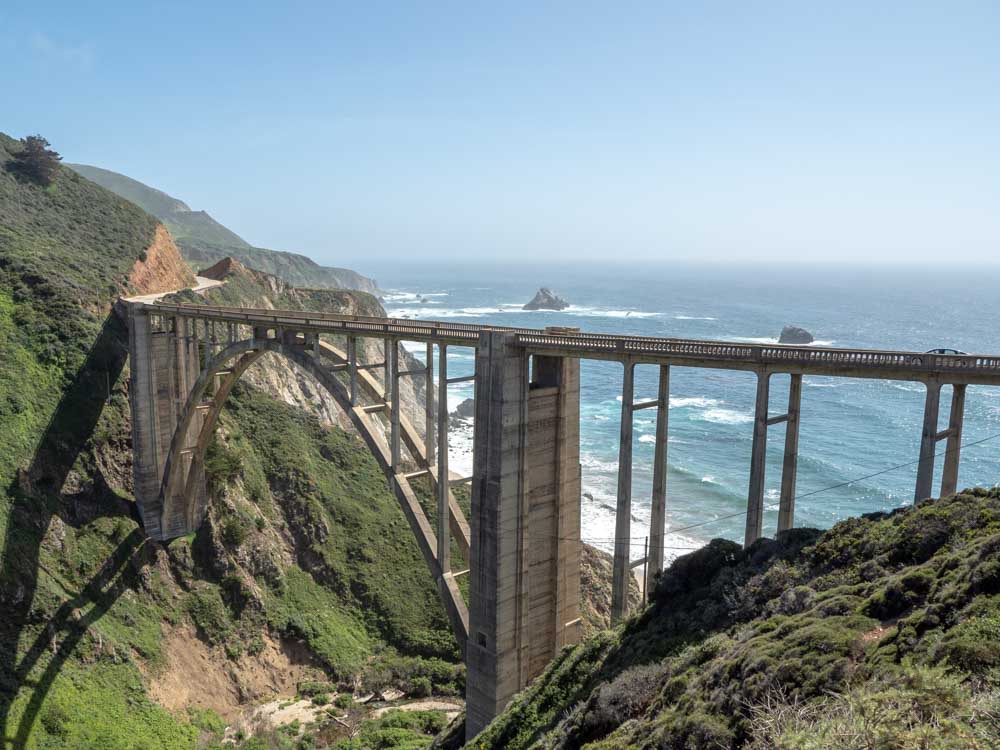 There is so much to see in Big Sur that three things isn't quite enough. So here are three more things to do in Big Sur.
Henry Miller Library : This quirky spot is a both a bookstore and a library where Miller used to hang out. The guy who runs it will give you the scoop on local culture and hidden spots. Check their schedule because they often have events in the evenings and on the weekends.
Pfeiffer Beach : This quiet spot is part of the Los Padres National Forest. There is a sandy beach flanked by huge arched boulders and the incoming tide crashes through the arches in a dramatic display. The beach is hard to find– turn right onto Sycamore road before the Pfeiffer Canyon Bridge, if you get to the Big Sur Bakery, you've gone too far.
McWay Falls : The picturesque falls are part of Julia Pfeiffer State Park (and not located in the same spot as Pfeiffer Beach). The eighty foot falls drop from the cliffs right into the ocean. If you are only doing the falls and not otherwise hiking in the park, then I don't recommend that you pay the day use fee. Just park on the main highway road and walk down to the viewing spot for the falls.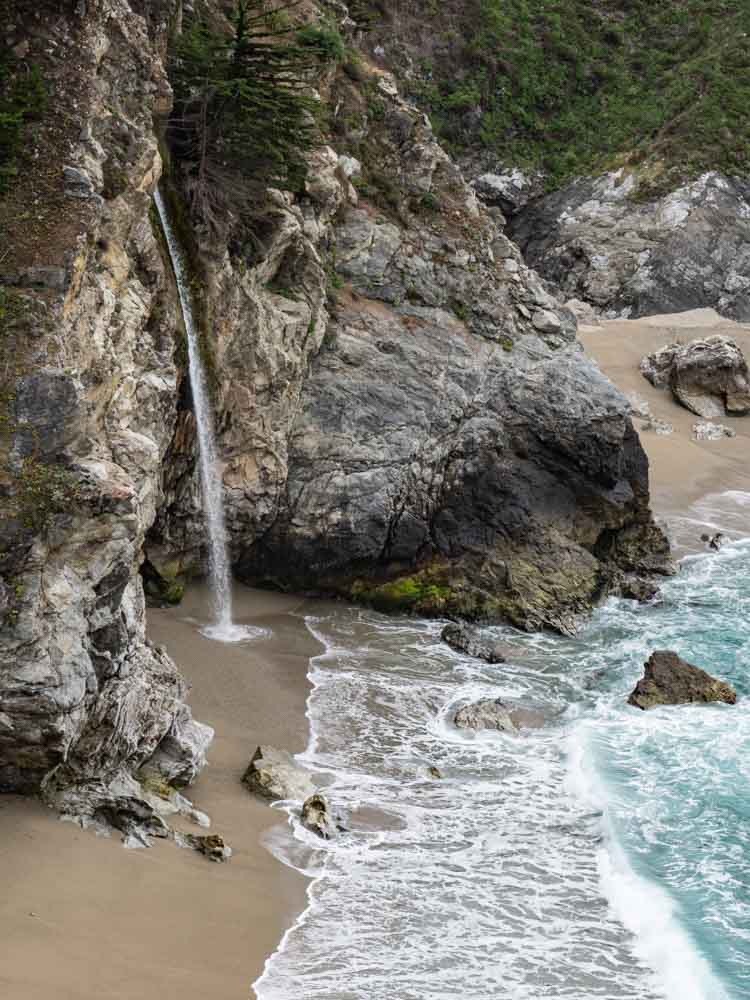 From Scratch Restaurant, Carmel : Breakfast spot known for their corned beef and biscuits, and french toast.
Rocky Point Restaurant, Big Sur : The salads, burgers and cheese bread are good but what makes the restaurant special is it's location on a rocky promontory that has coastal views in both directions. Even if you don't want to eat there, stop in for a drink and hang out in one of their Adirondack chairs.
Fernwood Resort Bar & Grill : They offer Mexican basics, burgers and a good beer selection in a casual setting. They have a nice back deck and have music on the weekends.
Where to Stay in Big Sur
Most of the lodging in Big Sur books up way in advance and you'll usually need to contact them directly for rates and dates.
Funky Cabins and Glamping : Fernwood Inn and Resort has a range of lodging options from camping, glamping, cabins and motel rooms. Check reviews and book with Booking.com .
Modern luxury : Post Ranch Inn has a clean architecture with views for days. Check reviews on Trip Advisor .
Read More : Get the full downlow on all CA parks with our complete California State Parks list (with map).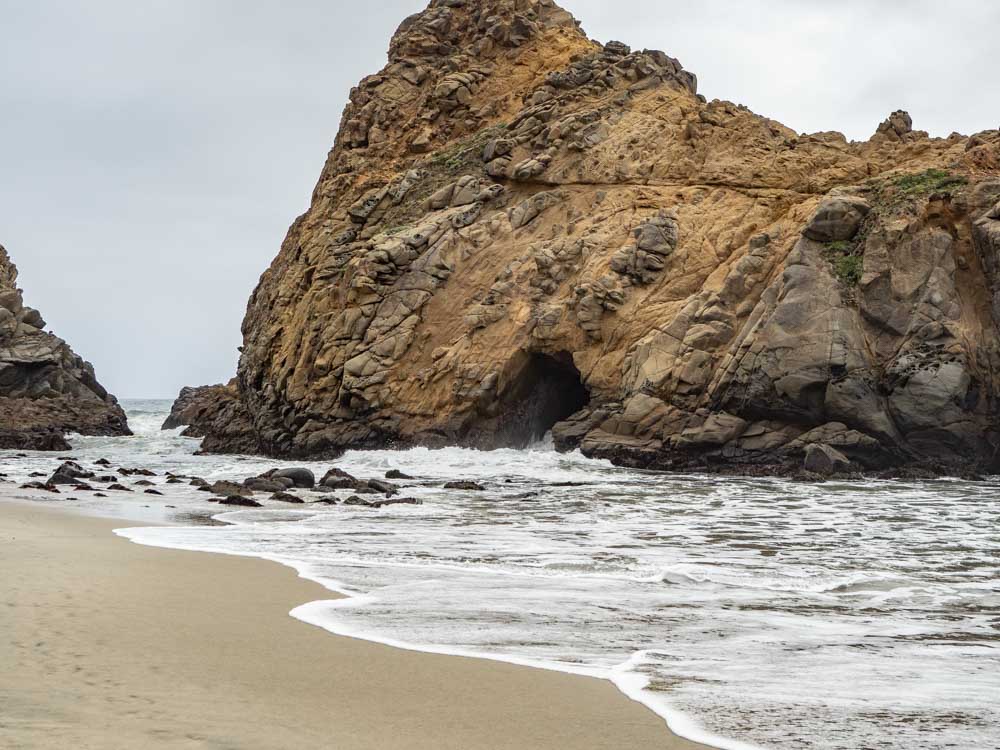 Day 4: Big Sur to Paso Robles or Cambria/Cayucos
From here, you have two choices, you can choose wine and olive oil tasting via Paso Robles or you can choose Hearst Castle and extended coastal views via Cambria and Cayucos. If you get up very early, you may be able to do both in one day but you probably wouldn't do justice to either.
If you choose to go to Paso Robles, head over the mountain on the Nacimiento-Fergusson road, then turn right on Jolon road. You'll end up on Highway 101 north of Paso Robles. The drive itself is very pretty and you get a eagle eye's view of the coastline as you drive up. If you choose to go to Cambria or Cayucos, then just keep truckin' down the PCH along the coast road. But check before committing to this route as the road is sometimes closed.
If there is a section of Highway 1 in Big Sur that's closed (which happens frequently after storms), then you'll need to back up and go to Paso anyway
3 Things to do in Paso Robles
If you decide to go this way, we have a whole article featuring cool things to do in Paso Robles .
Go Wine Tasting : Paso's wine growing region is known for its Zinfindel, Cabernet and Rhone blends. There are over 200 wineries in the area. We had fun doing the wine and cheese pairing menu at Broken Earth, where they also have music on the weekends. We also tried some delicious Zins at the nearby Ebberly winery. Alternatively, you can do a lovely winery drive along the tree lined canyons between Adelaide Road, Peachy Canyon Road and Vineyard Drive west of town.
Go Olive Oil Tasting : They also make some excellent olive oil in Paso. I came home with a pantry full of oils from Pasolivo. They have a downtown tasting room but you can also taste on site at their grove on Vineyard Road.
Go Beer Tasting : There are six breweries in or near Paso Robles. Some are just brew houses and others also serve food, which you are going to need if you do all three of the things on this list.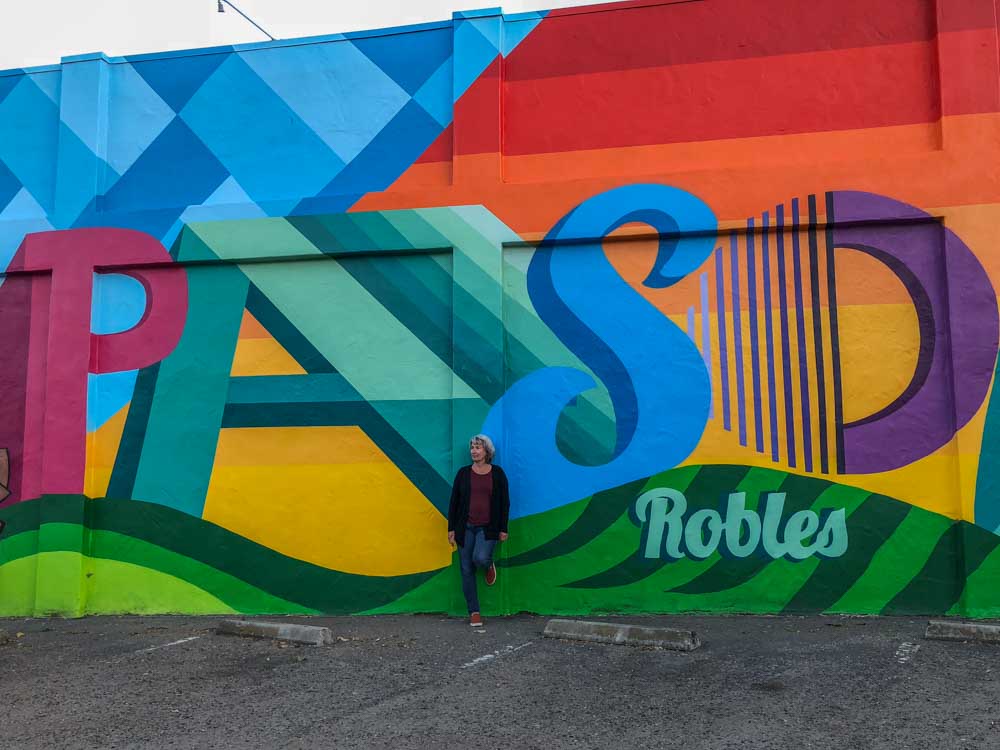 Where to Eat & Drink in Paso Robles
Big Sur Bakery : On your way out of Big Sur, stop into the bakery to pick up some buttery home-baked goodness.
Barrel House Brewing Company : Since you are already drinking, you may as well get some food. This brewery makes a wide selection of beers and they always have a delicious food truck on site serving grub. They have a huge outdoor seating area and are dog-friendly.
Brother's Cafe 3:16 : Carb up for the road ahead at this popular breakfast spot in Paso. Try the biscuits and gravy or the green chili omelet.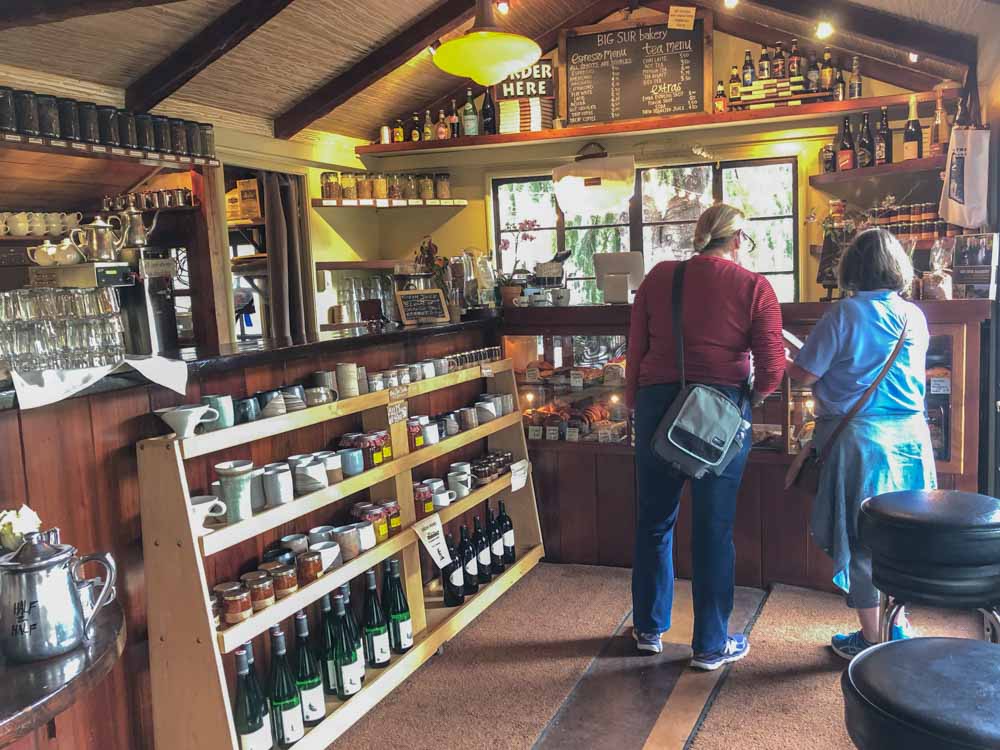 Where to Stay in Paso Robles
Downtown Convenience : The Paso Robles Inn is a comfortable large hotel located right on the town square. Check reviews or book at Booking.com .
Bed, Breakfast and Wine : The Wild Coyote is offers lodging along with their winery and distillery. It's located on a quiet stretch of Adelaide Road. Check reviews and book at Booking.com .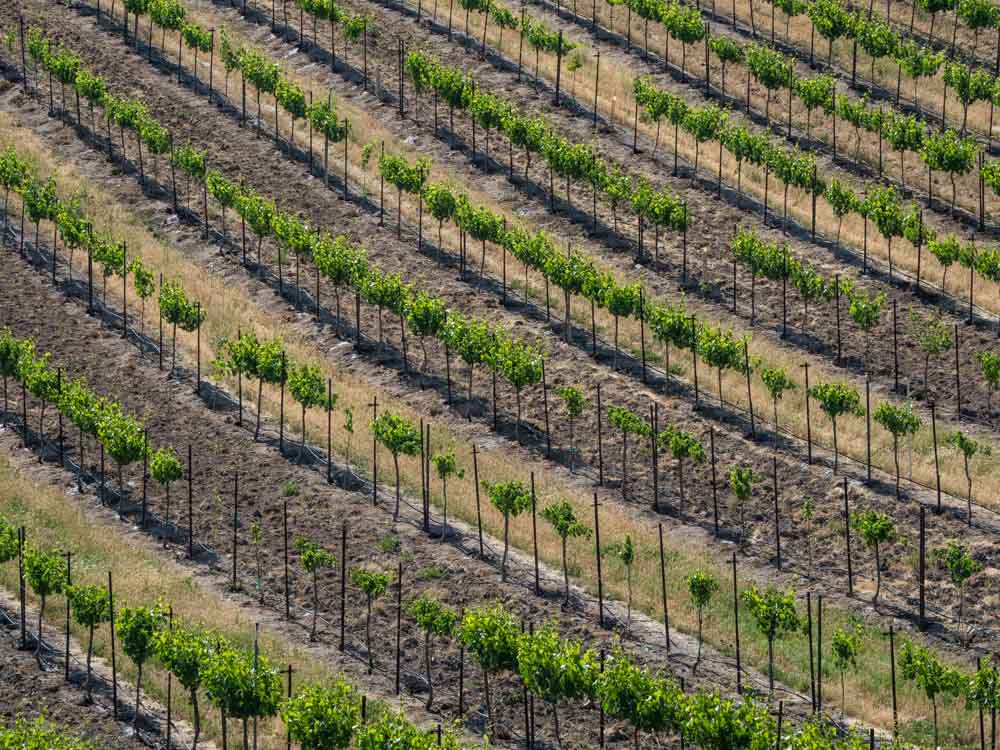 3 Things to Do in Cambria & Cayucos
Hearst Castle, San Simeon : Hearst's "country estate" is festooned with suggestive statuary, ornately carved ceilings and all manner of gilded gee gaws. They have several different tours, which you can reserve in advance. They do sell out during very busy times, but if you are planning to visit on a weekday, just keep an eye on their tour schedule . If it seems that they aren't filling up, then don't purchase in advance. This will give you maximum flexibility. Check before you go because it has been closed for road repairs.
Cambria Historical Museum, Cambria : This beautifully restored little Victorian house has an oddball assortment of historical items from the founding of Cambria, presided over by an enthusiastic band of volunteers.
Estero Bluffs State Park: This lovely state park between Cambria and Cayucos has fantastic ocean views and a dog-friendly trail. It's part of our list of the best things to do in Cayucos (which you should check out if you are planning to spend the night in the area.)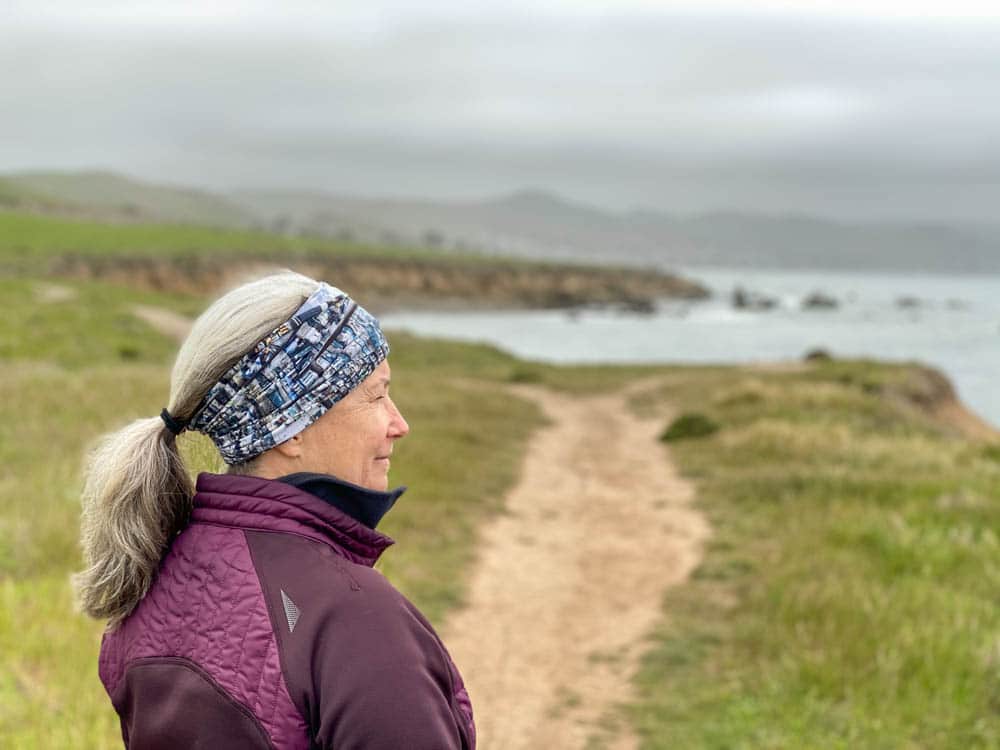 Sandy's Deli : Pick up a sandwich to take to either Hearst Castle or down to Morro Bay. Sandy's is known for their BLTs, French Dip and tuna sandwiches.
Ruddell's Barbeque : This lunch spot in Cayucos serves smoked meat and fish with unusual dressings. It's great for takeaway and a picnic on the beach.
Harmony Cellars : This small winery is located in quirky Harmony and they have nice reds for a reasonable price paired with a fantastic deck.
Where to Stay in Cambria or Cayucos
On the Beach : The Cambria Beach Lodge is a well appointed, pet-friendly spot located right on Moonstone beach with complimentary breakfast and bike rentals. Check reviews or book at Booking.com .
Bed, breakfast and a hot tub : The On the Beach Bed & Breakfast has a lot going for it. You are just steps away from City Beach, they offer a full breakfast and their hot tub has pretty sweet views. Check reviews and book at Booking.com .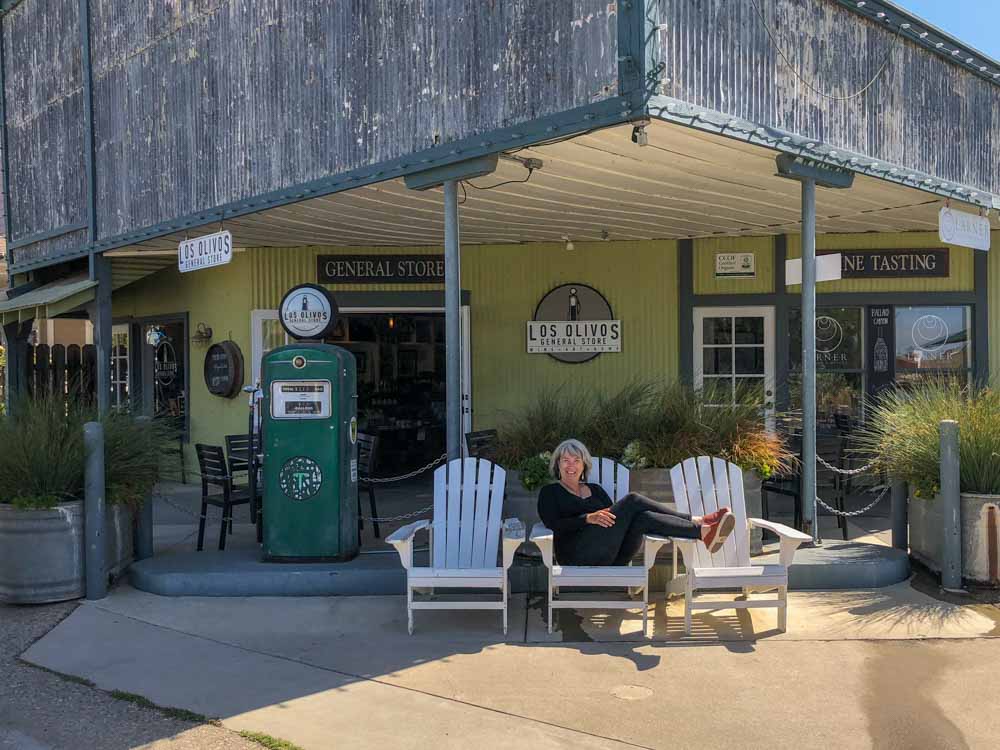 Day 5: Paso Robles/Cambria to Santa Ynez Valley
This section of the Pacific Coast Highway drive travels inland to the Santa Ynez Valley. The valley sits in a triangle bordered by the towns of Buellton, Los Olivos and Solvang. Like Paso Robles, it's also a prime wine growing region with just the right amount of cute and kitsch.
If you have time on the way down to Solvang, try to stop and spend some time in Pismo Beach. It's got a one of the best beaches in California and there are lots of fun things to do there . They've also got many easy to access wineries near Pismo .
3 Things to do in Santa Ynez Valley
Go Wine Tasting : Hopefully you didn't drink too much wine in Paso because there is more of it in the Santa Ynez Valley. The valley is known for their cabernet, pinot noir and merlot. I also tasted some delicious crisp rose while there. Louise and I were kindly hosted by both the Demetria and Andrew Murray Vineyards. Demetria's rose and pinot noir really kill it and their outdoor patio is a relaxing spot for a chill pill and a slow tasting session. Andrew Murray is just up the road and they specialize in Syrah blends. They have a very modern, friendly tasting room with a summer concert series.
Mendenhall's Museum of Gas Pumps Petrolanalia : I do love offbeat museums and Mendenhall's is right up there, because this family is passionate about petrol. The museum is a one acre plot that includes their home, event space and collections of: classic cars, gas pumps, license plates, antique neon signs, race cars and racing memorabilia. The Mendenhall museum is the perfect stop if your want a strong dose of retro. They don't have regular hours, so you'll need to email them to arrange a tour.
Drive Slowly Between Solvang and Los Olivos, Then Wander Around : Talk about retro…Solvang is absolute kitsch. They have totally embraced their Danish ancestry, filling the town with windmills and Danish pastries. Be sure to stop into the Book Loft, which is a good indy bookstore with a Hans Christian Anderson museum upstairs. Los Olivos is an adorable one horse town with tasting rooms and home goods shops. The Alamo Pintado road is the main thoroughfare between the two and it takes about seven minutes to drive it. However, I recommend taking the back way on Ballard Canyon Road so that you can enjoy the scenery.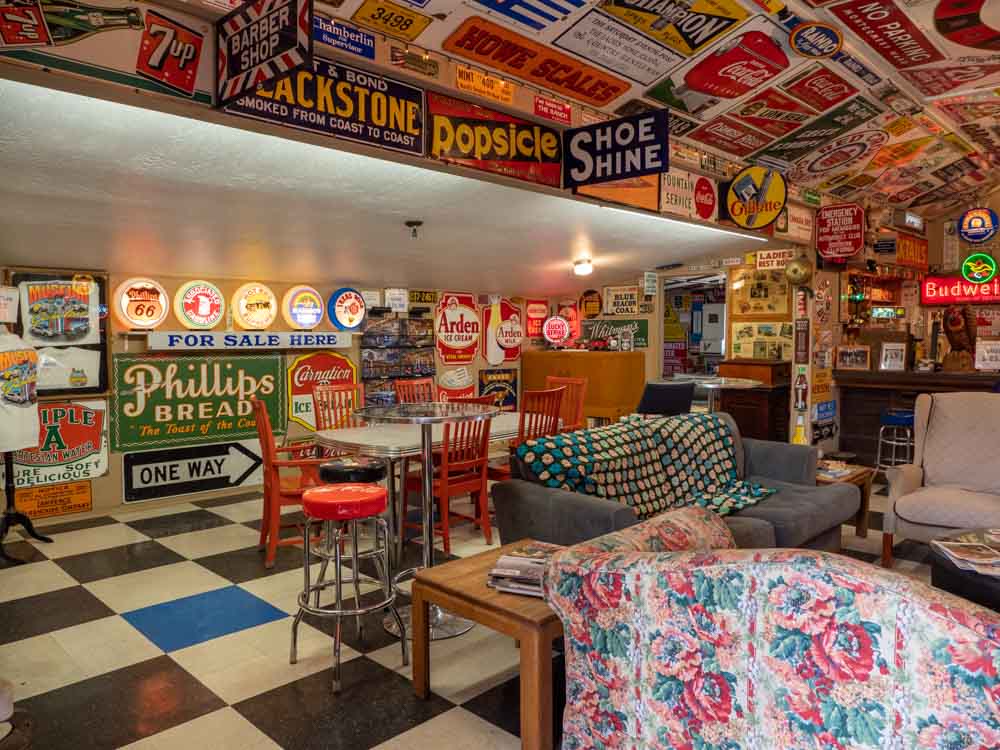 Mortensen's Danish Bakery : If you are going to visit America's Denmark, then you need to eat the pastry. There are many bakeries in town but Mortensen's smells the most buttery.
Copenhaven Sausage Garden : Keep the Danish thing going with this beer garden and sausage joint. Beer, brats and outdoor seating for a casual dinner.
Leonardos Restaurante : An unassuming but excellent Italian place. Try the piccata, chiopino or the pizza.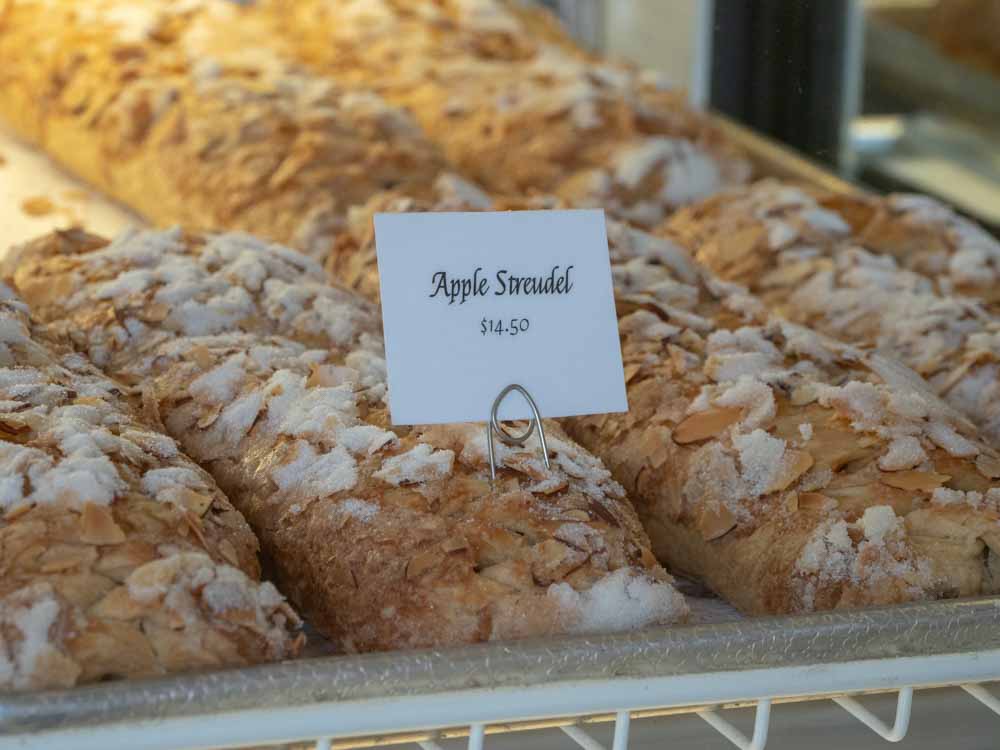 Where to Stay in Santa Ynez Valley
Retro Glamping : We stayed at the Flying Flags resort and loved it. They are an RV park that also rents cabins and glamping tents. We had the surf cabin and it was so retro-chic. The back bedroom has a porch which faced grass and trees. The front porch faced the neighbors and the kitchen was designed with an enormous folding window that, when open, felt like you were completely outside. In the interest of full disclosure, Flying Flags gave us a discount for our stay (blogger privilege), but I'd be raving even at full price because it was so fun to stay there. Check reviews and book at Booking.com .
Downtown Solvang : I used Hotels Tonight to score a screaming deal at the Hotel Corque. It's a full service hotel and my room was very modern and comfortable. There is a fair amount of hotel inventory in Solvang but it will fill up on the weekends so book ahead if you need a Friday or Saturday stay. Check reviews or book at Booking.com .
Day 6: Santa Ynez Valley to Los Angeles
LA is a whole other itinerary, but there are a few fun stops that you can make between Solvang and Los Angeles before ending your Pacific Coast Highway drive.
3 Things to Do on the Way to LA
Santa Barbara Mission : The Santa Barbara Mission is not only beautiful, but it's also one of the best preserved missions in California. They have an extensive museum which does a good job of explaining the establishment of the missions and the history of the Spaniards and Mexicans in the founding of California. There are also well preserved missions in Carmel and San Luis Obisbo. In Santa Barbara, however, their museum does a poor job of acknowledging the devastating affect that colonization had on California's native population. These missions held Native American slaves and they don't even admit it!
Carpinteria Beach : Hit one more cute little beach town by stopping in Carpinteria. They have good parking there and a nice long beach.
Take an Electric Bike Tour : This 2.5 hour electric bike tour covers the historic downtown Santa Barbara and includes beach views.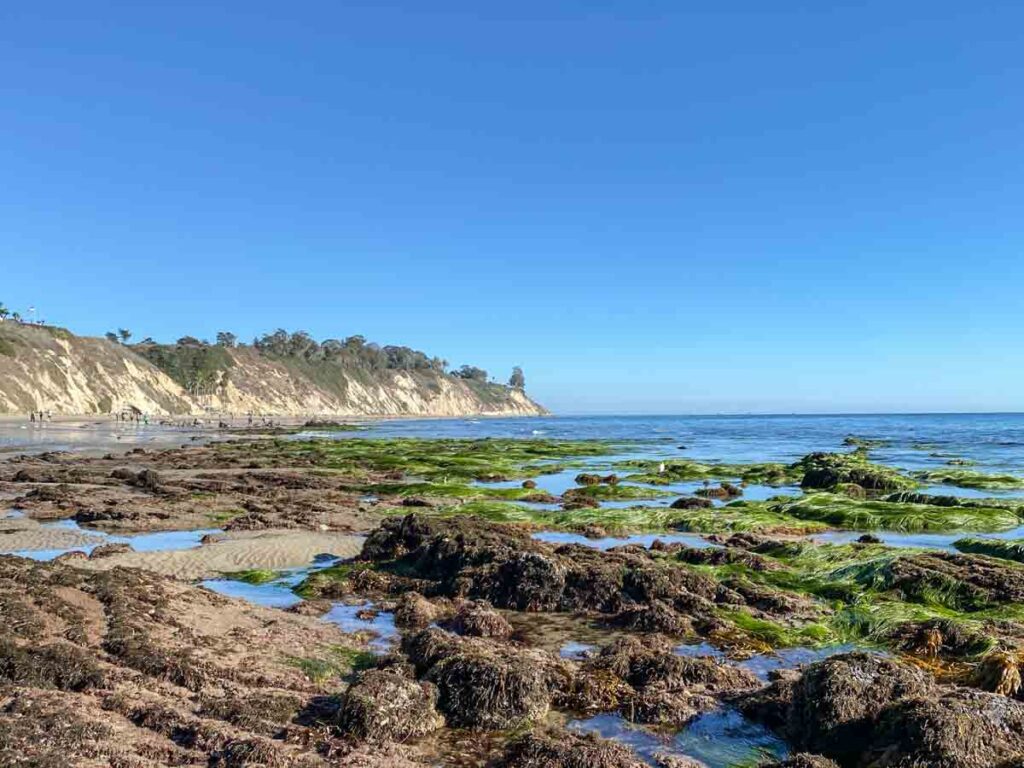 PCH Road Trip Planning Essentials
Preparing your car.
If you need to rent a car, all of the major companies are located at SFO, Oakland and San Jose airports You can use our guide to find the best and most convenient airport for Monterey County . Prices from Budget for a six day one-way rental from SF to LA run ~$470 for the cheapest car and $500+ for a convertible. If you are willing to drive back up to SF to return the car, then the prices drop to ~$180. Get your best rental car deal by comparing prices with Rentalcars.com .
If you are driving your own car, don't forget to check your oil and tire pressure before you leave and you should also invest in roadside assistance. It comes with a AAA membership, most new car purchases or a credit card like the American Express Rewards Gold Card. You should also purchase a roadside safely kit which includes things like a warning triangle, jumper cables, glass breaker, multi tool, cable ties and small first aid kit. These kits also make a thoughtful, if tragically practical Christmas or birthday gift.
Be sure to stock your car with a cooler , drinks and snacks, which will keep you well supplied for beach picnics.
Other Packing Essentials
Here are a few other essentials that you'll want to be sure to bring on your road trip.
Wine Opener | Sun Screen | California Road & Recreation Atlas | On the Road , by Jack Kerouac | Teva Sport Sandals | Road Trip Play List
"Whither goest thou, America, in thy shiny car in the night?" –Jack Kerouac
Take your shiny car on a classic California coast road trip and goest through the best scenery this side of the Mississippi. Have fun and happy trails.
Head North on the PCH
If you want to head north as well as south, then check out these additional ideas to add to your itinerary.
Head north for a weekend getaway in Guerneville .
Get epic views of the Golden Gate Bridge .
Find more coastal views with these cozy beach towns in Northern California .
Take a 5 day Northern California redwoods road trip .
Share this Pacific Coast Highway itinerary with your friends by pinning it!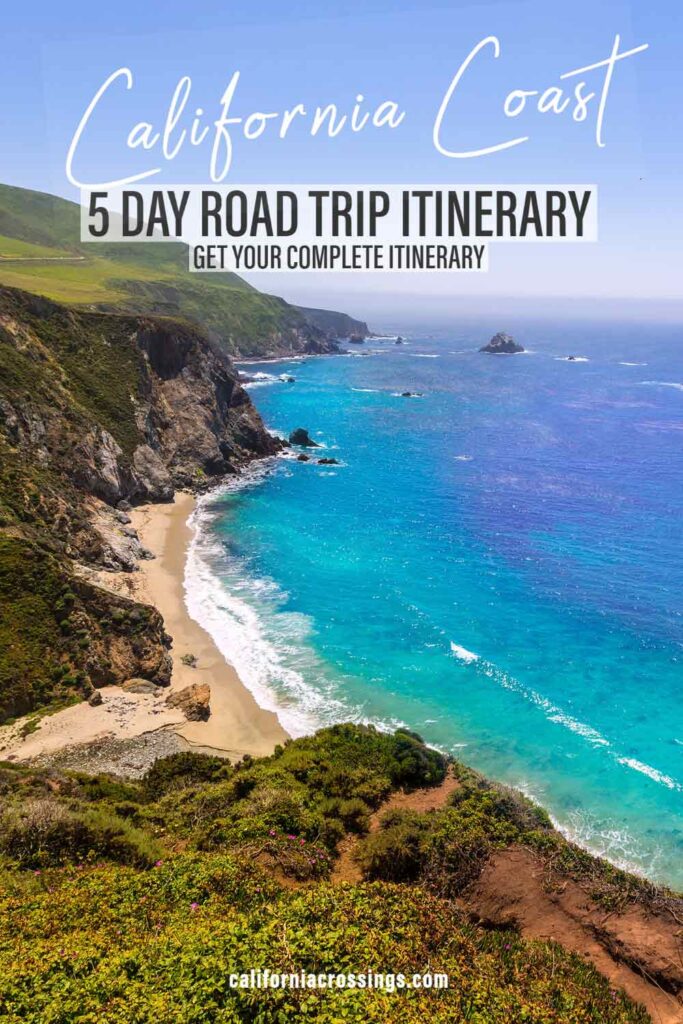 Share with your friends
2 thoughts on "The Essential Pacific Coast Highway Road Trip Itinerary"
Hello ! Très bon post, même si il y faudrait rajouter quelques petits points à rajouter, celui-ci reste vraiment intéressant.
This Pacific Coast Highway Road Trip Itinerary is incredibly helpful. You've really thought through everything you need to know before planning a trip. Thank you for this helpful resource. Saving this guide for later!
Leave a Comment Cancel reply