Budapest Tourism
Budapest Hotels
Budapest Bed and Breakfast
Budapest Vacation Rentals
Flights to Budapest
Budapest Restaurants
Things to Do in Budapest
Budapest Travel Forum
Budapest Photos
Budapest Map
Budapest Travel Guide
All Budapest Hotels
Budapest Hotel Deals
Last Minute Hotels in Budapest
Things to Do
Restaurants
Vacation Rentals
Travel Stories
Rental Cars
Add a Place
Travel Forum
Travel Guides
Travelers' Choice
Help Center
3 day travel pass - Budapest Forum
Europe
Hungary
Central Hungary
Budapest
3 day travel pass
United States Forums
Europe Forums
Canada Forums
Asia Forums
Central America Forums
Africa Forums
Caribbean Forums
Mexico Forums
South Pacific Forums
South America Forums
Middle East Forums
Honeymoons and Romance
Business Travel
Train Travel
Traveling With Disabilities
Tripadvisor Support
Solo Travel
Bargain Travel
Timeshares / Vacation Rentals
Central Hungary forums
Budapest forum
I've been on the bkv.hu website to look at their list of tickets but I can't seem to see mention of a 3 day travel pass. They have the Budapest card but not a lot seem to recommended that.
Am I looking at the wrong website? If anyone could help I could appreciate it. Just would like to see the price and how it works, where to get it etc.
Did you look here? It is 72-hour travel card at HUF 4150.
http://www.bkk.hu/en/tickets-and-passes/prices/
That website was the one I was looking at. I think I got confused and thought that the 3 day pass that people had talked about on the forums was 3 days from the day you bought it rather than hours. Think I've been overthinking this lol
What day of the week and time of day will you arrive ?
I was also looking at purchasing a 3 day pass but thought the general opinion on TA was that they weren't cost effective. Can you use them on trains, subway, buses and trams? What it the approx cost of a single journey around the city using these modes of transport.
Still undecided so hope someone can advise me
I don't know where you got that impression either! I've been scouring these forums and single use tickets have never been recommended. I just wasn't too sure how to get one. I don't want the hassle of remembering to validate tickets or buy them. And 4500ft for the ease of being able to use it anywhere really appeals to me.
The transit pass is simply great. You can buy it at various places, but I got mine at the booth by the baggage carousel at the airport. You can specify when you want it to begin - I took a shuttle to my hotel and had the pass start the next day. You can explore all you want using it.
We used the seven day pass on a trip last fall and the convenience is that you can use it on all three types of public transit. We used it on the Metro because there's a stop just outside of the Szechenyi spa. We used it on the buses to get back and forth to the Castle District. We used it on the tram to get to the entrance to Margeret Island and to the Gellert spa. One day it was very hot and we were tired. We took the tram just to get from the Buda side back to the Pest side. Why not?
If you want to save £20 then buy the 72 hour pass at the airport, either at one of the BKK desks or from the machines at the bus stop (which take CCs and have an English option).
Then catch the 200E (NOT the 100E) bus to Kobanya Kispest metro station and take the M3 metro into town. The 200E IS covered by BKK passes, the 100E is NOT, you have to pay 900fts for that.
Unfortunately the M3 is closed for maintenance at weekends so you can't go back that way.
Where are you staying ?
Christmas Day 7:04 am
"Cultural Immersion" Experiences in Budapest? yesterday
Metro strations' lifts yesterday
Money exchange yesterday
Restaurants yesterday
Comme Chez Soi for single traveler yesterday
Midterm rent in Budapest Nov 08, 2023
Which hotel has the best location Nov 08, 2023
Location of BKK office at Budapest-Nyugati station Nov 08, 2023
Visiting 27/Dec-01/Jan Nov 07, 2023
Fo taxi to Ikonik Parliament Hotel Nov 07, 2023
Are there escalators in Tatabanya & Kelenfold stations? Nov 07, 2023
Taxi 5 Ladies & Money Exchange Nov 06, 2023
What to wear Nov 06, 2023
Train from Budapest to Prague 14 replies
How long and where to stay in Budapest? 8 replies
Best side to stay on ? Buda or Pest ?? 4 replies
Buda or pest 7 replies
How expensive is Budapest? 5 replies
Train schedules Eger-Budapest and Budapest-Pécs-Budapest 4 replies
Budapest to Krakow overnight train - safety? 7 replies
Late-night arrival at T2 Budapest Airport: Public Transport 17 replies
Is 3.5 days too much time in Budapest? 17 replies
nightlife help 2 replies
Budapest Hotels and Places to Stay
What is the best neighborhood and how do I pick the best hotel or apartment for me?
The local currency is the Forint, not the Euro. What is the best way to get Forints?
How do I get from the airport to the city?
Arriving at Keleti Train Station
How much money should I bring/budget?
How do I use the public transit system in Budapest? VALIDATE your ticket!
How and where to buy international train tickets from Budapest?
Should I get the Budapest Card (Budapest Kartya)? Is it a good value?
Which are the best baths? Szechenyi? Gellert? Rudas? Others? How do they work?
Are Budapest taxis as unscrupulous as the guidebooks say?
Must See/Do Attractions in Budapest
How to get a taxi in Budapest?
Should I exchange money at the aiport currency exchanage?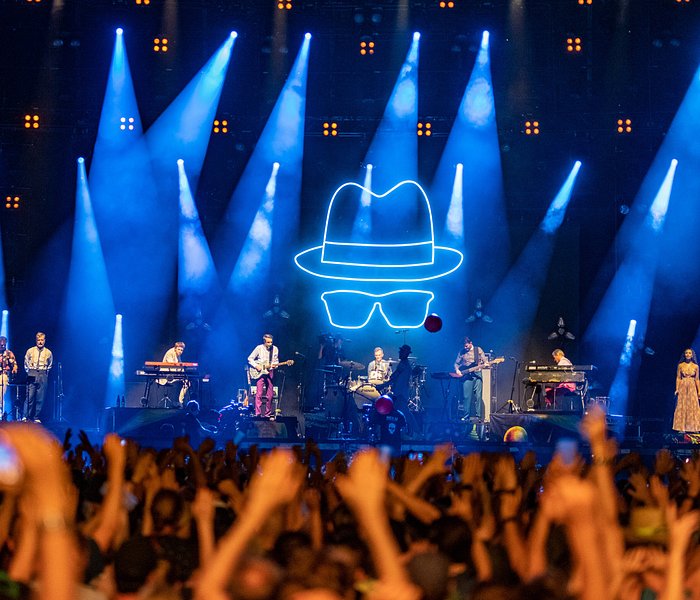 Budapest Transport Tickets
Public transport in Budapest is somewhat expensive . A single ticket is pricier than in other European cities like Madrid or Barcelona and is not very flexible.
We recommend getting a travel card if you plan to use any of the city's main transportation: the  Budapest Metro , the tram system or urban buses .
Note that a one-way ticket is only valid for an interrupted ride , so if you want to change metro lines, you should buy a "transfer ticket" before doing so.  
There are many ticket collectors in Budapest's public transport systems, especially in the metro, so make sure to buy a transport ticket before using any means of transportation. The fines can be up to 16,000 Ft ( US$ 45.10).
Single tickets or a travel card?
Unless you want to explore Budapest by foot , we recommend purchasing a 24h- travel card , 72-h pass, or a 7-day travel card , depending on how long you're in Budapest, instead of getting a single ticket each time.
These are some of the advantages of buying a travel card instead of one-journey tickets:
You won't waste time buying tickets every time you use the public transport system.
You won't have to remember to validate your ticket .
You can use any means of transportation and as many times as you need per day.
You'll avoid possible penalty fares .
Another advantage is that you can use your travel pass to get from Budapest Airport  to the city center if you buy the travel pass in one of the terminals. 
3-day travel card or the Budapest Card?
If you want to visit several of Budapest's museums and landmarks or if you're traveling with children less than 14 years old, we recommend you check out the Budapest Card. It includes free public transport and discounts for most museums, spas and monuments.
Where to buy the transport tickets?
Tickets are available either at the Airport , the various metro stations, tobacconists , news-stands, and from the transport inspectors.
You may also be interested in
Taxis in Budapest are relatively cheap and a comfortable and quick way of getting around the city. Nevertheless, you should read our useful tips and discover what the average taxi tariffs are, so you're not overcharged.
Where to Eat
Hungarian cuisine is typically seasoned with spices, especially paprika. The helpings are normally large and filling and the prices are normally cheaper than other European capitals. 
This website uses cookies to improve your browsing experience and analyze the use of the website. Learn More
Budapest City Passes
This post provides details about each tourist pass in Budapest.
We include tips on how to use them, how much money you can save, and even advice on which pass will best fit your needs.
Before You Buy
Budapest Card
Explorer Pass
Budapest Pass
Combo Packages
Things to Do in Budapest
Are Budapest Cards and Passes Worth It?
There are a few different passes you can use to save money on a variety of popular attractions and activities.
If you're planning to visit multiple locations or take more than one tour, these services are definitely worth consideration.
Here are a few of the most popular things to see and do with these tourist attraction discount passes:
Hop on Hop off Bus Tours
Danube Sightseeing Cruise
Fisherman's Bastion
St. Stephen's Basilica
Museum of Fine Arts
Kiscelli Museum
Hungarian Museum of Trade
The Ludwig Museum
Gellert Spa & Bath
Szechenyi Baths
Royal Palace
Buda Castle
Depending on which pass you choose, you should be able to save at least 20% - 50% off general admission prices for various historic landmarks, museums, points of interest, tours, and other activities.
If you're wondering how each discount pass and/or combo deal works, here are a few details you should consider before deciding which pass is best for your needs.
Do you need transportation?
It's worth noting that one pass includes a public transport ticket including airport transfer, while the other pass has simply a bus tour instead.
While a hop-on hop-off bus tour will take you to most of the notable landmarks in Budapest, public transportation could be a better option depending on where you want to go and what you want to see.
What are your plans?
Although some of these services are better for visiting museums, others focus more on taking tours of Budapest.
If you're interested in having a guide to help you learn more about the city, chances are the pass providing several tours would be your best bet.
However, visitors who want to experience Hungary's beautiful capital at their own pace and without a guide should consider an alternative instead.
How much time do you have?
While each pass is valid for up to 6 days, the best way to save money with these services is by using them for as many different activities as possible.
If you have limited time to spend in Budapest, we recommend getting a combo package instead.
Combination deals typically include at least 1 to 2 tours and at least 1 notable attraction or activity.
BUDAPEST CARD
This is the most popular tourist pass in the city, and it includes free admission to the following activities for one flat price:
Public Transport ticket
Discounts of up to 50% on other attractions & tours
The Budapest Card is valid for increments of 1 to 5 days.
So, no matter how much time you're planning to spend here, there's a version of this tourist pass that likely fits your itinerary.
In addition to the 1 to 5-day pass options, there is also a 3-day pass that includes the following extra activities and services:
Budapest Airport Transfer
Danube River Cruise
Buda Castle Funicular
Matthias Church Admission
Hungarian Dessert
This 3-Day pass costs more than all the other options, but it might be worth it if you're interested in any of the above items.
If you purchase a longer pass, you'll pay less per day than you would for a 1-2 day card, so it's actually easier to save more money when you choose the longest option.
Here are just a handful of the great museums and services included for free with this tourist pass:
Museum of Fine Arts | €9.50
The Ludwig Museum | €4.75
Hungarian National Museum | €7.75
Budapest History Museum | €7
Hungarian National Gallery | €9.50
St. Lukács Thermal Bath and Swimming Pool| €12
Cityrama Walking Tour | €10
Mai Manó House | €4.50
Budatower | €4.50
In addition, the Budapest Card includes free public transportation on trams and metro lines (a €5 - €12 value) for the duration of time that the pass is valid.
Plus you can ride the Zugliget Chairlift for free. You even get free luggage storage.
As if that weren't enough, they also offer discounts of 10% - 50% off various additional museums, tours, historic landmarks, and more, including some of the following examples:
Hop on Hop off Bus Tours | 20% off
Budapest Zoo & Botanical Garden | 25% off
Gellert Thermal Bath | 20% off
Pinball Museum of Budapest | 10% off
Szechenyi Thermal Baths | 20% off
Budapest Bike Tour | 50% off
Hard Rock Cafe | 10% off
Aquaworld | 20% off
As you can see, even if there aren't many locations included for free that you want to visit, the additional discounts might still make the pass worth consideration.
Here are the prices for each Budapest Card, as well as the price per day:
1-Day Pass: €33
Price Per Day: €24.5
Price Per Day: €21
Price Per Day: €19.25
Price Per Day: €32
Purchase the Budapest Card online or learn more .
Purchase the Budapest Card in person .
Some of the tickets included with this pass are more than €10 per person, so it's easy to see how you could rack up the savings just by using the card for 2-3 activities.
Here is an example of how you can use the 3-day pass to save some money while touring Budapest.
St. Lukács Thermal Bath | €12
3-Day Public Transport Pass | €12
CSOPA Science Center | €10.75
Ferenc Hopp Museum of Asiatic Arts | €5.25
Memento Park | €5
Pálvölgy Cave | €6.50
Total Value: €83.25
Total Cost: €56
Total Savings: €27.25 (33% off)
Needless to say, if you can manage to fit even more activities into your day, you could save even more money!
With all of the additional discounts on family-friendly activities, this could be a great deal for families.
That said, the main services included in the price of this pass are certainly museums and cultural landmarks.
In other words, if you're not planning to take advantage of the Budapest Card discounts, this service is probably best for visitors who want to experience more of the culture of this city.
Where you can purchase the Budapest Card in person
At the airport:
BKK Customer Service Centre, Liszt Ferenc Airport Terminal 2A
BKK Customer Service Centre, Liszt Ferenc Airport Terminal 2B
In the city:
Budapestinfo Tourist Information Centre at Városháza Park Hütte
BKK Customer Service Centre at Deák Ferenc tér M
At train stations:
BKK Customer Service Centre, Keleti pályaudvar M station – M4 underground
BKK Customer Service Centre, Kelenföld M station – Őrmező exit
BKK Customer Service Centre, Déli pályaudvar M station
EXPLORE BUDAPEST PASS
This tourist pass is now fairly different from its competition, as you have the option to choose between 3, 4, 6, or 8 attractions.
Another big difference is that this pass does not include free access to public transportation.
While a hop-on hop-off bus tour is available, it's not always going to be a great alternative to other forms of transport.
In addition to that, the Explorer Pass focuses primarily on a variety of different tours and includes free entry to far fewer museums and points of interest than its competitors.
Here are some of the best tours included:
Hop on Hop off Bus Tours | €22
Budapest Tuk Tuk Tour | €47
City Park Segway Tour | €32
Budapest Night Bike Tour | €25
Buda Castle District Walking Tour | €36
Jewish Heritage Tour | €30
Though the offerings may be slightly fewer, there are several interesting locations you can visit and events you can enjoy with this service, including some of the following examples:
Szechenyi Thermal Baths | €21
Gellert Thermal Spa & Bath | €22
Wine, Cheese & Charcuterie Tasting | €34
Hungarian Folk Dancing Performance | €24
Organ Concert in St. Stephen's Basilica | €20
Budapest Caving Adventure | €44
In addition to these tours and other activities, the Budapest Explorer Pass also provides extra discounts for a few other services:
Dry Martini Budapest Boat Tour | 15% off
TimeTrap Escape Rooms | 30% off
Another notable distinction is that this tourist pass is available in increments of either days or activities.
In other words, you can purchase this service either for 1 to 2 days or 4 to 6 of the included tours, attractions, and more.
While the day passes are only valid for the amount of time specified, each activity pass is valid for 3 months, giving you plenty of time to use it at your leisure.
Although you'll probably save the most with a day pass, you could also save a lot of money with the activity pass.
Here are the prices for each option and the cost per day:
Price per Attraction: €18.33/Adults | €13.66/Children
Price per Attraction: €18.75/Adults | €14/Children
Price per Attraction: €18.16/Adults | €14.83/Children
Price per Attraction: €18.63/Adults | €13.63/Children
This pass is not currently available as of April 2023.
As you can see, this tourist pass is a lot more expensive than its competitors, but that probably has something to do with the value of what is included in the pass.
After all, some of the examples we listed above are over €40 per person, so it's not difficult to see how a pass like this could save you plenty of money.
The nice thing about the activities included is that while some require a lot of physical activity (like the caving adventure), others are very relaxing (like the Wine, Cheese & Charcuterie Tasting).
To save the most possible money, make sure to use their activity passes for services with the highest ticket prices.
As you may have noticed, the prices per attraction don't necessarily decrease if you get a pass with more options.
The best deal for adults will be a 6-attraction pass (€18.16 per activity), while the lowest price for children comes from the 8-attraction pass (€13.63).
Of course, the 3 attraction pass is only a few cents more per attraction, so even if you only want to use this service for a few activities, it's still a good deal.
While there are a lot of family-friendly activities and services included with the Budapest Explore pass, many of the best things to do are aimed at adults.
If you're visiting Budapest with your family, you'll have to compare and contrast each of the activities included before making up your mind.
However, it's fair to say that this pass is definitely a safe bet for couples or visitors traveling on their own.
BUDAPEST PASS
This is more of a prepackaged pass, as it includes a few specific activities and nothing else.
Thankfully, the activities included with this no-frills pass are popular enough that you might want to consider it.
Here's what's included with the Budapest Pass:
2-Hour Danube Sightseeing Cruise w/ Drink
Grand City Tour of Budapest & Hungarian Parliament
Budapest City Audio Guide
10% off additional activities
The 10% discount is valid on any other tour, activity, or attraction that Tiqets offers in Budapest. This includes options such as the following:
St. Stephen's Basilica
Hungarian Dance Performance
Hop-on Hop-off Bus Tours
Széchenyi Spa Tickets
Great Synagogue
€62/EU Adults
€74/Non-EU Adults
€37/EU Youth (7-11)
€43/Non-EU Youth (7-11)
€23/EU Children (0-6)
€29/Non-EU Children (0-6)
Purchase the Budapest Pass or learn more .
The only problem with this type of tourist pass is that the amount you can save is very limited.
Most of the time, you'll only be saving 10% - 20% off on everything included.
That said, if you're looking for an affordable pass that covers the cost of all the activities and sites you want to enjoy, this is a quick and easy way to save at least a few euros.
COMBO PACKAGES
If you're looking for an alternative to tourist passes, this section provides details about combo deals which typically include 3 to 4 activities or attractions for one flat price.
Most of these packages are offered by hop on hop off bus tour companies, which means you can expect their tours to be the primary services included.
Big Bus Tours
While most deals this company offers aren't technically combo packages, 1-Day, 2-Day, and 3-Day tickets include additional activities you may enjoy.
1-Day (24-hour) Ticket
1 Day Hop on Hop off Bus Tour
Guided Budapest Walking Tour
€35.79/Adults | €32.21/Children
2-Day (48-hour) Ticket
2 Day Hop on Hop off Bus Tour
€40.76/Adults | €36.68/Children
3-Day (72-hour) Ticket
3 Day Hop on Hop off Bus Tour
€41.16/Adults | €45.73/Children
Purchase tickets or learn more .
City Sightseeing Tours
Much like their competition, this company also offers premium tickets which include additional activities such as cruises, night bus tours, and even a free bike tour.
1-Day Ticket
Danube Cruise
€39.77/Adults | €31.81/Children & Students
2-Day Ticket
€45.29/Adults | €36.23/Children & Students
3-Day Ticket
€50.81/Adults | €40.65/Children & Students
Thermal Bath Combo Deals
In addition to the bus tour combo tickets, there is also a company that provides packages with admission to one of the most popular Thermal Baths in Budapest.
Danube Cruise + Szechenyi Thermal Baths
€75 per person
Not currently available as of November 2022.
RELATED POSTS
Free Walking Tours of Budapest
Things To Do in Budapest By Month
Budapest Bus Tours
And much, much more
North america, united kingdom & ireland, middle east & india, asia & oceania.
Tour Account ›
Travel Forum ›
Travel Forum
How to Get a Trav...
How to Get a TravelCard, Budapest Pass or Budapest Card
I have gotten a few PM's so:
Getting a travel card is easy. You can do with the BudapestGo app or if you are like me and don't want to mess with a phone during the day a paper copy is the way to go.
If you are arriving by plane , then in the arrivals hall, look to your left and you will see the BKK office. I think it has a purple banner above.
If you are coming by train to Keleti Station (most arrivals terminate there) then go to the original arrivals hall constructed in the 1880's (where platforms 6, 7, 8 and 9 are located) walk to the front and you will see some stairs going down https://www.seat61.com/images/budapest-keleti-steps.jpg Walk down the stairs, and at the bottom on the right is the BKK office where you can purchase a pass https://c8.alamy.com/comp/2AB0K8E/information-and-tickets-ticket-office-of-bkk-budapest-kozlekedesi-kozpont-budapest-public-transport-centre-keleti-palyaudvar-budapest-hungary-2AB0K8E.jpg
There are also machines outside where you can purchase the passes, but it's a lot easier to get the help in the service center.
Buying a card in town. If for some reason you don't want to purchase the TravelCard at Keleti or the Airport, again there are machines at most metro locations and some of the tram stops, or there is a BKK service center in the Deak Fernec ter metro station.
Deak Ferenc ter is sort of Ground Zero for all of the sites of Budapest so you will be near it a lot during your stay. It's a big underground so to make finding the service center easier, set your google maps for Deák Ferenc tér 6, Budapest, 1061 Hungary. No way you can miss it: https://c8.alamy.com/comp/2M5P8D1/budapest-hungary-front-view-of-beautiful-old-building-of-anker-palace-in-the-city-center-2M5P8D1.jpg At that location you will see stairs down and the service center is on the right at the bottom of the stairs. The MILLENNIUM UNDERGROUND MUSEUM is located in the back of the service center and is sort of interesting.
There is a TravelCard which is a public transportation only card. It is fairly cheap and goes up to hourly limits Then to confuse matters they switch names to Budapest Pass for the 15 day and longer cards. There is a Budapest Card which is tourist card for public transportation and discounts on lots of other things. Its a bit expensive.
This page explains all the shorter term cards https://bkk.hu/en/tickets-and-passes/prices/travelcards-valid-for-one-or-more-days/
But to further complicate things the 15 day pass is explained here https://bkk.hu/en/tickets-and-passes/prices/monthly-passes/
Prices Buy a TravelCard or Budapest Pass and seeing Budapest will be fun and easy.
24 hour 2,500 forints ($7) 72 hour 5,500 forints ($16) 15 day 6,500 forints ($19) Month 9,500 ($27)
Rules of Use for the TravelCard See public transportation .... get on public transportation. Its really that easy. Ocassionally there will be inspectors checking passes at the metro stations. Sometimes at the entrance and sometimes at the exit. Ocassionally on the Trams will be inspectors checking passes. Some "older" gentlemen will stand up and put on an arm band and start asking to see tickets and passes. The fine is pretty high, so do carry your TravelCard.
Do take a little time to discover what is on the route of the
M1 metro 2 Tram 4/6 Tram 47/49 Tram 19/41 Tram
It sounds like a lot. But it's simple. See a Tram, get on. Go a few stops, get off, go back a few stops and get off where you started ... and now you are a Tram expert.
We've all seen the NYC metro stations and exploding and crashing subway trains in movies. Now think of the exact opposite and you've got the Budapest Metro. Get on, ride 4 stops, get off, go up to the street and explore. Its all good. The M1 looks like an airport train that connects terminals but plays Mario Brithers game music when it stops.
Thanks! I didn't know there was a BKK office at the airport. I was going to buy the ticket for the 100E bus at the airport and wait to get a transit pass in the city, but buying a pass at the airport takes care of both.
I've added "buy 15 day Transit Pass" to my airport arrival tasks. Along with getting cash.
CW after you get your bags you walk through the single sliding door to the arrivals hall and off to your left you should spot it. This might me it. The renovated a few years ago, not sure if this is before or after, but the sign above will be the same. https://www.uni-corvinus.hu/contents/uploads/2021/05/BKK-pult_repter.jpeg
Identification is required for the passes, so don't be alarmed when you have to turn over your passport.
Good catch. Only on the 15 day and longer. A US drivers license is fine. Which ever you are willing to have on you when you are wandering around town.
Ok, I wasn't going to sidetrack this with the BudapestGo app - till Christy posted (oops), but I have done all my purchases through the app and didn't provide more than my billing and address/contact info. Maybe in-person they use the passport for that. I love information. ❤️
Also adding the Millenium Underground Museum to my long list.
Texas Travelmom, did you ever get stopped for a transit check? Did they ask you to show ID then? Or do I recall that you were using single tickets that wouldn't require ID?
I plan to buy a pass for simplicity. But getting my passport out of a money belt wouldn't be simple, so good to know I can use my DL. Or maybe I'd use my passport card - it's got to make itself useful somehow!!
CW, you know I always use the app. And yes, I have been stopped a number of times for a quick glance at the dancing figure on my phone. Ha! Never asked for ID. My experience is very limited but I haven't seen anyone asked for ID yet. I remember arriving last Oct., heading to Hero's Square off the M1 my first full day, and being checked when exiting on my very first metro trip - it made me so happy! I was really there after a 4 year wait.
Edit: I haven't ever used a single ticket. Back in 2018, I used a 24 hr pass, but otherwise a 15 day or 7 day.
The ID is just for the 15 day pass and longer. Even then, I have never been asked for my ID at a stop. This is one time when a copy might suffice, or an expired DL. They just dont want people sharing passes.
Maybe with BudapestGO, since the App is tied to your phone, they are happy with that as proof.
But this is precisely the reason I did a post rather than answer a PM. You guys are better at this than I am.
I've been asked to show my pass several times, but have never needed to show identification. In fact, I've not met anyone who has been asked to produce ID. It's required to prevent sharing of passes.
Carrying personal identification when you are behind the Iron Curtain can be so dang inconvenient. Especially if you have to drop your drawers and undo a padlock to retrieve it. There is an accepted alternate to the ID. Instead carry 12.000 forints in cash. When you are asked for your ID tell the inspector no, and he will then accept the 12 000 forint fine payment, Be sure to smile and be polite, he has a rotten job.
But, you see, I would probably still have to drop my drawers and undo the padlock to get to my stash of cash. If I'm going to the trouble, I might as well pull out my ID and save my cash for a drink!
Easily 12 drinks
thank you for your thorough information, the pictures will be helpful when emerging from a train to know what to look for. Is there by chance a reliable ATM in the Keleti station as well?
CW is not going to be one of those people who walks off and forgets her purse with cards and all cash…..
I suspect thr only ATM I'm Keleti is a Euro ATM. Okay if you need some fast cash. But the fee will be about $5. Google OTP ATM if you can wait. It's a local bank with a lot of ATMs, but there are others
I seem to remember a young lady that left her purse in a Budapest Wine Bar. As suspected the staff took care of it until she returned. Trying to remember her name?
I think she told me she did the same at a Girokastra hotel restaurant once also. The staff hand-delivered it to her room….
Is there by chance a reliable ATM in the Keleti station as well?
My information is from 2018 when I used an OTP ATM (far better rates than Euronet) at Keleti station. Both are inside the station, against the front wall, to the left of the central doorway.
My photo shows a big blue Euronet ATM to the left and a gray ATM to its right with the white/green OTP logo. I recall there may have been a third ATM to the far left, but my photo doesn't show that to confirm. The OTP screen shows the choice of English, French and German.
Nah, I only do that sort of thing at home, which is why I tether myself to everything I care about when I'm traveling! Oh, except my poor little reading glasses that I left on the table in Milan. I should have had them chained around my neck!
ETA: oh, and then there was the shirt and sweater I left at the airport, before I even caught my flight. I suppose that officially still counts as "at home" though. I had to go shopping in Turkey, which is why I think this whole idea of pack-nothing-and-go-shopping could actually work!
and then there was the shirt and sweater I left at the airport, before I even caught my flight
Were you cold on the airplane?
For the ATM, it really is this easy: https://www.google.com/maps/search/atm/@47.5021936,19.0524421,13.9z/data=!4m2!2m1!6e2?authuser=0&entry=ttu
Which reminds me of sitting in an outdoor cafe one time, and watching the tourists go to an ATM.
Most of the bank ATM's are in glass vestibules. So i watched the tourists yanking on the door with no luck.
Some will see the card strip reader by the door, but not realize that any card with a magnetic strip will work and so walk away.
Others will scan a card and pull on the door to discover it doesnt open, then walk away.
The lucky ones will SCAN their card, then PUSH the door as most exterior doors in Europe open inward for some reason.
No, i wasnt mean not helping. There was a HOHO ticket cart near and the young lady that was working it would run over and help the tourists. Hungarians are generally nice people.
Were you cold on the airplane
I don't remember being cold. Maybe I was wearing 10 layers so I wouldn't have to check a bag 🤣
A peculiar add on:
For the group of 5 day pass (5000), the pass consists of 2 separate pieces:
A. A single ticket with time expiration and a bar code.
B. A block of 4 tickets with bar codes.
We (a group of 4) assumed the block of 4 bar codes would be sufficient for 4 riders. Wrong! The inspectors do not carry bar code readers so can't verify the validity of bar-coded tickets. Fortunately we were able to scrounge around and find the fifth single ticket with the printed time expiration on it.
Okay, I'm lost. What did you purchase? I am assuming one of these? https://bkk.hu/en/tickets-and-passes/prices/travelcards-valid-for-one-or-more-days/budapest-24-hour-group-travelcard.36/
And there was more to it than the 4 of you standing together and presenting the ticket during the 24 hour validity on the ticket? Never used one, so a serious question.
Yes, we purchased that fare, but the paper ticket didn't look like that, but I remember the circle with 5 figures in it. It was in 2 parts as I described. I concentrated on the bar codes. I don't have it anymore. There was a third piece of paper that was the receipt, We never saw a scan technique as described, on metro or trams.
Yes it happened as you described.
Interesting.
Also remember that many tram numbers use parts of the same tracks. The 4 and the 6 tram use the same track in Pest but go different ways in Buda. Same with the 47 and 49 trams.
Today I had an appointment in Buda. Took the 4/6 to the appointment. After, I went to the tram stop and headed home .... except I did not realize the 17 Tram shares the track and I got on without looking at the number. Ended up near Obuda instead if crossing the river to Pest. But I saw amazing architecture and interesting neighborhoods and I think I found my new barber. Getting lost is fun.
Remember - there is no getting lost in Budapest. There is only extra sightseeing. 🤣
Please do not reply to violations of our Community Guidelines .
Budapest Card: 3-Day Itinerary To Save Money + Everything You Need To Know
Budapest is the kind of city where one visit is never enough.
After my first trip to Budapest in 2015, I knew I had to go back. And finally, that dream was fulfilled.
There's a lot to see and do in Hungary's capital. And it can seem daunting trying to plan a short trip to Budapest. I've taken all guesswork out for you. Use my hours of planning and research, plus first-hand experience on the ground, to make your next trip easy and breezy.
I used the Budapest Card to streamline my trip and squeeze the most out of every minute. But in the wrong hands, the card can be a waste of money. Like most tools, it's all about how you use it.
Here's everything you need to know about the Budapest Card, including my grab-and-go 3-day itinerary.
Budapest Card benefits include:
Free unlimited public transportation within city limits (200 buses, 32 trams, 15 trolleys, 4 metro lines)
free entrance to 20+ museums and attractions
free walking tours in Pest and Buda
free thermal bath entrance ( St. Lukacs Thermal Bath )
free cave entrance
discounted luggage storage
5-90% discount on sightseeing, programs, gastronomy, travel
For the special 72-hour PLUS version, it has all the same perks as the standard card PLUS:
free door-to-door airport transfer by miniBUD
free Danube river cruise by Legenda Duna Bella
free return ride on the Buda Castle Funicular
free admission to Matthias Church (inside Buda Castle)
free Hungarian dessert ( Molnár's kürtőskalács )
The current prices as of May 2023 are:
24 hours: €33
48 hours: €49
72 hours: €63
96 hours: €77
120 hours: €92
72 hours PLUS: €96
I found the list of attractions and restaurants that support the Budapest Card a bit overwhelming at first. But don't fret… they offer a searchable directory that can be filtered by keyword, topic and discount level. This was my starting point for building out an itinerary for Budapest.
I also suggest downloading (and/or printing) the official companion guide for a handy 1-page overview. This makes it easy to build out your itinerary, and tick off these items, so you don't miss anything important.
Tip: Unlike other tourist discount cards that are timed by the day, the Budapest Card is timed by the hour from first use. If you start a 24-hour card at 4pm on Friday, it will expire at 4pm on Saturday. This gives you better value and flexibility than day-based alternatives.
Is Budapest Card Worth it?
Note: The Budapest Card price increased recently in May 2023, and it was better value before . Now you have to use it more strategically to get the most value out of it.
The answer to this question depends on how long your card is valid and how often you use it. If you just use it for 1 or 2 attractions, you won't get the most bang for your buck. But if you're willing to cram a bunch of fun activities and museums back-to-back for a few days, then you'll be sure to get your money's worth.
The secret to getting the most out of your Budapest Card is to plan your itinerary well before your visit, so you know what you want to see and can check the opening hours and transport options, saving time and stress. I don't recommend flying by the seat of your pants.
I've created a handy 3-day itinerary below based on my experiences in Budapest.
The downside: Some of the most popular attractions (like the Hungarian Parliament Building, Matthew's Church and the House of Terror) are not included in the card. It seems they try to push tourists towards lesser popular attractions, maybe in an attempt to reduce overtourism.
Which Budapest Card Should I Get?
That depends on how long your visit is. You can't really do Budapest justice in 1 or 2 days, so I recommend at least the 72-hour card (or longer). I went with the 96-hour card.
If you're staying longer than 3 days, then I suggest cramming all your card-related sightseeing in a compact 3-day window, and then keep your other days open for sights that aren't supported by the card at a slower pace (such as the Hungarian Parliament).
Where to get the Budapest Card?
You can buy your Budapest Cards at the  BudapestInfo Centers (listed below), as well as several BKK customer service centres (public transport authority).
Central Budapest: Varoshaza Park – 1052 Budapest, Karoly korut (closest metro station: Deák Ferenc tér ) Opening times: every day, 9am – 7pm
Budapest Liszt Ferenc International Airport ( BUD ) Terminal 2A – Arrivals level Opening times: every day, 8am – 10pm Budapest Liszt Ferenc International Airport ( BUD ) Terminal 2B – Arrivals level Opening times: every day, 9am – 9pm
Buy and pay online, then exchange your voucher at one of the 3 above BudapestInfo Center locations in person when you arrive in Budapest.
GetYourGuide – my favourite! If you use my link, I'll receive a small commission and no extra cost for you. Thank you!
Official Budapest tourism website – quick and easy.
Budapest Card tips
Plan your trip in advance so you know how much time you'll have at each location, transport options, and the best times to visit.
Try to book get a card with a longer duration, so you have more time to explore the city and its attractions.
If you need airport transfers, book the 72h Plus Card. You'll save a bit.
Sign your card on the back once you receive it, along with the starting date and hour (in 24-hour format) – it's not valid otherwise.
Cards can't be returned or refunded. However, if you bought one and didn't use it, you can use it later or on your next visit. Just be aware that Budapest Cards have a maximum validity of 1 year from May. So if you buy the card in August 2023, it can be used until 1 May 2024.
Museums are generally closed on Monday, so check the opening hours on each of the official museum websites.
Once you purchase your card, it's important to register it online (optional). It only takes a few minutes, and if your precious Budapest Card is lost, you can get a replacement card from the Budapest Infopoint with the same validity as the original card, topped up with all the unused benefits.
Use CityMapper to plan your transport around Budapest. Get live public transport updates and intuitive routing, all inside a free, user-friendly app. It's a lifesaver!
3-Day Sightseeing Itinerary with the Budapest Card
This itinerary mixes a range of activities and attractions to give you a broad taste of Budapest, including history, culture, food, nature and relaxation. I didn't focus on the discounted restaurants included with the Budapest Card, but opted for vegan-friendly eateries that have a solid track record for quality.
Arrive –  reach Budapest by air, train or bus in the afternoon and pick up your Budapest Card at the relevant location. If possible, head to your hotel or apartment and check-in first, so your hands are free. I recommend picking up your Budapest Card from Varoshaza Park as the staff are very knowledgeable and can help you fine-tune your itinerary and answer any questions. Remember to sign the back of the card.
5pm – Self-guided walking tour . Take a glance down the famous Fashion Street , wander through Elizabeth Square , rub the belly of The Policeman for good luck, and finish by heading west towards St. Stephen's Basilica, which houses the country's most sacred relic, the mummified right hand of the first king of Hungary.
Or if food is what tickles your pickle, then wander over to Molnár's kürtőskalács , and try the famous kürtőskalács (Székely festival spit cake, or "chimney cake"), a hollow bread-based dessert. Use your Budapest Card for a 20% discount (or free dessert with 72-hour PLUS card).
7pm – Dinner at Tahina Bite Vegan Food . Mouth-watering Middle Eastern classics like hummus, tabbouleh and falafel. 95% of the menu is gluten-free, and all dishes are free from processed sugar and soy.
8:30pm  – Rest up afterwards because the next 3 days will be go, go, go!
10am – Zugliget Chairlift (Libegő) to Erzsébet (Elizabeth) Lookout Tower .Gently soarup the side of János Hill to the top station , over a period of 15 minutes, enjoying panoramic vistas of Budapest along the way. From the top station, it's about a 10-minute walk north up a steep road to Elizabeth Tower. Entry to the tower is free.
The chairlift base station can be reached by bus 291 (final station). This chairlift is operated by the public transport provider, BKK , so the entry ticket is included with the Budapest Card.
1pm – Lunch at Szabad Bisztró . Amazing vegan food, with lunch specials that rotate every day of the week. They are the first plant-based gastropub of Budapest, with artisan beers, ciders and soft drinks plus burgers, pasta, salads and a few Hungarian specialities.
2:30pm  –  Kunsthalle (Műcsarnok) . This is an awe-inspiring testament to the city's artistic legacy, housing a diverse collection of contemporary and modern masterpieces that captivate visitors. Entry with card is free.
3:30pm – Museum of Fine Arts . A vast gallery that includes works from antiquity to the late 18 th century, from ancient Egyptian artefacts to masterpieces by Raphael. Entry with card is free.
5pm – Heroes' Square . An iconic tribute to the nation's storied history, adorned by towering statues and flanked by magnificent colonnades. Free access.
5:15pm – Rest , under a shady tree in the nearby park .
6:30pm – Dinner at Yes It's Vegan 2 . Their plant-based interpretations of traditional Hungarian cuisine have earned rave reviews from satisfied customers. This is the place for vegans to try goulash.
8pm – Drinks . Have a few drinks at one of the many famous ruin bars, like Instant-Fogas Complex, which is only a 6-minute walk away.
9am – Central Market Hall . An integral part of the city since its inauguration in 1897, serving as a hub for trading, social gatherings, and the celebration of Hungarian traditions. Stroll through the fragrant halls, and try free taste tests. Free access.
10am - Hungarian National Museum . Founded in 1802, the museum holds a revered position as the country's premier historical institution, showcasing an extensive collection of artifacts, artworks, and documents, each intricately woven into the tapestry of Hungary's past, preserving and presenting the nation's rich history and cultural legacy. Entry with card is free.
12pm – Lunch at Las Vegan's . Eat quick at Hungary's first vegan food truck hamburger restaurant, because there's a lot to cram in this afternoon. Or if you're a meat-eater and want a taste of traditional Hungarian goulash, you can't go past the quirky For Sale Pub (a pot of goulash is 1 litre!).
12:45pm  –  Budapest Castle Bus ( website ). This oversized electric golf cart drives around Buda castle complex, stopping at 4 convenient locations, and departing every 10 minutes. Ride with card is free.
1pm  –  Church of Saint Mary Magdalene . Exit bus at stop 2 (behind the church). This 600-year-old lookout tower offers panoramic views of the whole city. If you're feeling fit, climb to the top of the tower. But be aware, the winding staircase can be very narrow at some points, so this is not for the faint of heart or claustrophobic. Entry with card is free.
1:30pm  –  Mediaeval Jewish Prayer House . A small collection of exhibits and images from the 16 th and 17 th centuries which reflect life within the Jewish quarter of the Buda Castle during the Middle Ages Entry with card is free.
1:45pm  –  Classic Buda Walking Tour (meeting at Holy Trinity Statue in front of Matthias Church). This tour covered a fair amount of the Buda Castle complex, but only the exteriors. I found the information provided by the guide was a little inaccurate at times, so best to fact-check anything that sounds unusual. Tour with card is free.
4pm – Castle Museum . Located in a wing of the former Royal Palace, visitors can tour the halls to discover the museum's unique treasures and exhibitions and gain insight into Budapest's rich history. The museum is only open until 6pm, so you'll need to go double speed to see everything! Entry with card is free.
6:45pm – Dinner at Édeni Vegán , and rest. Catch the tram north to Batthyány tér M+H station . This cute vegan restaurant is located a stone's-throw away from the tram stop, so you don't have to walk too far. Put your feet up after the thousands of steps you've already done today.
8:15pm – Now you're just a couple minutes' walk to the west bank of the Danube river . Opposite the Hungarian Parliament building, watch the beautiful lights come on. It's magical… and free! Or if you've got the Budapest 72 hour PLUS card, use your free evening Danube River cruise with Legenda City Cruises . Check their website for the latest timetable based on the season (they depart from the east bank). Free access.
10am – Thermal bath of your choosing. Go with the St. Lukács thermal bath for free entry with the Bupdest Card, or use the 20% discount on one of the more famous larger baths like Széchenyi Bath (although it's a little further out of the way). Remember to bring your own towel and swimwear. Entry with card is free (St. Lukács thermal bath).
1pm – Lunch at The Planteen . Located around the corner from the next stop, this is the first vegan canteen in Hungary, and features daily specials. 
2pm – Aquincum Museum . More detail… Nestled amidst the ancient ruins of Aquincum, this museum provides a captivating window into the Roman past, preserving and showcasing the remnants of this once-vibrant provincial capital. 
3:30pm – Chill out on Margitsziget (Margaret Island) and ride a rental bike. Find out how the MOL Bubi bike system works . And check the location of bike stations and live availability here . As you bike around, look out for a shady, grassy spot and take a rest, soaking up the warm breeze and peaceful vibes. If you're looking for a selfie spot, check out this big "Budapest" sign . Later return your bike to this location , which is just around the corner from dinner.
7:30pm – Dinner at Tökmag Vegan Street Food . Eye-catching dishes that are health conscious too. What more could you ask for? Tip: try the nachos burger. 
8:45pm – Budapest pub crawl . Go out with a bang on your last night. Hang out with a fun group of party people, and explore Budapest's famous ruin bars, guided by a friendly nightlife expert. Tip: the meeting place is in front of Burger King Oktogon .
If you enjoyed this article, you might also like...
How to Plan a Trip to Europe in 2023
Southern Europe Road Trip: 18 Days Across Italy, France & Spain
First Time Visiting Paris: 13 Best Things To See + Food, Tours & Neighbourhoods
More posts from Hungary
8 Things To Do With Kids In Budapest, Hungary
You will discover something interesting around every corner in beautiful Budapest, from castles to baths to parks and attractions. But if you're like me and like working with…
Visiting Budapest, Hungary: Accommodation, Transport, Food & Attractions
Did you realise Budapest is actually two cities on the opposite banks of the Danube River? Buda on the west and Pest on the east. Budapest had been on my bucket list for a long,…
3 Cities In One Day: Budapest, Bratislava And London
Follow Erin as she travelled solo from Budapest, Hungary to London, UK via Bratislava in Slovakia in 1 day. And finally the confrontation in Luton Airport that resulted in a sad…
Every Family Hotel Needs A Laundry Room Like Mamaison
It's not very often you stay in a lavish hotel in the middle of a bustling, historic city that let's you wash your clothes for free. And that's why Mamaison Residence Izabella…
Write Your Comment
Please DO NOT include links, URLs or HTML in your comments - they will be automated deleted and you will waste your time.
HOT: My top 48 photos of 2022 .
My name is Josh and I'm an Aussie who has been travelling the world non-stop for 11 years , and explored 70+ countries so far. I'll help make your next vacation awesome with first-hand guides and essential travel tips.
(click my smiling face to find out more)
Latest Post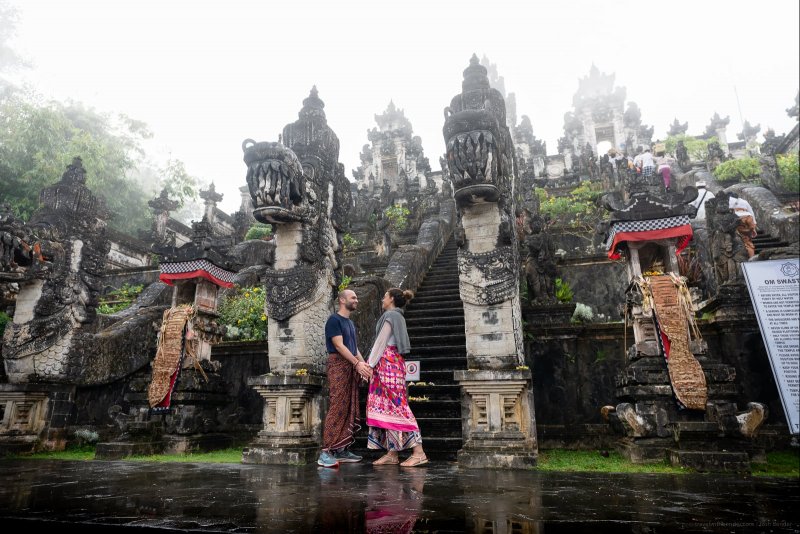 17 Things To Do In Bali For Couples
Bali is a haven for couples of all ages. I recently returned to Bali for my 20th visit, and I was inspired to explore parts of the island I had not seen before, as well as revisit…
Travel Hacks
Tools For Digital Nomads: Freshsales
Ever feel like you're knee-deep in the sales swamp, drowning in spreadsheets, and doing the CRM cha-cha until your head spins? Freshsales is your digital sales assistant, your…
Budapestbylocals.com
Budapest public transport, how to travel in the city.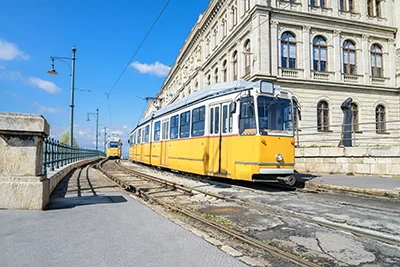 Use public transport services to travel in Budapest, especially if you stay in one of the outer districts.
Although attractions in the central districts (V., VI., parts of I., II., VII. and VIII.) are easy to explore on foot you might want to rest your legs after a while and hop on a metro/tram/bus.
Table of Contents – Budapest Public Transport
Best public transport lines for tourists.
You will easily get to any sight and attraction by travelling on one of the four metro lines or the major tram lines (No. 4, 6 and 2).
TIP: In case it's cold or a summer shower catches you, take one of the four metro lines (M1 , M2, M3 and M4), or trams No. 2, 4 or 6 !
Trams 47 and 49 are also useful especially if you want to get from Pest to Buda or vica versa.
Tram 19 is great for sightseeing in Buda , it connects Kelenföld Train Station with Óbuda (the Northern part of Buda). It travels along the Danube between Liberty Bridge and Margaret Bridge offering a scenic view of the river and some famous attractions in Pest.
See more on travelling buy tram in Budapest!
These transport services will take you to most of the places of interest.
The bus and trolley bus service are quite extensive too.
There's also a scheduled boat service on the Danube from spring till autumn.
Below you find information on Budapest public transport: types of tickets and passes, buying, and validating them.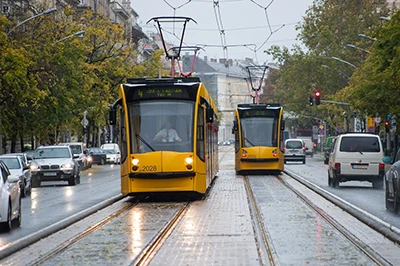 Christmas Light Tram
TIP: Take a ride on one of the 12 Christmas tram lines operating between 04. December 2023 – 06. January 2024. , on select days after 17.00
Tickets, Travel Cards, Prices and Fines
Budapest has a fairly extensive and efficient public transport system. It is also cheaper than in most Western European cities.
A wide variety of trams, buses, trolleys and metro trains run in the city.
Night service is quite reliable, too.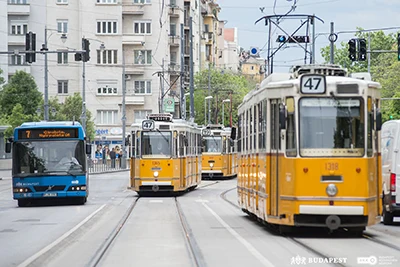 Be prepared for typical rush hours : vehicles are crowded and traffic can be rather slow. This would be expected in any large city.
Children's Fares, Student Passes, Family Discounts
Children living in Hungary up to the age of 14 travel free of charge. A valid Hungarian identity card is required for them to verify age if a controller asks for tickets and passes.
Pupils, university students can buy discount monthly/yearly passes with a valid student ID card.
No student discount on single tickets though.
TIP: For families visiting Budapest with kids we recoomend getting the 24-hour group travel card. 5 people can travel with it for p to 24 hours and it cots 5 000 HUF.
Free Travel on Public Transport with Budapest Card
TIP: If you don't want to bother with buying and validating tickets, purchase a City Card.
Besides unlimited free travel on public transport, the card offers a range of discounts on tours/services, free entry to the permanent exhibitions of many museums, entry to the Lukács Bath etc.
Buy Budapest Card: Public Transport, 30+ Top Attractions & Tours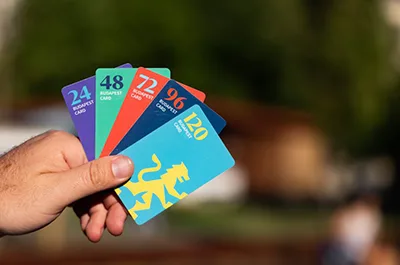 24-Hour Card: 29 EUR
48-Hour Card: 43 EUR
72-Hour Card: 56 EUR
72-Hour Plus Card: 87 EUR
96-Hour Card: 69 EUR
120-Hour Card: 82 EUR
Read more about the Budapest Card and whether it's worth getting it!
Public Transport Tickets and Passes
(Prices Updated For 2023)
Note: The price of a single ticket and discounted pack of 10 tickets has gone up as of September 01, 2023: A single ticket costs 450 HUF , pack of 10 single tickets costs 4 000 HUF. Price of travel cards, monthly passes hasn't changed.
TIP: If you visit the Hungarian capital for 2-3 days and you stay in a city center hotel , we recommend that you use:
Single tickets or the
Discounted block of 10 tickets to make travelling on public transport lines hassle-free.
Free Travel For Seniors 65 + – EU Citizens Only
TIP: Citizens of the European Union countries and Switzerland aged 65 and up can use all public transport lines for free in Budapest.
They have to show a valid ID to verify age and nationality if asked by a ticket inspector).
The current tickets and passes are of pale purple colour.
Tickets, Transfer Tickets
Single ticket (vonaljegy or just jegy) 450 HUF, (600 HUF if purchased from the driver on board the vehicle): valid on all public transport vehicles for one uninterrupted trip. If you
Block of 10 single tickets (tíz darabos gyűjtőjegy: 4 000 HUF). Costs less than 10 single tickets purchased individually.

Time-Based Tickets: Save Money
Use time-based tickets if you need to transfer between metro lines and also other lines (trams, buses, trolley).
You save money with it since you don't need to use a 450-HUF single ticket every time you need to change public transport lines.
Moreover, you can finish your trip beyond the 30th or 90th minute until you reach your destination within Budapest.
Please remember to validate your time-based ticket before the start of your travel and each time you switch to another travel line.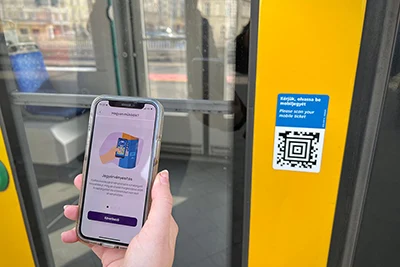 You can use time-based tickets for an unlimited number of transfers and trip interruptions, by validating it each time you board making sure that your last transfer falls within the 30-minute or 90-minute time limit.
There Are Two Time-Based Tickets:
30-minute ticket: 530 HUF
90-minute ticket: 750 HUF
Important! Please scan the code each time when you board a vehicle to validate your ticket. When transferring between metrolines, you are not required to revalidate your ticket.
Note: If you carry a bike with you (permitted only on a few vehicle types) you have to validate a single ticket for it.
Travel Cards
24-hour travel card.
Price: : 2 500 HUF – Please note that is not the same as the 24-hour Budapest Card
Valid on all public transport vehicles except for the boat service on the Danube.
For an unlimited number of trips from 0:00 to 24:00 of the day indicated on the ticket (you decide on the starting time).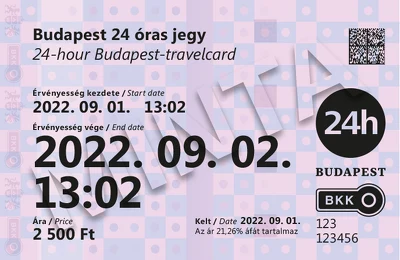 24-Hour Group Travel Card, For Max. 5 Persons
Price: 5 000 HUF – Recommended also for families
Valid on all public transport vehicles – except for the boat service.
72-Hour Travel Card
Price: 5 500 HUF) – not the same as the 72-hour Budapest Card
Valid on all public transport vehicles – except for the boat service- for an unlimited number of trips for 72 hours starting from the time and date you purchased it.
Public Boat Service Tickets
Unfortunatley Public Boat services ceased to run as of 2023 due to high maintenance expenses.
Where To Buy Tickets And Passes?
You have two options, choose the one that you're more comfortable with:
BudapestGO App or Paper Tickets/Tarvel Cards
Go the traditional way and buy and use paper tickets and travel cards (24-hour or 72-hour, or if you are comfortable with using apps
Download the BudapestGO public transport application to buy single tickets, time based tickets (for 30-minute or 90-minute duration) and 24/72-hour travel cards. The app is also a great help in planning your route providing real-time travel information as well as route and service recommendations including the BuBi public bike rental points.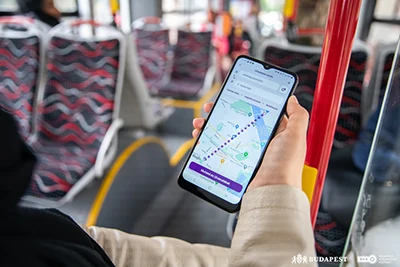 You can buy paper tickets and travel cards from the ticket vending machines with bankcard (or cash) . You The purple colored ticket automats are placed at main public transport stations (metro entrance), as well as at the airport.
The airport also has BKK Customer Sales Points where you can get your ticket/travel card from a real person.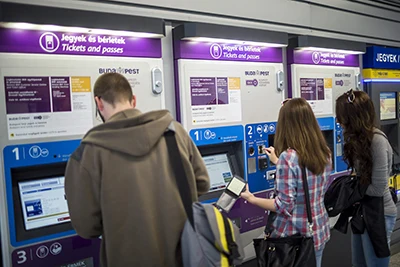 If you don't have or don't want to use the BudapestGO App you have to buy your tickets/pass in advance.
You can get them from ticket vending machines (TVM) or at many newspaper kiosks.
Around 300 new ticket vending machines have been placed throughout the city where you can get tickets and passes 24/7 by paying with cash or bank card.
I often use them and found them are quite reliable .
Most ticket offices have closed down though. You will find Ticket Offices (Jegypénztár) in some metro stations near the entrance:
Corvin negyed M3/blue line,
Népliget M3/blue line,
Nyugati tér M3/blue line,
Blaha Lujza tér M2/red line,
Széll Kálmán tér M2/red line.
Most cashiers speak only Hungarian so it's best to go to the cashier with a piece of paper on which you've written down in Hungarian what type of ticket you want to buy.
TIP: Here is a map of the Public Transport Company showing all the operating ticket sellers .
How To Use The Ticket Vending Machines (TVMs)?
Using the machines is pretty straightforward, just read the instructions displayed on the monitor.
First choose language by touching the appropriate flag symbol on the bottom of the screen on the right hand side of the TVM.
A list of the most popular ticket types and passes will appear
Single ticket-350 HUF,
Block of 10 tickets – 3000 HUF,
24-hour travel card,
24-hour group travel card,
Various monthly passes.
I only give you the steps on buying tickets/travel card because these are the ones most suited to tourists visiting Budapest for a couple of days.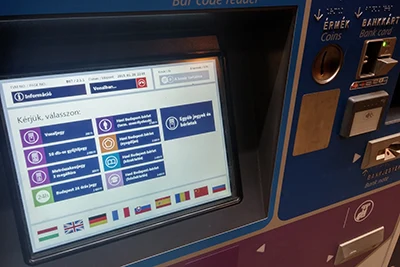 Buying Ticket/Travel Card From The TVM:
Select the ticket/travel card you want to buy.
Decide whether you want the machine to print an invoice , if not then press payment without VAT invoice.
Choose payment method: you can pay by cash, bank card (PayPass/contactless cards). I prefer using bank card, and recommend this payment method for tourists as well.
Paying By Bank Card/Contactless Card – Recommended For Tourists
The simplest and fastest way is to pay with a bankcard/contactless card .
Just follow the steps shown on the card terminal screen. After payment collect the purchased ticket or travel card.
Paying By Cash:
The machine accepts all current Hungarian coins from 5 HUF to 200 HUF.
You can use banknotes too: 500 HUF, 1 000 HUF, 2 000 HUF, 5 000 HUF, 10 000 HUF, 20 000 HUF. Based on the total value of the purchase the TVM defines the banknotes to be accepted.
If the purchase is of a small amount (e.g. a 350 HUF single ticket) 2000 HUF or smaller notes are accepted. In case of a bigger purchase larger notes can also be used.
The machine accepts 35 coins and 15 banknotes per transaction. It gives back changes in coins and notes.
Make sure you don't leave your bank card or other belongings at the machine.
You can also view an instructional video on how to buy monthly passes and use the vending machines on the transport company's (BKK) website.
How To Validate Tickets?
You must validate your ticket at the start of your journey.
Metro Stations
In case of metro tickets you have to put the ticket in the ticket validation machine (orange coloured box on a metal pole) that'll stamp a time and date on the ticket.
A short musical tone and the tiny green light confirm that the ticket has been validated.
Once you validated the metro ticket you head for the escalator that'll take you to the metro platform where you wait for the metro car.
At the top of the escalator ticket inspectors will most likely stop you to check whether you've validated your ticket.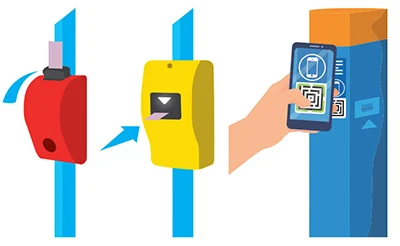 Other Vehicles
On other vehicles (trams, buses, trolley) there' s
Either the orange or yellow box similar to the ones in metro stations, or
A smaller red box in which you insert the ticket then pull the black part on the top towards you to punch the ticket (a pattern of holes appear on the validated ticket).
Note: The slot on some ticket validation machines is clogged with chewing gum or paper (deliberately done by prank makers) so you won't be able to insert the ticket. Try another machine on the vehicle to validate your ticket.[
Inspectors check passengers' tickets throughout the day.
An inspector usually wears dark blue uniform and a blue with a red armband. Nowadays, however they are in plain clothes (but still must put on the armband when checking tickets) in order to disguise themselves.
To avoid problems , buy the type of ticket or pass that are most suitable for your visit and your budget, and remember to validate it. Keep your ticket until the end of your journey.
Fines are high (if caught travelling without a valid ticket or pass you'll be fined to pay 16.000 HUF, 8.000 HUF if you pay it on the spot or within 2 days of being fined)
It's not worth ruining your stay with constant watching out for the inspectors. If you forgot to buy a ticket or validate it, and you're fined the ticket inspector must give you a receipt about the payment.
Fines For Travelling Without A Valid Ticket/Pass
If you're caught without a valid ticket by a ticket inspector , you are to pay a fine which is currently 12 000 HUF paid on the spot or in BKK's Surcharge Office within 2 work days from the date of the fining.
Note: The inspector must give you a receipt of the payment when you pay on the spot.
If you don' pay the fine on the spot or within 2 work days, but settle the amount within 30 days the penalty fare is 25 000 HUF .
If you don't pay the fine on the spot, the ticket inspector initiates a fining procedure (ensuring the opportunity of deferred payment).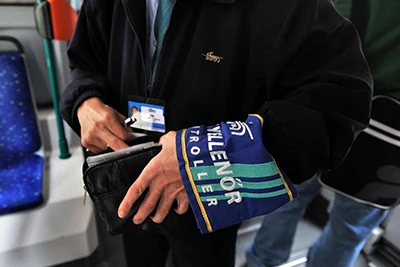 In this case he/she is entitled to ask the required personal data (name, mother's name, date and place of birth) and also the address of the passenger. On the basis of these data, the ticket inspector fills in a so-called "Surcharging procedure report".
If the passenger refuses to give his/her personal data, the ticket inspector can ask for police assistance on the spot.
The ticket inspector gives a cheque about the amount of the fine and a leaflet about the opportunities of payment.
The passenger shall sign that he/she accepts the surcharging and confirms that he/she has given the required personal data. The denial of signature doesn't acquit the passenger of the consequences of the fining.
You'll find the most up-to-date information about tickets, prices and penalty fines on the Public Transport Company's website (BKK).
Getting around in Budapest
Image  by  SofieLayla Thal  from  Pixabay
How do I travel the simplest and cheapest way in Budapest?
If you wish to use the Budapest public transport system, you need to have a valid transportation pass or ticket.
Daily or weekly travel cards and bi-weekly or monthly passes can be purchased online in the BudapestGO mobile app, BKK Customer Service Points or from ticket vending machines around the city.
If you regularly travel by public transport, the best arrangement for you is to buy a weekly travelcard or a bi-weekly or monthly travel pass (see detailed information about tickets and passes here ). While it is easy to get lost in the various ticket types, we recommend you purchasing single ticket until you get to buy the pass that is most suitable for you. One single ticket is valid for one uninterrupted journey of up to 60 minutes, whereas a travel card/pass is good for unlimited travel in Budapest.
Travel passes and cards are personalized and non-transferable. You will need to also hold a document with you (driving license, passport, personal ID, etc) that has a photo of you and is suitable to identify you upon request of a ticket inspector.
How to buy tickets/travel pass?
Budapestgo mobile app.
The most convenient way to buy your tickets/passes is with your mobile phone. Download the " BudapestGO " app for Android or iOS from https://bkk.hu/en/tickets-and-passes/budapestgo/  (scroll down on the page). Once you downloaded the app you need to register a user profile there. Important: You need to allow the app to access your camera and the photo gallery of your phone. Registering a user profile in the BudapestGO app:
After successfully registering a user profile, you can purchase your Budapest transportation pass, even in advance. To purchase a pass you will have to enter the number of the document with a photo of you (passport, ID card, driver's license, etc.) that you are going to carry with you while you are in Budapest. After this, you can purchase the ticket/pass with your credit/debit card. If you wish, you can save your card details in the app during the first payment process. If you buy your ticket/pass with your mobile phone, it will be your responsibility to have your mobile device with you charged , so upon request, you have to be able to present your valid electronic ticket/pass any time you use the vehicles of Budapest Transportation Company. You can purchase a pass in advance, with its validity starting later, or you can also purchase one that's validity starts 'today' – in this case after the payment you need to wait 2-3 minutes until the pass becomes valid and usable. See below the process of purchasing one-week pass in the app:
After you purchased your pass you can put it on your main phone screen as a widget, so you do not have to start the BudapestGO app every time a controller wants to check your ticket. See the screenshots about how to put your pass on the main screen of your phone:
From ticket vending machines
Ticket vending machines have been installed all around Budapest, as well as at  Liszt Ferenc International Airport, Budapest . There is a ticket vending machine in front of the Residence Center. When you come out of the building at the main entrance, cross the road at the traffic lights (you need to cross the rails of the local train as well), and find the machine on the left-hand side.
All types of tickets and passes are purchasable at these TVMs. They accept and return Hungarian coins and banknotes and also accept credit/debit cards. User-friendly instructions in English and other languages are available.  For more information on how to use the machines please visit the Ticket Vending Machine page of the Budapest Transportation Company .
At BKK Customer Service Points
There are BKK Customer Service Points at the main railway stations, metro stations, and at Liszt Ferenc International Airport . You can purchase your tickets/pass in person, using cash (HUF only) or debit/credit card, and can also get information about Budapest transportation-related questions. Click here to search for BKK Offices in Budapest .
What types of passes do we recommend? 
Budapest 7-day travel card – 4.950 HUF 
15-day Budapest Pass – 6.300 HUF 
Monthly Budapest Pass (Natural Persons) – 9.500 HUF 
Monthly Budapest Pass for Students – 3.450 HUF
Am I eligible for a student pass? 
Those who hold a student card of a higher education institution in an EU member state or in Iceland, Liechtenstein, Norway, or Switzerland, are eligible to buy a monthly Budapest pass for students at a reduced price of 3,450 HUF. When ticket inspectors check passes, student cards or International Student Identification Cards (ISIC) should be presented. Remember to enter your student card number when you purchase the pass coupon from the vending machine.
Validation of tickets and passes
Paper tickets/passes.
If you use printed (paper version) single tickets, they must be validated by ticket punchers/stampers in buses and trams or before entering any metro stations. The validated tickets must be kept until the end of the trip and handed over to a ticket inspector upon request.
Unlike single tickets, travel passes and cards do not need to be validated for each trip: these are valid for the indicated period on the pass. Ticket inspectors are authorized to check the validity of your ticket or pass any time during and after your trip. Passengers without a valid ticket or pass are to pay a heavy fine - 8.000,- HUF (approx. 27 euros) on the spot.
Digital tickets/passes (via mobile app)
Validity of tickets/passes purchased in mobile app starts 2 minutes after the purchase. It is your responsibility to keep your mobile phone with you and make sure its battery is charged enough to present your online ticket/pass upon the request of the ticket inspectors.
Depending on the vehicle you ride you can use your purchased online tickets/pass the following ways.
Metro/Underground
If there are ticket inspectors present, just start your app and select your current metro station from the list. Once you selected it, an animation will start on the screen which you have to show to the inspector.
Vehicles with front-door boarding
When boarding a vehicle where only front-door boarding is allowed (it is usually a bus), you need to start your app and scan the QR code on the left side (outside) of the door. Upon a successful scanning, an animation will appear on your screen which you need to show to the driver of the vehicle. If it is too dark outside for the scanning (e.g. nighttime), you can also find the same QR code stepping inside the vehicle, on the window of the driver's cab.
 Free-boarding vehicles
On vehicles where there is no preliminary ticket inspection for boarding, you have no special task to do while boarding. Ticket inspectors however may board the vehicle any time and check the tickets/passes. In such case you need to start your app, click on the ' Details ' link under the ' Scan code for ride ' button, and show the QR code to the inspectors. They will scan it with their inspection device to check the validity of your ticket.
Route planner 
If you are not familiar with Budapest, we recommend using the Google Maps service for planning your route within Budapest (or the entire country).
Alternative means of transportation
MOL BuBi webpage  - bike sharing
MOL LiMo webpage - car sharing
GreenGo webpage - e-carsharing
Lime webpage - electric scooters and bikes
Night services
BKK operates various night services. Check the Timetables for Night Services of the Budapest Transportation Company. 
Night buses and trams that stop at Kerepesi Residence and Conference Center
CEU Residence Center: #908 or #931 buses. Get off at "Egyenes Utcai Lakótelep" stop.