Big Bus Tours Review: Should You Just Hop On, Hop Off?
There's so much fuss about Big Bus Tours, but are they even worth the hype? That's what I want you to know. This article will look at the locations they cover, their bus network, and how affordable they are. Time to discover what Big Bus Tours is all about!
Related Videos
Maheen is a freelance digital marketer with a passion for travel, fashion and music. Living the digital nomad life, she believes in living life to the fullest, being present in the moment and making lots of memories. Her travel pieces talk about more than just the destination's biggest tourist travels, because she seeks thrill, adventure, affordable luxury, heritage and diverse cultures wherever she goes. She describes herself as a daydreamer who is trying to achieve big things in life!
You know one of the fun parts about traveling? Discovering! You get to try out new cuisines, explore the local markets, and gasp at all the city's wonders. I love sightseeing and touring different cities. I find the best way to do this is by road. 
But there's a part of sightseeing I don't anticipate as much. Yup, The planning. You know... where to go, the most direct route to follow, how much time to spend at each stop, and so on. 
But how do you get around once you get to your destination? Trains or buses, right? Bus services like  Busbud  and  Megabus  usually come in handy to explore cities. 
In this article, I'll be reviewing Big Bus Tours, which claims to offer exceptional guided tours with insider access to the world's top destinations. Still skeptical? That's why I'm here to help share the important details so that you can make an informed decision! 
What is Big Bus Tours?
Big Bus Tours  is a world-renowned bus touring company. It offers a unique and memorable travel experience for globe-trotters seeking adventure and passion. 
Big bus tours place a lot of emphasis on impeccable service, comfort, convenience, and insider access. Passengers are taken on guided tours of the world's most fascinating destinations. 
Big Bus Tours has a fascinating origin story. The company started in 2011 after 2 sightseeing businesses. One was the Big Bus Company Ltd (London-based), and the second was Les Cars Rouges (Paris-based). 
These businesses merged with their 20+ years of experience to create a modern bus tour brand. 
Starting with just 3 buses, Big Bus Tours, a family-run company, has hundreds of buses in its fleet that help 4 million tourists explore the world every year.
So now, whether you're interested in exploring bustling cities, natural wonders, or historical landmarks, Big Bus Tours has something for everyone!
How Does Big Bus Tours Work?
Big Bus Tours operates a fleet of modern and luxurious open-top coaches equipped with the latest amenities to ensure a comfortable journey. 
All you need to do is choose a package, book your ticket online or at their bus stops, and hop on! Knowledgeable and friendly guides lead each tour. You get brief insights into the city's history, culture, and significant landmarks. 
The company's flexible itineraries and hop-on, hop-off policy allows passengers to customize their experience and explore at their own pace. 
Which Cities Have Big Bus Tours? 
Big Bus Tours operates globally. You can find them in:
Europe: London,  Vienna , Paris, Budapest, Rome, Istanbul, Dublin, Berlin, Munich
America:  New York , Chicago, LA, Miami, Philadelphia, San Francisco, Washington DC, Las Vegas
Asia-Pacific: Sydney,  Hong Kong , Darwin, Singapore
Middle-East:  Dubai , Abu Dhabi, Muscat
You can avail this service in some of the world's most iconic cities and locations. The only question is, where to, first? 
Does Big Bus Tours Go Both Ways? 
Yes, it goes both ways. Big Bus Tours has this exciting hop-on, hop-off policy that allows you to explore the city without sticking to guided tours.
Like, in New York, you can hop on at any of the Big Bus  stops  if you wish to see all the exciting landmarks of New York. You can hop off any time if you want to explore more on foot. 
Similarly, you'll find that Big Bus Tours Chicago, Big Bus Tours London, and Big Bus Tours Las Vegas are also very flexible and popular among tourists and sightseers. 
How Much Does a Big Bus Tour Cost? 
Big Bus has a variety of packages for different destinations, and price varies based on the city, route, and stops. Still, they're much more affordable than any private transport. 
How to Book a Big Bus Tours Ticket 
Booking a ticket with Big Bus Tours is a simple process. You can book your ticket online through its official website or a third-party website. Here is a step-by-step guide to help you book your ticket:
Visit the official  Big Bus Tours website  or an authentic third-party website.
Select the city you want to tour and the package that best suits your needs.
Choose the date and time you want to start your tour.
Enter the number of tickets you need and the names of the passengers.
Review your booking details and make sure everything is correct.
Choose your payment method and enter your payment details.
Review your payment details and confirm the booking.
You'll receive a confirmation email with all the details of your booking.
Depending on your travel plans and budget, you can choose between Classic, Premium, Deluxe, and Night Tour Tickets.
It's vital to book your ticket in advance to ensure it's available, especially during peak seasons. You can also save yourself some money and a lot of hassle by booking your ticket online instead of purchasing it on the day of the tour. 
When you arrive for your tour, present your confirmation email on your phone or a hard copy of your booking details to board the bus. 
Can You Buy A Hop On Hop Off Ticket At The Bus? 
You can get your ticket through the on-street Big Bus Tours staff members or on-spot when you board the bus. They accept cards and cash!
What I Don't Love About Big Bus Tours 
As popular as it is, the Big Bus Tour can get pretty crowded, which can be a bummer if your vacation is all about relaxing. The noise, hustle, and bustle tend to build up during peak tourist season. 
Also, if you're in London, it does tend to rain quite often. Despite using umbrellas and free ponchos, the top level of the bus gets wet and uncomfortable. Most people then move to the lower levels. As you can imagine, it gets jam-packed, and you can hardly see anything outside. 
Big Bus Tours: Feature Highlights!
Big Bus Tours offers a variety of features to enhance the sightseeing experience for its customers:
Open-Top Double-Decker Buses 
Big Bus Tours are open-top double-decker buses. You get to soak in the fascinating views of the city and take in every unique aroma. Did I mention the top deck provides the best photo opportunities? 
‍ Audio Commentary 
Big Bus Tours provides audio commentary in multiple languages, allowing for a comprehensive understanding of the city's landmarks, history, and culture.
Hop-On, Hop-Off Service 
The hop-on, hop-off service allows you to get on and get off to explore! You can get off the bus at any designated stop, allowing you to discover the city at your own pace. 
Multiple Tour Routes 
Big Bus Tours offers multiple tour routes in each city, covering all the major sights and attractions. 
Mobile Tickets 
Big Bus Tours offers mobile tickets. Everything can easily be booked and accessed on your phone.
Is the Big Bus Tours Worth it?
It's safe to conclude that, yes, the Big Bus Tours is the ultimate city introduction tour. 
There are a lot of positives to it. You get the guidance and convenience of a group trip and the flexibility and privacy of a private trip, all in one package! Buses depart frequently, and you can witness all the city's major attractions.
Still, they've been a few negative reviews in cities like  London  and  New York . Complaints of routes not matching maps or drivers giving incorrect information. Another major con is overcrowding! 
There's also the fact that Big Bus Tours doesn't have a customer service line. Its telephone lines are unavailable, a major turn-off in most services. You can only get in touch via Live Chat, downloading the Big Bus Tours app, or using the  enquiry form  on the site to send your query.
Our Rating: 4.0/5
Convenience
Guided tours & comprehensive commentary
Multiple budget-plans
Multiple tour routes
Mobile tickets
Hop-on, hop-off flexibility
Plentiful circuit times
Crowded buses during peak season
Limited time at each stop
Bus schedule dependency
Time to See the City!
Big Bus Tours offers a practical yet fun way to see many different cities. You can create your personalized city itinerary with its hop-on, hop-off service. You could enjoy a guided tour of all the city's hot tourist spots, which is much more affordable and convenient than private tours. 
Before you book your ticket, you should think about planning your trip with Pilot. 
Disclosure : Pilot is supported by our community. We may earn a small commission fee with affiliate links on our website. All reviews and recommendations are independent and do not reflect the official view of Pilot.
FlightDeck's Editorial Process
's Experience
4+ years of working experience Professional degree in marketing
Started off as a content marketer
Currently pursuing her MBA
Co-owns a small digital marketing firm
Satisfy your wanderlust
Get Pilot. The travel planner that takes fun and convenience to a whole other level. Try it out yourself.
Trending Travel Stories
Discover new places and be inspired by stories from our traveller community.
Did you like this article? Share your thoughts!
Related travel guides.
Flixbus Review [2023]: Worth It or Worthless?
OurBus Review [2023]: Key to Cheaper Bus Fares in the U.S?
Megabus Review: A bargain, or complete scam? Our thoughts
Omio Full Review: Still a Reliable Booking Site in 2023?
BlaBlaCar 2023 Review: Is the carpooling & bus service legit?
Should You Buy Tickets on Busbud? My honest review [2023]
Make the most of every trip, you won't want to plan trips any other way.
The trip planner that puts everything in one place, making planning your trip easier, quicker, and more fun.
Food & Recipes
Remote Jobs
Privacy Policy
Work With Us
Write For Us
Honest Review of Big Bus Tours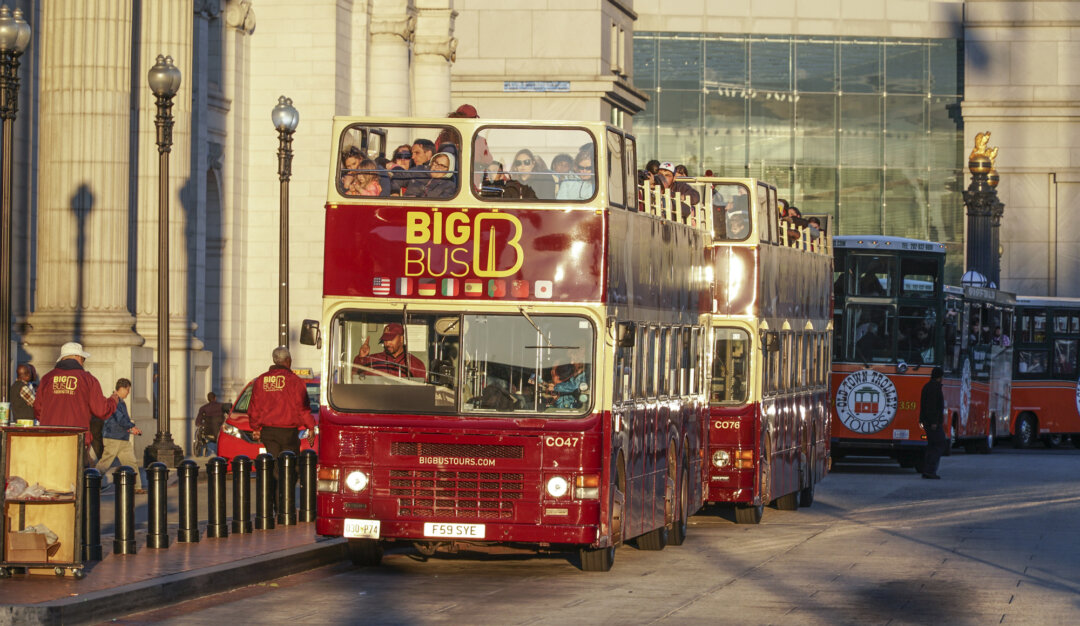 Big Bus Tours is a leading sightseeing operator that provides hop-on, hop-off tours in major cities around the world. It's a popular way to explore the top attractions of a city and learn about its history and culture. We have used Big Bus Tours in literally every city we've been to that has afforded it (which includes nearly all the major and secondary cities we've visited), and we always end up saying "the hop-on hop-off was awesome!" Hop-on Hop-off busses are, in fact, synonymous with Big Bus Tours.
Table of Contents
History of Big Bus Tours
The origin of the hop-on, hop-off tour can be traced back to the early 20th century when the first tour buses began to appear in major cities. These buses were typically chartered by small groups of tourists who wanted to see the sights without having to navigate the city on their own. However, the tours were often inflexible, and visitors were stuck with a fixed itinerary that may not have suited their interests or schedules.
In the 1960s, a new kind of sightseeing tour emerged in London that would revolutionize the industry. The concept of a hop-on, hop-off tour was introduced by a company called London Transport. The company started operating open-top buses on a circular route around the city, allowing visitors to hop on and off at any stop along the way. This gave tourists the flexibility to explore the city at their own pace, and it proved to be a huge success. The idea quickly caught on, and similar tours began to appear in other cities around the world. In 1974, Big Bus Tours was founded in London, with the aim of providing a more immersive and flexible sightseeing experience. The company's open-top buses were equipped with audio guides that provided commentary in multiple languages, giving visitors a deeper understanding of the city's history and culture.
Over the years, Big Bus Tours has expanded to become one of the largest sightseeing operators in the world, with operations in more than 20 cities across four continents. The company's success can be attributed to its commitment to providing a high-quality, immersive sightseeing experience that meets the needs of modern travelers.
One of the key features of Big Bus Tours is its hop-on, hop-off system, which allows visitors to explore the city at their own pace. The company's buses typically operate on a circular route, with multiple stops at popular attractions and landmarks. Passengers can hop on and off the bus as many times as they like during the validity of their ticket, giving them the freedom to explore the city on their own terms.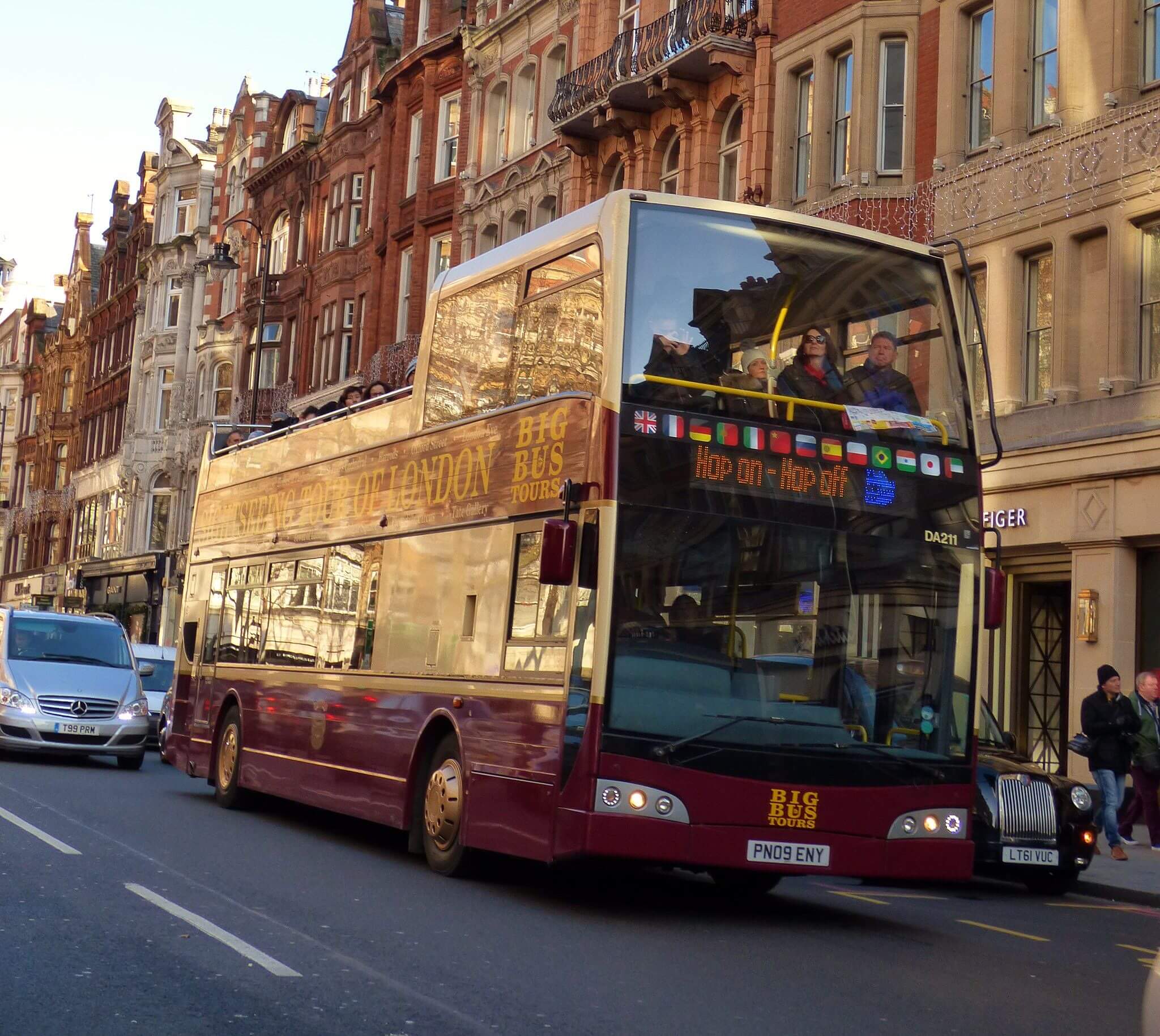 Big Bus Tours are everywhere in London!
In addition to its hop-on, hop-off tours, Big Bus Tours also offers a range of other sightseeing experiences, including night tours, river cruises, and walking tours. These tours provide visitors with a different perspective on the city, and they are a great way to discover hidden gems and local secrets. Big Bus Tours has also embraced technology to enhance the sightseeing experience. The company's audio guides have evolved to become more interactive, with visitors able to choose from multiple languages and listen to additional information about specific landmarks and attractions. The buses are also equipped with free Wi-Fi, allowing visitors to share their experiences on social media and stay connected with friends and family back home.
In recent years, Big Bus Tours has also made a commitment to sustainability. The company has introduced hybrid and electric buses to its fleet, and it has implemented a range of initiatives to reduce its carbon footprint. These efforts have earned Big Bus Tours several awards for its commitment to sustainability and responsible tourism. The history of Big Bus Tours is closely tied to the evolution of the sightseeing industry over the past century. The company's innovative hop-on, hop-off system has revolutionized the way people explore cities around the world, providing a flexible and immersive experience that meets the needs of modern travelers. With a commitment to quality, innovation, and sustainability, Big Bus Tours is sure to continue leading the way in the sightseeing industry for years to come.
Big Bus Tours Options and Offerings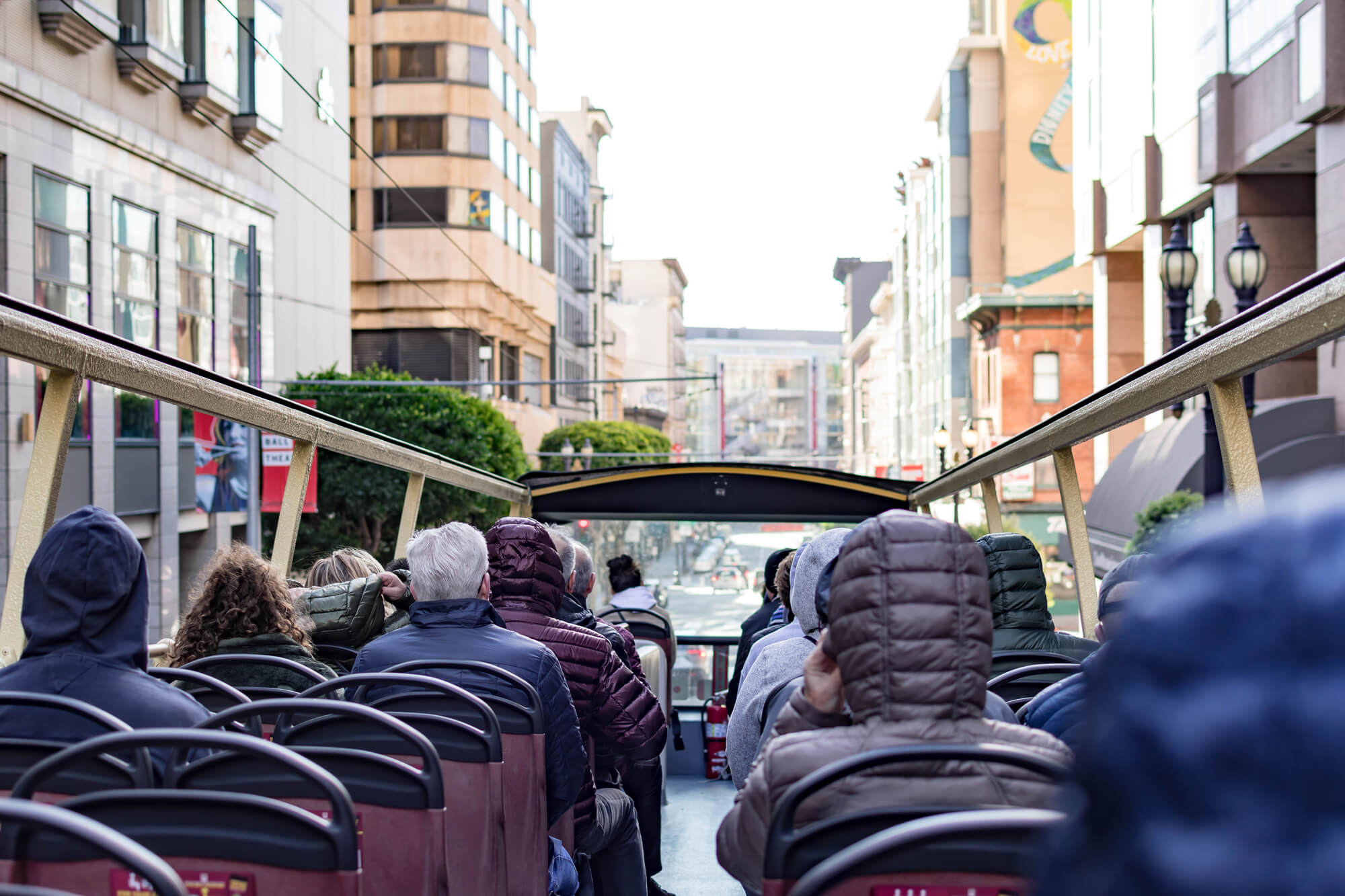 Tourists while enjoying the ride from a double decker bus of Big Bus Tours in San Francisco California USA.
Big Bus Tours is a global sightseeing company that offers hop-on, hop-off tours in some of the world's most popular tourist destinations. With its distinctive open-top buses and multilingual commentary, Big Bus Tours provides a fun, flexible, and informative way to explore cities, giving tourists the chance to see the sights from a unique perspective. In this article, we will explore the offerings of Big Bus Tours in more detail.
Hop-on, Hop-off Tours
One of the most popular offerings of Big Bus Tours is its hop-on, hop-off tours. These tours provide a flexible way to explore cities, allowing tourists to get off the bus and explore different areas at their own pace. With multiple stops throughout each city, tourists can choose which sights they want to see and how long they want to spend at each location. This allows for a personalized experience, as tourists can tailor their itinerary to their interests and schedule.
Live and Recorded Commentary
Another key feature of Big Bus Tours is its live and recorded commentary. Tourists can listen to multilingual commentary that provides historical, cultural, and other interesting information about the sights they are passing by. This commentary is available in several languages, including English, Spanish, French, German, Italian, and many more. In some cities, Big Bus Tours also offers live commentary, where a tour guide provides a more personalized and interactive experience.
Night Tours
In addition to its hop-on, hop-off tours, Big Bus Tours also offers night tours in some cities. These tours provide a unique perspective of the city at night, with the lights and landmarks illuminated in a different way. Tourists can enjoy the city's nightlife and see famous landmarks in a new light, making for a memorable and enjoyable experience.
Walking Tours
Big Bus Tours also offers walking tours in some cities, providing a more intimate and immersive way to explore. These tours are led by experienced and knowledgeable tour guides who provide insight and information about the city's history, culture, and architecture. Walking tours are a great way to explore areas that are not accessible by bus, allowing tourists to discover hidden gems and lesser-known sights.
Premium and Deluxe Tickets
For tourists who want to enhance their experience, Big Bus Tours offers premium and deluxe tickets. These tickets provide access to additional features and benefits, such as fast-track entry to popular attractions, river cruises, and more. Premium and deluxe tickets also include perks such as free refreshments and Wi-Fi, making for a more comfortable and enjoyable experience.
Big Bus Tours offers a range of sightseeing options for tourists, providing a flexible and informative way to explore some of the world's most popular destinations. With hop-on, hop-off tours, live and recorded commentary, night tours, walking tours, and premium and deluxe tickets, tourists can tailor their experience to their interests and preferences. Big Bus Tours is a great choice for anyone looking to see the sights in a fun and unique way.
Overall Online Reviews of Big Bus Tours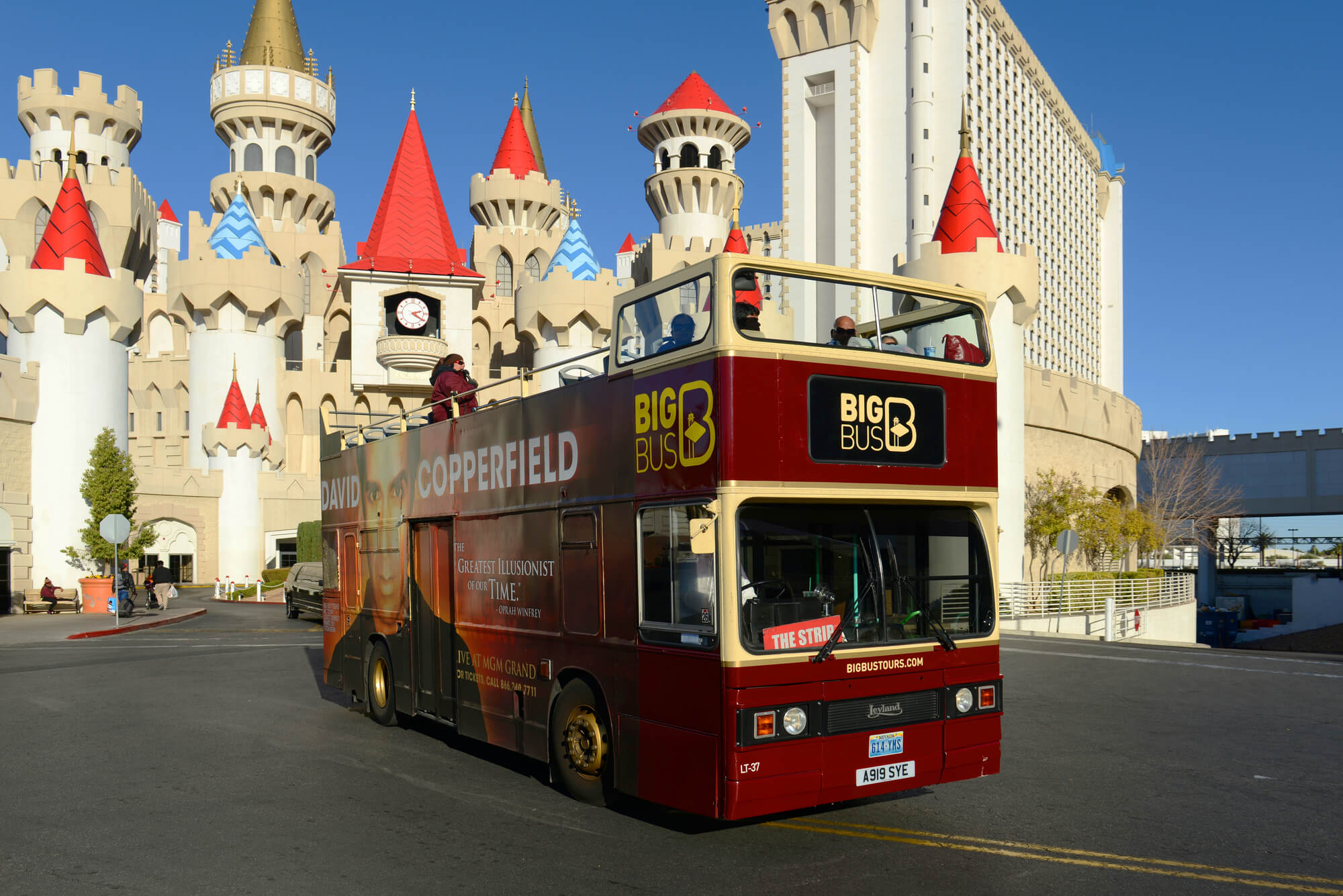 Overall, the online reviews of Big Bus Tours are largely positive. From our experience, it's been exclusively positive, other than one experience overseas. Most often, the "poor reviews" are in cities that are perhaps not the safest, and can be more of a reflection on the city than on Big Bus Tours. Many customers appreciate the convenience of being able to see the sights of a new city without having to worry about navigating unfamiliar streets. The hop-on, hop-off format of the tours allows tourists to see the city at their own pace, getting off the bus at any stop that catches their eye and then hopping back on when they are ready to move on. This format is particularly appealing to those who are short on time or who want to see as much of the city as possible in a limited amount of time.
One of the things that customers often praise about Big Bus Tours is the quality of the tour guides. Many of the guides are knowledgeable and enthusiastic about the city they are showing tourists, and they often provide interesting historical and cultural context for the sights that passengers see along the way. Some reviews even go so far as to say that the tour guides were the highlight of their trip.
Another aspect of Big Bus Tours that customers appreciate is the flexibility of the tickets. Many of the tours offer a choice of 1-day or 2-day tickets, and some even offer 3-day tickets. This allows tourists to tailor their experience to their own schedule, and it also means that they can get a better value for their money if they plan to spend several days in the city. Additionally, many tours offer a free walking tour or a boat tour as part of the ticket price, which further adds value to the experience.
Of course, not all of the reviews of Big Bus Tours are positive. Some customers have complained about long wait times at the stops, particularly during peak tourist season. Others have criticized the cost of the tickets, which can be quite high in some cities. Some customers have also reported that the buses can be overcrowded, making it difficult to find a seat or get a good view of the city.
Despite these negative reviews, however, the overall impression of Big Bus Tours online is that they are a reputable and reliable provider of city tours. Many customers have praised the company for providing an easy and convenient way to see the sights of a new city, and for offering a high-quality experience that is worth the price. While there are certainly some downsides to using Big Bus Tours, most customers seem to feel that the benefits outweigh the drawbacks.
In terms of specific locations, some cities have garnered more positive reviews than others. For example, the Big Bus Tours in London, England has generally received very positive reviews, with many customers praising the knowledgeable and friendly tour guides and the variety of routes available. The New York City tour has also received generally positive reviews, with many customers commenting on the stunning views of the city skyline and the helpfulness of the tour guides.
On the other hand, some locations have received more mixed reviews. The Big Bus Tour in Paris, France, for example, has received some negative reviews from customers who felt that the tour guides were not as knowledgeable as they could have been, or that the buses were too crowded. If you've ever been to Paris, you know everything is crowded, so why would a tour bus be any different? Similarly, the tour in Rome, Italy has received some criticism for being too expensive and for not including enough information about the city's history and culture. We've specifically used Big Bus Tours in Rome   three different times, and can tell you our experiences were near-perfect, and we would gladly book again.
Overall, Big Bus Tours is a solid choice for tourists who are looking for a convenient and flexible way to see the sights of a new city.
How to Decide Which Ticket to Book, and How to Book a Big Bus Tour
If you're planning to explore a new city and looking for a convenient and informative way to do so, Big Bus Tours might be the perfect option for you. With tours operating in cities around the world, Big Bus Tours offers hop-on, hop-off sightseeing tours that allow you to see all the top attractions in a city at your own pace. Here's a step-by-step guide on how to book a tour with Big Bus Tours:
Step 1: Choose your destination First and foremost, you need to decide which city you want to explore with Big Bus Tours. They have tours in popular destinations like New York, Paris, London, Sydney, and Dubai, among others. Once you've decided on your destination, head over to the Big Bus Tours website and select your city. You can head straight there by clicking on the banner below!
Step 2: Select your ticket type Big Bus Tours offers a variety of ticket types to suit your needs. You can choose from classic, premium, deluxe, and night tours. Classic tickets give you access to the hop-on, hop-off sightseeing tour for a specific duration, while premium and deluxe tickets come with additional perks like free walking tours, attraction tickets, and more. Night tours are also available in select cities and provide a unique perspective of the city after dark.
Step 3: Choose your travel dates Next, select the dates you want to travel on. Big Bus Tours offers flexibility in their tickets, allowing you to book for a specific date or purchase a ticket that is valid for several months, giving you the freedom to tour the city at your leisure.
Step 4: Select your pick-up location When booking your Big Bus Tour, you'll need to select your pick-up location. This will usually be a designated stop along the route where you can board the bus. It's important to choose a location that is convenient for you and easy to get to.
Step 5: Add any extras If you want to enhance your Big Bus Tour experience, you can add extras to your booking. These may include attraction tickets, walking tours, or even meal vouchers.
Step 6: Review and confirm your booking Before confirming your booking, take a moment to review all the details to ensure everything is correct. Check your travel dates, pick-up location, and ticket type to make sure they match your requirements. Once you're happy with your booking, proceed to checkout and complete the payment process.
Step 7: Collect your ticket After you've completed your booking, you'll receive a confirmation email with your ticket. Depending on the city you're visiting, you can collect your ticket at the designated ticket office or board the bus and present your ticket to the driver.
In summary, booking a tour with Big Bus Tours is a straightforward process that can be completed online in just a few easy steps. With flexible ticket options, a range of extras, and tours in cities all around the world, Big Bus Tours is a convenient and enjoyable way to explore new destinations. So, what are you waiting for? Book your Big Bus Tour today and get ready to discover your next adventure!
Who Owns and Operates Big Bus Tours?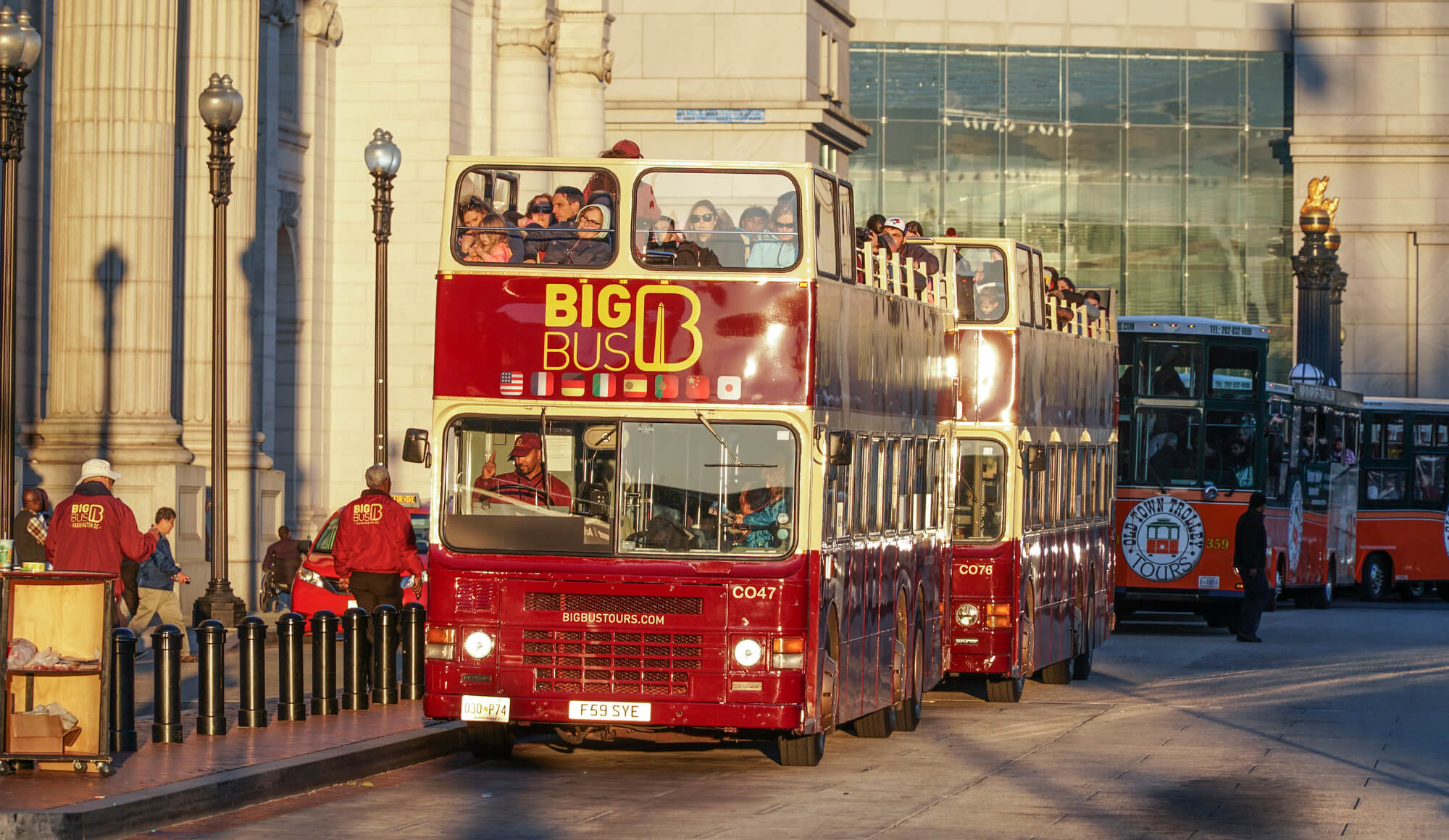 Big Bus Washington sightseeing tours – WASHINGTON DC – COLUMBIA
Big Bus Tours was founded in London in 1991, and since then, it has expanded to over 20 cities worldwide. The owners of Big Bus Tours are a group of investors and private equity firms.
The largest stakeholder in Big Bus Tours is Exponent Private Equity, a private equity firm based in London. Exponent acquired Big Bus Tours in 2015 from its previous owner, the private equity firm, TowerBrook Capital Partners. TowerBrook had acquired Big Bus Tours in 2011, and during their ownership, the company expanded rapidly into new cities, including Paris, New York, and Hong Kong.
Other investors in Big Bus Tours include Proventus Capital Partners, a Swedish investment firm, and York Capital Management, a global investment management firm. These investors have helped to fund the company's expansion and growth over the years.
The current CEO of Big Bus Tours is Chris Carroll, who joined the company in 2019. Carroll has over 20 years of experience in the tourism industry and has held senior leadership roles at companies such as British Airways, TUI, and Disneyland Paris. Under Carroll's leadership, Big Bus Tours has continued to expand its operations and develop new products and services to meet the changing needs of travelers.
The owners of Big Bus Tours have a clear vision for the company's future. They aim to continue expanding into new cities and markets, while also improving the customer experience and investing in new technology to enhance the tour experience. They also recognize the importance of sustainability and are committed to reducing the company's environmental impact through initiatives such as using low-emission buses and promoting sustainable tourism practices.
Our Overall Opinion
Big Bus Tours is a company we use on nearly every trip, including our most recent to the United Kingdom. They're reliable, provide safe and clean environments, and the cost of a full day on a bus is less than a 15 minute taxi ride in most cities. Using Big Bus Tours, to us, is a must-do activity for any trip we book!
Justin & Tracy
You might also like.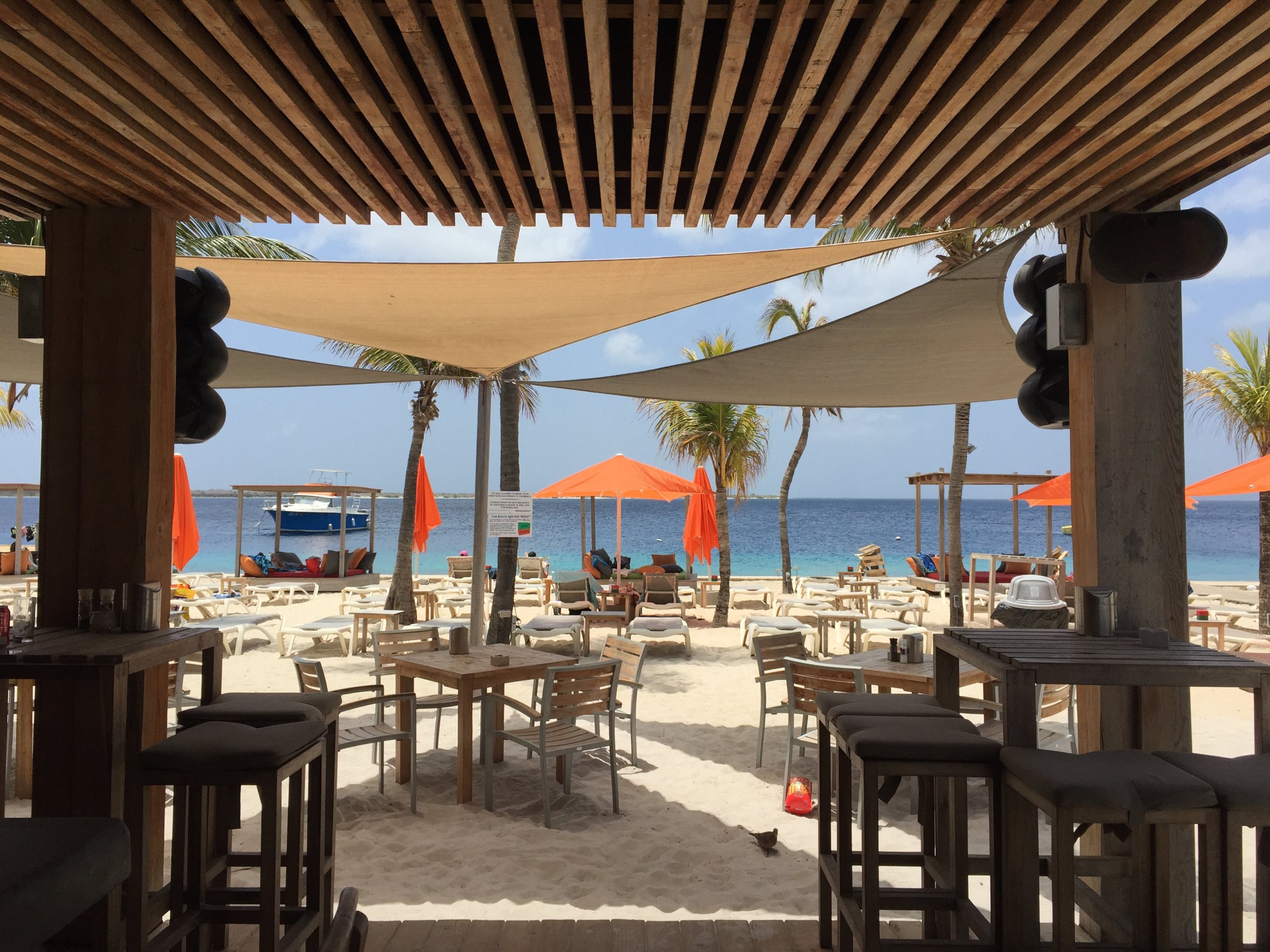 Top 7 Best Bonaire Beach Resorts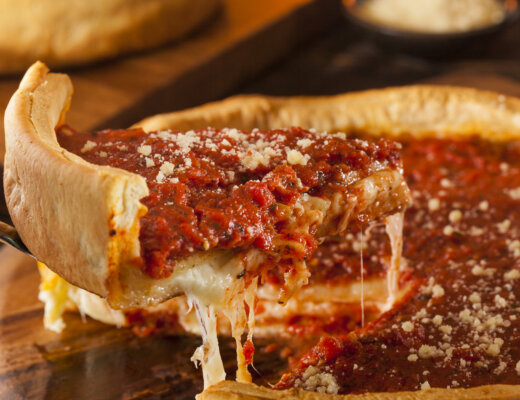 The Top Spots for Delicious Pizza in Downtown Orlando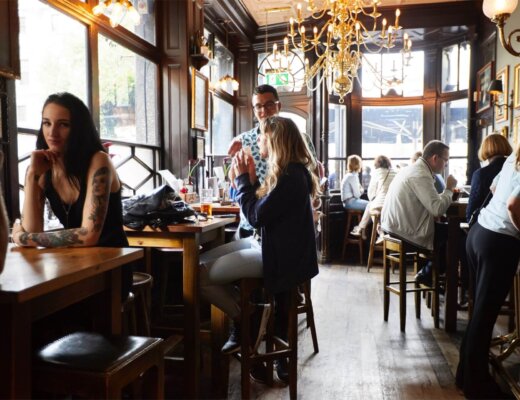 The Red Lion Pub in London, England
Privacy overview.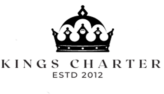 Kings Charter Tour Buses
The luxury tour bus  is one of the best pleasures for travelling on national roadways, especially in the pleasant months of August and September, when the landscapes make their gift plain. If you are part of a group looking for a tour bus, you may have noticed how it can be challenging to find a luxury tour bus rental price in a hurry. However, if you choose a bus from the right company. Nevertheless, spending hours on the road can be delightful. So naturally, you all want to zoom down the nation's highways in our comfortable luxury vehicle, with multiple great amenities like DVD players, bathroom, and other extras. 
Kings Charter Bus USA can give you some very best options to choose from all the available luxury tour buses in your area. The concert tour bus is used by many singers and celebrities which is a luxury means of travelling.
The main advantage of a luxury tour bus is that you can save considerable funds to make the journey part of the trip's adventure. Instead of using airlines for long miles, you can own your transport with comfort and enjoyment. With Kings Charter Bus USA, you can do all types of tours like business tours, weddings, religious organizations, school trips, and many more very easily. Renting a Tour bus for the band is an excellent option for travelling in the USA. Please don't feel hesitate to get a free quote today from our professional agents. You may find something best which can make your whole trip very memorable.
Seats up to 15 passengers
Sleeps up to 12 people
Home-Theater surround sound system
Kitchen and Bathroom
Flat Screen LED
GPS Navigation
Microwave Oven
Hi-Fi Stereo
Master suite with lounge
Mini Refrigerator
Top 15 Biggest Buses In The World
Top 15 Biggest Buses In The World, Technology is beginning to bring new changes to people living as their population grows. Transport modes are also modified on a demand basis.
Many people use the bus service to get to their destination every day so that manufacturers start to make large busses more convenient. Many kinds of large coaches are sold on the market by the world's best coach companies for people like a double-decker bus, where you can sleep on your journey.
Some buses have various trains, for example, the ability of the train to travel and enjoy the journey of numerous people. On the Internet, you can surf and read about the world's biggest buses.
Table of Contents
15). NEWMAR KING AIRE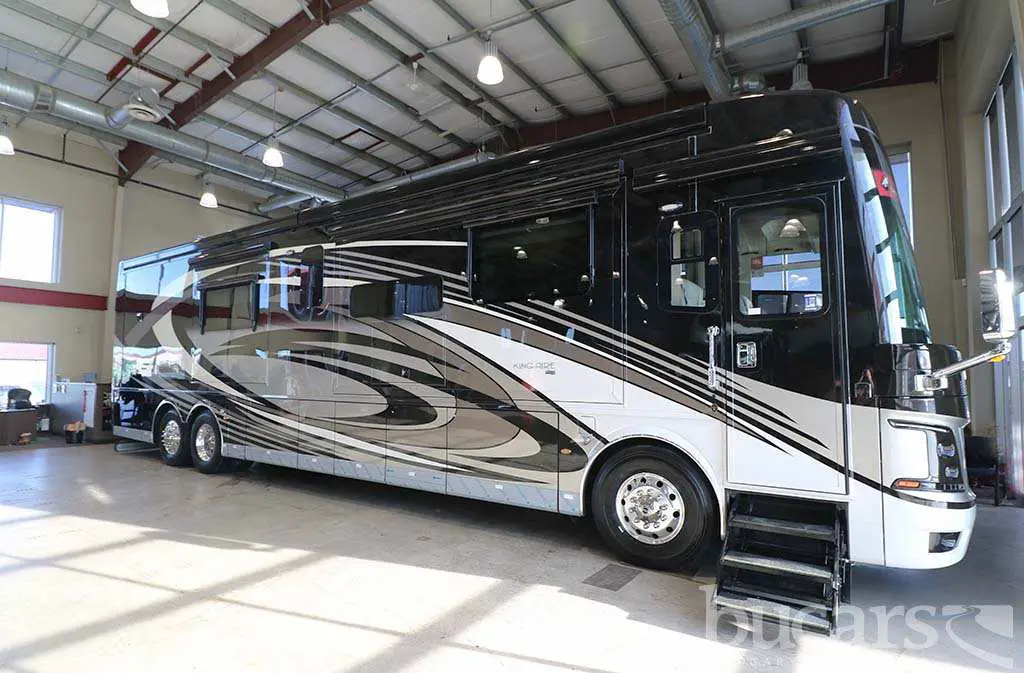 The King Aire of Newmar is indeed one of the best high-end buses that can power the road like a king. The engine is class A and powered by a 600 HP turbo diesel engine from Cummins ISX.
There is a power control drive system. The good navigation system helps to control the car through dangerous conditions. There is also a comfortable kitchen with an armchair , a dining room with two sofas, a dinette, a laundry machine, a dry cleaner and more. The floor has porcelain and the interior is decorated with elegant LEDs.
It has a bedroom with a master bed and a private bathroom.
14). COUNTRY COACH PREVOST
This luxury RV has an elegant, stainless steel cover with a total of about $1000,000. It is designed for trips between towns and cities.
The Country Coach Prevost has a great aerodynamic design, although not ideal for undulating terrain or ambitious journeys. The porcelain painted floors and cedarwood designed wards of this exquisite unit.
There is a master bedroom with q uartz and a walk-in wardrobe as well. Separate restrooms are provided for the ease of travel.
Read also:  Top 10 Busiest Cities In The World
13). featherlite vintage platinum plus.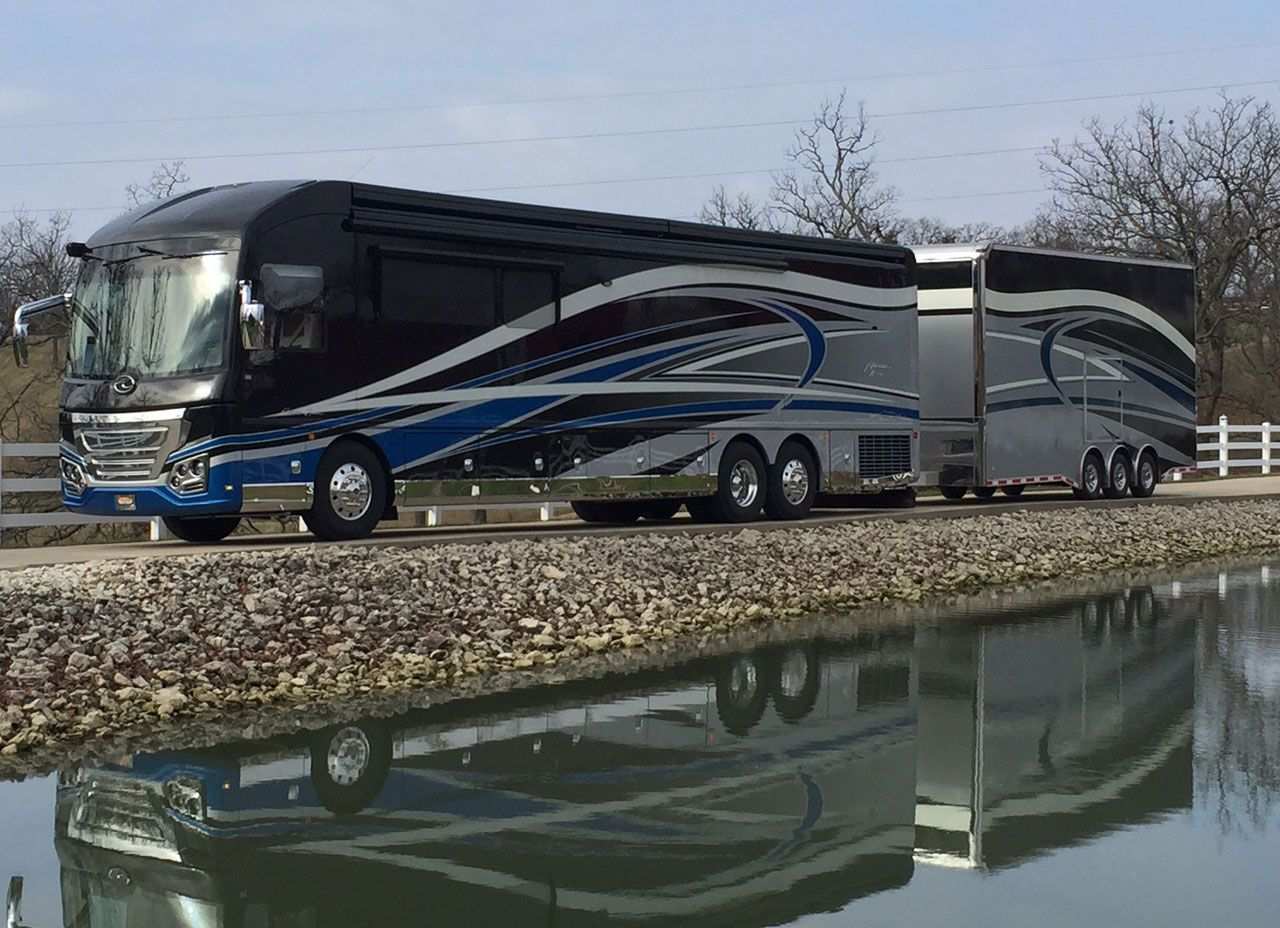 This is one of the most beautiful motor trains ever built, worth approximately $2,500,000. It is a beautiful interior of Italian leather pre-listed, marble stairs, Swarovski crystal, antique bronze and much more.
It is a house on wheels. It has an extra-sized den, plasma TV, and treadmill. There is a master bedroom. Device-2 GPS is excellent.
The updates of Realtime traffic and weather warnings have never been brilliant. There is also a built-in garage, which can be relocated and converted into a sports car. A bus for a motorcycle!
12). MARCHI MOBILE ELEMENT PALAZZO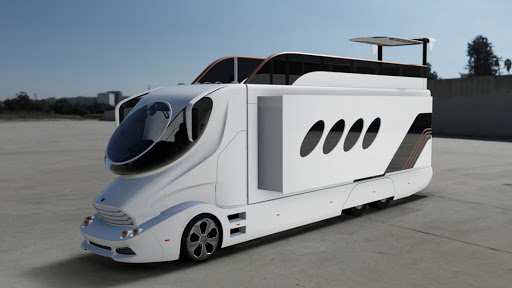 This car is a fantasy, worth around $3,000,000! This looks like a futuristic Hollywood film and is the world's most expensive commuter vehicle. It blends engine, aviation, and yacht characteristics.
Within is a spacious building with a foundation and a countertop made of marble. The car has a stairway on the top deck. The oil-rich Arab sheiks are very famous. The spectacular look of the cab is ahead of time and was built with the highest quality carbon fiber. The style patterns for sports cars and the rim lining is identical to the new vehicles.
The cockpit has a remote core system and a jet-cockpit-inspired MMI control which works like a luxurious limousine. With an adjustable sun protection scheme, the helicopter-like windshield can be illuminated in two steps.
11). PREVOST H3-45 VIP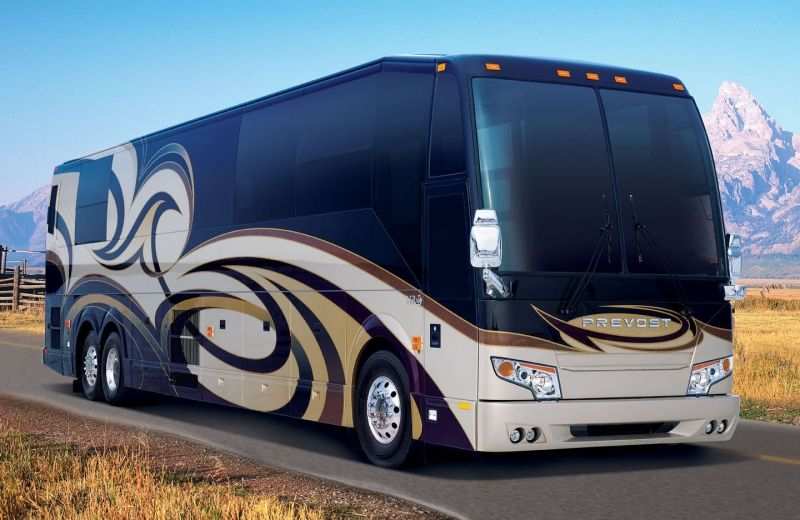 It's luxuriously easy to travel and live in Prevost because your motorhome is designed and built to meet your needs and wishes perfectly. All are carefully planned and installed such as rooms, protection from external noise, an optimum regulation of light and temperature, adequate storage area and cargo space and a solid, level floor.
The giant costs approximately $1.6 million and is part of Prevost's H-Line of luxurious RVs. The largest cabin in height is 12 ft 5 inches, great, elegant and new. It gives both drivers and passengers a wonderful panoramic view.
The shell, made of finely molded fabric, has a light but extremely strong weight and includes several modern designs, including a sleek couch, wooden floor, bathroom, marble tables, and so on.
10). NEOPLAN JUMBOCRUISER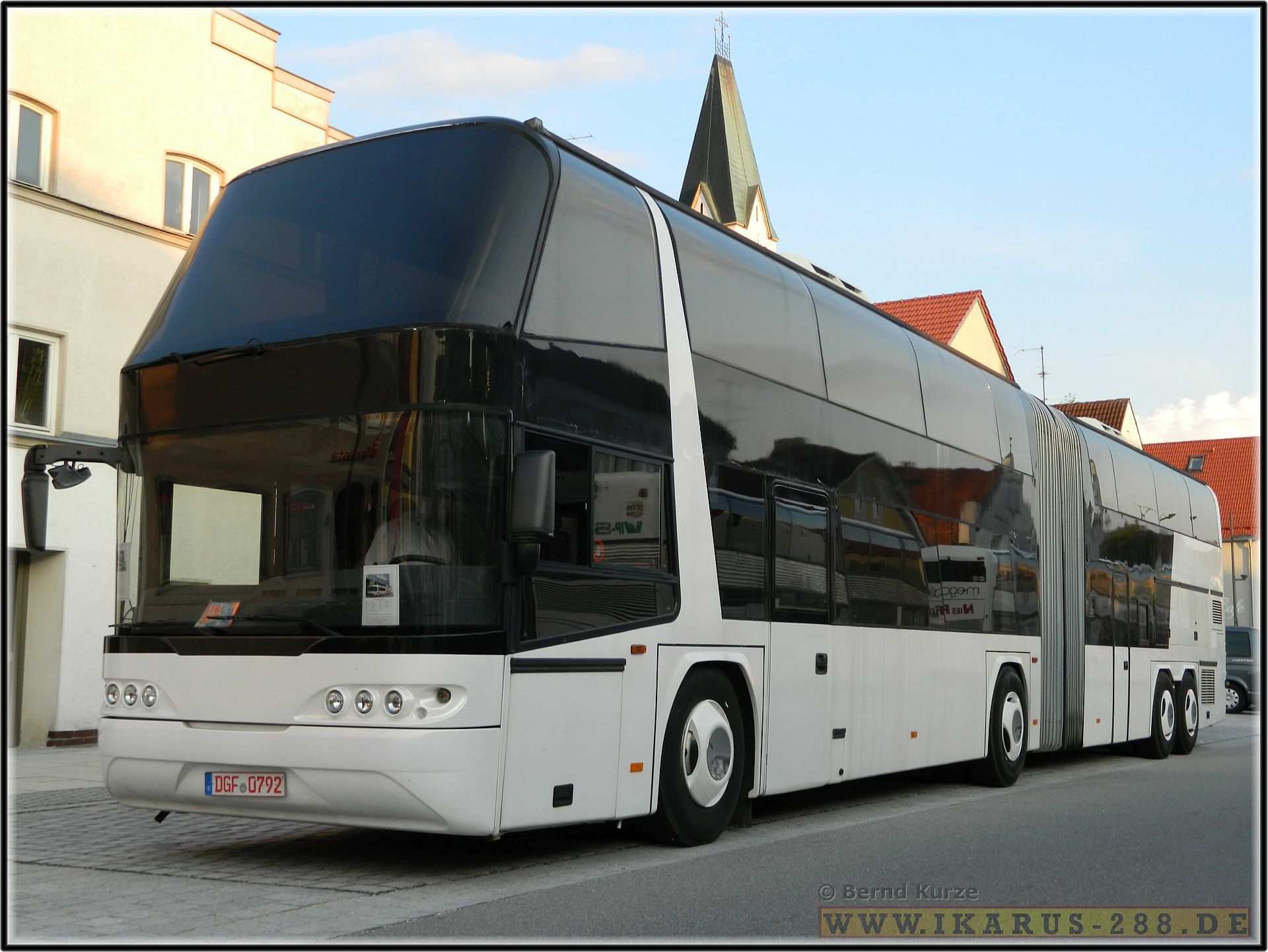 The Neoplan Jumbo cruiser was a multi-axle city coach designed between 1975 and 1992, articulated on double-decks by the Neoplan Bus GmbH.
The Guinness World Records is the largest worldwide bus with a capacity of 170 passengers and has a length of 18 feet, a width of 2.5 m (8 ft 2 in) and a height of 4 m (14 ft). HUBNER has designed and mounted in Germany a modern digital turntable.
The internal combustion engine, control mechanism and braking system, cable looms and the dashboard has been replaced and updated. Instead of the original rust-prone flat panel, a new Dashboard with a semi-digital wrap round unit has been installed. Current caps have been placed on the front and back and reduced after they were already discovered.
9). NOVA BUS
In 1996 , the rigid LFS entered mass production, and in 2009 , the articulated rapid bus models LFS Artic and LFX were launched. In a single-door commuter setup, the regular LFS is also available.
A dual drive train with the Allison EP40/EP50 parallel hybrid system or a BAE Hybrid rive series is available for the rigid and articulated models of LFS / LFX. Both options had first been presented by SOT in Gatineau, Quebec, in 2007 (40-foot model) and by Connecticut Transit (62-foot articulation model) in 2011.
In 2011 these were also delivered. The rear window was an option in October 2011. In 2013 a new rear configuration of fourth-generation became the standard in mid-2013, with some of the models of the third generation being supplied at the beginning of 2013.
Read also:  Top 15 Most Famous Statues In The World
8). new flyer xde60.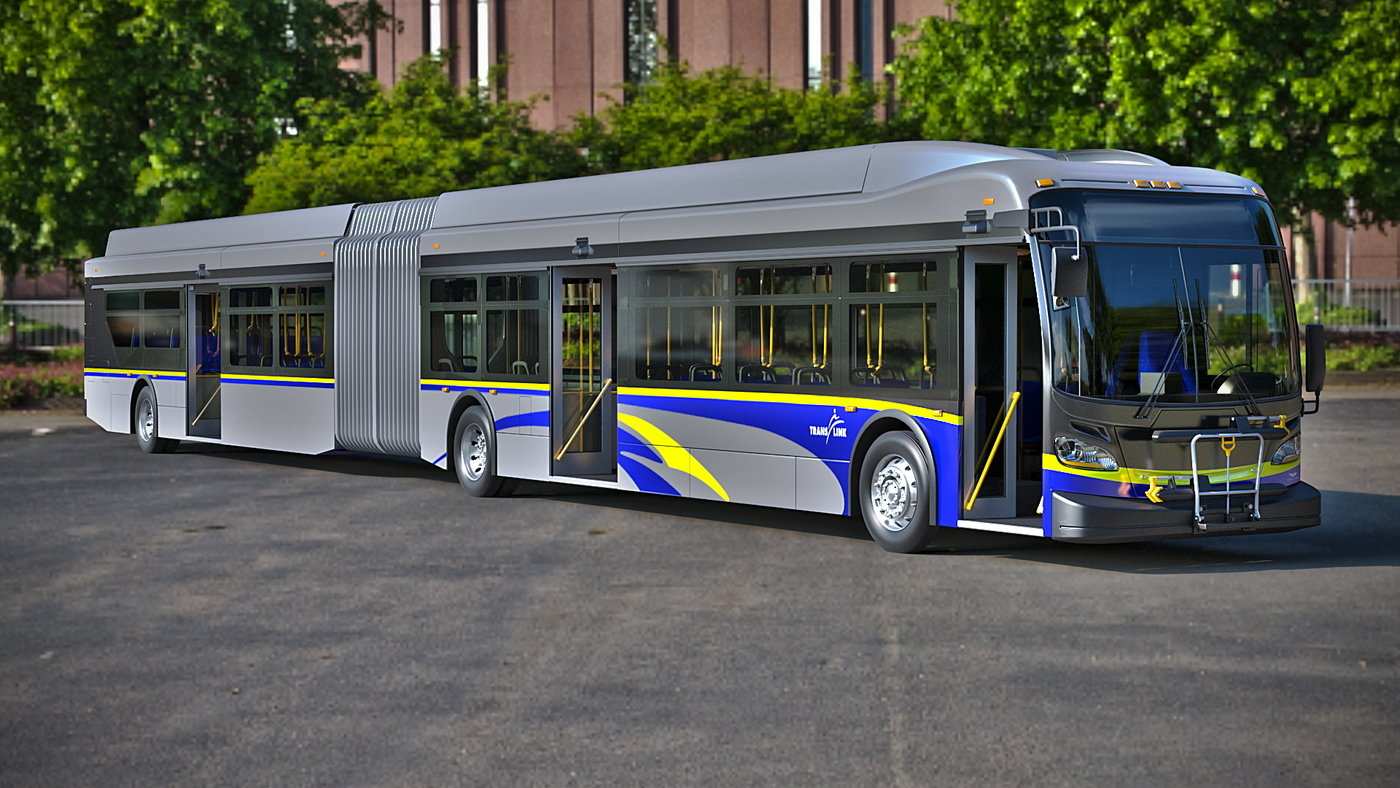 A gas-powered, articulated commuter bus from New Flyer'sXcelsior Route, the New Flyer Industries XDE60. Since at least 2009, it has been in service.
The XDE60's launch client was Brampton Commuter, the XDE60's launch client. In 2011 a prototype was unveiled, and in 2014 normal production started. The first battery-powered Xcelsior buses were an extra powertrain within the ordinary Xcelsior series.
A permanent magnet traction engine designed by Siemens has also been used for the original battery-electric Xcelsior bus sold as XDE60. The Xcelsior CHARGE subline was unveiled in October 2017.
7). VOLVO 7900 HYBRID ARTICULATED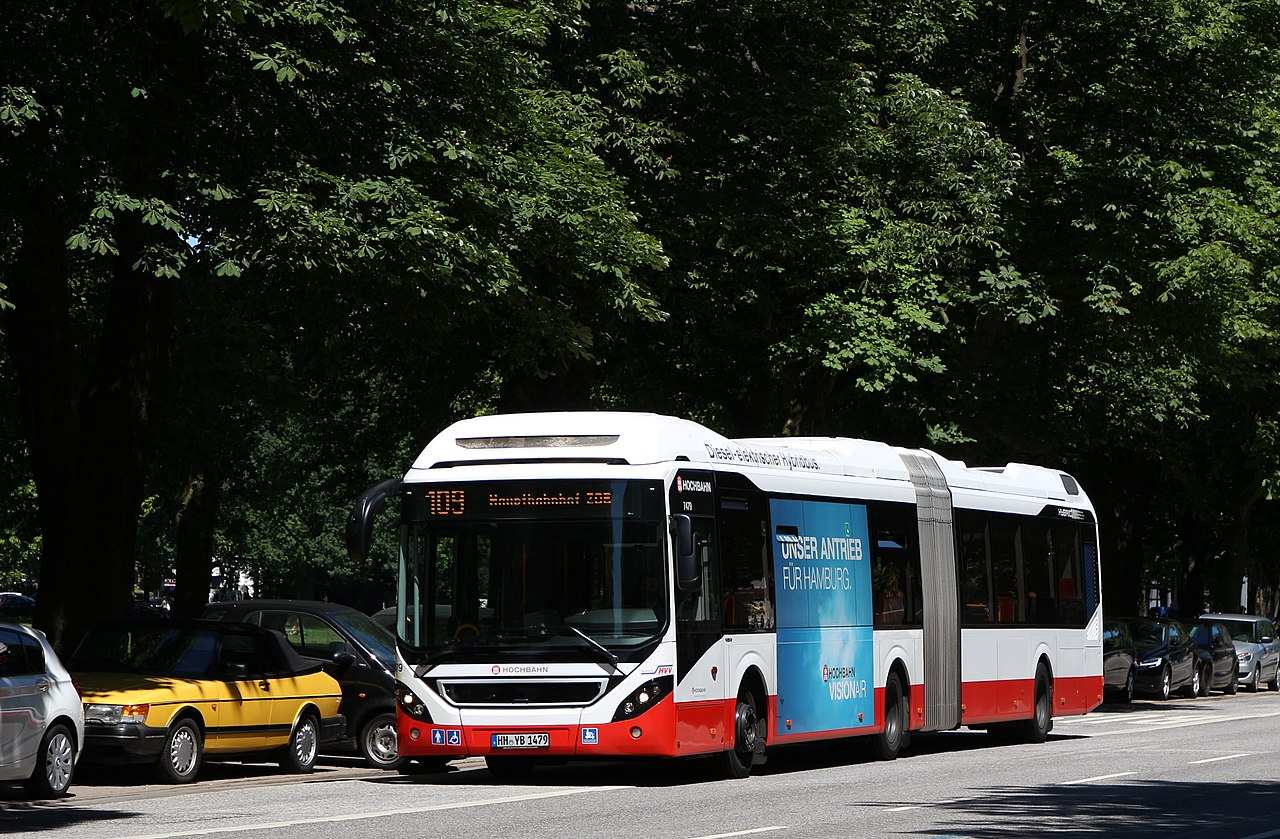 The Volvo 7900 is a compact one-decker single-covered bus, most often based on the Volvo 7900 Hybrid or only the Volvo 7900H hybrid truck, but is also available on some markets for both diesel and compressed natural gas (CNG) vehicles.
It is produced in Poland at the Volvo factory. It was launched in Kortrijk in Bus world 2011. The expansion is given based on the Volvo 7900 Hybrid, i.e. requires an irregular stop loading roof-mounted instrument.
The maker hopes that all busses are holding a few minutes on the journey to and from all end stations, as well as some particularly busy stations.
The charging device on a pillar on the roadside should lower to the cable on the roof when the bus hits an appropriately fitted halt. The cycle of charge must stop once the bus is ready or the battery is fully charged.
6). HESS LIGH TRAM 02795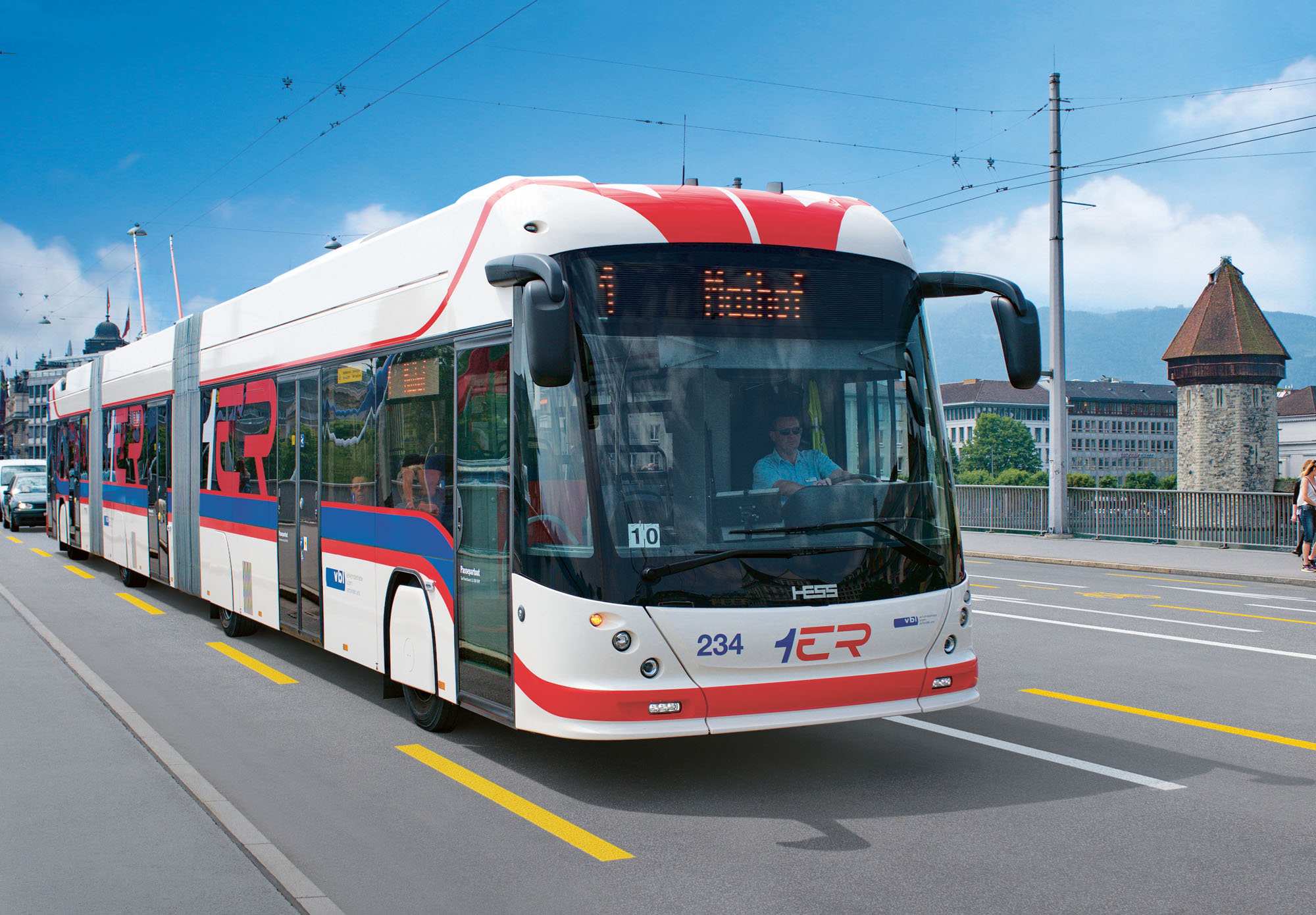 The word reproduced entrance; Carrosserie Hess AG is named trolleys try at Bellach in Switzerland (Federal State of Germany).
It is a bus of a length of 25 meters and is a bus for a length of 15 meters for transport with buses for a volar, Wardour daze toegakelijk. 180 people have been devoured in de bus kunnen nongiver.
The word ' bus type' is de hand van de Swiss trolley, on the wicked. The light Tram is the perfect mobility medium for heavy urban traffic due to its low-emission electric drive.
As strong as they can, their energy consumption is still, economical and their braking energy is recovered. The lightroom is as valued by the bus companies as it is by travelers with its good travel comfort and ease of entering. Thanks to the groundbreaking, proprietary and intelligently regulated drive technology, even in winter and in challenging topographical conditions. The 24, 7 m long vehicle is as maneuverable as regular articulated buses due to two steered axles.
5). 0530 MERCEDES-BENZ GL CAPA CITY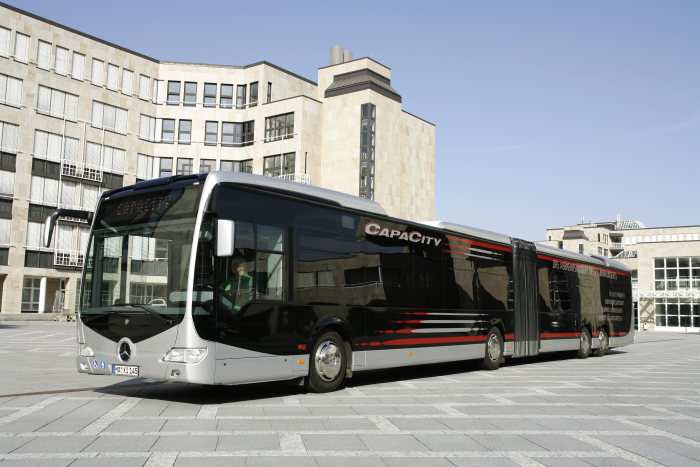 The coaches are wide, with 157 biarticular and 29 single-articulated vehicles (divided into three sections) and stop at designates high tube stations for fare prepaying and platform-level boarding with handicapped access.
There is no break to enter or leave the car, a short ramp folds from the bus to the platform. The new Mercedes-Benz vehicle is a prime illustration of the attractive and economical transport modes offered by buses.
It blends the usual advantages of the bus (great versatility and economy) with tram-like virtues such as the ability to carry a large number of passengers as a non-rail, High Capacity vehicle . In this way, the Capa City is perfect in its addition to current tram networks and represents a creative transport system.
4). REDE INTEGRADA DE TRANSPORT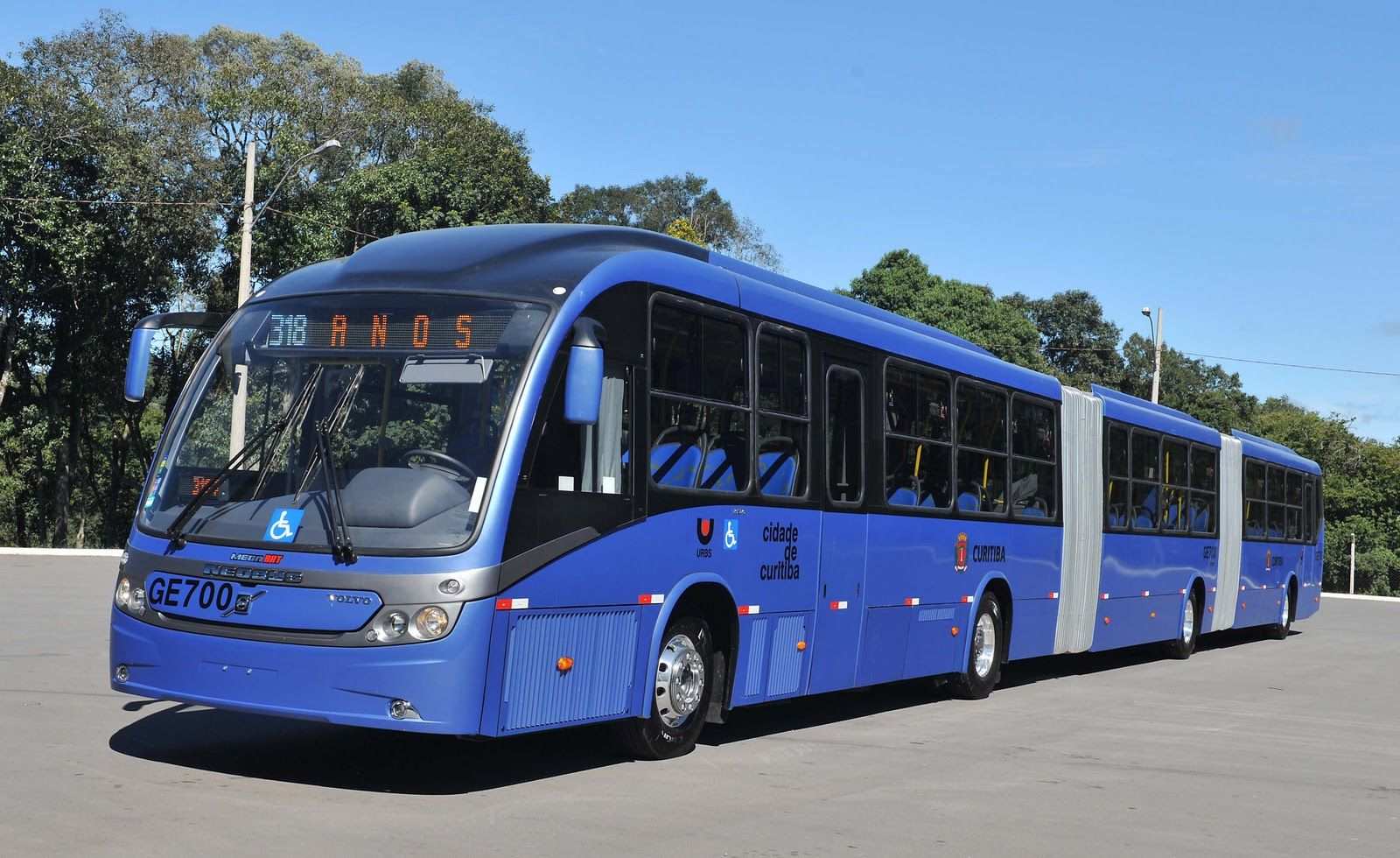 Rede Integrada de Transport was founded in 1974 as a rapid transit (BRT) bus system in Curitiba, Brazil.
It is the first of many networks of this kind worldwide to become a part of one of the first and most common examples of transit-oriented development. Curitiba has a well-planned and interconnected transport network with dedicated roads for a fast transit bus route on the main roads.
Rede Integrada de Transport was founded in 1974 as a rapid transit (BRT) bus system in Curitiba, Brazil. It is the first of many networks of this kind worldwide to become a part of one of the first and most common examples of transit-oriented development.
Curitiba has an extensive and well-developed transport system, which has dedicated roads for a bus quick transit system on major streets
3). VAN HOOL AGG300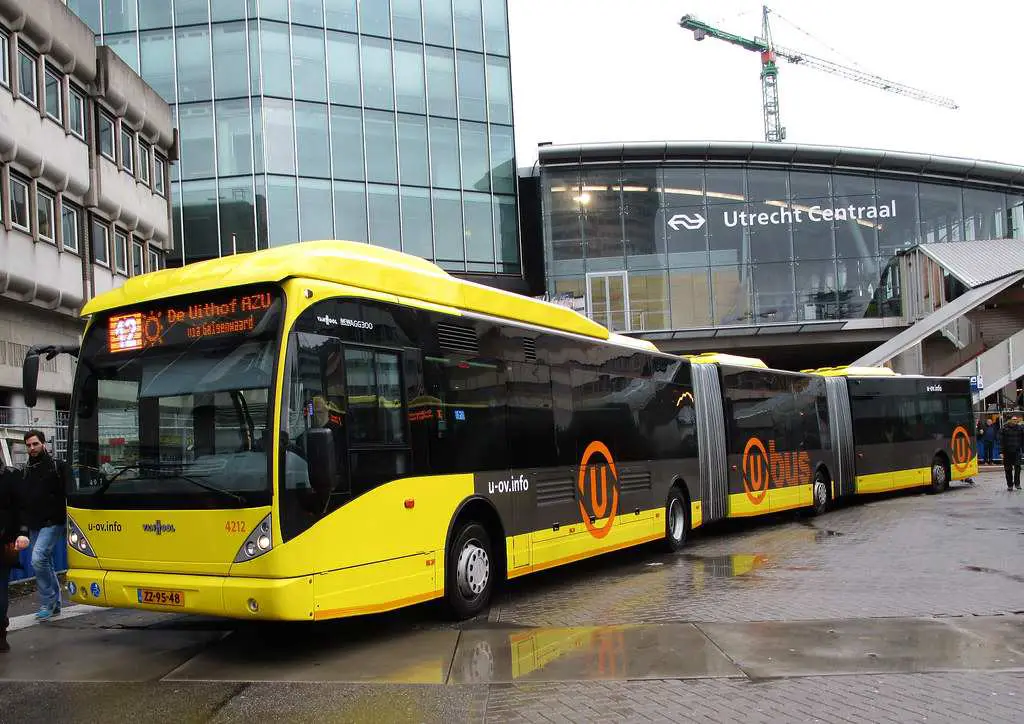 A bicycle bus, designed by Belgian coachbuilder Van Hool, which is 25 meters long. Two prototypes of this type were built in the 1990s, one in Liege and the other in Angola (the former demonstrator). The AGG300 was revised in 2001 and is now called the new AGG300.
For lines 11 and 12, which are particularly busy, GVB in Utrecht ordered 15 buses of the kind in 2002. Utrecht was the first area to be used widely for these buses. Twelve more buses were delivered in 2003.
In June 2006, the AGG300 was requested as part of a tri-day demonstration on route 15 in the morning and route 22 in the afternoon as the 100th anniversary of public transport in Groningen.
ABC North American industries plan to take the AGG300 to the United States and Canada, although the bus length is likely to circumvent the regulations.
Read also: Top 20 Greatest Invention Of All Time
2). youngman jnp6105gr.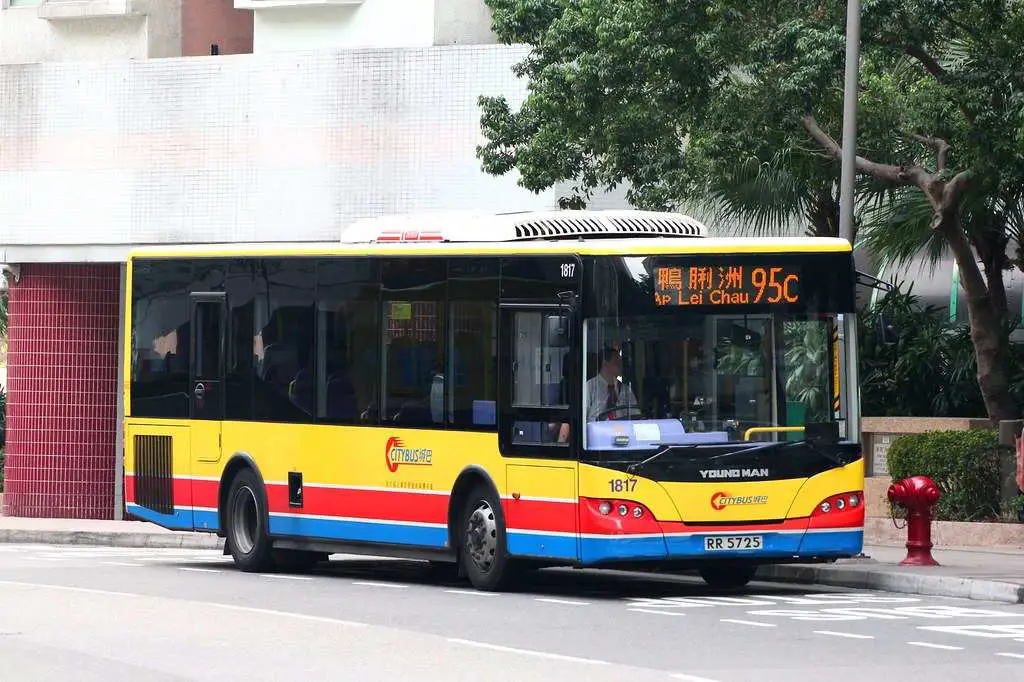 Youngman JNP6105GR is a single-decker low-floor bus manufactured in Jinhua, Zhejiang, China since 2012 by Chinese bus manufacturer Youngman Automobile Group CO., Ltd.
The young man JNP6120GR plenibus is the shorter version of the 12.0 m. Maintaining the aging Volvo B6LE many of these buses were supplied to the City bus in Hong Kong. The interior has a large display, which displays the next stop and the three stops following it.
The machine is mounted on a rail across the wheel arch in front of the windshield. The machine is also placed on the lower deck of the new double-decker buses City bus Alexander Dennis Enviro500.
The frame is completely Super Low Floor and eliminates the need for ramps to kneel and wheelchair. The rear door, manufactured by the Netherlands ' Ventura Systems, is a plug-in form that ensures that it slides out rather than usually opening. This door includes several new busses in Hong Kong.
1). AUTO TRIM EXTRA-GRAND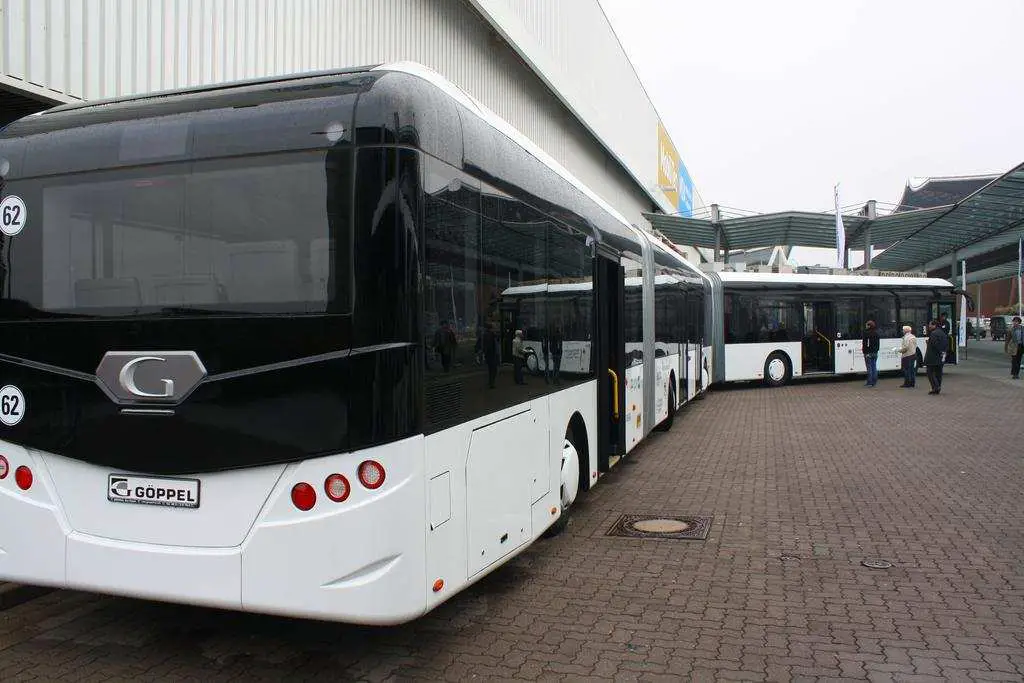 You see someone who comes around an angle like a regular bus, then the articulated part and then more bus comes in. Now, in Dresden, the Auto Tram Extra Grand reveals it has a bendy bus like a bent train .
It's the world's longest bus with more than 30 m in length and 256 passengers in three sections . The Car Tram is no longer just a regular bendy bus with a special portion discussed by Fraunhofer IVI, Dresden Technical and Witter Electric Drive GmbH.
The equipment which is used for trains is applied to busses and is tailored to urban areas where trains are no practical solution for transit problems.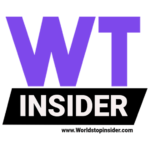 World's Top Insider
Top 10 Lists of the people, things, places, most expensive, animals, most popular, luxury and high rankings of world. World's Top Insider focuses on the top ten lists of best, greatest and top rankings in the world.
World's Top Insider https://worldstopinsider.com/author/rehmanahmed94/ Top 10 Amazing Facts Of The Places Around The World
World's Top Insider https://worldstopinsider.com/author/rehmanahmed94/ The Cultural Significance of Casinos Around the World
World's Top Insider https://worldstopinsider.com/author/rehmanahmed94/ Unveiling the Safest CSGO Gambling Sites of 2023: CSGORadar's Top Picks
World's Top Insider https://worldstopinsider.com/author/rehmanahmed94/ Unveiling the Power of Support: Navigating the CSGO Gambling Universe with Customer Service Excellence
Top 20 Most Beautiful Chinese Actresses In The World
Top 15 most popular teen clothing stores in the world this year, related posts, cheapest place to fly into europe, top 10 amazing facts of the places around..., top 10 biggest clock towers in the world, top 10 exploring the enchanting allure of new..., top 14 ideas to celebrate valentine's day, best top 20 longest movies ever made, top 25 best pencil artists in the world, top 15 armored tanks in the world, top 15 most famous engineering disasters, top 15 largest forests in the world.
Celebrities
Health, Fitness and Sports
Explore Careers at Arrow 💼
Customer Portal
NE – (402) 731-1900
KS – (816) 453-8727
CO – (303) 373-9119
AZ – (480) 446-2868
MO – (816) 453-8727
NV – (702) 382-3980
IA – (402) 731-1900
US – (844) 778-9778
Most Extreme Buses in the World
by ArrowStageLines | Feb 2, 2022 | Attractions , Blog , History | 0 comments
To many people, one bus looks pretty much like another. Apart from the numbers and perhaps the colors of the buses based on the destination, many people wouldn't know one bus from another. However, there can be significant differences between buses, including their size and extravagance.
If you're looking for a unique bus riding experience, join us on a tour of the world's biggest, smallest and most luxurious buses.
Biggest and Smallest Busses
Whether large or small, check out these motorcoaches that take their size to the extreme from largest to smallest.
Neoplan Jumbocruiser
The tour starts in Germany with Neoplan Bus GmbH . Though no longer in production, the Neoplan Jumbocruiser still holds the Guinness World Record for the biggest bus in the world. This double-decker coach was 59 feet long, 13 feet high and just over eight feet wide, and could hold up to 170 passengers.
Auto Tram Extra Grand
While you're in Germany, stick around for a ride on the world's longest bus, the mammoth AutoTram Extra Grand . At over 100 feet long, this is the longest bus currently in service on the planet, with the capacity to transport 256 passengers.
This vehicle runs largely on electric power and offers the convenience of a bus with the capacity of a train. Its design consists of three sections, giving it a very distinctive appearance. Initial trials of this giant bus took place in Dresden, and Shanghai and Beijing also placed orders.
Heading to Los Angeles, your next stop is at BYD Auto Co., Ltd. for a ride on the BYD C10MS.
At a height of 13.4 feet , the C10MS holds the title for the tallest bus in the world. This fully electric, zero-emissions bus can seat up to 51 passengers and travel as far as 230 miles on a single charge.
If you want to try the world's smallest bus, head to Italy and board the Tecnobus, part of the urban public transport system. Compared to a regular bus, the Tecnobus looks like a miniature. Compared to the massive AutoTram Extra Grand, it almost looks like a toy.
Most Luxurious Buses
It may seem odd to use the words' luxury' and 'bus' in the same sentence — in most people's minds, buses are merely a means of mass transportation. However, buses have come a long way in recent years. As with other types of vehicles, you can now find some fabulous luxury buses around the world.
If you are looking to spot buses with a difference, here are a few that could well be amongst the most luxurious in the world.
The Vantaré Platinum Plus
Featherlite Coaches in Suffolk, Virginia, produced the Vantaré in 2006 . This $2.5 million bus is the epitome of luxury and will change your whole perspective on buses.
Stunning and spacious, this bus has Italian leather, state-of-the-art technology, and beautiful decor to make it stand out from the crowd. You will find everything from king-size beds and plasma TVs to liquor cabinets and designer glassware on this bus, making it more like a luxury apartment on wheels.
Prince Sultan Bin Fahd of Saudi Arabia
Designed for the prince it was named after, this single-decker bus offers pure, unadulterated beauty and luxury that really is fit for royalty.
The bus comes with a stunning spacious lounge area with gorgeous furnishings, a royal suite for relaxation and kicking back, an incredible bedroom with luxury bed and seating, additional bedrooms and a fabulous bathroom.
Volkner Mobile Performance Bus
Head back to Germany for your final luxury ride, the  Volkner Mobil Performance Bus .
This truly amazing bus has it all, with everything from a modern luxury kitchen on board to a built-in garage underneath for your sports car. You can relax in comfort in the stunning living and sleeping areas, enjoy entertainment on your plasma TV and enjoy complete and utter comfort even while driving.
Take Your Next Trip With Arrow Stage Lines
If you would like to bring your group on a great motorcoach journey, Arrow Stage Lines will take you there and back in comfort and safety. Get a quote here to book a motorcoach today.
Related Posts
Making the Most of Your Charter
Oct 25, 2023
Arrow Stage Lines Goes Green: Powering Our Nebraska Fleet with Biodiesel!
Sep 27, 2023
10 Luxury Features of Arrow Stage Lines Motorcoaches You Didn't Know About
Sep 13, 2023
I visited Los Angeles with my 60-year-old mom. Here are 4 things I'd do again and 2 I'd skip next time.
My mom and I traveled from London, England , to visit Los Angeles for the first time.
We'd love to visit Rodeo Drive and go on another Warner Bros. Studio Tour the next time we visit.
However, we'd probably skip Venice Beach and Madame Tussauds Hollywood.
Recently, I visited Los Angeles with my semiretired mom.
She's my favorite person to travel with — we'd already been to New York City , Amsterdam, and the Middle East — so I knew it would be a pleasure to have her join my California adventure.
As English tourists who don't drive , we thoughtfully planned a jam-packed eight days of famous attractions and must-visit bars and restaurants. We planned to rely on public transport and visit attractions within walking distance of our hotel.
Before we knew it, we were on a 12-hour flight from London's Heathrow Airport to LAX with, in the words of Miley Cyrus, a dream (to see at least one celebrity) and my cardigan (to beat the airplane chill).
Here's what we'd do again and what we'd skip next time we're in Los Angeles .
Staying on the Sunset Strip was a great choice.
My mom and I opted to stay at the Best Western Sunset Plaza Hotel for the majority of the trip. A five-night stay cost about $1,100, which we thought was a good deal compared to other hotels we looked at and because of its proximity to so many attractions.
Staying on the Sunset Strip also meant we were located by a bunch of restaurants and bars , and we didn't have to pay for Ubers when heading out for a drink or dinner.
I would stay on the Sunset Strip again.
The Tower Bar was worth the hype.
We were also staying close to the historic Sunset Tower Hotel, which has accommodated celebrities like Marilyn Monroe, Elizabeth Taylor, and Frank Sinatra. My friend recommended stopping by The Tower Bar, located within the hotel, for a bite to eat.
The bar had a strict no-photos policy so I couldn't snap any pictures of my Aperol spritz or club sandwich. However, I realized this policy was probably put in place for good reason when I looked over and saw a guy who appeared to be Chris Hemsworth sitting next to us.
Though my mom didn't know who he was, we were excited to tick a celebrity sighting off of our LA bucket list.
The bar's food and cocktails were delicious, and the ambience and decor were stunning. It gave off the old Hollywood vibe we'd been searching for.
We both enjoyed the Warner Bros. Studio Tour.
As huge fans of TV and film, we of course had to embark on a Warner Bros. Studio Tour, which we booked through the studio's website .
The tour was very informative and interactive, and we loved learning some behind-the-scenes facts about our favorite films . My favorite part was visiting the "Friends" Central Perk set, and my mom enjoyed seeing the filming locations for "The Waltons."
Each Studio Tour Plus ticket cost $150 and included a welcome reception, four hours worth of tours, and lunch in the Central Perk Cafe. We'd definitely do this tour again, especially as Warner Bros. adds elements from newer productions into the tour.
Beverly Hills was a window-shopping haven.
We spent a day in Beverly Hills and did a little window shopping down Rodeo Drive, a 2-mile-long stretch known for being one of the most expensive streets in the world.
We loved seeing the luxurious-looking stores and high-end labels like Prada, Gucci, Dior, and Cartier. As we walked down the street, we imagined all of the expensive things we'd buy if we won the lottery.
Rodeo Drive's statues and art pieces also provided plenty of fun photo opportunities.
Grauman's Chinese Theater was a must-see.
One of my favorite parts of the trip was going to Grauman's Chinese Theater, a notable movie palace, and looking at the celebrity footprints and handprints that line the sidewalk outside the building.
I made a beeline straight for the handprints from the "Twilight" cast , though I also saw markings from George Clooney and the cast of the "Harry Potter" franchise.
The stars on the Hollywood Walk of Fame were also near the theater so my mom snatched the opportunity to take a photo with the Osmond family's star.
On the other hand, our bus tour to see celebrity homes was a letdown.
Unless we were visiting Los Angeles with someone who had never been, my mom and I agreed that we'd skip the bus tour of Hollywood homes next time.
During the tour, our guide talked about Los Angeles landmarks and celebrity homes as we passed them. Most of the homes we saw seemed to belong to reality stars and American game-show hosts who, as British tourists, we weren't familiar with.
At one point, we saw the Hollywood sign from afar. The famed Mulholland Drive was blocked off due to roadwork during our visit, so our bus couldn't go the usual route and we missed out on seeing some additional special spots.
For $60 each, we didn't think the bus tour would be worth doing again.
On the other hand, we weren't the biggest fans of Venice Beach.
One evening, we headed to Venice Beach to watch the sunset.
Though we were really looking forward to seeing Venice Beach, as it's known for being a popular area full of cool shops and great sunset views, we ended up being quite disappointed.
The Venice boardwalk area didn't feel the cleanest, especially compared to the other parts of Los Angeles we'd visited. There were also tons of shops selling weed along the boardwalk, which I noticed seemed to intimidate my mom.
I'm sure some people would enjoy Venice Beach, but it wasn't really our vibe and we wouldn't go back.
Madame Tussauds Hollywood was outshined by its New York City counterpart.
We also went to Madame Tussauds Hollywood, a wax museum filled with figurines of celebrities. However, we thought it was quite underwhelming, as we spent only an hour in the museum and left once we got our photos with the figures.
The museum was smaller than I expected and, in my opinion, felt too cramped and busy.
I've been to the Madame Tussauds in New York City and think it's far superior, with several floors and more one-off exhibitions.
There's still a lot to see in LA but I'd visit other cities on my next trip to California.
Overall, my Los Angeles trip was a wonderful adventure and I'm glad my mom came along. We made some great memories and I already can't wait for our next trip.
Though we missed out on some major tourist must-dos like the Hollywood sign hike and a beach day in Malibu, we still saw a lot in eight days.
Next time, we'd likely spend a long weekend in Los Angeles and head to another city in California like Laguna Beach or San Francisco.
Big Bus Tours 4+
With real-time bus tracking, big bus tours ltd, designed for iphone.
#184 in Travel
4.8 • 22.3K Ratings
iPhone Screenshots
Description.
Discover your personal city sightseeing guide. The Big Bus Tours app is an interactive companion that helps you make the most of your time in world famous cities.   • Get access to all our exciting tour routes, helping you plan where you'll hop-on and off around the city • Never miss the next bus with real-time bus tracking and arrival times (not available in Philadelphia, Darwin) • Discover detailed maps that accurately pin point Big Bus stops, as well as all the biggest and best attractions • Feeling a little lost? Find your way with walking directions to the nearest Big Bus stops** • Learn fascinating facts about your destination's landmarks, helping you to get under the skin of the city • Buy Big Bus tickets securely (Paypal, American Express, MasterCard & Visa accepted***) and easily • Take advantage of exclusive offers to top attractions, and beat the queues with fast track entry Designed especially for travellers, the Big Bus app requires low data consumption, so keep it handy even after your tour's finished. Download the app before you depart to enhance your city tour experience or hop on-board and take advantage of free on-board WiFi. Tell us what you think. Open the app and tap 'Contact Us' to have a chat, or find us on: Facebook.com/BigBusTours Instagram.com/BigBusTours * Real-time bus tracking and arrival times requires data **Walking directions requires data ***Payment options may vary per city Supported in-app cities: Abu Dhabi, Berlin, Budapest, Chicago, Dubai, Dublin, Hong Kong, Istanbul, Las Vegas, London, Miami, Muscat, New York, Paris, Rome, San Francisco, Vienna, Sydney, Washington DC. Coming soon: Philadelphia, Darwin
Version 4.7.9
Launching our newest Big Bus city – Madrid! You can buy tickets for our newest panoramic tour, view the route and map of the city, as well as see Madrid's attractions and landmarks. Includes various user experience improvements and bug fixes too.
Ratings and Reviews
22.3K Ratings
Absolutely the best
After researching both major tour buses for NYC (big bus tours and gray line), I decided on Big Bus because their fleet is 100% wheelchair/scooter accessible. We visited from Nov 7-11. The app was very handy. The staff at Madame Toussauds were great and gave helpful information. The bus reps at the stops very very helpful making sure we were all on the correct bus and were very accommodating to us. We had a large 16 person party and one scooter. The guides were funny and entertaining. Some were better than others but we enjoyed all of them. Each offered different information along the tour and all made sure we were comfortable and had earbuds. I was so worried after reading mixed reviews, but we were completely satisfied with this company and would recommend it! The bus stops were easy to find. We had NO problems at all hopping on and off and we did that a lot. We did the downtown tour two days and the uptown tour one day. We skipped the night tour and the cruise because it was so cold when we visited. Buses ran so frequently we never waited more than a few minutes at each stop/pick up. I would absolutely recommend this company!!
Fun service sometimes hard to find the stops
My family had only one day in London and this was a great option to get around freely while also seeing the top sightseeing attractions. Audio tour was okay but would have loved a really person presenting. Did the walking tour with Julia, she was amazing, very informative and funny. Only think I had trouble with was knowing the right stops. I using both the paper and the phone and still had trouble with getting to the right stops. Then also transferring from the red line to the blue line was also difficult. But overall a great option to do when in London and just want to try and see as much as you can! Also, River cruise is a must! The live tour guide was funny and very informative. Both highlights where the walking tour and the river cruise!
Not sure I'd call it Hop on Hop off
We purchased a two day pass & good thing. The app worked great on Sunday; we could see when busses were arriving, how much time we had before it arrived etc but by Day 2 (Monday), the app was not working at all. We couldn't even plan to utilize the other perks that came along with purchasing a deluxe pass b/c you never knew when your rude would show up?! There was no way to know when the next bus would arrive. It was taking over an hour & a half for the next bus to arrive. For this reason we had to skip our next 2 desired stops b/c we didn't want to get stranded & had made plans to meet up with friends later. In fact, once we arrived at Pier 39; we ended up taking a taxi to our hotel near Union square since we were told they needed to sanitize the bus which is understandable, but would have to wait 30 min before we could leave. Obviously it became apparent that they don't run multiple busses on weekdays. Next time I'll wait until the cable cars are operational or spend my $ on a taxi driver to take me around to see the sights.
App Privacy
The developer, Big Bus Tours Ltd , indicated that the app's privacy practices may include handling of data as described below. For more information, see the developer's privacy policy .
Data Not Linked to You
The following data may be collected but it is not linked to your identity:
Privacy practices may vary, for example, based on the features you use or your age. Learn More
Information
App Support
Privacy Policy
Get all of your passes, tickets, cards, and more in one place.
You might also like.
Rick Steves Audio Europe™
Palace of Versailles
Sightseeing Pass Travel Guide
Visit A City
Eurostar Trains
Tube Map - London Underground
Deals of The Week: Europe Up to 50% OFF
Destinations
Usa tour companies.
Looking for an unforgettable USA tour? Book a fully-organized trip with the best tour companies in USA and let the tour operator take care of everything for you. Check out the tour details and read 83222 reviews from our customers to help you choose the perfect tour for you.
List of USA travel companies & tour operators with 83222 reviews

Travel Talk

The tour guide was not available by phone (during the tour). Upon arrival in LA, I had not received any information at the reception; it was generally very chaotic. The tour guide made bad jokes at the expense of others, which I did not like at all, and at the end of the tour distributed envelopes with the names of him and the bus driver to each participant (for the tip). Further, he clearly communicated at the beginning that tipping was expected and how much, which I found unpleasant. I did not feel that this was optional. The bus driver was very nice. The nature was great. The tour guide lacked social skills now and then.
The locations and itinerary were all fine. However, we were very disappointed due to the fact that the Splendors of the West tour we did was and is still currently advertised as 21 to 59. My wife and I are mid 40, s and don't have kids, so we specifically picked this one because of the advertised age range. We much prefer to not travel with kids and were hoping for a bit of a social experience with other guest our age. However, there was kids on our tour and also many in their late 70tys and above... So just rember if picking this tour with the age range in mind, they just let anyone on,

Bindlestiff Tours

The tour was fantastic. The group became friends quickly. Our guide, Hogan, was great! He was knowledgeable and had a great rapport with us. We had a great time!
Great pace 8 travelers,guided tour with outstanding Adriann,knowledgeable,funny,great personality,always had great appropriate music on every location,very good pace,plenty of time to hike.incredible Zion,Antipope canyon monument valley and much more.I cannot recommend enough this adventure. Thanks ago Adriann for this great trip.

G Adventures
the tour itself was amazing. The national parks do not disappoint. The travel accomodations were very cramped and uncomfortable. I am only 5 foot tall and I was cramped in this 14 passenger van. Food opportunities were limited.
Fantastic experience - efficient use of time, great itinerary. Well-informed and interesting guide who is also just a great person.

Southwest Adventure Tours
Tour Radar made the booking process easy. Great variety of tours available. I would use this service again.
A great tour! One day in each park was just enough to give us a sense of the grandeur of each of them. People taking the tour with us were great, and our guide was very knowledgeable. We were given options so that those who wanted to do things on their own could do so, while those that remained with the group stayed with the guide and learned about the history, geology, etc. This was the first time I took a vacation with a tour group, and I was very glad that I did because I learned more than I would have if I had explored the parks on my own.

Well organized! You see a lot, but it's also a lot of time waiting/traveling by bus. Breakfast is always included , but not the rest of the meals. The guides are nice and provide a lot of info, mostly during the bus trips , which is nice because then you can explore each spot by your own
Great guides, friendly,helpful and flexible. Fortunate to be in the company of a wonderful group of other travellers. Impressed that all languages were catered for. The national parks were awesome and 3 days was just the right amount of time. The hotels chosen were very comfortable.

Intrepid Travel
Our trip was great! Judd from Intrepid travel made the entire trip so easy and was so patient and quick to adapt to all of our requests. We had no issues the entire week. Accomondations were usually a LaQuinta and every day we had something cool planned to see.
Great people , Great time. First meal together in los Vegas was awful. It was slimy Thai with NO VEGETABLES. We had to walk across a four lane highway in Los Vegas! I think a great and inexpensive restaurant is Ping Pang Pong.or what ever. Horrible stay in Bluff behind a gas station. No lobby, no restaurant, and no room to move around. Put suitcases on table. Change stay to town of Bland.

Citypass was late coming through until I chased it and hotel had an issue with the single supplement so tried to charge me again for a room trying to make me refund with Contiki. Spoiled the start of my trip so had to chase Contiki when I just had arrived. Think I could've done the entire trip cheaper to be honest. Not sure what value Contiki added.
Guides and activities - professionalism at its best.

Excellent. Great guide, driver, weather, hotels, food. Great itenirary. Love love this trip.
Optional excursions were reasonably priced. Suggest you put together other places in each city as a walking guide or short taxi or uber ride. Example access to close by museums open late and could walk to from hotel. Free time activities and what they are and where located is helpful.tour guide can offer to accompany a group interested to explore more during free leisure tome.Provide more detail info about the logistics of site visits. Niagara falls..suggest more water proof gear clothing and shoe types etc. Terrain to expect when visiting certain sites and possible alternatives.climbing and how difficult-easy or more strenuous or advanced climbing activity. Overall, small groups so much better than filling up bus. Thank you for giving single travelers their own bus space. Would love to watch more travel videos on longer driving distances.

Excellent driver and director. Would have liked more time in Yellowstone as there was a lot we didn't get to see eg Grand Prismatic Spring which was disappointing. Good hotels
Randy did a wonderful job. i only wish there was more room between seats as i am 6'4" 175. the scenery was breathtaking.

Insight Vacations
I was hoping we'd stop more so that I could take more pictures of foliage but overall I enjoyed all that we did. Brigette is a great person, with a fantastic personality.
Tour director was fabulous. On top of everything and very flexible for needed adjustments.

Bucket List Group Travel LL…

Had a wonderful time - a lot of hiking, seeing the sites in Alaska and viewing the Northern Lights.
The tour was amazing, great and tour guides:).

BrushBuck Wildlife Tours
Although the tour was very expensive- over $2000 for 3 days is over the top- it wss a great experience, saw lots of wildlife and the guide was outstanding
Very interesting Rachel is good

Bamba Travel
Bamba Travel was the only tour operator which responded and agreed to help me plan my tour in Hawaii. Although I would have liked a more thoroughly organised tour like pick up from the cruise terminal and transport to the Kualoa ranch organised, I had to take the public bus by myself. It was a bit daunting but Bamba gave me some instructions. At Hawaii it quite easy and safe to take public transport during the day. Bamba was helpful at every step. A bit slow with regards to correspondence bec of time differences as they are in the USA but they would respond daily. Thank you Bamba for helping me organise a tailored plan to meet most of my needs. I had a great time in Hawaii.
Great tour!! Our guide, Eduardo, was extraordinary with his knowledge and passion. He was also very entertaining. The 3 day tour was perfect!

Omega Tours
Our guide, Yvonne DeWit, was excellent! Organized, knowledgeable, informative. Interesting variety of stops from rugged Maine to quaint Vermont to historic Boston with much in between. Would highly recommend this tour and look forward to another one.
Busy, busy, busy....astounding, astounding, astounding

Most aspects of the tour was enjoyable but feel that some improvements could be made. For instance when dropped off for dinner we were only allowed two hours which was not long enough to find a restaurant, sometimes queue for a table and get back to the bus and therefore seeing little of the town we were visiting. Another instance after a long day of travelling we stopped at a Wallmart to buy food for both evening meal and breakfast as out tour operator could not guarantee the hotel restaurant would be open for business for an evening meal, this was at the Sunday river resort. There were no microwaves in our rooms but we did have fridges,which greatly limited our choice of what to buy. We along with other guests felt like this was not ideal for two meals together and felt abandoned and isolated. Whilst on the coach it was apparent that the seats at the front had more leg room but at the rear half of the bus the leg room was very restricted, some very tight, and not very suitable for sitting for long periods. The overhead bag storage was very limited as some seats had none and others had limited space. This was not helped by some guests having large hand luggage wth them as i understood hand luggage size was restricted. i do understand some guests do have to carry medical supplies. Overall we had a lovely trip and we both enjoyed the experiemnce.
Excellent tour. Julie and Melanie were wonderful! The itinerary was well designed and covered all the highlights effortlessly!
List your company on TourRadar
Popular tour operators in:.
International Versions
English: USA Tour Companies
Deutsch: Reiseanbieter für USA
Nederlands: Reisorganisaties en T...
Big Bus Tours Review: Is It Worth the Price?
By: Author Values Bus Tour
Posted on Last updated: August 15, 2023
If you're looking for an unforgettable way to explore a new city or simply see the sights in your hometown, Big Bus Tours is one of the best options out there. It offers comprehensive hop-on hop-off tours in over 20 cities around the world, giving travelers a comprehensive look at what each destination has to offer. Here's our full review of Big Bus Tours.
Table of Contents
What is Big Bus Tours?
Big Bus Tours operates in 16 locations around the world, including New York City; San Francisco ; Chicago; Philadelphia ; Boston; Washington D.C .; Dubai ; Abu Dhabi ; Sydney; London, Istanbul, Rome, and Paris .
In addition to offering bus tours of major metropolitan areas like London or Paris, Big Bus also offers day trips from most cities. For example, from New York City you can take a tour through Brooklyn Heights or Long Island City as well as visit Ellis Island and the Statue of Liberty.
From Los Angeles , you can take a unique tour that includes stops at Universal Studios Hollywood (including lunch), Six Flags Magic Mountain amusement park , and Warner Brothers Studios where you get to see sets used in TV shows such as Friends, The Big Bang Theory and Desperate Housewives.
If you're traveling with a group of friends, or simply want to be able to see as many sights as possible while in one area, Big Bus Tours offers hop-on hop-off service in most of its locations around the world. The tours are available year-round and can be taken on foot or by bicycle depending on the location.
See Related: How to Book Cheap Bus Tickets [Step-by-Step]
The Experience
Big Bus Tours is known for its top-notch tour guides and comfortable buses that provide an enjoyable experience from start to finish. The sightseeing buses come equipped with air conditioning, Wi-Fi, and even audio commentary so you can learn more about your surroundings as you drive by them.
With the hop-on hop-off option, you'll be able to easily get on and off at any stop along the route without worrying about buying tickets or reservations beforehand.
Tour times and length varies by location but most locations offer between three and five tour routes, which vary from 45 minutes to two hours in length.
Audio guides are available in more than 20 languages at each location. The audio guides are available in English, French, German, Spanish, Italian, and Portuguese (Brazilian). They also have Japanese and Mandarin. They will soon be adding other languages to their collection such as Cantonese and Korean.
The live commentary from the tour guide is a great addition to your experience. You will learn about the history and culture of the city you are visiting, as well as some fun facts that you may not have known before. The tours also come with some other extras, such as maps and guides that show you where to go in each city.
There are some tours that only feature audio commentary instead of live guides. These tours still give great information about the area and allow travelers to explore on their own time without having to worry about getting lost or missing out on anything important.
See Related : Explore Los Angeles – Discover the Best Tours of LA
Big Bus Tours has routes throughout some of the most popular tourist destinations in the world, including London , Paris , New York City , Sydney , and more. Each route features multiple stops throughout various districts of each city and highlights some of its most popular attractions.
You can also opt for themed routes such as food tours or night tours depending on what type of experience you're looking for.
See Related : Trips to San Francisco from Los Angeles: Your Ultimate Guide
Cost & Value:
The cost of a Big Bus Tour ticket varies depending on which city you choose to explore and how long you want your tour to last; however, they are typically very reasonably priced compared to other tour companies.
Plus, if you plan ahead and buy tickets online in advance, you can usually get discounts or combo deals that include other attractions like boat tours or museum tickets. All in all, Big Bus Tours provides excellent value for money when it comes to exploring some of the world's top destinations.
See Related : Best Bus Tours From Columbia, South Carolina
Tickets are valid for 24 hours if you purchase a one-day ticket and 48 hours if you purchase a two-day ticket. If you're traveling with children, they can get half off their fare!
If you want to see more than one city, there's no need to buy multiple tickets—just make sure that your first ride starts at least 30 minutes before the second ride begins. If that sounds complicated, don't worry! Our friendly drivers will make it easy for you!
Prices vary by age and range from about $35 to $70 for a one-day adult ticket. Children's tickets are generally half-price.
At some locations, one-day adult tickets are $35 and children's tickets are half that price. Other locations have lower prices; you can find out the exact cost of your ticket here
Some countries charge more for children's tickets than for adult ones, even if those children are older than 12 or so. You can find out what your child's ticket will cost based on his or her age here
The type of ticket you choose also affects pricing: single-day, multiple day and annual passes all differ in price from each other (and from their counterparts in other cities). For example, a single-day pass in Washington D.C., New York City, and Chicago costs $35; but if you want to visit both cities during your trip home from work every night for a week it'll set you back $50.
See Related: Best Bus Tours in Paris, France
Free Walking Tours
Big Bus Tours offers free walking tours and boat cruises with your ticket. In Dubai and Abu Dhabi, Big Bus Tours also offers a Desert Safari tour with your ticket.
If you're visiting one of the cities where Big Bus Tours offers a free walking tour, then you can use it to explore the city in more detail than what is available on the bus. If there are certain parts of town that are not covered by the bus route but are touristy or interesting to you anyway, then this is a good option for getting off the bus and wandering around them!
If you're visiting one of the cities where Big Bus Tours offers boat cruises as part of their package deal, then definitely check those out! They are a lot of fun (and sometimes even include food!).
Pros & Cons of Big Bus Tours
Free walking tours in some cities
Bus routes cover many touristy areas and can be a good way to see the city in more detail than what is available on foot
Boat cruises are fun!
They offer different packages depending on how long you want to stay in a city and how much time you want to spend on the bus
The price of the packages can add up quickly, especially if you are planning on doing several cities during your trip
The guides can be hit or miss
You are stuck on the bus with other people, so if you want to do a private tour, this option is not for you!
There are still many different ways to see the city though, so don't let that stop you from checking out Big Bus Tours.
See Related: Best Bus Tours in London: Top Picks for Sightseeing
Are Big Bus Tours Worth It?
Big Bus Tours is a popular tour company that offers hop-on hop-off bus tours in several cities around the world. Many customers have reported positive experiences with the tour, citing the convenience and flexibility of being able to hop on and off at various locations, as well as the knowledgeable and friendly tour guides. However, some customers have criticized the high cost of the tours and the length of time spent on the bus.
Overall, Big Bus Tours generally receives positive reviews and is considered worth it by many customers. But, it is best to read reviews and compare prices with other tour options before booking a tour with Big Bus Tours.
Big Bus Tours are great for travelers who want to see a city at their own pace and make their own decisions about how much time to spend at each stop. They're also perfect for travelers who want to explore the city with friends or family but don't want the hassle of planning everything ahead of time.
Related Resources
Best Bus Tour Companies in the US
How to Find Christian Vacation Rentals
Best Caribbean Resorts for Singles
This electric school bus promises nearly 300 miles of range
Greenpower's 'mega beast' has a whopping 387 kwh battery -- the largest for any school bus, the company says..
Your EV may go a long way between charges, but can it carry dozens of passengers? GreenPower can boast both of those things with its latest electric school bus called "Mega Beast," it announced in a press release spotted by Electrek . A massive 387 kWh battery supplies nearly 300 miles of range and it can carry up to 90 people — around three classrooms full of kids.
The long wheelbase Type D model features "the longest range and has the biggest battery pack in the school bus market," GreenPower says. It uses a lithium iron phosphate (LFP) battery pack that offers high energy density and a longer life span, but a higher initial cost.
Mega Beast is a souped-up version of GreenPower's regular 140-mile range, 197.3 kWh Beast ("Beast" stands for "battery electric automotive school transportation"). Along with double the battery size, it offers better hill-climbing power, the company wrote.
Why the need for so much range, when buses usually do just two runs per day? This version is designed for longer range routes at rural schools, for example, or school districts that can't necessarily charge a bus at mid-day. It's also aimed at regions with "extreme weather conditions and schools that also use the all-electric bus for extra-curricular activities."
Large electric school buses with around 100 miles of range can cost $300,000 to $400,000, up to four times the price of a diesel-powered school bus. However, maintenance costs are lower and the US Environmental Protection Agency (EPA) recently launched the Clean School Bus Program providing $5 billion over five years to replace existing school buses with zero-emission and low-emission models. Other companies building electric buses include Daimler via its Thomas-Built Buses division, along with Blue Bird .
Latest Stories
Fornite keeps breaking player count records since releasing its nostalgic og season.
Fortnite released a new, throwback season late last week featuring its original island map and elements from Chapter 1 Season 5. The season, Fortnite OG, will pull from earlier seasons over the course of the next month. Player counts have spiked since its release.
How the meandering legal definition of 'fair use' cost us Napster but gave us Spotify
From DMCA takedowns to Content ID filters, record labels continue to crack down on online music sharing.
Brümate's early Black Friday sale knocks 25 percent off drinkware
Brümate is holding an early Black Friday sale, offering 25 percent off its well-regarded insulated and leak-proof drinkware. The sale ends on November 7.
xAI's 'Grok' chatbot will be available to X Premium+ subscribers only
An AI chatbot from Elon Musk's xAI will be released to X Premium+ subscribers once it's out of beta, the CEO tweeted. He also shared screenshots of conversations with the AI, and said it is designed to have humorous responses and has access to real-time information from X.
X is reportedly soliciting people to buy recycled user handles for $50,000
X — formerly Twitter — is working on a marketplace for buying disused handles, and has been soliciting people to purchase old handles for $50,000, according to a report from Forbes. The company started purging inactive accounts in the spring.
Blizzard's next World of Warcraft expansions make up a three-part saga
Blizzard is planning an MCU-style future for the World of Warcraft.
Revel is shutting down its shared electric moped service
Revel is leaving behind its roots and ending its (at times controversial) electric moped service New York City and San Francisco.
Lucid cuts prices on Air luxury EVs by up to $10,000
Lucid is selling several of its electric vehicle models at a discount until November 30.
Live in Washington D.C.? You might be able to get free AirTags for your car
The city of Washington D.C. will distribute free Apple AirTags to residents in certain neighborhoods, mayor Muriel Bowser announced on Wednesday. The aim: to make stolen cars easier for police to track down.
Unredacted documents in the FTC's Amazon lawsuit shed light on the company's secret price-gouging algorithm
A new and mostly unredacted version of the FTC's lawsuit against Amazon has been released today. The new documents show Amazon execs discussing the company's policies for third-party sellers.
Diablo IV's first expansion will introduce a brand-new class in late 2024
Blizzard has announced the first Diablo IV expansion. Vessel of Hatred will arrive in late 2024 and introduce a new class while revealing the fate of the villain Mephisto.
Apple's extended holiday return policy is now in effect
Apple has extended its return policy for the holiday season.
You can try new Overwatch 2 hero Mauga this weekend
Blizzard revealed the next Overwatch 2 hero, Mauga, at BlizzCon. The new tanks is playable this weekend before his official arrival in December.
Another former Facebook employee will testify at Congress about safety issues at Instagram
Arturo Bejar, a former Facebook employee and consultant for Instagram, is scheduled to testify at a Senate Judiciary Committee hearing Tuesday, November, 7.
Solo Stove's Black Friday deals include up to $245 off fire pit bundles
Solo Stove just unveiled its Black Friday sale, allowing consumers to get up to $145 off fire pit bundles. Other products, like the Pi Prime pizza oven, are also on sale.
Thousands of people are uninstalling ad blockers after YouTube's big crackdown
Ad blocking companies say that thousands of people are uninstalling their products after YouTube started cracking down on ad blockers.
NASA discovered that an asteroid named Dinky actually has its own moon
NASA has discovered that an asteroid named Dinky is orbited by a tiny moon, forming a binary asteroid pair. In other words, it's an even dinkier Dinky.
Echo will be the first Marvel show to hit Disney+ and Hulu simultaneously
After a rough spell, Marvel is hoping to get back on track with the help of its next series Echo. It will be the studio's first streaming show to hit Disney+ and Hulu at the same time.
Elon Musk's new AI company, xAI, soft launches this weekend
Elon Musk's xAI company is set to launch, sort of, with a roll out to select users beginning tomorrow, November 4. Musk says this will be the "best" AI and could solve the mysteries of the universe.
Black Friday 2023: The best early deals from Amazon, Target, Best Buy and more
Here are the best early Black Friday 2023 deals we could find from Amazon, Target, Best Buy, Walmart and other retailers.
Inside Celebrity Tour Buses: The Modifications Stars Make to their Mobile Homes
Who isn't fascinated by celebrity homes? We love seeing the outrageous additions that adorn the mansions of the rich and famous. Couches worth tens of thousands of dollars, gourmet kitchens, and master bedrooms fit for royalty aren't uncommon inside the homes of our favorite stars.
Not surprisingly, their mobile homes are no different.
For entertainers such as supermodels, singers, and even pro golfers, touring is what pulls in the most cash— a band can take home 35% of one night's ticket sales plus up to 50% of the merchandise profits over one tour. Tirelessly entertaining dedicated fans from  New York to Chicago to Los Angeles  and every city in between, these celebrities may play up to 180 gigs in one year. When work requires such lengthy stretches of traveling on the road, comfortable mobile living space is a necessity.
While it seems a bit odd at first— why not just fly from one venue to another and save the time difference?— touring with a bus really is the most cost-effective and certainly the most convenient way to move a team around. These modified tour buses take away the stress of living out of a suitcase and provide celebrities with a "home base" where they can relax, unwind, and store all of their things in one consistent spot between appearances. It isn't just a bus— it's an office, a bedroom, a living room, a storage area, and a communal area to bond with your band and team, all in one big box on wheels.
Between living rooms, full bedrooms, and full bathrooms, celebrities work closely with companies that specialize in modifying tour buses to make them as homely and as comfortable as possible. These celebrities also tend to put a unique "touch" on their buses, some "touches" more outrageous than others. From leather couches to over-the-top back lounges, state-of-the-art kitchens, and even upstairs (yes, upstairs) lounges, celebrities certainly know how to get creative when it comes to building a unique "home away from home."
All buses can be divided into four basic sections: a front lounge, which functions as a living room; a kitchen, or more typically, a "kitchenette;" a bunk area, where the band sleeps; and a back lounge, which is a bit of a "wild card" on these buses.
Keep reading to have a look inside the most extravagant celebrity tour buses we could find!
THE FRONT LOUNGE
A front lounge can usually seat about 10 people. They're very "homey," and great for socializing with band members and entourages or hosting friends and family. On either side of the lounge are usually couches, one of which is most likely placed on a "slide—" a mechanism that slides out when the bus is parked, adding up to 60 square feet of space and creating a proper living area.
While some celebrities prefer to keep their lounges simple and sweet— as Kenny Rogers says of his humble wheeled abode, "You buy what you need and you fix it up great!" — others like to beef theirs up a bit with luxury couches, oversized TVs, or high-tech controls.
Tommy Lee's coach features a cozy front lounge with two leather-upholstered couches costing $25,000 each.
The front lounge may also include some sort of "master control" for the entire bus. John Legend has an iPad connected to his bus's server for controlling light settings, changing the television and music, and adjusting the air temperature. Stored right in the same server are over 1,000 movies so there's always something good to watch on the road.
TVs are also a must-have for all front lounges, and you'd better believe they come big— Heidi Klum's front lounge features a 46-inch screen embedded into the wall. Mariah Carey's mobile castle features THREE 60-inch TVs plus an extra screen hidden behind her makeup mirror!
Heidi Klum and Mariah Carey ended up having two of our favorite mobile homes— we'll explain why later.
Also included in many front lounges is a killer sound system that would compete with any typical grounded studio. The Eli Young Band's bus includes a 12-speaker system that's used for blasting music through after parties and rocking the bus on the road with their favorite albums. "Loud" is the best way to listen to music, right?
THE KITCHEN
After the lounge area comes the kitchen. On a typical RV, kitchens are almost nonexistent— it is, after all, quite difficult not only to store all of the usual kitchen equipment but also to make room for appliances such as a stove, oven, and microwave, not to mention necessary counter space and cabinets. On top of all of that, who even has time to cook for themselves while they're busy playing shows? Kitchens simply aren't a priority on the road for most. The usual mobile kitchen features are a coffee maker, an electric tea kettle, and a mini-fridge.
John Legend's bus, however, houses a full stove top, a toaster, a microwave that doubles as a convection oven, and extra cabinet space for preparing gourmet meals in between performances.
Despite limited space, though, alcohol is always a priority. For entertaining an entourage and unwinding after big shows, drinks on-demand are a must-have. Gwen Stefani's coach includes a wine chiller, always stocked with a wide selection of her favorite blends.
Jake Owen's kitchen even has a beer tap— every time his band stops in a new city, they will make an agreement to trade show tickets with a local brewery in exchange for a local beer on-tap on the bus.
Ron White's kitchen features a hidden-away humidor with two sides— one for his cigar stash, and one for his scotch.
Brad Pitt's mobile kitchen takes the cake. His features all of the amenities of any usual kitchen— the stove, the oven, the microwave, the counter, and the cabinet space— plus a built-in full refrigerator and dishwasher, totaling a cost of $60,000 just for the kitchen— more than double what the average person spends on a kitchen remodel in their house!
Past the usual mobile kitchen, you'll find the bunks. Sleeping on a bus sounds painfully uncomfortable, right? The way most celebrities do it, it doesn't have to be. Typically, each bunk features its own mini television, a curtain for privacy, individual controls for air conditioning and lighting, and sometimes memory foam mattresses! The average tour bus bunk is just about the size of a regular twin-size bed.
Lee Brice, however, took it up a notch on his bus with custom oversize bunks, which they call "condo bunks," that feature all the regular amenities at a slightly larger size for extra comfort.
Many celebrities report that sleeping in mobile bunks isn't so bad— the movement of the bus has a tendency to rock them to sleep, which is necessary considering the grueling daily schedules they may keep during a tour.
Most buses can accommodate 6-8 bunks, in which everyone can have their defined private space separate from everybody else. You'll usually see pictures of family, charging outlets, and various other personal belongings inside each bunk.
THE BACK LOUNGE
Back lounges are where we find some of the most unique modifications.
For the most part, celebrities keep the back lounge as their private bed area— everyone needs their own quiet space, right? There's usually a master bathroom included in the back, too, with a full shower, walk-in closet, and counter space. Tommy Lee's master bathroom includes a full-size shower with a TV in the wall, and a closet with a fuzzy rail to keep hangers from sliding while the bus is moving.
John Legend's master suite includes a plush queen-sized bed that slides out just like the couches in the front lounge. Also in his master suite is a 5.1 surround-sound system, with a subwoofer under the bed to make movie-watching in the back even more exciting.
Back lounges are more than just bedrooms, though. Travis Barker's master bed folds up into the wall with the push of a button, creating the perfect private space for practicing his drums. He's also made room for not just one, but two bathrooms on his coach, so there's never any fighting over who's getting the coveted bathroom space.
Laura Bell Bundy had a dance studio built in her back lounge, complete with a full-length mirror and a ballet bar, allowing her to practice routines between shows.
Ashley Monroe's back room has been dubbed a "girls-only zone," where she and her girlfriends can get ready for shows together and stay secluded from the rest of her band.
However, back lounges also have many more specific uses, such as that of Hunter Hayes— situated in the back of his bus is a full recording studio, in which he makes serious progress on all of his current songs. The studio features a mixing station, multiple monitors, and 5.1 surround sound. In it, he's finished 20-30 demos while on the road.
Our favorite back room, though, belongs to Jeff Dunham— he has a full workshop in the back of his bus where he can not only construct but also repair his puppets while on the road, ensuring that they remain in pristine condition for shows.
Now, if all of this makes you roll your eyes and say, "of course they have all that, they're celebrities!" Just wait— we aren't quite finished yet.
Have a look inside these 3 over-the-top celebrity homes. These coaches are so spectacular that we couldn't even single out our favorite features above!
Supermodel Heidi Klum is the proud owner of what is possibly the "greenest" mobile home on the planet. Her office on wheels is the world's only 100% solar-powered RV, packed with countless other "green" modifications throughout the interior and exterior.
The designers of this eco-friendly coach took great care in conserving energy in every way possible when constructing Heidi's mobile workspace. All throughout the RV are energy-efficient LED bulbs, which draw less power and don't add heat to the coach; and high-grade eco-friendly fabric, covering the floor and upholstery. Located by the living space is a control panel, at which one staff member is tasked with ensuring that the RV runs exclusively off of solar power for as long as possible (in the event of an emergency, the coach can easily be switched to draw power from a generator).
With a floor plan that more closely resembles a luxury hotel room than a motor home, this coach includes a total of 320 square feet of living space, including a couch, a loveseat, and a 42-inch TV. Without a bunk area like most other buses, the main living space flows into a spacious kitchenette with a full-size refrigerator, a desk made completely out of recycled wood, and a small sink. The back room serves as a makeup area and dressing room, complete with an oversize mirror surrounded by eco-friendly lights, and a professional- grade hair-washing sink.
MARIAH CAREY
Just the front lounge and kitchen of Mariah Carey's mobile mansion cover 600 square feet— bigger than most New York studio apartments! The lounge includes a 15-foot custom couch, a 25-foot slide on one side, and a 30-foot slide on the other. Facing the oversized couch is a 65-inch TV, connected to a 5.1 studio-grade surround-sound system. In the back is a full kitchen with a full stove top, refrigerator, convection oven, and a kangen water machine— a $4000 water ionizer designed to purify tap water by removing alkaline minerals.
Right by the kitchen is Mariah's makeup station featuring a mirror surrounded by makeup lights, with a TV placed directly behind the surface of the mirror so that Mariah can watch her favorite shows while she's getting her hair and makeup done.
Fantastic, right? We would expect nothing less from a star of Mariah's status. But guess what? The top of this bus expands to an entire second story . That's right— this bus is two stories tall when parked.
The second floor of this skyscraper on wheels is connected to the first by a marble staircase. Upstairs, you'll find unique lighting with a color wheel, creating the perfect mobile dance club for Mariah and her entourage. Wrapping around the back of the dance floor is a 35-foot rounded couch that can seat up to 30 people, facing two more 60-inch TVs, one placed at either end of the bus.
All of the over-the-top amenities in this luxurious mobile tour home, which includes more than two tons of marble and stone, bring the cost to a staggering $1.8 million.
STEVE ELKINGTON
Pro golfer Steve Elkington takes the grand prize for the most insane mobile home modifications. His stunning mobile estate, which he's nicknamed "The Big Show," is an astounding 1,130 square feet, spread over two stories just like Mariah Carey's moving castle. Standing in Steve's over-the-top estate feels less like being in a bus and more like being in a cozy cottage— the coach is modeled after a golf clubhouse, meant to have that "19th-hole" vibe that all golfers love. Included in this wheeled mansion are a full washer and dryer, a full kitchen, a living room, a pro shop, a shoe rack, and a master suite, all on one massive mobile manor.
The kitchen features a full gas stove, an oven, and high-end appliances, with a restaurant-style booth for dining. The living room features a typical slide on the right side with the couch, adding even more square feet to the home. Just past the living room is Steve's own putting green and a pro shop, where guests can come in and browse some of his golf gear. Next to the shop is his personal shoe rack and a station for cleaning and polishing his collection of shoes.
Right by the stairs are the full washer and dryer, tucked away in their own closet for when it's time to take care of a few chores.
The roof lifts 35 feet to reveal a master suite, complete with a queen-size bed and a pop-up tv disguised as a cabinet at the foot of the bed. The TV screen can swivel to face the master bed or the two plush chairs that Steve and his wife often use to read or relax between games.
Finally, the home is completed with a luxurious master bathroom by the bed area.
From leather-upholstered living rooms to walk-in closets to upstairs dance clubs, we can't say that we aren't a little jealous of these luxurious buses . With living on these spectacular mobile mansions and simultaneously touring for months at a time year after year, it's clear that these celebrities know how to work hard and play hard.
If you're a musician looking to rent your own tour bus, check out "What is the Cost of a Tour Bus Rental?" on our blog and decide if you're ready to "go pro" with your own bus!
Hemphill Brothers photo gallery
GOGO Charters is a charter bus rental service that operates in over 200 cities across the United States. With access to a variety of bus rentals combined with superior customer service, we've got everything you need to schedule your next big trip. We can accommodate groups of all shapes and sizes, making us perfect for weddings , company events , sports teams , church trips , school events , vacations, and more. Have any transportation questions you need answered? Call us 24/7 at  1-855-826-6770 . We're happy to help. 
Recent Posts
15 Best Corporate Retreat Locations in California
The Benefits of Shuttles for Healthcare Workers
Top 30 Offsite Locations for Large Groups in Washington, D.C.
How Employee Shuttles Can Boost Your ESG Rating
Group Guide to Visiting Southern California Wineries
A Group Guide to North Georgia Wineries
The Best Day Trips from Las Vegas
Our Favorite Road Trip Snacks for Long Bus Rides
GOGO Social
Do you need to rent a charter bus, do you need a long-term shuttle service.
We offer contracted shuttle services for businesses, schools, hotels, and more. Contact our experts at 1-844-897-5201 to discuss your long-term transportation plans.
Overall Rating : 9.73 out of 10 from 318 unique reviews
Big Bus Tours to set off on £600m journey with new owner
Exponent Private Equity has appointed Bank of America to handle an auction of the world's biggest operator of open-top bus sightseeing tours, Sky News learns.

City editor @MarkKleinmanSky
Wednesday 24 May 2023 12:37, UK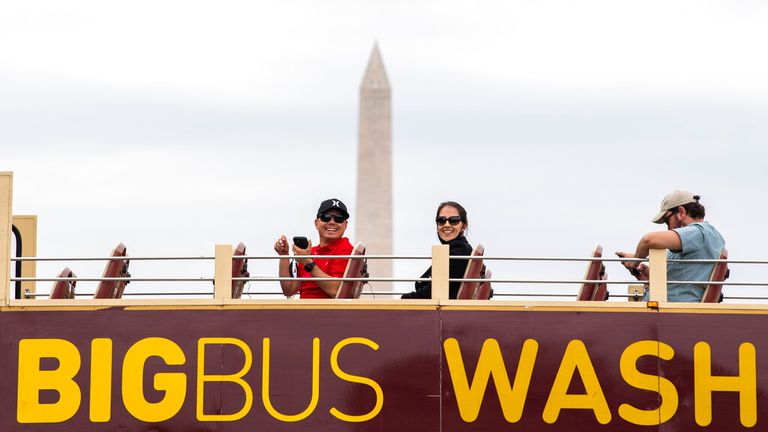 The world's biggest operator of city-based sightseeing tours is being put up for sale in a deal that could be valued at about £600m.
Sky News has learnt that Big Bus Tours, whose open-top vehicles are a familiar sight in locations such as London , Paris and Hong Kong, could change hands within the next 12 months.
City sources said on Wednesday that Exponent Private Equity, which has owned the business since 2015, had hired Bank of America to advise on a sale.
Big Bus Tours is said to be extremely profitable, with demand rebounding strongly since the pandemic.
It also trades in cities including Dubai , Istanbul, New York and San Francisco.
The company was formed in 2011 from the merger of UK-based Big Bus Company and Paris-headquartered Les Cars Rouges.
Read more from Sky News: Some good news, but the inflation figures will deeply worry economists Significant easing of inflation as energy costs stabilise, latest ONS figures show
Exponent's acquisition of the business was reported at the time to have valued it at about £300m.
A minority stake in Big Bus Tours is owned by Merlin Entertainments, the multinational theme park operator which owns Chessington World of Adventures and Madame Tussauds.
Be the first to get Breaking News
Install the Sky News app for free
Sources said other buyout firms were expected to examine offers for the company.
Exponent declined to comment.
International edition
Australia edition
Europe edition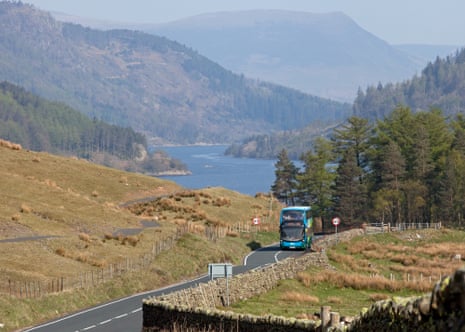 Bag a window seat: 10 of the UK's most scenic bus routes
From Inverness to Land's End, we pick the best bus trips for taking in the UK countryside
I n the gloom caused by the loss of many rural bus services and Rishi Sunak's shameful rollback of environmental pledges, there has been one gleam of (green) light. The bus fare cap , now set at £2.50 across England, will run until 30 November 2024. The cap doesn't apply to buses in Scotland, Wales and Northern Ireland, but there are still some reasonable fares, so here are 10 great sightseeing routes across the UK.
Bus 555 from Kendal to Keswick
This 90-minute journey through the Lake District is one of the UK's most spectacular bus routes, running alongside four famous lakes with views of the surrounding fells. The number of waterbirds on Windermere doubles around this time of year as wintering ducks and grebes fly in from Scandinavia. Some of the trees around misty Rydal Water turn fiery orange as winter approaches and the slopes of Helvellyn are cloaked in autumn copper or dusted with snow.
The cafe at Wordsworth Grasmere offers tea and fruit scones with locally made jam. Visitors who arrive by bus at the poet's former home, Dove Cottage, with its half-wild garden-orchard and the new museum next door, get 20% off. YHA Ambleside and YHA Keswick (private rooms from £50) are both open during the winter and very close to bus stops along the route. stagecoachbus.com
Busway A from Cambridge to St Ives , Cambridgeshire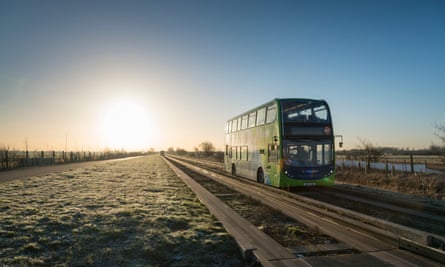 The world's longest guided busway leaves Cambridge railway station every 20 minutes (hourly on Sundays) and rattles through the sights of Cambridge with glimpses of the Round Church and River Cam; an unlimited day ticket costs £4.40. The journey's appeal is partly in the novelty of running along concrete tracks, where the driver doesn't need to steer. Flat fields and fens, with the odd church or windmill, are sandwiched between the city's medieval colleges and pretty St Ives an hour later, with cafes such as the River Terrace for tea.
There's a stop at Fen Drayton nature reserve, just before St Ives, for walks around lakes and russet reedbeds and, on winter evenings, murmurations of starlings swirling through the sunset sky. Elegant Duke House B&B (doubles from £160 B&B), close to Cambridge bus station, has individually furnished bedrooms and locally sourced breakfasts. thebusway.info
Bus 37 from Aviemore to Grantown-on-Spey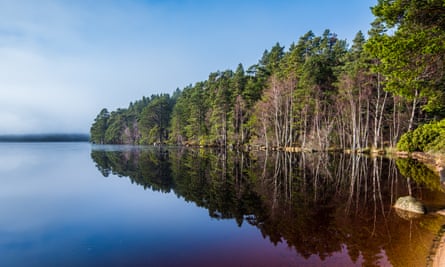 This 45-minute bus ride from Aviemore railway station through the Cairngorms offers mountains views, evergreen forests and village cafes. There are Highland cattle grazing around the ruined walls of Castle Roy and even the odd red squirrel darting through roadside treetops. It's a useful bus route for linear hikes along the Speyside Way with a stop at the Osprey Centre Road End for a birdsong-filled walk through the woods around Loch Garten and the chance to spot crested tits among ancient Caledonian pine trees. Grantown-on-Spey has plenty of places to warm up, including the little museum and nearby Garth hotel (doubles from about £105 B&B). Buses run hourly Mondays to Saturdays, four a day on Sundays; return tickets £6.50. stagecoachbus.com
Bus 402 from Coleraine to Ballycastle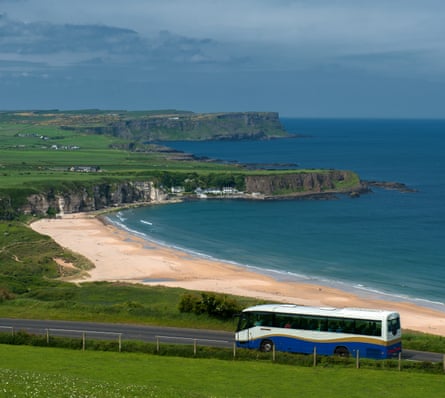 This route from Coleraine station offers a dramatic hour-long tour of windswept moors and romantic clifftop castles along Northern Ireland's green Causeway Coast. It stops in Bushmills, famous for its distillery (tours from £15), and near the Giant's Causeway itself, with its public footpaths and a visitor centre full of legends, geology and natural history.
Ballycastle Backpackers has double/twin rooms (from £70 B&B) and the Marine Hotel next door has doubles (from £80 room-only). Ballycastle's Ursa Minor bakehouse does outstanding coffee and croissants. Buses run every 30 minutes (hourly on Sundays), single £7.60. translink.co.uk
X93/X94 from Scarborough to Whitby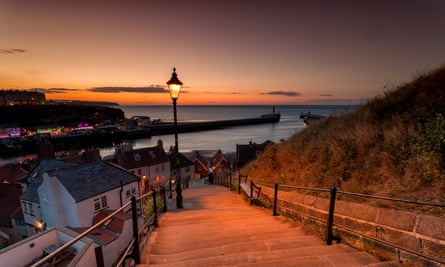 Rolling through the North York Moors, these buses pass bracken-carpeted woods and bronze age burial mounds. They leave Scarborough station every 30 minutes and take an hour to reach Whitby, offering views across moorland to the wild North Sea. They stop at Robin Hood's Bay, with its steep winding lanes and Cove cafe for tea and handmade cake. Towards the end of the bus ride, there's a great view down the River Esk to Whitby harbour.
Dramatic Whitby Abbey , full of celebrated myths and histories from Abbess Hild to Dracula, is offering 20% off entry for visitors arriving by bus, bike or train. Tudor Bagdale Hall , with tiled fireplaces and four-poster beds, is two minutes' walk from Whitby bus station and has a midweek two-nights-for-one offer most weeks until March 2024 (doubles from £200 B&B). arrivabus.co.uk/north-east
CH1 from Cromer to Wells-next-the-Sea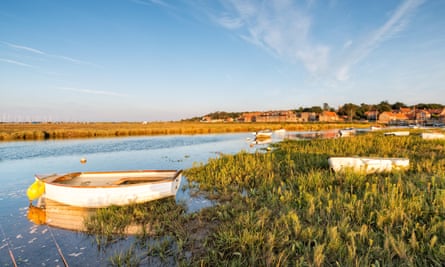 With huge views over tidal marshes to the sea, the Coasthopper bus is perfect for accessing the wild Norfolk Coast Path. The salty expanses around Blakeney are a crucial site for migrating birds in autumn, and home to the biggest grey seal colony in England. Thousands of pups are born here each winter and there are boat trips to see the seals most days from Morston Quay (£20/£10 adult/child).
The Coasthopper leaves every half an hour (hourly on Sundays) from Cromer's bus interchange and takes roughly an hour to reach Wells-next-the-Sea, where the Globe Inn serves Norfolk seafood and wine from the excellent Flint vineyard (doubles from £120 B&B). sanderscoaches.com
after newsletter promotion
Bus 5 from Bangor to Llandudno, Conwy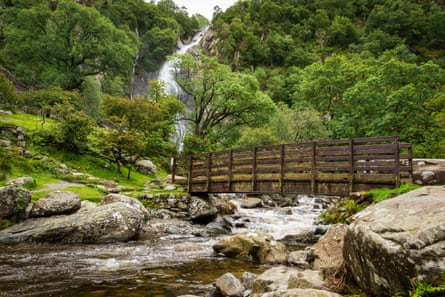 Along the coast of north Wales, beside the tidal Afon Menai, the views from bus 5 encompass mountains, moors and sandy beaches. A day ticket for the area, covering bus journeys from Chester to Pwllheli, costs £5.90. From the village of Abergwyngregyn there is a lovely late-autumn walk up the wooded valley to Aber Falls, two miles upstream.
Ten minutes' stroll the other way is the Aber Falls distillery , which recently launched its first single malt whisky (tours £12.50). In Llandudno, the fabulous Dylan's restaurant and upmarket St George's Hotel (doubles from £99 B&B) are both less than five minutes' walk from bus stops. arrivabus.co.uk
Bus X18 from Newcastle to Berwick-upon-Tweed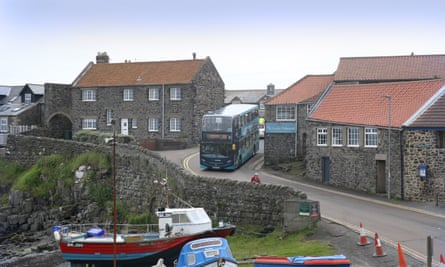 This is another epic route that is extraordinary value for £2.50. It leaves hourly from Newcastle's Haymarket bus station and two buses a day go all the way to Berwick, an almost four-hour journey. North of Amble, the bus runs beside the River Coquet and stops near craggy medieval Warkworth Castle , which has new interactive trails for 2023 and 20% off for visitors arriving by bus.
The X18 winds slowly on past towering Bamburgh Castle and views of beaches and islands, including castle-topped Lindisfarne. There are flocks of waders at Budle Bay, curlews in stubbled fields, and cows roaming through marram-grassed sand dunes. The Walls in Berwick (doubles from £105 B&B) is a welcoming B&B in a Georgian townhouse overlooking the Tweed with the option of Craster kippers for breakfast. arrivabus.co.uk
Bus 218 from Sheffield to Bakewell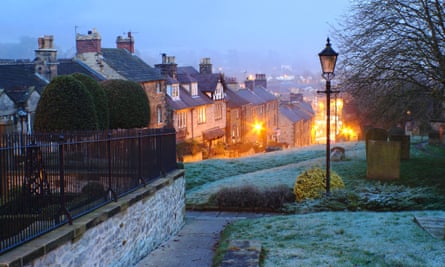 Miles of moor and tor, rocky edges and patchwork fields make this a classic Peak District route, but it has other attractions too. Leaving the city, through vibrant Sharrow Vale, the bus stops at Abbeydale Industrial Hamlet museum with its massive waterwheels and steel furnace. Until early evening, it also stops outside the gates of stately Chatsworth House , where a Christmas market, a light trail, and 24 rooms full of sparkle open on today4 November.
Crossing an old stone bridge into Bakewell, the biggest town in the Peak District, the bus ends in The Square, almost outside the Bakewell Pudding Shop . The imposing Rutland Arms (doubles from £120 B&B ), a few steps away, has 32 refurbished bedrooms and the famous puddings on its menu. tmtravel.co.uk
Land's End Coaster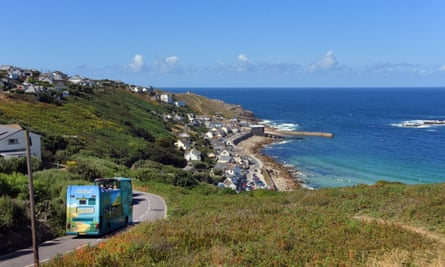 This open-top circular bus ride from Penzance via St Ives around the western tip of Cornwall is incredibly good value for £2.50 for a single fare (a day pass costs £7). The whole journey takes a couple of hours and runs through downland dotted with tin mines and stone circles, passing rugged cliffs and fairytale St Michael's Mount. Daffodils start flowering from December in the west Cornish fields, along with palms and camellias in subtropical gardens.
There are cafes and seaside art in St Ives, where the Tate offers Ben Nicholson's abstracts, Barbara Hepworth's bronzes and £1 off for car-free visitors (£10.50 adults, free for kids). Penzance is packed with great places to stay and eat, including the characterful Artist Residence (doubles from about £140 room-only), serving fresh Newlyn fish. For lunch on the go, it's hard to beat picnic-ready slices of socca from the Cornish Hen deli. firstbus.co.uk
United Kingdom holidays
Public transport trips
Most viewed
Candidates for governor kick off bus tour before election
LEXINGTON, Ky. (WKYT) - With just eight days until Election Day, the candidates for Kentucky governor are making their final push before voters head to the polls.
"I think you're going to see really competitive down-ticket races," said Gov. Andy Beshear at a bus tour stop in Richmond Monday morning. "It's pretty exciting to see how hard they are working. In the end, though, each of these individuals has to make their own case."
Gov. Andy Beshear was joined by the full slate of democratic candidates for statewide elections at the stop.
"It's important to recognize everybody that's on the ticket in these important down-ballot races, but very much in support of the governor," said Buddy Wheatley, the Democratic candidate for secretary of state.
The final sprint of the campaign marathon is not new for Former Governor Steve Beshear, Gov. Andy Beshear's father.
"They're going to win, and it's because they're out here for the right reasons," said Former Gov. Steve Beshear. "They put the people first and their own self-interests second.
Monday afternoon in Flemingsburg, Republican candidate for governor and current Attorney General Daniel Cameron shared a message of redemption.
"It's a unified party, and we feel very good about where we are and that we're going to win on Nov. 7," said Attorney General Cameron.
He spoke to a fired-up crowd alongside Russell Coleman, the Republican candidate for attorney general.
"Now we have an opportunity for this full republican ticket to come alongside him," said Coleman.
U.S. House of Representative members Andy Barr and Thomas Massie also made an appearance at the event.
"That's really important that we send a message to Washington, D.C. about where the people are, and I think they are hurting from national policies that are going to impact state politics," said Rep. Massie.
Rep. Barr criticized Gov. Beshear's endorsement of President Joe Biden.
"What we don't need in Kentucky is leadership that rubber stamps President Biden," said Rep. Barr.
In-person, no excuse absentee voting runs from Thursday, Nov. 2, through Saturday, Nov. 4. The hours to vote are 8:30 p.m. through 4:30 p.m.
Election Day is Nov. 7, and polls will be open from 6 a.m. to 6 p.m.
Copyright 2023 WKYT. All rights reserved.
11-year-old dies in West End shooting that left 5 others wounded, police say
Police issue Golden Alert for missing Lexington woman
'It's impossible': Restaurant owner says he had to close after getting $40,000 energy bill
Kentucky Veterinary Medical Association, veterinarians discuss veterinary shortage
Man critically injured in downtown shooting making 'miraculous' progress
Latest news.
Ambulance present at LCA football game for first time this season
George Rogers Clark JROTC team returns home after victory
Police investigating single car crash in Lexington
UPDATE Police locate missing London man after issuing Golden Alert
WATCH | Lex Glow Ride teaches parents how to keep young bikers safe
Cameron crossing commonwealth with bus tour leading up to election
LOUISVILLE, Ky. (WAVE) - Beshear's challenger Republican Attorney General Daniel Cameron will spend the days leading up to the election crossing the Commonwealth on a bus tour.
WAVE News caught up with Cameron's "Fight for Kentucky Bus Tour" Monday morning at "The Coffee House" in LaGrange.
Cameron told those in attendance why he believes Governor Andy Beshear shouldn't be re-elected.
"I think they definitely see this Governor as crazy when you let out 2,000 criminals out of jail," Cameron said. "You veto tax cuts, and you refuse to protect women's sports from biological males, and I think it's crazy to have a governor who shut down our churches, our small businesses and our schools."
Cameron's bus tour continues through Saturday.
Arkansas Governor Sarah Huckabee Sanders is expected to join him in Campbellsville and Glasgow on Wednesday.
Copyright 2023 WAVE. All rights reserved.
US Department of Labor recovers $72K from Louisville coffee shop operators who withheld tips
'It's impossible': Restaurant owner says he had to close after getting $40,000 energy bill
The Honey Baked Ham Company celebrates grand re-opening of 2 Louisville locations
Parents experience hours-long delays after 92 JCPS bus drivers call out
Republican councilman responds to being called out by Democrats
Latest news.
18-year-old woman arrested, charged with attempted murder of a police officer
LouCity's season ends in a 2-1 loss in Eastern Conference Finals
FORECAST: Sunny and seasonable Sunday
UofL makes it 10 straight at home in dominant win over Virginia Tech
Louisville Zoo holds annual Animal Pumpkin Smash