Tickets & Showtimes
Trending on RT
Total Recall
Every star trek movie ranked from worst to best, with star trek beyond hitting theaters, we count down every big screen voyage of the enterprise..
TAGGED AS: Sci-Fi
These days, cancellation isn't necessarily the end for a television series; between DVD sales, the Web, and the ever-expanding cable dial, if a show has a fervent enough fanbase, odds are someone is going to come along to take advantage of it. Such was not the case 50 years ago, however – not that it mattered to diehard Star Trek fans, who so impressed Paramount with their passion for Gene Roddenberry's characters that the studio brought the property to theaters a full decade after the show was unceremoniously dumped by NBC. Nearly four decades later, as we prepare to greet Star Trek Beyond , the franchise's 13th feature, your pals at Rotten Tomatoes thought now would be the perfect time to take a fond look back at all the Enterprise voyages that got us here — from the beloved classics ( The Wrath of Khan ) to the ones that never should have made it off the holodeck ( The Final Frontier ). Where does your favorite rank? Read this week's Total Recall to find out!
Star Trek V: The Final Frontier (1989) 21%
After churning out three consecutive installments that pleased fans as well as critics, the Star Trek  franchise was due for a fall – and it got one in the form of 1989's The Final Frontier . William Shatner directed the fourth sequel, and helped come up with the storyline (which puts the crew of the Enterprise at odds with a God-like being who has nefarious plans for the galaxy), so he's taken much of the blame for what's regarded by many as the weakest film in the series – blame that, to his credit, he's publicly accepted. But to be fair, Frontier  had bigger problems than Shatner; for starters, the 1988 writers' strike left Paramount rushing to push out another Trek  before the series lost its momentum – and with a budget almost $20 million lower than that assigned to the first film 10 years earlier. Whatever the causes, Frontier  was a failure; although it easily recouped its budget, its grosses didn't come anywhere near The Voyage Home 's, and neither fans nor critics were charmed by the film's comedic elements (including the infamous Yosemite camping scenes) or its thinly veiled attacks on televangelists. "Of all the Star Trek  movies, this is the worst," wrote Roger Ebert – and for a time, it seemed likely that it would also be the last.
Watch Trailer
  Star Trek: Nemesis (2002) 38%
If 1998's Insurrection found the Star Trek  franchise suffering from what seemed like audience fatigue, 2002's Nemesis — the final picture to feature The Next Generation 's crew – represented the onset of a full-on malaise. After over a decade of films that performed solidly at the box office and ran the critical gamut from great to respectable, Nemesis came as a profound letdown – not only with critics, who gave it the worst reviews the series had seen since The Final Frontier , but with the moviegoers who stayed away in droves; its $43 million domestic gross was almost as embarrassing as the fact that it made less than Maid in Manhattan  its opening weekend. In the hands of new director Stuart Baird, Nemesis presented a more action-heavy Trek than audiences were accustomed to; unfortunately, this shift in direction alienated hardcore fans, and the script – partially inspired by an idea from Brent "Data" Spiner – failed to take advantage of its departing cast. In the words of USA Today's Mike Clark, "As spent screen series go, Star Trek: Nemesis  is… suggestive of a 65th class reunion mixer where only eight surviving members show up — and there's nothing to drink."
Star Trek: The Motion Picture (1979) 52%
With a full decade between it and the end of the original series, you might think 1979's Star Trek: The Motion Picture  would have plenty of time to work out all the kinks – but alas, as the movie's dismal Tomatometer (and decades of fan gags about " The Motionless Picture ") can attest, all of Trek 's time off didn't translate into an auspicious big-screen debut for the crew of the Starship Enterprise. The problem with the first Trek  film – aside from a dialogue-heavy storyline whose biggest villain was a cloud – actually had nothing to do with the franchise itself; instead, it was a series of corporate shenanigans, including an aborted attempt at a second Trek  television series, that left director Robert Wise with a patchwork script and neither the time nor the money to realize his vision. Although The Motion Picture  didn't meet commercial or critical expectations (the Chicago Reader's Dave Kehr called it "blandness raised to an epic scale"), it performed well enough to justify a sequel – and, in the bargain, kicked off one of the longest-running series in movie history.
Star Trek Generations (1994) 48%
After seven years and 178 episodes, Paramount felt the time was right to give the cast of Star Trek: The Next Generation  its cinematic debut – and since some members of the Enterprise's original crew were either unwilling to return (Leonard Nimoy) or not well enough (DeForest Kelley), the seventh Trek  movie seemed like the perfect spot for a changing of the guard. With a behind-the-scenes crew that included a number of Next Generation  vets – including producer Rick Berman, director David Carson, and screenwriters Ronald D. Moore and Brannon Braga – 1994's Star Trek Generations  should have been a slam dunk, especially given a plot that put TNG 's Captain Picard (Patrick Stewart) face-to-face with James T. Kirk for the first time, but alas, it was not to be. Though it did well enough at the box office, slightly improving upon The Undiscovered Country 's worldwide tally, Generations  received a mixed reception from writers like the New York Times' Peter M. Nichols, who simultaneously criticized it as "predictably flabby and impenetrable in places" and praised it for having "enough pomp, spectacle and high-tech small talk to keep the franchise afloat."
Star Trek: Insurrection (1998) 55%
After handling screenplay duties for Generations  and First Contact , writers Ronald D. Moore and Brannon Braga disembarked from Star Trek 's film voyage – but at this point, the Trek  creative universe had expanded to the point that producer Rick Berman had plenty of new collaborators to choose from. He settled on Michael Piller, with whom he'd created the Trek  TV spinoff series Deep Space Nine , and together – along with Jonathan Frakes, who returned to direct and reprise his role as Commander William T. Riker – they put together Insurrection , a story that introduced new wrinkles for familiar characters (such as LeVar Burton's Lieutenant Commander Geordi LaForge briefly acquiring the ability to see without optical implants) while still holding true to the core themes of the series. Unfortunately, at this point, audiences were so used to seeing one Trek  TV series or another that they needed something truly extraordinary to hold their attention on the big screen – and Insurrection , as evidenced by a gross that fell short of First Contact 's, wasn't it. Still, even if critics didn't find it to be the most compelling entry in the series, they weren't completely dismissive; as Kenneth Turan of the Los Angeles Times wrote, "[It] lacks the adrenalized oomph of its predecessor, but no adventure of the Starship Enterprise is without its gee-whiz affability."
Star Trek III: The Search for Spock (1984) 78%
Leonard Nimoy a.k.a. Captain Spock, only agreed to return for The Wrath of Khan  because his character died in the last act; fortunately for the franchise, he later had such a change of heart that not only did he come back for Star Trek III: The Search for Spock , he directed  it – and did an admirable job of continuing the series' resurgence, piloting the third chapter to a respectable $76 million domestic gross and generally favorable reviews from critics like Time's Richard Shickel, who praised Nimoy for "beaming his film up onto a higher pictorial plane than either of its predecessors." Though further odd-numbered entries in the series would famously come to represent Trek  at its worst, Star Trek III  cemented Gene Roddenberry's creation as a viable ongoing concern for Paramount – and set the stage for the film series' fourth chapter, thus clearing the path for  Trek 's eventual return to television in 1987 with Star Trek: The Next Generation .
Star Trek VI: The Undiscovered Country (1991) 83%
It might have suffered a cinematic black eye with 1989's The Final Frontier , but the Star Trek  franchise still had at least one thing going for it at Paramount – namely, the 25th anniversary of the series, which the studio was eager to capitalize on, even if it wasn't willing to commit more than the $27 million spent to film the previous installment. Fortunately, the sixth Trek ended up in the hands of a director who knew how to make the most of minimal budgets: Nicholas Meyer, whose work on The Wrath of Khan was still, at that point, the critical apex of the series. Working from a Cold War-inspired story suggested by Nimoy, Meyer assembled The Undiscovered Country , whose 83 percent Tomatometer and nearly $100 million worldwide gross were not only fitting for a quarter-century celebration, but what ultimately ended up being the final voyage for much of the original cast. With series creator Gene Roddenberry passing away just prior to Country 's release, and the future of the franchise in question, not a few critics were left feeling nostalgic – like Hal Hinson of the Washington Post, who wrote, "If, indeed, Star Trek VI  turns out to be the last of the series, it couldn't have made a more felicitous or more satisfying exit."
Star Trek Into Darkness (2013) 84%
After leading the franchise to fresh heights of blockbuster glory, Star Trek  director J.J. Abrams was the natural choice to man the controls for the next installment in the series — and although the result, 2013's Star Trek Into Darkness , didn't quite match the lofty standards set by its predecessor, it proved the Trek resurgence was no fluke. Continuing to explore the alternate timeline established by Abrams' first chapter, Darkness  carried the rebooted mythology forward while weaving in some fairly major callbacks to iconic events and characters from the original films — including the nefarious Khan Noonien Singh, whose quest for vengeance against the Federation sends the crew of the Enterprise on a race against (and across) time. " Star Trek Into Darkness  banishes, at least for the moment, the lugubrious mood and sepulchral look that too many comic-book movies mistake for sophistication," wrote the Washington Post's Ann Hornaday. "All hail an action film that isn't ashamed to have fun and to be seen doing it."
Star Trek IV: The Voyage Home (1986) 82%
Having explored the outer limits of space, Star Trek  spent much of its fourth cinematic installment in decidedly more familiar environs – namely, the America (specifically the San Francisco bay area) of 1986, thanks to a storyline, conceived by returning director Nimoy, that had the crew of the Enterprise traveling 600 years back in time to retrieve a humpback whale in order to… well, it isn't important, really. What mattered – at least to the folks who helped Star Trek IV: The Voyage Home  to a $133 million worldwide gross – was that it lived up to Nimoy's goal of showing audiences "a great time" with a feature that played up the lighter side of a franchise whose humor was often overshadowed by its big ideas. Weathering a number of pre-production storms – including William Shatner's refusal to come back without a raise and the chance to direct the next sequel — Voyage  triumphantly emerged as what Roger Ebert referred to as "easily the most absurd of the Star Trek  stories – and yet, oddly enough… also the best, the funniest and the most enjoyable in simple human terms."
Star Trek Beyond (2016) 87%
The original Star Trek movie series was never really known for its blockbuster action, but director/producer J.J. Abrams took things in a far more fast-paced direction when he rebooted the franchise — and that continued after he handed the reins to Justin Lin for 2016's Star Trek Beyond . Continuing to display the flair for thrilling set pieces he demonstrated during his tenure with the Fast & Furious  saga, Lin sent the crew of the Enterprise hurtling to a distant planet where they found themselves pitted against the alien warlord Krall (Idris Elba) with an axe to grind against the Federation and a dark secret hidden in his past. It's a setup with plenty of room for pulse-pounding space battles, and Lin didn't disappoint — but he also left room for the thoughtful progressivism that had always been a hallmark of the earlier films, adding up to a fun Starfleet adventure critics hailed as a tasty bucket of popcorn sci-fi that doubled as a worthy celebration of Star Trek 's 50th anniversary. The end result, wrote Katie Walsh for the Tribune News Service, is "everything you want a post-modern Trek  movie to be: funny, poppy, self-referential — and with Captain Kirk punching bad guys in rubber masks."
Star Trek II: The Wrath of Khan (1982) 87%
Sequels that expand upon their predecessors are exceedingly rare – but then, 1982's Star Trek II: The Wrath of Khan  is no ordinary sequel. After ponying up the then-princely sum of $46 million for the first Trek , Paramount was looking for two things: One, a scapegoat for the first film's $136 million global gross (which ended up being series creator Gene Roddenberry, who was exiled from the decision-making process for Khan ), and two, someone who could head up a cheaper second installment. That someone was Harve Bennett, a Trek  novice who quickly immersed himself in the original series in search of a compelling villain for the sequel – and found him in Khan Noonien Singh (Ricardo Montalban), a superhuman with a thing for mind-controlling eels. Khan 's thrifty aesthetic may have inspired Bennett and director Nicholas Meyer to cut corners wherever possible – including reusing sets from The Motion Picture  — but the movie didn't skimp on storyline, much to the delight of fans and critics, both of whom rank the series' second chapter at or near the top of the franchise. "Here comes a sequel that's worth its salt," wrote Janet Maslin of the New York Times, concluding "It's everything the first one should have been and wasn't."
Star Trek: First Contact (1996) 93%
After three decades, seven films, and four television series, most franchises would have long since exhausted their options – but as 1996's First Contact  proved, the creative horizons of the Star Trek  universe were capable of expanding longer and wider than perhaps even Gene Roddenberry could have suspected. Now firmly in control of the franchise, the Next Generation crew – both onscreen and off – was able to expand upon themes and characters touched on during its own series, specifically the nature of the endlessly assimilative cybernetic Borg collective. Having already proven a worthy adversary during TNG 's run – particularly during the classic episode in which they assimilated Picard himself – the Borg now propelled Trek to the best reviews (and some of the highest grosses) in its history. A sequel that both paid tribute to longstanding Trek  traditions ( TNG  vet Jonathan Frakes directed, proving Leonard Nimoy wasn't the only member of the Enterprise crew who could successfully pull double duty) and broke them (Paramount ended decades of parsimony by breaking out $47 million for the budget), First Contact  earned the praise of critics like Time's Richard Corliss, who wrote that "it stands proud and apart, accessible even to the Trek -deficient" before decreeing that "this old Star , it seems, has a lot of life in it."
Star Trek (2009) 94%
After bottoming out with 2002's Star Trek: Nemesis , the series entered a state of suspended animation for over half a decade — and if it hadn't been for the reboot mania that gripped Hollywood during the early 21st century, there's no telling how long it might have stayed there. As it happened, fanboy-friendly director J.J. Abrams — then riding a hot streak as one of the creators/producers of the hit series Lost  — was handed a set of jumper cables and the keys to the franchise; the result, 2009's Star Trek , managed to hit the reset button on Trek (along with the requisite hot young cast) while incorporating enough familiar touches to keep longtime fans feeling at home. In the end, Abrams' Trek earned some of the most positive reviews in the history of the franchise, and its $257 million gross firmed up the future of a film series that had seemed thoroughly uncertain just a few years before. "With Star Trek  Abrams honors the show's legacy without fossilizing its best qualities," enthused Salon's Stephanie Zacharek. "Instead, he's whisked it off to a planet where numbing nostalgia can't kill it, and where the future is still something to look forward to."
Related News
The Creator Scene Breakdown with Director Gareth Edwards
The Creator First Reviews: A Timely, Visually Jaw-Dropping Spectacle
Star Wars: Ahsoka Exclusive Sneak Peek: Sabine and Ezra Flee with Blasters Blazing
More Total Recall
The Worst Horror Movies of All Time
Marvel Movies Ranked Worst to Best by Tomatometer
Jurassic Park Movies Ranked By Tomatometer
Movie & TV News
Featured on rt.
What to Watch This Week: The Marvels , Dream Scenario , and More
November 9, 2023
The Hunger Games: The Ballad of Songbirds & Snakes First Reviews: Great Action and a Strong Cast, but a Bit Overstuffed
The Marvels Director Nia DaCosta on Mapping Fight Scenes, Bringing Humor to the Film, and More
61 Best Concert Movies of All Time
Top Headlines
61 Best Concert Movies of All Time –
The 100% Club: Movies With a 100% Tomatometer Score on Rotten Tomatoes –
All Marvel Movies Ranked: See MCU Movies By Tomatometer –
All Marvel Movies In Order: How To Watch MCU Chronologically –
25 Most Popular TV Shows Right Now: What to Watch on Streaming –
30 Most Popular Movies Right Now: What to Watch In Theaters and Streaming –
Every 'Star Trek' Movie Ranked from Worst to Best
We boldly go through the Enterprise's 13-film journey on the big screen.
Star Trek has had an unusual road to its fandom. It began as a short-lived television series, and yet it's a highly influential and long lasting franchise that has spawned four sequel series and thirteen motion pictures. These two formats can be incredibly different, both in terms of tenor and tone, despite taking place in the same universe with the same casts. It is, to quote Mr. Spock, "fascinating."
Some make the case that this is a story that deserves to be told on a cinematic canvas, while others argue that Trek is best served as an episodic series. Some pay great homage to the feeling of the original series, while others feel like they should have aired on television. It's a rich, diverse film franchise where even the failures are intriguing.
So let us boldly go, and start with the weakest entry in the series thus far:
13.) Star Trek Into Darkness
I must politely disagree with my colleague Chris Cabin on the merits of Star Trek Into Darkness . While it's not as bad on a second viewing, it's still suffering the growing pains of not knowing what Star Trek really is.
That's the conundrum with the J.J. Abrams' Star Trek movies: if you want to take them as simple action movies, they're serviceable enough, but that's a waste of a world and disrespectful of what Trek is about. If you're not a Trek fan, I doubt you'll care, but imagine if someone made a Star Wars movie and tried to take the mystical force and turn it into something scientifically measurable (oh wait). It's fine to update Trek with new uniforms, a new ship design, a new score, etc. That's the artistry, but that's not the core of what makes Star Trek tick.
Star Trek is about science fiction, and J.J. Abrams isn't interested in that. He's interested in making Space Adventure! and he does a poor job of telling the story. It may stimulate the lizard parts of your brain with the bright colors, canted angles, lens flares, and set pieces, but it's bad storytelling that tries to steal from a far superior picture.
I understand that for Kirk, this is a learning experience film for him, and he has to overcome his cockiness and irresponsibility (you wonder how someone who responds to breaking the Prime Directive with "Big deal," should ever be a captain in Starfleet -- assuming you care about Starfleet), but it's such a drag, and the character is so deeply unlikable that you're almost rooting for him to fail. It also fails as a friendship tale, as there's little chemistry between Pine and Quinto, so the big "Khan!" moment comes off as laughably terrible.
Rather than boldly build a new world, Into Darkness steals from the old one, and does so poorly. For some it may pass as mindless entertainment, but it's mindless to waste Trek in such a vicious, vacuous manner.
12.) Star Trek V: The Final Frontier
Someone give William Shatner a participation trophy. Watching Star Trek V , it's like Shatner saw the lighthearted success of Star Trek IV: The Voyage Home and wanted to redo it for his directorial contribution to the franchise. Unfortunately, Star Trek V is constantly silly and nonsensical rather than fun and upbeat. It starts out from a promising position, but quickly falls into lethargy, and missing the point of what makes a Trek movie with The Original Series cast work so well.
When it comes to movies with the TOS cast, the best thing to do is keep the focus on the cast. Unless you have a villain like Khan ( Richardo Montalban ), a villain who is rooted in the old show and who's utterly captivating on his own merits, then your greatest strength is the camaraderie of the old cast working together.
Unfortunately, Final Frontier shortchanges the original cast on two fronts. First, it invests far too much in its villain Sybok ( Laurence Luckinbill ). While I like that Sybok isn't an outright evil person, he comes off like an overly familiar camp counselor. He's not creepy so much as he's irritating, and then there's his whole spiel about tapping into a person's pain, which then in turn somehow brainwashes that person into being completely loyal to him.
That leads to the film's second major failing: separating Kirk ( William Shatner ) from his crew. If that's the route they were going to take, then they really should have carried more major stakes with it. Instead, it feels like a cheap shortcut that in turn deprives supporting characters like Uhura ( Nichelle Nichols ), Sulu ( George Takei ), and Chekov ( Walter Koenig ) of character arcs and motivations. The movie also had an opportunity to delve into Spock's loyalty to Sybok, but that plays more as ambivalence than a source of real conflict between the characters.
Caught between a weak villain and ignoring its greatest asset, you have a film that's trying so hard to be goofy and constantly missing the mark. While it's endearing in the odd way that Shatner is trying so hard to please his audience, it doesn't change the fact that he's missing the mark, and comes up with jokes like Scotty ( James Doohan ) hitting his head after saying he knows the ship like the back of his hand. So when we finally come to the comical "Why would God need a spaceship?" it's just the summation of all of the film's flaws rather than its final error.
11.) Star Trek: Insurrection
On the one hand, I can respect that the Star Trek: The Next Generation movies were in a difficult position. Unlike the TOS movies, which were set in the 23rd century and didn't have to worry about how their events would affect the TV shows, TNG was right in the prime of other Trek on television even though their own show had ended. Rather than be audacious and tie into what was happing in the TV series (which, granted, is a big ask for any movie), the TNG films were largely content to tell standalone stories that only briefly acknowledge the larger Trek universe.
That's how we get something as tepid and forgettable as Insurrection , a movie that could have delved deep into its interesting premise, and instead looks like a cheap, two-parter that went unaired because it's the cure for insomnia. Insurrection had the opportunity to take on an interesting question: what happens when the Federation is wrong? It's an issue that had popped up repeatedly during the series, but Insurrection could have tackled it on a massive scale, and even incorporated the weakened Federation brought low by Deep Space Nine 's Dominion War.
Instead, rather than question what the Federation means and how important it is to the crew of the Enterprise (a crew that always agrees, which is nice, but doesn't invite conflict), the plot to remove the peaceful Ba'ku (who look like they were pulled out of an L.L. Bean catalog) to profit the greedy Son'a and the Federation is the work of a couple of bad apples rather than something endemic to Starfleet. The lines are clearly drawn from the beginning, and rather than challenge the audience to question Starfleet and the loyalty of the Enterprise crew, the characters ditch their uniforms without much fuss and go help the Ba'ku.
10.) Star Trek: Nemesis
Again, it starts out from an interesting place—nature versus nurture, and who would Picard be if his life had been one of torment rather than one in Starfleet? Unfortunately, the film is so hard up to make its villain, Shinzon ( Tom Hardy ), unequivocally evil that there's no dramatic pull. It's not simply enough for Picard to see a dark mirror that reaffirms his righteousness. The film also doesn't challenge Shinzon to find the good in himself. Had they pushed Shinzon in that direction, it would have made him a more tragic figure rather than the moustache-twirling villain who wants to destroy Starfleet with a super-weapon.
Nemesis also suffers from the same problem as all of the TNG films in that in cannot get enough Data. For some reason, even though you have a rich, diverse case with Next Generation , the movies treat Picard and Data as the main characters and ignore everyone else. This kind of thinking is how you get to disgusting things like Shinzon mind-raping Troi ( Marina Sirtis ) just because, and then doing nothing with that assault other than using it later for a plot device to let her empathically guide the photon torpedoes.
The movie also wants to get away with killing Data, but not having any of the emotional impact of actually killing Data. Data has to live, so his "sacrifice" is rendered meaningless because he has B-4 back on the Enterprise as a backup.
9.) Star Trek: Generations
This film seems to exist so it can pass a torch that never needed passing. Looking back on Star Trek: Generations , it's a story that seems more suited to fan fiction than something that actually serves Star Trek of any generation. The original series cast had already gotten a great send-off with Star Trek VI: The Undiscovered Country , and it's a bit of a bummer to see an incomplete cast some back for a second encore. Additionally, the Next Generation cast was already well-established and had a full series under their belt. The producers should have trusted them to carry their own story.
Instead, the movie tries to play to two audiences and ends up serving neither. Buried beneath all the dreck and talk of the Nexus and Data obnoxiously showing off his new emotion chip, there's actually a compelling story about the cost of duty to Starfleet. Kirk and Picard are united by what they've personally sacrificed for Starfleet—and how they lost out on having families because they chose to be explorers instead. If you must have Kirk and Picard share the screen (and you really don't), then this is solid thematic ground to walk.
But Generations bungles it completely with how tonally scattershot it is and the atrocious structure of the narrative. It's a movie where you kill off Captain Kirk, an incredibly beloved and revered character, and then your next scene is the crew of the Enterprise-D playing dress up on the holodeck. They then keep Kirk out of the film until the third act, so there's no real time for Picard and Kirk to build a bond before they have to take down Soran ( Malcolm McDowell ). And then Kirk gets killed by a bridge.
8.) Star Trek: The Motion Picture
The biggest problem with The Motion Picture is that it lost Star Trek 's sense of identity. The film is trying to ape 2001: A Space Odyssey , and so it thinks that what the audience wants it a slow, meditative motion picture, and while there's nothing inherently wrong with that, it loses Trek 's greatest strength. It's the opposite end of the spectrum from Star Trek Into Darkness —it's not that Star Trek needs to be a non-stop action thrill ride, but it also shouldn't be something understandably derided as "The Motionless Picture."
There's no good reason why the docking sequence should take as long as it does, and it feels like half of this movie is just people looking at the view screen. While I understand Star Trek taking a chance and going with something unexpected, The Motion Picture doesn't play to the strengths of the original series or its cast.
It's particularly frustrating that the movie pushes The Original Series crew to the background to play up new characters Decker ( Stephen Collins ) and Ilia ( Persis Khambatta ) to the point where it feels like The Motion Picture is their story that just happens to include The Original Series cast along for the ride. It doesn't move the characters we know forward, and while the V-ger reveal is kind of neat, it elicits more of a shrug than any contemplation.
7.) Star Trek Beyond
I both kind of love and kind of dislike Star Trek Beyond . On the one hand, I knew I had a fun time while I was watching it. It felt like it was embracing classic Trek in a way we hadn't really seen since Star Trek VI: The Undiscovered Country . But that being said, it's almost impossible to remember this movie because beyond showing its love of classic Trek , it doesn't have much in the way of a personality.
The plot of Star Trek Beyond finds the gang stranded on an alien planet (The Enterprise is destroyed. Again.) where the natives are ruled by a mysterious leader Krall ( Idris Elba ) who wants to unleash a powerful weapon against the Federation. This crash-landing allows the group to pair off in ways that hadn't really been done before and allows for unique pairings like Spock and Bones that give the movie a lot of its power. The strongest asset of the new Trek movies has been the casting, and that really gets to shine here.
Unfortunately, the film fails to leave much of an impact because it never makes any bold choices. You can feel that this is a movie caught in a post Star Wars world where as the first two rebooted Trek movies could simply be Star Wars substitute, Beyond is wrestling with what it means to try and get out from under the shadow of the mammoth sci-fi franchise. Sadly, it never really finds an answer to that question, so while it makes for a fun, enjoyable picture with a better script than 2009's Star Trek , it also lacks the necessary punch to make it more than disposable summer fare.
6.) Star Trek
J.J. Abrams' Star Trek is a movie I really enjoyed when I first saw, but it has not held up well on repeat viewings. On a surface level, it's really shiny and fun, and Abrams has the wherewithal to give his Trek an interesting new aesthetic (lens flares and shaky camera aside). It's a fun compromise between the iconography of the original (they use communicators instead of com-badges) and an energetic, clean art design that sucks you into this new world.
The problem with Trek 2009 is that its story falls apart if you so much as glance at it the wrong way. For starters, like Into Darkness , it could not care less about what makes Star Trek special. It's a movie where a suspended cadet gets promoted all the way to first office because the captain likes the cut of his jib. It's a movie that doesn't have a sci-fi bone in its body beyond trying to make sure that the original continuity remains intact while also forging an alternate reality. It's a movie where they build the Enterprise on land rather than in space just so there can be a shot of Kirk looking at it in Iowa.
But even if those Trek concerns don't bother you, there are still the larger story problems. For example, Spock strands Kirk on a planet where Kirk could easily die, but it's okay because Kirk conveniently runs into Spock Prime ( Leonard Nimoy ) and Scotty ( Simon Pegg ), the only two people who can help get him back to the Enterprise. Or there's the moment when Kirk confronts Nero ( Eric Bana ), and there's no emotional baggage to it even though this is the man responsible for the death of Kirk's father.
The success of Star Trek is that you don't really notice its myriad of problems until you start looking for them, because Abrams made such a tight, lighthearted action flick that keeps barreling forward at breakneck speed. At the time, it felt promising because you would think that with four years between Star Trek and its sequel, there would be time to really nail down the story, and Abrams' direction would remain intact. Oh well.
5.) Star Trek: First Contact
Star Trek: First Contact is an odd sort of movie. It's the first time the Next Generation crew is really on their own, and they're pulling from one of the strongest elements they ever contributed to Star Trek lore, the Borg. It's a good setup and it also rewards those who saw the Next Generation series while not being so esoteric that it would alienate those who never saw the show.
And yet it's still not quite Star Trek . It's not a movie about anything. Say what you will about Generations , Insurrection , and Nemesis , but for all their faults, at least they're about something (legacy, duty, and destiny, respectively). First Contact is an action-horror film, which is something you wouldn't necessarily expect a Star Trek movie to be, but director Jonathan Frakes makes it work within the context of a new genre.
It's just unfortunate that there's no consideration of anything beyond Picard facing his old demons. Once again, outside of Picard, only Data really gets to shine, but at least they give Worf ( Michael Dorn ) more to do than Insurrection , which literally makes the character go through puberty because that's the best they could come up with. The Borg are a compelling villain, and while you may have to cringe a bit with lines like "Assimilate this," at least First Contact is fun, which is more than you can say than the other TNG films.
4.) Star Trek VI: The Undiscovered Country
This is where on this list that Star Trek actually starts to feel like Star Trek . One of the great things The Original Series did was to tell narratives that reflected real-world tensions. Out of all of the Star Trek movies, The Undiscovered Country is the only one to mirror real world events. In this case, the script cleverly draws a parallel to the closing of the Cold War with the coming peace treaty between the Federation and the Klingons because the Klingon Empire is about to go bankrupt.
It's also a story that's rooted in the films that came before, as Kirk must wrestle with making peace with the people he holds responsible for the death of his son. It's an issue that hadn't been dealt with since The Voyage Home , but it adds personal stakes rather than keeping the issue nebulous. It also makes The Undiscovered Country a personal journey for Kirk, where he has to learn the importance of not only forgiveness, but also accepting a new status quo where the Klingons and the Federation can live in peace.
Undiscovered Country also gives almost everyone something to do. Kirk ( William Shatner ) and Bones ( DeForest Kelley ) are on trial on Kronos and are part of a prison break while everyone else (minus Sulu, who gets the short shrift in this picture despite finally becoming a captain) is busy playing detective up on the Enterprise. It's a well-balanced story, and while the film tries too hard to turn Chang ( Christopher Plummer ) into the next Khan (the climactic battle has Chang shouting like he really wants to get his Shakespeare Quote-a-Day calendar out of his system), it's still a fun dynamic that actually feels like a Star Trek story at its core.
3.) Star Trek III: The Search for Spock
There's shorthand that claims that every even-numbered Star Trek is good and every odd-numbered Star Trek is bad. That's a claim that should have been thrown out the window at Star Trek III , a film whose greatest flaw is following the classic Wrath of Khan . This is a movie that does nothing wrong, perfectly builds on what came before, and is a true test of the friendship among the Enterprise crew.
It would seem at first glance that a movie dedicated to undoing Spock's sacrifice would be an ill-conceived idea, but director Leonard Nimoy absolutely makes it work by making this all about how the Enterprise crew works together outside the bounds of Starfleet. It turns them into a crew on the run, and they in turn sacrifice everything to save their fallen crewman. That's a great story, and one worthy of Trek .
It also feels like Star Trek without feeling like an extended Star Trek episode. While other great Star Trek movies would echo what the series did at its best—whether it be traveling to unique locations, creating parables to real-world conflicts, or recreating the feel of a naval battles— Search for Spock is unique by building off Wrath of Khan , putting the crew of the Enterprise at odds with their duty to Starfleet, and plunging them into uncharted territory. And, Kirk has to make the ultimate sacrifice when he loses his son at the hands of the Klingons. How anyone could see Search for Spock as inferior Trek is beyond me.
2.) Star Trek IV: The Voyage Home
This movie is just pure joy from start to finish. I'm sure it may have been tempting to try and do more of the same: send Kirk and the crew out on an interstellar mission to fight some intergalactic foe with some destructive weapon on the line. Instead, they go back in time to save the whales. It's a plotline that sounds so silly that it shouldn't work, and yet it does. This could have been, on a smaller scale, an episode of The Original Series , but it carries that charm and successfully transfers it to the big screen.
Voyage Home almost plays more like a sci-fi comedy (a dispiritingly rare hybrid) and watching the crew of the Enterprise as fish-out-of-water is constantly entertaining. The Original Series gave us the crew as outsiders on a fairly regular basis, and The Voyage Home harkens back to that feeling while still giving the audience the comfort of being more familiar with the world the characters are seeing.
It's also got a good message! Yes, it's a bumper sticker message to save the whales, but how many blockbusters give a crap about endangered species? It equates saving the whales with saving the world, and that's a fine sentiment to have. Additionally, it helps bring the crew together and creates the stakes that could get the crew reinstated after stealing and destroying the Enterprise. It's both a palette cleanser and a bold direction for the franchise.
1.) Star Trek II: The Wrath of Khan
Is it the obvious choice? Yes, but it's also the right one. Star Trek II: The Wrath of Khan isn't just great Star Trek . It's great filmmaking period. It's everything someone could want from a summer blockbuster while also staying true to what makes Star Trek unique, especially from the original Enterprise cast. It's a movie with deep thematic resonance, high emotional stakes, and a rewarding experience for those who had been Star Trek fans for decades.
It was a stroke of genius to make Khan the villain, not because he's a lifelong nemesis for Kirk (Khan only appears in the episode "Space Seed"), but because he represents the sins of the past. Khan is a bad guy, but he's not wrong that Kirk basically just abandoned Khan's people on a planet and never bothered to check up on them afterwards. For a film about a man struggling with getting old, it's important to take time to check on what Kirk did wrong as a young man, whether it's stranding Khan on Ceti Alpha V or refusing the learn the lesson of the Kobayashi Maru. Wrath of Khan puts Kirk through a crucible of his past follies and makes him pay for it.
The movie also earns its emotional climax following a rousing space battle that would never happen today because it's too "slow" (it's basically a naval battle in space, which is what TOS would do sometimes). "I have been, and always shall be, your friend," is a gut-wrenching line because you feel the history behind it. It doesn't betray Spock's Vulcan-side, nor does it lean too heavily on his human side. It's a profound, honest moment where we see Kirk, finally faced with a no-win situation, lose his dearest friend. It's a moment that only Star Trek could pull off, and it elevates Wrath of Khan beyond where most blockbusters have gone before.
Star Trek movies, ranked worst to best
Journey into the strange new worlds of the Star Trek movies, ranked worst to best. Live long and get some popcorn.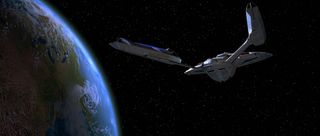 We're leaving the Neutral zone and taking a stand with our list of the best Star Trek movies.
Star Trek is going through a bit of a retro renaissance at the moment, thanks to a successful first season of Strange New Worlds, which takes place before Kirk ever took over as Captain of the Enterprise. It's put many a Trek fan in the mood for more classic Trek action. You could cherry-pick the adventures of Kirk and Co. by watching the best Star Trek: The Original Series episodes or if you're feeling more cinematic, pull from this list of Star Trek movies ranked worst to best.
Some viewers will be tempted to skip to the top of the list — we get it, your time is valuable, so why bother with the losers? — but there's something worth experiencing about each and every entry on this list. Even the misses have something interesting to say about Trek in general or the Enterprise crew specifically. This list includes all the Trek films, not just those of the original crew, so you can explore the Kelvin timeline as well as the Next Generation. And if you want to see how all the timelines fit together, check out our guide to watching the Star Trek movies in order too.
Here, then, is the definitive ranking of the best Star Trek movies. Don't bother arguing with us: We know we're right. If you're still in the mood for intergalactic cinema, check out our list of the best space movies or see how the Alien movies ranked .
13. Star Trek Into Darkness
Release date: May 16, 2013
Cast: Chris Pine, Zachary Quinto, Zoe Saldana
How this film managed to make Khan a boring antagonist is a mystery that will baffle scholars for years to come. No shade to Benedict Cumberbatch, but he doesn't have the charisma necessary to persuade viewers to overlook the plot holes and bizarre character choices that make Into Darkness unwatchable. The sacrifice that is so poignant in Wrath of Khan falls flat because the relationship between Kirk and Spock – roles reversed for the climactic moment – barely reaches the level of roommates, let alone dear friends. And don't get me started on Carol Marcus in her underwear.
12. Star Trek V: The Final Frontier
Release date: June 9, 1989
Cast: William Shatner, Leonard Nimoy, DeForest Kelley
Final Frontier 's core idea is actually pretty good: Spock's half-brother hijacks the Enterprise so he can fly it into the middle of the Milky Way and meet God. Unfortunately, a writers' strike grounded the script before it got off the ground. What remains is a muddled mess that still may have been watchable were it not for William Shatner. He'd been promised a turn in the director's chair and this was what he did with it. If you've ever wondered if the stories about Shatner's unbearable ego were true, look no further.
11. Star Trek: Insurrection
Release date: December 11, 1998
Cast: Patrick Stewart, Jonathan Frakes, Brent Spiner
Even hardcore Star Trek fans forget what Insurrection is about. Not because it's confusing, but because it's the cinematic equivalent of a filler episode. Starfleet decides to relocate a small (but immortal? Ok) population so that the Federation can claim their planet's unique natural resource for itself. Feeling betrayed by Starfleet's apparent disregard for the Prime Directive, Picard gets very, very annoyed. Nothing about this movie is particularly good or bad. It's all just kind of there . Watching Insurrection will neither ruin your day nor make it any better, so do as you will with it.
10. Star Trek: Nemesis
Release date: December 13, 2002
Before he was Bane, Venom, or Mad Max, Tom Hardy was Picard's clone, Shinzon. He kills the Romulan senate, lures Picard and crew to Romulus under the pretense of peace negotiations, and oh, yeah, he has an android that looks just like Data. The plot is a hot mess of mistaken identity, telepathy, and revenge that never has stakes – or characters – worth caring about. Even the movie's most emotional moment, when Data sacrifices himself to save Picard, is immediately undercut with a "Just kidding! I downloaded my brain into the android who looks just like me!" Troi and Riker got married, though, so that's nice.
9. Star Trek III: The Search for Spock
Release date: June 1, 1984
On the plus side, it has Christopher Lloyd as a Klingon. On the minus side... is everything else. After his sacrifice saves the Enterprise from certain destruction, Spock's casket is shot into space, eventually settling on the Genesis planet. Thus begins a "how do we get Spock's consciousness back into his newly reborn body" reverse-heist film that is crammed full with awkward moments. Spock going through puberty? Yikes. Klingons murdering Kirk's son? Oof. Also, the entire film looks bizarrely cheap. You could generously call it an homage to Trek 's humble beginnings, but it's very strange after the lush visuals of Khan . At no point is a viewer not acutely aware that this movie had to happen to get Spock back on the Enterprise, and it almost isn't worth it.
8. Star Trek: Generations
Release date: November 18, 1994
Cast: Patrick Stewart, William Shatner, Malcolm McDowell
Generations was intended to pass the torch from the cast of The Original Series to that of The Next Generation , with Kirk and Picard teaming up to defeat not-quite-a-villain-he's-just-sad-really Malcolm McDowell. The shoehorning of Kirk, Scotty, and Chekov into a film set a century after they were zipping around the universe is less than elegant, more than gratuitous. Generations spends so much time waving goodbye to the old crew that it never really gets going as a film, but it did its best with an impossible task.
7. Star Trek Beyond
Release date: July 22, 2016
Cast: Chris Pine, Zachary Quinto, Karl Urban
I'd put this here just for the line about the "beats and shouting," if I'm honest. Featuring an unrecognizable Idris Elba as its villain, Krall, Beyond isn't overly concerned with nuance. It's fast and loud, the very definition of style over substance. Does the scene set to the Beastie Boys' "Sabotage" make any sense? Not a lick, nope, but damn, does it look cool. This is the Trek film you watch when you want to sit back, turn your brain off, and enjoy a lot of colorful, exciting fight and/or chase scenes. Now that I think about it, "beats and shouting" is a pretty apt description of Star Trek Beyond .
6. Star Trek: The Motion Picture
Release date: December 7, 1979
The ponderous pacing and pure 70s-ness of the costumes makes The Motion Picture a slog, but at least it's a spectacular slog. The plot is pure Trek : An energy cloud housing a living machine is headed for Earth, destroying everything in its wake. The Enterprise is the only ship within intercept range of the cloud, because how else is Kirk going to have an excuse to take over command? The Motion Picture shows its age more than most of the other films of the franchise, but was a perfect vehicle to move the Enterprise and her crew from the small screen to the theater. It has interpersonal conflict, heroics, hubris, and a brilliant reveal about V'ger's true nature.
5. Star Trek IV: The Voyage Home
Release date: November 26, 1986
Aka "The One With the Whales", Voyage Home leans heavily on humor to great effect. It eases off the sci fi, instead going for a classic fish-out-of-water scenario. An alien probe is trying to communicate with Earth, but the only creature that could respond, the humpback whale, is long since extinct. The crew of the Enterprise travel back to 1980's San Francisco to snatch a mating pair of humpback whales and return them to the future, preventing the unanswered probe from destroying the planet. The ecological message wasn't exactly subtle, but Voyage isn't preachy. Chekov asking anyone if they know where the "nuclear wessels" are, Scotty cooing "Hello, computer" into a mouse, Kirk yelling "Double dumbass on you!" to an angry driver – it's all immensely charming and genuinely funny.
4. Star Trek
Release date: May 8, 2009
Cast: Chris Pine, Zachary Quinto, Simon Pegg
Is it a great Trek film? Maybe. Is it fun to see Kirk and Spock's origins stories? Absolutely. Watching baby Spock beat the snot out of someone at school is highly gratifying, as is seeing the father whose shadow Kirk can never quite escape. The story does a good enough job twisting the timeline so that the reboot won't be hamstrung by everything that came before it, and Leonard Nimoy is a delight in his final turn as Spock. Star Trek embodies the spirit of unfettered adventure exhibited by The Original Series while simultaneously making the crew into more than just set dressing there to push buttons and open hailing frequencies. And "Hi, Christopher, I'm Nero" is straight up one of the greatest line reads in all of Star Trek .
3. Star Trek: First Contact
Release date: November 22, 1996
Jonathan Frakes (aka Commander Riker) directed this absolute treasure of a movie, and his deep love of Trek comes through in every scene. This is a Trek movie for Trek fans, with nods to TV series Deep Space Nine and Voyager in what is essentially the conclusion to Picard's arc in the legendary The Next Generation episode "Best of Both Worlds." The Enterprise follows the Borg back in time to prevent them from disrupting First Contact, the event that introduced Earth to the universe. Picard must face the Borg queen (silkily played by Alice Krige) even as Data is tempted by her promise of humanity. The Earth-based subplot about getting First Contact back on track explores a different aspect of humanity, namely how people step up when they're called to lead.
2. Star Trek VI: The Undiscovered Country
Release date: December 6, 1991
Some of the entries on this list are little more than over-inflated episodes, but this... this is a movie. Not a film, thank you very much, a get-more-popcorn-and-shut-the-heck-up-until-the-credits-roll movie . The Klingons desperately need the Federation's help after their moon explodes, and Kirk – whose son was murdered by Klingons just a few films ago – has to serve as liaison. That's the set up for a murder mystery that will see Kirk and McCoy imprisoned and Spock turning the Enterprise upside down to find the true culprit. Christopher Plummer is having an absolute blast as a Shakespeare-quoting Klingon who has no interest in peace. Fun fact: This is one of two Trek films directed by Nicholas Meyer. The other one is...
1. Star Trek II: The Wrath of Khan
Release date: June 4, 1982
First, and most importantly, yes, that is Ricardo Montalban's real chest. Secondly, if you're only going to watch a single Trek film, this is the one. Picking up the threads of The Original Series episode "Space Seed", Khan is a retelling of Moby Dick as the genetically superior Khan chases his white whale, Admiral James T. Kirk. Montalban and Shatner are at the top of their games, effortlessly owning every scene they're in, yet providing the perfect counter for each other. Director Nicholas Meyer, who also wrote Khan , shows exquisite patience in the film's climactic showdown, drawing out the tension as Kirk and Khan hunt each other in the Mutara Nebula. The other Trek films are great space romps, but Khan feels deeply, deeply personal as you watch these great men spit and claw at each other with unfathomable rage.
Join our Space Forums to keep talking space on the latest missions, night sky and more! And if you have a news tip, correction or comment, let us know at: [email protected].
Get the Space.com Newsletter
Breaking space news, the latest updates on rocket launches, skywatching events and more!
Susan Arendt is a freelance writer, editor, and consultant living in Burleson, TX. She's a huge sci-fi TV and movie buff, and will talk your Vulcan ears off about Star Trek. You can find more of her work at Wired, IGN, Polygon, or look for her on Twitter: @SusanArendt. Be prepared to see too many pictures of her dogs.
Build your own AI-powered Perseverance Mars rover with this new DIY kit
Good news, everyone! Hulu renews 'Futurama' for 2 more seasons
Watch NASA build its VIPER moon rover with these free online watch parties
Most Popular
By Jamie Carter September 29, 2023
By Jamie Carter September 27, 2023
By Fran Ruiz September 22, 2023
By Jamie Carter September 14, 2023
By Jamie Carter September 13, 2023
By Robert Lea September 07, 2023
By Fran Ruiz September 07, 2023
By Fran Ruiz September 01, 2023
By Robert Lea August 31, 2023
By Fran Ruiz August 30, 2023
By Fran Ruiz August 29, 2023
All 13 'Star Trek' Movies Ranked From Worst To Best
Share to Facebook
Share to Twitter
Share to Linkedin
'Star Trek: The Wrath of Khan,' 'Star Trek: Generations,' 'Star Trek: First Contact' and 'Star Trek'
Today marks the 30th anniversary of Star Trek VI: The Undiscovered Country . The Nicolas Meyer-directed political mystery thriller was intended to both rejuvenate the franchise after the underwhelming Star Trek V: The Final Frontier and give the original cast an honorable send-off before what everyone (correctly) assumed would be new movies starring the cast of Star Trek: The Next Generation . Since then, we got four Next Generation -specific movies from 1994 to 2002, and then the Bad Robot-produced "reboot" trilogy in 2009, 2013 and 2016.
This past September marked the 55th anniversary of the first televised episode of Star Trek . That means it's been five years since we all argued that Paramount should have held off on releasing Star Trek Beyond until September 2016 (instead of late-July 2016) to capitalize on that anniversary. It's been five years since the last theatrical Star Trek movie and five years of false starts and bluffs concerning a theoretical Star Trek 4 (or Star Trek 14 if you count them as one continuity). Anyway, to mark the occasion, I'll eventually use the usual science, math and dark magic to rank the movies (again, because I've never done so before).
As always, these rankings will not be your rankings because what fun would that be?
1998 Brent Spiner, Donna Murphy, Patrick Stewart Star In The New Movie "Star Trek: Insurrection." (Photo By Getty Images)
Star Trek: Insurrection (1998)
Budget: $70 million
Domestic Box Office: $70.2 million
Worldwide Box Office: $117.8 million
Inflation-Adjusted Domestic Box Office: $135.3 million
The core dilemma of this glorified two-part Next Generation episode is an intriguing one, essentially "prime directive" versus "the needs of the many outweigh the needs of the few." However, the circumstances of the specific plot, 600 members of a small community essentially hording science that could eradicate illness and premature death for everyone, don't work as a parable for colonialism. The film holds up Picard's righteous absolutism as unquestionably heroic, even while a measured compromise would be ideal. Beyond that, there's a kind of lackadaisical attitude and what feels like the cast getting a wish list (Geordi gets to see with his own eyes, Riker and Troi get horny again, Picard gets a love interest, etc.). Insurrection plays like late-2000's Adam Sandler where everyone gets to vacation on the studio's dime.
Star Trek Nemesis
Star Trek: Nemesis (2002)
Budget: $60 million
Domestic Box Office: $43.25 million
Worldwide Box Office: $67.3 million
Inflation-Adjusted Domestic Box Office: $67.9 million
Stuart Baird's late 2002 release was a Star Trek movie for folks who think Star Trek isn't cool. Alas, the generically action-packed and occasionally patronizing (Troi gets "mind-raped" just so Riker can righteously kill Ron Perlman's secondary bad guy) Nemesis turned off Trekkers and didn't work for general audiences who were saving their money for The Two Towers opening just five days later. That it's not the "worst" Star Trek movie is mostly because it wears its $60 million budget on its sleeve and it's never boring. The nature-versus-nurture stuff (concerning a young clone of Picard played by a very skinny Tom Hardy) is intriguing, but it's oft-charted territory for this franchise, and the film pulls a "Disney death" with Data. All in all, the Next Generation crew deserved a much grander farewell.
American actors Merritt Butrick and Robin Curtis on the set of Star Trek III: The Search for Spock, directed by Leonard Nimoy. (Photo by Paramount Pictures/Sunset Boulevard/Corbis via Getty Images)
Star Trek III: The Search For Spock (1984)
Budget: $18 million
Domestic Box Office: $76.4 million
Worldwide Box Office: $87 million
Inflation-Adjusted Domestic Box Office: $208.5 million
It's not boring and it's not "bad," but the entire film exists just to walk back the shocking finale of its immediate predecessor. Oh, and it also walks back one of the more interesting developments of The Wrath of Khan , arbitrarily killing off Kirk's just-discovered son and negating that bit of character development. That said, the first third has a certain creepy mind-horror vibe, but once Kirk and friends steal the Enterprise and head off to the (dying) Genesis-created planet to fetch Spock's body it becomes a two-fisted action flick, closer to the whole Stagecoach in space pitch that was probably intended. Christopher Lloyd makes a fine Klingon baddie, and the production values are beyond reproach, but The Search For Spock is one of the more generic Star Trek adventures.
Star Trek (2009)
Budget: $140 million
Domestic Box Office: $257.7 million
Worldwide Box Office: $386.8 million
Inflation-Adjusted Domestic Box Office: $314.8 million
There's a lot to appreciate in this unapologetic " Star Trek as Star Wars " time-rewriting reboot, and it's no secret as to why it became a monster domestic smash in summer 2009. J.J. Abrams directs the hell out of this movie, the camera almost never stops, and the new cast is instantly iconic despite playing characters previously defined by an established cast. Alas, the film never slows down, while the whole "things must play out as we know they must" mentality turns this Star Trek origin story into a kind of manifest destiny propaganda. Cheer as Chris Pine's unqualified, hotheaded cowboy Kirk usurps the command in a glorified coup from Zachary Quinto's experienced, cautious egghead Spock just because the franchise as we know it demands it. Intentional or not, this admittedly rip-snorting and crowd-pleasing action-adventure played like a skewed endorsement of the 2000 presidential election.
Canadian actor William Shatner and American Leonard Nimoy on the set of Star Trek V: The Final Frontier (Photo by Paramount Pictures/Sunset Boulevard/Corbis via Getty Images)
Star Trek V: The Final Frontier (1989)
Budget: $30 million
Domestic Box Office: $52.2 million
Worldwide Box Office: $70.2 million
Inflation-Adjusted Domestic Box Office: $119.9 million
I'm not pretend that William Shatner's infamous box office bomb is "good, actually." But, especially after almost 35 years of "Kirk stops a bad guy and saves the Earth" plots, there's a lot to admire in this unapologetic head trip of a sequel. This intimate odyssey, with Kirk, Spock and McCoy kidnapped by Spock's half-brother who wants to pilot a starship to essentially meet God, revels in the interior pain and personal pathos of its three leading men. The ensuing conflict, a rebel Klingon ship attempting to take out Kirk for glory notwithstanding, is more about a battle for the souls of our Star Trek heroes, one that counteracts the myth of Kirk as a glorified he-man cowboy. Final Frontier is not good (unfinished effects don't help), but it's an interesting bad movie.
Star Trek Beyond
Star Trek Beyond (2016)
Budget: $185 million
Domestic Box Office: $158.8 million
Worldwide Box Office: $335.6 million
Inflation-Adjusted Domestic Box Office: $168.2 million
The first half-hour of Justin Lin's Star Trek Beyond are so damn good, so concerned with the shared humanity of our newly established cast (including Kirk burning out as he turns the same age his father died at), that it's heartbreaking when the action takes over and the picture goes on autopilot. The Enterprise goes down in flames, and the crew is split up in a forest planet, but only the begrudging friendship between Spock and McCoy registers. Still, the action is beyond reproach, and the final 20 minutes snap back into gear as the core bad guy (a mostly disguised-in-makeup Idris Elba) shows his humanity and Kirk realizes the error of his thinking. The warm-hearted epilogue works as what could be a fond farewell to this newer iteration of the original crew.
DECEMBER 7: Actors George Takei, James Doohan, Grace Lee Whitney, Nichelle Nichols, Stephen Collins, DeForest Kelley, Majel Barrett, William Shatner, Leonard Nimoy, Persis Khambatta, Walter Koenig pose for a portrait during the filming of the movie "Star Trek: The Motion Picture" which was released December 27, 1979 in the United States. (Photo by Michael Ochs Archives/Getty Images)
Star Trek: The Motion Picture (1979)
Budget: $35 million
Domestic Box Office: $82.2 million
Worldwide Box Office: $139 million
Inflation-Adjusted Domestic Box Office: $300.2 million
Robert Wise's Star Trek: The Motion Picture remains an oddity. Its existence, 10.5 years after the show ended, was clearly inspired by the success of George Lucas' Star Wars and Steven Spielberg's Close Encounters of the Third Kind , yet its narrative and visual template is obviously fashioned more from Stanley Kubrick's slow-burn mind-melter 2001: A Space Odyssey . The film was among the most expensive ever, and you can see that in every widescreen moment of this long (especially if you watch the superior 143-minute director's cut) sci-fi epic. My fondness for it lies with its heady and grandiose ambition, in terms of raw cinema and in terms of big sci-fi ideas before the film franchise became (mostly) about killing the bad guy and saving the day. It puts the Trek in Star Trek .
Star Trek Into Darkness
Star Trek Into Darkness (2013)
Budget: $190 million
Domestic Box Office: $228.7 million
Worldwide Box Office: $467.4 million
Inflation-Adjusted Domestic Box Office: $257.7 million
No, it's not the worst Star Trek movie ever made and it's actually pretty great for most of its runtime. J.J. Abrams' second Star Trek delivers Benedict Cumberbatch as a new-universe Khan and overdoses on nostalgia in the final reel, but the film still does the work to make the climactic events make sense to the characters as they exist in this story. Kirk keeps his ego in check, or at least he uses it mostly to help others this time out, and he refreshingly realizes the grief-driven error of his "vengeance > due process" thinking well before the finale. Big, pulpy and generally exciting, the film works as both an obvious post-9/11 "drones and militarized governments are bad" parable and a "why old exploratory Trek is better than new blockbuster Trek " metaphor.
Canadian actor William Shatner with actor and director Leonard Nimoy on the set of his movie Star Trek IV: The Voyage Home. (Photo by Paramount Pictures/Sunset Boulevard/Corbis via Getty Images)
Star Trek IV: The Voyage Home (1986)
Budget: $24 million
Domestic Box Office: $109.7 million
Worldwide Box Office: $133 million
Inflation-Adjusted Domestic Box Office: $267.7 million
Maybe director Leonard Nimoy and friends agreed with my above-noted thoughts on Star Trek III , because they did a 180 next time out.
Leonard Nimoy's deliciously goofy fish-out-of-water comedy, a 180-degree turn from Nimoy's Search For Spock , blends the tropes of movie- Star Trek (the Earth is in peril and only the Enterprise can save the day) and Gene Roddenberry's aspirational notions (the world can only be saved by a creative and non-violent scientific solution). The crew goes back in time to 1987 San Francisco to literally save the whales, and the result is a quirky, funny and just plain delightful. It also works as a "20 years of Star Trek " memorium. It was sold (and embraced) as a Star Trek movie for novices, but the action-lite and violence-free adventure only works because it's such fun seeing these specific actors (especially co-stars James Doohan, Walter Koenig, Nichelle Nicols and George Takei) playing these specific characters in this ridiculous situation.
'Star Trek: Generations'
Star Trek: Generations (1994)
Budget: $38 million
Domestic Box Office: $75.7 million
Worldwide Box Office: $20 million
Inflation-Adjusted Domestic Box Office: $169.3 million
David Carson's frankly underrated effort is a successful blend of "stop the bad guy" (Malcom McDowell's going to blow up a planet!) and "explore existential sci-fi/fantasy concepts" (Could you willingly escape a Nexus whereby you lived out the best moments of your life?). The prologue is a terrifying and tragic event whereby Captain Kirk dies saving lives (rather than having to live with taking them), and that he "comes back" in the Nexus doing battle alongside Captain Jean-Luc Picard before dying again doesn't negate the impact of the initial in-universe demise. The rest of the film is a warmly humanist adventure with the Next Generation crew dealing with the fallout of said Nexus and working as a grand adventure for die-hard fans and merely periodic viewers. It's my favorite "odd-numbered Trek ."
Mexican actor Ricardo Montalban on the set of Star Trek: The Wrath of Khan, directed by Nicholas Meyer. (Photo by Paramount Pictures/Sunset Boulevard/Corbis via Getty Images)
Star Trek II: The Wrath of Khan (1982)
Budget: $12 million
Domestic Box Office: $78.9 million
Worldwide Box Office: $95.8 million
Inflation-Adjusted Domestic Box Office: $245.9 million
Nicholas Meyer's metaphorical U-boat actioner, using old sets from The Motion Picture and coming it at 1/3 the cost, set the template (in terms of tone, production design, costumes and action-centric plots) for the cinematic franchise. I do find irony in many of the folks decrying the blockbuster-ization of the Bad Robot reboots holding up this clear "action spectacular" course correction from The Motion Picture as the definitive Star Trek . That said, this is still a spectacularly entertaining grudge match, with Ricardo Montalbán reprising from a first-season episode and turning Khan into the most iconic pre- Die Hard action movie villain this side of Darth Vader or Goldfinger. The Moby Dick parables aren't subtle, but they make a surprisingly small-scale and intimate outer-space chess match feel like the biggest adventure ever told.
1996 Patrick Stewart stars in the new movie "Star Trek: First Contact".
Star Trek: First Contact (1996)
Budget: $46 million
Domestic Box Office: $92 million
Worldwide Box Office: $150 million
Inflation-Adjusted Domestic Box Office: $190.5 million
Jonathan Frakes' kick-ass actioner opened 25 years ago when the Star Trek brand was at its peak mainstream popularity . Picard gets his own Ahab-like quest to destroy the Borg at all costs. That gives way to terrific action scenes and "acting with a capital A" moments for Stewart (and co-star Alfre Woodard) while Data (Brent Spiner) finds himself captured by the Borg Queen (Alice Krige). Meanwhile, much of the cast is on Earth in the days before first contact, trying to convince a now-skeptical pioneer (James Cromwell) to take his recorded place in history. This plot offers both comic relief and plenty of time on concepts more aspirational than vengeance and the ends not justifying the means. First Contact is probably the biggest Star Trek movie that still feels like a Star Trek movie.
FILM 'STAR TREK VI: THE UNDISCOVERED COUNTRY' (Photo by Ronald Siemoneit/Sygma/Sygma via Getty Images)
Star Trek VI: The Undiscovered Country (1991)
Budget: $27 million
Domestic Box Office: $74.9 million
Worldwide Box Office: $96.9 million
Inflation-Adjusted Domestic Box Office: $163.1 million
The Undiscovered Country ended the original franchise arguing that victory lay not in total destruction of a given side but in a brokered peace and mutually-assured survival. It offered the seemingly easy-to-digest (and all-too-logical) notion that the biggest obstacles to peace weren't one side or another but elements in both sides benefiting from continual conflict no matter the collateral cost. It ended the initial adventures of Kirk, Spock, McCoy and the crew on the idea that Kirk's most heroic act wasn't discovering uncharted worlds or stopping an evil plot but forgiving those whose "kind" had murdered his own son and shaking hands with the enemy. The undiscovered country is technically (so says Shakespeare) death, but this optimistic adventure posits that it's merely genuine, authentic peace and between worlds and the salvation it would bring.
Star Trek VI: The Undiscovered Country remains my favorite Star Trek film. It's a jolting of-the-moment political drama, using the war between Klingons and humans as a metaphor for the end of the Cold War and the consequences of institutional racism without relying on a yellow highlighter. Heck, it was the first of many big blockbusters ( GoldenEye and Mission: Impossible come to mind) dealing with the legacy of career "action heroes" when the lifelong enemy turned overnight into a reluctant ally. This Nicolas Meyer-directed installment is also a crackling closed-room murder mystery with several dynamite action sequences (including the initial homicides, shockingly bloody for a PG movie, and the climactic showdown against Christopher Plummer's cloaked Bird of Prey). And the epilogue, including Kirk's final course heading, still brings a tear to my eye.
Editorial Standards
Reprints & Permissions
Create a free profile to get unlimited access to exclusive videos, sweepstakes, and more!
Every Star Trek movie, ranked
Boldly go on a ranking of all 13  Star Trek  films.
Credit: CBS via Getty Images
In 1979, Star Trek warped from television to the big screen. The franchise expanded faster than V'Ger. On December 6th, one of the franchise's best movies (and one of our favorites), Star Trek VI: The Undiscovered Country , celebrates its 30th anniversary.   
The films began with the original cast from Star Trek: The Original Series . After six films, the movies transitioned to feature the cast from Star Trek: The Next Generation , and then in 2009, a new timeline of films branched off with recast legacy characters and much bigger budgets. What will the next Trek movie be, and which crew will it feature? Who knows, but it's only a matter of time before some Trek project boldly goes to the cinema once more. 
In the meantime, we're going to rank all of the existing 13 films in the canon. It's more of a celebration than anything else; most of these movies we love. We don't dislike any of them. Which one are we going to throw on at any given moment? It depends on the day, it depends on the hour, it depends on which crew we want to journey with. 
Full impulse and prepare for warp, because only Nixon could go to China. Here's our ranking of the 13 Star Trek feature films. 
13. Star Trek Into Darkness (2013)
J.J. Abrams' last Star Trek movie as director, Into Darkness , is his worst film. His much-loved "Mystery Box" approach, which only really works as a marketing tool, fails him on a story level when we learn who the villain really is (as if we didn't know already). It's a movie where the head of Starfleet is totally fine violating Federation principles and risking war with the Klingons to cover up his secret plans with an all-out military strike (which, as cover-ups go, not very discrete), but, if you're Jim Kirk and you're caught lying, then he must uphold the very rules he's taking seven photon torpedoes to. If you like movies where heroes lie to save their own ass and put their crews' in a wringer, or stories that lurch from one set piece to another with inconsistent characterizations and little emotional resonance, or that remix bits from Wrath of Khan without earning it, then appreciating why it is the best, then Into Darkness is for you.
12. S tar Trek: Nemesis (2002)
Traditionally, even-numbered Trek  films are high points for the franchise. The tenth installment, and the fourth film featuring the Next Generation  cast, broke that tradition.
Nemesis is a dull, rough draft of a movie that feels and operates like big-budget fan-fic, one that is surprisingly tone-deaf in regards to how to portray these characters — especially, and frustratingly, Picard in the first half. An overabundance on Romulan political intrigue gets in the way of enjoying or appreciating what few moments in the story are truly worthy of our attention, as Tom Hardy's Shinzon (a young and bald clone of Picard) challenges his (wait for it) nemesis in a big CG space battle where Shinzon's massive planet-killing ship and Picard's Enterprise collide. The movie bombed, killing future missions from this crew. It would take Paramount seven years to recover with J.J. Abrams' reboot.
11. Star Trek: Insurrection (1998)
Saddle up, lock and load! The second Trek movie directed by Jonathan Frakes is, rightfully, the movie that gave us the "Riker Manuever." Turns out that it has nothing to do with the way Riker sits in chairs. 
Picard and the Enterprise crew get swept up in a rather uneventful conflict between the nasty Son'a and the ever-peaceful Ba'ku. The latter alien race inhabit a lovely planet that keeps you young and has various other magical powers. Starfleet wants to work with the Son'a to harness the planet's abilities, thanks to another wicked Admiral, and he's dealing dirty with the lead Son'a... played by none other than Oscar-winner F. Murray Abraham. Picard won't stand for it, so he launches the titular insurrection and goes after Space Salieri to save the Ba'ku. 
Insurrection  plays like an extended episode of TNG ; no more, no less. Donna Murphy plays a love interest to Picard, and though we are big fans of hers, giving more screentime to, say, Beverly Crusher, would have been a better choice for this story. After the glory of Star Trek: First Contact , the stakes felt a little small but we still enjoy it. 
10. Star Trek V: The Final Frontier (1989)
"What does God need with a starship?" Good question.
Star Trek V: The Final Frontier got clobbered in the Summer of '89 by the likes of Batman and Indiana Jones; William Shatner's directorial debut's low, low budget and really bad special effects just couldn't compete with the other blockbusters. Neither could Final Frontier 's messy and largely passive story that tries too hard to capture the lighting-in-a-bottle mix of comedy and sci-fi that turned Voyage Home into a hit. Despite being one of the lowest grossing Trek s ever, this misfire does feature a few strong moments, especially when God-searching Sybok confronts his half-brother, Spock, and McCoy with their secret pains. (And we don't mind the funny campfire scene with Spock and "Row, Row, Row Your Boat" either.)
9. Star Trek: The Motion Picture (1979)
The one with V'Ger.
The first big-screen Trek movie is definitely an acquired taste. Legendary director Robert Wise made a great science fiction movie, but it doesn't always feel like Star Trek . The pace is slow, but the ideas and themes the movie explores during its slog of a runtime are incredible. You just have to get past the blaring alarms, the nonsensical murdering transporters, and the cabana boy beach uniforms. 
William Shatner brings a lot of hubris to this new Kirk, and Kirk makes some bad decisions because of it. Leonard Nimoy is the highlight of the movie (shocker), giving us a Spock that wants to purge himself of emotions. That changes when he discovers the V'Ger entity. The mysterious being that is moving toward Earth is cold and unfeeling, and Spock realizes that he doesn't want to be like that. V'Ger's true identity, once revealed, is a great payoff. 
Still, most of the movie features one ship trying to stop a giant cloud. Patience will be rewarded here, and the rewards include some of the weirdest and most beautiful images in any Trek movie. Jerry Goldsmith's score is likely the movie's greatest asset, as none of it (especially Kirk and Scotty's famously long shuttle approach to the Enterprise) would work without it.
8. Star Trek: Generations (1994)
The one with Malcolm McDowell.
After Picard and company sailed off at the end of their television finale, they flew right into this 1994 film from David Carson. It was the first big-screen showing for the TNG crew, and it brought some old favorites back as well. Captain Kirk, Chekhov, and Scotty start off by christening the Enterprise-B back in their era, and, in record time, the ship gets caught up in an anomaly called the Nexus. Kirk is lost and presumed dead. Cut to the TNG era, and a dimly-lit Enterprise-D encounters the Nexus' number one fan, the sinister Dr. Soran (McDowell). He wants to get back to the Nexus, having survived the encounter that Kirk didn't aboard the B. The Nexus is pure joy, and it is only there that Soran feels he can escape the pain of having lost his family to the Borg years ago. 
Captains Kirk and Picard finally meet to stop Soran and save the galaxy, but the end result is rather "meh." A great (if too long) crash sequence involving the Enterprise-D and vivid cinematography are among the film's few high points, unless you have always wanted the greatest captains ever to meet-cute over (we sh** you not) chopping firewood and making eggs. And Kirk's death lacks the emotional impact that both the iconic hero and his fans deserve.
7. Star Trek Beyond (2016)
The best odd-numbered film since Star Trek III: The Search for Spock , Star Trek Beyond is waaaay better than its predecessor, Star Trek Into Darkness (Phew.) It celebrates what makes Trek  so great, its themes and characters, while honoring the franchise's 50th anniversary with a very entertaining mix of humor, heart, and spectacle. We'd rank it higher if not for the problematic execution of villain Krall (a surprisingly ineffectual Idris Elba), whose motivations (while solid  on paper) are denied the necessary screentime to truly connect. But director Justin Lin (of Fast & Furious  fame) mostly overcomes that, as well as certain tonal and narrative bumps, thanks to making the first of these nuTreks to feel like a $200 million episode of The Original Series . Beyond leaves us feeling that which STID failed to do: Wanting more.
6. Star Trek III: The Search for Spock (1984)
Leonard Nimoy returns as Spock with his feature film directorial debut that bridges the events of  Star Trek II  with  Star Trek IV  with an earnest and assured, if not visually dynamic, approach. The story packs a considerable emotional punch, as well as some of the series most iconic moments — the death of Enterprise, Kirk's heartsick reaction ("Klingon bastards!") to the murder of his son, David — as the Enterprise's crew puts their careers and lives on the line to save both a resurrected Spock and a compromised McCoy. The latter is suffering from the effects of a super Vulcan mind meld; Spock used it to transfer his essence and consciousness into McCoy like one would backup files to the Cloud. 
The Search for Spock  competently explores the toll of Kirk's efforts to prove to Spock that sometimes the needs of the one outweigh those of the many, even if it means stealing the Enterprise in a stirring sequence. While Trek III  isn't the most ambitious or exciting  Trek  movie, it is one of the most heartfelt adventures in the series. A necessary throat clearing of sorts before the franchise can reach its then-highest point. 
5. Star Trek: First Contact (1996)
While Star Trek: First Contact is the second film featuring Captain Picard (Patrick Stewart) and the rest of the Star Trek: The Next Generation crew, it is the first full solo outing for the TNG cast. The hit sequel, which recently celebrated its 25th anniversary, also proved to be better than TNG 's maiden big-screen voyage, 1994's uneven Star Trek: Generations . Free from the studio-imposed story mandates that Generations had, writers Ronald D. Moore and Brannon Braga delivered an action-packed and emotionally compelling adventure that pit Picard against his most lethal enemy: The Borg, a race of cybernetic beings hellbent on going back in time to assimilate Earth at a vulnerable point in its history. Making the stakes that much higher was how Picard's past trauma with the Borg threatened to get in the way of saving humanity's future, as his experience being assimilated into their collective boiled over into revenge. 
In between explosive space battles and tension-filled set pieces featuring a Borgified new Enterprise, first-time feature director (and Next Gen actor) Jonathan Frakes gave fans a Star Trek movie unlike any other; a riveting, action-horror sci-fi blockbuster that was only the second Trek film at the time to ever achieve crossover audience appeal outside the core fanbase. (The first was 1986's time-traveling, "save-the-whales" romp Star Trek IV: The Voyage Home ). 
4. Star Trek (2009) 
It's telling that J.J. Abrams has remade Star Wars twice and that his actual Star Wars movie is the second-best one.
2009's Star Trek  is still a nearly unparalleled dazzler, a canny prequel and inspired reboot that feels wholly fresh and original, with a nifty plot (involving time travel and alternate timelines) that wisely (albeit in a complicated way) doesn't negate the films that came before it. Abrams brilliantly cast the movie, introducing a host of fresh faces playing iconic roles that, by the time the film was released, had become more punchline than anything else. ( Star Trek: Nemesis was an inglorious end to the Enterprise's big-screen adventures, critically lambasted and commercially ignored.)
Breathlessly told, Star Trek  has some of the biggest and most inventive set pieces (the opening attack sequence, particularly when the sound drains away during a key moment to leave room for only Michael Giacchino's soaring score, is enough to bring tears to your eyes), as well as  memorable new characters (Eric Bana's Nero is a wry and scary baddie). After the promise of Mission: Impossible III , Abrams showed himself to be an honest-to-goodness filmmaker, able to improbably invigorating moribund franchises with vitality, humor and boundless energy. It feels like we have watched Star Trek a thousand times and it also feels like we could watch it a thousand more.
3. Star Trek IV: The Voyage Home (1986)
The one with the whales.
It's not just the funniest Star Trek movie, it's one of the funniest movies ever. Large credit goes to director Leonard Nimoy and the movie's late producer and co-writer, Harve Bennett. 
A weird probe (its origins never explained) comes to 23rd-century Earth looking for whales. Humpback whales, specifically. But, since they are extinct, Kirk and his crew aboard a stolen Klingon vessel must slingshot around the sun to travel back in time to 20th-century San Francisco and save two whales just in time to warp back to the future and save the day. 
It's such a cockamamie plan, sure, but part of the fun is seeing the characters both acknowledge it is a stretch and then commit fully to it. There are no consequences to messing with time, the crew just romps around San Francisco and does what they want. They alter history (hello, transparent aluminum!) and invade Naval vessels. But along the way, the movie takes some big comedic swings with the hilarious "fish out of water" story Spock and Kirk find themselves in as they don't need photon torpedos to save the day. Just their wits. The film is full of sweet, funny, and surprisingly poignant moments and still remains, 35 years later, a classic comedy and essential  Trek  film.
2. Star Trek VI: The Undiscovered Country (1991)
It's fitting that one of the filmmakers responsible for putting Trek 's big-screen franchise back on track would return to wrap up the voyages of the The Original Series cast. Wrath of Khan writer-director Nicholas Meyer's second Star Trek feature, Star Trek VI: The Undiscovered Country is, at times, arguably more confidently executed and rich with character beats than his former (and well-regarded) entry. The movie embraces the characters' twilight years as a plot point by putting the aging crew of the past-her-prime Enterprise in the middle of a conspiracy that threatens to light the fuse on continued conflict between the Federation and the Klingons.
The Cold War parallels here between the then-fall of the Berlin Wall and our sci-fi heroes and their nemesis lend Trek VI  an urgency and intrigue on par with '60s political thrillers, with Meyer's propulsive whodunit of a script (cowritten by the late Denny Martin Flynn) affording the franchise to boldly go explore new genres like the murder mystery and POW, Great Escape -esque war dramas. (There's also some great courtroom drama flourishes as well, on top of an exceptional Run Silent, Run Deep -inspired space battle between the Enterprise and a Klingon bird-of-prey that can fire while cloaked.)
From Kirk sporting grey hair, to the characters expounding upon their relevancy and usefulness as they are all that stand between us and the brink of full-scale war, Star Trek VI is a taut, clever picture that always puts story and character first and never fails to deliver on the emotional resonance of either.
1. Star Trek II: The Wrath of Khan (1982)
Following the events of "Space Seed" in The Original Series , Khan Noonien Singh (Ricardo Montalban) comes to get revenge on Admiral...  Admiral ... James T. Kirk in the rousing intimate epic that is Star Trek II: The Wrath of Khan . A cat and mouse game of dueling starships ensues, with Kirk commanding an Enterprise full of trainees. A dangerous science project called "Genesis" is in the mix, too, and Khan wants it to help him conquer the galaxy. Kirk wins in the end, bit loses his best friend in the process.
The most thematically and emotionally rich film in the series,  Khan  is still the benchmark to which all subsequent Treks aspire to match or exceed. Not only is it the best big-screen mission ever for the Enterprise, it's also one of the best science fiction films of all time.
This movie set a new bar for Trek greatness. We don't think we're being hyperbolic when we say that it is damn near perfect. We'll watch it "'round the moons of Nibia, and 'round the Antares maelstrom, and 'round perdition's flames before we give it up."
Watch Resident Alien
Star Trek Beyond
Star Trek II: The Wrath Of Khan
Star Trek III: The Search For Spock
Star Trek Into Darkness
Related Stories
I Still Know What You Did Last Summer Ending Explained
How Treadstone (the TV Series) Connects to the Bourne Movies
Back to the Future Easter Eggs You Almost Certainly Never Saw Revealed
Why Francis Lawrence "Regrets" Splitting Mockingjay into Two Films
Remembering All the Dogs Who Didn't Survive in Ginger Snaps
What Was Alf? The Adorable Fuzzy Alien Explained
What Will Be Christopher Nolan's Next Movie?
Why Did Sci-Fi Superhero Series Heroes End?
The Best Sci-fi Movies Streaming on Peacock
Michael J. Fox Opens Up About Facing Death: 'I Don't Fear That'
The Hunger Games Timeline, Briefly Explained
Five Nights at Freddy's Creator Scott Cawthon Snuck Into Screenings Wearing a Disguise
Every Star Trek Movie Ranked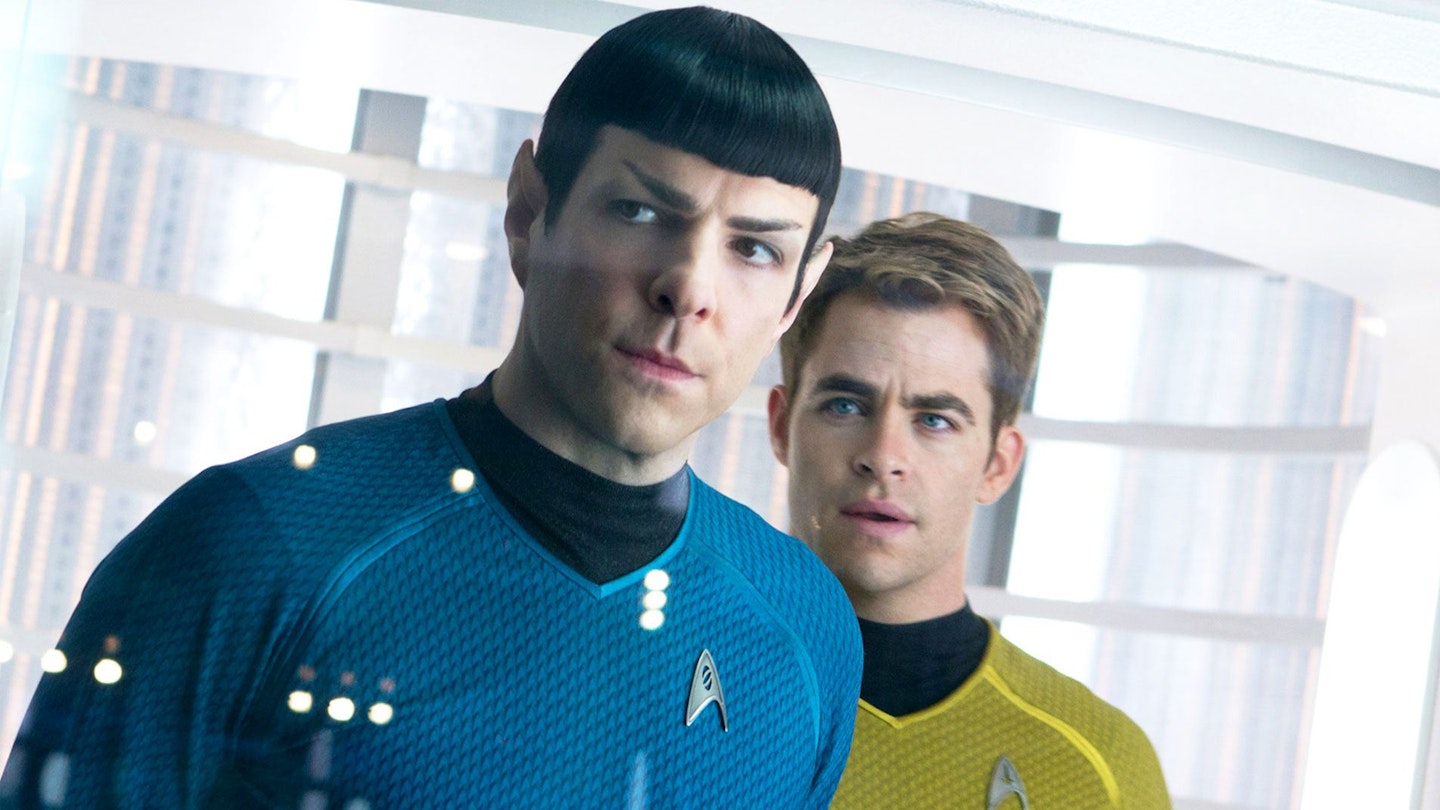 One of the most beloved and influential science-fiction franchises of our time, the Star Trek universe continues to captivate audiences and expand into new worlds – from the Original Series, to the Next Generation, to the J.J. Abrams -led reboots, to the plethora of live-action and animated Enterprise outings on the small screen in recent years.
To mark the 40th anniversary of the all-time classic and many a Trekkie's favourite, Star Trek II: The Wrath Of Khan , we're boldly going where many have gone before, and wrangling the 13 big-screen Star Trek adventures into a definitive order of quality. Here's Empire's list of the best Star Trek movies, ranked from worst to best: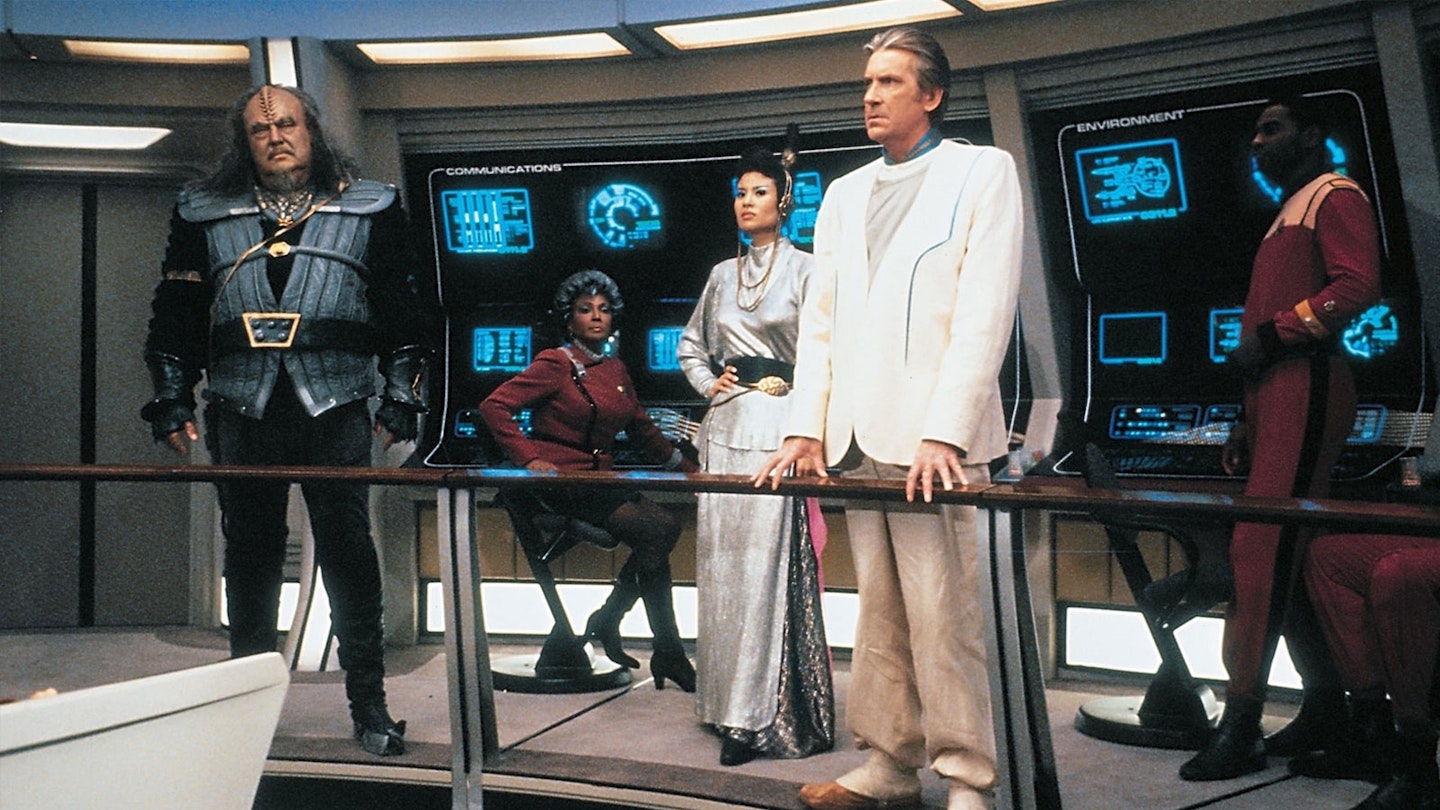 13. Star Trek V: The Final Frontier
After two films directed by Nimoy, Shatner stepped up for Star Trek V , but it was a troubled production, beset by rewrites, re-shoots and industrial action. The results are, let's say, uneven: a collision of separate stories that don't really mesh, with some jarring tonal shifts. On one level this is a classic Roddenberry concept about exploring the universe and investigating its creation, but that sits alongside Klingon-Romulan-Human politicking and moments of comedy: Kirk and Bones ribbing Spock round a campfire, or Scotty knocking himself unconscious because he doesn't know his way around the new Enterprise. An impressive Dune -like desert sequence gives way to a knock-off Mos Eisley bar scene. Spock suddenly has a renegade brother we've never heard of before. And yet, while the separate parts might not add up to a cohesive whole, there's enough going on that some of it works. Fundamentally, this is a film where Captain Kirk meets God and is unimpressed . That might just be the ultimate Kirk moment, and getting there is worth a couple of hours of janky runaround.
12. Star Trek: Nemesis
A fairly catastrophic failure both critically and commercially, Nemesis did what no Trek film had done before: killed the franchise stone dead for almost a decade. It's still fun to hang out with the Next Generation crew, but that cozy familiarity aside, this is a disappointing experience. It's visually murky, bogs itself down with a leaden plot about Romulan intrigue, has its limelight hogged by Brent Spiner, and suffers from one of the weakest villains in the series: Tom Hardy 's Reman rebel leader Shinzon. This was one of Hardy's earliest roles, and it probably isn't his fault, but he's less than stellar in it and looks borderline ridiculous, sporting a prosthetic nose. His introduction is set up as a huge reveal moment - "Oh my God, it's Picard !" – except he looks nothing like Picard, and the only visual clue that he's Picard's clone is that he's bald. The action periodically delivers and Data's sacrifice – while not a patch on Spock's – gives it a little heart, but as the Next Gen crew's last hurrah, this one saw Picard and the gang go out with a whimper, not a bang.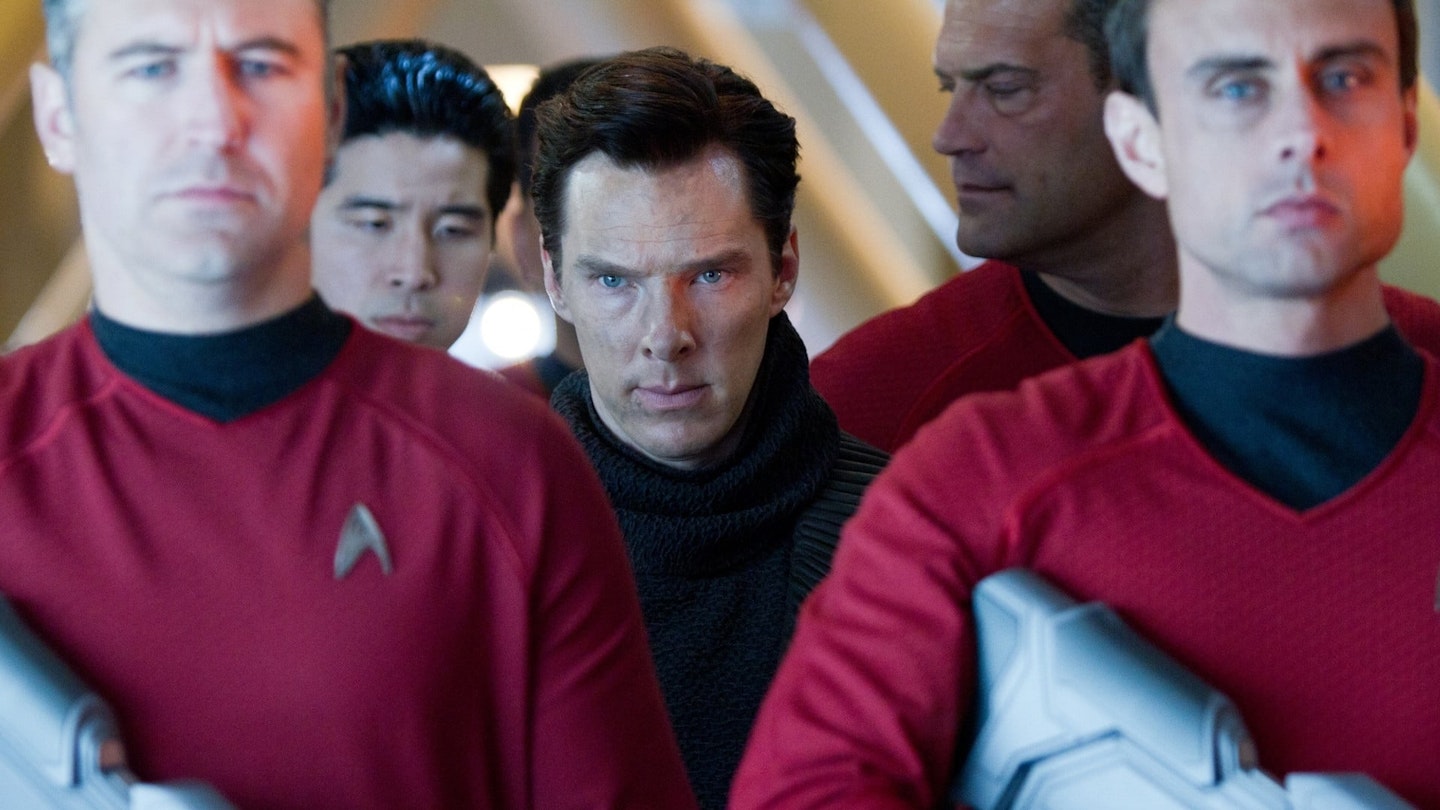 11. Star Trek Into Darkness
The continuing mission of the rebooted Enterprise has all the pleasure of the 2009 film in its interplay between the principals, and some great San Francisco spectacle. But Into Darkness ' great weakness is its villain: in this instance, Benedict Cumberbatch inheriting the role of Khan from Ricardo Montalban. The problem is exactly the same one that Spectre had with Blofeld: Khan only means something to the audience. He doesn't mean anything to the characters on screen. This Enterprise hasn't even met him in Space Seed. So, the films whole agenda – it's a remixed Star Trek II with another Khan, hold on to your hats! – doesn't work. This Khan is just another bad guy doing generic bad guy stuff. His being Khan is ultimately neither here nor there. "I'm not Harrison, I'm Khan." – are you? Who's that then? If you need a Zoom call with your future self to explain the stakes, you've got more problems than you realise.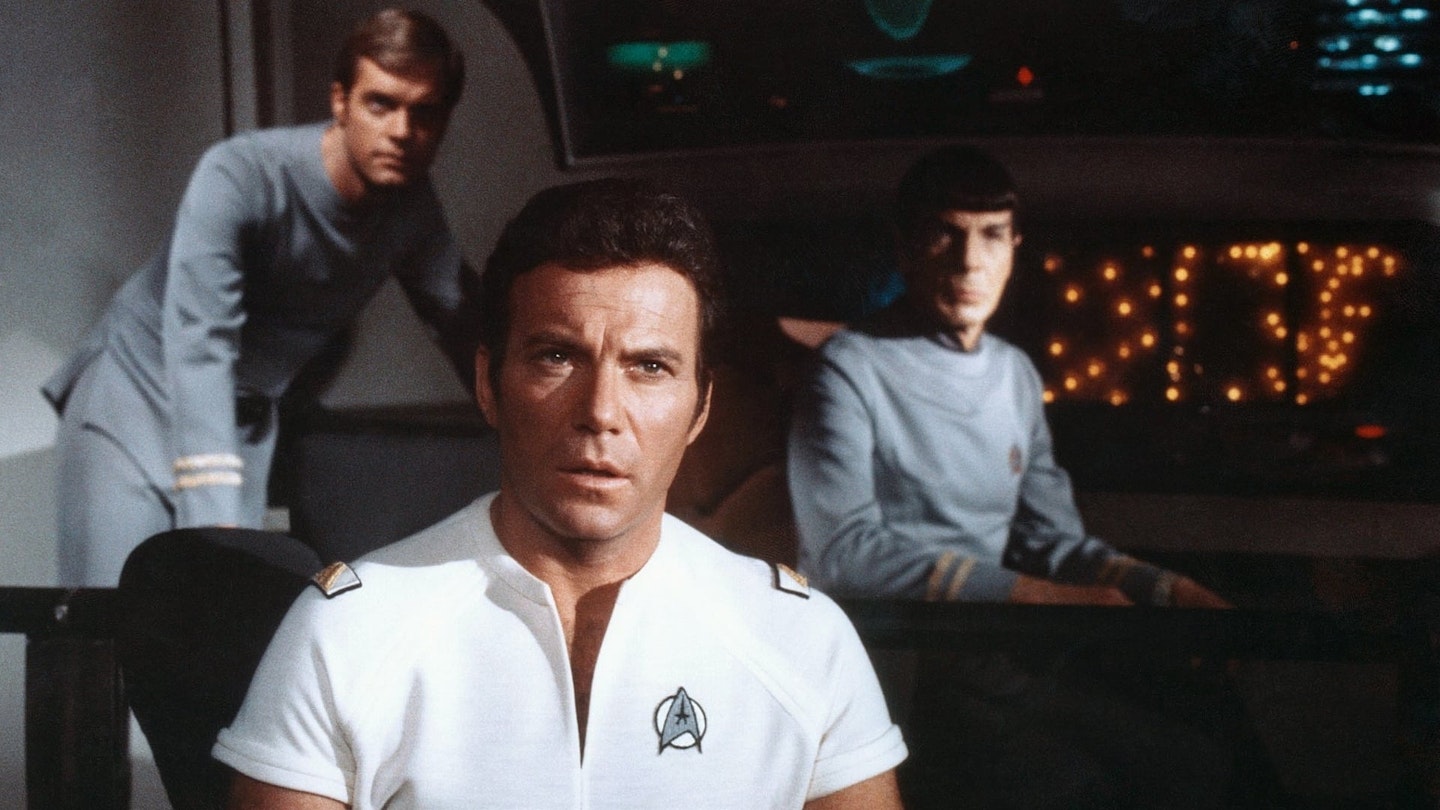 10. Star Trek: The Motion Picture
The frequent goofiness of the Original Series sometimes obscured the fact that it was often dealing in strong sci-fi concepts and attempting serious philosophical musing. There was even a high-falutin' pretension to some of the episode titles, like season 3's 'For The World Is Hollow And I Have Touched The Sky'. So, while in a post- Star Wars world, a straight-up space adventure might have seemed the no-brainer way to approach a Star Trek movie, you can see how Gene Roddenberry would have been more attracted to trying to do Kubrick's 2001 . Years in development, and at one point conceived as a new TV series before flipping back to film again, Robert Wise's film has been dubbed the Slow-Motion Picture by wags, and there's no denying its ponderousness. But where it achieves what it's aiming for is in the sequences designed to inspire absolute awe in the viewer – the early reveal of the new Enterprise in space dock, or Spock's solo float through the unbelievably vast V-Ger ship. It isn't to everyone's taste, it arguably doesn't make the best use of its cast, there's not much action and the new uniforms look awful. But there's a tone and ambition to The Motion Picture that's unique in Trek.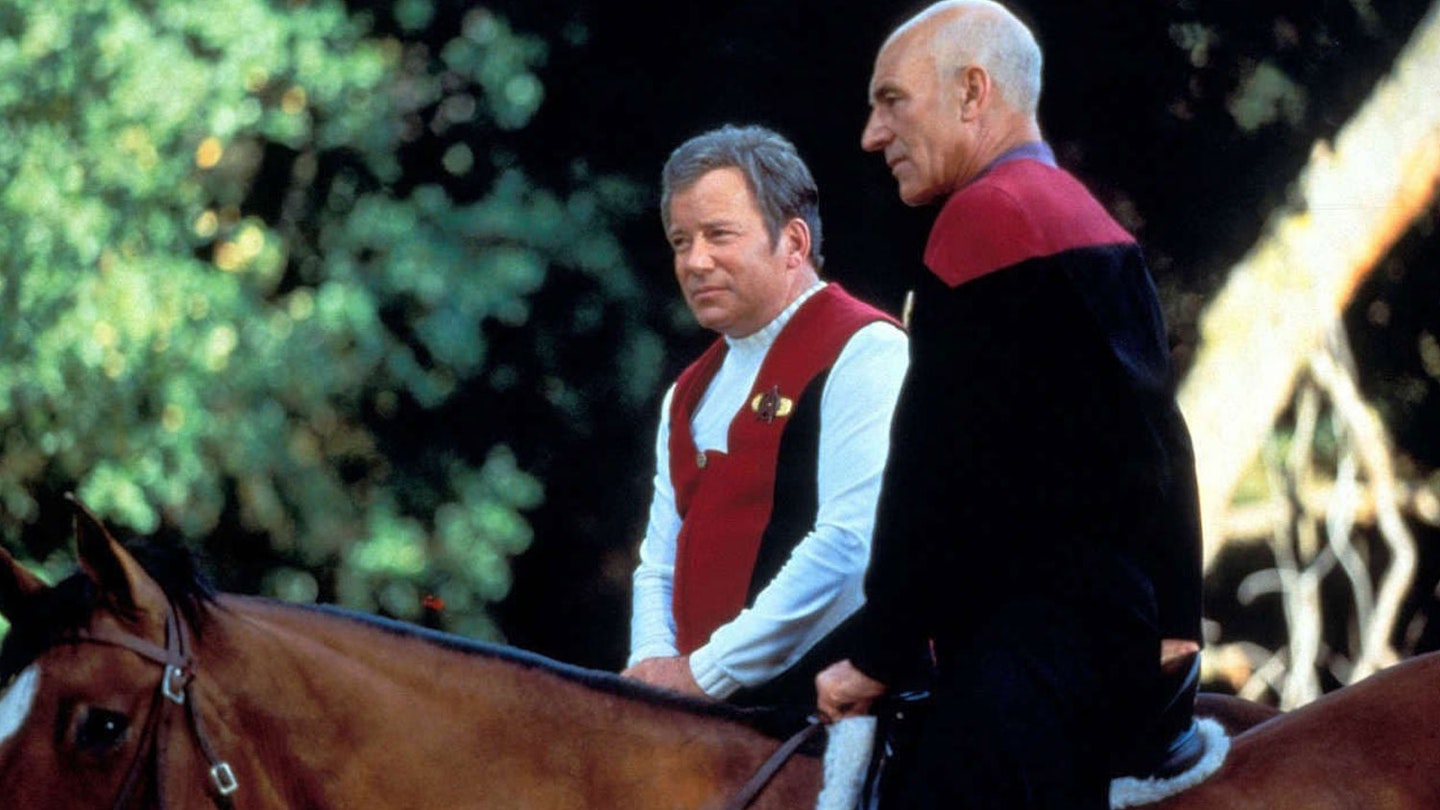 9. Star Trek: Generations
The long-heralded meeting of the generations kind of delivers on its promise, but instead of being great, it's only… fine. Part of the problem with Generations is its set-up, which shunts Kirk off into the time-defying Nexus. The plot device that gets him across the generations leaves all his own crew behind, meaning that the Original Series cast get cameos at best. Nimoy isn't in it at all. So, it's essentially a Next Generation movie with Shatner in it – less Enterprise meets Enterprise, more Picard meets Kirk. There are some Klingon shenanigans (hello TNG stalwarts Lursa and B'Etor), a wry Malcom McDowell is a solid principal villain, and the Enterprise is destroyed (again). But it never feels like the event it should, and Kirk's death, which ought to have been momentous, is badly fumbled; compare it to Spock's death in Wrath Of Khan and it's simply a shrug. Shatner was miffed enough that he brought Kirk back from the dead in a series of novels.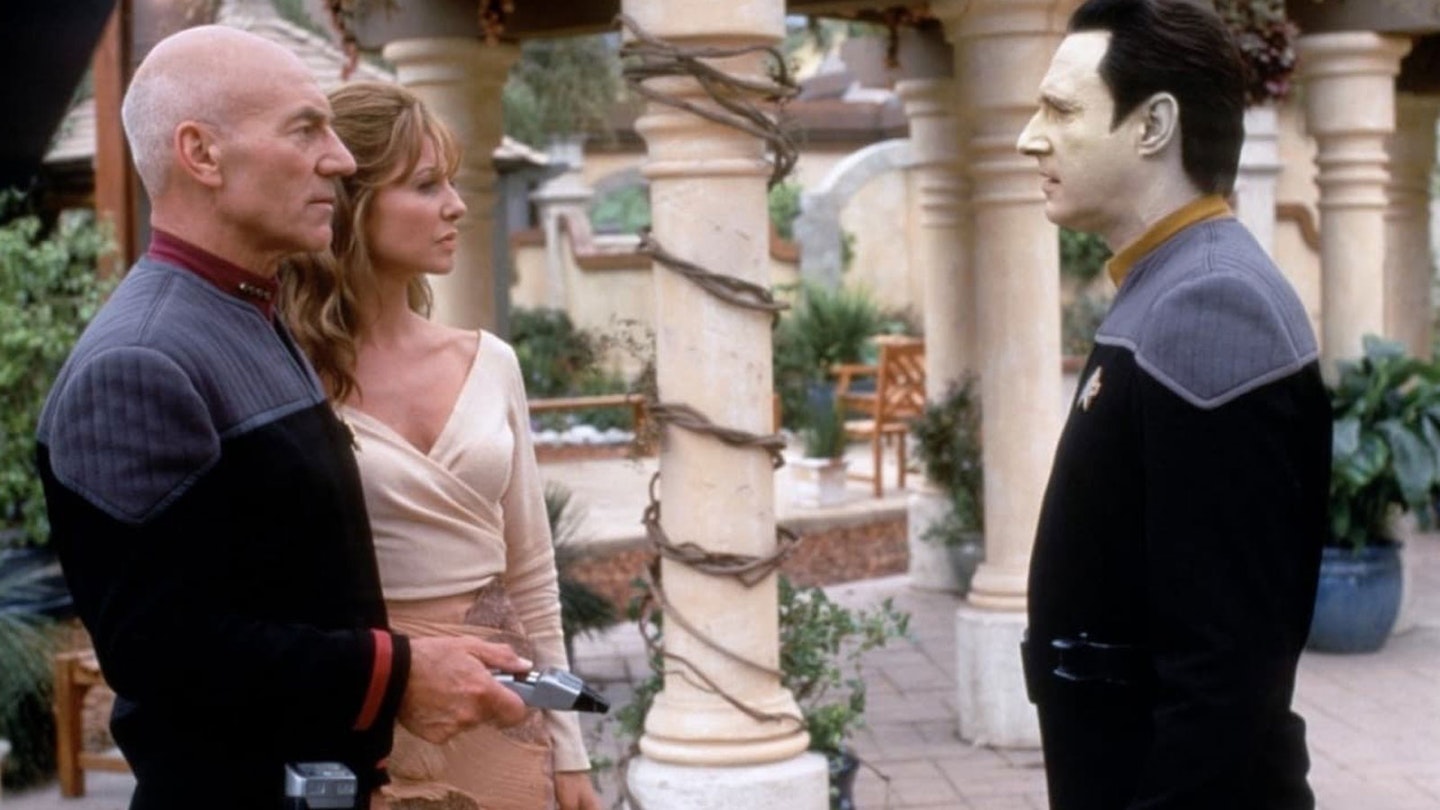 8. Star Trek: Insurrection
Of all the Star Trek films, Insurrection feels the most like a standard episode of the TV series (in this case, the Next Generation). The budget is obviously bigger, the screen wider, the effects more impressive, but strip those elements away and the story would barely have played any differently on the small screen. It's much lighter in tone than its immediate predecessor, First Contact , and therefore feels less consequential. But still enjoyable for all that. Largely a character piece focused on Data – as the Next Gen films increasingly were – it involves the Enterprise crew accidentally breaking Star Fleet's sacred Prime Directive of non-interference while on an observation mission on the peaceful backwoods planet Ba'Ku. The consequences draw the attention of the Son'A: Clive Barker-ish mummified aliens who keep themselves alive with frequent transplant surgery and are led by an unrecognisable F. Murray Abraham . The stakes are on the low side, but the set-pieces deliver. And you get to see Riker and Troi in the bath, if that's your thing.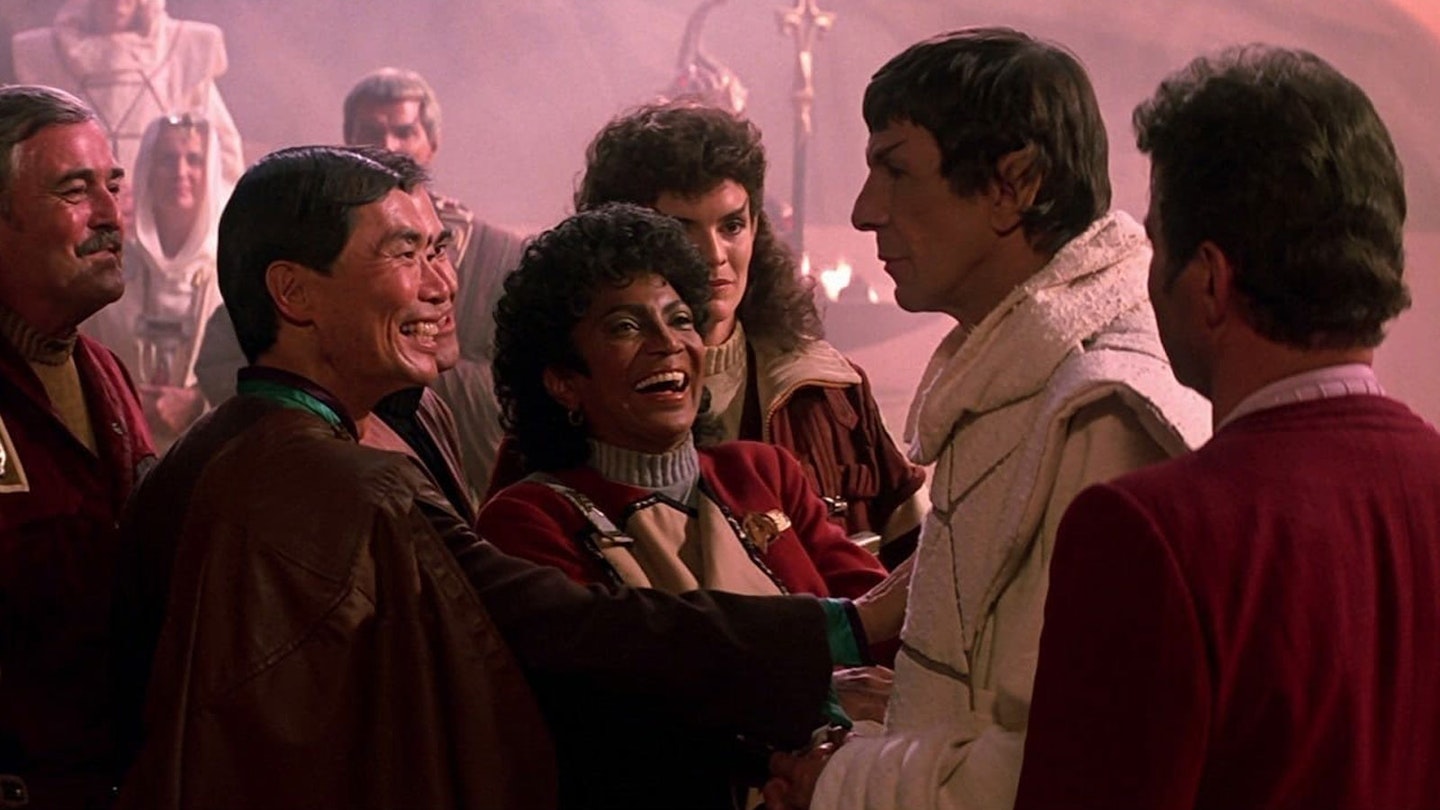 7. Star Trek III: The Search For Spock
Star Trek III can't help but feel smaller and less urgent than the extraordinary Wrath of Khan , and while clearly we want Spock back, this does feel like an entire film in the service of undoing Star Trek II 's most unforgettable moment. It's less flat-out and simply less fun than its predecessor, and that seems to be a deliberate choice: while not at Motion Picture levels of heaviness, it still seems to be aiming for more weight again. Leonard Nimoy directs – the first of many Trek cast members to make the transition to the other side of the camera – and he's clearly great at getting performances, but less sure-footed with pacing and action. And there's a lot of spoken exposition. The villains, too, don't seem as threatening, just a brigade of ornery Klingons, led, rather oddly, by comic actor Christopher Lloyd. You can argue that he wasn't Doc Brown yet, but he was the Reverend Jim. Even the destruction of the Enterprise doesn't quite have the impact that's intended (although maybe that's a function of our having seen it destroyed again so many times in the years since). Still, it's never less than enjoyable, particularly in the Bones Behaving Oddly strand that largely drives the story. This is amiable, watchable Trek , and sometimes that's enough.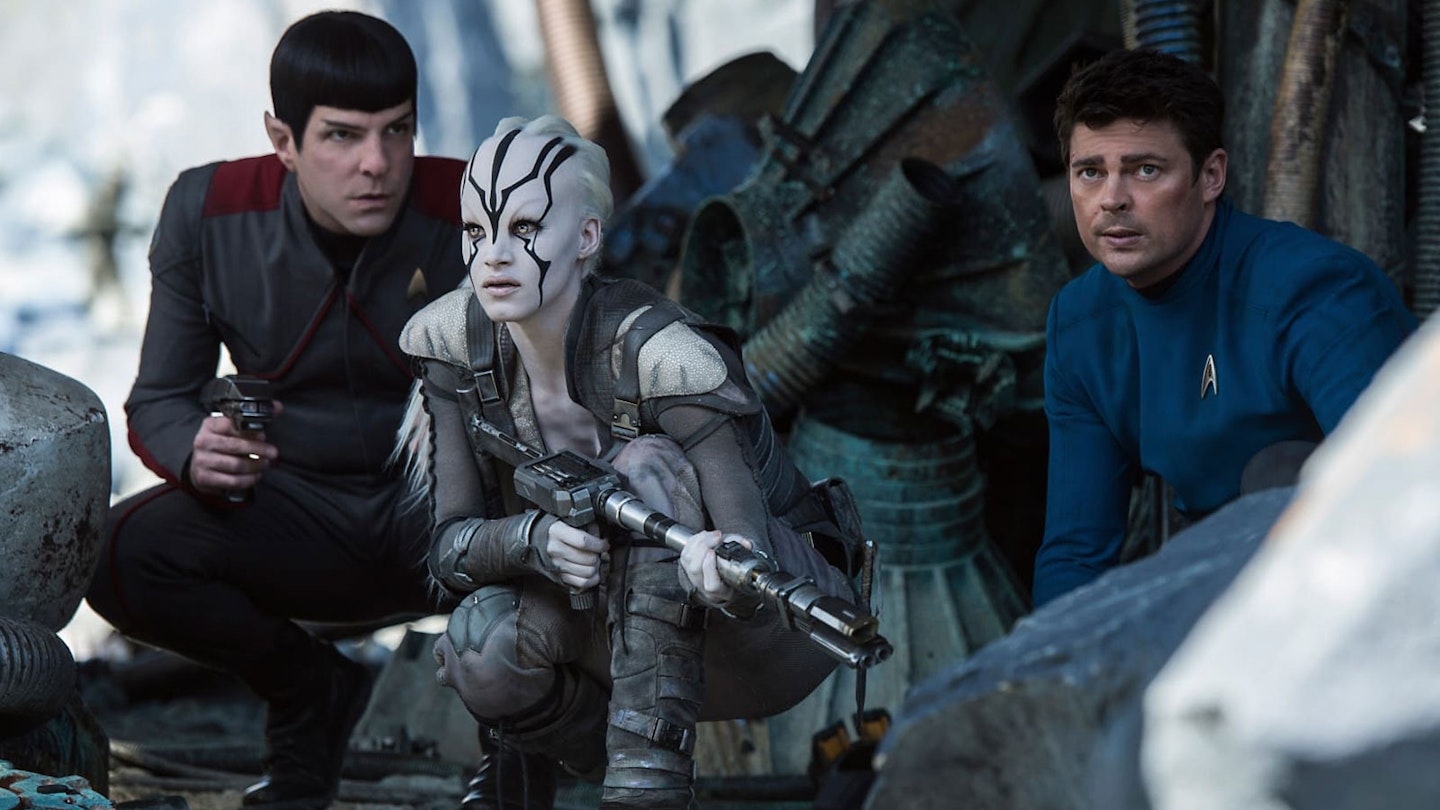 6. Star Trek Beyond
After the misfire of Into Darkness , the clear mission here was simple: forget fan-pleasing that pleases no one, and deliver a straight ahead brand new Star Trek adventure with the characters we know and love, untethered from any weight of continuity or dour intertextual engagement with past glories. Beyond is a breath of fresh air and, creatively, a huge success, benefitting from the gonzo energy of multiple Fast & Furious movie director Justin Lin . Simon Pegg 's Scotty emerges as perhaps the film's MVP (odd that, considering he co-wrote it), and is given an amusing double-act with newcomer alien scavenger Sofia Boutella ("Beats and shouting!"). And Idris Elba is a solid villain, although you might wish the new series would play a different bad guy card than 'grudge against Starfleet'. Still, it's all such a blast that it's hard to mind too much, especially during the air-punching callback to the 2009 film's use of the Beastie Boys' 'Sabotage'.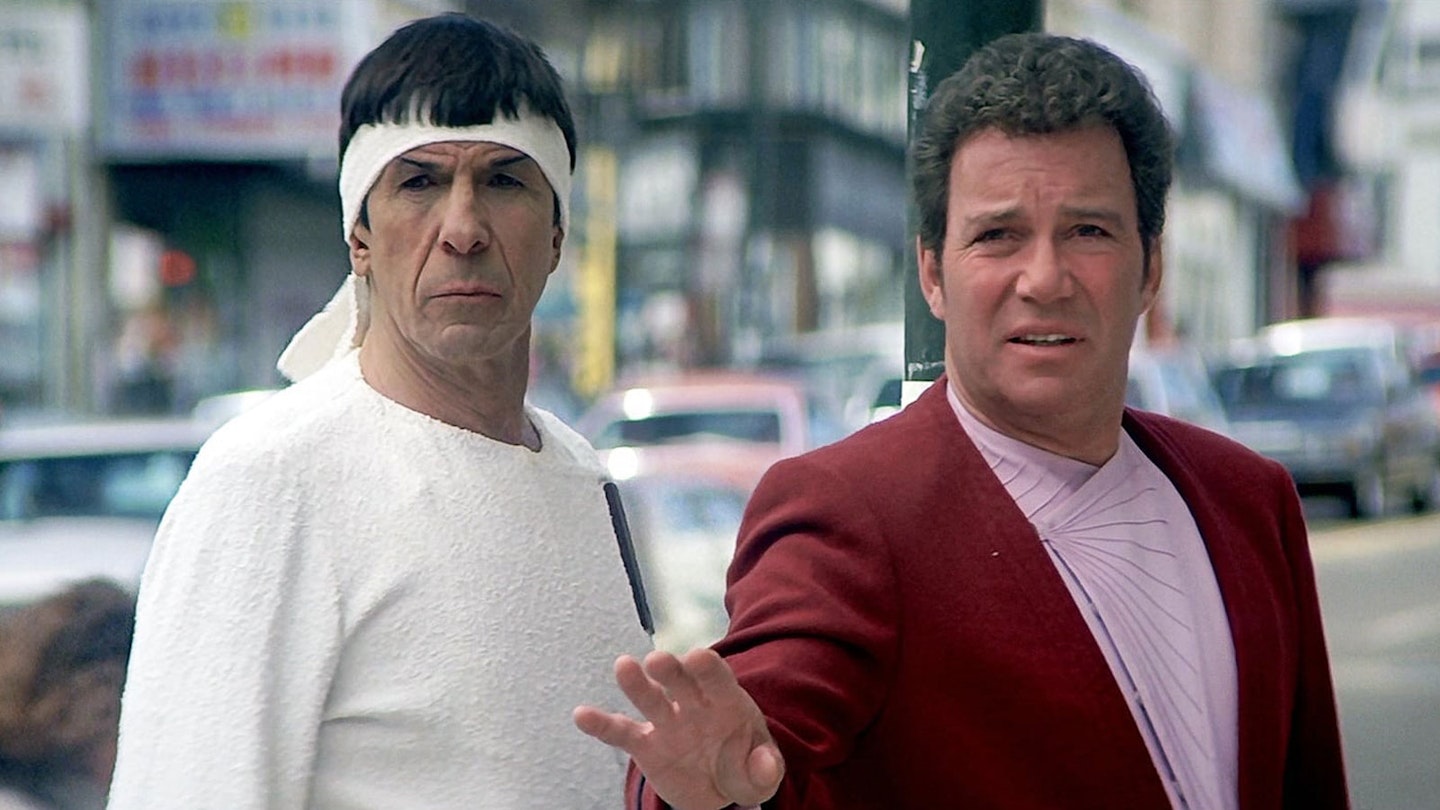 5. Star Trek IV: The Voyage Home
Aka 'the one with the whales'. A family-friendly, fish-out-of-water comedy adventure, almost entirely set on (at the time) present-day Earth, intent on delivering an environmental message and with no real villain to speak of. An Enterprise crew who don't even have an Enterprise… Star Trek IV shouldn't work, but somehow it's one of the best, and certainly most beloved, films of the series. Maybe that's about its accessibility: it's Trek enough for fans, but un-Trekky enough to tempt the unconvinced. The comedy is great (particularly thanks to the revived Spock, whose befuddled weirdness goes barely remarked in 20th century San Francisco); the extended cast all get decent stuff to do (think Chekov's side-mission to find a 'nuclear wessel'); and Shatner gets a love interest that doesn't play as creepy. The whole film is like a warm hug. Is it Star Trek ? It seems from this evidence that Star Trek is whatever Star Trek says it is.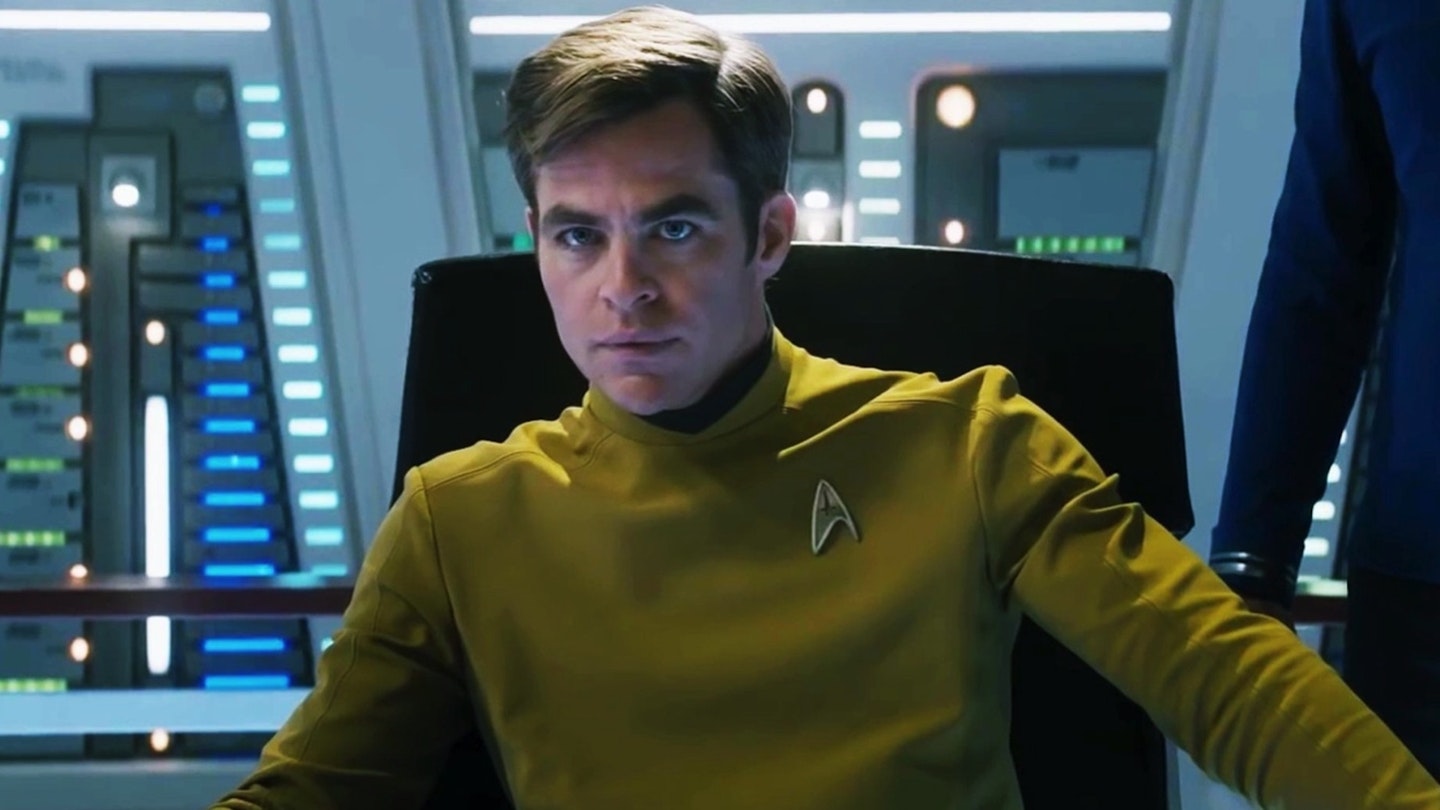 4. Star Trek (2009)
Star Trek 's big comeback was a reboot and an origin story, re-casting the Original Series crew and telling the story of their first mission aboard the Enterprise, not long out of Star Fleet Academy. The surprise is the extent to which it's also Star Trek 11 : smartly setting up a branching timeline that allows it to remain canonical even as it contradicts the Trek that's gone before. It has its gagh and eats it too. Leonard Nimoy cameos as the Spock we already know, and the new cast ( Chris Pine , Zachary Quinto , Karl Urban , Zoe Saldana , Simon Pegg) do a great job at making their iconic roles feel both familiar and fresh. It's an energetic, colourful, pacy film, revelling in joyful nostalgia and a deep love for these characters. It's just a pity that, with the focus on building the team, Eric Bana 's villain ends up a bit sidelined. Even while he's destroying planets, he's somehow no Khan.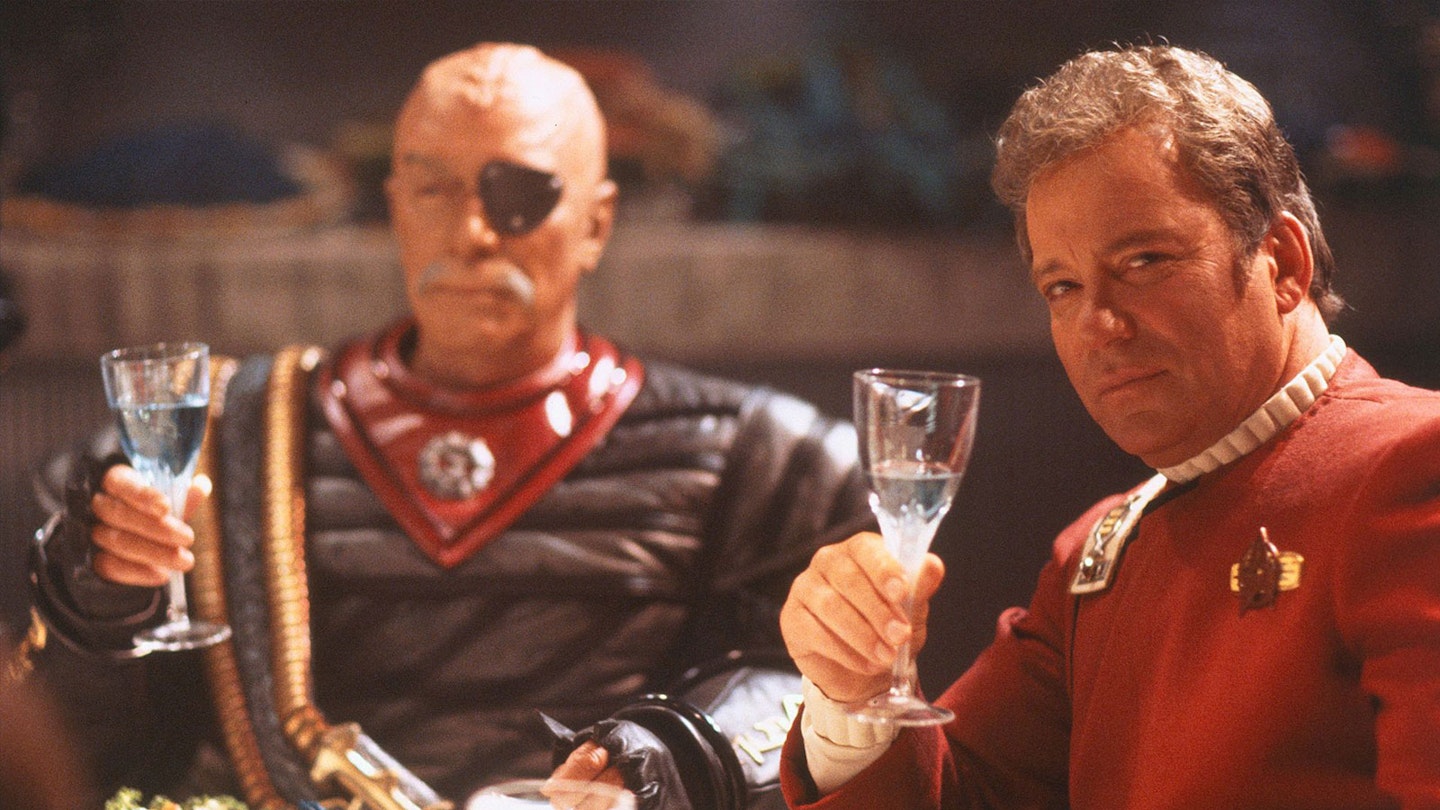 3. Star Trek VI: The Undiscovered Country
The near-disaster of Star Trek V almost killed the franchise, so VI was returned to the safe hands of Nicholas Meyer, who'd previously snatched The Wrath Of Khan from the jaws of The Motion Picture . It doesn't quite hit Khan levels of excellence, but it does give the series its best villain since Montalban, in Christopher Plummer 's raging, Shakespeare-quoting Klingon general: a monomaniacal Ahab whose white whale is Kirk. Epic in scale, taking place across multiple ships and planets, the film's main plot hook is nevertheless a more intimate murder mystery, so there's room for character moments and effective storytelling. The obvious advancing age of the principals is explicitly acknowledged (adorably, the climax of the film genuinely rests on whether a portly old man can run up some stairs). And the wider context of peace negotiations between the Federation and the Klingon Empire serves to bridge the gap between The Original Series and the just-starting Next Generation , making this arguably a more effective handover than Generations. While some of the principal cast would return for guest appearances, either in subsequent films or on the small-screen Next Generation and Deep Space Nine , The Undiscovered Country feels valedictory, the last true hurrah of the original Enterprise crew.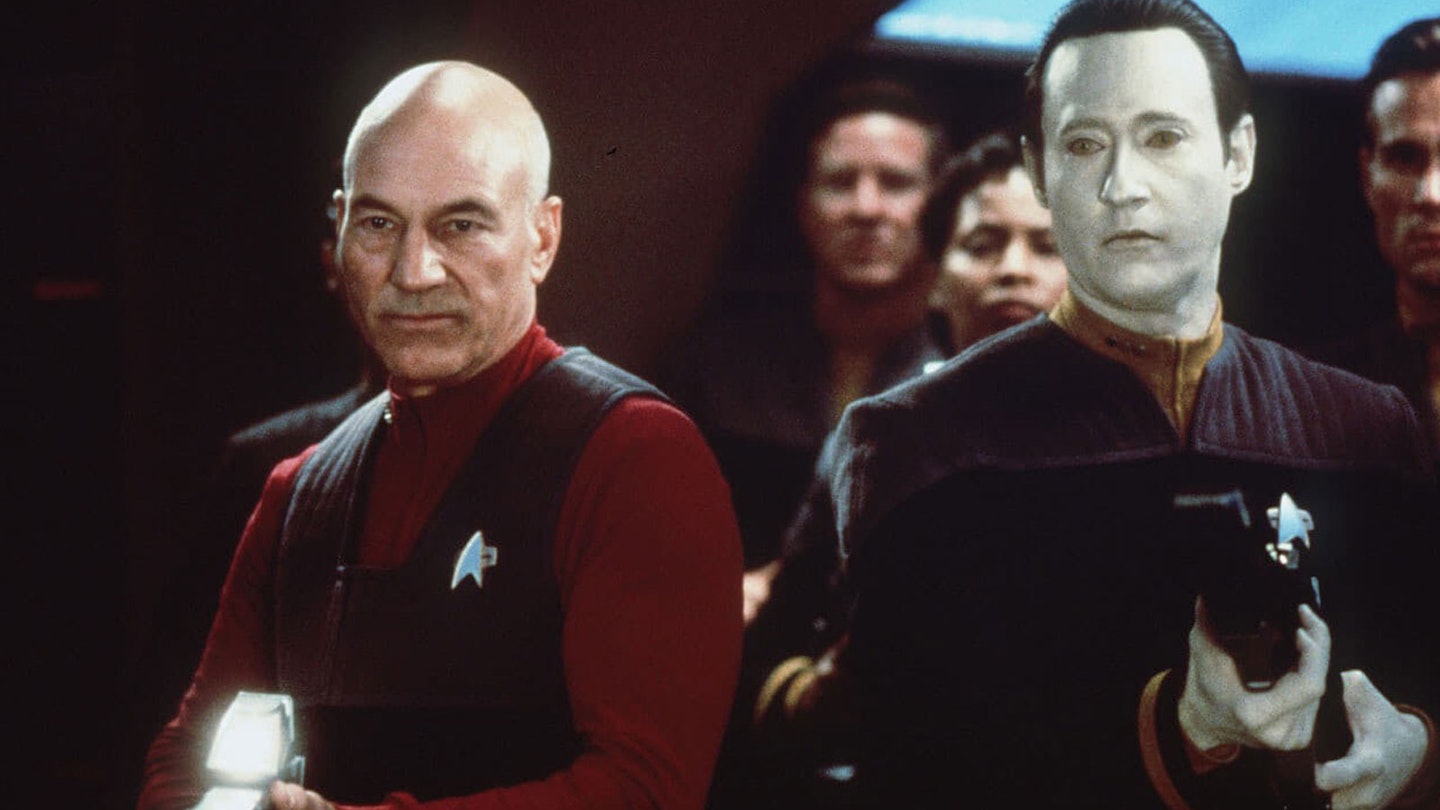 2. Star Trek: First Contact
With the Borg the stand-out villains of The Next Generation – they even assimilated Picard in a fantastic end-of-season cliffhanger – their progression to a big-screen face-off was almost inevitable. The results in First Contact make it one of Trek 's nailed-on classics. The implacable Borg's Giger-ish design and body-horror vibe don't necessarily quite gel with the Star Trek ethos, but the film balances those elements with some wide-eyed Roddenberry-ish wonder in a plot about humankind reaching for the stars: specifically the first Warp flight. Some have questioned the introduction of the Borg Queen – they were a terrifying hive mind but now they've got a leader? – but logic aside, she's an undeniably great character, played with insidious relish by the otherworldly Alice Krige. The scenes where she's tempting Data are hugely compelling, circling around one of those big sci-fi ideas that Trek loves and addresses so well: an android choosing to be human.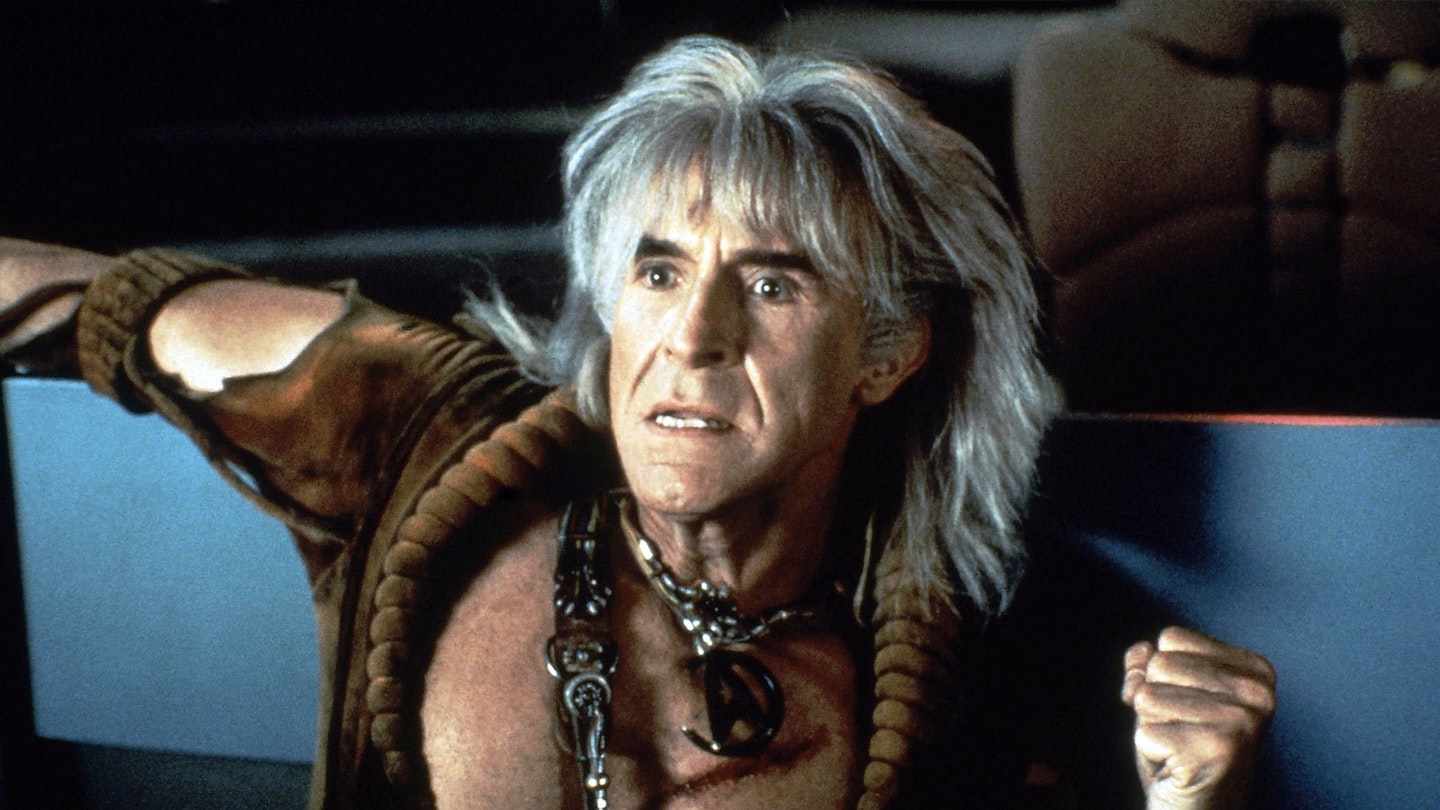 1. Star Trek II: The Wrath Of Khan
The film that ensured Star Trek 's future. A major regrouping and rethinking following The Motion Picture , it's thrilling, breathlessly action-packed, and emotionally hefty. The Motion Picture really only had a mystery, but The Wrath of Khan gives the Enterprise crew a truly credible – even frightening – adversary in Ricardo Montalban's aggrieved superhuman, and there's no greater illustration of how genuinely high the stakes of this film are than one of the main cast having to die: the needs of the many outweighing the needs of the few. It's a straight-up, knock-down brawl across the galaxy, weaving in lore from deep Star Trek cuts but never alienating a non-expert audience (it's a sequel to a season 1 episode, but you don't really need to have seen 'Space Seed' to get immediately on board). There are new crew members - notably Kirstie Alley's Vulcan Saavik - but The Wrath of Khan proves that the legacy players are far from done, even as the film sweetly acknowledges their lengthening teeth (and faltering eyesight). And there is, of course, that Shatner moment ("KHAAAAAAAAN!"), reminding us that, while there are other space adventure franchises, there are some things that are just uniquely, gloriously Trek . Of all the films we have encountered in our Star Trek travels, this was the most… human.
All The Star Trek Movies, Ranked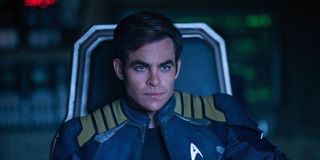 "Space: the final frontier. These are the voyages of the starship Enterprise ." Star Trek fans have heard these words several times before, and throughout the past few decades (which has exceeded well beyond five years, at this point), they've seen several mission and explorations — many of which have made their way to the silver screen. Suffice to say, through many years of films, they've boldly gone where no man has gone before several times over.
There are 13 Star Trek movies in total by now , and it hasn't always been a smooth journey for the series. For every triumph, there have been several adversities. And for every rise, there is inevitable a fall or two. Nevertheless, it has been an extraordinary turn of events for the Star Trek series, and it is the failures that make the successes all the more sweeter. Therefore, we'll take a look back at all the Star Trek films and rank them from worst to best.
Now, it should be noted that I am simply one man. In this enterprise known as CinemaBlend, I can only speak for myself when it comes to the Star Trek filmography, and I can assure you that my picks will not always be conventional. Don't fret. Feel free to voice your own picks in the comment section at the bottom of the page, and we can disagree accordingly there. It is fair to say, though, that my picks won't always match up with common perceptions of the film, and I'm especially nervous about one film in particular.
But without further ado, here's how I would rank the Star Trek movies thus far! (Also, expect spoilers for a few of these movies.)
13. Star Trek: Generations (1994)
On paper, Star Trek: Generations has fantastic potential. A chance to mold the past, the present and the future in this futuristic sci-fi series, the seventh Star Trek movie is the only one to feature both original cast members and The Next Generation crew. The latter, having recently concluded its TV run, finally made its first journey onto the big screen, and it would allow fans —old and new —to come together to celebrate an epic Star Trek experience.
Oh, what could've been. Generations , which finds Captain Jean-Luc Picard (Patrick Stewart) and Captain James T. Kirk ( William Shatner ) joining forces in order to bring down an intergalactic bad guy hoping to destroy a planet, is an exciting idea in theory, and it could've been something truly special if it were done well. But the poor screenplay, mixed with a rushed and manufactured feel, resulted in an unsatisfying end for one of the most iconic characters in science-fiction history, and a similarly disappointing big-screen foray for our Next Generation crew. Just a big bummer all-around.
12. Star Trek: The Motion Picture (1979)
The late '70s were a different time. The public's perception of sci-fi was painted by one of Stanley Kubrick's masterpieces, 2001: A Space Odyssey , and it was clearly an influence on a number of films after its run. That includes Star Trek: The Motion Picture , the first foray for the television series to make it on the big screen, and the filmmakers clearly wanted to make it into a spectacle. The film certainly fills out the screen, to its credit, in a big way.
But alas, without the same meaningful commentary and intellectual insights to the psyche of man and its relationship with advancements, technology and machines, particularly at the brink of evolution, you get a painful dull movie (and a weirdly hyper-sexual one too), with no clear sense of plotting or structure that's an absolute slog to endure. Star Trek: The Motion Picture follows the Enterprise as they attempt to discover the hidden powers of an unknowable alien intent on destroying planet Earth. That could've been interesting, but as a pale imitation —at best — of a great film, it's hard to sit through its hyper-slow orbit through space.
11. Star Trek: Nemesis (2002)
Unlike the original Star Trek crew, The Next Generation never found the same success on the big screen. While there were some box office highlights and one or two movies that broke through the mold, these were the exceptions rather than the norm. Unfortunately, Star Trek: Nemesis , the final Next Generation film, not only ended the franchise on a whimper, but also stalled plans to make another Star Trek film until Paramount decided to reboot in 2009.
The premise is kooky enough that, in the right terms, it could've been a lot of fun. The Next Generation team is dealing with a threat to the United Federation of Planets from Shinzon ( Tom Hardy ), a clone of Captain Picard, who takes control of the Roman Star Empire. It's goofy, but it's also not the worst idea for a late-in-the-game Star Trek movie.
Unfortunately, unlike the thoughtful and nuanced television series, The Next Generation movies are often uniformly dumb, and not in a campy, silly sort of way. They're more annoying than charming, and that is no exception here. But it is fun to see Tom Hardy in such an early role in his career. Thankfully, it's safe to say that things worked out for the British actor in the long run, despite this big hiccup.
10. Star Trek V: The Final Frontier (1989)
While he's an easy person to imitate and make fun of, there's no denying that William Shatner 's acting carries a weirdly charming charisma. It's formal, in a very theatrical sort of way, yet it's incredibly captivating and often likably sincere. It's the sort of campy showmanship that drove the original 1960s series into the hearts of science-fiction lovers everywhere. The show (and the Enterprise) wouldn't have the same magnetism without him at the helm.
That said, William Shatner's direction leaves a lot to be desired. After four movies, and his co-star Leonard Nimoy commendably calling the shots on the last two, Shatner's ego got in the way and he decided it was his time to be in the director's chair with Star Trek V: The Final Frontier . The results, sadly, weren't particularly great.
While I'd (tentatively) argue that this fourth sequel, which follows the Enterprise in the search for God at the center of the galaxy with a renegade, might have more going for it than its reputation might suggest (including an intriguing brainwashing scene that shows that Shatner might've had some promise as a director if he tried it a few more times), it's unfortunately as stilted as a half-hearted Shatner imitation, and it doesn't have the fun you would hope to find in the series after the last few exciting adventures. It's an sadly middling film, and not worth searching for.
9. Star Trek: First Contact (1996)
Alright, this is the point where my list officially becomes controversial — depending on how you felt about the last few films, admittedly. While Star Trek: First Contact is the most critically acclaimed Next Generation movie and one of the most financially successful in the series, this eight Star Trek movie is better than Star Trek: Generations , but it never matches the success of its predecessors — even if it once again brings time-travel into the Trek fold.
First Contact brings The Next Generation crew to the year 2063, specifically the day of Earth's first encounter with alien life, in order to prevent first contact from the opposing Borgs. The Borgs were always a fan favorite from the series, and there is more energy and life in this new film than there were in the past couple Star Trek movies prior — including a stunning and memorable opening dream sequence.
But Jonathan Frakes, in his feature directorial debut, is not able to make the smoothest transition into blockbuster filmmaking, with awkward tonal shifts and some baffling story decisions getting in the way of admittedly strong action sequences. First Contact is not the worst, by any means, but it's ultimately not quite as strong as people make it out to be.
8. Star Trek: Insurrection (1998)
Admittedly, Star Trek: Insurrection is not a great film. It's corny, wonky, notably cheaper after the more cinematic First Contact and not without its own story problems. But of all the Next Generation movies, Insurrection is the one that, for my money, is the closest to capturing the charm and wit of the spinoff series. I don't expect a lot of people to agree with me on this one, and that's perfectly okay. But I would put it a smidge above First Contact .
In Insurrection , the Enterprise discover a conspiracy with the species Son'a to steal a peaceful planet known as Ba'ku for its rejuvenating properties. It is a silly plot with some environmentalism thrown in, and it does feel a lot more contained and corny compared to the more robustly action-packed First Contact . But I think that's what makes it appealing to me. More than any other Next Generation movie, Insurrection feels like an extension of the series that inspired this spin-off series, and it's the only one that feels like it fits in the perimeters the show made. It also has Picard doing the mambo.
7. Star Trek III: The Search For Spock (1984)
Following the triumphant success of Star Trek II: The Wrath of Khan , Star Trek III: The Search For Spock had a lot to prove. With the television series finally making a great transition onto the big screen, this second sequel had a chance to make or break the foundation being formed. It was critical for Star Trek 's longevity that this film worked. Thankfully, it did. Although, it's safe to note that, between II and IV , it does not have the same success.
Star Trek III: The Search For Spock had an interesting proposition: how could it backtrack from the most emotionally-impacting moment in the series, the death of Spock, and justify it while still holding true to its tenants. The result, which as the title suggest, finds the Enterprise hoping to bring Spock back to his Vulcan form as his spirit is revealed to be lodged in the mind of Dr. Leonard "Bones" McCoy (DeForest Kelley).
As a Star Trek movie, it's a pretty enjoyable one, filled with a nice mix of action, pathos and humor. As a sequel to The Wrath of Khan, however, it is a bit underwhelming. In the end, it's a commendably decent Star Trek adventure, if one that never quite reaches the highest highs or the lowest lows of the extensive film franchise.
6. Star Trek Into Darkness (2013)
Once again, I'm making a fairly controversial statement here, as far as Star Trek lore is concerned. But I have to be honest, I think Star Trek Into Darkness is a totally enjoyable slice of cinematic cheese. It's filled with great spectacles, a terrific sense of pacing, some good jokes, some strong performances and a great deal of energy. But where it ultimately falls short — and this is a big, very crucial error — is being a good Star Trek movie.
When discussing director J.J. Abrams ' one-and-only Star Trek sequel to date, there are two factors at play: how does it work as a blockbuster and how does it work as a continuation of this new, freshly-rebooted Star Trek series. To me, it does succeed in the first category, while completely falling short in the second camp, which is why I believe it is so controversial to suggest that Into Darkness holds any real merit.
The sequel retraces the steps of The Wrath of Khan by making Benedict Cumberbatch a more malicious, vindictive variation of Star Trek 's most notorious foe. It's far from the strongest idea for a sequel, and it only makes itself look inferior to such a great film. But through its burst of energy, well-shot action, visual splendors from engaging set pieces and another pair of strong performances from Chris Pine and Zachary Quinto, you have the weigh the good and the bad. I ultimately like it.
5. Star Trek Beyond (2016)
With J.J. Abrams stepping out of the director's chair to focus on another sci-fi galaxy, this one far, far away, director Justin Lin ( Fast Five , Furious 6 ) took over the directorial reigns, which many fans assumed would spell out more action and less contemplative science-fiction. But surprisingly, Star Trek Beyond is the film that's the closest to what Star Trek used to be: a thoughtful, character-driven sci-fi exploration into what it means to live with others.
Sure, there are action and stunts galore. But Star Trek Beyond is a notably much more contained sequel, one that harkens back to the fundamentals of the series in a way that feels more respectful to the material than the previous sequel. A lot of the credit should likely go to screenwriters Simon Pegg and Doug Jung, a pair of Star Trek fans who wanted to make a sequel they wanted to see on the big screen and which continues the communal spirit of Star Trek actors taking over creative reigns on the series.
They seem to get the property, crafting a story that feels like an extension of the Star Trek of yesteryear, while still promising that this franchise can go to bold new places. It also features Chris Pine 's best Star Trek work to date (maybe ever) and it makes shockingly excellent use of Beastie Boys' "Sabotage." The result is a strangely bittersweet and lovely reminder of what Star Trek can be for a new generation.
4. Star Trek VI: The Undiscovered Country (1991)
Following the underwhelming response to Star Trek V: The Final Frontier , the producers decided to return the keys to the man who made the film series what it was once before: Nicolas Meyer. The screenwriter/director is the main reason why Star Trek became a cinematic treasure with The Wrath of Khan , and it was surprising that it took Paramount this long to bring him back to the fold. It's better late than never, as this movie would suggest.
Star Trek VI: The Undiscovered Country isn't quite as strong as Star Trek II: The Wrath of Khan , but it's nevertheless a commendably well-crafted send-off to the series, before the producers would get too cocky and mess everything up again with Star Trek: Generations . The final film to feature the entire original cast, there is a somber, melancholy feel to this particular Star Trek adventure.
It does feel like the end, at least to a moderate extent. And the story, which finds the Enterprise racing to stop conspirators with a militaristic agenda, does have more to say, thematically, than the past couple films. It's not quite as quotable or iconic as the last Star Trek film under Meyer's helm, but it's still quite a solid film. If only they left things well enough alone.
3. Star Trek (2009)
After the disappointing slew of films based on The Next Generation , it was apparent that Star Trek needed a facelift. At this point, Star Trek was becoming a franchise where old people were running around trying to perform stunts they shouldn't be doing for their own health and safety. It was clear that the series needed a way to appeal to a younger, more energetic crowd. Something that could make Star Trek a little more accessible again.
While there are many folks who object to what Star Trek did with the franchise, there is no doubt that Star Trek was the kick in the pants that was needed at this point. It made Star Trek fun again, in a major way, with a return to the characters we loved with an excited crew of young actors — all of whom provide some engaging, enjoyable performances that feel just enough like impressions to respect their elders while still giving them a bit of their own spin to make them individual to their new performers.
Along with hot young director J.J. Abrams taking the helm, Star Trek (2009) became the enthusiastic return-to-form that the franchise has needed for a long, long time. Even if the following two sequels did not quite match its same success.
2. Star Trek IV: The Voyage Home (1986)
Star Trek has always prided itself on focusing on a brighter utopia of a future, one that humanity should hope to strive for as we live out our days. That promise has been filled in many different respects, though we still have a long ways to go before we will ever board our own Starship Enterprises. In any case, what if Star Trek was able to move forward while also going back in time? It's an intriguing premise, and one done well with their fourth film.
Star Trek IV: The Voyage Home is a curious little movie. Once again directed by Leonard Nimoy , who helmed Star Trek III: The Search for Spock , the film finds the Enterprise going back to then-modern day 1986, where the space crew finds themselves fishes out of water in order to protect the extinct hunchback whales. It is a wacky movie, and one that could've easily fallen flat if this sequel wasn't easily the funniest film in the Star Trek series.
One of the first times in which Star Trek aimed for full accessibility, the result is a splashy good bit of fun, while still respecting the integrity of the franchise and promising the hope of a brighter future — if we come together and fight the fight towards preservation and harmony. It's a great tribute to optimism.
1. Star Trek II: The Wrath of Khan (1982)
What else could we put at the top of this list? Is there any film that comes close to topping this Star Trek adventure? Whether it comes to action, high stakes, thrills, suspense or emotion, Star Trek II: The Wrath of Khan is the finest film Star Trek has to offer, and it might remain that way for a long time.
Easily the most quotable and heavily-referenced film in the franchise, Star Trek II: The Wrath of Khan takes a page or two from Moby Dick to tell a tale of formidable opponents fighting against one another in the great recesses of space and time. Yet, this is the first Star Trek movie to really drive home the humanity of this space-based adventure, capturing one of William Shatner's best performances beat only by Richardo Montalban's title villain.
It is also the only Star Trek film to truly understand that in order to win, you must also lose. The needs of the many must outweigh the needs of the few. It is these sacrifices, while in the desire to do good and preserve what must be righteous, that makes Star Trek II: The Wrath of Khan the greatest Star Trek .
Again, I should note that I know these picks won't meet everyone's fancy, and that's okay! I'm just one guy. There are so many Star Trek movies out there that there are a wide array of list options to be made. This is only one. But if you would like to voice your own picks, feel free to comment below on what you think is the best (and worst) that Star Trek has offered to the silver screen.
CINEMABLEND NEWSLETTER
Your Daily Blend of Entertainment News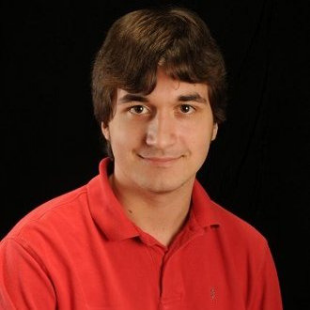 Will is an entertainment writer based in Pittsburgh, PA. His writing can also be found in The Playlist, Cut Print Film, We Got This Covered, The Young Folks, Slate and other outlets. He also co-hosts the weekly film/TV podcast Cinemaholics with Jon Negroni and he likes to think he's a professional Garfield enthusiast.
I Spoke To A Psychologist About Why Disney Live Action Remakes Like The Little Mermaid And Others Are So Great
5 Biggest RuPaul's Drag Race Winners And What They're Doing Now
I Asked Gen V And Thanksgiving's Makeup Effects Boss Which Project Was Bloodier, And The Answer Wasn't Even Close
Most Popular
By Mick Joest November 08, 2023
By Carly Levy November 08, 2023
By Heidi Venable November 08, 2023
By Nick Venable November 08, 2023
By Dirk Libbey November 08, 2023
By Erik Swann November 08, 2023
By Mike Reyes November 08, 2023
2 Bre Tiesi Admits It's Her Fault Her Michael B. Jordan Hookup Comment Went Viral After Airing, But Nick Cannon Is Supportive
3 How Marvel's Echo Fully Embraces Alaqua Cox's Maya Lopez As A Deaf Character
4 Bruce Willis' Daughter Opens Up About Why Their Family Went Public With His Dementia Diagnosis
5 Disney's Q4 And Full Year 2023 Earnings Call: Bob Iger Talks Disney+, Hulu Deal, And A Strong Quarter For Theme Parks
Search Search Please fill out this field.
Sweepstakes
Star Trek movies, ranked
See where all 13 films fall on the franchise list.
Darren is a TV Critic. Follow him on Twitter @DarrenFranich for opinions and recommendations.
13. Star Trek Generations (1994)
Every Star Trek movie has problems. There are nonsense villains, unconvincing pseudo-science, lead-actor ego-stroking, and aimless plotting. There is the shockingly frequent feeling that Starfleet, that great galactic exploratory organization uniting all the cosmos in common cause, is a curiously underfunded goon squad whose security apparatus depends solely on the presence of one Enterprise or another. But only Generations is truly inessential — and only Generations squanders both Captain Kirk ( William Shatner ) and Captain Picard ( Patrick Stewart ), opting to stage the meeting of two pop culture icons as an opportunity for tragically literal horseplay. At least Generations coughs up the impressive Enterprise-D crash scene, one last cool model effect before the franchise (and Hollywood) went full CGI.
Read the full deep dive into Generations here .
12. Star Trek III: The Search for Spock (1984)
Spock ( Leonard Nimoy ) dies in Wrath of Khan , and that death scene gets replayed four different ways in the sequel — a recognition of just how powerful the scene was, but also an admission that nothing in Search for Spock comes halfway close to measuring up. This is by far the busiest original-cast Trek film, with several different story threads — the Enterprise heist, Spock-ified McCoy ( DeForest Kelley ), the demise of the Genesis Planet, whatever Christopher Lloyd 's Klingon is supposed to be doing, the sidelong assertion that Starfleet has been entirely taken over by douchebag jocks — and there's a world-buildy attention to unnecessary detail, including an in-depth exploration of Vulcan mysticism at its most Fellini-esque (and least convincing). It's not a movie — it's a bunch of Wikipedia articles, strung together with atrocious outfits and the worst hero-villain climactic fight scene in a franchise full of awful hero-villain climactic fight scenes.
Read the full deep dive into Search for Spock here .
11. Star Trek: Insurrection (1998)
There was always a goofy generosity of spirit powering The Next Generation , a sensibility that fell by the wayside in the cast's first two big-screen outings. Insurrection tries to transfer that lighthearted spirit to the big screen. Picard dances to mambo; Riker ( Jonathan Frakes ) flirts Troi ( Marina Sirtis ) into a bathtub; Worf ( Michael Dorn ) grows a zit; Data (Brent Spiner) goes bad, but gets distracted into a Gilbert & Sullivan singalong with Picard. It's a soft-touch comedy. But Insurrection is held back by its central conceit — a New Age-inflected "Fountain of Youth" planet populated by hippie-artisan white people — and its back half becomes an unconvincing guerilla-action romp.
Read the full deep dive into Insurrection here .
10. Star Trek Into Darkness (2013)
The fan outrage over J.J. Abrams ' reboot-sequel has overshadowed what is, ultimately, a very expensive-looking not-terrible action movie, with a borderline-surreal plot full of un-shocking "twists" and bizarre exposition. (If you can follow the thread about the Klingon Empire, you've probably given this film more attention than it deserves.) The reduction of Zoe Saldaña 's Uhura to frustrated girlfriend status is actually more disturbing than the film's shameless trailer-baiting "Carol Marcus Strips For No Reason" moment, and the whole Starfleet-Conspiracy angle was much better covered in The Undiscovered Country . But at least this most expensive Star Trek movie is pretty to look at.
Read the full deep dive into Star Trek Into Darkness here .
9. Star Trek V: The Final Frontier (1989)
Barely finished and tonally inconsistent, the only film directed by William Shatner is a fascinating curio, by turns a goofball Marx Brothers-ish farce and a freshman-year theological inquisition. The dissonance is outrageous — in a typical chunk of time, the film forces McCoy to face the death of his father, recreates the birth of Spock, and then sends them both rocketing through the Enterprise with help from some jet boots. The cosmography feels like it was sketched on a whiteboard — the Great Barrier at the Center of the Universe! — but Final Frontier is some kind of magnum opus for Shatner. I challenge you to find a better Captain Kirk line than this: "I've always known I'll die alone." Wait, here it is: "What does God need with a starship?"
Read the full deep dive into The Final Frontier here .
8. Star Trek: First Contact (1996)
The best villain in the whole franchise is Alice Krige's Borg Queen, a seductive tyrant who swans through the best scenes in First Contact , tempting Data to the dark side. She's a blast of fresh air in a movie that tries hard to add '90s thrills into the franchise, with decidedly mixed results. This is the first true action movie in the series, and the Borg invasion of the Enterprise-E produces some nifty set pieces. But, no matter how cool the Borg look, they're monotone villains from a technophobic era, and they haven't aged well — and neither have the comedic stylings of James Cromwell, Irascible Rockstar Explorer Scientist.
Read the full deep dive into First Contact here .
7. Star Trek (2009)
The first scene of J.J. Abrams' Trek reboot is a colorful blast of in medias res action, inventing Chris Hemsworth out of thin air in a burst of funny-sad self-sacrifice. Then the film begins…and a l-o-o-o-o-o-ong origin-story first act brings everything to a screeching halt. The new cast is game for anything, and Abrams pushes them into everything , with Chris Pine giving what amounts to an Olympic-level athletic performance as a roguish Kirk and Zachary Quinto practically Hulk-ing out as an unrepressed and romanticized Spock. Like First Contact , 2009's Star Trek has some eye-popping set pieces (that space jump!), but the film dead-ends into an oddly plotty final act. Bless Eric Bana , who seems to be having lots of fun playing a different villain every time he shows up.
Read the full deep dive into Star Trek '09 here .
6. Star Trek Beyond (2016)
Here's a big idea for a Star Trek movie: Make it feel like a midseason episode of a Star Trek TV show. That's the thinking behind the first act of Beyond , which finds Kirk and Co. in year three of a five-year mission. For the first time in the film franchise, the rhythms of life onboard don't feel unnecessarily magnified. The crew has an easy rapport, their missions have an intriguing regularity, and things are beginning to feel a bit, well, episodic. They visit the Yorktown space colony, one of the niftiest future locations in any space movie of the 2010s. Director Justin Lin has better action chops than any previous Trek director, and it shows in the first Enterprise assault, a clever hive-mind attack that cuts the starship off at the head. Then the crew crash-lands — and the film crashes with it, descending into a muddled second act. New baddie Krall is all-but-ruined by a curious plot decision that forces Idris Elba to play "vaguely-defined evil" until nearly the end of the film. Beyond wants to ask tough questions about the franchise — but it settles for all the easy answers, descending into precisely the kind of referentiality that everyone loathed in Star Trek Into Darkness .
5. Star Trek: Nemesis (2002)
Cut to the bone by a filmmaker who barely seemed to know what Star Trek was, the final film to feature the Next Generation cast is a frustratingly non-final final act for a crew that deserved (and still deserves) a true send-off. (And that Troi brain-rape scene is the lowest point in the franchise.) But there are ghoulish delights in this vampiric B-minus B-movie. A very young Tom Hardy gnashes on scenery as Shinzon, the Picard clone with a whisper-scream. This is Patrick Stewart's finest performance in any of the Star Trek movies, shaded with wonder and sadness — and it's a heartbreaking showcase for Brent Spiner, who double-roles as Data and the loopy android B-4. It all ends with the finest ship-to-ship showdown in the series, an outer-space brawl-smash between the Enterprise-E and Shinzon's flagship.
Read the full deep dive into Nemesis here .
4. Star Trek: The Motion Picture (1979)
Slow as hell, beige as dad-khakis, the first Star Trek film is also an intermittently eye-popping gonzo cosmic ride. Special effects maestro Douglas Trumbull worked on the movie practically out of spite — he wanted out of his Paramount contract — but his team oversaw some of the wooziest visuals to ever appear in the Star Trek franchise, with the interior of mega-ship V'Ger rendered as a Freudian techno-organic trip to the cosmic beyond. Characters, psh. Everyone looks bored (besides DeForest Kelley, rocking a memorable beard and then the kind of deep V-neck that got outlawed after 1979). What The Motion Picture very much lacks in character and story, it makes up for with pure sound and image: Jerry Goldsmith's glorious score; the trippy special effects; the pajama uniforms; the sheer volume of extras this runaway production could afford. If you think Star Trek needs to be a fast-paced action movie, this is probably your least favorite film. But, at the risk of sounding like the kind of goofball hippie The Motion Picture seems built for, there are some very groovy chill vibes in this very silly movie.
Read the full deep dive into The Motion Picture .
3. Star Trek VI: The Undiscovered Country (1991)
Okay, but now let's start talking about awesome movies. Nicholas Meyer steered right into the skid of flagrant topicality with his second Trek directorial effort, rendering the end of the Cold War via onscreen diplomatic negotiations between Starfleet and the Klingon Empire. Meyer always had a cockeyed perspective on Kirk — his films flavor Kirk's heroism with melancholy and rage — and the film springs off the idea of William Shatner playing an aging soldier, watching the times pass him by. Shatner and the whole original Enterprise crew are all giving career-best work here, the dinner scene being a showcase for everyone involved. What's even more impressive — coming from the man who made Wrath of Khan — is that this is still the only Trek film that doesn't try to cough up one single super-bad-guy villain. Undiscovered Country 's Klingons are clever, witty Shakespeare scholars — some good, some nefarious — and even the bad Klingons are only as bad as their Starfleet co-conspirators. The film gets less ambitious as it goes along, but it wraps up with a heartwarming epilogue, sending off the original Star Trek cast on a humane high note.
Read the full deep dive into The Undiscovered Country here .
2. Star Trek II: The Wrath of Khan (1982)
KHAAAAAANNNN! Nicholas Meyer's hotblooded debut as a Star Trek filmmaker ignores The Motion Picture and reconceives the utopian series with a naval inflection. It also gives Kirk an identity crisis: Middle-aged and shipless, the Admiral looks a little lost. The film reactivates Kirk by bringing back an old nemesis: Khan, Moby Dick -quoting barbarian genius played with muscular relish by Ricardo Montalban . Montalban gives an ecstatic performance, and his spirit pervades the filmmaking: Meyer stages the ship-to-ship combats with shadowy space-submarine tension and cleverly shoots his tiny sets with a depth of field that makes Khan feel like an epic in miniature. "I feel old," Kirk says at the beginning. "I feel young," he says at the end. You know how he feels.
Read the full deep dive into The Wrath of Khan here .
1. Star Trek IV: The Voyage Home (1986)
A delightfully unserious film about deeply serious things, Leonard Nimoy's masterpiece is a light-footed character comedy. There's a mysterious alien intelligence destroying the Earth — saving the future means saving the whales. The crew travels back in time, and then something quite lovely happens: They go exploring. Shot partially on location in San Francisco, Voyage Home reimagines its space heroes as a comedy team, with Kirk as a hilariously out-of-his-depth "expert" ("Double dumbass on you!") and Spock as a holy-fool Harpo who's not above going for a swim with a humpback whale. The peculiar magic of The Voyage Home is difficult to graph. Co-writer Nicholas Meyer crafted some of the funniest dialogue in the series, and one-off guest-star Catherine Hicks is an energetic addition to the main cast.
And the supporting cast! McCoy gives an older lady a new kidney; Scotty (James Doohan) talks to a computer; Uhura ( Nichelle Nichols ) begs onlookers to point her toward Alameda; Chekov (Walter Koenig) pronounces "vessels" funny. Lighthearted, leisurely-paced, with nary a gun fired or a photon torpedo exploded: There may never be another franchise movie like this — hell, there may never be another movie like this — which makes the blithe miracle of The Voyage Home all the more impressive.
Read the full deep dive into The Voyage Home here .
By clicking "Accept All Cookies", you agree to the storing of cookies on your device to enhance site navigation, analyze site usage, and assist in our marketing efforts.

Wealth of Geek$
Every Star Trek Movie Ranked (And Where to Stream Them)
Posted: November 9, 2023 | Last updated: November 9, 2023
It's been a long, exciting journey…
Ranking the Star Trek Movies
It's hard to believe that a little, low-budget science fiction show that was canceled after only 80 episodes (counting the unaired pilot "The Cage") has spawned a huge cultural movement, thousands of hours of television, and 13 movies!
Star Trek is the proverbial "little engine that could," embedded in the geek culture of at least three generations. Unfortunately, anything that big is going to vary in quality. A lot. So here's my ranking of the films, best to worst. Your mileage may vary.
1 Star Trek II: The Wrath of Khan
Star Trek fans are fond of saying that the even-numbered films are the best of the bunch. That is certainly true with the very first film on the list – Star Trek II: The Wrath of Khan . After the disappointing moderate success of the first film, producers were looking for fresh eyes and brought in Harve Bennett.
He started by watching all 79 episodes of the original series and sparked on the idea of revisiting an episode from late in the first season. " Space Seed " guest-starred Ricardo Montalban as the leader of a group of genetically engineered soldiers that the Enterprise crew had exiled on a distant planet.
Khan's Wrath
What if, 15 years later, they escaped and took control of planet seeding technology?
The idea was brilliant – Montalban's scenery-chewing Khan was a perfect foil for one of William Shatner's finest Kirk performances ever. And the story did what Trek did best – looked at the future while dealing with universal themes of actions having consequences, fatherhood, and sacrifice. All of that leads to one of the most emotional scenes in any Star Trek ever – Spock, laying down his life for his friends.
2 Star Trek IV: The Voyage Home
After the muted critical and financial success of Star Trek III , Paramount decided to piece together the best parts of all of their Trek efforts to date – and close the series strong. Leonard Nimoy was brought back to direct. The director and co-writer of Khan were paired up with producer/writer Harve Bennet, and elements from both the first Trek movie as well as the series were mined for consistent content.
The story picks up shortly after the events of Star Trek III and echoes the first film; an alien probe is orbiting Earth, destroying everything around it. Nimoy & Bennett exercised the freedom given them by the studio to focus on an environmental cause, and Spock recognizes the probe's signal as being that of the humpback whale – now extinct in the 23rd Century.
Homeward Bound
The crew uses a slingshot maneuver – flying towards the sun to travel back in time – to 1986 San Francisco.
Playing off a newer, less emotionally-controlled Spock and the varied talents of the other bridge crew, The Voyage Home is a much funnier, lighthearted movie, with less science fiction opera and more grounded life, which appealed to fans as well as a broader audience.
3 Star Trek VI: The Undiscovered Country
"You have not experienced Shakespeare until you have read him in the original Klingon!" – Chancellor Gorkon.
After Star Trek V almost killed the franchise, Paramount went back to its roots. First, considering a prequel film proposed by Ralph Winter , fan and cast reactions sent them pivoting back to Nicholas Meyer, the director and co-writer on Star Trek II . Between Meyer and Leonard Nimoy, they hatched a story loosely based on the cold war and the fall of the Berlin Wall – in space.
Rediscovering the Spark
After a Klingon moon explodes and their homeworld is threatened, the Klingons beg for peace – and the Enterprise is sent to assist over Kirk's objections. After a tense meeting, where the Klingons quote Hamlet, saboteurs make it look like Kirk and Dr. McCoy are part of assassinating the Chancellor and are sent to a prison planet. Spock begins an investigation that discovers a much deeper conspiracy, and the crew teams up with old friends to try and save the Federation and the tentative peace one last time.
This is the last film with the majority of the original cast, with a few notable guest stars – Michael Dorn playing the grandfather of his Commander Worf character, Rene Auberjonois, who would later star in Deep Space Nine , and Christopher Plummer as the one-eyed, Shakespeare quoting Klingon General Chang. The humor and high-stakes adventure, reminiscent of The Voyage Home , also made this one a fan favorite.
4 Star Trek: First Contact
First Contact is the first film populated solely by characters from The Next Generation series. As the eighth film, continues the tradition of even number films being better than the odd-numbered ones, despite the fact that it was written and developed by the same team. Without the baggage of the original Trek crew, more screen time could be devoted to the larger crew of the Enterprise-D. After Ridley Scott and John McTiernan turned Paramount down, Jonathan Frakes, who also played Commander Riker, was tapped to direct.
The film mixes two fan-favorite elements – the fearsome Borg and time travel. In this case, after the Enterprise helps to defend Earth against a Borg cube, a smaller Borg ship is chased by our heroes through a temporal vortex that takes both back to the dawn of warp-capable space travel.
Assimilation Denied
The Borg intends to change history and assimilate Earth much earlier, while Captain Picard , Riker, and Geordi LaForge work with the inventor of warp technology – Zefram Cochrane – who is much rougher around the edges than the hero they studied in history. James Cromwell and Alfre Woodard shine in the movie, as Cochrane and his assistant, and Alice Krige is equally attractive and scary as the newly introduced Borg queen.
5 Star Trek (2009)
After the poor performance of Nemesis , it seemed like Star Trek was effectively dead. However, all the way back in the late 1980's Ralph Winter had proposed a prequel movie to Star Trek , about Kirk, Spock, and McCoy's Starfleet Academy years. When Enterprise was canceled in 2005, the producers also considered going back to the beginning but had lost trust with the studio.
Enter Alex Kurtzman and Roberto Orci, who had penned the hugely successful Mission Impossible III . Working with their friend – and eventual director – JJ Abrams , they looked at the Star Trek novels as inspiration and came up with a clever plot device to essentially reset the timeline.
Kelvin Anyone?
In 2009, a new Kirk, Spock, McCoy, and crew were introduced to the world. Taking a hint from Nemesis , the new film, titled simply Star Trek , had a Romulan madman forcing Leonard Nimoy's Ambassador Spock to create a time anomaly – catapulting them back in time before the birth of James T. Kirk ( Chris Pine ).
From then, the film branches off into a new "Kelvin" timeline – named for the ship where Kirk was born. Thus new adventures of the much younger Enterprise crew could continue but still tangentially connect to the original shows and movies. The fans' reaction was mixed, but the movie appealed more to general audiences and did well enough to launch a whole new era of Trek.
6 Star Trek III: The Search for Spock
Sometimes the middle part of a trilogy works (see Empire Strikes Back ), and sometimes… it falls flat. Coming directly after the events of Star Trek II , the crew of the Starship Enterprise returns to Earth to face Spock's father and decommission the ship. Meanwhile, Kirk's son finds himself face to face with a young reborn Spock, Klingons who have come to investigate the Genesis Device explosion, and the consequences of his scientific shortcuts.
Spock, Resurrected
The death of Spock had meant to be permanent, but Leonard Nimoy loved the writing in Wrath of Khan so much, he not only asked to have the character resurrected but signed on to direct the third film. Unfortunately, despite the film echoing a lot of the same themes and a script written largely by the same writer, this one slips into a sophomore slump. However, there are some high points – Christopher Lloyd (aka Doc Brown ) as the Klingon commander, Night Court 's John Larroquette as his number two, and DeForest Kelley offering his most masterful performance as Doctor Bones McCoy.
7 Star Trek: The Motion Picture
Following the success of Star Wars and Close Encounters , Paramount was desperate to get into high-budget science fiction – and turned to the one property they owned that continued to deliver. Gene Rodenberry, the original series creator, had been lobbying for a few years to create a spin-off – especially now that syndicated reruns (thank you, Lucille Ball and Desi Arnaz) had made the show far more popular than it had been in the '60s.
The new show's pilot would use the original stars to introduce a new Enterprise crew, who would then continue the series. With some targeted rewrites, Rodenberry turned the pilot into a 2-hour movie (he would later mine a lot of it again for what would become The Next Generation pilot).
Five More Years
Now playing Admiral James T. Kirk, William Shatner takes command of a refit Enterprise , demoting the captain to "Number One" when an alien entity threatens the solar system. Spock shows up, citing an emotional connection to the alien cloud, just in time for the ship to be attacked by the entity, who abducts and then replaces one of the crew members in order to study carbon-based life forms.
Turns out, the alien entity, V'Ger, is an earth probe ( Voyager ) that fell into a black hole and was modified by living machines. The former captain chooses to merge with V'Ger, creating a new life form that heads into deep space. And, yes, if this sounds familiar, it is later implied in ancillary Trek works that this was probably the birth of the Borg.
8 Star Trek: Generations
At long last, the proverbial face-off between Captains James T. Kirk and Jean-Luc Picard would happen! Sort of. Envisioned as a baton-pass from the original Star Trek crew to The Next Generation team, Generations stumbled in many ways. First, besides Kirk, most of the original Enterprise crew was essentially given cameos, causing many to bow out.
In a vastly complicated plot that seemed to take some cues from The Final Frontier , Kirk, Scotty & Chekov race to rescue a planet being threatened by a galactic anomaly called The Nexus. Unfortunately, only a few refugees are able to be saved – including Whoopi Goldberg's Guinan, and Kirk is lost in the Nexus.
Captains Courageous
Flash forward 75 years, and The Next Generation crew is fighting to retrieve Geordi LaForge, who some Klingons abducted. In doing so, they find out that one of Guinan's fellow refugees, Soran, played by Malcolm McDowell, is trying to reenter the Nexus, dragging a whole planet with him.
While trying to stop him, the Enterprise suffers a warp core breach and crashes on the doomed planet. Meanwhile, Picard and Soran end up in the Nexus, where they meet Kirk, who also tries to stop Soran – ending with his death. For real this time – unless you read the novels in the " Shatnerverse ." Yeah.
9 Star Trek Beyond
While the pre-release buzz was that Star Trek Beyond would be a return to the roots of the franchise, the film itself didn't quite deliver. Or rather, it delivered on what the filmmakers thought was a return to its roots. Trek has always been a fusion of philosophical and courageous, with a light dusting of action.
Unfortunately, despite an excellent, almost too self-aware script from series star Simon Pegg (Scotty), in the hands of director Justin Lin, probably best known for The Fast & The Furious series, we careen from one action set-piece to the next. After numerous fan complaints of JJ making Trek more like Star Wars , Beyond appears to double down on just that tone.
Enterprise & the Furious
Considering Into Darkness ended with the crew leaving on its 'historic' five-year mission, this film appears to leap well past that, with Kirk seeking a promotion to admiral. Ambassador Spock has died, echoing the actor's passing between films, and the whole crew seems restless.
They are sent on a rescue mission that goes wrong almost immediately, ending with dozens dead and the ship crashing on an alien planet. There they discover a ship thought lost over 100 years earlier – and learn its captain is the mutated megalomaniac that attacked them in orbit. For whatever reason, he decided to join the Xindi – bad guys almost no one remembers from the low-rated Enterprise TV show. Idris Elba does fine in this role, and we get a cameo from Jeff Bezos, of all people, foreshadowing his race to space, I suppose.
10 Star Trek: Insurrection
After the success of First Contact , Paramount Pictures suggested that the next film have a lighter tone. After all, it had worked very well for Star Trek IV , at that point, still the most successful of the franchise. The problem was, nobody was quite sure what that meant and all had different ideas on how to execute it. With too many cooks trying to fit their pieces in together, the resulting movie was exactly what they hoped to avoid – it felt like a longer episode of the television show and not a spectacular film.
The film starts with Brent Spiner's Data working undercover, observing the people of a low technology planet when he mysteriously malfunctions. Spiner had requested that his character die in the film, as he was aging and required more makeup to look like the android he was playing, but this was not to be.
More Data, Please
Captain Picard is informed of the malfunction but told not to worry about it.
So, of course, that's exactly what he does. The Enterprise shows up on the planet to discover that it is not low-tech. The inhabitants just prefer a more monastic, eternal lifestyle. A further discovery reveals that the observation team is working with alien enemies to try and steal the planet and its fountain of youth properties for themselves. It would have been a fine episode, but it did not strike a chord with filmgoers.
11. Star Trek: Nemesis
The problem with any trend is that it's bound to be beaten at some point. And for Star Trek films, Nemesis – the fifth even-numbered film in the franchise – was that end. The film was received and performed so poorly that an additional planned film to close out The Next Generation cast was scrapped almost immediately. Nevertheless, producers had long wanted to bring the Romulans to the big screen, and this film would finally be their chance. In fact, the film begins on the Romulan home planet and sets the tone for the villain-centric movie.
Black Mirror
On the way to a wedding reception for Riker & Commander Troi, the Enterprise gets a distress signal from a planet near the Romulan neutral zone, leading Picard and Data to discover a dismantled older version of Data. Almost immediately, they are sent to Romulus to try and broker peace with the Federation. But, of course, it's a trap – set by a Romulan, er Reman slave turned conqueror, Shinzon. As an added bonus, Shinzon is a Romulan clone of Captain Picard – played by a then-unknown Tom Hardy . The film is mostly watchable due to Hardy's performance and Brent Spiner portraying Data at his most human. But the franchise was dead. Or so we thought.
12. Star Trek: Into Darkness
Things looked positive for the second foray into the newly established Kelvin timeline – reuniting the cast, the writers, and director JJ Abrams, plus the addition of Benedict Cumberbatch as the villain. But, unfortunately, things did not go exactly as planned. Rumors about who Cumberbatch would play came out almost instantly – and proved to be true, despite denials from the set.
Long before the film was finished, it had been Monday morning quarterbacked to death by geek and pop culture fans. Of course, it didn't help that on top of essentially re-working a story already seen on screen, Rodenberry's vision of diversity in the universe was seemingly ignored in the casting of Cumberbatch as an established Asian character.
Spoiler Alert: He's Khan
Instead of telling a wholly original story, Star Trek Into Darkness was turned into a retread of The Wrath of Khan , with some notable changes – many of them unexpected and seemingly unmotivated. While elements like terrorist attacks and changing allegiances added to the story, some parts of the story were flipped for nothing more than subverting audience expectations. Instead of Spock's noble sacrifice, Kirk gives his… well, not life. He's barely sick before a plan is hatched to revive him. All in all, the sequel did not deliver what the Trek fans wanted or needed. It's an okay movie, just not at all a great one.
13 Star Trek V: The Final Frontier
As part of his contract negotiations to appear in Star Trek IV , William Shatner was handed the director's reins for Star Trek V , which he imagined as a search for God, who is really the Devil. Following the crew's pardons for the events of Star Trek III & IV , they are sent on a mission to rescue Klingon, human and Romulan diplomats, taken hostage by an unknown person. That person turns out to be Spock's half-brother Sybok (long before Spock's classified sister, Michael Burnham on Star Trek: Discovery ), who is convinced he can reach the hidden planet of universal creation – but only with the Enterprise 's help. Oh, and there's a Klingon that wants revenge on Kirk for some reason that keeps following them and complicating matters.
Where No Man Should Go
The Final Frontier is roundly considered to be the worst of the franchise – almost killing it. Almost no one liked Shatner's story, and the 1988 Writer's Strike further complicated things. Afraid they were losing momentum, Paramount rushed the movie into production, even though it would cost them Sean Connery – they wanted him to play Sybok. Still, he was already committed to Indiana Jones . Special effects were cut to avoid going over budget, and poor audience testing forced them to rework the ending as less offensive.
Star Trek Going (Ten) Forward?
After the disappointing box office from Star Trek Beyond and the unfortunate death of Anton Yelchin who played Chekov in the Kelvin timeline films, further development of Star Trek films appears to have stalled. However, the rumors of a Quentin Tarantino entry still persist.
Paramount and CBS-Viacom seem much more focused on the television side at the moment, with four shows currently on Paramount+ , including the upcoming sixth season of Star Trek: Discovery and the final season of Picard .
For the first time ever, all of the Star Trek films can be streamed from one platform – Paramount+ . Formerly CBS All Access, the streamer has every episode of Star Trek as well, from the original series (and its animated spinoff!) to the more recent entries into the canon.
Additionally, you can stream all of these movies on Hulu except the 2009 (Kelvin Timeline) Star Trek .
More for You
An Opioid-Like Drink Is Masquerading As a Wholesome Alcohol Alternative
James Comer's Biden Subpoenas Backfire
Garfield by Jim Davis
Veterans Day 2023: Are banks closed on Friday? Will mail be delivered? Are schools open?
A Scientist Says the Singularity Will Happen by 2031
The cracks in the housing market are growing larger as sellers slash prices, Redfin says. But beware the all-cash bids
Astronaut who led humanity's first mission around the Moon dead at 95
Republicans Push to Overturn Election Result in Michigan
First flight of £160k flying car that already has thousands of reservations
CNN reporter embeds with IDF in Gaza. Here's what he saw
Here's how to tell if your old $2 bills are worth anything
Matt Ulrich, former Super Bowl champ, dead at age 41
The stomach bug is still circulating in the US: This common mistake can spread it
Republicans Suddenly Abandon Plan for IRS Cuts
Non Sequitur by Wiley Miller
Nvidia Is Looking Cheap to Some as 220% Rally Stalls
Chicago residents erupt over sanctuary city ruling
25 of Julia Child's most famous dishes
Putin death rumours intensify after his 'successor' refers to him in past tense
Steve Bannon's Hopes of Avoiding Prison Suffer Blow
Awesome, you're subscribed!
Thanks for subscribing! Look out for your first newsletter in your inbox soon!
The best things in life are free.
Sign up for our email to enjoy your city without spending a thing (as well as some options when you're feeling flush).
Déjà vu! We already have this email. Try another?
By entering your email address you agree to our Terms of Use and Privacy Policy and consent to receive emails from Time Out about news, events, offers and partner promotions.
Love the mag?
Our newsletter hand-delivers the best bits to your inbox. Sign up to unlock our digital magazines and also receive the latest news, events, offers and partner promotions.
Things to Do
Food & Drink
Arts & Culture
Time Out Market
Los Angeles
Get us in your inbox
🙌 Awesome, you're subscribed!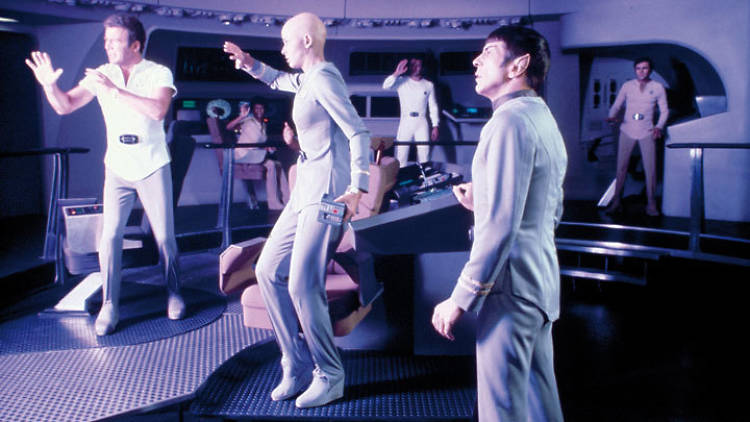 The best and worst Star Trek movies, ranked
How does the new Star Trek Beyond movie rank within the 12 prior films? Let us count (down) the ways.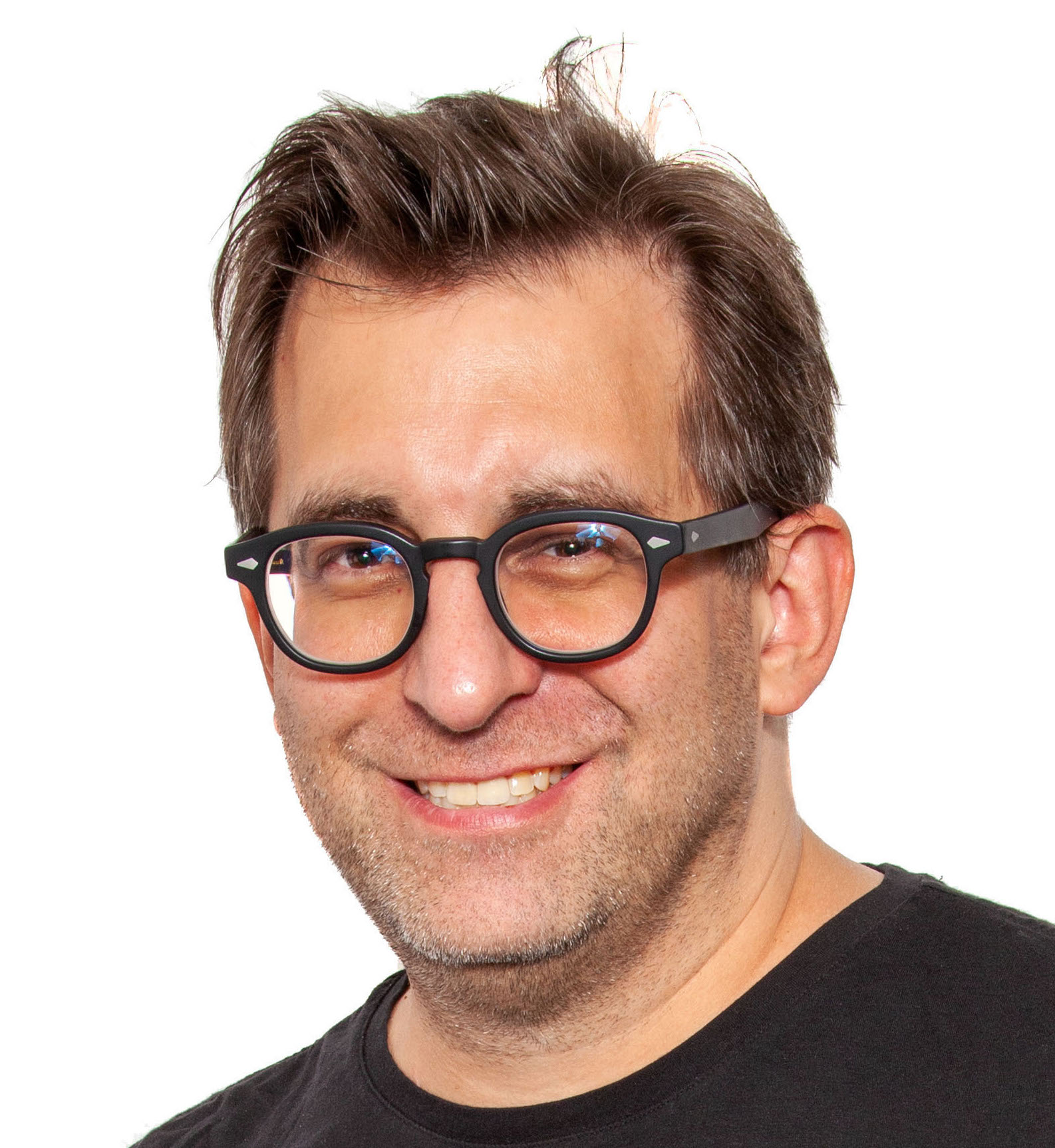 With every new Star Trek movie, there's a chance for greatness or awfulness. We'll either be beamed up by the series-long spirit of rousing intergalactic adventure and warm crew camaraderie, or we'll be gutted by dramatic gestures that felt exhausted decades ago. (Sometimes this happens within the same film.) Still, sci-fi movies wouldn't be the same without Star Trek , and the 13 installments to date have supplied their share of action over the years. Here's our definitive ranking—a list that includes summer blockbuster The Wrath of Khan and Star Trek Beyond , one of the best new movies to see—based on years of faithful Trekking.
An email you'll actually love
Best and worst Star Trek movies
13. Star Trek: Nemesis (2002)
More like Star Trek: Nadir . Future Mad Max Tom Hardy bores us as a power-mad dictator. A overall sluggishness signaled creative exhaustion. Were it not for rebooter J.J. Abrams, this would have been the tombstone.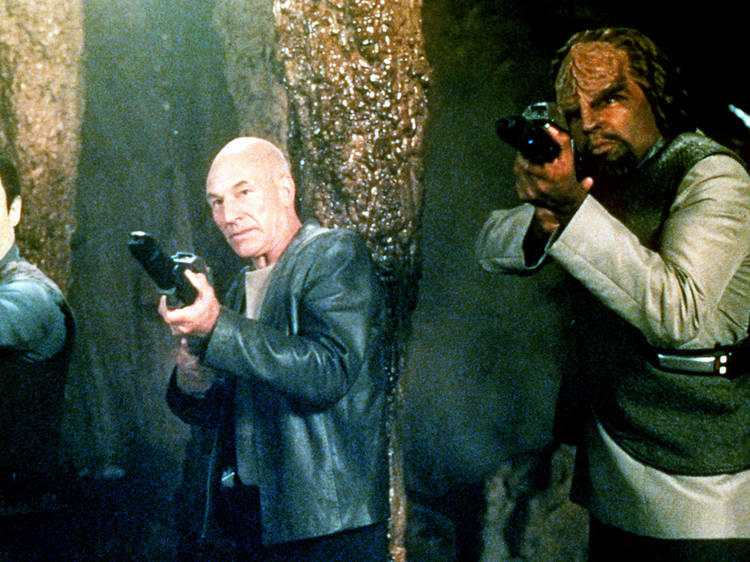 12. Star Trek: Insurrection (1998)
Fatigue sets in as Patrick Stewart's Picard goes rogue in defense of an alien planet (and also gets it on with one of its inhabitants). The plot was about beneficial radiation, a hint of how confused this script was.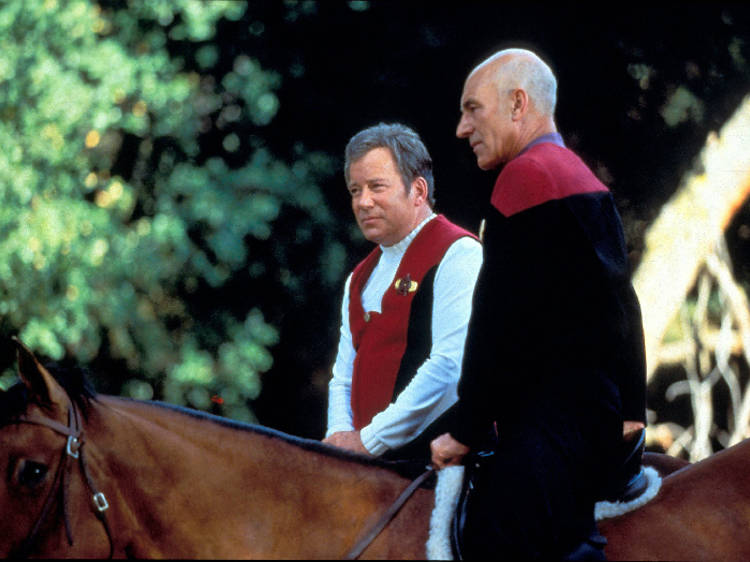 11. Star Trek Generations (1994)
Despite a fresh crew, the Next Generation team never got the big-screen vehicle it deserved, despite boasting strong writing on the TV show. Kirk is killed by Malcolm McDowell's baddie, an undignified end.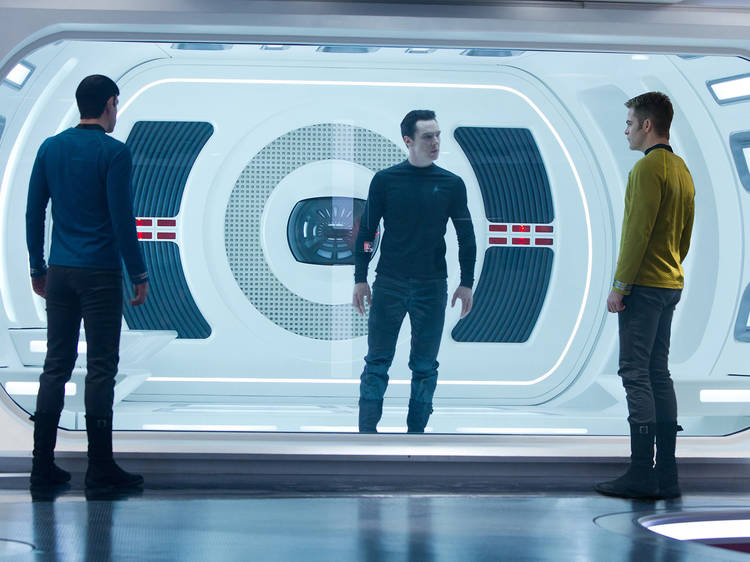 10. Star Trek Into Darkness (2013)
After 2009's thrilling reboot, audiences couldn't help but be let down by this merely okay sequel (sort of like the franchise's Quantum of Solace ). Coyness about Benedict Cumberbatch's Khan was a major waste of time.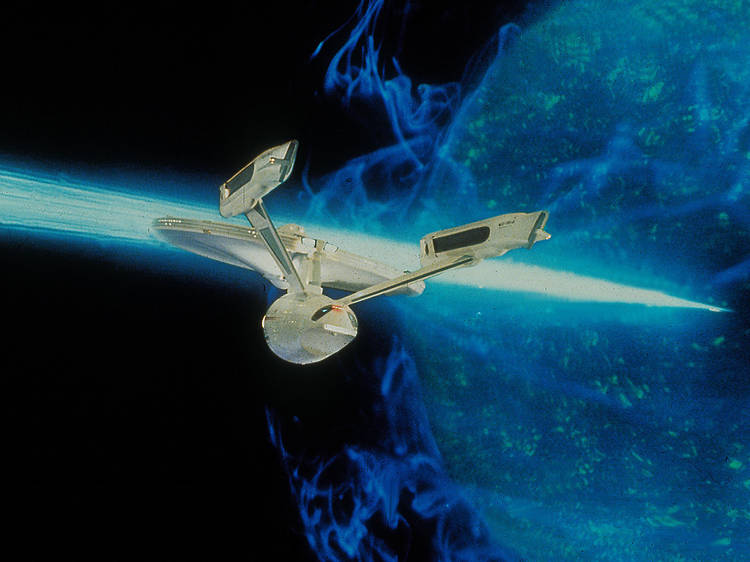 9. Star Trek: The Final Frontier (1989)
Tellingly, William Shatner directed the most swooningly egotistical chapter in the franchise. It's about an encounter with a self-proclaimed alien "God," and includes plenty of manly showdowns with Klingons.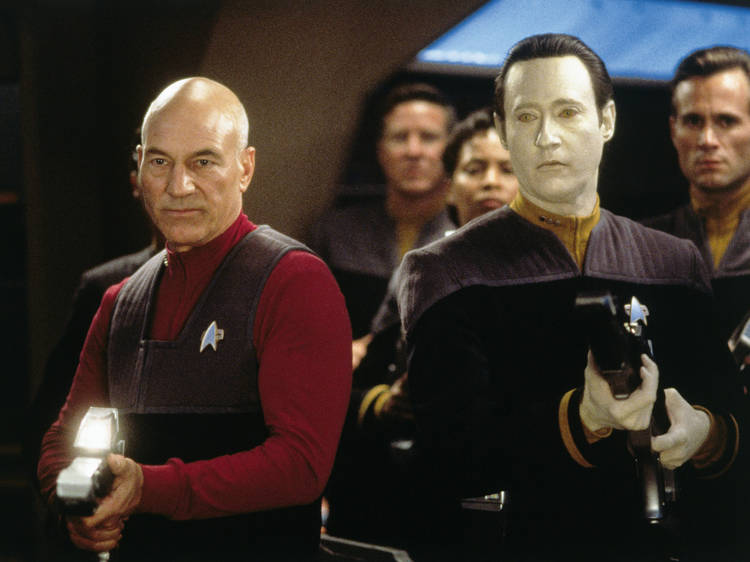 8. Star Trek: First Contact (1996)
Reinventing the wheel with new ship designs, better special effects and more robust action, First Contact felt like a respectable sci-fi film—a modest goal in light of what this fan base expects (and deserves).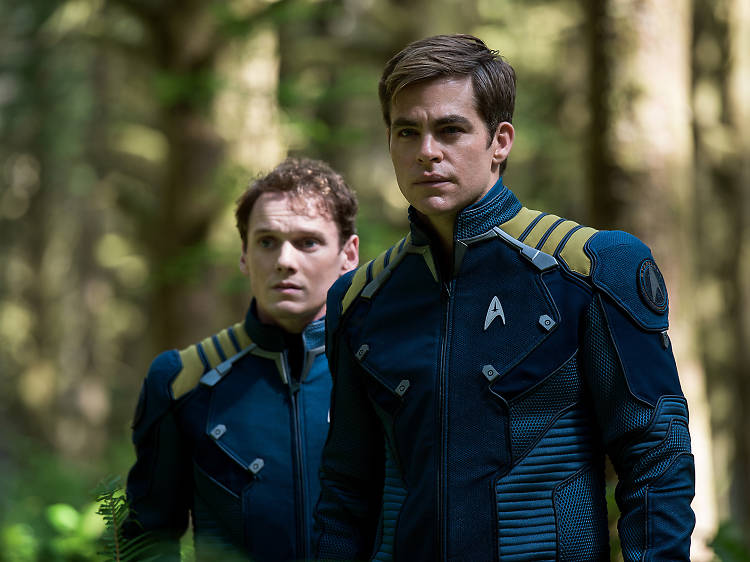 7. Star Trek Beyond (2016)
The fun returns, as does a strong vibe of the '60-era TV series. The latest Trek boasts strong special effects via the alien swarm, and much unexpected pathos with every onscreen shot of the late Anton Yelchin.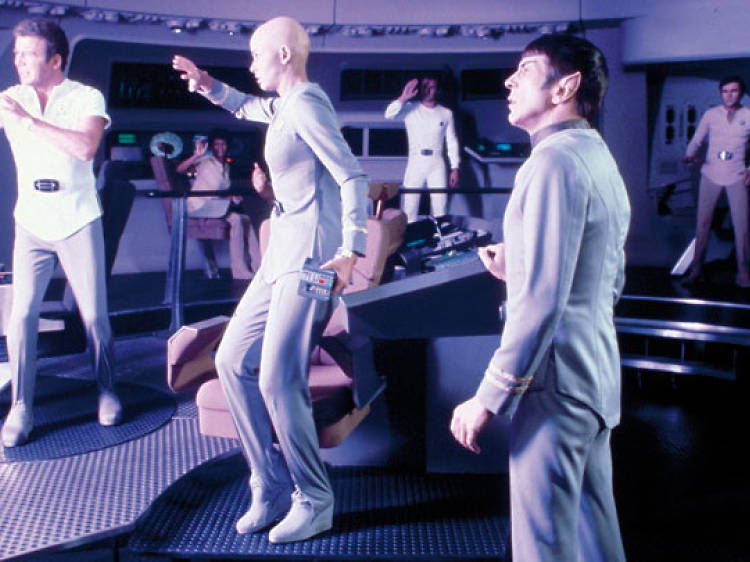 6. Star Trek: The Motion Picture (1979)
It certainly starts off well, with Jerry Goldsmith's soaring main theme virtually serving as the main character . But for a first chapter, this sure takes its time; audiences emerged from screenings light-years older.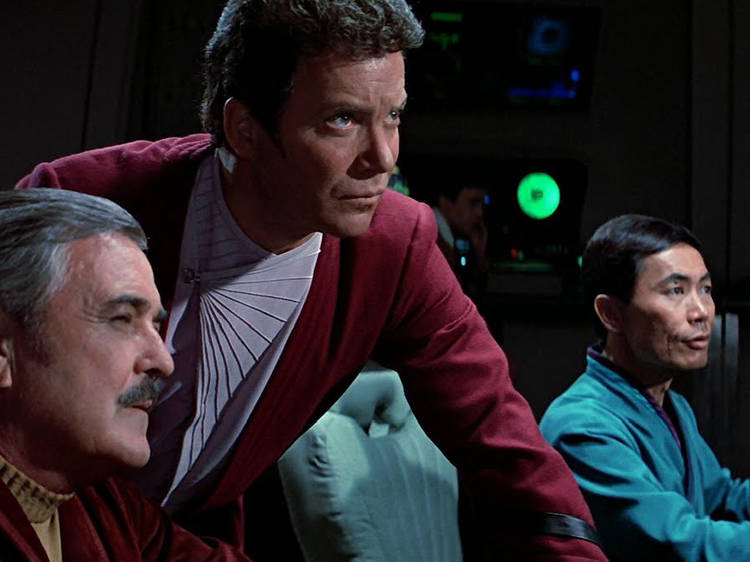 5. Star Trek III: The Search for Spock (1984)
Excuse me, have you by any chance seen Spock around here? Pointy ears, implacable expression, given to mock profundity? If you run into him, tell him we're looking for him. Thanks.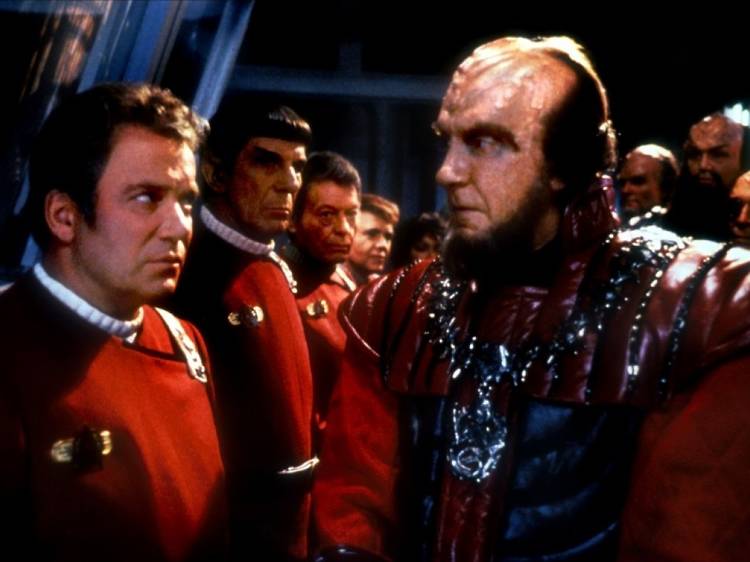 4. Star Trek: The Undiscovered Country (1991)
A fine send-off to the original cast, this sixth film rebounded strongly from The Final Frontier' s dullness, thanks to returning Wrath of Khan writer-director Nicholas Meyer and an abundance of Nixonian geopolitics.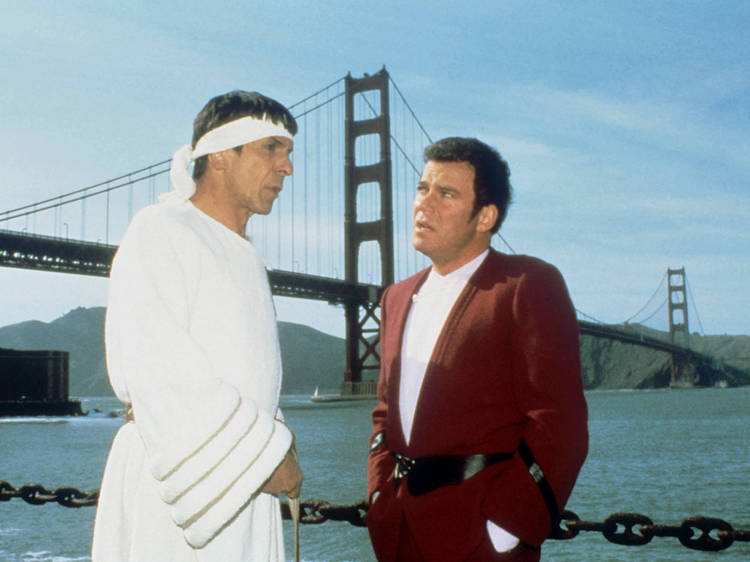 3. Star Trek IV: The Voyage Home (1986)
It's still the funniest of the series, and that goes a long way given these films' usual solemnity. Kirk, Spock and crew travel back in time to (then) present-day Earth to save the whales.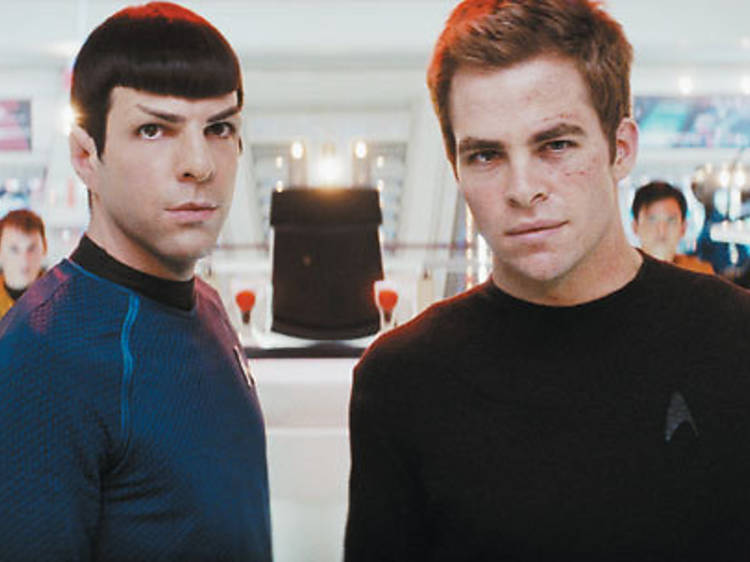 2. Star Trek (2009)
Captain Kirk and company get an action-packed reboot in J.J. Abrams's paean to space travel and lens flares. A fresh cast led by brash, rascally Chris Pine breathed vigor into the old character chemistries.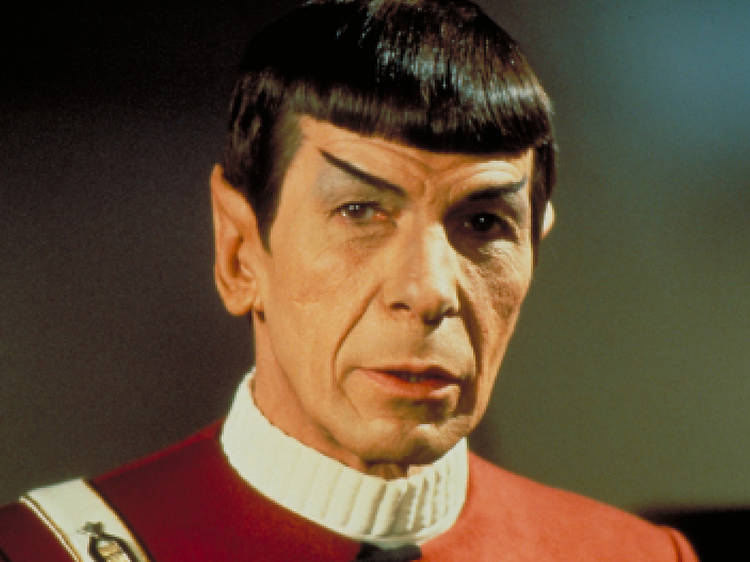 1. Star Trek II: The Wrath of Khan (1982)
Of course it's in our top spot, for its killer villain (Ricardo Montalban) and nuanced development. This is the one in which Spock "dies," but it also has one of the most moving final lines of any SF film: "I feel young."
Looking for more of the best in film?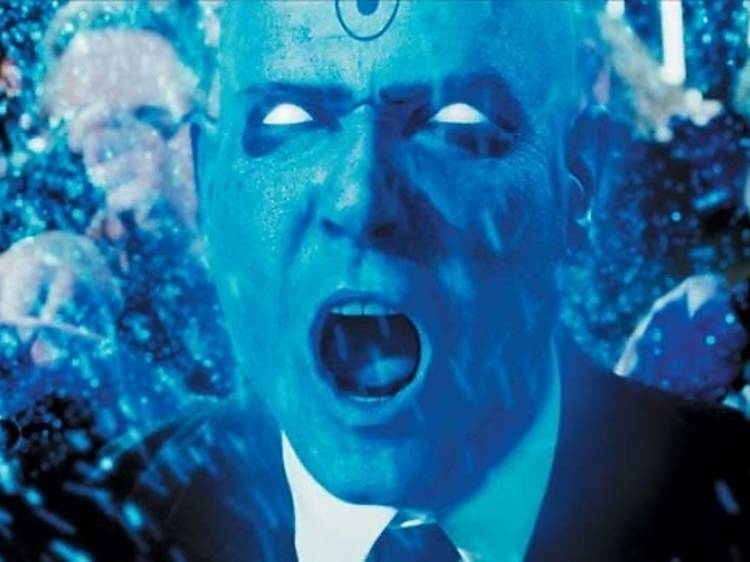 Check out the best superhero movies of all time
Break out the spandex and superpowers for our definitive ranking of cinema's most popular heroes
[image] [title]
Discover Time Out original video
Press office
Investor relations
Work for Time Out
Editorial guidelines
Privacy notice
Do not sell my information
Cookie policy
Accessibility statement
Terms of use
Modern slavery statement
Manage cookies
Advertising
Time Out Worldwide
All Time Out Locations
North America
South America
South Pacific
Every Star Trek Movie, Ranked: Which Ones Are Worth Watching?

If you buy something through our links, we may earn a commission at no extra cost to you. Thanks for your support!
Star Trek is the sci-fi franchise that went where no other sci-fi franchise had gone before. Indeed, no other media franchise—in and beyond the realm of science fiction—has had the same kind of complex storytelling and world-building that Star Trek brought forth.
Ever since 1979, the Star Trek movies achieved varying levels of success, both good and bad. For every bad movie ( The Final Frontier ), there would be also a good one ( The Undiscovered Country ), and Trekkies love them all in their own unique ways.
Despite dips in quality, all of the Star Trek movies are worth watching for their different journeys and arcs. Here's our take on how the different Star Trek movies rank against each other.
13. Star Trek V: The Final Frontier (1989)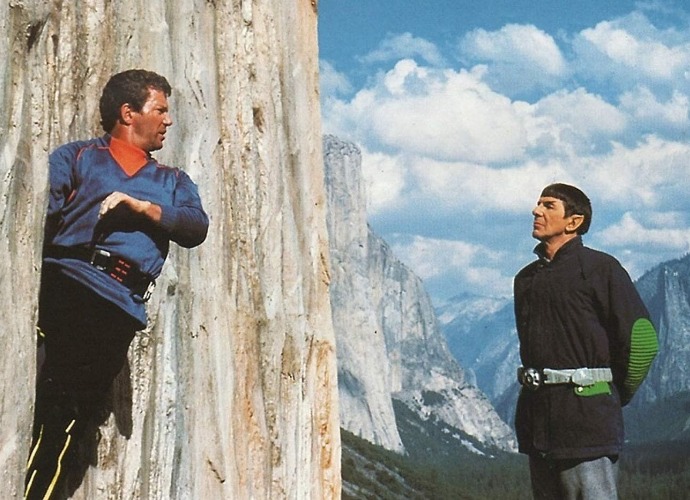 The Final Frontier is universally slammed as the least impressive Star Trek movie ever made. The crew of the Enterprise is called to action when rebel Vulcan Sybok, Spock's half-brother, stages a hostage crisis.
They then discover his plans to venture to the center of the galaxy and physically locate God. Does that premise sound ludicrous? Wait 'til you see the movie itself. The uninspired action and cheesy dialogue make it look like a spoof.
William Shatner's vision is all over the place, but you can still see the passion from the entire crew. Incompetence aside, this has some decent ideas. For skeptics, treat it like a decent passion project.
12. Star Trek VII: Generations (1994)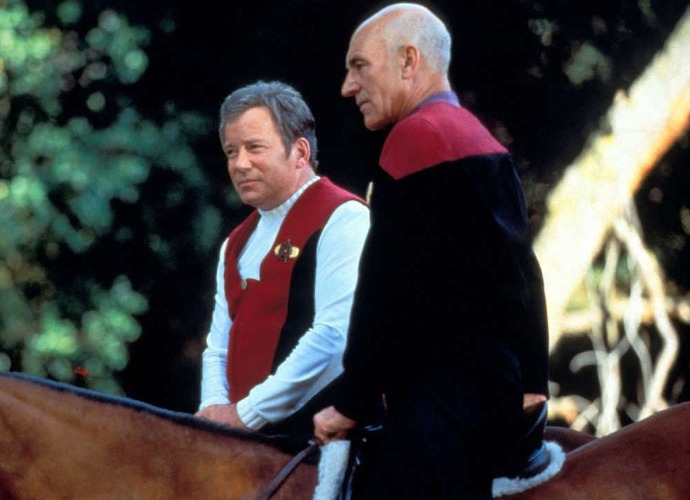 Star Trek: Generations is the first movie crossover in the franchise and the first entry for the Next Generation timeline.
For this seventh movie, Jean-Luc Picard teams up with the now-retired Captain James T. Kirk to stop the devious El-Aurian Tolian Soran (played by Malcolm McDowell) from causing destruction throughout the galaxy.
For the average Trekkie, it's amazing to see the two generations team up. Sadly, the resulting crossover ended up sour when Picard got more screen time than Kirk, and when the story ended up feeling more like a stretched TV episode.
Overall, Star Trek: Generations is a passable time-burner for the least-expecting fanatic, and McDowell's Soran makes for a great threat.
11. Star Trek IX: Insurrection (1998)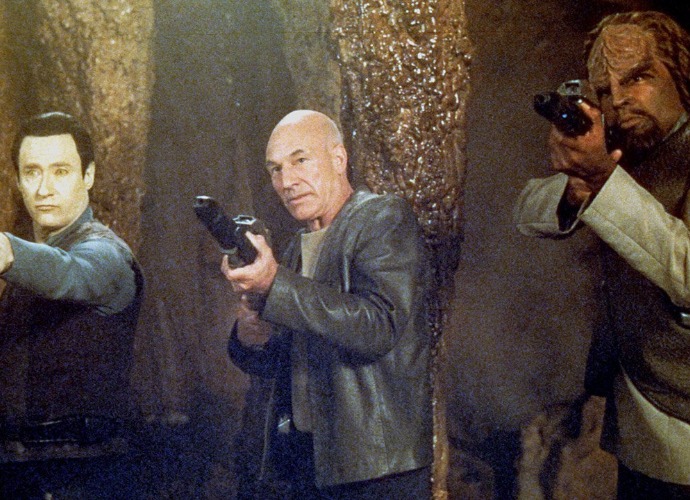 Another from the Next Generation, Star Trek: Insurrection follows the Enterprise-E crew at odds with Starfleet when they learn of a heinous plot to conquer the planet Ba'ku for its resources. This results in Picard leading a rebellion to stop the Son'a from causing destruction to the planet.
Picard leading an insurrection is an idea filled with potential. Even if it seems thin on execution, it works as the ideal Star Trek escapist flick. Jonathan Frakes continues to deliver the goods of a fun Trek voyage: the Son'a are a credible threat and Patrick Stewart remains awesome.
10. Star Trek Into Darkness (2013)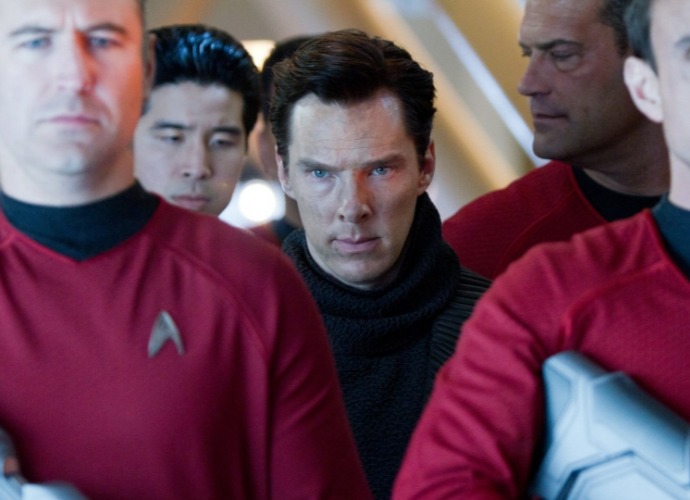 In the second movie of the Kelvin timeline, the Enterprise is assigned to travel to Klingon territory and track down the terrorist John Harrison (played by Benedict Cumberbatch) who's behind the attacks on Earth.
But when Harrison surrenders, his hidden intentions compromise the mission and the crew themselves.
Star Trek Into Darkness continues the streak of the J. J. Abrams series of movies, even if this one has a mediocre outcome. Most Trekkies point to the characterizations as its main problem, the worst being Harrison's twist revelation and Carol Marcus herself.
Regardless, it has all the set pieces for an explosive Star Trek blockbuster, making it the highest-grossing Star Trek movie.
Related: Star Trek II: The Wrath of Khan vs. Star Trek Into Darkness, Compared
9. Star Trek: The Motion Picture (1979)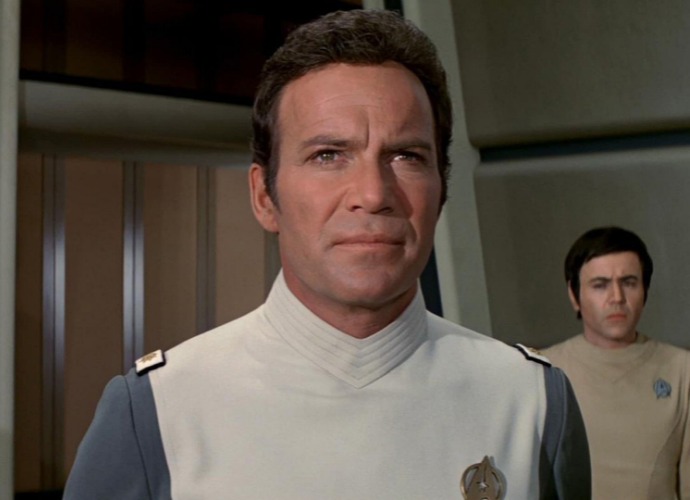 Star Trek: The Motion Picture came on the heels of the show's abrupt cancellation. This time, the original crew of the USS Enterprise is brought back to their assignments, along with now Admiral James T. Kirk, to stop an alien cloud called V'Ger.
For all its hype, Trekkies were delighted to see the crew back on deck for more missions, even if it wasn't the brightest of starts. Despite all that, there are moments to enjoy, like the cloud's destruction scenes, Ilia's presence, and Leonard Nimoy as Spock.
8. Star Trek X: Nemesis (2002)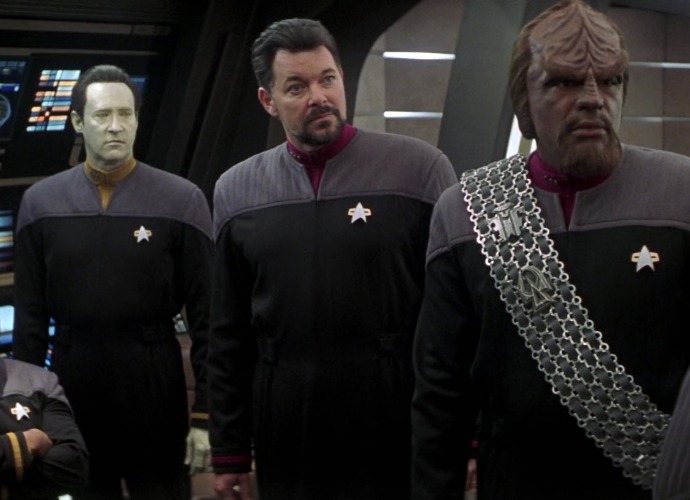 Star Trek: Nemesis was unfortunately the endcap to the Next Generation timeline. In this last hurrah, the Enterprise-E crew is assigned a hazardous mission: to stop a clone of Jean-Luc Picard named Shinzon (played by Tom Hardy) from taking over the Romulan Star Empire.
Both fans and audiences deride this film for ending the Next Generation timeline on a sour note. Yet, Nemesis is filled with intriguing ideas beneath its mess and action. For one thing, Picard's brawl against Shinzon is both a physical and philosophical combat for Picard.
7. Star Trek III: The Search for Spock (1984)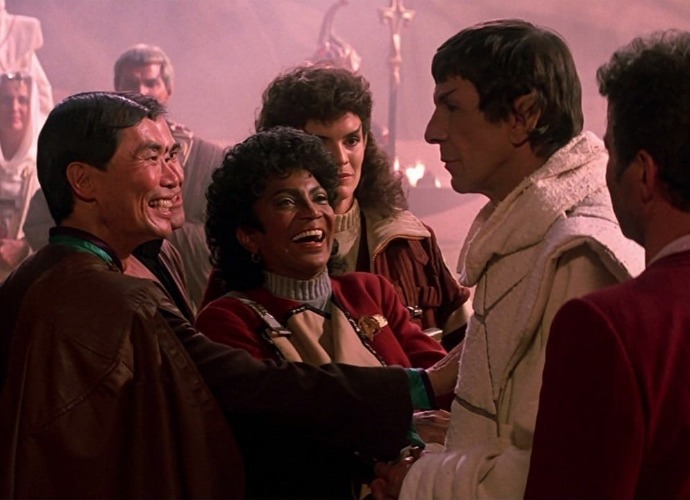 For the third Star Trek movie, the crew of the USS Enterprise seizes their starship to return Spock's body to his homeworld after his spirit is confined inside Dr. Bones McCoy's mind.
Meanwhile, their mission is interrupted when a group of ruthless Klingons, led by Kruge (played by Christopher Lloyd), want to use the Enterprise for terraforming purposes.
The Search for Spock continues the three-movie arc started by Wrath of Khan about Spock's significance. And while it feels like the middle child, it successfully balances the crew's enjoyable dynamic with the overall spectacle. Plus, Christopher Lloyd's Kruge is watchable as ever.
6. Star Trek Beyond (2016)
Star Trek Beyond continues the voyage of the Kelvin timeline reboot series. During one passage, their starship is ambushed and the crew ends up isolated on a nearby planet.
There, they learn of a Starfleet captain named Krall (played by Idris Elba), who was horribly transformed and developed a hatred of the Federation.
Trekkies and audiences might know this entry as the one with Beastie Boys' "Sabotage" playing in its trailer. While that was an unfortunate red herring, the resulting movie is more than rewarding.
Star Trek Beyond keeps the ball rolling with its splendid cast and immersive world-building, and Justin Lin's knack for action makes it more alive. Sadly, this is the last we see of Leonard Nimoy and Anton Yelchin.
5. Star Trek VI: The Undiscovered Country (1991)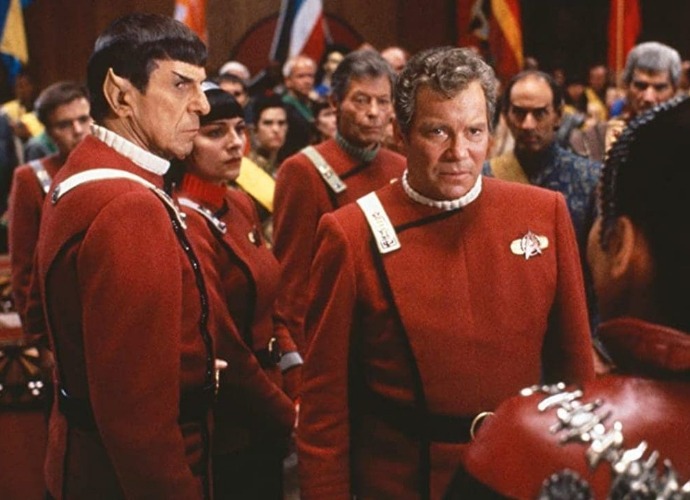 Star Trek: The Undiscovered Country is the last movie to feature the original cast. This time, the Klingons are brought to their knees and attempt to make peace with the Federation.
However, Captain Kirk and McCoy are held accountable for the murder of a Chancellor, leading Spock on a mission to clear their names.
When The Final Frontier proved to be the end for Star Trek , The Undiscovered Country proved that there were more worlds to conquer. Trekkies were treated to many callbacks to the series, while newbies were welcomed with its stunning visuals and the whodunnit plot.
4. Star Trek IV: The Voyage Home (1986)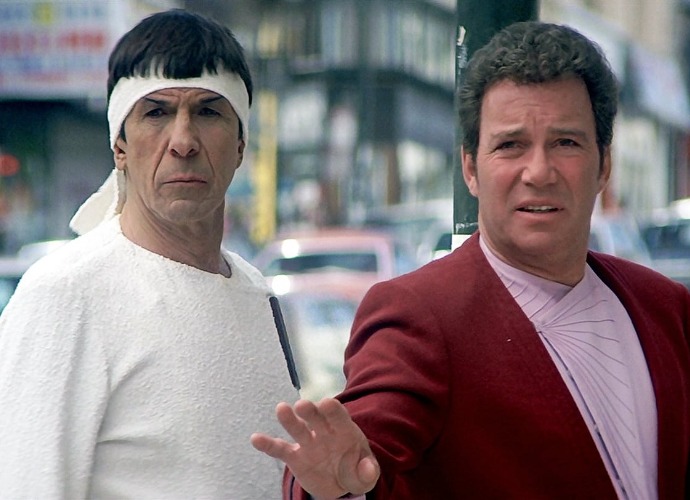 The fourth chapter in the Star Trek movie saga, The Voyage Home finds the Enterprise crew succumbing to the fallout from The Search for Spock .
Upon their travel, they learn that the planet is under threat from an alien probe attempting to contact humpback whales. As a result, the crew travels back in time to before the whales' extinction.
For his second directorial effort, Leonard Nimoy proved that he knew how to blend the absurdity of Star Trek with its seriousness into a fantastic popcorn flick. The result is a fun adventure that's half "fish out of water" fantasy and half cautionary tale.
Related: 15 Popular Nerdy Media Franchises That Shaped Geek Culture
3. Star Trek VIII: First Contact (1996)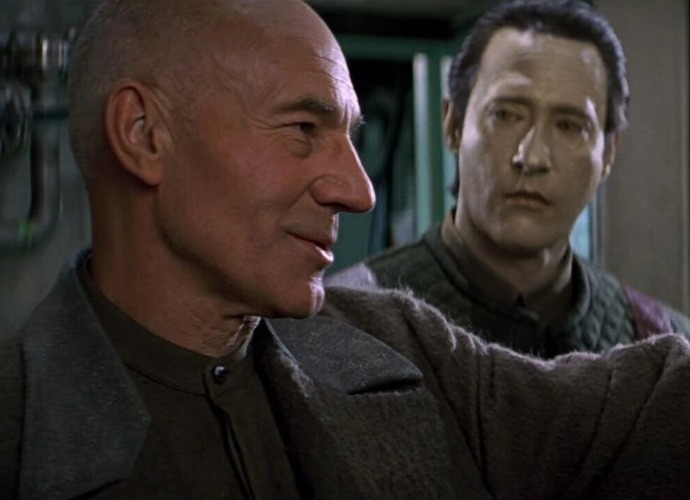 Star Trek: First Contact features the directorial debut of Jonathan Frakes. The mission this time is for the crew to travel back in time to the mid-21st century to thwart the plans of an alien race called the Borg, who want to change the past and make the Earth vulnerable to invasion.
Storylines within the Star Trek pantheon have been endlessly compared to literature by scholars. This one has a clear parallel to Moby Dick , with Picard being compared to Captain Ahab. That proved a strong point for the crew's intense conflict against the Borg—the perfect foil.
Combined with the cool Borg Queen and its exciting action, First Contact made resistance to expanding the franchise futile.
2. Star Trek (2009)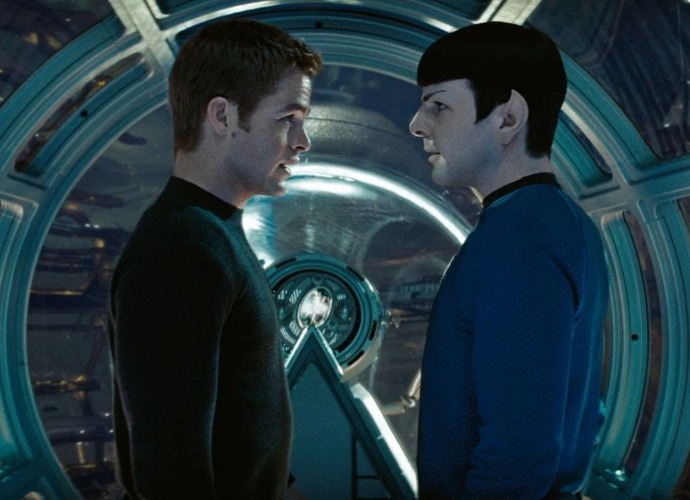 The 2009 Star Trek movie starts the series fresh with a reboot, and the result is gratifying. The newly-rebooted crew of the USS Enterprise is sent on a mission to stop the nefarious Romulan Nero (played by Eric Bana) from laying ruin to an alternate timeline (separate from the original show).
Back then, no other filmmaker had the sheer ability to re-energize a franchise like J. J. Abrams. While he brings a ton of flashiness to the screen, Abrams also bridges the gap for old and new fans by honoring the show's legacy while starting afresh with a fine cast led by Chris Pine.
1. Star Trek II: The Wrath of Khan (1982)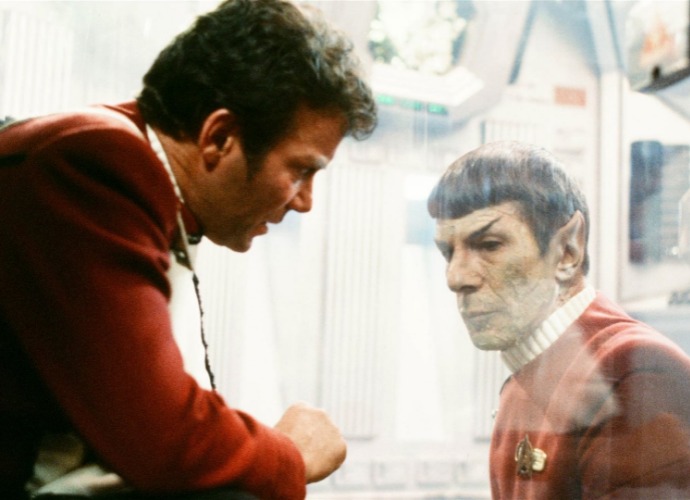 No other Star Trek movie sticks the landing as greatly as The Wrath of Khan did. The second entry finds the Enterprise facing off against their fiercest rival yet, the tyrannical Khan Noonien Singh (played by Ricardo Montalbán), who wants to acquire the terraforming device Genesis.
This is the perfect film for newbies to Star Trek since it references the 1967 episode "Space Seed," which set up Khan. It provides the right balance between immersive sci-fi flick and radical Star Trek voyage. And thanks to Montalbán's charm, Khan is the best Star Trek villain to date.
Related: The 20 Best Sci-Fi Movie Scenes of All Time, Ranked
Every Star Trek Movie, Ranked
Original Series Trivia
Interesting Characters
The Best Series and Movies, Ranked
Best TNG Episodes
Fun Facts About the New Film Series
The Coolest Starships
Most Powerful Characters
Secrets from the Wardrobe Dept.
The Greatest Star Trek Insults
Store-Bought Items Used as Props
Greatest Klingons
Weird Moments in Captain Picard History
Envy-Worthy Tattoos
Exasperated Picard
Times Scotty Saved the Day
The Best Mirror Universe Episodes
The Best Episodes Directed by Cast Members
Celebrating Spock and Bones McCoy
The Luckiest Characters in the Franchise
Easter Eggs Spotted in 'Star Trek: Picard'
Episodes That Get You Hooked
'Make It So' - Picard
Into Darkness Movie Quotes
Accidents with the Transporter
The Evolution of Picard
The Best Star Trek Movies
This is a list of all Star Trek movies, ranked best to worst by fans, casual critics, and people like you. This votable list includes every Star Trek  film to date. Certainly, several Star Trek  films could be considered among the best space movies . Which one is the greatest ever made? That's decided by voters, so be sure to cast your vote up or down for each film listed. Trekkies, this one's for you. Also: You can re-rank this list of great Star Trek  films in any order you want.
Generally speaking, many Star Trek  fans consider 1982's Star Trek II: The Wrath of Khan  to be one of the best, if not *the* greatest Star Trek  movie ever made. It's hard to deny that this film isn't awesome, with battles between the crew of the starship Enterprise and the evil Khan Noonien Singh.
The Star Trek  movie franchise has enjoyed a revival, thanks in large part to J.J. Abrams's 2009 movie Star Trek  and 2013's Star Trek Into Darkness . Where should these modern era Star Trek  movies fall in comparison to the classics? Are they also among the greatest sci-fi movies of all time? History will ultimately decide, but for now, you can - by voting!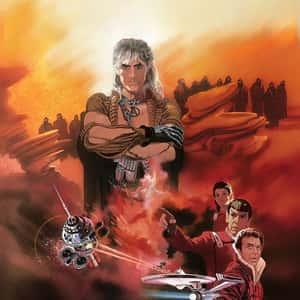 Star Trek II: The Wrath of Khan
# 42 of 175 The 150+ Best Movies With Aliens
# 144 of 403 The Best Movies Of The 1980s, Ranked
# 10 of 155 The Best Movie Sequels Ever Made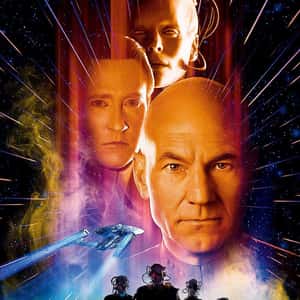 Star Trek: First Contact
# 50 of 175 The 150+ Best Movies With Aliens
# 203 of 379 The Best Movies Of The 1990s
# 692 of 772 The Most Rewatchable Movies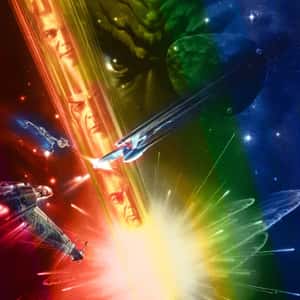 Star Trek VI: The Undiscovered Country
# 107 of 175 The 150+ Best Movies With Aliens
# 212 of 379 The Best Movies Of The 1990s
# 154 of 185 Movies With The Best Soundtracks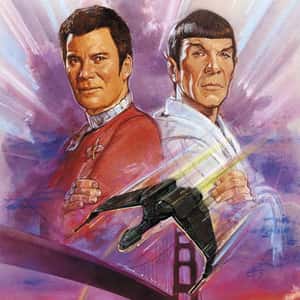 Star Trek IV: The Voyage Home
# 86 of 175 The 150+ Best Movies With Aliens
# 135 of 403 The Best Movies Of The 1980s, Ranked
# 156 of 185 Movies With The Best Soundtracks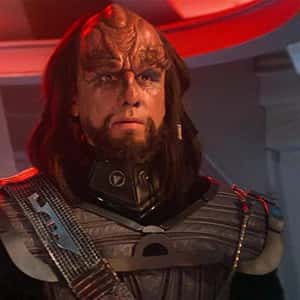 Star Trek III: The Search for Spock
# 96 of 175 The 150+ Best Movies With Aliens
# 190 of 403 The Best Movies Of The 1980s, Ranked
# 606 of 772 The Most Rewatchable Movies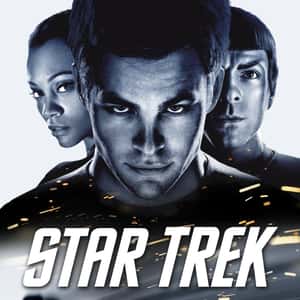 The 19 Coolest Starships In The 'Star Trek' Universe
The Best Q Episodes of 'Star Trek
Which 'Star Trek' Character Are You, Based On Your Zodiac Sign?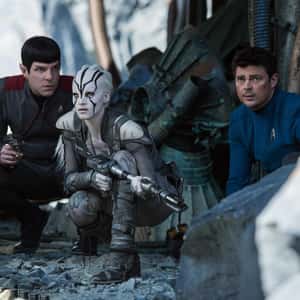 Star Trek Beyond
# 108 of 175 The 150+ Best Movies With Aliens
# 56 of 168 The Best Science Fiction Action Movies
# 26 of 105 The 100+ Best Third Movies In A Film Series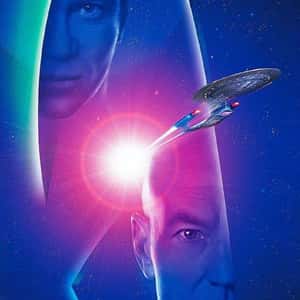 Star Trek Generations
# 123 of 175 The 150+ Best Movies With Aliens
# 159 of 185 Movies With The Best Soundtracks
# 33 of 85 The Best Movies Of 1994
Star Trek Into Darkness
# 31 of 175 The 150+ Best Movies With Aliens
# 39 of 155 The Best Movie Sequels Ever Made
# 550 of 772 The Most Rewatchable Movies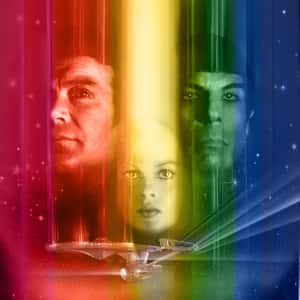 Star Trek: The Motion Picture
# 117 of 175 The 150+ Best Movies With Aliens
# 60 of 78 The Greatest Movies To Watch Outside
# 110 of 168 The Best Science Fiction Action Movies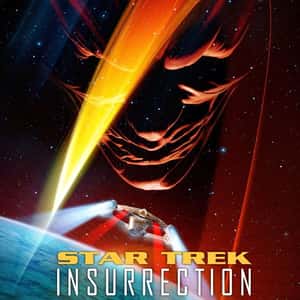 Star Trek: Insurrection
# 69 of 78 The Greatest Movies To Watch Outside
# 96 of 168 The Best Science Fiction Action Movies
# 72 of 98 The Best Movies Of 1998, Ranked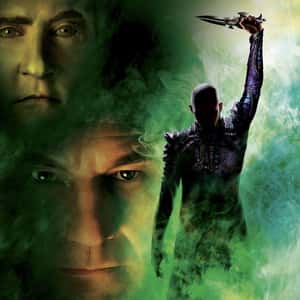 Star Trek Nemesis
# 143 of 175 The 150+ Best Movies With Aliens
# 66 of 78 The Greatest Movies To Watch Outside
# 92 of 152 The Best Movies of 2002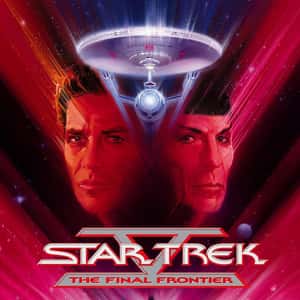 Star Trek V: The Final Frontier
# 141 of 175 The 150+ Best Movies With Aliens
# 290 of 403 The Best Movies Of The 1980s, Ranked
# 128 of 155 The Best Movie Sequels Ever Made
Entertainment
Star Trek Universe
Live long, and prosper.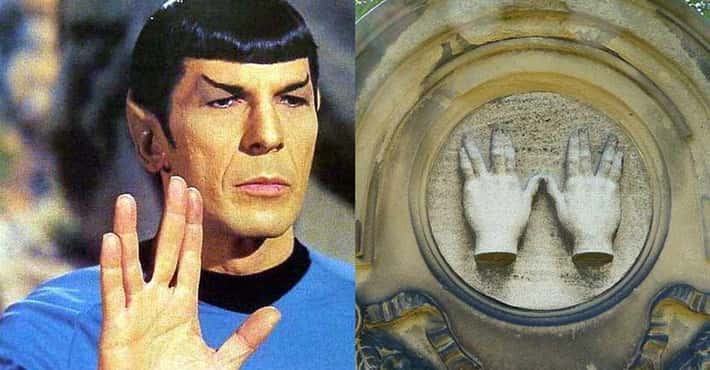 All 13 'Star Trek' Movies Ranked From Worst to Best (Photos)
TheWrap critic Russ Fischer ranks "Star Trek Beyond" among all of the Enterprise crew's big-screen adventures
13. "Star Trek Into Darkness" (2013)
"Star Trek" borrowing from itself is fine (see a good use of ideas from "The Voyage Home" in "Beyond"), but the second J.J. Abrams film plunders "The Wrath of Khan" like Doctor Frankenstein's assistant seeking raw monster material. The appropriation and reversal of the emotional crescendo of "Khan" lands with a thud, as does the illogical, witless script and its muddy 9/11 allegory.
12. "Star Trek Nemesis" (2002)
There are good elements in the final "Next Generation" outing: Tom Hardy 's preening, arrogant interactions with Patrick Stewart ; Ron Perlman 's "Nosferatu"-inspired makeup, which looks like a Guillermo del Toro dream; one of Jerry Goldsmith's final scores. But Stuart Baird's atonal direction makes for a dull action slog stained with the psychic rape of Deanna Troi — a scene which becomes merely setup for a battle maneuver. "Star Trek" was forced into a seven-year theatrical hiatus after this movie. Frankly, the break was needed.
11. "Star Trek: The Final Frontier" (1989)
William Shatner 's directorial outing is all about Kirk as an '80s action hero, but the film oddly undermines the captain as often as it beefs him up. That interesting tension is lost in a plot about Spock's long-lost half brother, written as a forgettable combination of Jesus and Charlie Manson, seeking God at the far end of the universe. The goofball script, with ideas like Uhura distracting enemies by dancing atop a sand dune, goes full-on silly at the patchy, forgettable climax.
10. "Star Trek Insurrection" (1998)
"Insurrection" strives to be lighter than other "Next Generation" movies, with more jokes and a distracting love affair for Picard, but its "fountain of youth" plot leads to indignities such as Worf suffering a giant zit. A decent story kernel — the Federation is beginning to appear weak and out of date — hides within this film, but few scenes support or expand that idea. Instead, "Insurrection" works with a limited visual and story palette better suited for a TV episode.
9. "Star Trek Generations" (1994)
Cinematographer John A. Alonzo ("Chinatown") ensures this first "Next Generation" movie often looks tremendous, and the opening with Kirk, Scotty and Chekov is a pleasant callback to the original crew. Yet the script's big-screen ambitions are squandered on a mediocre Enterprise-breaking set piece. The film's sagging midsection shows how poorly theatrical films explored Data's yearning for humanity as a replacement for Spock grappling with the meeting of Vulcan and human instincts. Some good interaction between Kirk and Picard notwithstanding, their meeting is saved for the last reels, and Kirk's final send-off is so lame that casual viewers probably won't even remember his fate.
8. "Star Trek First Contact" (1996)
The best of the Next Gen movies fuses Borg invasion and time travel plots, throwing the Enterprise-E into Earth's past on the trail of the cybernetic collective as it attempts to prevent humanity's first contact with Vulcans, thereby destroying the Federation at its root. "First Contact" has more action than most Picard stories, but it's still padded with a lot of corridor-crawling filler. For all their visual menace, the Borg aren't particularly frightening, and even Alige Krige's Borg Queen never gels as a villain. Points go to Alfre Woodard , however, for dressing down Picard.
7. "Star Trek III: The Search for Spock" (1984)
After the grandeur of "The Wrath of Khan," director Leonard Nimoy 's first Trek feature feels cheap, even though it is the first "Star Trek" film to destroy the Enterprise. The Genesis planet created in "Wrath of Khan" is a great setting, but "The Search for Spock" is saddled with stilted staging and mediocre villains. This chapter succeeds by bringing Spock back to life in a way that prevents a simple reunion with his former crew members, but it serves best as a bridge between the second and fourth film.
6. "Star Trek Beyond" (2016) The streamlined, effective third outing for the reboot crew is free of baggage — no need to justify its own existence or kooky fan-service tricks. Having firmly defined their roles, the cast has room to play and riff off one another, aided by a script that traps the crew, broken into pairs, on an alien planet. As Kirk says early on, things feel a bit episodic, but that's "Trek," and in this case the vibe of "Beyond" is calibrated to evoke the spirit of the original TV series. That task is accomplished well, and while Idris Elba 's villain first seems growlingly rote, he grows into a respectable counter-balance for Kirk.
5. "Star Trek: The Motion Picture" (1979)
The series' first film is slow even by 1979 standards, though a 2001 director's cut has better pacing and character work. Even with the glacial movement, the crawl through V'Ger's environment and loving pans across the Enterprise — a gift to fans who waited a decade for new live-action adventures — are glorious. The story offers a welcome window on the running of the Enterprise and develops the sort of hardcore sci-fi story even "Star Trek" doesn't often get to do.
4. "Star Trek VI: The Undiscovered Country" (1991)
Gene Roddenberry often pushed his series to explore stories as allegories for modern life and politics; here "Trek" becomes a Cold War story in which the Federation and a nearly bankrupt Klingon Empire are dropped into the context of a political thriller. Christopher Plummer adds weight as a key villain in a dark and heavy story that folds in murder mystery elements. It's not always successful, especially in obscuring the culprit, but this look at the Federation is unlike anything else in the "Star Trek" film series.
3. "Star Trek" (2009)
The script for J.J. Abrams ' franchise reboot takes big swings and doesn't always connect, especially in the villain department. Yet the cast is so well-chosen, with chemistry and charisma to spare, that the new ensemble explores the dynamics of Roddenberry's old crew with apparent ease. Rather than replicating the interaction between Shatner and Nimoy, Chris Pine and Zachary Quinto find their own rhythm and quickly make a case for their versions of the well-known pair. Sure, the the lighting and camerawork can be distractingly overbearing, but in all other respects the new "Trek" is a warp-speed success.
2. "Star Trek IV: The Voyage Home" (1986)
Aided by an expanded budget and directorial freedom after "The Search for Spock," director Leonard Nimoy ditched weapons and villains to shoot on location in San Francisco. In what seems like a contradiction for the series, "The Voyage Home" explores the characters in a new light by pitching the crew back in time to rescue two humpback whales in an effort to save Federation-era Earth. The script can veer into the didactic and the sun-slingshot time-travel device is kooky as hell. Even so, this sequel is a wonderfully entertaining high-water mark for the series with some of the best character beats for every crew member.
1. "Star Trek II: The Wrath of Khan" (1982)
To counter the heady and slow-moving debut film, director and co-writer Nicholas Meyer fashioned a high-spirited naval adventure with Ricardo Montalban delivering an all-time melodramatic villain performance and battle scenes energized by James Horner's ringing score. The movie can turn on a dime, from the opening thrills of the Kobayashi Maru test to the alien weirdness of brain parasites. Spock's final scenes etch the Kirk/Spock relationship in stone and set the standard for character relationships in all genre films, to say nothing of future "Star Trek" sequels.
Ranking Every "Star Trek" Movie, From Worst to Best
With "Star Trek Beyond" poised to warp into theaters, CBR ranks all twelve "Star Trek" movies, from worst to best.
It's safe to say that "Star Trek" has a complicated history at the movies. Over the course of twelve films and three different casts, the quality has surely varied from release to release, but thankfully -- and consistently -- a really good "Star Trek" movie inevitably pops up every few takes to remind us why the franchise works so well on both the small and big screen. And while the episodic format of "Star Trek" is perhaps when the franchise works best, the franchise's film-length epics add a whole other level of weight to Trek adventures that, good of bad, excite fans to the (warp) core with every release.
RELATED: CBS Releases Teaser Trailer, Logo for 2017's New "Star Trek" TV Series
In honor of the 50th anniversary of the franchise, and the upcoming "Star Trek Beyond," CBR News has ranked every "Star Trek" movie ever made, from worst to best.
Take a look at our list below, and be sure to sound off in CBR's TV/Film forum with your own picks.
12 12. Star Trek: Nemesis (2002)
Sadly, "Star Trek: The Next Generation" really came full circle in quality by the time "Star Trek: Nemesis" rolled around. The franchise's 2002 finale didn't do justice for the series, or how far it had grown since its early days with ol' Groppler Zorn. In some ways playing like a "Wrath of Khan" rehash, the film's forcefully dark elements don't ring true to the franchise we all know and love. Despite having a script from the revered John Logan, the plot with a "Dark Data," and its villain Shinzon (played by a young Tom Hardy) really falter in execution. Plus, there are inexplicable appearances from the likes of Guinan and Wesley Crusher, just because it would be... cool?
11 11. Star Trek: Insurrection (1998)
"Star Trek: Insurrection" seemed to have everything going for it. The third film with the "Next Generation" cast brought actor-director Jonathan Frakes back to helm, after directing the smash-hit "Star Trek: First Contact," and a script from veteran "Star Trek" writer Michael Piller. Piller, after all, was responsible for making "TNG" good -- really good -- by the time the third season came around, and developed the groundbreaking spinoff "Deep Space Nine." But sadly, the thrusters didn't fire off for this one, as a boring plot and even less interesting villain made this stinker about as dull as "The Next Generation" at its worst. If you're looking for good "Star Trek" around this time, be sure to check out "DS9" instead...
10 10. Star Trek Into Darkness (2013)
The only thing bold about "Star Trek Into Darkness" is the choice to exclude a colon from its title. After a solid jump start to the franchise with the '09 "Star Trek," J.J. Abrams took a step in the wrong direction with his follow-up, by rehashing many elements of "Wrath of Khan," rather than letting the new universe evolve in its own direction. While the film has solid performances from the cast and some glitzy action sequences, the writing is really the issue with this movie. Between irrational decisions, unearned deaths (resulting in speedy resurrections) and magical elements that have no place in a "Star Trek" movie, "Into Darkness" is a discouraging turn for the franchise that left many of us lacking hope in the future of the Kelvin timeline.
9 9. Star Trek V: The Final Frontier (1989)
If there's one thing bad about "The Voyage Home," it's that its success with comedy influenced "Star Trek V: The Final Frontier" to try its hardest -- so, so hard -- to be funny. Unfortunately, it really didn't work. After the smash-hit of "Star Trek IV," it was William Shatner's turn in the director's chair, and, well, the comedy falls flat all around. Rather than using the best of each character's quirks to instigate humor, the film undermines the crew, making some them (sorry, Scotty) come off as idiots. And did we really need that Uhura fan dance? "Star Trek V" is ambitious -- the idea of Spock's long-lost half-brother looking for God is an interesting one on paper -- but it doesn't deliver, and the performance from Laurence Luckinbill just makes us wish they were able to get Sean Connery.
8 8. Star Trek: Generations (1994)
It's a mystery how "Star Trek: Generations" turned out to be such an underwhelming big screen start for the "Next Generation" crew. Despite the series' incredibly strong finale months prior -- which was written in only two weeks, compared to the several months it took to complete "Star Trek: Generations" around the same time -- Brannon Braga and Ronald D. Moore's silver screen debut couldn't quite recapture the magic they delivered with the groundbreaking "All Good Things." The idea of uniting Kirk and Picard is the stuff of dreams for Trek fans, but it was underwhelming when executed on film. All that said, despite it not actually standing alone as a great film, "Star Trek: Generations" was significant for making "Star Trek" bigger than it ever was before -- after all, Kirk and Picard made it onto the cover of TIME!
7 7. Star Trek: The Motion Picture (1979)
"Star Trek: The Motion Picture" gets a lot of flack, mostly because of its incredibly slow pace and high-concept plot. The film, which reunited the Enterprise crew for the first time in live-action since 1969, followed a mysterious entity called "V'Ger," eventually revealed to be a 300-year-old spacecraft, created to find the answers to life. The idea of finding meaning in life, despite facts suggesting otherwise, is still a fascinating theological premise for a film -- and one that would likely be too bold to explore in a major blockbuster even today. Despite its pacing issues, under Oscar-winner Robert Wise's direction, "The Motion Picture" is a methodical, visual treat that brought "Star Trek" back to the pop culture forefront after a long lull and paved the way for even better movies to come.
6 6. Star Trek III: The Search for Spock (1984)
Everybody praises the even numbered "Star Trek" movies, but they fail to mention (or at least severely underrate) "Star Trek III: The Search for Spock." While "The Wrath of Khan" tackled death, the Leonard Nimoy-directed "Search for Spock" put a spotlight on grief, and the lonely emotional fallout of losing a friend. And while Spock does indeed return by the film's end, the movie saw the death of another major character of sorts in the Enterprise itself. Among the film's highlights is a stellar performance from DeForest Kelley, and the scene where Kirk and the rest of the crew sneak back onto the Enterprise. Plus, Christopher Lloyd and John Larroquette show up as Klingons -- what more could you ask?
5 5. Star Trek: First Contact (1996)
"Star Trek: First Contact" is the best movie starring the "TNG" cast, hands down. While "Generations" failed to deliver in a lot of ways, Braga and Moore's second feature hit it out of the park with an incredibly fun, tight plot -- and stellar direction from cast member-turned-helmer Jonathan Frakes. The movie saw, as the title suggests, the "First Contact" between Vulcans and humans, which ignited the United Federation of Planets, and in turn, world peace. Apart from great performances from "Star Trek" veterans Patrick Stewart and Brent Spiner (especially in a sexy sequence with the Borg Queen), "First Contact" benefited from the addition of James Cromwell and Alfre Woodard to the ensemble cast, who acted as an accessible lens for audiences who might not have delved into "Star Trek" before. And, for longtime fans, the film had serious payoff as Picard got his revenge on the Borg... once again (see: "TNG's" "I, Borg" for the first time).
4 4. Star Trek (2009)
In 2009, when he released his reboot (OK, technically it's a sequel) J.J. Abrams did what many consider impossible for the "Star Trek" franchise -- he made it "cool." Abrams' reimagining of the "Star Trek" universe in a younger version of "The Original Series" timeline resulted in a box office smash, and was responsible for reigniting a lot of interest in the property. Though the new take came at the price of compromising some intellectuality, Abrams' first film in the series delivered the greatest action we've seen from any "Star Trek" movie. Abrams also has a way in the film of adding dimension to characters who barely got screen time in "The Original Series" and subsequent movies -- offering shining moments with Sulu and Chekov, and creating the Spock-Uhura romance, among other highlights.
3 3. Star Trek VI: The Undiscovered Country (1991)
By the time "Star Trek VI: The Undiscovered Country" came out in 1991 -- the 25th anniversary of "Star Trek" -- the cast was in their late '50s and early '60s. While that's unheard of for blockbusters today, it really worked for "The Undiscovered Country," which, with the addition of Christopher Plummer as the villainous Chang, made the film the most Shakespearian of all the "Star Trek" movies. Of the main cast, William Shatner, Leonard Nimoy and DeForest Kelley deliver some of the best performances of their careers, grounding the Klingon conflict like a serious political thriller and enthralling murder mystery. "The Undiscovered Country" is a wonderful sendoff for the original Enterprise crew under the helm of "Wrath of Khan" director Nicholas Meyer, who returned to give the "Original Series" movies one last kick after the failure of "The Final Frontier."
2 2. Star Trek IV: The Voyage Home (1986)
In 1986, Paramount turned one of its more successful (and serious) action franchises into a full-on comedy. For those unfamiliar with "Star Trek: The Voyage Home," you'd probably assume that kind of transformation for the series was a disaster. Instead, it was one of the best things to happen to "Star Trek." Under the direction of Leonard Nimoy, "The Voyage Home" is equal parts hilarious (still!) and enthralling, serving as a close to what's been dubbed "The Motion Picture Trilogy" in a light-hearted action/adventure that still manages to pack in a message -- one of environmentalism. "The Voyage Home" does what "Star Trek" does best, delivering a thoughtful moral tale that rings true no matter what era it takes place. "The Voyage Home" is also notable for its incredible box office success, which influenced the reimagining of the franchise on the small-screen with "The Next Generation."
1 1. Star Trek II: The Wrath of Khan
"Star Trek II: The Wrath of Khan" is, quite simply, "Star Trek" at its best. Somehow, it manages to feel like a close to "The Original Series" and a refresher for the franchise all at once. After the less-than-well-received first film, Nicholas Meyer injected the "Star Trek" franchise with new hope and incredible action, packing in weighted themes of age, death, resurrection and friendship. "Wrath of Khan" is so different from modern blockbusters -- it takes time for character, thoughtfulness, heady references to Shakespeare, "Moby Dick" and Charles Dickens -- and it also delivers on a visceral level of pure adventure. Packing horror, drama, and incredible heart, "The Wrath of Khan" is an ode to the endurance of "Star Trek." Even in the face of death, the franchise's signature optimism lives on.
Copy from this list
Report this list
Star Trek Movies Ranked
All 12 Star Trek movies ranked from best to worst.
Movies or TV
IMDb Rating
In Theaters
Release Year
1. Star Trek II: The Wrath of Khan (1982)
PG | 113 min | Action, Adventure, Sci-Fi
With the assistance of the Enterprise crew, Admiral Kirk must stop an old nemesis, Khan Noonien Singh, from using the life-generating Genesis Device as the ultimate weapon.
Director: Nicholas Meyer | Stars: William Shatner , Leonard Nimoy , DeForest Kelley , James Doohan
Votes: 127,330 | Gross: $78.91M
KHAAAAAAAAAAAAAAAAAAN! The best of all Trek movies. Spock's death scene gets me every time.
2. Star Trek (2009)
PG-13 | 127 min | Action, Adventure, Sci-Fi
The brash James T. Kirk tries to live up to his father's legacy with Mr. Spock keeping him in check as a vengeful Romulan from the future creates black holes to destroy the Federation one planet at a time.
Director: J.J. Abrams | Stars: Chris Pine , Zachary Quinto , Simon Pegg , Leonard Nimoy
Votes: 615,398 | Gross: $257.73M
The movie that made Trek cool again. The casting (apart from Uhura) is spot on. Probably has the best opening scene of ANY movie of past 5 years.
3. Star Trek: First Contact (1996)
PG-13 | 111 min | Action, Adventure, Drama
The Borg travel back in time intent on preventing Earth's first contact with an alien species. Captain Picard and his crew pursue them to ensure that Zefram Cochrane makes his maiden flight reaching warp speed.
Director: Jonathan Frakes | Stars: Patrick Stewart , Jonathan Frakes , Brent Spiner , LeVar Burton
Votes: 130,467 | Gross: $92.00M
Resistance is futile! The best of the Next Generations movies. Perfect combination of humor and drama. Picard brings out his inner badass to defeat the Borg Queen.
4. Star Trek III: The Search for Spock (1984)
PG | 105 min | Action, Adventure, Sci-Fi
Admiral Kirk and his bridge crew risk their careers stealing the decommissioned U.S.S. Enterprise to return to the restricted Genesis Planet to recover Spock's body.
Director: Leonard Nimoy | Stars: William Shatner , Leonard Nimoy , DeForest Kelley , James Doohan
Votes: 84,771 | Gross: $76.47M
The forgot of the old Trek movies. I love this one. I think Christopher Lloyd is the best Klingon villain in the series history. The journey to bring Spock back is interesting and Trekian (that's a word).
5. Star Trek Into Darkness (2013)
PG-13 | 132 min | Action, Adventure, Sci-Fi
After the crew of the Enterprise find an unstoppable force of terror from within their own organization, Captain Kirk leads a manhunt to a war-zone world to capture a one-man weapon of mass destruction.
Director: J.J. Abrams | Stars: Chris Pine , Zachary Quinto , Zoe Saldana , Benedict Cumberbatch
Votes: 493,352 | Gross: $228.78M
On first viewing I loved it more than the 2009 movie. On second viewing, I noticed things that irked me. I wish the villain wasn't Khan. Cumberbatch did the best he could, but he isn't Khan.
6. Star Trek VI: The Undiscovered Country (1991)
PG | 110 min | Action, Adventure, Sci-Fi
On the eve of retirement, Kirk and McCoy are charged with assassinating the Klingon High Chancellor and imprisoned. The Enterprise crew must help them escape to thwart a conspiracy aimed at sabotaging the last best hope for peace.
Votes: 79,633 | Gross: $74.89M
I like this one. Not much to say about it other than that. A good "real" sendoff for the original cast.
7. Star Trek: Generations (1994)
PG | 118 min | Action, Adventure, Mystery
With the help of long presumed dead Captain Kirk, Captain Picard must stop a deranged scientist willing to murder on a planetary scale in order to enter a space matrix.
Director: David Carson | Stars: Patrick Stewart , William Shatner , Malcolm McDowell , Jonathan Frakes
Votes: 85,821 | Gross: $75.67M
I think I would like this movie a lot better if they handled the last 10 minutes of the movie differently. AND WHERE WAS SPOCK (he was offered the "Scotty" role, but declined because they wouldn't let him write his own lines). The ending is rushed and Kirk's death should have been more epic (AND SPOCK SHOULD HAVE BEEN THERE, NOT JUST PICARD). All the stuff with Data is hilarious.
8. Star Trek: The Motion Picture (1979)
G | 143 min | Adventure, Mystery, Sci-Fi
When an alien spacecraft of enormous power is spotted approaching Earth, Admiral James T. Kirk resumes command of the overhauled USS Enterprise in order to intercept it.
Director: Robert Wise | Stars: William Shatner , Leonard Nimoy , DeForest Kelley , James Doohan
Votes: 94,982 | Gross: $82.26M
It's just too damn slow. There is no action. Too much 2001 and not enough Star Wars. The whole Voyager plot is interesting and handled well, but it is just missing something.
9. Star Trek: Insurrection (1998)
PG | 103 min | Action, Adventure, Sci-Fi
When the crew of the Enterprise learn of a Federation conspiracy against the inhabitants of a unique planet, Captain Picard begins an open rebellion.
Votes: 78,394 | Gross: $70.12M
It's Ok. Watchable. It just never feels like a movie. It's like a long episode of the show. Almost every other Trek movie involves the destruction of Earth or some other planet in which billions of people will be killed. This was about 600 immortals who didn't want to move to a different planet. The stakes just weren't there.
10. Star Trek IV: The Voyage Home (1986)
PG | 119 min | Action, Adventure, Comedy
To save Earth from an alien probe, Admiral James T. Kirk and his fugitive crew go back in time to San Francisco in 1986 to retrieve the only beings who can communicate with it: humpback whales.
Votes: 89,993 | Gross: $109.71M
Oh boy. This one is usually near the top of most people's lists. Granted I have only seen it one time, but it just never felt like Star Trek to me. It felt like a cheap 80s movie ... Although I do love the Chekov interrogation scene.
11. Star Trek V: The Final Frontier (1989)
PG | 107 min | Action, Adventure, Fantasy
Captain Kirk and his crew must deal with Mr. Spock's long-lost half-brother who hijacks the Enterprise for an obsessive search for God at the center of the galaxy.
Director: William Shatner | Stars: William Shatner , Leonard Nimoy , DeForest Kelley , James Doohan
Votes: 63,162 | Gross: $52.21M
This movie is not as bad as everyone thinks it is, but i'm not saying that it's good either. Some of the parts are cool like when they have to break out of the brig and take control of the ship. The "meeting God" part is just atrocious.
12. Star Trek: Nemesis (2002)
PG-13 | 116 min | Action, Adventure, Sci-Fi
The Enterprise is diverted to the Romulan homeworld Romulus, supposedly because they want to negotiate a peace treaty. Captain Picard and his crew discover a serious threat to the Federation once Praetor Shinzon plans to attack Earth.
Director: Stuart Baird | Stars: Patrick Stewart , Jonathan Frakes , Brent Spiner , LeVar Burton
Votes: 82,806 | Gross: $43.25M
Yeah. About this. WHAT? HUH? WHAT WERE THEY THINKING. Nothing about this works. Why would they get Tom Hardy to play a Picard clone? This felt like a Stallone movie at most parts (and a bad one, like Demolition Man). The only thing I can say I liked about it was Data committing the ultimate "human" sacrifice in his final moments.
List Activity
Tell your friends, other lists by dolphinsrock81.
Recently Viewed
12 Surprising Facts About Star Trek: The Original Series
Here's some lesser-known behind-the-scenes trivia about the show that spawned the iconic space-opera franchise.
Created by Gene Roddenberry, Star Trek is one of the most popular science-fiction franchises of all time with its 13 films, eight live-action TV shows, and three animated series. It all started with The Original Series , which aired from 1966 to 1969 and starred William Shatner as Captain James T. Kirk, Leonard Nimoy as Spock, Nichelle Nichols as Nyota Uhura, DeForest Kelley as Leonard McCoy, and James Doohan as Scott. TOS , as it is commonly abbreviated, was nominated for 13 Emmy Awards and won two Hugo Awards for Best Dramatic Presentation.
Longtime fans pride themselves in knowing various fun tidbits regarding that show, from franchise veteran and Roddenberry's significant other, Majel Barrett, being the voice behind all on-ship computer interfaces, to Nichols and Shatner making history by sharing one of the first interracial kisses on television.
The following behind-the-scenes facts, on the other hand, are less common knowledge and might surprise even dedicated Trekkies.
12 Practical Jokes Ran Amok
In conventions and individual memoirs, the cast mentioned that behind-the-scenes pranks during production of the TOS series and first movie were legion. Roddenberry, for one, had no problem using the actors to embarrass other people. He once asked Barrett, who was still his girlfriend at the time, to make a pass at casting assistant John Black in her underwear before "catching" them together.
And in order to intimidate an annoying suits sales agent who had come to the studio, Roddenberry had the seven-foot-tall Ted Cassidy, who played Lurch in the original Addams Family series and the android Ruk in TOS ' episode What Are Little Girls Made Of? , undergo a scary green makeup session and receive the agent in his stead. The joke fell through, though, as the man simply tailored his presentation to "big and tall" sizes; Roddenberry had to cave in and buy a few plaid pants.
Main cast members were no strangers to tricking each other, either. Shatner would secretly steal Kelley's bagels from the toaster, prompting him to doubt his mental faculties out loud. He would also hide Nimoy's bike, going as far as keeping it in his own trailer, guarded by his Doberman. Nimoy was no saint, either, as he once put the jar of body makeup in the fridge so that when it was time to use it on Shatner, it would feel unbearably cold on his skin.
11 Lucille Ball Not Only Saved the Show, but Also Swept the Studio
Lucille Ball, the comedy queen of the '50s and '60s and the co-creator of Desilu Productions, firmly believed in the show, even after The Cage , the pilot that featured Captain Pike instead of Kirk, tanked. She financed a second pilot for NBC, Where No Man Has Gone Before , which starred Shatner, and spontaneously helped the crew sweep the set floor so that filming would wrap on time.
Related: Lucy and Desi Review: Lucille Ball and Desi Arnaz in Their Own Words
10 On-Set Animal Scares
The set of The Cage witnessed a pigeon infiltration, while that of Where No Man Has Gone Before was attacked by a swarm of bees; Shatner was stung in the eyelid, and Sally Kellermann, who played Elizabeth Dehner, was also targeted.
As for the Shore Leave episode, the Bengal tiger that was brought in broke loose on set, petrifying the cast and crew, and prompting Shatner to confess, "The ignorant machismo that had be pulsing so heartily through my veins was replaced by sheer abject terror. I stood there trying not to look too horrified."
Related: 15 Movies That Had Unusual Behind-the-Scenes Incidents
9 Long-Lasting Tinnitus Effect Following Explosion Scenes
Explosions are bound to happen when you're exploring unchartered planets and coming across hostile aliens like the Gorn . Sometimes, the sound is so loud that it can have long-term physiological effects on the crew and cast. Nimoy, Shatner, and Kelley's ears suffered tinnitus for months after filming episodes like The Apple and Arena .
8 How Majel Barrett Went from Playing Number One to Nurse Chapel
As previously mentioned, Barrett was still Roddenberry's girlfriend during TOS . She portrayed the brunette Number One in the failed pilot, but NBC didn't like her character or performance, and he absolutely wanted her to be on the show. So, she dyed her hair blonde was cast as Nurse Chapel in the episode The Naked Time , a role she would portray in the franchise until 1986.
Barrett and Roddenberry were officially married on December 29, 1969.
7 Trekkies Would Ask Nimoy's Dad for Spock Haircuts
Nimoy's father, Max, was born in Ukraine and married Bostonian Dora Spinner in 1925. He was a skilled barber, and young fans would rush into his shop to get the iconic Vulcan Spock haircut, seemingly unaware of the connection between the two men. Max happily obliged for many years, and his small business soared. He passed away in 1987.
6 Nichelle Nichols Stayed Because of Martin Luther King, Jr.
Nichols made history for portraying a woman of color on TV who wasn't just a background character, but a respected communications officer; she inspired generations of future actresses and artists, like Whoopi Goldberg. She did, however, experience racist remarks from a few studio employees while filming the first season and was about to quit TV for Broadway when Martin Luther King, Jr., a fervent Trekkie himself, convinced her to stay. Per StarTrek.com, King said to her, "This is the future. [Roddenberry] has established us as we should be seen. We are marching. And this is the first step. When we see you, we see ourselves, and we see ourselves as intelligent and beautiful and proud."
5 Nimoy Answered His Fan Mail as Spock
Following the "accidental" publishing of his home address, Nimoy would famously receive a lot of fan mail, notably from distraught teenagers and young adults asking for personal advice, which he would then gracefully answer in person as Spock. His own family would pitch in recommendations as well.
4 The Theme Song Had Lyrics and a Disco Version
The Theme from Star Trek was an instrumental composed by Alexander Courage, but in order to collect royalties, Roddenberry wrote lyrics so cheesy that they were never intended for use:
Beyond the rim of the starlight, my love is wandering in star flight I know he'll find in star-clustered reaches love Strange love a star woman teaches
Fortunately, Nichols was an accomplished singer and released a disco version with better lyrics in the album Out of This World :
Another day will dawn in the future When you will journey through time The stars listen; hear them pleading They know, dear earthlings, what you're needing
3 Nimoy Came Up with Both the Vulcan Salute and Nerve Pinch
The Vulcan salute was apparently modeled after an old Jewish blessing, and Nimoy was the one who suggested it for the show. The actor also improvised the iconic Vulcan nerve pinch that would trigger temporary loss of consciousness. In his interview on CBC's The Day, he said to the director upon reading a scene involving Spock knocking someone down with his phaser, "This is archaic. This is really Western, you know, to pull a gun and hit a guy on the head from behind. This man is an alien. We can say anything we want; we can make the audience believe anything we want about an alien. Let's use our imaginations. The man could have a very special knowledge of the human anatomy that hasn't been discovered yet, or he may have some special power that only Vulcans have."
The producers noticed the pinch in the rushes and liked it so much that they asked Nimoy to incorporate it into future scenes.
2 Shatner Was Physically Unable to Do the Vulcan Salute
One cast member who wasn't on board with performing the classic Vulcan salute was Shatner, as he was physically incapable of spreading his fingers apart in that specific manner. As a result, the actor avoided doing it altogether, and fishing lines were used to hold two of his fingers together when it was absolutely necessary for his character to perform the salute in Star Trek III: The Search
Related: 23 Coolest Alien Characters in the Star Trek Franchise
1 The Historic Interracial Kiss Was Supposed to Be with Spock
In TOS ' season-three episode, Plato's Stepchildren , which aired on November 22, 1968, viewers were shocked to witness one of the first passionate interracial kisses on television. Though Uhura and Kirk were never romantically involved on the show, they were forced into a kiss and a tight embrace by the Platonians, a sadistic and immortal humanoid alien race with telekinetic abilities. It wasn't the first display of interracial passion on the show, though, as Kirk had previously kissed Lt. Marlena Moreau (portrayed by part-Filipina actress Barbara Luna) and Mirror-Sulu (played by Japanese-American actor George Takei) had kissed Uhura's neck in the season-two episode Mirror Mirror .
Regardless, Kirk and Uhura's kiss almost never happened, as the original script apparently featured Spock in his stead. Shatner walked in on Nichols and Nimoy rehearsing and decided to pull rank, because he knew that scene would have life-changing repercussions in the entertainment industry.
As for Uhura and Spock, they wouldn't get together until J.J. Abrams' 2009 Star Trek film.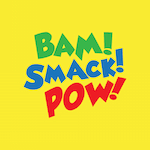 Bam Smack Pow
Nov. 2, 2015 – CBS Television Studios announced today it will launch a totally new "Star Trek" television series in January 2017. The brand-new "Star Trek" will introduce new characters seeking imaginative new worlds and new civilizations, while exploring the dramatic contemporary themes that have been a signature of the franchise since its inception in 1966. The new series will blast off with a special preview broadcast on the CBS Television Network. The premiere episode and all subsequent first-run episodes will then be available exclusively in the United States on CBS All Access, the Network's digital subscription video on demand and live streaming service. Pictured: Patrick Stewart as Captain Jean-Luc Picard in STAR TREK: THE NEXT GENERATION Screen grab: ©1990 CBS Broadcasting Inc. All Rights Reserved.
All 13 Star Trek shows ranked from worst to best
Nov. 2, 2015 – CBS Television Studios announced today it will launch a totally new "Star Trek" television series in January 2017. The brand-new "Star Trek" will introduce new characters seeking imaginative new worlds and new civilizations, while exploring the dramatic contemporary themes that have been a signature of the franchise since its inception in 1966. The new series will blast off with a special preview broadcast on the CBS Television Network. The premiere episode and all subsequent first-run episodes will then be available exclusively in the United States on CBS All Access, the Network's digital subscription video on demand and live streaming service. Pictured: William Shatner as Captain James T. Kirk (Gold shirt) and Leonard Nimoy as Mr. Spock (Blue Shirt) in STAR TREK (The Original Series) Screen grab: ©1966 CBS Broadcasting Inc. All Rights Reserved.
The Star Trek universe continues to grow, but which of its iconic TV shows stand out as the very best? We rank all 13 shows so far.
If somebody asked you to name some of the very best film and TV franchises of all time, Star Trek would be on both of those lists. A regular of the silver screen, it got its start on television so it should come as no surprise that this is where the franchise has found its greatest success.
There is an irony in that, because until quite recently, there hadn't been a Star Trek show for fans to indulge in in over a decade. But now, the long-beloved franchise has been revived with both the game-changing 2017 debut of Star Trek: Discovery (which has recently been renewed for a fifth and final season ), and the attention-grabbing Star Trek: Strange New Worlds , which have both brought the saga back for a whole new generation.
With a list consisting of 13 entertaining shows expanding the franchise onto television, streaming, and the web itself, we're taking a deep dive into every major Star Trek show that's aired so far and ranking them.
Prepare your phasers for stun and get ready to agree or disagree with me on this.
Published on 11/10/2023 at 10:35 AM EST
Last updated on 11/10/2023 at 10:37 AM EST
Bam Smack Pow 2 hours Jujutsu Kaisen season 2 episode 16 review: Thunderclap
Bam Smack Pow 2 hours Doom Patrol season 4, episode 12 review: Done Patrol
Bam Smack Pow 10 hours Will Gen V air a new bonus episode tonight?
Bam Smack Pow 10 hours How to watch Doom Patrol season 4 episode 12 live online
Bam Smack Pow 10 hours How to watch Invincible season 2 episode 2 live online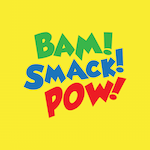 FanSided.com
Our 300+ FanSided Sites
Screen Rant
Every power rangers movie, ranked worst to best.
While Power Rangers will always be defined by the TV shows, the saga also includes a few Power Rangers movies, some of which are better than others.
Power Rangers has seen a wide range of releases, including movies, TV specials, and TV shows, with some being better than others.
Some Power Rangers movies, such as Clash of the Red Rangers and The Legendary Battle: Extended Edition, are actually TV specials combined into one release.
The best Power Rangers movie is Mighty Morphin Power Rangers: The Movie, which offered a big-budget adventure for the first time and remains a symbol of Power Rangers nostalgia.
From theatrical releases to TV specials, every Power Rangers movie did something different, but some were much better than others. Starting with 1993's Mighty Morphin Power Rangers , the franchise has seen multiple movies, dozens of TV shows, and many other releases across different media. While not all Power Rangers movies take place in Power Rangers ' chronological timeline , each of them represents something to the franchise.
Power Rangers ' formula of combining Super Sentai shows with original scenes has worked for the past 30 years, but the saga quickly realized that it could expand beyond its original format. The first Power Rangers movie was released in 1995 , whereas the closest thing to a new Power Rangers film was released in 2023. Between TV movies that are nothing but episodes combined into a single release to blockbusters, Power Rangers has seen it all.
Note: Amy Jo Johson and the late Jason David Frank are the only actors to have appeared in all three theatrical Power Rangers movies.
6 Power Rangers: Clash of the Red Rangers (2011)
A regular power rangers crossover turned into a movie.
Clash of the Red Rangers is one of three Power Rangers releases that, despite being considered movies, are not feature-length stories. The crossover event involving Power Rangers R.P.M , Power Rangers Operation Overdrive , and Power Rangers Samurai is essentially two episodes combined into one 50-minute-long special. Clash of the Red Rangers , based on two different Super Sentai films, was aired as a TV movie and later released on DVD. In terms of the story, Clash of the Red Rangers was not too different from all the other Power Rangers team-up episodes . Apart from its unique release format, Clash of the Red Rangers was just another Power Rangers crossover.
5 The Legendary Battle: Extended Edition (2014)
An extended two-part super megaforce episode.
Similar to Clash of the Red Rangers , The Legendary Battle: Extended Edition is not a feature-length film, although it was released for home video as a movie. The Legendary Battle: Extended Edition combines two Power Rangers Super Megaforce episodes, "The Wrath" and "Legendary Battle," into a 55-minute long special, and it also includes new scenes. While the extended Legendary Battle scenes improved the original episodes, they could not change how disappointing Power Rangers ' 20th-anniversary special was. The Legendary Battle: Extended Edition highlighted the problems with the crossover, which failed to live up to the massive expectations for what a Power Rangers "legendary battle" had to look like.
4 Turbo: A Power Rangers Movie (1997)
It covers the transition from zeo to turbo..
Whereas Mighty Morphin Power Rangers: The Movie was designed as a cinematic experience that would take Power Rangers to the big screen for the first time, Turbo: A Power Rangers Movie could have very well been a straight-to-VHS film. This was very much the case, though, as the Turbo movie only grossed $8 million at the box office before being released on VHS. Unlike the first Power Rangers film, which told a non-canon story, Turbo: A Power Rangers Movie was canon to the TV show . The movie covered the transition between Power Rangers Zeo and Power Rangers Turbo , working as "episode 0" of the latter.
Related: Power Rangers Cosmic Fury's Ending Explained: Is It The Last Power Ranger Season?
Interestingly, despite being the only piece of Power Rangers canon that explains the shift into Turbo ahead of the new show, the Turbo movie makes little effort to explain why the Power Rangers had to change their powers. The Zeo Crystals were said to be some of the strongest artifacts in the universe, but suddenly, Zordon was asking the Power Rangers to use new morphers and Zords. Lore questions aside, Turbo: A Power Rangers Movie feels like an extended Power Rangers episode rather than an actual film. That said, seeing the Zeo cast on a bigger-budget production, as well as the returns of Kimberly and Jason, made the Turbo movie worth it.
3 Mighty Morphin Power Rangers: Once & Always (2023)
A netflix special centered on the original power rangers.
Mighty Morphin Power Rangers: Once & Always was not a feature-length film, but it was not a regular Power Rangers episode either. Given its one-off nature, the 50-minute-long special shares more similarities with the Power Rangers movies than to the average Power Rangers episodes. One small but important detail that illustrates how different Once & Always was from the TV show is how words like "died" and "killed" were used in the Netflix special, something that never happened in the series. Mighty Morphin nostalgia aside, Once & Always is an entertaining, heartwhelming story that captured the essence of Power Rangers during an emotional 50 minutes.
The Mighty Morphin Power Rangers: Once & Always cast featured some of the original Power Rangers actors, including first-generation Rangers Billy Cranston (David Yost) and Zack Taylor (Walter Emanuel Jones) . Billy had not appeared in a Power Rangers show or movie since Zeo , whereas Zack never returned to the franchise after Mighty Morphin season 2. Once & Always was bittersweet, though, as the story was dedicated to Thuy Trang, and the ending credits also included a tribute to Jason David Frank. Power Rangers needed some sort of celebration for its 30th anniversary, and Power Rangers: Once & Always was a fitting one.
2 Power Rangers (2017)
A theatrical mighty morphin power rangers reboot..
The first proper Power Rangers film since 1997, Power Rangers (2017) was meant to expand the franchise and kickstart a Power Rangers movie saga. While the 2017 Power Rangers reboot was based on Mighty Morphin – from the characters to the costumes – it was not tied to the TV show in any way. The movie introduced new versions of Jason, Billy, Trini, Zack, and Kimberly while reimagining classic Power Rangers concepts. The new Power Rangers costumes , which looked radically different from anything that had ever appeared in the TV show, quickly established that the movie was going to be its own thing.
Comparing a theatrical Hollywood movie with a TV show or with films designed for TV may not be fair, but it is important to notice how much better written and developed the 2017 Power Rangers characters were. Power Rangers (2017) managed to "ground" one of the most fantastical television franchises, and it made each of the core Mighty Morphin Power Rangers relatable. The biggest problem with 2017's Power Rangers , however, was the lack of "Ranger action." The movie clearly could have used more budget, to the point only Red Ranger Jason was given one of the signature Power Rangers weapons. The fights were short, and the Rangers barely morphed.
1 Mighty Morphin Power Rangers: The Movie (1995)
The power rangers get new powers in this non-canon movie..
The perfect combination of classic Power Rangers TV tropes and what a theatrical film should deliver, Mighty Morphin Power Rangers: The Movie is the best Power Rangers movie. With Mighty Morphin quickly becoming a hit on TV, it was easy to predict that the Power Rangers would soon be on the big screen. However, to simplify things, the Mighty Morphin movie was designed as a standalone story that, despite featuring many of the TV show's actors and characters, was not canon to the series. As such, Power Rangers: The Movie didn't have to explain why the Command Center looked bigger, or why the Rangers were now wearing armor.
Even though Power Rangers: The Movie is not canon , it is one of the most entertaining Mighty Morphin stories ever told. Jason David Frank, Amy Jo Johnson, and David Yost led the cast, which also included newcomers Johnny Yong Bosch, Karan Ashley, and Steve Cardenas. Everything was bigger and better than in the TV show, and the movie offered a big-budget Power Rangers adventure that Mighty Morphin never could. Ivan Ooze is an instant classic 1990s villain , and while some of the visual effects haven't aged well, Mighty Morphin Power Rangers: The Movie remains a symbol of Power Rangers nostalgia.
Power Rangers