5 Best Bus Tours in New York City
The energy of New York City is found in its streets. One of the best ways to experience this vitality, and cover serious ground at the same time, is with a bus tour, rolling between Manhattan neighborhoods, one beautiful block at a time.
From a themed tour (like the Sex and the City Hotspots tour) to hop-on, hop-off options that offer direct transportation to the top landmarks in the city, here are the five best bus tours that NYC has to offer.
Big Bus New York
The Big Bus is easy to spot: bright red, open top, and double-decker. This classic bus tour provides a thorough introduction to Manhattan, with two routes, the downtown red loop, and the uptown blue route – and hop-on, hop-off service for stopping at top landmarks along the way. Take a seat in the open-air top deck and instead of traveling by subway (where you see nothing as you move between neighborhoods), you will see New York's famous street life as the bus travels between the Financial District, Chinatown, Greenwich Village, and Chelsea . The most popular stops on the downtown route include the 9/11 Memorial and the High Line, while popular stops on the uptown loop include 5th Avenue shopping and Harlem 's Apollo Theater. For some fresh air, stop in the 843-acre Central Park and go for a stroll.
Climb aboard The Ride – and the bus becomes the theater while the New York City streets are the stage. Instead of seats facing forward with the flow of traffic, seats aboard The Ride are turned toward the floor-to-ceiling windows, stadium-seating style. This 75-minute tour combines sightseeing (including landmarks like the Chrysler Building and Carnegie Hall) with live entertainment (both from onboard guides providing fun facts and screening movie clips, and on-the-street performers including break dancers and improv comedians). The busy Manhattan streets provide additional entertainment and the bus is equipped with 40 TV screens, tons of LED lights, and a club-quality sound system to keep the atmosphere festive. Kids age 6 and up are welcome to join.
Gray Line CitySightseeing Holiday Lights Tour
Witnessing New York City by night is an essential experience when visiting Manhattan. The streets always have certain electricity, but by night, the thoroughfares, landmarks, and bridges are lit up in spectacular fashion. There's no better way to see it than from the open-air top deck of a double-decker bus. This after-dark excursion takes between two and three hours to complete and includes the chance to see famous attractions including Rockefeller Center (and its famous sparkling Christmas tree ), the bright lights of Radio City Music Hall , the department store holiday windows along 5th Avenue and Saint Patrick's Cathedral. From Times Square to Central Park, this tour showcases the best of New York's famous holiday lights .
Open Loop New York
Take advantage of technology to know exactly when your bus is coming, with the "Where's My Bus?" web page from Open Loop . This bus tour, with an uptown route and a downtown route, offers a double-decker experience complete with an audio guide available in multiple languages (including English, Spanish, French, Italian, Japanese, and more). Tickets are available for one, three, or five days of unlimited use, offering convenient transportation to attractions across Manhattan including the Empire State Building, the Metropolitan Museum of Art , Times Square, and the High Line. Hop-on, hop-off stops are also available in favorite downtown neighborhoods, including the West Village and the East Village. When you're done with exploring, use your phone to confirm where and when to hop on the next bus.
Sex and the City Hotspots Tour
Strut the same streets as Carrie and shop in the same stores as Samantha during this 3.5-hour bus trip from On Location Tours complete with Sex and the City trivia, cocktails, and New York City sightseeing. The tour begins in front of the iconic Plaza hotel and continues throughout neighborhoods featured in the popular HBO series including the Meatpacking District , the West Village , and SoHo . The tour includes a glimpse of Carrie's gorgeous brownstone (which is actually in the West Village and not the Upper West Side, where it is supposed to be located in the show) and stops include an adults-only sultry boutique and a cupcake bakery favored by Carrie. The tour wraps up with a drink at the bar that stood in for Steve and Aidan's bar in the series.
CitySights NY Hop-On, Hop-Off Tours
The 18 Best Things to Do in New York City
The 'Sex and the City' Hotspots Tour Is Back and the Locations Are Better Than Ever
Double-Decker Bus Tours in NYC
18 Best Things to Do as a Solo Traveler in NYC
A One-Day Itinerary for Visiting New York City
Cruise With San Francisco's Best Bus Tours
12 Best Things to Do in Washington, DC, With Toddlers
New York City Guide: Planning Your Trip
How to Get Around and Explore Hawaii
Christmas in New York City: Best Events & Things to See
The Best Time to Visit New York City
The Top 20 Things to Do in Chicago
Top 16 Things to Do with Kids in Vancouver
How to Visit Los Angeles Without a Car
How to Get Around NYC Without Using the Subway
By clicking "Accept All Cookies", you agree to the storing of cookies on your device to enhance site navigation, analyze site usage, and assist in our marketing efforts.
Google Chrome
Microsoft Edge
Hop-on Hop-off Passes Hop-On Hop-Off Sightseeing Passes Liberty Cruises
Attraction Passes Attraction Pass™ 1 Day Attraction Pass™ 2 Days Attraction Pass™ 3 Days Attraction Pass™ 4 Days Attraction Pass™ 5 Days Attraction Pass™ 7 Days
Tea Around Town
North Pole Express
More Groups & Charters Maps North Pole Express Things to do in NYC Sunset & City Lights Cruises About Us Contact Us Live Map FAQ
Leave A Message
start your new york hop on hop off adventure here
Hop-on hop-off new york sightseeing bus tours.
Frequent Hop On Hop Off NYC Bus Arrivals
See the Best of NYC with One Pass
Unlimited Hop-On-Hop-Off
Buy your tickets today for the best deal - we'll see you out in the city!
To protect you and others, face covering is required for customers seating on the lower deck (indoor area).
Best Rated New York Bus Tours and Sightseeing Packages
Bus packages.
Online Deal Save 31%
Included Tours:
Hop-On Hop-Off Downtown
Hop-On Hop-Off Uptown
Statue of Liberty Cruise
Night Tour with Entertaining Host
Central Park Bike Rental
Brooklyn Tour
Museum of the City of New York
Skyscraper Museum
Harry Potter Store - Free Tankard of Butterbeer
Extra Features:
Mobile boarding
Movies & Celebrities audio channel
Many More Top New York NY Attractions incl. The Metropolitan Museum of Art
Over 1 Million Tickets Sold!
Online Deal Save 29%
Over 500,000 Tickets Sold!
Online Deal Save 32%
Online Deal Save 35%
Online Deal Save 34%
Over 100,000 Tickets Sold!
Online Deal Save 36%
Don't Miss One of Our Unique Double-deck Bus Experiences
Tea around town nyc.
Online Deal Save 26%
42nd St between 5th & 6th Ave across the street from 11 W 42nd St.
Double Decker Bus
1 hour 15 minute
Entertaining Host
Rockefeller, Grand Central, Times Square and more
Complimentary tea service
3-Tiered Menu Service
Guaranteed private seating
Live performance with narration
Online Deal Save 20%
Varies based on departure selection
Double decker with open top
1 hour 30 minute
Empire State Building, Times Square, Chrysler Building and more
Night Lights Narration & Fun Facts
Rockefeller Center & Brooklyn Bridge
Fabulous City Lights at their Brightest
Midtown, Downtown & Brooklyn
North Pole Express Enhanced Experience
42nd St btwn 5th and 6th ave, NY
Appearances by Santa & His Elves, and Express Conductor
NYC holiday lights
Golden Ticket to the North Pole
Christmas Wishes
Storytelling & Carol Singing
Hot Cocoa & Cookies
Attraction Passes
Online Deal Save 28%
Solomon R. Guggenheim Museum
Intrepid Sea, Air & Space Museum
Central Park Bike Rental & Tour
Many More incl. Walking Tours, Party Cruises
Over 500 Tickets Sold!
Online Deal Save 27%
Over 750 Tickets Sold!
See nyc from the water with our liberty cruise, statue of liberty cruises, enjoy panoramic views of the statue of liberty from our cruises, narrated by live tour guide.
Online Deal Save 57%
Online Deal Save 66%
Why Choose TopView ® ?
Experience a 360° view of nyc above the crowd.
Our tours are created by a team of local experts who know NYC inside out. We've got New York City covered: Downtown, Uptown, as well as The Night Tour–If it's worth seeing–our hop-on hop-off NYC bus tours go there!
Start Your NYC Hop-On Hop-Off Adventure Here
New York Bus City Tours and Manhattan Sightseeing Guided by Local Experts
TopView ® offers the best New York sightseeing bus tours led by local experts so you won't miss the most important attractions. On our NYC bus tours, hop on, hop off, and take time to enjoy all of the different places to visit in New York City. We have dozens of hop-on hop-off bus tour stops near all major points of interest. Our New York sightseeing bus will take you by all of the biggest NYC attractions!
5 Best Routes for Open-Top Sightseeing Bus Tours in NYC
We have five New York tours that allow you to experience the best of New York City, including two hop-on hop-off NYC bus tours, Downtown and Uptown, along with Brooklyn, and an exciting Night Tour route! While enjoying our NYC bus tours, hop on or hop off to take part in the excitement, explore the sights, and make the most of your visit. We'll make sure you hit every stop on your list of NYC attractions to see and give you plenty of Instagram-worthy views from atop our NYC sightseeing bus!
What Is There to Do in New York? Top Manhattan Attractions
Our hop-on hop-off NYC tours can take you to the top of Manhattan and back again, stopping at some of the most famous sites in New York City, NY. Here are a few examples of city locations you can see on an NYC sightseeing bus around Manhattan:
Rockefeller Center
Times Square
Empire State Building
Flatiron Building
Union Square
Washington Square Park
Battery Park
Garment District
Our New York tours and sightseeing packages include multi-day passes and 24-hour passes as well as individual hop-on hop-off and nonstop double-decker tours. We offer plenty of choices so you can customize your New York City tours any way you want, and our flexible ticketing means that you can buy your tickets online now without having to plan a set schedule: Once you book your tour or package, you'll have twelve months to exchange your online booking confirmation for a boarding ticket. And our buses run seven days a week, 365 days a year, in any kind of weather, so no matter when you choose to visit New York City, we can help you make the most of your trip. Whether you want a day trip or simply to see the city sights at nighttime, you will find a TopView ® sightseeing pass that fits your needs.
Rain or Shine Manhattan Hop-On Hop-Off Sightseeing Tours
Learn more about the history, culture, and architecture of this one-of-a-kind city with our audio narration. Our big bus tour is available in 11 languages, with free earphones provided. And this isn't the only perk we offer! Our New York tours also provide free ponchos for rainy days.
Two Million and Counting Passengers on the Best Sightseeing Double-Decker Bus Tour in NYC
No matter your travel style, an adventure with TopView Sightseeing ® will add convenience and comfort to your trip. More than two million people have already discovered why TopView ® is the best choice for Big Apple sightseeing. For the best NYC bus tours at the best prices, book with us today!
Bike Rentals and Other Popular New York City Attractions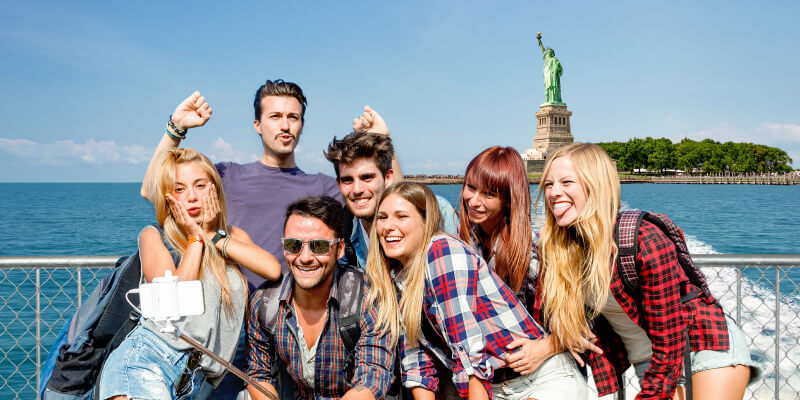 When you book our New York City tours as part of a complete All City package, we also include a 2-hour extension to any bike rental purchase, so you can cruise Central Park the way it was meant to be enjoyed, as well as free admission to the Museum of the City of New York . You can also enjoy a Liberty Cruise of New York Harbor and get close-up views of the Statue of Liberty. You know you want a selfie with Lady Liberty!
Send Us a Message
Request your quote, leave your feedback, don't hop off yet, checkout now and get 15% off your entire purchase.
Coupon code is not valid for special events
Check out now and get up to 66% off
Protect Your Trip »
The 5 Best NYC Bus Tours
Let a trained driver worry about the traffic while you enjoy the Big Apple's best sights.
(Getty Images)
As one of the largest cities in the world, New York City has so much to see and do. That's why many visitors start their trip off with a bus tour to see iconic sights and neighborhoods and get the lay of the land. To help you find the tour that's best for you, U.S. News reviewed traveler sentiment and expert input to determine the top New York bus tours. Read our suggestions below for some of the best bus tours you can book for your next trip to the City That Never Sleeps.
Big Bus Tours
Price: Adults from $80; kids from $70 Duration: 75 to 90 minutes
Big Bus New York offers a hop-on, hop-off tour that features 18 stops at major attractions like Bryant Park , Broadway and St. Patrick's Cathedral , with prerecorded commentary provided along the way. Double-decker buses frequent stops every 10 to 15 minutes on the Red Line (which runs through downtown) and every 30 minutes on uptown's Blue Line. The Essential Ticket, which is valid for one day, grants you access to the 90-minute downtown and 75-minute uptown routes and lets you add on extras like tickets for Madame Tussauds, the Empire State Building or a harbor cruise. Big Bus New York is a hit with travelers who appreciate the ability to tailor tours to their interests. Others bemoaned the overcrowded buses and long wait times.
One-day passes cost about $80 per adult and $70 per child. You can also book a Discover Ticket, which explores famous landmarks downtown, or an Explore Ticket, which is a two-day hop-on, hop-off bus tour experience. Big Bus Tours also operates a seasonal night tour.
View & Book Tickets: Viator | GetYourGuide
A Slice of Brooklyn Bus Tours – The Original Brooklyn Pizza Tour
Price: Adults from $95; kids from $85 Duration: 4.5 hours
Brooklyn has so much to see and do – and eat! The Original Brooklyn Pizza Tour, which reviewers describe as a great experience with even better pizza, lasts 4.5 hours and takes travelers throughout the borough to sample delicious slices from places like Grimaldi's and L&B Spumoni Gardens. You'll also see filming locations for movies like "Saturday Night Fever" and "Goodfellas."
Tickets, which cover lunch, cost approximately $95 for adults and $85 for children ages 12 and younger. Tours are available Friday through Monday and Wednesday at 11 a.m. A Slice of Brooklyn also leads a seasonal tour exploring Dyker Heights' Christmas lights , among other options.
View & Book Tickets: A Slice of Brooklyn Bus Tours
On Location Tours – "Sex and the City" Hotspots Tour
Price: From $66 Duration: 3 hours
Fans of Carrie, Samantha, Charlotte and Miranda can relive all their favorite "Sex and the City" moments during this New York bus tour, which features more than 40 popular locations from the show and movies. During the 3-hour tour, you'll view iconic filming locations, walk past Carrie Bradshaw's brownstone apartment, sample cupcakes from Magnolia Bakery, drink a cosmopolitan (if you wish) and shop in Greenwich Village. Plus, you'll visit stops from the reboot "And Just Like That," including Bergdorf Goodman and Chelsea Market. Reviewers peg this tour as fun and fabulous.
Tickets for the tour start at $66, but you can pay another $10 for priority seating. Participants must be 18 or older. Tours generally depart Thursday to Sunday at 2 p.m., though additional days may be available during the summer months. On Location Tours operates other filming locations tours for shows and movies, including "Gossip Girl," "The Sopranos" and "The Marvelous Mrs. Maisel," among others.
USA Guided Tours – Discover NY Tour
Price: Adults from $99; kids from $89 Duration: 6 hours
On this six-hour tour, you'll drive through some of the city's most famous neighborhoods and most-visited areas. You'll have your choice of a traditional bus or a bus with either a glass top or a convertible top. Regardless of the vehicle, enjoy the expert commentary and a history lesson from your tour guide as you cruise past Times Square, Madison Square Park, Central Park , Rockefeller Center and more. A 15-minute stroll through each of the main stops is included, as is a boat cruise that takes you to see the famous NYC skyline. Many travelers call this full-day tour fantastic and a must-do in New York.
Tours depart at 9 and 10 a.m. daily. Tickets start at $99 for adults and $89 for kids for a regular bus. Open-top and glass-top buses cost $129 per person. USA Guided Tours also offers a night tour of the Big Apple.
Hush Hip Hop Tours – Birthplace of Hip Hop
Price: Adults from $79.99; kids from $58 Duration: 3 hours
Travelers routinely praise the Birthplace of Hip Hop tour not only for its cultural lessons about Harlem, but also for the informative guides who explain the history of hip-hop music. During the three-hour tour, you'll see famous clubs, murals dedicated to artists and the Apollo Theater . Plus, you'll get to witness a dance session and show off your own moves.
Tours cost $79.99 for adults and $58 for seniors (65 and older) and kids 6 to 18. Children 5 and younger tour for free. Outings run Wednesdays at 11 a.m. and Saturdays at 11 a.m. and 2 p.m. Hush Hip Hop Tours also operates walking tours of Harlem and Brooklyn, among others.
View & Book Tickets: Viator
Interested in more New York City tours? Check out the:
Best New York City Tours
Best New York City Food Tours
Best Statue of Liberty Tours
Best New York City Boat Tours
Best New York City Walking Tours
Note: An earlier version of this article included The RIDE, which permanently ceased operations in October 2022.
Tags: Tours , Travel , Vacations , New York City , New York Vacations , Mid-Atlantic Vacations , US Vacations
World's Best Places To Visit
# 1 South Island, New Zealand
# 4 Bora Bora
If you make a purchase from our site, we may earn a commission. This does not affect the quality or independence of our editorial content.
You May Also Like
The largest cruise ships in the world.
Gwen Pratesi Nov. 17, 2023
The Best Zoos in the U.S.
Nov. 16, 2023
The Best Mississippi River Cruises
Brittany Chrusciel and Gwen Pratesi Nov. 16, 2023
Best Black Friday Luggage Deals
Amanda Norcross Nov. 16, 2023
Top All-Inclusive Cancun Family Resorts
Amanda Norcross Nov. 15, 2023
Adults-Only Resorts in Punta Cana
Sharael Kolberg Nov. 15, 2023
Cheap Caribbean All-Inclusive Resorts
Timothy J. Forster Nov. 15, 2023
Top All-Inclusive Resorts for Weddings
Holly Johnson Nov. 15, 2023
All-Inclusive Hawaii Resorts
The Best All-Inclusive Resorts for Teens
Awesome, you're subscribed!
Thanks for subscribing! Look out for your first newsletter in your inbox soon!
The best of New York for free.
Sign up for our email to enjoy New York without spending a thing (as well as some options when you're feeling flush).
Déjà vu! We already have this email. Try another?
By entering your email address you agree to our Terms of Use and Privacy Policy and consent to receive emails from Time Out about news, events, offers and partner promotions.
Love the mag?
Our newsletter hand-delivers the best bits to your inbox. Sign up to unlock our digital magazines and also receive the latest news, events, offers and partner promotions.
Things to Do
Food & Drink
Time Out Market
Attractions
Los Angeles
Get us in your inbox
🙌 Awesome, you're subscribed!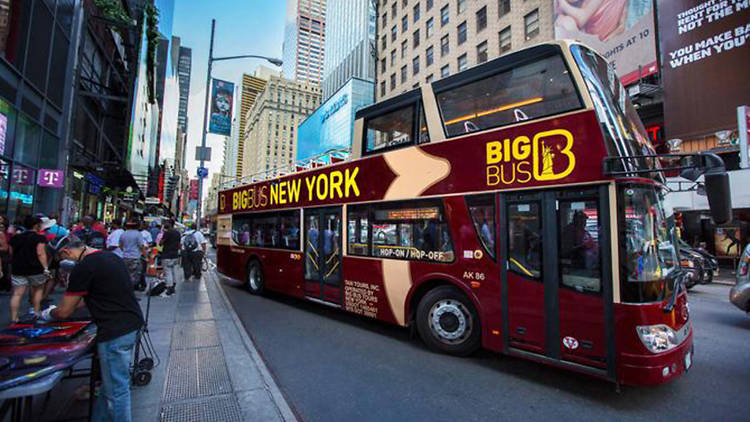 The 11 best bus tours in NYC
From the superhero film sets to a Sex and the City excursion, these are the best NYC bus tours for sightseeing
Short on time but want to take in all that NYC has to offer? Book yourself onto an NYC bus tour – these absolute crackers are a visitor's best friend. While you could take it easy on a walking tour or eat your way through NYC on a food tour, you'll see more sights in a smaller amount of time on one of these great NYC bus tours. Whether you're looking for the classic hop-on hop-off experience that stops at all the top attractions, a themed TV and movie route around popular filming locations or an excursion to the outer boroughs, we've got you covered with our guide to the best bus tours in NYC. Read on, then hop on, friends. These are fun.
RECOMMENDED: Find more New York City tours .
This article includes affiliate links. These links have no influence on our editorial content. For more information, click here .
An email you'll actually love
Best NYC bus tours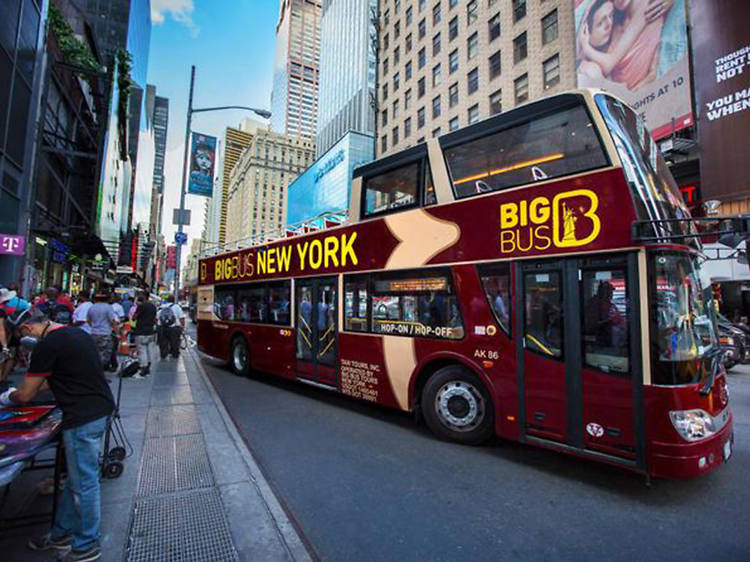 1. Big Bus New York Hop-On Hop-Off Tour
First time in the wonderful city that is New York? This comprehensive, fully narrated tour of more than 30 attractions allows you to customize your itinerary to just how you want it, boarding and leaving whenever it's convenient for you. Vouchers can be redeemed in Times Square, where the tour begins. Choose from three routes: the uptown loop, which includes Lincoln Center, Rockefeller Center and the Apollo Theatre; the Midtown loop, which stops at the Empire State Building, Madison Square Garden and United Nations Headquarters; or the downtown loop, which visits Little Italy, Chinatown and the World Trade Center. You can think of this as your passport to discovering the best of this fascinating city. Enjoy!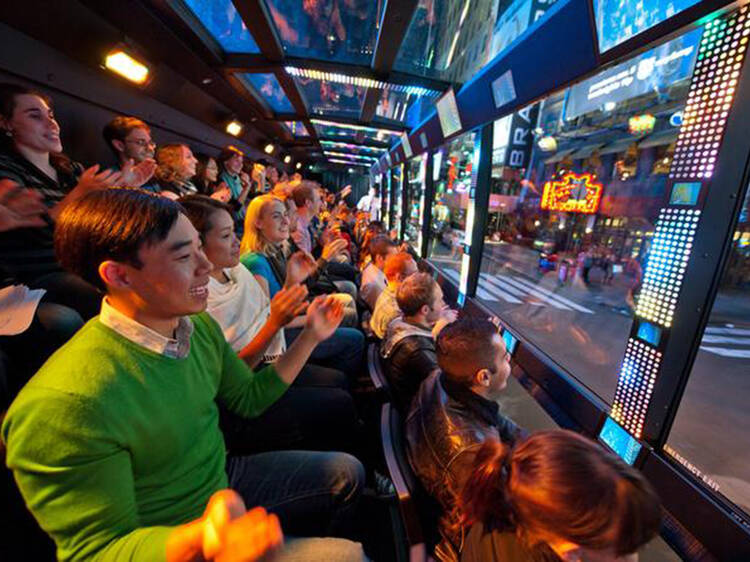 2. THE RIDE New York City
Double-decker bus tour not your thing? Ante up your bus tour game with this dynamic part-show, part-city tour. Yeah, it's as mad but as brilliant as it sounds. The $1.5-million bus (yep, you heard that right) offers outward-facing stadium seating with floor-to-ceiling glass windows. Billed as a "traveling theater," the uniquely designed bus allows riders to take photos of top attractions and interact with street performers during the 75-minute ride. It's a blast.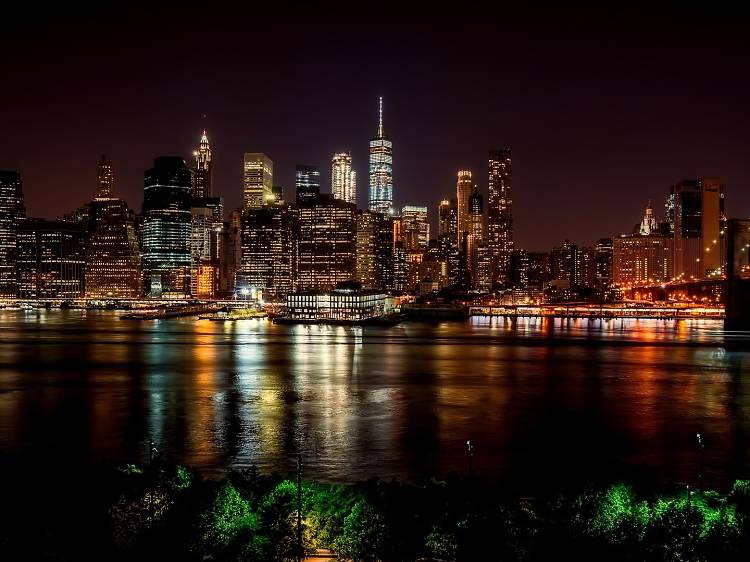 3. New York Bus Night Tour
If New York is the city that never sleeps (which it is, btw), it makes sense to experience it in all its nighttime glory. This after-hours tour starts on the west side of Manhattan, then drives past iconic and hugely popular locations like the Empire State Building, Times Square and Chinatown. Finally, the bus crosses the Brooklyn Bridge for sweeping views of the Manhattan skyline and oh boy are they are good as billed. Glorious.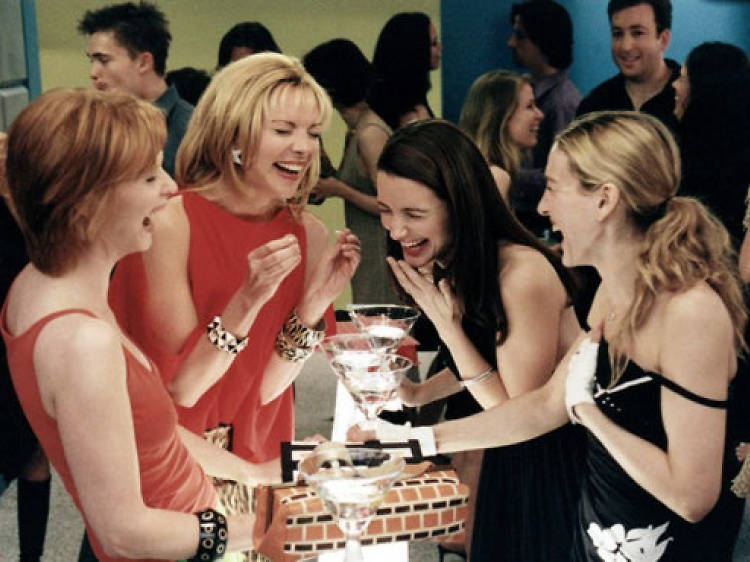 4. Sex and the City Hotspots Tour
It's back! And while this bus tour won't be able to show you all the hotspots from the new series (they don't have a crystal ball) it will be able to show you those from the original sting of the hit show. After all, Sex and the City is so synonymous with NYC that it's difficult to think of one without the other, especially for die-hard fans. So board the bus and get reacquainted with some of your favourite scenes, like Steve and Aidan's bar Scout, where you can stop to sip a Cosmo (of course) the Pleasure Chest, where Charlotte bought her 'rabbit' and, of course, Carrie's stoop. Jimmy Choos optional.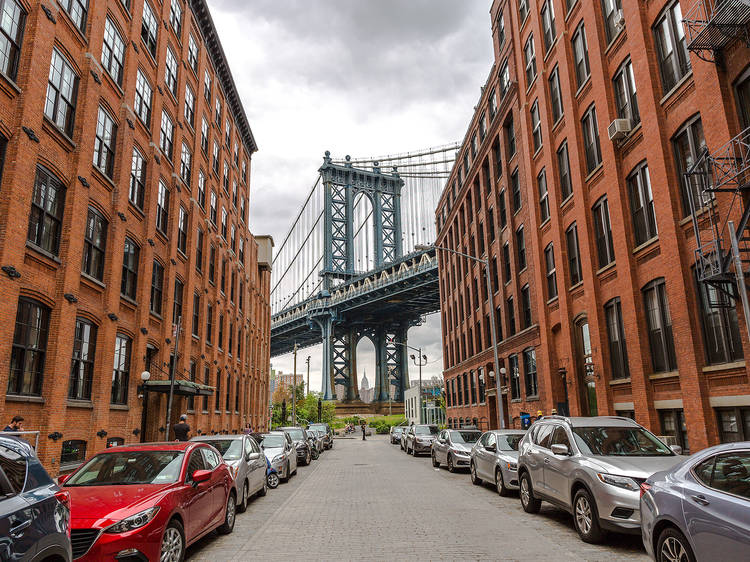 5. Brooklyn, Bronx and Queens Coach Tour
This comprehensive tour (it lasts for four-and-a-half hours) takes you through three boroughs—four if you count your departure from Manhattan. And why not? Board at Grand Central Station and drive north through the Upper East Side to Spanish Harlem and the Bronx. Check out Yankee Stadium and the Italian enclave on Arthur Avenue before crossing into Queens. You'll drive through Astoria and Long Island City before entering Brooklyn. Then, you'll head south through Greenpoint and Williamsburg with a stop at Fortunato Brothers for a cappuccino or gelato. There's just enough time left to drive over the Brooklyn Bridge for one last look at the New York City skyline. Lush.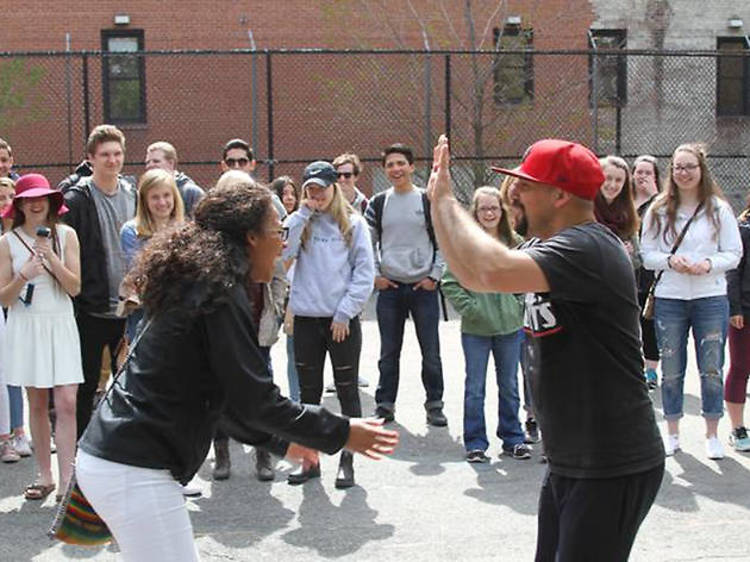 6. New York Hip Hop Tour
Like hot dogs and eggs Benedict, hip-hop was born right here in New York City. Discover the origins of the musical genre on this bus tour of Manhattan, Harlem and the Bronx. Led by a grandmaster (no, not Flash), the excursion starts at the location of the first hip-hop party in Manhattan before heading uptown to legendary spots like the Apollo Theater, the Graffiti Hall of Fame and Rucker Park. You'll even learn how to freestyle! And if you're feeling inspired, you'll have a shot to spit your own hot 16.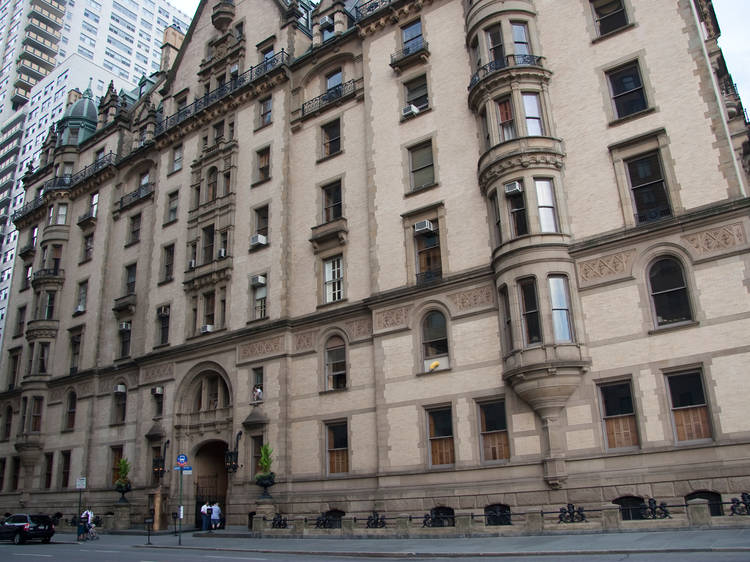 7. Superhero Film Tour of New York
From Spiderman to The Avengers, and many a superhero movie in between, New York is essentially one massive film set. See countless filming locations on this superhero film tour through New York. This is one fascinating exploration that will make you movie geeks (and non-movie geeks, to be fair) very happy indeed.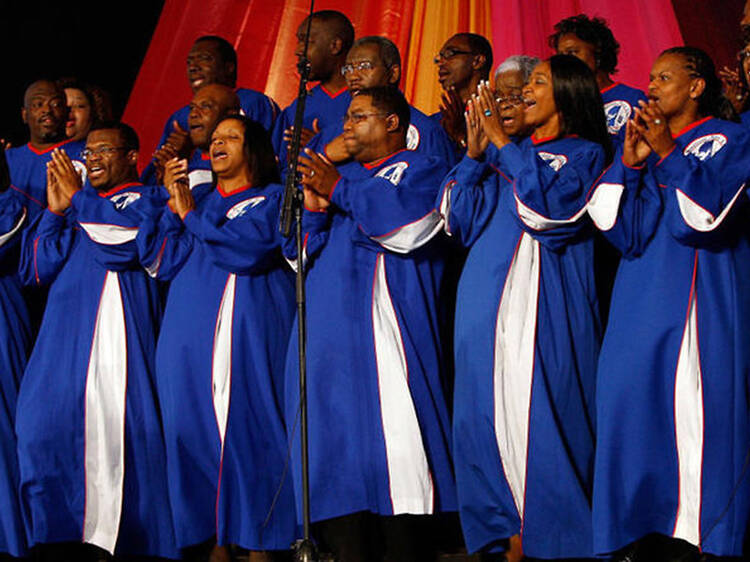 8. NYC Harlem and Gospel Tour by Bus
Explore the culture of Harlem, one of the meccas of African-American identity, on this guided tour. The tour visits both iconic and lesser-known attractions, such as Saint John the Divine, a renowned neo-Gothic church, and the Apollo Theater, where Michael Jackson once performed. The multi-sensory tour also makes stops at the soulful Sylvia's Restaurant and allows guests to participate in a Gospel mass.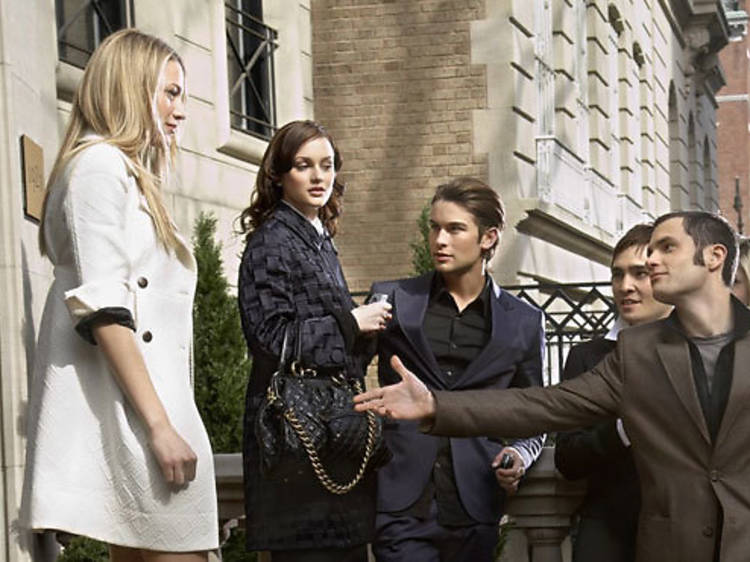 9. Gossip Girl Sites Tour
"Spotted at Grand Central, bags in hand" is the opening line of the New York-centric hit show Gossip Girl . An homage to the city and its super-elite, the show takes place across a number of memorable locations. This three-hour tour takes fans to sites including the hotel that was home to the Bass and Van der Woodsen families, the Henri Bendel store where the girls shop and of course, Blair's throne on the steps of the Metropolitan Museum of Art.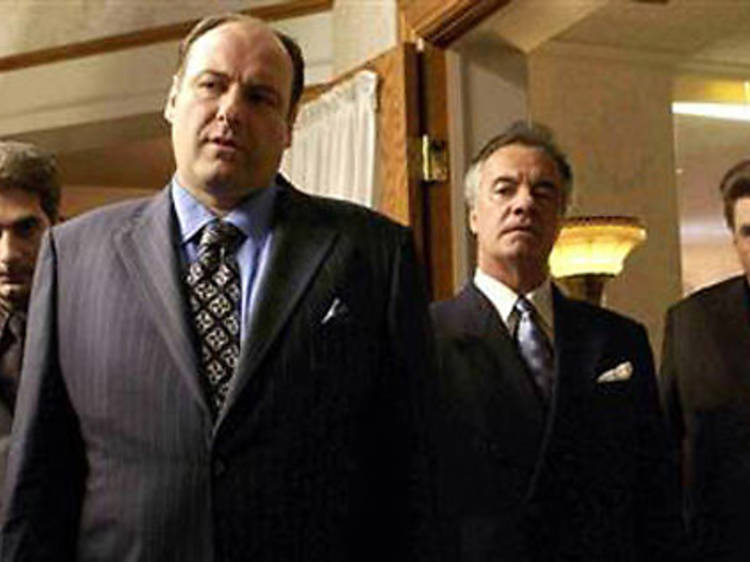 10. The Sopranos Sites Tour
Make like Tony Soprano with this Jersey-set tour visiting key locations in the Mafia-inspired HBO series. The four-hour excursion starts in Midtown Manhattan and crosses into New Jersey to pass the fictional sites of hush-hush deals and violent beat downs, including Muffler Man, Pizza Land, the Valley Landscape silo and the ramp to the Pulaski Skyway seen at the end of every episode. You'll also catch a glimpse of Satin Dolls (the Bada Bing bar).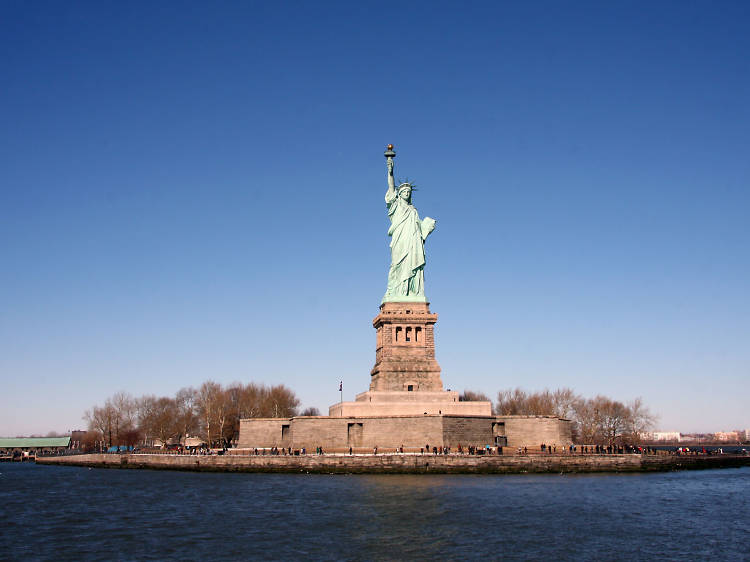 11. New York City Guided Sightseeing Tour
If you're really in a bind for time (say, one day), this guided six- or eight-hour bus tour might be your ticket to seeing it all. Both include a comprehensive tour of Manhattan from top to bottom, visiting spots such as Battery Park, Museum Mile, Central Park, Greenwich Village and Times Square. You'll also get to hop off the bus to explore historic sites like Wall Street and the South Street Seaport on guided walks. Opt for the longer tour to receive a one-hour sightseeing cruise with incredible views of the Statue of Liberty and the chance to look out over Manhattan from the Top of the Rock.
Want to see New York by bike?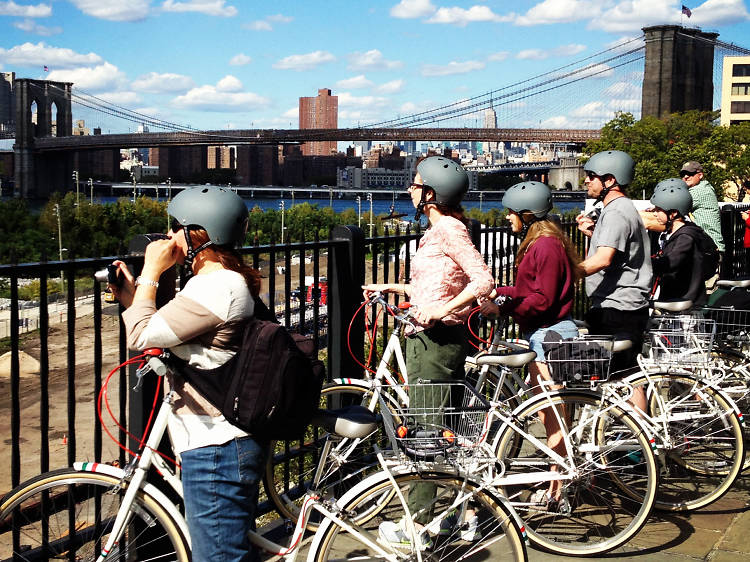 The best bike tours in NYC
Things to do
Walks and tours
From a breezy ride down the idyllic Brooklyn waterfront to a cruise through Central Park, choose the best NYC bike tour for you using our handy guide.
[image] [title]
Discover Time Out original video
Press office
Investor relations
Work for Time Out
Editorial guidelines
Privacy notice
Do not sell my information
Cookie policy
Accessibility statement
Terms of use
Copyright agent
Manage cookies
Claim your listing
Local Marketing Solutions
Advertising
Time Out products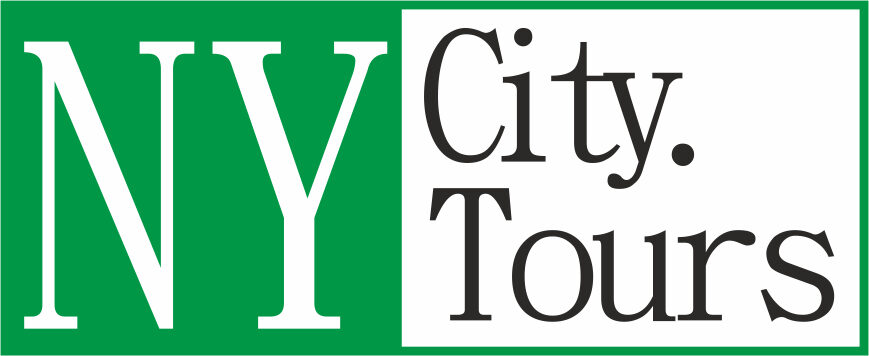 New York Bus Tour
Discover the city that doesn't sleep. Hop on and off in New York Bus Tour as many times as you like with ticket options valid for 1, 2, or 3 days.
Hop on Hop off New York Tour
Duration 1 day
English-speaking guide
Manhattan Sightseeing Bus Tour
Duration options: 6 hours
Small group
Ferry or Night and New York Bus Tour
Duration 2 hours - 3 days
Optional audio guide
Midtown Manhattan Multimedia Bus Tour
Duration 1.5 hours
Theater seating
TOP SELLING
Nyc bus tours and attractions tickets.
Duration 1 - 3 days
3 Attraction Entry
Downtown Virtual Reality Bus Tour NYC
New York City: Superhero Bus Tour
Duration 3 hours
Private group
Dyker Heights Christmas Lights Bus Tour
Duration options: 4 hours
Small group available
create your vacation destiny
New york bus tour options, hop on hop off new york tour.
How should one go about the desire of travelling through the city that never sleeps? A hop on hop off bus tour swoops in to save the day. One can explore the city and see its landmarks and monuments from Times Square, to the Empire state building. The New York bus tour consists of 40 key points of interest that take a tour through all the notes of culture, diversity, ethnicity, beautiful architecture, and picturesque views. There are three ticket options that one can available.
Them being:
Classic ticket: unlimited boarding on the Uptown Loop and the Downtown loop for a whole day.
Premium package: unlimited boarding for two days on the uptown, downtown, Brooklyn, Harlem and NYC by night, loops.
2-day deluxe package tour: unlimited boarding for two days on Uptown, Downtown, Brooklyn, Harlem, NYC by night loops, and 1-hour circle line Liberty cruise, and entry to The Empire state building. Every loop has an average duration of 1.5 hours, and the frequency and timing depend on the loops. 
This Hop on Hop off New York tour includes an English speaking guide, free Wi-Fi, recorded commentary in 10 languages, a one-hour circle line liberty cruise, entry to the Empire State building, and live bus tracking via free app. (A few depend on the kinds of options selected).
Big Bus New York, Ferry or Night Tour Options
Exploring New York could be a teeny bit more fun if availed the sightseeing bus. One could go to his or her favourite locations and explore at his own pace. There happen to be 1,2 and 3-day tickets. Uptown and downtown are two convenient options that can be boarded anytime, and also one can opt for the night tour or ferry tour to look at the city from a different perspective. 
New York's best monuments and prestigious skyscrapers can be viewed. One board has access to quite a few amenities too. 
The downtown loop has 21 stops, the uptown loop has 23 stops, and the non-stop night NYC bus tours cover Times Square north and south and the Empire state building. One through this connects to the most iconic landmarks and attractions, while also getting the brief of how the city comes together. 
The highlights of this big bus New York tour are tonnes. One discovers illuminated landmarks and basks under the brilliant lights of the city. 
The culture through Chinatown to Harlem is one worthy of praise, so is the informative tour on Big Apple history that the tour guide introduces with a certain ease. 
The major landmarks like the Empire State Building, Brooklyn Bridge, 9/11 memorial and many more are covered too. 
The open-top deck of New York City and the panoramic views of it soothe the might, instilling also an enthralling charisma. 
3-Hour Superhero NYC Bus Tours
Do you want your superhero fantasies to come to life? Do you want to interact with the way the comics portray NYC? Well, look no further! All the famous locations of your favourite superhero comic movies are here and you get a tour of them! Delve into the most filmed city in the world with a tour guide.
The adventure starts in the heart of Times Square where movies like Spiderman, Captain America, The Amazing Spiderman 2, Incredible Hulk TV series, have been filmed. One will also get to see the Chrysler building, Flatiron building, Madison square park, Lower east side, Chinatown, and the historical buildings in the Financial District.
The highlights of NYC bus tours are many. One can visit the heart of New York City that was featured in Captain America: The first avenger and The Amazing Spider-Man. 
The Statue of Liberty, from X-Men and Superman, is also one of the most popular highlights.
Adding to this list, are The Daily Planet (from Superman Franchise), Park Avenue from Avengers, City Hall, and tonnes others featured in DC and Marvel movies.
Manhattan Sightseeing Bus Tour NY
The city of New York presents the world with Manhattan. The city lets you enjoy vibrant sights, while your guide fills you in on the various stories that go with the sights. One gets to explore the various facets of the city and its various neighbourhoods. Through this, one also discovers the awe-inspiring landmarks of Rockefeller centre, Chrysler building, Empire state building, Lincoln centre, Central Park, and Fifth Avenue. 
One can also head to Greenwich Village, the artsy SoHo district, the hub-hub in the bustling streets of Chinatown, the always busy Wall street, Sidewalk cafes in little Italy, etc. In the end, one finally visits the charming Battery Park to soak in the beauty and enjoy stunning views of the Statue of Liberty- one of the icons of New York and the United States of America.
Highlights 
This tour has one enjoy the views of the Empire state building and the statue of liberty. 
This knicks in the opportunity to hear interesting stories of each neighbourhood from your expert guide. 
Also, one can visit Greenwich Village, SoHo, and Central Park.
Open-Top Night NYC Bus Tours with Live Commentary
What does one do when he wants to visit and take in all of the city that never sleeps, at night time? How should one go about this desire and how is it possible? Well, this tour comes in handy when in doubt. Accompanied by an entertaining and live tour guide, one gets to enjoy the Big Bus Night tour of NYC. 
This is a 1.5-hour ride, and through this one enjoys the absolutely beautiful Manhattan skyline, that is lit up. Also enjoyed are the stunning glow of the various attractions in this city, like the Radio City Music hall, and the empire state building. The night NYC bus tours also make their way across the river, where one gets to have a look at the marvellous lit up Skyline of Manhattan from the Brooklyn waterfront. 
The highlights of this New York bus tour include the magnificent skyline of Manhattan from Brooklyn.
One gets to learn about the city's major landmarks during the live commentary.  
The city that never sleeps is all lit up, and one gets his way into soaking it all in and becoming a part of it. 
One could also head up to the Avenue of the Americas for views of Macy's department store and radio city music hall. 
Most importantly something that one can never miss out on is the bright lights of Times Square at night. It is thoroughly beautiful.
Things to know before you go
Advantages of new york bus tour.
Why should one choose the top view?
This is because they have the most curated tours there could ever be, and their local experts know NYC inside out. Another list of reasons go as such:
Presents unlimited hop on hop off services so that the tourists can enjoy their favourite locations with much ease.
Their routes are the best to see NYC with over 40 stops near major attractions in the city.
Their 2-3 day passes include free entry to the Statue of Liberty cruise and bike rental.
It has a live map to track the bus. The only one with a live map. 
With an app, one can board the busses without any toil. No printed documents are required as an app can do it all.
One can stay connected with friends and family as there is WiFi available on the bus.
Hop on Hop off New York Routes and Timetable
Explore Downtown – Red Route Timetable  
The tour duration of this is 90 minutes with the frequency of a bus every 60 minutes. There are 10+  main locations of this tour: Empire state building, SoHo, Chinatown/ Little Italy, Brooklyn Bridge, Statue of Liberty, Circle line sightseeing, M&M World, etc. every bus features audio commentary in 10 languages that are pre-recorded. 
Explore Uptown – Blue Route Timetable
The Hop on Hop off New York tour duration is 90 minutes, while the frequency of the buses is every 2 hours.  Hop on from 7th Avenue and W 5oth St at 10 am, 12 pm, and 2 pm daily. This covers the uptown section of the city, with Times Square north being the most prominent of the stops.
Top New York's Landmarks by NYC Sightseeing Bus
There are quite a few places in New York that deserve to be awed at. A few of such places are:
The Statue of Liberty: This was France's gift to America on the centennial of the American Declaration of Independence. One could get here early for a ticket and then climb to the top to see how the city looks from up there.
American Museum of Natural history: The dinosaur collection in this library is the best and it is the largest museum of natural history in the world.
Brooklyn Bridge: The Brooklyn Bridge is extremely safe, and once a parade of 21 elephants crossed over to prove the point!
Central Park: This is a huge lush oasis in the city, and the best place to pass some time!
Chrysler Building: This is one of the most breathtaking buildings in the world. While up close, it is even more beautiful.
Empire state building: on a clear day, one can see five states from the observation deck!
Fifth Avenue: This is the most iconic store line up there ever will be!
The Metropolitan Museum of Art : This is the largest museum in the US. 
Rockefeller centre: This is where the New Yorkers come to chill and hang out. 
Wall Street: $54 billion worth of shares are exchanged here every day. One can even not be a millionaire and enjoy the sight here.
Times Square: it is definitely a sight to behold. This has the world's largest LED sign!
What's Include in Bus Tours NYC
It comes with a live guide, with audio guides that are available in ten different languages. that, and also free WiFi.
The New York bus tour includes headphones and commentary within the bus, Ferry or night tour (if option selected), Hop on hop off bus ticket (route and duration depend on option booked). The package does not include Attraction tickets.
The main icons (Brooklyn bridge, Empire state building, Times Square), Midtown, Uptown(Central park, museum mile), or a very personal customized journey.
One through this tour, can loop around New York and take a moment to awe at the beauty that it has to offer.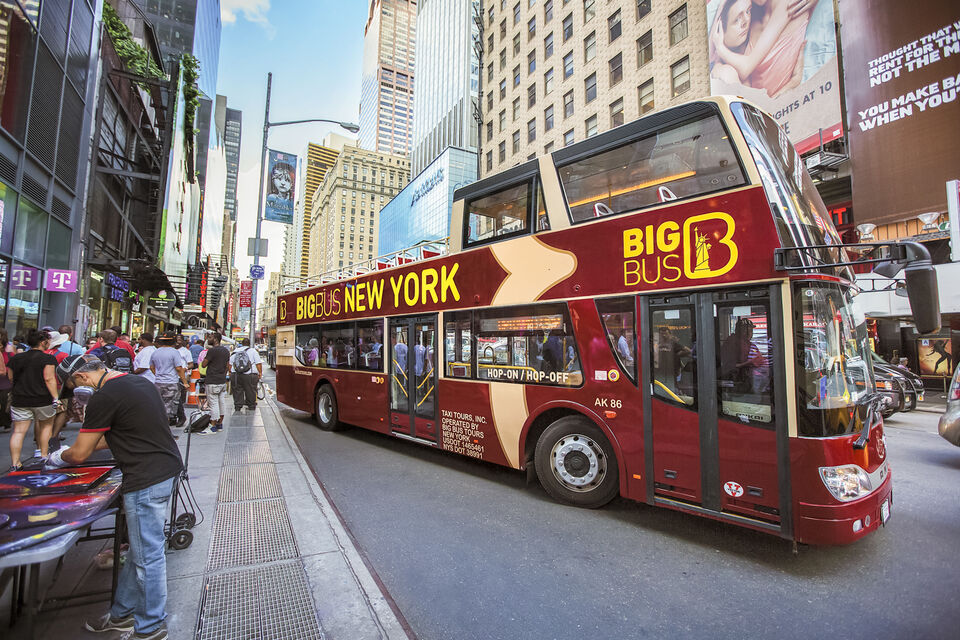 Smile and enjoy New York. take a Bus Ride of The NY City.
Discover the best of New York City by taking the Hop on Hop off tour which brings you to the most iconic attractions in NY.

Wander + Live + Create
Red Eye Bus Tour to New York City: My Experience and What You Need to Know
My sister had been mentioning a bus tour to New York City for over a year. She had heard about a local person that put tour bus trips together around the holidays and one of those trips was to New York City. Finally, in 2019, I gave in and booked a trip for both me and my sister.
Now that we've taken a red eye bus tour to New York City, I want to share my experience and what I feel that you need to know if you decide to book your own bus trip there.
This blog post may contain affiliate links (meaning I will get a small commission if you buy through my link). You won't pay any more if you use this link and this will help me to keep the rest of my content free! Read the full Disclosure here .
First off, let me be honest with you . I didn't really want to go to New York City. I wasn't excited about the trip at all really, not until basically the night we left.
My sister and I drove to the location where the tour bus would be parked. As we pulled into the parking lot, a giant bus was parked right in the middle of the lot just waiting to carry us off into the night. My sister and I loaded onto a cramped tour bus with all the other people going on the trip. We all had a few of our belongings in hand. If you want to know what I took with me on this red eye bus trip, I've made a list!
Here's a list of some of the items I brought with me for this NYC bus tour trip:
This travel pillow was what helped me get a bit rest on the bus ride! I'm so happy I brought it with me.
I carried a Small, black Vera Bradley Backpack (it ended up working out great for a day pack in NYC!)
My "Friends" Sweatshirt that is so comfy! It was perfect to wear on the bus ride. This one is very similar to mine.
These are the Duck Boots I wore and honestly, even after walking 11+ miles, my feet didn't hurt too bad in them!
This is the beanie I wore all day long. It kept my head warm and was cute at the same time!
I carried a small water bottle with me as well. Mine is similar to these . The size is great for easily carrying in a small pack all day.
I wanted a little protection as well so I carried pepper spray too.
This portable phone charger was a lifesaver! I have an older iPhone and I had to charge it about 4 times. I got a good 3 charges out it before having to use my sisters.
Now, that you know what I brought with me for this red eye bus trip, I want to share what the bus ride to New York City was really like.
The Bus Ride to New York City
It. Was. Awful.
Okay, so I'm being a little dramatic but the bus ride did suck. There were over 50 people (mostly women) on the bus and we all had a few things that we had packed for the trip. We were crammed in the bus. Finally, after packing some of our things into the overhead compartments, we all settled down and was ready to head to New York City.
The lady over the bus trip had put together an itinerary of our trip, which was a nice bit of information to have handy. After handing out the itinerary and making sure everyone was onboard, we were off to New York!
I Had a Plan
Now, this bus trip is a red eye trip, meaning that we were riding throughout the night to our destination. So, me being the organized and prepared person that I try to be, had a plan. Since I knew our bus wouldn't leave until around 10pm that night, I decided that I would wake up early on the day we were to depart. I would go all day so that by the time I sat down on the bus, I would be ready to sleep through the night.
Oh, how my plan didn't work.
You see, I don't remember the last time I tried to sleep on a bus but it's not easy. I did make sure I brought a travel pillow , you know, the ones that are u-shaped and support your neck and make you look funny. Well, that is one item that definitely helped me rest on the bus. Notice I said "rest", not sleep. No, I didn't sleep a bit. For the nine plus hours that we rode on the bus to New York City, I didn't sleep AT ALL . And I don't think anyone else did either.
An Important Stop
I'm not sure if it was the excitement of going somewhere new and fun or that, for most people, it's hard to sleep sitting up. Whatever the reason, I know that we were all running on empty. We did stop at a few gas stations along the way and we ate a Cracker Barrel in New Jersey at 5:30am that morning so that helped to keep us going.
After we ate our breakfast at the Cracker Barrel, everyone had the same idea: refresh and change for New York City!
Now, I'll mention again, most of the people on this bus trip were women and we all wanted to look nice for our day in the city. So, when I walked into that Cracker Barrel restroom, I saw hair and clothes flying. There were women crowded in front of the mirror freshening up their makeup and brushing their hair all in this tiny area. I quickly made my way to a bathroom stall, changed, and bolted out the door. I wanted to do my makeup but there was no way I was fighting for a spot in front of the bathroom mirror. Instead, my sister and I got a little creative.
We found a mirror in the gift shopping area of the Cracker Barrel and whipped out our makeup and hair brushes and got ready there! In about five minutes, our hair and face were done and we were ready to hop back on the bus and get to New York City.
So, my advice to you, if you do a red eye bus tour, is to wear comfy clothes on the bus and then change during one of the stops that I'm sure the bus will make along the way. I'm glad I did this because I did not want to try to sleep in jeans or wear the same clothing for 36 hours. Do your hair and makeup at one of the stops as well. It's simply too cramped on the bus to do much besides sit there.
I Finally Made it to New York City!
After a few more hours on the bus, the sun rose and we were approaching New York City!
By the time we made it to New York City however, I had been up for 24 hours . There was no way I could keep going. I just knew I would be too tired to really do much in the city.
I was wrong.
New York City has an energy about it that just keeps you going and I believe that's what kept my sister and I going all day long. And wow, did we go!
Must See All The Things!
When you step off the bus, you're on your own , at least, that's how it worked for this bus trip. My sister and I decided to get with a small group of ladies though, when we left the bus. One of the ladies in the group had been to New York City before and we felt safer going with someone who know where and how to go.
With the group, I rode the subway…for the first time ever! That was how we went to see the 9/11 Memorial. Then, we all went to Chinatown and to Little Italy. We then rode the subway back to Times Square.
Although we had fun with the group of ladies that we were with, my sister and I eventually felt comfortable enough to go on our own. So, once we were back and to Times Square, my sister and I decided to separate from the group and do our own thing.
We didn't want to do a lot of shopping because we didn't want to spend a lot of money or carry a lot of things around all day. I mean, of course, I had to buy an "I Love NYC" t-shirt and a souvenir mug but that was basically it. Instead we just saw as much of New York City as possible in 12 hours!
After experiencing Times Square, we made our way to Central Park.
We then walked some more and ended up getting to look around at Tiffany and Co., went into Trump Towers, and saw the Empire State Building.
We also looked around inside of St. Patrick's Cathedral. My sister and I even went to Grand Central Station, explored Rockefeller Center, and more!
All in just in one day!
Time to Go Home
Finally, it was time to meet back at the location where the bus would be picking us up that night. Slowly, those who had went their own ways or with other small groups all gathered together to wait on the bus. The driver eventually showed up (late) and we all quickly piled into the bus and were headed back to Virginia. We made a few more stops this time and I was able to change back into some comfy clothes for the bus ride home.
By the time I made it back onto the bus to go home, I had been up for about 40 hours! Finally, for the first time since Thursday night (it was Saturday night/early Sunday morning), I slept. It was on the bus, but I slept, at least for a few hours.
Thoughts About New York City
This one bus trip changed my mind about New York City.
I had never really cared if I went to New York City. And even after booking the red eye bus tour there, I still wasn't that thrilled about the thought of being in New York City. The people were going to be rude. I just knew it. I thought I would be overwhelmed by the tall buildings, people everywhere, and all of the traffic. How could a small-town girl that had never been in a huge city like New York ever feel comfortable there?
Sometimes that picture you've created in your mind is inaccurate. And sometimes what you keep telling yourself isn't true. Before you can really understand a place, you have to experience it firsthand. And I'm so glad I experienced New York City, despite the pictures I had painted in my head of it and what I thought the people would be like.
New York City is full of chaos, it's true. However, I quickly learned to just embrace that chaotic lifestyle the day I visited and I actually enjoyed it. Oddly enough, I also quickly learned to go with the flow, literally. You have to go with flow of the people or you get run over!
Jokes aside, I was too quick to judge New York and the people who call it home.
The people who live there were nice to us. They helped us when we were lost or didn't know what to do. I mean, we were tourists in their city and definitely stuck out but the locals knew that and were willing to help us out anyways. Quick shout out to the random girl in the subway and to Angel, from Brooklyn, for helping me with my metro card and for helping us navigate the New York City subway system!
Aside from them helping us, we also danced with New Yorkers on the street and bought food from the locals and they were all friendly to us. So, I was too quick to judge New York City and its people and now I know the truth.
What started out as a trip I wasn't thrilled about ended up being one of the most memorable and favorite trips of my life. And now I want to go back to New York City so badly!
Now that you've read about my experience with a red eye tour bus trip to New York City, I hope you've learned a few things from it. However, I want to give you a few last tips for your red eye bus trip in case you want to know more.
A Few More Tips:
Check out the items on my list above to see what to bring with you
Wear comfy clothes on the bus
Bring extra clothes for the actual day
Don't pack too much. It's just one day!
Fix your hair and makeup during one of the buses stops
Don't shop a lot unless you don't mind carrying bags all day
It can be hard to find a restroom while in New York City. There's one at the Old Navy in Times Square! Go to the back of the second floor and they'll let you in.
There is also benches and large windows in that Old Navy so you can rest and people watch at the same time.
Rest when you need to.
There's a light show on the building at Sak's Fifth Avenue at night during the holiday season. Don't miss it!
Be smart and keep up with your money while in the city.
Don't be afraid to ask a local for help. The New Yorkers we came into contact with, were friendly!
Did you enjoy this blog post? If so, consider subscribing to my email list so you can stay up to date on the latest from brianadayle.com and receive exclusive freebies delivered right to your inbox! Plus, get the packing list shown below for FREE when you subscribe today!
2 Comments on Red Eye Bus Tour to New York City: My Experience and What You Need to Know
In December what is the schedule from Zanesville to New York City?
This was a private tour out of Virginia. I'm not sure of other bus tour schedules, but I'm sure there is one near you. If you end up going, have a wonderful time!
Leave a Reply Cancel reply
Your email address will not be published. Required fields are marked *

Enjoy this blog? Please spread the word :)

This website uses cookies to improve your browsing experience and analyze the use of the website. Learn More
Which New York Bus Tours Are Best?
This post reviews and compares the various bus tour options available to you in NYC, including hop-on-hop-off, fully guided, themed, and night tours.
If you are like many visitors, you are struggling to decide which of the many bus tour companies to choose, or if to choose one at all.
There are hop-on-hop-off buses, fully-guided bus tours, themed tours, night tours, and the list goes on.
Well, we are here to help make sense of it all.
In this post, we explain the pros and cons of each option and compare the different options.
We are a group of local tour guides, and many of us lead or have led tours on the city's buses, so we know a thing or two about them.
These are two questions that we locals get asked all of the time, and the following tips come from our own experiences.
And we also got inspiration from the contributions of the roughly 200k members of our popular NYC Travel Tips Facebook group.
Our group consists of locals, like our guides, veteran visitors to NYC, as well as newbies.
There's no need to become a member to read the posts, comments, and recommendations, so check us out once you finish reading this post.
So, without further ado, let's get moving.
Double Decker Bus Hop-on-Hop-Off
Fully Guided Bus Tours
Movie + Themed Bus Tours
Night Bus Tours
Combo Discount Passes
Brooklyn Bus Tours
NEW YORK HOP ON HOP OFF SIGHTSEEING BUS TOURS
Traditional hop-on-hop-off bus companies provide transport to major sites all over the city, which can be appealing if the New York subway system seems daunting.
Typically guests purchase 1, 2, or 3-day access passes and can then get on/off the bus at any of the company's designated stops at any time, or they get tickets through a tourist discount pass .
Most multiple-day tickets include a night tour and a boat cruise as well as discount coupons.
Prices for these combination tickets are sometimes too good to pass up.
All offer audio headsets with commentary in multiple languages.
Unfortunately, no hop-on-hop-off company offers live tour guides at this time. For live guides, check out the next section .
The market is very competitive with companies outdoing each other's prices regularly.
Be sure to check for any deals by clicking the links.
However, there is no information provided when off the bus, and commentary on board occasionally consists of a recording.
For that reason, these tours are best for those looking for an informational shuttle service between attractions rather than detailed information about the city.
Leave the detailed touring to our pay-what-you-wish walking tours or to our audio tours , many of which start and end near popular bus stops.
Likewise, during the busy season, guests may have to wait for multiple buses to pass through a stop as seat availability is not guaranteed.
Also, keep in mind that though bus tours guarantee easy transportation around the city, they are not always the quickest as all bus tours are subject to NYC traffic!
BIG BUS TOURS
If we were ranking these buses, Big Bus would be at the top of the list.
Big Bus Tours consist of 35+ stops around New York City on 5 routes, including Downtown, Uptown, and Midtown Manhattan routes, Harlem Routes, and one route in Brooklyn ( see map detail ).  
You can also download their app, which has maps to help you plan your route.
Guests listen to an audio recording in one of 10 languages while on the bus and they are free to wander around on their own at each stop.
They also offer a night tour , which is not a hop-on-hop-off tour as well as combo packages .
All of the Big Bus routes are included for free with the Sightseeing Pass , GoCity Explorer Pass , and the New York Pass .
UPDATE: Big Bus has actually added a new feature for kids: Peppa Pig ears!
All children who climb onboard will receive a pair of Peppa Pig ears to wear and an activity sheet.
There is also an audio commentary channel just for kids which focuses on the history of this character and includes music from the latest album.
Big Bus Tickets
Here are just a few of their most popular tickets. Prices are for tickets purchased online. It's slightly more expensive on-site.
Classic Ticket 1 Day
1 Day Hop-on, Hop-off w/ 2 extensive routes
Price: $60/Adults | $50/Children
Learn more and/or purchase tickets here .
Premium Ticket 2 Day
2-Day Hop-on, Hop-off Tour w/ 2 extensive routes
The ticket includes 50% on a 2-hour bike rental.
Price: $80/Adults | $70/Children
Deluxe Ticket 3 Day
3-Day Hop-on, Hop-off Tour w/ 2 extensive routes
The ticket includes a 2-hour bike rental
Price: $100/Adults | $90/Children
Downtown Tour 1 Day
1-Day Hop-on, Hop-off Tour covering Downtown route
Price: $50 per person
Uptown Tour 1 Day
1-Day Hop-on, Hop-off Tour covering the Uptown route
TIP: Save an additional 5% off tickets by using Tiqets !
Big Bus also offers even more combinations where you can add on attractions (see below ), which could include access to the Empire State Building, Madame Tussauds, and much more.
Be sure to read our post comparing all the different tourist pass options in NYC .
Review of Big Bus New York
Big Bus is the best-reviewed hop-on-hop-off bus tour in NYC and the company regards itself as the premium hop-on-hop-off bus service in New York City.
This company sports an overall 4 out of 5-star rating on TripAdvisor and Get Your Guide. Reading their reviews will help set proper expectations.
Most negative comments focus on the amount of time that it can take to get onto a bus and the audio systems not working properly. Negative reviews are more likely in high seasons.
Even those who didn't enjoy their experience typically reported that this bus service was worth considering.
CITYSIGHTSEEING NYC BUS TOURS
CitySightseeing NYC offers a similar open-top, double-decker hop-on-hop-off service as Big Bus.
They also offer combo packages .
Like Big Bus, CitySightseeing is a global company and you most likely have seen their red double-decker buses in other cities.
Reviews of CitySightseeing NYC
When it comes to their hop-on-hop-off service, the reviews are mixed.
CitySightseeing has earned an overall rating of 3 ½ out of 5 stars.
As with most bus services in New York, the negative comments focused mostly on long wait times and audio systems not working properly.
Those who were pleased with their experience reported that the bus drivers/guides were both helpful and knowledgeable.
( NOTE - there are no longer live tour guides).  
Previous guests have complained about experiencing a lot of pressure to tip the guide/driver at each stop.
So, either be prepared to ignore these pleas or carry $1 bills to distribute at each stop.
Downtown Tour (Midtown south to the Financial District)
Uptown Tour (Midtown north to Harlem)
Brooklyn Tour (Currently unavailable)
Bronx Tour (Currently unavailable)
Night Tour/Holiday Lights (Currently unavailable)
Downtown: $59/Adults | $49/Children
Learn more and/or purchase tickets here .
NOTE: Get 15% off all CitySightseeing bus tours and packages with promo code FREETOURS15 .
TopView NYC
This is a relatively new company offering hop-on-hop-off bus tours, but they're definitely giving the competition a run for their money.
Not only are their prices much cheaper, but they also offer a lot of additional activities and attractions for free with each ticket.
In addition to their main Downtown tour, they also provide hop-on-hop-off routes of Uptown & Harlem, Brooklyn, and even a Night tour.
Depending on which ticket option you choose, you can also get access to a Statue of Liberty Cruise, a Central Park Bike Rental, and the Museum of the City of New York.
This hop-on-hop-off bus tour ticket can be used at anytime within 6 months of the original purchase date.
That means you are free to buy tickets when they are on sale and wait until you actually plan to visit NYC to use them.
Reviews of TopView NYC
Ratings for this company have suffered in recent years.
While some of this might be due to issues that all companies had during the pandemic, there is no mistaking the fact that their reviews are not very good anymore.
TopView has an overall rating of 3 out of 5 stars , and most guests feel that they don't provide accurate instructions on how to use their service.
Whatever is going on behind the scenes, one thing is for sure: many reviewers are displeased with this company.
Their prices might be some of the lowest in NYC, but sometimes when it seems too good to be true, it actually is.
Same Day Pass
24-hour Hop-on-Hop-off Downtown Bus Tour
Uptown & Harlem Tour
2-Hour Central Park Bike Rental
Museum of the City of New York
$35.50 per person
Purchase tickets or learn more .
All City Pass (2-Day)
48-Hour Hop-on-Hop-off Downtown Bus Tour
Brooklyn Tour
Statue of Liberty Cruise
$55/Adults | $21/Kids
All City Pass (3-Day)
72-Hour Hop-on-Hop-off Downtown Bus Tour
$65/Adults | $28/Kids
All City Pass (5-Day)
120-Hour Hop-on-Hop-off Downtown Bus Tour
$75/Adults | $37/Kids
TIP: We highly recommend choosing a more reliable and better-rated service, but if you're really looking to save some money, this is definitely the most affordable hop-on hop-off bus tour currently available in NYC.
HOP ON HOP OFF WITH A TOUR GUIDE
As a company that primarily offers walking tours, we prefer these types of bus tours as they include all the benefits of a bus tour without most of the cons!
The guide accompanies you on and off of the bus at each stop so you get detailed information about all the major sites, rather than just wandering around on your own.
You are also with the same bus, driver, and guide for the entire duration of the tour, so you never have to worry about getting a seat and are able to enjoy the tour in a more intimate setting.
These are premium tours run in climate-controlled buses, therefore they are more expensive than the traditional hop-on-hop-off variety.
However, you will see a lot more, more in-depth, in a much shorter amount of time.
USA GUIDED TOURS
Visiting New York can be an exciting and bewildering experience.
If you're looking for a nice overview of the entire city, you might want to consider the NYC Day Bus Tour .
In addition to a fully guided trip throughout the Big Apple, you'll also enjoy a walking tour and usually also a boat cruise (Apr 1 till Dec 31) around Manhattan.
The full trip will take roughly 5 hours to complete and you will see a lot of significant landmarks along the way.
Your tour guides hop off at each stop to help show you around!
Available daily from 10 AM – 3 PM.
TIP: If you are planning on visiting Washington, DC, you will get 30% off the Discover DC Tour (normally $69) if you purchase it at the same time as your Discover DC Tour.
You will need to call USA Guided Tours to confirm your NYC tour date.
$99 for Adults
$89 for Children
$10 off for members of the Military
Duration: 5 hours
More info or to book online .
Reviews for USA Guided Tours NYC
All of the reviews for USA Guided Tours are positive.
With a full 5-star rating on TripAdvisor and Viator, it's safe to say that this is one of the highest-rated tour companies in NYC ( read the reviews ).
One happy customer went so far as to exclaim that this is a must for any first-timers in New York. This seems to be a common sentiment, as several visitors left similarly positive comments.
ONBOARD NYC
NOTE: This tour is currently unavailable as of April 2022.
OnBoard offers both day and nighttime tours, including an 8-hour Premium See-It-All Tour, which covers the length of Manhattan and comprises a visit past or to the Statue of Liberty.
Cost : $69.99 and up depending on type/length of tour and which day of the week
Duration : Tours vary from 3.5-8 hours
Tour with Staten Island Ferry Ride
Tour with a ticket to the Statue of Liberty
Reviews of OnBoard NYC Tours
Reviews for this company are very good, resulting in an overall 4 ½ star rating on TripAdvisor and Viator ( read the reviews ).
Some went so far as to indicate that they visited locations you wouldn't typically see on a tour of New York City.
SPECIALTY AND THEMED BUS TOURS
NYC Street Theater
Movie and TV Tours
Scott's Pizza Tour
Hip Hop Tours
Kenny Kramer's Seinfeld Tour
The Ride is Broadway on a bus!
A totally unique experience that, according to their website is "equal parts theatrical show and immersive tour."
It's designed to be fun and entertaining, with street performers scattered throughout the tour route.
The information about the city is rather limited and the route is confined to the area around Times Square, so guests looking for a comprehensive city tour should take a look at "The Tour" or look elsewhere.
Tickets and Reviews of The Ride
This service has received an overall rating of 4 out of 5 stars on TripAdvisor and Get Your Guide ( read the reviews ).
Most guests enjoyed their experience on The Ride, but some have said that the quality of this tour has decreased over time.
It would appear that this trip does not appeal to all audiences, but it's worth noting that hundreds of customers have left positive feedback about their adventures.
If you're looking for something a bit different, many passengers have suggested that this is one of the most original and unique bus tours in New York!
Price: $79 per person
Duration : 75 minutes
Free cancellation up to 24 hours before tour time.
Purchase tickets here .
TIP: The Ride is free for those who purchase the New York Pass or the Explorer Pass .
Read our post comparing NYC tourist discount passes .
This fun and educational trip actually comes from the company that brought you The Ride.
The Tour is less about the performance (there are no singers or dancers along the route) than it is about the city itself.
Clocking in at 15 minutes longer than The Ride, this service is more affordable and it covers a slightly larger area.
TIP: Both the RIDE and the TOUR are free for those who purchase the New York Pass or the Explorer Pass .
Reviews of The Tour
Much like the other services from this company, The Tour has an overall 4 out of 5-stars rating on TripAdvisor.
There are a few negative comments, but the overwhelming majority of their ratings are positive.
Some passengers suggest that this is a great option for anyone who might be short on time, while others say it's the best tour they've ever taken.
Several of the negative reviews indicate that they were expecting the same experience that is offered on The Ride, but that simply isn't the case.
Please make sure to select the right bus tour from this company in order to avoid any confusion.
Cost: $39 per person
Duration: 90 minutes
ON LOCATION TOURS
If you're a major movie buff, then this is the tour for you!
On Location Tours specialize in showing guests where all their favorite movies and TV shows were filmed.
Some of their most popular tours include:
NYC TV & Movie Tour
Sex and the City Hotspots Tour
Gossip Girl Sites Tour
Sopranos Sites Tour
TCM Classic Film Tour
When Harry Met Seinfeld Tour
Marvelous Mrs. Maisel Sites Tour
Superhero Film Locations Tour
Manhattan TV & Movie Sites Tour
East Village TV & Movie Sites Walking Tour
and the Central Park TV & Movie Sites Walking Tour .
Guides also pepper the tours with history about the different neighborhoods you drive through.
Reviews of On Location NYC Tours
With a 4 ½ out of 5-star rating and over 1,500 positive reviews on TripAdvisor and Get Your Guide, it's safe to say that On Location Tours has impressed a lot of customers.
That being said, about 10% of their reviews are from unhappy passengers, who complain that the tour wasn't as long as they were promised, while others simply found it uninteresting.
Although these comments may be troubling, it's worth remembering that there are ten times as many people who absolutely loved their experience with this company.
Several guests recommend this tour for film buffs of all ages, stating that it is both informative and fun for movie lovers.
Cost: Varies with tours, but most are between $30-$70.
Duration: Tour times vary, but most run between 2-4 hours
HUSH HIP-HOP TOURS
Whether you are looking to bust a move or bust a rhyme, Hush Hip Hop Tours have the perfect tour for fans of the genre.
They claim to be the only hip-hop tour company in the world with pioneers of hip-hop, DJs, and professional break-dancers leading its tours.
As you travel from one location to the next, some of the people who helped make the movement possible will explain how this art form was born in the streets of NYC.
Their tours will take you to Harlem, the Bronx, and Brooklyn.
Reviews of Hush Hip Hop Tours
This may be one of the highest rated experiences on the list, as Hush Hip Hop Tours have earned an overall 5 out of 5-stars rating from most
An overwhelming majority of customers have reported that their trip around New York was not only memorable but historically accurate as well.
Some have even said that this tour is great for all audiences, suggesting that you need not be a fan of hip-hop to learn a lot about the city while on your trip.
There are only a handful of negative comments, and few of them seem to have anything in common that would suggest any major issues with their service.
More information or to book .
Free cancellation with 24 hours notice.
TIP: Hush tours are also available for free with The Sightseeing Pass .
SCOTT'S PIZZA TOUR
Scott's Pizza Tours are the premier pizza tours of New York City.
Scott's offerings are primarily walking tours. However, on Sundays, Scott offers a pizza bus tour that reaches the outer boroughs of NYC.
$79 per person
Duration: 4.5 hours
Includes stops at 4 pizzerias
Proof of vaccination is required
Stops change weekly
Reviews of Scott's Pizza Tours
Everyone loves pizza, and according to reviewers on TripAdvisor, learning about the dish can be pretty fun.
An overwhelming majority of the reviews for their bus tour are positive.
This tour apparently takes place on a yellow school bus, so it might not be the most comfortable seating you'll ever experience.
That being said, almost everyone who has experienced the trip has had an absolute blast.
Positive reviews suggest that the entire journey is entertaining, and you'll even have the opportunity to eat a few slices!
Scott also offers pizza walking tours, including:
Greenwich Village Pizza Walk
Crosstown Pizza Walk
Lower East Side Pizza Walk
Brooklyn Pizza Walk
KENNY KRAMER'S SEINFELD TOUR
Fans of Seinfeld will definitely want to consider taking this tour.
According to Larry David, Kenny Kramer was the actual person who inspired the hilarious character of Cosmo Kramer.
Believe it or not, Kenny still lives in New York and he provides a fabulous tour of the city to give fans a better idea of what life was like for the people that inspired the characters in everyone's favorite show about nothing.
Visit a lot of the locations you've seen in the series and hear about the creation of this concept from Kramer himself!
With the exception of just one negative review, every rating on TripAdvisor is positive.
Some fans report waiting years to take a tour with Kenny only to have their expectations exceeded in the end.
According to many reviewers, this might be one of the more entertaining bus tours in the city, and it's perfect for any fan of Seinfeld.
Cost: $47.50 (plus $2 service charge)
Available Saturdays at 12 PM
Duration: 2-3 hours
DO-IT-YOURSELF NYC BUS TOUR
If all of the above sounds out of your price range, then you could always take advantage of the public bus system and tour around the city on your own!
The New York Times published a great article a few years back about the best bus lines and routes to see all the major sites in the city.
For under $10, the public bus system offers visitors a great way to explore the city on their own for a minimal cost.
Don't forget that you can also take our free walking tours in combination with this option.
Another option is to download our audio tour app and use it for the neighborhoods that take the bus or subway to get to.
COMBINE BUS, BOAT, HELICOPTER TOURS AND MORE
If you are interested in taking both a boat and bus tour while visiting New York, it's often cheapest to purchase those two tickets as part of a combo deal.
Many companies offer a variety of combinations, including helicopter tours and museums tickets as well.
Child prices are even less, but they vary. Click the company links for more details.
Be sure to also read our post comparing the various tourist discount passes , such as the New York Pass, CityPass and the Explorer Pass, which may be even a better fit for you.
All passes include some form of bus tour.
In addition to their hop-on hop-off bus tours, this company also offers a variety of additional activities you can combine with their tours to save money.
These combo packages include tickets to some of the most popular attractions in New York City, so there's a pretty good chance you're already planning to see them anyways.
Classic Ticket + Empire State Building
$81/Adults | $71/Children
Purchase combo tickets here .
Classic Ticket + Madame Tussauds
$69/Adults | $59/Children
Classic Ticket + Circle Line Liberty Cruise
$70/Adults | $60/Children
Classic Ticket + Statue of Liberty & Ellis Island
Downtown Loop + Statue of Liberty & Ellis Island
Classic Ticket + Empire State Building + Liberty Cruise
$95/Adults | $85/Children
Classic Ticket + 9/11 Memorial Museum
$79/Adults | $69/Children
Classic Ticket + Empire State Building + Statue of Liberty
$109/Adults | $99/Children
Some of these deals are better than others, and in the case of packages which include the Statue of Liberty or 9/11 Memorial Museum , we recommend reading more about these to find out if you can get tickets for even cheaper another way.
It's also worth noting that most of these attractions are also included alongside the Big Bus tours with the New York Pass , the New York Sightseeing Pass or the Explorer Pass .
CITY SIGHTS
City Sights also offers a number of different combo packages at a discounted rate. Use the coupon code SAVE10 to get an extra 10% off each package.
Big Bus Classic Tour + 1 Attraction
24-Hour Hop-on Hop-off Bus Tour
Both Downtown and Uptown Loops
Empire State Building
Top of the Rock
Intrepid, Sea, Air, and Space Museum
The Metropolitan Museum of Art
Madame Tussauds
9/11 Tribute Museum
New York Historical Society
The Cloisters Museum
Central Park Sightseeing Guided Bike Tour
Central Park Sightseeing Walking Tour
$75/Adults | $65/Children
Purchase this combo deal .
Big Bus Classic Tour + 3 Attractions
$129/Adults | $119/Children
The Sightseeing Pass
NYC Bus Tour for 1-10 days
One World Observatory
9/11 Memorial & Museum
Night Bus Tour
American Museum of Natural History
Metropolitan Museum of Art
Guggenheim Museum
Statue of Liberty and Ellis Island
On Location Tours - When Harry Met Seinfeld
Prices from $139/Adults | $129/Children
New York Tour Shuttle
This bus tour is perfect for those who only have a limited amount of time in New York.
Over the course of 9 hours, you'll see several different landmarks and enjoy access to sites such as the Statue of Liberty and the Empire State Building.
Additionally, you'll also make a special stop in Little Italy for lunch.
Needless to say, this is a fairly comprehensive day trip which covers most of the bases in NYC.
Tickets are a bit expensive, but ratings indicate that the service may be worth its higher price tag.
Ticket Prices: $99 per person
Duration: 5 hours 30 minutes
Availability: Thursday – Monday at 9:00 AM
Click Here to get your tickets
Statue of Liberty (w/ access to the Pedestal)
Wall Street Walking Tour
St. Patrick's Cathedral
Little Italy
Reviews for this service are quite good, as a majority of customers have given the trip a 5-star rating.
Several visitors mentioned their tour guides by name, indicating that they were very friendly and provided a lot of useful information about the city.
Although they enjoyed the experience, some reviewers felt it important to note that you will need a lot of stamina for this all day outing..
If you are interested in day trips such as this, consider checking out our comparison of NYC in a day tours .
This company is currently offering their night bus tour in a combo package which includes tickets to the Edge Observatory.
If you're planning to visit this attraction and you're interested in taking a bus tour at night, this is an excellent opportunity to save some money.
The bus tour itself begins at 5:30 pm and lasts for 4 hours, so you'll want to visit the Edge Observatory before taking the tour.
This combo tour is available 3 days a week on Tuesday, Thursday, and Saturday.
$94/Adults | $84/Children
NIGHT BUS TOURS OF NYC
Many of the companies listed above also offer evening bus tours.
The New York skyline is breathtaking when illuminated after dark, and a bus tour is a great way to see many different areas of the city in a short amount of time.
Night tours do not typically operate as hop-on-hop-off tours, even though many are operated by hop-on-hop-off companies in double-decker buses.
There are also small group shuttle bus night tours.
NOTE: Some of these night tours are included in the multiple-day tickets offered by each company.
In addition to its highly-rated daily tour, this company also provides one of the longest and most detailed night tours in New York.
Clocking in at 4 ½ hours in length, the NYC Night Bus Tour will take you past some of the most popular destinations in the entire city, including locations such as Times Square, Chelsea Market, Chinatown, and Greenwich Village.
This excursion also includes at least one short walking tour. Discover how New York City changes when the sun goes down! Available Tuesday, Thursday, and Saturday from 5:30 PM – 10 PM.
$59 for Adults
$49 for Children
$6 off w/ Military ID
Duration: 4 hours
Availability: Tuesday, Thursday, and Saturday
More information and to book .
Every single review for this particular night tour is 5 stars . Most guests report that this company is very professional and reliable, describing their tour guides as entertaining and knowledgeable.
TOP VIEW NYC
In addition to their hop-on hop-off bus tours, this company also offers a night tour which allows you to see what the city looks like after dark.
This outing doesn't include any of their other bus tours, nor does it provide access to the Museum of the City of New York or a free Central Park bike rental.
Even so, it is one of the few options for a night bus tour as of April 2023.
If you're interested in seeing the city lights after the sun sets, this is an excellent option you might want to consider.
Not Hop-on Hop-off
No additional activities or routes
$45 per person
NOTE: Don't forget that this night tour is actually included with their 2, 3, and 5-day hop-on hop-off bus tour ticket.
TIP: We recommend considering another service, as this company routinely receives negative reviews indicating they aren't the best option on our list.
BIG BUS NIGHT TOUR
Big Bus offers nightly bus tours that depart between 7-9 pm every 15-20 minutes from Times Square (6 pm - 8 pm in winter months).
Sites include Radio City Music Hall, 5th Avenue, the Empire State Building, the Manhattan Bridge, and the Manhattan skyline from the Brooklyn waterfront.
You can view their night tour route map (yellow).
Price: $49/Adults | $39/Children
Duration : 2 hours.
Included in the price of all multi-day Big Bus tickets.
It is not included in the New York Pass.
NOTE: As of April 2022, this tour is not currently being offered. They will likely return to service shortly.
And much, much more
North america, united kingdom & ireland, middle east & india, asia & oceania.

NYC TOURS BUS TOURS HELICOPTER TOURS CRUISES & BOAT TOURS VIP TOURS DAY TRIPS NYC WALKING TOURS
ATTRACTIONS & PACKAGES PASSES PACKAGES MUSEUMS ATTRACTIONS OBSERVATION DECKS GUIDED WALKING TOURS NEW YORK BIKE TOURS AND RENTALS
MORE DISCOUNT COUPONS TRANSPORTATION GET A QUOTE NYC TRIP PLANNING
AGENT LOGIN
NewYorkSightseeing.com all prods (86)
Day Trips from NYC (5)
VIP Tours (2)
NYC Walking Tours (4)
Packages (10)
Museums (18)
Attractions (9)
Observation Decks (4)
New York Bike Tours and Rentals (4)
Featured (7)
Broadway Shows (1)
Helicopter Tours (4)
Bus Tours (21)
Cruises & Boat Tours (13)
Transportation (6)
Discount Coupons (2)
Immerse yourself in the architecture, rich history, and vibrant culture of New York City with our NYC bus tours! Experience the ultimate convenience as we offer multiple pick-up locations and affordable prices, ensuring an unforgettable sightseeing adventure. Take your pick from our guided double-decker bus tours that provide a breathtaking 360° view of the city, or explore at your own pace with our self-guided option. Our hop-on hop-off bus tours are designed to take you on a remarkable journey at your own pace. From Times Square and the iconic Empire State Building to Central Park, our NYC bus tours are a great way to discover the city that never sleeps.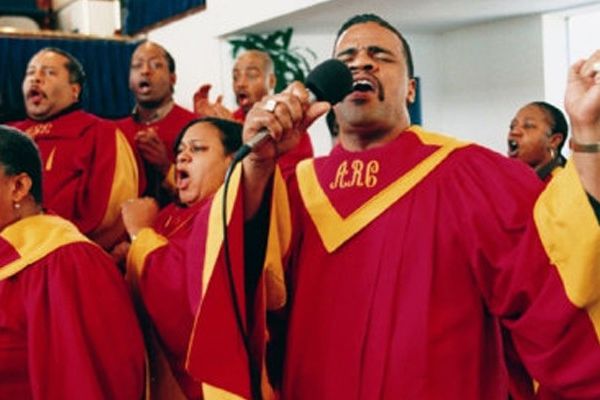 +1 (212) 445-7599
GO Airlink NYC, 700 Rockaway Turnpike, Lawrence, NY 11559, United States
Copyright © NewYorkSightseeing.com 2023
Hop On Hop Off in NYC
The efficient way to see the city.
Taking a taxi or the subway around the city to get every attraction you want to visit, is not only expensive but you don't end up seeing much of New York City itself. Hop-on Hop-off bus tours are great for exactly this reason, you can jump on or off whenever you want to. This way you discover the city from a completely new perspective while getting where you want to go. 
You'll also love this:
The 3 Absolute Best Night Bus Tours in NYC
Fun Things to Do in New York at Night
Table of Contents
Hop-on Hop-off Providers and Routes
There are four different operators of Hop-on Hop-off tours in New York. The two most popular providers are TopView Sightseeing (operate the red&white buses) and Big Bus (which use the dark red buses). These two providers have the largest fleet of buses and drive the routes at regular intervals. While these two operators do have slightly more busses meaning that you won't have to wait as long at the stops, all of the hop on hop off bus tours on offer drive similar routes along with the same attractions.
IMPORTANT: Even though the hop on hop off buses pass most major attractions along their routes, they are not suited for regular transportation within the city. For simply getting from A to B, the subway is a much better choice.
Hop-on Hop off Buses are great if you want to see a lot in little time
Overview of all Hop-on-Hop-off Loops
Both of the operators of the Hop-on-Hop-off tours are fairly comparable, the only difference being the higher popularity of the Big Bus tours. All hop-on-hop-off tours providers offer the same loops: Downtown, Uptown, Brooklyn, and the evening/night tour.
The most popular tour is the Downtown loop. This tour includes sights such as Times Square, Madison Square Garden, the Empire State Building, SoHo , Battery Park, Radio City Music Hall, Little Italy, Wall Street, the Financial District, Lower East Side, the United Nations Building, Rockefeller Center, Carnegie Hall and many more.
The Uptown loop takes you to the north of Manhattan. You will cross famous 5th Avenue, drive along Central Park in the direction of Harlem , and will see many other attractions on this tour including Lincoln Center, American Museum of Natural History, Cathedral of St. John the Divine, Grant's Tomb, Apollo Theater, Harlem Market, The Museum Mile, the Guggenheim, and the Metropolitan Museum.
You can check out the Uptown and Downtown loops plotted on the map below. This way you can check what attractions along the way you want to see along with where you might want to stop to explore.
The third option is the Brooklyn Loop. On this route, you will see the best spots of this beloved borough, for example, the Botanical Garden, the Brooklyn Museum of Art, the Antique Furniture District, Fulton Mall, the Brooklyn Museum, and many others. The new departure point for the tour is Old Fulton Street by Prospect Street in Brooklyn. It no longer connects to any loops in Manhattan.
The fourth tour is the Evening/Night Tour. This hop-on-hop-off bus tour through NYC is also very popular because seeing New York at twilight and at night is truly something special. You will drive by all relevant attractions: you will have a chance to see Times Square and its nighttime glow, the Empire State Building, Central Park,  Greenwich Village , SoHo, Chinatown, and Little Italy.
You can also take the Harlem/Bronx Tour. This tour will take you way up to the northern part of New York City and covers such great sights as the Malcolm Shabazz Harlem Market, Sylvia's & Red Rooster Lenox Lounge, the Harlem neighborhoods, and the Yankee Stadium.
Tickets for Hop-on Hop-off in NYC
Before purchasing your hop-on-hop-off tickets, you should first find out whether your sightseeing pass already includes tickets. Here's an overview of what sightseeing pass includes what loops, for how long and by which provider:
Compare Passes
Should you not want to make use of a sightseeing pass, you can find all ticket options by the two major providers, Big Bus and TopView Sightseeing. Note that all tours are offered in English, German, Spanish, French, Italian, Japanese, Korean, Portuguese, Russian, and Chinese!
1. Big Bus Ticket Options
Classic (1 day) : Uptown, Downtown
Premium (2 days) : Uptown, Downtown, Brooklyn, Harlem, Night Tour
Deluxe (2 days) : Uptown, Downtown, Brooklyn, Harlem, Night Tour, Sightseeing Cruise, Empire State Building Admission
2. TopView Ticket Options
1 Day: Uptown, Downtown, Brooklyn, Night Tour, Cruise
2 Days: Uptown, Downtown, Brooklyn, Night Tour, Cruise
3 Days: Uptown, Downtown, Brooklyn, Night Tour, Cruise
New York Sightseeing Ferry: Hop-on Hop-off ferry
Night Tour only: Hop-on Hop-off bus tour at night
You can even add attractions to those ticket options!
Bus tickets with attractions
Where can I get a good deal on hop-on-hop-off bus tickets?
It is best to buy tickets online . They are cheaper if you buy them online in comparison to at the ticket counter (this is due to the fact that if you buy in advance, the operator can plan ahead). Buying tickets online is secure and fast. First, you choose the date you want to take a tour, and how many people will be on the tour. Then you choose which route you would like to book. You will be sent a voucher that you can redeem at any of the bus stops to hop on the bus!
The Absolute Best Night Bus Tours in NYC
Fun Things To Do in New York At Night
I'm a true New York fan! Not only have I visited the city over 20 times but also have I spent several months here at a time. On my blog I show you the best and most beautiful spots of the city, so that you have a really good time! You can also find lots of insider tips in our New York travel guide . Also check out my hotel finder for New York !
Get exclusive content, real insider tips, and the best deals in NYC for FREE!
Start of your trip: We will remind you with current events when you are in NYC!
Leave a Reply Cancel reply
Your email address will not be published. Required fields are marked *
Save my name and email in this browser until I comment again.
myNY – your own New York travel planner
Log into myNY and start planning your New York trip. Don't have an account? Register now - it's free!
5 reasons why myNY will make creating your itinerary easy!
Please enter your email address to reset your password.
Register for myNY now and start planning the perfect trip to New York City!
ABC7 New York 24/7 Eyewitness News Stream Watch Now
THE LOOP | NYC Weather and Traffic Cams Watch Now
macy's thanksgiving day parade
4 new floats unveiled for 97th Macy's Thanksgiving Parade - check out this sneak peek

Anthony Johnson has an inside look ahead of the parade.
NEW YORK (WABC) -- It's a sure sign the holiday season is around the corner: the new floats for the Macy's Thanksgiving Day Parade made their debut on Tuesday.
Each year a new set of floats is conceived and crafted by the incredible artisans of Macy's Parade Studio in Moonachie, New Jersey.
It takes a big team to take the float concepts and turn them into reality. The design and production facility includes carpenters, engineers, electricians, painters, animators, balloon technicians, sculptors, metal fabricators, and scenic and costume designers.
The four new floats being unveiled this year include Mutant Mayhemby Nickelodeon & Paramount, Palace Of Sweetsby Brach's, Igniting Memoriesby Solo Stove, and The Deliciously Delectable World of Wonka by Warner Bros. Pictures.
Will Coss, Executive Producer of the Parade, took some time to show off the new floats to Eyewitness News Reporter Anthony Johnson.
He's been working on this year's parade since the day after last year's.
"That's absolutely true! After the parade we have an opportunity to sit back and enjoy the show, look at what worked, what didn't, and then we're on our way to this year's parade. So, it's been a process, but we're excited about the work that we are previewing for you today, and excited about Thanksgiving Day," Coss said.
When it comes to Mutant Mayhemby Nickelodeon & Paramount, "There will be four turtles scaling the building in hot pursuit of the villains," Coss said. "Ton of excitement and a ton of energy for parade day."
Palace Of Sweetsby Brach's, "Beautiful colors celebrating the holiday season!" he said, "A 30-foot tall custom built gingerbread house, and 25-foot rotating tree." And, performing aboard that float, Brandy!
The Deliciously Delectable World of Wonka by Warner Bros. Pictures. takes a scene right from the movie! "We were essentially able to take a scene from the film and translate it to the float for the parade viewers and our fans," Coss said. "It's a replica of Willy's first shop from the film. Tons of magic!"
Cher will also be on hand to usher in the holiday season with a new holiday classic.
Additionally, the Good Burgermobile by Nickelodeon & Paramount+ will be making an appearance at the exclusive float unveiling event and will join this year's Parade line-up.
For the first time in its long history, the holiday tradition will begin at 8:30 a.m. ET, half an hour earlier than in previous years.
"It's more parade than ever before," Coss said.
All the floats on display will be disassembled and prepared for their trek under the Hudson, going through the Lincoln Tunnel, before they are reassembled on Central Park West next Wednesday.
If you'd like to get an up-close look at the balloons, one of the best ways is actually the day before when they are inflated. Last year's inflation took place Wednesday afternoon from 12 p.m. to 6 p.m. The public entrance was at 72nd Street and Columbus Avenue.
RELATED: Holiday season Open Streets to help ease crowds around iconic Rockefeller Center Tree
* Get Eyewitness News Delivered
* More New York City news
* Send us a news tip
* Download the abc7NY app for breaking news alerts
* Follow us on YouTube
Submit a News Tip
NEW YORK CITY
MORNINGS AT 10
THANKSGIVING
MACY'S THANKSGIVING DAY PARADE
Macy's Thanksgiving Day Parade
Macy's Thanksgiving Parade street closures
Everything to know about the 2023 Macy's Thanksgiving Parade
It's spooky season! NYC fall festivities you don't want to miss
Macy's Thanksgiving Parade: Performers, street closures & more
Top stories.
2 in critical condition after shooting in Bronx's Little Italy
Taylor Swift postpones Brazil show after fan dies during concert
More protests expected in NYC to call for cease-fire in Gaza
Police continue search for shooter after man killed outside smoke shop
AccuWeather: AM shower, PM wind
48-year-old dies after Bronx apartment fire that injured 5
CT judge sets new primary date after mayor's race results tossed out
AccuWeather Alert: Thanksgiving week storm threatens holiday travel
Affordable bus tickets from New York, NY to Albany, NY
More travel options, enjoy free onboard entertainment, reserve a seat, need to make a change, on this page, bus stations and stops in new york, ny, new york port authority.
View this address on Google Maps
To view more info about this station, visit our page New York Port Authority
New York Midtown (31st St & 8th Ave)
To view more info about this station, visit our page New York Midtown (31st St & 8th Ave)
New York City Chinatown (Bowery & Canal St)
To view more info about this station, visit our page New York City Chinatown (Bowery & Canal St)
New York City Chinatown (28 Allen St)
To view more info about this station, visit our page New York City Chinatown (28 Allen St)
New York (GW Bridge)
To view more info about this station, visit our page New York (GW Bridge)
Bus stations and stops in Albany, NY
Albany bus terminal, ny.
To view more info about this station, visit our page Albany Bus Terminal, NY
Albany (SUNY Albany)
To view more info about this station, visit our page Albany (SUNY Albany)
Albany International Airport
To view more info about this station, visit our page Albany International Airport
Rensselaer Train Station
To view more info about this station, visit our page Rensselaer Train Station
Discover all the places you can go
Choose from almost 2,300 destinations with Greyhound, FlixBus and our connecting partners!
Frequently asked questions
The trip between New York and Albany is about 146 miles long. The quickest trip with Greyhound takes 2 hours 29 minutes and you can expect a minimum of one stop.
The cost of a Greyhound bus ticket between New York and Albany starts from $24.99. Booking in advance, whether on the app or website, is the best way to get the most affordable bus travel. If you book online, you can choose to pay with a debit card or credit card on the Greyhound app or website. If you prefer, you can also pay in person with cash.
You can track the status of your New York to Albany bus using Greyhound's bus tracker . With this tool, you can see the real-time location of your bus and get updates on its departure and arrival times.
When traveling on the bus from New York to Albany with Greyhound, you can bring one carry-on bag with you (maximum 25 lbs, 16x12x7 inches). You can store one bag under the bus for free, and if you have a Flexible fare, the second bag stored under the bus is also free. You can also carry additional or bulky baggage for a supplementary charge. To include such baggage, you can reserve it while booking your ticket on our website or app. Alternatively, you can add bulky items later through the 'Manage My Booking' section. If your departure is from a location with Greyhound personnel, you can book and pay for your extra luggage there. For the most recent policies and costs, please refer to our baggage policy page here .
Traveling by bus from New York to Albany with Greyhound is a convenient and environmentally responsible choice, as bus travel reduces traffic and emissions compared to traveling by car.
Onboard services available on Greyhound buses from New York to Albany include free Wi-Fi for all passengers, personal power outlets near every seat, reclining leather seats with footrests, extra legroom, overhead storage, and an on-board restroom.
The first Greyhound bus to Albany from New York leaves at 12:01 am.
The last Greyhound bus to Albany from New York leaves at 8:45 pm.
Yes, on this website you can book both Greyhound and FlixBus tickets from New York to Albany. You can check both the Greyhound and FlixBus ride schedules once you select your departure city, destination city, and desired trip date.
Greyhound runs up to 7 rides per day from New York to Albany. You can search for your preferred departure date and check the schedule using the search bar above.
Greyhound buses are equipped with wheelchair lifts to assist passengers using wheelchairs or mobility scooters. Each bus has space for two passengers with these devices. It's recommended to book your ticket from New York to Albany in advance to ensure a spot. If you'd like to transfer to a regular seat, our drivers will stow your device for you. Service animals are also welcome on board our buses. For further details on accessibility and service animal policies, please check this link .
You can easily find the bus stops in New York and in Albany on this page: check the address and their location on the map!
Planning Your Greyhound Bus Trip from New York to Albany?
How to book your bus ticket to albany from new york, discover more popular bus connections.
Boston, MA - New York, NY
New York, NY - Boston, MA
Washington, D.C. - New York, NY
New York, NY - Washington, D.C.
New York, NY - Philadelphia, PA
Philadelphia, PA - New York, NY
Baltimore, MD - New York, NY
New York, NY - Baltimore, MD
New York, NY - Atlantic City, NJ
Albany, NY - New York, NY
New York, NY - Albany, NY
Atlantic City, NJ - New York, NY
Toronto, ON - New York, NY
Syracuse, NY - New York, NY
New York, NY - Toronto, ON
New York, NY - Syracuse, NY
Montreal, QC - New York, NY
New York, NY - Montreal, QC
Buffalo, NY - New York, NY
New York, NY - Buffalo, NY
Boston, MA - Albany, NY
Albany, NY - Boston, MA
Albany, NY - Montreal, QC
Montreal, QC - Albany, NY
Springfield, MA - Albany, NY
Albany, NY - Hartford, CT
Syracuse, NY - Albany, NY
Newark, NJ - Albany, NY
Plattsburgh, NY - Albany, NY
Rochester, NY - Albany, NY
Buffalo, NY - Albany, NY
Philadelphia, PA - Albany, NY
Albany, NY - Buffalo, NY
Albany, NY - Springfield, MA
Albany, NY - Rochester, NY
Albany, NY - Newark, NJ
Albany, NY - Philadelphia, PA
Hartford, CT - Albany, NY
Onboard services are subject to availability